Looking for a late autumn getaway but not sure where to head to? Don't miss this guide to the best holiday destinations in October 2023 – spectacular beaches, seeing the Northern lights, riding holidays on a ranch… it's time to explore.
Autumn beckons and so does a vacation. But it can be very tricky to figure out where to visit – especially if you're after guaranteed sun and epic weather.
Have no fear – I'm a pro at travelling in shoulder seasons, so I've got the lowdown on where to go and when. Read on to discover the best places to visit in October.
Best Beach Holidays in October
Greek Islands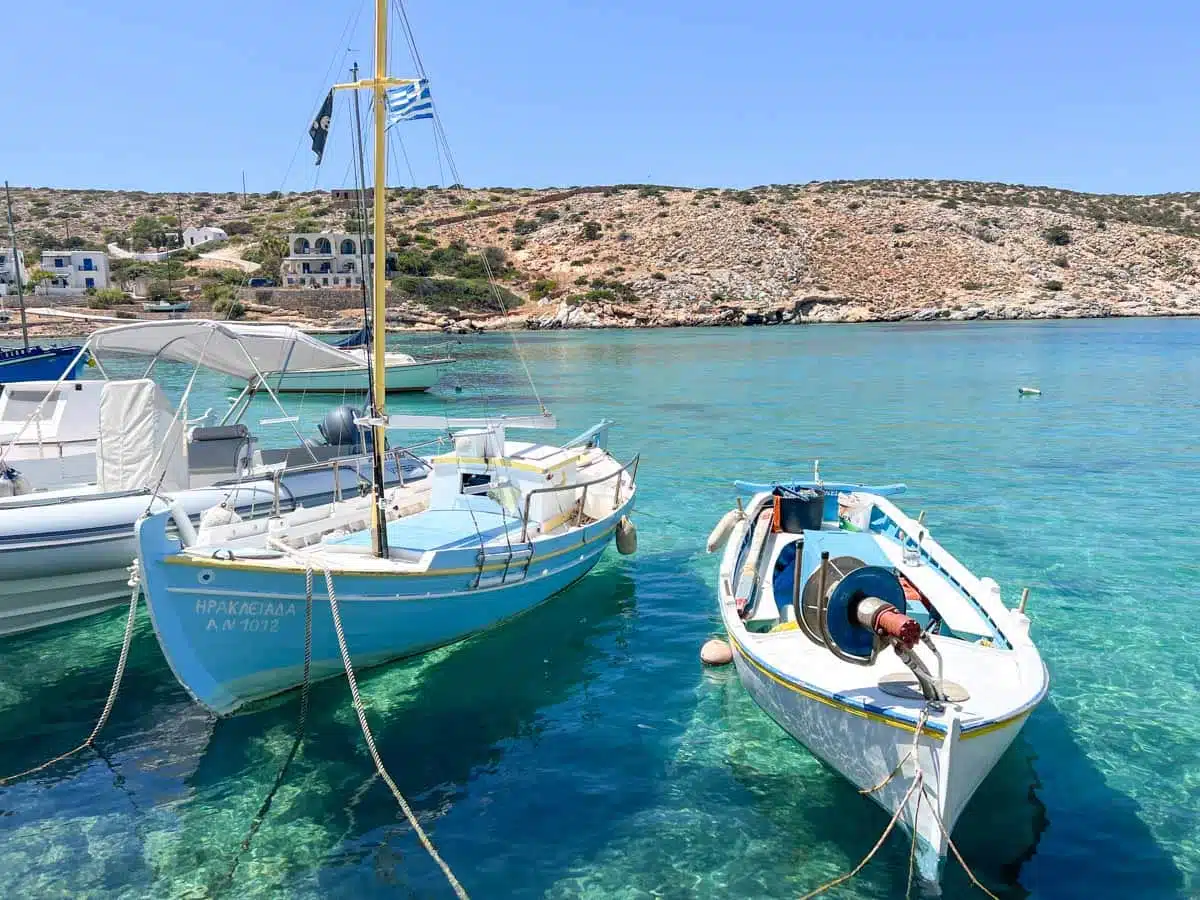 Average Temperature: 23°C high; 15°C low
Season: Autumn
The Greek Islands are a good bet as an October holiday destination for many reasons.
If you avoid half-term, even the busiest ones like Santorini are going to be a lot quieter than in the peak summer months.
Plus it's still warm enough to spend days frolicking on the beach and paddling in the sea.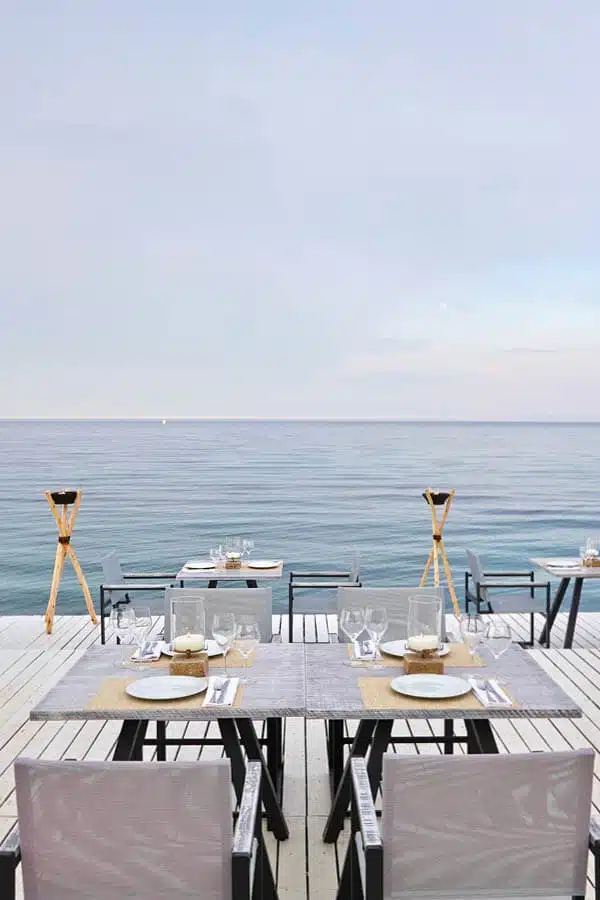 Even during half-term, if you strike away from the most popular islands (Santorini, Crete, Mykonos and Corfu), it's not likely to be overrun – a real boon if you want a nice escape with the family.
Why not consider the relatively undiscovered Chios – whose traditional villages are paired with stunning beaches and some cool diving spots to suit the more adventurous among you.
Read Next: Reasons Why You'll Fall in Love with Corfu
Suggested Stay: Melia Sol Art Studios, Chios
Dalaman, Turkey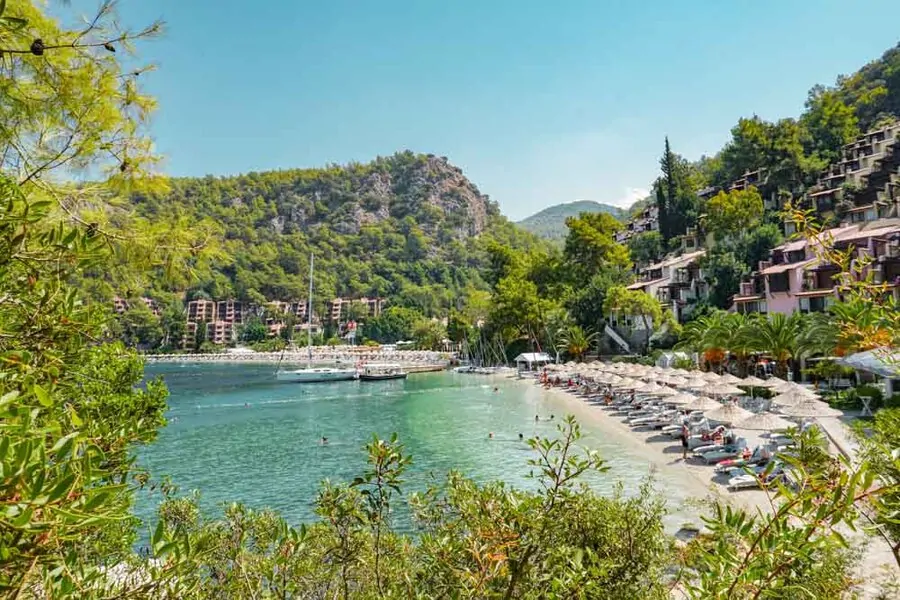 Average Temperature: 25°C high; 14°C low
Season: Autumn / Fall
The Dalaman's Turquoise Coast is hands down one of the best holiday destinations in October thanks to a winning combination of warm temperatures, great food and reasonable prices.
Oh, and did I mention a coastline framed by the clear, sparkling waters of the Aegean Sea and dotted with pine-framed coves and small islands you can explore when the thrill of relaxing in the sun wears off (if it ever does).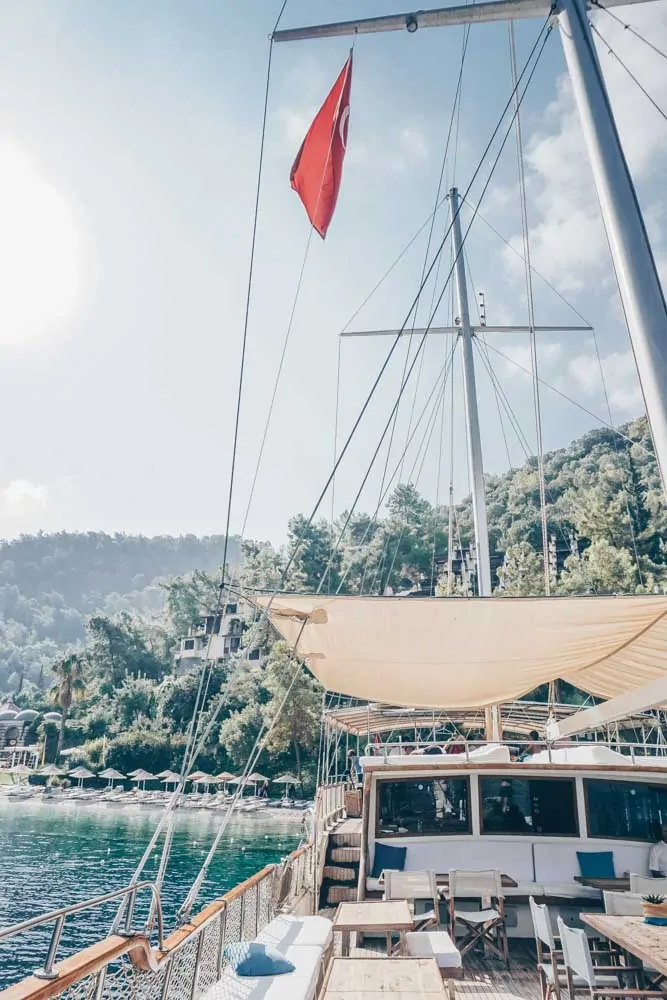 When it comes to high-end stays, Hillside Beach Club's combination of gorgeous rooms, stellar service and extensive amenities puts it at the top of the list.
Boasting not one but three private beaches (two are adults-only), floating sea decks and nightly events (think watching films on the beach under the stars), it's no wonder that guests rave about it – and return time and time again.
Read Next: Hillside Beach Club Review
Suggested Stay: Hillside Beach Club
Mauritius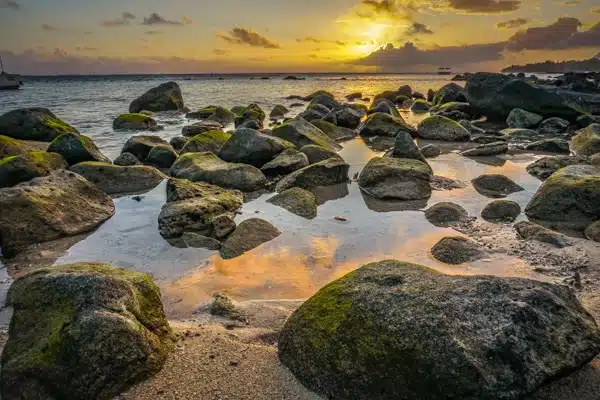 Average Temperature: 25°C high; 20°C low
Season: End of Wet Season
It's no secret how much I love Mauritius. Sweeping landscapes, untouched beaches and cosy temperatures – if you're wondering where to travel in October, Mauritius is a great choice.
Don't be put off by the fact that it's the tail end of the wet season – the dry season starts in November and by October, the rain is all but over.
That it's technically classed as the wet season also means there are some fabulous deals to snap up for your stay.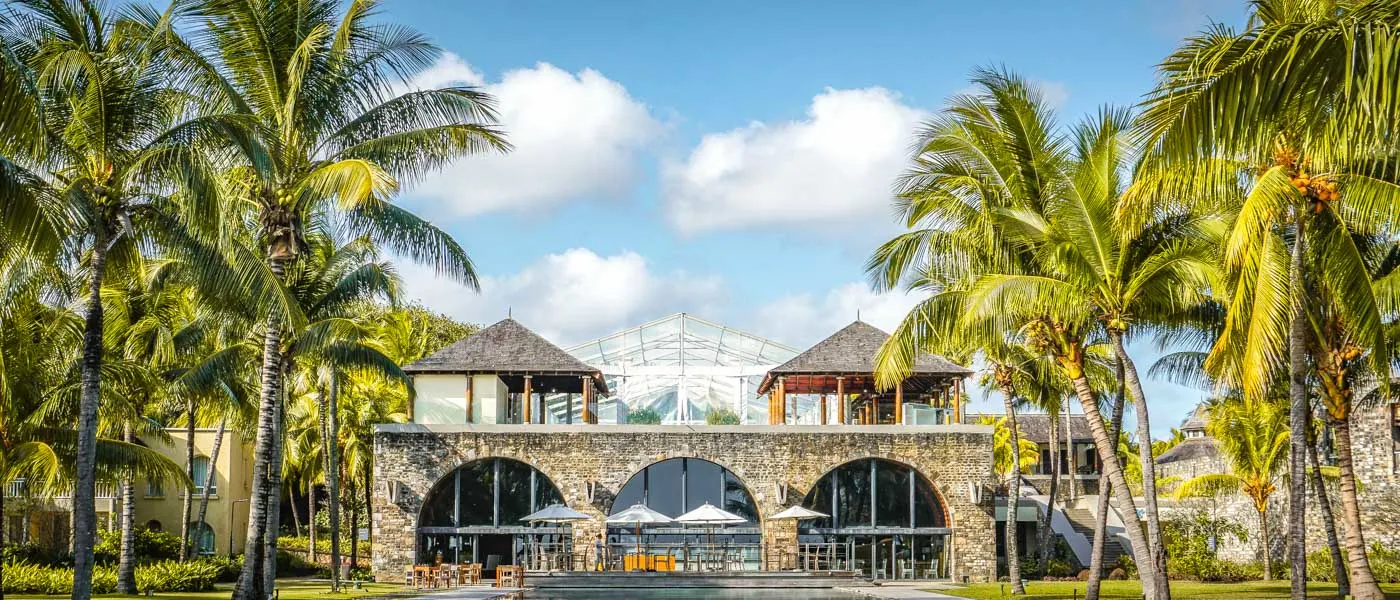 With beaches this pretty, you'd be fully justified for just flopping and soaking up the sun and views for the duration of your stay.
If you are able to tear yourself away, you'll find cool spots like Chamarel Waterfall, the Seven Coloured Rock and (every rum-lover's dream) Chamarel Distillery.
Read Next: This is Why The Outrigger Mauritius is the Perfect Hotel for a Mauritian Break
Suggested Stay: Outrigger Mauritius
Dubai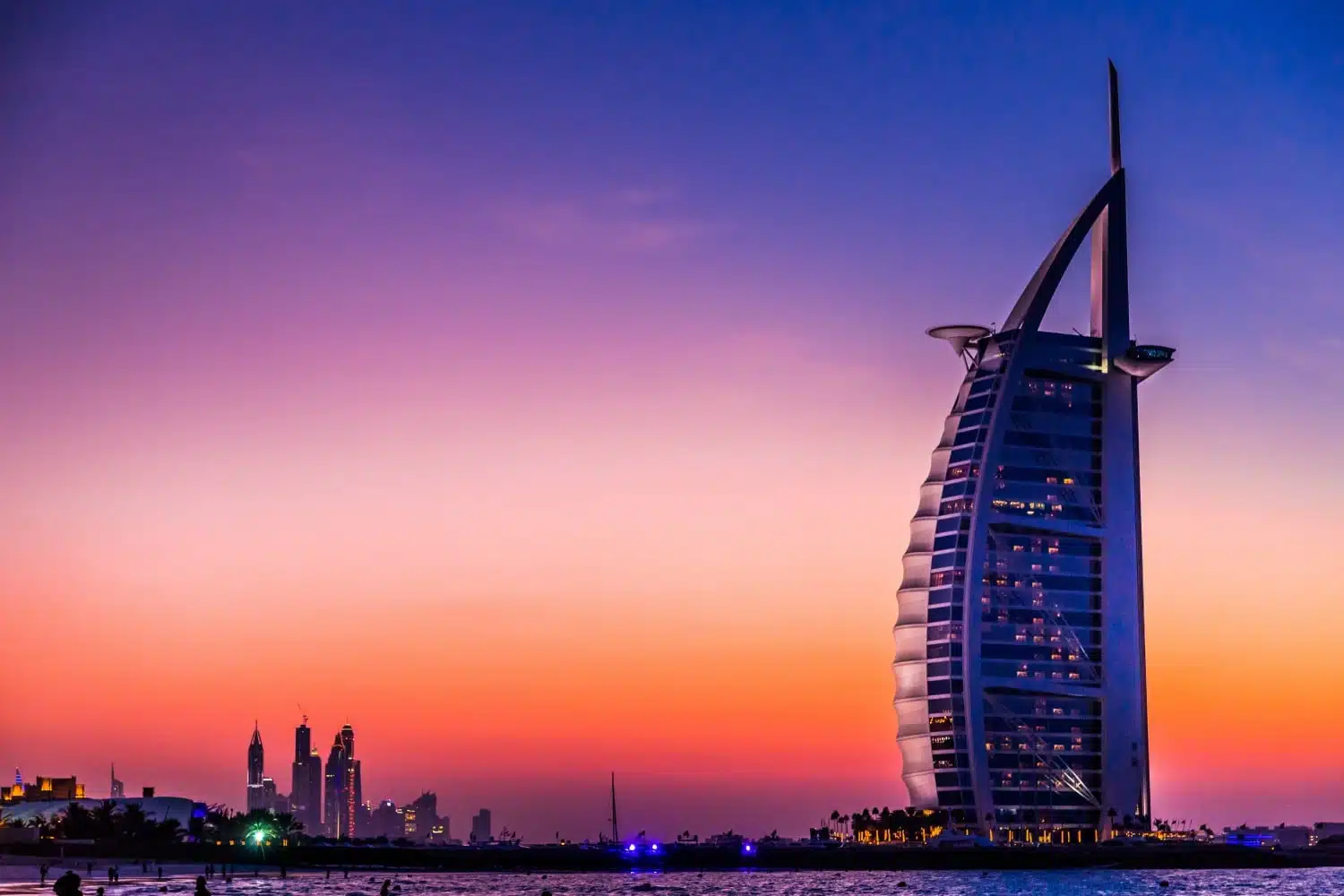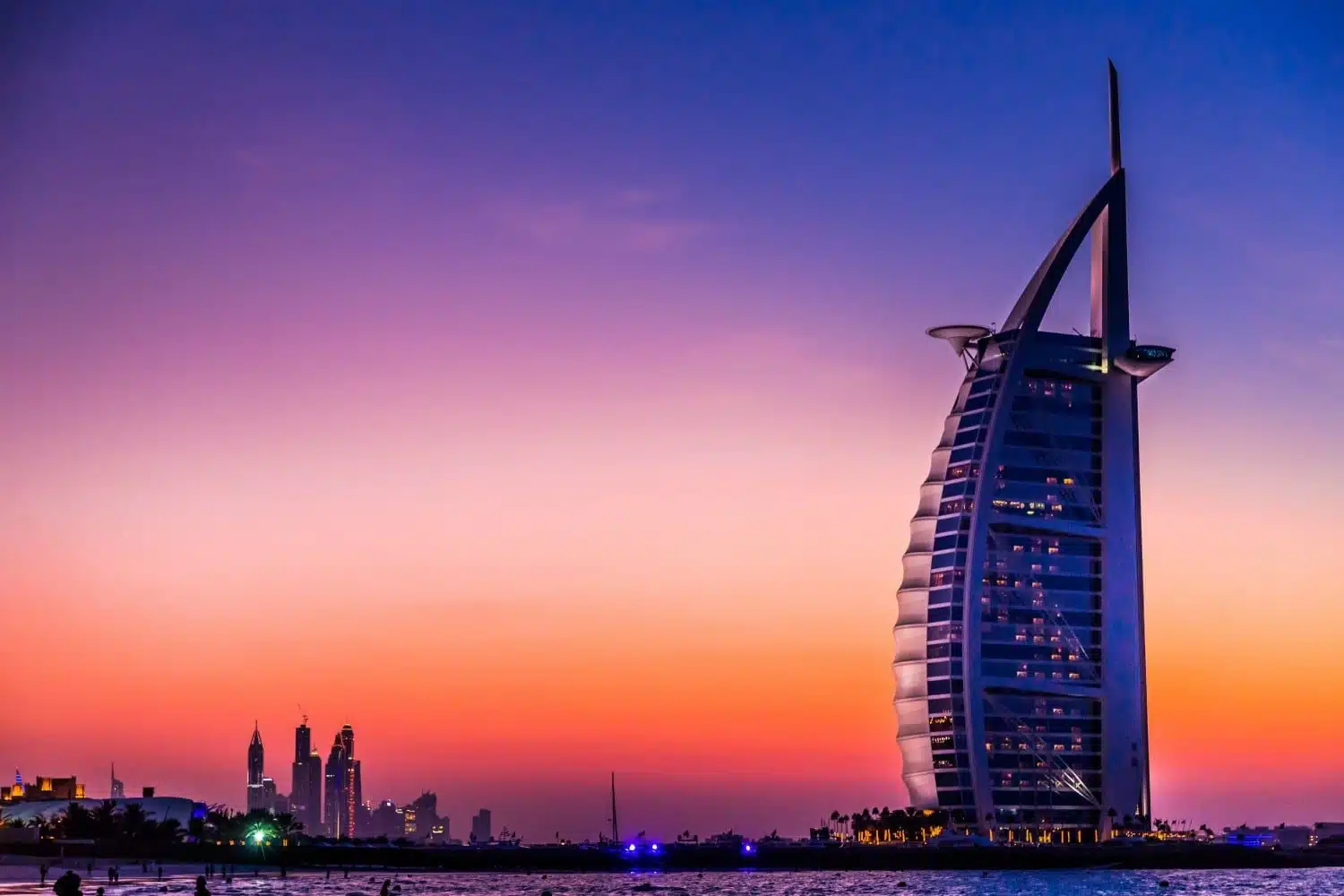 Average Temperature: 35°C high; 24°C low
Season: Autumn / Fall
I used to live in Dubai so you should believe me that when it comes to cool places to holiday in October, Dubai is a great choice.
Forget about travelling to the emirate in the summer when you're more likely to spend your time hiding from the 40°C sun in air-conditioned rooms, the temperatures are much more manageable by the time October rolls around.
Now, let's face it, Dubai is a bit "bling" but that's no bad thing. Five-star hotels are ten a dozen – as are Michelin-starred restaurants and swanky bars and restaurants.
My favourite place to stay is the One & Only Royal Mirage, but the Armani Hotel (in the world's tallest building, the Burj Dubai), the Atlantis and the Burj Al Arab (the world's first self-proclaimed 7-star hotel) are more prestigious hotels to consider for your trip.
Read More: 24 Hours in Dubai
Suggested Stay: Atlantis, The Palm
The Algarve, Portugal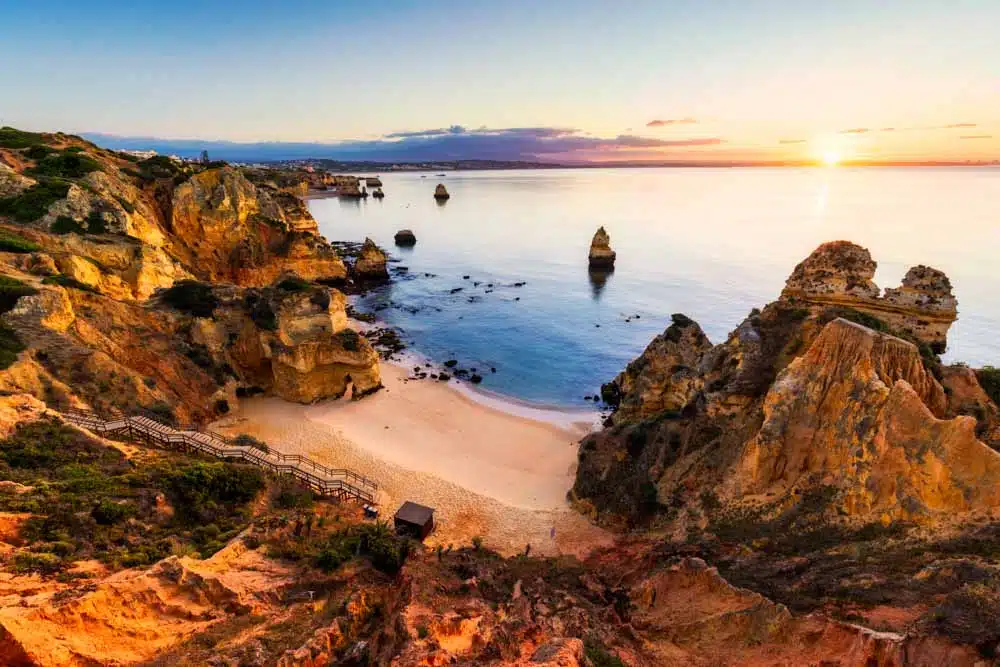 Average Temperature: 35°C high; 24°C low
Season: Autumn / Fall
Portugal is one of the best places to go on holiday in October thanks to lower accommodation prices, delicious food and warm weather.
In the south of Portugal, the Algarve has it all: sun, sand and sea for beach lovers to surf Portugal and traditional inland villages and hill walking for those looking for something a little different.
Travelling to The Algarve in October means lower temperatures (they reach a peak of 33/34℃ in July and August) that are still comfortable enough for sunbathing during the day.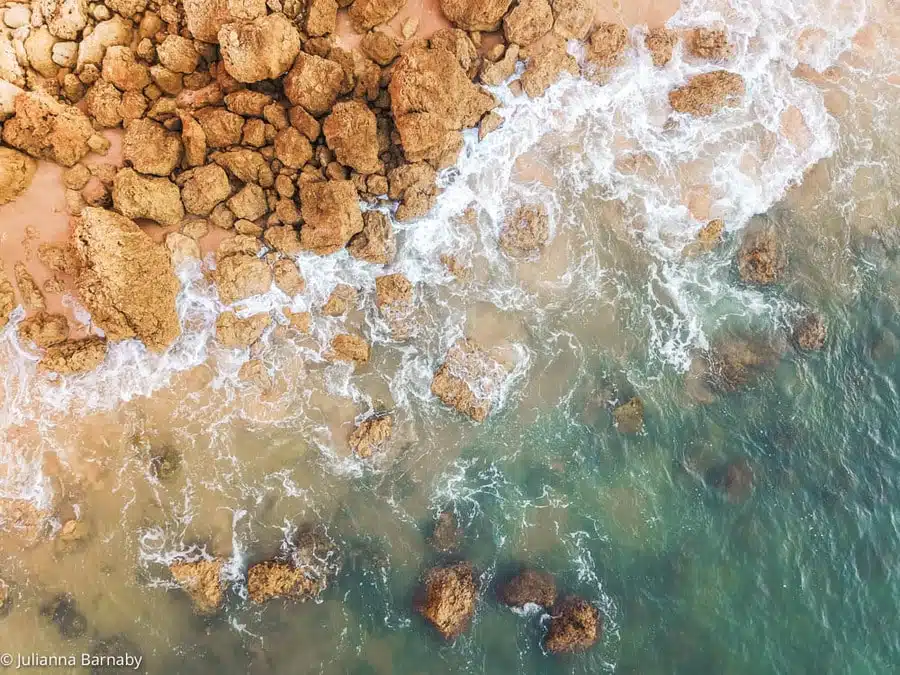 Head to the picture-perfect town of Tavira for a stroll and some of the best seafood to be had. Beach-wise, you're spoilt for choice in the Algarve. My pick is Praia de Albandeira, surrounded by dramatic red cliffs and boasting warm, turquoise waters.
Take a detour to the nearby Benagil sea cave, a stunning natural sea cave that can only be reached by swimming or sailing round the coastal bluff from the nearest beach.
October generally sees highs of 25℃, but this year has seen warmer than usual weather, with temperatures peaking at 29℃.
Prices in European sunspots drop in September and October and The Algarve is no exception.
Rentals in high-end destinations such as the Four Seasons Fairways in Quinta do Lago drop from €3,900/ week to €1,300 (that's pretty much the same amount in pounds these days) per week for a three bedroom villa with a private pool.
Hotels, like the Anantara Vilamoura, also do the same. What are you waiting for?
Read More: The Best Beaches in the Algarve
Suggested Stay: Anantara Vilamoura
Tulum, Mexico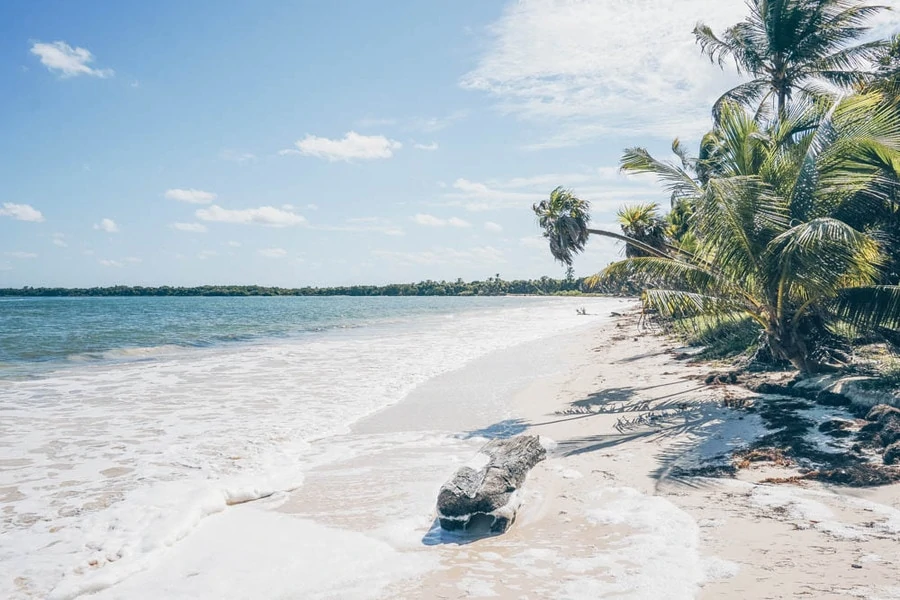 Average Temperature: 31°C high; 24°C low
Season: End of the Wet Season
Tulum is all about relaxing, bathing in the sun's rays and doing it all in style. Sure, it teeters on the edge of being too cool for school but there is something so irresistibly charming about it, you'll love it anyway.
Sands as fine as a dusting of icing sugar, jade waters and a relaxed and friendly vibe – Tulum is no longer a secret Mexican hideaway, but it's spectacular nonetheless.
Visiting the dramatic Tulum Ruins should be at the top of your list – a series of Mayan ruins in a gorgeous oceanfront setting is never something to sniff at.
Diving, cenote swimming and good old sunbathing on your favourite beaches will keep you well and truly occupied during your trip.
Read Next: The Insider's Guide to Visiting Tulum
Suggested Stay: Azulik Tulum
Cyprus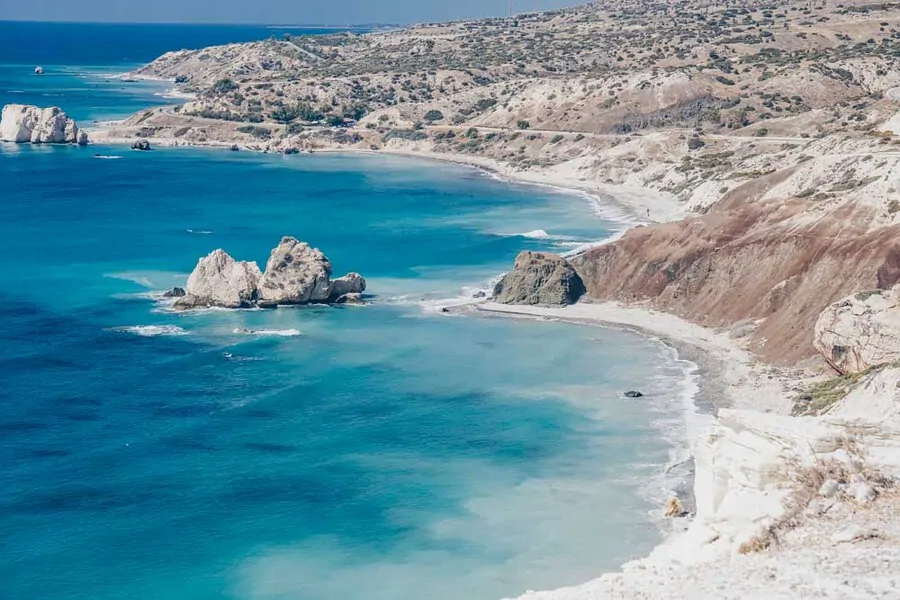 Average Temperature: 27°C high; 16°C low
Season: Autumn / Fall
Cyprus is one of the best places to visit in October, thanks to its high-temperatures and wealth of beaches, historical sites and wine routes that are ripe for exploration.
Start off with a day in Nicosia, the island's capital and the last remaining divided capital in the world.
Meander through the narrow cobbled streets, making time to learn about and see remnants from the island's long and interesting history at CVAR, then slough off the day's sweat in the recently-restored Hamam Omerye.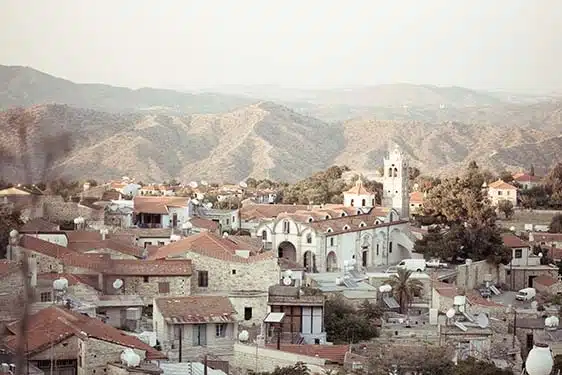 Wine lovers might be surprised by the island's long-standing history of wine-making. Traditional wineries abound, but modern wineries such as Zambartas and Vasilikon are placing Cyprus firmly on the international wine-making map.
Take a day to explore "wine villages" in the Troodos Mountains (whitewashed higgledy-piggledy Omodos is a good place to start) – don't forget to leave space in your suitcase to bring some home.
When it comes to beaches in Cyprus, it's a matter of taking your pick and settling in with a good travel book.
The waters are generally warm and clear, and if you steer away from the most popular beaches, there's a good chance you can bag one all to yourself.
Read Next: The Best Things to do in Cyprus
Suggested Stay: Parklane, A Luxury Collection Resort & Spa
Menorca, Spain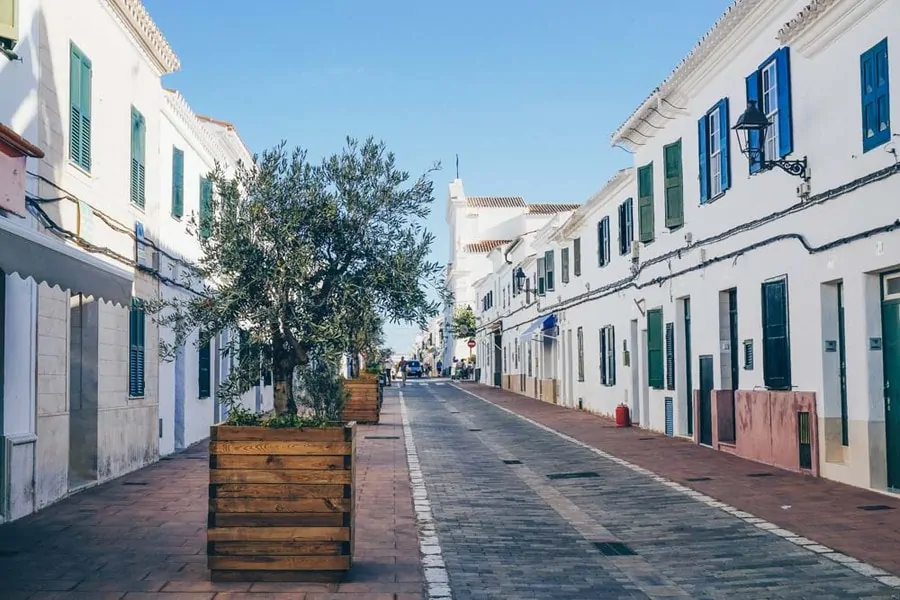 Average Temperature: 23°C high; 16°C low
Season: Autumn / Fall
Menorca, the smallest of Spain's Balearic islands is a perfect place to put on your list of where to visit in October.
With one of the cutest capitals in Europe (Mahon or Mao as the locals call it), you couldn't be blamed for spending your days overlooking the city's picturesque harbour with a Pomada (a local cocktail made with locally-produced Xoriguer Gin and lemonade) in hand.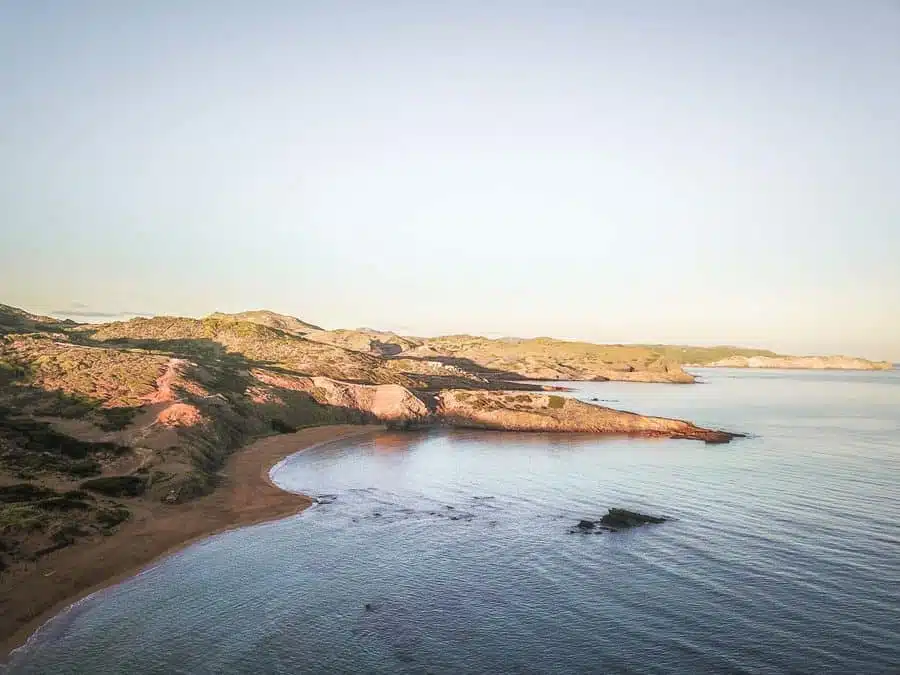 Do that and you'll miss the island's many other draws: spotless blue-flag beaches, laid back tapas restaurants and sunrises and sunsets that are every instagrammer's dream (it's a tough life right).
OK, so I've mentioned beaches in the previous entries, but in all good faith, I couldn't recommend that you go to Menorca without mentioning that the beaches are, quite frankly, dreamy.
Cala de Cavelleira pips it to the post as our favourite but we're happy for you to try them all and find your own.
Feeling adventurous? Do the Cami de Cavallis hike around the island's coast.
The route follows the old paths used by locals for hundreds of years and has the added benefit of taking you to almost every single one of Menorca's 700km sq of beach land.
Still not sure? Here are 11 reasons why Menorca should be your next trip. As in, pronto.
Suggested Stay: Fontenille Menorca Torre Vella
Where to go in October for Outdoors Adventures
October trips aren't just about soaking up the sun – if you're looking for where to go in October for an outdoors adventure, I have you covered.
See the Northern Lights in Iceland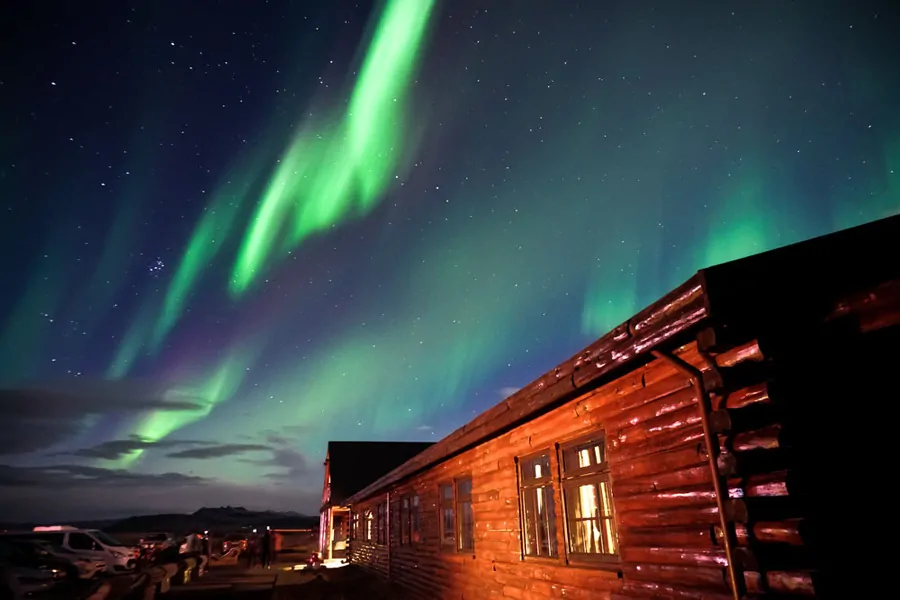 Average Temperature: 7°C high; 2°C low
Season: Autumn / Fall
The Northern Lights viewing season starts in late September and is into full swing by October. The spectacle of the aurora borealis dancing in hues of pink, green and yellow in the sky is, quite frankly unbelievable.
Iceland is a popular choice for seeing the Northern Lights – it's well-connected by air and easy to travel to, and boasts a wealth of spectacular backdrops for making that incredible sight that little bit more incredible.
Spend your days exploring otherworldly sights such as Jokulsarlon Glacier Lagoon, Reynisfjara Beach and the ridiculous number of waterfalls in dramatic settings, before settling in to watch the night sky at one of the country's spectacular Northern Lights hotels.
Read Next: How to See the Northern Lights in Iceland
Suggested Stay: Hotel Ranga
Riding at a Dude Ranch in Colorado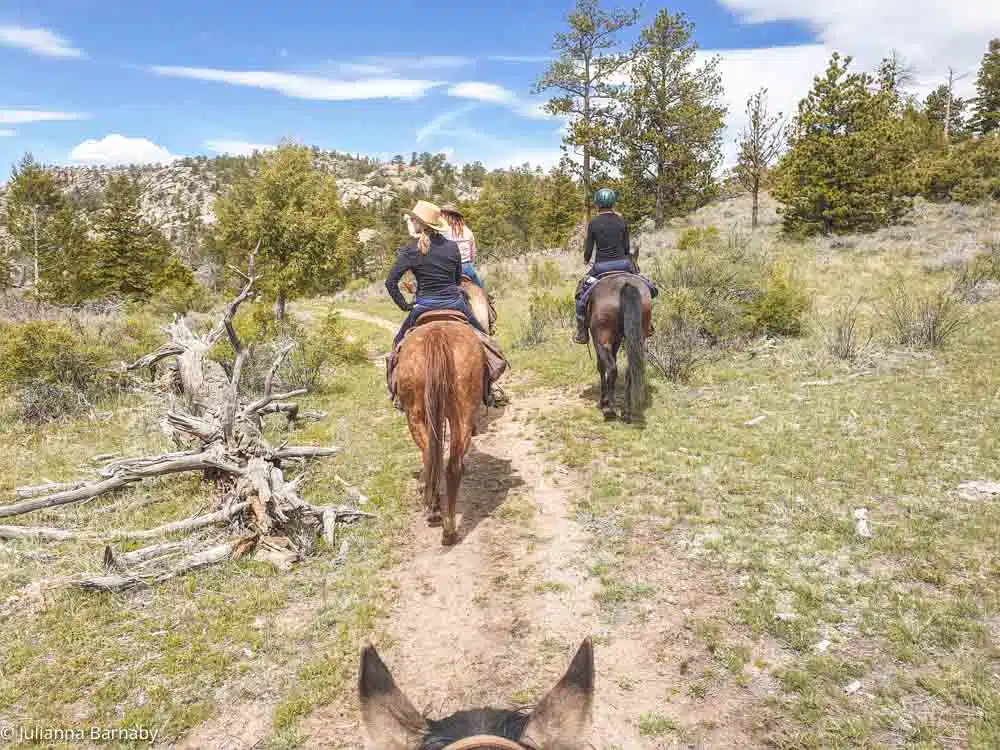 Average Temperature: 17°C high; 1°C low
Season: Autumn / Fall
Giddyup cowboys (and cowgirls), it's time to hop in the saddle and explore Colorado's diverse terrain on horseback.
I'd never heard of a Dude Ranch until a couple of years ago, when an American rider I was riding around Costa Rica listed it as her favourite kind of riding holiday.
Curiosity piqued, it took me a couple of years, but I finally went on one earlier this year. If you're reading this: Rachel, I finally understand where you are coming from.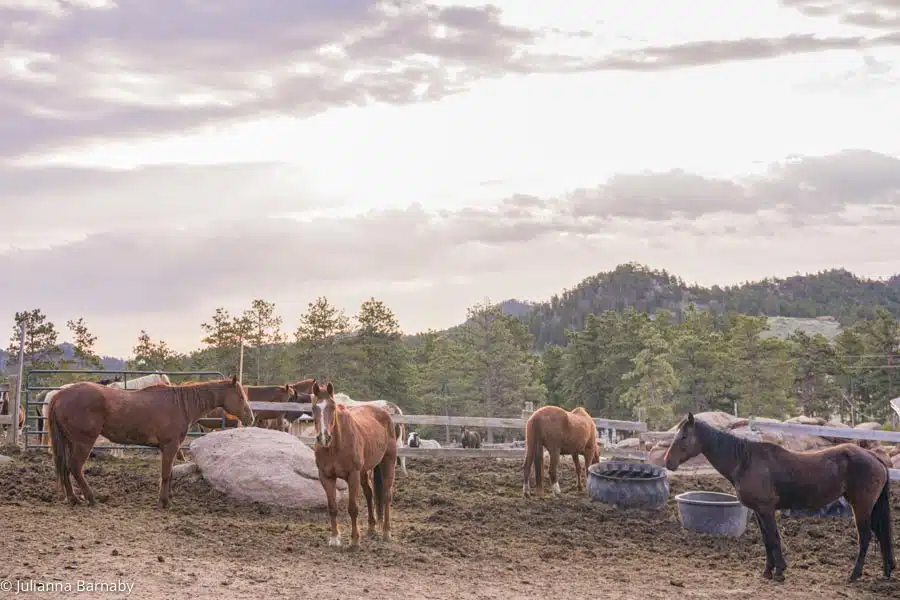 Dude ranches are ranches that open their doors to outside guests – they can range from true working ranches where you're expected to buckle up and muck in, to easier-going affairs where the emphasis is more on the ranch life experience.
Sundance Trail ranch is one of the latter kind – a dream destination where friendly hospitality and spectacular rides are par for the course, along with spades of mid-western activities and delicious food.
Read Next: Here's Why You Need to Visit a Colorado Dude Ranch
Suggested Stay: Sundance Trail Ranch
Visit Yosemite National Park, USA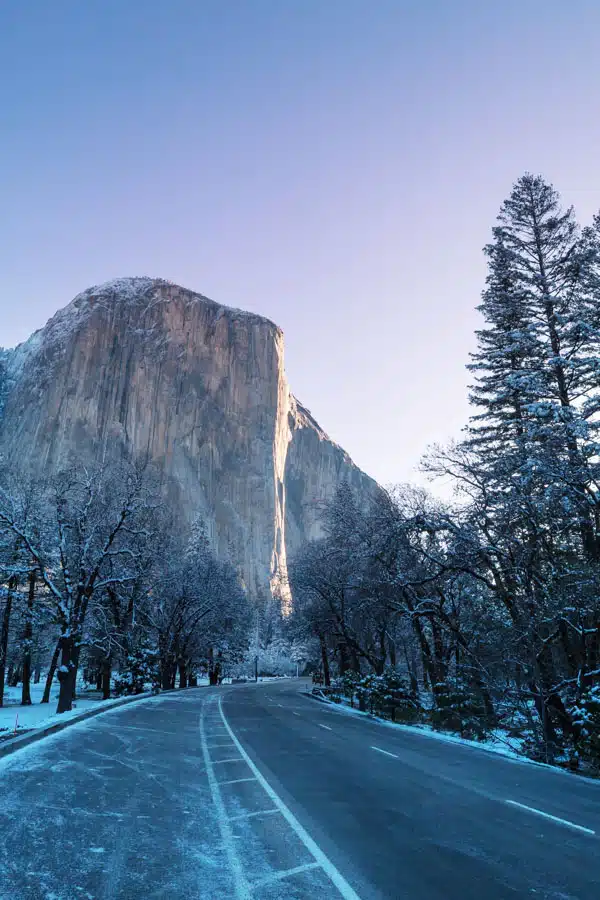 Average Temperature: 22°C high; 5°C low
Season: Autumn / Fall
If you haven't been to Yosemite, you should.
There really aren't that many simple things in life but this is one of them.
Yosemite is one of the best places to travel to in October, thanks to the changing colours in the valley. Just when you think this picturesque destination couldn't get any better, wait until you witness it in the blaze of reds and oranges that autumn brings to the national park.
Buck the trend of driving between the big "wow" spots by car before heading off again and take some time to do some hiking.
For such a popular park, it's wonderful how quickly you can find yourself without another soul in sight when you venture out on two feet.
Why not visit Yosemite as a detour on my West Coast USA road trip?
Suggested Stay: Yosemite Valley Lodge
Essaouira, Morocco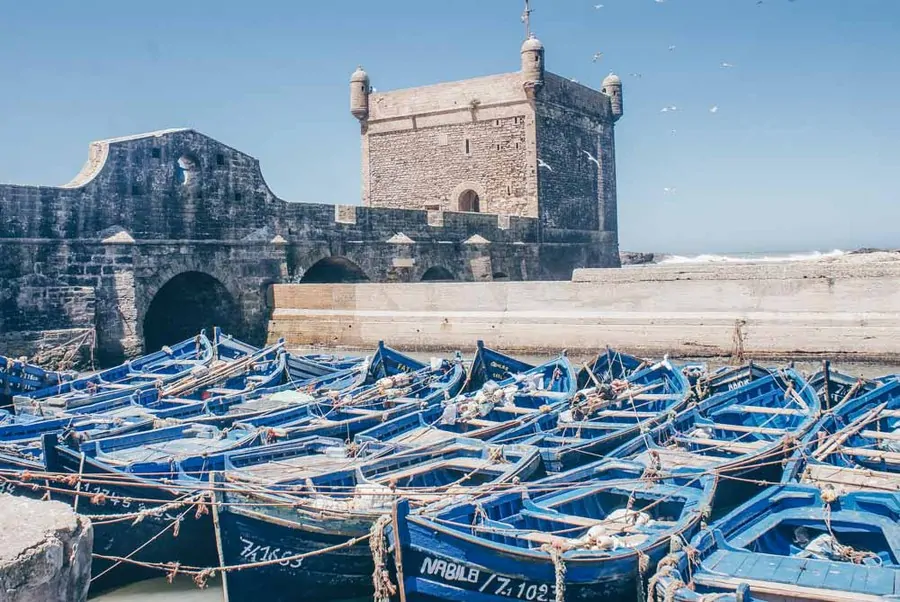 Average Temperature: 23°C high; 18°C low
Season: Autumn / Fall
While the days of Essaouira's position as a go-to destination for the hippies of the seventies have almost past, there are flashes of times past in the smaller nooks of this enchanting city.
Back in the day, stars such as Jimmy Hendrix and Cat Stevens frequented Essaouira on a regular basis, drawn by its laid-back culture and coastal location.
Not much has changed on that front, it's still a relaxed destination, where you can start your day surfing the perfect swells, sweat it out in a local hammam and then feast on the seafood-heavy dishes at night.
Essaouira's balmy temperatures are reason enough for inclusion on a list of best places for sun in October, but October is also the start of the best surfing season in Morocco too, so there's no reason not to hit the waves and check out other places to visit in Morocco.
If surfing isn't for you, Ranch de Diabat, a few miles out of the city's centre offers camel and horse rides along the dunes. Book onto one of the overnight riding trips for a glimpse at little-visited villages and untouched shoreline.
Read Next: Fabulous Things to do in Essaouira During Your Trip
Suggested Stay: Riad Chbanate
Other Holiday Destinations in October
Garden Route, South Africa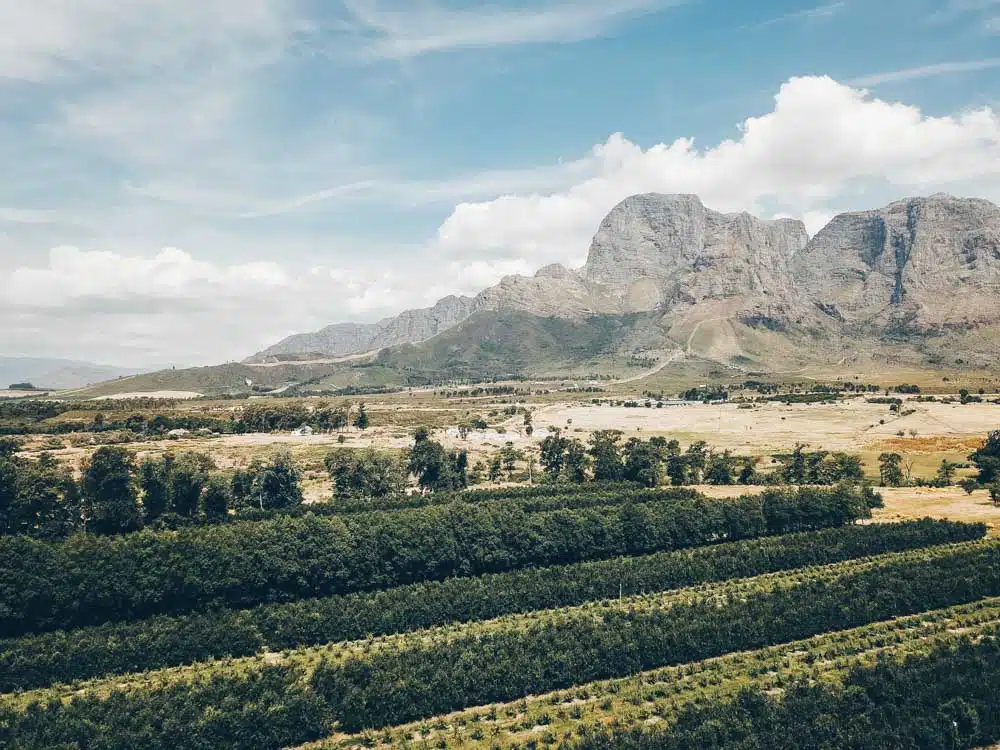 Average Temperature: 21°C high; 12°C low
Season: Spring
Sometimes, you just need to take a road trip – to hit the open highway, the promise of new discoveries and a take-it-as-it-comes itinerary.
South Africa's Garden Route is one of the world's great road trips. Starting in Cape Town and winding its way along the coast to Port Elizabeth, it's defined by the wealth of vistas you encounter along the way.
Thanks to its southern hemisphere location, October is spring in South Africa – and it also happens to be the peak of the whale watching season too.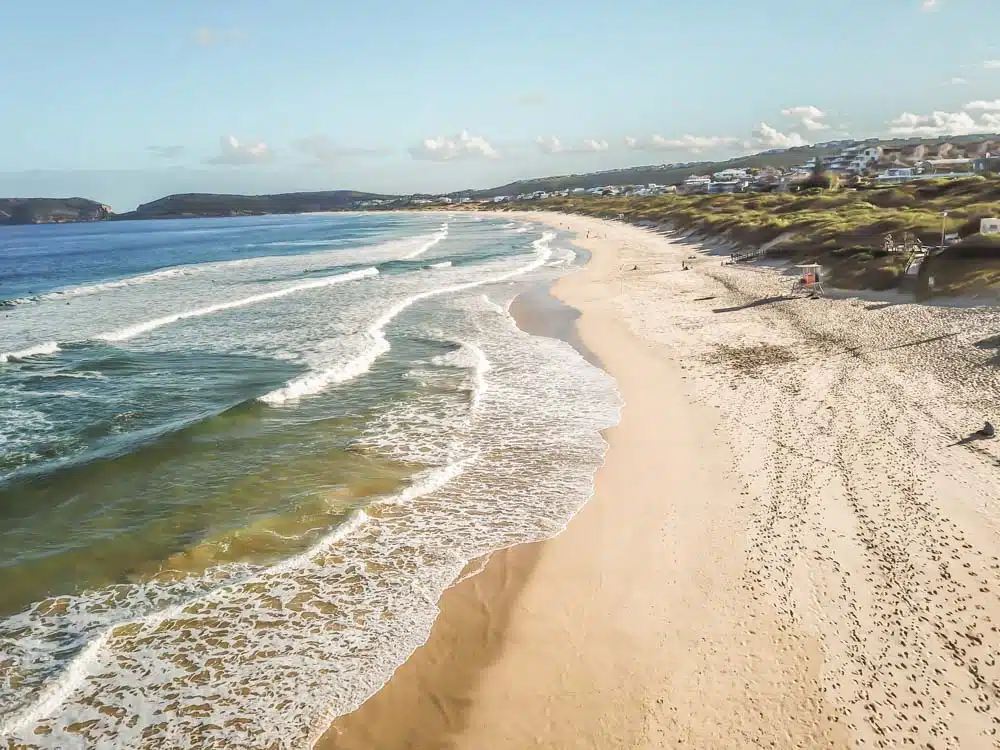 Though it's a relatively short stretch (you can do the whole thing if you put your foot down and drove all day), you should allow at least a week, preferably two to make the most of it.
Excellent beaches, unbelievable wildlife (this stretch of coast is famed for penguins, whales and Great White Sharks) and beautiful terrain: what more can you want?
PS, be sure to make the short detour to Addo Elephant National Park, you won't regret it.
Peru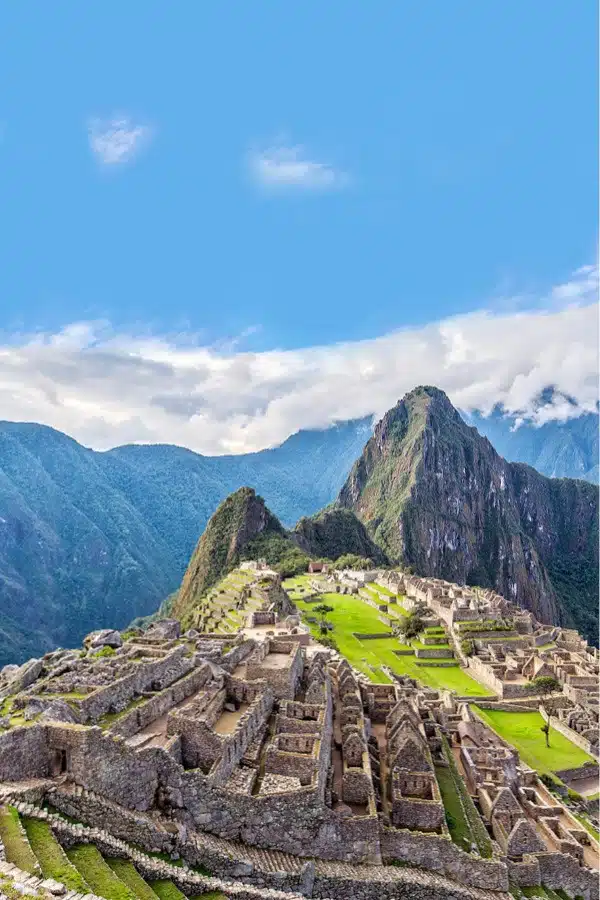 Average Temperature: Varies depending on region
Season: Spring
Peru is one of the best countries to visit in October. Temperatures in the capital, Lima hover around 20℃ for most of the month and the country's rainy season hasn't quite started.
If you're planning on hiking to Machu Picchu, we'd recommend early October for the best chance of good weather, otherwise areas such as the Ballestas Islands and the giant sand dunes at Huacachina are worthwhile destinations.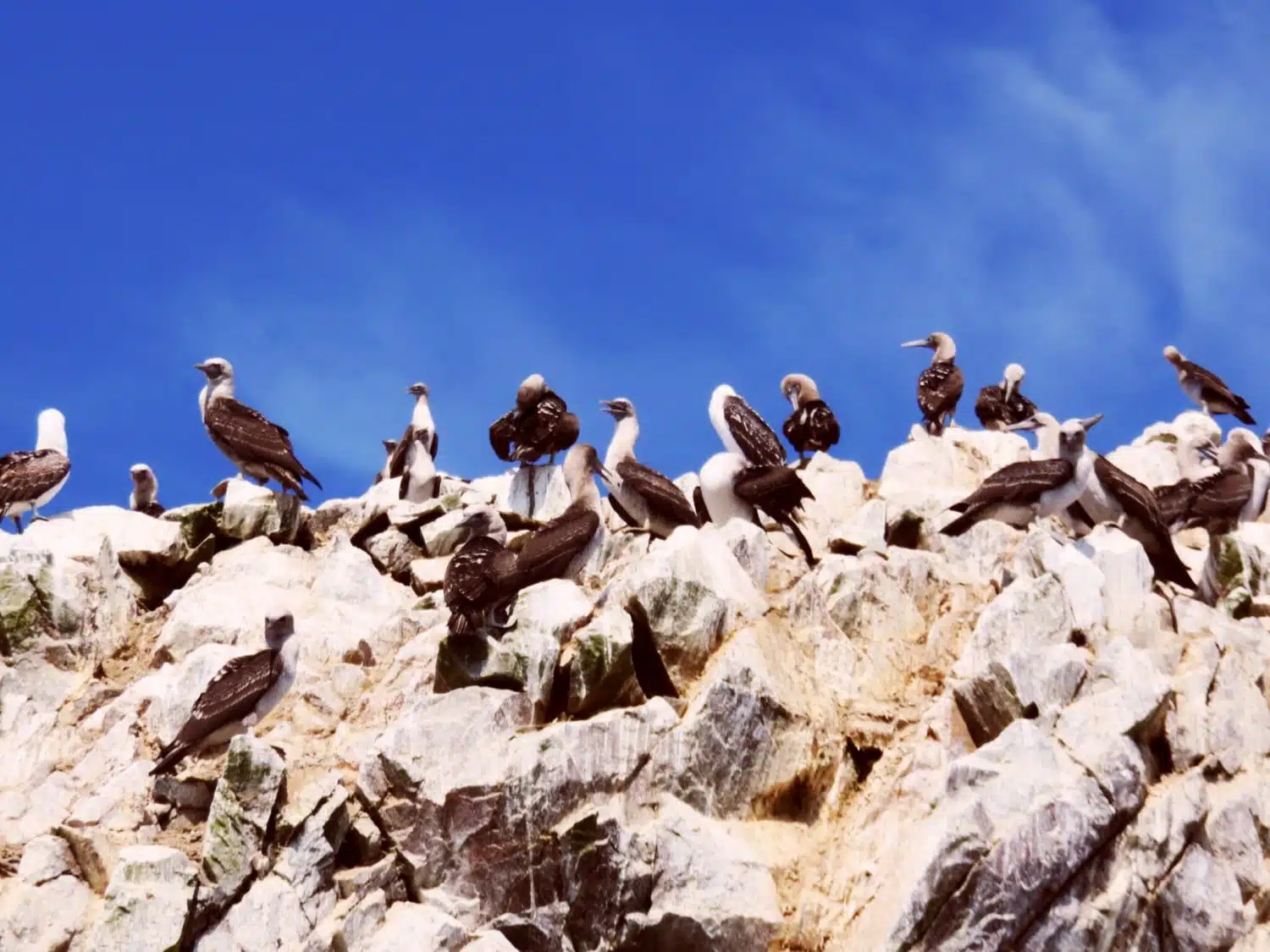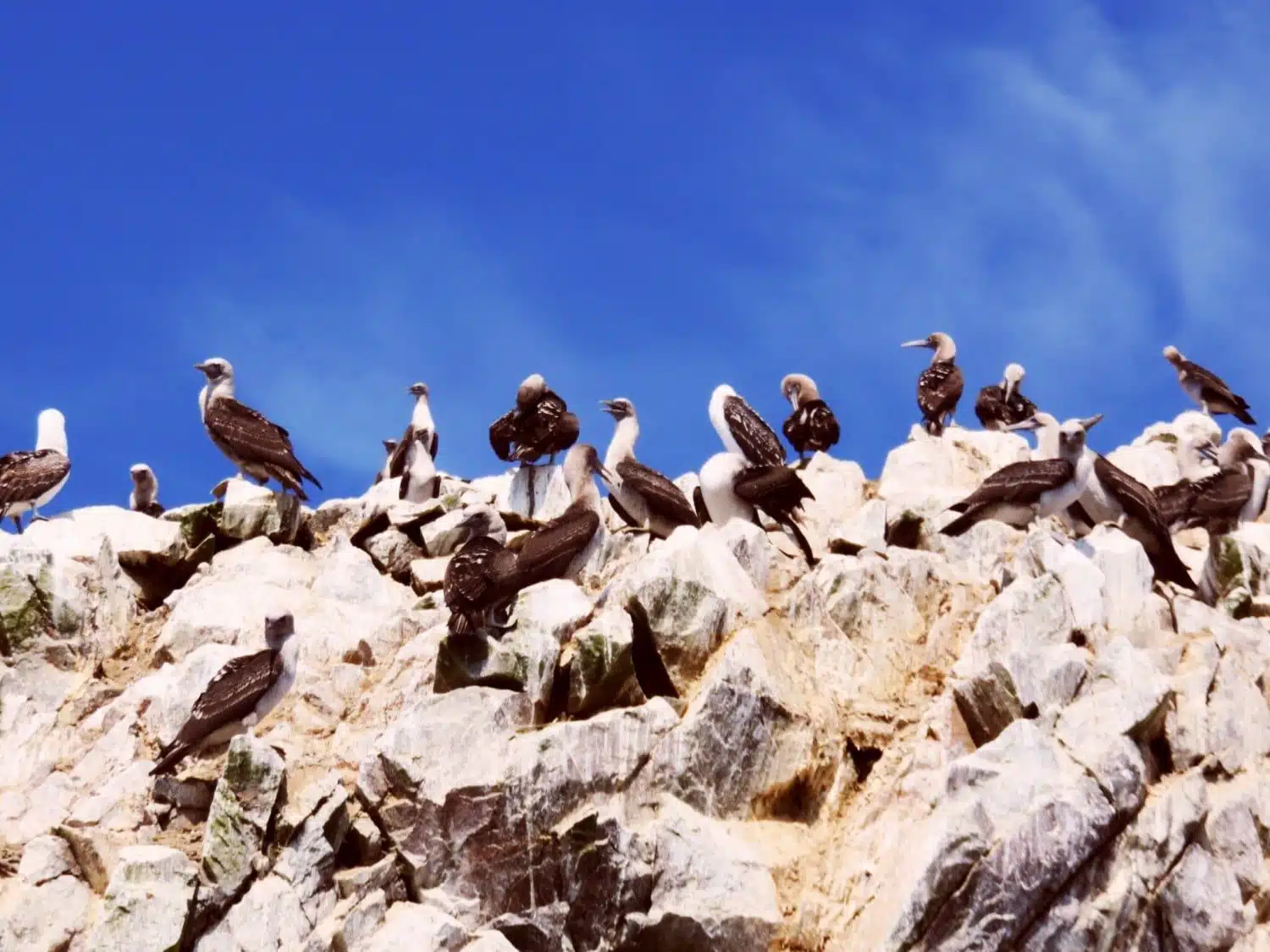 The little-visited Ballestas Islands are one of our favourite spots in Peru. Catch a boat tour from Paracas, the nearest town, for a close up view of one of the country's most important natural habitats (Amazon excluded of course).
You'll spot endangered Humboldt penguins, pelicans, boobies and sea lions on your trip, and the tour also takes in the mysterious petroglyph known simply as "The Candelabra".
Machu Picchu isn't the only breathtaking hiking destination in Peru: the Cordillera Blanca gets special mention thanks to its numerous hikes and stunning scenery.
Read Next: 2 Weeks in South America – Five Suggested Itineraries for Every Kind of Traveller
Suggested Stay: Innside by Melia, Lima
Atacama Desert, Chile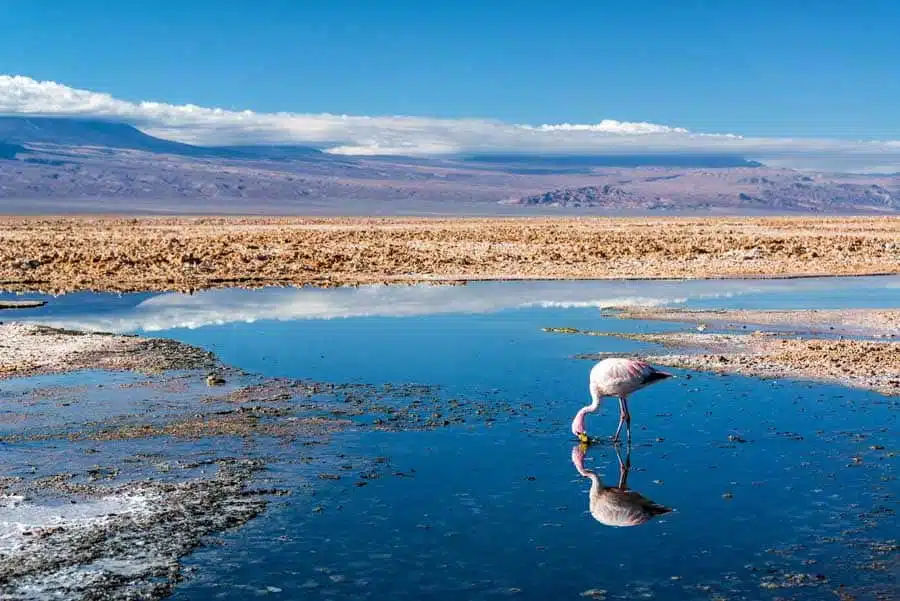 Average Temperature: 22°C high; 6°C low
Season: Spring
The Atacama Desert is a landscape of superlatives – the highest desert in the world, the clearest night skies… you get the picture.
Still nothing can quite prepare you for the sight of it IRL.
Bright green lakes, stretches of barren orange dust tufted with bright yellow grass, purple volcanos – you could be forgiven for thinking that you were peering through a kaleidoscope.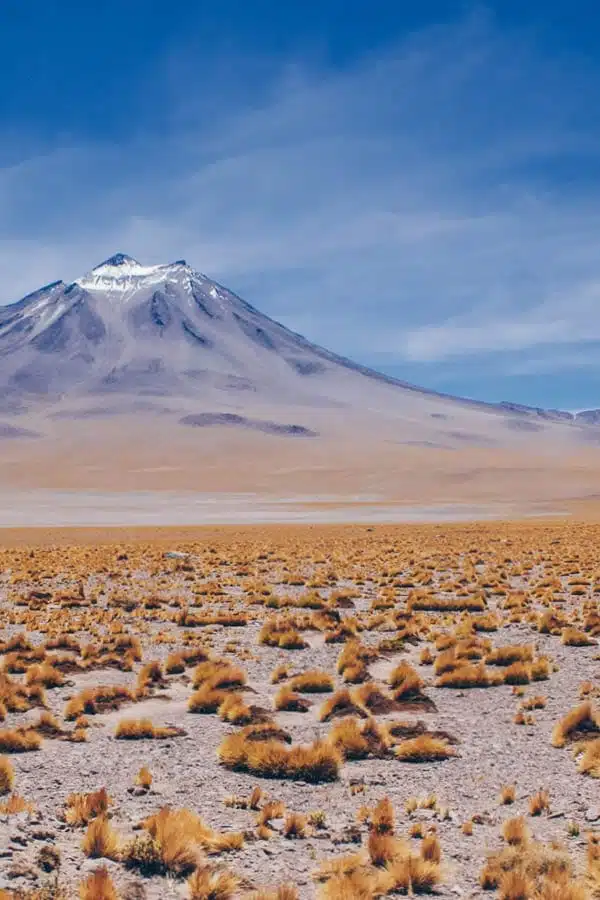 October brings spring to the Atacama, making it one of the best places to go in October thanks to the warmer temperatures that come with it.
The biggest show is the one after dark. Kick back with a bottle of Chilean red in hand and watch as the stars pour out into the inky skies. There's nothing like seeing the Milky Way to make you feel small.
Spend as little time as possible in dusty San Pedro de Atacama itself – the best way to explore the Atacama Desert is to rent a campervan or bed down in one of the area's exclusive retreats – Awasi is a long-time fave.
Read Next: Cool Things to do in the Atacama Desert
Suggested Stay: Hotel Pascual Andino
Bali, Indonesia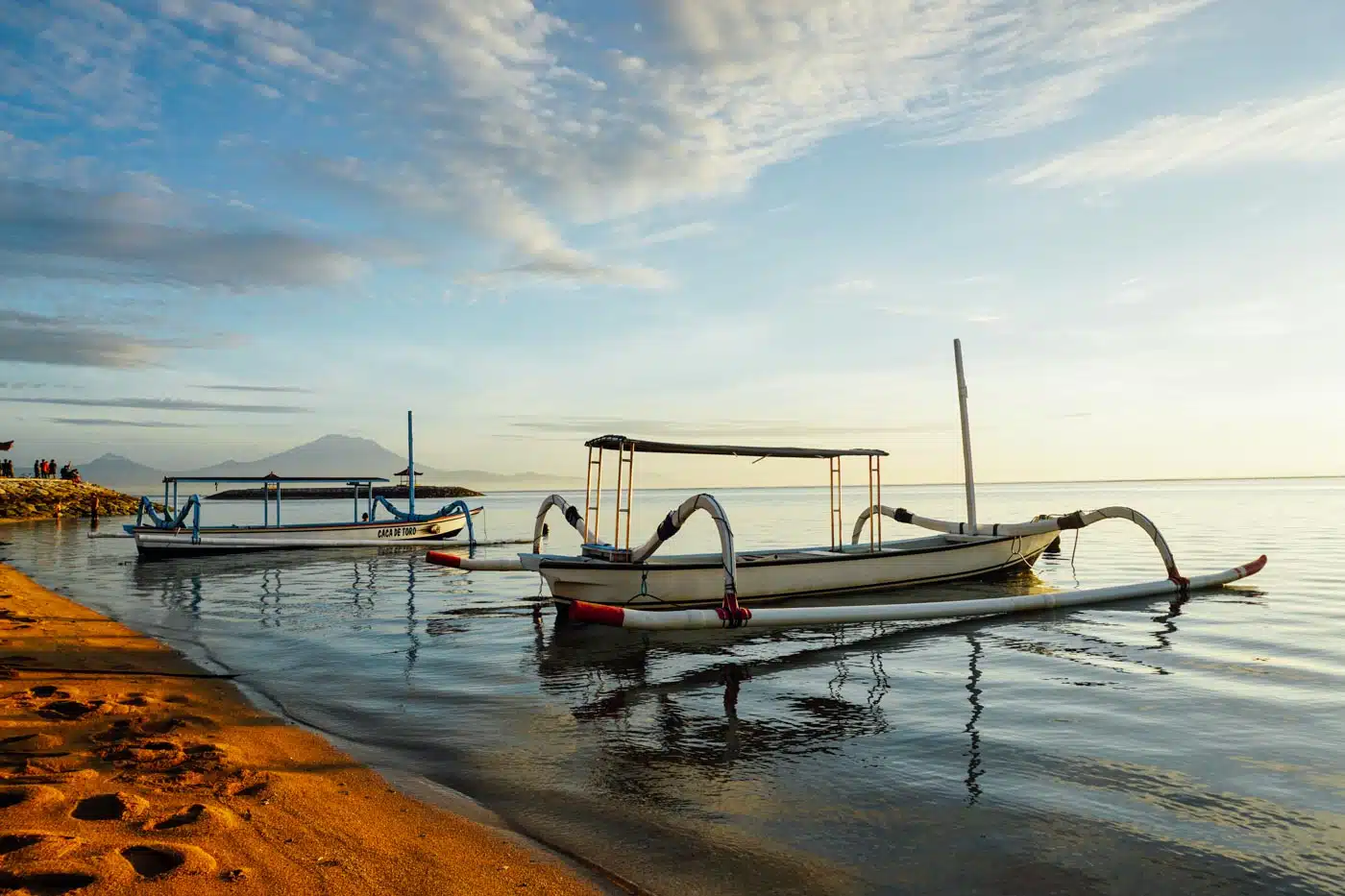 Average Temperature: 31°C high; 24°C low
Season: Dry Season
Bali is a cool place to go in October – it's the tail end of the dry season so the weather is still fabulous, but the prices are much cheaper than in the peak of summer when it can be crowded and hella expensive.
I love Bali – where else do you find a combination of eye-poppingly beautiful beaches, reasonably-priced high end hotels and the unique food and culture that sets it apart from the other Indonesian islands?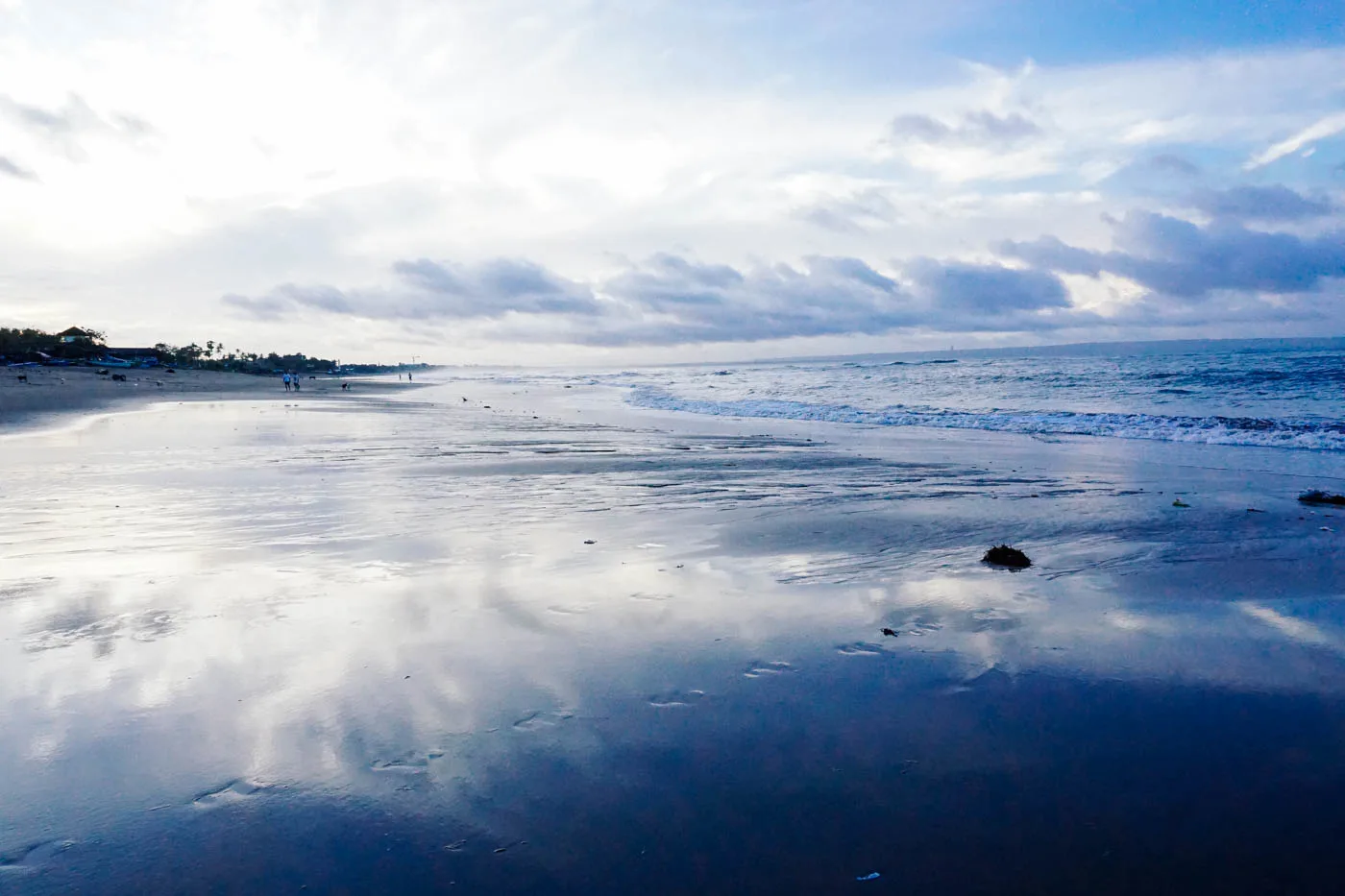 If you're looking for culture, base yourself in Ubud in the heart of the island.
Prefer the beach? Hip Canggu is the cool kids favourite beach destination (think lots of surfers and chic cafes) – though the beaches are volcanic and grey/ black rather than white.
Jimbaran, the Bukit Peninsula and Nusa Lembongan are better options if you're after the brilliant white-sands meets turquoise waters effect.
Read Next: Two Weeks in Bali
Suggested Stay: Alila Seminyak
Rio de Janeiro, Brazil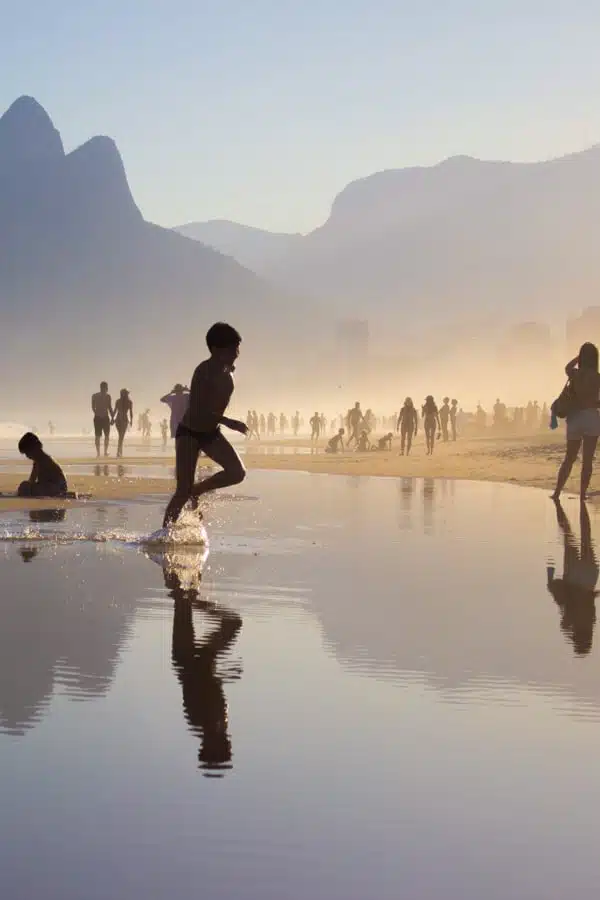 Average Temperature: 27°C high; 21°C low
Season: Spring
Is there a bad time to go to Rio de Janeiro?
This spectacular city never fails to impress visitors with its vibrancy, views and (ahem) caipirinhas.
Rio de Janeiro is one of the best places for sun in October thanks to warm temperatures (expect them to be around 20-27℃) and the seemingly endless opportunities to go out and explore.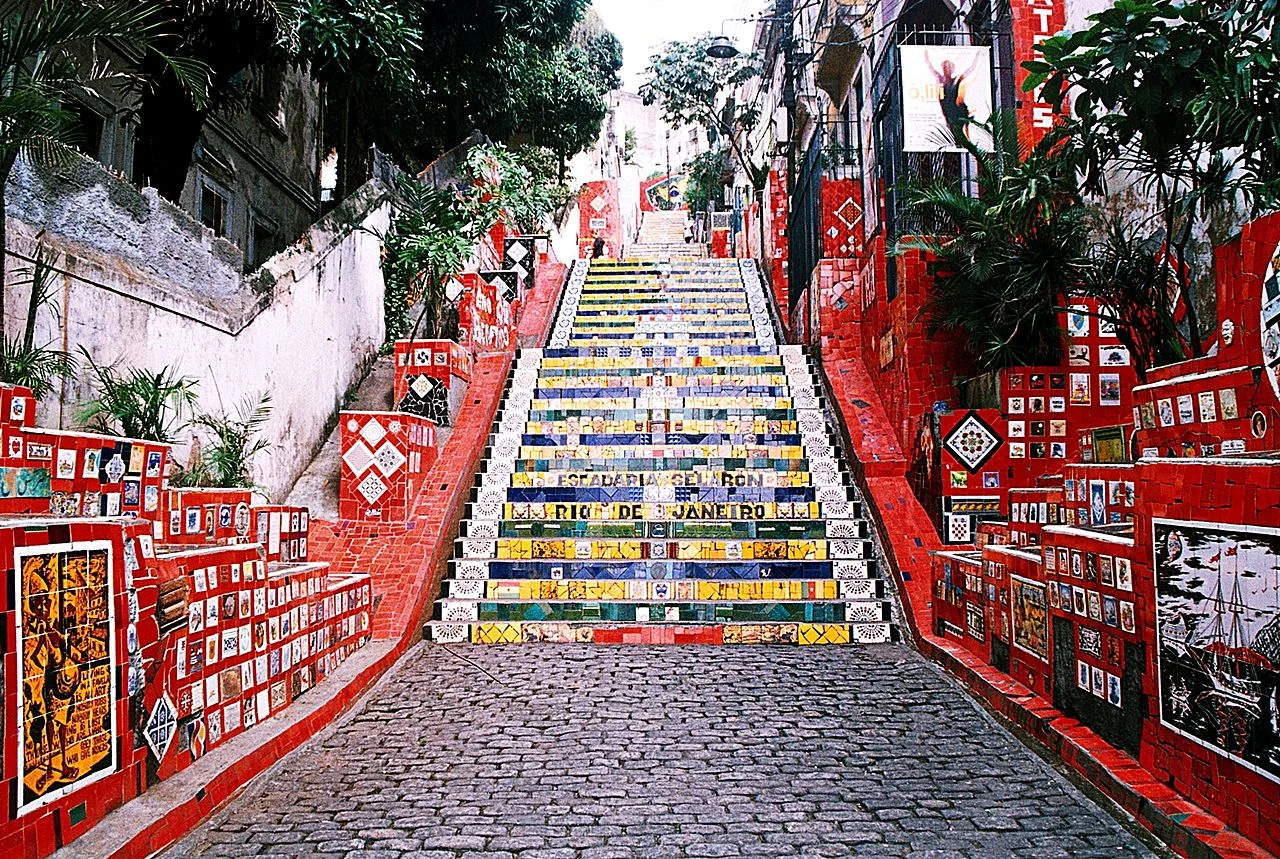 While it's brilliant visiting Rio de Janeiro during carnival (trust me, it really is that good), you have a much better chance of actually seeing the city if you visit at another time.
Take in the big sights such as the Pao de Azucar (Sugarloaf Mountain), Christ the Redeemer, Ipanema and Copacabana Beach during your first few days and then take your time to explore up-and-coming neighbourhoods such as Botafogo and the vast Tijuca Rainforest.
Read Next: These are the Landmarks you Shouldn't Miss on Your Next Trip to Brazil
Suggested Stay: Sheraton Grand Rio Hotel
Barcelona, Spain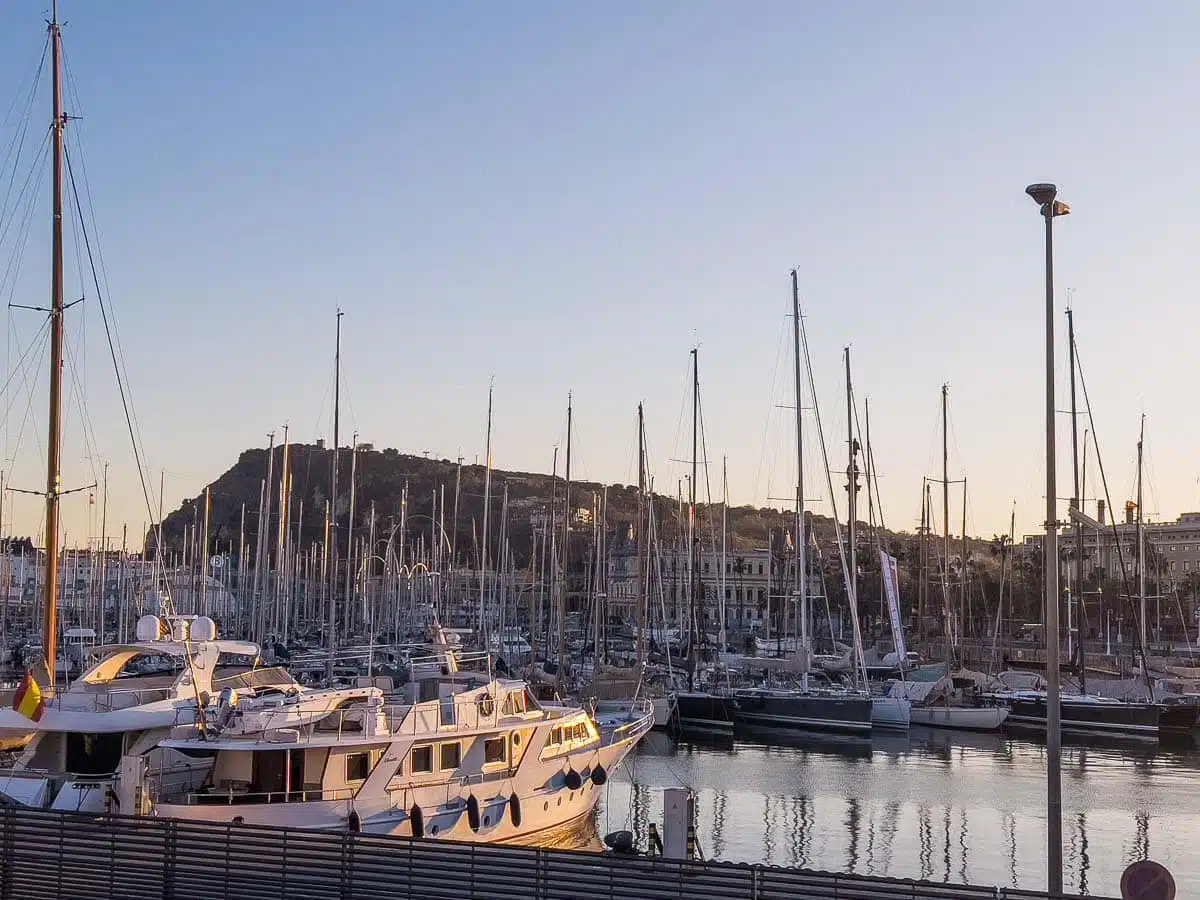 Average Temperature: 23°C high; 12°C low
Season: Autumn
I might be a little bit biased because I've just returned from Barca, but it truly is a wonderful year-round spot. Visiting in October means cheaper rates and beating the crowds, which I think is a win-win.
While it can be a little bit chilly (heading to the beach is for the brave only), this is ideal for exploring some of the top museums and galleries in town. The Picasso Museum and the MOCA are two I highly recommend you check out.
Wrap up warm and get ready to discover Gaudi's weird and wonderful creations that dot the city, sans the hordes of tourists that usually block the photos. It's a dream come true. End your day with wholesome paella and tapas – with a glass of something strong to combat the evening chill.
Read Next: Barcelona Travel Guide – Insider Barcelona Travel Tips to Help You Plan the Perfect Trip
Suggested Hotel: Cram Hotel
Best Holiday Destinations in October: Map
Where to do in October: Practical Tips and Guides
October is generally a good time to travel as it's shoulder season in most destinations, which means fewer crowds and lower prices.
October is still hurricane season in the Caribbean, so you're best off waiting until November onwards if you want a beach holiday in the region.
If you're not fixed on your destination, spend some time comparing the places I've featured above – flights and hotels vary and you can find an excellent value trip if you're willing to be flexible.
When it comes to booking, I compare flights in Skyscanner, Hopper and Google Flights as they do come up with different results. Hopper is my favourite as it tells you whether it's the best time to buy the flights or if they're likely to become cheaper if you wait – and it has exclusive "Secret Deals" that you can't find on other platforms.
For hotels, check both Booking.com and Hotels.com as they can have different offers. It's also worth checking the hotel's own site as they can offer great incentives for booking direct.
Love this? Save and share on Pinterest!