Dancing across the Arctic skies, the Northern Lights are an unforgettable spectacle. Discover Iceland's best Northern Lights hotels with this practical guide.
Hands up if you're completely obsessed with the Northern Lights. This near-magical experience is an out and out visual spectacle – and it just so happens that Iceland is one of the best destinations for seeing it.
While there are many ways to go about catching the Northern Lights in Iceland – like staying in Reykjavik and hopping onto special Northern Lights tours – IMHO the best is undoubtedly to stay in one of Iceland's Northern Lights hotels
Why?
Iceland's Northern Lights hotels give you the opportunity to see the aurora in so many unique ways – whether it's from the cosy enclave of a hot tub, or in perfect solitude out in nature – in some you can even see them from the comfort of your bed!
If you're looking for the best place to see the Northern Lights in Iceland, then you'll want to stay in one of these hotels. I've picked 9 of the best hotels in Iceland that are perfect for seeing the aurora borealis.
From luxury hotels to budget-friendly options, I've got you covered.
So what are you waiting for? Let's go grab you a front row seat to nature's dazzling show!
Best Northern Lights Hotels in Iceland
Hotel Ranga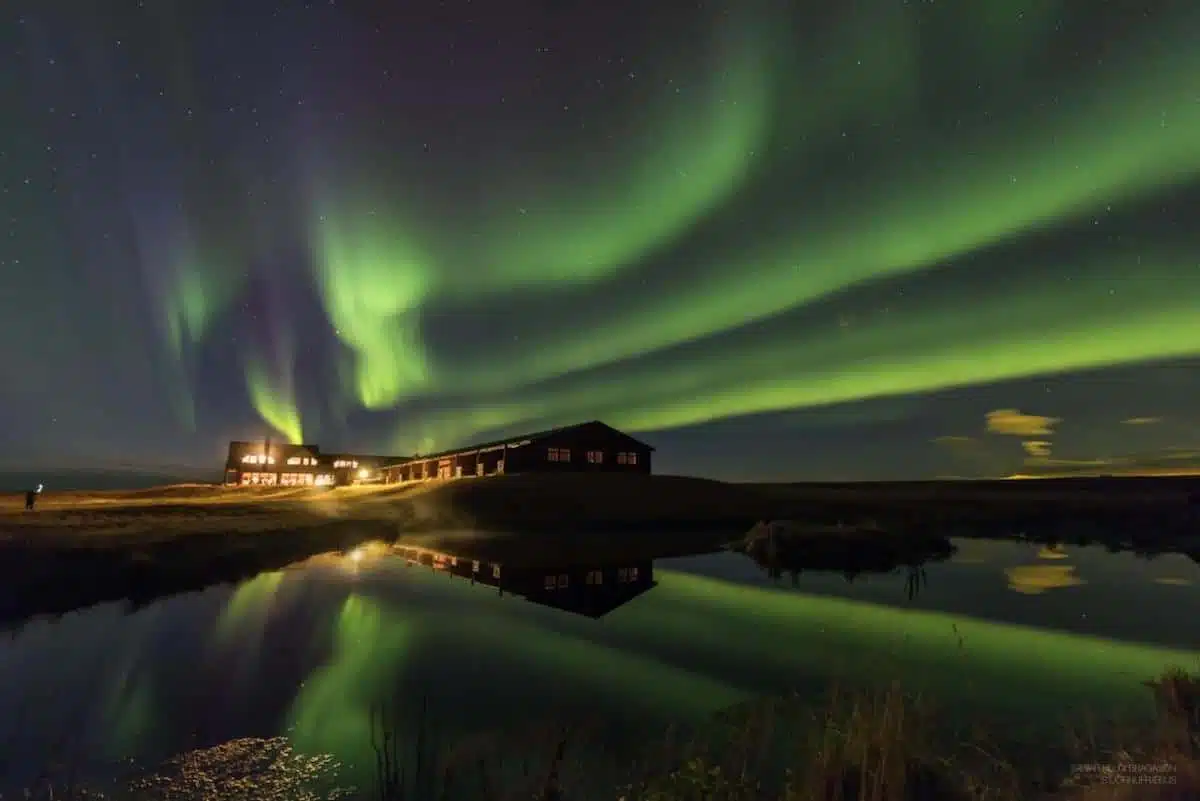 Hotel Ranga is one of the most popular destinations in Iceland for seeing the Northern Lights and one of my personal favourites. I've stayed here twice – once during the Northern Lights season and let me tell you guys, Hotel Ranga did not disappoint.
This luxury hotel offers some of the best views in the country. Its location right on the banks of the Ranga River makes it perfect for watching the aurora borealis dance across the sky. During the Northern Lights viewing season, the guys at Hotel Ranga put it front and centre of the guest experience.
Not only is there a private observatory where you can stargaze with the hotel's in-house astronomer, said astronomer is also available to help guests plan their viewing experience and answer any questions they may have about the Northern Lights.
In addition to this, the hotel offers a special "Northern Lights Wake Up Call" service. Simply tap the button on your phone and you'll get a call when the lights are out in full force. No need to stay up all night – you can doze off and wake up just in time for the show.
The Hotel Ranga also offers a variety of other amenities that make it perfect for a high-end stay in Iceland. There's an on-site restaurant where guests can enjoy a delicious meal while taking in the incredible views, as well as a bar where you can relax after a long day of exploring.
Hotel Husafell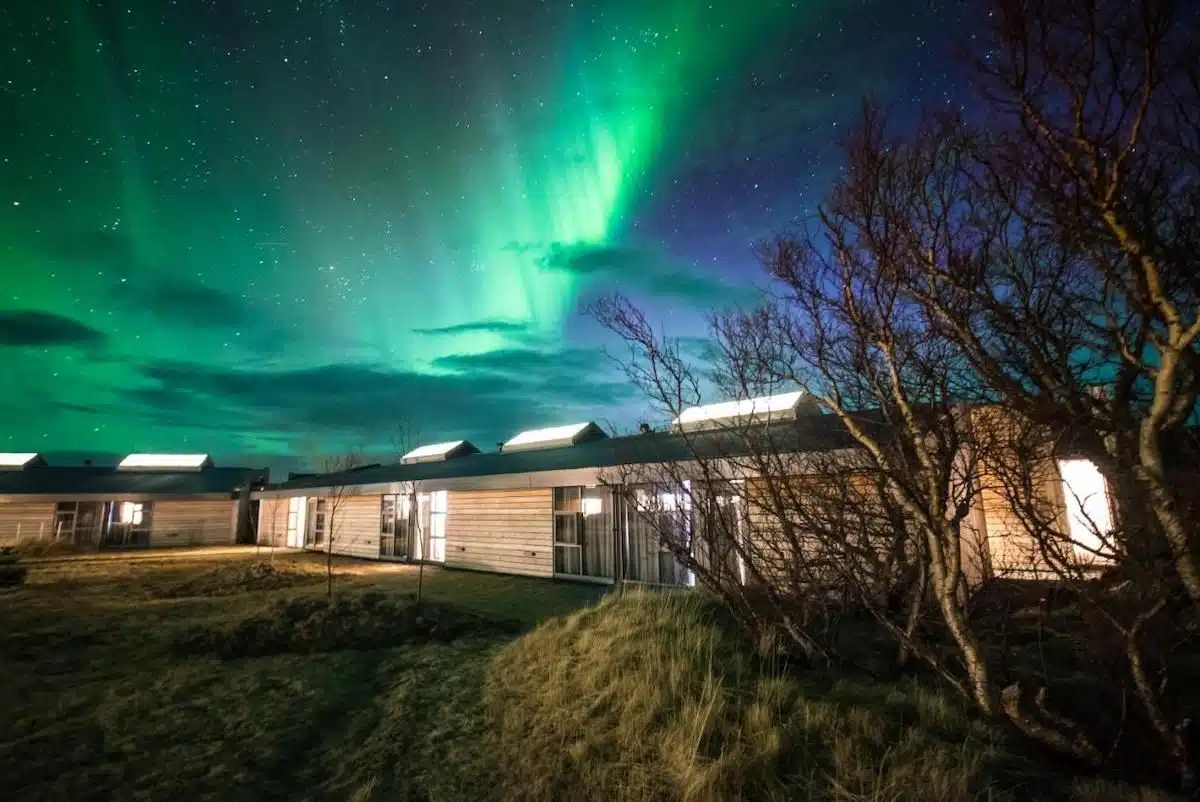 If you're looking for an even more remote option, then Hotel Husafell is a perfect choice. This hotel is located between the wide expanses of Skaftafell National Park and the stunning Jokulsarlon Glacier Lagoon, making it the perfect place to see the aurora borealis.
Eco-friendly Hotel Husafell offers guests a range of different rooms to choose from, ranging from standard to suite categories – all are spacious and kitted out in chic contemporary style – perfect for relaxing after a night spent watching the lights.
With an average of three sightings a week in the winter months, the combination of the remote setting (meaning pretty much zero light pollution) and the nearby glacier (which helps create clear and cloudless skies) sets Husafell firmly as one of the best hotels in Iceland to see the Northern Lights and they're well aware of it – offering guests wake up calls and tips on how to see the lights.
The hotel also has its own geothermal pools nearby at Krauma, where guests can enjoy a relaxing soak – and yet more opportunities to see the lights. If you're feeling adventurous, there's also a range of different activities on offer, including glacier walks, ice caving and snowmobiling.
Ion Hotel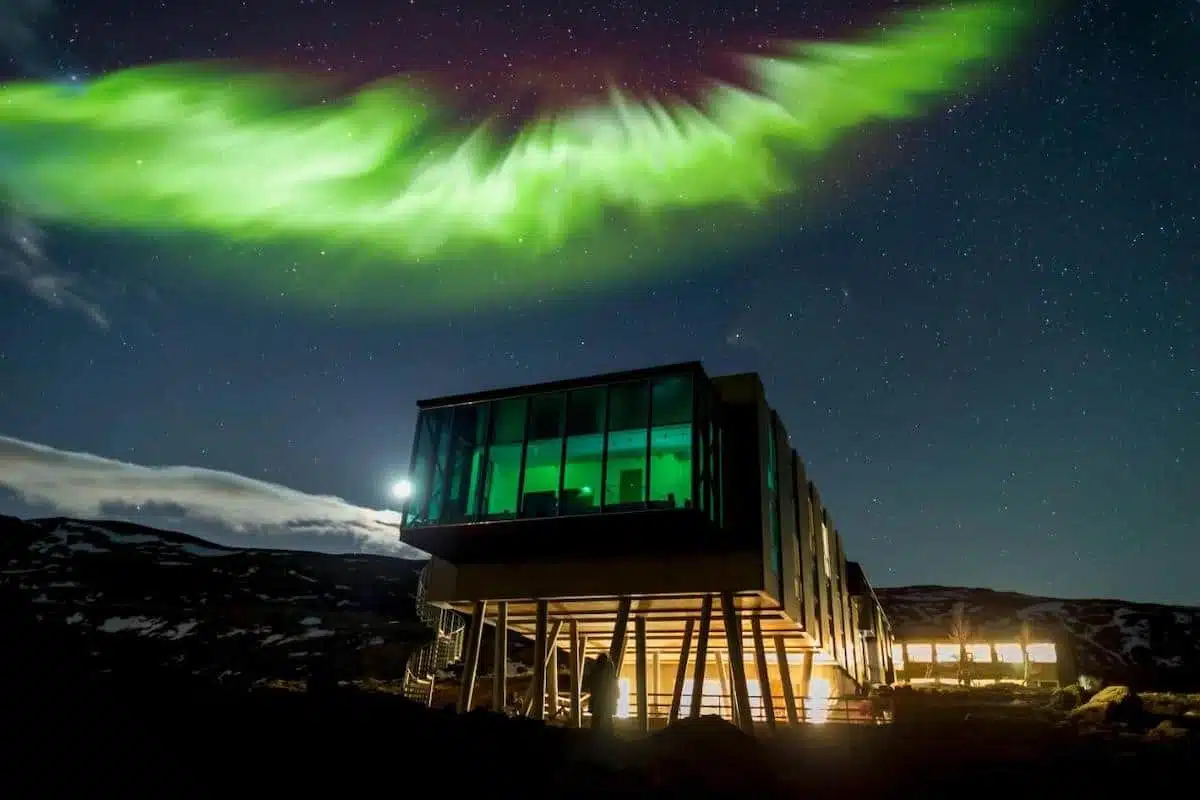 The sleek and contemporary Ion Hotel is an incredible spot… which also happens to be one of the go-to Northern Lights hotels in Iceland.
Let's face it, there's a lot to love about the Ion: not least its location just off Iceland's famous Golden Circle route, which puts you in striking distance of some of the country's biggest sights such as Gullfoss Waterfall, Geysir and Strokkur Geyser.
We're all about the Northern Lights though – and what a location to see them from! Watch as the aurora dances above the stark lava plain amid swirling winds.
The bar's double-height glass walls offer spectacular views of Lake Thingvallavatn (a prime viewing spot) and there's also a geothermal pool where you might just strike lucky and see the lights as you soak off the day's efforts.
Hotel Budir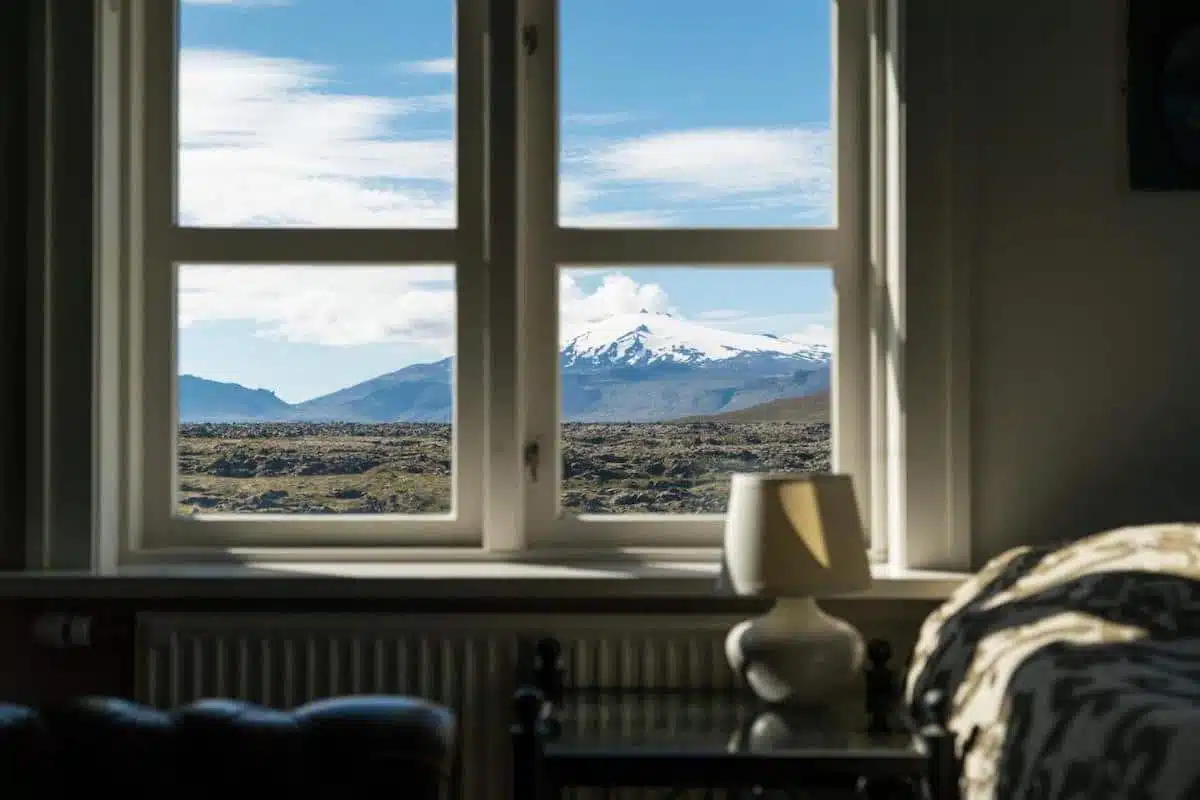 Hotel Budir (Hotel Búðir) bills itself as a remote luxury hotel in Iceland for seeing the Northern Lights – which is pretty much what you can expect from this stylish spot.
This hotel offers comfortable accommodation in an incredible location – right on the shores of Iceland's stunning Snaefellsnes peninsula.
The area around Hotel Budir is known for its clear skies, making it the perfect place to see the Northern Lights.
What's more, it's only a two-hour drive from Reykjavik. Plus, its location is close to some of Iceland's most popular attractions – including the stunning Kirkjufell Mountain means that there's plenty to do in the area even if you don't see the Northern Lights. Particularly when you take their gourmet restaurant – one of the best in Iceland – into account.
If you're looking for a relatively remote option that still offers incredible views and amazing amenities, then the Hotel Budir is perfect for you.
Magma Hotel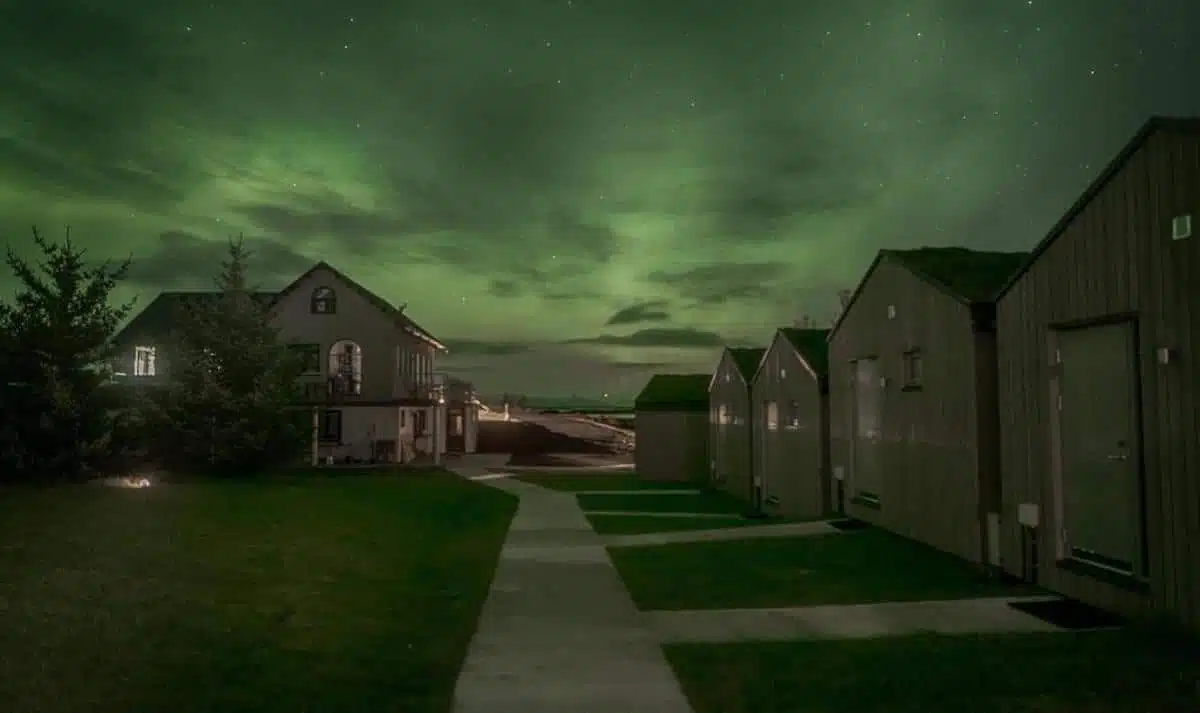 The teeny-tiny Magma Hotel is a great choice for anyone looking for a luxury Northern Lights hotel in Iceland. With just 25 uber-stylish rooms – all boasting lake or lava-field views, it's the place to go for a relaxing break in southern Iceland.
Magma Hotel offers guests some of the best views in Iceland, with floor-to-ceiling windows that offer stunning panoramic views of the surrounding landscape – plus its remote location means it scores high on the aurora-spotting scale.
The emphasis here is on kicking back and enjoying Iceland's natural beauty: the area surrounding the hotel is rich in birdlife and hiking opportunities. That said, the team is always on hand to help you plan an adventure to nearby attractions such as the Vatnajokull Glacier and Fjaðrárgljúfur Canyon.
Reykjavik Domes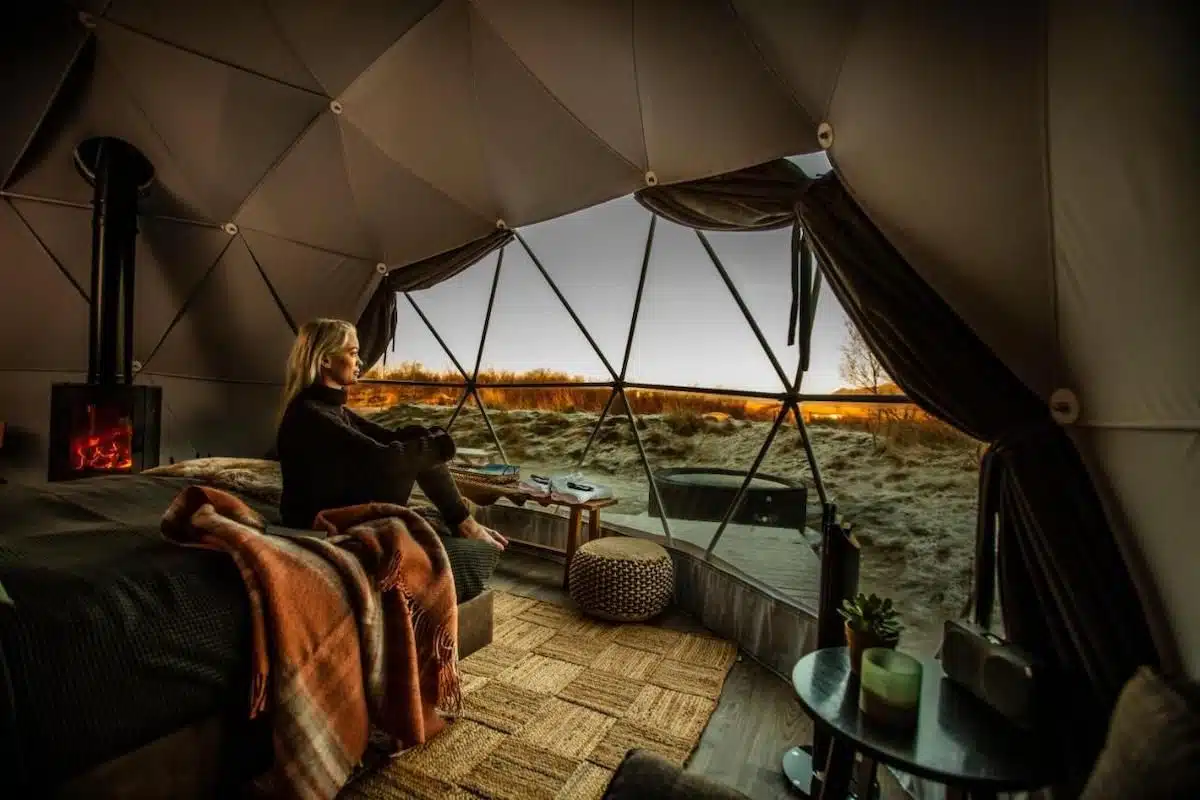 Dreaming of staying in Northern Lights pods in Iceland? Say hello to Reykjavik Domes.
As the name suggests, Reykjavik Domes is located on the outskirts of Iceland's capital city, on a stretch of land with views of Mount Esja.
These semi-glass igloos offer a unique experience: snuggle in underneath the cosy sheepskin, your dome heated by a wood-burning fireplace and watch as the Northern Lights play in the sky. Upgrade to the Deluxe Domes and you'll even get a private bathroom and hot tub to add that extra-special touch to your magical night.
Hotel Laxnes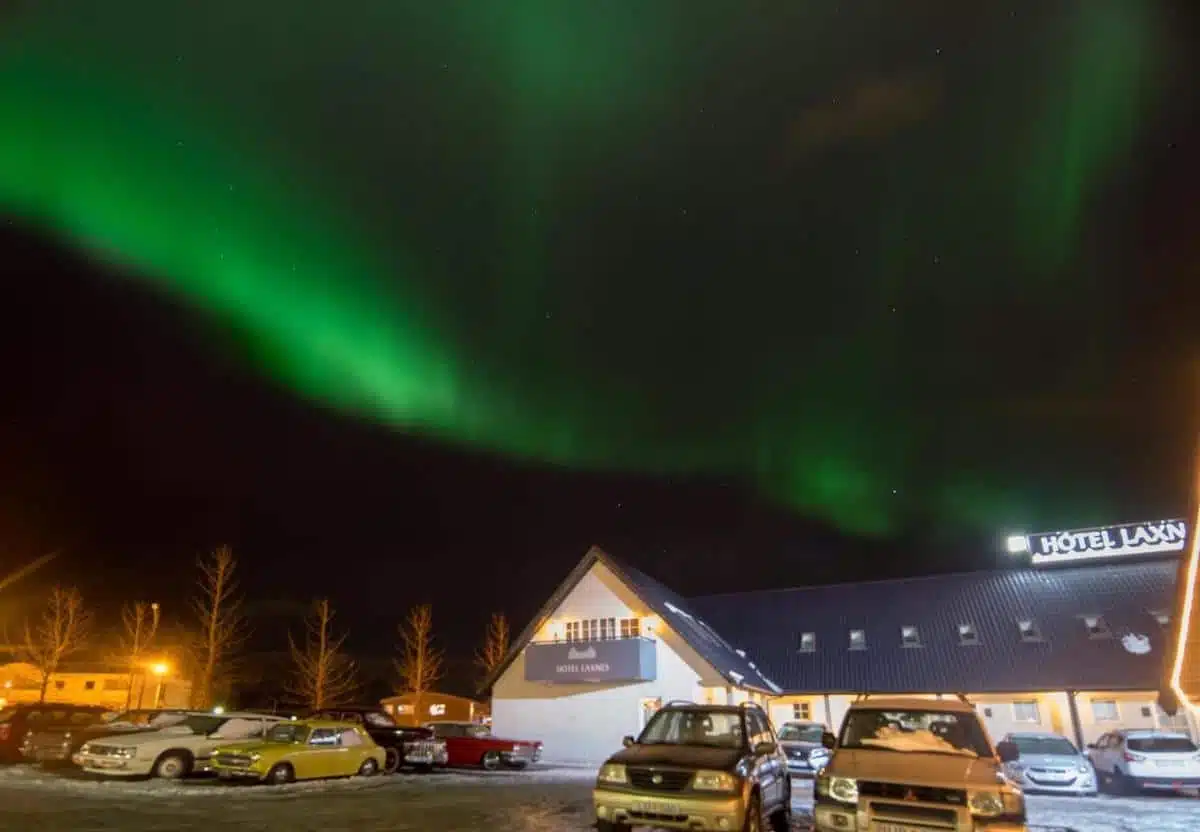 So far, I've covered a lot of higher-end hotels but you shouldn't think that Iceland's Northern Lights hotels all have to cost a pretty penny. Hotel Laxnes is a great choice for anyone looking to see the aurora borealis on a bit more of a budget – without compromising on style or comfort.
The 26 rooms err on the simpler side of things, but are welcoming enough – most also come with views of the nearby Mount Esja.
A short hop from Reykjavik, Laxnes offers spacious and affordable accommodation in the coastal town of Mosfellsbaer – just off the Ring Road and in easy distance of attractions such as Thingvellir National Park.
If you're looking for a budget-friendly option that still offers cool views and amazing amenities, then the Hotel Laxnes is perfect for you.
Fosshotel Hellnar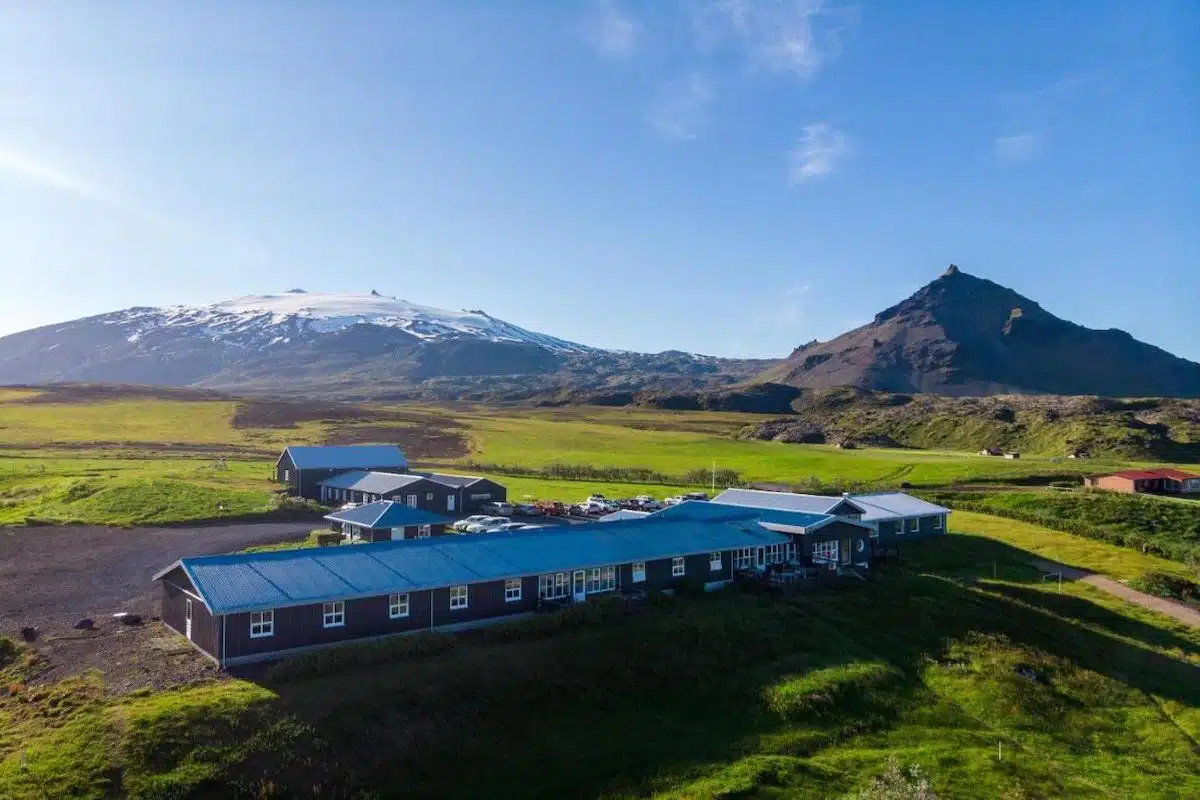 Award-winning Hotel Hellnar is one of Iceland's eco-friendly Northern Lights hotels, with a great location near to the spectacular Snaefellsjokull glacier.
Style-wise, the emphasis is on understated comfort rather than all-out luxe. The hotel is also just a few minutes' walk from the charming fishing village of Hellnar, making it the perfect place to stay if you're looking for a relaxing break away from the hustle and bustle of city life.
In terms of Northern Lights, ask at reception and the team will come and knock on your door when the aurora starts putting on a show. They'll also help to arrange for you to strike further afield into the Snaefellsjokull National Park and the chance to see the lights in a jaw-dropping natural setting.
The Hotel Hellnar offers guests stunning views of the glacier and surrounding countryside, as well as a range of amenities and activities.
Hotel Grimsborgir by Keahotels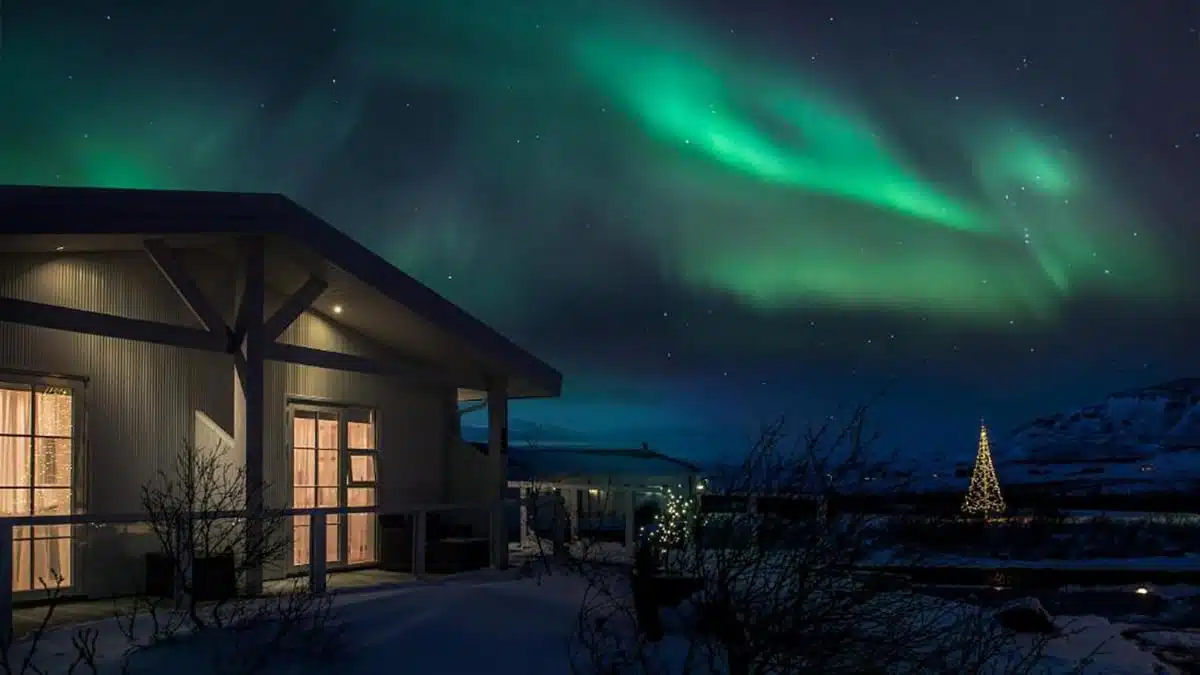 Want to know where to stay in Iceland to see the Northern Lights that oozes style and class? Let me introduce Hotel Grimsborgir by Keahotels.
This contemporary hotel in a relatively remote location in the Golden Circle has a lot going for it – whether that's the spacious rooms (all of which come with a patio or a balcony) or the numerous outdoor hot tubs that are *perfect* for nighttime Northern Lights viewing parties.
Style-wise, you can expect luxury with authentic Icelandic touches – that translates to warm wood finishes, plush furnishings and artwork inspired by local nature and a vibe that is firmly on the comfortable-luxe side of things.
Away from the Aurora, the hotel's location means that it's only a short 15-minute drive to the stunning Selfoss Waterfall, and not much further to Thingvellir National Park too.
Northern Lights Hotels Iceland: Practical Tips
The Northern Lights season runs from Late September to Mid-April, so you'll want to book your trip during this period if you're keen on seeing the aurora during your Iceland trip.
Being Iceland's best Northern Lights hotels, these places book up quickly. Book as far in advance as possible to stay in a hotel of your choosing.
Best Northern Lights Hotels Iceland: Map
Love This? Save and Share on Pinterest