Wondering how on earth you could fit in all of the dramatic landscapes, natural wonders, and city bustle that Iceland promises on a one-week trip? This itinerary is the perfect travel guide for a week in Iceland.
A country island that almost doesn't seem to belong to this world, Iceland is home to majestic waterfalls, active volcanoes, and some of the most spectacular views of the Northern Lights. Many Game of Thrones fans will recognise the landmarks that became backdrops for several scenes in the series.
There is plenty to see and do here, and a week will only get you to the highlights. So take a look at this Iceland itinerary for 7 days of exploration and discovery.
Handy Tips for Planning Your Iceland Itinerary
Group Tour or Independent Travel?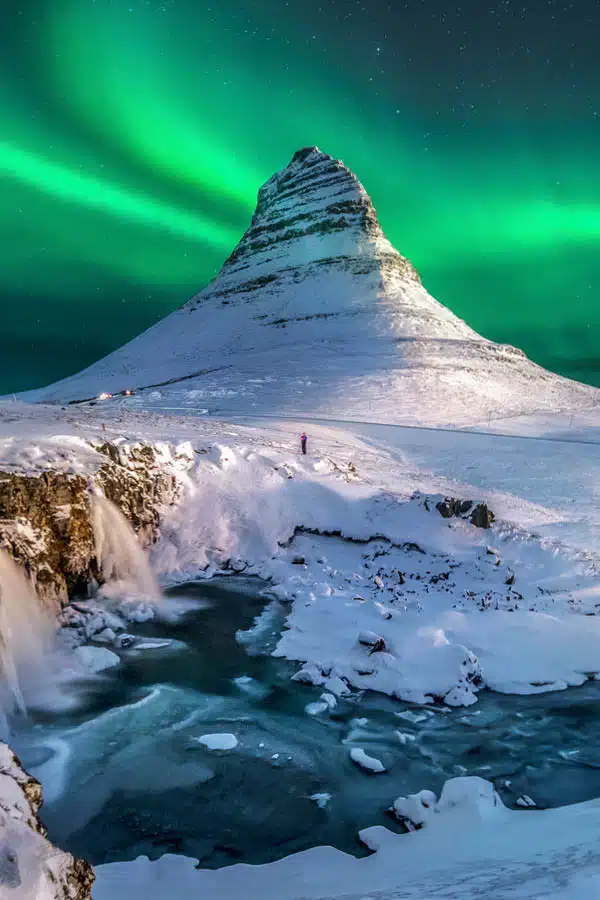 You can do Iceland in 7 days independently, but this will require you to have a car or a well-thought-out plan to use the bus service. Driving in Iceland can be tricky, though, especially in winter when the roads are not always forgiving.
There are also some places (like the glaciers and volcanoes) where it isn't wise to go without a guide. So you could choose to navigate the country on your own, booking tours where needed and for short periods.
Or simply plan your trip using the many guided group tours available with a knowledgeable and skilled person showing you around.
What to Pack for Your Iceland Itinerary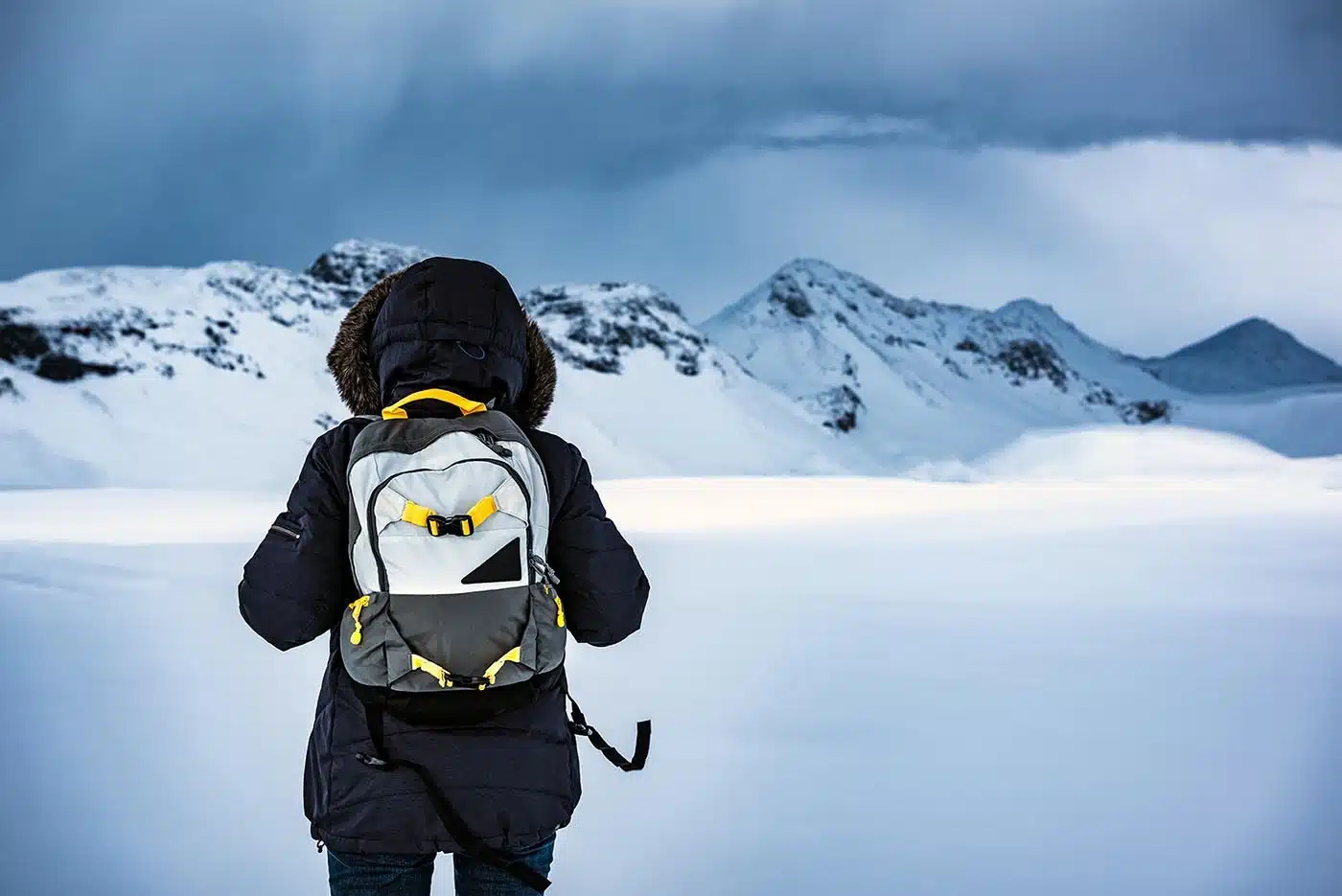 Here are some essential items you should add to your bags before heading off to spend a week in Iceland.
Camera – this is essential; you wouldn't want to leave this glorious island without plenty of proof and frozen memories.
Back up power bank – since you may be out on the road for longer, a power bank to charge your phones and camera is a wise idea.
Hiking boots – to get to all of the natural beauty in Iceland, you'll need to do a fair amount of walking, so make sure you have strong but comfy boots with ankle support.
Waterproof jacket and pants – Iceland's waterfalls and hot springs mean there's a lot of splashing water, so bring the right protection.
Thermal layers – pack in tights, tops, and extra socks for when the temperatures drop.
Swimsuit – if you're visiting the geothermal pools (which I suggest you do), you need a swimsuit. Many people like to bring flip-flops to get in and out of the water.
Sunglasses and sunscreen – even when it's freezing, the sun can be harsh, so remember to protect your eyes and skin from the harmful rays.
Your complete packing list for Iceland will depend on what time of the year you visit, so see my complete packing list for more help.
Useful Resources for Your 7 Days in Iceland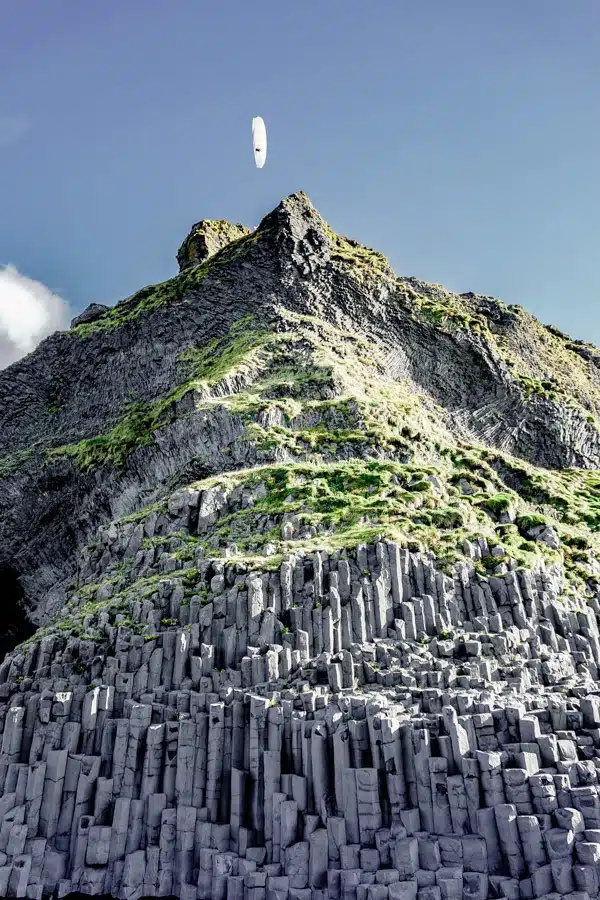 Getting Around Iceland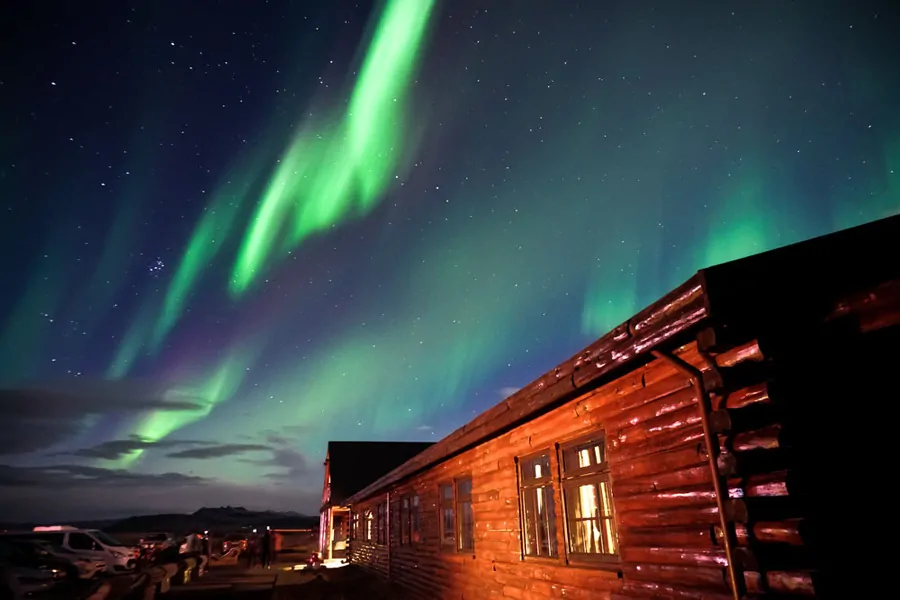 Iceland is a small country, but it has many wild landscapes. There are flights that will take you between the main centres on the island – this is often the cheaper and quicker option to take.
A road trip around the country is a fantastic experience for anyone, but this requires you to have access to a vehicle.
If you're going to be driving yourself, then I suggest taking a look at the Safe Travel Iceland website for safety updates. There are also plenty of guided bus tours that will drive you around and help you make the most of your stops.
If you're not taking guided tours and haven't rented a car, then I suggest you plan your trip in advance so that you can arrange transport.
The country has quite a reliable bus system which goes between the majority of the central places. Although the buses are great options too, they are quite expensive.
7-Day Iceland Itinerary: Step by Step
Iceland Itinerary Day 1: Reykjavik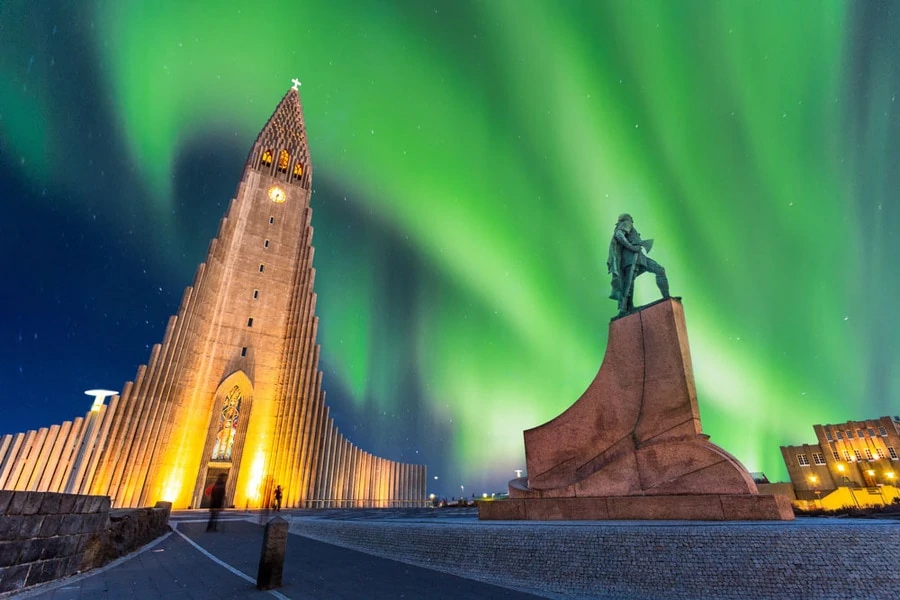 As the capital city, starting your Iceland 7-day itinerary in Reykjavik makes sense. This is a tiny city, but it's bursting at the seams with excitement and culinary delights.
Reykjavik is the appetiser to your Iceland trip, giving you just a taste of the magic you'll find on this island. It's also a great place to show up hungry because there are so many new things to try and taste.
The city houses some of Iceland's best-known geothermal lagoons, history and art museums, and a treasure trove of Icelandic culture. Many music festivals happen year-round in Reykjavik, and the city is the place to be if you're searching for Icelandic nightlife.
Things to Do in Reykjavik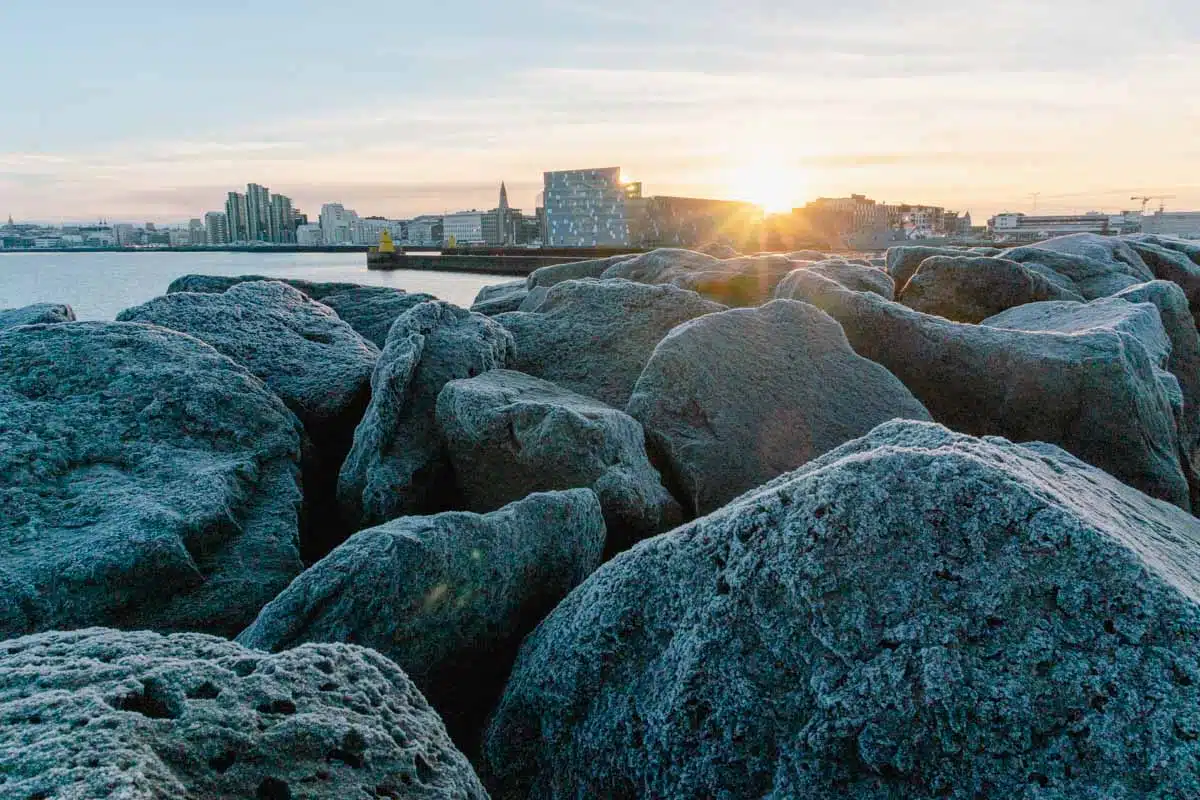 Despite the size, Reykjavik has plenty to do and see. But since you just have a day, here are the things you shouldn't miss:
The Hallgrimskirkja church is a must-see, even if just as you stroll past. And the National and Saga museums are great pitstops for those intrigued by Viking history in Iceland.
Iceland Flyover Ride – this 25-minute ride shows you some of the city and surroundings from the sky. It's a virtual experience which gives a new perspective on some of the stunning places you'll see during your 1 week in Iceland.
Sky Lagoon – going to Iceland and not spending time in a geothermal spa wouldn't make sense. The thing I love about Sky Lagoon is their 7-step Sky Ritual, which showcases Iceland's authentic bathing culture.
Bæjarins Beztu Pylsur – hotdogs may seem like an odd thing to put on your Iceland bucket list, but trust me, these world-famous dogs are a must-have. Plus, you'll need to find lunch somewhere, so you may as well enjoy a renowned meal.
Reykjavik Art Museum – there is so much art to see here that the museum spreads across three locations. You can go through it as you're able, but I recommend spending an hour or so here. Be sure to check out the Kjarvalsstaðir sculpture park.
Blue Lagoon – this is Reykjavik's (and possibly Iceland's) most famous geothermal spa, and for a good reason. It can get swamped with tourists, but if you have enough time, I highly recommend visiting the geothermal spa too.
Getting to Reykjavik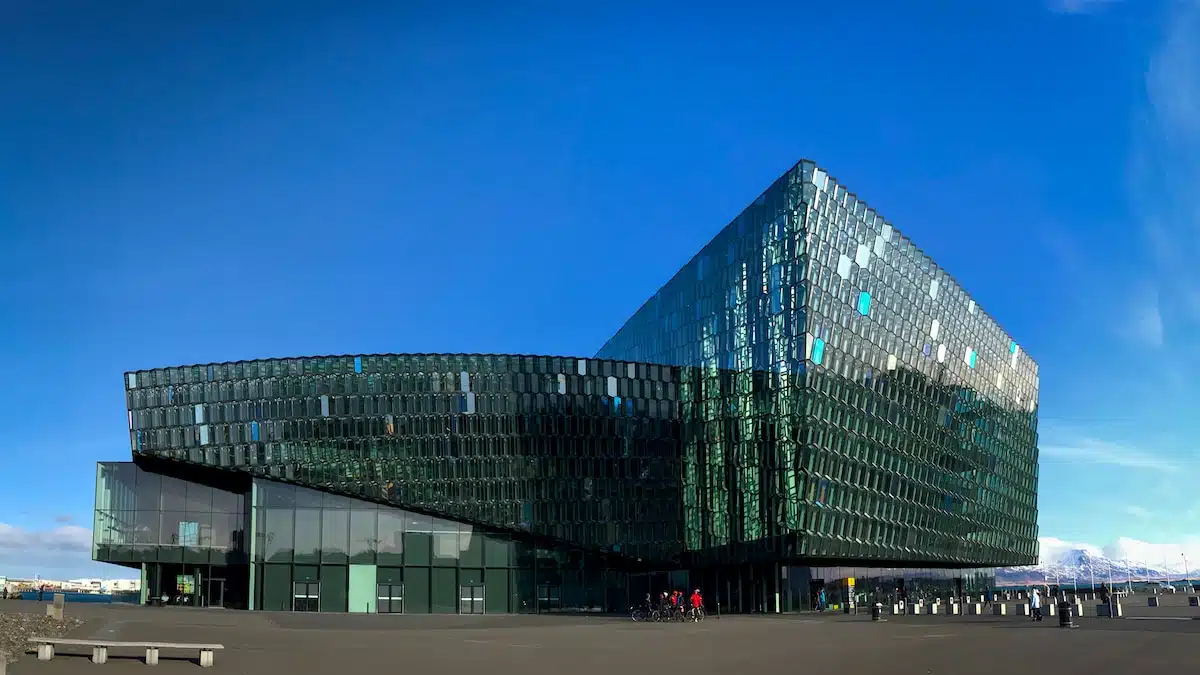 Almost all international flights will land at Keflavík International Airport, which is around 50 kilometres away from Reykjavik.
From the airport, you can take a 45-minute ride in either a taxi or a bus to the city. The bus is cheap and quite reliable, but you may need to wait for the next one. While taxis are available more readily, they are expensive.
Suggested Stay for Reykjavik on your Iceland Itinerary
The Icelandair Marina Hotel is my top suggestion for Reykjavik. This hotel offers a convenient location and amazing views of the harbour. It's an ideal place to stay for those most interested in whale watching, as the tours leave right from the hotel.
Alternatively, check all accommodation in Reykjavik
Iceland Itinerary Day 2: Snaefellsnes Peninsula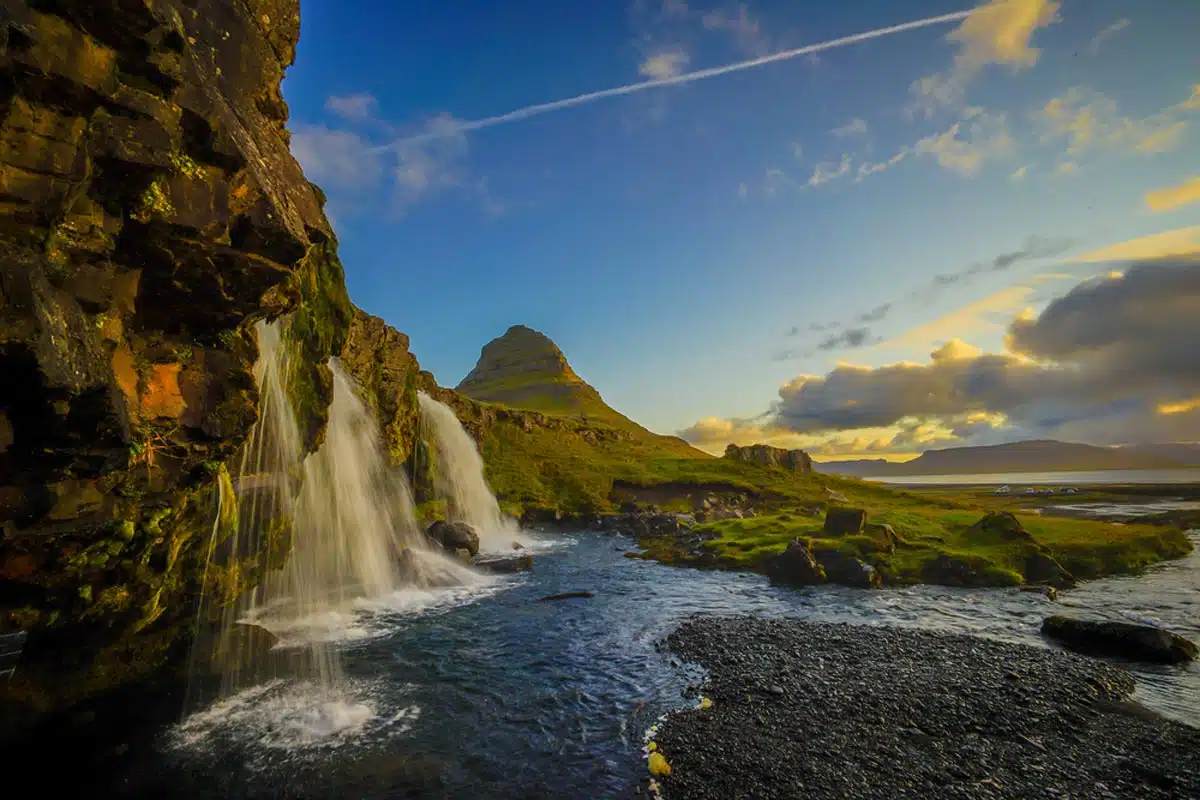 This diverse peninsula is often referred to as "Iceland in Miniature" because it holds so much of the country's magnificence in one spot. You'll find the best that Iceland has to offer, all in this one corner of the country.
Snaefellsnes Peninsula is around 135 kilometres from Reykjavik. The region is home to smaller towns and areas, but also the Snæfellsjökull National Park. You'll find a collection of black sand beaches, coves and caves, and several must-see viewpoints showing off the beauty of this place.
Once here, you'll see just why this region was the inspiration for stories like Jules Verne's book Journey to the Centre of the Earth. Fun fact — Mount Snæfell featured in Verne's novel, and parts of the film adaptation were filmed here.
Things to Do in Snaefellsnes Peninsula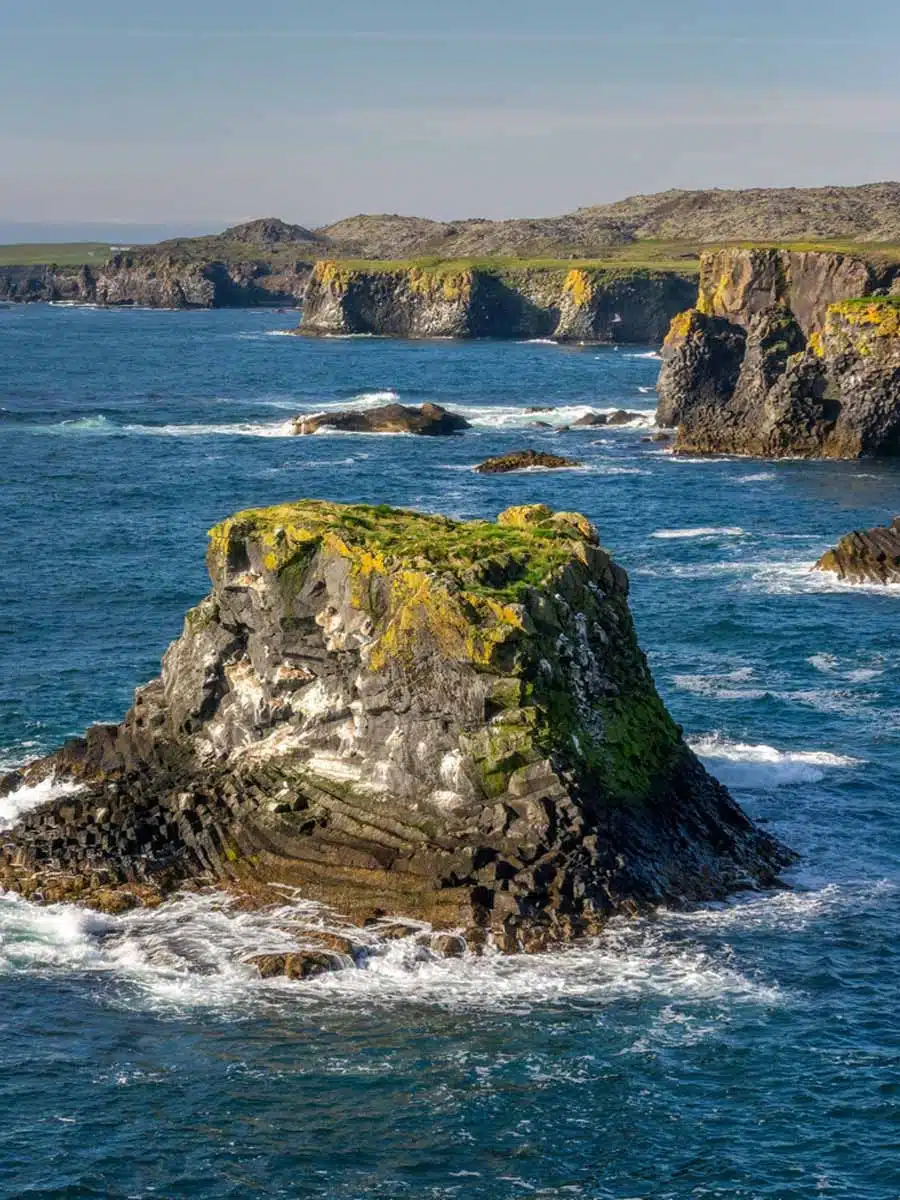 From simple views along the road to quaint villages and an impressive national park, there's a treasure trove of Iceland things to do here.
Eldborg Crater – stop to see this perfectly-shaped, 200-metre wide crater that sits along a short volcanic rift. You can take pictures from afar, or — if you feel like time is on your side — park your car and hike to look inside the crater (this will take around 1.5 hours there and back).
Ytri Tunga Beach – while black sand beaches amaze visitors to Iceland, this yellow sand beach stands out in the country. Make a short stop to take in the views and perhaps spot a seal.
Grundarfjörður – after your early-morning drive, take some time in Grundarfjörður for a look at Kirkjufell Mountain. Find some coffee and perhaps brunch in this quaint fishing village.
Hellissandur – sitting next to the national park, this small town boasts a fascinating maritime museum and traditionally-built Icelandic homes.
Snæfellsjökull National Park – and here is the main event of today. Visit this astonishing park to see the Snæfellsjökull glacier, Svörtuloft Lighthouse, Vatnshellir Cave, Saxhóll Crater, and more. It may be best to book a guided trip through this park.
Gatklettur – found between Arnarstapi and Hellnar, this natural stone arch is another worthy photo opportunity along the peninsula road.
Arnarstapi – take one last pitstop in this little harbour town and admire the white houses and appealing port.
Buoakirkja Black Church – Budir village has only one hotel (which I suggest you book into for the night) and this striking black wooden church. The church dates back to the 19th century and is often sought out by photographers — you'll see why when you get there.
Getting to Snaefellsnes Peninsula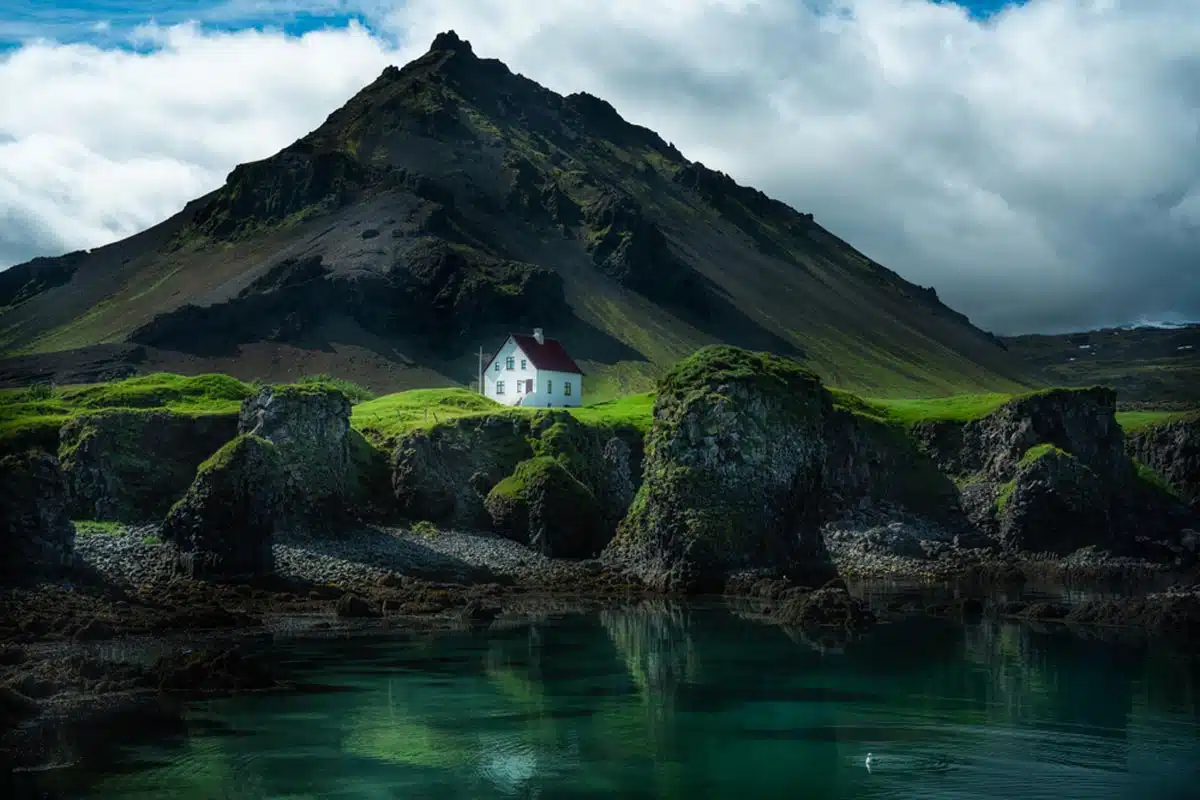 If you're taking the bus from Reykjavik to Snaefellsnes, you'll need to get to the main BSI Coach Terminal early in the morning as the buses only depart once daily. You'll change buses in Mjodd first and again in Borgarnes. The trip will take around 3 – 4 hours.
The trip is faster if you drive, taking around 2 hours (although I suggest planning some extra time to stop and admire the scenery). You'll drive north on Ring Road and then take Road 54 to reach Snaefellsnes.
Another option is to book a tour to Snaefellsnes and let your guide focus on getting you there safely and timeously.
Suggested Stay for Snaefellsnes Peninsula on Your Iceland Itinerary
My pick for Snaefellsnes Peninsula would be Hotel Búdir, a luxury, stylish hotel located in a remote part of the peninsula. This hotel is home to one of the best restaurants in Iceland. It's also one of my top hotels with Northern Light views (at specific times of the year, of course).
Alternatively, check all accommodation in Snaefellsnes Peninsula
Iceland Itinerary Day 3: Golden Circle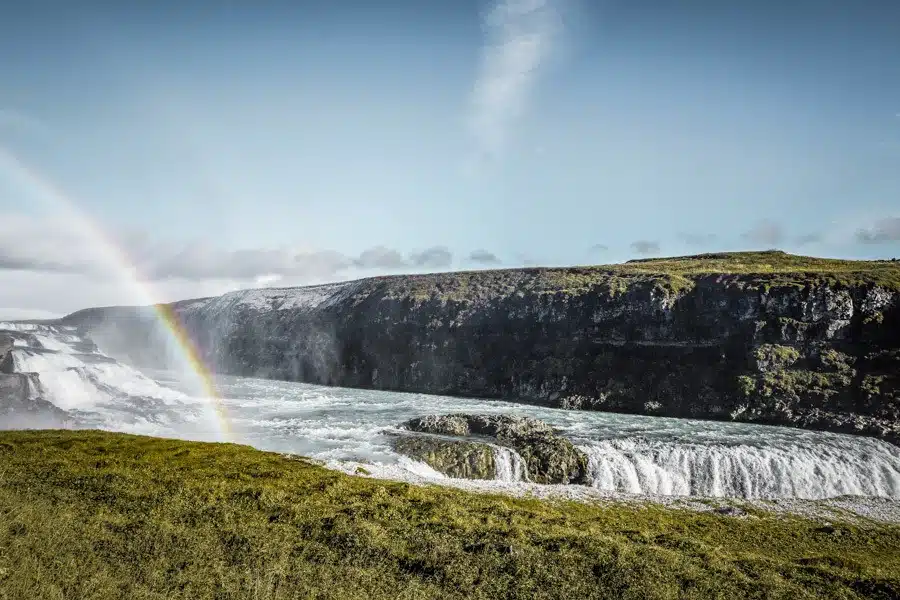 This 300-kilometre loop, starting and ending in Reykjavik, is often considered a tourist route since it has some of the most famous landmarks in Iceland. Even the name is for tourists — it comes from "Gullfoss", which means "golden waterfall". But that's not to say that it is in any way overrated.
Ask anyone, and they'll tell you this is one route you don't want to miss while in Iceland. The Golden Circle is home to the Geysir and Strokkur geysers and other must-see geothermal areas. There are also Icelandic horse farms, volcanic craters, and towns with unmissable restaurants.
Things to Do in Golden Circle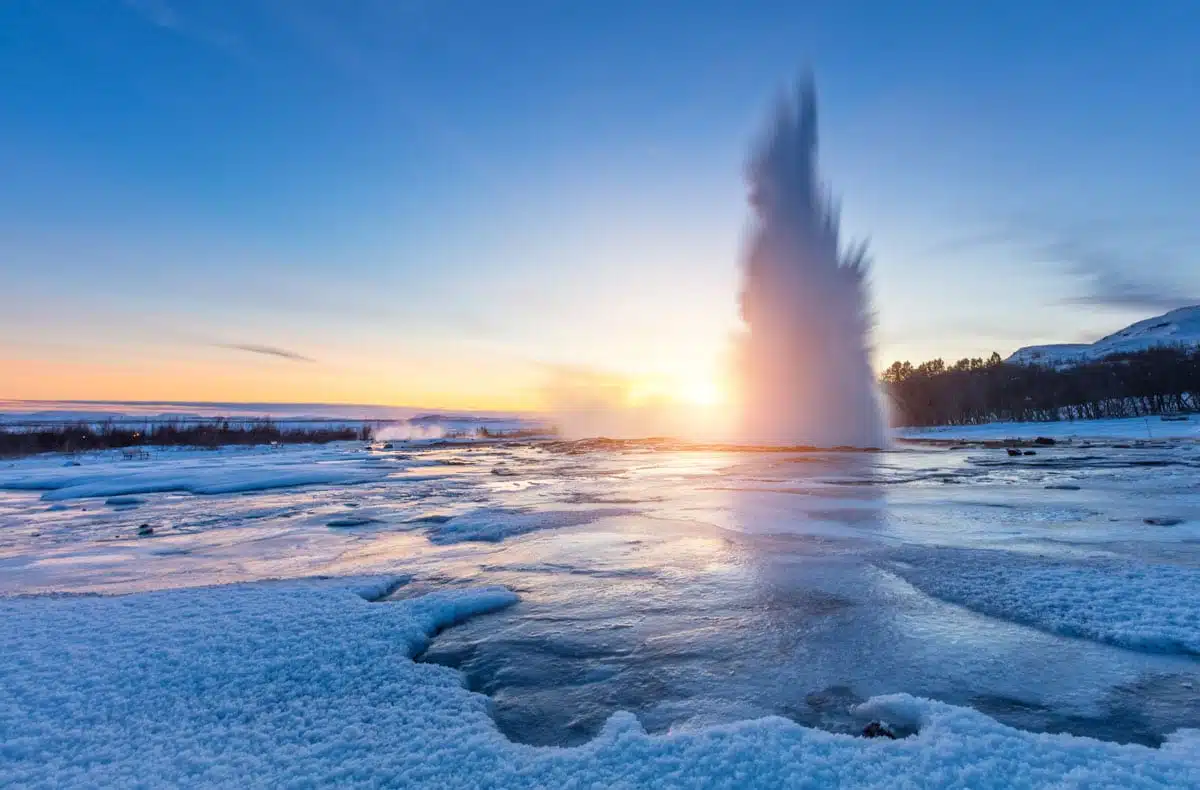 This circle loop is only a 4-hour drive in its entirety, so you have a good chunk of time to enjoy all of the main stops and can choose how often to stop in between them.
Þingvellir National Park – (or Thingvellir) is where the North American and Eurasian tectonic plates meet. This gives it a beautiful rift valley. The park is free to enter, but there is a parking fee for cars. This is one of the main stops, so give yourself time to enjoy it fully.
Geysir and Strokkur geysers – every 4 – 10 minutes, you can witness the phenomenon of hot water shooting from the Strokkur geyser, up to 70 metres in the air! The great Geysir is also nearby, but it's been dormant for over 100 years.
Gullfoss waterfall – you have to see this two-tiered waterfall to understand why it's one of Iceland's most famous falls. But I will tell you that this 'golden-hued' waterfall will keep you hypnotised for some time.
Skálholt Cathedral – this is an important building in Iceland's history, and it's a beautiful structure. Stop by before 3 pm to enter the church and see the stained glass windows and impressive architecture.
Getting to Golden Circle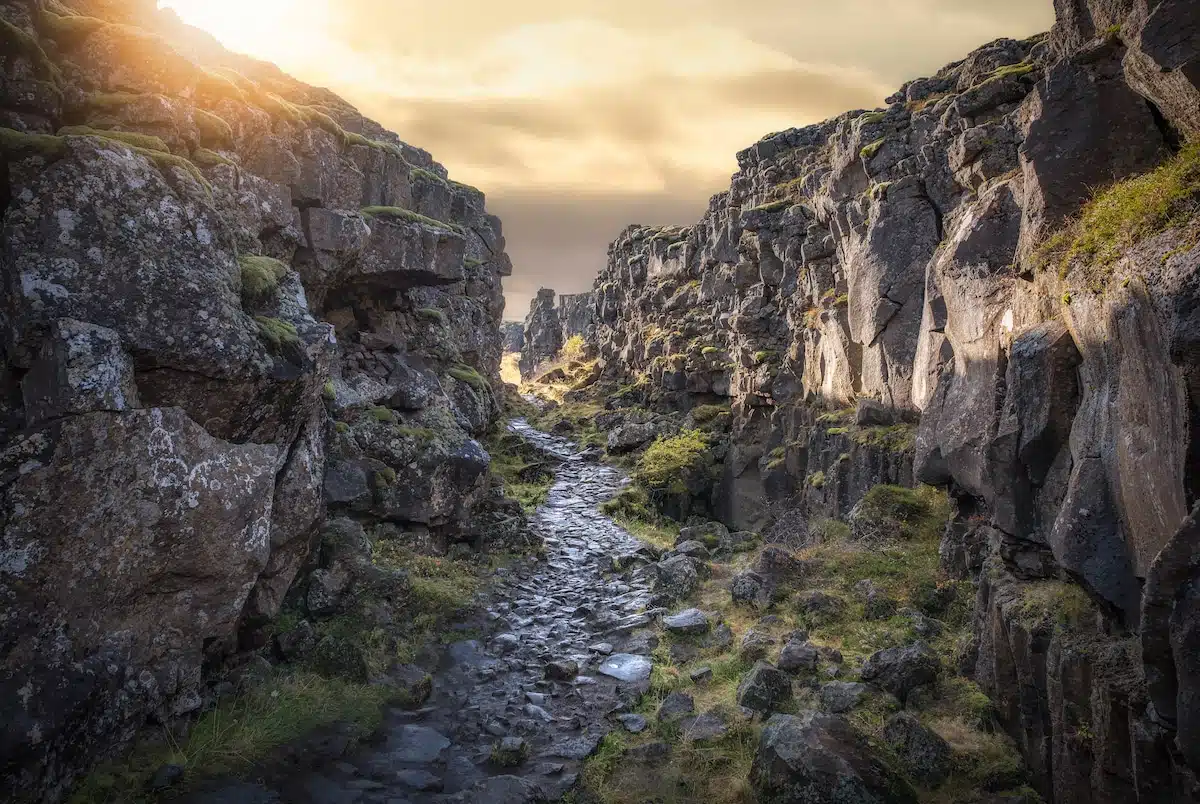 Technically, the Golden Circle route runs from Reykjavik, in a loop, and back to the city. So if you want to do the whole thing, you'll need to drive (or take the bus) back from Budir to the capital. Again, this will be an early morning start.
The first main stop on the Golden Circle is Þingvellir National Park, which you can also travel to from Budir if you don't want to go to Reykjavik first. This drive is around 2.5 hours long (about 15 minutes more than to Reykjavik), but it may save you a bit of time in the long run.
A full-day guided tour will also ensure you see the loop without having to stress about your own time management.
Suggested Stay for Golden Circle on Your Iceland Itinerary
If you don't want to stay in Reykjavik again, you'll find the gorgeous Ion Hotel in the town of Nesjavellir — about 45 minutes from the city. This remote accommodation promises outstanding scenes of the aurora borealis (if you visit Iceland at the right time) and views over Lake Thingvallavatn.
Alternatively, check all accommodation in Golden Circle
Iceland Itinerary Days 4 and 5: Jökulsárlón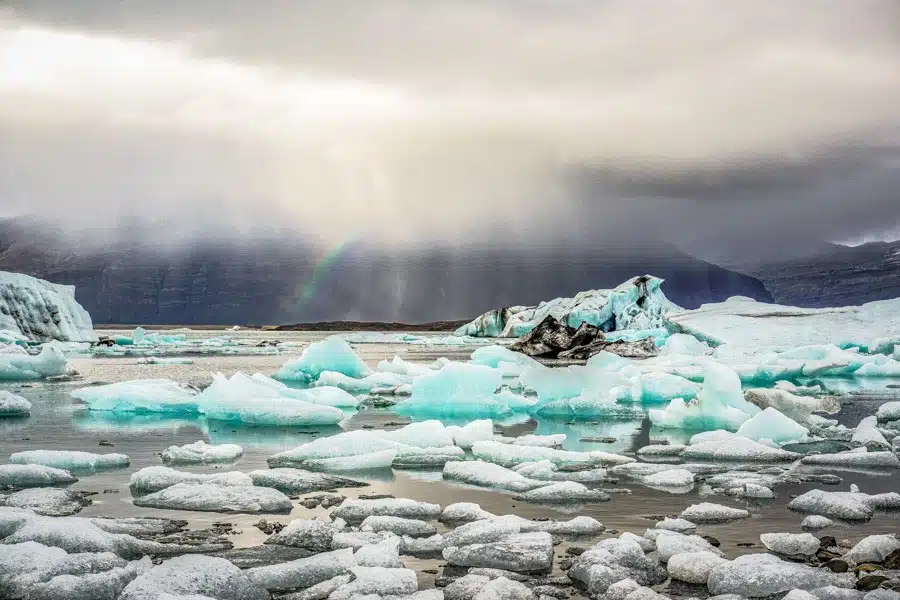 Jökulsárlón may just be my favourite place in Iceland. This glacier lagoon is a large lake of water from melted glaciers. This is Iceland's deepest lake at 250 metres.
The lagoon showcases some incredibly-looking icebergs, ranging in sizes, shapes, and even colours (some are a mesmerising turquoise colour). And as such it has made for a brilliant place for a few location filming shoots.
Things to Do in Jökulsárlón
When I was here, I barely had time to take enough pictures before I had to head back to my accommodation, but that's why I suggest a whole day here at least. You can spend quite a few hours here and not get bored.
Glacier boat tour – book a trip on the lake to get a closer look at the glaciers around the water. These tours are only available from early May until mid-November.
Kayaking on the lake – if you miss the boat trips or just want to paddle out, kayaking is another great way to see the lagoon.
Glacier Walk – Vatnajökull glacier is the source of the lagoon. It is the ice cap in Iceland and offers an incredible glacier walk with guides.
Ice caves – this trip is a bit longer than the walk, but you can also discover the ice caves below the cap of c
Diamond Beach – the many small icebergs that have made their way from the lagoon to the black sands of this beach make it look as if there are large diamonds scattered across the shore. It's not a sight you want to miss.
Read my guide to visiting the glacier lagoon for more tips and FAQs.
Getting to Jökulsárlón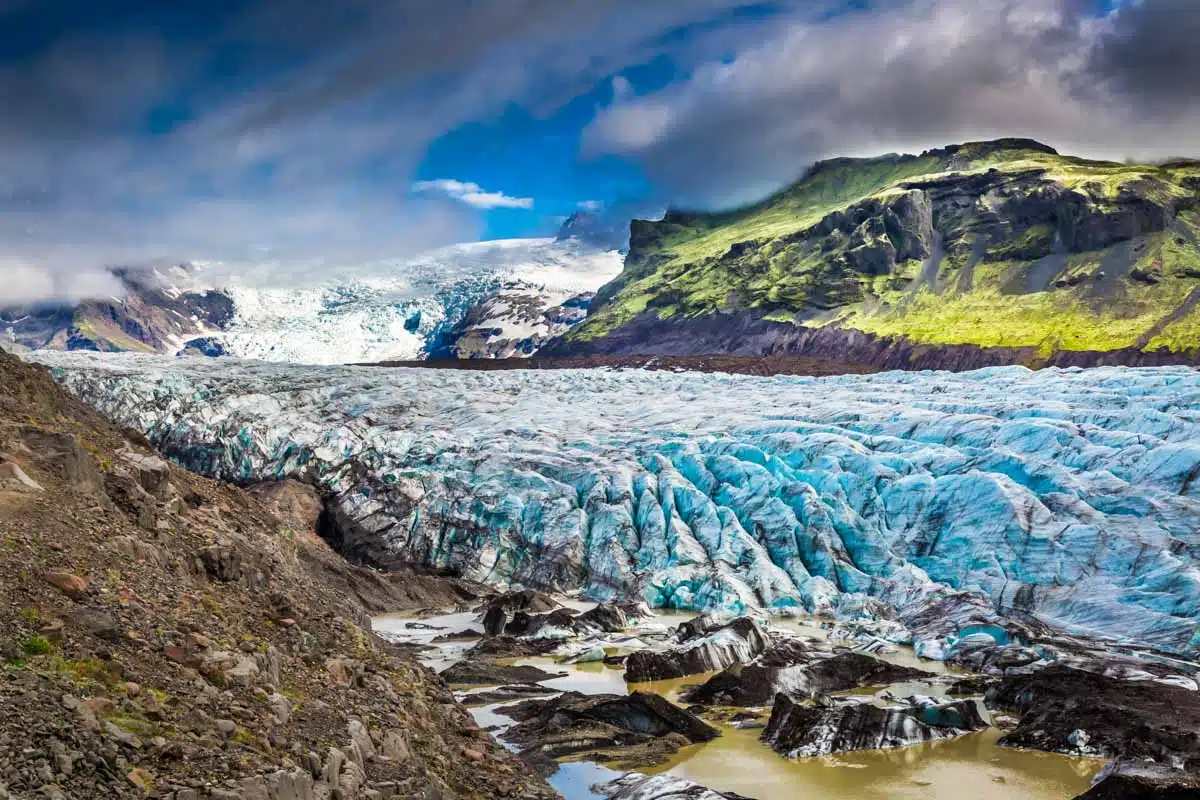 Jökulsárlón is a lengthy 5-hour drive from Reykjavik, which you can do on your own, or with a guided tour.
Giving yourself two days for this destination will allow for a half-day of travel and some afternoon time to explore before heading to your accommodation. Then, bright and early, you can head out the following day and really get a taste of what Jökulsárlón has to offer.
Suggested Stay for Jökulsárlón on Your Iceland Itinerary
The Hali Country Hotel is just 15 minutes from Jökulsárlón, and it's where I'd choose to stay when visiting this lagoon. Enjoy a cosy stay here with rooms overlooking Vatnajökull Glacier and a delicious buffet breakfast to start your day.
Alternatively, check all accommodation near Jokulsarlon Glacier Lagoon
Iceland Itinerary Days 6 and 7: South Coast and Back to Keflavik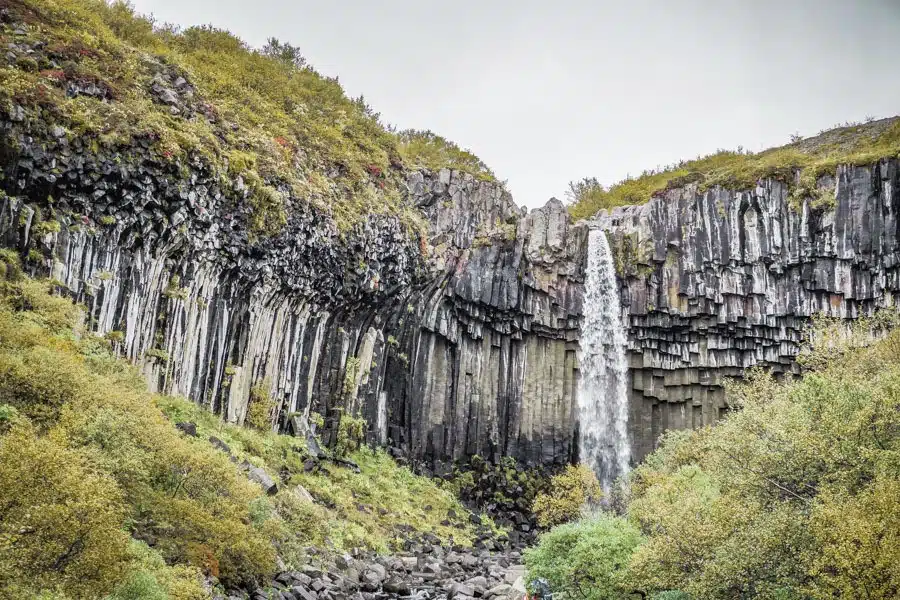 For those who become enchanted with Iceland, 7 days can seem much too short, but finishing your trip on the South Coast will leave you feeling like you've seen all the marvels here.
This island's south end is a wonderland of views unlike any you've seen before. The glacier lagoon, unique beaches, and magnificent cliffs all create an experience of a lifetime.
Take your time to drive through the nature reserves and stop off at the beaches, captivating waterfalls, and towering glaciers. On your last day, you can do the ±2-hour drive back to Keflavik airport or take a much quicker flight from Hella airport to Keflavik.
Things to Do in South Coast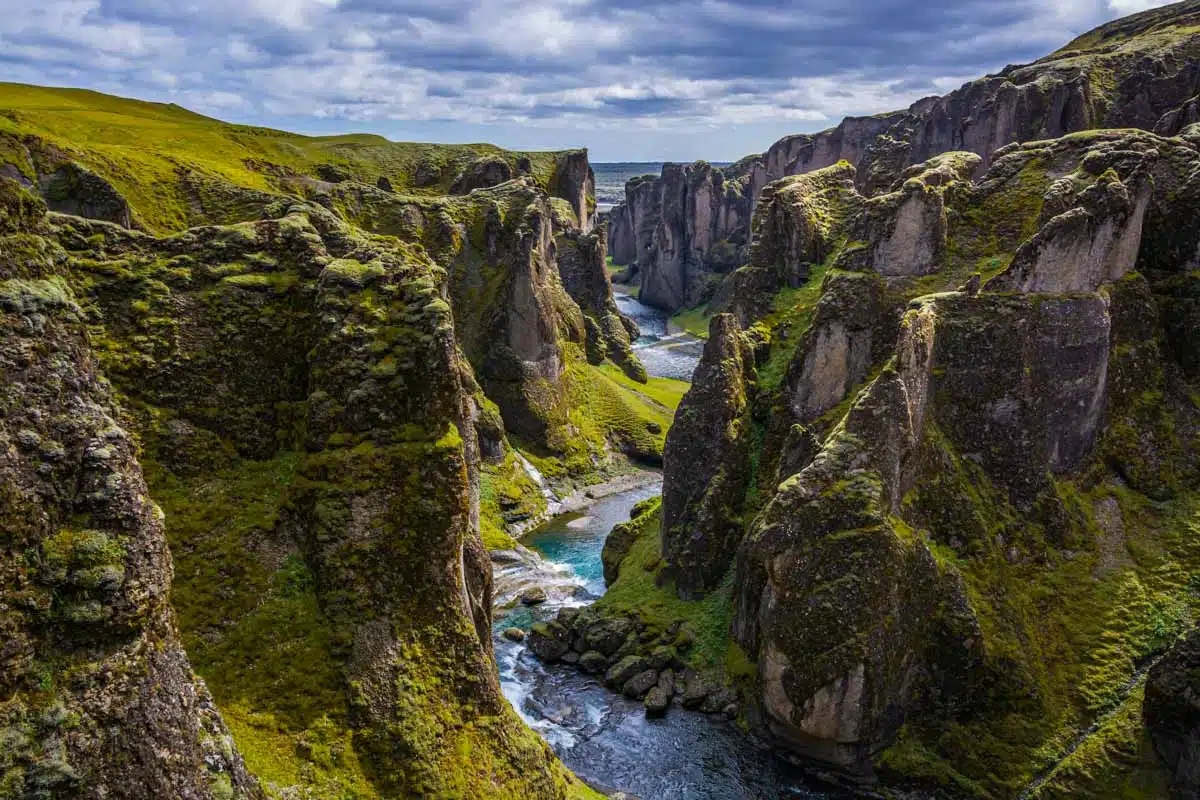 Along the south coast of Iceland's Ring Road, there are plenty of pit stops with views and natural landmarks that are worth stopping for.
Svartifoss – this waterfall is a popular sight in the Vatnajökull National Park and an amazing way to start your day. It's a quick-ish ±45-minute hike to see the waterfall from the parking area.
Fjaðrárgljúfur – after being discovered by the general public only a few years ago, this canyon has fast become a popular place to see. It's a splendid combination of rock formations, valleys, and a lovely flowing river.
Reynisfjara Beach – the extensive black sand shoreline and basalt stacks make this beach a must-see. Take a stroll, snap a few photos, and enjoy what I found to be a dazzling beach. Just don't go near the water!
Solheimasandur Plane Wreck – in 1973, the US Navy Douglas C-117D crashed in Iceland, and the plane wreck has become something of a tourist attraction. You can park your car along the road and walk ±40 minutes each way to the plane.
Kvernufoss waterfall – this beautiful waterfall shows up in many Iceland photos, and it's easy to view it yourself. It's just a 20-minute walk there and back, so you could fit this stop in in less than 2 hours.
Skógafoss waterfall – for this spectacular waterfall, I suggest planning a bit more time — around 2 hours or so. The falls are lovely to see from the bottom, but you can climb the 500 steps to the viewing platform and see them from above as well. Plus, there's the Waterfall Way hike that you can do if you plan properly. And if camping in Iceland is on your wishlist, pitch a tent at the Skógar Campsite nearby.
Seljalandsfoss Waterfall – if you've ever dreamed of walking behind a waterfall, this is your chance. Seljalandsfoss has a path that leads right behind the curtain of water. There's a ±30-minute walk from the parking to the falls, so factor this in your day's plan.
Caves of Hella – these are ancient man-made caves in Hella. Four of the 12 caves are open to the public, and you can take a history tour through them with a guide.
Getting to South Coast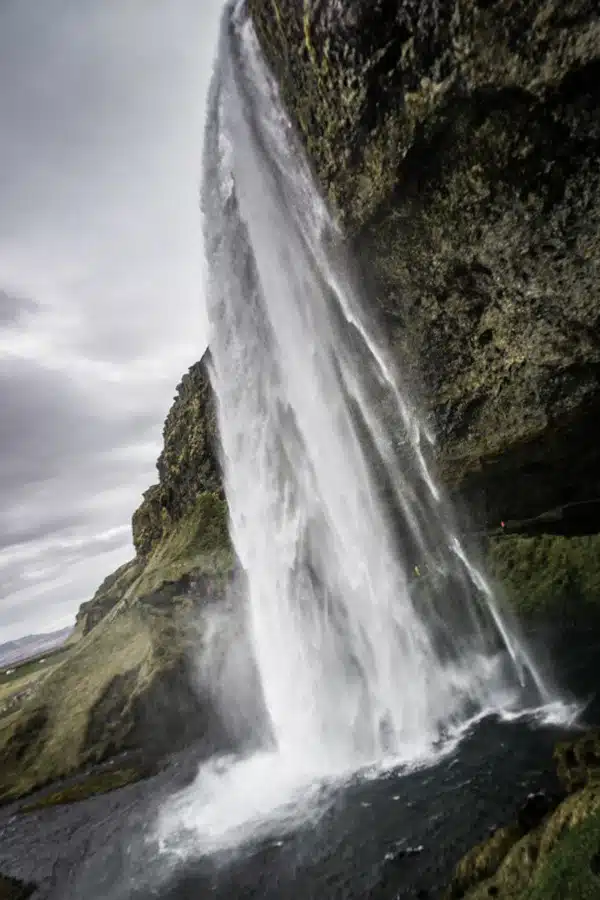 South Coast Iceland is simply a coastline drive on Ring Road, with a few detours along the way. The entire drive (including all of my stops above) takes about 4 hours — but that's not allowing for the time you need to enjoy the stops.
So getting to the South Coast simply requires getting onto Ring Road and driving south. But if you're already in Jökulsárlón, getting to my first suggested stop (Svartifoss) is an hour's drive.
If you're not driving yourself, a guided South Coast tour should allow you to experience most, if not all, of the above landmarks.
Suggested Stay for South Coast on Your Iceland Itinerary
Hotel Ranga is my favourite hotel in the south of Iceland, and I wouldn't want to suggest you stay anywhere else. This four-star lodge boasts a star-gazing observatory right on the property and outdoor hot tubs to watch the stars in after having dinner with views of Eyjafjallajökull volcano.
Alternatively, check all accommodation in South Iceland
Iceland Itinerary – Map