Welcome aboard! Today I'm going to demystify a topic that every traveller will come in contact with: flight classes. What are the different airline classes? Is premium really worth the money? Let's dive in.
So, you've chosen your dream destination and now it's time for the flight. Suddenly you're faced with a lot of options. Do you want to fly economy? Or want to pay extra for premium? How about business or (dare I say it) first?
A lot has changed in travel in the past couple of years. This is not an exaggeration.
If you've been on holiday recently (or watched the news), you're likely aware that airplane classes consist of several tiers, all of which have become more expensive post-pandemic. So which should you choose?
Depending on your budget, preferences, habits, and location, you should do your research into economy vs. business vs. first class and premium for your trip.
I've taken a deep dive into the different flight classes and flown in everything from economy to first class (all for research, of course). Now it's your turn to decode which airline classes are best for you.
Airline Classes: At A Glance
Economy — You get a seat on the plane, some form of carry on, and generally a free meal if you're flying long-haul.
Premium Economy — Expect the above, plus extra legroom, earlier boarding, upgraded food and drink, and a more desirable location on the plane.
Business — Lots more space, premium food, and drinks, access to the business class lounge. Depending on the airline, a lie-flat bed.
First Class — The premiere ticket on an airplane, private cabins, lie-flat beds, top-tier meals and drinks, showers, as well as access to the first class lounge at the airport.
Types of Flight Classes: In Detail
Economy Class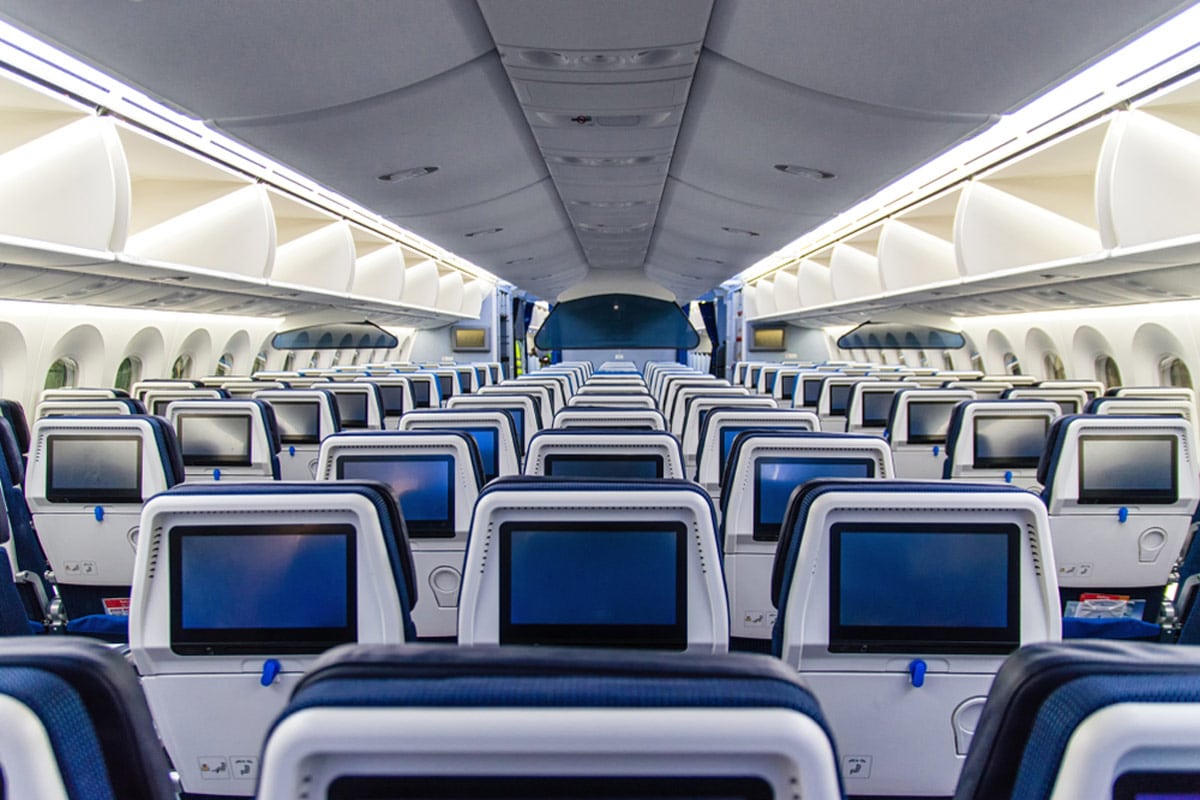 Economy class (or coach class) is the most affordable, as well as the most commonly-booked flight class. Expect the most basic seat (which is – at best – somewhat comfortable) seat, access to airline entertainment, and limited legroom.
I am not suggesting you shouldn't book an economy class ticket – it's a totally feasible option, even for long-haul flights – one you can make more comfortable by simple hacks like bringing your own neck pillow, hanging footrest, or Bluetooth headphone adapters. Here's a fuller breakdown of what to expect.
Services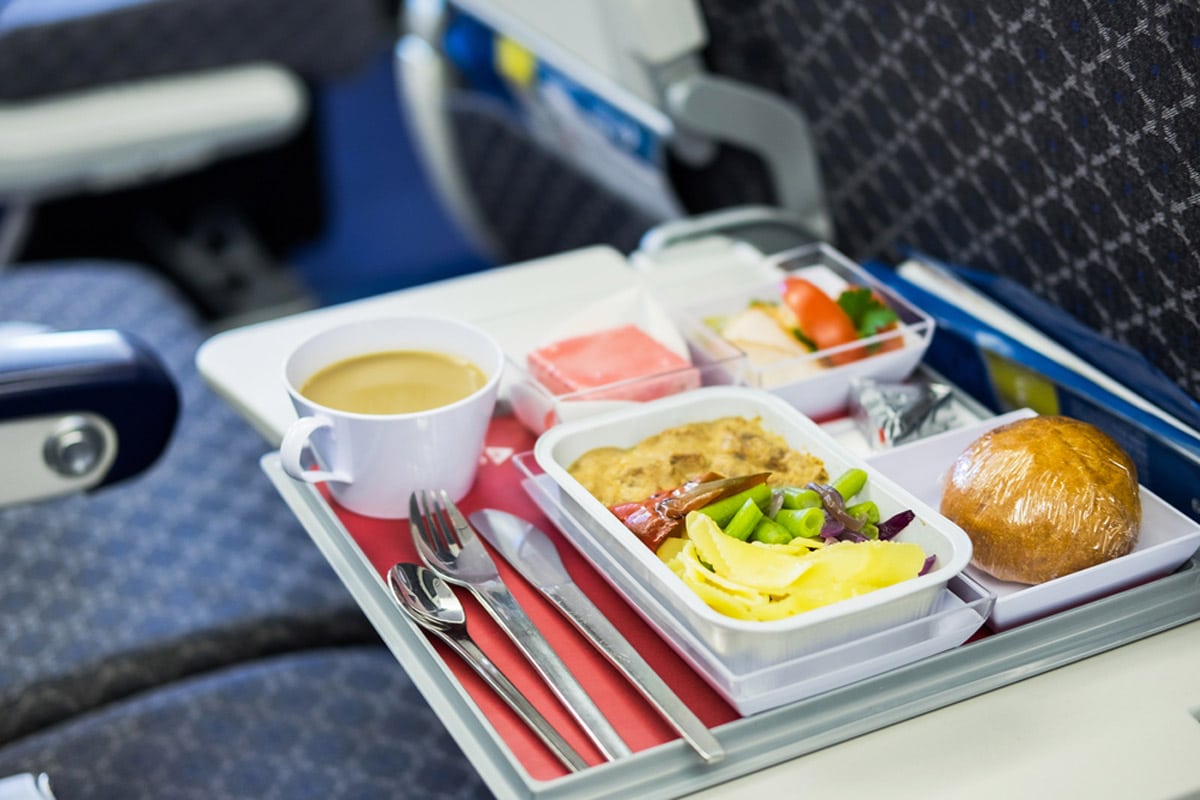 Most long-haul flights include complimentary meals and drinks in economy class, though the options may be limited. Shorter flights might only offer snacks and non-alcoholic beverages.
Some airlines include one piece of checked baggage and one piece of carry-on luggage but with the basic fares, you often have to pay to check any luggage into the hold.
Seating Arrangements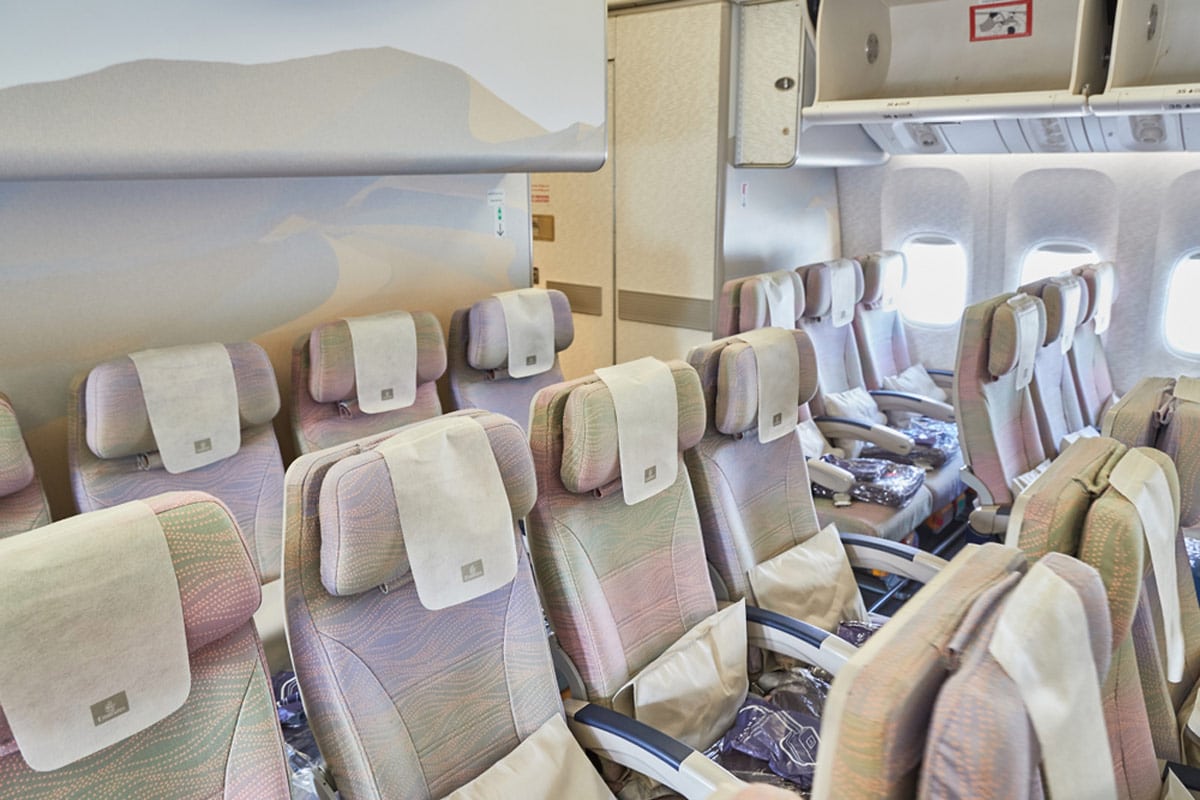 Expect to get up close and personal with your neighbour. Seats are in a 3-3 or a 3-4 configuration and with a pitch (the space between your seat and the one in front of you) of about 31-32 inches and a width of around 17-18 inches.
Amenities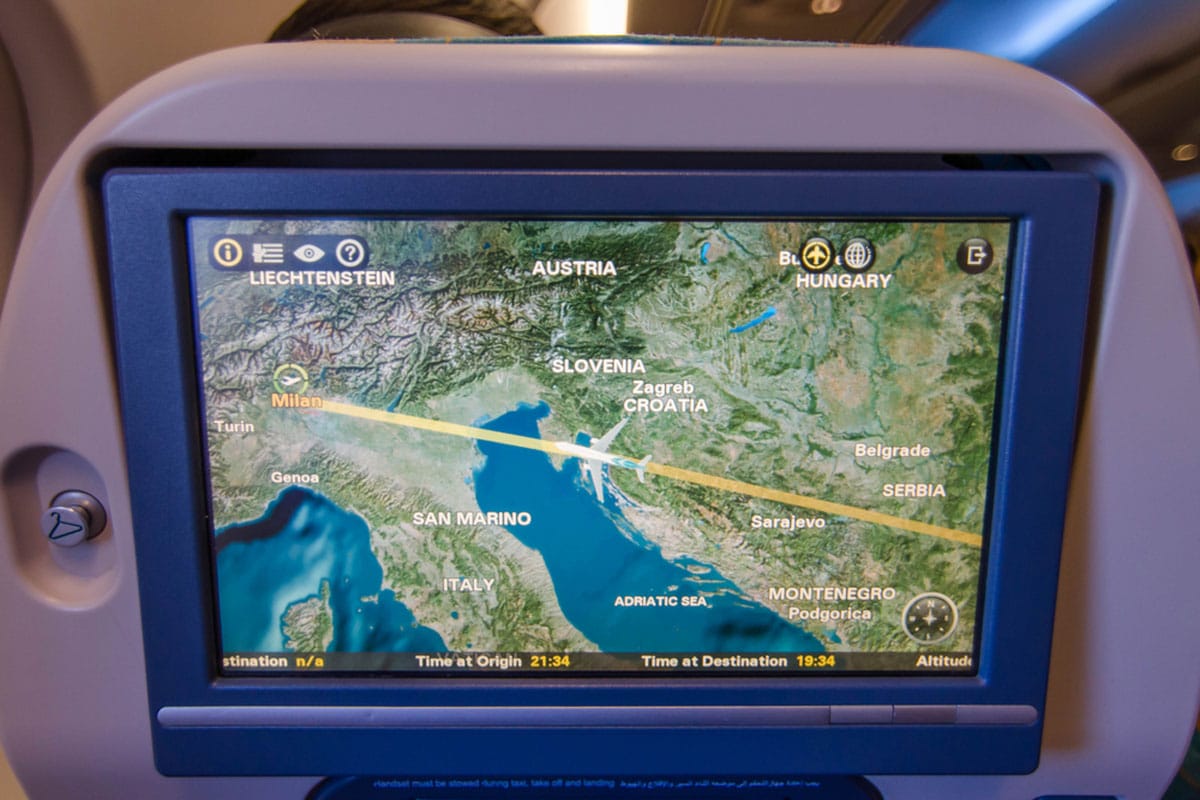 Basic amenities for economy class usually include in-flight entertainment, inflight meal and drink, and economy restrooms. WiFi is often available for a moderate surcharge.
Pros and Cons of Economy Class
Pros
Affordability — Of all the airline classes, you can find exceptional value when travelling worldwide on economy.
Convenience — Because there are more economy sections on most flights, it's easy to find an open seat.
Cons
Less Legroom
Fewer Amenities
Potential Baggage Fees — On the most basic tickets.
Lower Loyalty Rewards — Economy tickets receive the lowest air miles and tier rewards per mile flown.
Premium Economy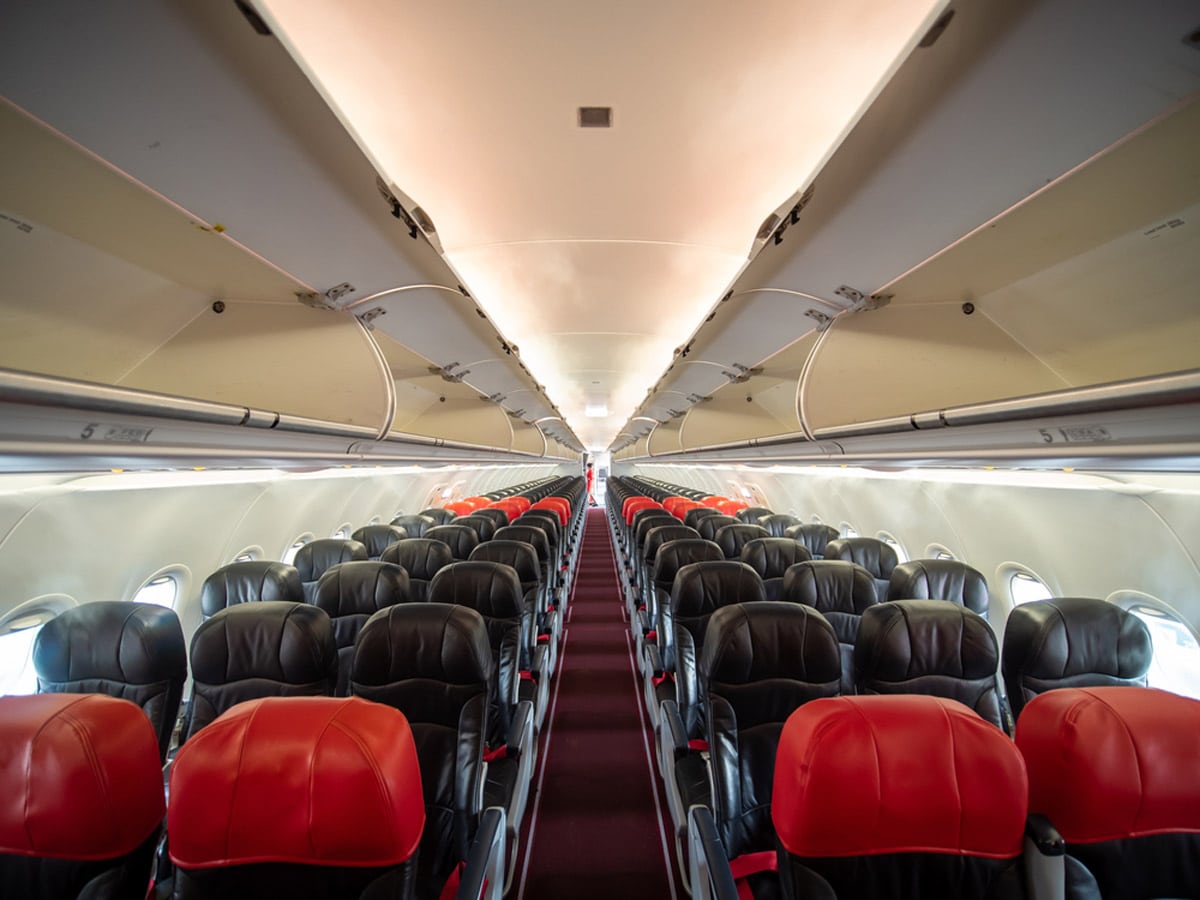 Different types of flight classes have popped up over the decades, the most notable one being Premium Economy.
A step up from economy class at a price that generally sits at the mid-point between economy and business, it's a popular choice that allows you to travel with a touch of luxury.
So what's the difference? Let's take a look.
Services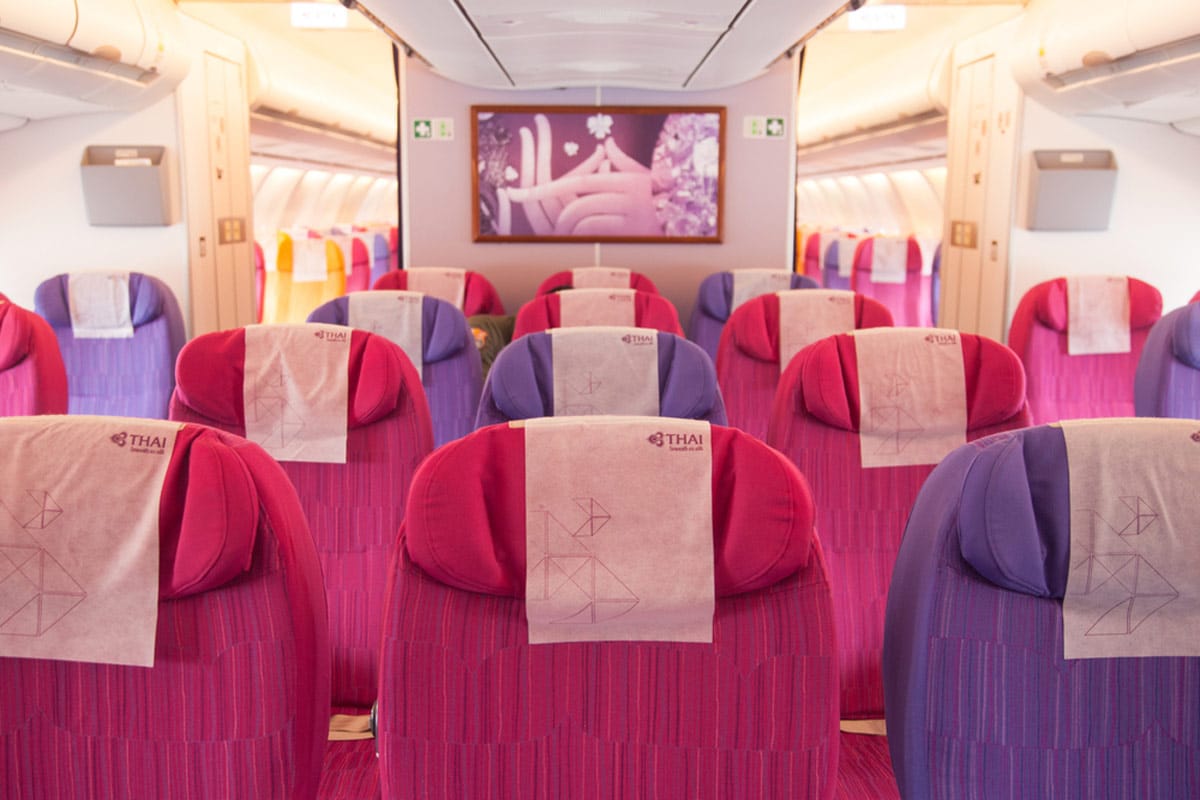 On premium economy flights, you can expect better meal options, complimentary gourmet snacks, and alcohol. At least one piece of checked baggage is included in the ticket fee and many airlines offer either a heavier weight allowance for this baggage or a second piece of baggage as well.
Seating Arrangements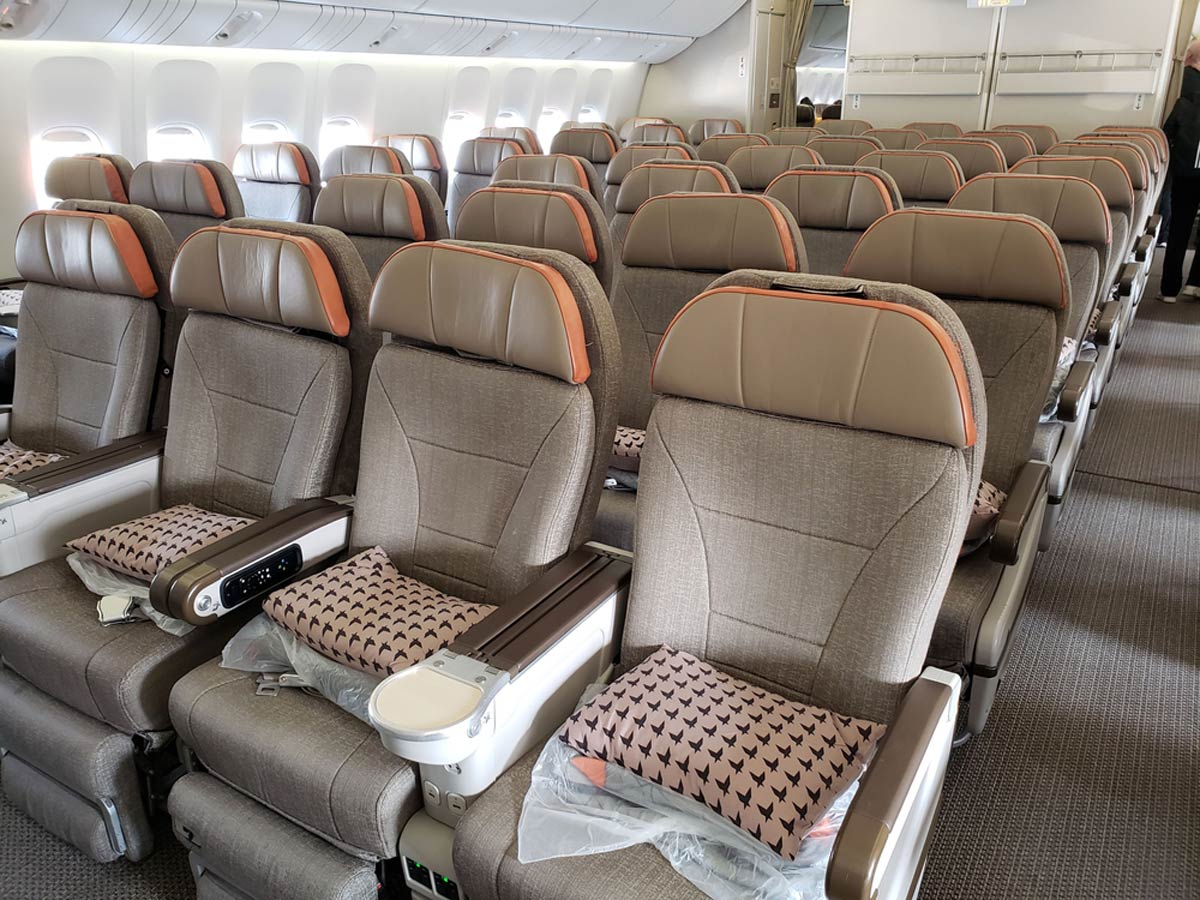 While the difference between flight classes may not be stark when comparing economy and premium economy at first glance, you'll have a few more precious inches of legroom and recline. The average width of the seat is 18-20 inches, the pitch is typically 36-38 inches, and you can have as much as 8 inches of extra recline.

Seats are typically in a 2-3-2 or 3-3 configuration, though there are some 2-4-2s kicking about too.
Amenities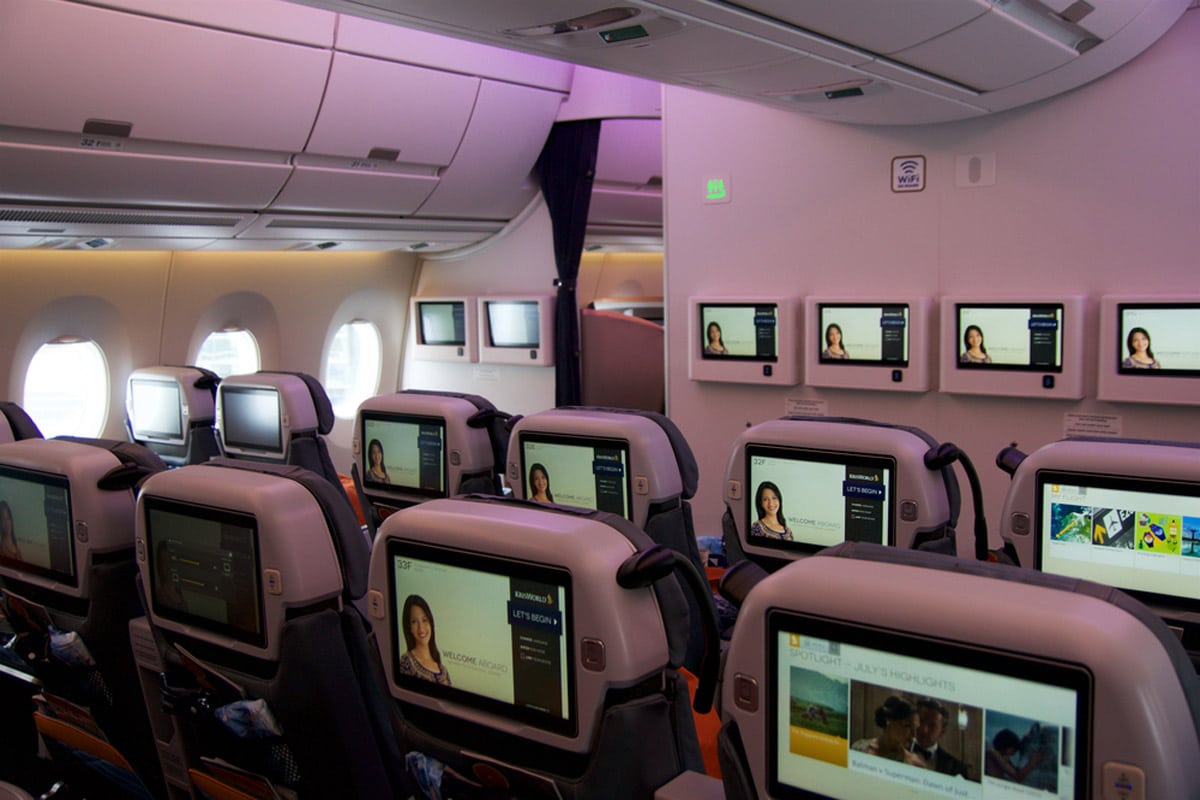 Amenities include outlets or charging ports under the seats, improved in-flight entertainment, and free carry-on luggage and you'll almost always have access to complimentary food and drinks. Where many airlines have stopped giving out accessories like eye masks and socks for economy passengers, these are still frequently included in a Premium Economy ticket.
Pros and Cons of Premium Economy Class
Pros
Affordability – More expensive than economy, Premium is still significantly cheaper than business (though it does pay to check when you're booking).
Preferred Location — Seats are typically towards the front of the plane.
Added Amenities — Premium entertainment options, early boarding, and USB / charging ports.
Higher Loyalty Rewards – Expect higher air miles and tier rewards per mile flown.
Cons
Amenities Vary — The seating arrangements and amenities may differ from one airline to the next. Check the specifics before you book.
Business Class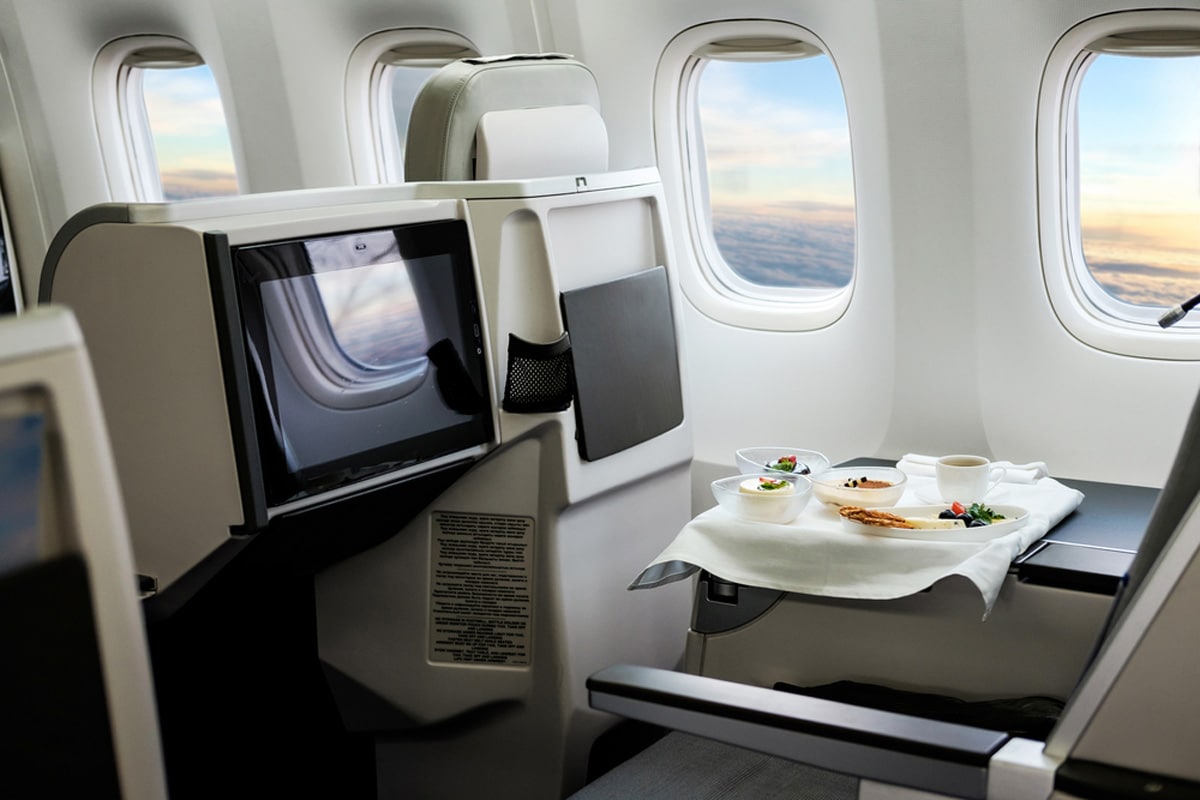 The next class we're going to talk about is business class. You can think of it as first-class light. You often have a larger seat and improved amenities that feel almost like you're flying first-class.
Plus, with many airline carriers only offering first class on a select number of routes and flights, business is often the highest class you can book on a plane.
Services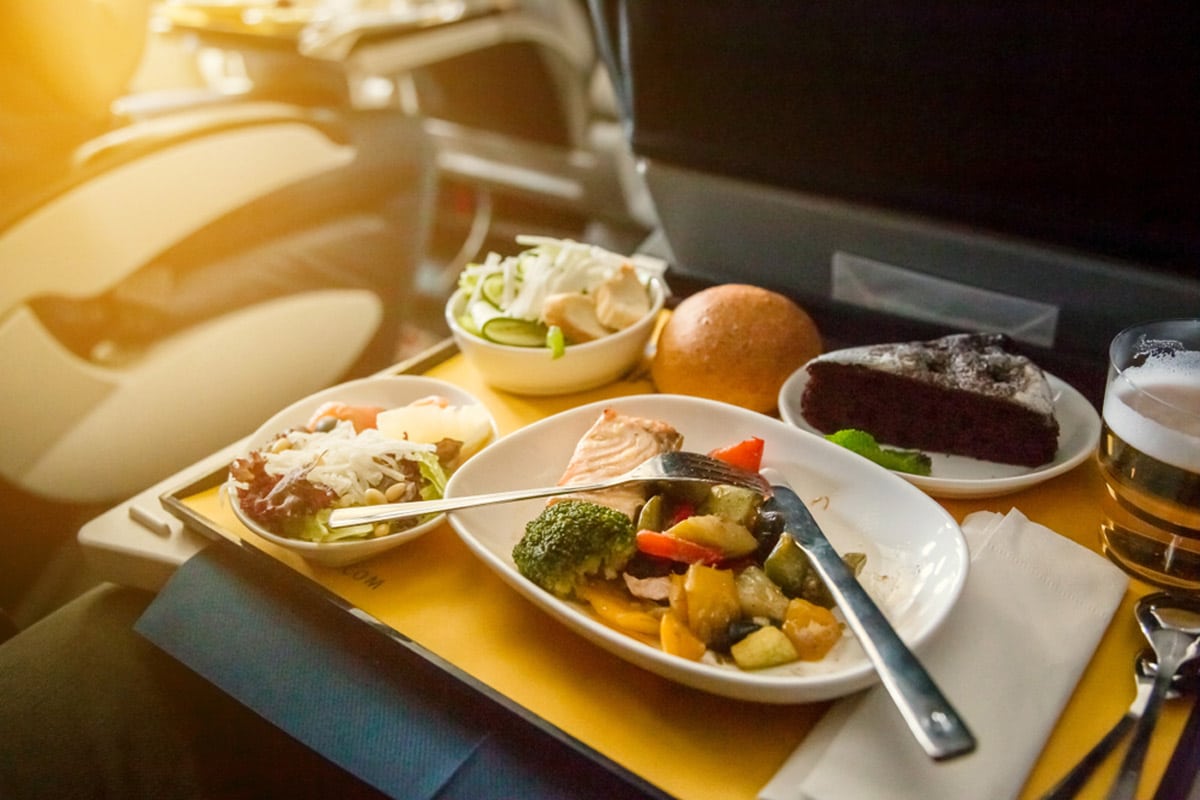 The airline seat class differences for business class include free food and drinks (both of which are significantly better than those served in economy and premium economy), early boarding, and access to priority lounges.

Some business class flights offer a chauffeur service before and after flights.
Seating Arrangements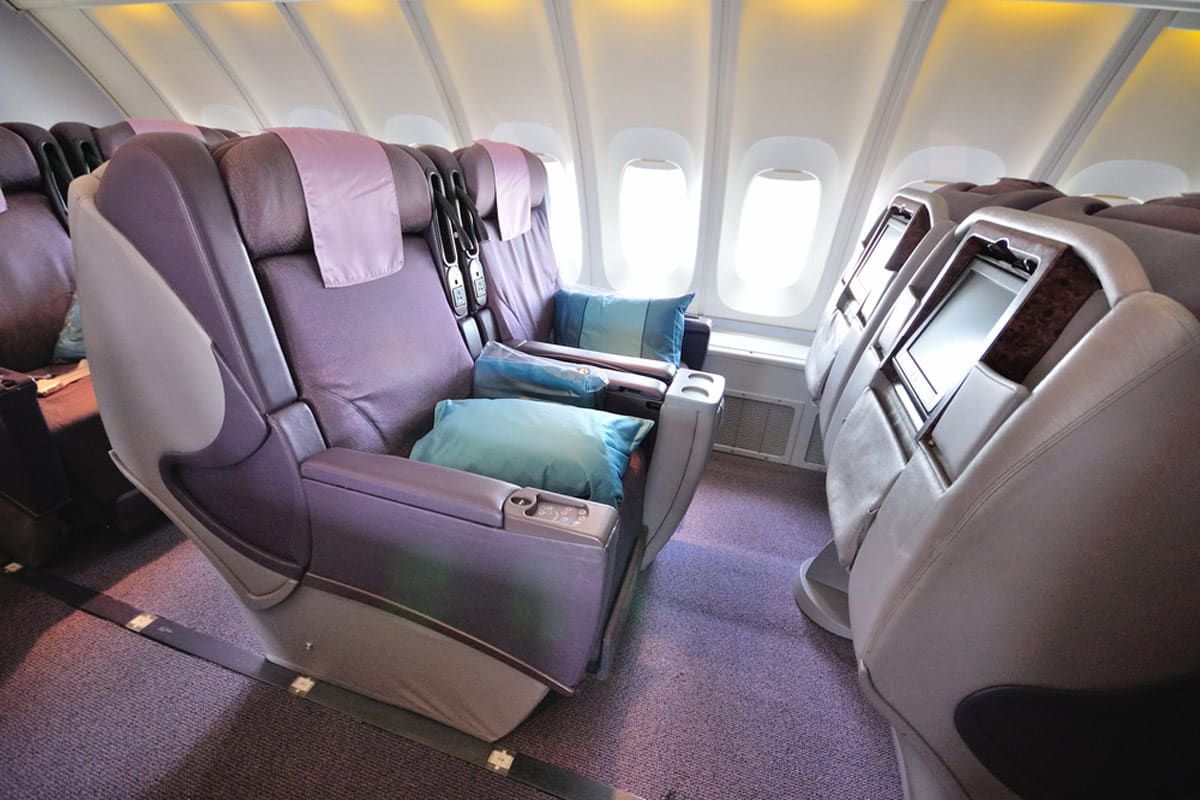 Business seats are typically 20-22 inches wide and have an average pitch starting at 36 inches that can increase to around 80 inches on some international flights. Lie flat and near-lie flat seats are par for the course for long-haul routes.
Most business class seats are in 2-2 or 1-2-1 arrangements.
Amenities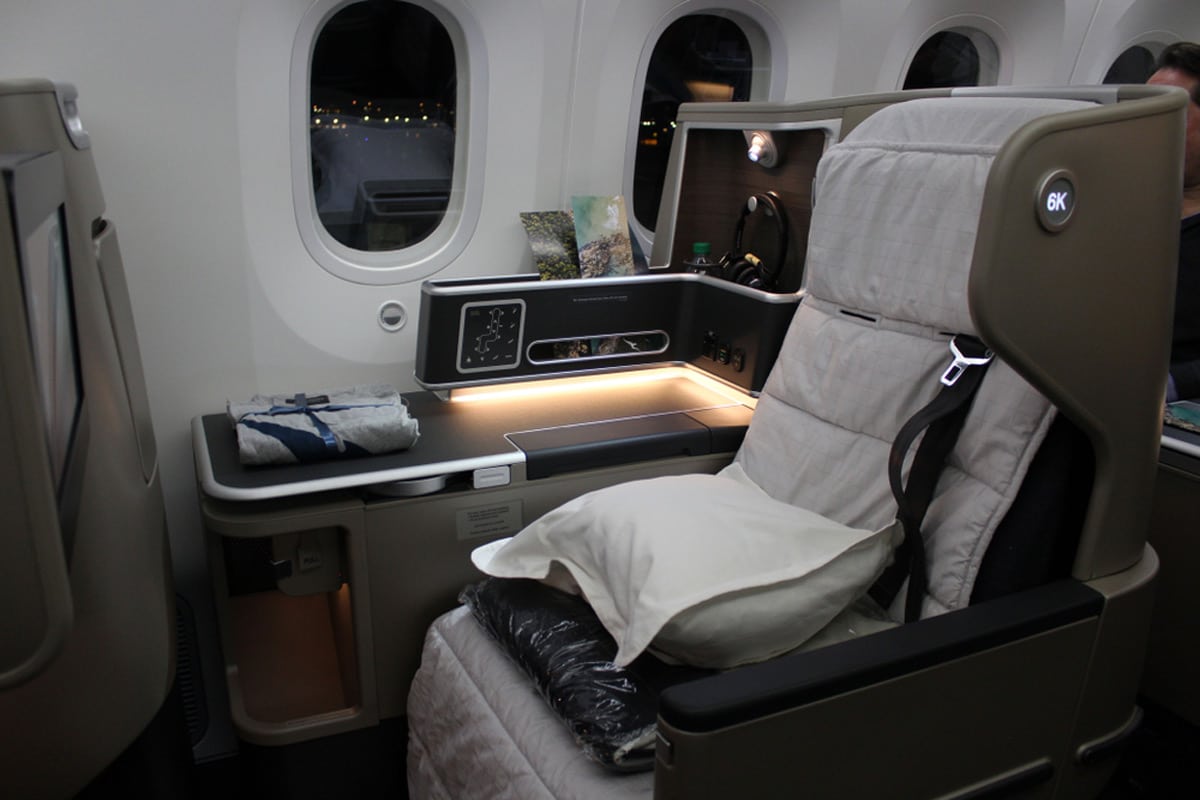 Free WiFi, complimentary checked bags, charging ports, restaurant-calibre food and beverages, and premium in-flight entertainment with larger screens and more options are common perks to flying business class.
You will also get an amenities kit with toiletries, eye masks, and earplugs.
Pros and Cons of Business Class
Pros
Comfortable, Fully Reclining Seats
Attentive Service
Improved Amenities — In addition to improving food, entertainment, and comfort, you may receive ground transportation before and after travelling.
Higher Loyalty Rewards
Cons
More Expensive
Fewer Seats Available
Not Quite First Class
First Class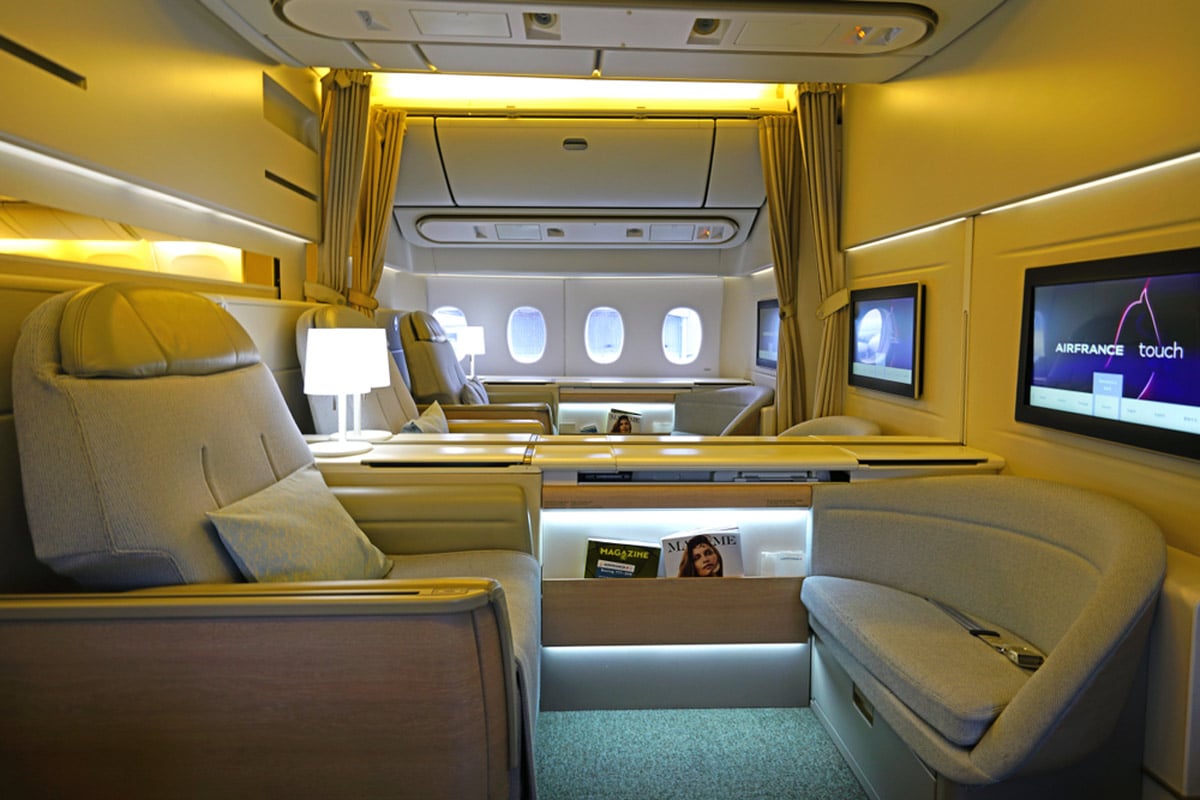 When thinking of different airline seat classes, first class is probably the one that has the most folklore.
Ever dreamed of taking your bucket list holiday in a private cabin with a flat-lying bed, cocktails flowing, and gourmet food for breakfast, lunch, or dinner? I have too, and you can do it with first class.
If you're wondering which airline class difference stands out the most, first-class seats are in a league of their own.
Services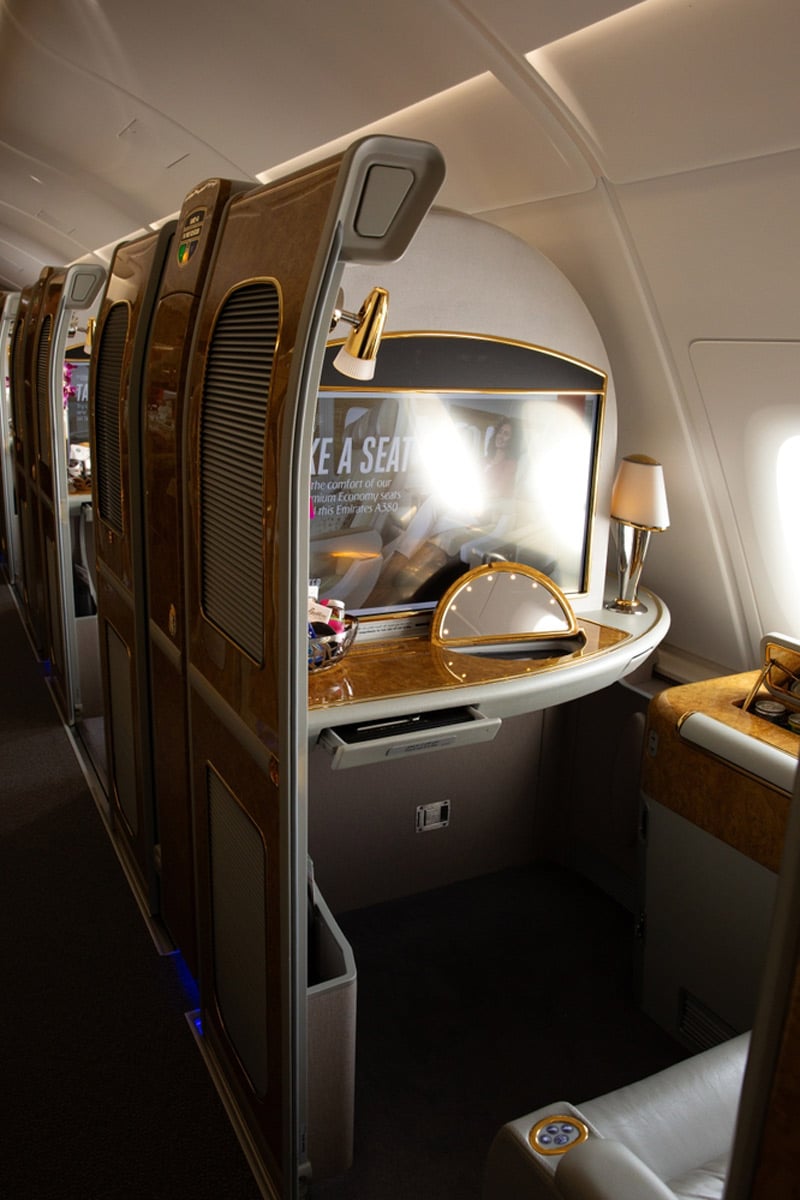 Standard perks on first-class flights include cocktails before and during the flight, gourmet meals, and top-notch personalised service from expert flight attendants.
You'll be able to access the first-class airport lounge too.
Seating Arrangements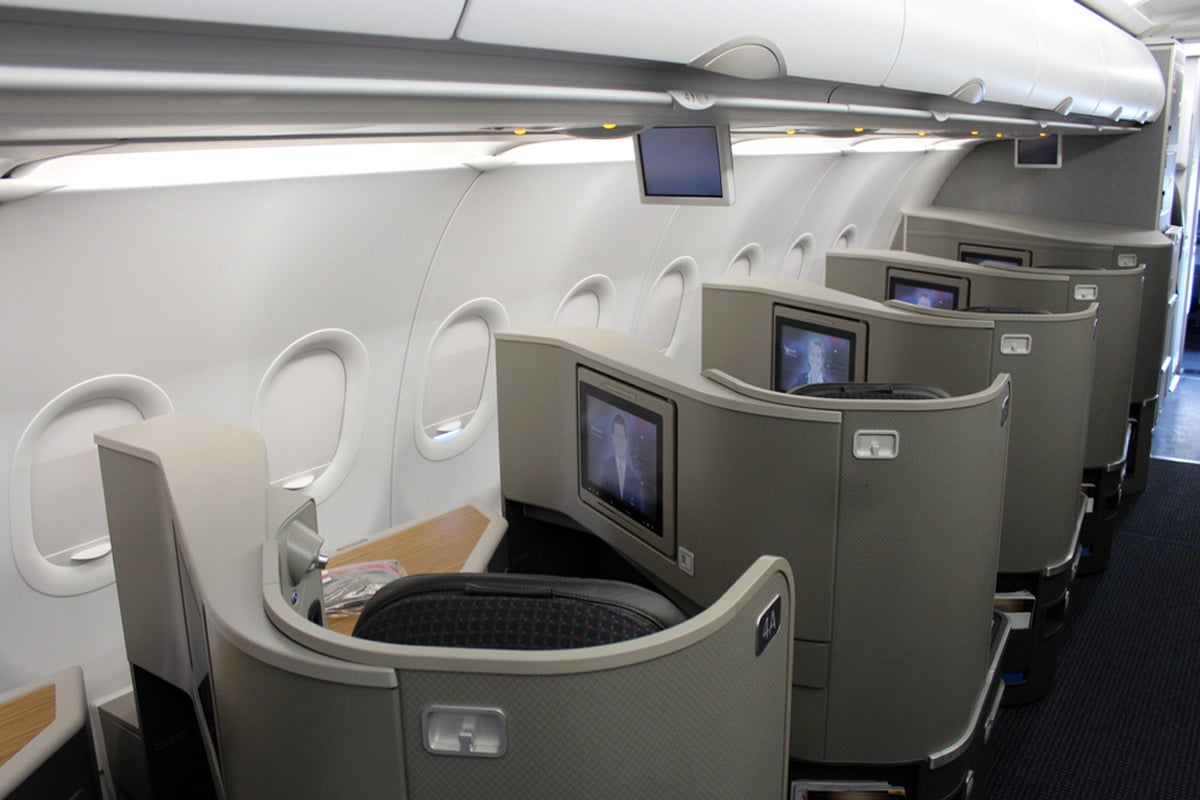 At the very least, a first-class ticket will have you in a 1-2-1 or 2-2 configuration, with a wide chair that reclines further back and has a large tray table. But airlines are increasingly turning to awarding private rooms for their first class passengers on international flights.
For example Emirates A380 First Class Cabin is a private cabin with a lie-flat bed, private cinema and top-notch drinks and food. That's all before you get to the shower spa, which is kitted out with Bvlgari toiletries and the onboard lounge with a dedicated bartender.
Domestic first class usually offers 20-22 inch width and 36+ inches of pitch, while international flights typically bump up the space to stretch out and offer an average pitch of 58+ inches, with the most luxurious flights offering almost 95 inches of legroom.
Amenities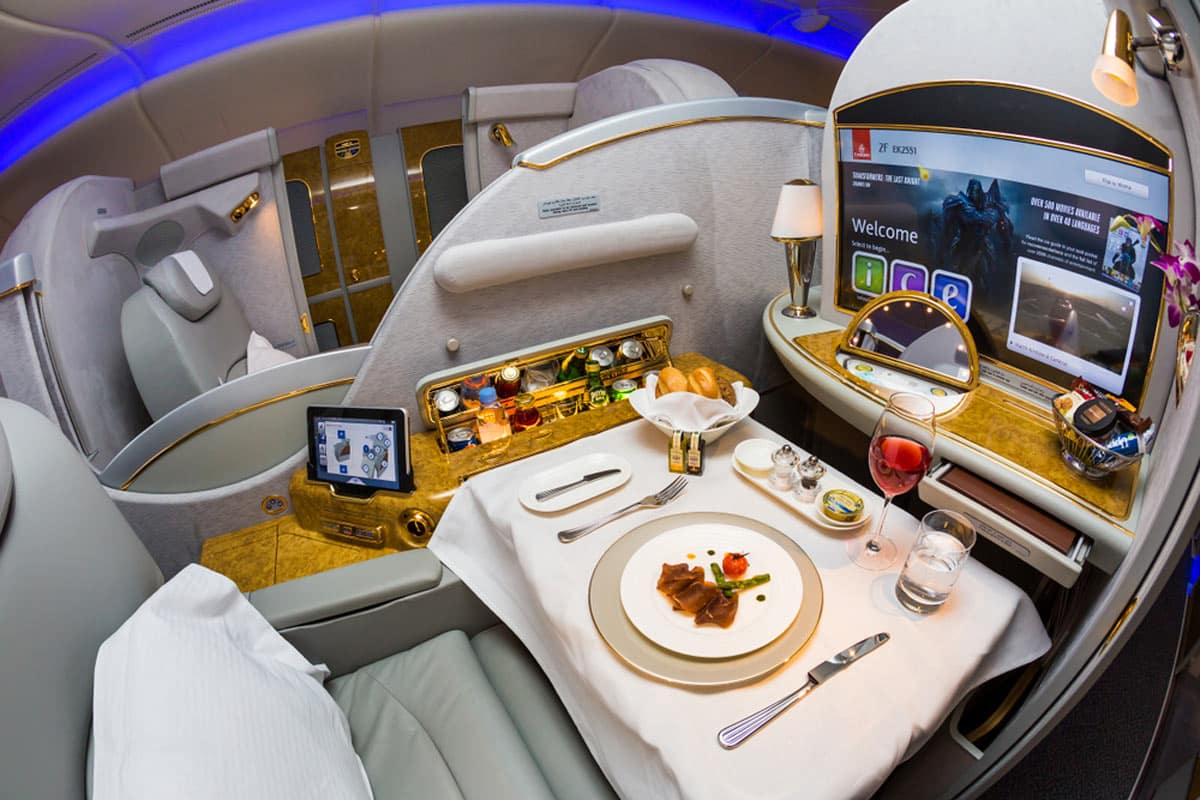 Free WiFi, early boarding and departure, complimentary baggage check, and the best in-flight entertainment options are all key differences that separate first class from economy and premium seats.
Amenities kits may include similar items as business class with higher-quality products and brand names.
Pros and Cons of First Class
Pros
Unrivalled Service — Personalised service on flights and sometimes a private driver before and after the flight.
Top Tier Amenities — Restaurant quality food, premium cocktails, and amenities kits are common.
Privacy — You will often have your own section and sometimes a private room.
Higher Loyalty Rewards
Cons
Expensive
Similar to Business Class — You won't always notice stark differences between business and first class, especially on domestic flights.
Future Trends in Airline Classes
Since the pandemic, we all know how much certain industries have changed, with travel at the top.
So what impact does this have on the difference in air classes? Let's look at some trends beginning to take shape and change the future of different airplane classes.
Premium Economy May Overtake First Class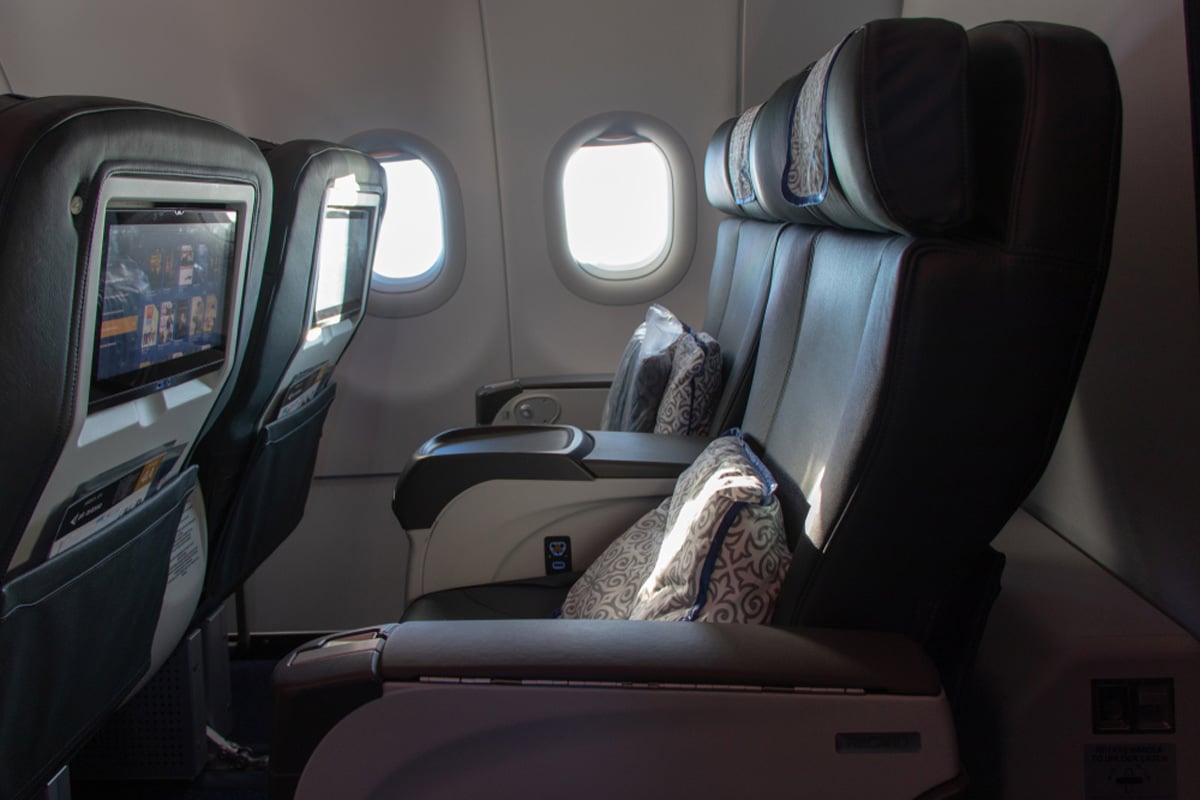 Debating between economy vs. first class? That decision may be easier in the future, with more airlines putting resources into adding premium economy or business class seats in place of first class.
Semi-Private Planes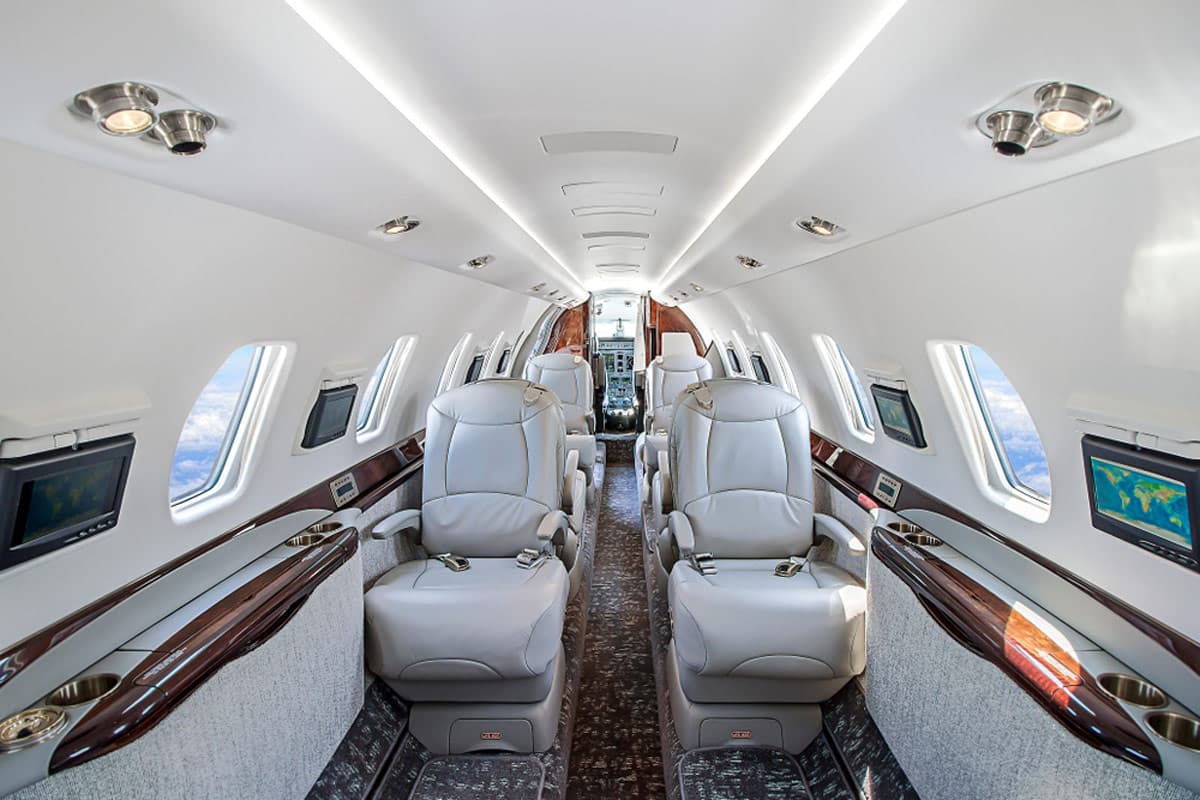 Semi-private travel is an excellent way to bridge the gap between traditional commercial airplanes and private jets.
Prices are reasonable, you can fly to popular places like the Caribbean or New York City, and every seat feels like business class.
Practical Tips for Choosing the Right Airline Class
Save your splurge upgrades for when you need them the most. A first-class flight from California to Barcelona hits different than California to Colorado.
If you're taking a business trip, you may want to opt for more legroom, free WiFi, and outlets on business or first-class flights if you plan to work on the plane.
When deciding business class vs. first class vs. economy, consider your personal needs and whether spending the extra money is worthwhile.
Always fly within your budget. Business and first are great – but the time you spend in the destination is more important than the hours it takes to get there – prioritise your budget accordingly.
Love This? Save and Share on Pinterest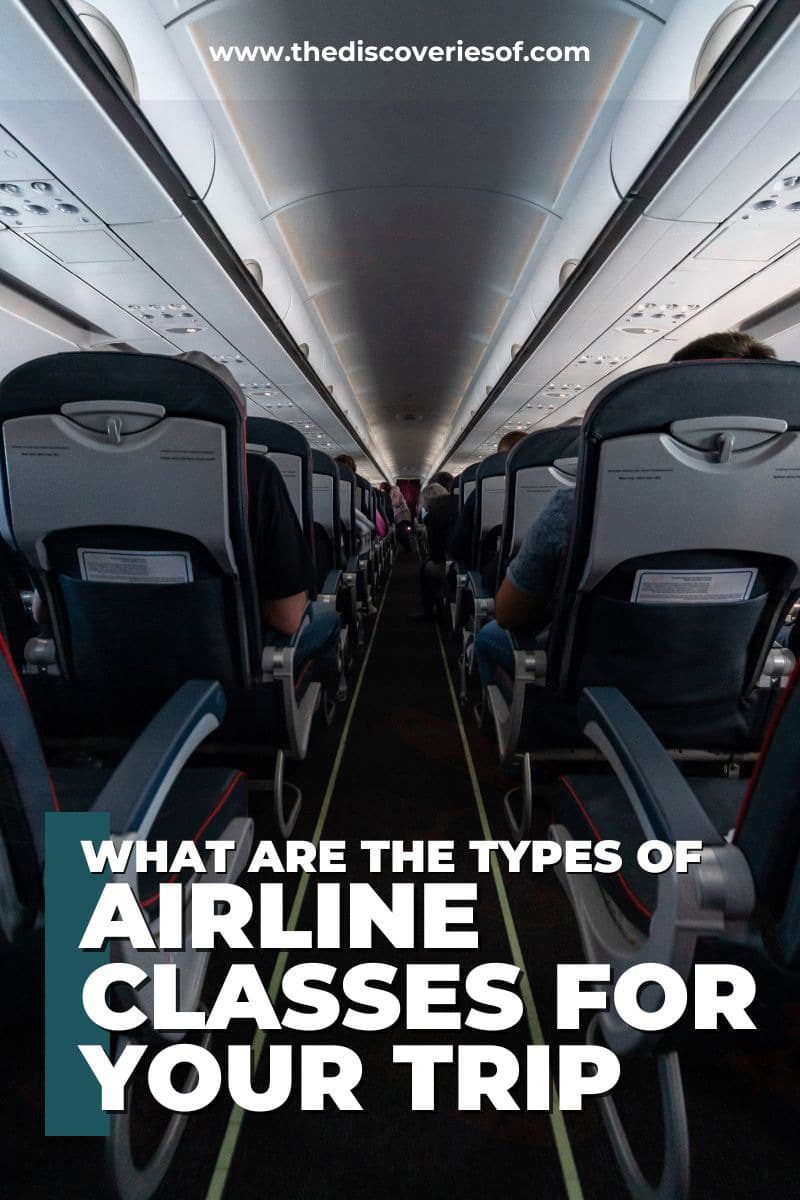 More Practical Travel Tips for Your Next Trip