Immerse yourself in a sun-kissed paradise with this 3-day Ibiza itinerary and explore the island's iconic spots and hidden gems.
Welcome to Ibiza! I've always had a soft spot for this beautiful island, where azure waters meet tranquill spots and, of course, that world-famous nightlife.
Say Ibiza to anyone and chances are, it's that nightlife that springs to mind, but there's more to Ibiza than dancing until dawn – and this 3-day itinerary is going to show you just that.
Together, we're going to hit up tranquil beaches, chic spas, cool restaurants and some of the biggest nights. So grab your sunscreen and let's go!
Handy Tips for Planning Your Ibiza Itinerary
Top Tours for Your Ibiza Itinerary
Wanna elevate your Ibiza experience a little bit? Add one of these to your schedule.
Guided Food Tour of Ibiza: What good is going on a trip to a Spanish paradise if you're not going to dig into the mouthwatering cuisine? Explore some of the best local hidden gems in Ibiza Town. Traditional meals, tapas, cocktails – you name it.
Hot Air Balloon Ride over Ibiza: There's no denying Ibiza's natural beauty, but why not explore the island from the clouds? Take a morning hot air balloon ride across the island, enjoying the thrill of flight. Oh, and did I mention it comes with breakfast and champagne?
What to Pack for Your Ibiza Itinerary
The trip always starts in the packing right? Here are some general essentials to add to your Ibiza packing list:
Comfortable Walking Trainers – When exploring the city and dancing to local tunes, you'll need some comfy shoes (and a bonus if they're stylish).
Sunscreen – Spain, specifically Ibiza, can get incredibly hot, and nobody enjoys being sunburnt AF.
A Wide-Brimmed Hat – Did I mention that heat was FIERCE?
Bikini / Swimsuit – For lazy beach and spa days.
Where to Stay for Your 3 Days in Ibiza Itinerary
Atzaro Agroturismo Hotel (Luxury)
Atzaro Hotel is a spectacular spot in the Santa Eulalia area. This chic boutique hotel boasts stunning decor with a pared-back rustic charm that speaks for itself.
Bed down with magnificent views of the Ibiza countryside and take advantage of the high-end restaurants and spa for the perfect escape from it all.
Check rates and availability at Atzaro Hotel
Ibiza Corso Hotel & Spa (Mid-Range)
Ibiza Corso Hotel is a slightly cheaper alternative than Atzaro but also a great option. Located near the gorgeous Dalt Vila in Ibiza Town, this hotel has some fantastic views. Comfortable and stylish rooms are complemented by great amenities including a bar, a restaurant, a luxury lounge, and a gym and wellness centre.
Check rates and availability at Ibiza Corso Hotel & Spa
Quick Info for Your 3 Days in Ibiza
Time Zone: Central European Summer Time (GMT+2)
Currency: Euro (EUR)
Plugs: Type F
Nearest Airport: Ibiza Airport
5 Must-See Spots: Ibiza Town, Es Vedra, Cala Bassa Beach, Santa Eulalia, and Santa Gertrudis.
Top Tip: If you're looking for a party at one of the local clubs, don't expect to get much sleep during the night hours. The real parties only start after midnight, so get ready for an all-nighter.
Getting Around
Buses or Taxis
Taxis are the easiest way to get around the island if you haven't rented your own car. They're easy to spot around town and work on a meter, too, so the drivers won't overcharge you.
You could also opt for a bus, which are the more affordable option – luckily, you can book Ibiza buses using the Ibiza Bus website or the official app on your cell phone.
Car Rentals
Renting a car is definitely a good option if you're looking to explore the island more in-depth at your own pace. You really can't go wrong (that is if you're comfortable driving around in a foreign country).
There are a lot of special hidden gems in Ibiza that buses just can't get to, so using a website like Europcar will be super helpful.
Bicycle or Scooters
Sure, renting a car is great, but what gets into the nooks and crannies of an island better than a scooter or a bicycle? Luckily, there are many affordable places spread across Ibiza where you can hire a scooter or a bike for the day.
You can try websites like BikeIbiza to rent bicycles. So, grab a couple of helmets and get exploring.
Top tip: Scooters and bikes are the go-to for getting to some typically hard-to-reach spots, like Sa Caleta Beach or Cala Llentia.
3 Days in Ibiza Itinerary
Ibiza Itinerary Day 1: Ibiza Town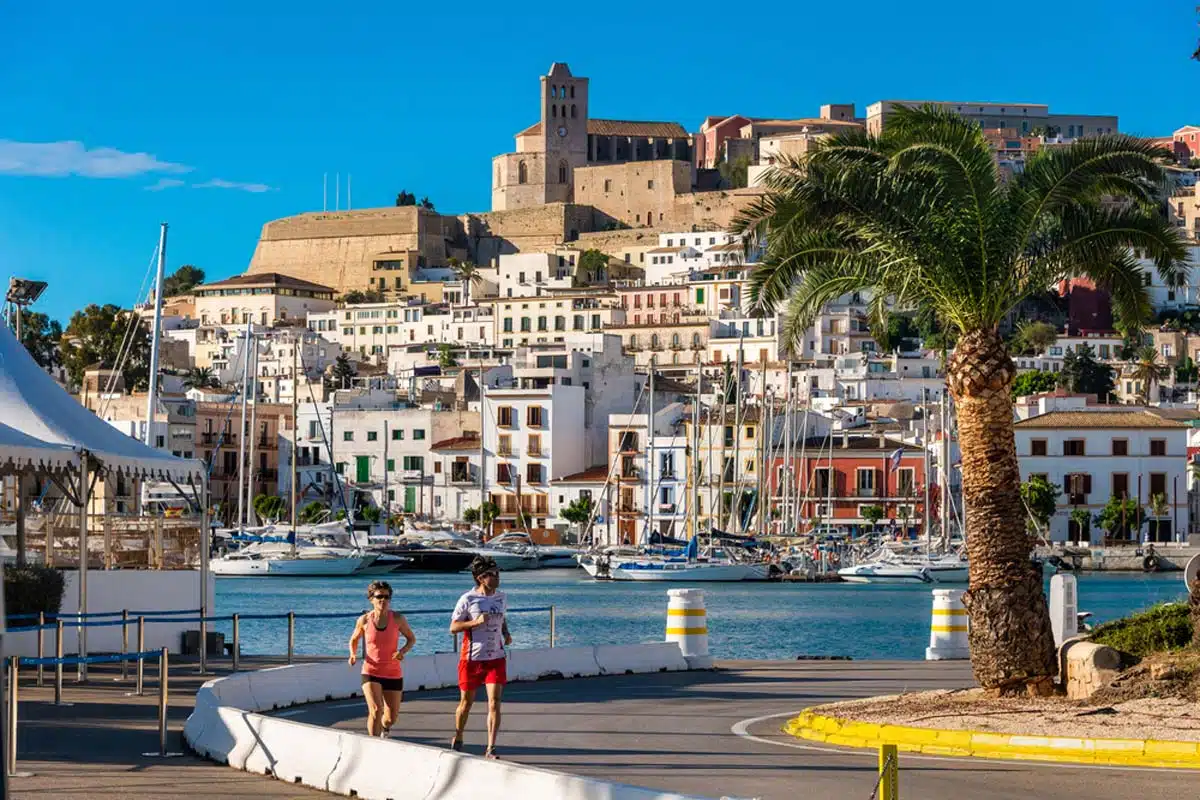 I'm going to kick off my Ibiza itinerary in none other than Ibiza Town. For day one, we're going to explore the gorgeous scenery, enjoy some local cuisines and get a taste of Ibiza's nightlife.
Just a warning – don't start too early in the morning if you're going to do the club at the end of the day. Preserve that energy – you'll need it.
Explore the Charming Streets of Ibiza Town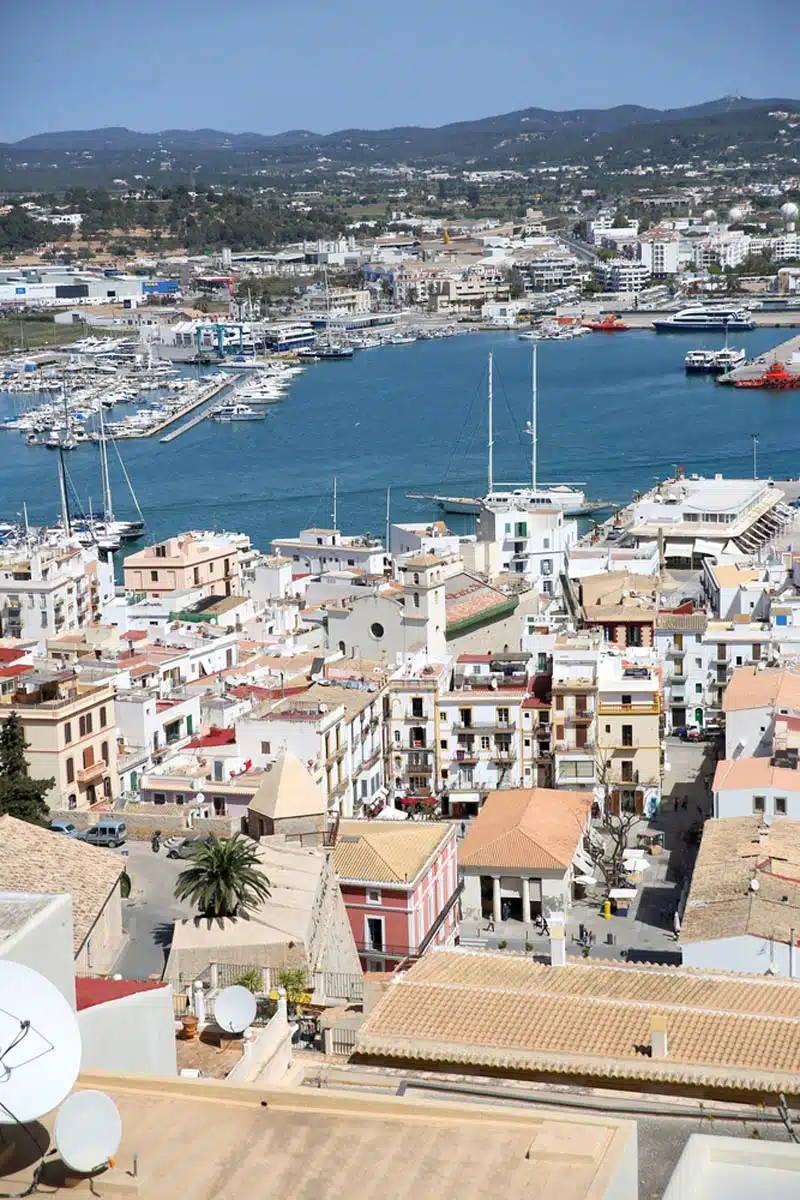 Start your first day by taking in the sights and exploring the beautiful streets of Ibiza Town – a location that oozes Spanish charm.
The star of the show is the striking Dalt Vila. You absolutely have to visit this historic fortress, which is now a UNESCO World Heritage Site. Book onto a guided tour of Dalt Vila if you really want to dig into the history, or just bask in the stunning views from atop the fortress.
Explore the Lively Marina Botafoch Area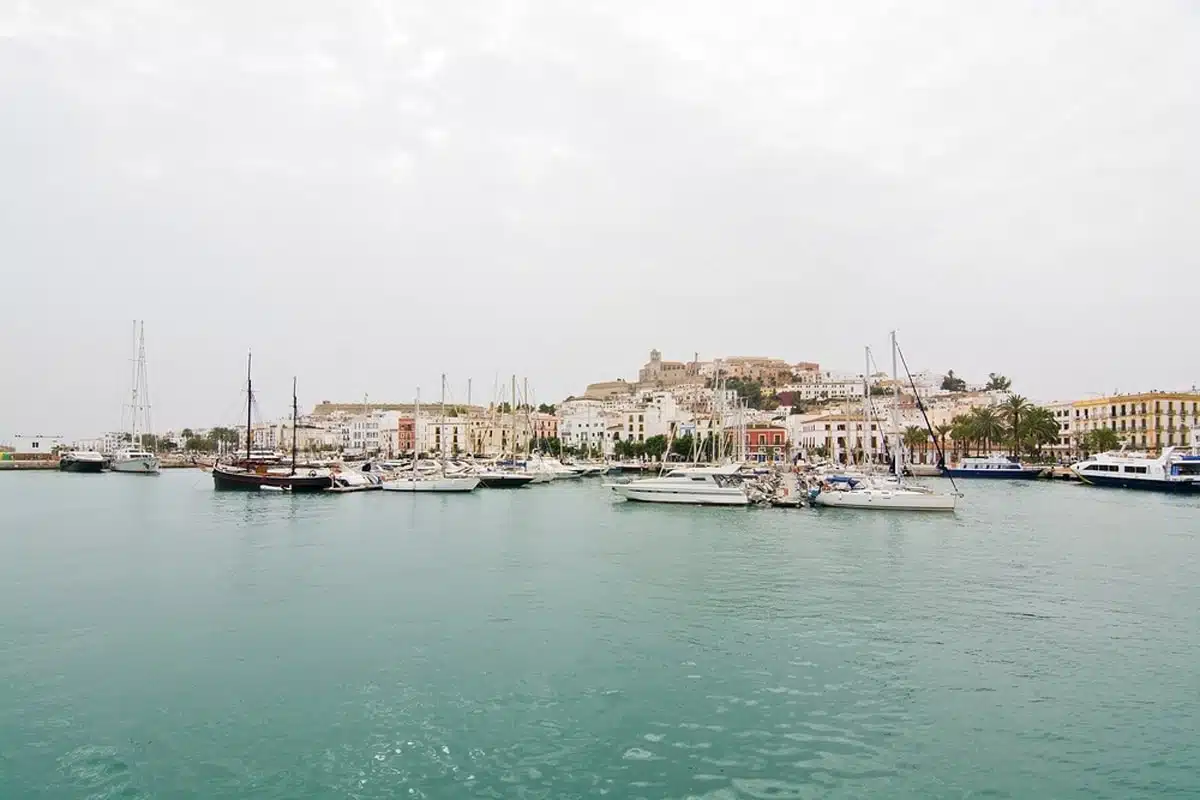 After strolling around Ibiza Town and Dalt Vila, make your way to Marina Botafoch to walk along the waterfront.
The views are sublime – but even better when paired with a meal from one of the many waterfront restaurants available. My top recommendations are Lío or Heart Ibiza, both of which are pretty popular for their fusion cuisine and excellent live entertainment.
Enjoy the Vibrant Nightlife of Ibiza Town and Visit Pacha
Alright, alright, It's time for this trip to really kick off. Head down to Pacha, one of Ibiza's most *iconic* clubs. Celebrating its 50th birthday this year, it's no less poppin' than in previous decades. Sunday nights' Solomun takeovers are legendary.
Ibiza Itinerary Day 2: San Antonio, Spas and Beaches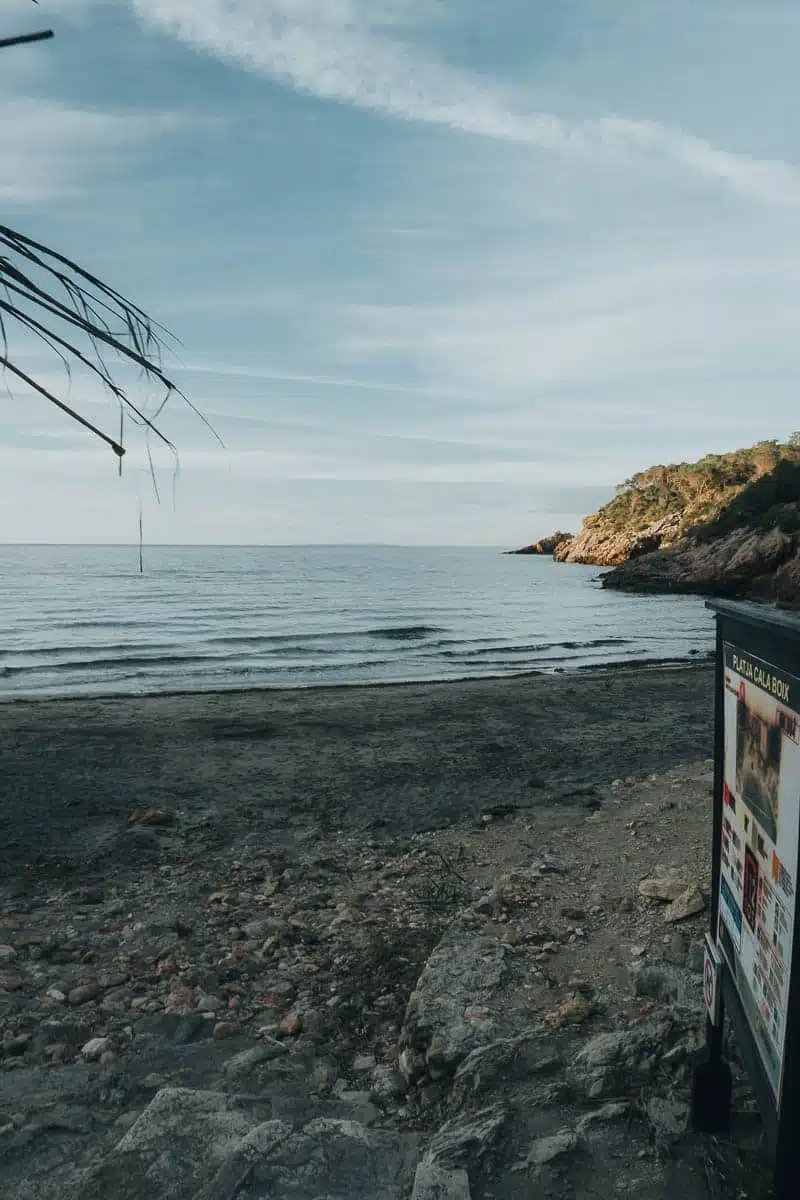 OK. For our second day, we're going to go all out with sunrise, spas, restaurants and another club night (totally optional of course).
Marvel at the Sunrise at Es Vedra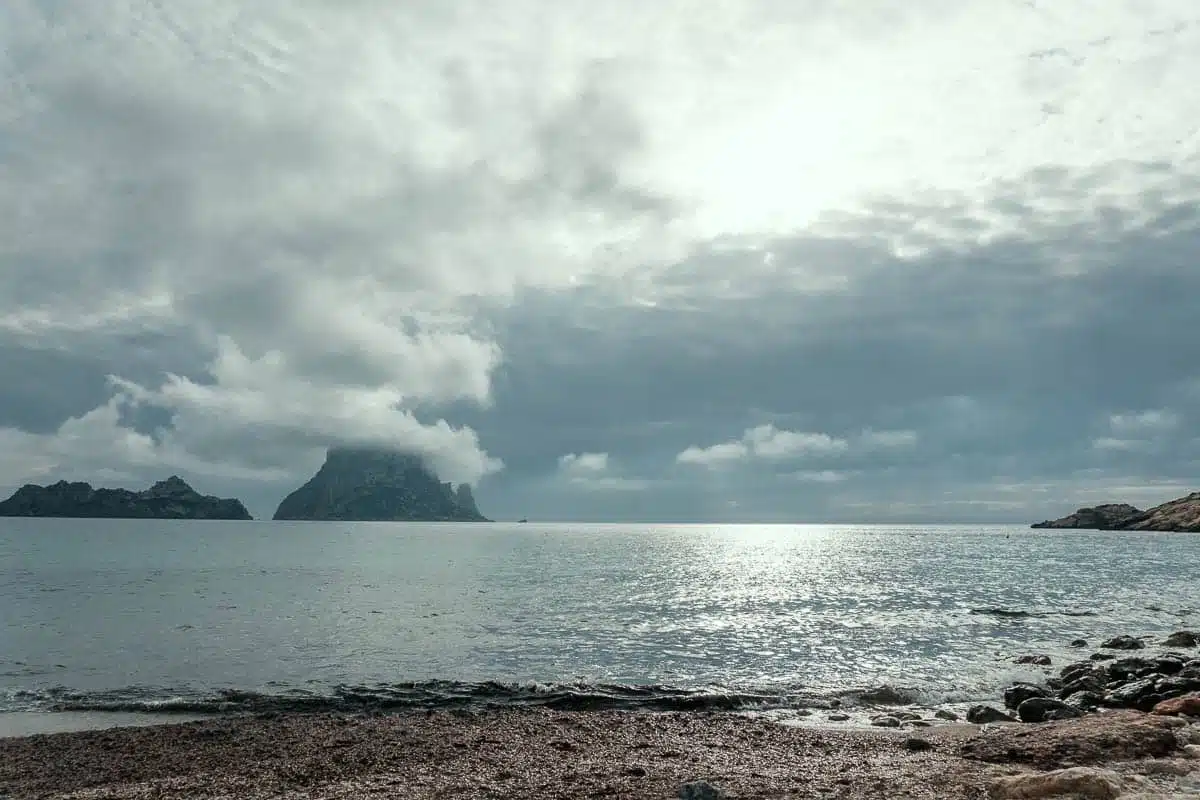 Wake up early (or *cough* stay up late) to witness the breathtaking sunrise at Es Vedra. They say this mystical rock formation rising from the sea has magical powers and watching the sunrise or the sunset is a rite of passage every visitor to Ibiza should do at least once.
Top Tip: You can also hire a private boat or discover Es Vedra on a guided tour for the best views.
Relax at Atzaro Spa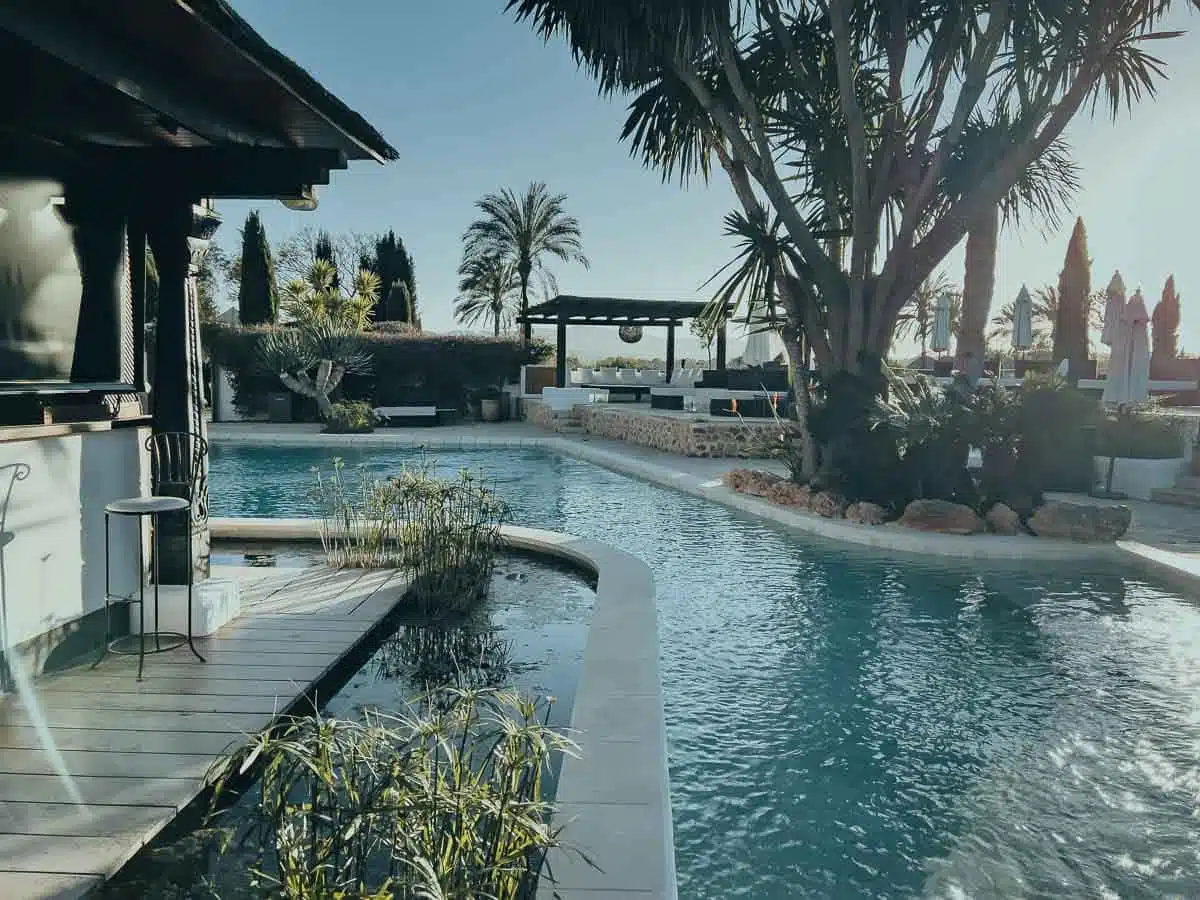 Next, up, one of my favourites: the Atzaro Spa. Let me tell you, the spa day I spent here on my most recent trip to Ibiza was one of the best I've ever had.
The spa is tucked away in the beautiful Atzaro Hotel in the heart of Ibiza's countryside. Picture this: extensive gardens filled with orange trees clustered around a central pool – not forgetting numerous day beds on which you can while away the hours (or take a little nap if you stayed up late last night).
Choose a treatment or book into the decadent spa day, which includes a full-day's access to the facilities, a yoga class, a private daybed, lunch and a treatment.
If you do choose to do the full spa day, you'll have to sack off most of the rest of the day's Ibiza itinerary but I won't blame you.
Spend Some Time at the Beach at Cala Bassa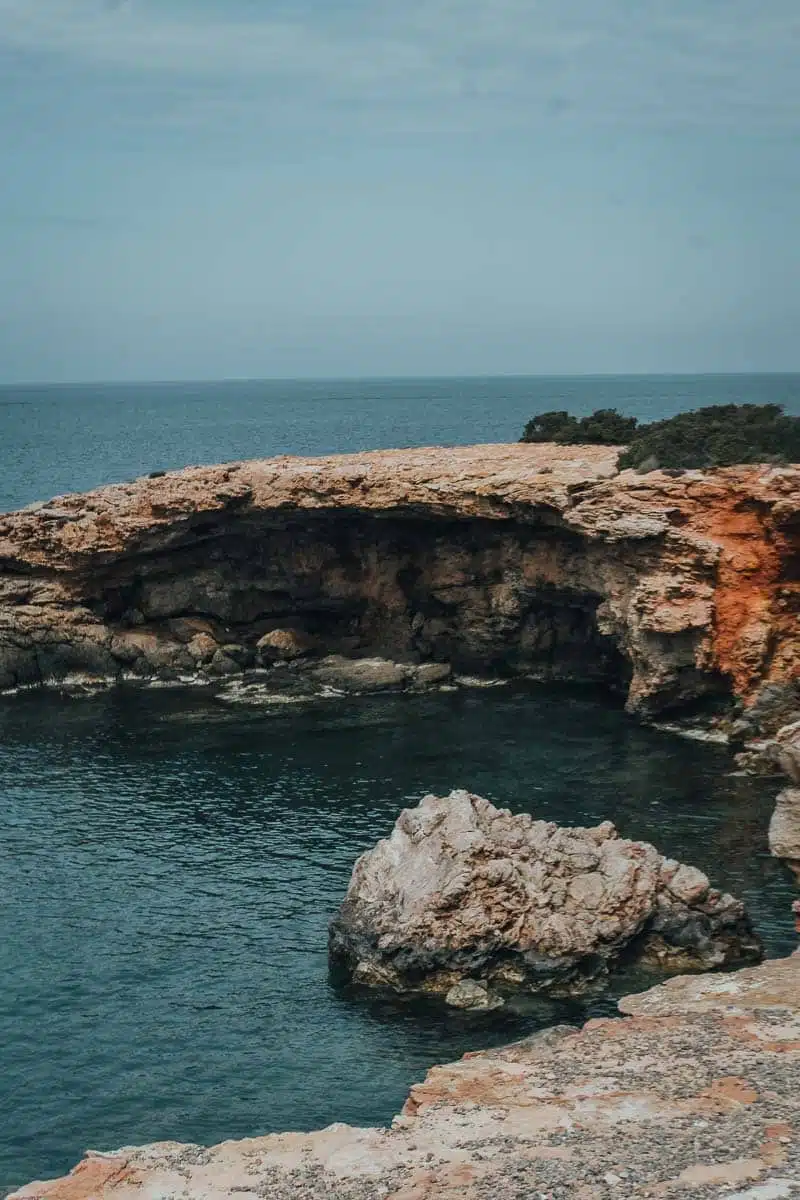 Cala Bassa is one of the island's most popular beaches – for good reason. This stunning stretch of sand is dotted with cool beach clubs and framed by the crystal-clear waters of the Mediterranean Sea.
Feeling energetic? Hire some snorkelling gear or sign up for one of the variety of watersports activities on offer (jet skis or banana boats anyone?).
The coastal hike from Cala Bassa to Platges de Comte is well worth your time. You can do the whole thing, or stop at the cute Torre that broadly marks the halfway point.
That said, there's no shame in just grabbing a sunlounger at Cala Bassa beach club, ordering a cocktail and soaking up the sun. This is Ibiza after all.
Head to Okasan Restaurant for a Late Lunch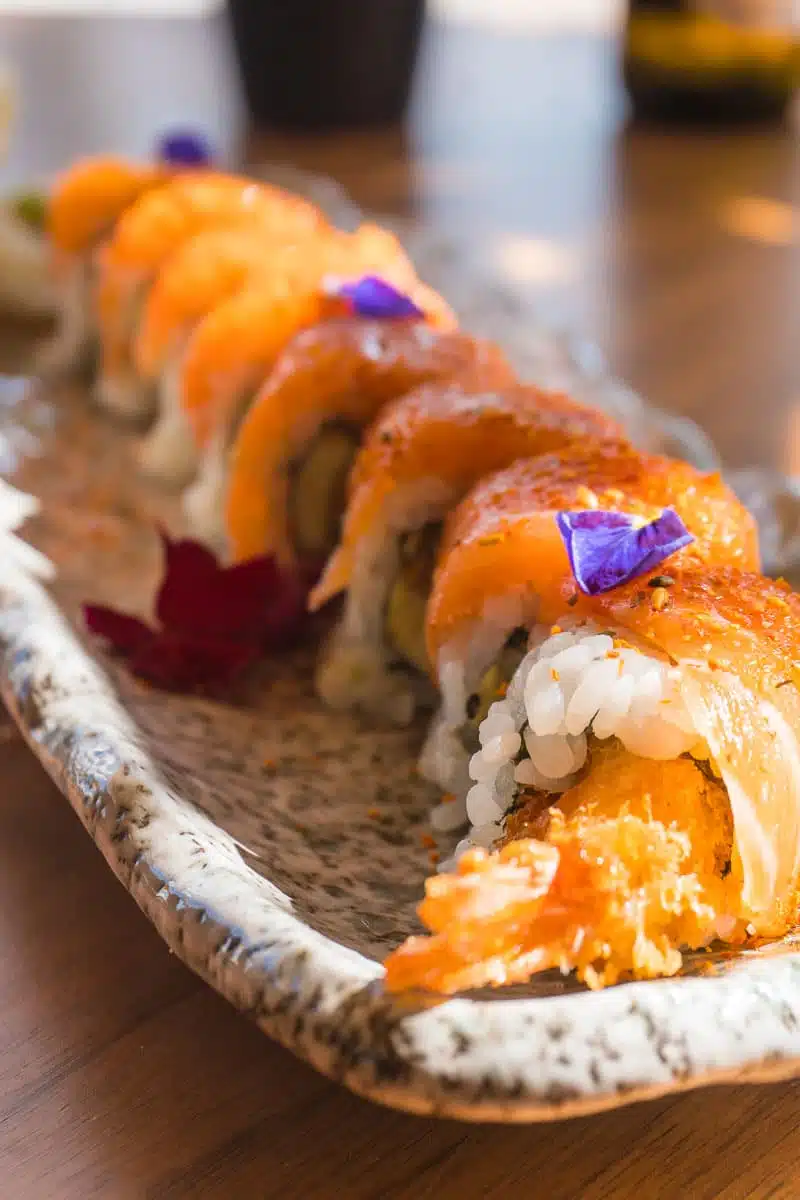 While San Antonio can get mad hectic, it's home to some of the island's coolest restaurants and chill sunset bars.
Okasan Restaurant is the place to go to for a one-of-a-kind lunch.
The Japanese fusion cuisine is top-notch. Be sure to order their sushi and a few dishes from the robata. For me, the Chicken Karaage, Dragon Roll and Beef Robata were *chef's kiss*.
Have a Sunset Dinner in a San Antonio Beachfront Restaurant
After an afternoon soaking up the sun, head down to one of the beachfront bars in San Antonio to watch the sun dip below the horizon, leaving a trail of golden fire in its wake.
Places like Cafe del Mar are iconic for a reason – not least the DJs that provide the perfect soundtrack to the close of the day. Savannah, Café Mambo and Al Ayoun are also great options too.
Did someone say sundowner bar hopping? Yes please.
Dance the Night Away at Amnesia
We all know we have to end day two of our Ibiza itinerary with a bang and that bang is named Amnesia, one of the iconic clubs in Ibiza.
Famed for its incredible sound system and lineup of world-renowned DJs, like DJ Harvey and Avalon Emerson, it's a must if you plan to do any clubbing while you're on the island.
Ibiza Itinerary Day 3: See More of the Island
So, you've made it to your final day in Ibiza. Don't be too sad, though, as I've still got some grand experiences lined up to help you explore more of the island.
Have Breakfast at a Beachside Café in Santa Eulalia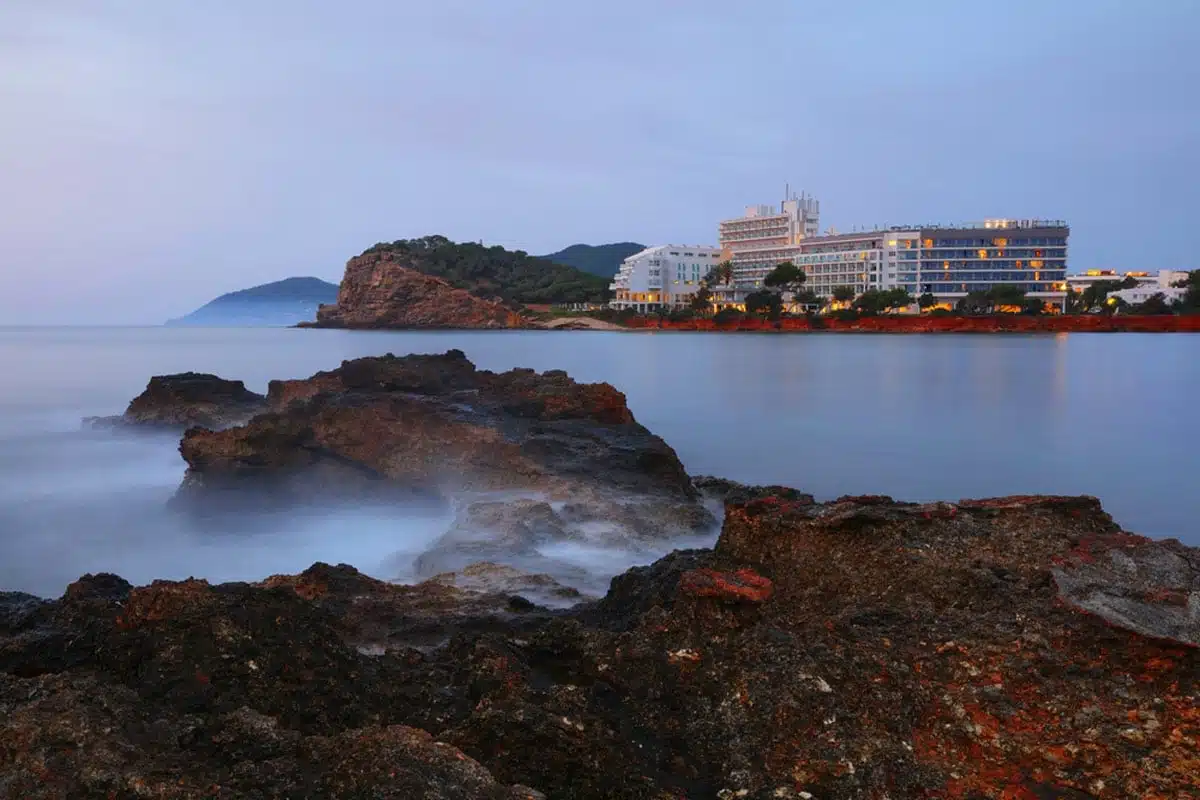 Depending on how hard you partied the night before, you should start your day early and go to a beachside café for breakfast in Santa Eulalia.
This charming town is on the east coast of Ibiza, meaning you can enjoy the beautiful views of the Mediterranean while savouring a delicious meal. My top recommendation is Restaurante Royalty.
Spend the Afternoon in Santa Gertrudis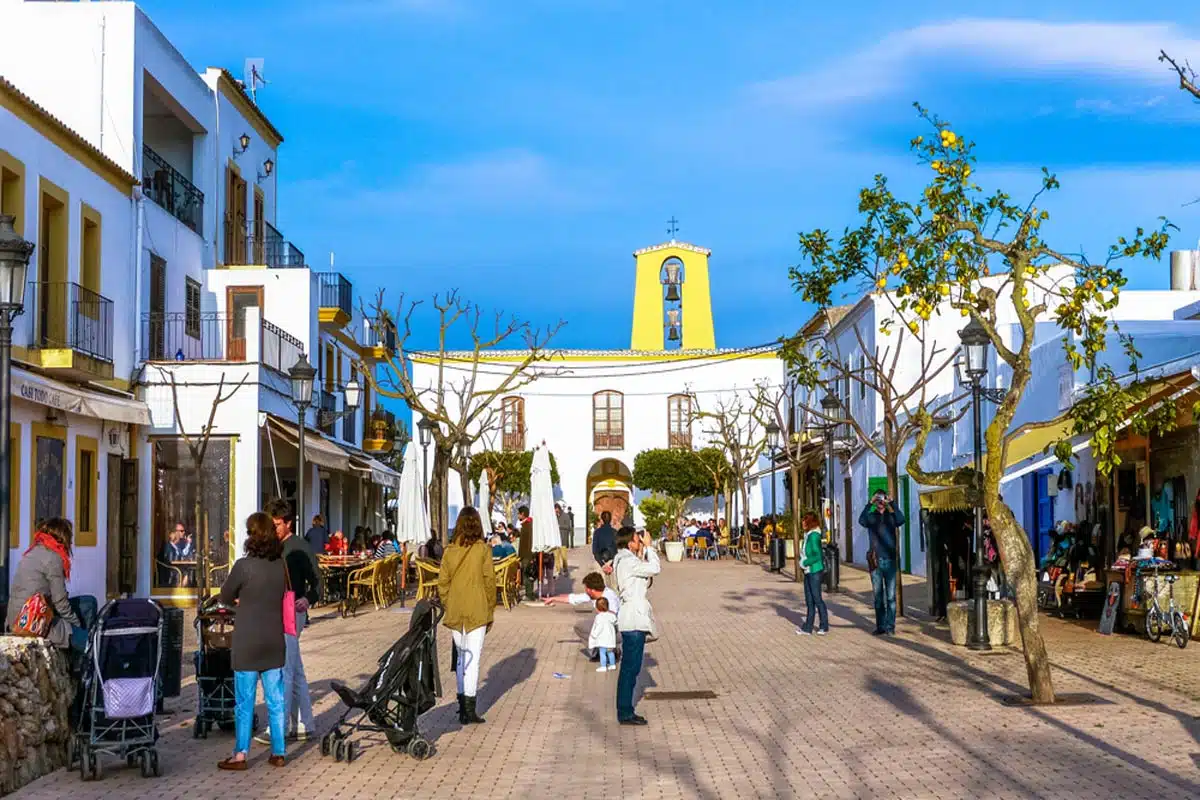 Things are going to slow down a bit after breakfast. Take some time to explore the picturesque town of Santa Gertrudis, known for its bohemian vibe and art galleries. Then stroll through the town centre, browse the unique shops, and have a relaxed lunch at one of the local restaurants.
Top Tip: Can Mimosa is a great family-run restaurant where you can enjoy an authentic Mediterranean meal and a cosy, romantic atmosphere.
Head Back to Ibiza Town for Some Sunset Cocktails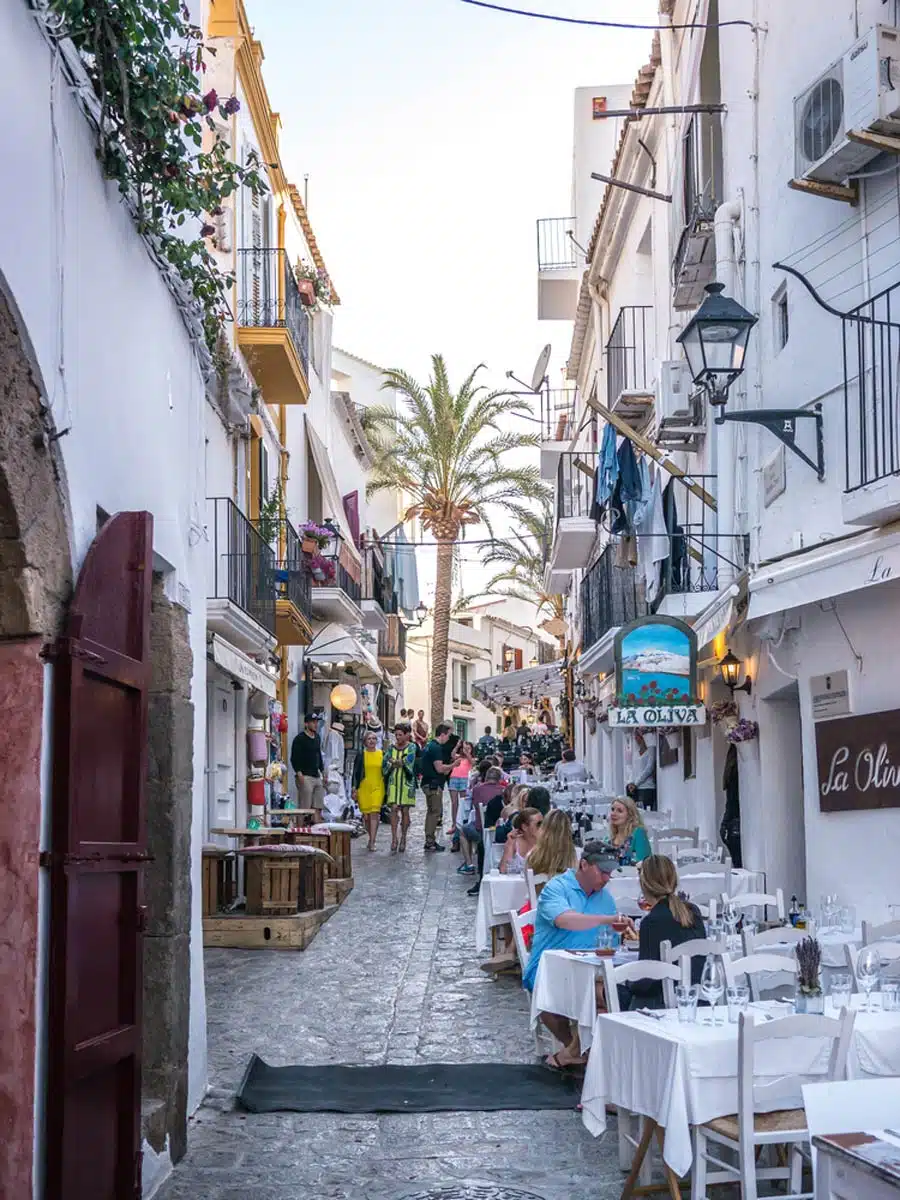 Once you've had your lunch, return to Ibiza Town to enjoy some sunset cocktails at one of the rooftop bars.
Sunset Ashram or La Torre Ibiza is excellent for this since they offer stunning panoramic island views, all while you sip on refreshing drinks and soak up the unbeatable atmosphere.
Dance Your Final Night Away at Ushuaïa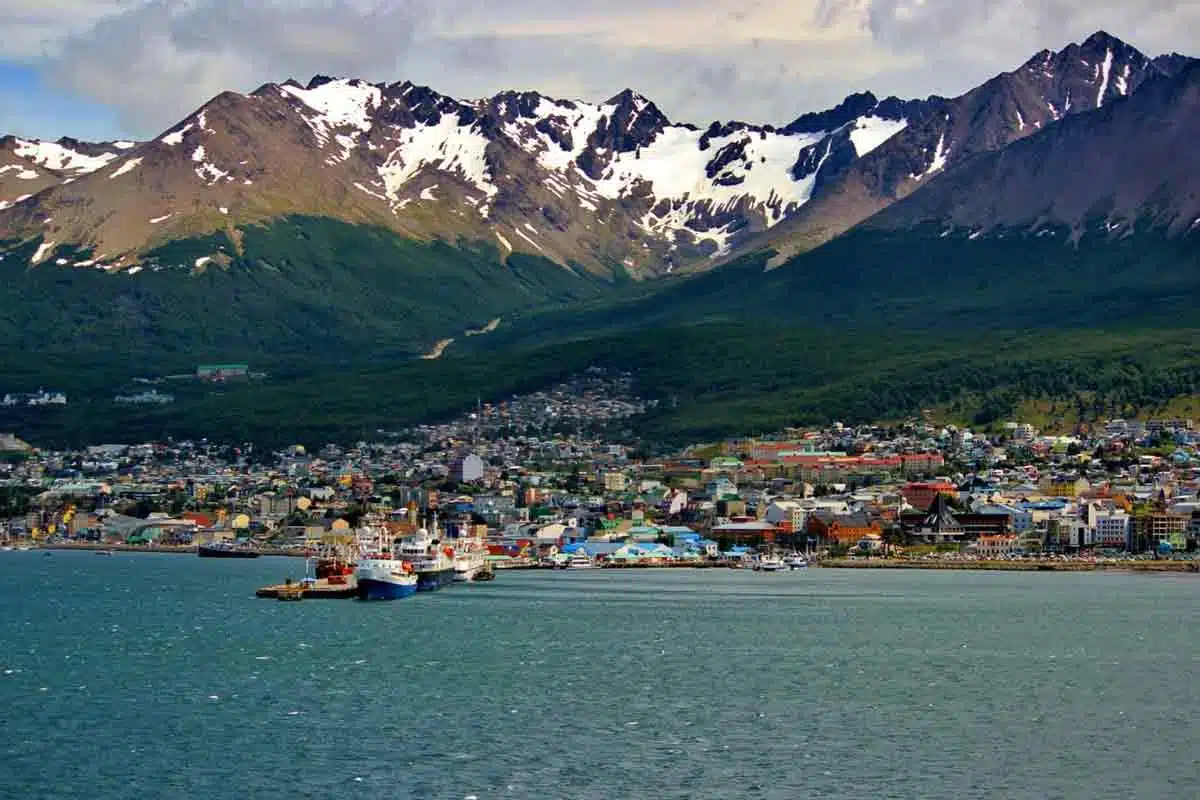 For your final night in Ibiza, venture to Ushuaïa, a world-famous open-air club in Playa d'en Bossa. Dance your feet off to the beats of internationally renowned DJs, like the legendary Armin van Buuren then head to bed and get some well-deserved rest.
Ibiza Itinerary – Map
Love This? Save and Share on Pinterest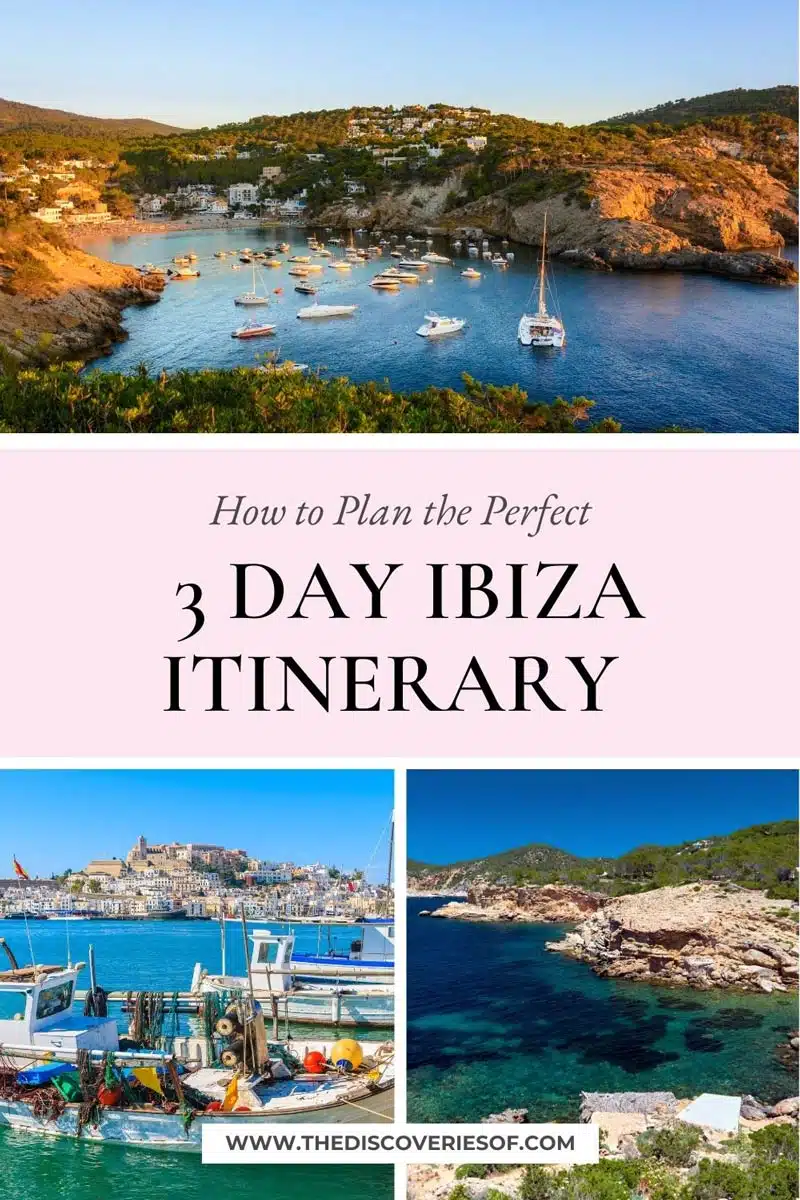 Add These To Your Ibiza Itinerary