Want to know where to stay in Antigua on your trip? Discover the best areas and hotels on this beautiful Caribbean Island in this comprehensive guide.
Antigua is a destination where you can fly in, get off the plane, and instantly feel like you're in paradise. You are.

It's a relatively small island at 108 sq miles, so wherever you stay, you'll be a stone's throw from the beach and not too far from any one location on the island.
While the Caribbean isn't short of beautiful islands, the fact that Antigua is split between the Caribbean Sea and Atlantic Ocean results in two sides that each have their own distinct characteristics and unique feel.

The West side is famous for its endless stretch of pristine beaches (did you know there's a beach on the island for all 365 days? Facts.) But move to the North and the East and the Atlantic's slightly rugged coastal beauty shines through.

Simply put, you can't go wrong when deciding where to stay in Antigua and Barbuda… but you can have a boss-level game plan that helps you narrow in on the perfect holiday location tailored to you. That's where I come in.

Here's my guide to the best areas and hotels in Antigua. Get ready. This is a Caribbean island you won't want to miss.
Best Places to Stay in Antigua: At a Glance
Where to Stay in Antigua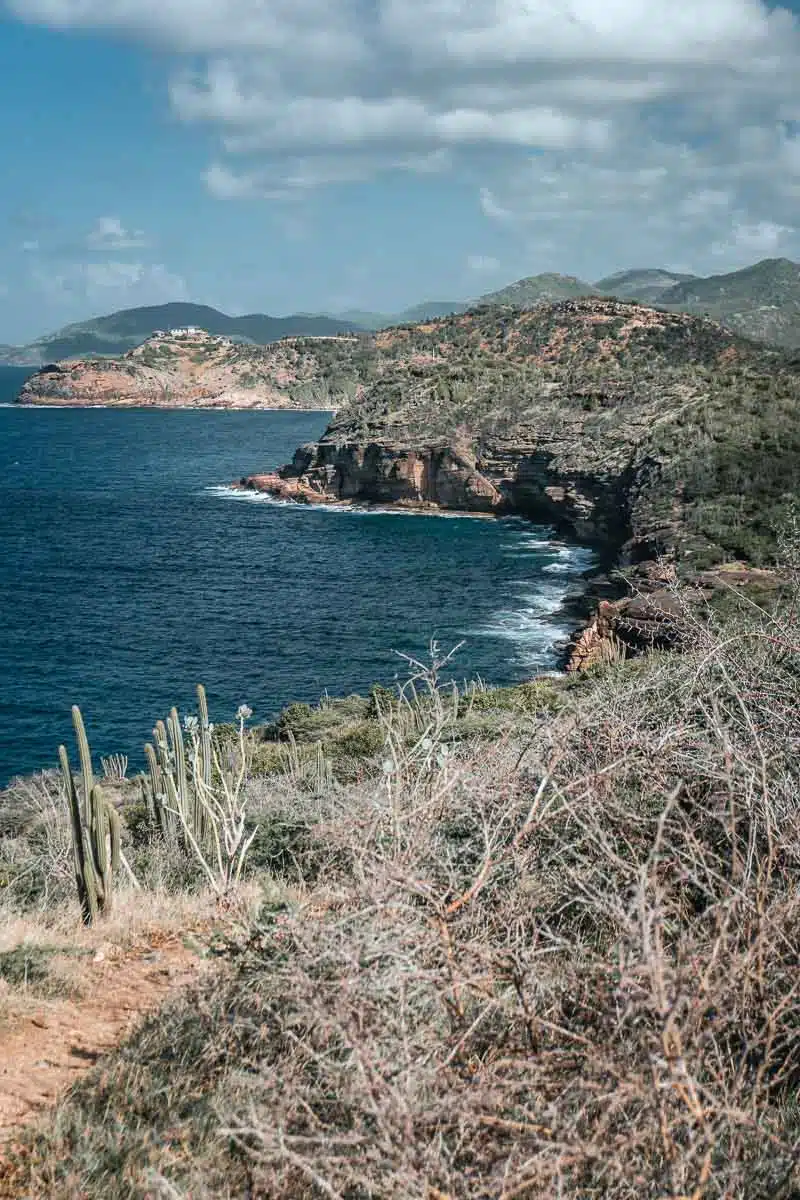 Antigua may be small in size, but there are so many hotels you can choose from. Seriously.
So no matter which side of the island you plan to be on and what you want out of your trip, you'll need to know all your options for Antigua places to stay.
Let's look at the best area to stay in Antigua, one region at a time.
Jolly Harbour: Best Place to Stay in Antigua Overall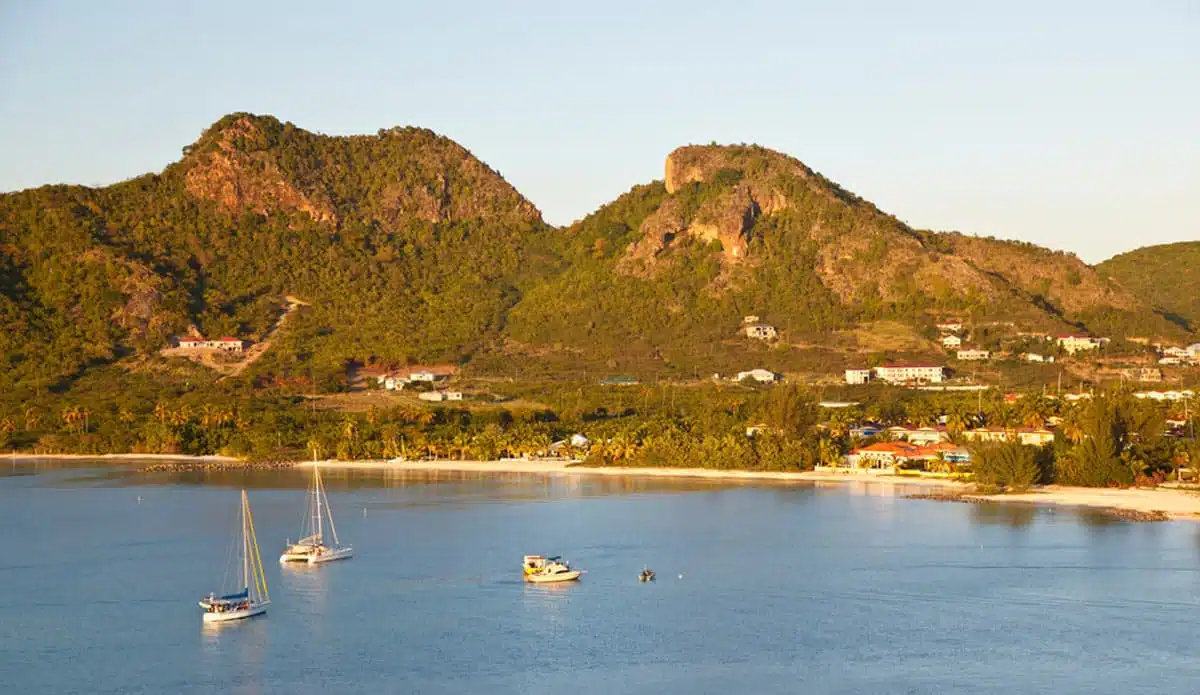 It's difficult to argue against any corner of this idyllic island when deciding where to stay in Antigua, but the charming restaurants, picture-perfect beaches and protected coves near Jolly Harbour make it my favourite place to stay.

The surrounding areas are as beautiful as the harbour itself, with some of the most pristine stretches of white sands and gentle Caribbean waves on the island nearby.
Jolly Harbour Highlights
Ffryes Beach / Darkwood Beach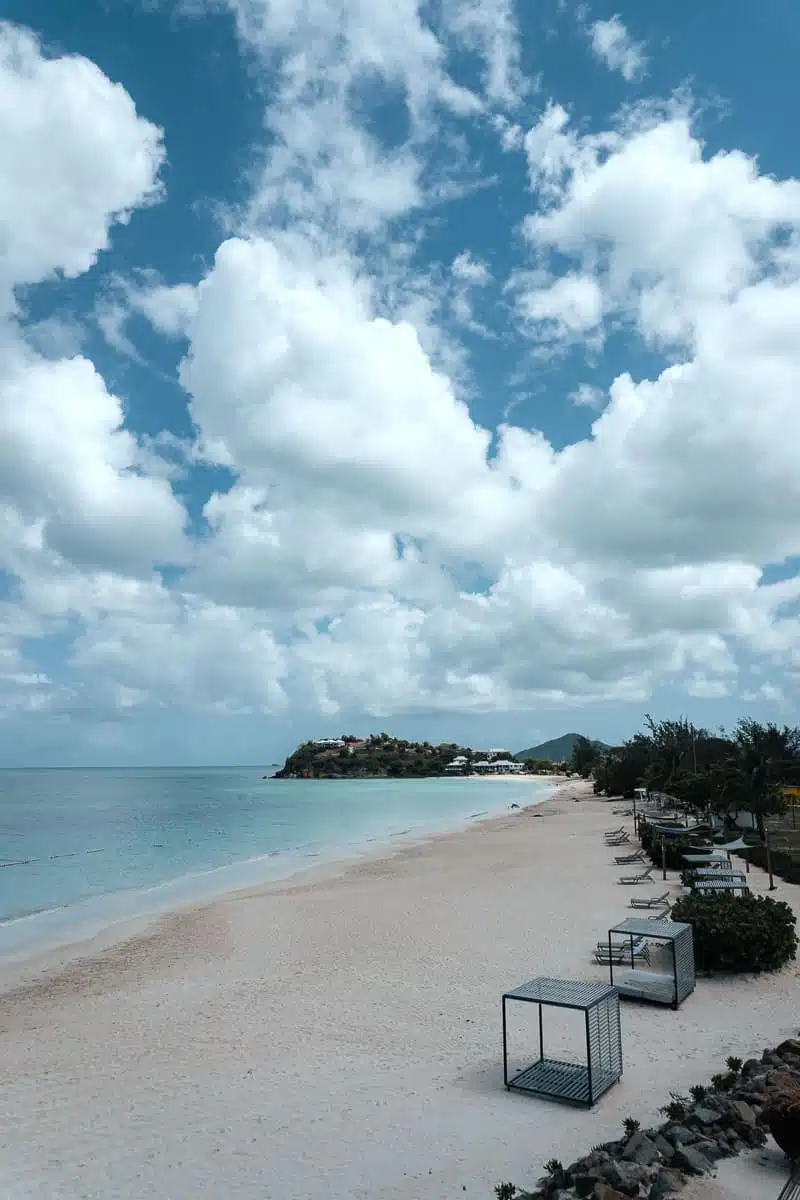 Hands down two of my favourite beaches in Antigua, the neighbouring Ffryes Beach and Darkwood Beach are an idyllic combo of fine white sand, cerulean waters and not too many people. Pop into the chilled back Dennis' Beach Bar for some hearty Caribbean cuisine while you're there too.
Valley Church Beach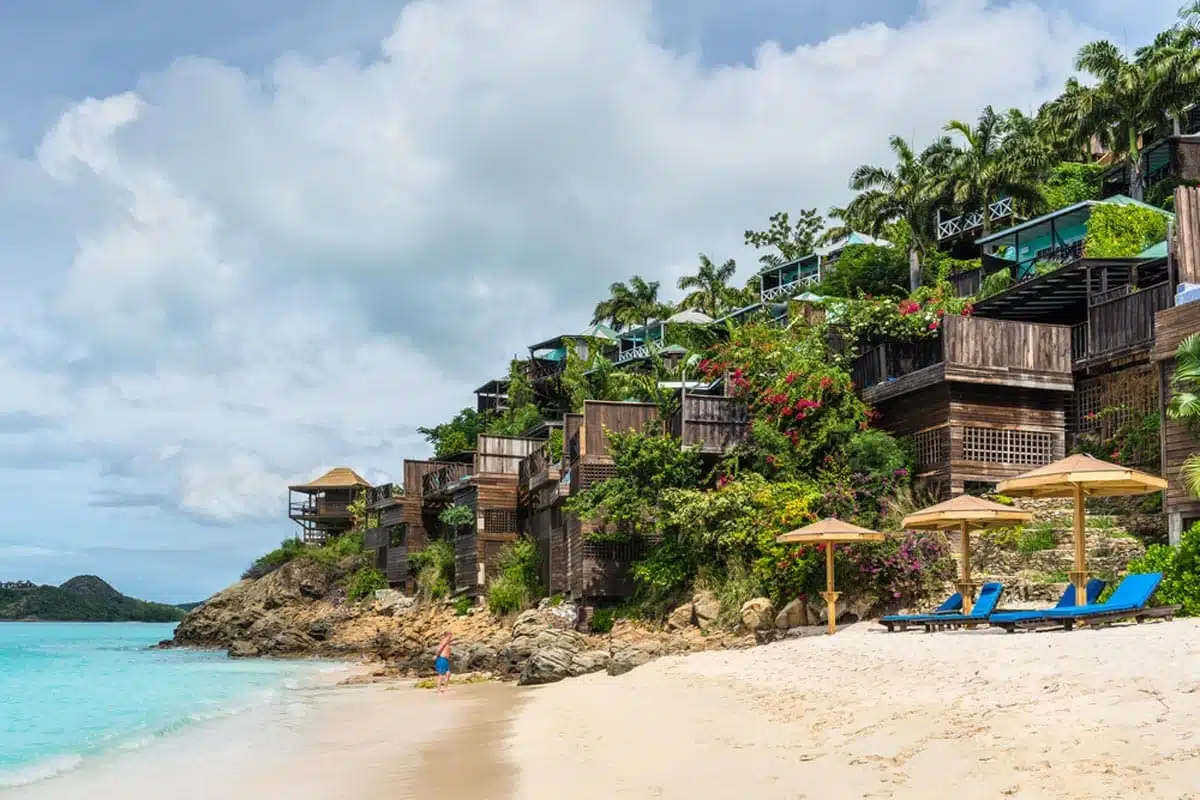 Valley Church Beach is a long stretch of white sands near Jolly Harbour that's perfect for just about any beach activity you can dream up.
Pop Up Beach Bar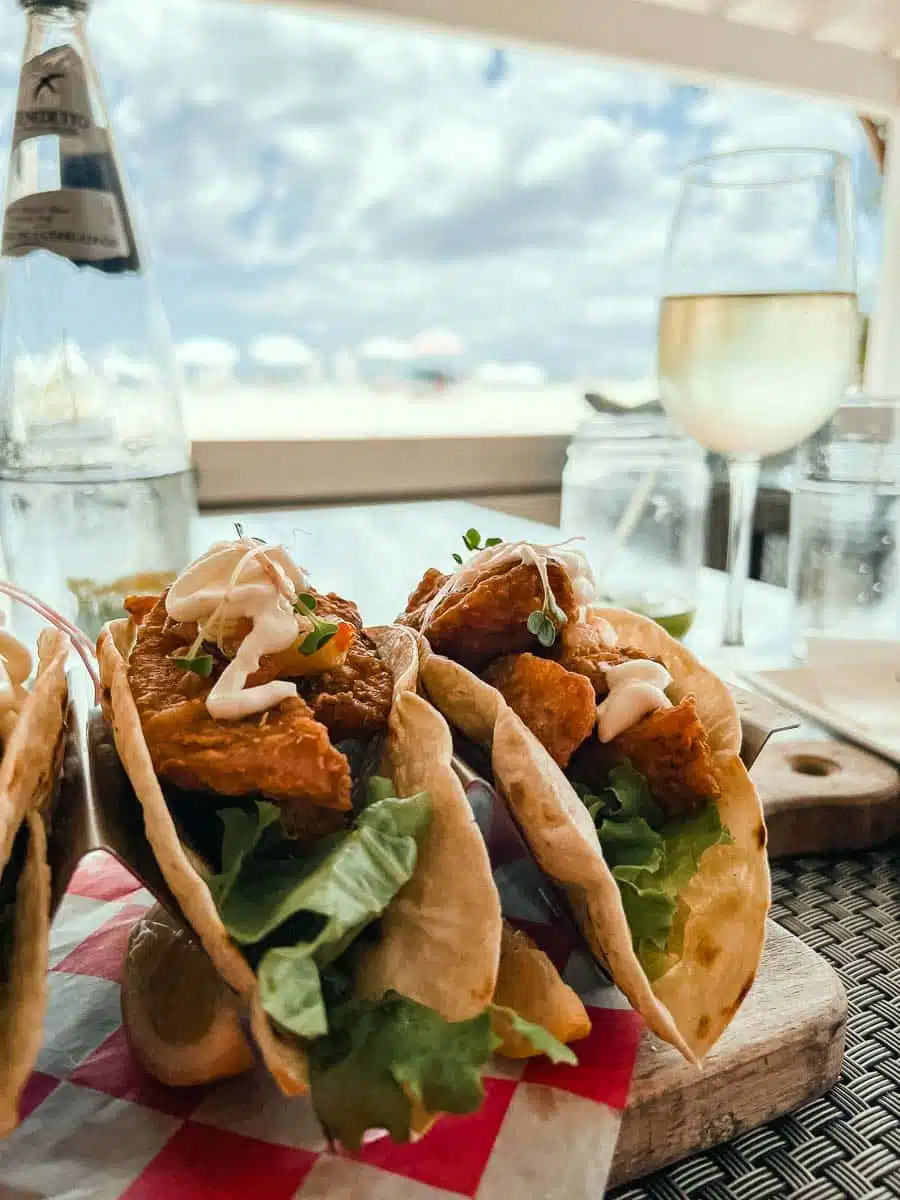 Work up an appetite window shopping in Jolly Harbour? Head to the beach and find one of my favourite lunch spots in Antigua. Why? Bohemian vibes, tropical drinks, and fish tacos that are literally perfect.
Suggested Best Overall Hotels Near Jolly Harbour
COCOS Hotel (Antigua)
COCOS Hotel (Antigua) sits just outside Jolly Harbour alongside Valley Church Beach. Private villas are charming inside and out, and the adults-only hotel is the best place to stay in Antigua for couples.
Tamarind Hills
Walk a bit further to Ffryes Beach, and you'll find my favourite hotel in Antigua, Tamarind Hills. The private villas have everything you need, including full kitchens, ocean-view balconies, and stylish decor.
Jolly Beach Resort & Spa
Jolly Beach Resort & Spa offers basic, budget-friendly rooms and all-inclusive packages right in the heart of Jolly Harbour.
Read Next: What's it Like Staying in Tamarind Hills? Here's My Full Review
English Harbour: The Best for Historic Lookout Points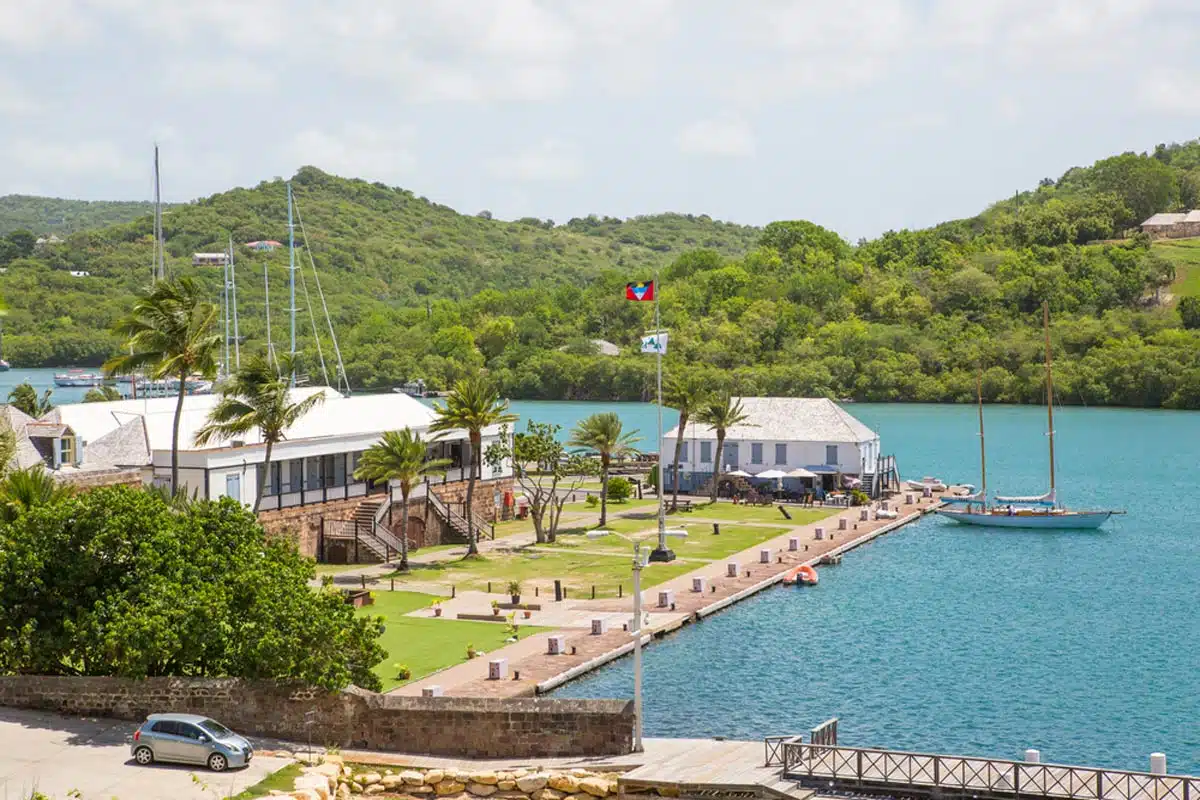 English Harbour is a famous area in Antigua with a British military history dating back to its use by the Royal Navy as far back as the 16th Century.

Pay a visit to this protected cove, now dotted with ultra-plush yachts, and you'll know why. The long channel stretching from the Southwestern corner of Antigua inland to Nelson's Dockyard shelters the harbour on nearly every side.

Flash forward a few hundred years, and the same reasons that made it a strategic military location make it an absolutely stunning place to take a holiday.
English Harbour Highlights
Shirley Heights Lookout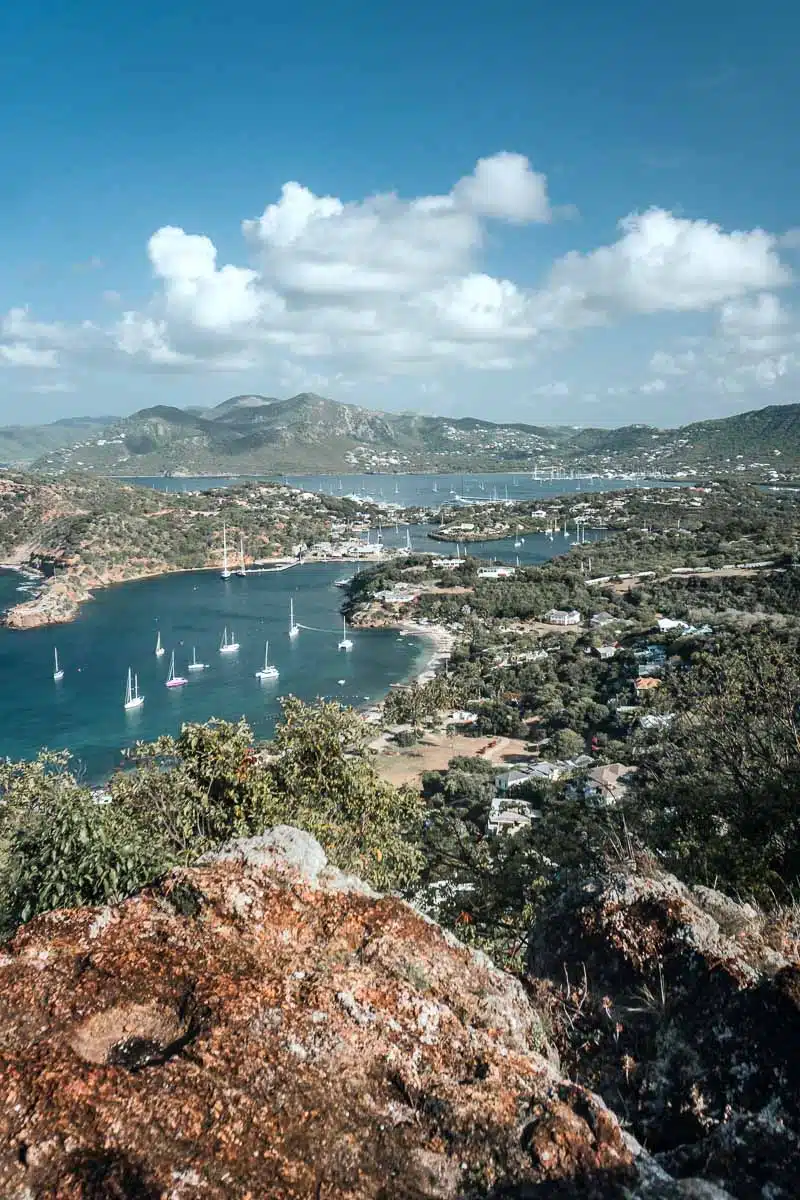 If I told you that an old military post was one of the most scenic places in Antigua, you might shoot me a bombastic side eye (warranted). Trust me – the views are the best on the island.

The parties on Sundays from 4 to 10 pm are also a reason to hike up to this gorgeous vista point above English Harbour.
Mermaid Gardens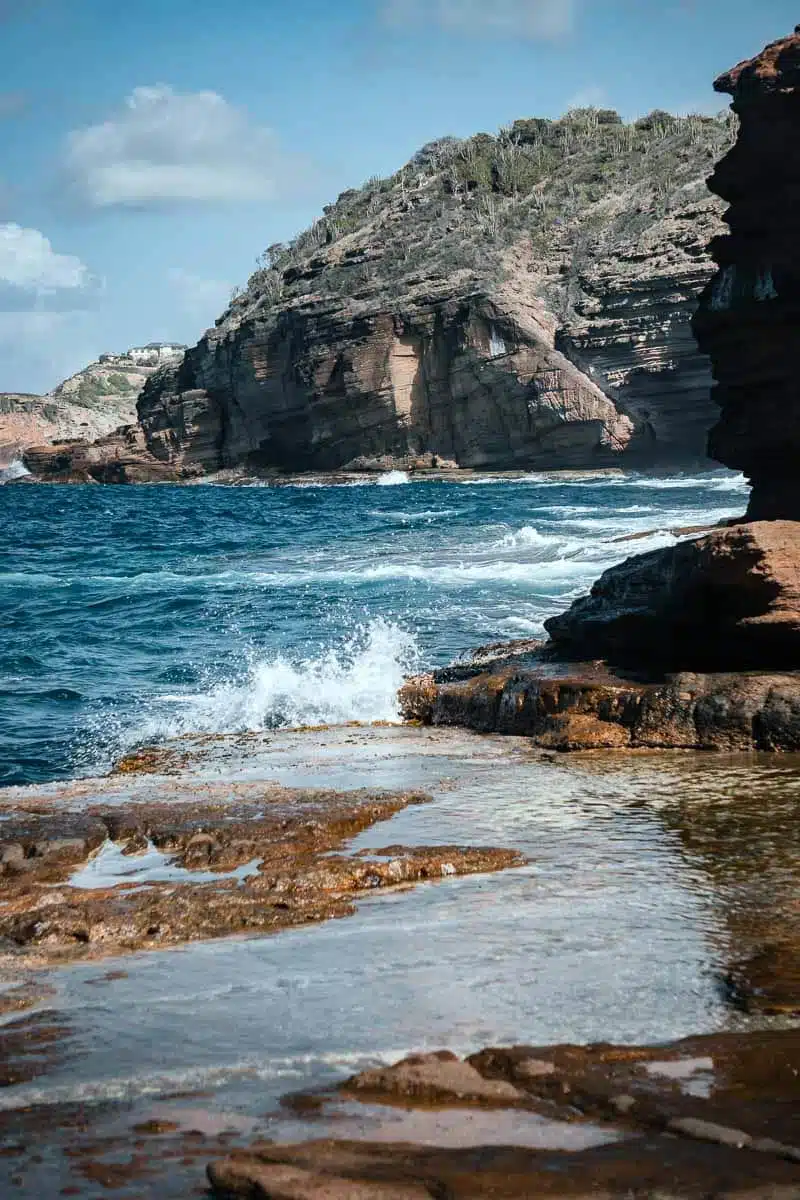 Hike over from Galleon's Bay or Shirley Heights and see this remote stretch of picturesque rock pools, and you'll have no doubt why people may just start believing in aquatic fairytale creatures peering out at the rolling waves and rocky coastline.
Catherines Café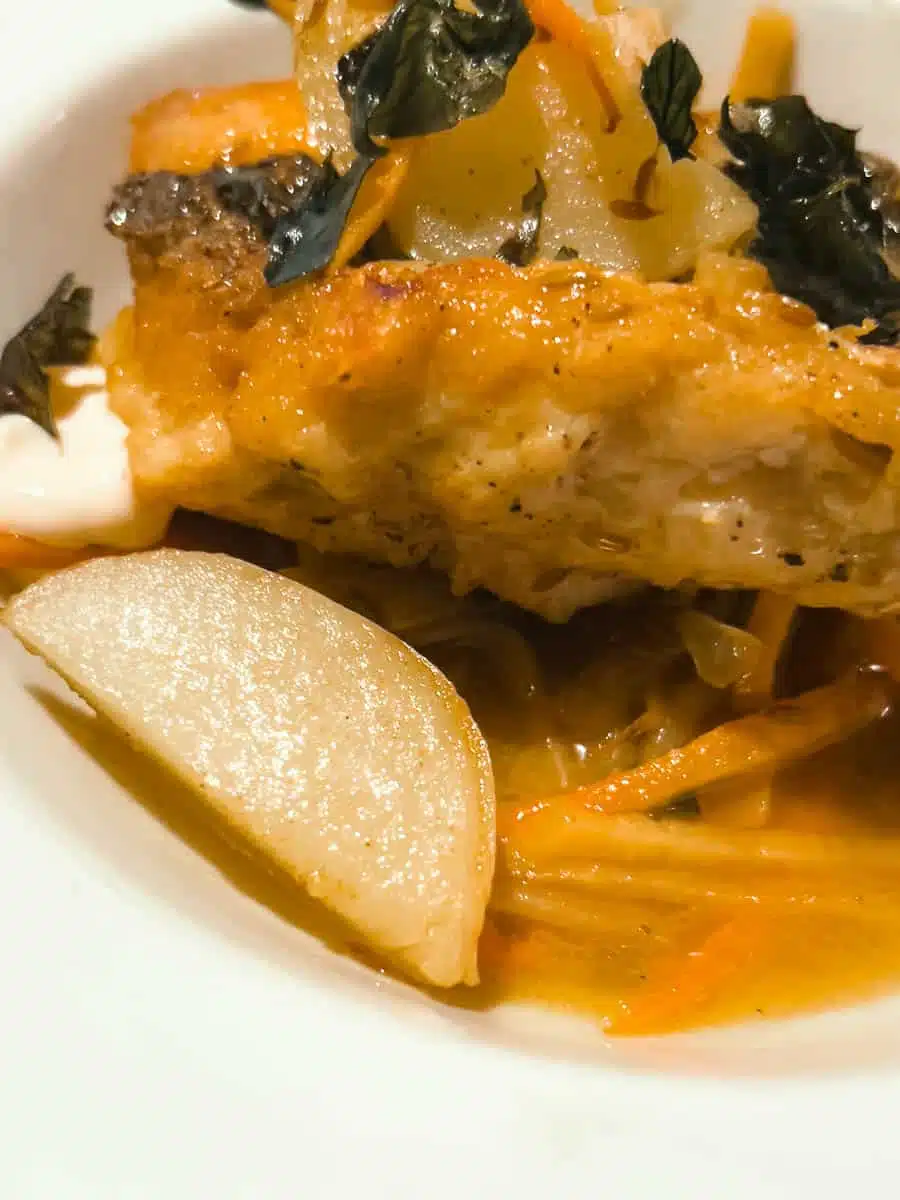 If you spend a few hours at Pigeon's Point beach, head over to Catherines Café, where you can sample some French Bistro-style cuisine focusing on seafood in a relaxed atmosphere.
Suggested Historic Hotels in English Harbour
The Inn at English Harbour
The Inn at English Harbour sits along English Harbour and Galleon Beach, so the location is perfect. Rooms are updated at the historic property, making every stay a delight.
Copper and Lumber Store Hotel
Copper and Lumber Store Hotel allows you to immerse yourself in an 18th-century British Naval house in Nelson's Dockyard. Any of the 14 rooms will wow you with style and history.
Admiral's Inn and Gunpowder Suites
​​Admiral's Inn and Gunpowder Suites' colonial-style structure is home to lavish gardens, outdoor dining, and cosy rooms below Shirley Heights.
Dickenson Bay: Best Area to Stay in Antigua and Barbuda for Beaches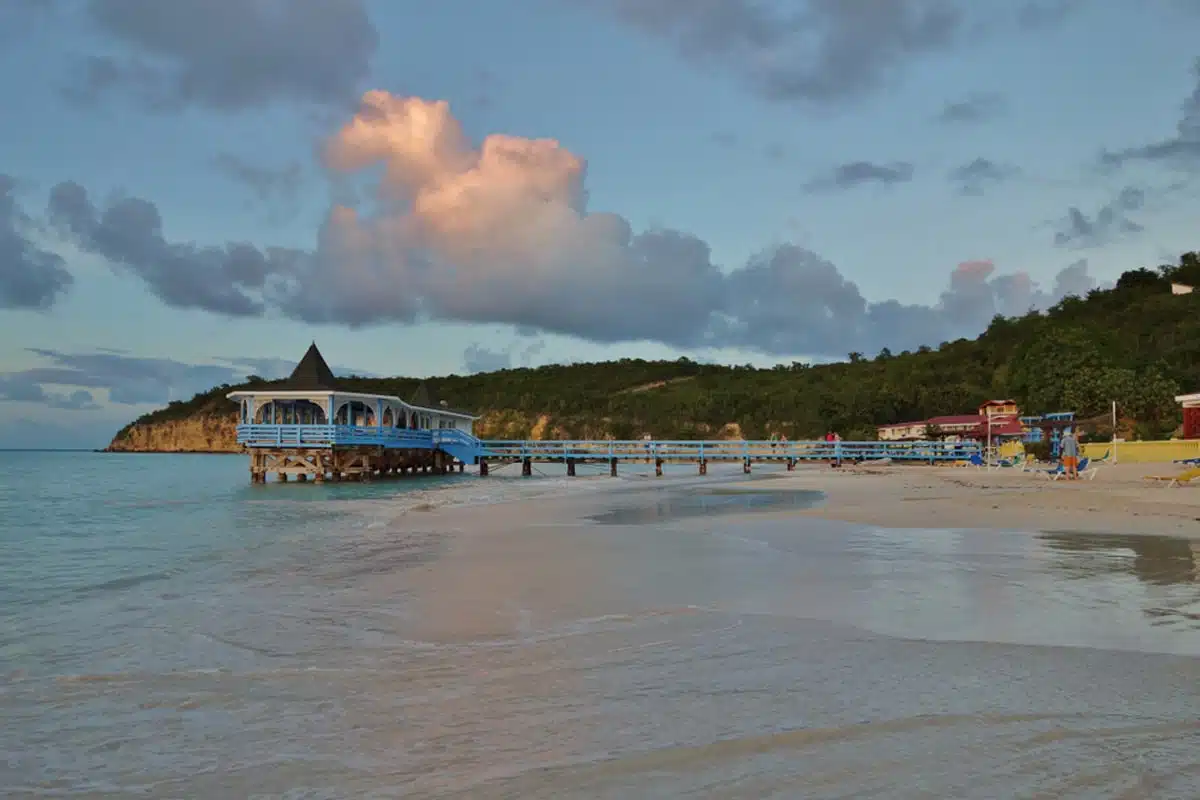 Dickenson Bay sits on the Northwestern edge of Antigua and is famous for its gorgeous coastline that is up there with any you'll find in the Caribbean.

If you're looking for excellent food, gorgeous beaches, and any water sports you can think of just steps away from your room, then Dickenson Bay is full of the best places to stay in Antigua for you.

Though technically part of Saint John, Dickenson Bay has a character all its own, with a laid-back seaside vibe that beach bums will quickly rally around.
Dickenson Bay Highlights
Dickenson Bay Beach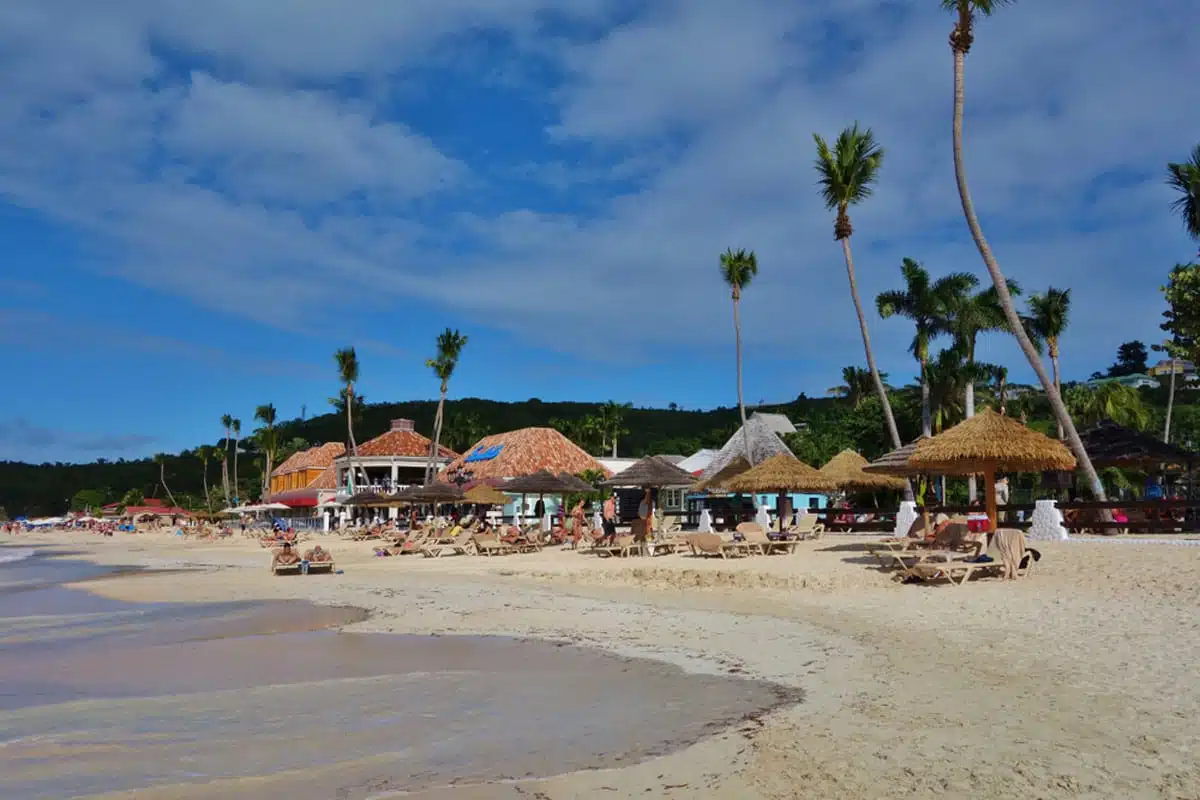 Staying in Antigua near Dickenson Bay Beach means you can access yet another stunning stretch of coastline along the Caribbean Sea. It's crowded and lined with resorts, but that means easy access to loungers, water sports, and excellent food and drink.
Bella Vita Italian Restaurant & Bar
Antiguan cuisine is delicious, but there's also some great international cuisine on the island. Try this spot if you're in Dickenson Bay and want a taste of Italy.
Suggested Beach Hotels in Dickenson Bay
Blue Waters Resort and Spa
Blue Waters Resort and Spa offers a lovely all-inclusive package with 17 acres of beachside property just north of Dickenson Bay. You can schedule private charters to snorkel, sail, and hike nearby.
Buccaneer Beach Club Antigua
Buccaneer Beach Club Antigua is a charming budget-friendly hotel right on Dickenson Bay. The apartment-style suites are ideal for travellers who want a more D.I.Y. holiday in Antigua.
Siboney Beach Club
Siboney Beach Club is another excellent value near one of the best places to stay in Antigua, Dickenson Bay. Fresh seafood, snorkelling on-site, and ocean-view balconies make this a perfect seaside getaway.
St John's: Best Place to Stay in Antigua for Culture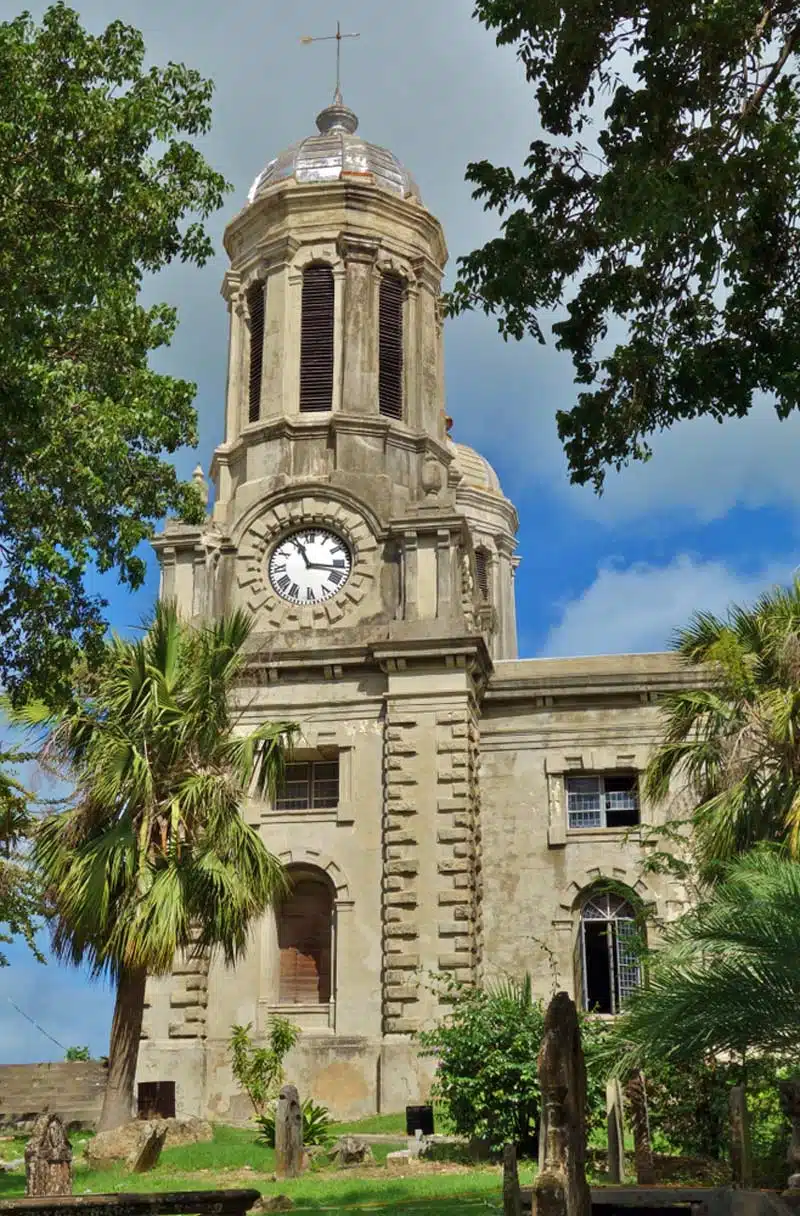 St John's isn't just the capital city of Antigua; it has a distinct personality and charm with colourful homes, trendy boutiques, and seriously incredible cuisine.

You can spend a few hours here and see what it's about, but staying in Saint John's is well-worth a conversation as one of the best places to stay in Antigua.
Not only is it the island's cultural centre, but there are some stunning beaches and activities to keep you busy day and night.
Saint John's Highlights
The Captain's Table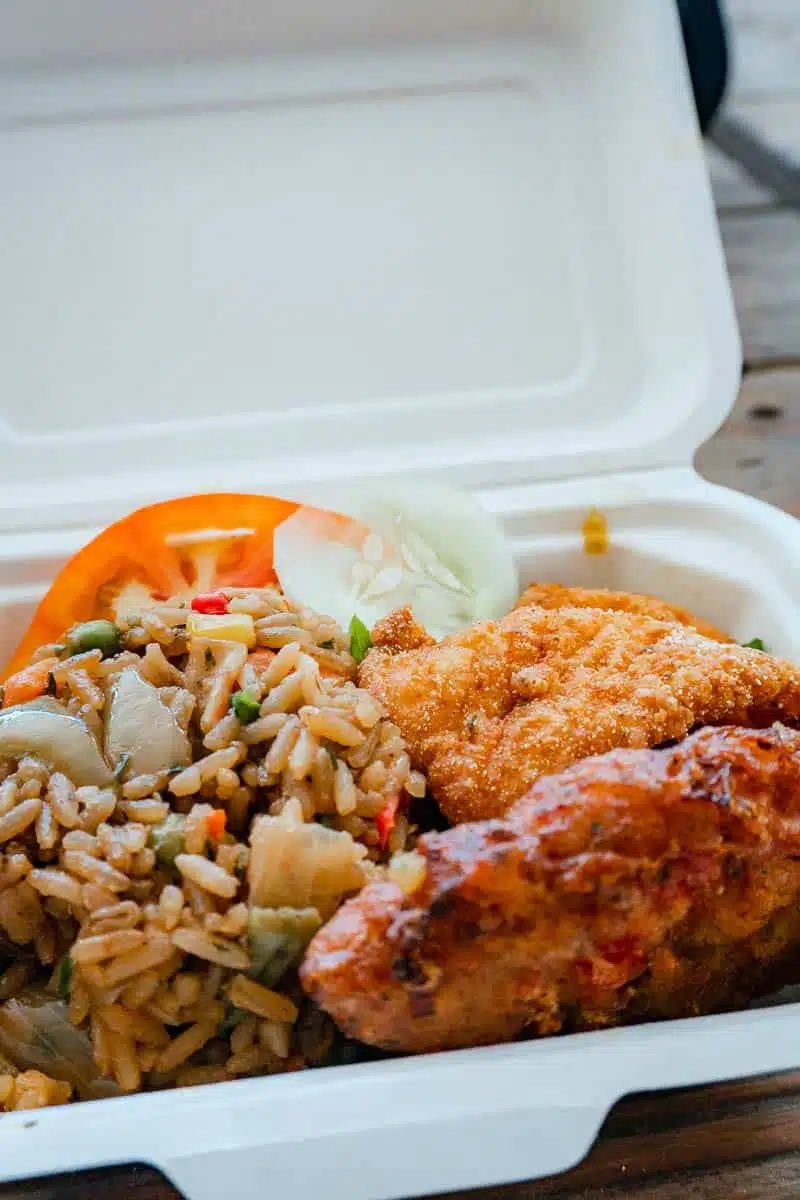 Want my choice for a must-try restaurant in Saint John's? The Captain's Table serves up the best Antiguan food in the area, like fried fish, seafood rice, and conch fritters. Drool.
Tropical Adventures Sunset Tour
Take this sunset tour from Saint John's and get million-dollar views of the sunset and Caribbean coastline while dancing to Soca and sipping on some lethal rum punch.
Galley Bay Beach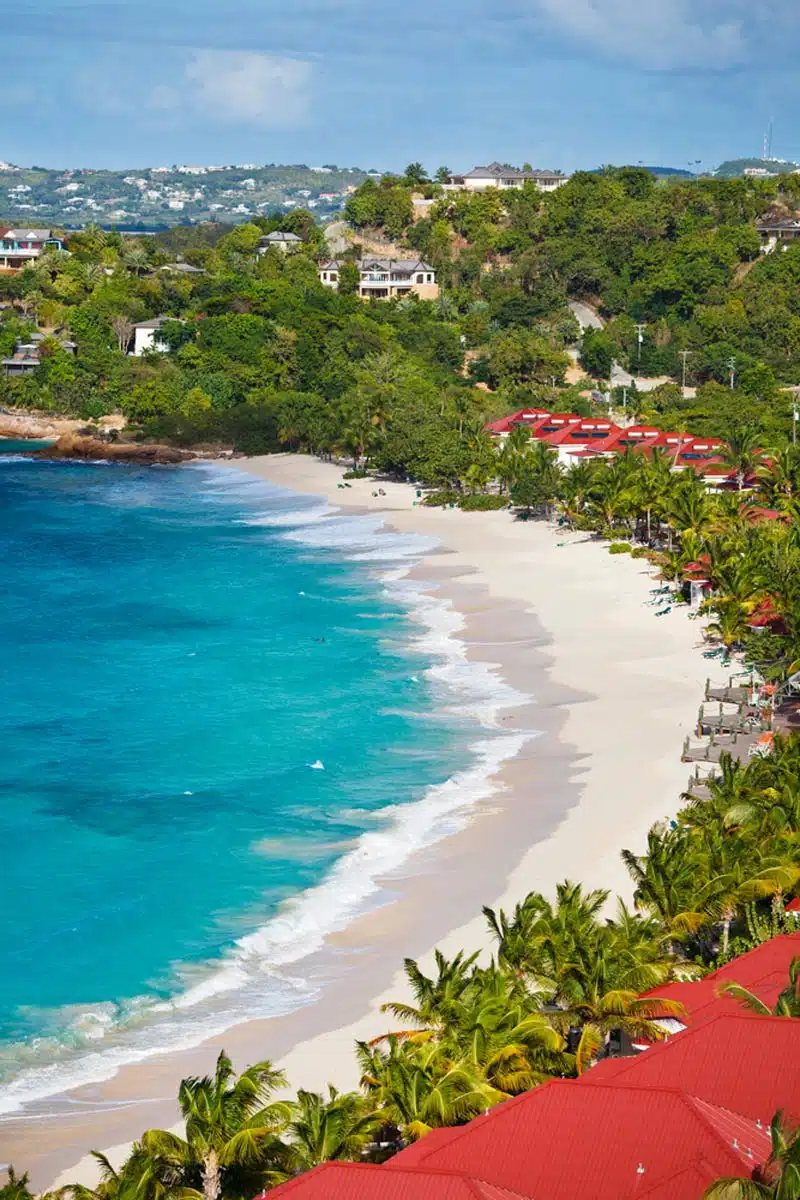 This wonderful beach is hiding in plain sight near the bustling capital city.
Fort Barrington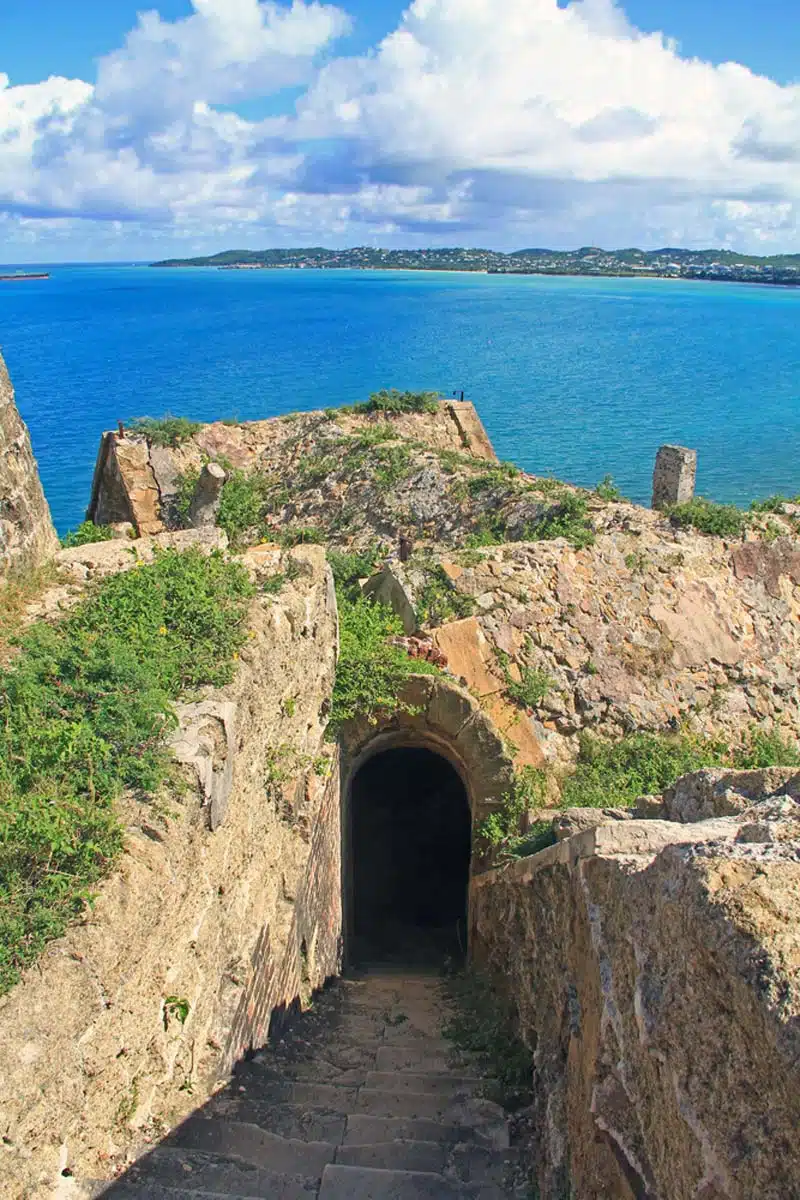 If you want to escape the port city's busy centre to hike up to a historical point, check out Fort Barrington. The views alone are worth the trek.
Suggested Hotels in Saint John's
Royalton Antigua
Royalton Antigua is a solid choice for an all-inclusive right along a charming beach near the capital city with an excellent steak house and above-average spa.
Hodges Bay Resort & Spa
Hodges Bay Resort & Spa is up the coast in Saint John, but the ocean views, beach-chic decor, and crave-worthy breakfast buffets keep that port city theme rolling.
Yepton Estate Cottages
Yepton Estate Cottages is a low-key hotel in Five Islands Village near Saint John's. Cosy cottages in a garden setting are a short walk from Yepton Beach.
Willikies: Best Area to Stay in for R&R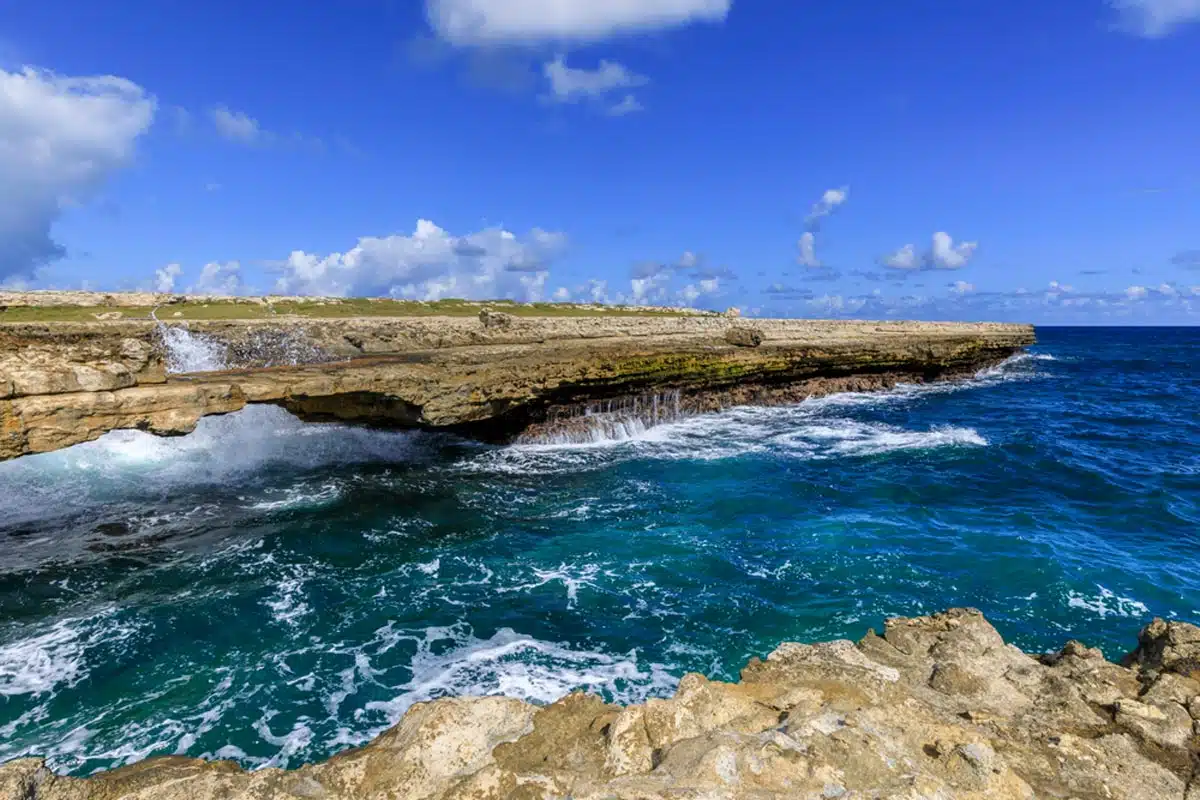 Willikies is far removed from the hustle and bustle of the capital city or resort communities like Jolly Bay and English Harbour. Located on the far eastern side of the island, the coastline here has stunning rock formations, golden sandy beaches, and plenty of hiking and snorkelling to keep you busy.
Nightlife isn't as buzzing as it is in the West, but some outstanding resorts will more than meet your expectations for delectable dinners and top-notch sundowners.
Willikies Highlights
Devil's Bridge National Park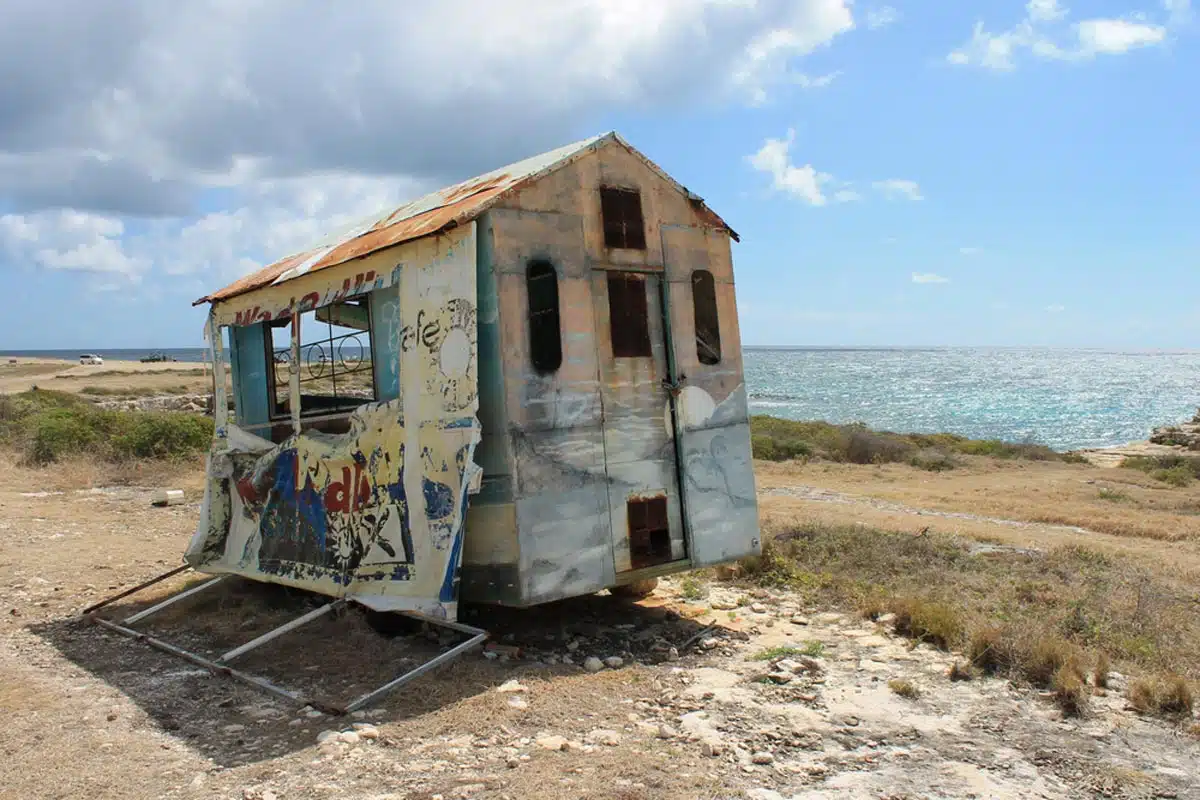 Walk around this rocky coastal area and see the Atlantic Ocean's power as it occasionally works its way up and through several natural openings along the coast.
Long Bay Beach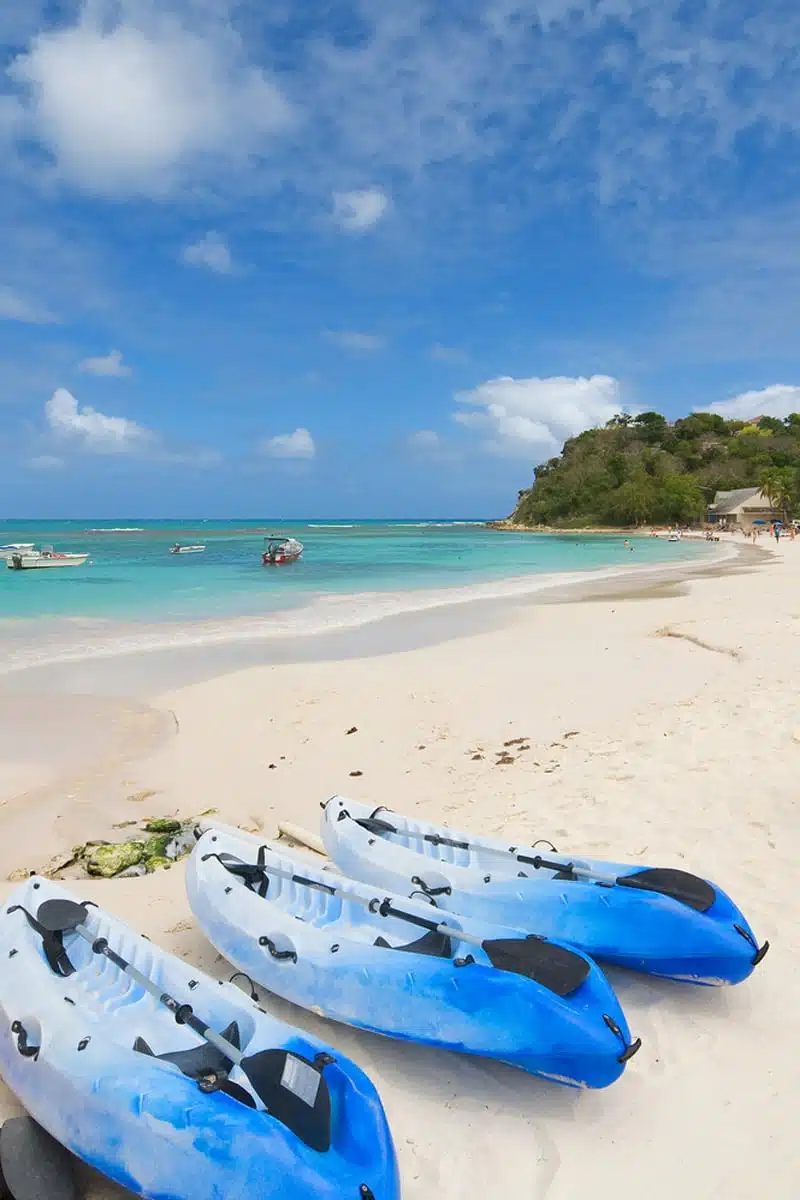 If you're staying in Willikies, Long Bay Beach offers a gorgeous stretch of white sands and cyan seas that are popular for wading in the water, snorkelling or laying out in the sun,
Stingray City Antigua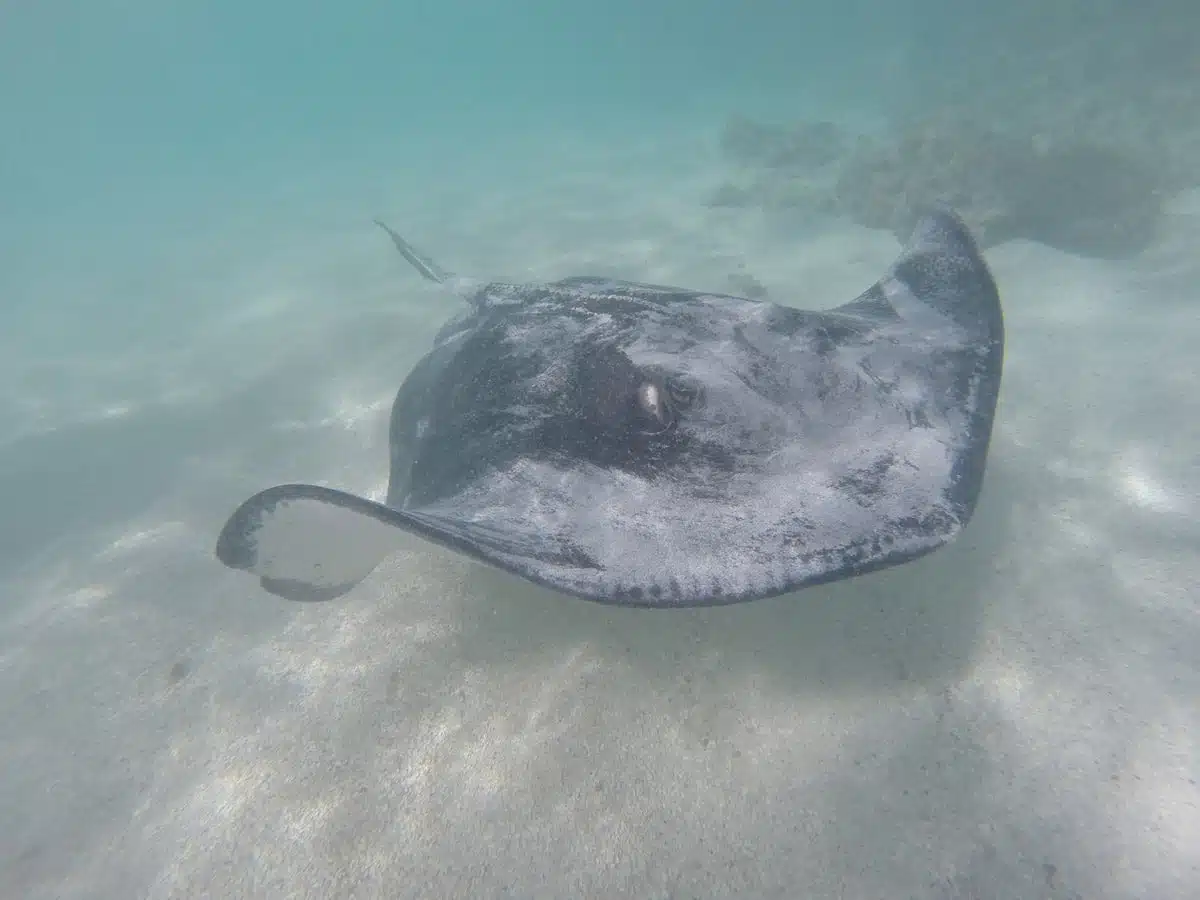 Head to the north, and you'll find Stingray City Antigua, where you can swim with the impressively large rays along the shallow waters off the coast of Willikies.
Suggested Waterfront Hotels in Willikies
Hammock Cove Resort & Spa
Hammock Cove Resort & Spa features the Michelin-starred Lighthouse Restaurant, luxury rooms, and villas, and up-close views of the iconic Devil's Bridge National Park.
Pineapple Beach Club
Pineapple Beach Club is the best place to stay in Antigua all-inclusive near Willikies. The adults-only resort hosts charming beach-friendly rentals with hardwood floors, high ceilings, and shades of aquamarine adorning the walls.
The Verandah Resort & Spa, Antigua
The Verandah Resort & Spa, Antigua allows you to relax at the beachside and enjoy a full-length mini golf course, 5 swimming pools, and water sports like kayaks, paddle boards, snorkelling, and pedal boats.
Where to Stay in Antigua: Frequently Asked Questions
Practical Tips to Consider Before Booking Your Antigua Accommodation
The western side of Antigua is along the Caribbean Sea. The beaches here are the calmest and lend themselves to snorkelling, swimming, and admiring the island sunsets.
If you're into watersports like windsurfing, you may favour the island's Northside near Dickenson bay, where conditions are typically ideal for adventure.
Staying near Saint John's is a great choice for foodies, where the local Antiguan cuisine is seriously drool-inducing.
Love This? Save and Share on Pinterest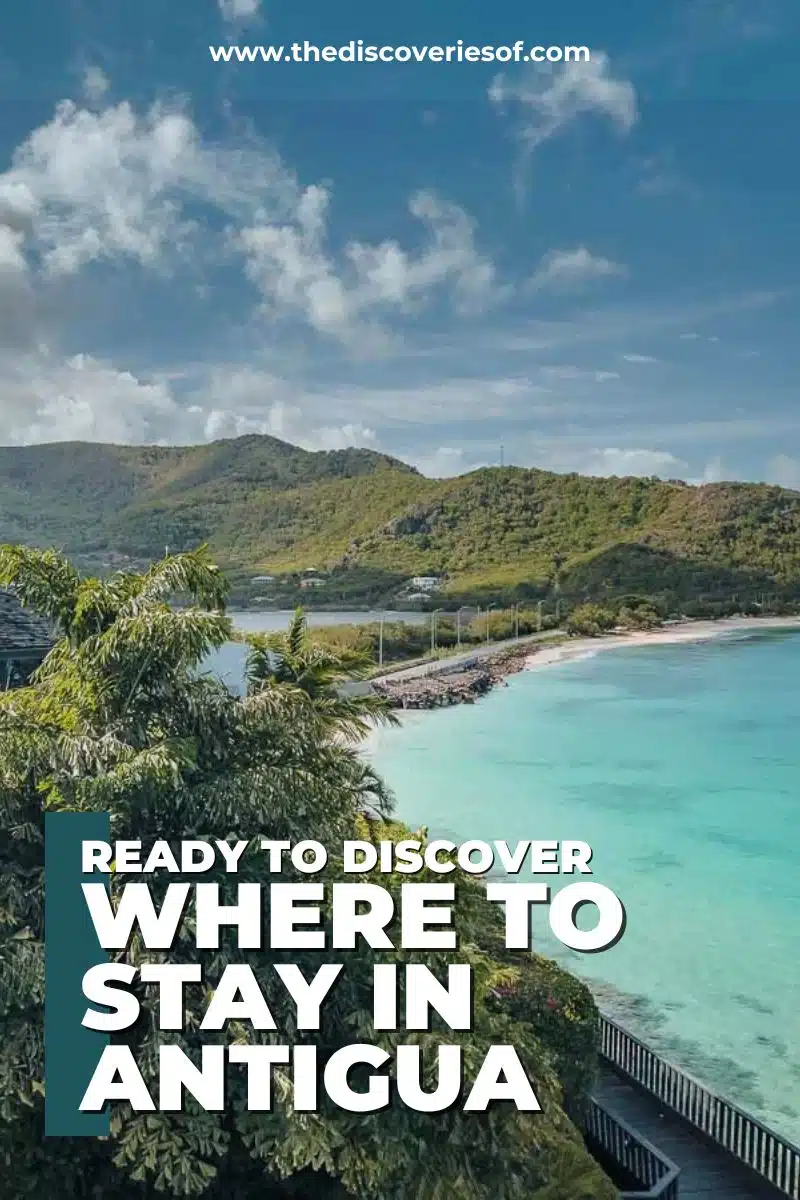 Now You Know the Best Places to Stay in Antigua, Read These