White sand shores, cerulean seas and enough rum to sink a ship – a trip to the Caribbean is very much needed. And in this case, we're hitting up Antigua. Ready to explore? This Antigua travel guide will help you plan your visit to the land of 365 beaches.
Antigua is a teeny-tiny island that packs a huge punch. It also makes up one-half of the Caribbean nation of Antigua and Barbuda (OK, technically less if you count the elusive Redonda, where you'll need permission to visit).

Don't kid yourself though: there is so much to do on this island that I'm going to take a bet you'll be planning your second trip before your first visit is complete.
I've just returned from a week in paradise and, I have to say, Antigua blew me away. Sure, some of it was due to the wonderful group of likeminded folk I travelled with – but the vast majority of it had to do with Antigua's sheer beauty and culture.

Enough about me – what's the best way to plan a trip to one of the most beautiful islands in the Caribbean? I've got you covered.

This guide will explain everything you need to know when you visit Antigua, from where to find incredible island flavours to which are the best hotels to bed down in.
How to Plan a Trip to Antigua: Top Tips for Your Antigua Trip
Best Time to Visit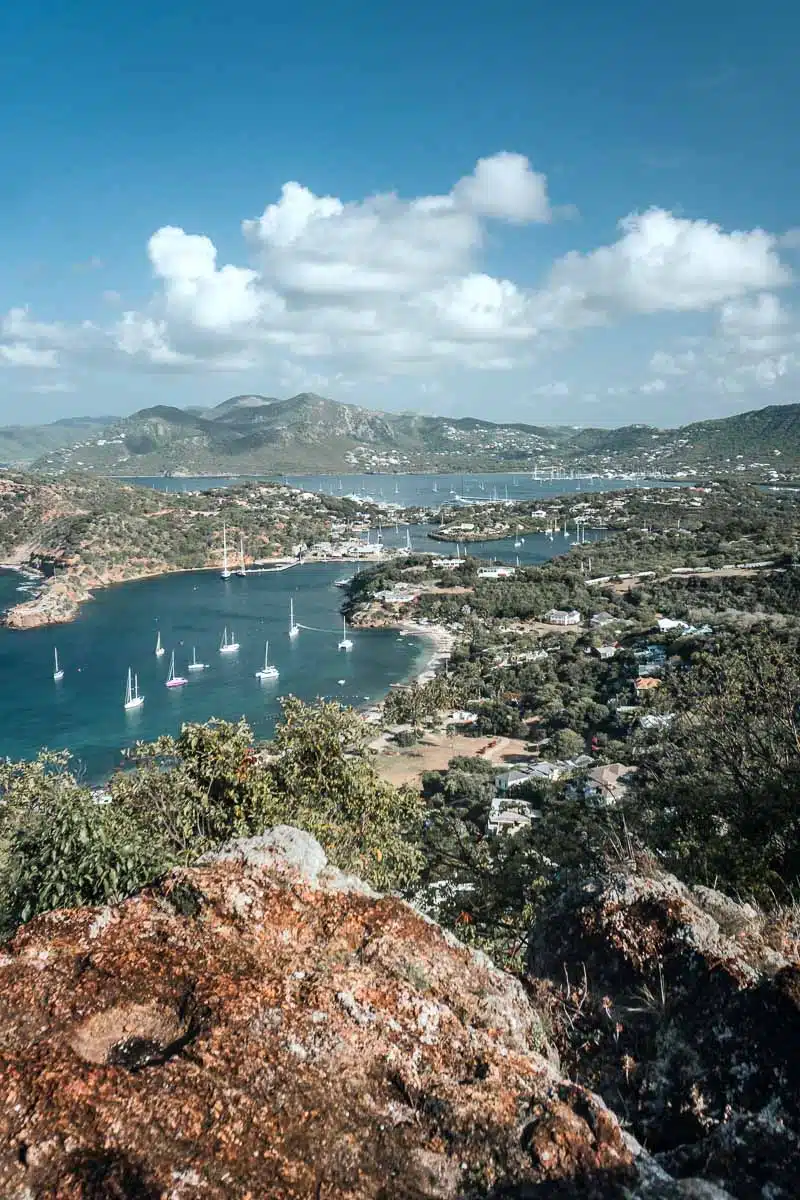 The most popular time to visit Antigua is from late November through April. That said, having recently travelled there, I can tell you that May and June are also as good as it gets.

If you're dead set on perfect weather, avoid going from late June to early November, as hurricane season in Antigua can see a lot of rain. Make an exception for Antigua's well-known carnival in July though – it's one of the liveliest in the region.
Handy Resources for Getting To Antigua
You deserve a totally stress-free Caribbean vacation. These handy resources will help you take care of the big stuff before you go.
Skyscanner is your BFF when finding the best flight deals.
Looking for the best tours on the island? Use GetYourGuide – it's filled with highly rated tours run by friendly locals.
Booking.com is your top choice for finding hotels at great rates. You can also snatch up a special price or hidden deal if you're lucky.
If you're renting a car during your trip, use Rentalcars.com for the best deals.
Where to Stay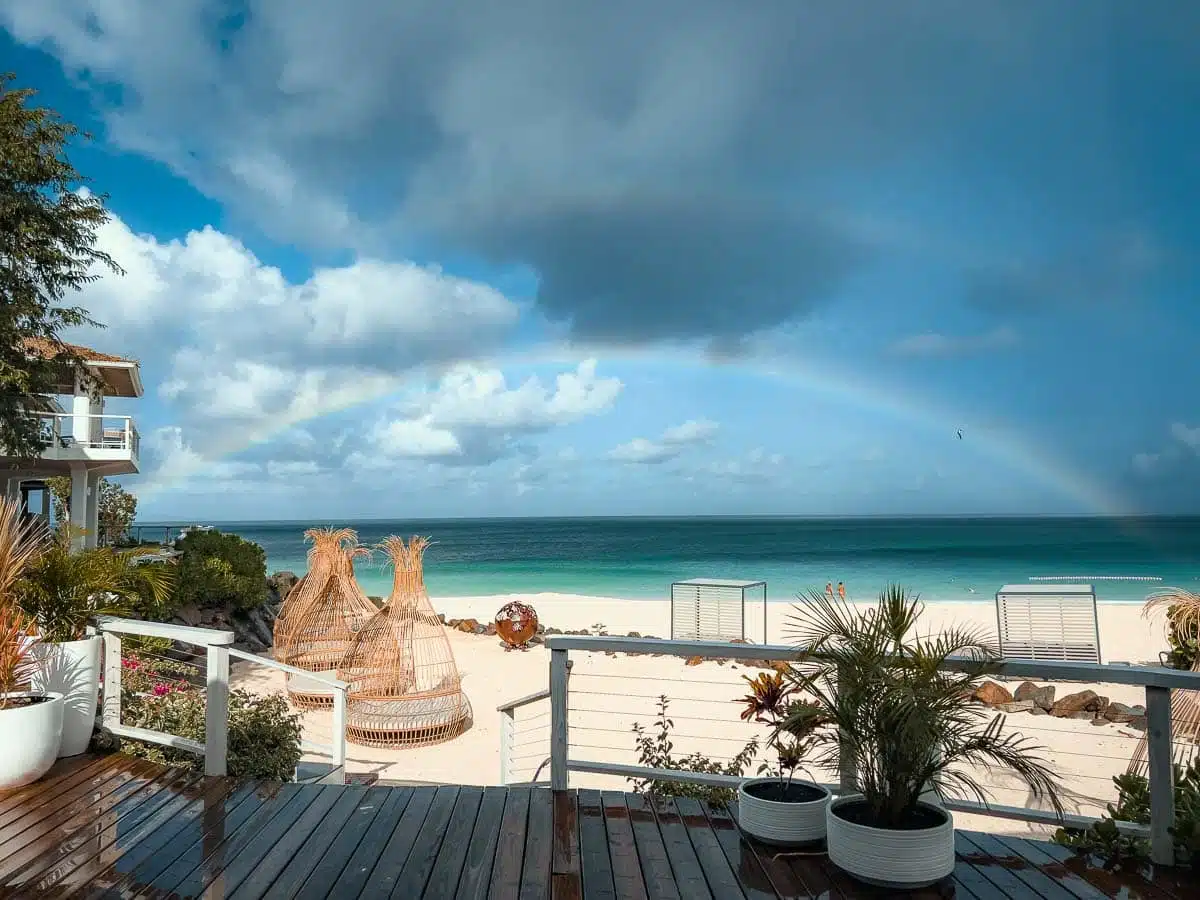 Hotels are seemingly everywhere around the small island, with dozens of properties lining the 87 km (54 mi) of coastline. I recommend Tamarind Hills for an all-suite luxury stay on Ffryes Beach, or Royalton Hotel & Spa for an all-inclusive resort.
Vacation Rentals like Airbnbs or small B&B guest houses around the island are a good choice if you want a more low-key atmosphere when travelling to Antigua.
Glamping is another fab option. If you're into the idea of sleeping under the stars right on the beach, check out the luxury tents at Wild Lotus, where you can stay right on Valley Church Beach.
Packing for Your Antigua Trip
What's one of the best travel tips for Antigua I can give you? Don't overpack.

You'll be fine with a few dresses, t-shirts, pairs of shorts, sandals, sun cream and swimwear on your trip to this small tropical island. Toss in a nice pair of slacks or a dress for dinner, and a light jacket, and you'll be ready for anything in the Land of Sea and Sun.

Don't forget to add a pair of hiking shoes if you want to explore some of the great trails like Shirley Heights Lookout.
Read Next: What to Pack on a Tropical Vacation
Travel Insurance
Travel insurance is a must. I know that it's annoying forking out for something you'll (hopefully) never need. But as someone who got bitten by a bat in Zion National Park – and had to have plenty of injections following the incident – it is a real lifesaver.
Suggested Guidebooks
You might think a trip to Antigua involves finding the nearest beach for a flop-and-drop session – and you're not wrong.

But to discover some local secrets like hidden hikes and delicious restaurants, I recommend grabbing a copy of Insight Guides Pocket Antigua and Barbuda, where you can read up on the history, landmarks and things to do – as well as some great Antigua travel tips.
Antigua Visitor Guide: What to Do During Your Antigua Trip
Top 10 Things to Do in Antigua
Attend a Pop-Up Party on Shirley Heights Lookout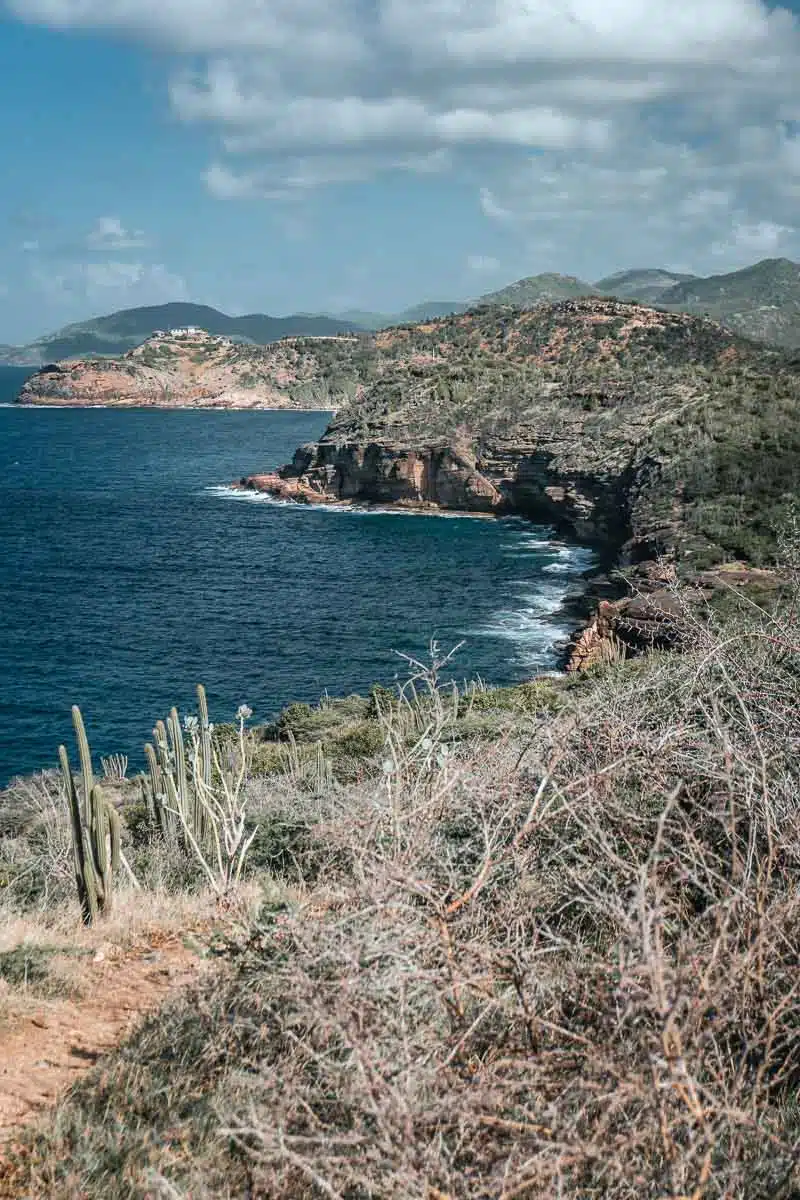 You'll want to set aside some time to head up to Shirley Heights Lookout at least once on your Antigua travel itinerary. But I suggest going twice to experience an epic sunrise and one of the famous pop-up parties.

Head up on a Sunday between 4 pm and 10 pm, as the scenic park (formerly a military lookout) hosts a lively party with locals firing up BBQs, playing live music, and watching the sunset over the English and Falmouth Harbours.
Book a Spot on Dojo on the Wave Charters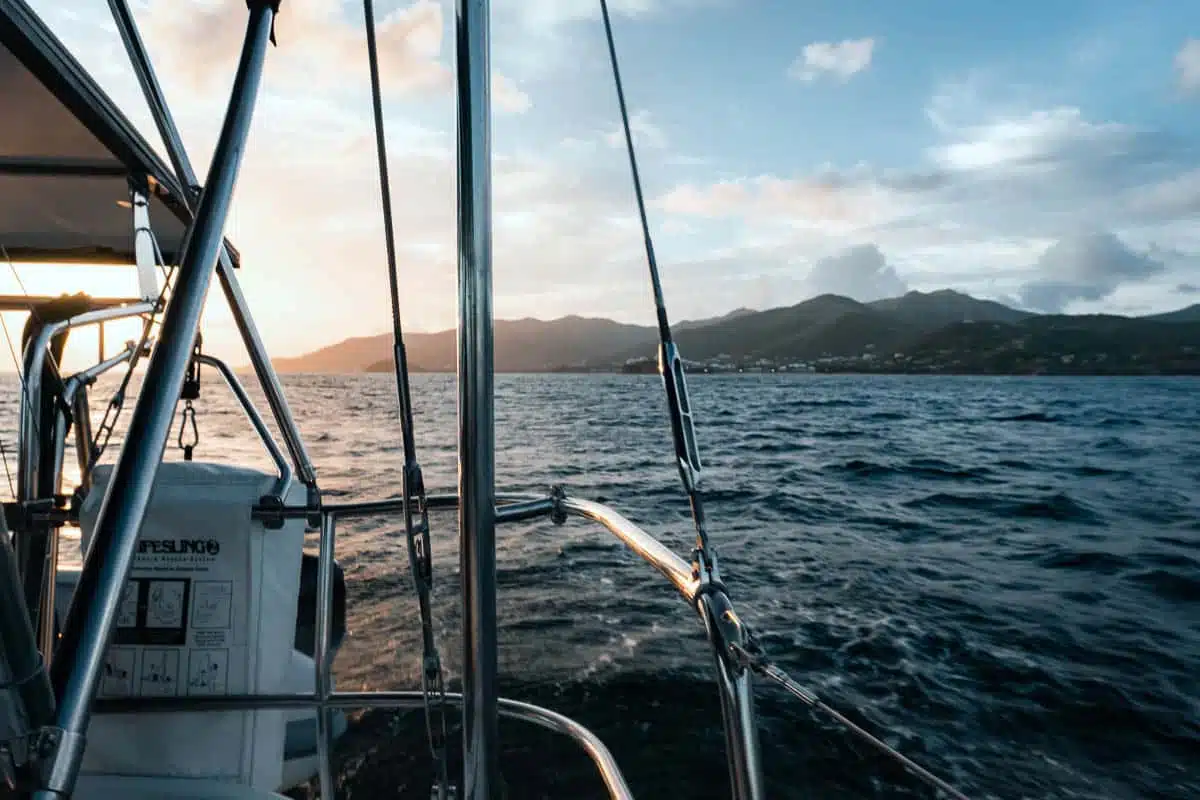 Want to check out Antigua on a private charter that whisks you around the island with a laid-back captain and crew? I thought so.

Reserve a seat with Dojo on the Wave Charters, where you can take the Bailey Grace out on the high seas in a boat that doubles as a recording studio.

Even if you haven't polished up your vocal chords in a while, sailing around the cerulean waters of Antigua as the sun sets and listening to some seriously fun tunes was one of my favourite memories of my recent trip.
Hike Up the Shirley Heights Lookout Trail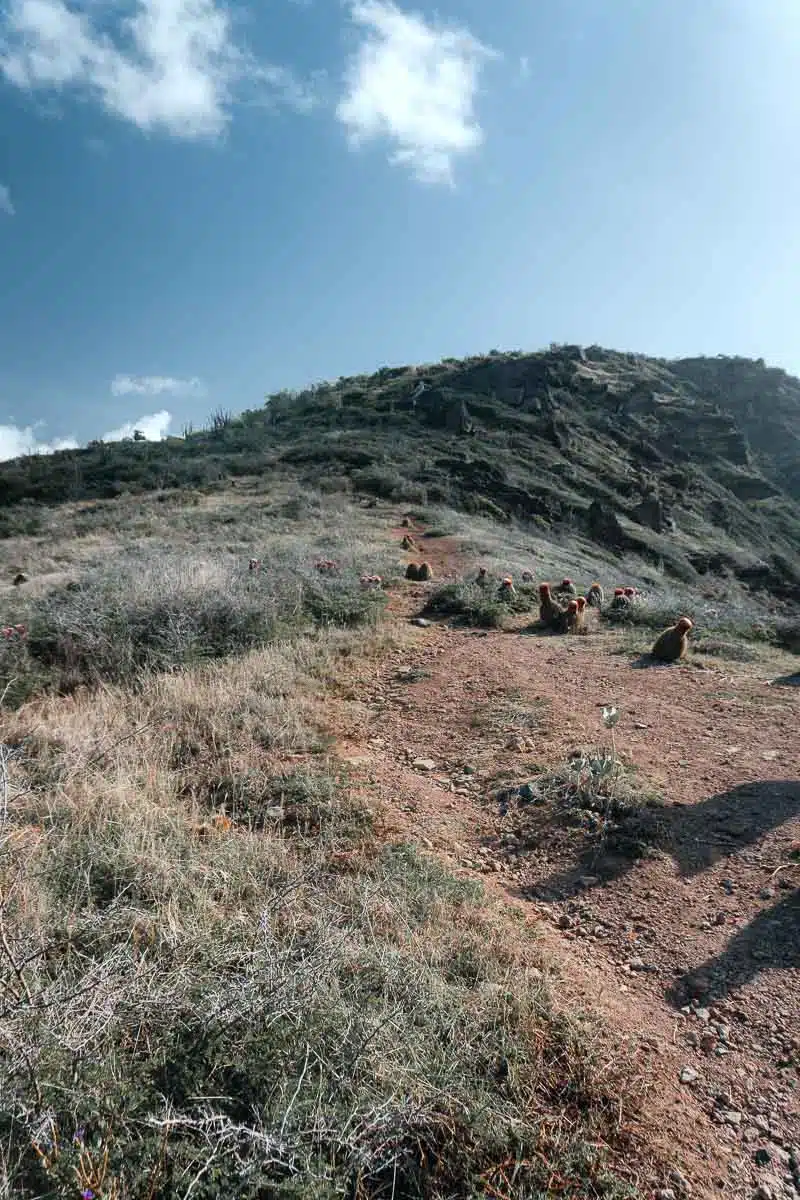 Remember when I said one time isn't enough to visit Shirley Heights?

Trust me when I say dragging yourself out of bed at 6 am is totally worth it. Grab a hiking stick if you're not hugely confident on the trails, and do this one solo or with Trek Tours with professional and knowledgeable local guides.
Walk Around Jolly Harbour
The beaches, restaurants and high-end resorts at Jolly Harbour are well worth a visit when you travel to Antigua.
Go Snorkelling at Ffryes Beach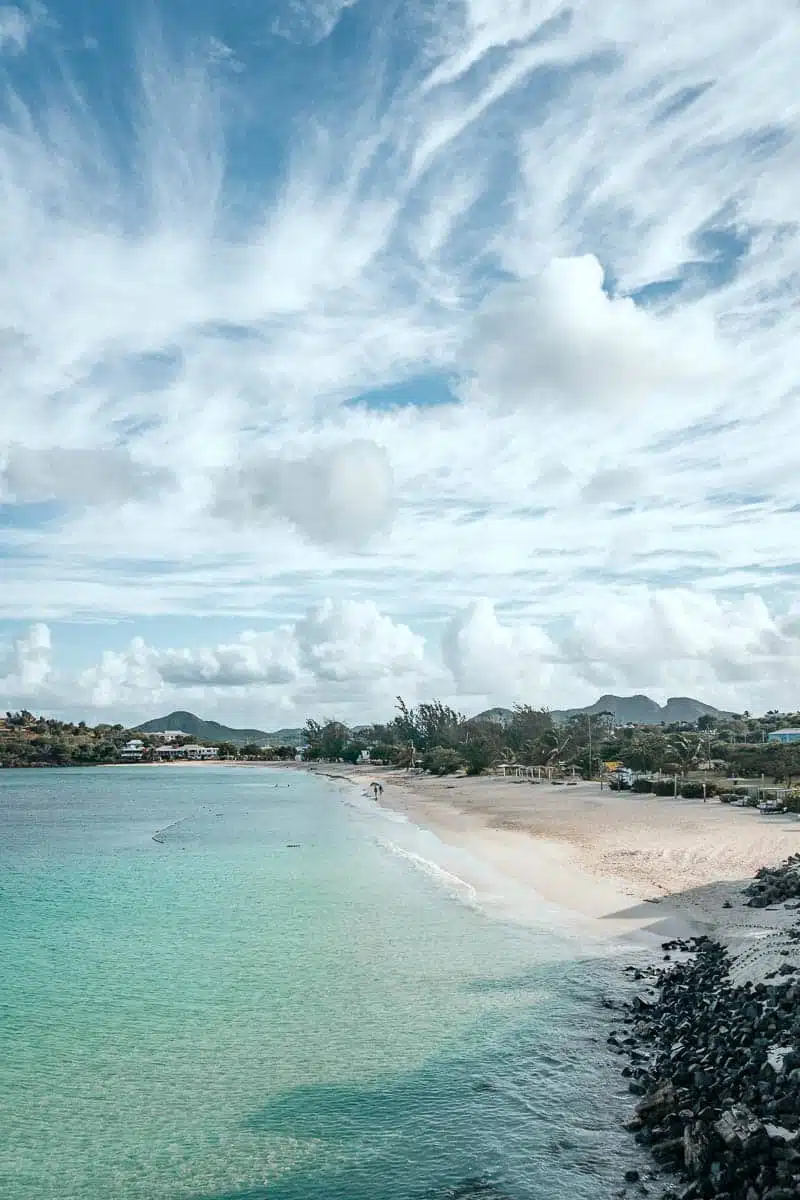 It's one of the most popular beaches on the island, thanks to dusty white sands and crystal blue waters, and also home to some seriously great snorkelling.

If you didn't bring your own gear, you could rent some at one of several places in the harbour.
Have Dinner at Alma's Restaurant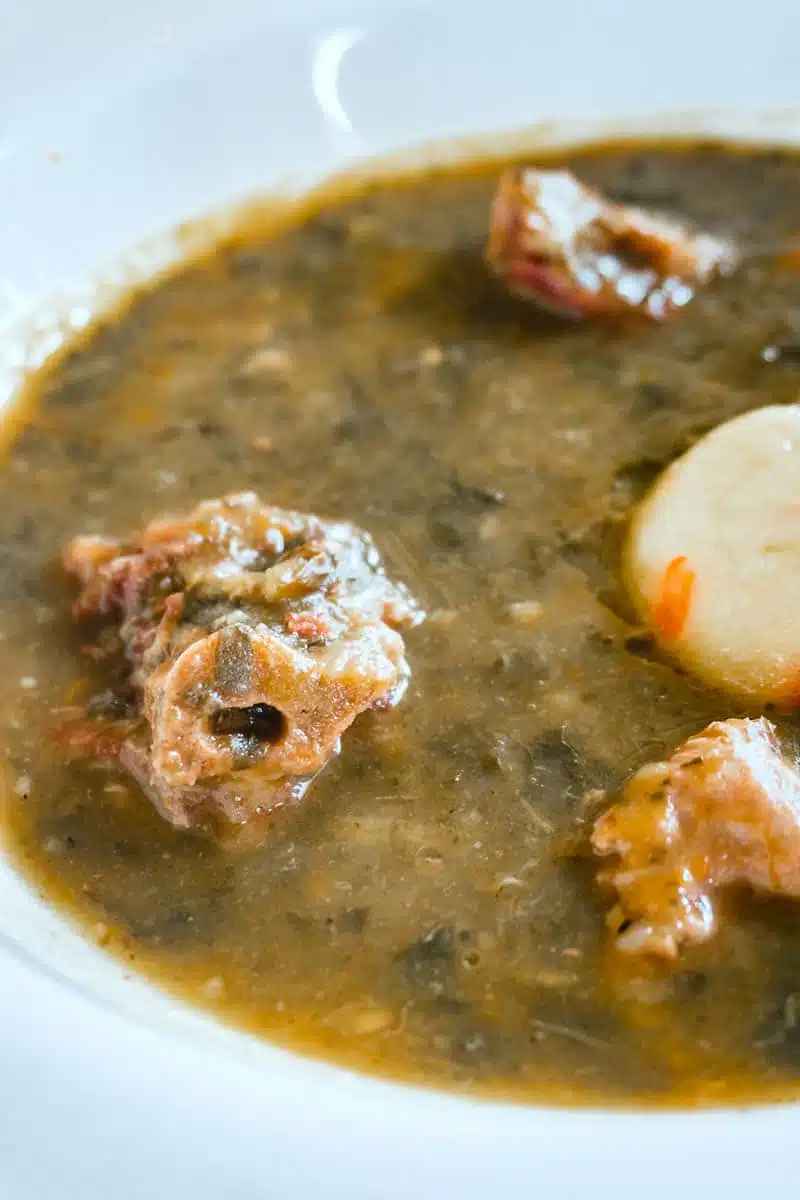 Sample some local cuisine in this open-air restaurant that serves up some of the best local Antiguan fare at reasonable prices.
Don't skip the national dish of Fungee and Pepper Pot. Tuck into a bowl of steaming hot spinach, beef and pork stew, seasoned with cornmeal and okra dumplings (those are the fungee). Absolutely delish.
Explore the Rock Pools at Mermaid Garden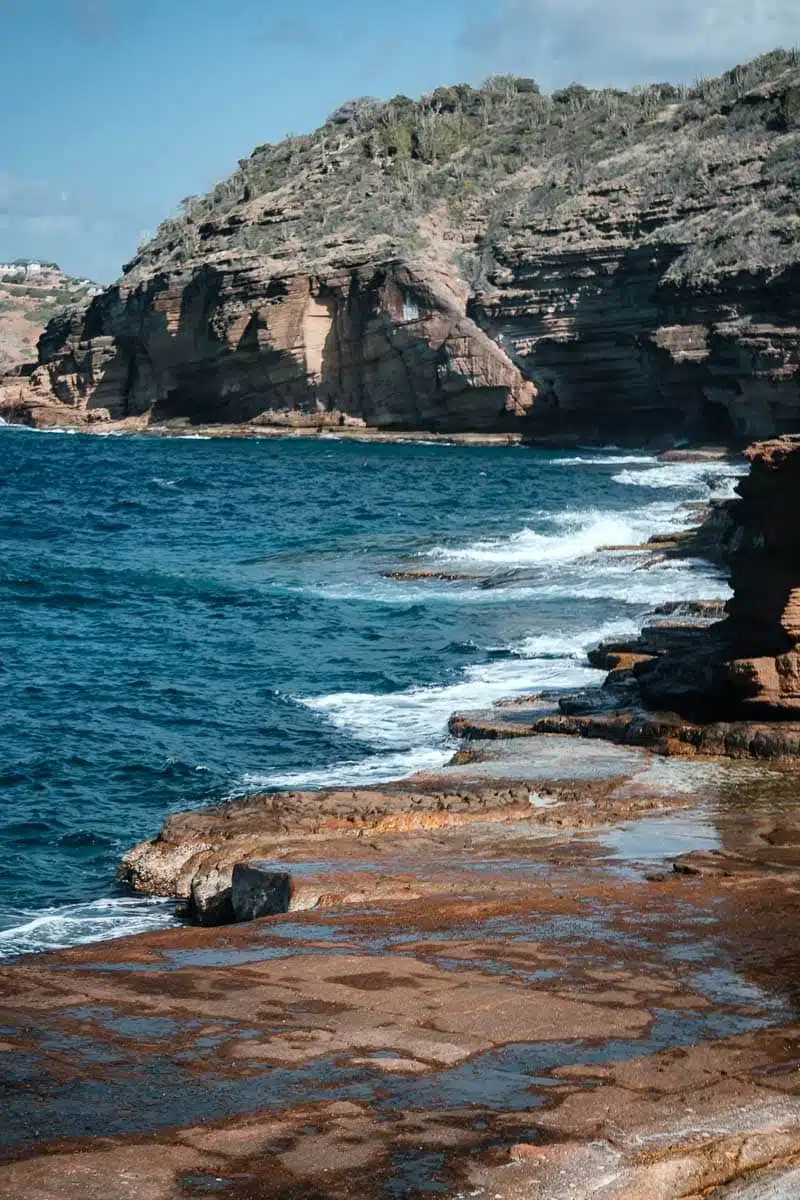 Take a detour from your Shirley Heights hike and you'll run into this isolated spot featuring some of the most beautiful shores on the island.

Test your imagination; you can almost see the mermaids hopping from the ocean below.
Walk Around St. John's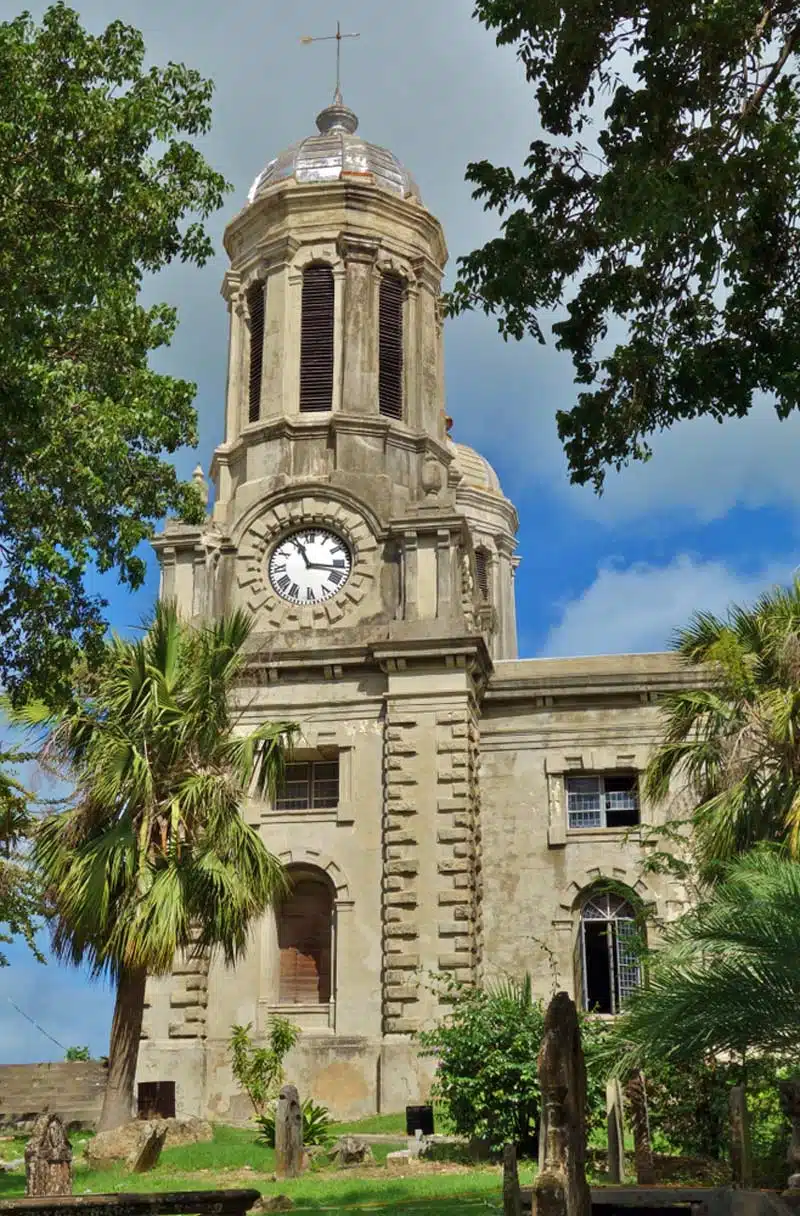 The capital city of Antigua is well worth spending a few hours to look at the brightly coloured houses, chic boutique shops and excellent restaurants.
Take a peek at the imposing St John's Cathedral – chances are you'll see it towering over the city anyway. You should also swing by Redcliffe Quay for local cuisine, chic boutiques and some beautifully restored colonial buildings.
Take a Day Trip to Barbuda
Remember reading about Barbuda in your Antigua travel guide? Don't skip the chance to visit the small island and head to Pink Sand Beach and Princess Diana Beach.

Schedule a tour on Barefoot Antigua or hop on the public ferry. I'm gutted that I didn't do this on my recent trip, but many of the people I was staying with did and LOVED it.
Schedule a Sunset Tour with Tropical Adventures
One of my favourite tours on the island; you'll head out from St. John's to skirt your way along the endless coastline while the sunsets below the sea with Tropical Adventures.

Be sure to sample some killer rum punch, but watch your step. Too many of those bad boys, and you might end up overboard.
Suggested Antigua Trip Itineraries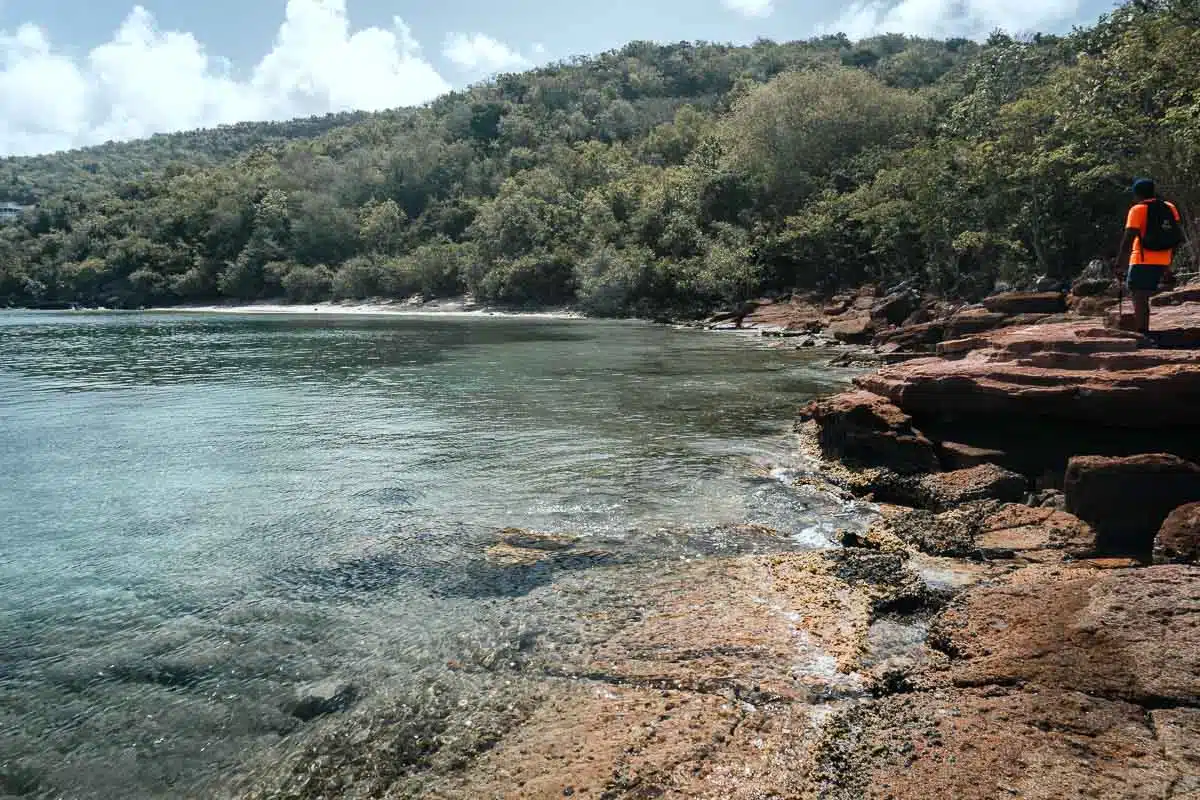 Travelling around Antigua isn't too complicated. But it's still a good idea to devise a plan to make things go as swimmingly as possible.

There are a couple of ways you can tackle a trip to Antigua.
Go Beach Hopping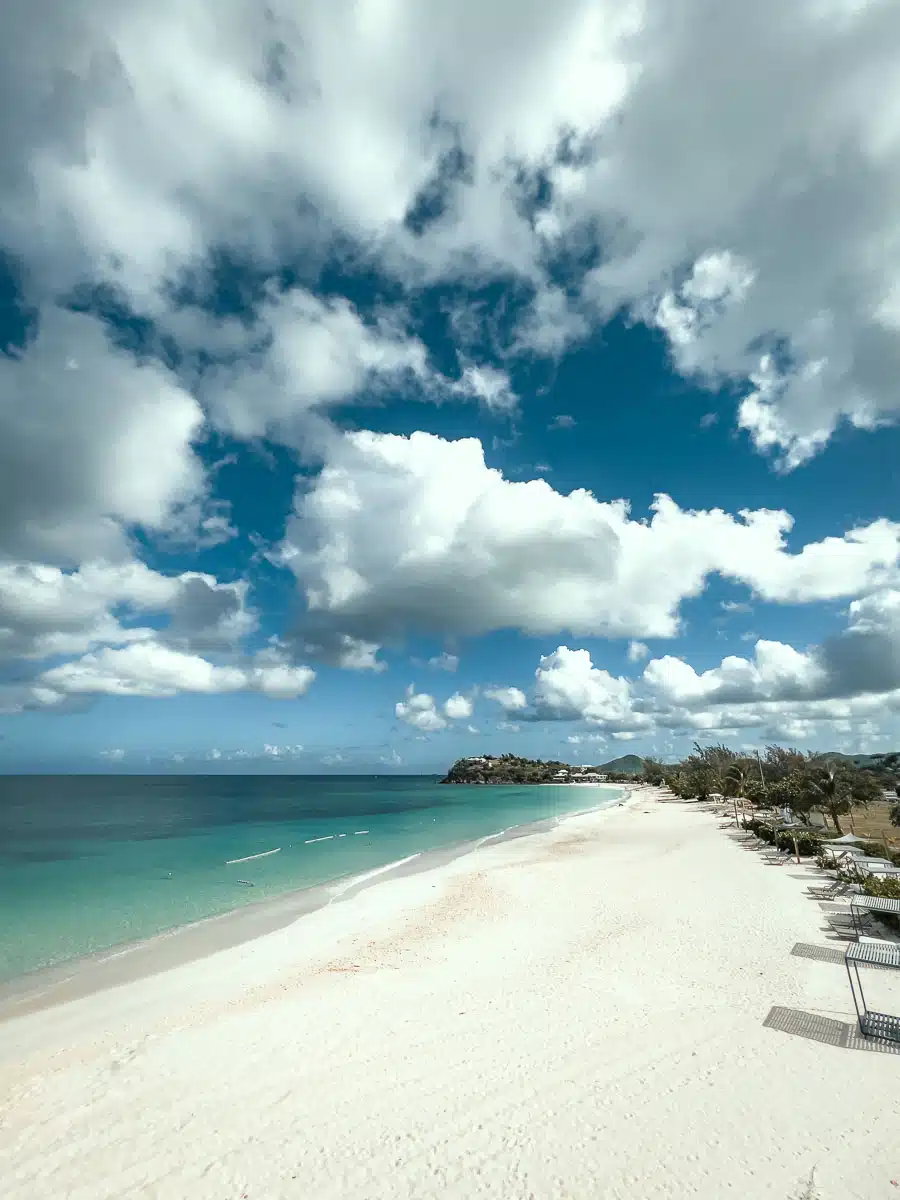 Want my advice for the perfect trip to Antigua? Hire a rental car, pack your beach bag and drive around finding the best beaches on the island.

My favourites? Ffryes Beach and Valley Church Beach are two of the most famous for a reason – they're visually stunning and have plenty of white sand real estate to park with your towel and a book.
But I also love the nearby Darkwood Beach for its equally impressive views.

Once you've tackled these, drive around the small island and find your personal favourite.
Explore the Activities and Landmarks with a Local Guide
If you want to dive into some of the local culture and character, book a tour or several on your Antigua travels.

Some that I recommend include Fat Tire Electric Bike Tours, where you can explore the harbours, villages, and beaches in a customised adventure, or stop by the Academy of Rum, where you can try your hand at distilling on Galleon Beach.
Hidden Antigua – Antigua Gems Off the Beaten Path
Enjoy Some Solitude on Prickly Pear Island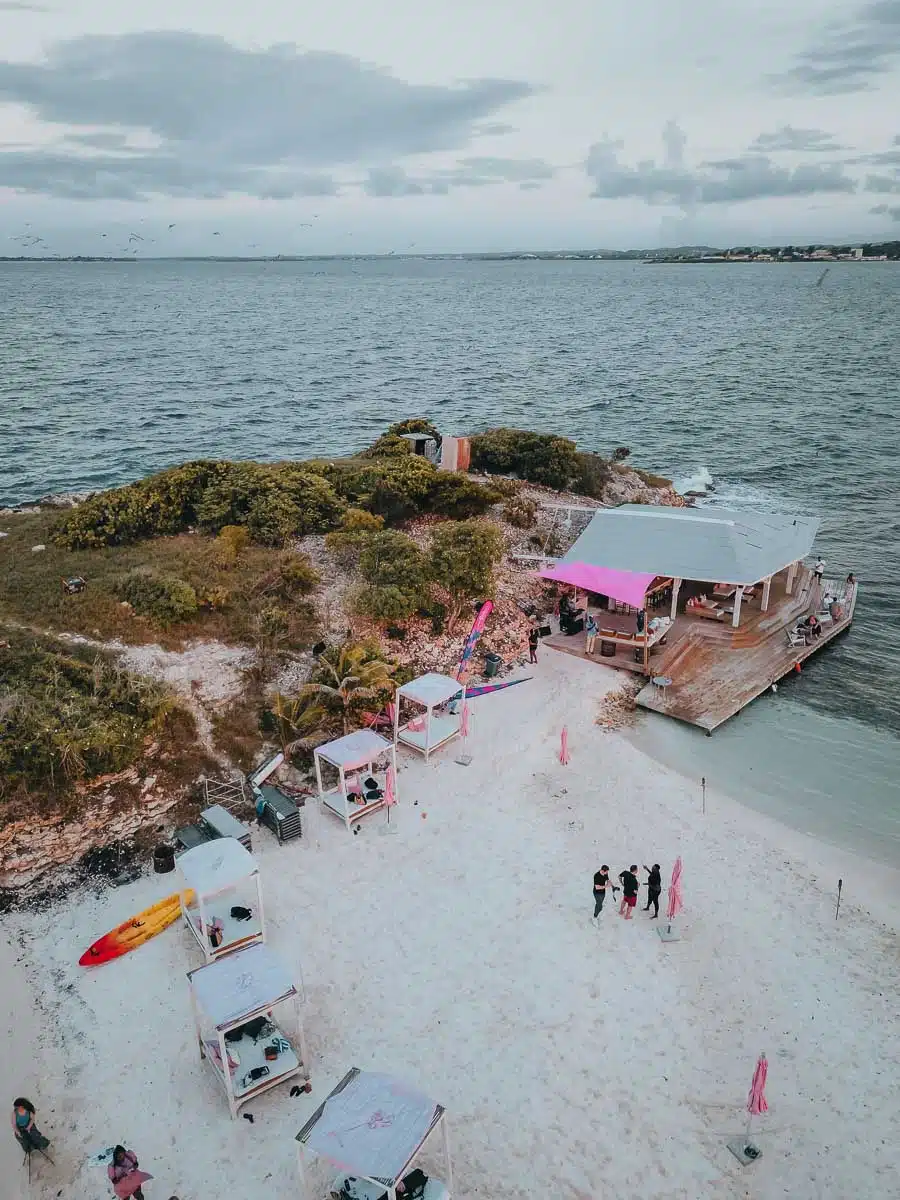 Keen to experience a private island? I thought so.

Take a five-minute boat ride from Hodge's Bay Hotel, where you'll cruise the cerulean waters with a cocktail in tow. Don't worry. You don't need to be a hotel guest to book a spot.
Hike Up to the Megaliths at Greencastle Hill National Park
You'll need long sleeves, hiking boots and preferably a local guide to get up to this hidden gem. But trust me, it's worth it.

Once you're at the top, you'll see ancient megaliths (origins unknown) and incredible views of the island and ocean below.
How to See the Best of Antigua for Free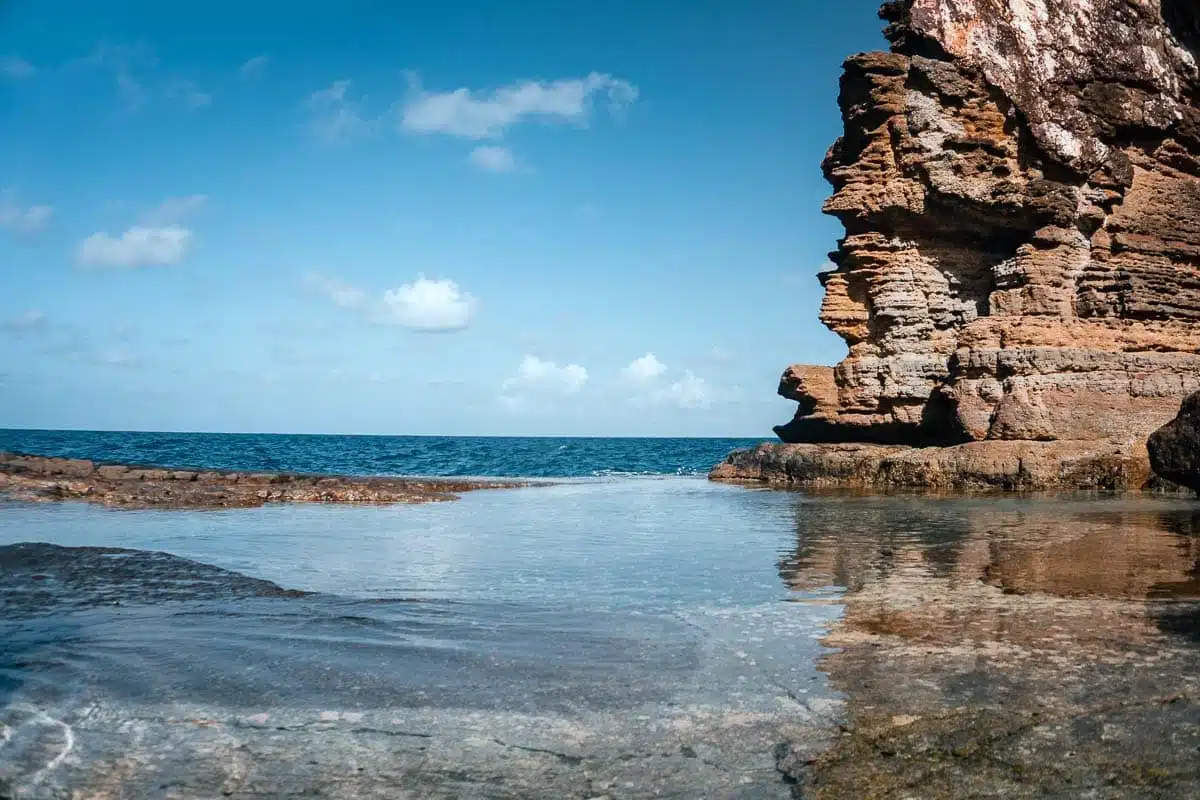 Trying to save some cash? There are Free Walking Tours around the beaches, harbours and St. John's. These are an excellent way to learn more about the gorgeous island (please remember to give a small tip though!)
Dishes to Try in Antigua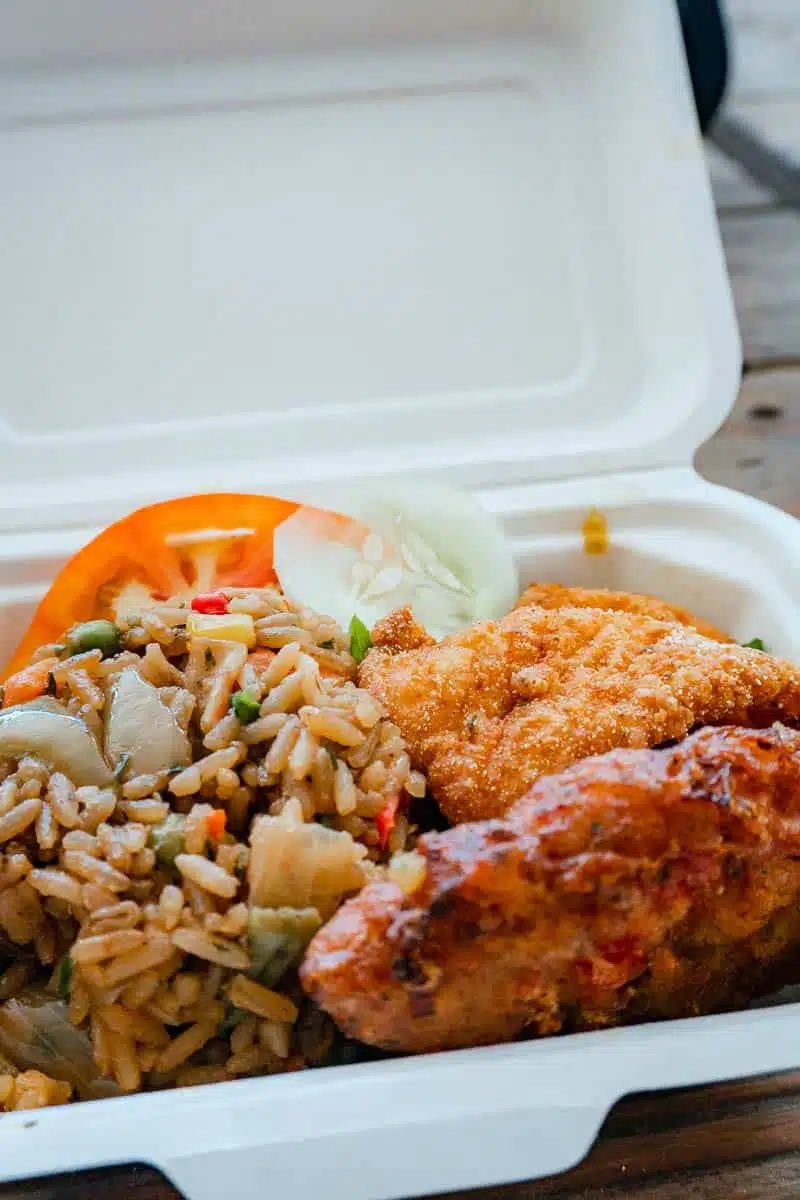 Conch is a local delicacy you won't want to miss. You can find the shellfish in fritters or curried (drool).
Fungee & Pepper Pot is the national dish. It's a hot spinach, beef and pork stew topped with cornmeal and okra dumplings.
Seafood rice at The Captain's Table in St. John's is a bucket list meal for foodies who want to taste true Antiguan cuisine.
Top Drinks in Antigua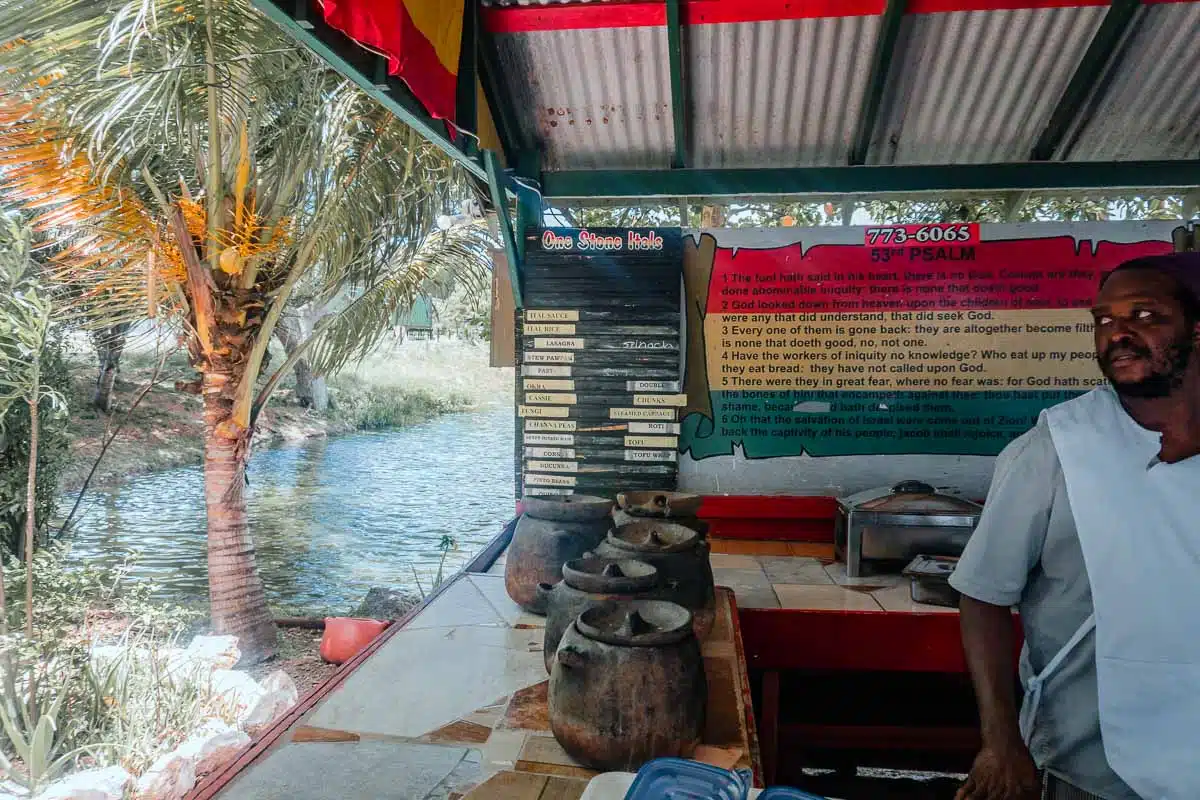 Rum is a hot ticket item in Antigua, and letting the friendly bartenders at Dennis' Beach Bar make you a tropical drink before digging into some curried goat along Ffryes Beach is the perfect way to try it.
Turmeric and lemon juice at One Stone Smoothie and Juice Shack is a healthy concoction I couldn't get enough of at this laid-back spot near a lake.
Antigua Travel Guide: Things to Know Before You Go to Antigua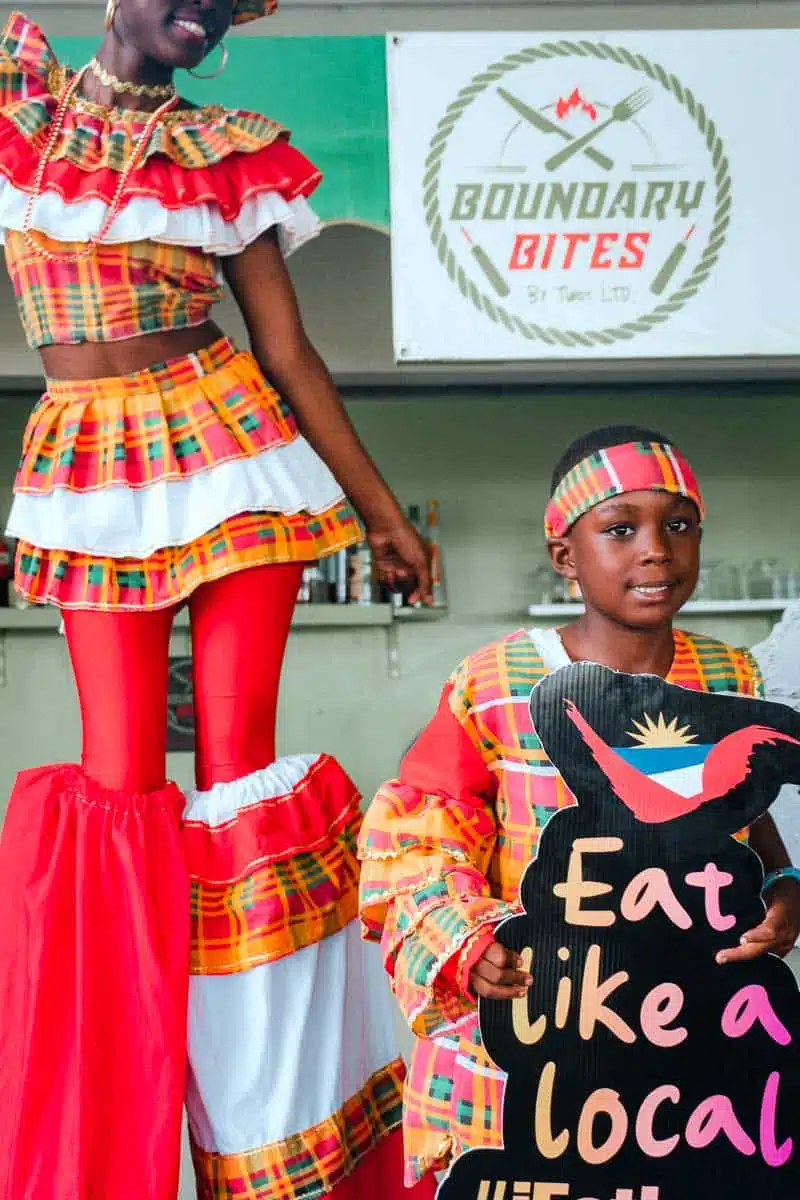 Tips for Travelling to Antigua
One of the top Antigua information travel tips I can give you is to check the weather report if you're going during the rainy season. Hurricanes are real here – take them seriously.
While the US dollar is accepted, prices are usually listed in the Caribbean dollar. Double-check before paying, as this makes a huge price difference.
Tipping In Antigua
It's customary to tip around 10% but look at your bill. Gratuity is often automatically added.
Interesting Facts
There are supposedly enough beaches in Antigua that you could hit a new one every day of a calendar year. That's a challenge I'm up for.
Mount Obama, the island's tallest peak, is named after former President of the USA, Barack Obama (though many now call it its original name, Boggy Point).
Handy Phrases for Travelling to Antigua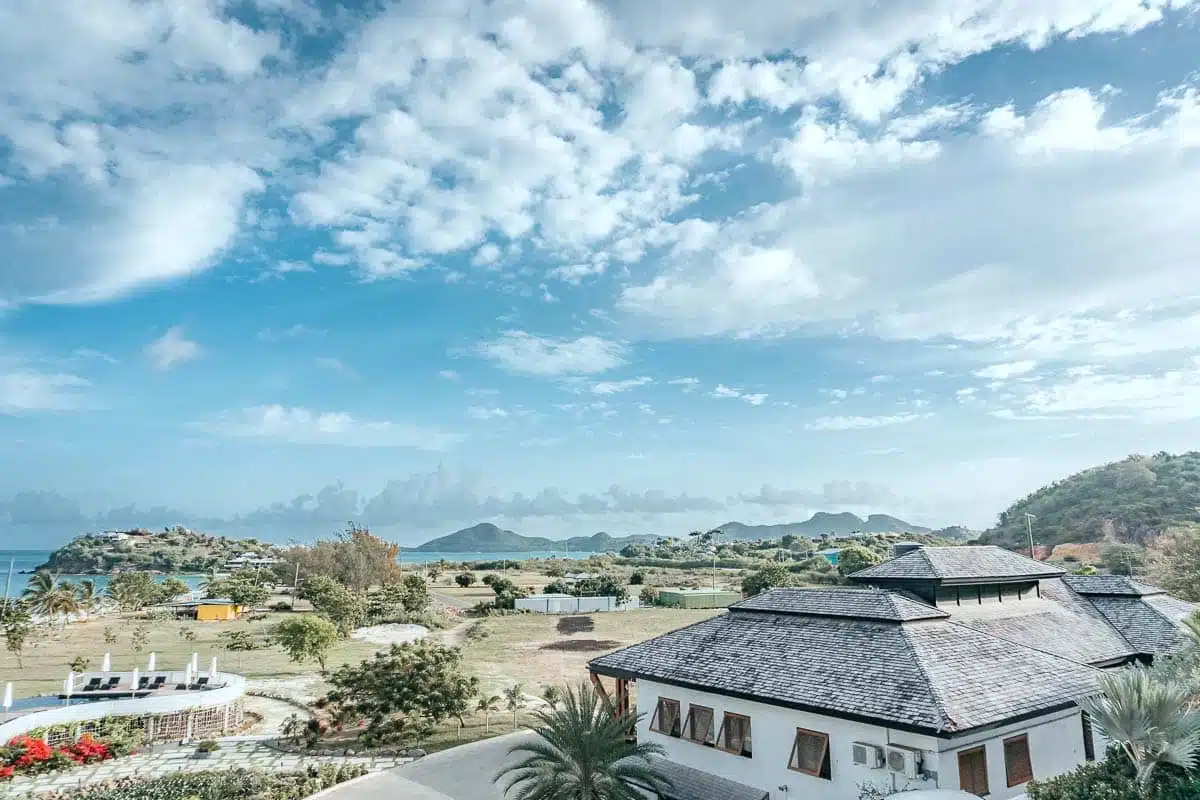 While English is widely spoken in Antigua, you may hear Antiguan Creole. Here are a couple of common words you may hear people saying.
Breda – Friend
Nyam – Eat
Time Zones
Antigua uses Atlantic Standard Time (GMT-4)
Electricity + Adapters
Antigua uses Type A and Type B plugs.
Health
Doctors recommend standard vaccines like Hepatitis A and B, Tetanus, Rabies and Yellow Fever for visiting Antigua.
Transport
While you can hire a taxi or private transfer from the airport to your hotel, I suggest reserving a rental car to get the most out of your trip.
You don't apply for an International Driver's Permit before visiting Antigua. Instead, apply for a temporary Antigua driver's licence at the rental agency, which costs around £16 ($20).
If you want to visit Barbuda (hint: you should), check out the schedule on the Barbuda Express. It's affordable at less than £80 ($100) and a great way to check out another stunning island on your trip.
Safety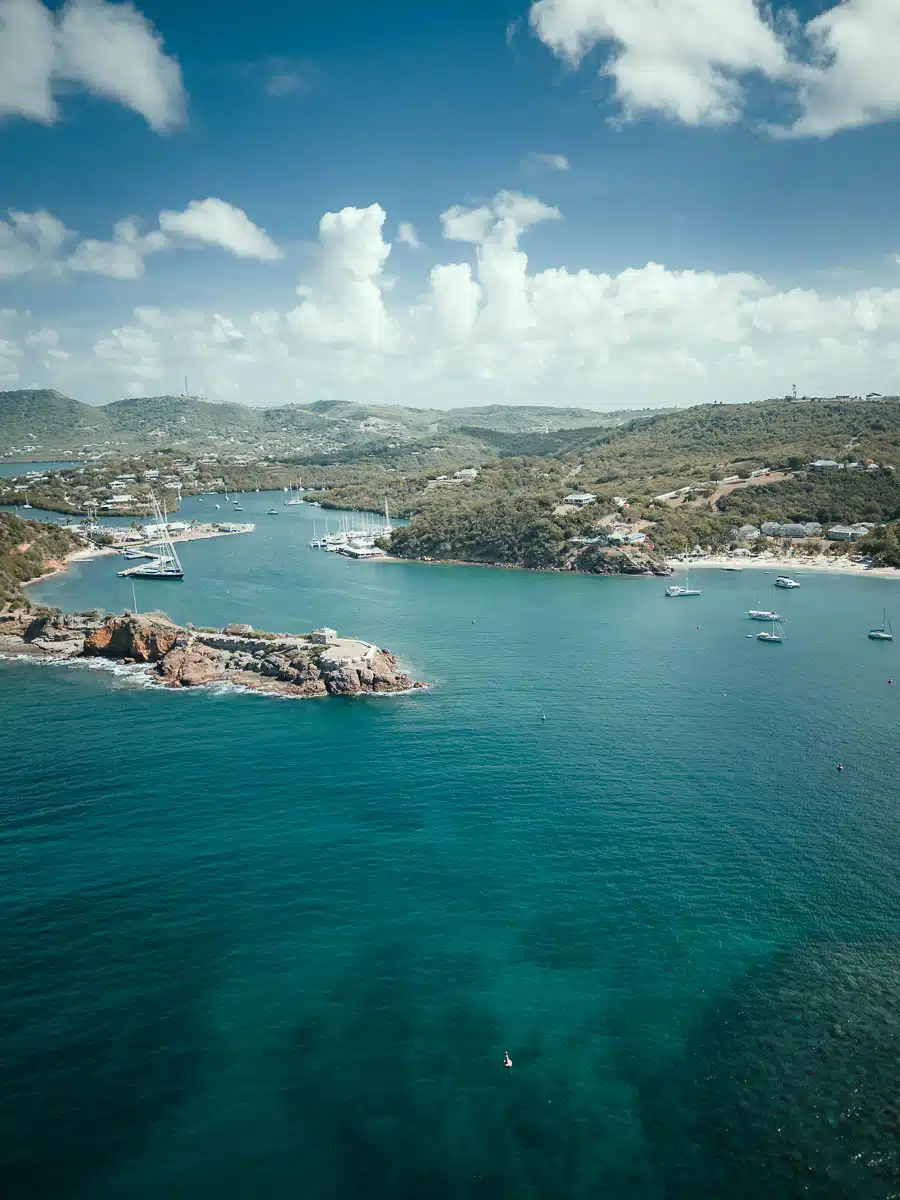 Antigua is a very safe place, but exercise caution in some areas like St. John's at night. Stay in popular areas and you shouldn't run into any trouble.
Costs and Budgeting
Planning a trip to Antigua is moderately expensive, depending on when you go and where you stay. A week in Antigua for two people will cost anywhere from $2,000 – $5,000 and can be higher with planned activities.
Antigua Map
Read More Antigua Travel Guides
Love This? Save and Share on Pinterest!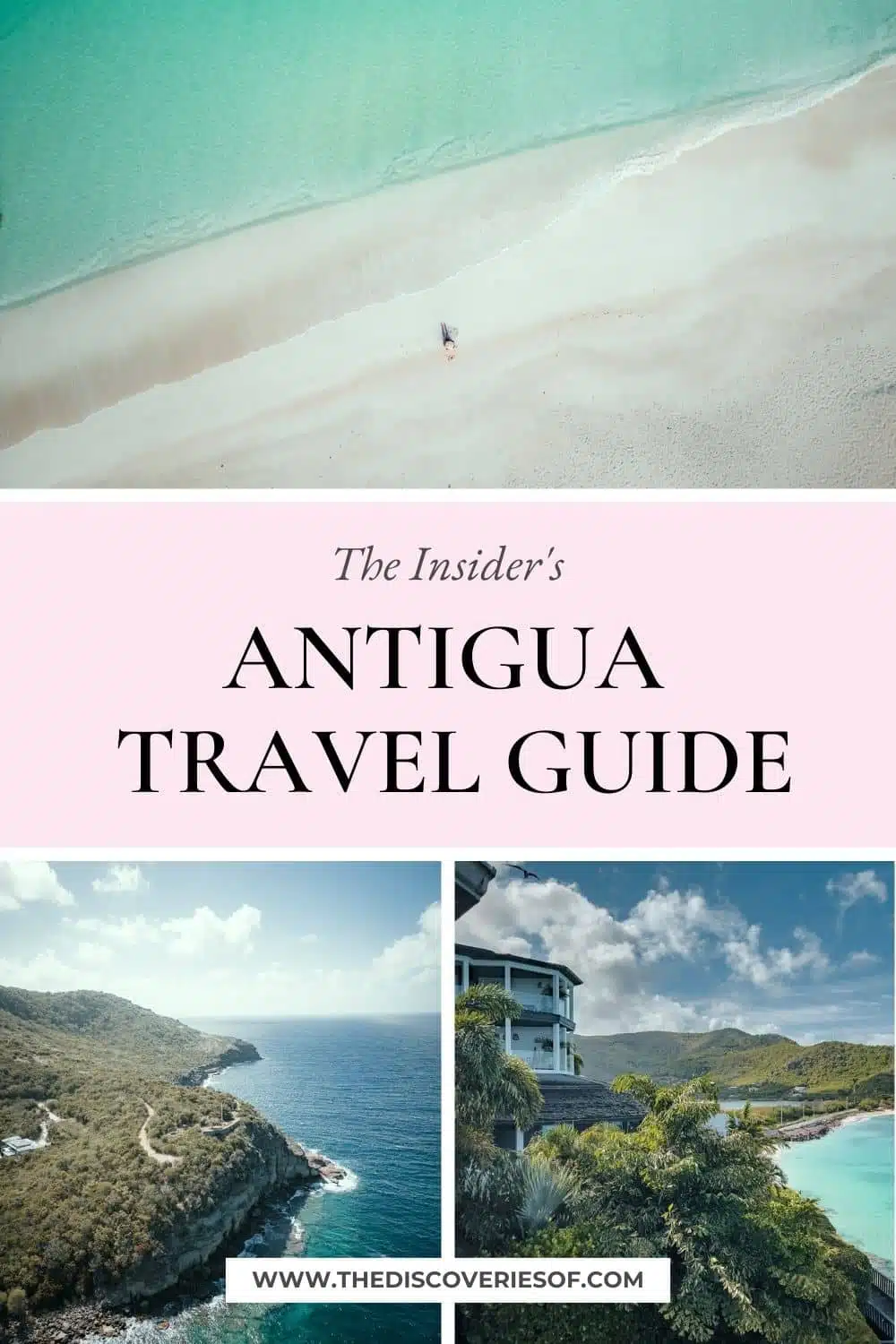 Antigua Travel Tips: Read More Antigua Travel Guides