It's that time of year again. When you pack your bags and jet off on a summer holiday somewhere hot and sunny. Wondering what to pack for a tropical holiday? Don't sweat the small stuff, I've put together the only tropical vacation packing list you'll ever need.
Who doesn't love jetting off to a tropical beach for a bit of mindful self care? That giddy feeling as you hop on the plane bound for a spell of sunshine – few things beat it.
I've now been a travel writer for over seven years and so, when it comes to packing for tropical holidays, I've got more than my fair share of experience.
From trips to the beautiful Caribbean island of Nevis to spending a month in Bali – tropical vacations are my favourite thing.
Why should you care though?
Well, because I'm going to dish the dirt on how to make sure that you get your tropical vacation checklist exactly right. Let's go.
Questions to Ask When Putting Together Your Tropical Vacation Checklist
How long am I travelling for?
What kind of activities am I planning to do?
What will the weather be like?
How much luggage am I allowed to bring?
The answers to all of these will determine your personal tropical packing list – however, here's a general list of things to bring to get you started.
Tropical Holiday Packing List: The Essentials
Wondering what to bring on the tropical vacation?
Here's your step by step guide to packing for a tropical vacation to make sure that you are all set up and good to go.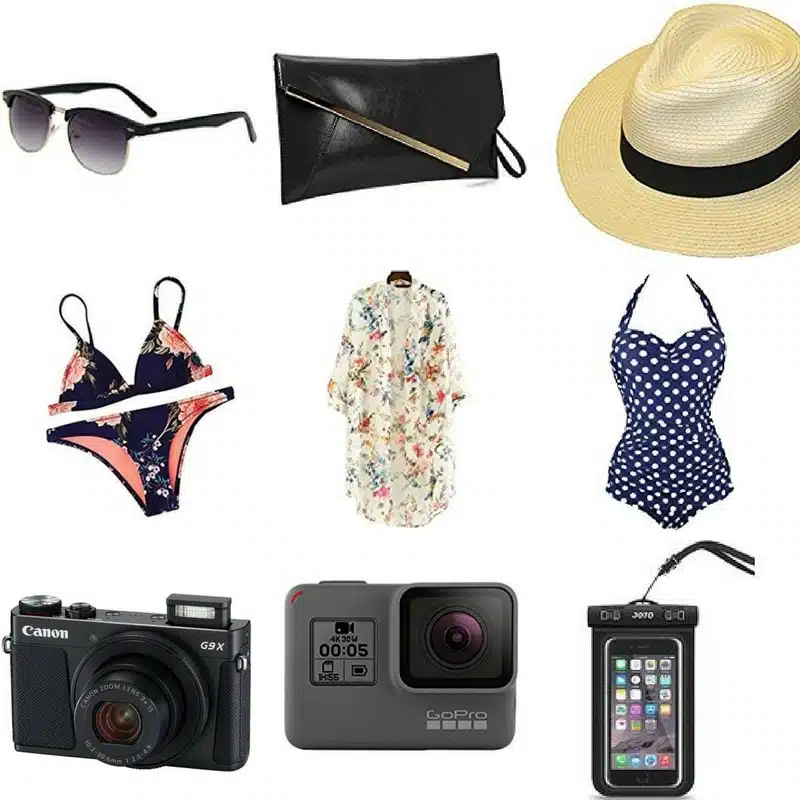 OK, so I'm going to assume that you'll remember to bring the absolute things to bring on a tropical vacation like your passport, visa and insurance docs (plus a photocopy of each). This is a tropical vacation packing list, not a beginner's guide to going on holiday – just joking.
In all seriousness though, don't forget those things, your life will be miserable if you do.
Packing Cubes
How do you keep your luggage organised and all your clothes nicely separated and easy to access? With packing cubes.
Packing cubes are the not so secret hack to packing for a tropical vacation – small cubes you pack your clothing into before adding them to your suitcase.
You can choose to organise them by day – with an outfit for each day of your trip, or by the type of clothing they contain – i.e. swimsuits etc. However you choose to do it, it's a swift way to stay organised on your holiday.
I recommend the Eagle Creek and Eono Brands.
Camera
Make sure you pack a good-quality camera to make sure you capture those fabulous holiday memories.
You'll be thankful when you are sat at your desk in deep, dark December and those photos bring a smile to your (sun-deprived) face.
I travel with the Sony ZV1 thanks to its small size and excellent-quality pictures and video (it comes with a flip screen too). Make sure that you bring an extra memory card – there's nothing worse than running out halfway through a trip.
GoPro + Accessories
GoPros go where most cameras can't, which is why they've become a go-to summer holiday essential.
Take them underwater, film your water sport adventures or land-based adventures. The fact that they're virtually indestructible is a huge plus too.
Just make sure you attach a floaty if you go into the sea – as someone who lost a GoPro in the sea, you don't want to walk that path. It's not fun.
Portable Battery Charger
Bring a portable battery charger. They're great for charging during a long day at the beach, or for when your room inevitably doesn't have enough charging spots.
Microfibre Beach Towel
Much smaller and more lightweight than traditional beach towels, a few microfibre beach towels are a must for your packing list for a tropical vacation. I love the Dock & Bay brand, who produce chic designs like these traditional stripy ones.
Suncream
Sunburn is unpleasant. Highly unpleasant. Bring some reef-friendly sunscreen – a must for your sun holiday packing list.
Lip Balm with SPF
If sunburnt skin is unpleasant, burnt lips are even more so.
Insect Repellent
Decent insect repellent can be the difference between you having a nice time or driving yourself nuts trying not to itch those bites.
Anti-Insect Sleepwear
Getting bitten at night is no fun at all. Luckily, waking up to millions of bites is a thing of the past thanks to We Drifters' Anti-Insect Sleepwear. It's cosy and practical and I love it. Read my full review.
Waterproof Phone Case
Protect your phone from the sea and the sand and put it into a protective case while you are on the beach or by the pool.
---
Still looking for a tropical getaway? How about a break to one of these luxury Maldives island resorts?
---
What to Pack for a Tropical Holiday: Clothes & Accessories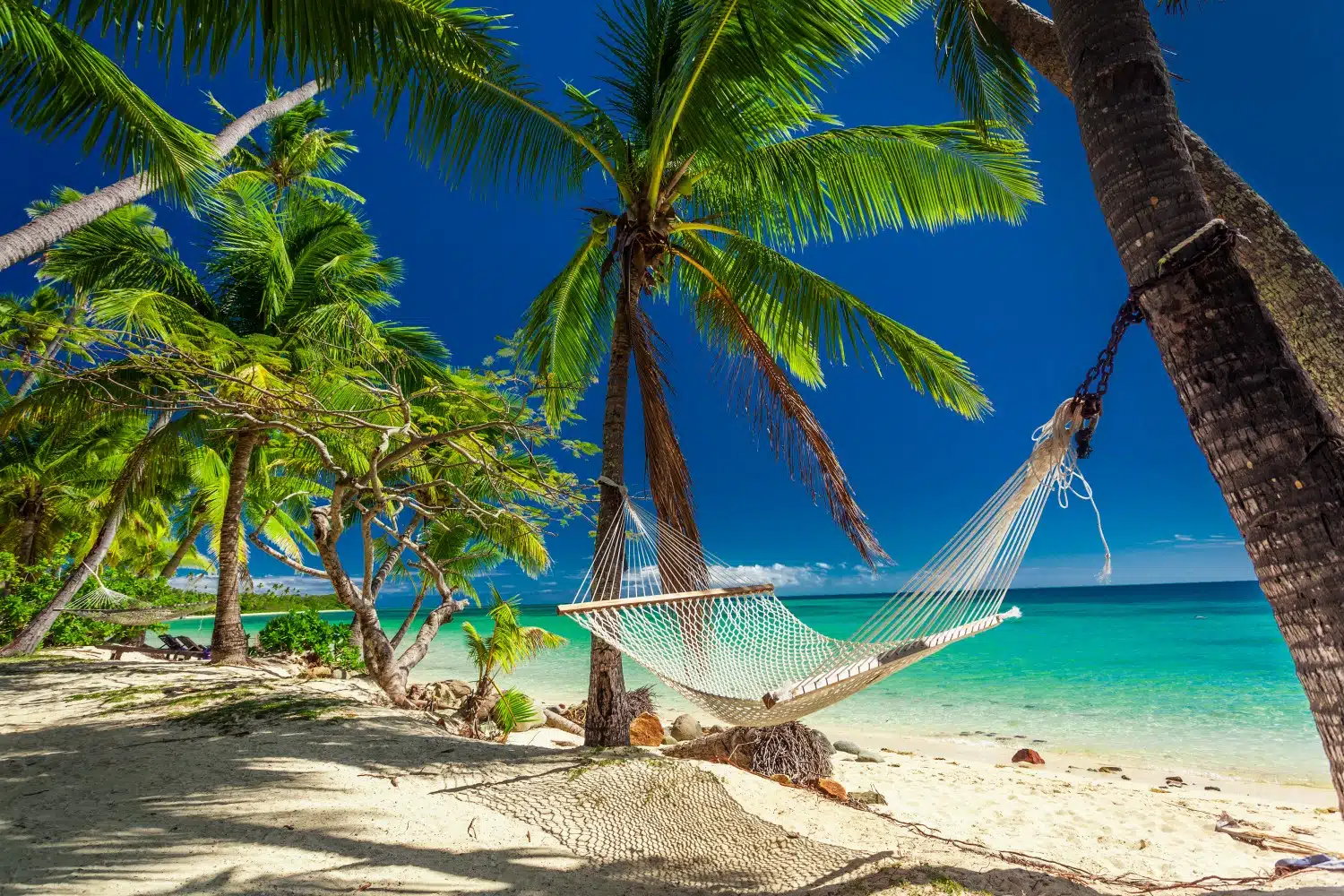 It can be way too easy to pack your whole wardrobe when you're going away for a week or two. Keep it stylish and simple with these must-brings from my tropical vacation packing list.
Bikinis & Swimsuits
Whether you're planning on splashing in the sea or just lounging by the pool, you'll need a killer bikini or swimsuit to do it in. Whatever you go for, make sure it's one you feel comfortable in.
Sunglasses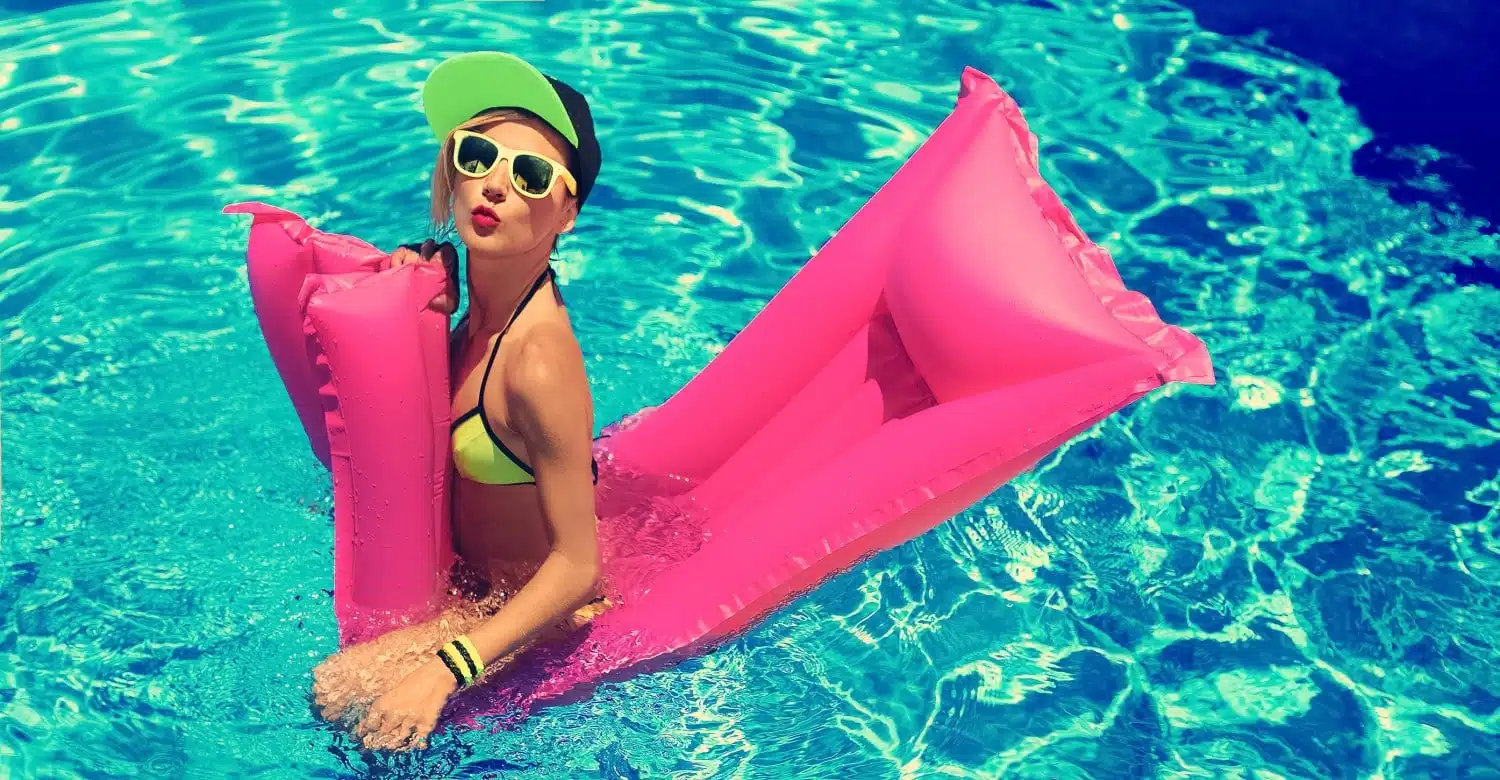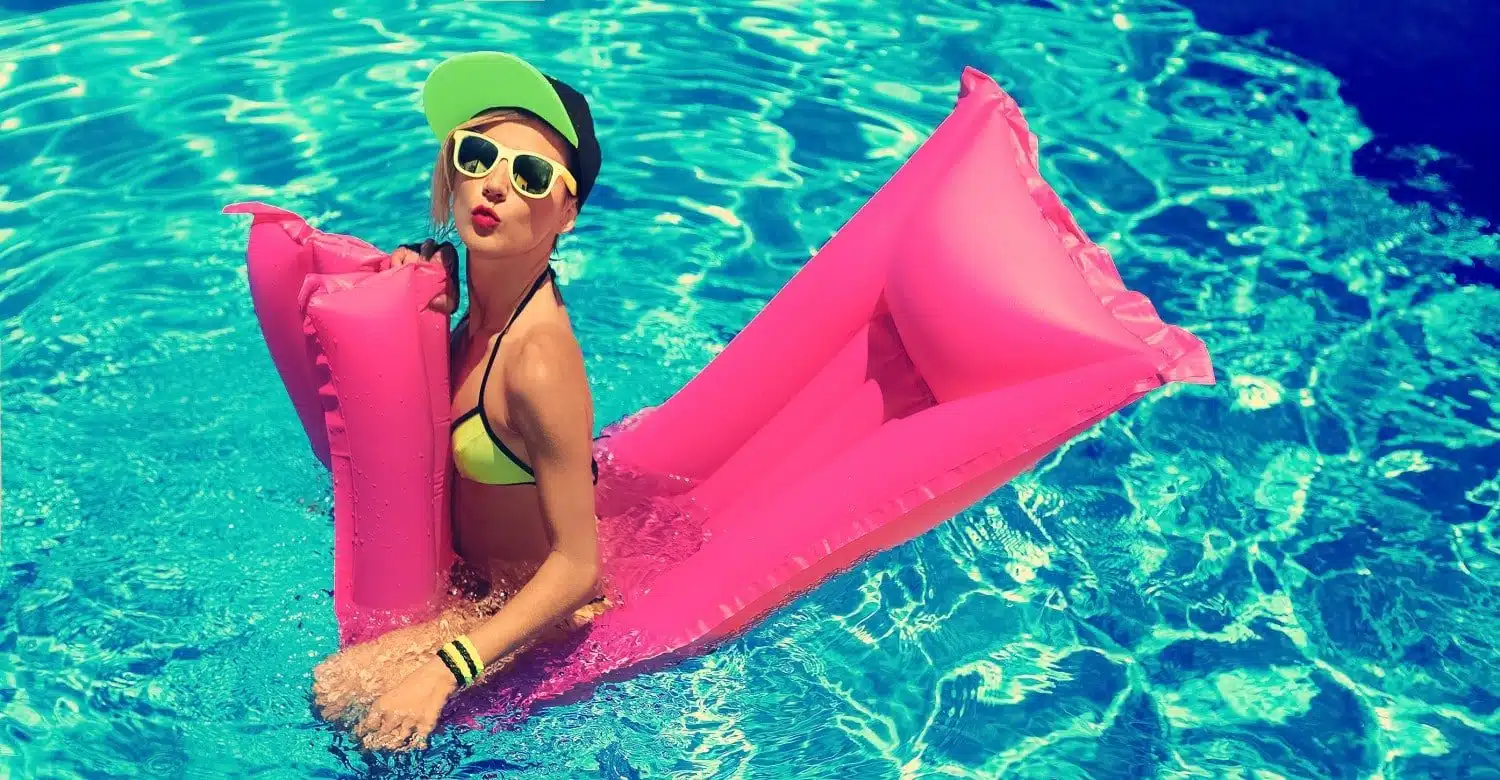 Protect your peepers with a decent pair of sunglasses. Make sure that you have a hard-cover case for them to stop any accidental breakages.
Beach Bag
Don't forget a beach bag for your trip. Fill it up with your summer holiday essentials – holiday reads, electronic kit, kaftan/ sarong and pretty much everything you'll need on your tropical packing list for a day of relaxing by the water.
Clutch Bag
Bring a clutch bag – they don't take up much space in your luggage and are perfect for evenings out.
Wide Brimmed Hat
Bring a wide-brimmed hat to protect your face from the sun and make out like you're Audrey Hepburn at the same time.
There's something about beaches and broad floppy hats that will never go out of fashion – simply add a wide-brimmed hat to your outfit and voila, stylish AF.
What could be better?
Cover Up/ Sarong
A cover-up or sarong is always useful to have with you.
Perfect for protecting yourself if the sun gets a bit too much and the perfect beach-to-bar wear for the evening.
Dresses
Lightweight, natural materials should be your key focuses for all your clothing on a beach holiday packing list.
Opt for lighter colours as these will help to keep you cooler too. You don't want to spend your holiday feeling hot and bothered under a heavy dress. Bring at least one for the daytime and another slightly smarter one for any evenings out.
T Shirts/ Tops
Pack a few t-shirts or tops that work well with any shorts and skirts you are packing.
Appealing as tank tops and tiny tees are, also bring a long-sleeved top in case you catch the sun.
Aim for a capsule wardrobe where you can mix and match your clothes easily, rather than one off outfits.
Shorts
Skirt
Light Jacket or Wrap
Evenings may not always be that warm. Don't forget to pack a light jacket or wrap to keep you warm when the sun goes down.
Flip Flops
Bring some flip flops or beach shoes that can withstand getting wet but are comfortable enough to walk around in. Opt for classic Havaianas or go with something a little more colourful.
Flat Shoes
Don't forget a pair of flat shoes or sandals to wear in the evenings.
Underwear
I don't think that I need to explain about underwear do I?
Toiletries
In addition to your normal toiletry haul, I'd add in some soothing after sun lotion and a refreshing face mask / sheet mask to help rehydrate your sun after being out in the sun and sea all day.
Tropical Vacation Packing List: Extras
Tropical Vacation Packing List: Extras
Water Shoes
I'll freely admit that I always bring water shoes with me on beach vacations as I'm a complete wimp about what's under my feet in the sea. That and I've had a few sharp coral cuts from washed up coral on beaches near to reefs.
Snorkel Gear
You might want to consider buying and bringing your own snorkel – it can be much easier than hiring it while you are away and you'll know the quality of what you're bringing.
If you don't like using traditional snorkels, these snorkel masks are great too.
Tropical Holiday Packing List: At a Glance
Packing Cubes
Camera
Go Pro and Accessories
Portable Battery Charger
Microfibre Beach Towel
Sunscreen
Lip Balm with SPF
Insect Repellent
Anti Insect Sleepwear
Waterproof Phone Case
Bikinis and Swimsuits
Beach Bag
Clutch Bag
Wide Brimmed Hat
Cover-Up / Sarong
Dresses
T Shirts / Tops
Shorts
Skirts
Light Jacket / Wrap
Flip Flops or Sandals
Flat Shoes
Underwear
Toiletries
Water Shoes
Snorkel Gear
Top Tips to Help You Pack Like a Pro for Your Tropical Getaway
Research More Expensive Items Thoroughly
It's better to spend a little more money on items such as cameras and GoPros and be able to use them on numerous trips than to buy a cheap one that will break after the first use.
Only Bring Things You Feel Completely Comfortable Wearing
We've all done it – brought a bikini we don't feel completely at ease wearing, or a pair of flip flops we tried on once and that immediately rubbed. Don't bring things on your tropical vacation that you're not comfortable wearing as they only end up staying in your suitcase for the whole trip
Check What's Provided by Your Accommodation
If your hotel bathroom will have toiletries, leave them at home (unless you have particular favourites), same for beach towels.
Love this? Save and share on Pinterest.
Read more Travel Gear Reviews and Packing Lists
So there we are, the ultimate tropical vacation packing list. Bon voyage!