Tired of messy luggage that you're constantly having to unpack and repack throughout your trip? Travel packing cubes (or luggage cubes, packing pods, packing cells, suitcase cubes, even mesh suitcase organisers – whatever you prefer to call them) are the answer.
What are packing cubes?
They are handy travel accessories that seriously help to keep your backpack or suitcase organised and efficient.
I've rated and reviewed the best packing cubes for backpacking or for any travels at all. Let's talk about how to use packing cubes and which packing cubes are the best for you.
Best Packing Cubes: At a Glance
Best Packing Cubes Available in the UK
Eono Packing Cubes – Overall Best Packing Cubes
Eono Packing Cubes are the best packing cubes if you are going on a longer trip – thanks to a standard pack size of four packing cubes and a laundry bag for £21.99.
You may be forgiven for thinking that four packing cubes might be difficult to store when they're not in use, but all of the Eono Packing Cubes pack within each other – so that's not a problem.
The Eono brand offers some of the best-value large packing cubes available in the UK. The standard set of five consists of one extra large, one large, one medium cube and one small packing cube for your travels.
The sizing of the cubes is as follows 44.5 x 32.4 x 8.3 cm (large), 35 x 24.8 cm x 7.6 cm (medium) and 28 x 17.1 x 7.6 cm (small) – the equivalent of the AmazonBasics and eBags travel cubes and much larger than the Eagle Creek Pack-It Cubes.
They're lightweight too, so you don't have to worry about them weighing your luggage down while you're on the road.
Another benefit of the Eono Packing Cubes system is the wide range of colours they're available in. With 11 colours to choose from, you can match them to your luggage, whatever the colour.
If you're feeling particularly well-organised, buy the multi-coloured set and colour-code your cubes (I know a few people who create a cube for each day of the week).
Material-wise, the Eono Packing Cubes are made of lightweight ripstop fabric. It's smooth – ensuring the travel cubes slide in and out of your case effortlessly. When paired with YKK zips are the industry-standard for hard-wearing zips – you can see why the Pro Packing Cubes are such a popular option.
On the downside, the breathable mesh on the front of the Eono Packing Cubes is not so nice – it's cheap and snags on sharper items.
Eono Cubes: Pros
Lightweight
Lifetime warranty
Eono Cubes: Cons
Quite expensive
Not so easy to close when fully packed
Eagle Creek Pack-It Original Cube – Best Stylish Packing Cubes
Eagle Creek is one of the original packing cubes and gets my vote as the best packing cubes that are available on the market. When packing bags for travel, these Eagle Creek packing cubes can be an absolute lifesaver.
So what makes the Eagle Creek Pack-It Cubes so special? Two words: design and material. The simple but functional design is well thought out, allowing quick and easy access to your clothes and belongings.
Material-wise, the Pack-It original cube stands out from some of its competitors' thanks to its high-quality and durable materials that are built to stand the test of time.
The Pack-It luggage packing cubes' nylon-lined 300 denier micro-weave polyester has a nice feel to it and, more importantly, is smooth enough to avoid snagging your clothes, while the centre mesh top allows your clothes to breathe.
The structured material means that they hold their shape when they're empty, but still fold up small when not in use. The structure has another added benefit in that it's still easy to close the zips on the cubes when they are full.
Each Pack-It cube has a handy handle on the top of it – another small detail that adds to the overall experience.
It's important to have good-quality zips on a packing cube, and this is another area where Eagle Creek's Pack-It Cube excels. The zip fastening is sturdy, and still works quickly and smoothly when the cubes are filled to capacity.
The three-piece Eagle Creek Pack-It Cube Set consists of one Pack-It Cube, one Pack-It Half Cube and one Pack-It Quarter Cube – enough to hold a week's worth of clothes.
The full-size Pack-It Cube measures 36 x 25.4 x 8 cm and weighs 113g – big enough to pack any bulky or larger items such as jackets and jumpers in while still fitting easily into a suitcase or backpack.
The half-and quarter size pack it cubes are still large enough to be useful – measuring 24.5 x 18 x 8 cm and 19 x 11 x 6 cm respectively. I tend to use these minimalist packing cubes for lighter and smaller pieces of clothing, underwear and travel accessories and leads.
Finally, should anything go wrong with your Eagle Creek packing cubes – they're covered by a lifetime warranty – a sure sign that the brand is willing to stand behind the quality of their products.
Eagle Creek Packing Cubes: Pros
Quality material – designed for durability
Carry handles for easy access
Good quality zips
Generous sizing
Upward opening (can put into draws easily)
Lifetime warranty
Eagle Creek Packing Cubes: Cons
Quality material and design comes at a cost. The Pack-it three-piece set costs £35 – substantially more than other packing cube sets such as eBag and Amazon Basics
Smaller sizes at comparable prices to other packing cubes
Limited colour choices
If you're looking for a pretty pattern, these are not the best packing cubes for you
Osprey Packing Cubes – Best Lightweight Packing Cubes
Well-known adventure brand Osprey made the foray into packing cubes a few years ago
As you would expect from Osprey, the cubes are tough, durable, easy to use and practical. They're available in two attractive colours, with Osprey branding in one corner.
They're pretty much a no-brainer for Osprey devotees (I personally travel with the Osprey Farpoint 40 on backpacking trips) keen to keep their luggage looking good – not to mention these are some of the best compression packing cubes you can buy in the UK.
The handle at the top of each packing cube and lightweight material demonstrate the expert knowledge that Osprey has when it comes to getting you on the road. No detail has been overlooked in the design and creation of these products.
The siliconised nylon materials are soft and pleasant to the touch, and slide into and out of luggage (including backpacks) with ease. The material is 40d nylon ripstop – so it's tough but very smooth and folds up to almost miniscule proportions.
So those are the pluses. What are the downsides? Well, the Osprey packing cubes don't have any mesh – meaning that you can't see what's inside each one. That's fine if you are only travelling with one of each size and you can remember what's in it, but does get more confusing when you have two or more travel cubes that are the same size and colour.
However, the mesh tends to be the bit that clothes and items get caught on, so by not having any, Osprey have eliminated that problem.
I personally prefer packing cubes that fully open on all but one side so that when they are open you can see everything that's inside. The top-loaded Osprey packing cubes don't quite do this, so there is the potential for an item or two to get lost at the bottom.
Size-wise, the Osprey packing cubes are not as spacious as some of the other cubes I've reviewed. They measure in at 19 x 12 x 5cm (small), 25 x 18 x 5cm (medium) and 35 x 25 x 5cm (large).
Like all of Osprey's products, the travel cubes are covered by the All Mighty Guarantee. The guarantee covers defects for the reasonable lifetime of the items – and means that Osprey will repair or replace the packing cubes free of charge.
Osprey's packing cubes are very much designed with backpacks in mind – the top loading design, slimmer fit, lightweight and no-mesh design means they are perfect for sliding in and out of your bag, or accessing items quickly from the top of a backpack.
If you're not looking for packing cubes to use with a backpack, I'd say these might not be the best packing cubes for you. If you are looking for packing cubes for backpacking though, they're the perfect travel cubes to take on your trip.
Osprey Packing Cubes: Pros
Great design for use with a backpack
Osprey Packing Cubes: Cons
No mesh – can't see inside
Upright opening design means they're not ideal as suitcase packing cubes
Smaller sizing than other brands
AmazonBasics Packing Cubes – Best Budget-Friendly Packing Cubes
Amazon Basics packing cubes are arguably the best value packing cubes on the market – combining a reasonable (not perfect) design with low prices.
The biggest plus here is the price – with a pack of FOUR AmazonBasics packing cubes priced at significantly less (£19.99 at the time of writing) than three eBags (£29.99), Eagle Creek (£34.99) and Osprey (£30.99).
Design-wise, the AmazonBasics packing cubes are relatively inoffensive – a large proportion of the front is a coarse mesh – handy for seeing what's inside the cubes and for breathability, not so handy for not getting caught on things.
They're stackable and slot nicely into a suitcase – with a sturdy free-standing design for easy use.
The polyester material stands the test of time – it might not look that flash but is geared up for heavy-duty use.
Size-wise, the AmazonBasics cubes stand out for their generous sizes 44 x 32 x 8 cm (large), 35 x 25 x 8 cm (medium), 28 x 17 x 8 cm (small) and 7 x 36 x 13 cm (slim). They're deeper than all the other travel cubes we've reviewed, and bigger too (with the exception of eBags packing cubes).
Usage-wise, my biggest fault with the AmazonBasics packing cubes is that they're not so easy to close when they're full – with the zip often getting snagged and stuck on the corners. Not so useful.
The AmazonBasics travel cubes come in a variety of colours. There have been complaints from some users that the red packing cubes stain clothing when damp, so might be worth steering clear of those.
AmazonBasics Cubes: Pros
Best of the cheaper options
Generous sizing
Four cubes in a set, not three and still cheaper than others
AmazonBasics Cubes: Cons
Sometimes difficult to close when full
Look quite cheap
Red ones can stain
Eagle Creek Pack-It Specter Tech Cube – Best Packing Cubes for Hikers
The Eagle Creek Pack-It Specter Tech Cube offers a slightly different take on packing cubes. These ultralight packing cubes are half the weight of some of the other packing cubes included on the list.
Wave goodbye to the mesh and polyester look of the traditional Pack-It Cubes, the Eagle Creek Specter Cubes are made of the same fabric that is used for tents and backpacks. They offer a lightweight, water-resistant and durable option for your luggage.
The Pack-It Specter minimalist packing cubes weigh less than half the weight of Eagle Creek's traditional travel cubes – a lot of emphasis has been put on making them as portable and easy to carry as possible.
Much as I like the fact that the Specter Cubes fold up to the size of a small mug, and weigh practically nothing, I'm not a fan of the fact that there's no mesh so you can't see what's inside.
The material is translucent – so you can have a good guess at what's where but to be sure, you have to open them up and take a proper look.
Design-wise, they're pretty similar to the Osprey packing cubes reviewed above – the top loading design and ultra lightweight focus means that these are much better for backpackers than those using suitcases.
In terms of size, you're looking at 7 x 24.5 x 8 cm (Small), 25 x 34.5 x 8 cm (Medium) and 34 x 46 x 8 cm (Large) – significantly smaller than other packing cube sets.
The 30 denier rip stop nylon is stain-resistant and tear-resistant. It's pretty flimsy feeling (meaning these travel cubes are not free-standing) but stood up to some rigorous testing including deliberate snagging and pulling – coming out totally unscathed.
Additionally, the Specter Tech cubes offer some compression – though Eagle Creek don't offer guidance about how much.
Many of us ask the questions: do packing cubes really save space, and how do packing cubes help?
While my tests didn't measure the exact percentage increase, there was a noticeable difference in the amount of things each packing cube could hold compared to those of a similar size from other manufacturers – so it's a great choice if you're planning to travel with carry on luggage.
The price is the real bite for the Specter Tech packing cubes. There's no other way to describe the price of these compression cubes for travel than very expensive – with a pack of three costing £45 in the UK.
I personally think that the Osprey packing cubes offer much better value for money for a very similar design and feel.
Eagle Creek Pack-It Specter: Pros
Super lightweight
Cool design
Stain-resistant
Eagle Creek Pack-It Specter: Cons
DIMJ Packing Cubes with Toiletries Bag – Best Packing Cubes for Women
DIMJ Packing Cubes are an excellent budget-friendly choice for women, or anyone who tends to overpack (I'm guilty).
Made from water-resistant ripstop nylon and ultra-lightweight Oxford fabric, these packing cubes are built to withstand the rigours of travel while keeping your items safe and secure.
The packing cubes are equipped with durable, corded double zippers that ensure smooth and snag-free opening and closing.
But the real reason that I love these travel cubes is the versatility they provide. You get 8 pieces in this set, including a cube for shoes and an extra roll-up toiletry bag – super handy for keeping your items organised when on the go.
The design options are another huge pull – say goodbye to boring grey and say hello to dainty floral packing cubes – or how about vibrant coral?
DIMJ Packing Cubes: Pros
Budget-friendly
Plenty of designs and colours to choose between
Comes with a travel toiletry bag
DIMJ Packing Cubes: Cons
Not as sturdy as some of the other options
Not all cubes have a mesh top
eBag Packing Cubes – Best Large Packing Cubes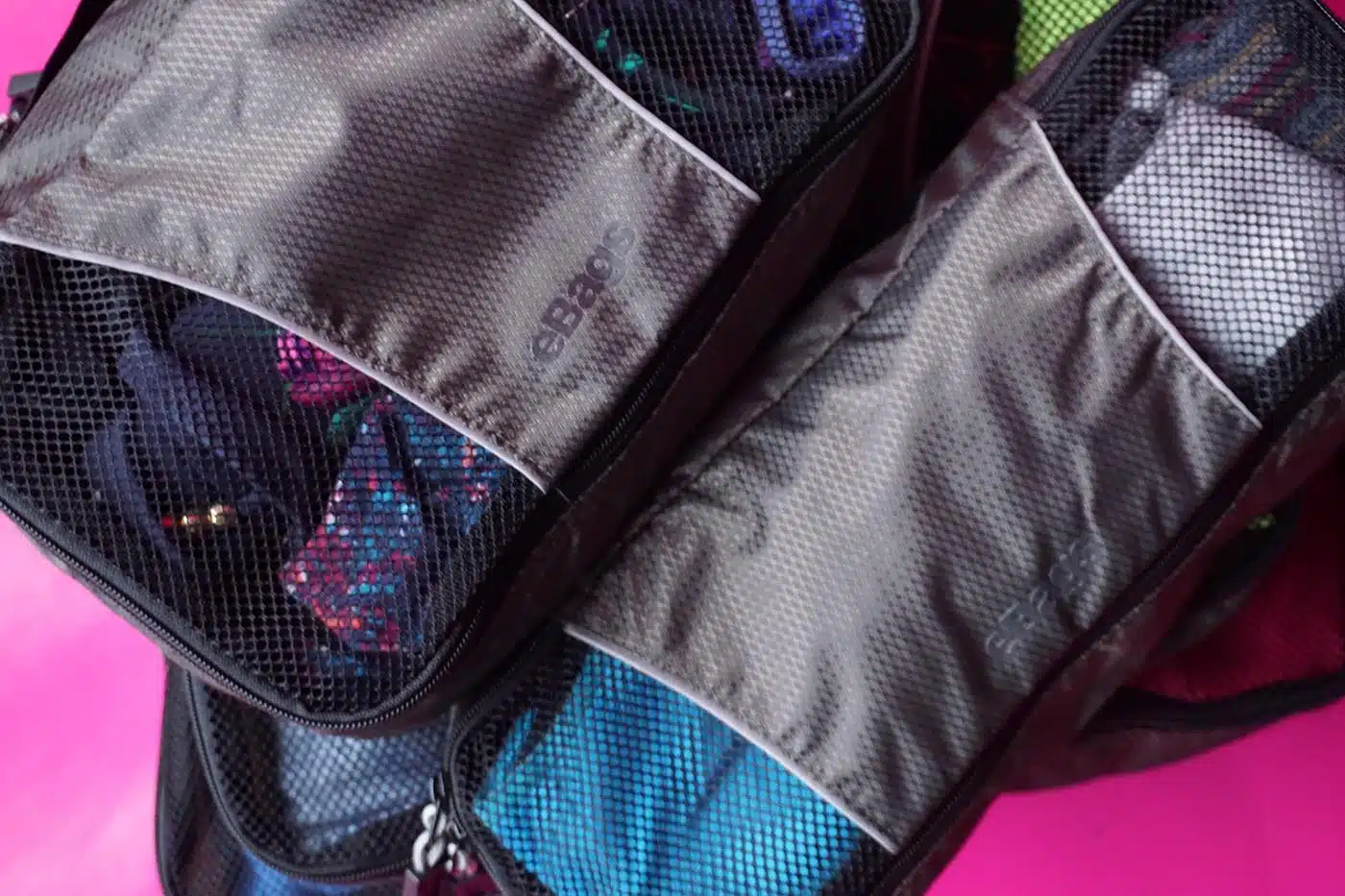 eBags are one of the biggest names in the packing cubes game, with a broader range of colours and packing cube sizes (from huge packing cubes to small packing cubes) than Eagle Creek and my second choice for the best packing cubes in the UK.
If I'm honest, I don't think eBag packing cubes have quite the same premium look as the Eagle Creek Pack-It Cubes, but they're cheaper and just as durable. The material is thick and shiny, and the mesh coarser but they come with good-quality YKK zippers and last a long time.
The Techlite Diamond nylon might be durable, but isn't going to win any awards for its looks – shiny and crinkly, it's kind of like cheap rain jacket material.
That said, the smooth nylon means there's no catches on your clothes and even delicate items such as woolly jumpers don't bobble or pill from rubbing against the material.
The standard set of six eBag travel cubes comes with six packing cubes sized 27.9 x 17.2 x 7.6cm (small), 34.9 x 24.8 x 7.6cm (medium) and 44.5 x 32.4 x 8.3cm (large) respectively.
You can see that the large eBag packing cube is significantly larger than the equivalent Eagle Creek packing cube in the six-piece set – meaning you get more value for your money, particularly if you are packing for longer than a weekend away.
Colour-wise, you're spoilt for choice with the eBag packing cubes – there are over 10 colours available in the standard range and an ever-changing range of limited edition patterns for you to choose from. Colours range from understated black and grey to bright blues and oranges.
Like Eagle Creek, another big plus for the eBag travel cubes is the fact that they are covered by a limited lifetime warranty against defects in workmanship or material. So you are covered in the unlikely event that your products are not up to scratch.
eBag Packing Cubes: Pros
Good range of colours
Good range of sizes
Affordable pricing
Upward opening
Lifetime warranty
Larger sizing for comparable prices
YKK zips (widely acknowledged as the best zips on the market)
eBag Packing Cubes: Cons
Cheaper look and feel
Some complaints about quality, although eBags seem quick to replace faulty packing cubes
Read my full review of eBags Packing Cubes
Why Use Packing Cubes?
Like many travel essentials, packing cubes make your life so much easier. They provide a sensible way of organising your belongings when you are on the road.
Rather than having everything in a lump, you can organise clothes day by day, by type or however else you see fit. Then, when you need something, you need only pull out the appropriate packing cube – leaving the rest of your suitcase in perfect order.
Packing cubes also have the distinct benefit of keeping your clothes in the same position you packed them in, meaning no strange wrinkles or crushed clothes.
As someone that practically lives out of their suitcase, constantly packing and unpacking in new places I've had ample opportunity to try and test packing cubes on my travels.
I know how tough it can be keeping things in order when you are living out of a suitcase for more than a few days. I've chosen the best packing cubes that are available in the UK for your next trip.
Going on long-term travels? Don't forget to check out my ultimate long-term packing list too.
What to Look for When You Buy Packing Cubes in the UK?
Quality
Quality is the first thing you should look for whenever you're buying an item. The first thing to go on cheaper packing cubes are the zippers. Look for a set with good quality zippers that will last.
As well as this, check the stitching. Packing cubes have to put up with a lot of use. Cheaper brands are more liable to fall apart quickly.
Ventilation is another highly underated feature. You don't want your clothes getting fusty or stale. Good ventilation is the key to fresh-smelling items.
Visibility & Ease of Use
Most people tend to favour cubes with wire mesh panels so they can see what's inside, but this will depend on your personal preference.
As one of packing cubes' main functions is to make your life easier when you are on the road, they need to be easy to use. This extends to being stackable, packable and easy to open. Carry handles are a good bonus too.
As well as this, the structure of a packing cube is very important. The more a packing cube holds its shape on its own, the easier it is to close when it's full.
You want durable fabric that won't rip at the slightest stress. This extends to the mesh – generally the finer the mesh, the less likely it is to get caught on things and rip.
You should also ensure you're picking up lightweight options. Packing cubes add extra weight to your luggage. You want to keep the extra amount down to a minimum.
Size
Buy a good variety of sizes that are going to be practical to use and which, between them, can fit the contents of your suitcase in them.
There's no point in buying cubes that are so big that they become as disorganised as your case would anyway, but stay away from packing millions of tiny packing cubes so you can't keep track of what's where.
Price
Like most things, you get what you pay for. Buy the best packing cubes that you can afford – preferably ones that come with some kind of guarantee. If used correctly, packing cubes can last a long time, so it's worth spending some money on them.
Waterproof
Water resistance is not a necessity (unless you are planning on doing a lot of backpacking), but definitely a plus. You can buy waterproof packing cubes, but these aren't breathable and best saved for toiletries only.