Looking for the best backpack for travelling Europe? We've tried and tested the best backpacks in the business, and this is what we've found. These are the best travel backpacks of 2018…
By Sophie Ritchie
If you're backpacking around Europe, it's likely that you're going to be visiting a variety of countries and terrains, so you will need a backpack that's tough, durable and can stand up to the rigours of life on the road. We've tried and tested hundreds of packs over time – these are the ones that made the cut.
Osprey Farpoint 40 – Best for Carry-On Luggage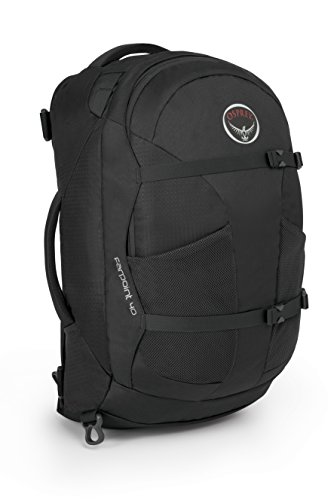 The Osprey Farpoint 40 backpack is easily one of the best backpacks for travelling Europe with. Coming in 3 different sizes, 40, 55 and 70 litres, it caters to everyone.  
The 40 is very popular as it is small enough to be taken on a plane as carry-on luggage if necessary. It is both strong and durable, but also the lightest of all of Osprey's travel backpacks, at 1.77kg. This assures you that when you're travelling around Europe you can carry your gear with ease and comfort, with even extra support provided by the cushioned carry handles and the waist and chest strap.
There is an extra zip that gives you access to the main compartment, with even more storage space that you will ever need. There's even a small top pocket for quick access to your all-important essentials (like your camera for all those important photos!), and even side pockets plus a dedicated sleeve for your laptop.
Additionally, the main compartment contains a mesh pocket at the bottom, perfect for separating dirty clothes and shoes from the rest of your things. And you can rest easy that all your belongings are safe in those busy cities, as the zip is lockable.
Pros: Lightweight, pockets galore
Cons: No air panel on the back
---
Packing cubes are indispensible for keeping your luggage tidy and organised. We've rated and reviewed the best. Read now.
---
Deuter ACT Lite 60+10 SL – Best For Longer-Term Travellers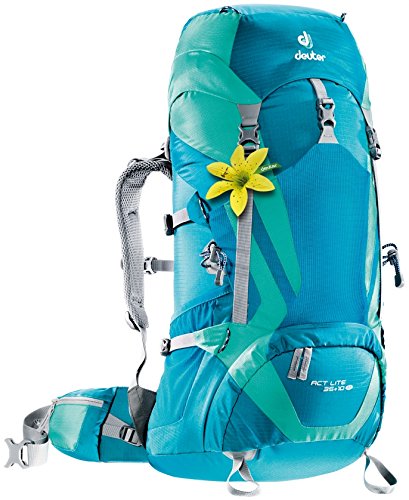 The Deuter ACT Lite 60+10 SL is another fantastic backpack. If you're planning on travelling in Europe for a long period of time, then this is perfect for you. The design is simple and uncluttered, and each component is to a very high standard.
The backpack is 60 litres at standard size, however, this stretches to an extra 10 litres by extending the hood. It's got countless pockets from ones on the lid, on the front, and even some on the hip belt, including a pocket for your water bottle. The pocket on the front is so generously sized that it could even fit a football (well, you never know what you might need)!
If this wasn't enough, the backpack also has an Aircontact system, which firstly aids the pack to perfectly adapt to the wearer's back, and then hold the load of the pack close to the centre of gravity.
Secondly, the Aircontact system's breathable pads on the back and hip perform a pump effect, resulting in air being exchanged every time you move. Deuter's statistics say that this results in 15% less perspiration that other body-contour backpacks – exactly what you need on those swelteringly hot days when you're backpacking in Europe!
Pros: the Aircontact system, lots of storage areas
Cons: Fasteners weren't as secure as we thought appropriate for a trip
---
Vango Freedom 60+20 – Best Value Backpack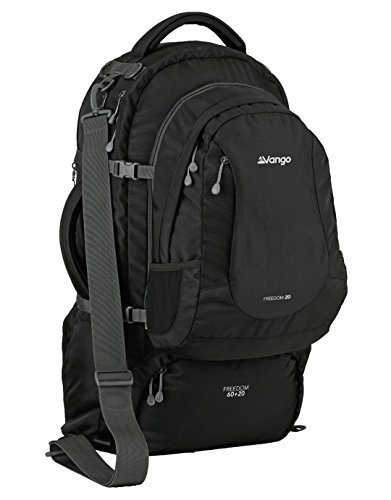 Holding a total of 80 litres, the Vango Freedom 60+20 is good for those wanting a little more room in their backpack.
At 840D polyester and with Duraflex buckles, this backpack is also incredibly strong, sturdy and resistant. However, although this backpack is strong, this doesn't mean that it lacks on comfort – it boasts an ergonomically padded hip belt, shaped for the optimum load transfer and comfort. In addition to this, there is AirMesh on the straps of the backpack, which allow air to flow and keep you cool.
And of course, this bag has all the right compartments: a zip mesh pocket inside the lid, a specific laundry compartment, and lockable zips to keep everything secure. There is even a flight cover for the backpack when flying, so that none of the straps get caught during transit.
One thing we love about this backpack – and why we think it's one of the best backpacks for travelling Europe is that it has a 20-litre day pack that is detachable by zip; this is perfect for any excursions, day trips or hikes you might want to make, without having to bring your whole backpack. But perhaps the best feature of this backpack is its price, at £67.50 from Amazon  and even less on competing websites.
Such a sophisticated and reliable design accompanied by its low price makes the Vango Freedom the perfect backpack for travelling Europe if you don't want to blow the bank.
Pros: low price, day pack, strong design
Cons: Zips not as strong as they should be
---
Osprey Aura AG65: Best Fitting Backpack For Women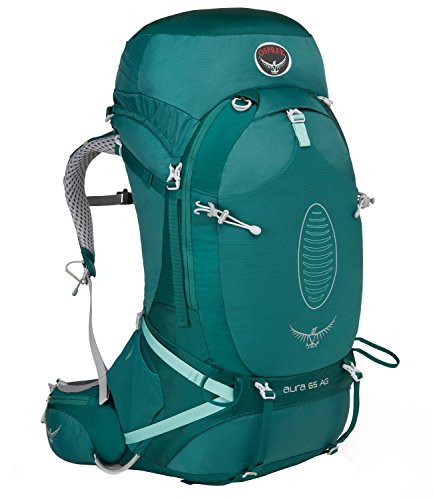 Here's another backpack from Osprey that is one of the best for travelling, but this one is designed for the ladies. What makes the Aura so great is that it has been specifically designed to mould the female back, with both padded and adjustable shoulder, hip and front straps, to hug your body depending on your shape.
Of course there are also many pockets and compartments: some on the lid, base, side and deceptively large ones on the front, which you can store your essentials in without having to go into the main body of your backpack. There's even a sleeping bag compartment should you need one.
The Aura is equipped with the suspended AntiGravity back system which is incorporated with the world's first fully ventilated hip belt. So while other backpacks have ventilation on the back and straps, this backpack has the additional ventilation to reduce your perspiration.
Despite all of these extra features, the best part about the Osprey Aura 65 is how comfortable it is. Of all the women's backpacks on the market, we vote this one as the most comfortable – exactly what you want when travelling around Europe.
Pros: uber comfortable, sleeping bag holder
Cons: no laptop holder
---
Kelty Redwing 40: Best For the Organised Traveller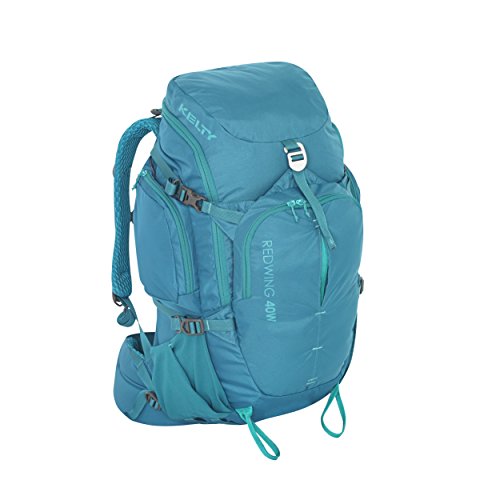 The Kelty Redwing comes in different sizes, ranging from 32 to 50, however we preferred the 40 litre, as it was another backpack with optimal space that could also be used as carry on.
We were all amazed about how much we could fit in the Redwing! It's big enough to hold everything you would need when you travel and really maximises what you can take in your backpack.
There are endless compartments to keep you and your belongings organised. Dual side pockets, front and top pockets, a water bottle holder, a laptop sleeve in the back of the main compartments, and even a carry handle. And the U-pocket on the front is perfect for all of your belongings that you may need to access quickly, such as your camera or sunglasses.
On the comfort side of things, the Redwing has Hex Mesh on the back panel, shoulder straps and waist belt, and the back panel is also padded and ventilated. All of these features help to keep the backpack breathing against your skin and the air to flow in order to keep you cool and reduce your perspiration.
Pros: compact, lots of pockets
Cons: zips aren't lockable
---
---
Highlander Explorer 45+15: Best Small Backpack With a Detachable Daypack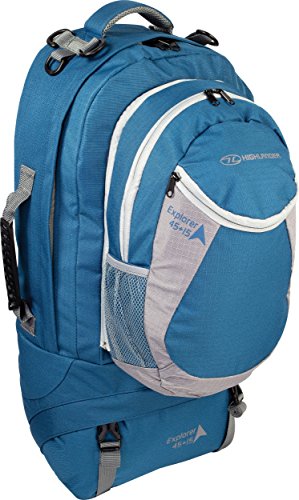 The last pack in our list for the best backpacks for travelling Europe is the Highlander Explorer 45+15. This unisex backpack is perfect for travellers who want a smaller bag to take on their trip (just 45 litres), with an attachable 15 litre day pack.
Even though this bag is small, this doesn't mean it's not sturdy – it is made from 600D ripstop polyester and has a reinforced base for maximum durability. And for those of you who tend not to pack light, this bag even comes with an expanding zip section on the outside, just in case you need that tiny bit more room! It also comes in larger sizes for those of you who would prefer a bigger bag (60+20 and 80+20).
Although this is considered more basic compared to the other backpacks on our list, it actually has very similar features to the rest.
Of course, the Highlander Explorer comes with many compartments, including a divider in the main compartment for your own organisation and a bag for your laundry and one for your toiletries, which are attached to the internal compression straps. The main compartment also has interlocking zips for the highest security.
Not missing out on comfort, the Highlander Explorer 45+15 has a concealable padded back system, which can be fully adjusted to suit your height. For a small and sturdy bag, the Highlander Explorer has got to be the one for you.
Pros: Day bag, lockable zips
Cons: more basic compared to other models
---
So there we are: the best backpacks for travelling Europe. Now it's time to go and have an adventure. 
Love this? Save it and share on Pinterest.