Planning your two days in Paris and not sure where to start? Don't miss this step-by-step itinerary – packed with handy tips and suggestions to help you plan your trip.
The first time I went to Paris, I was completely in awe. I'm a big city girl through and through, but there's something so enchanting and grandiose about Paris that it even made me pause and take stock.
In the years that have followed, I've been back again and again, each time discovering a new neighbourhood, a chic cafe or bohemian hangout – forgoing the big landmarks because hey – I'd already seen the Eiffel Tower, visited the Louvre countless times (and decided that I much preferred the Musee D'Orsay).
That's why I wanted to take a completely different tack on my last trip. We had 2 days in Paris and I decided that I was going to see it afresh.
I'd create a first timer's Paris itinerary and explore the city as if I'd never seen it before. All of a sudden, that feeling of awe in the face of the city's unabashed magnificence returned.
We tramped around the city, oohing and aahing at the rose-tinted light inside Sainte Chapelle, watching the sunset from the Sacre-Coeur – it was an adventure – one that I think you're going to love. So, what are we waiting for? It's time to set off and explore the best of Paris in two days.
PS: I give you lots of practical tips and hints for planning your two day Paris itinerary at the bottom of this guide that will make your life a lot easier. Be sure to check them out.
2 Days in Paris Itinerary
Day 1 – Louvre, Ile de La Cite, St Germain and Le Marais
For the first day of your two day Paris itinerary, it's time to get a taste of the city's best attractions, as well as spend some time living like a local in two of the capital's trendiest neighbourhoods.
Tuileries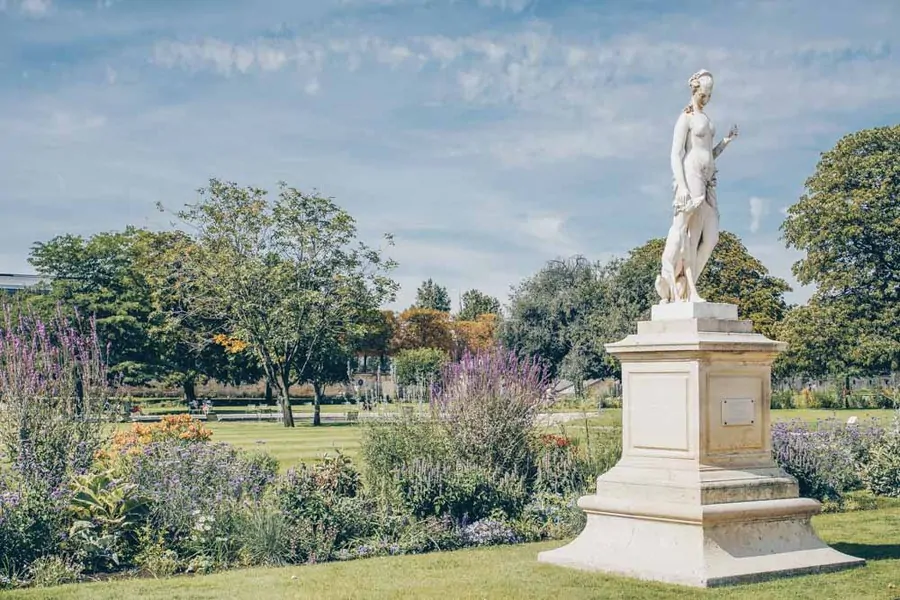 Once upon a time, the Tuilleries Palace was the most desirable address in Paris – home to monarchs from King Louis XIV to Napoleon III.
That was, until the radical socialist group the Paris Commune burnt it to the ground during their rule in 1871.
While the palace may be gone (although there are whispers of rebuilding), the garden near the Seine remains open to the public.
The meticulously planned garden is absolutely beautiful and a popular spot for locals and visitors alike.
Louvre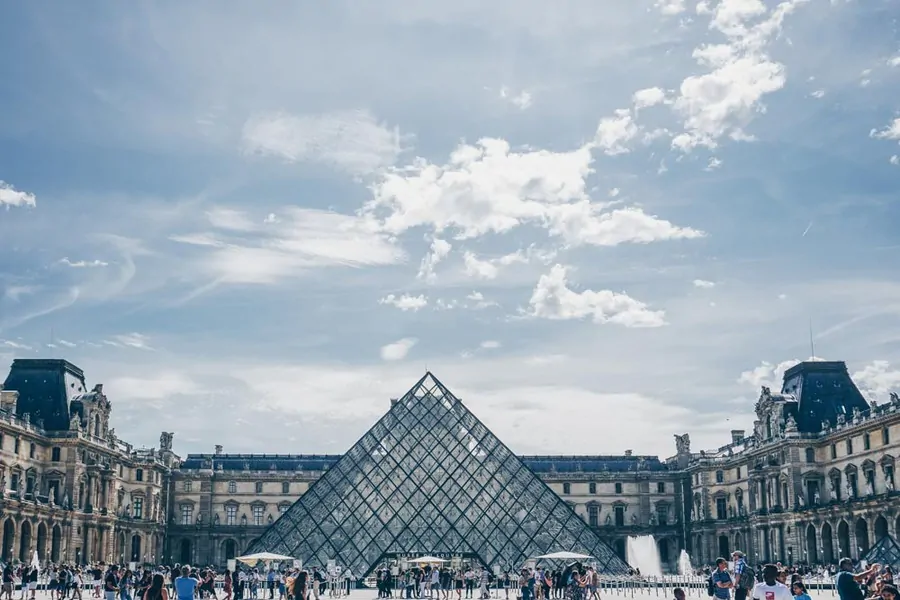 To call the Louvre an art gallery seems kind of underwhelming. It's staggering size and collection means its a sprawling institution offering up the who's who of the art world.
In fact, it's the most visited art gallery in the world – with over seven million art fans (and total novices) visiting annually.
The Louvre's most famous painting needs no introduction – it's, of course, the enigmatic Mona Lisa.
However, there's so much more to see. From Egyptian antiquities to Impressionist masterpieces, it's all here.
Top Tip for Visiting: Paris travel tip numero uno… queues for The Louvre can be nothing short of horrific. Plan ahead and get your skip-the-line ticket here.
Pont Neuf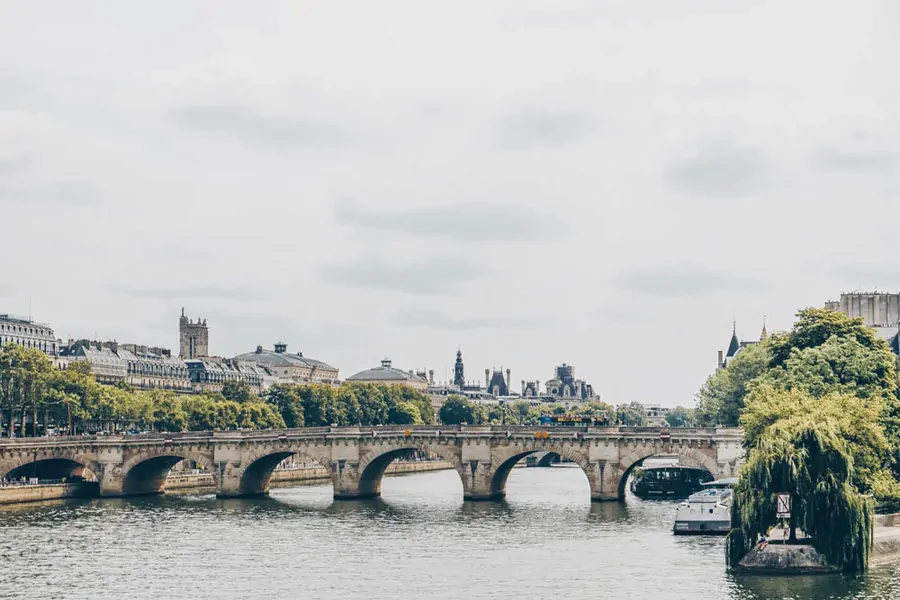 The oldest and most iconic bridge in Paris, Pont Neuf is a beautiful location in a city that's not exactly short on pretty spots.
It crosses the Seine near Ile de la Cite, the birthplace of modern Paris.
As well as the twelve arches of the bridge, it is also recognisable for the elaborate statue of King Henry IV – French kings weren't known for their humility.
Another feature to keep your eyes out for are the many "mascarons" (or 'scary' – some would say funny – faces) decorating the bridge.
Ile de la Cite
The most well-known of the two natural islands in the Seine, the Ile de la Cite has a special claim to fame.
It is here that the modern city of Paris was founded, when the Roman city of Lutetia was founded on it. Paris as we know it today grew up around it, into one of the great cities of the world.
Today, the Ile de la Cite is a must-see during your 48 hours in Paris. Although small, it has many impressive sights including Place Dauphine, Sainte Chapelle, the Louvre and Square du Vert Galant.
Top Tip for Visiting: Tour the island, Sainte Chapelle and Notre Dame (from the outside) with this tour.
Sainte Chapelle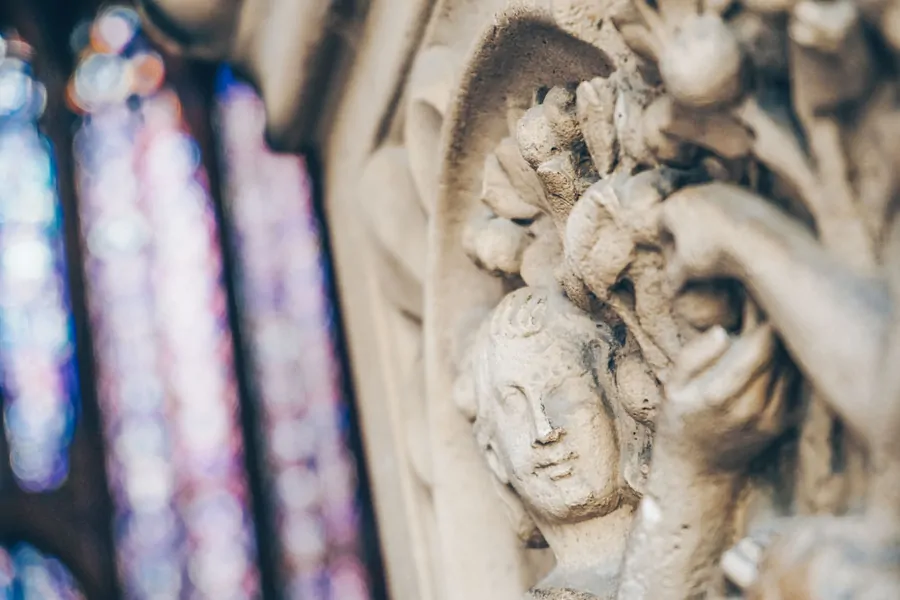 Sainte Chapelle has a strong claim to being one of the most famous attractions on the Ile de la Cité and certainly one of the most striking.
It was formerly a royal chapel, built in the 13th Century as part of the Palais de la Cite, home the first royal palace in Paris.
Much of the palace has been destroyed, however Sainte Chapelle remains with its dazzling stained glass windows.
In total, they depict over 1,000 scenes from the Old and New Testament, and are a beautiful kaleidoscope of colour.
Honestly, there are things you simply have to see in Paris and Sainte Chapelle is one of them. I'd have lain down on the floor and gazed at the meticulously-depicted stained glass stories for hours but it's hella busy in there and I have more sense than to lie down amidst a stompeding crowd.
Amazingly, the whole thing was constructed in just seven years – the blink of an eye by historic building standards.
Top Tip for Visiting: Again, the queues for Sainte Chapelle can be fiendish, so buy a skip the line ticket to help make the most of your time.
Notre Dame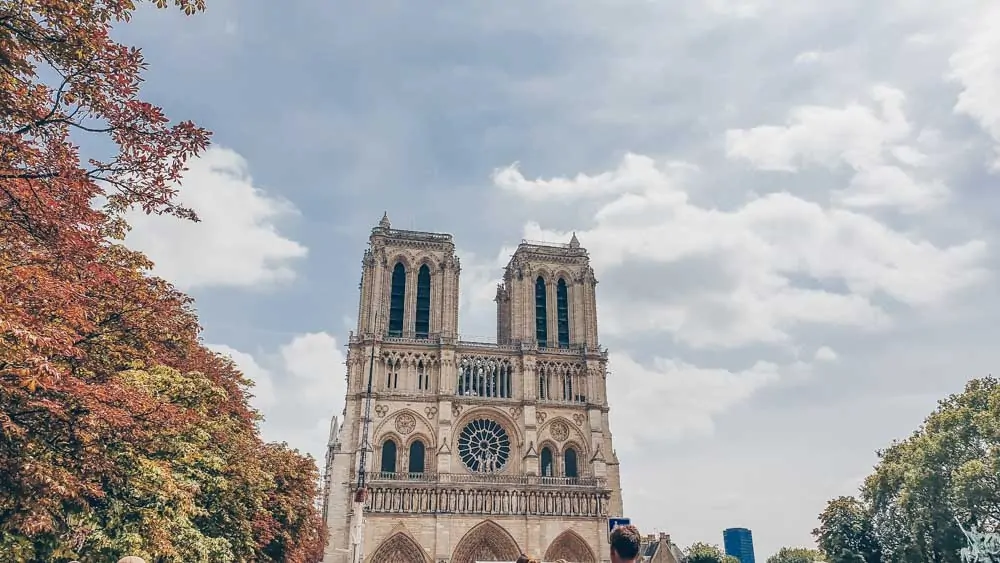 Like much of the world, I watched in horror at footage of the Notre Dame burning in Paris.
Built in the 12th century, the Gothic Cathedral was surely one of the most beautiful buildings in Europe – not to mention one of the most popular.
Luckily, parts of the Cathedral were saved and the process of rebuilding it has already begun.
For the moment, this means that you cannot enter Notre Dame, but you can still look at the ruins from further away.
Late Lunch at La Palette in Saint Germain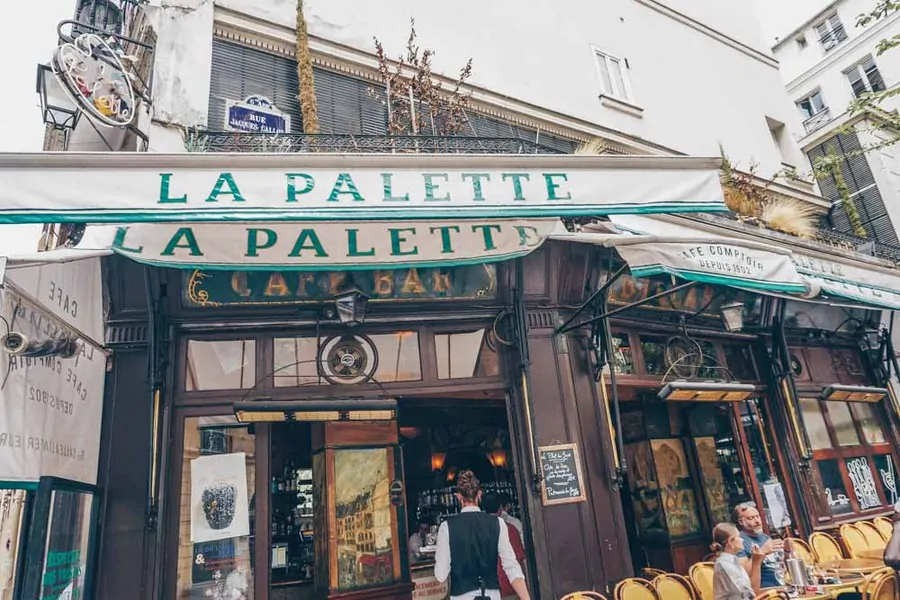 Over the years, the stylish cafes of Saint Germain have attracted more than just chic Parisians and eager tourists from abroad as the places to eat in Paris.
Many famous people have also sipped an espresso (or downed a champagne) at these cute little hubs.
Nowhere is that more true than at La Palette in Saint Germain. This cosy cafe was the place for creative types to hang out – everyone from Jim Morrison of the Doors to the painter Pablo Picasso has been here.
The menu is reasonable, the wine stellar and the outdoor seating extensive – perfect for a little tete a tete before you tackle the afternoon's itinerary. It's nice and chill too, so you needn't worry about eating there if you're on a solo trip to Paris.
Jardin du Luxembourg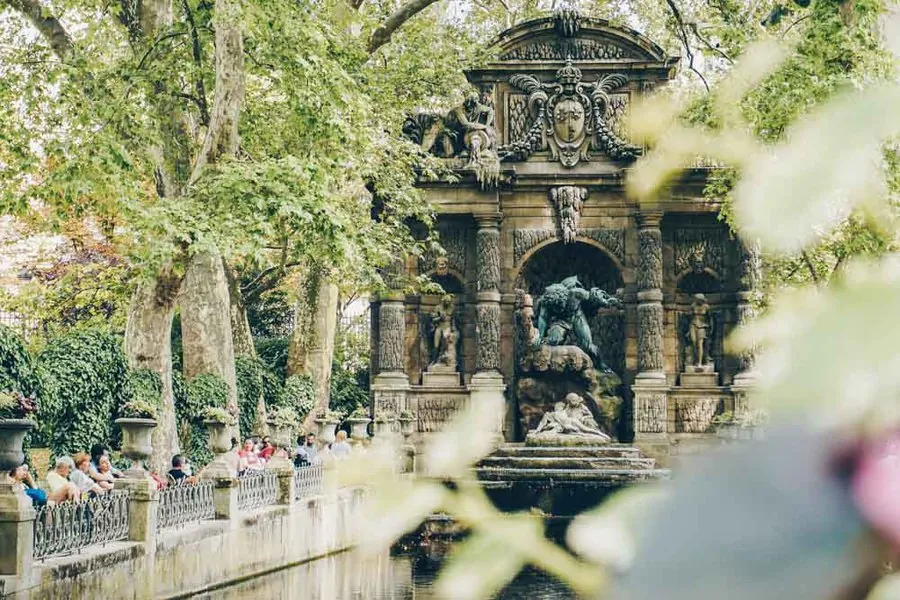 Over the centuries, the face of Paris may have changed considerably – but the Jardin du Luxembourg has been a constant – if unusual attraction.
The beautiful garden was commissioned by royal widow Marie de Medici, who dreamed of bringing a little bit of her hometown of Florence to Paris.
The result was a staggeringly beautiful garden enjoyed by Marie and her other aristocratic buddies.
That was until the palace was converted into a prison during the French Revolution.
Luckily, things again improved and the gardens were opened up to the public. Today, they are one of the most beautiful green spaces in Paris and worth a leisurely stroll, no matter the weather.
Pantheon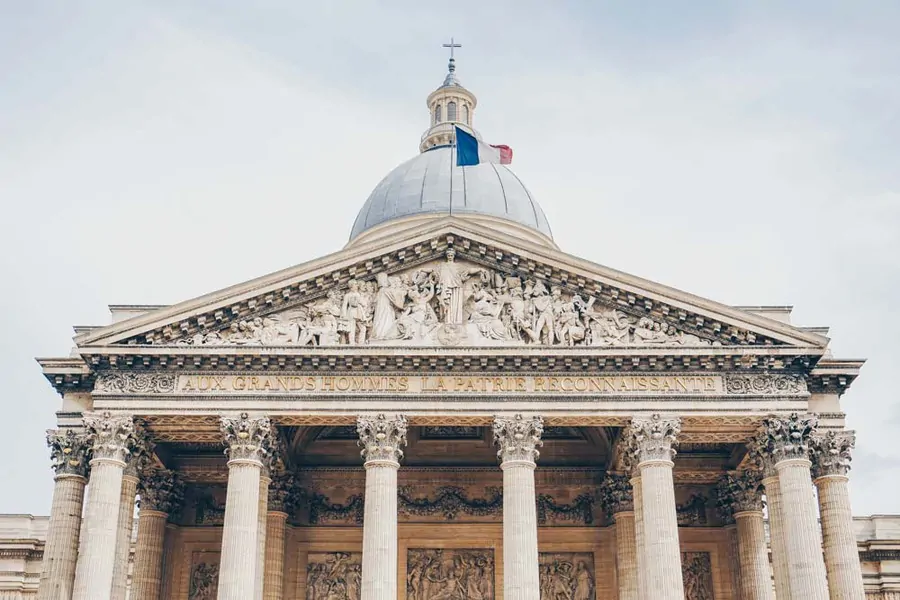 When architect Soufflot saw the stunning cathedrals of St Paul's and St Peter's in London and Rome, he thought 'I can do better!' (humble most certainly was not his middle name)
And so he set about building the Pantheon in Paris.
I'm not one to play favourites, but I will say that the Pantheon is an incredibly beautiful building.
Beautiful as it is, part of The Pantheon's fame stems from its crypt, or rather the people buried within it. Victor Hugo, Marie Curie and Voltaire all rest within its walls.
Top Tip for Visiting: Pre-book your ticket and self-guided tour here.
Wander Around Le Marais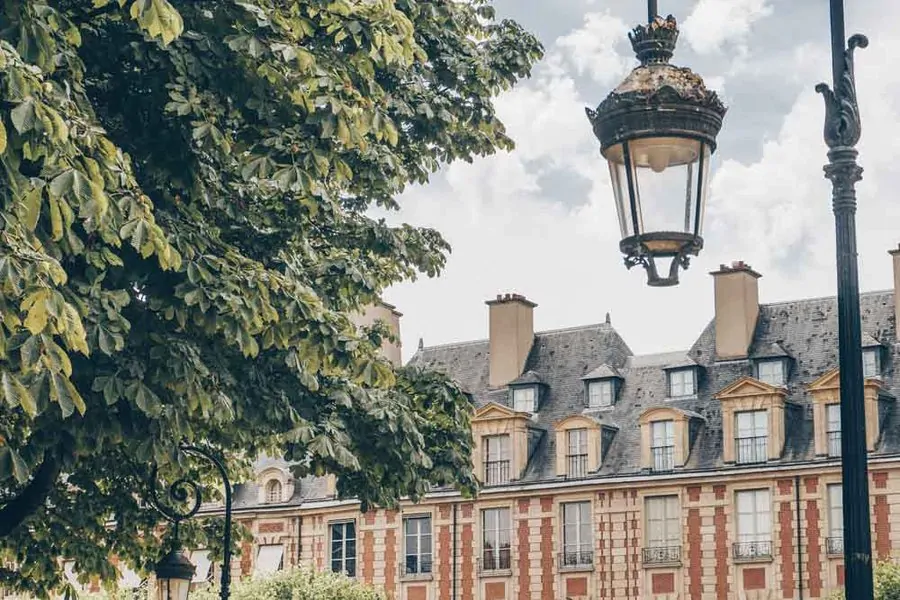 There are many chic neighbourhoods in the capital but one of my favourite stops on your Paris in 2 days map is Le Marais.
Centuries ago, this was a playground for the aristocratic few in Paris. Today, it is very different – and all the better for it.
Perhaps most famously, Le Marais is known as the LGBT+ centre of Paris, with a plethora of gay bars dotted along its picturesque streets.
It's also home to a large Jewish population, meaning kosher eateries are almost as plentiful. Clearly, there's much to enjoy here – so leave an hour or two just to go for a wander.
Don't forget to swing by the Place des Vosges – the oldest planned square in Paris. The gorgeous small park surrounded by aristocratic residences dating back to the 17th and 18th centuries.
Dinner at Le Petit Fer a Cheval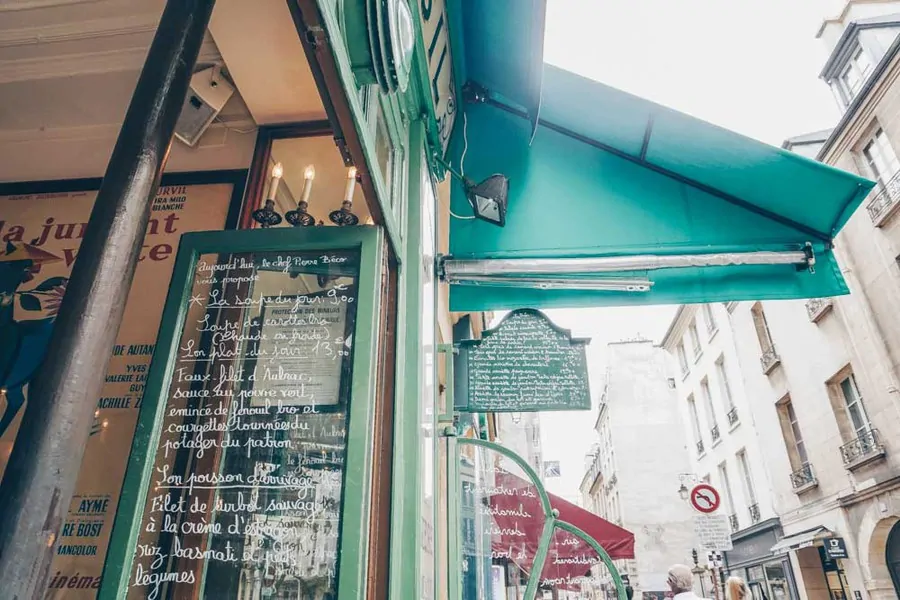 If you can't find a good meal in Paris, you're doing something very wrong in life. You've worked hard peeps, and we all know that hard work deserves just reward, which is why we're going to head to Le Petit Fer a Cheval.
Conveniently located in Le Marais, this authentic Parisian restaurant offers vintage decor yet a modern take on French classics like confit de canard and steak tartare (if you're into it, theirs is truly something).
After dinner, feel free to order a drink (champagne, of course, you're celebrating the end of a big day in Paris) from the horseshoe shaped bar that this place is named after.
Beautiful setting, delicious food = the best.
Day Two: Musee D'Orsay, Eiffel Tower, Champs Elysees and Montmartre
Today we'll tick off more of the city's main historic and cultural attractions, before enjoying a taste of the famous Parisian nightlife. Buckle up, it's time to discover a little more of Paris.
Musee D'Orsay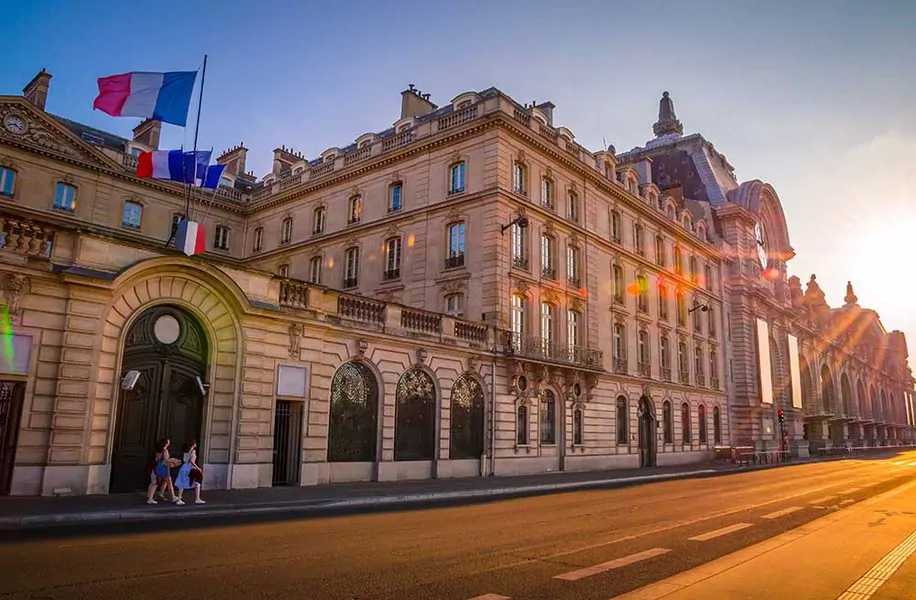 Paris has enough museums that you could spend a lifetime exploring them, however the Musee d'Orsay is a must amongst places to visit in Paris in 2 days.
The collection contains all kinds of Western Art, spanning from 1848 to 1914. However, it is the impressionist section that is most famous…for good reason.
The first time I went to the Musee D'Orsay at the tender age of 17, quite frankly I lost my shit. Conjure up the names of all of the great Impressionist painters and I'll bet they're all there.
The art is so dazzling you could be forgiven for overlooking the beauty of the museum itself.
Aside from its much-loved collection, the Musee d'Orsay just so happens to also be something of an architectural wonder.
It's housed in an old train station that's been renovated to look like an elaborate palace. Trust the Parisians to make absolutely anything look incredibly beautiful.
Top Tip for Visiting: I recommend buying a tour and skipping the line to make the most of your trip. You can book that here.
Les Invalides
Standing proudly on the left bank of the Seine with its gold-plated dome, Les Invalides is another wonderful stop on your Paris itinerary for 2 days.
The building was first built by King Louis XIV as a hospital for injured war veterans. Over time, it was converted into various cultural institutions including the Army Museum.
Perhaps most famously, it is home to the tomb of Napoleon Bonaparte. Although Napoleon was in exile at the time of his death, the city of Paris well and truly made up for it with this elaborate tomb in the centre of the city.
Top Tip for Visiting: You can buy a ticket for priority entry into Napoleon's Tomb and the Army Museum here.
Eiffel Tower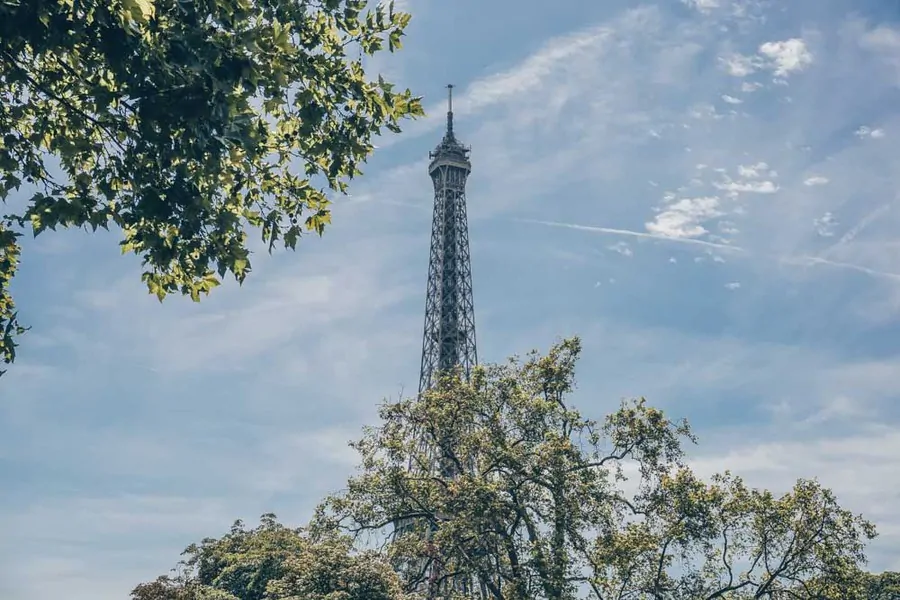 The Eiffel Tower is, without a doubt, Paris's most iconic landmark, so there's no way I'd have you spend two days in Paris without swinging by. I'd never do that to you.
Built in 1889 to commemorate the French Revolution's centenary, the tower soon became one of the most iconic structures on earth.
So much so that there seems to be a never-ending line of people waiting to make it to the top to take in the gorgeous views.
Top Tip for Visiting: If you'd prefer not to waste any time in Paris queuing (fair call – why would you want to do that when you could be having fun elsewhere), then you've got two choices – pick up a priority entry ticket, or just snap away from the floor.
Trocadero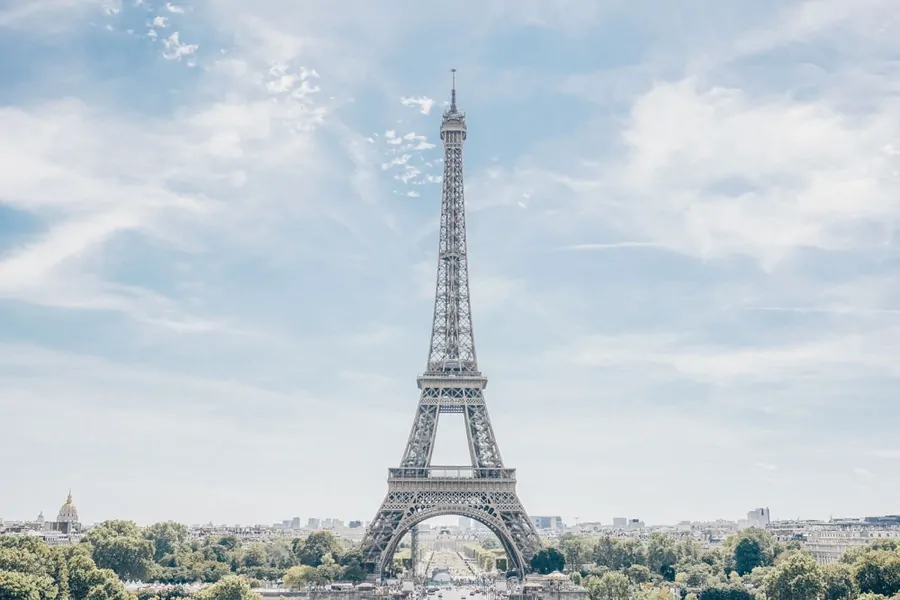 The beautiful Trocadero gardens are so synonymous with the Eiffel Tower that it's hard to imagine one without the other.
In truth, the gardens were added a fair bit later, for the 1937 World Fair in Paris.
They were designed to perfectly frame the Eiffel Tower, and that they do. You could spend hours here trying to snap the perfect shot of the tower with the extra beauty of the gardens.
The last time I visited it was hotter than hell and also rammed with everyone trying to capture that perfect "ooh look I'm holding the Eiffel Tower in the palm of my hand shot" (rolls eyes). You can roll up your sleeves and join the throng or just get there early for a more peaceful experience.
Arc de Triomphe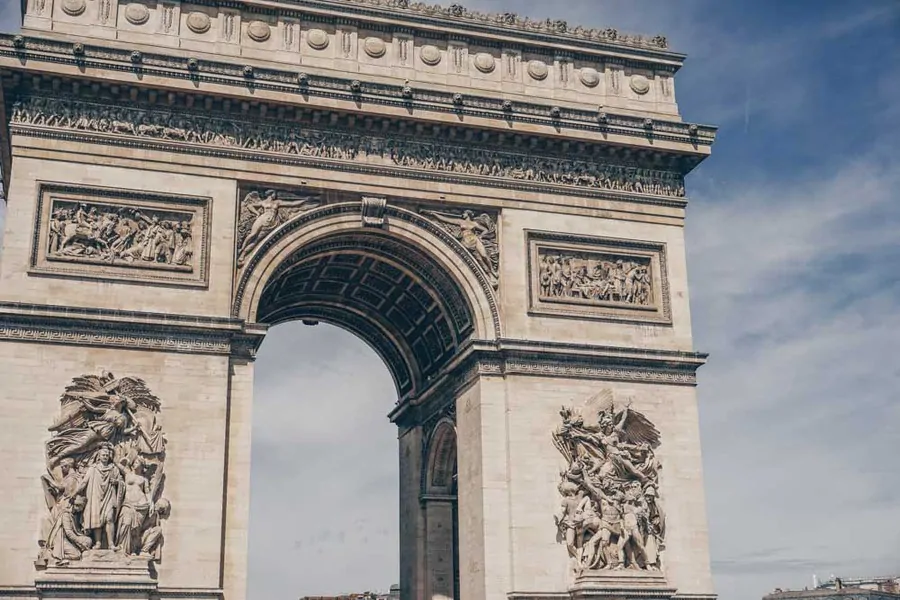 Built by Napoleon as a signal of French power, the Arc de Triomphe was once the largest building of its kind anywhere in the world (crazy how the world moves on – while it's stately, it's just not that big).
Impressively, the beautifully decorated arch remains that to this day, albeit surrounded by a ram-jammed roundabout. Going on a night tour around Paris sounds a lot of fun and would give you an enchanting experience!
Buy a ticket and puff your way to the top of the stairs and you can get a fab view of Paris from the top of it. That said, but also be sure to walk beneath it, where you'll find the touching Tomb of the Unknown Soldier.
As the name suggests, it's the resting place of an unidentified member of the armed forces – with their grave commemorated by an eternally burning flame.
Top Tip for Visiting: Grab your skip the queue tickets before you go
Champs Elysees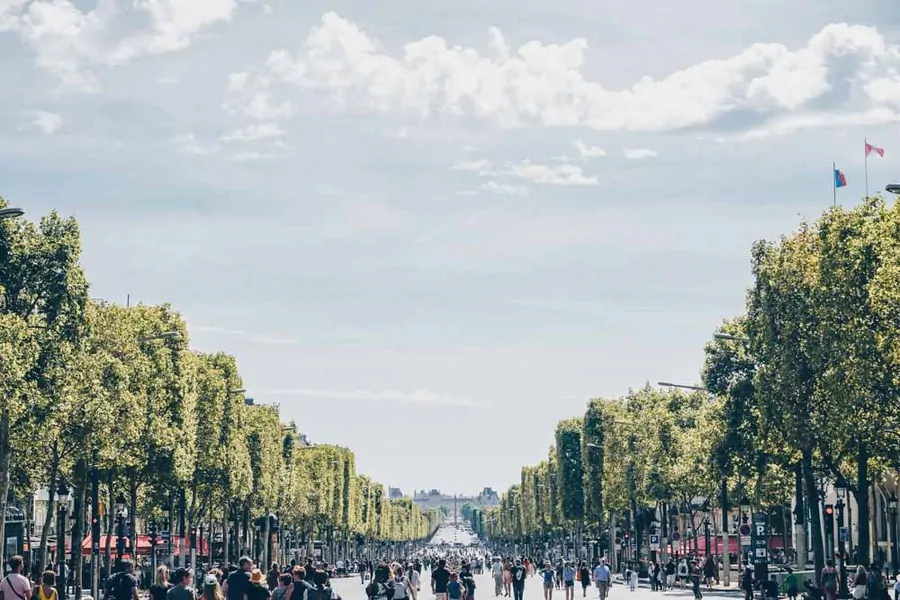 It's time to flash some cash. Or, maybe just window shop to your heart's content.
Arguably the Champs Elysees is the most famous shopping street in Europe, and possibly the world. It's lined with chic boutiques selling some the most fashionable clothing out there.
I'll be honest – these days there are a lot of crap shops on the Champs Elysees, but the contrast between the high end boutiques and tackier offerings is kind of kitsch in itself.
Top Tip for Visiting: Visit on a Sunday the Champs Elysees is closed to motorised traffic, meaning you can take a stroll down the middle of the road and capture that perfect shot of the Arc de Triomphe without the fear of being run down like roadkill.
Sacre Coeur for Sunset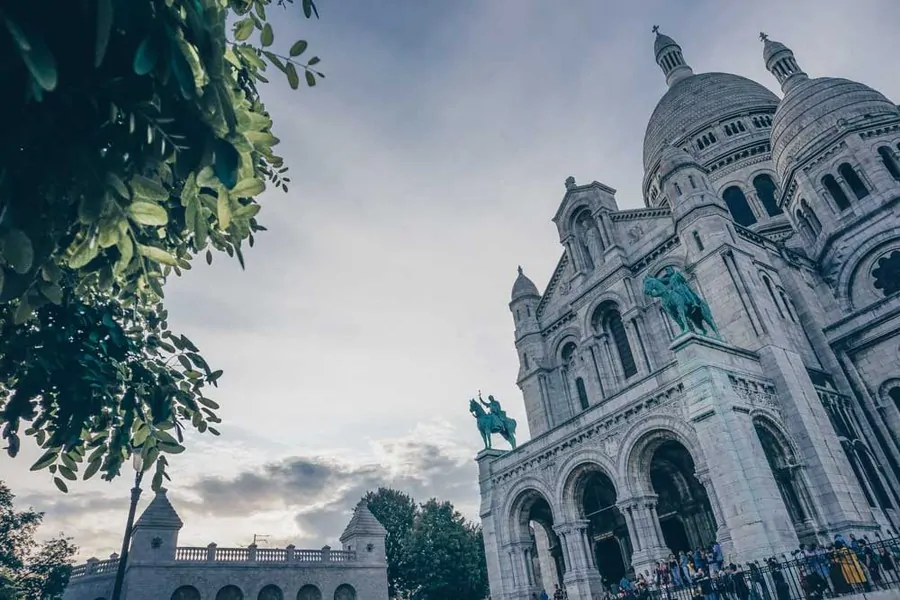 The stark white facade of the Sacre Coeur is instantly recognisable as a Parisian icon. So much so, that it's surprising to know that it was only consecrated a century ago, in 1919 – pretty modern by Parisian standards.
Modern-ish or no, it's certainly one of the most beautiful structures in the city – and even more so at sunset.
The light of the dipping sun casts a spectacular glow over the white church, while both locals and tourists gather on the church's steps to watch Paris bid adieu to the light of another day.
Dinner and Drinks in Montmartre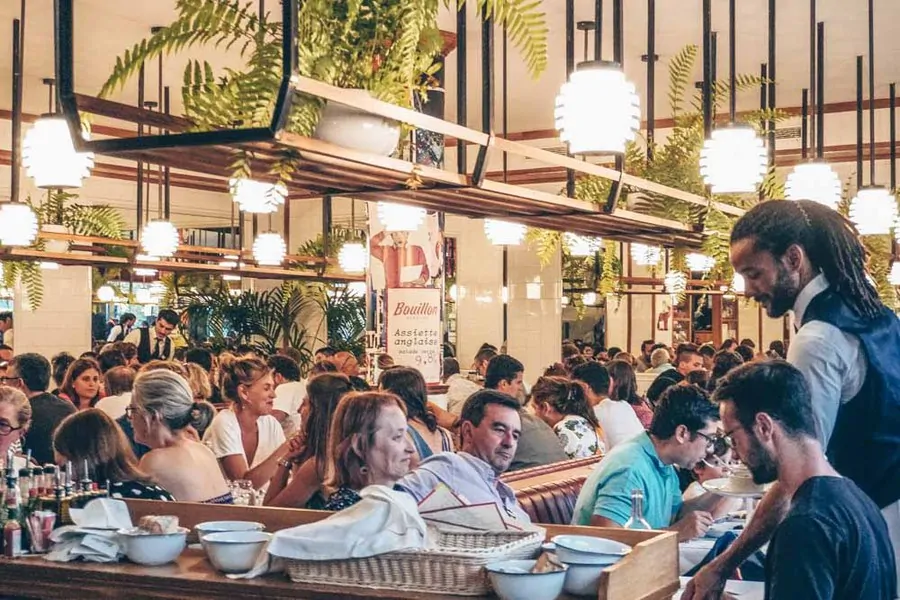 There's no two ways about it: Montmartre is one of Paris' most charming arrondissements. It's home to several notable landmarks, like the Sacre Coeur, and yet it still feels the teeniest more peaceful than central Paris, well, during the day anyway. Taking a walk around Montmartre in the day is an absolute must.
At night, it's a rather different story… The right combination of slightly seedy, eccentric and buzzing, you simply have to spend a night drinking and dining in Montmartre.
I'm a huge fan of the relatively new Bouillon Pigalle, a bustling yet authentic "bouillion" that serves up amazing French food and lashings of great wine at ridiculously good prices.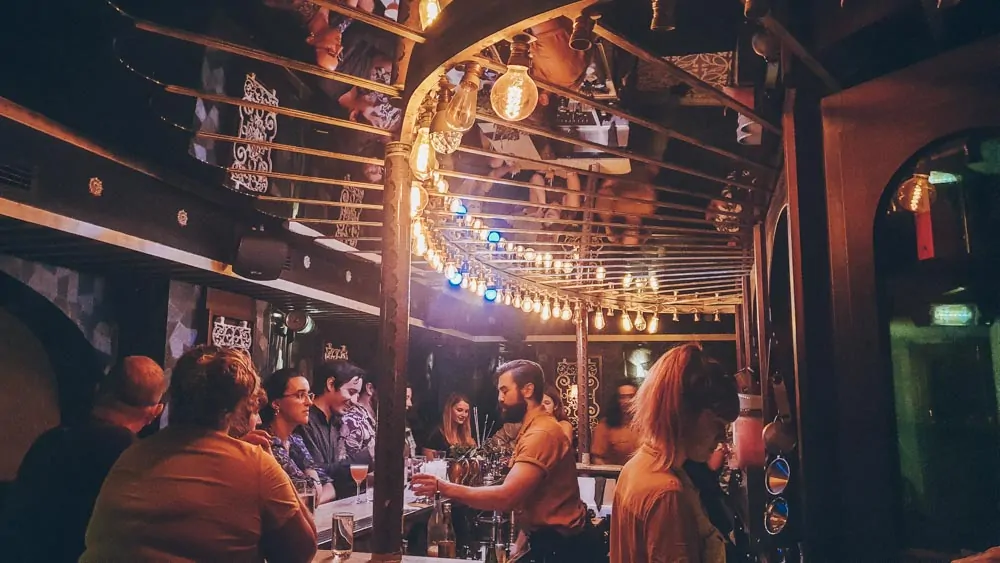 Then, it is only right to follow it up with drinks at the infamous Lulu White Drinking Club, once a den of debauchery of all kinds – and today a brilliant cocktail bar and one of Paris' lesser known gems.
Moulin Rouge
Moulin Rouge is the most famous cabaret in the world. Sounds like a good enough excuse to settle down for an evening of razzle dazzle amidst the bright lights of the club.
It first opened in 1889, raising eyebrows and getting people all hot under the collar with their new can-can dance, which was rather alluring and just the tiniest bit risque at the time. It soon spread around the world, with visitors all over the globe going wild for the all-kicking, all-dancing style.
Unfortunately, the original club burned down in 1915 but it was swiftly rebuilt – iconic windmill and all.
It's a bit pricey, but truly unforgettable to catch a show here.
Top Tip for Visiting: You can book a package with a show and drinks (champagne, of course darling) here.
2 Days in Paris Itinerary – Map
Handy Tips for Seeing Paris in 2 Days
So, there we are – what to see in Paris in 2 days. That's only half the fun though, check out these cool tips to help you make the most of your time in the city.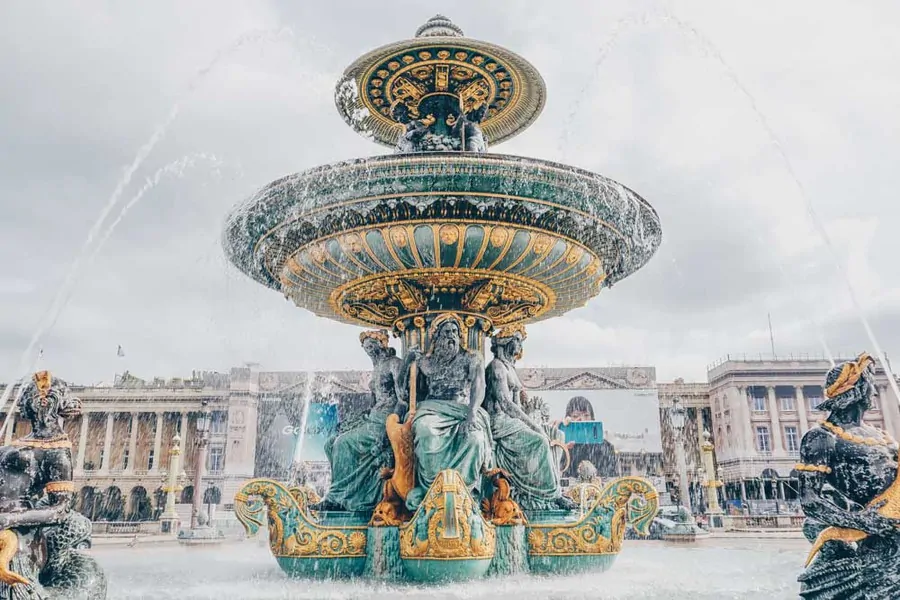 What to Pack for Your Paris Itinerary
Choosing what to pack for your two days in Paris can be a headache – it's not easy to plan what to wear in one of the world's most stylish cities.
What to bring will also largely depend on what time of year it is. However, here are a few items you just can't forget –
Comfortable walking shoes, as those cobbled streets can be fatal to stilettos
An umbrella and/or rain jacket (especially in winter), as you don't want a spot of rain dampening your plans
A camera, with plenty of room on your SD card since Paris is incredibly photogenic.
Outfits that make you feel fabulous, because this is Paris and you're joining the well-heeled crowd.
Your passport and other important documents, lest your travel plans are ruined before they even begin.
For a full guide on what to bring on your amazing trip to Paris, have a read of my Europe packing guide.
Where to Stay for Your 2 Days in Paris
Opera – Hotel Opera Marigny
With its many theatres (and the famous opera, of course), the arrondissement of Opera bring to mind the glam Paris of old. It's a great place to stay if you want convenience, with more than a little glamour.
My pick for hotels in Opera is Hotel Opera Marigny. This four star hotel is modern and inviting, with a great location close to the action. Nearby there's plenty of shopping, while attractions including the Louvre and the Sacre Coeur are within walking distance.
Check rates and availability at Hotel Opera Marigny
Bourse – Hotel Bachaumont
If you are looking to shop while you're in Paris (and really – it's hard not to), then La Bourse is an ideal base. It's home to many brilliant brand and fashion houses, while the other attractions of Paris are close by.
Of the hotels in this area, I can't go past Hotel Bachaumont. It's located just one kilometre from the Louvre, meaning you can simply roll out of bed and beat the crowds. The hotel itself is also very stylish, and a great breakfast buffet is on offer.
Check rates and availability for Hotel Bachaumont
Useful Resources to Help You Explore Paris in Two Days
Getting Around
I've organised this itinerary so that most spots are within easy walking distance of each other, but there are a few points where you might want to use public transport.
No fear, Paris has an excellent public transport network. The subway system is known as the Metro. It's clean (mostly), efficient and will take you all around the city in a jiffy.
You can buy individual tickets, however it may be more cost-effective to buy a carnet of 10, especially if you're travelling with someone.
Buses ply their way across every conceivable inch of the city, helping zip you from one part to another (unless you get stuck in a notorious Parisian traffic jam) at reasonable prices.
I'd recommend downloading Citymapper before you go as it will always help you find the fastest route between destinations.
Failing that, Uber is widespread and super-cheap too.
Read More Travel Tips for Your Paris Itinerary