Planning a road trip on South Africa's picturesque Garden Route? Drive along the ocean and through thick jungle, past charming little towns and biomes totally unique to the country. My two-week itinerary is a step-by-step guide to this exceptional trip.
The Garden Route, South Africa, is one of the most beautiful trips I've ever embarked on. From the vibrant 'mother city' to the wilderness of Addo, I just couldn't get enough of it. And I know you'll feel the same.
This itinerary includes stops and accommodation options at all the best towns along the route. Honestly, two weeks may not be enough time to experience everything.
But you'll have an incredible time of it – and if you're like me, you'll already be planning your next trip here by the time you're done.
Read on for a full 2-week Garden Route itinerary through some of the most gorgeous parts of South Africa.
Cape Town (Garden Route Days 1 – 3)
Cape Town is one of the most vibrant and exciting cities in the world. It's also naturally beautiful, nestled between mountains and ocean. I can't think of a better place to start your Garden Route, South Africa, itinerary.
Visit Table Mountain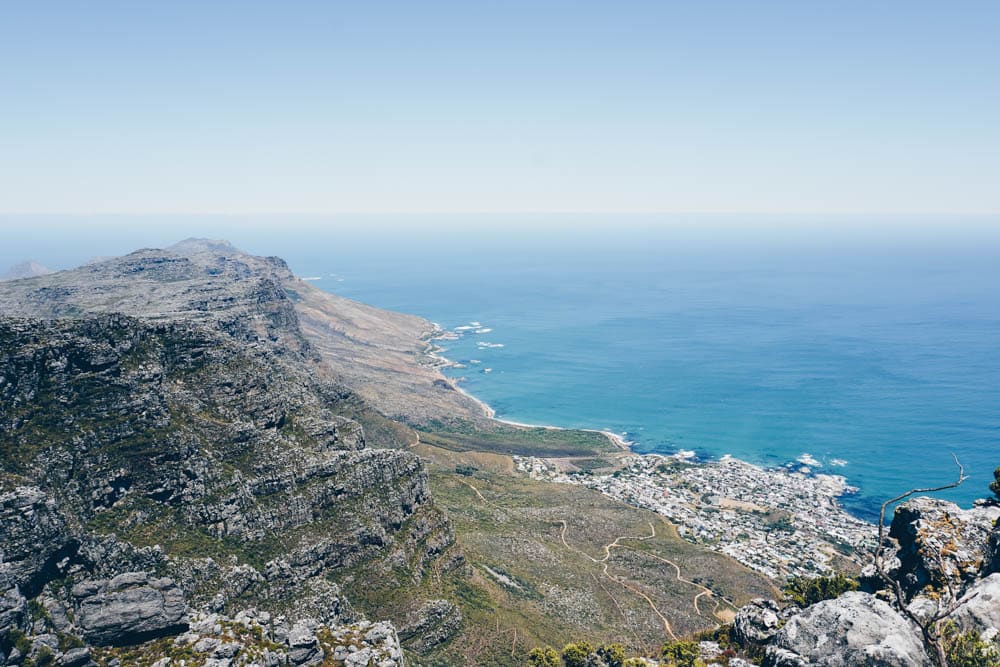 No visit to Cape Town is complete without a trip up Table Mountain – one of the most impressive and iconic natural landmarks in the world.
There are various paths you can hike up. I went up Platteklip Gorge, which took about 2 hours one way. It was strenuous, but so worth the experience. Just be sure to bring water!
You can hike this route, and come down another way or via the cable car. If you're going to get the cable car one way, I'd recommend doing it on the way down as the descent is a killer on your knees.
Alternatively, you can catch a cable car from the base of the mountain to the top of it, and enjoy the beautiful views of the coastal city. There's even a restaurant on top, where you can enjoy some delicious – though pricey food with the views.
Stroll around, take lots of photos, and enjoy the high-altitude sea breeze.  
Relax on the Beaches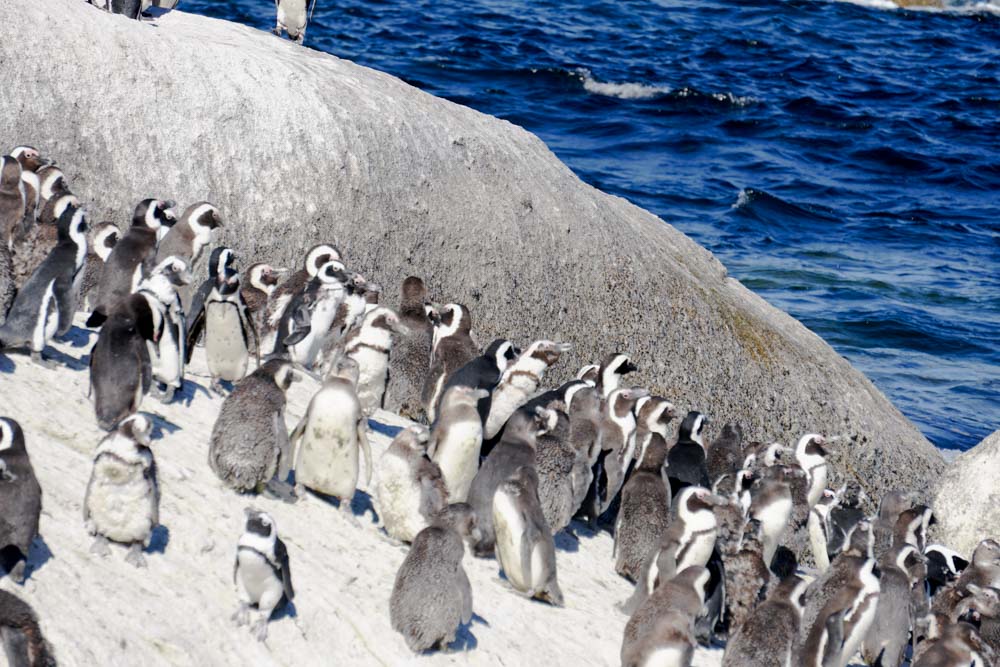 Cape Town's beaches are undoubtedly some of the best in the world. Fine white sand, clear blue (but cold) water, and sunny days make it idyllic.
Spend some time finding your perfect beach. Lounge somewhere beautiful and catch a tan, or go for a surf on the waves at Muizenberg. Don a wetsuit to go snorkelling and spot seals and harmless little sharks at Simon's Town.
Alternatively, you can hunt out the perfect photos on some of the world's most insta-worthy beaches, like Llandudno and Camps Bay. You can even share Boulders Beach with the penguins.
Hike Up Lion's Head
Lion's Head is everyone's favourite hike in Cape Town. It's not nearly as strenuous as hiking up Table Mountain, but the views are equally phenomenal.
You'll be able to see the iconic Table Mountain in all its glory, as well as the city sprawling out on one side, and the Twelve Apostles mountain range stretching back on the other side. Not to mention, of course, the ocean.
Explore Long Street
Day or night, Long Street is an adventure. During the day, you'll find incredible places to eat, with so much variety you won't know what to choose. As well as African boutiques and stores where you can find the perfect souvenir to take home.
At night, the street comes alive in a very different way. It's one of the big party centres of Cape Town, for all different types. You can find cheap shots for under €1 at Bob's Bar, or bottles of the best local and international craft beers at Beerhouse.
Watch live performances, or find your tribe at one of the clubs and bars. Just be aware of pickpockets, and keep your valuables hidden and safe.
Visit the V&A Waterfront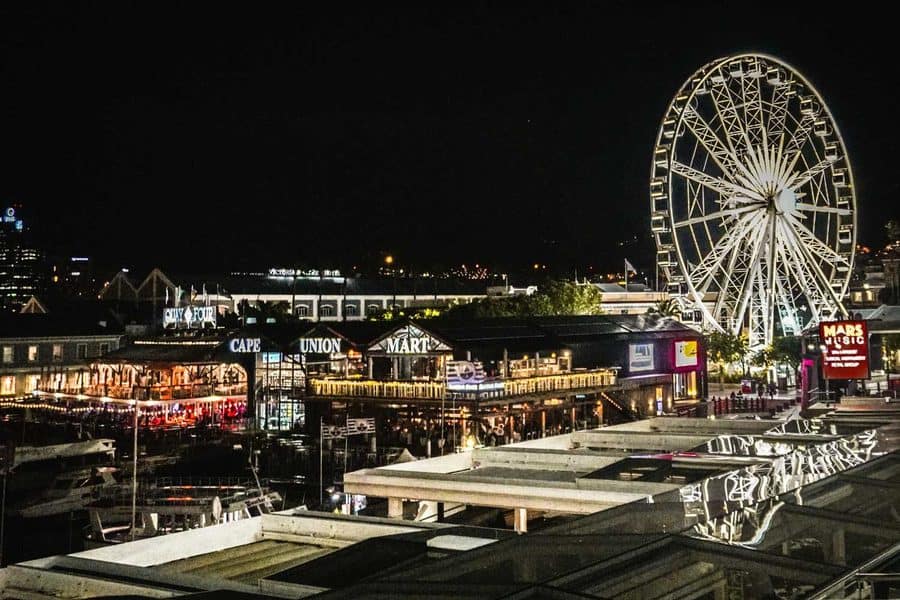 Whether you're looking for local high-end shopping, foodie adventures, cultural experiences, or even boat trips, the V&A Waterfront has it all.
The shopping mall is world-class. But the real shopping experience is to be had at Watershed. Everything within this warehouse-style shopping centre is locally designed and made. The food here is also exquisite.
From the waterfront you can catch a cruise around the beautiful harbour or beyond, to explore Cape Town from the sea. You can even go on a kayaking tour, if you're keen for something a little more hands-on.
Check out more of my favourite Cape Town activities here
Suggested Stay for Cape Town: Belmond Mount Nelson
Mount Nelson is historic, and impeccably well located. It's comfortable and luxurious, and firmly placed in the heart of the city centre, at the foot of Table Mountain.
Check rates and availability at Belmond Mount Nelson
Detour to Stellenbosch (Garden Route Day 4)
Stellenbosch isn't technically on the Garden Route, but it's such a great stop, you'll want to make the detour. It's one of the world's top wine regions and a cultural hub. The Cape Dutch architecture is strikingly unique, and every street and path is lined with tall trees – not to mention the fabulous setting.
Go Wine Tasting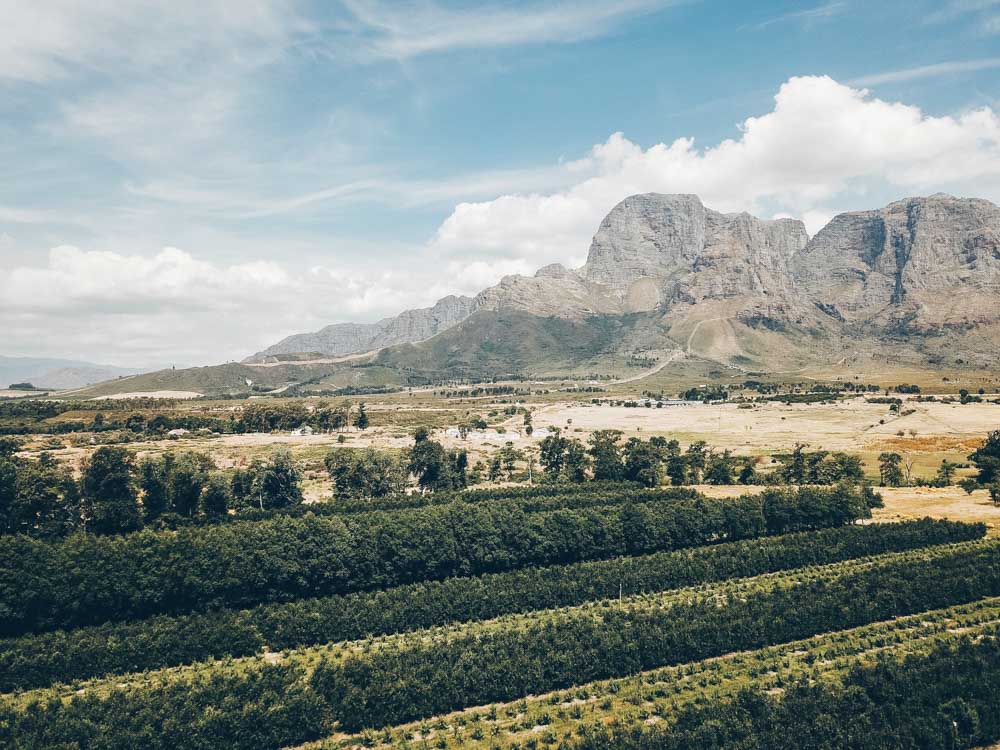 Visiting a wine farm is one of the area's must-dos. They're all very beautiful, with massive vineyards and lush gardens. Most importantly though, they all do wine tastings. Visit Waterford Estate for a decadent wine and chocolate pairing. Or go for the full local experience and pair wines with biltong at Stellenbosch Hills.
Get a little tipsy, and enjoy the distinctly South African vibe that's always to be found in beautiful Stellenbosch.
Stroll Through Jonkershoek Nature Reserve
If you're interested in South Africa's impressively diverse and unique nature, be sure to spend a few hours at this nature reserve. The mountainous reserve has so much to offer the intrepid traveller. Take a hike, stroll along the river, and just enjoy the beauty surrounding you.
If you're into adventure sports, it's also an amazing place to enjoy some radical mountain biking.
Suggested Stay for Stellenbosch: River Manor
Situated right on the banks of the Eerste Rivier, this boutique hotel offers a great feel for Stellenbosch. It's absolutely beautiful, with local antiques and a pool you'll want to spend all day in.
Check rates and availability at River Manor
Mossel Bay (Garden Route Days 5 – 6)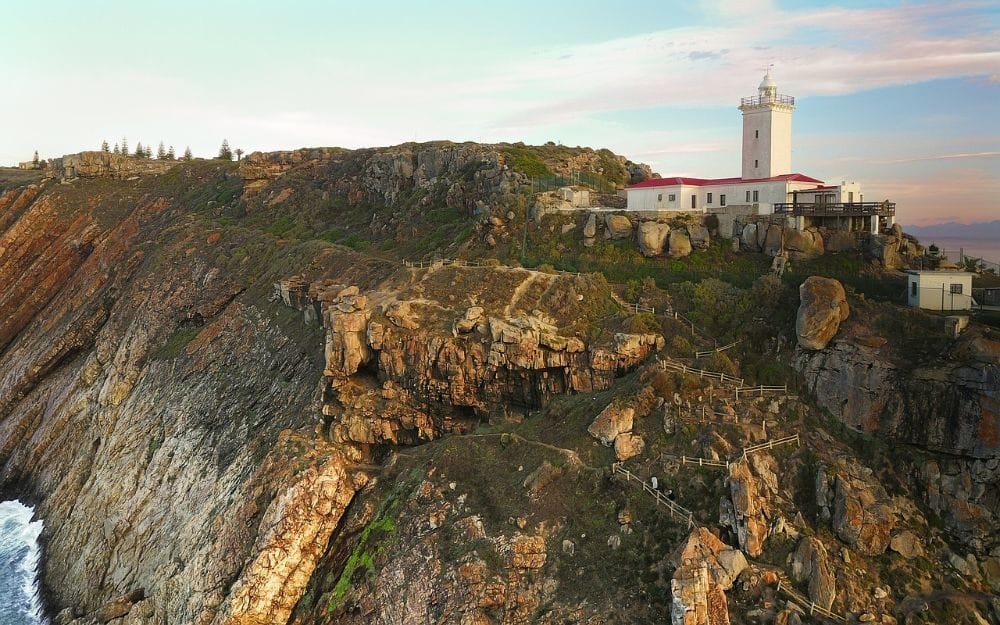 A charismatic little harbour town with lovely views and a famous tree, Mossel Bay has more to offer than you'd think at first glance and is a must for any Garden Route South Africa self-drive itinerary.
I recommend exploring it on foot – as a car will take you through it in a minute, and you'll miss all the interesting little details.
Zipline Across Mossel Bay
This is the longest over-ocean zipline in the world! Get your blood pumping as you fly over cliffs and sea for about 1100 metres (3608 feet).
You can speed up to about 80km, so it's quite the rush. Not for the faint of heart, this is a great bit of fun.
Explore Mossel Bay via Diaz Express
Definitely the best way to experience Mossel Bay's sprawling landscape if you don't have the time or energy to hike. Diaz Express – a charming little blue train – will take you through the treasures of the Cape Floral Kingdom, over rivers and past beaches.
You'll have gorgeous views over the Indian Ocean. So particularly if it's whale watching season, you shouldn't leave this one out.
Tour Diaz Museum
Now, I must say that many of South Africa's small-town museums are not where it's at. But the Diaz Museum is brilliant, with so much to see and learn.
One of my favourite features of this three-part museum is the Post Office Tree. An ancient milkwood tree with sprawling (very photogenic) roots, it has curiously been a mail collection point since the 1500s.
Suggested Stay for Mossel Bay: Betty's Boutique Hotel
Lovely little hilltop guest house. Betty's has beautiful gardens, sea and mountain views, and very cosy rooms.
Check rates and availability at Betty's Boutique Hotel
Wilderness (Garden Route Days 7 – 8)
Wilderness is another incredibly beautiful stop. Perhaps the most forested destination of them all, nature lovers will adore this seaside town.
Chill at Wilderness Beach
An expansive white-sand beach, Wilderness Beach is idyllic. You'll have plenty of space to yourself, as it stretches for kilometres. Pets are also allowed here, so you'll see pups running around and playing in the water, along with the humans who will brave the cold.
Kayak at Ebb & Flow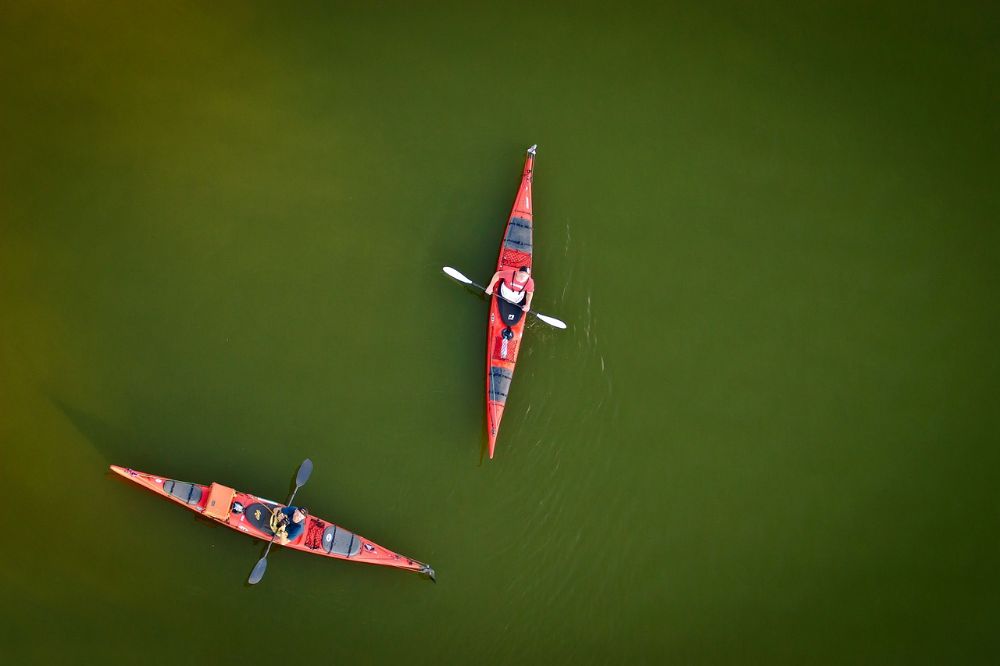 The Ebb & Flow Rest Camp is a gorgeous national park in Wilderness and beyond. You can rent a kayak for an hour or two, and take to the waters to explore in the best way.
The kayaks are very sturdy, so unless you're rocking it you won't tip over. And there are no crocs in the water, so you can paddle about stress-free.
Suggested Stay for Wilderness: Moontide
This guest lodge has such a distinctly South African vibe, it's one of my favourite places in the country. Shower outdoors, enjoy views over the lagoon, and set out kayaking right from your doorstep.
Check rates and availability at Moontide
Knysna (Garden Route Days 9 – 10)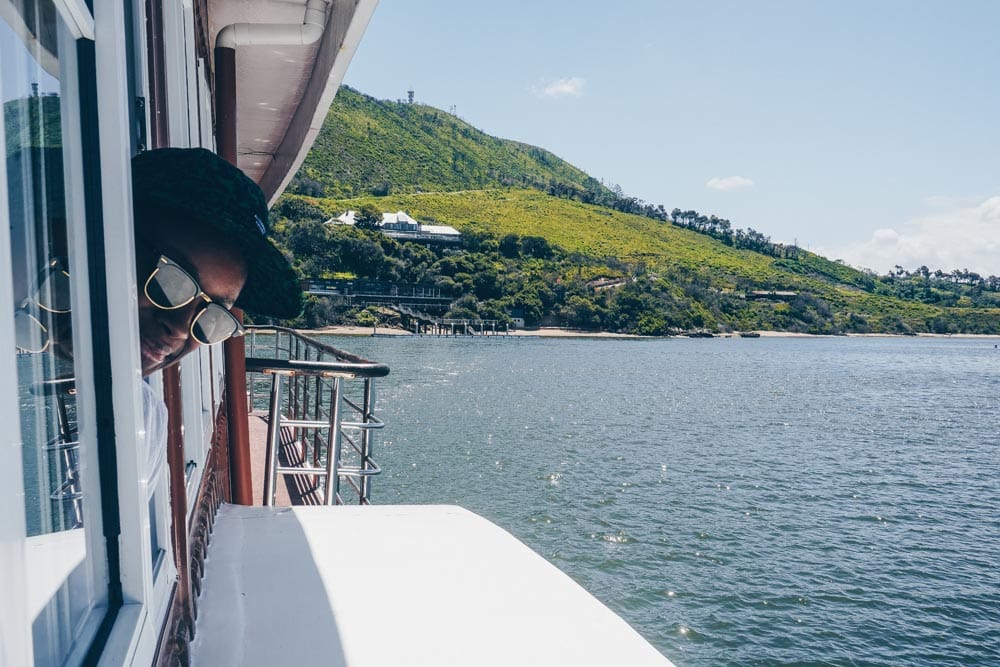 Knysna is a charming town along the South African Garden Route, with marshlands filled with birds, tropical forests, and long-stretching beaches.
Check Out the Knysna Heads
The Knysna Heads are a pair of sandstone cliffs separating the lagoon from the ocean. They're a famous Garden Route landmark, striking and beautiful. The whole area is really stunning, just a little way out of the town of Knysna.
Visit Local Markets
The people of Knysna love their markets! In fact, all along the Garden Route, you'll find lovely farmers markets.
Here you can find fresh produce, baked goods and local South African cuisine, and handcrafted products. They're a lovely way to spend your morning, meeting locals and experiencing the laid-back culture of the Garden Route.
The best of these is the Wild Oats Community Farmers' Market, just a little outside of Knysna.
See the Knysna Lagoon
Catch a boat tour around the Knysna Lagoon. It's a fantastic experience, exploring the beauty of the marshy lagoon, spotting birds, and relaxing in the cool ocean breeze.
My favourite cruise is this lagoon tour with oyster tastings.
Suggested Stay for Knysna: Under Milkwood Resort
Want to stay right on the lagoon beach? This resort has private chalets where you can enjoy the peace and beauty of Knysna with scenic views.
Check rates and availability at Under Milkwood
Plettenberg Bay (Garden Route Days 11 – 12)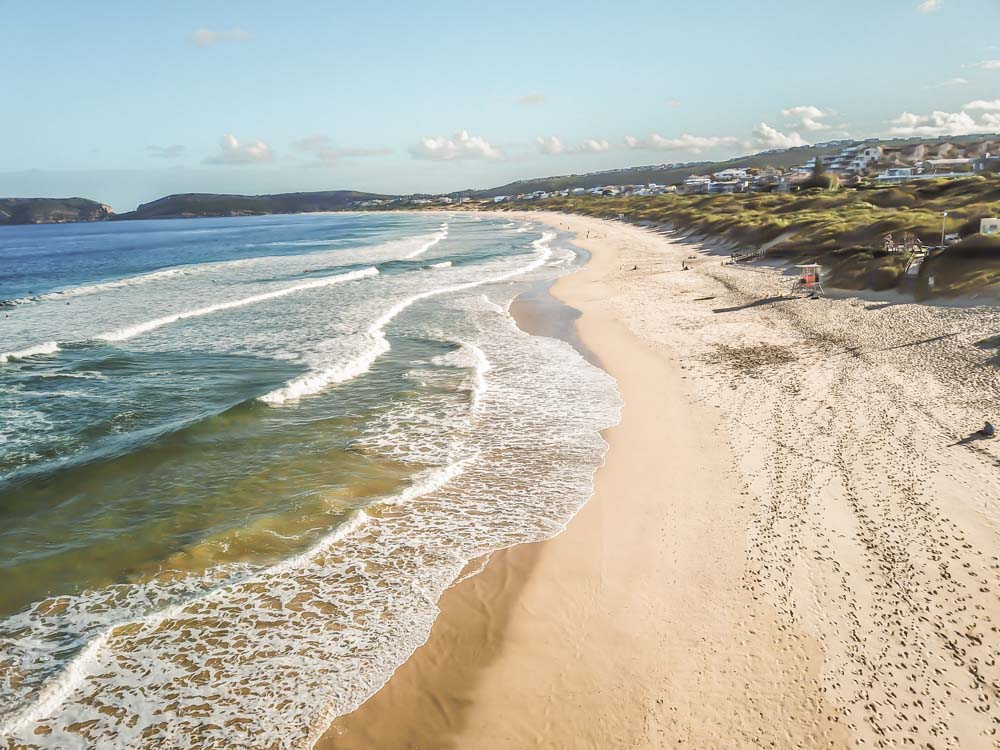 Plett, or Plettenberg Bay, is the next stop on your Garden Route SA itinerary. With more of the lush forest you found in Knysna, and a whole host of new activities and places to visit, a few days spent here is often not enough.
Experience Birds of Eden & Monkeyland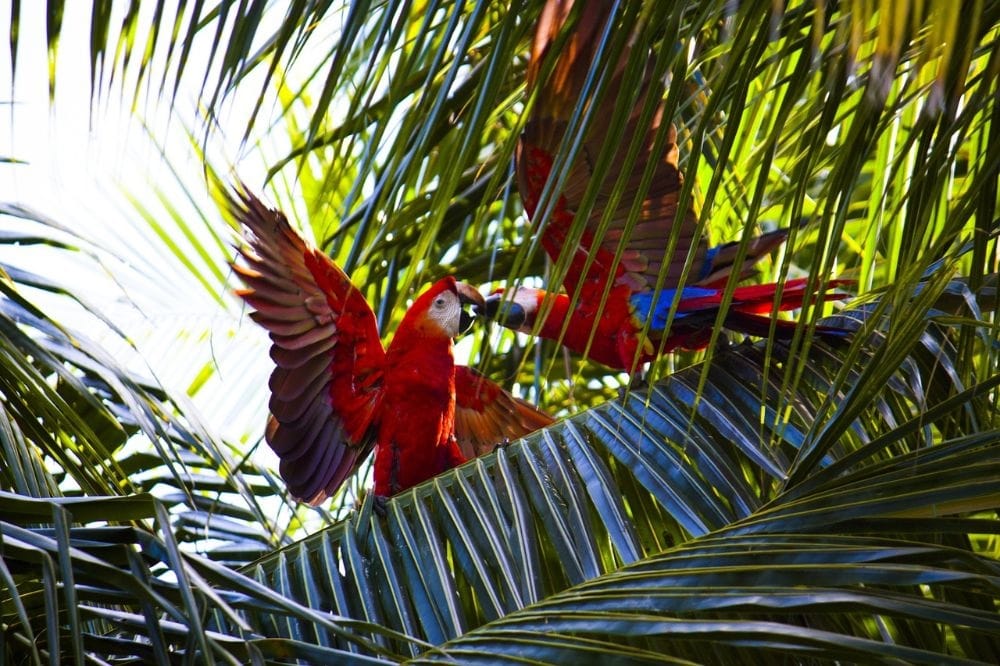 Birds of Eden and Monkeyland is a beautiful stop on your itinerary. You'll see so many unimaginably colourful birds of every feather. Stroll through the vast forested compound, and see how many species you can spot.
At Monkeyland, just next door, take a guided tour of the jungle landscape, learning about the different monkeys and watching them play and leap from tree to tree. You can't touch them, but that's a good thing. It means this wildlife park is doing things right, and keeping them safe in as natural an environment as possible.
Visit a Nearby Winery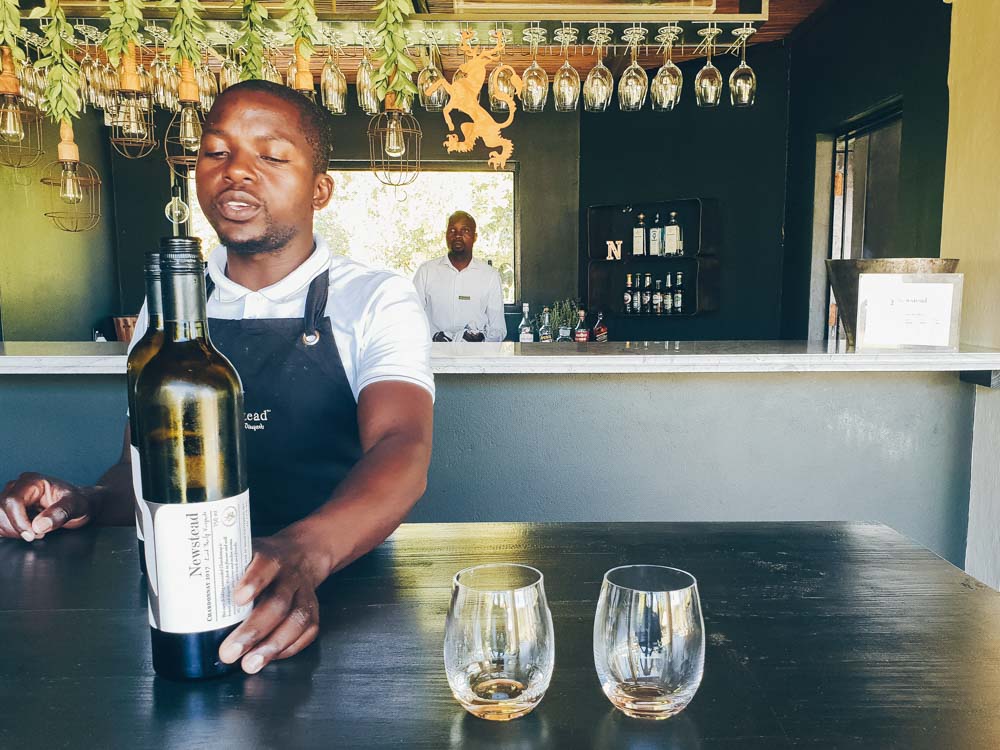 If you're like me, one day of wine tasting on a great road trip just won't cut it. There are some brilliant wineries in the area, so set out and see if you can pick up a difference between the Plett and the Cape Town wines. My favourite wineries here are Bramon and Newstead Wine Estate, for their great selections and lovely views.
Go Whale Watching
Plettenberg is one of the best places along the Garden Route to enjoy whale watching. The migratory whales can be seen here from mid-May to February, often just metres from the coast. They calve in Southern Africa's comparatively warm waters, so you can even spot the young whales swimming alongside their mothers.
And there's more marine life to be found here year-round. You can even swim with seals!
Suggested Stay: Ocean Watch
This hillside guest house is such an absolute winner. It's luxurious and cosy, with totally unbeatable views.
Check rates and availability at Ocean Watch
Addo Elephant National Park (Garden Route Days 13 – 14)
This unique national park is the final destination on your Garden Route itinerary. There are some really cool activities to do in and around Addo. But if you only have a day here, the best option is a classic safari.
Set Out on a Safari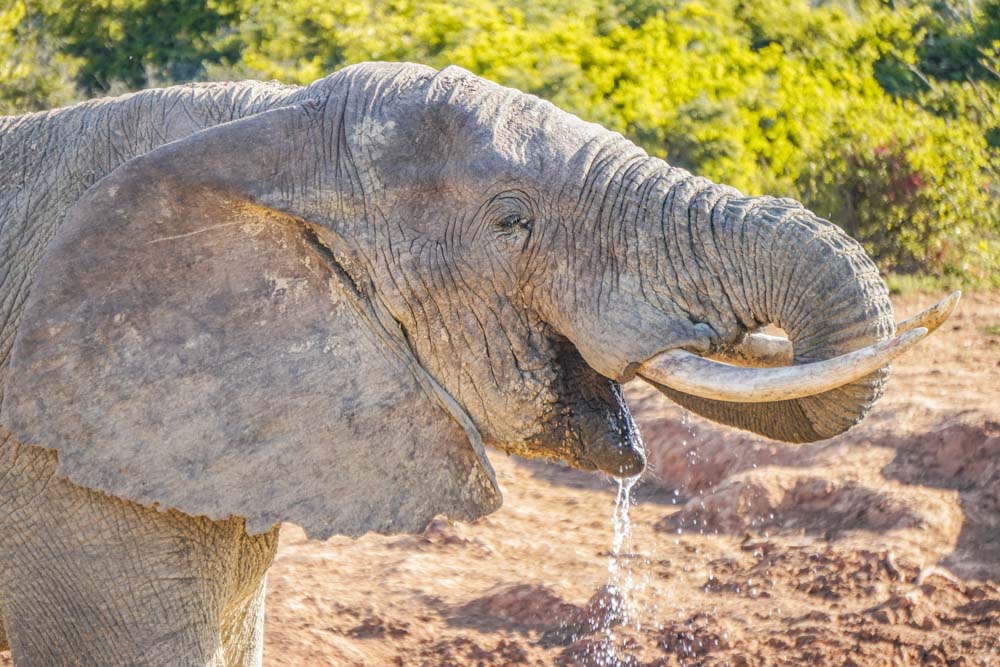 An Addo Elephant Safari is one of the most amazing things I've ever done. It's a spectacular experience, that everyone should do if they get half a chance.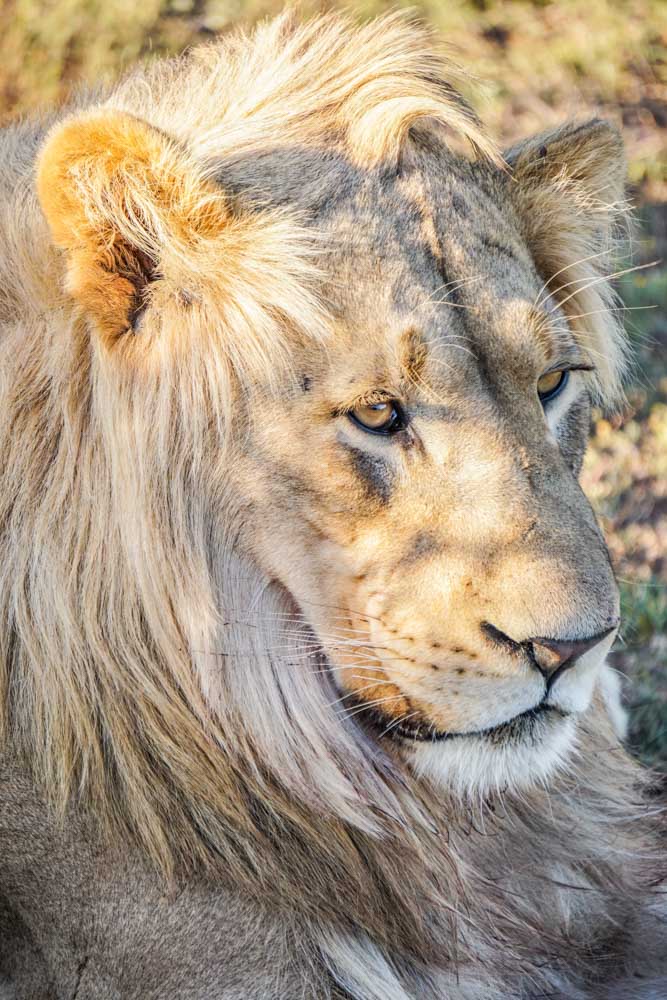 Not only will you have the opportunity to spot South Africa's famous Big 5. You could also see Great White Sharks and Southern Whales in the ocean. There are few places in the world where this is possible.
Spend the whole day on a game drive, spotting animals and exploring the truly vast park. This is a perfect end to your road trip.
Check out more tips on how to experience Addo Park to the fullest. And for a little bit of gushing.
Suggested Stay: Chrislin African Lodge
This gorgeous lodge isn't set within the grounds of the park itself, but it's only a short hop away and I loved my stay here. You can set out on game drives from here as well as arrange other cool activities like a lazy canoe trip down the Sundays River.
Check rates and availability at Chrislin African Lodge
Top Tips for the Garden Route South Africa
What to Pack
Pack plenty of sunscreen, a sturdy hat, and some proper walking shoes. The best way to explore these Garden Route destinations is often on foot, and you'll be spending plenty of time under the African sun. It's best to be prepared.
Read my Road Trip Essentials Guide
Car Hire
Inter-city public transport in South Africa isn't exactly up to snuff. Self-driving in South Africa isn't difficult and will help you make the most of your trip.
Rather rent a car, and be sure to get full car insurance or a travel insurance plan that covers you for driving the Garden Route in South Africa.
Alternatively, tours include transport, so if you don't want to drive, that'll be the way to go.
Check car hire rates with Holiday Autos
Join a Tour
If you don't have the time to do a full Garden Route road trip, or you don't want to do much planning, join a week-long Garden Route tour. You'll get all the good stuff. 
Garden Route Map