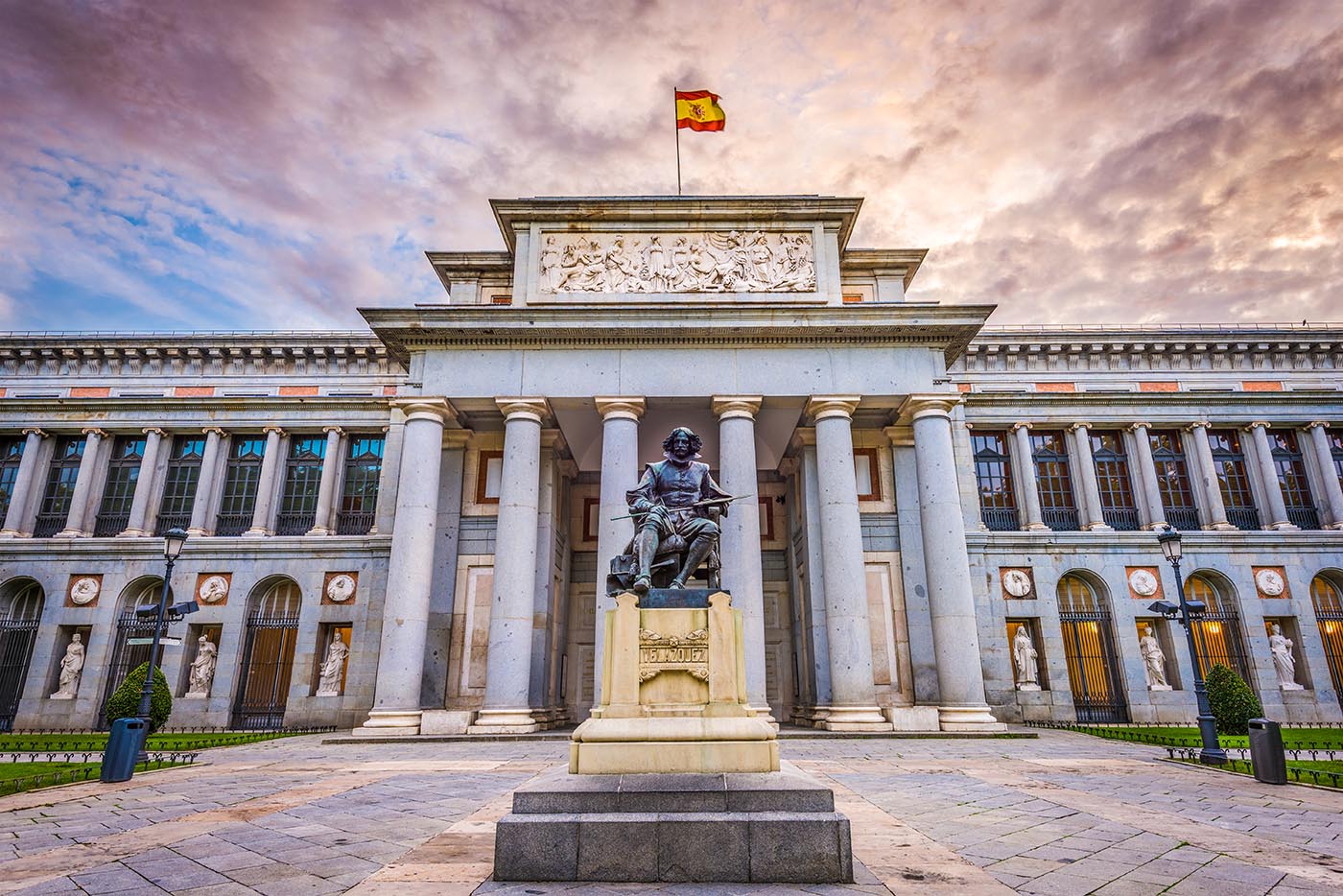 No trip to Spain would be complete without a few days exploring the lively Spanish capital, Madrid. Planning a visit to Madrid but short on time? Here's a step-by-step Madrid one day itinerary for the perfect trip.
Madrid might not have the beachside appeal of equally popular Barcelona, but what it lacks in sandy shores, it makes up for in a wealth of culture and history.
One day in Madrid might seem like a difficult task – but it's a city with a relatively compact centre and good transportation – the perfect combination for your Madrid itinerary.
Culture lovers shouldn't miss some of the country's (and indeed, the continent's) finest museums: The Prado and the Museo Thyssen Bornemisza. The most dedicated of you could spend the whole day exploring their expansive collections.
Add to that street food markets, amazing street art, a royal palace, a controversial cathedral and seemingly innumerable restaurants and tapas bars and you've got yourself the beginning of a fabulous 24 hours in Madrid, Spain.
Have a bit longer and want to explore more? Check out my guide to unmissable things to do and places to see in Madrid.
One Day in Madrid Itinerary: At a Glance
10am – Puerta del Sol
10.30am – Plaza Mayor
11am – Mercado de San Miguel
12pm – Palacio Real
1.30pm – Catedral de Nuestra Señora de la Almudena
2.30pm – Lunch at Fonda La Lechuga
4pm – Museo Thyssen Bornemisza
6pm – The Prado Museum
8pm – A stroll through Park Retiro
10pm – Dinner at Restaurante La Sanabresa
Madrid in a Day: A Step by Step Guide
10am – Puerta del Sol
The Puerta del Sol is one of Madrid's busiest squares: a pulsing heart of the city thrumming with people whatever the time of day or night and a must see for your 24 hours in Madrid.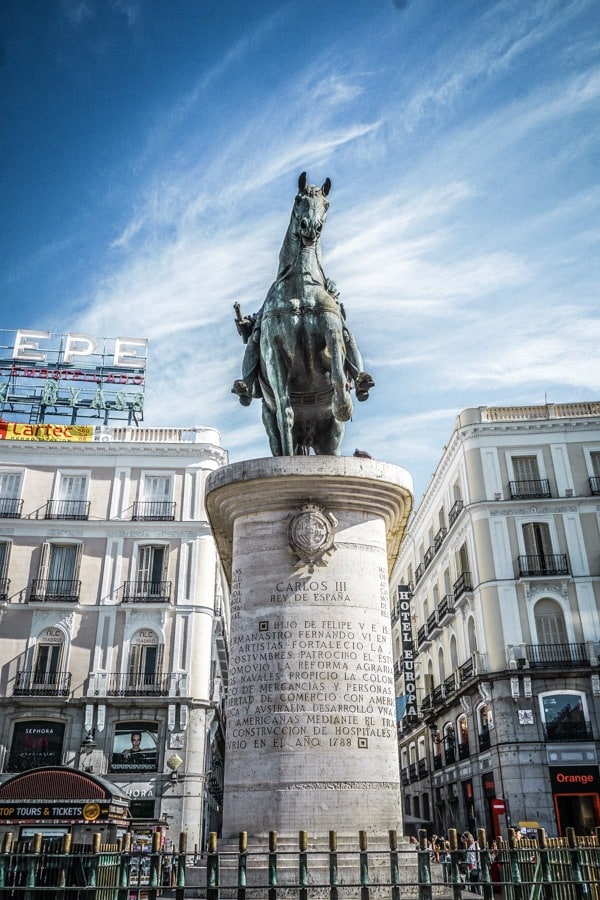 It's home to Madrid's best-known statue: El Oso y El Madroño – a bear eating the fruit from a tree. The statue is a reference to Madrid's original name "Ursaria" or land of the bears – so named because of the number of bears that used to live in the forests surrounding the city in days past.
Walk to the Plaza Mayor: Time 5 mins
Visiting Spain? Dont miss this awesome Spain itinerary either.
10.30am – Plaza Mayor
Spain has a thing about spectacular plazas (squares) and the impressive Plaza de Mayor is no exception.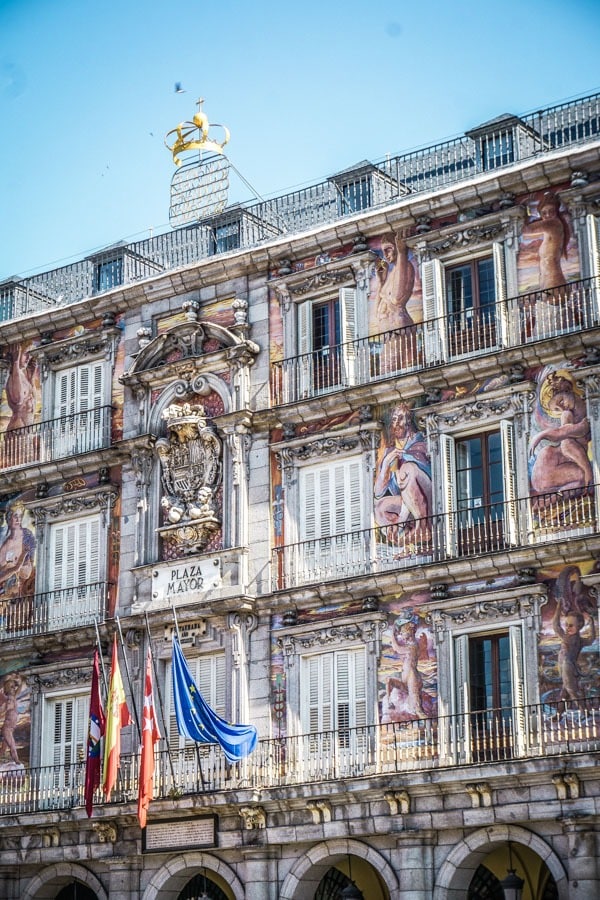 The Plaza Mayor, along with the Palacio Real, is the heart of royal Madrid – showy, wealthy and ostentatious.
Make your way into the square via one of its many picturesque arches, then take a moment to appreciate the stately architecture.
It's a nice, albeit touristy spot to grab a coffee and watch as the combination of visitors locals bustle across the square.
Walk to the Mercado de San Miguel: Time 2 mins
11am – Mercado de San Miguel
OK, I'm going to tell the straight up truth and say that I was so keen to get some tapas in my stomach on my one day tour in Madrid that I ended up going here for breakfast #whatatrooper.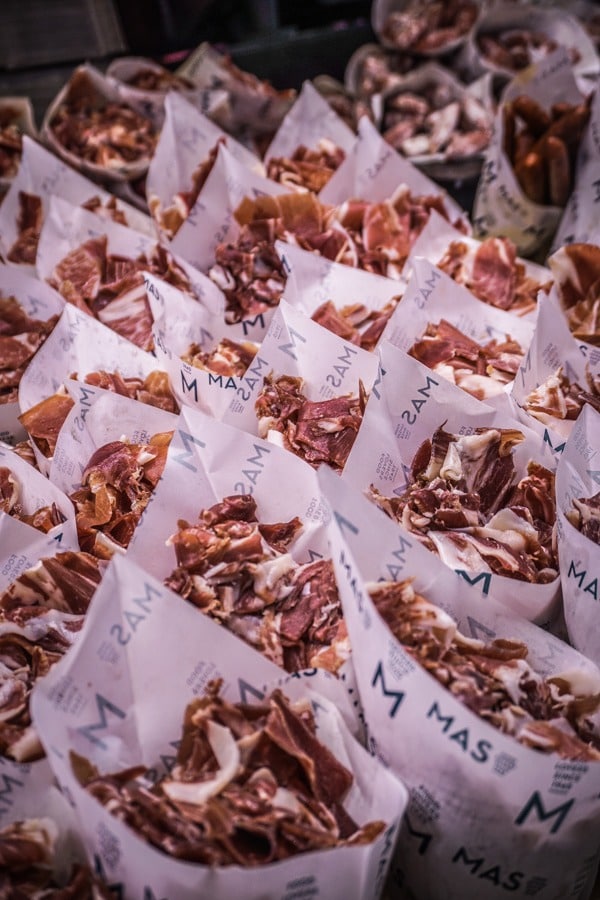 Whichever meal you choose, a trip to Mercado de San Miguel is a must.
The stalls vary from contemporary Spanish cuisine to more traditional fare, with more than their fair share of wine bars and cervecerias thrown in for good measure.
Walk to the Palacio Real: Time 5 mins
12pm – Palacio Real
If I had to describe the Palacio Real (Royal Palace), it would be "an impressive exterior with a rather gaudy and trying interior".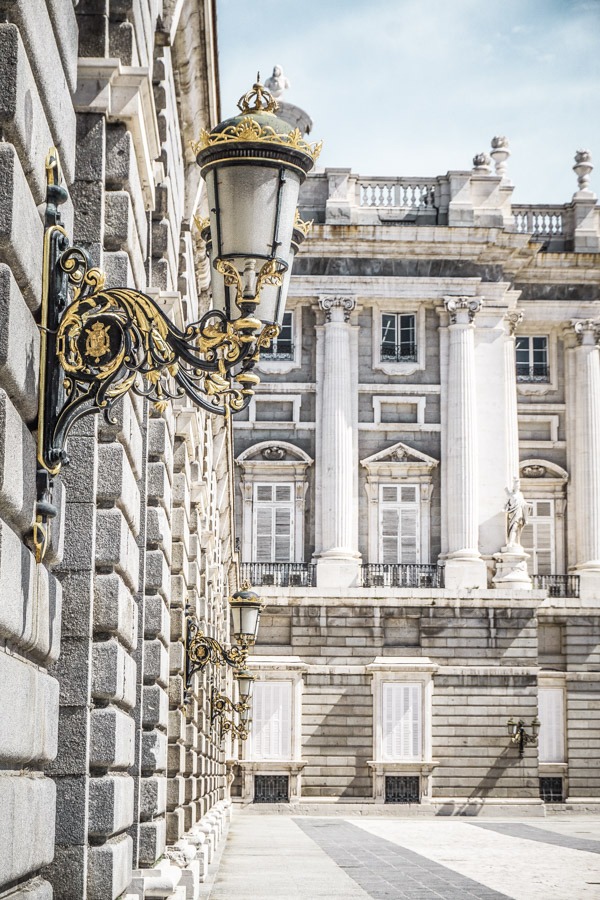 Still, I definitely think that it should be at the top of your list of things to see in Madrid in one day. The lines for the Royal Palace are brutally long – particularly when you add in the hot, hot Madrileno sun too. Do yourself a favour and book ahead. That smug feeling as you bypass the crowds is almost worth it in itself.
Once you're in (and feeling smugger than the cat who caught the cream), spend some time walking around the palace's striking exterior. I guarantee that you won't be able to resist a cheeky Instagram snap here, there, and pretty much everywhere.
Now, I'll be honest – I thought the inside of the Palace was a bit of a letdown.
Why? The crowds are kind of horrible.
Think about being squashed into a tin of gilt and overly-elaborate, hot and crowded rooms and you start to get the idea.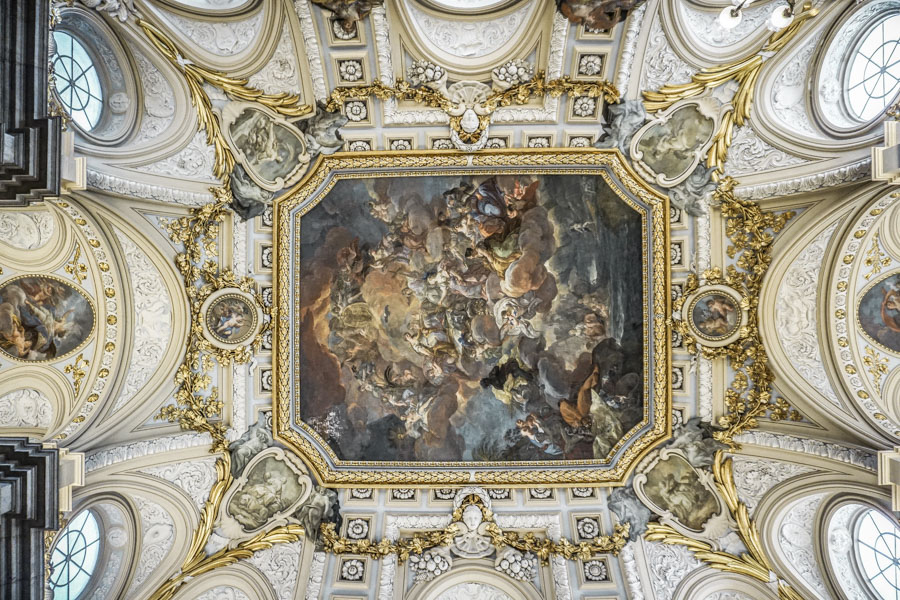 As far as I could tell, the staff inside the palace are more concerned with enforcing the ridiculous no photography in any of the remotely interesting rooms than they are in implementing any form of crowd control.
Sounds great doesn't it! It. is. Not.
I obviously decided to try and sneak a couple of photos (only for blogging purposes you understand) and a security guard actually climbed a barrier whilst shouting at me with his bristly moustache twitching with indignation. It would have been funny, if it weren't so unfunny.
Still, I would actually recommend going – it is the royal palace after all.
Purchasing Tickets for the Palacio Real
Queue to buy on the day (not recommended – the queue is long and not in shade) €10 per adult.
Walk to the Cathedral: Time 2 mins
1.30pm- Catedral de Nuestra Señora de la Almudena
Now, word on the street is that Madrid Cathedral, properly known by its full title of Catedral de Nuestra Señora de la Almudena, is kind of shit because it doesn't have the standard collection of dull and tiresome religious art that seems to be the mainstay of most cathedrals built before anyone had any form of excitement in their lives (apart from Zagreb Cathedral, Zagreb Cathedral is awesome).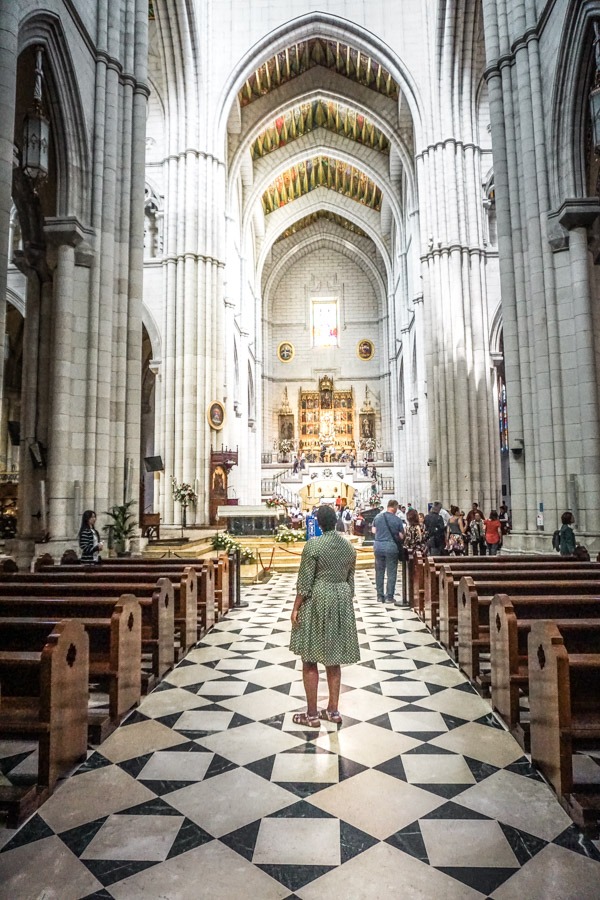 I disagree.
I really appreciated the fact that whoever it was who curated the art in the Cathedral decided to go with a more off-beat approach to the norm. It doesn't always work but it's exciting and different and deserves a place on your list of places to visit in Madrid in one day.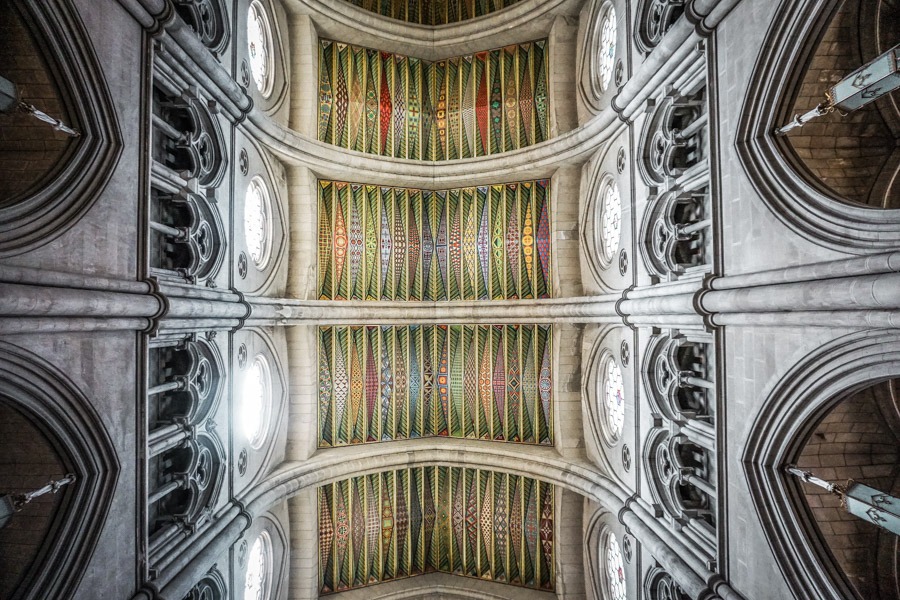 Anyways enough about the art – it's actually an unnecessary distraction from the fact that the cathedral itself is beautiful.
Constructed between 1879 and 1993, the cathedral is a testament to the fact that the Spanish aren't afraid to strike out when it comes to religious buildings (look at Barcelona's Sagrada Familia as a prime example).
The entrance is by suggested donation too – an open-hearted approach to letting people admire some of the city's finest architecture, whether they are of a religious bent or not.
Purchasing Tickets for the Catedral
Entry is by suggested donation – simply pay on entering.
Walk to Fonda La Lechuga: Time 10 mins
2.30pm – Fonda La Lechuga
The first thing that I absolutely need to say about Fonda La Lechuga is it is just near ridiculously good value. The lunchtime set menu was €12.50 for three larger-than-life courses and a vat of earthy, delicious wine. Totally a must for your Madrid one day trip.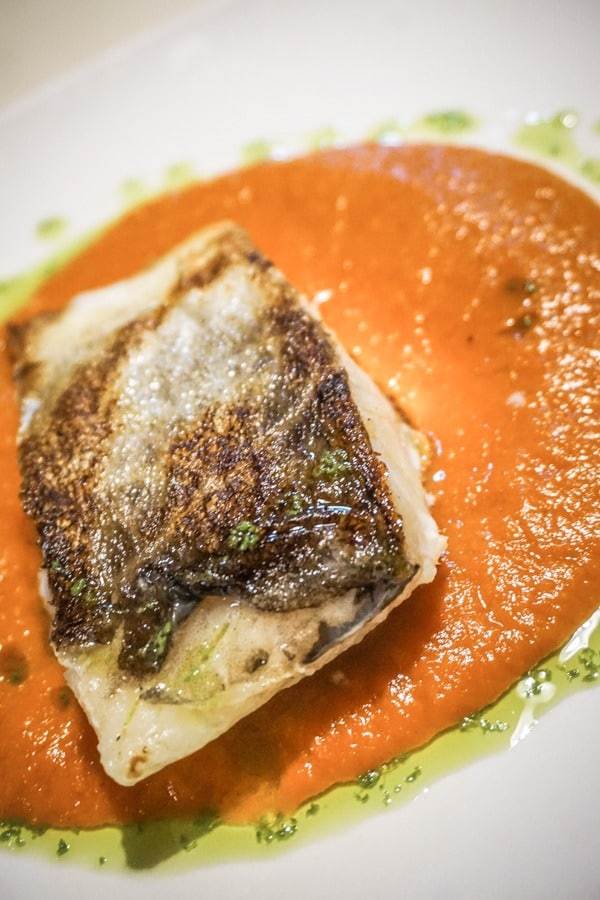 Size and price aren't everything – true. They are only worth commenting on when the food is of a quality and standard high enough that it's worth getting excited about. Well, it certainly is in Fonda La Lechuga.
You're going to need to fuel up – the rest of your Madrid one day itinerary involves a lot of walking. Where better to do it in a place where the portions are generous and the food is excellent?
The menu changes daily and features local specialities such as lentejas a la jardinera (lentils with vegetables) and bacalao con tomate (salted cod in a fresh tomato sauce). Leave room for dessert.
Walk to the Museo Thyssen Bornemisza: Time 15 mins
4pm – Museo Thyssen Bornemisza
I decided that the Museo Thyssen Bornemisza was one of my favourite museums at the rather precocious age of 17.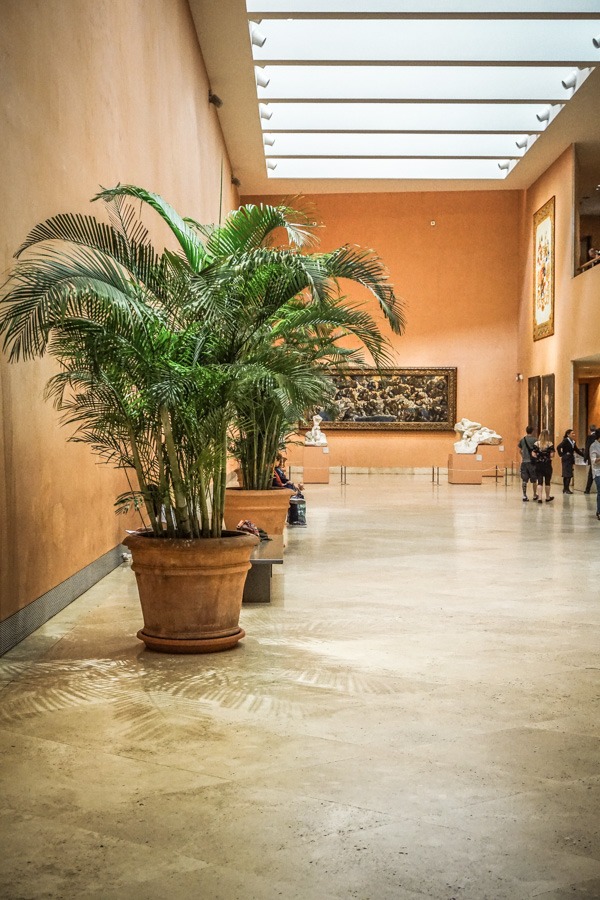 Several (and I mean several) years later, I still stand by that statement.
With a collection spanning from the rather tiresome long-faced dour religious art of the 13th and 14th centuries to the much more exciting works of the great masters, impressionists and expressionists, it's a well-curated walk through the history of art in an equally fetching building.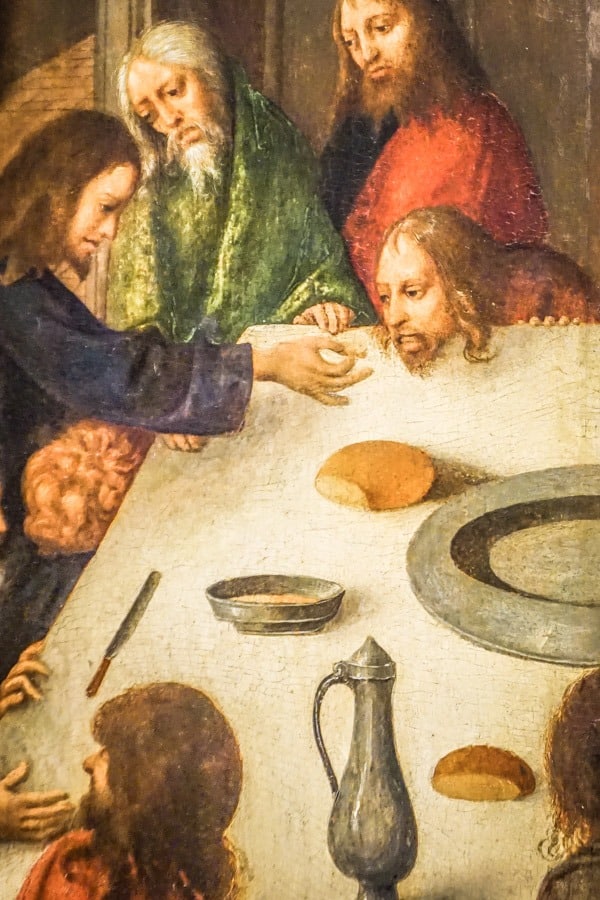 You have a choice here.
You can either stay in the Museo Thyssen Bornemisza until it closes at 7pm, or you can spend two hours here and then go to The Prado (free of charge) between 6 and 8pm.
Two museums in a day is a lot to take in, but they're right across the road from each other and I think it's worth it as they're both pretty spectacular in their own ways. Up to you.
Purchasing Tickets for the Museo Thyssen Bornemisza
Buy on the day: entry costs €12 for adults and €8 for students. Queues can be long.
Walk to the Prado Museum: Time 2 mins
6pm – The Prado Museum
The Prado is often billed as the best museum in Madrid, and one of the best in the world.
I'd have to respectfully disagree – the Thyssen Bornemisza pips it to the post in my humble opinion.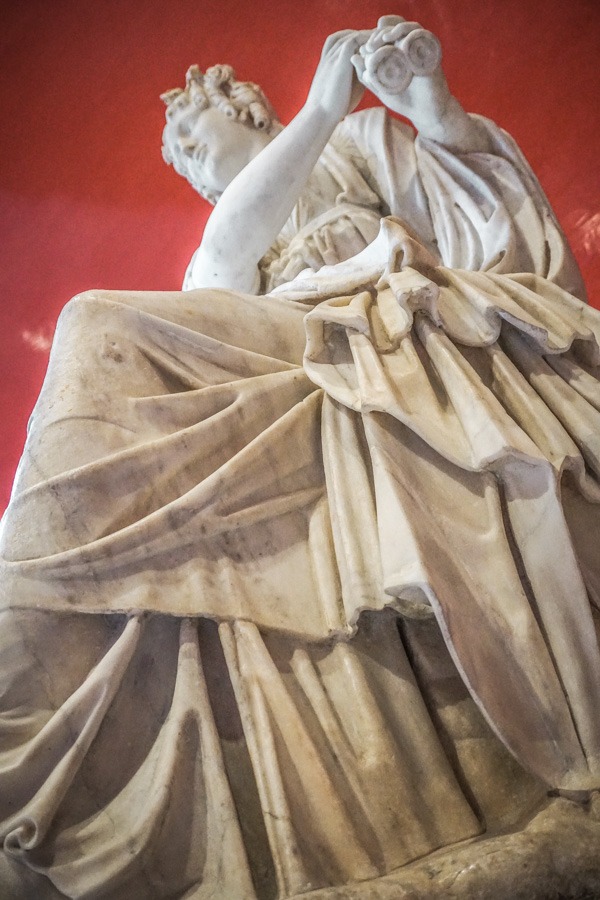 What is undeniable is that The Prado boasts an impressive range of work, including Goya's much-lauded "Pinturas Negras" series (just seeing them will give you shivers) and some absolutely whopping pieces by El Greco.
Be warned guys, The Prado is HUGE. You could spend a whole day in here and still not do it justice. I'd suggest allotting a few hours otherwise it can be quite overwhelming.
Insider's Tip – Entry to The Prado is free after 6pm (Monday to Saturday) after 5pm on Sunday, giving you a cool two hours to breeze through the collection before closing time at 8pm (7pm on Sunday). If you really like it, you can return and pay full price for more time in the museum in the morning before you leave.
Purchasing Tickets for the Prado Museum
Buy on the day: entry is FREE after 6pm Monday to Saturday, after 5pm on Sunday. Outside of these hours, entry is €15 per adult.
Walk to Park Retiro: Time 10 mins
8pm – Park Retiro
Madrid's central lung, Retiro park is a haven for joggers, picnickers or those who just want to soak up a slice of the laid-back side of the city.
Akin to New York's Central Park or London's Hyde Park, but without the side of pretension, it's the perfect spot to rest your weary feet during a break from a long day's sightseeing.
If you have more time, Madrid is surrounded by gorgeous outdoors spots to explore.
Walk to Restaurante La Sanabresa: Time 15 mins
10pm – Restaurante La Sanabresa
If, like me, you have zero truck for those silly places that seem to have popped up all over every city demanding that you wait for five hours for the pleasure of simply smelling whatever dish it is has been declared the must-have eat of that month, the idea of queueing for two hours for your dinner might seem a little off-putting.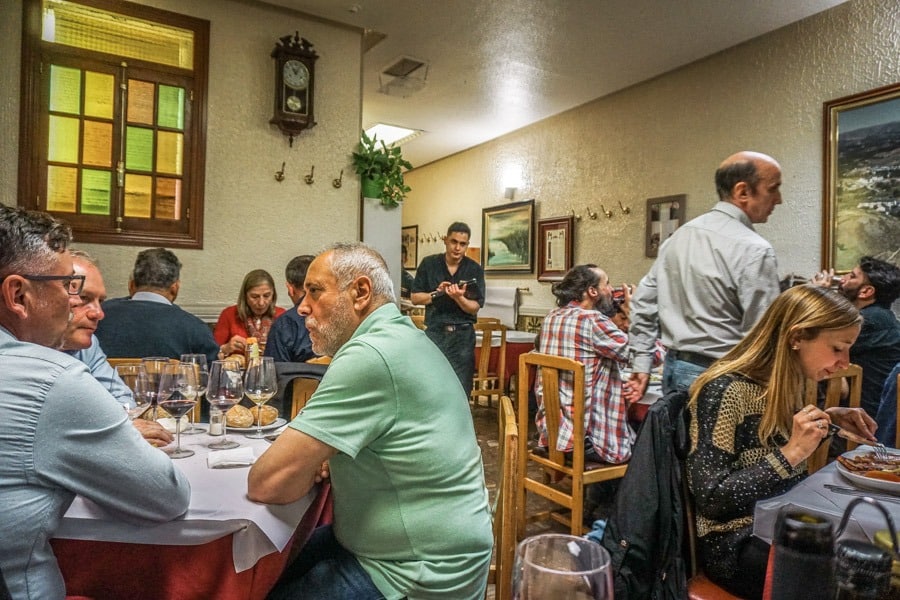 Look dudes, I hate queueing for food more than most things in life itself. So why the hell am I recommending a restaurant where a long queue is pretty much a given? Because it's SO good.
La Sanabresa has established itself as one of the best restaurants in Madrid – no easy feat as this is a city that punches pretty high on the culinary scale.
Once you've paid your dues (or should that be queues), you're rewarded with a mind-boggling array of spectacular tapas at almost ridiculously low prices.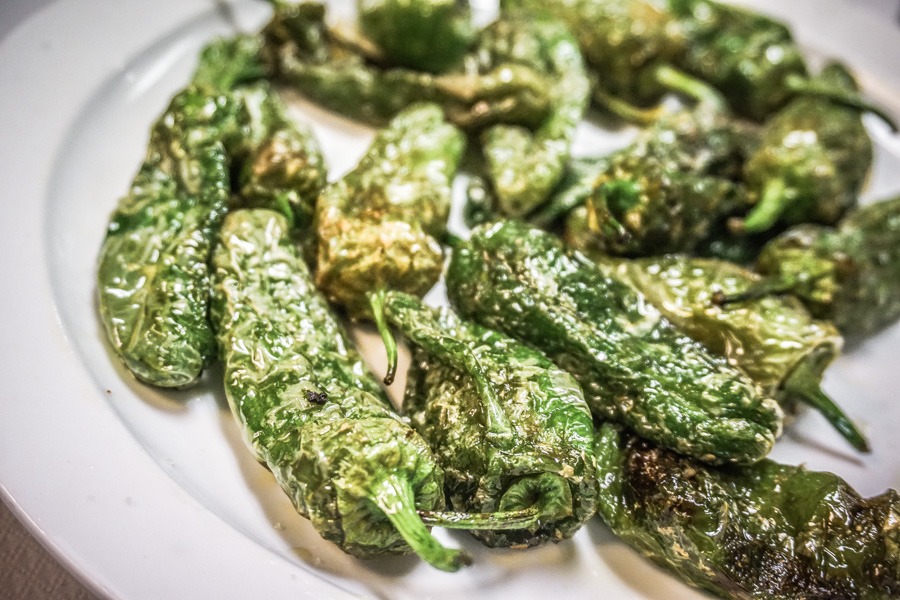 This is not your fancy haute-cuisine kind of place – this is Spanish tapas exactly as it is supposed to be: bursting with flavour, in almost obscene portions (be sure to specify the tapas or medio racione sizes if you are planning on getting through the evening without exploding.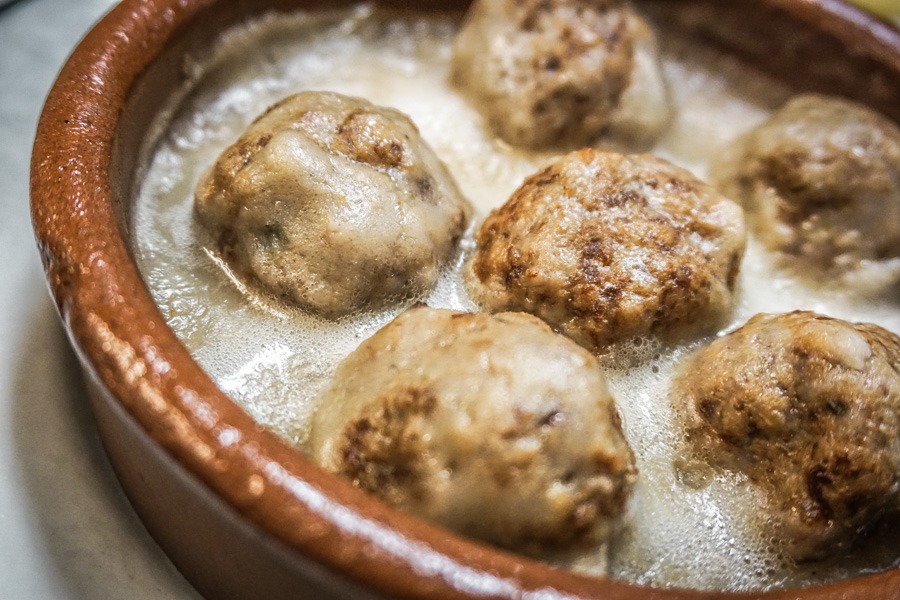 Service is brisk but friendly. Wine is great but cheap (something that hasn't yet made its way to British shores) and the atmosphere is lively.
In short, I couldn't recommend it enough. Great food and a glass of wine or two. Perfect.
If you don't want to spend forever queueing, try your hand at booking ahead.
No website.
Calle Amor de Dios, 12, 28014 Madrid, Spain
Phone: +34 914 29 03 38
---
And there we are, your perfect itinerary for one day in Madrid. Now it's time to collapse in bed.
Of course, if you want to spend 24 hours in Madrid in true local style, you should make your way to one of the city's cooler than cool clubs to party until the early hours. Kapital is the biggest and the best but Chango and Moma 56 are also worth a look.
What to Pack for Madrid
Light clothes if you are travelling in the summer months. Madrid in the summer can sometimes feel like the hottest place on the earth.
Suncream It can be easy to forget how strong the sun can be when you are exploring a city.
Winters can be surprisingly cold so you should wrap up warm.
Sunglasses
Lonely Planet Madrid Guide
Comfortable walking shoes or sandals – check out my guides to the best travel shoes for women and men.
A hat to provide protection from the sun.
Google Translate or a Spanish Phrasebook
Need to Know: Practical Information for Your Madrid Itinerary
Getting to Madrid
You're likely to start your whisk round of Madrid in a day with a flight to Madrid Barajas International Airport or a train into Madrid's Atocha or Chamartin stations.
Madrid Barajas International Airport
There are a lot of low-cost carrier flights from Europe, and it's also the base for Spain's flagship carrier Iberia, which flies to destinations all around the world.
Check flights to Madrid on Skyscanner.
Swanky Terminal 4 outshines the other, more basic terminals but all are well connected and come with a number of transport options for making your way into the city.
Obviously, catching a taxi or booking a transfer is going to be the least hassle – but that comes at a price.
Madrid's famously efficient metro (tube) service runs to the airport, with one stop serving Terminals 1, 2 and 3 and the last serving Terminal 4.
You can buy a ticket at the well-signposted metro station (don't forget to pick the special airport ticket, which costs a bit more) – the journey to Nuevo Ministerios takes around 25 minutes, from where you can pick up a connecting metro or overground train to pretty much every destination in the city.
Another alternative is to take one of the several airport buses from the airport to the city centre. This can be quicker or slower than taking the metro depending on your destination – I'd suggest checking Citymapper in advance to work out which one is going to be easier for you.
Getting Around Madrid
Madrid is a very walkable city, so for the most part, I would suggest getting a pair of comfortable walking shoes and doing most of your travel on foot.
There's no need to take public transport if you are following this itinerary as all of the destinations are within a short walk of each other.
If you are taking public transport, you can buy individual metro tickets (around €2 each) or pay a deposit for a rechargeable transport card.
As you are only spending 1 day in Madrid, you might be better off just buying individual tickets and when you need them rather than the rechargeable card.
Suggested Stay in Madrid: Hospes Puerta de Alcala.
Bed down in the Parque Retiro area at boutique hotel Hospes Puerra de Alcala. It's comfortable and elegant, not to mention well located for exploring the museums and the park.
Check prices and reviews for Hospes Puerta de Alcala.
Alternatively, check reviews for accommodation in Madrid on Tripadvisor.
Suggested One Day Tour in Madrid
I've created this itinerary so that it is easy to follow and should have all the information you need to see the best of Madrid in 1 day. However, if you prefer to take a guided tour, I always use Get Your Guide.
Love this? Save and share on Pinterest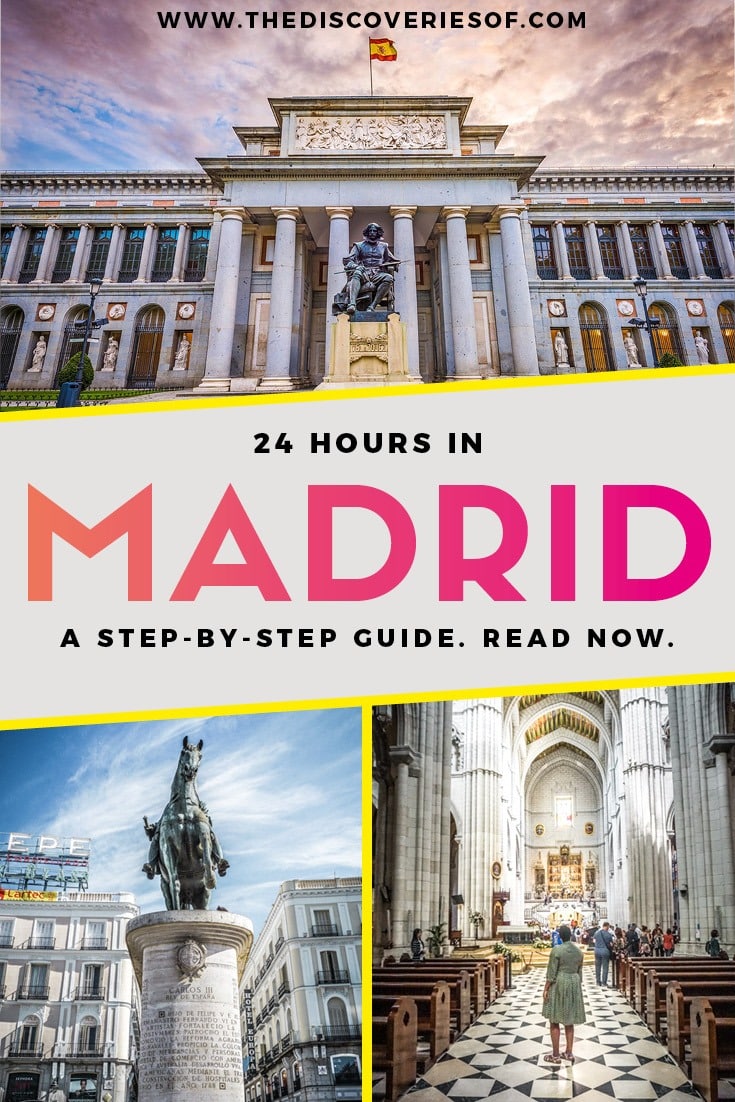 Read More Madrid Tips and Guides