Looking for the best things to do in Madrid? Don't miss this handy guide – complete with the best places to visit, eat and soak up the culture of the Spanish capital.
Madrid is an enthralling city – lively, fun, outgoing and with no shortage of attractions for you to explore.
I've talked a lot (A LOT) about my love affair with this hectic city. There's always been something that has kept me coming back time and time again since the very first time I rocked up here as a young (and incredibly broke) backpacker at the age of 17 to now, in my sage mid-thirties.
So you're heading to the Spanish capital and wondering what to do in Madrid? I've got your back.
This guide will walk you through the top things you shouldn't miss, along with the best cultural attractions, places to eat and things to do at night in Madrid. Hold onto your hats, it's going to be a whirlwind ride.
This really is an all-encompassing guide – if you're short on time and just want to see the highlights, I'd suggest reading my One Day Madrid Itinerary instead.
PS: Looking for recommendations for a cool place to stay in Madrid? I loved the Axel Hotel Madrid – great location, a cool vibe and a nice rooftop bar with a pool.
5 Unmissable Things to do in Madrid
The Prado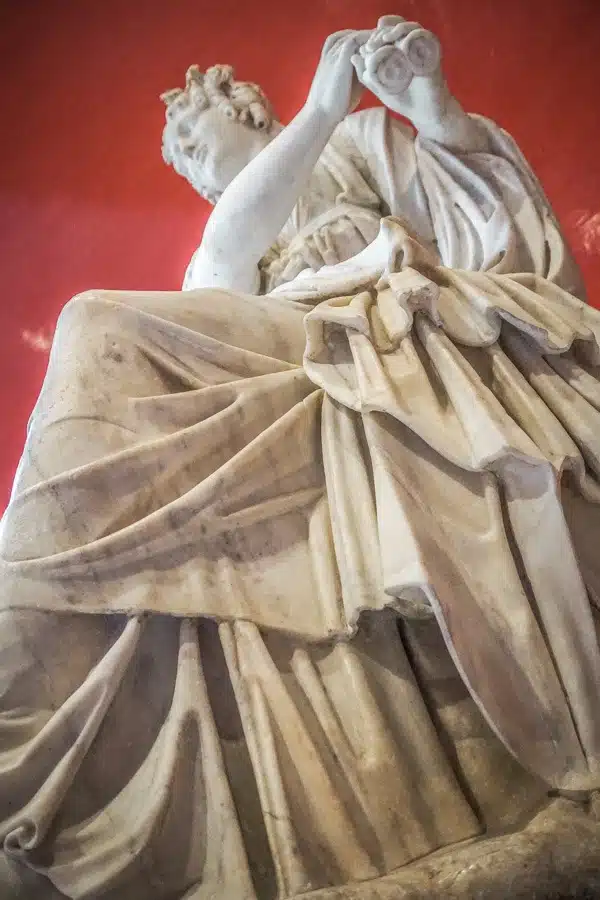 The Prado
I can't write a piece about the best things to do in Madrid and not include The Prado. Fact.
In a city that is blessed with many museums, The Prado is the best-known and the one that most people would recommend you go to if you only have time to visit one museum during your time in the city.
I'm not sure if I'd entirely agree – the Thyssen Bornemisza is all kinds of spectacular, and more in line with my taste but hey – I'm not turning my nose up at a museum that features so many of the art world greats.
There's the spectacular Pinturas Negras series by Goya, more than a couple of El Grecos, pieces by Fra Angelico, Rubens, Rembrandt, Raphael – I'm not going to list them all because we would be here all day.
If there's one thing you need to know before you go to The Prado, it's that it is HUGE.
You could easily dedicate a whole day to your visit if that's what you want to do. By contrast, you can also see the highlights in the course of a few hours so don't be daunted by its size.
Book Tickets for The Prado

Book a Skip the Line Guided Tour of The Prado Museum
Parque del Buen Retiro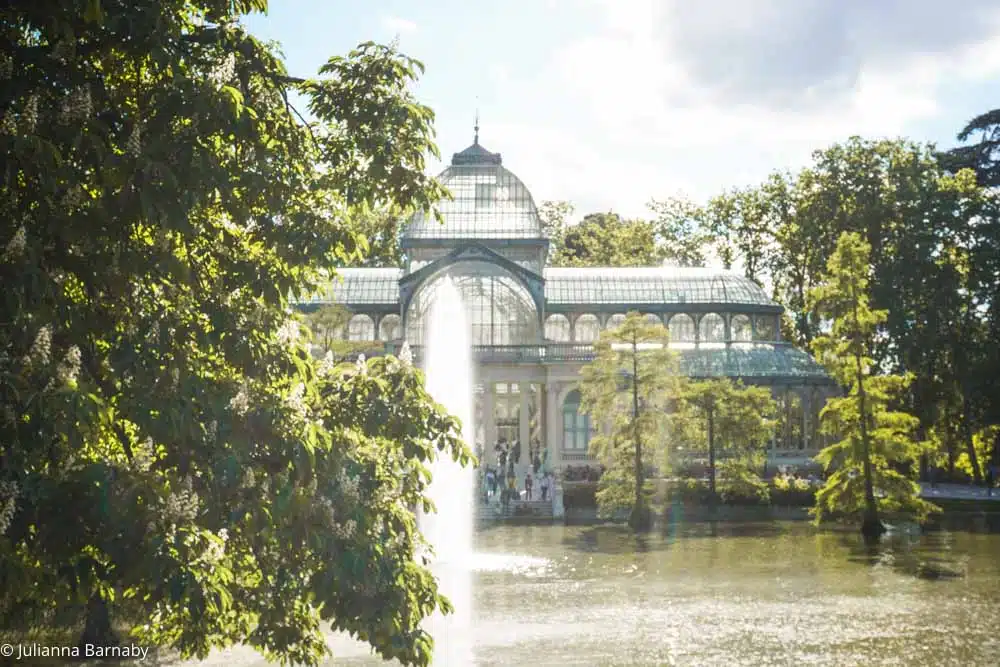 Parque del Buen Retiro (Retiro Park for short) is one of the best places to visit in Madrid if you really want to see a slice of local life.
This expansive park near the centre of the city is where Madrilenos go to hang out, have family picnics and even propose (I swear – this totally happened on my last trip there – I have the photos to prove it!).
It used to belong to the Spanish monarchy, which totally explains its gorgeous layout.
There are rose gardens, pergolas, aquatic displays, there's even the Palacio de Cristal – a Crystal Palace that's now used to showcase artworks from the Reina Sofia museum.
Go with a picnic, have a mooch and enjoy discovering the different sections of the park.
Palacio Real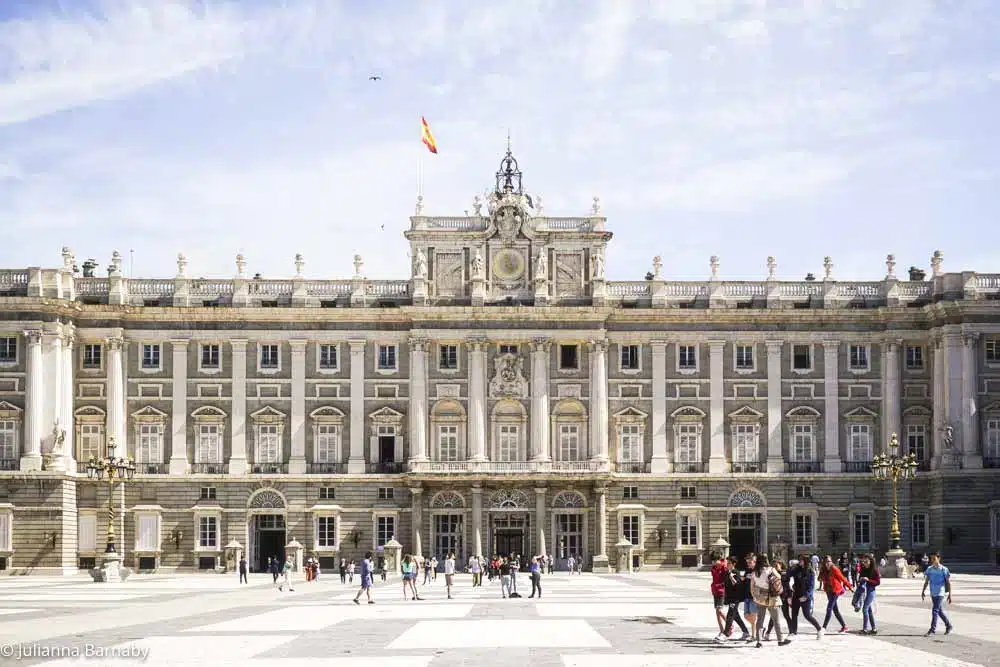 Madrid's royal palace, the Palacio Real is a suitably striking affair.
The imposing building in tones of white and grey with touches of gold, is enough to set your Insta alight… but just wait until you get inside.
It's like the designer's brief was "this needs to channel 'where gold and gilt went to die' vibes but with extra drama – lots of extra drama".
It's a bit maximalist for me, but then again, I'm not royalty and I'm sure the Spanish royal family don't give a toss about my opinions on their palace's decor.
Catty comments aside, it's very much worth a visit – because who doesn't like to have a nose through a palace anyway. Book ahead and go as early in the day as possible.
As the day progresses it gets very busy and the guards are pretty merciless about herding you around like the lowly cattle you are.
You can also buy a skip the line ticket with a guided tour here.
Plaza Mayor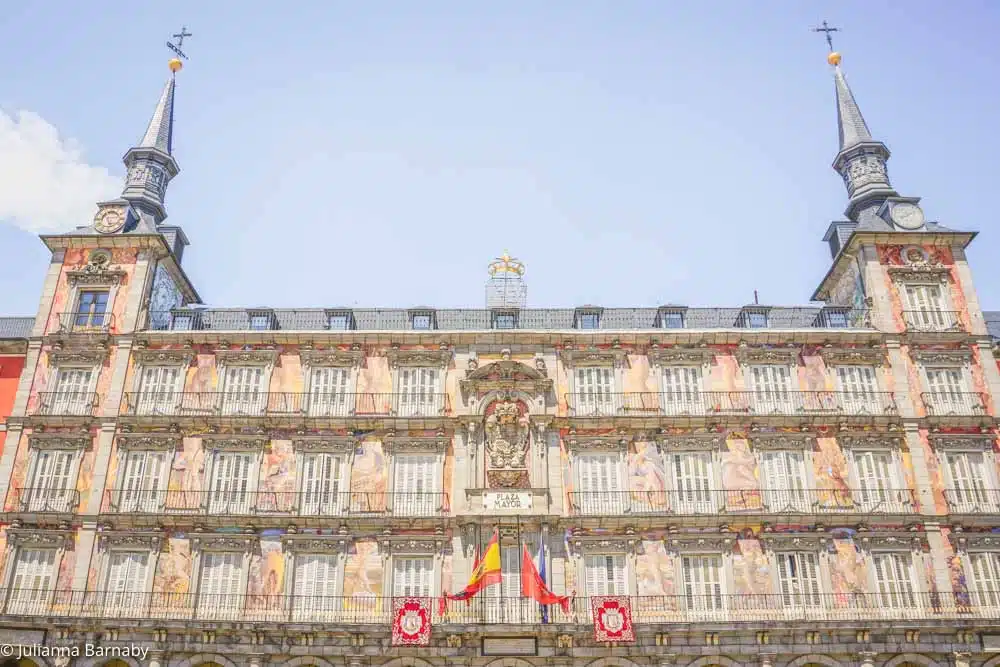 Every capital has its big central square, the hub of city life to which tourists flock in their droves – London has Trafalgar Square, New York has Times Square and Madrid has Plaza Mayor (it also has Plaza del Sol but it's not quite as cool).
Plaza Mayor is one of the remaining vestiges of royal Madrid. It dates back to the 15th century but was remodelled in the 17th century to the fabulously OTT destination we find today.
Take some time to check out the decadent architecture, complete with the nine gates at various points in the plaza, as well as the bronze statue of King Philip III sitting proudly in the centre.
Mercado San Miguel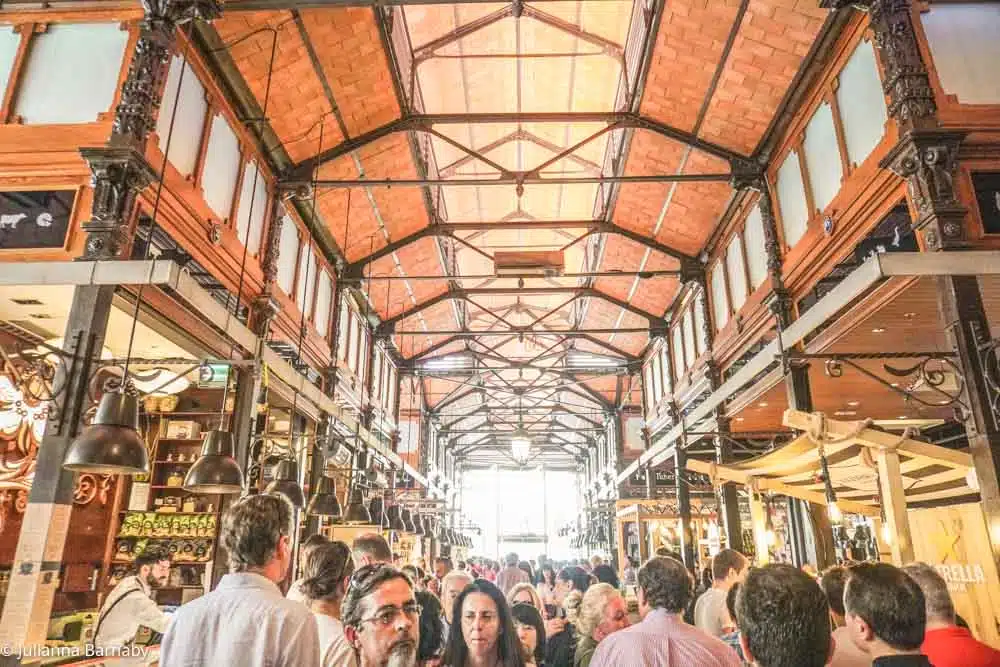 Madrid is a city that takes its food very seriously, so it's no surprise that the city's central food market is off-the-charts good.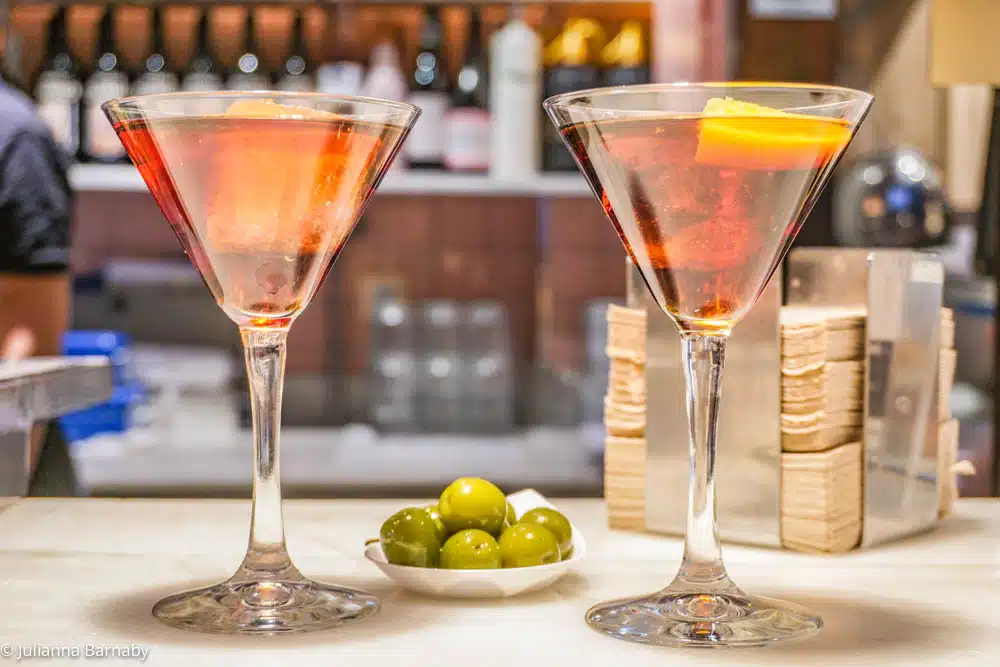 Yes, Mercado San Miguel is touristy, no it's not as cheap as some of the other tapas spots in the city but you shouldn't write it off as a crap tourist trap because it's not.
In fact, I'm willing to lay down a pretty hefty bet that as you feast on the gourmet offerings from the many stallholders and sip your sweet vermouth from the Vermut Bar (be warned, these are more potent than they appear), you are going to be feeling pretty thankful that Mercado San Miguel wasn't demolished like so many other similar markets in Madrid were in the nineties.
Best Things to do in Madrid for Culture Lovers
Discovering Madrid's Cool Street Art Scene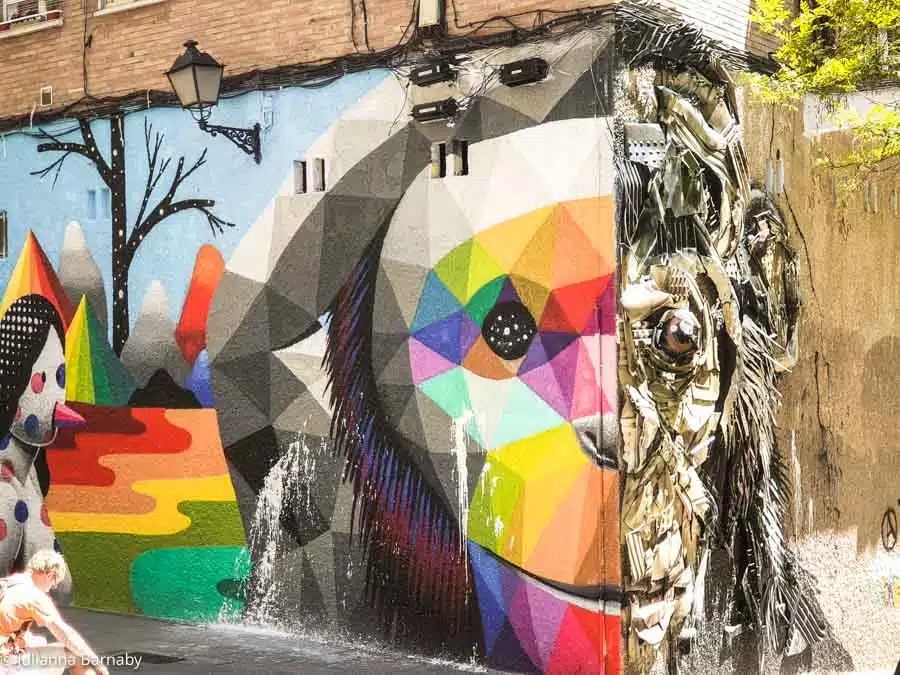 Madrid's street art scene has come on leaps and bounds in the past decade – with a roster of national and international artists bringing various walls around the city to life.
If you love street art, I'd highly recommend setting aside an afternoon to go on my self-guided street art tour in Madrid, which largely focuses on the Lavapies and Embarcadero areas.
But if you keep your eyes open, you will find cool walls dotted about everywhere.
Alternatively, you can book onto a guided Madrid street art tour.
Thyssen Bornemisza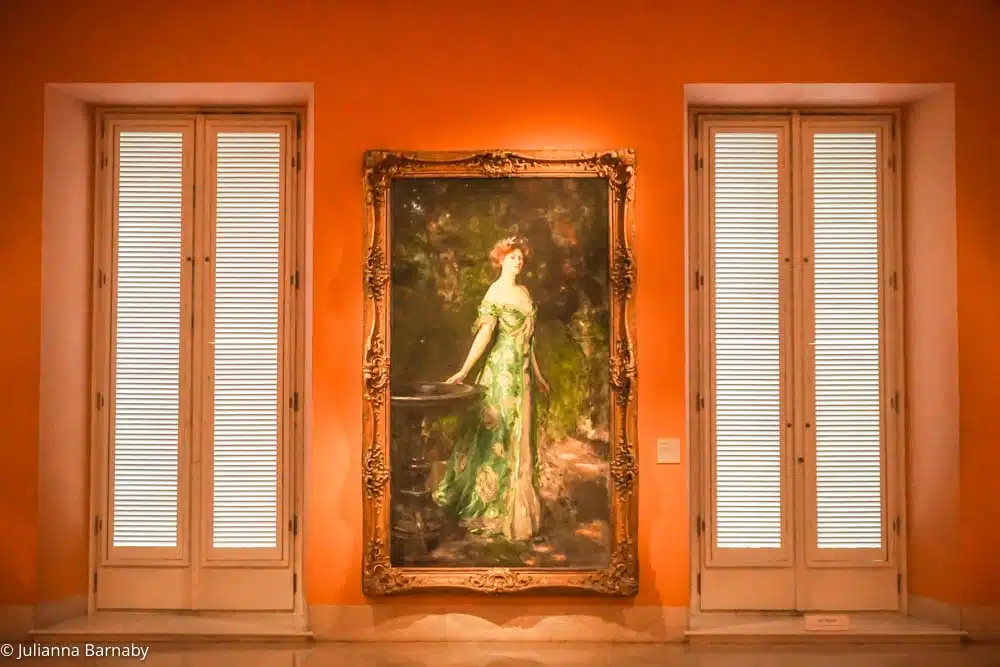 The Thyssen Bornemisza is one of my favourite art galleries and hands down one of the best places to visit in Madrid.
It's just across the road from The Prado but, while the collection spans pieces from the 13th to the 21st century, there's a lot more work from the Impressionist periods onwards than The Prado.
Keep your eyes open for pieces by Picasso, Dali, Lichtenstein, Sargeant, Van Gogh, Manet and Gaugain. In fact, just wander around – you are guaranteed to find something you love.
Another big plus for the Thyssen Bornemisza?
It's smaller and on a more manageable scale than The Prado, so you can take the time to appreciate the pieces without the overwhelm (I know, #firstworldproblems right).
Buy Tickets for the Thyssen Bornemisza

Book a Private Guided tour of the Thyssen Bornemisza
Museo Nacional del Romanticismo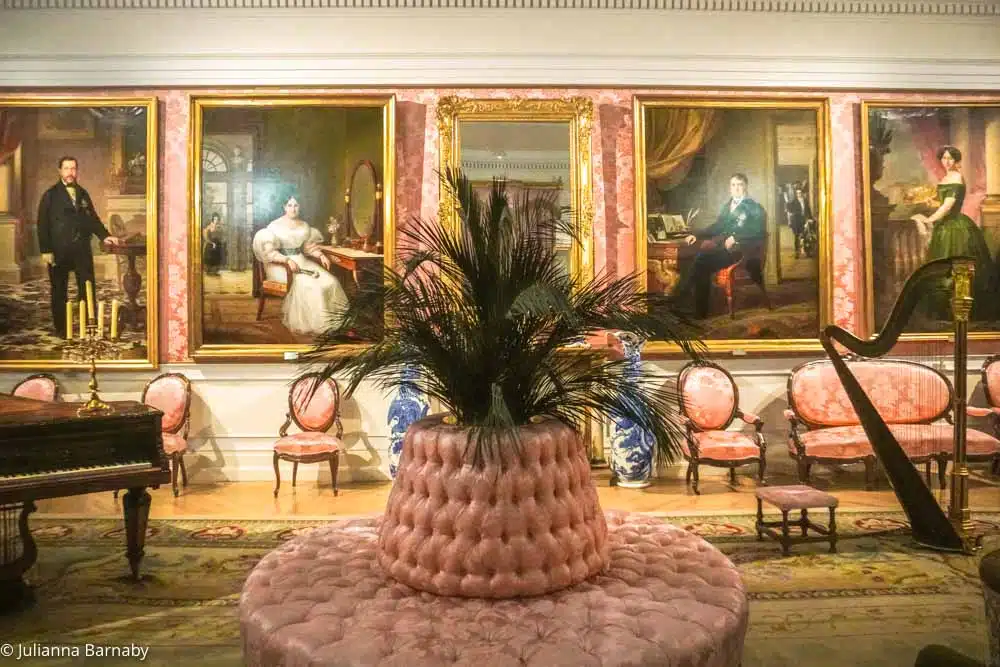 I only discovered this cute little museum on my most recent trip to Madrid – upshot is that I totally fell in love with it and have been recommending the Museo Nacional del Romanticismo to anyone who'll listen ever since.
It most certainly is not the biggest museum in Madrid – located in a former private residence, it's actually quite small – but what it lacks in size it makes up in quality.
The Museum focuses on the Spanish Romantic period, giving visitors a glimpse into the life of the gentry of that period as you pass through the different rooms in the house.
Where so many museums give you a broad overview and nothing more, the Museo Nacional del Romanticismo gives an up-close-and-personal account of life in those days and the roles the arts played in that.
La Ermita de San Antonio de la Florida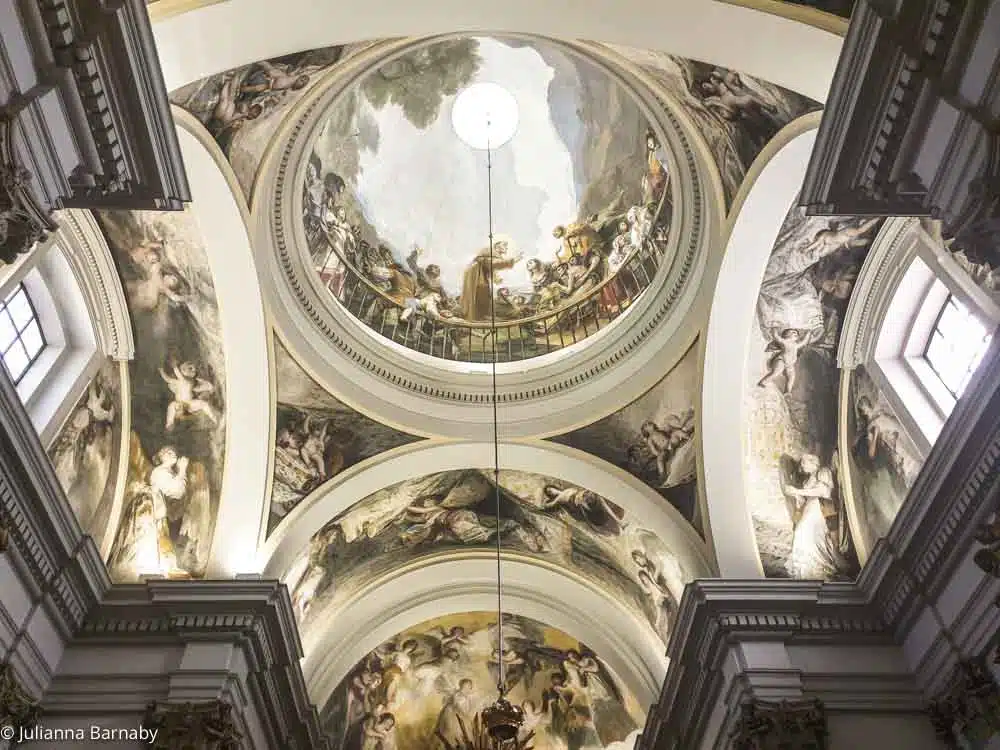 Not that many people talk about La Ermita de San Antonio de la Florida – something that completely baffles me as it is one of my favourite Madrid attractions.
Think of it as Madrid's version of the Sistine Chapel – every inch of the ceilings covered by a series of breathtaking frescoes by Goya depicting the miracle of St Anthony.
The frescoes tell the story of St Anthony who brings a young man from the dead in order that the man can absolve his father, who has been accused of his murder (and there we were thinking the Game of Thrones plotlines were far out).
Goya is also buried in the chapel – though mysteriously, when they transferred his remains from France, they couldn't find his head…
PS. There are confusingly two chapels that look pretty much identical where the Ermita is supposed to be.
It's the one on the right if you have your back to the road – the second was built as a replica so that churchgoers could go to church in peace without being disturbed by people like us gawping at the ceiling.
Temple of Debod
The Temple of Debod is, without a doubt, one of the stranger places to see in Madrid.
I certainly wouldn't expect to be able to visit a 2nd century BC Egyptian temple in the middle of Madrid, but that's exactly what you can do at this rather odd monument.
The story behind it is equally fascinating – the temple was gifted to Spain by Egypt in the 1960s as a thank you for the Spanish's role in saving the Abu Simbel Temples during the construction of the Aswan High Dam.
The Temple of Debod was taken apart and then reconstructed, slab by slab, in Madrid's Montaña Park, where it sits today.
Catedral de Nuestra Señora de la Almudena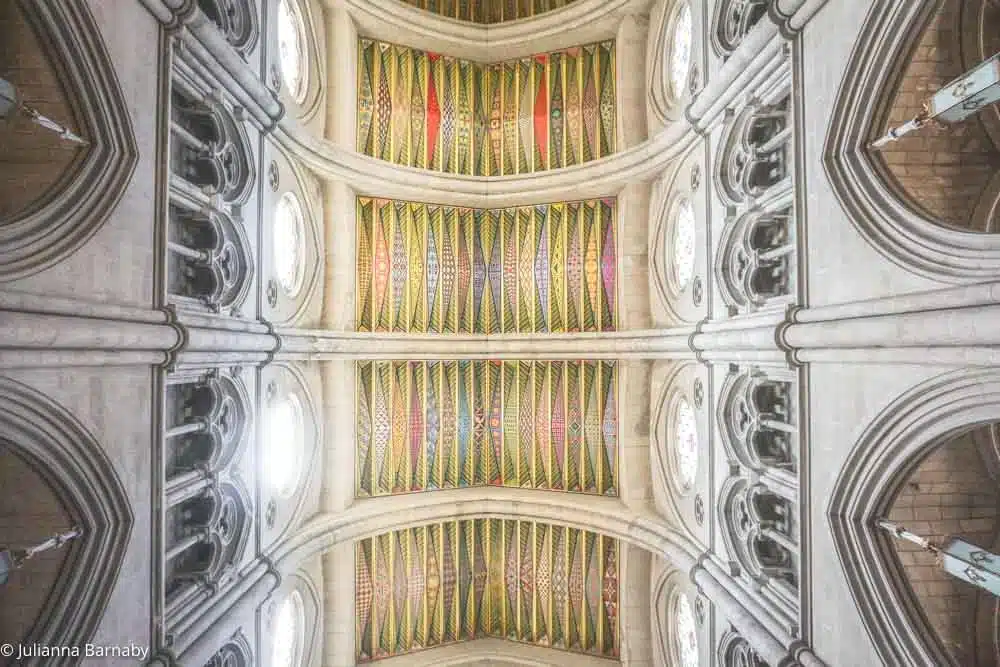 Madrid's contemporary cathedral comes under a lot of (I'd say unjustified) fire for its unusual and eclectic appearance.
I think it's pretty interesting to see a cathedral that is so different to the norm – thanks largely to the fact that it was only completed in 1993.
Critics main annoyances seem to be that the art is a bit offbeat to say the least – but who needs to look at another badly-painted Renaissance saint anyway?
Instead you're confronted with geometric forms and some decidedly contemporary pieces.
Like Marmite, the only way to decide if you love it or hate it is to go and see it.
Reina Sofia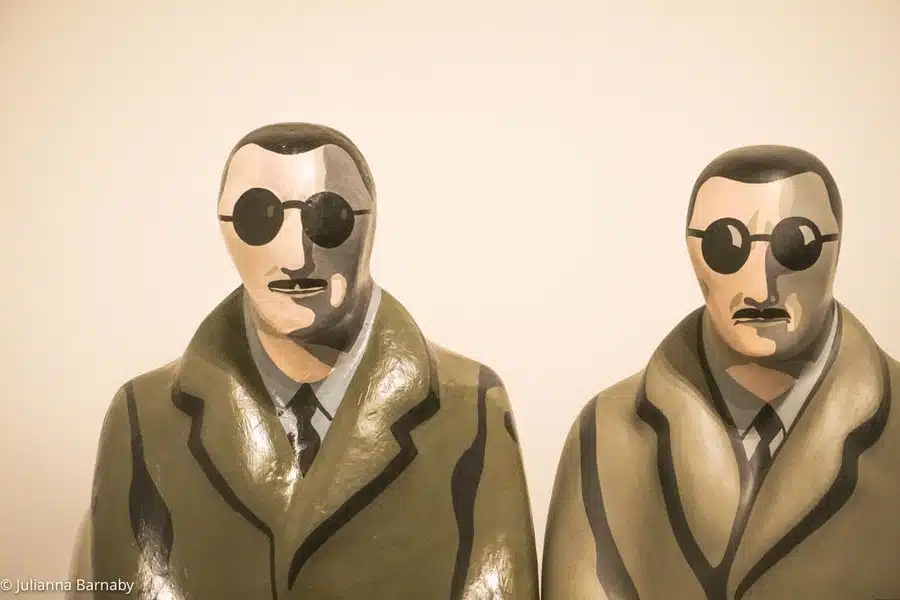 The Reina Sofia is the third museum in Madrid's so-called Museum Triangle (The Prado and Thyssen Bornemisza being the other two) and, in honesty, my least favourite of the three.
The collection focuses on 20th century Spanish art and is one of the world's largest contemporary art museums.
The big showstopper here is Picassso's Guernica. Good luck trying to get close enough to it, for the crowds not to crush you to death or for the irritatingly pedantic museum staff to leave you alone long enough for you to actually get any sense of the piece.
Like the Mona Lisa, the art work is impressive, the drama of actually seeing it, not so much.
Away from Guernica, there's an extensive collection of other Picasso pieces, along with some thought-provoking work from Dali and Miro.
I wouldn't bother with some of the more out-there galleries, which somehow both bored me to death whilst also simultaneously making my brain hurt trying to figure out why they even existed. Not that I have strong opinions on the Reina Sofia or anything.
Book a Guided Tour of the Reina Sofia Here
CaixaForum Madrid
This rather amazing building is located near the centre of Madrid – just across from the Botanical Gardens (which I feature below).
It was originally built as a power station for the city, with the architects drawing inspiration from Gaudi's buildings.
Today this site is an arts and culture centre with permanent exhibitions and temporary ones – past exhibitions have included Olga Picasso and the Magical Art of Escher.
Torre de los Lujanes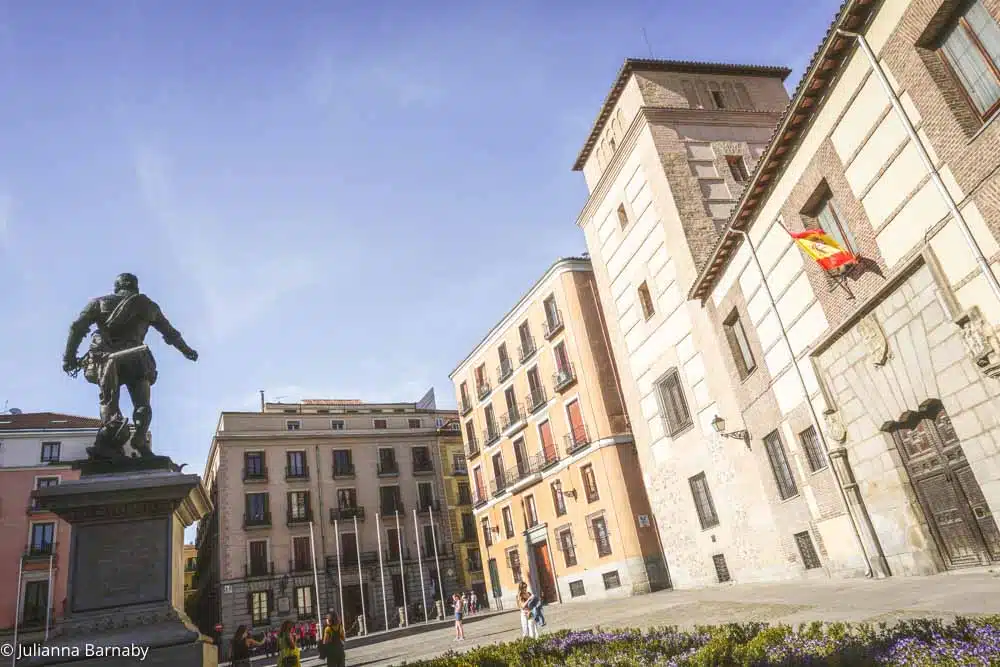 The Torre de los Lujanes falls into the category of "nice to see points of interest in Madrid – but not an absolute must". It's one of the oldest buildings in Madrid and you can see traces of Arabic and Gothic features on the tower's facade.
Monasterio de las Descalzas Reales
I'm going on hearsay here because if there are two things you need to know about the Monasterio de las Descalzas Reales (The Convent of the Barefoot Nuns) it is that 1) It's barely open 2) Tickets for tours sell out quickly everyday.
Upshot? Despite trying to go three freaking times on my last trip, we still didn't get to see it.
Plan more wisely and you will find an old palace that was transformed into a convent and which still holds one of Madrid's most extraordinary collections of art.
The daughters and widows of many aristocratic families joined the convent, bringing with them gifts of pieces by Titian, Brueghel, Rubens and Van Cleve (as you do when you become a nun).
The decor is supposedly equally impressive too.
Matadero Madrid
This cultural centre is located in an old slaughterhouse near the Manzanares river.
Go to the Matadero Madrid to discover a wealth of activities. You can take one of the free tours that are available every day, or visit different kinds of exhibitions like contemporary art or culture and technology.
The terrace cafe is a great place to have a coffee or a drink while enjoying the wonderful views of Madrid. It's a great place to relax after a day of sightseeing.
Cool Places to Visit in Madrid
Madrid's Many Tapas Bars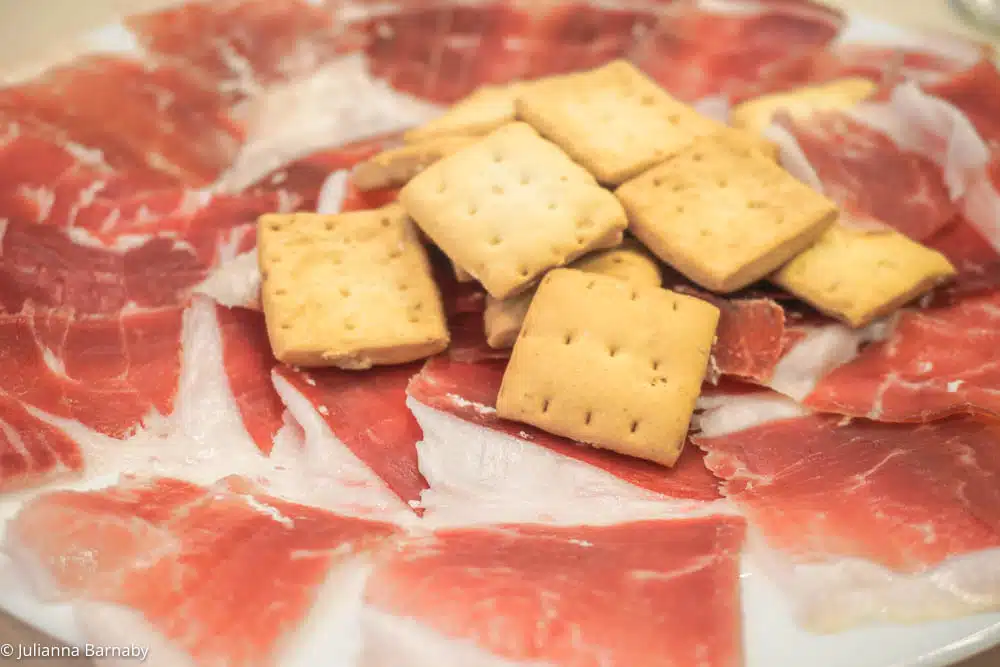 The food in Madrid is ridiculously good.
There are so many hole-in-the-wall tapas spots, each specialising in one particular dish that they do spectacularly well, that doing a tapas food bar crawl is one of the absolute top things to do in Madrid.
You can either construct your own or go on a guided tour like this one.
I'll be writing a separate piece about finding amazing food in Madrid, but as a starter, I'd recommend heading to the following places.
The Puerta del Sol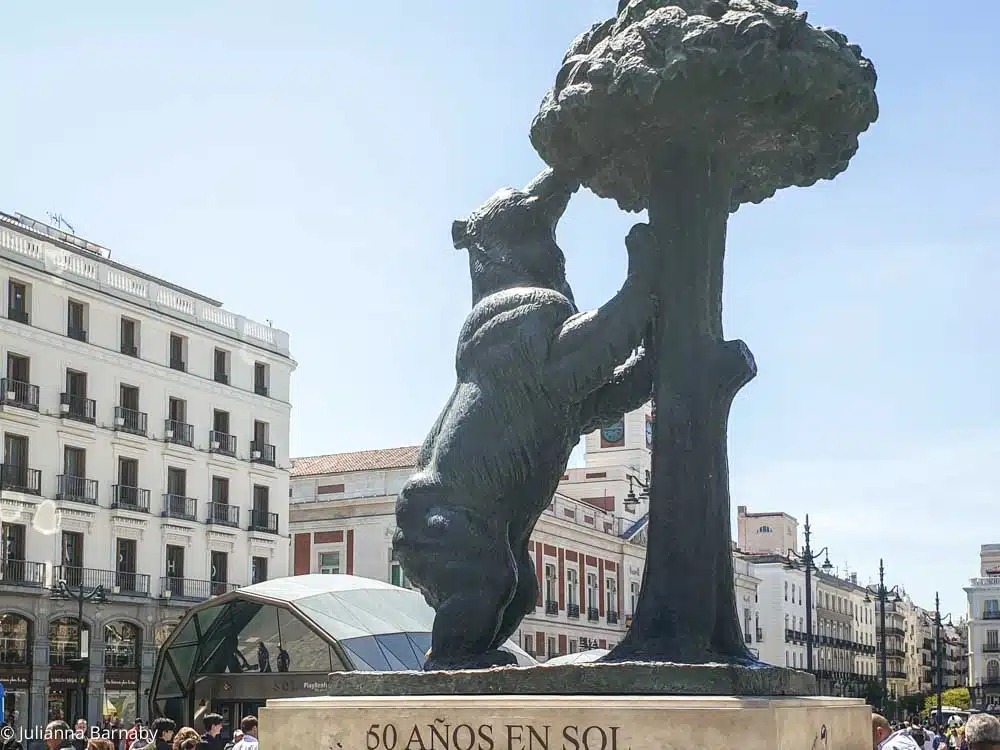 Madrid loves a town square – and while the Puerta del Sol might lack some of the good looks of the Plaza Mayor, it actually sits at the very heart of the city.
In fact, it is the heart of Spain – all distances in the country are measured from its centre – surely that gives it a spot on your list of must-see Madrid attractions.
While there are many statues sprinkled all over the square, the most famous is the Oso y Madrono – the Bear and the Madrono tree, which represents the emblem of Madrid.
Botanical Gardens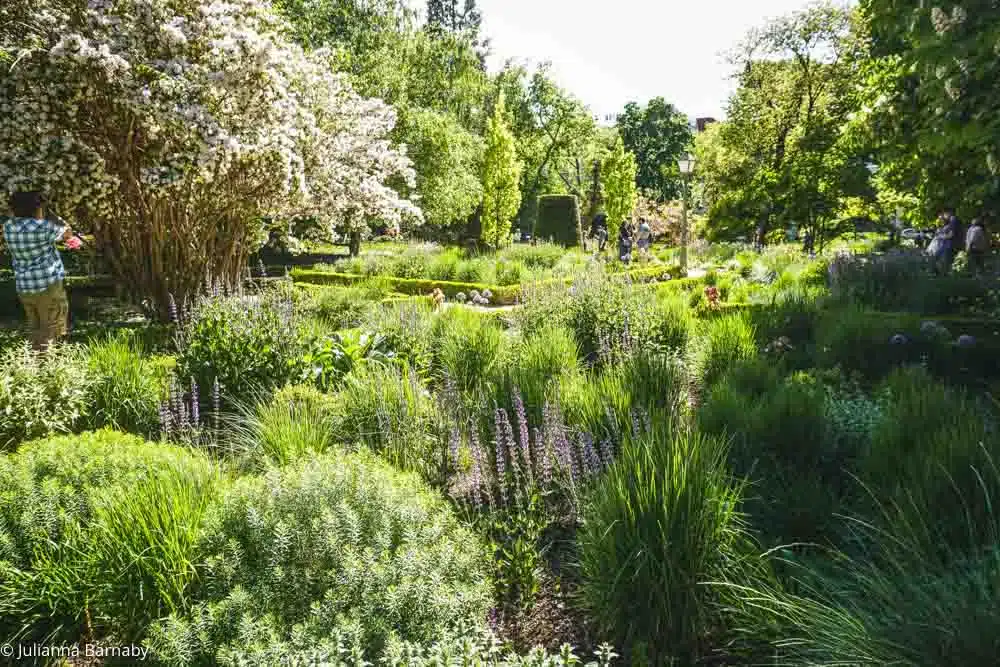 Tucked away just behind The Prado, Madrid's Botanical Gardens date all the way back to the 18th century and are absolutely one of the best things to see in Madrid.
Time your visit for the right season and you will find a riot of colour and fragrance with more than enough quiet and shady spots to take refuge from the fierce sun.
The gardens, which are organised into three main terraces, are pretty delightful and well worth a couple of hours of exploration.
Faro de Moncloa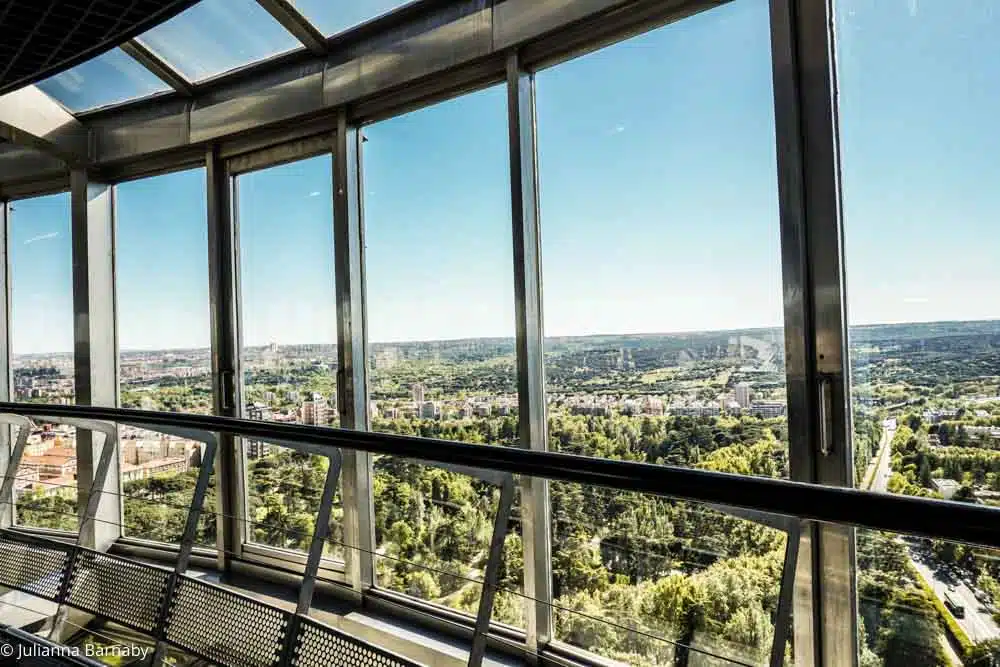 Want to get a bird's-eye view of the city? Head to the ridiculously good value Faro de Moncloa in the north of the city.
The observation deck towers 92 metres above the city, which you can access for a wallet-friendly €3 per adult.Once you're up there, there are plenty of signs and maps to help you identify the landmarks on the 360-degree panorama spread out below.
Sociedad General de Autores y Editores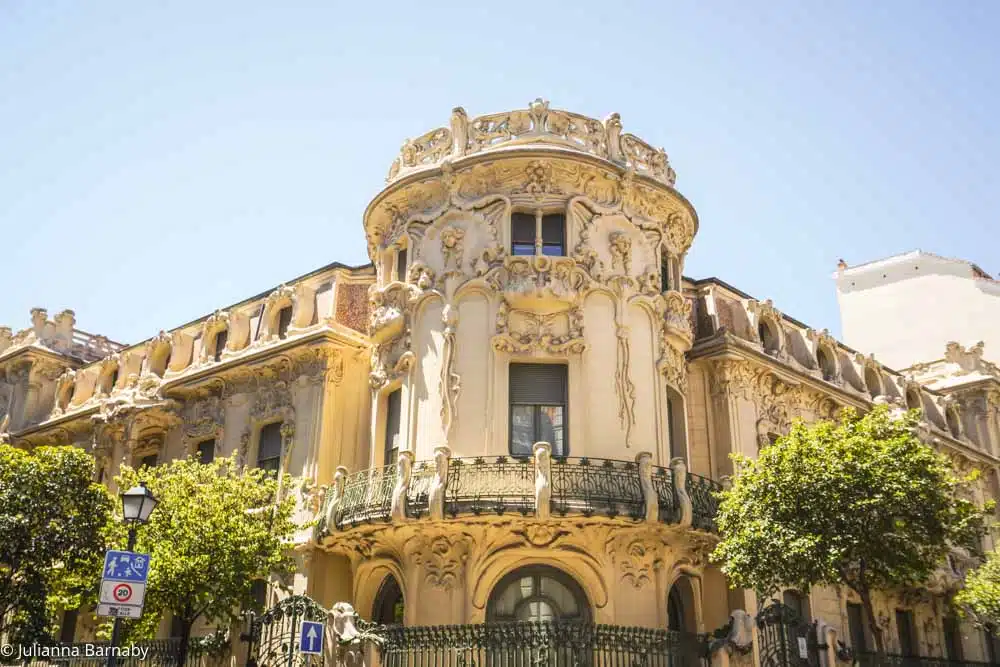 This is another spot that you don't find on many guides to cool places to see in Madrid – but I loved it.
The Sociedad General de Autores y Editores is all about architectural drama – here in the Modernisme style that Gaudi daubed so liberally all over Barcelona.
There aren't many (scratch that, there aren't any) other buildings like this in Madrid – it's a nice contrast to the architecture you see in the rest of the city.
You're not allowed inside, but the exterior is exuberant enough to justify the walk.
Teleférico de Madrid Cable Car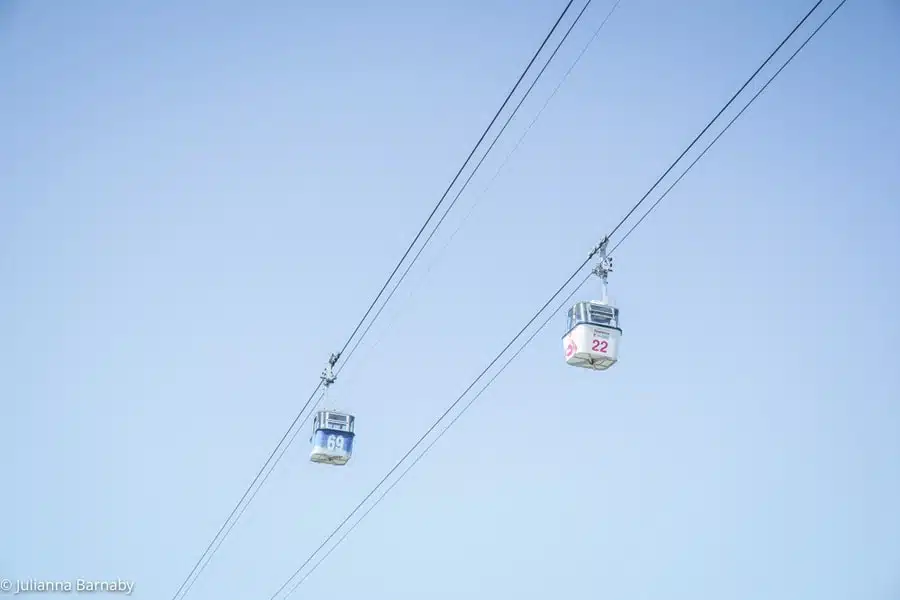 Hop onto the Teleferico for another opportunity to see Madrid from above.
The cable car whizzes you from Parque Oeste to Casa de Campo – Madrid's semi-rural playground on the outskirts of the city – and back again. The journey takes 11 minutes each way.
Atocha Station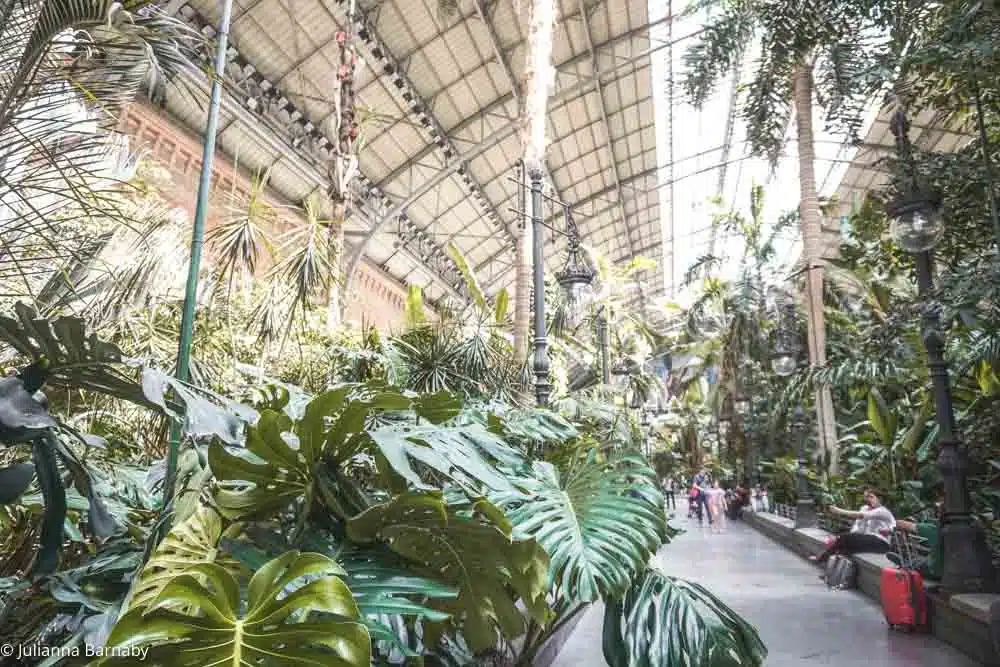 It might seem a bit weird for me to tell you to go to a train station, but not many stations are like Atocha Station.
The largest railway station in Madrid, Atocha is distinguished by the fact that it is home to a 4,000 square metre tropical garden.
Yes, you read that right… there's a tropical garden inside the station. It was created in 1992 to make use of the disused station concourse and contains over 7,000 plants from tropical and sub-tropical species.
Things to do in Madrid at Night
Madrid is one of the biggest party cities in Europe… unfortunately I'm too old and grizzled these days to truly take advantage of it – but here are a couple of ideas for things to do in Madrid at night.
Dinner at La Sanabresa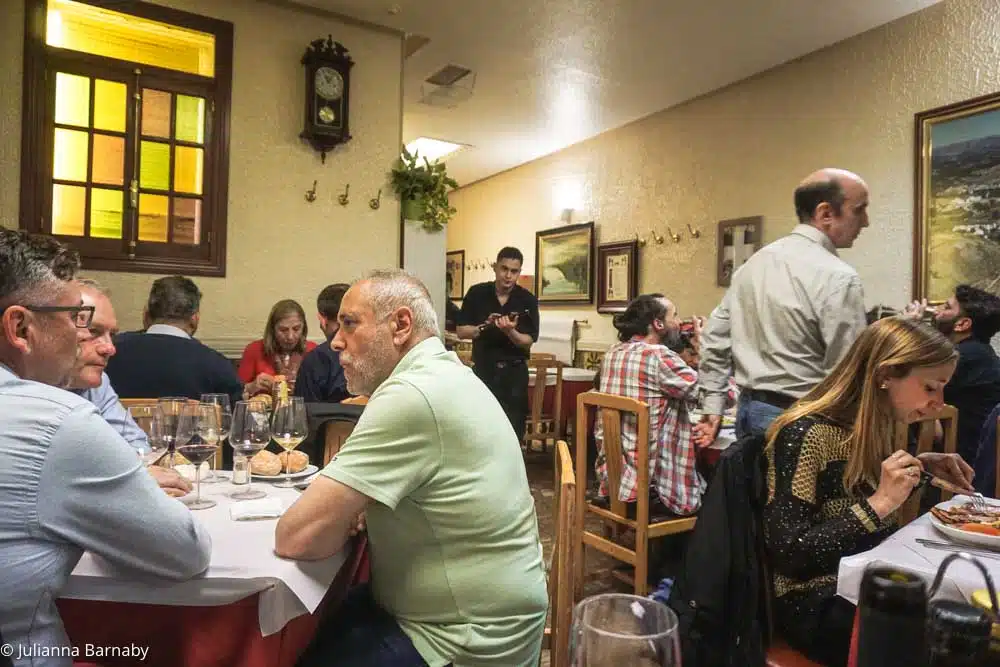 It's tough to pick a favourite restaurant in Madrid, but La Sanabresa is the place I come back to again and again on my trips.
This is an old-school Spanish restaurant – no frills, no fancy, just amazing food at incredibly good prices.
The menu is huge – don't be surprised if you spend a significant portion of the evening just deciding what you're going to have.
I wouldn't worry about it too much anyway, because everything that comes out of La Sanabresa's kitchen is pure Spanish gastronomic gold.
PS. The queues can get mad hectic between 10pm and 11pm.
Watch the Sunset from a Rooftop Bar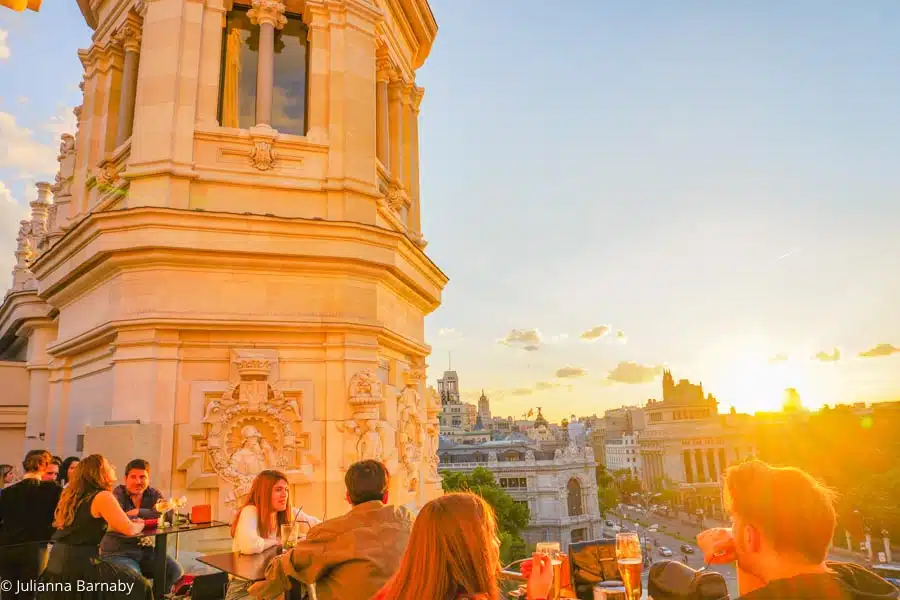 What could be better than watching the sunset, drink in hand on a rooftop bar? Answer = very few things.
Madrid has an obscene number of rooftop bars (probably down to the fact that they have great weather, unlike my hometown of London).
The most famous is at the Circulo de las Bellas Artes – which comes with the queues to match.
My tip? Head around the corner to the Palacio de Cibeles at Centro Centro which also has amazing views but none of the queues.
Read More: The Best Rooftop Bars in Madrid
And… Places to Skip During Your Visit to Madrid
El Rastro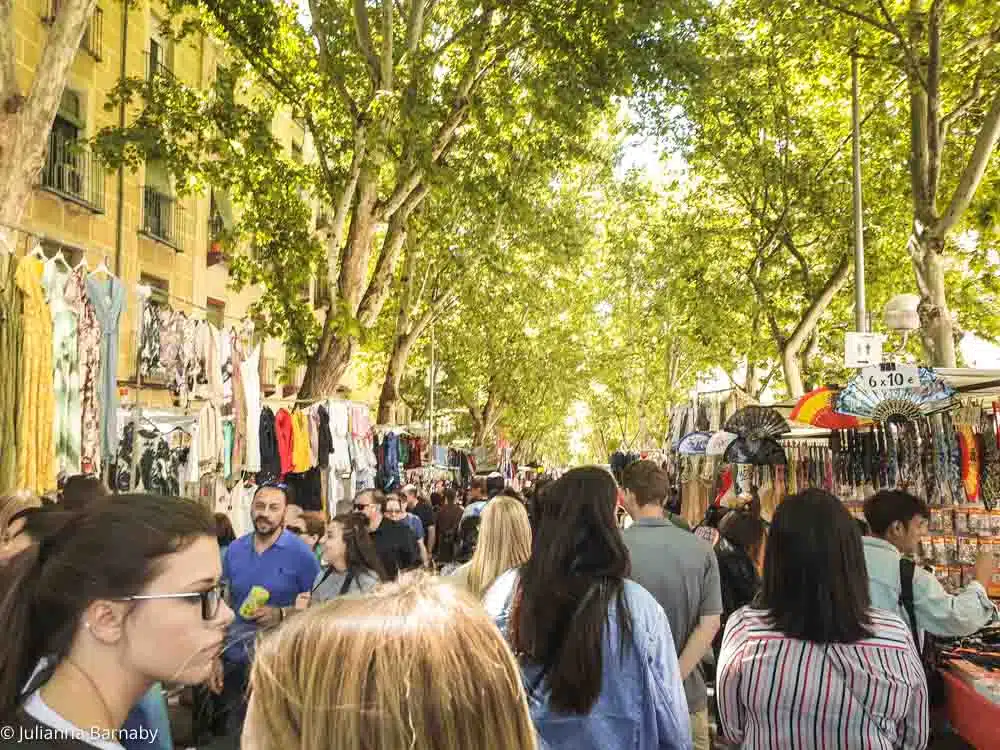 El Rastro features on every list of what to see in Madrid. Can I be honest (oh, go on then, I will) – I thought El Rastro was truly sh*t.
It was like the place where all the rubbish crap that no one wants or needs went to die. It was also packed. What a lovely combination!
Chocolateria San Gines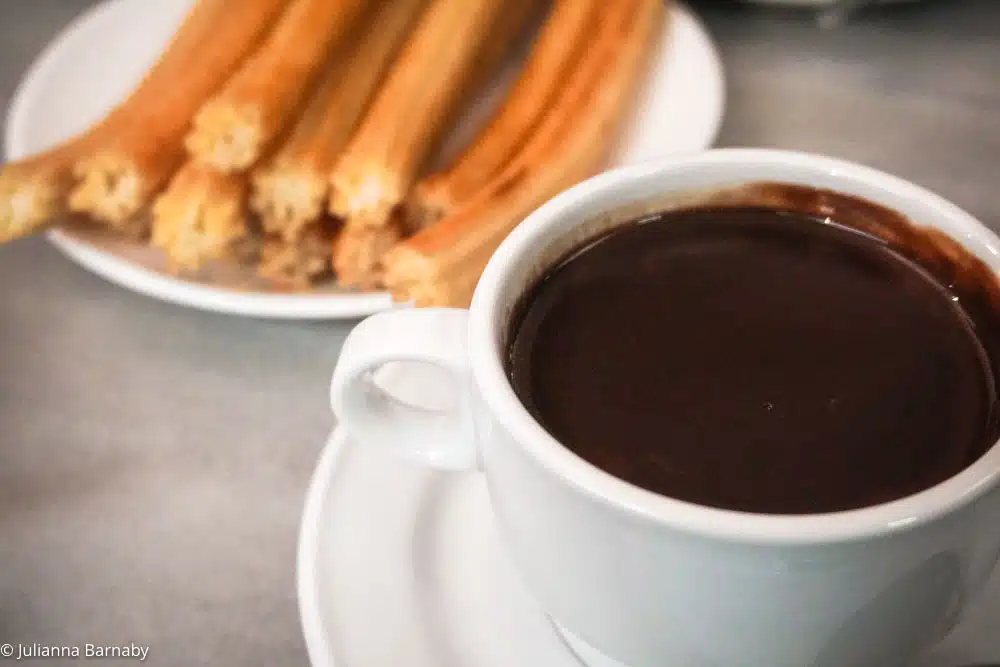 I feel like I ruffled so many feathers when I went to Chocolateria San Gines and posted on my Insta story that I didn't like it. Well, less ruffled feathers and more unleashed a flood of messages ranging from ire to bafflement.
Truth is, the queues are long, the churros are really greasy, the chocolate isn't as good as it is in other places in the city and I just didn't get the fuss.
In the interests of transparency I should probably say that I don't get that excited about chocolate overall, but I really did love the chocolate at El Riojano around the corner – and there are no queues. Just saying.
Gran Via
If you have a big shopping street in your home city, I can pretty much guarantee you've seen most of what Gran Via has to offer.
There are so many artisan shops, cool independent restaurants and offbeat spots in Madrid that it seems a shame to waste your time shopping in the same old shops you can find everywhere else.
Map of The Best Things to do in Madrid
Need to Know: Practical Information for Discovering Madrid's Attractions
Getting to Madrid
You're likely to start your whisk round of Madrid in a day with a flight to Madrid Barajas International Airport or a train into Madrid's Atocha or Chamartin stations.
There are a lot of low-cost carrier flights to Madrid Barajas from all over the world -.
Check flights to Madrid on Skyscanner.
Terminal 4 is much nicer than the older, older terminals but they're all pretty well connected and it's relatively easy to get into the city from them.
Obviously, catching a taxi or booking a transfer is going to be the least hassle – but that comes at a price.
Madrid's efficient metro (tube) service runs to the airport, with one stop serving Terminals 1, 2 and 3 and the last serving Terminal 4.
You can buy a ticket at the well-signposted metro station (don't forget to pick the special airport ticket, which costs a bit more) – the journey to Nuevo Ministerios takes around 25 minutes, from where you can pick up a connecting metro or overground train to pretty much every destination in the city.
Another alternative is to take one of the several airport buses from the airport to the city centre. This can be quicker or slower than taking the metro depending on your destination – I'd suggest checking Citymapper in advance to work out which one is going to be easier for you.
Getting Around Madrid
Madrid is a very walkable city, so for the most part, I would suggest getting a pair of comfortable walking shoes and doing most of your travel on foot.
If you are taking public transport, you can buy individual metro tickets (around €2 each) or pay a deposit for a rechargeable transport card.
Suggested Stay in Madrid: Axel Hotel Madrid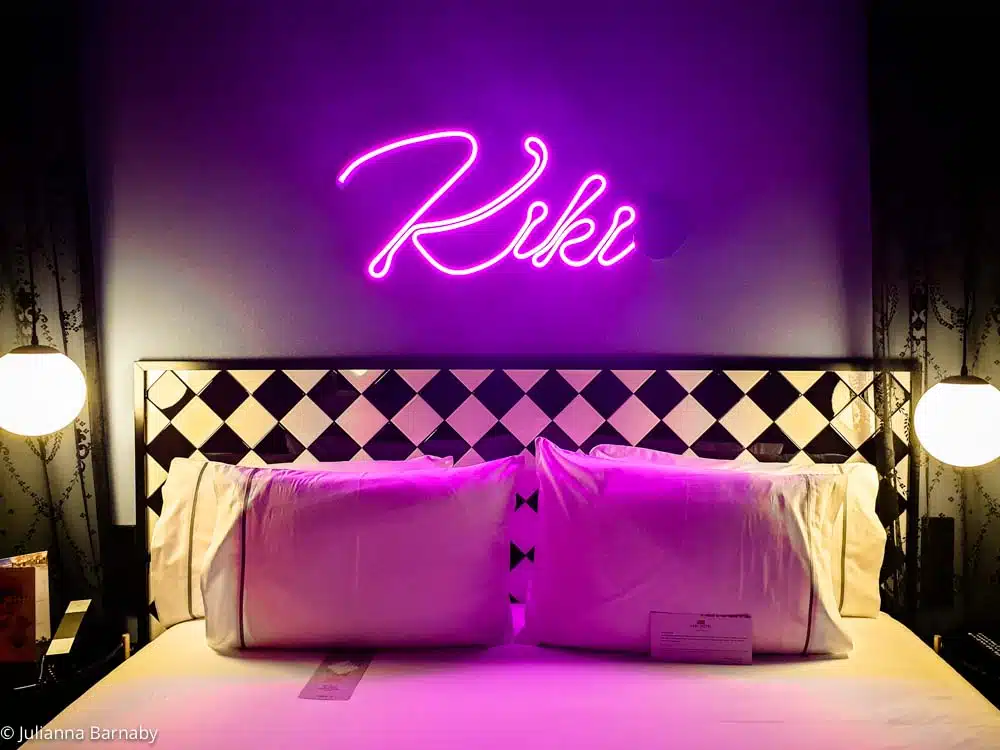 I mentioned this earlier on – I stayed in the Axel Hotel Madrid during my most recent stay and it's fast become my favourite hotel in Madrid to date.
It's a gay (but very hetero-friendly) hotel in the centre of the city – you're within a 10 minute walk of Plaza Mayor and Plaza del Sol, the rooms are really stylish and there's a rooftop bar and accompanying pool for you to hang out in as the sun sets. Highly recommended.
Also, check out this post on the best areas to stay in Madrid.
Suggested Tours of Madrid
Here are a couple of tours that will help you explore Madrid's top attractions to the fullest during your time there. Don't forget to check my one-day Madrid itinerary either!

And if you have a little more time, you can also consider these day trips from Madrid.
How Many Days do you Need in Madrid?
I would suggest three days in Madrid. This is enough time to allow you to visit many of the city's major sights without having to rush around at an uncomfortable pace.
If you do have more time to explore, even better as you can see some of the more offbeat Madrid attractions and take the time to discover the city at a leisurely pace.
What to Pack for Madrid
Check out this Madrid Packing Guide for an in-depth look at what to bring.
Love this? Save and share on Pinterest!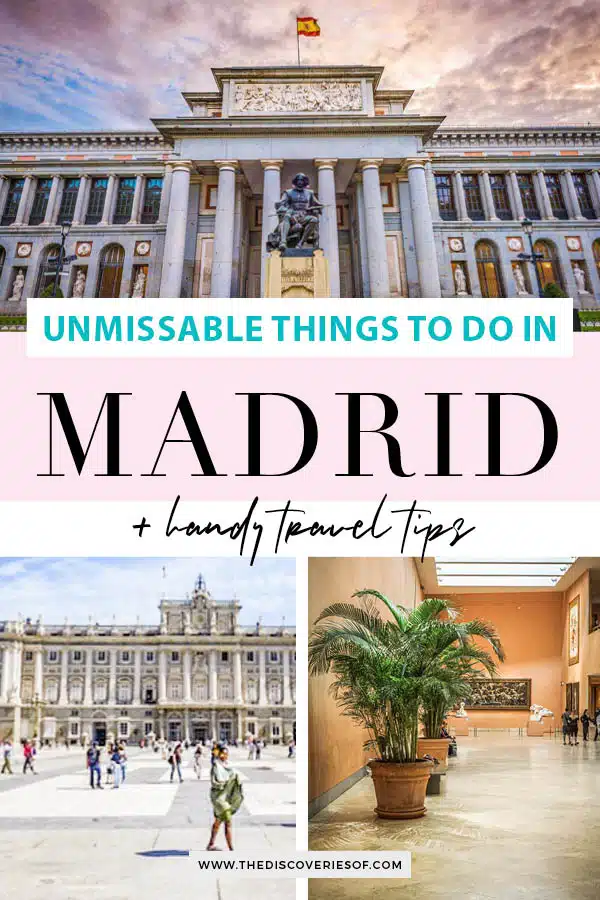 Looking for more Madrid and Spain tips and guides? Check these out…