Planning your trip to Bilbao and not sure where to stay? Don't miss this Bilbao accommodation guide – the best areas and hotels in Bilbao.
My love of Bilbao isn't exactly a secret. Packed with brilliant things to do and beautiful spots, not to mention a buzzing culture that isn't quite like anywhere else in Spain, it's no wonder that those in the know return to this Basque country gem time and time again.
Anyway, if you're looking for where to stay in Bilbao, my guess is that you've already heard whispers of the city's charm and want to know how best to go about planning your trip.
Good decision.
This guide will walk you through Bilbao's different areas – what you'll find in each and recommended stays in each.
Pssst… I love using Plum Guide to find rental properties in Spain – they hand select every property that goes onto their site, so quality is guaranteed.
Where to Stay in Bilbao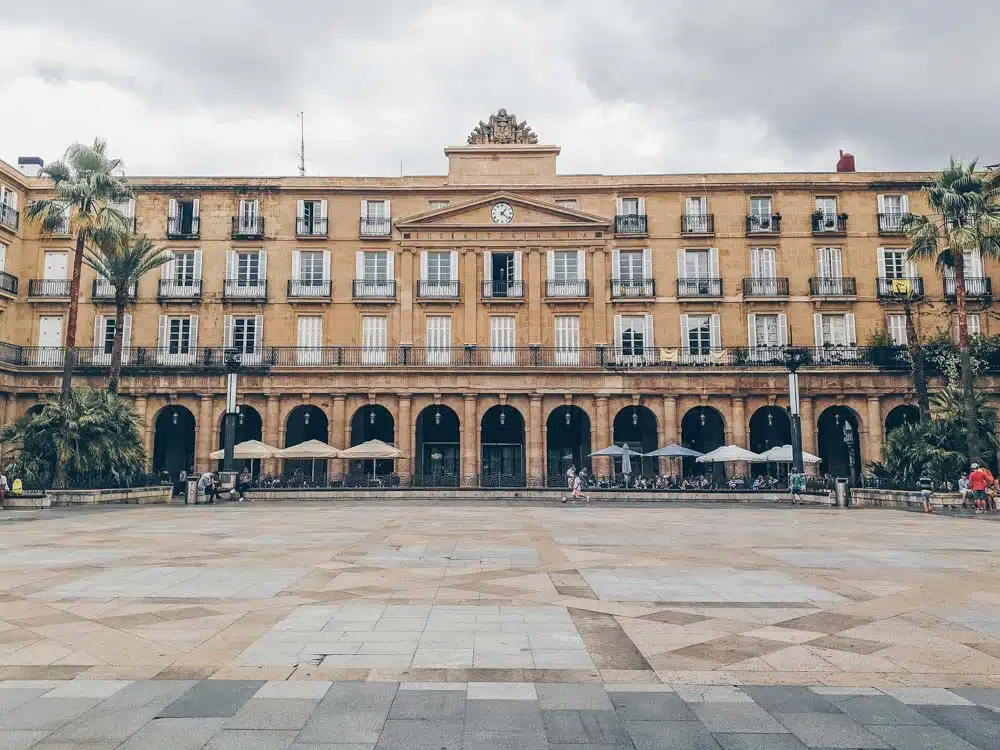 I'd recommend staying in the Casco Viejo neighbourhood in Bilbao thanks to the combination of charm and the convenience of having some of the city's best bars and restaurants on your doorstep
Casco Viejo isn't short of a brilliant hotel or two, however Pension Caravan Cinema is a quirky and cosy option just a stone's throw from the main sights.
Casco Viejo: Best Area to Stay in Bilbao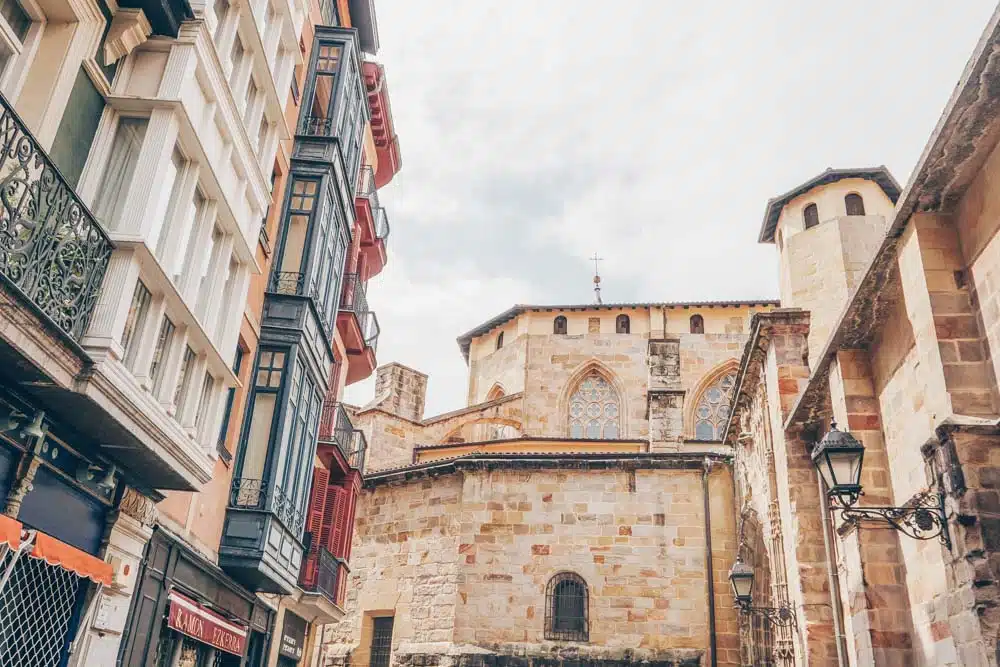 The oldest part of the city is often the most charming, and Casco Viejo in Bilbao is no exception. It's no surprise this is where many visitors like to base themselves during their stay.
Casco Viejo is within an easy stroll of the main highlights – which is especially great when the weather is toasty warm or freezing cold. Even sights on the newer side of the city (like The Guggenheim) are no more than ½ hour's walk away.
Plus, being one of the most popular parts of the city for visitors, there's an abundance of restaurants, cafes and – of course – pintxo bars.
You'll also find great transport links from Casco Viejo, and it's also easy to walk to other places like Esanche, Duesto or Abando.
Casco Viejo Highlights
Santiago Cathedral
If it's imposing historic sites you're after, look no further than Santiago Cathedral. This impressive 15th century Cathedral is a beautiful example of Gothic architecture, and a point of pride for locals of Bilbao.
Archaeological Museum
The Archaeological Museum is a relatively new museum that opened in 2008, it has lots of exhibitions about the ancient and more modern history of Bilbao.
Plaza Nueva
Bilbao isn't just about the old, you know. Plaza Nueva is one of the most bustling streets in Bilbao, it's a gorgeous hodgepodge of cafes, restaurants, shops and bars.
Suggested Casco Viejo Hotels in Bilbao
Hotel Sirimiri
Hotel Sirimiri is a great mid-range hotel that offers a clean and comfortable place to stay right in the heart of Casco Viejo. Rooms are simple but the price and location more than make up for this.
Hotel Iturrienea Ostatua
I highly rate Hotel Iturrienea Ostatua – a charming mid-range boutique hotel that offers a great location as well as facilities including free wifi and flatscreen TVs in the rooms.
Pension Caravan Cinema
Possibly my favourite accomodation in all of Bilbao is the Pension Caravan Cinema. Uniquely decorated in the theme of vintage cinema, this is a warm and inviting mid-range option in Casco Viejo.
Ensanche: Where to Stay in Bilbao for Luxury Hotels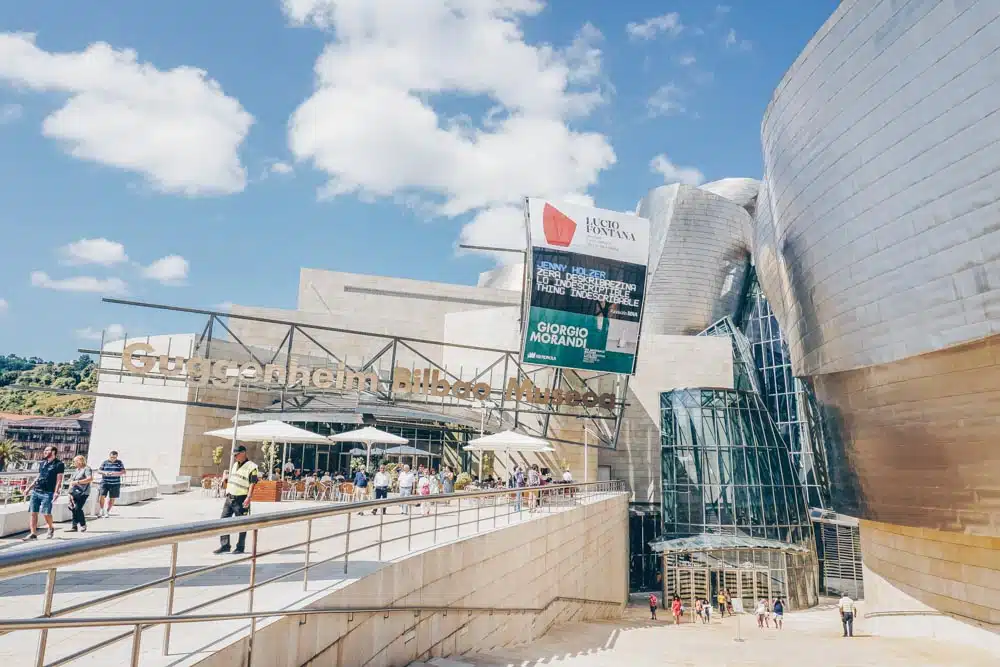 Ensanche has long been a hub for the well-heeled crowd in Bilbao, and it's kept its reputation as a glamorous hotspot.
It's home to some of Bilbao's most beautiful buildings. This is thanks to the influence of well-known architects on this region of the city.
Many of the buildings today house some of Bilbao's most glamorous hotels and accommodations. There's also a good selection of restaurants, bars, cafes and shops – mostly which cater to the more high-end market.
So, if you enjoy the finest things in life, then this is a fabulous base for your stay in Bilbao.
Ensanche Highlights
The Guggenheim Museum
The Guggenheim Museum is undoubtably the biggest name in Bilbao tourism. This museum devoted to contemporary art almost single-handedly rejuvenated the city. It's unmissable.
Charming Streets
What to do in Ensanche? Take my advice – spend an afternoon wandering down the boulevards and avenues, admiring the grand and elegant buildings that Ensanche is famous for.
Suggested Ensanche Hotels in Bilbao
NH Collection Villa de Bilbao
Without a doubt, NH Collection Villa de Bilbao is a top contender for the best hotel in Bilbao. This sleek and modern hotel opened its doors in 2012 and quickly established a reputation for elegance and luxury.
Hotel Melia
One of my favourite chains, Hotel Melia Bilbao is a luxurious and architecturally designed hotel. To be honest, it's a work of art itself – befitting for its location opposite the Guggenheim museum.
Hotel Miro
Hotel Miro is a charming boutique hotel with incredibly friendly staff and a fabulous breakfast hotspot. Not to mention it has the dreamiest views from (some of) the rooms.
Castaños and Deusto: Best Value Areas to Stay in Bilbao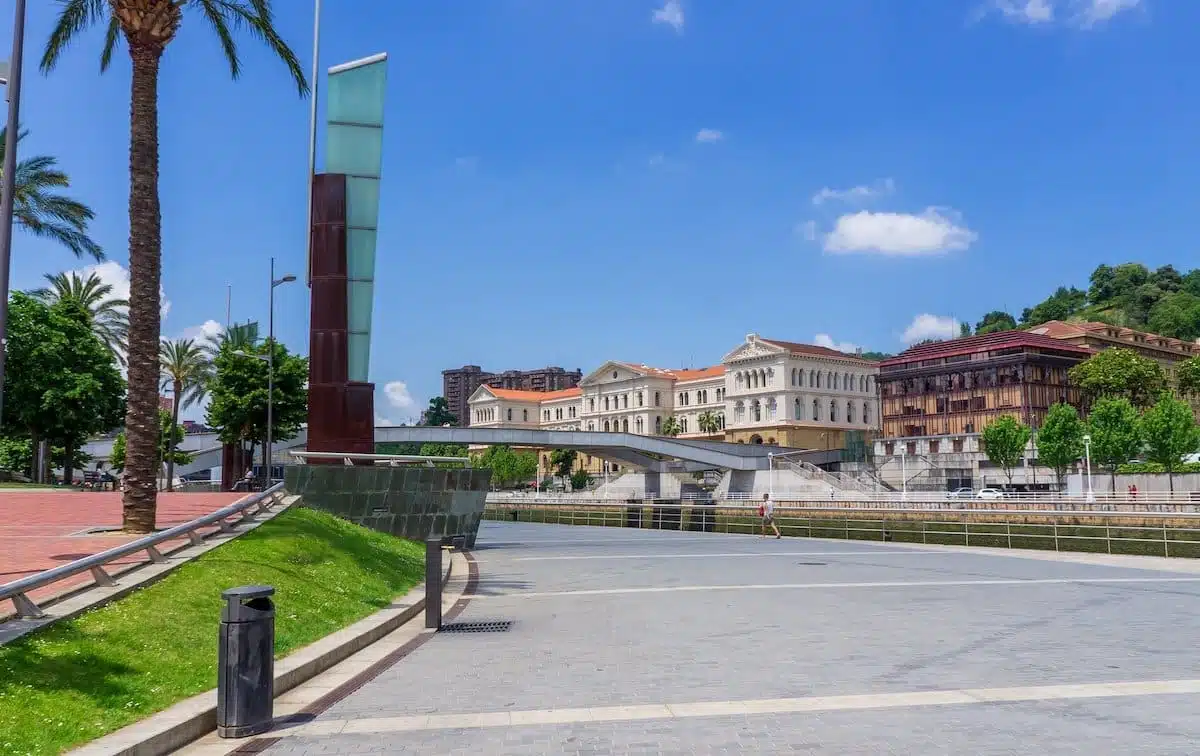 Bilbao's modest size makes getting around the city easy. Even if you stay a little bit further away from the main hotspots, you'll still be strolling distances from the sights.
Duesto is also convenient if you're looking for a Bilbao airport hotel, as it's in the right direction for plane arrivals.
So, if you're looking to save your Euros to spend at the pintxo bars – then staying in the further-out neighbourhoods of Castaños and Deusto is a great choice.
The areas are popular with students, and are safe and fun in their own right. You'll find a good selection of bars, cafes and restaurants locally.
Or, just a short walk over the bridge will bring you into the heart of Bilbao – it's only a short hop away from The Guggenheim.
Castaños and Deusto Highlights
Bidarte Jauregia
Nestled in a small park, this is one of Duesto's most famous landmarks. This stunning building is well worth a visit.
Guggenheim Museum
Although it's technically not in Duesto, the Guggenheim is located just across the river. This makes it an ideal location if you want to spend hours soaking up the culture, without spending all your hard-earned money.
Suggested Castaños and Deusto Hotels in Bilbao
NH Bilbao Duesto
Another NH option that I adore, Hotel NH Bilbao Duesto offers great value for money and is conveniently located for the Guggenheim Museum as well as other attractions. Rooms are sleek and stylish, yet simple.
Indautxu: Where to Stay in Bilbao Like a Local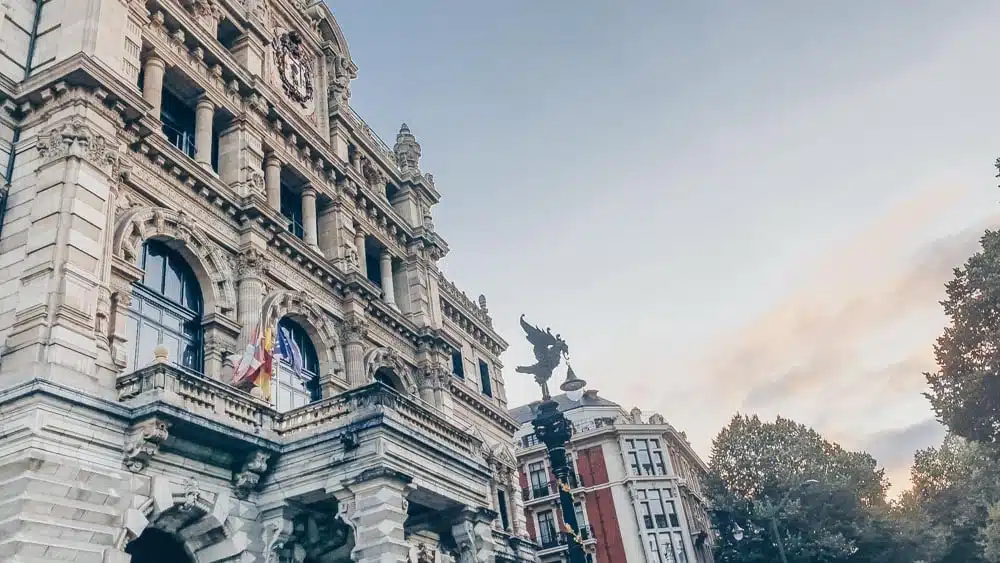 The cosmopolitan neighbourhood of Indautxu is a favourite amongst Bilbao's locals.
With great shopping, dining and a good spattering of nightlife, there's plenty to do here but in an environment that bit more relaxed than Casco Viejo.
Another highlight of Indautxu is its proximity to the world-famous Guggenheim museum, while the Old Town is also easy to reach on foot.
Indautxu Highlights
Doña Casilda Iturrizar Park
Perhaps Bilbao's most famous green space, Doña Casilda Iturrizar Park is a perfect place to enjoy a relaxing stroll. Don't miss the Duck Pond.
Azkuna Zentroa
Azkuna Zentroa is a multi-use art space located in the former corn exchange. Today, you can see different art, theatre and music shows.
Museum of Fine Arts Bilbao
It's not all about the Guggenheim. The Museum of Fine Arts Bilbao is a case in point. Find out even more about Bilbao's impressive art credentials by taking a stroll through this excellent museum and gallery.
Suggested Indauxtu Hotels in Bilbao
Hotel Carlton
Fancy staying somewhere as homely as it is breathtaking? Hotel Carlton is a luxury hotel is located in one of Indauxtu's most beautiful buildings, and the inside is just as chic.
Bilbao La Vieja (Bilbi): Coolest Area to Stay in Bilbao
It seems every city has its grungy-turned-sought-after neighbourhood, and in Bilbao that's Bilbao La Vieja.
Once an industrial area popular with dock workers, "Bilbi" (as its known to locals) is today one of the trendiest neighbourhoods in Bilbao.
Think art galleries, hip coffee shops and frequent events. Bilbi is known for its fun, laidback character, and this makes it an ideal place to stay in Bilbao.
Plus, you're only a short walk away from Casco Viejo.
Bilbi Highlights
Restaurants + Bars
As I've mentioned, this is the nightlife hub of Bilbao. Go bar hopping amongst the trendy cocktail bars such as Peso Neto and Bihotz, and make sure you book a table at La Mina, the first restaurant in Bilbao La Vieja to achieve a coveted Michelin star.
Bilbao Arte
Visit Bilbao Arte, a gallery aimed at giving young, local artists a chance to showcase their work. It's one of my favourite places in the city. Who knows, you might just find the next big thing!
Suggested Bilbao La Vieja Hotels in Bilbao
Residencia Universitaria Blas de Otero
Looking for somewhere equally hip to stay in this cool neighbourhood? Let me introduce you to Residencia Universitaria Blas de Otero: Bilbao La Vieja. Enjoy the youthful vibes at this accommodation popular with students and the young-at-heart.
Best Hotels in Bilbao
Hotel Carlton: Indautxu (Luxury)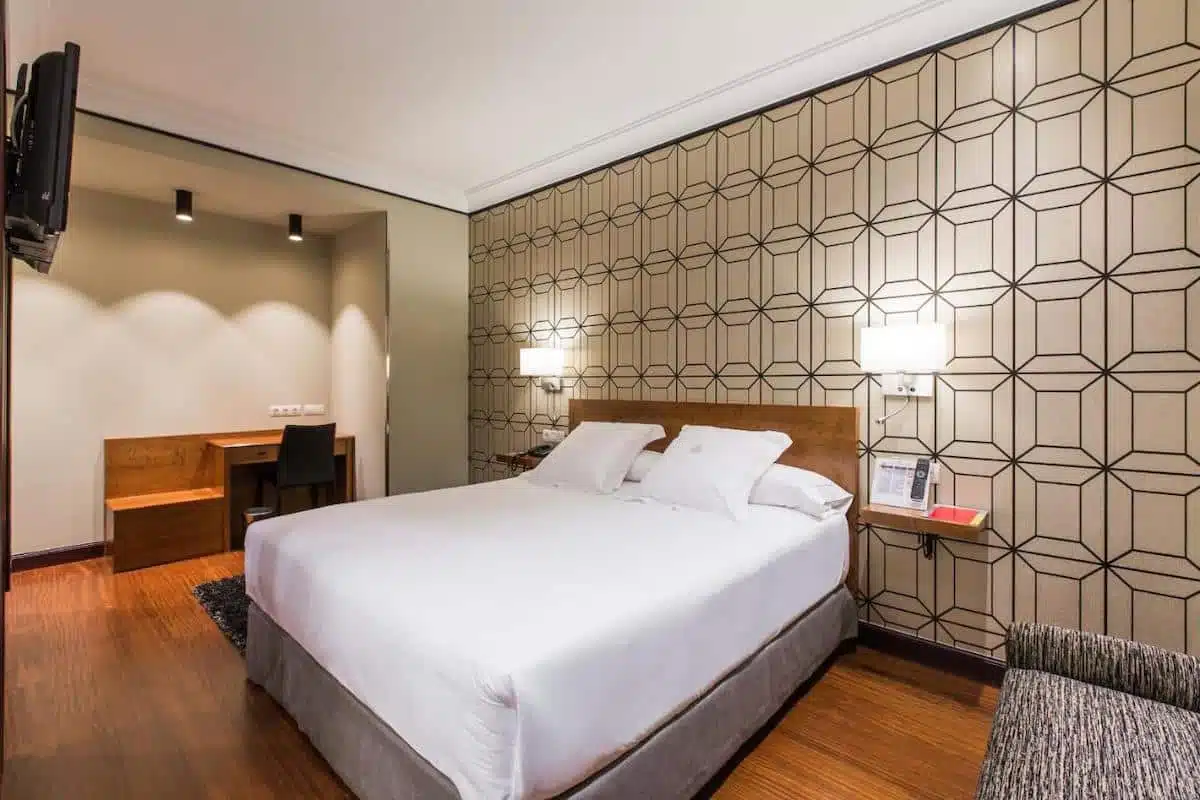 Enjoy Bilbao in style with the elegant five-star Hotel Carlton.
Centrally located on the bustling Plaza de Federico Moyúa, the hotel has a great location. It's within easy walking distance of Old Town as well as the sights of Anando.
The hotel itself is somewhat of a landmark in the neighbourhood, thanks to its grand facade. It's one of the most historic and beautiful buildings in the area.
The rooms here are modern and stylish, with luxury linens, free wifi and a complimentary mini bar.
A tasty breakfast is the perfect way to get your day in Bilbao off to a great start, while there's also a gym if you like to keep in shape while on holiday.
Check Rates and Availability for Hotel Carlton
Hotel Sirimiri: Casco Viejo (Mid-Range)
A simple, clean and comfortable hotel, Hotel Sirimiri is a great option for accommodation in Bilbao Old Town.
Conveniently located in Casco Vieja, the hotel enjoys a location nestled amongst the most picturesque parts of Bilbao.
The decor of the hotel and rooms is modern and stylish, with large windows that let in plenty of light and give views of Old Town.
Start every day off with a tasty breakfast, which is a cold buffet featuring continental options like cereal, cheese, fruit and yoghurt.
Old Town is right on your doorstep, and there are also easy transport links to other parts of Bilbao if you'd prefer not to walk.
Check Rates and Availability for Hotel Sirimiri
Hotel Melia Bilbao: Ensanche (Luxury)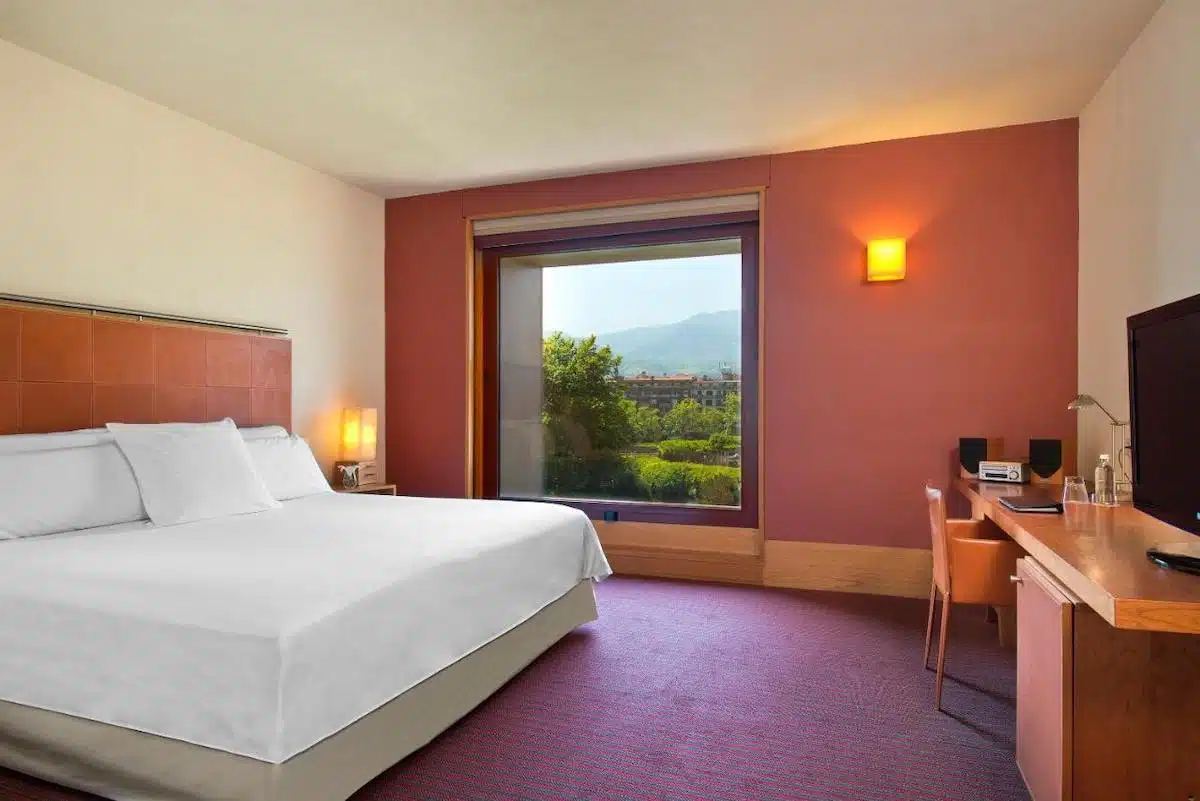 Waste no time in transit at Hotel Melia Bilbao, which boasts a fabulous location just ten minutes from the Guggenheim Museum.
The five-star hotel is luxurious and stylish, with minimalist rooms that all feature a flatscreen TV and free wi-fi. There's even a balcony in most rooms – perfect for enjoying a morning coffee or evening bubbly.
Foodies staying at the hotel won't need to go far for something delicious to eat – the hotel's restaurant picked up a Michelin star back in 2014.
There's also a cosy cocktail bar for the days when the city's nightlife is that bit too far away.
Oh, and there's a swimming pool for cooling off after a big day of exploring the city's sights.
Check Rates and Availability for Hotel Melia Bilbao
Hotel NH Bilbao Deusto: (Mid-Range)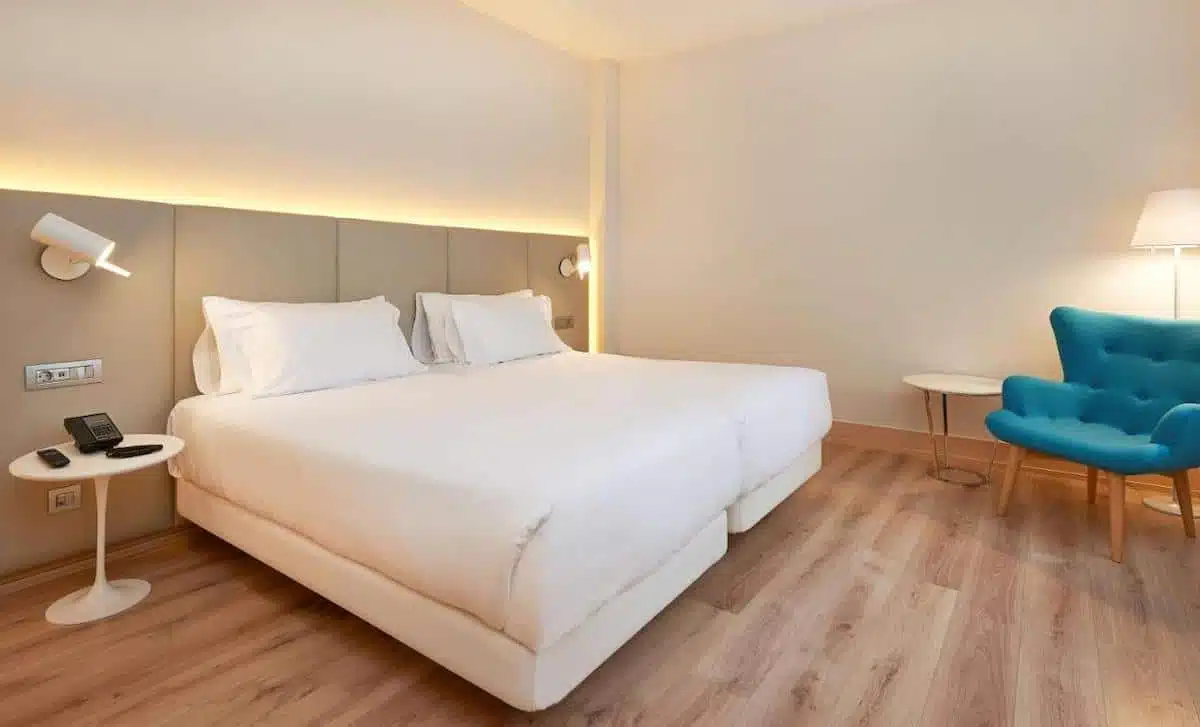 If you're planning on visiting the Guggenheim Museum (I mean, it's Bilbao – of course you are), then Hotel NH Bilbao Duesto is super convenient.
Located just a few hundred metres from the museum in student favourite Duesto, it offers great value for money and convenience.
Inside, the hotel is modern, stylish and well-equipped with free wifi, satellite tvs and an on-site restaurant.
Check Rates and Availability for Hotel NH Bilbao Deusto
Miro: Ensanche (Upper Mid-Range)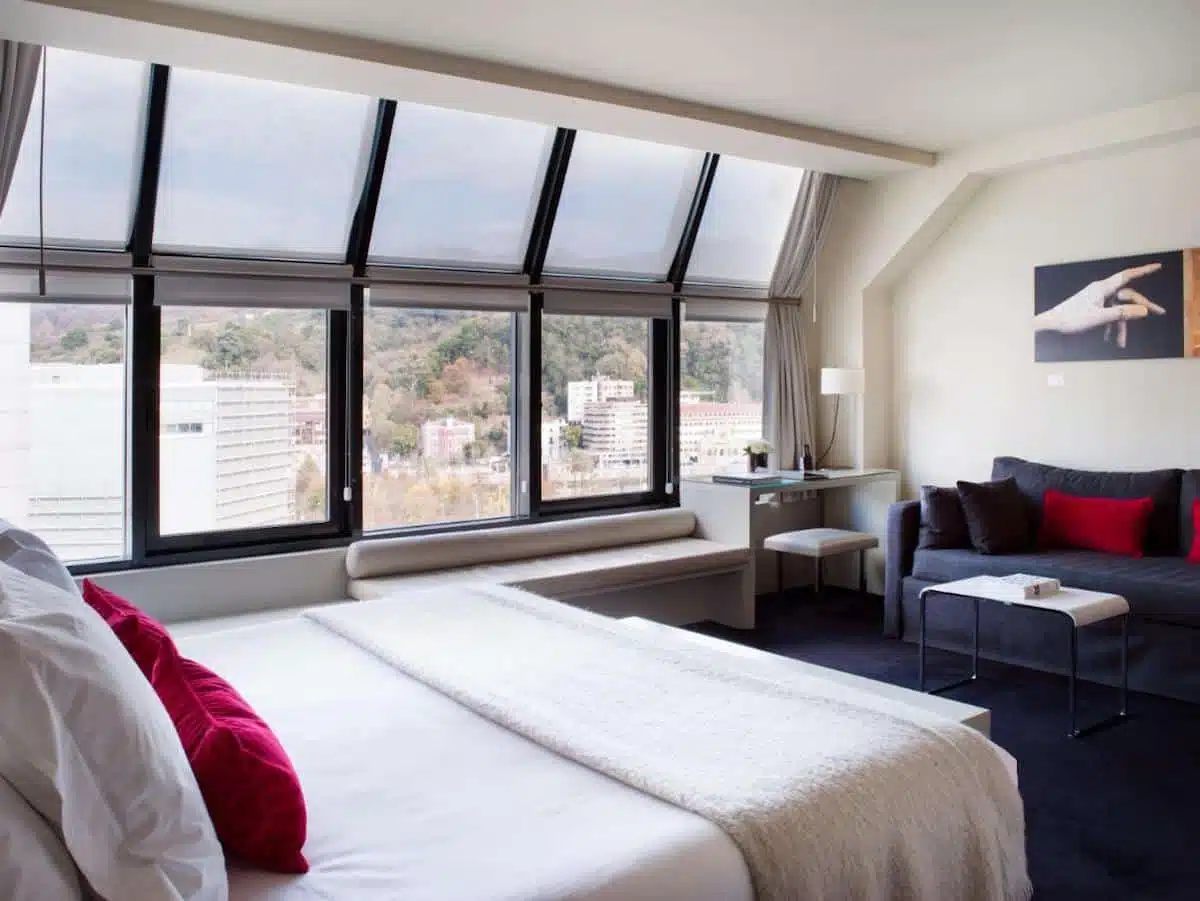 The style of this hotel might be sleek and minimalist, but the staff are warm and friendly – making it one of the best boutique hotels in Bilbao.
Hotel Miro is a four-star hotel, offering rooms that are modern, stylish and comfortable.
The hotel also has many extra features to enjoy during your stay, including a cosy common room (a great coffee spot) and a spa and wellness centre.
The hotel serves up a delicious and very Instagrammable breakfast from 'the Bread Bag', while there are many great Basque restaurants nearby for lunch and dinner.
If you want to cap off your day with a cocktail, you'll love the hotel bar.
Check Rates and Availability for Hotel Miro
Gran Hotel Domine: Ensanche (Luxury)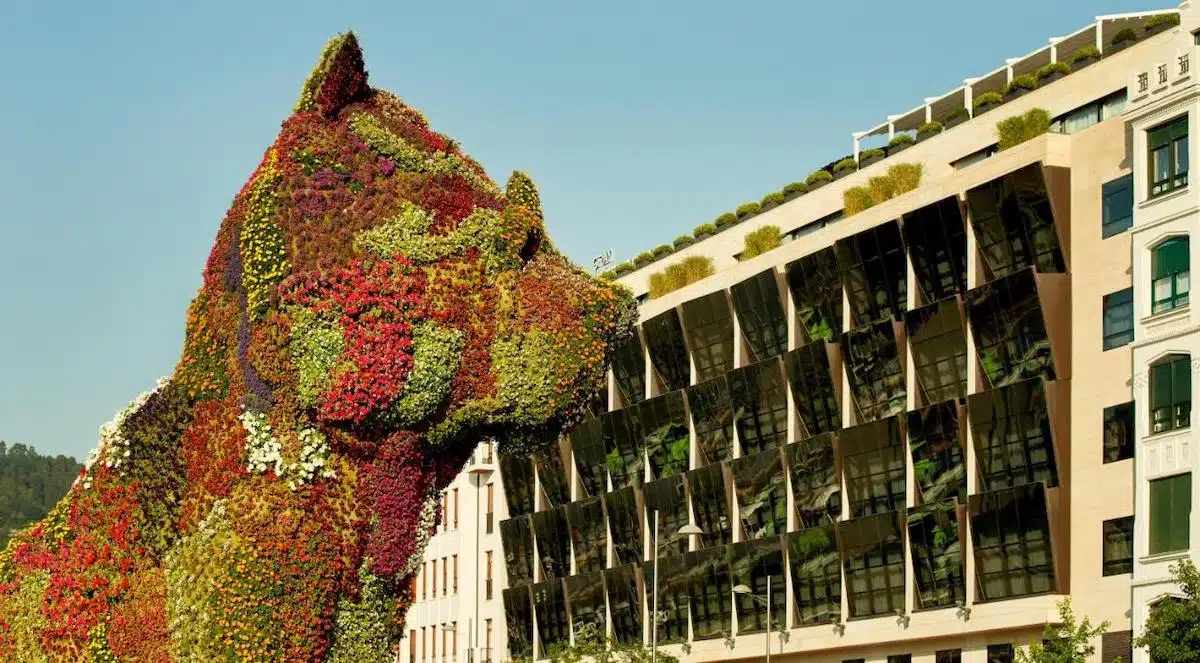 As is only right for a hotel located literally opposite the Guggenheim Museum, the Gran Hotel Domine is an architectural wonder in itself.
Modern, stylish and sleek, it could be its own attraction thanks to its appealing and unique exterior and interior.
Inside, the rooms are equally chic with hand-selected artworks giving a pop of colour and style. Other features of the room include a large flat screen television and USB chargers.
There's also a wellness centre including a gym, sauna and Turkish bath, a bar and two restaurants.
Then there's the charming rooftop terrace offering some pretty epic views. I think you'll agree this is a serious contender for best place to stay in Bilbao, Spain.
Check Rates and Availability for Gran Hotel Bilbao
Residencia Universitaria Blas de Otero: Bilbao La Vieja (Mid-Range)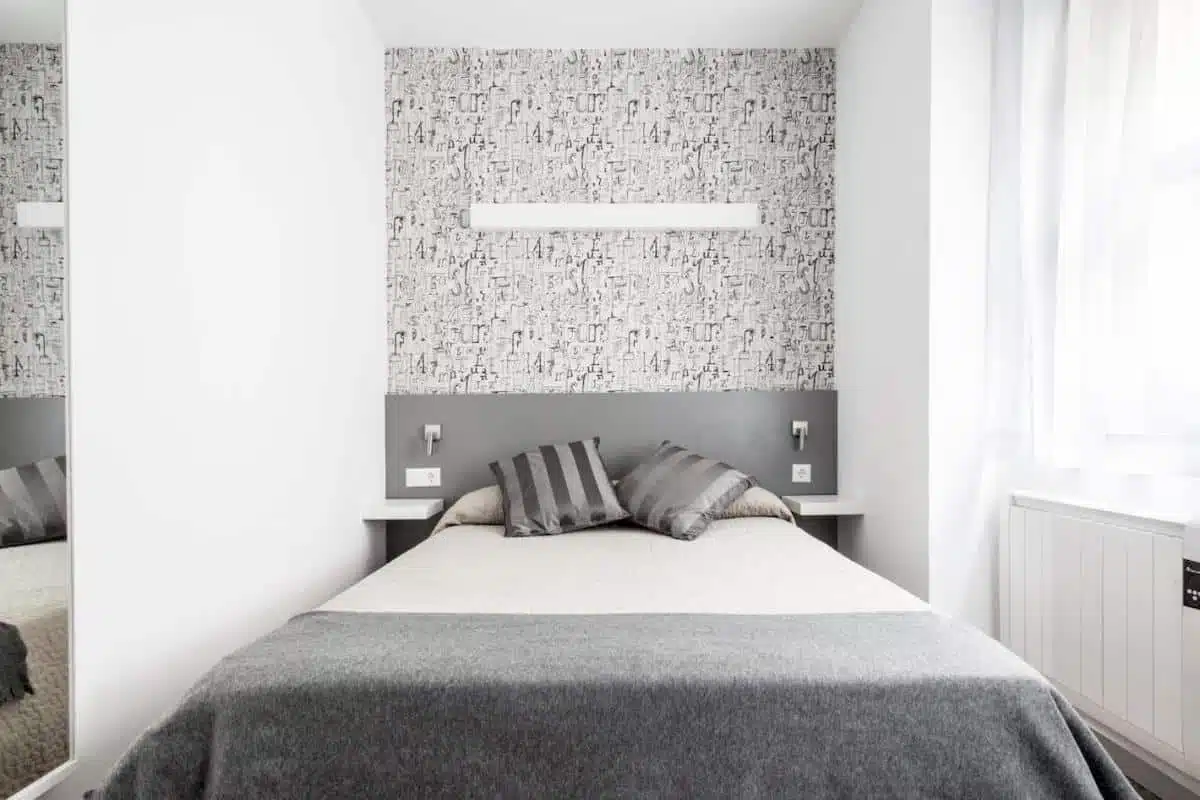 Looking for a comfortable and convenient base that's close to all of the main sights in Bilbao? Enter Residencia Universitaria Blas de Otero: Bilbao La Vieja.
The hotel is actually student accommodation, but you don't need to be studying in Bilbao to stay there. You do need to be either a student or staff member of a university (with an international student card) or a member of any IYHF hostel association.
Membership of either of those will entitle you to a clean and comfortable stay, less than a ten minute walk from Casco Viejo.
The hotel is also very affordable, making it one of the best Bilbao hotel deals on offer.
Check Rates and Availability for Residencia Universitaria Blas de Otero
Pension Caravan Cinema: Casco Viejo (Mid-Range)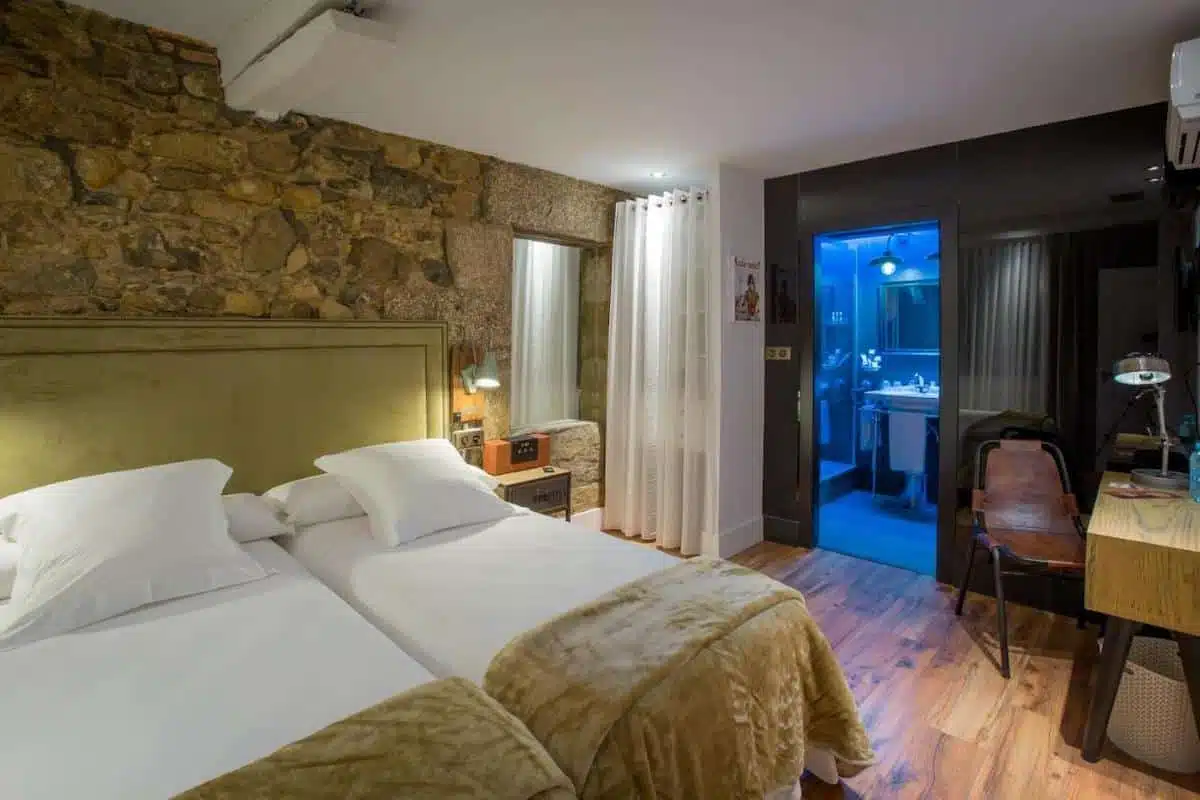 In a world of sleek minimalism, sometimes you just want a hotel that goes in decisively the other direction. Like Pension Caravan Cinema.
This hotel is decorated in line with its theme of a cinema, with various artwork and memorabilia on the walls.
As well as the stylish decor, you'll get free wifi, ice-cool airconditioning and access to a cosy common space with a great coffee machine.
This hotel boasts an excellent location, being one of the best hotels in Bilbao Old Town. Considering its central location, it also offers excellent value for money.
Check Rates and Availability for Pension Caravan Cinema
Hotel Iturrienea Ostatua: Casco Viejo (Mid-Range)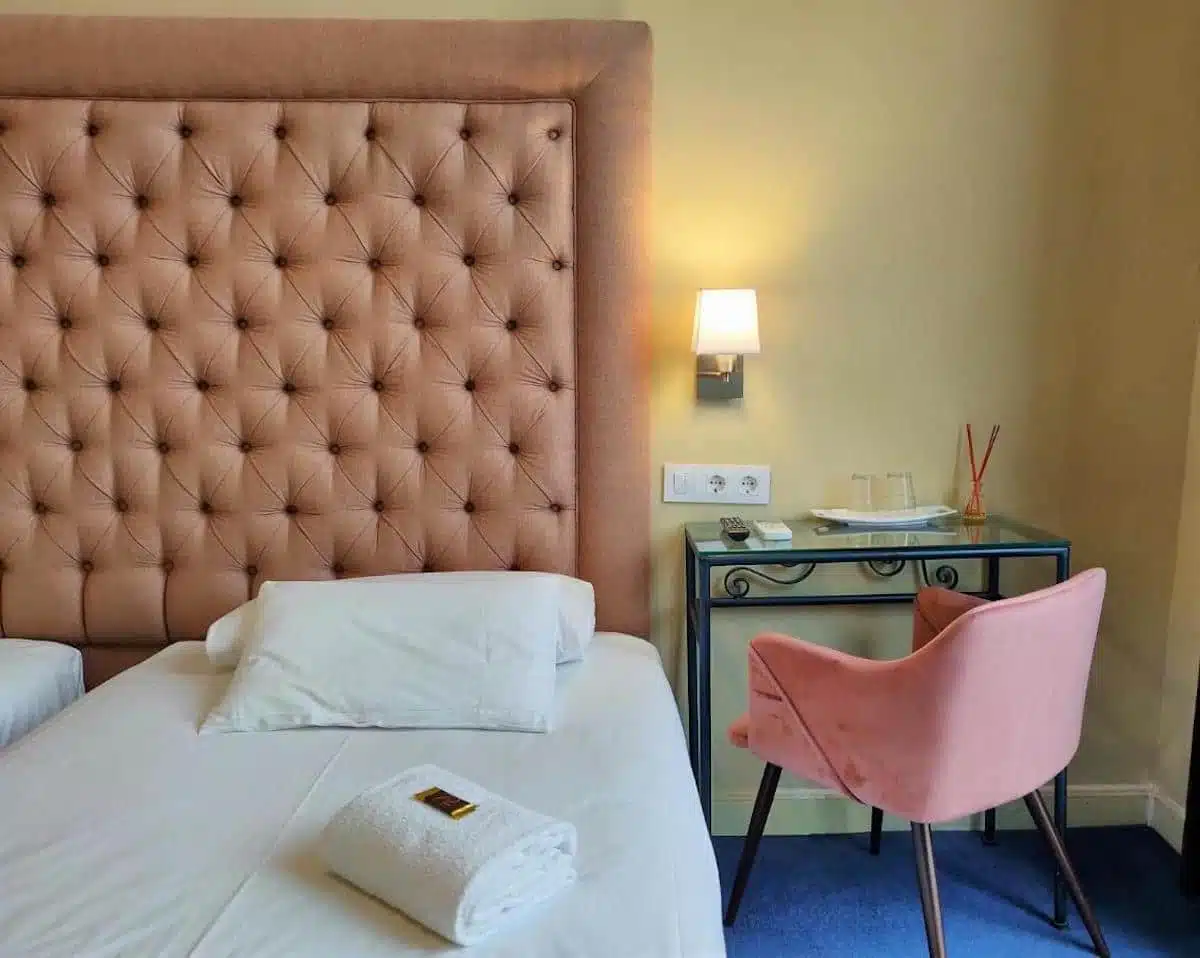 If you're all about charm then this is surely one of the best Bilbao hotels in Old Town.
Nestled down a pedestrian street, Hotel Iturrienea Ostatua is smack bang in the heart of Casco Viejo, meaning there are many great attractions on your doorstep.
With so many things to do and see, chances are you won't want to spend much time in the rooms – however, they are clean, comfortable and cosy.
They also feature free wifi, a flatscreen television and heating and cooling.
Conveniently, the hotel also offers a tour desk and the staff will be more than happy to help you with recommendations for things to see and do, as well as directions around the city.
Check Rates and Availability for Hotel Iturrienea Ostatua
NH Collection Villa de Bilbao: Ensanche (Luxury)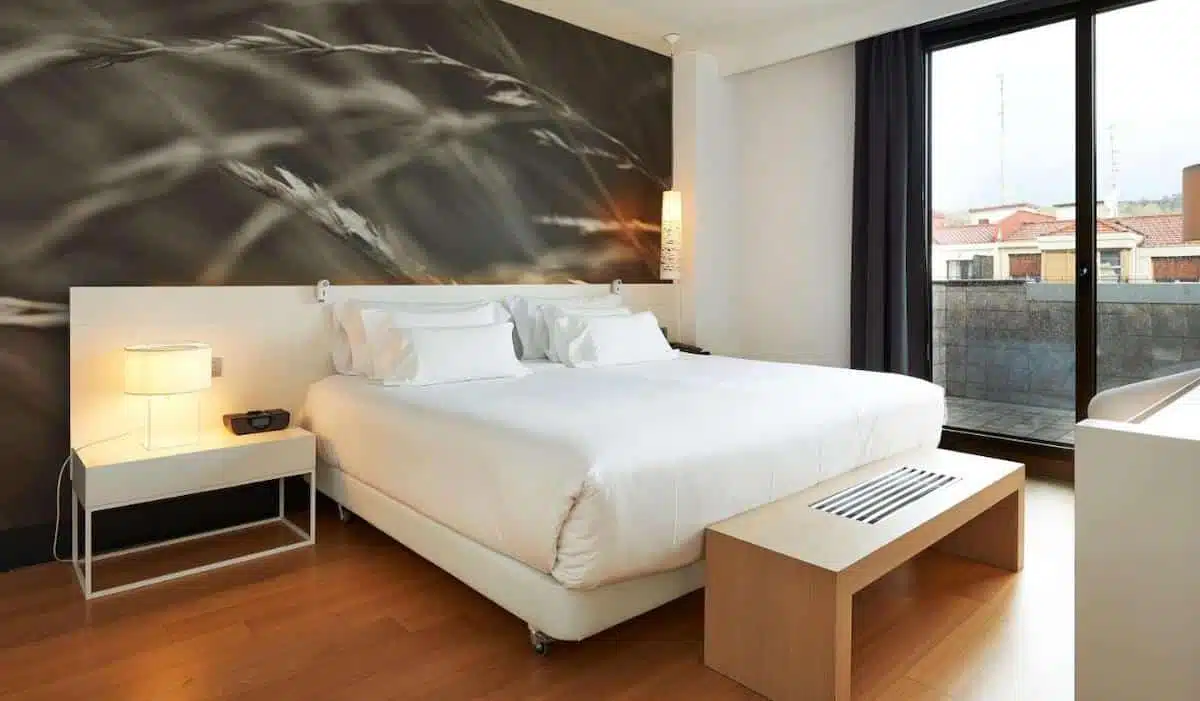 Ultra modern and slick, NH Collection Villa de Bilbao only opened back in 2012 and it shows. Banish tired and dated hotel decor forever with a stay in this Bilbao hotel.
Each room is slick and contemporary, done in a minimalist style with a few pops of art and colour. There's also in-room tea and coffee making facilities (very important).
Another feature of the hotel is the gym – it's on the roof of the hotel and enjoys a great view, making working out that bit more tolerable.
Located on Grand Via, one of Bilbao's most bustling avenues, the hotel is perfectly situated for sightseeing in the city.
Check Rates and Availability for NH Collection Villa de Bilbao
Where to Stay in Bilbao: Frequently Asked Questions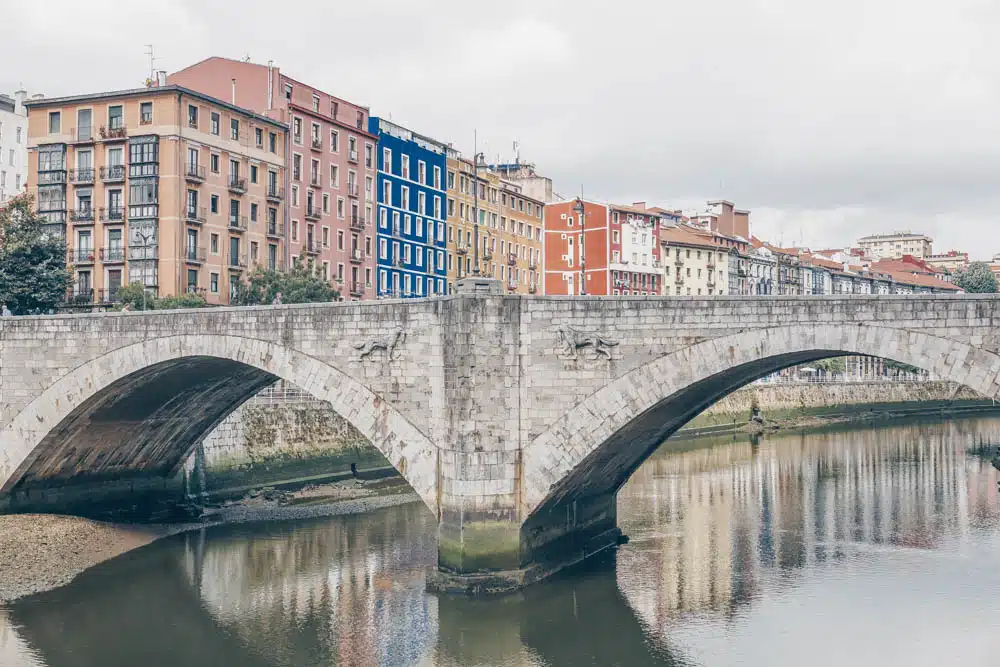 What is the Best Area to Stay in Bilbao?
Overall, the best place to stay in Bilbao is in Casco Viejo. Not only is this the city's most charming neighbourhood, but it's got a great selection of pintxo bars and restaurants. You'll also find great transport links to take you to other parts of the city such as the Guggenheim Museum.
How Do You Get Around in Bilbao?
Bilbao is a totally walkable city, and you'll find that most of the main attractions can be reached on foot.
However, if you prefer to forego walking you'll be thrilled to hear there's also a pretty top notch public transport network.
In particular, the Eusko Tren tramline is a convenient way to get around, especially between Casco Viejo (Old Town) and the famous Guggenheim Museum.
Should I book a Hotel or an Airbnb for my Bilbao Trip?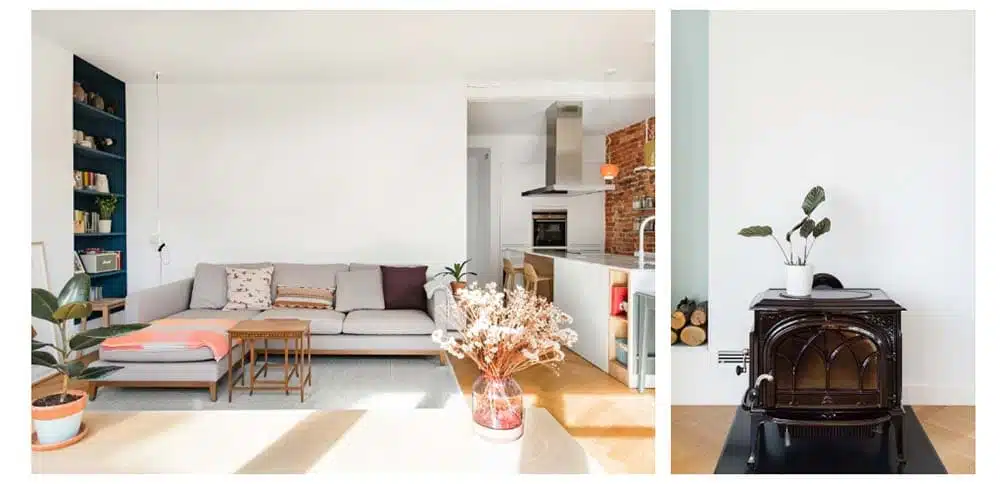 Both Airbnb and hotels present good options for your stay in Bilbao. It largely comes down to personal preference whether you book a standard hotel room or go for an Airbnb in Bilbao.
One advantage of hotels is that they are typically more centrally located than Airbnb, as there are more available in the centre of Bilbao.
Overall, Airbnbs tend to offer options in more residential areas – which can be great or inconvenient, depending on how you look at it.
Hotels also offer the convenience of staff on-site in case anything goes awry or you need any help. While most Airbnb hosts are very communicative, it can be a little more luck of draw than with hotels.
That said, Airbnb generally gives you that bit extra space and can be really cost effective for groups.
Looking for the best Airbnbs in Bilbao? Check out this guide.
Practical Tips to Consider Before Booking Your Bilbao Accommodation
Although Bilbao is a very walkable city, if you are not keen on walking then I suggest staying near a tram or bus stop. It makes getting around the city a breeze.
The temperatures in Bilbao can be very hot, especially in summer. Air conditioning is highly recommended, and a pool is totally amazing if you can swing it.
Parking in Bilbao can be a bit of a pain. If you're travelling with a vehicle, I suggest looking for accommodation with parking – even if it comes at a premium. You don't want to start each day trying in vain to find on-street parking.
Use Plum Guide to find properties – they're handpicked and all guaranteed to be swish, spacious, and stylish.
Love this? Save and Share on Pinterest!