Planning your trip to Bilbao? Save this handy interactive map of Bilbao's biggest attractions to help you navigate the city.
PS: Looking for more tips for your trip to Bilbao? Don't miss my guide to the Best things to do and see in Bilbao.
Interactive Bilbao Attractions Map
Sights Featured on the Bilbao Map
1) Guggenheim Museum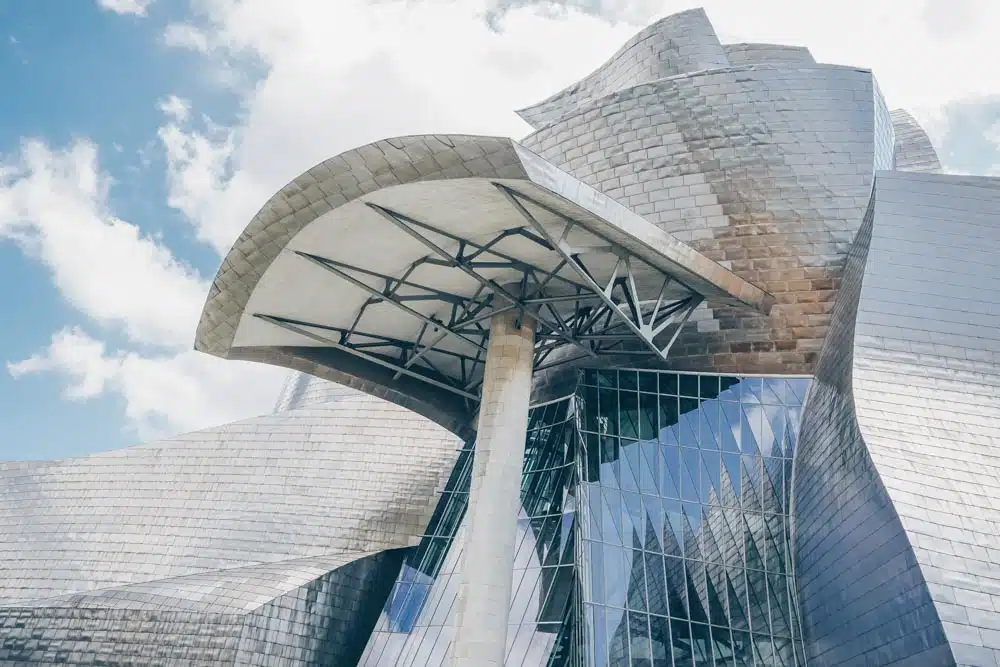 THE jewel in Bilbao's tourist crown is the Guggenheim Museum. When this museum arrived in 1997, Bilbao went from hidden gem to serious art destination.
The museum's exterior is inspired by a ship, and is quite a spectacle in its own right.
Inside, you'll find many works by the world's greatest contemporary artists like Yves Klein and Anish Kapoor. More works are also found outside of the museum.
2) Mercado de la Ribera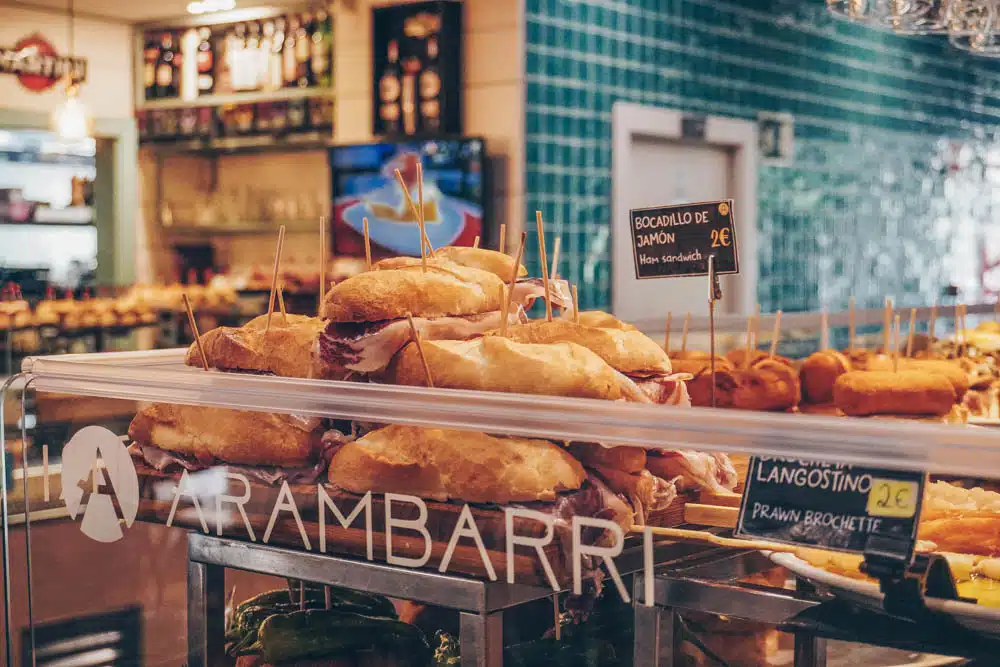 Foodie? You'll love Mercado Ribera, Europe's largest undercover food market.
At over 10,000 square metres, prepare to be dazzled by the selection on offer. From delicious condiments (a fab souvenir, if you ask me) to fresh produce, it's all here.
3) Azkuna Zentroa
Housed in the former corn store, Azkuna Zentroa is another example of Bilbao's rejuvenation. Today, it's a venue that hosts various art exhibits and shows.
From photography exhibitions to live music, there's a great variety – so do check what's on and catch a show if you can.
4) Museum of Fine Arts
Long before the Guggenheim arrived, Bilbao's Museum of Fine Arts was the main hotspot for those in the know about art.
To this day, it's an excellent museum that's well worth a stop. You can expect to see lots of works dating from the 12th century up until today.
Among the artists represented are El Greco and Eduardo Chillida.
5) Plaza Berria
This gorgeous square is a fabulous example of "Neoclassical" architecture, having been built early in the 19th Century.
Even if architecture isn't your thing, I still recommend visiting to do a little people watching and grab something to eat or drink from one of the nearby cafes.
6) Basilica of Begona
It's no surprise this incredibly beautiful and ornate basilica took over a century to complete. The intricate details are seriously jaw-dropping.
Don't miss taking in its beauty – definitely add this one to your Bilbao attractions map.
7) Casco Viejo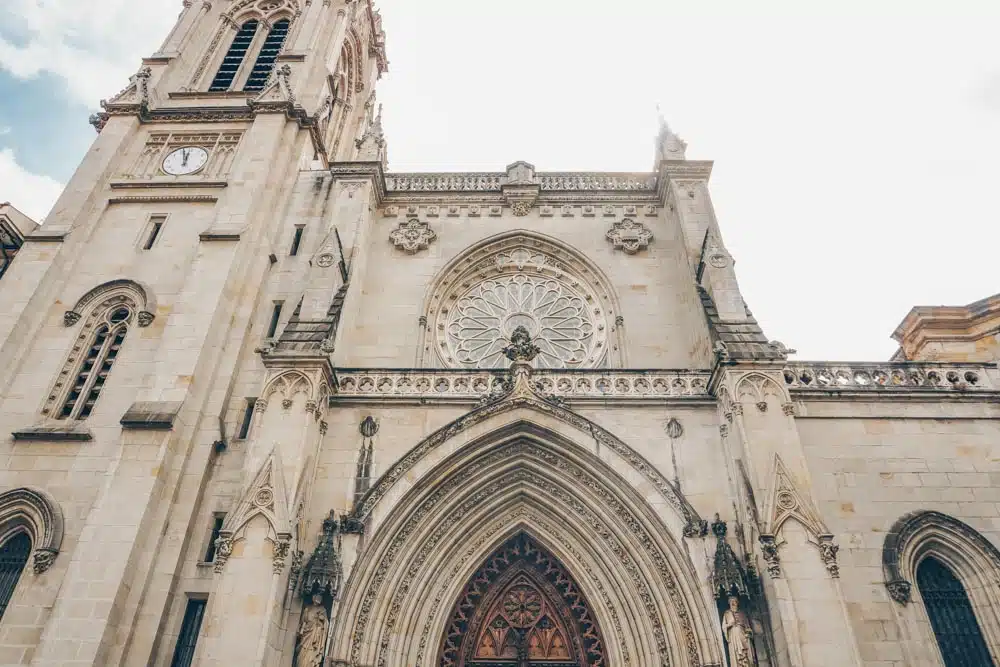 Probably Bilbao's most charming neighbourhood, you can't miss stopping by Casco Viejo – Old Town.
It's a maze-like neighbourhood with cute little alleyways and tempting pintxos bars. Many visitors choose to stay here, but you can always just pop in for a visit.
8) Funicular Artxanda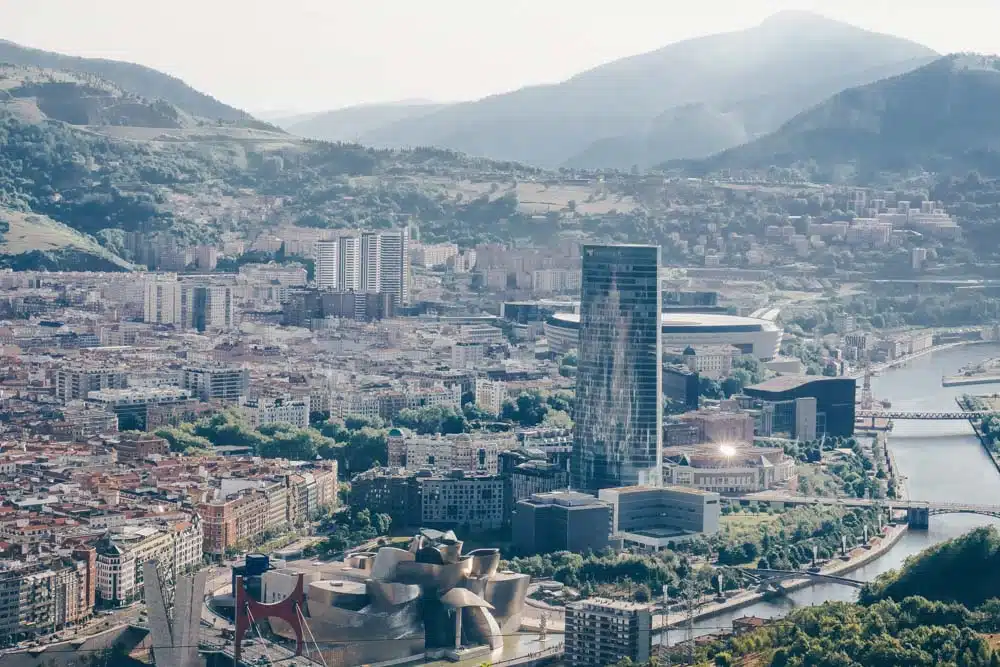 Why walk when you can take a funicular railway up to enjoy some of Bilbao's best city views?
I highly recommend hopping on the Funicular Artxanda. Opened in 1915, it's been taking visitors to the top of the city for over a century.
From the top of Mount Artxanda you'll get great views, and there's also some pretty fab restaurants as well.
9) Cathedral de Bilbao
Also known as the Cathedral de Santiago, this is Bilbao's most significant religious building.
Crafted in the 15th Century, it's a beautiful example of Gothic architecture, with a stunning interior as well.
You'll find it in the centre of Casco Viejo, so it's hard to miss.
10) Plaza Nueva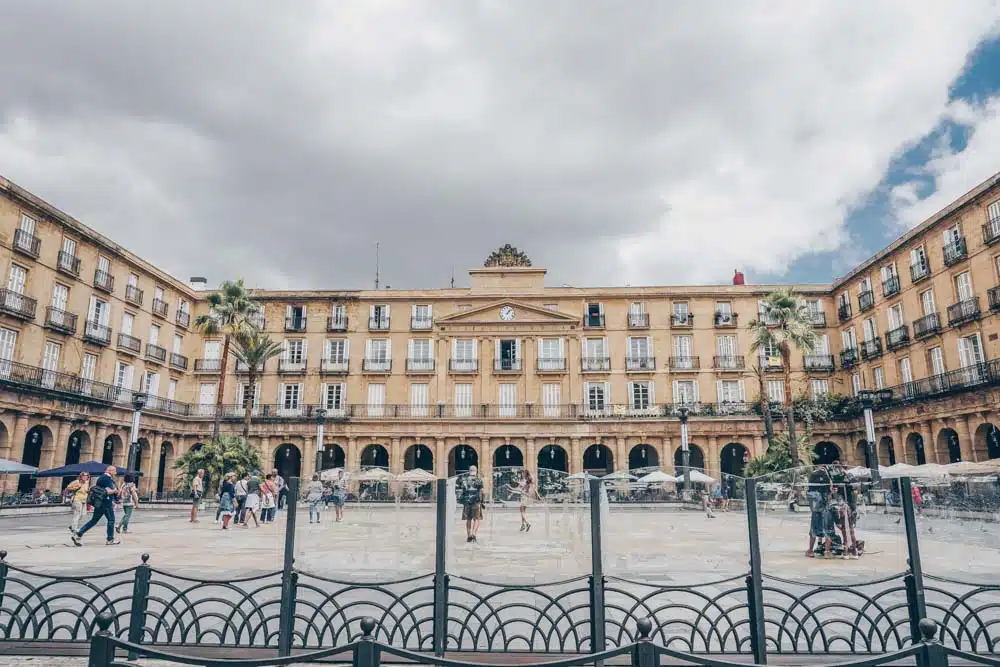 One of the most bustling places in Bilbao is the beautiful Plaza Nueva, built around 1850.
Hungry? Thirsty? Bored? Find a cure with the abundance of restaurants, cafes and bars clustered around the plaza.
They all offer a great view of the nearby buildings, as well as some people watching as well.
11) Zubizuri Bridge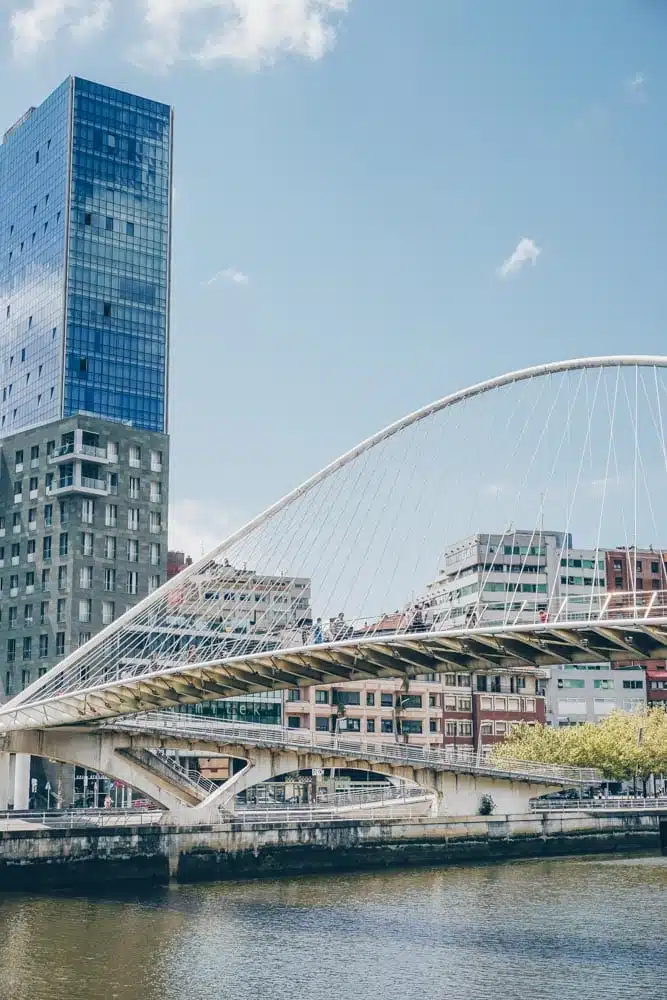 One of Bilbao's most iconic structures is also one of its most controversial. Some say it's stunning, others despair.
You can decide by yourself for adding a stop by this impressive modern white suspension bridge to your Bilbao city map.
12) Moyuo Plaza
This "round square" was originally opened by architect Jose Luis Salinas back in the 1940s.
It eventually fell into disrepair but was rejuvenated by Salinas' son and re-opened in 1997.
13) Teatro Arriaga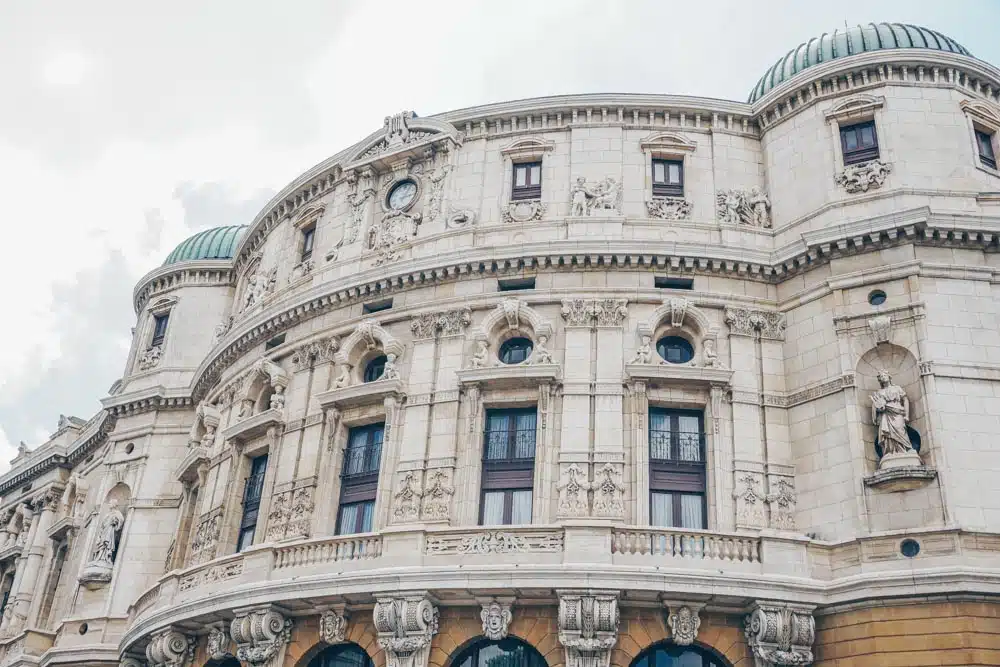 If you ask me, this gorgeous theatre is a serious contender for the most beautiful architecture in all of Bilbao.
It's kept its 19th Century furnishings inside, so it's all the height of luxe glam. Even if you can't catch a show, it's still worth dropping in to the Teatro Arriaga.
14) Arkeologi Museoa
Discover the history of Bilbao and its surrounds at the impressive Archaeological Museum.
This museum is on the small side, but it's got an interesting collection of objects relating to Bilbao and the Basque area. Perfect for a rainy day, or to escape the heat.
15) Museo Maritimi Ria de Bilbao
Find out more about Bilbao's history as an important (and gritty) port town at this museum.
The Museo Maritimi Ria de Bilbao will give you a really interesting insight into how Bilbao went from hardworking shipyard and port to popular artsy hotspot.
16) Sopelana Beach
If it's hot and sticky or you just want to take in some beautiful views then I highly recommend a trip to Sopelana Beach.
The currents can be a bit strong, however it's absolutely gorgeous and strong swimmers will enjoy a dip here.
17) Plentzia Beach
At over 350 metres long, this sandy beach is one of the most popular around Bilbao and in the Basque area.
As well as sunbaking and swimming, it's also a popular hub for watersports like stand up paddle boarding and kite surfing.
18) Gaztelugatxe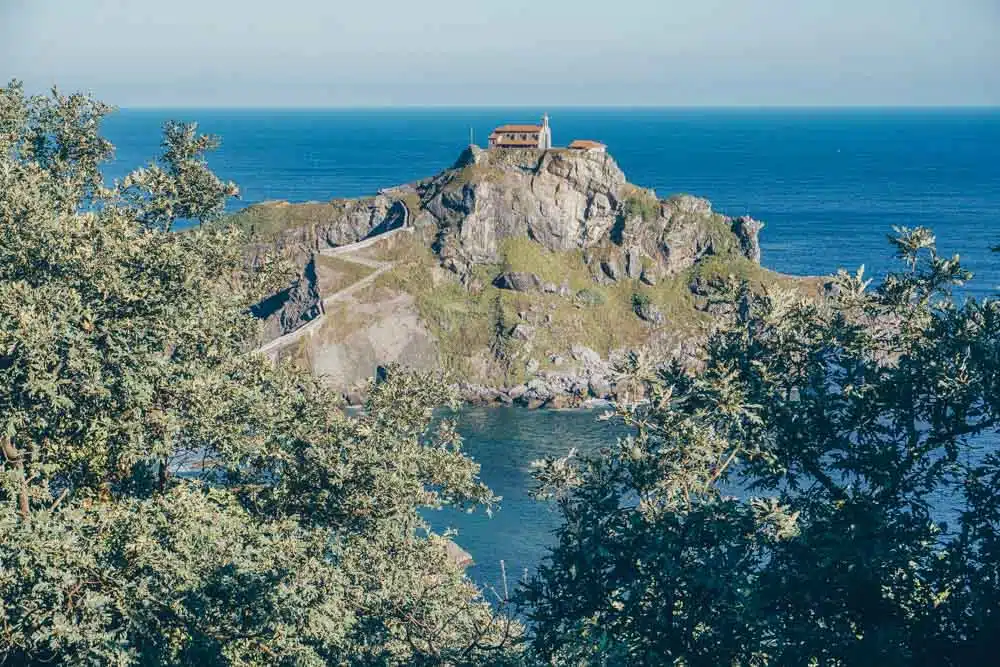 In less than an hour, you'll find yourself a world away from the hustle and bustle of artsy Bilbao at Gaztelugatxe.
This is a little island that's connected via a quaint bridge to the mainland. It's very picturesque (in fact, it was featured in Game of Thrones).
There's also a tradition to ring the bell and make a wish – so don't forget to do that.
19) Airport
Flying in or out of Bilbao? You'll need to know where the airport is.

Using the Map of Bilbao, Spain: Practical Tips For Your Trip
It's easy to walk between the attractions on the Bilbao map, but if you prefer then you can always get the bus or tram instead. It's cheap and efficient.
Bilbao can get hot and humid in summer – during these times, I recommend scheduling in activities in the early morning and late afternoon. You can even take a queue from the Spanish and take a siesta around lunch time.
It's a good idea to buy Guggenheim tickets in advance, to avoid queues and guarantee your entry.
Bilbao Travel Guide: Read Next