When it comes to exploring Bilbao's food scene, where do you start? Don't miss this guide to the best restaurants and pintxos bars in Bilbao – must-try places to eat in this gastronomic powerhouse of a city.
I hate to make broad-brush statements but you simply cannot come to Bilbao without paying homage to the city's thriving culinary scene.
Basque Country cuisine has taken the world by storm – fresh flavours combined with centuries of practice – what's not to love?
I'd heard rumours that when it came to food, other Spanish cities bowed in the face of Bilbao's unquestionable dominance. Madrid who? Barcelona what?
Bilbao is the destination to which serious foodies come to play.
That's why I put eating my way around the city front and centre on my list of things to do during my recent Bilbao trip.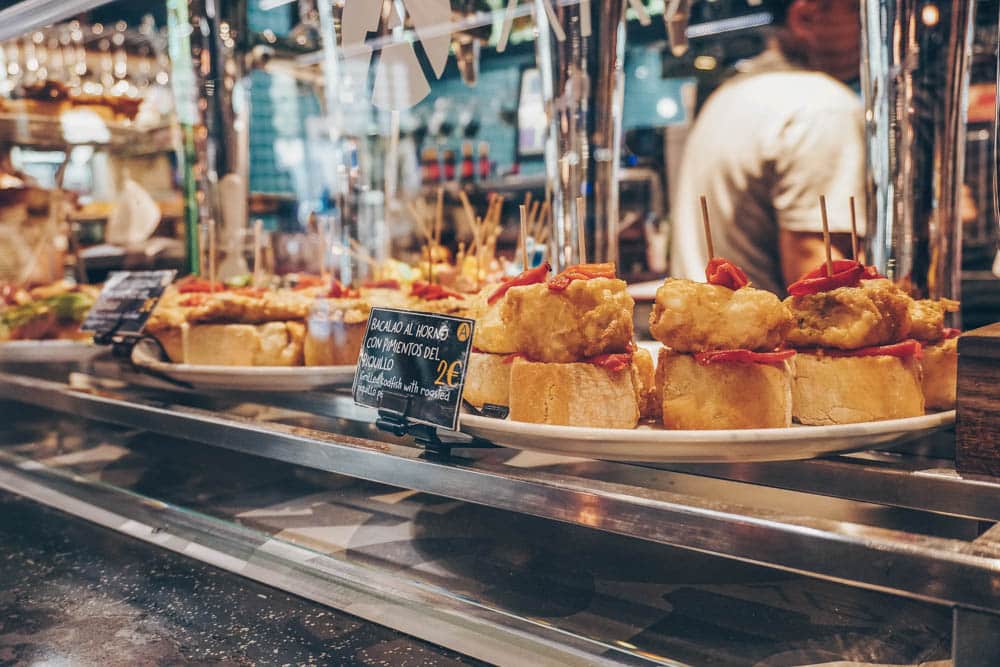 Looking to do the same? These are the Bilbao restaurants, pintxos bars and markets that you shouldn't miss.
Practical Tips for Exploring Bilbao's Food Scene
Before I get into the nitty gritty of where and what to eat in Bilbao, let's start with a few pointers.
Pintxos not Tapas
Forget what you know about Spanish food: up here in the Basque Country (Euskadi) tapas is out and pintxos (pronounced pin-chos) is in. Pintxos are the best-known part of Basque country cuisine and you'll find them pretty much everywhere across the city.
The name isn't the only difference either: pintxos tend to be more substantial than tapas and almost always come atop a thick slice of bread.
Make like a Local and do a Txikiteo
Nice as it is to sit down for a full meal, I'd recommend spending at least one afternoon or evening doing a txikiteo – a pintxos bar crawl. Put on some comfortable walking shoes and get ready to the best of Basque Country cuisine through a series of small bites.
Decide if you Want to Bother with an Organised Pintxos Tour
There are plenty of organised pintxos tours in Bilbao (like this one) for you to book onto, whether you want to book onto one is completely up to you.
I know that some people hate, hate, hate the very idea of an organised tour, but you can't beat them for finding out all about the history and Basque Country culture that has shaped the food you're eating.
Book Your Spot on a Guided Pintxos Tour
Beware of the Spanish Free Pour
To put it bluntly, pintxos might be small but Spanish pours are not.
I hate to sound like a voice of reason but if you're a wine drinker, beware of the rather generous pours.
Hear me out before you get all "I know how to handle my drink" huffy because believe me – you'll know about it once you've visited a couple of pintxos bars and had a glass of wine to wash it down at each of them.
In other words, there's a good chance you could end up a bit wasted and that just spoils some of the fun (or not depending on how you look at it).
The Best Bilbao Restaurants + Pintxos Bars
Casa Rufo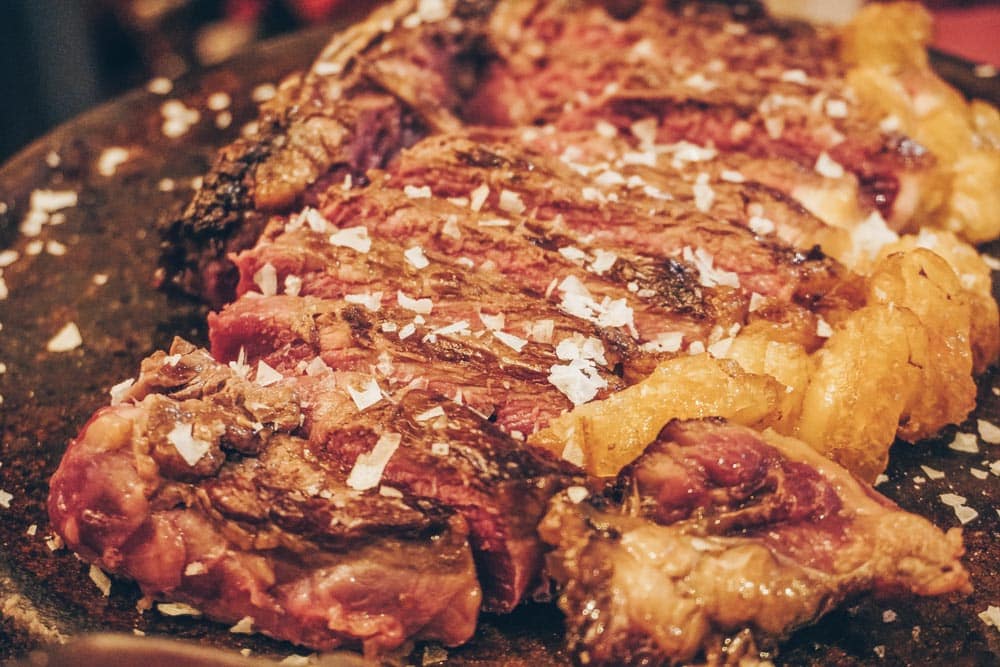 There's only one reason you should make your way to Casa Rufo and that reason begins with an S and ends with a K. Yes I'm talking about steak.
While Bilbao has many steakhouses, this one is totally insane.
Let's start with what Casa Rufo is not. It's not super trendy, it's not fussy, and the main restaurant is round the back of what looks like a delicatessen – but you won't care because…. steak.
This family-run restaurant has been going for over 100 years – and if it keeps serving meals like this, it will be around for at least a couple of hundred more.
I guess the premise is simple enough, you get some incredible quality beef (I recommend the rib-eye), cook it just right and then serve it up on a huge platter along with a bottle of incredible Douro wine.
Winning.
The menu does extend beyond steak (though if you're a steak-lover, I would strongly recommend opting for the rib-eye) and is followed up by a stomach-busting range of local desserts that are, in short, the gastronome's dream.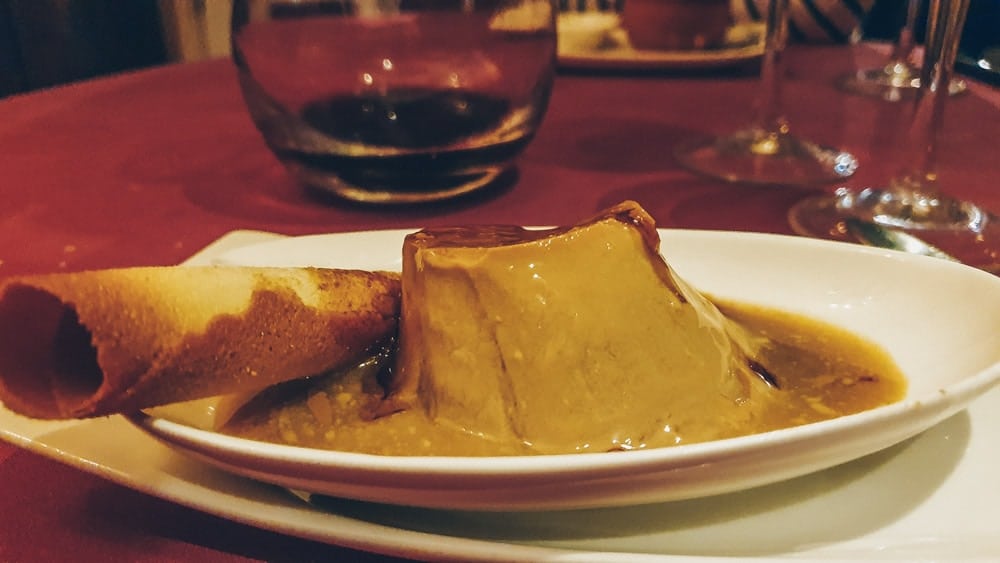 The flan (pictured) might not look like much but memories of the balance of caramelised sugar (with the faintest bitterness to keep it from being too sweet) against the slippery, soothing custard still keeps me awake at night.
This place is (deservedly) popular so you will need to book ahead to be sure to grab a table.
Mercado de la Ribera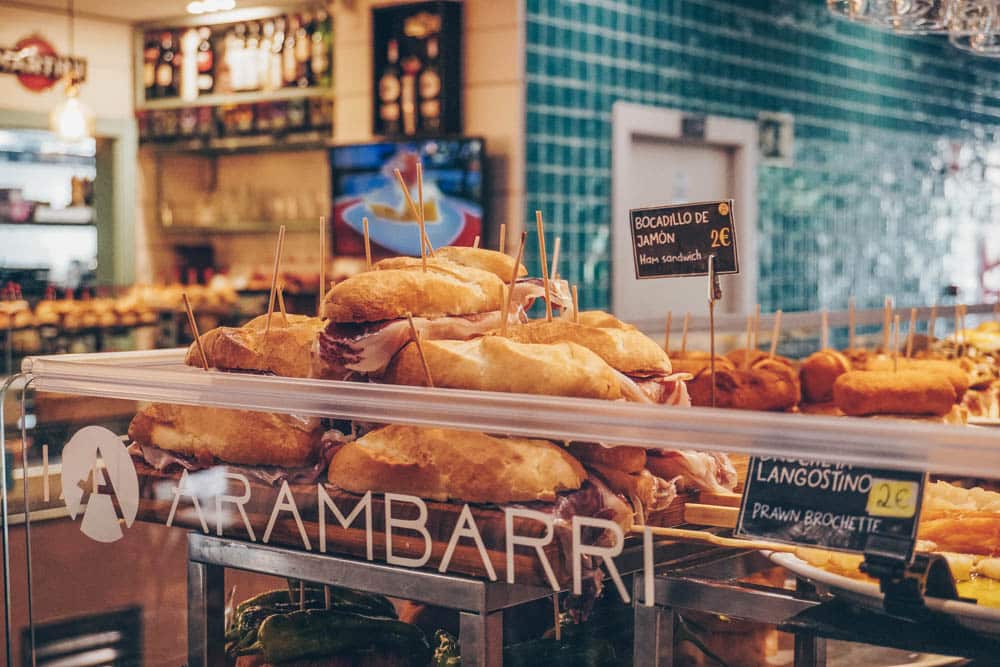 Bilbao's best-known food market is a bastion of gastronomy in a city that takes eating very seriously.
The market dates back to the 19th century but unlike so many traditional European markets that have fallen into disrepair, Bilbao's mercado showcases Basque country cuisine at its very best.
First thing in the morning until last thing at night, the vendors in the Mercado de la Ribera serve out some of the best pintxos in Bilbao.
Sure, it's great to go on a little txikiteo (foodie bar crawl) across the city but you should spend at least a couple of hours eating your way between the different stalls inside this beautiful old market.
Zortziko
First of all, let's get it over with, Zortziko has a Michelin star – and it very much deserves it. Enough said?
OK, I'll go on.
At the risk of sounding like a fan girl, this Basque Country favourite is so good that I'd consider hopping on a flight and taking a cheeky trip just to have the pleasure of eating there again.
Chef Daniel Garcia creates traditional Basque Country cuisine with a few international and contemporary touches. Sounds simple and indeed, it is, but the end result is sublime.
The restaurant is split over three levels – try and pinch a seat in the atmospheric wine cellar for the full effect.
Cafe Iruña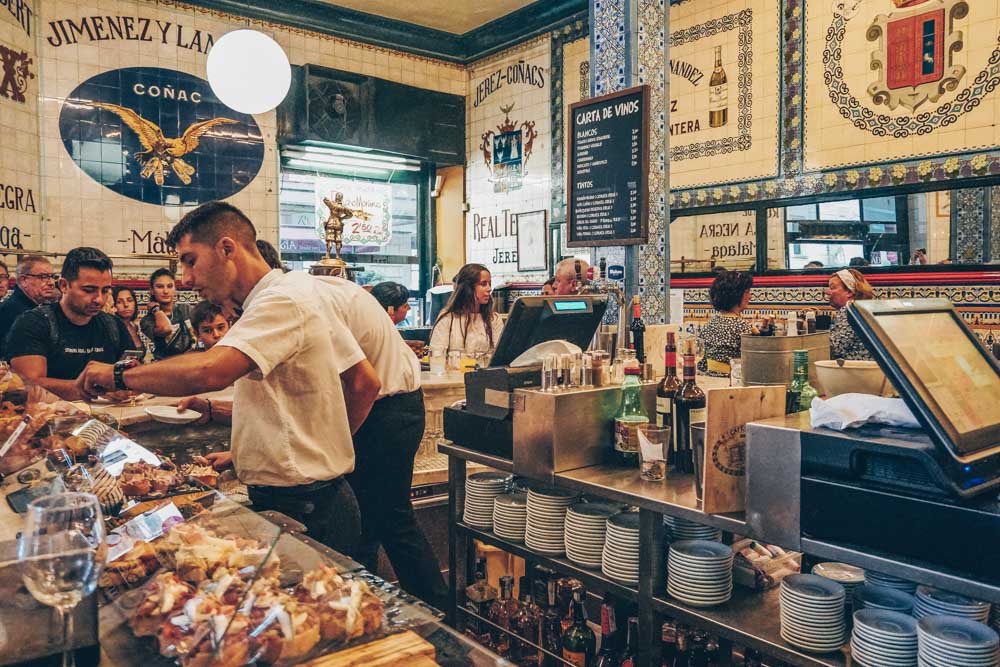 The age-old Belle Époque interior is the first clue of Café Iruña's long and illustrious heritage. This is one of Bilbao's most renowned and popular Pintxos bars, and has been since it opened in 1903.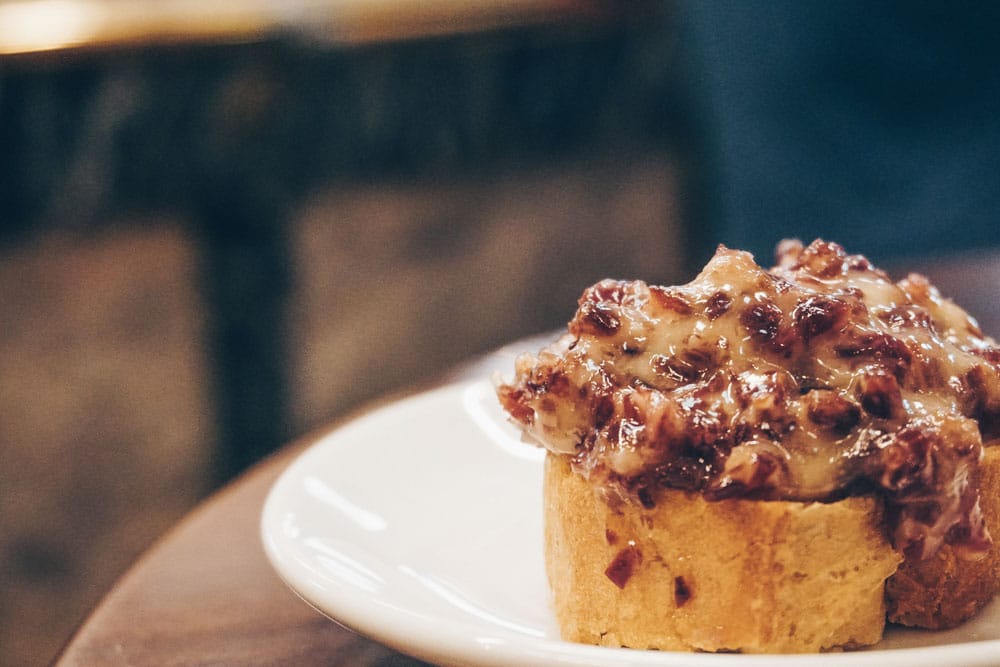 Plump for the Moorish kebabs – delicately spiced and nicely fatty they literally melt in your mouth.
That said, there is a whole world of tapas to explore (as you will see in the picture above) – each dish expertly prepared to traditional recipes that date back through the centuries. Grab a perch, order some food, and tuck in.
Bistro Guggenheim
The Guggenheim is, without a doubt, Bilbao's biggest attraction so it makes sense that I would have a pretty banging restaurant to add to the mix.
Housed in a gorgeous and airy space that was designed by Frank Gehry, The Bistro Guggenheim is the perfect place to refuel after you've worn your little legs out walking around the expansive museum.
It doesn't hurt that it boasts some of the best views in Bilbao either.
El Puertito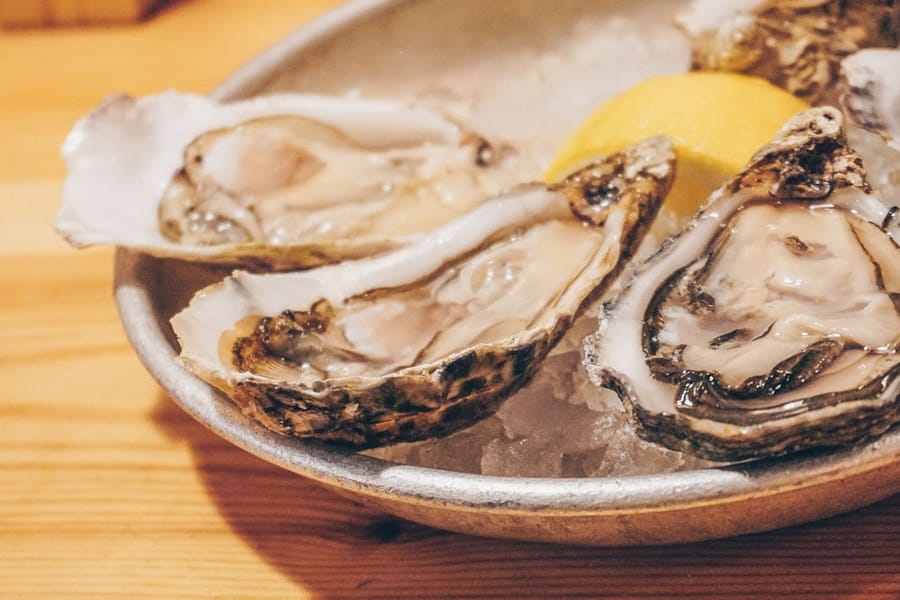 Oysters might not be the first feed that you think of when you think of Bilbao – a shame really because the Basque people really know their way around a piece of seafood.
Luckily for all of us, El Puertito is addressing that wrong, serving up a cell range of plump and juicy oysters alongside a curated list of stellar local wines.
It's chic, crowded, and buzzy so you need to grab a spot as soon as you see one.
La Viña del Ensanche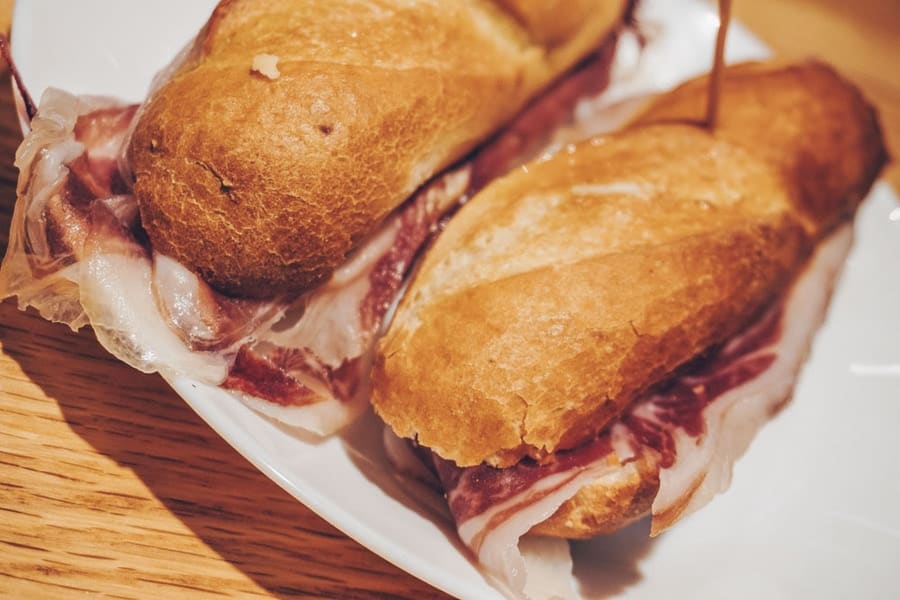 La Viña del Ensanche is, without a doubt, one of the best-known restaurants in Bilbao.
An age-old family institution (it's now being run by the third generation of the family who founded it) that never goes out of fashion, it's a welcome old friend in a city that's seen more than its fair share of transformation in the past few decades.
I hate to go for the obvious thing but there's a reason that La Viña del Ensanche is renowned for their Jamon Iberico – it really is that good.
Try and make a reservation, even if you don't, the friendly staff will do their very best to try and squeeze you in at a spot by the bar at the very least.
Victor Montes Jatetxea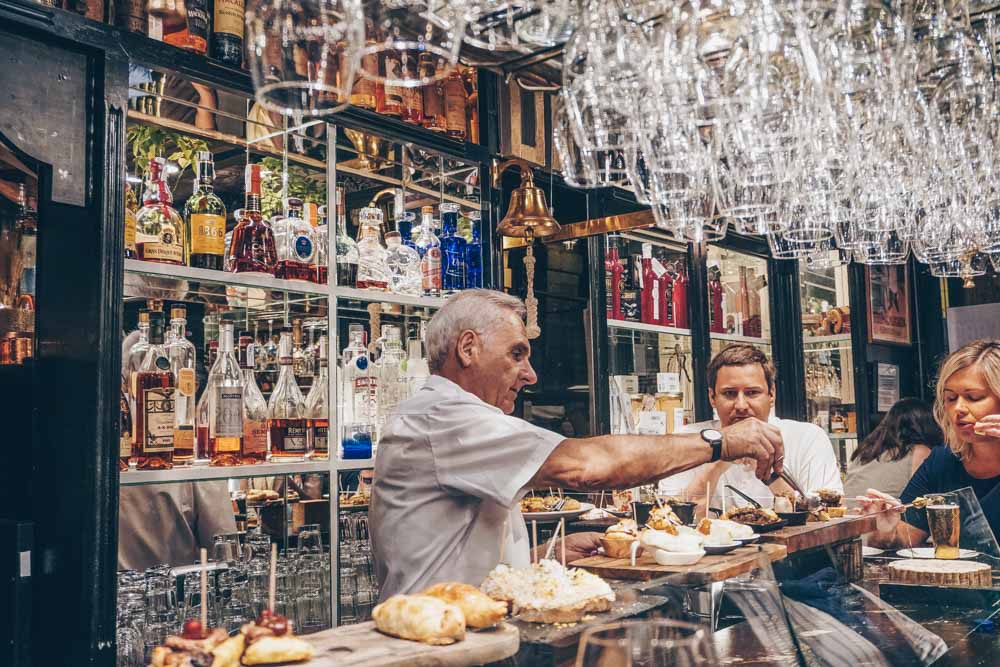 Perched in a small corner of the Plaza Nueva, Victor Montes is another classic when it comes to serving up the best tapas in Bilbao's old town.
You can see why – there's something so charming about this tiny bit hectic restaurant, which crops up on many a list of the best restaurants in Bilbao's Casco Viejo.
Counter stacked to brimming with super-fresh pintxos and tables packed with all manner of locals and visitors come to get their daily fix.
Restaurante Pentxo
Like all of the very best restaurants Bilbao, Restaurante Pentxo might not look like anything special from the outside – but trust me when I say that the food on offer is indeed very special. Not to mention that this is a budget-friendly Bilbao restaurant.
The menu changes very often depending on the ingredients available, but you're guaranteed 18 dishes to choose from each day and regular offerings include paella, stuffed peppers, and artichokes with thick chunks of iberian ham.
Artxanda Jatetxea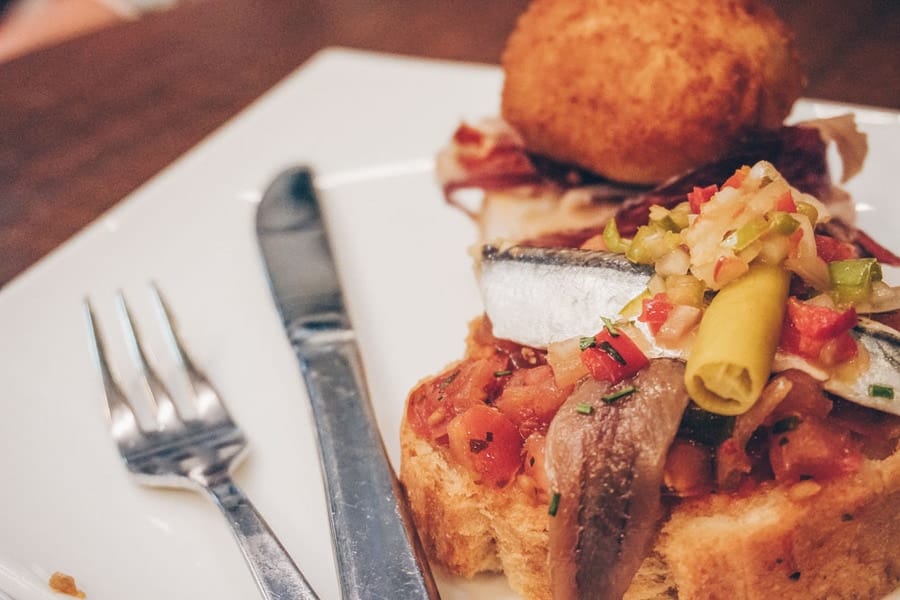 I stumbled across Artxanda Jatetxea after popping off the nearby funicular a bit wobbly-kneed and jelly-legged (the views at the top are incredible, the journey… not so much).
What a happy coincidence, because I can hand on heart say that the pintxos I had in this small bar-come-restaurant, was some of the best that I had during my time in Bilbao.
It's unlikely that you see any other tourists, this is a fair and square neighbourhood haunt serving freshly prepared dishes and ridiculously good value wine (as in €1.40 a glass good value).
Take a seat at the bar if you are only having a quick bite to eat or settle into one of the larger tables for a more formal meal. Either way, get ready for some tasty eats.
Antxoa Taberna
Antxoa Taberna might be small, but the bright blue sign and umbrellas outside are eye-catching enough to draw your attention. And thank the lord they brought me in, because WOW.
Anchovy is the star of the show here, also reflected in the kitschy naval decor adorning the walls inside – it might be a little bit much for some people, but I absolutely loved it. It's, without a doubt, the best restaurant Bilbao boasts for seafood.
Opt for the tasting plate of anchovies to really understand why this spot is so celebrated by locals. Washed down with a glass of Spanish red, of course.
Gure Toki
Wondering where to eat in Bilbao? Wonder no more. Located on Plaza Nueva, Gure Toki makes a bold claim that their dishes are "​​haute cuisine in miniature" and, to be quite honest, they've got a point.
They may be a small, family-owned restaurant, but they've been around since the early 80s and made quite the impression ever since – first famed for their legendary portions of patatas bravas.
Today their offerings are a little more gourmet, offering heartier portions of Pintxos on either the terrace or tucked away in the bar. I recommend heading to the terrace and grabbing a plate or three of their crab tempura. Delish.
The Best Places to Eat in Bilbao: Map
Love This? Save and Share on Pinterest