Ready to discover the best beaches in Spain? Here's the lowdown on the best spots to sunbathe, surf and splash.
With over 3,000 miles of gorgeous coastline, it shouldn't be too hard to find the best beaches in Spain. Then again, there are so many to choose from that it can be a little bit overwhelming.
Of course, Costa Brava and the Costa del Sol are good places to start, but some of Spain's best beaches extend far beyond these summer hotspots. Even city spots like Barcelona and San Sebastian boast beautiful stretches of sand.
So, which beaches should you hit up in Spain? Read on to discover my top picks…
Best Beaches in Spain
Cala Turqueta – Menorca
Best beach for seclusion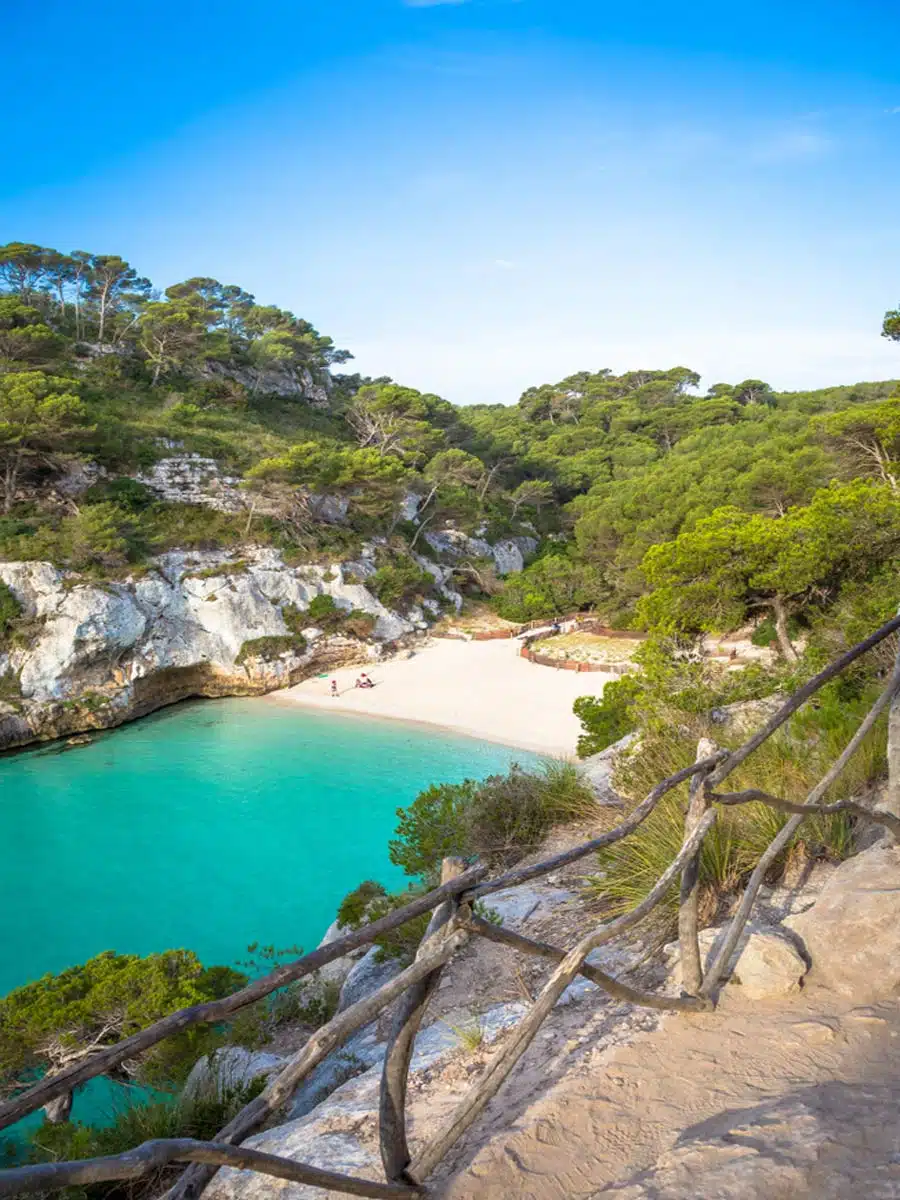 Let me start this guide with one of the most beautiful beaches in Spain with Cala Turqueta. This beach is situated in Menorca and usually gets overshadowed by the neighbouring beaches on the larger Balearic Islands.
That's a blessing in disguise because, choose the right time, and you can enjoy this stunning beach without having to battle through crowds. Cala Turqueta is a cove with a beach in a deep rocky inlet – and it boasts the most exquisite turquoise waters and crisp white sand.
Despite not having too many amenities, it's still a gorgeous beach to visit. Especially for swimming, as the inlet protects the beach from heavy winds.
Tip Top: Read my article on why Menorca is one of Europe's hottest travel destinations right now.
Es Trenc – Mallorca
Best beach for nature lovers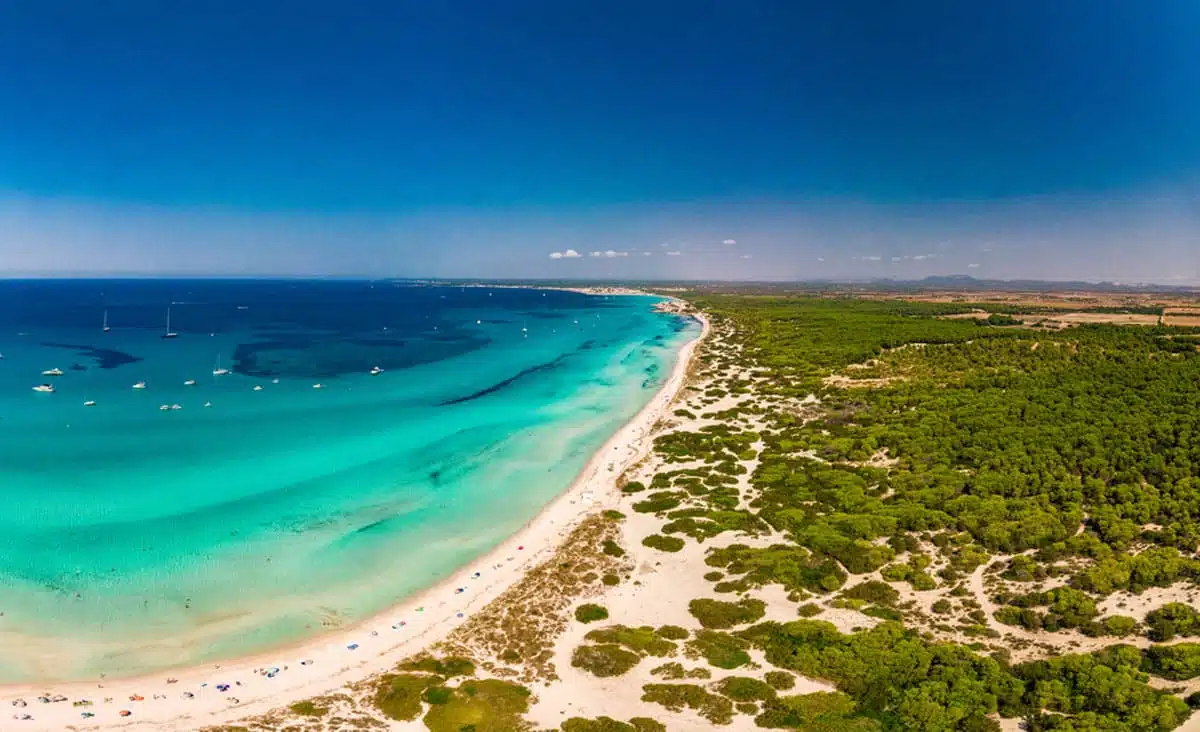 Next is one of the prettiest beaches in Spain – Es Trenc in Mallorca. Stretching just over a mile, this Mallorcan beach ranks high with visitors and locals.
If peace and quiet are what you're after, then Es Trenc is the beach for you. It sits near the Salobrar des Campos Wetlands and is a little bit of a wild beauty.
Hungry? There's a gorgeous restaurant and a few Mallorcan-style bars nearby where you can hang out after sun tanning and swimming.
La Concha – San Sebastián
Best for stunning views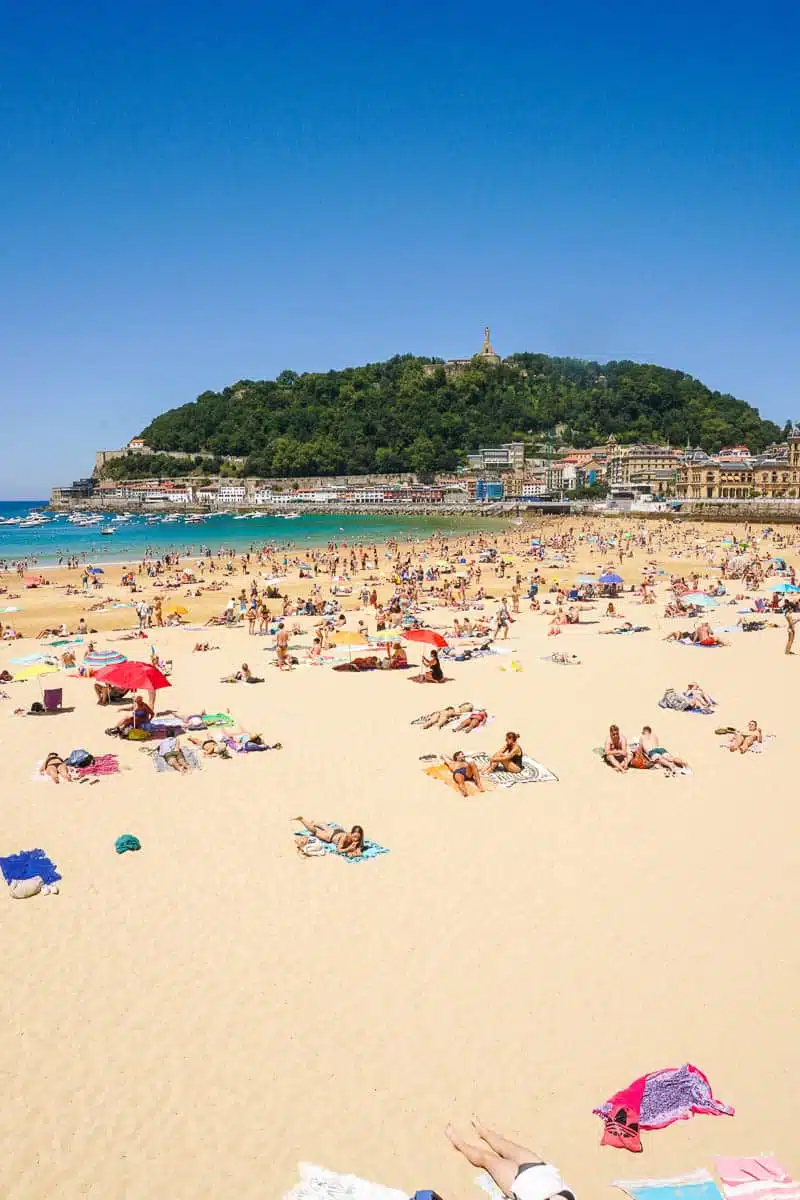 If you search for images of San Sebastian, La Concha Beach will undoubtedly pop up first. Of all the wonderful things to do in San Sebastian, visiting this gorgeous beach is a must. There's no two ways about it.
This scenic beach offers spectacular views of La Concha Bay and the nearby Santa Clara Island.
But what makes it one of the best Spanish beaches? That's easy – there's lots to do here.
La Concha is a day out in itself. Apart from swimming, you can take a boat trip around the bay, visit Santa Clara, canoe, kayak and try your hand at stand-up paddleboarding. It has excellent amenities, and Alameda Boulevard is nearby, lined with boutiques, shops and restaurants.
Portinatx – Ibiza
Best for escaping the party crowds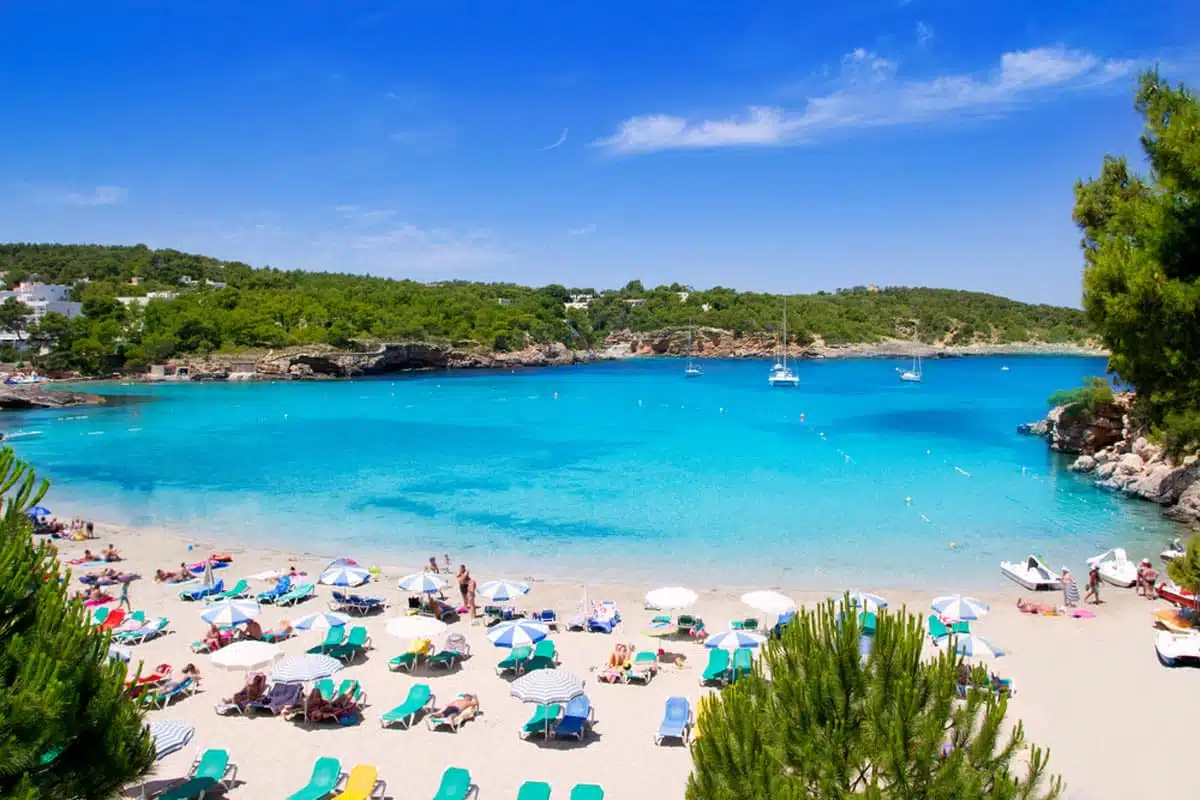 It's no secret that Ibiza is Spain's party island. While you might be down for a party, having a spot to relax and recover is always a good idea. That's where Portinatx comes in.
This quiet beach sits on the northernmost part of Ibiza, about 30 minutes from the main town. It's much more laidback than some of the other beaches on the island as it was once a tiny fishing village.
Portinatx is a relatively small beach, but its golden sand and crystal-clear turquoise waters make it a lovely place for a swim and spend a day indulging in total relaxation.
Playa de la Catedrales – Galicia
Best for a unique beach experience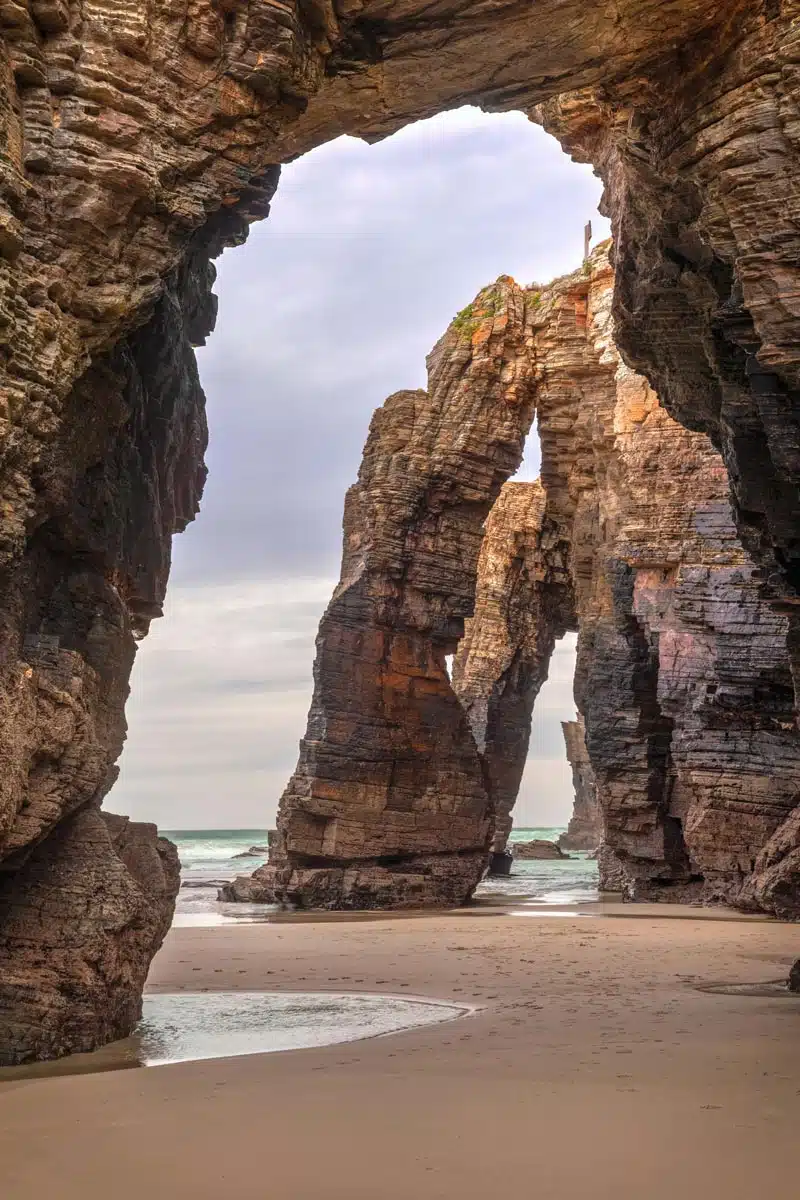 Playa de la Catedrales is the best beach in Spain if a unique experience combined with epic views is what you're after. Lying in the northwest of Spain, this stunning beach usually flies under the radar of most tourists.
While other Spanish beaches pack a punch with postcard-worthy looks, Playa de la Catedrales is slightly different. What makes it so unique is it's a wide, flat beach with incredible rock formations and arches.
It's best to visit here when the tide is low to take incredible pictures to spice up your Instagram feed.
Gandia – Costa Blanca
Best beach for avoiding crowds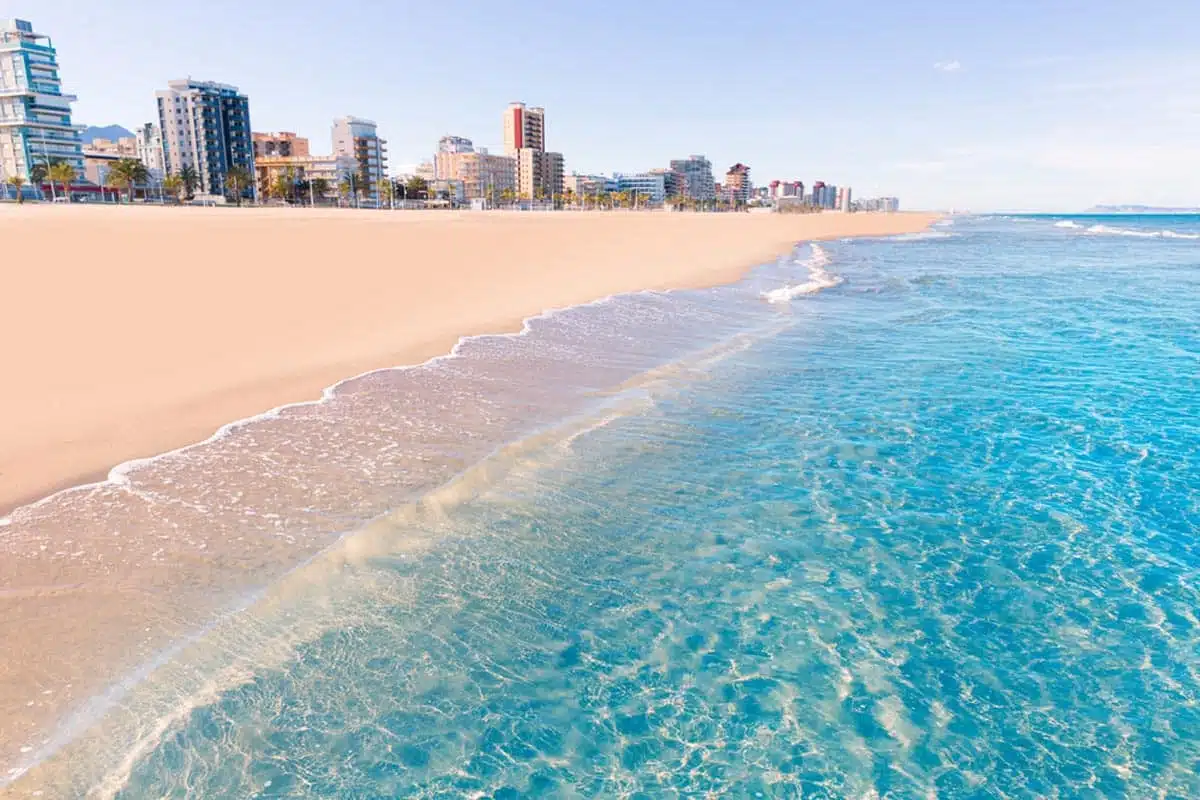 Gandia is a must-see if you visit Valencia along Spain's Costa Blanca Coast. Costa Blanca is famous for its lineup of spectacular beaches, and Gandia is no exception.
Gandia is much more popular with Spanish residents than tourists, making it a hidden gem in plain sight. It's a rather laidback and quiet beach but also vast. So even during peak tourist season, there's more than enough space to accommodate everyone.
Its golden sand, clear waters, scattered palm trees and proximity to beach clubs and restaurants make it a great place to spend the day. There's also a well-paved walkway next to the beach if you'd like to take a walk but want to avoid sand in your toes (it's never fun).
Puerto Banus – Marbella
Best beach along the Costa del Sol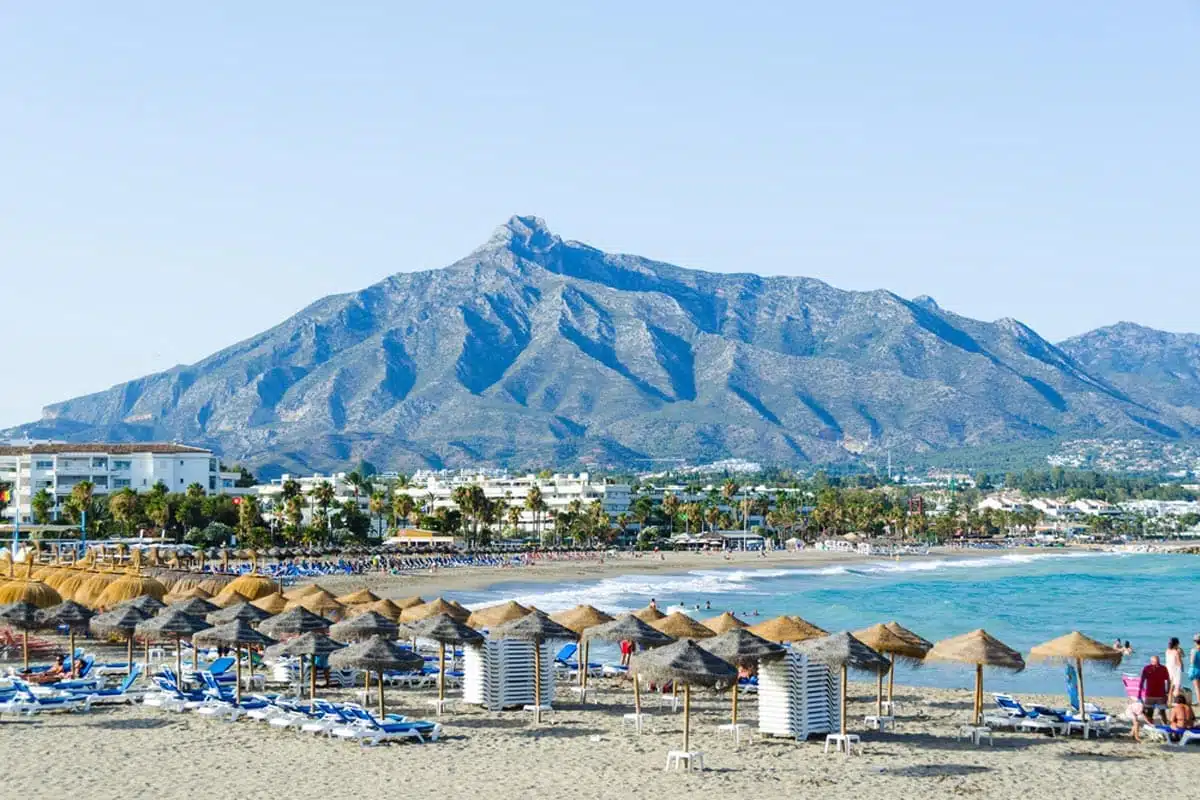 My guide wouldn't be complete without mentioning a beach from Spain's poster child city – Marbella. So here you have it, one of the best beaches in southern Spain, Puerto Banus.
The beach sits in the Nueva Andalucia Marina, one of the main attractions in Marbella.
I won't lie, this is a very high-end area because of the many designer shops and exclusive restaurants, so it's not for everyone. But visiting Puerto Banus is worth it because the beach is wide and stretches quite a distance.
The beach is incredibly clean, and there's a beach club and several beachfront restaurants where you can dine. And Marbella sees a whopping 330 days of sunshine, so you can visit almost any time of the year.
Playa del Inglés – Gran Canaria
Top beach in the Canary Islands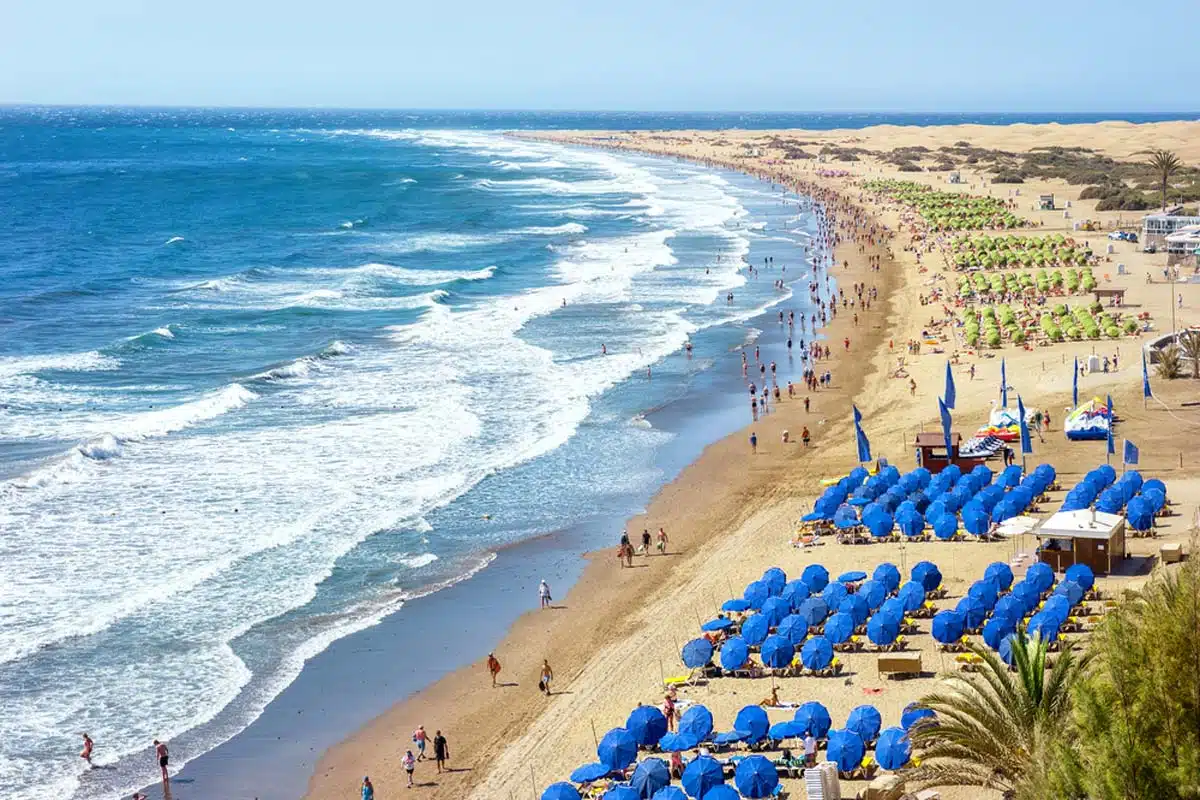 Don't forget about the Canary Islands, just off the coast of Africa. This archipelago boasts some of the best beaches of Spain's varied coastline. Playa del Inglés sits on Gran Canaria Island and stretches almost 7 miles.
This is another of Spain's most unique beaches because there are dunes just behind the beach. So if you stand on the dunes, you'll have quite a lovely view of the Atlantic Ocean. Better yet, a few beach clubs along the coast rent beach chairs and umbrellas for a comfortable day out.
Cala Mesquida – Mallorca
Best for warm waters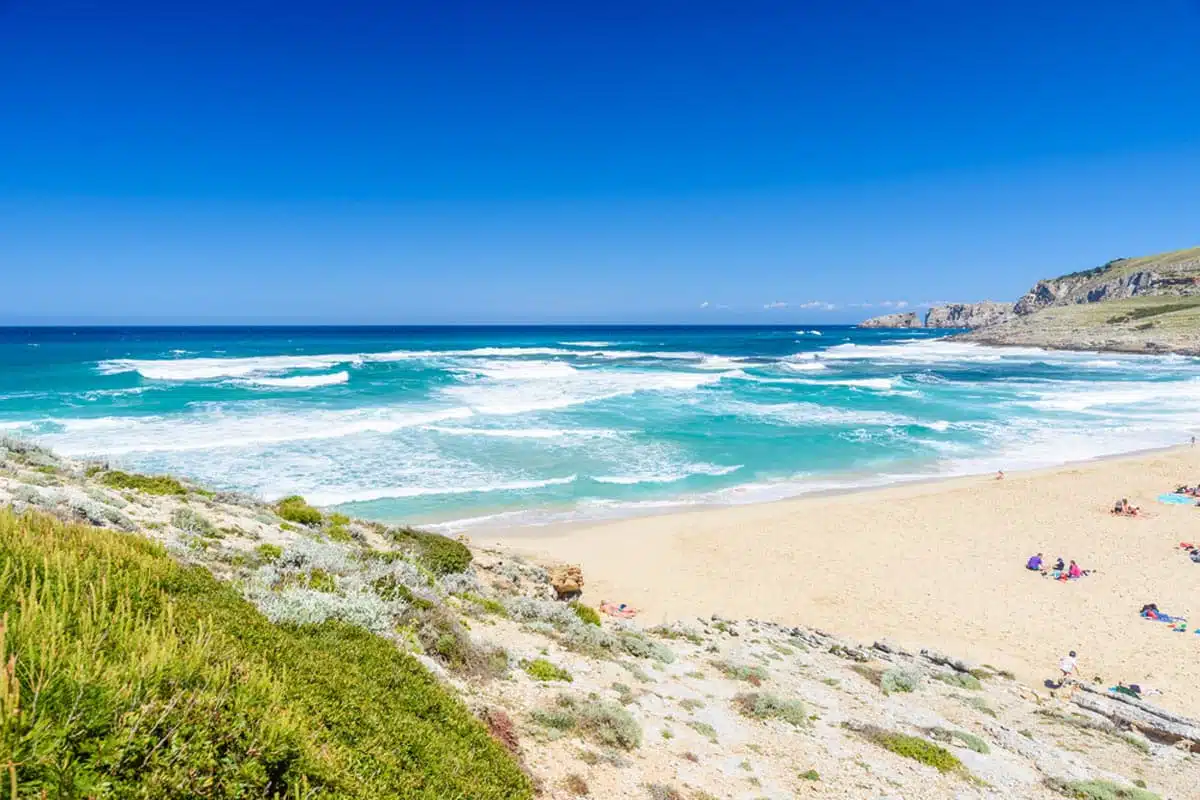 Returning to Mallorca, Cala Mesquida is another hidden gem in a small bay. It lies along Mallorca's northeastern coast, ranking pretty low on most people's travel lists. The area around the beach is quite underdeveloped, with not many amenities.
Don't make the same mistake, though. The beach offers incredible ocean views, warm waters and – the main attraction – fewer tourists, so it's ideal for relaxing.
Playa Larga – Fuerteventura
Best for dramatic views
Playa Larga, another of Spain's best beaches off the mainland, sits in the Parque Natural de Corralejo. It's tucked away in a protected environment, meaning it dazzles with nothing but rare natural beauty.
The backdrop of this incredible beach is mountains and dunes, adding some stunning vistas in the area.
My advice? I recommend visiting at sunset when you can watch the sun kiss the ocean and dunes in a beautiful golden display.
Platja Gran – Costa Brava
Best for a beach holiday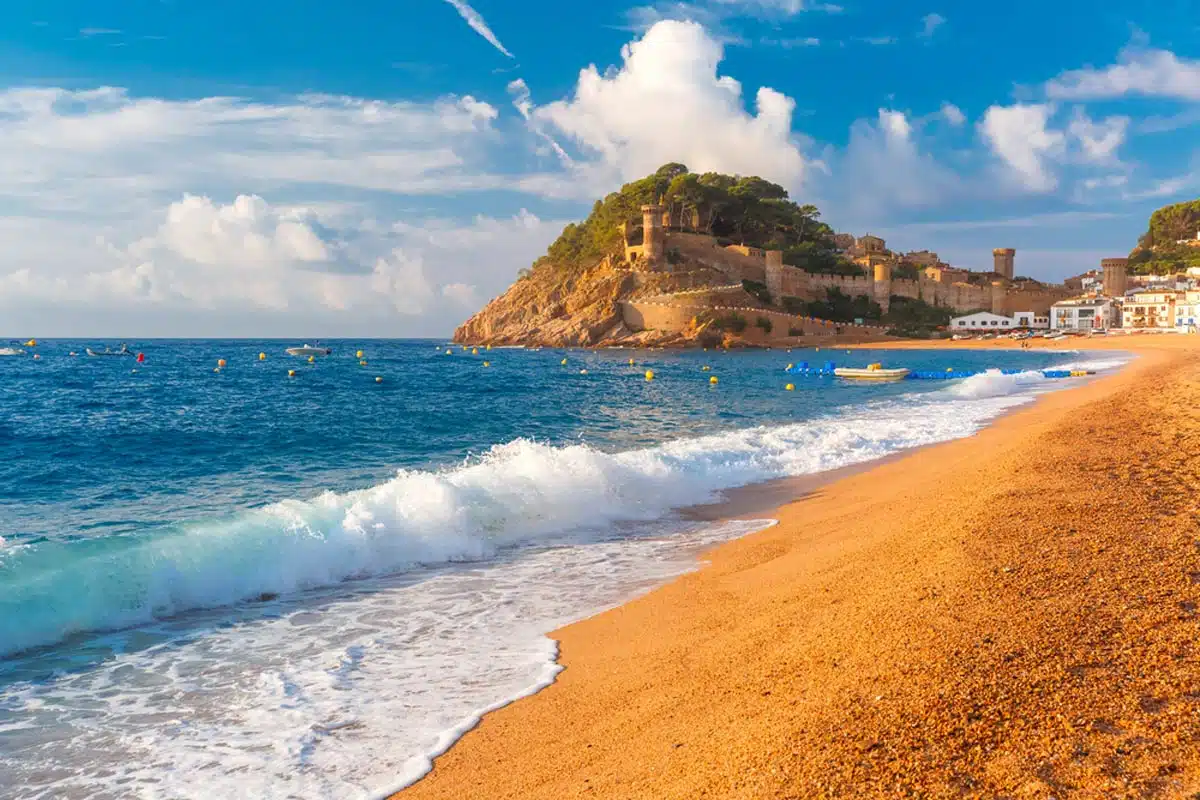 Tossa de Mar's Platja Gran is easily one of the top beaches in Spain along the Costa Brava coastline. Just north of Barcelona, it's an excellent stop when travelling through Costa Brava.
Platja Gran is a popular curved beach surrounded by high cliffs. The Tossa de Mar Castle, which lies just above the beach, makes the beach that little bit extra special. You can take in some picturesque views across the bay and beach from there.
Playa del Silencio – Asturias
Best beach for peace and quiet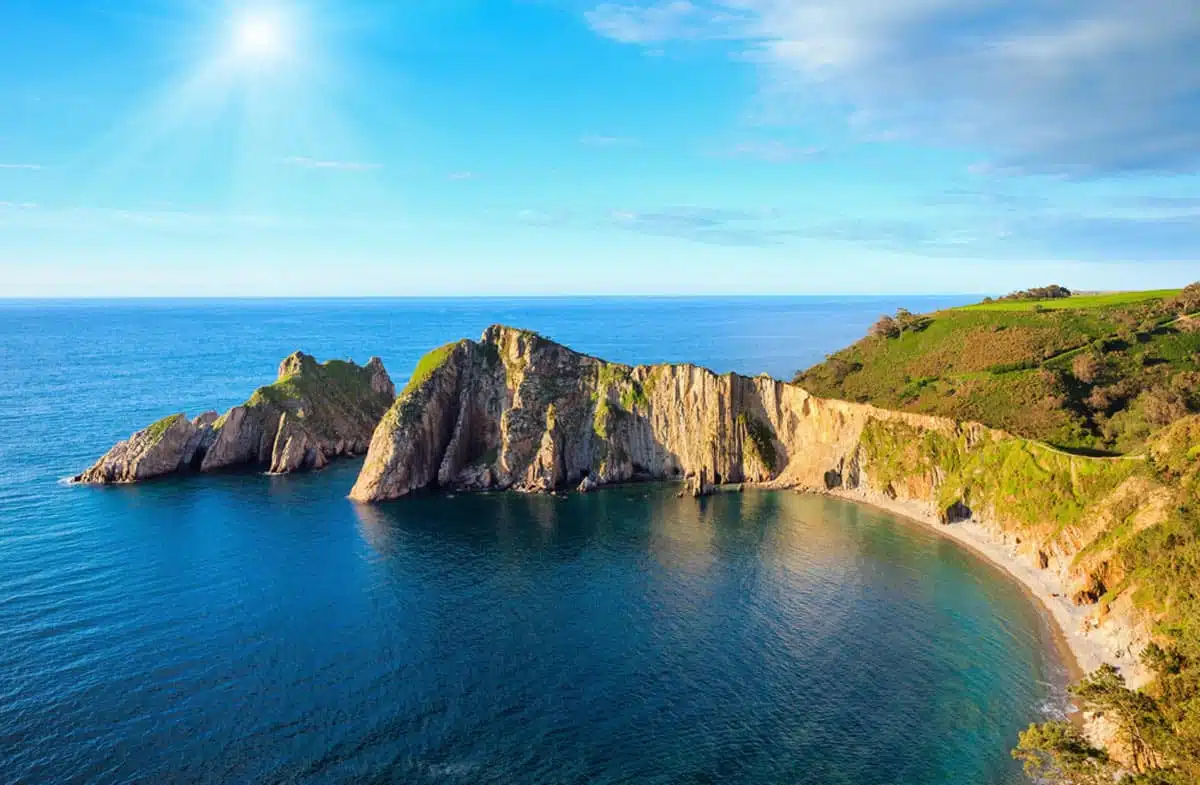 Playa del Silencio is next on my list. Its name translates to "Beach of Silence," so need I say more?
A natural rock amphitheatre surrounds the curved beachfront area, and it's pretty sheltered – meaning it doesn't get a lot of visitors.
I'll warn you, though. The underwater rocks make the ocean unsafe to swim in.
But that's not terrible news if you weren't planning on swimming anyway. Instead, it's a lovely place for a walk on the beach and to take in the stunning scenery of the Asturias area.
Playa Ses Illetes – Formentera
Best white sand beach in the Balearic Islands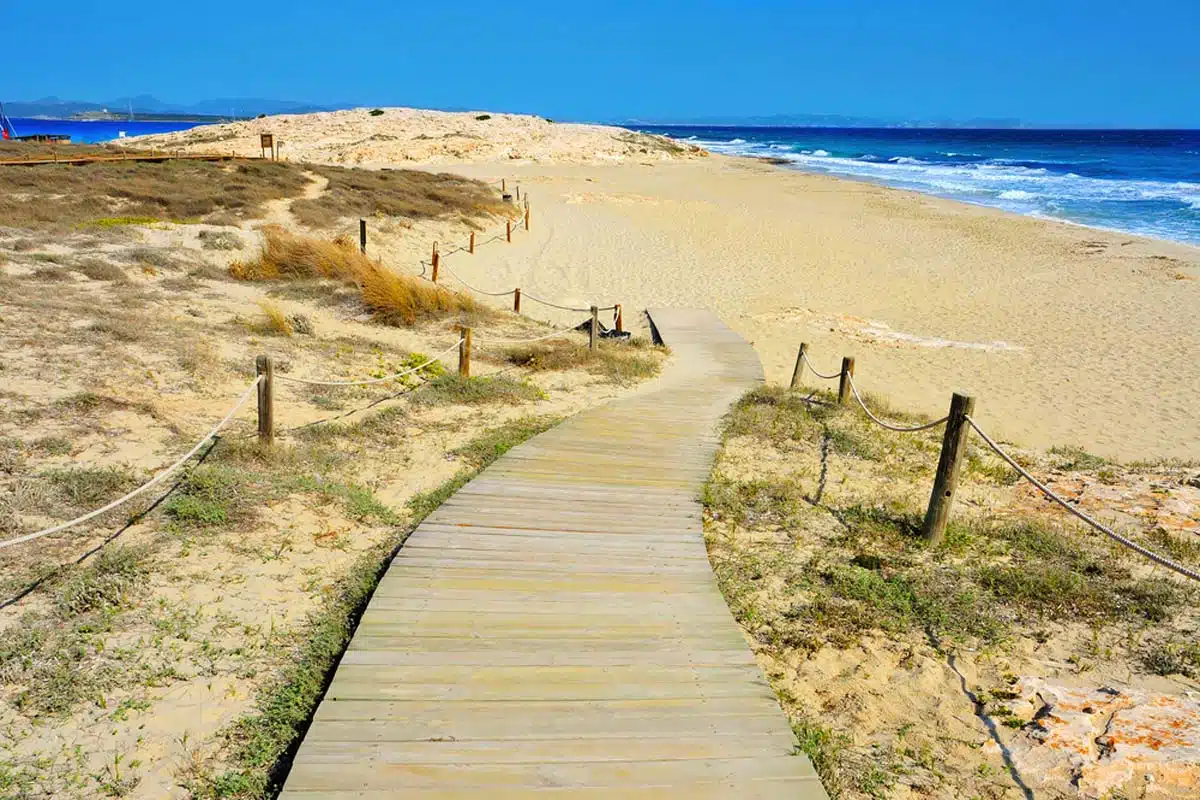 You could visit numerous beaches in the Balearic Islands, but you won't want to skip Playa Ses Illetes. This beach sits on Formentera, one of the Balearic's less popular islands.
Playa Ses Illetes has a long strip of crisp white sand, with aquamarine waters lying on each side. Although it's a relatively famous beach, it sees fewer visitors than some of the other beaches in this guide. So pack your cossie and head out for an ocean swim, sans the crowds.
Barceloneta – Barcelona
Best beach for easy accessibility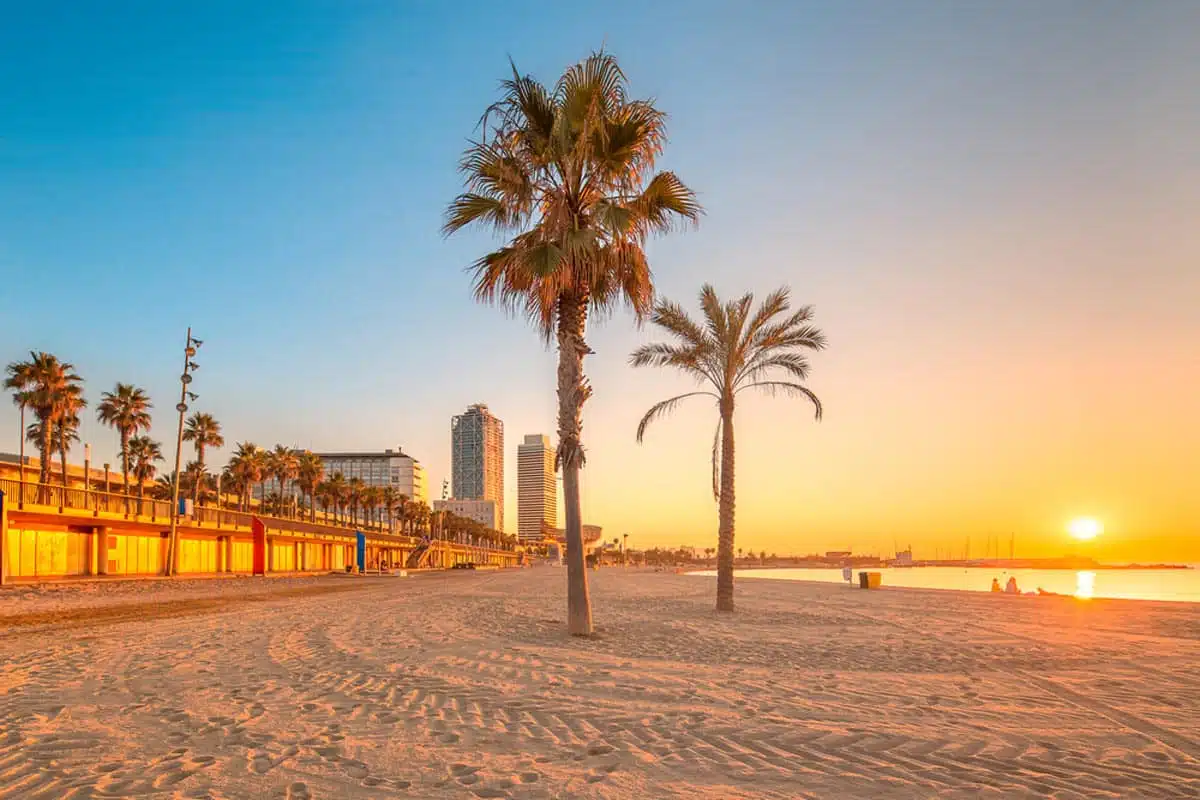 Another of the best beaches in Spain's mainland, Barceloneta, is a must-visit in Barcelona. Some consider Barceloneta the best of Spain's beaches, and it's easy to see why.
Just a short walk from the Gothic Quarter and Las Ramblas, it's a great place to cool off in summer. And it has many amenities – including showers, changing rooms and WIFI.
Directly opposite the beach, you'll find upscale restaurants, cafes and a paved walkway leading up to the W Hotel. A spot I highly recommend booking into, if your budget allows.
Playa de Maro – Nerja
Best beach for amenities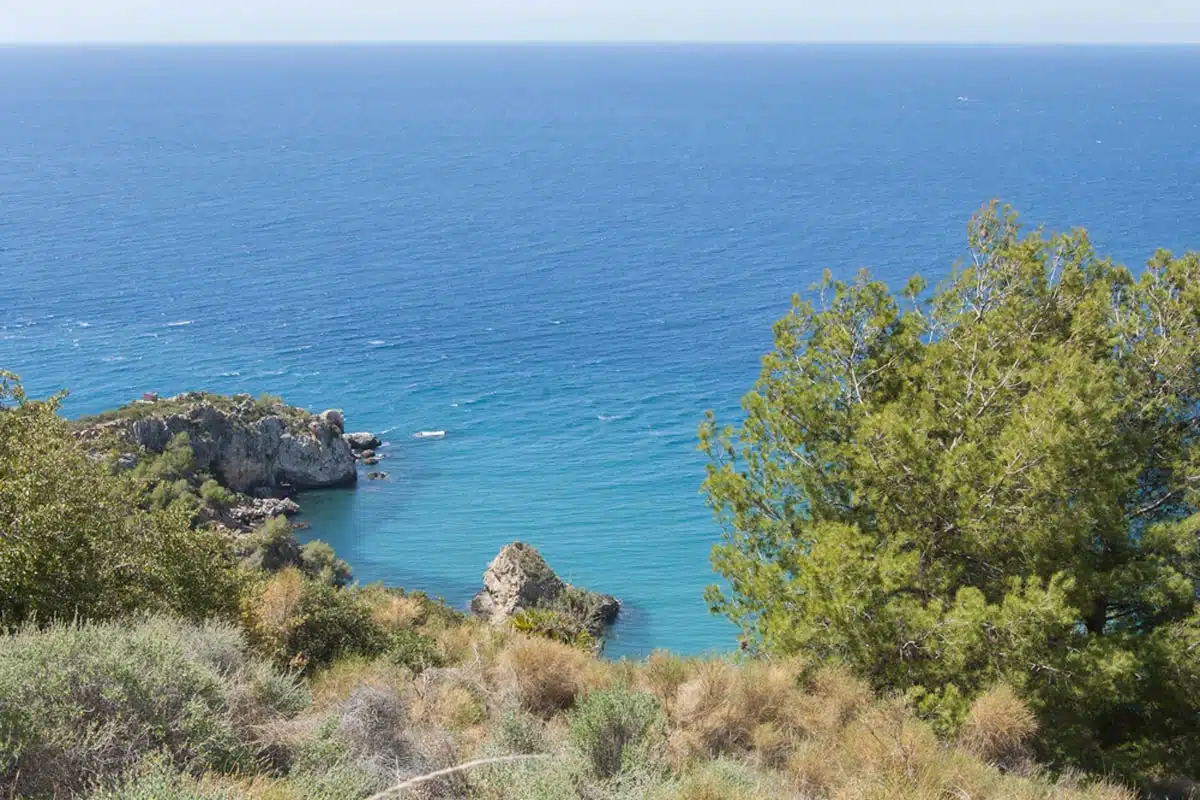 Finally, one of Spain's best beaches is the drop-dead gorgeous Playa de Maro.
The beach lies in Nerja, a coastal resort town along the Costa del Sol. Playa de Maro is a paradise with underwater caves, hidden waterfalls and a long stretch of sandy beach.
But that's not all: Playa de Maro has many amenities tucked away up its sleeve, including a kiosk to grab some snacks, sunbeds, showers and a nearby beachfront restaurant for when hunger inevitably strikes.
Practical Tips for Exploring Spain's Beaches
We've all rocked up at a beach a little too late and had to do the walk of shame because it's too packed. Don't make that mistake again. Arrive early to grab a good spot if you're visiting some of the more famous beaches that fill up quickly.
Take the time to explore lesser-known beaches! Some of the best beaches in Spain are rarely raved about (mainly because the locals know they've got themselves a gem).
Always wear sunscreen. Spanish heat is no joke.
Map of Beaches in Spain
Best Beaches in Spain: Read Next
Love this? Save and share on Pinterest!