The Costa Brava stretches from the northern tip of Barcelona to the French border. It is well known for its rugged, wild landscapes and quaint fishing villages along endless miles of unspoiled shoreline. Heading to the Costa Brava this summer? Here are the beaches that you simply shouldn't miss.
Tourists come to the Costa Brava in Spain to explore the secret beaches, small bays, and gorgeous coves. It's a spectacular region, thanks to its breathtaking beaches and verdant nature.
Add to that, the pleasant Mediterranean climate and you will understand why it's such a treasured destination. Popular as the Costa Brava is, you can always come across a surprisingly untouched hidden beach coves that are surprisingly untouched.
There are endless spots for swimming, snorkelling, and relaxation. Most people choose to bed down in one of the many villas to rent in Costa Brava to enjoy a fantastic holiday with complete relaxation and rejuvenation.
These are my favourite picks in the Costa Brava.
Best Costa Brava Beaches: At a Glance
Platja de Canadell
Cala El Crit
Sant Pol de Mar
Platja de Castell
Cala Sant Francesc
Cala Pedrosa
Tossa de Mar
Platja de Canadell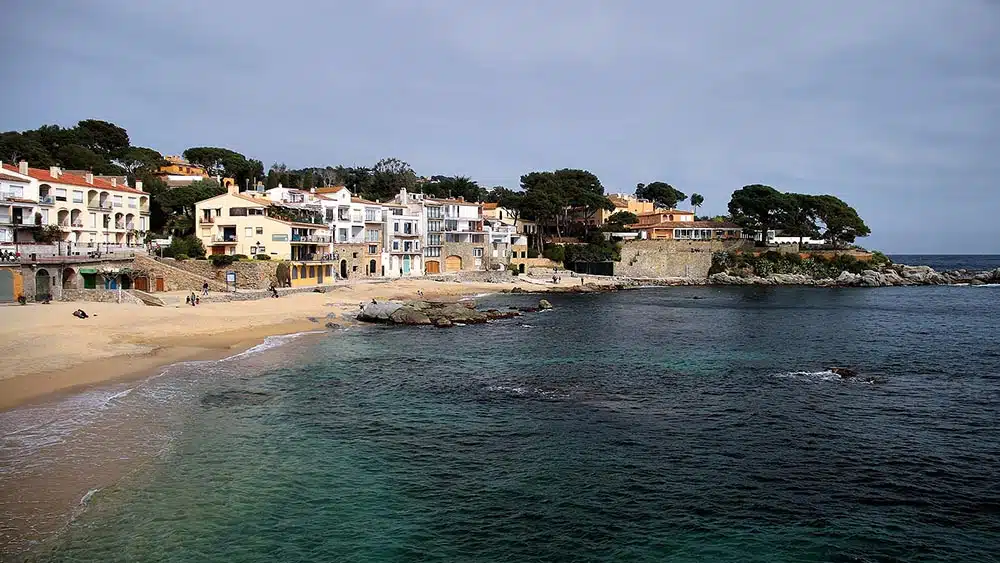 Location
Platja de Canadell lies in the urban area of Calella de Palafrugell.
This beach of somewhat coarse golden sand is about 200 meters long and one of the more popular ones on the Costa Brava, with a lively atmosphere that makes for a fun day out.
Fun things to do
This blue-flag beach boasts crystal-clear waters that are perfect for swimming in. You can also hire a kayak to explore the local coastline, or indulge in some good old-fashioned flopping and dropping on the beach, maybe with some sandcastle-building for good measure. Don't forget to check out the old fishermen's lodgings with brightly painted doors.
For food
Can Gelpi is the big name here, but you can pop into any one of the restaurants in the 19th-century villas for some delicious Spanish tapas straight out of the sea.
I'll warn you, this beach does get busy during the summer months so if you are going to the beach alone, you may be able to find some travel buddies or it could be one to avoid if you want to stay quieter. Get there early if you want to bag yourself a spot.
Cala del Crit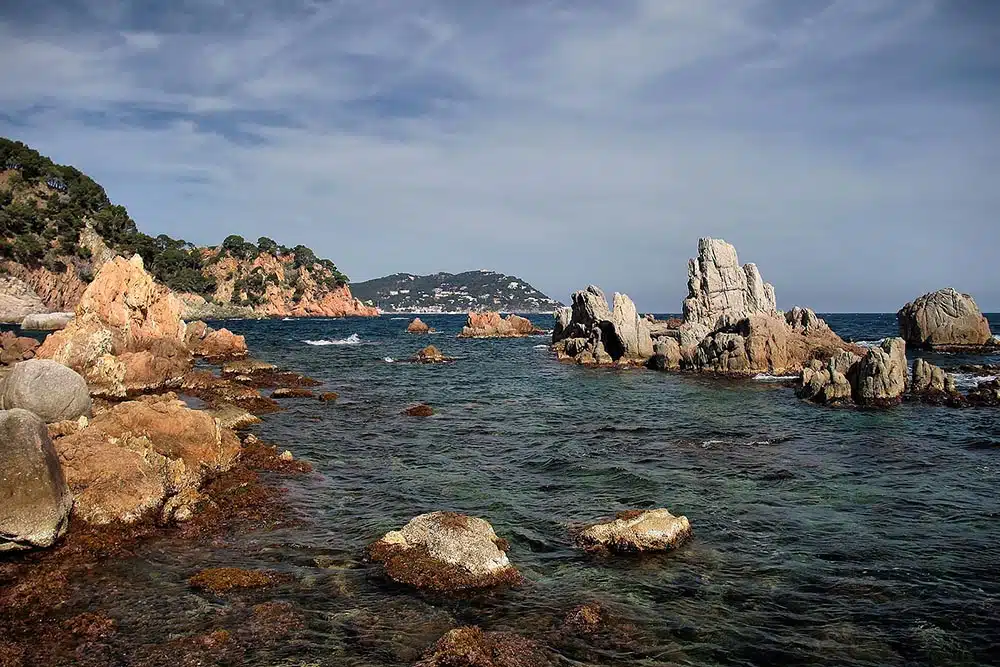 Location
Cala del Crit beach is located near Montras – it's only accessible on foot (be warned, it's quite a long walk from the nearest parking spot).
Fun things to do
This sandy cove, surrounded by giant rocks is shrouded in legend. Cala del Crit is the subject of many a mysterious story.
Local lore has it that Cala del Crit is named after the cries of a local girl stolen by the Saracens during the times when pirates reigned supreme along these coasts.
Believe it or no, this is an incredible section of Spanish coast, and well worth visiting if only for the pictures alone.
Divers come prepared – the coves of Cala Estreta and Es Castell are well-reputed diving spots. The crystal-clear waters make for interesting underwater excursions, with an abundance of fish (and, if you're lucky, starfish too).
Above the water, the ancient fisherman's huts are well preserved – but much of the attraction is just soaking up the vibe (and the sunshine) in one of the best beaches in the Costa Brava.
For food
Cala del Crit is a little off the beaten track – while that is an undeniable part of the attraction, it means that you're best off bringing your own food and refreshments.
Sant Pol de Mar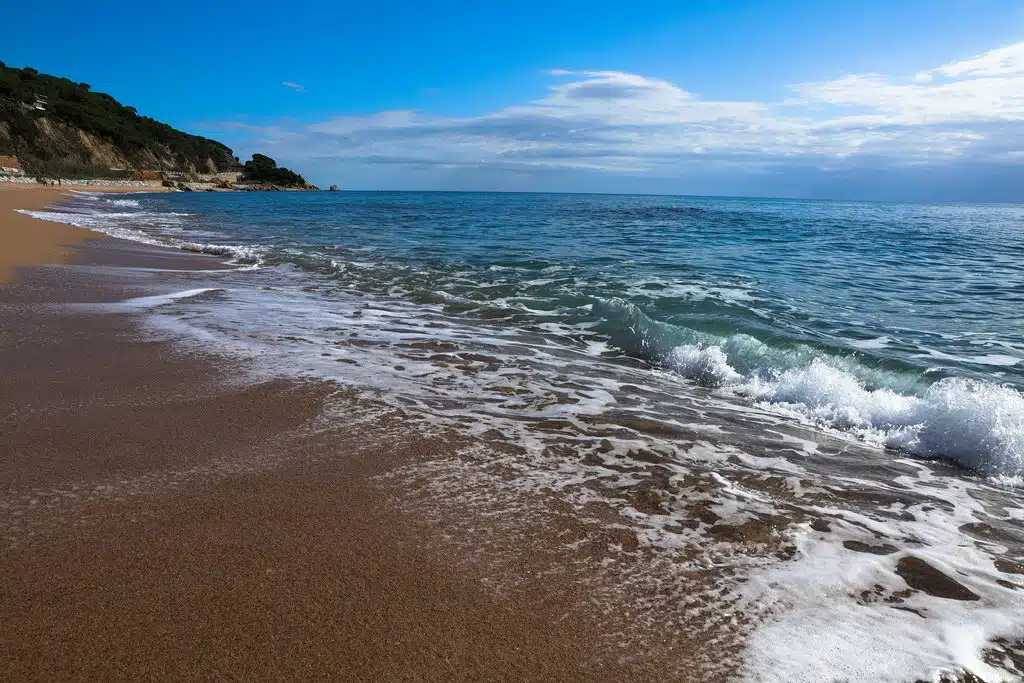 Location
Sant Pol de Mar is sandwiched between Canet de Mar and Calella. It's a cross between a local hangout and chill spot for in-the-know tourists. Plus it's a relatively short distance north of Barcelona and an easy day trip from there.
Fun things to do
A lot more developed than some of the other beaches on this list, Sant Pol manages to tread the line between being a best-kept secret and having enough facilities to make it an easy day out.
It's family-friendly, with a wealth of water sports including kayaking, water skiing and sailing to lure you from the sand.
Like much of this coastline, the waters are great for snorkelling and diving, with plenty to see under the surface.
For food
Like pretty much every self-respecting seaside development on the Costa Brava, you're not going to struggle for food – Valencia might be the home of paella but you'll get some pretty good ones here. Perfect when washed down with a nice cool beer.
Platja de Castell
Location
Located in the heart of the Costa Brava in Catalonia, Platja de Castell remains relatively untouched – you'll find it near Palamos.
Fun things to do
Most of the beaches around here have been developed, so it's a real breath of fresh air to find one that's a little more bare bones. Don't expect lots and lots of amenities but do expect a relaxed vibe and a few worthwhile distractions.
Once you've had enough of soaking up the sun, put on some comfortable footwear and set off for a jaunt along the old smuggler's path. Climb up to the promontory over the beach for a pretty view or escape the heat in the shade of the pine forests bordering the beach.
For food
Seafood is the big draw here – few people know their way around a gamba (prawn) like the Spanish. Do yourself a favour and work up an appetite first.
Cala Sant Francesc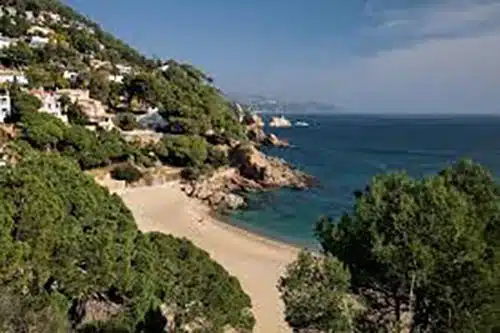 Location
Tucked away in the village of Blanes Blanes, Cala Sant Fransesc goes by the nickname of Cala Bona, which means pretty cove in Spanish. The name says it all really.
Fun things to do
Another popular one, this long and sandy beach can get pretty heaving at times but never uncomfortably so.
First up, let's talk location. Surrounded by pine trees, with lots of nearby parking – Cala de Franscesc is easy to get to. Once there, you're rewarded with crystal-clear waters and a nice beach.
Not many beaches offer visitors the chance to combine their time on the sand with a walk around a well-kept botanical garden – just another thing that makes Cala Sant Francesc shine.
Facilities-wise, there's pretty much everything that you could ask for – lifeguards, pedalos, bars and cafes and showers to wash yourself down with before you head off.
For food
The main restaurant, Cala Bona is a real treat – absolutely fabulous food right on the beachfront.
Cala Pedrosa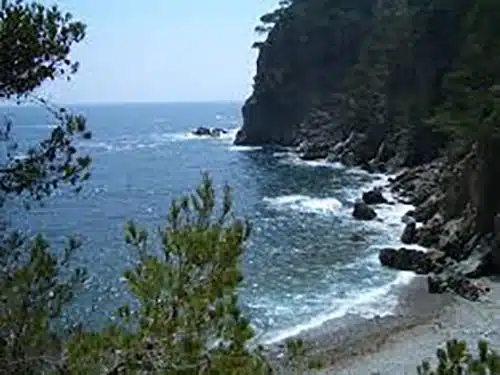 Location
Cala Pedraza beach is a remote cove near Tamariu and Calella. Just as a couple of kilometers away from Tamariu, the beach is covered in pebbles of various sizes. It's a tough hike to get here (well, relatively anyway), so many visitors arrive by boat.
Fun things to do
Nothing – that's the true aim of the game at Cala Pedrosa. Simply plop yourself down and admire the verdant cliff-side views, tranquil waters and gorgeous setting.
For food
There's pretty much one food option on Cala Pedrosa but it does have the benefit of serving the very freshest seafood – what more could you want?
Tossa de Mar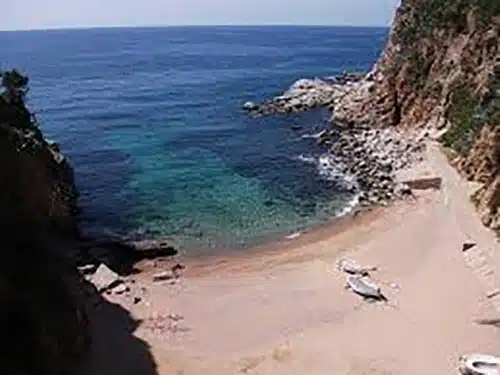 Location
For something a little different, Tossa del Mar is a gorgeous walled town in the province of Girona that boasts a number of wonderful beaches.
Fun things to do
The town itself was dubbed the "Blue Paradise" by Marc Chagall – just one of the artists who helped cement its reputation as a highbrow hangout in days gone by.
Beach-wise, Playa Gran is the biggest and best known of Tossa de Mar's beaches. Located in the centre of town, it's a busy but very beautiful place to spend the day, against the backdrop of the iconic city walls and towers.
If you want to get completely off the beaten track, Cala Futadera, 6km north of the town is the perfect little escape. Only 100m long and tucked into a secluded cove, it's one of the more tucked away nudist beaches in the Costa Brava and is never busy. There are no facilities here though so you will need to bring everything you need for the day along with you.
For food
Tossa de Mar has a well-developed culinary scene – you will not struggle to find good food (or good wine) in town. Tapas del Mar is reputed for selling some of the best seafood in town and has excellent views too.
Love this? Save and Share on Pinterest