Planning a visit to the south of Spain? Mojácar should be at the top of your list. With an obscenely pretty old town (Mojácar Pueblo), glorious beaches and a rugged shoreline that's ripe for adventure – it's one of Andalucia's coastal gems. Convinced? Don't miss this guide to the coolest things to do in Mojácar.
Spain. Just when I think I can't love it more, I discover a new spot to explore.
If you've been following the blog, you'll know that I recently travelled to Andalucia as part of an epic Spain itinerary – Malaga, Seville, Ronda, Cordoba, Granada – check, check, check, check.
But there was one spot that I totally missed: Mojácar.
Hands up if you've heard of Mojácar. Or were you totally thinking where is Mojácar and why should I go? Bet it was the latter.
Put simply, if you're into outdoor adventure, soaking up the rays on sun-drenched beaches and maybe a spot of culture too, Mojácar is the place for you. Located on the Costa de Almeria, it's the perfect short-haul escape.
I don't know about you, but any trip that promises lots of sunshine, great food and adventure is always going to get my vote.
Guess that's how I found myself touching down on Spanish soil again last month with Jet 2 as part of their campaign in search of the coolest things to do in Mojácar. Here's what I found.
Cool Things to do in Mojácar: At a Glance
Wander around Mojácar Pueblo
Hike along the coast on the La Mena Footpath
Sea Kayaking in crystal-clear waters
Soaking up the sun on Mojácar Playa
Diving in the Cabo de Gata National Park
Work on your swing at Marina Golf Course
Feast on fabulous food
Wander Around Mojácar Pueblo (Old Town)
Mojácar town (Mojácar pueblo in Spanish) is one of the region's biggest attractions. Rightly so. A cluster of whitewashed Moorish-style villas clinging to a maze of steeply winding streets -it's the archetypal image of southern Spain brought to life.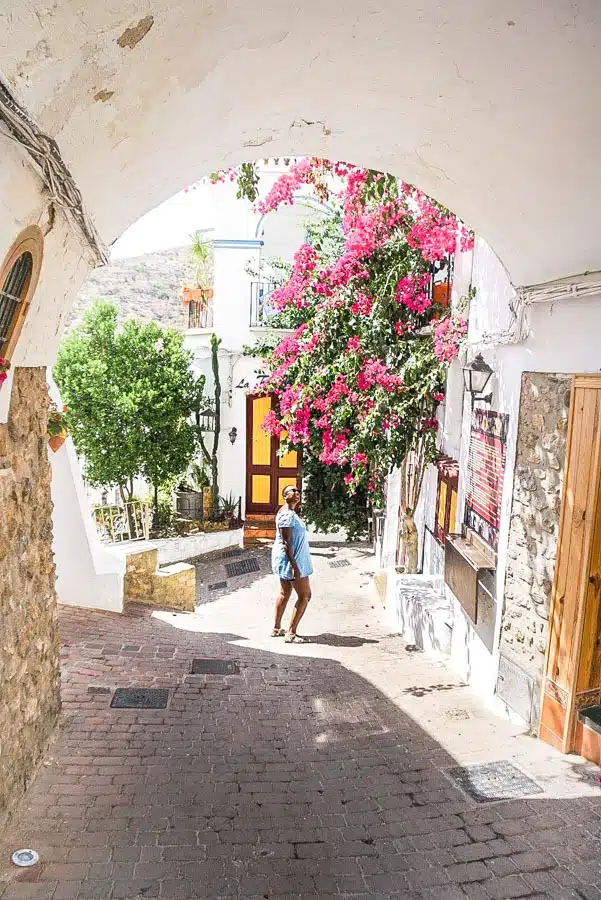 Do you ever find one of those places where everything is so pretty, it almost doesn't seem real? That's Mojácar.
Every corner, every turn is another picture opportunity in the making. I can't tell you how many pictures I took during the time I spent there – so many and still not enough, it's easy to see why so many people decide to live in Spain.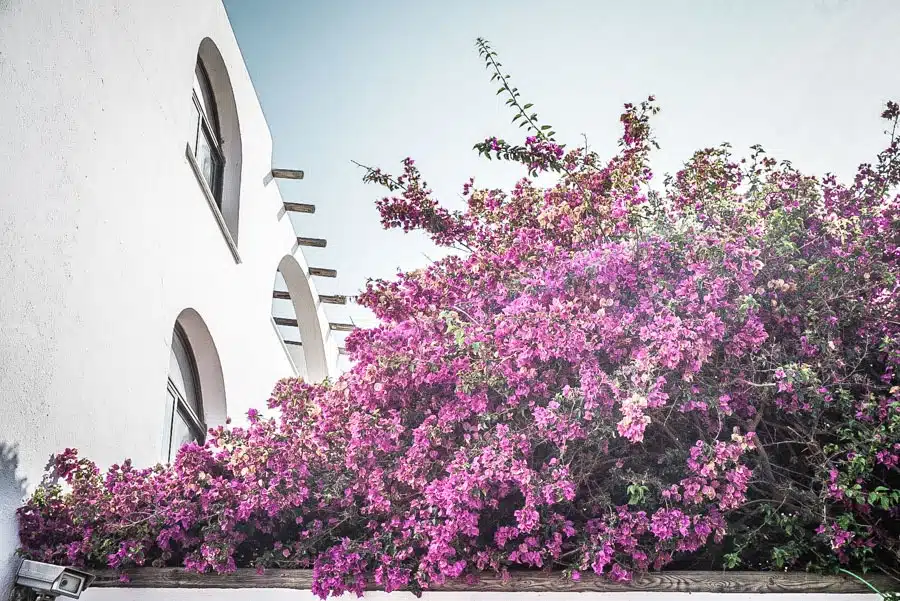 White walls, tiled porches, bougainvillaea bursting from every nook – it's just gorgeous.
But Mojácar is more than just a pretty picture. The south of Spain is brimming with history and Mojácar is no exception. Locals have made a concerted effort to maintain the traditional style and atmosphere of the town.
The area was under Moorish rule between the 9th and 15th centuries.
From the Moorish fountain at the foot of the town, with its plaque commemorating the Mojácan mayor who peacefully surrendered the village to the Christians during the reconquest of Southern Spain, to the intricately-detailed tiles that frame the doorways – the town's Moorish heritage lives on.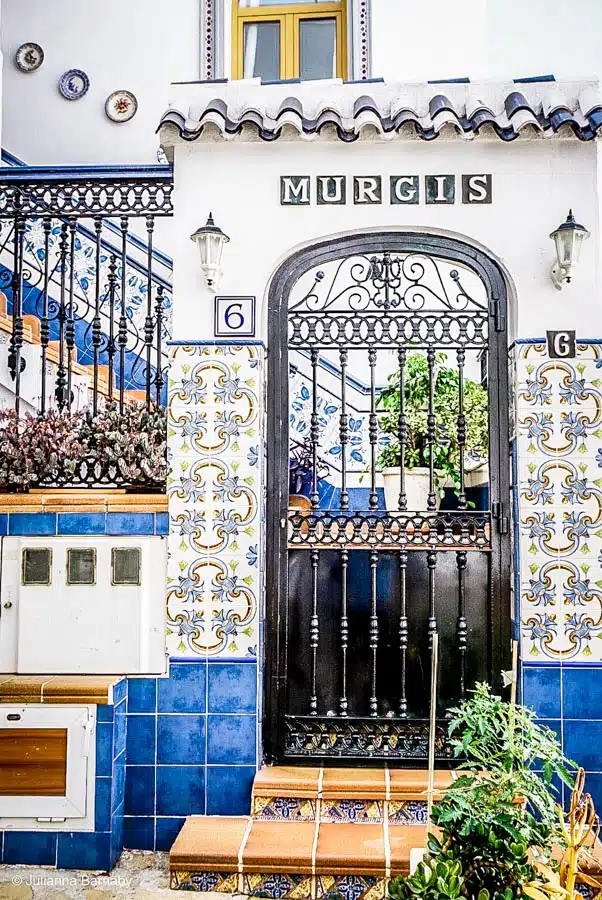 If you can, time your visit to coincide with the weekend nearest to the 10th June. The town bursts into life with its yearly event called Moors and Christians.
This tradition, revived forty years ago, sees all of the residents and townspeople dress up and take part in a procession to commemorate the town's unique history.
I happened to visit just in time for another yearly event – the Noche de las Velas (night of the candles). The town takes another guise for the evening as all of the lights are turned off and replaced with thousands and thousands of small candles.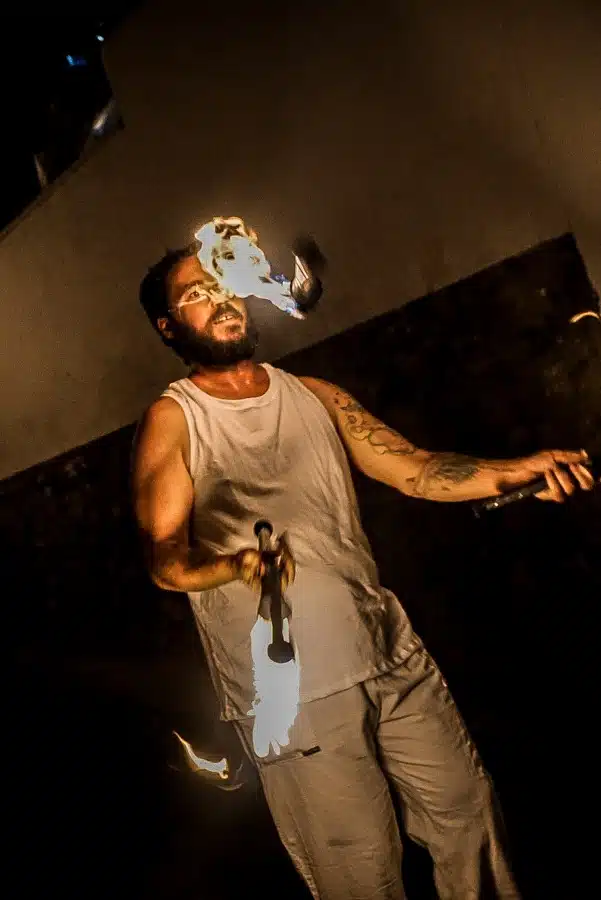 Live music, fire processions, drumming bands – grab your opportunity to take part in a Spanish fiesta.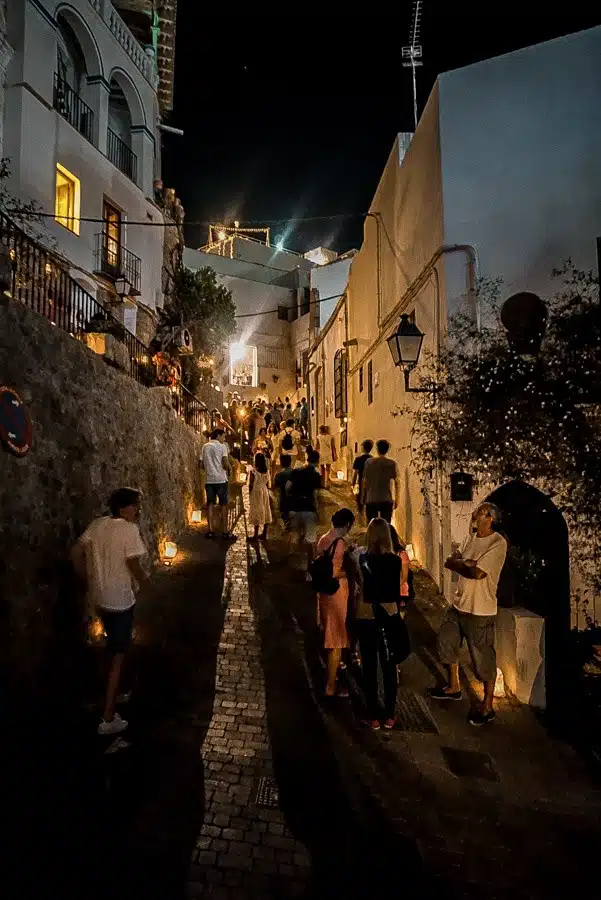 Things to do in Mojácar Pueblo
Puerto de la Ciudad – one of the remaining entrances to the village.
Soak up the views from the Mirador de la Plaza Nueva.
Peek at the unusual decor in the Iglesia de Santa Maria.
Climb up to the Mirador del Castillo for views out over the town and down to the sea.
Touch La Mojaqueras (woman of Mojácar) statue in front of the church. Legend has it that if you touch her breast, you'll come back to the town.
Hiking Along the Coast on the La Mena Footpath
Lace up your hiking boots – the coastal La Mena hike is too good to miss. If you're looking for outdoorsy things to do in Mojácar, this is the first thing I'd recommend.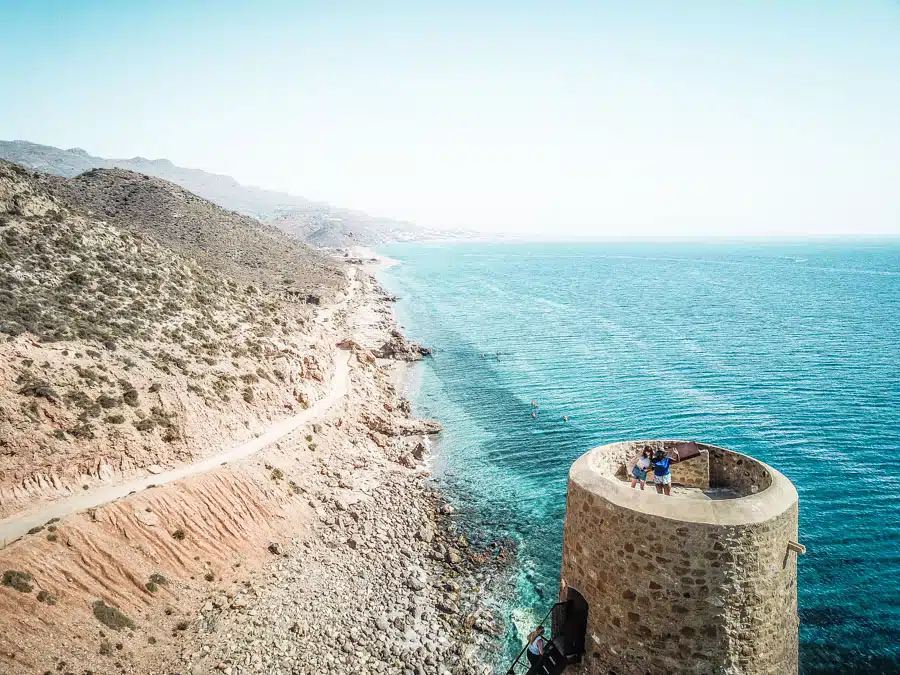 This well-marked, relatively easy hike takes you along the rugged coastline of the Cabo de Gata National Park – which starts at the end of the Mojácar strip.
After a short uphill stretch, you're rewarded with views of the brilliantine blue waters, fringed by small coves and beaches you can only access on foot.
The beaches are quiet, even during the peak season. I couldn't resist stopping off a couple of times to just enjoy the sunshine and go for a quick dip in the sea.
Don't forget your swimmers – or not – if you dare to go bare, this stretch of coastline is something of a nudist haven.
Small fortresses and watchtowers dot the shoreline – the hike takes you to Macenas Castle and the Torre de Pirulico, not to mention some strikingly beautiful viewpoints.
I took a few shots and some short videos on the drone and people were LOSING THEIR MIND that this was the South of Spain. Wanna see what I mean?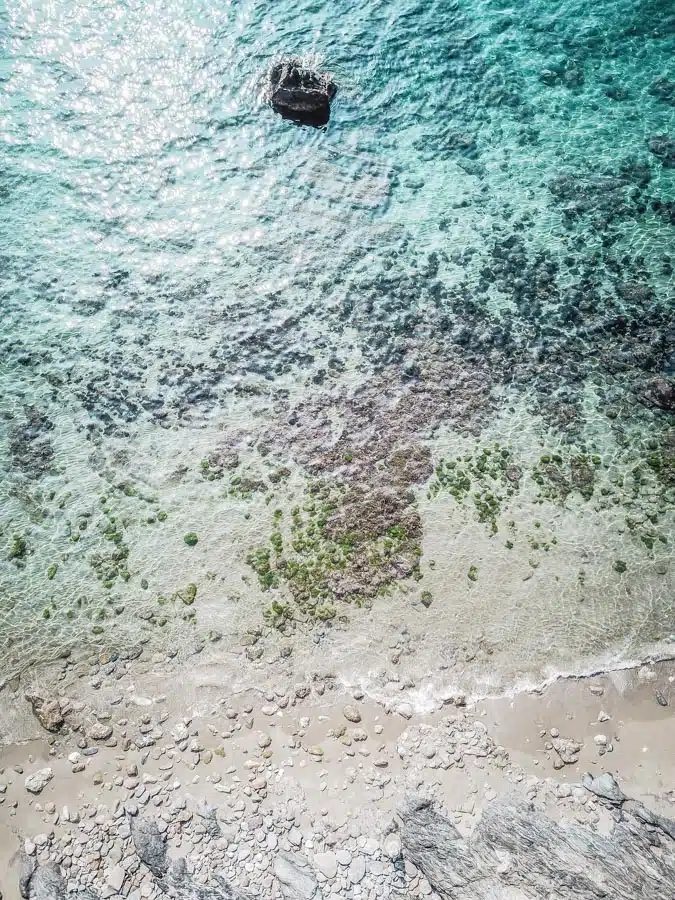 The rather squat Torre de Pirulico was my favourite spot on the path. Climb the stairs to the top of the tower for 180-degree views of the coastline on either side – believe me when I say that you won't want to miss this one.
The hike is a 10km round trip – not too tough but it can get incredibly hot during the day and there are no amenities along the way so remember to bring lots of water.
Sea Kayaking in the Crystal Clear Waters
Splash on the suncream and get ready for a workout (albeit one with some pretty fabulous views). In Mojacar, things to do generally involve getting outdoors and exploring the huge natural playground surrounding the town. No better place to do that than the sea.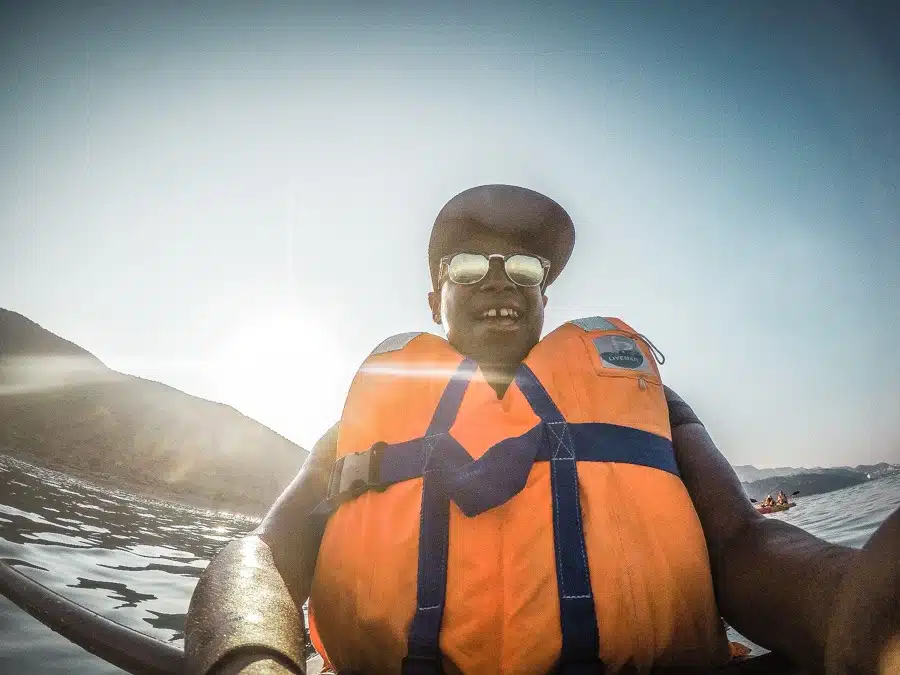 We hopped (OK, in my case pretty ungracefully climbed/ scrambled) our way into the kayak and then set off. The water was incredibly calm and so clear – you could see down to the sea floor, with all of the marine life flitting around above.
If you've got the arms for it, book an all day tour, dipping into small coves and picnicking on the more remote Mojacar beaches. Otherwise, head out for a couple of hours at a relaxed pace.
Soaking Up the Sun on Mojácar Playa (or Head to one of Mojácar's Hidden Beaches)
So many people come to Mojácar for a beach break that I couldn't possibly write about the best things to do in Mojácar without mentioning a few.
You could describe Mojácar as a small village with a large coastline – 17 kilometres of it in fact. Seven of those kilometres are beaches.
From the main blue-flag awarded Playa de Mojácar (actually a string of smaller beaches) to the slightly quieter Marina de la Torre Beach further down the Paseo Maritimo and the endless hidden beaches along the Cabo de Gata coast, you're never short of choices when it comes to plopping down your towel and working on your tan.
I didn't spend that much time on the larger beaches, other than popping into a few beach bars for drinks and lunch.
Instead, I caught the bus (Mojácar has a really reliable bus service) to the beginning of the La Mena footpath, hiked along the path and spent time on a couple of the beaches there.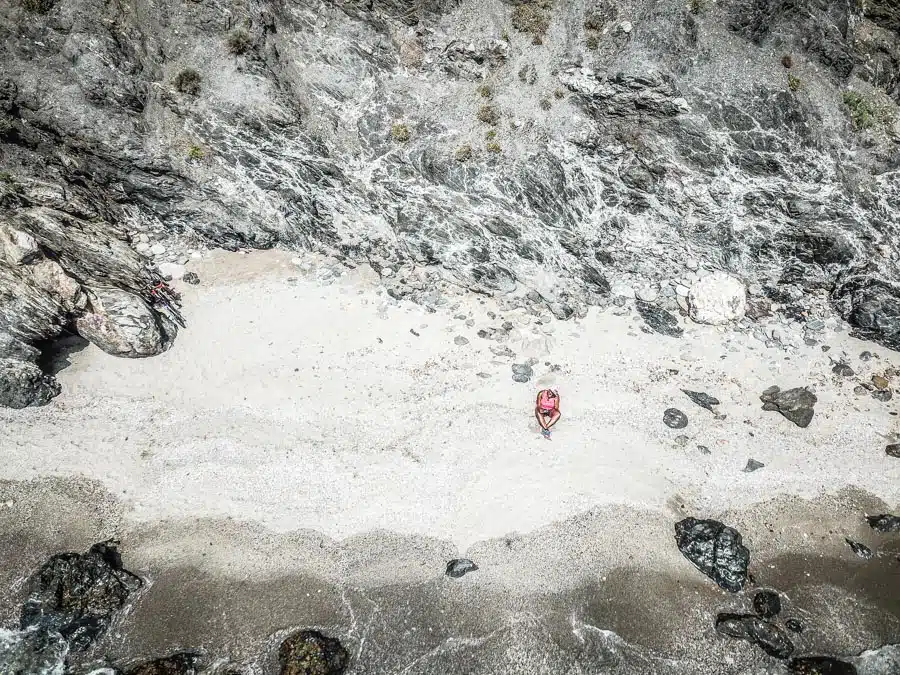 They're just as beautiful and much quieter – just remember to bring whatever you need with you.
Underwater Exploration: Diving in the Cabo de Gata Natural Park
Hands up if you've always wanted to try diving but haven't yet taken the plunge (pun intended). Until this trip, I hadn't really thought of Spain as a diving destination, but that totally changed when I headed out for a dive with the guys at Buceo Mojácar.
I'm PADI qualified, but it's been five years since I got my diving qualification in Thailand and four since my last dive.
Safe to say I was feeling pretty rusty, so was happy to be treated like a total beginner. That meant a short theory lesson to explain how diving works and the kit we'd be wearing and a practice session in the local pool before we were let loose in the sea the next day.
It was incredible – not only were the guys incredibly fun and enthusiastic, I've never felt so safe on a dive.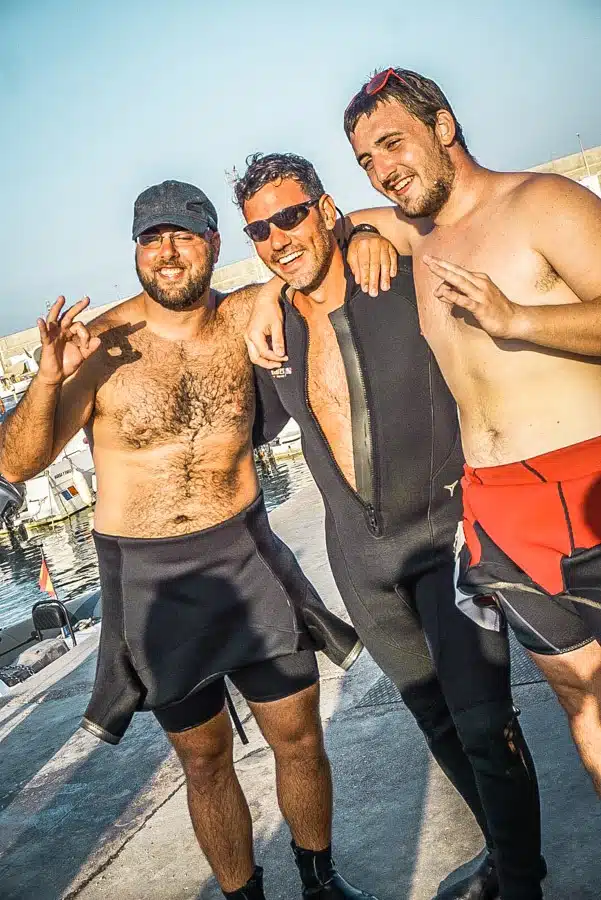 The Costa de Almeria boasts great visibility and a lot of marine life – the perfect combination for a dive.
My diving buddy Gustavo was an absolute hero, helping me to equalise properly to get down to the bottom and then pointing out all of the aquatic life as we drifted past. We even saw an octopus hanging out on the ocean floor.
Unfortunately, I brought the wrong GoPro housing with me and wasn't able to bring it down on the dive with me, so you're just going to have to take my word for it. But there's plenty of evidence of our post-dive celebrations.
Work On Your Swing at Marina Golf Course
Golfing – isn't that for old dudes and ladies who brunch? NOPE.
I've only tried golfing once before (in Dubai, and I actually ended up dating my instructor, so I thought the session went pretty well, even if my swing was dreadful).
As I abysmally failed to learn anything useful about the sport the first time, I was actually pretty excited about having a golfing lesson with a pro to show me the ropes properly. Sans flirting and with proper instruction.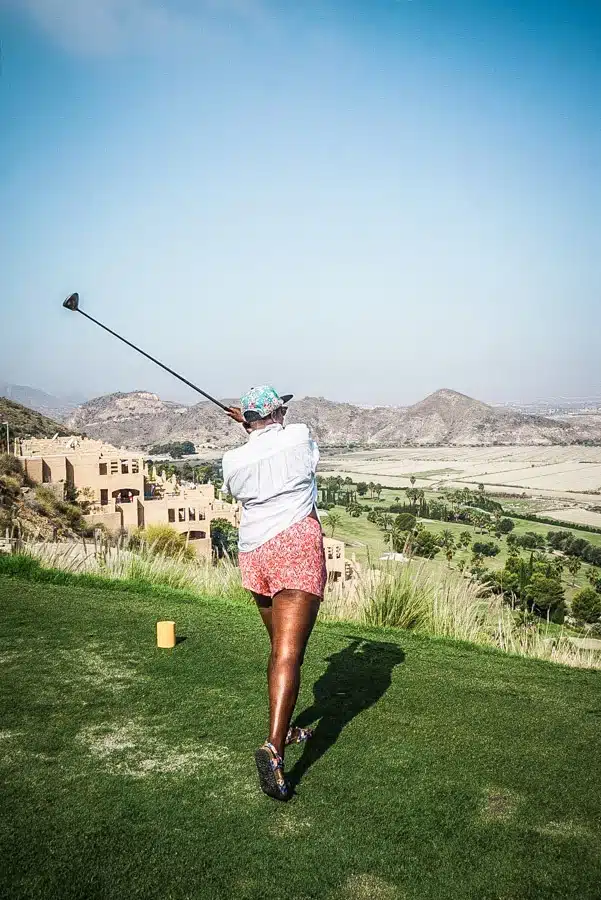 We had a lesson with a local pro, Alvaro Sanchez at Marina Golf Mojácar and it was so cool. When else do you get to hammer a buggy up narrow paths and steep slopes, work on your swing and soak up the cool views too? Exactly.
We finished the lesson with some time on the driving range, where Sanchez analysed our swing and gave us tips on how to improve (in my case, that mainly revolved around actually looking at the ball instead of swinging wildly and hoping for the best).
It was 90 minutes, so I'm not going to pretend that I came away from it as a pro, but it was one of the things to do in Mojácar that proved to be a big hit in the group. Would definitely recommend.
Feast on Fabulous Food
You can't come to Spain and not indulge in some proper Spanish food. If you do, you're potentially missing out on some of the best meals of your life.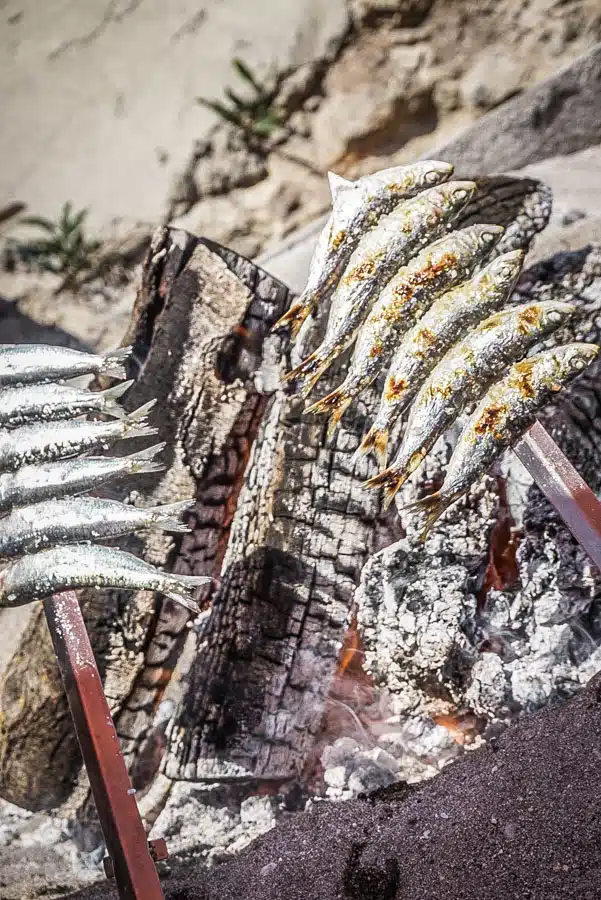 Like much of the Andalucian coast, Mojácar's traditional dishes revolve around fish and seafood.
Fresh sardines sprinkled liberally with salt, skewered and cooked over an open wood fire, grilled fish with olive oil – everything is fresh and full of flavour.
Head to the beach bar-come-restaurant Chiringuito Cala Marina for a full-on Andalusian lunch. More formal, but no less friendly, the Restaurante Cabo Norte is the perfect spot for a high-end dinner.
The food is incredible – I had the Bluefin Tuna Carpaccio and the Slow-Cooked Ox Cheek in Pedro Ximenez sauce. Let's just say I am still dreaming about that meal almost a month later. Book ahead, it gets busy.
Things to do in Mojácar: Practical Information
Where is Mojácar
Mojácar is on the Costa de Almeria in Andalucia. It's a part of Almeria province.
What is Mojácar like?
Varied. Mojácar pueblo is one of Spain's most beautiful and well-preserved old towns, while the resort area is very modern, with lots of restaurants, bars and amenities. Don't think this is another Malaga or Benidorm though – there are no high-rise buildings or big tower blocks to mar the views.
Where is the Nearest Airport to Mojácar?
Almeria Airport is 86 km away. It takes about an hour to drive from Almeria Airport to Mojácar.
How to Get to Mojácar?
Jet2 operate flights to Almeria from a number of hubs in the UK including London Stansted, Belfast, Manchester and Newcastle.
You can arrange for a hotel pickup or hire a car from Almeria airport to Mojácar.
Where to Stay in Mojácar
I stayed in the adults-only Alegria Palacio Hotel – a four-star hotel in the Marina de la Torre area of Mojácar. It was a great base for the trip and I totally appreciated the low-key vibe of an adult's only hotel.
The Alegria Palacio is on the far side of Marina de la Torre, so you might need to arrange a taxi or hop on the bus to get to other parts of Mojácar such as the centre, Mojácar pueblo and the Cabo de Gata National Park.
So there we are – the coolest things to do in Mojacar. Love it? Read more of my Spain guides:
Love this? Save and Share on Pinterest!