Looking for the best things to do in Oaxaca City? Don't miss this guide to the top attractions and places to visit in one of Mexico's most beautiful cities.
Oaxaca is the capital city of the eponymous Mexican state with the same name. If you are looking for an authentic Mexican travel experience, this city, complete with its well-preserved indigenous culture and colonial architecture, should be at the top of your list.
Set in a backdrop of mountains and lush valleys, Oaxaca de Juárez is perhaps best known for being a melting pot of indigenous cultures and people. The survival of those cultures is largely thanks to the isolated mountainous terrain that surrounds the city.
Whatever the reasons, the end result is a diverse and eclectic place to visit on any Mexico itinerary.
Settle in. It's time to discover the top things to do in Oaxaca, Mexico.
PS: Want to Take a Peek? Check Out My YouTube Video of Oaxaca
5 Top Things to Do in Oaxaca
Visit Templo de Santo Domingo de Guzmán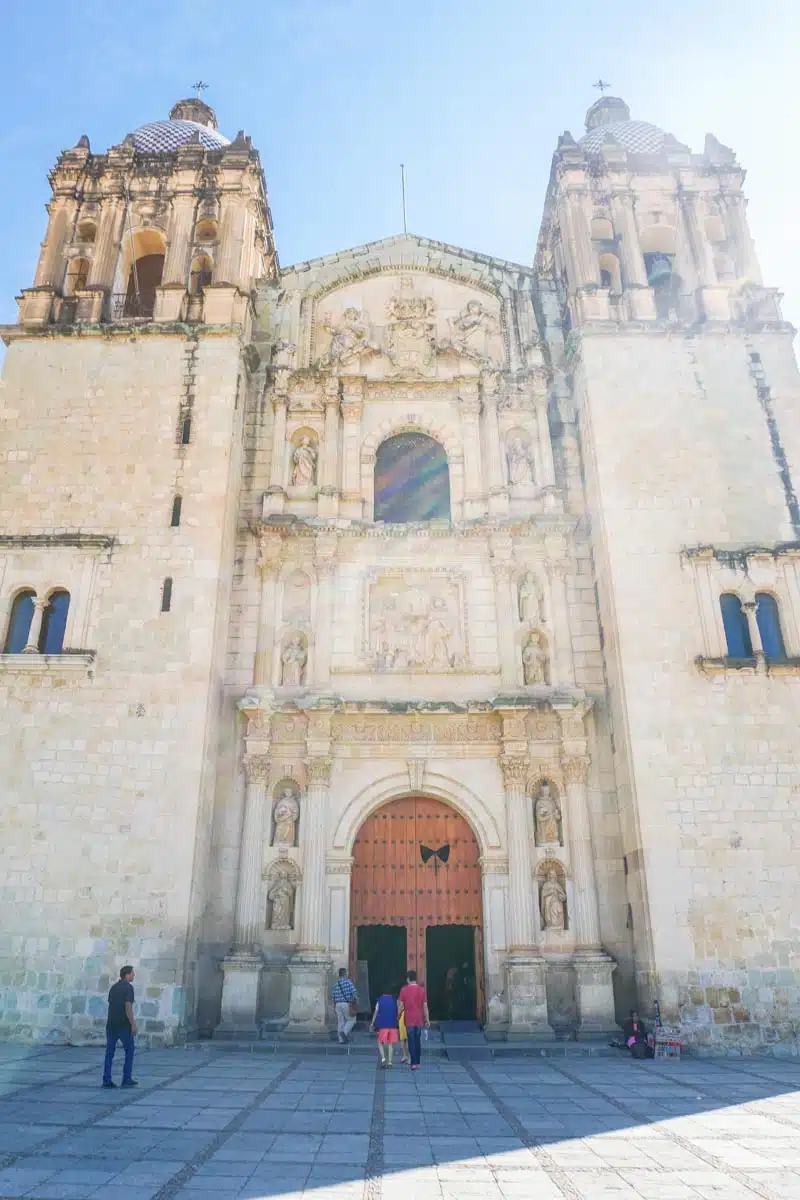 The former Convent of Santo Domingo is one of the best examples of baroque architecture in Mexico. It is located right in the centre of the city and highlights the architectural wonders of the Dominican order of the 16th century.
Inside the temple, you can marvel at the excellent plaster artwork dedicated to the Dominican family. A genealogical tree representing both the spiritual and earthly life of the family can be spotted. You'll also see ornate gold leaves and fruits that hide the figures of Saint Dominic and the Virgin Mary.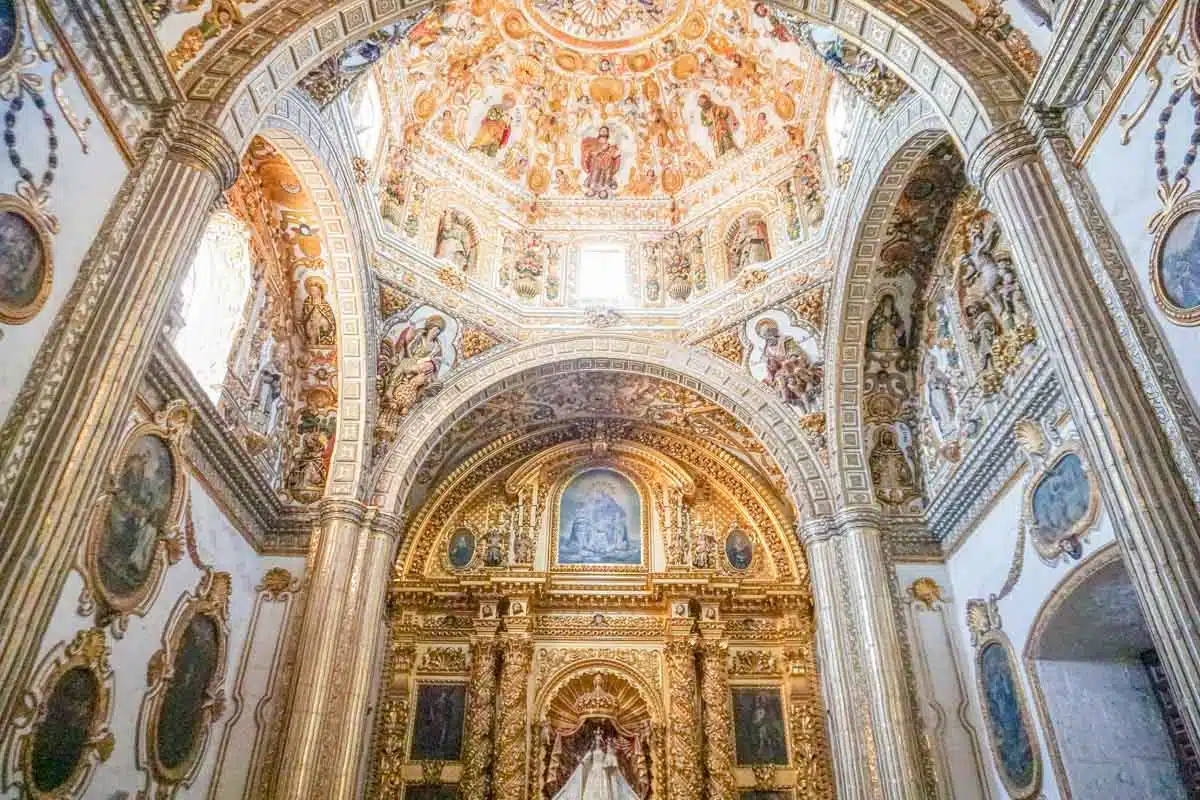 The church of Saint Dominic is one of the most important places to visit in Oaxaca and requires reservations beforehand. You can book a guided walking tour of the city, including a trip to The Temple of Santo Domingo de Guzmán.
Stroll Through an Oaxaca Street Market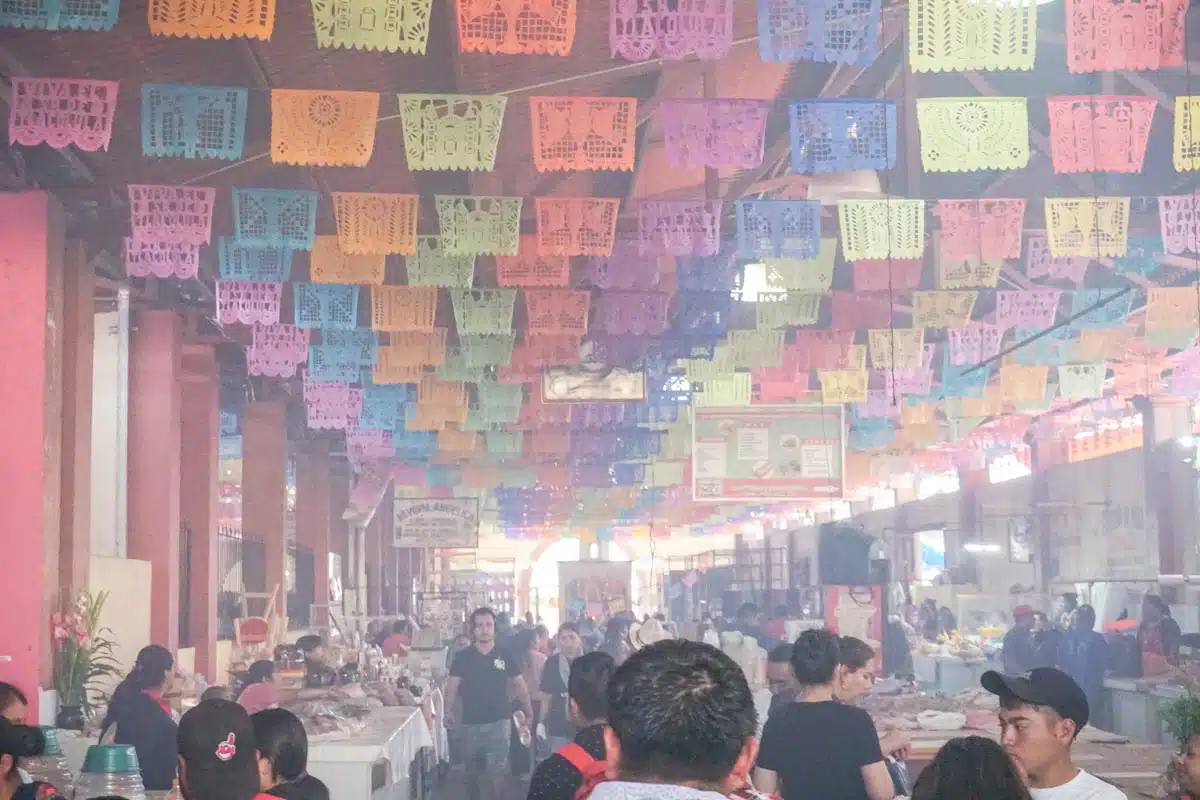 The street markets in Oaxaca are a must-visit when you're in town. Below is a list of the most popular ones. However, this is by no means an exhaustive list of all the markets in the city.
Mercado 20 de Noviembre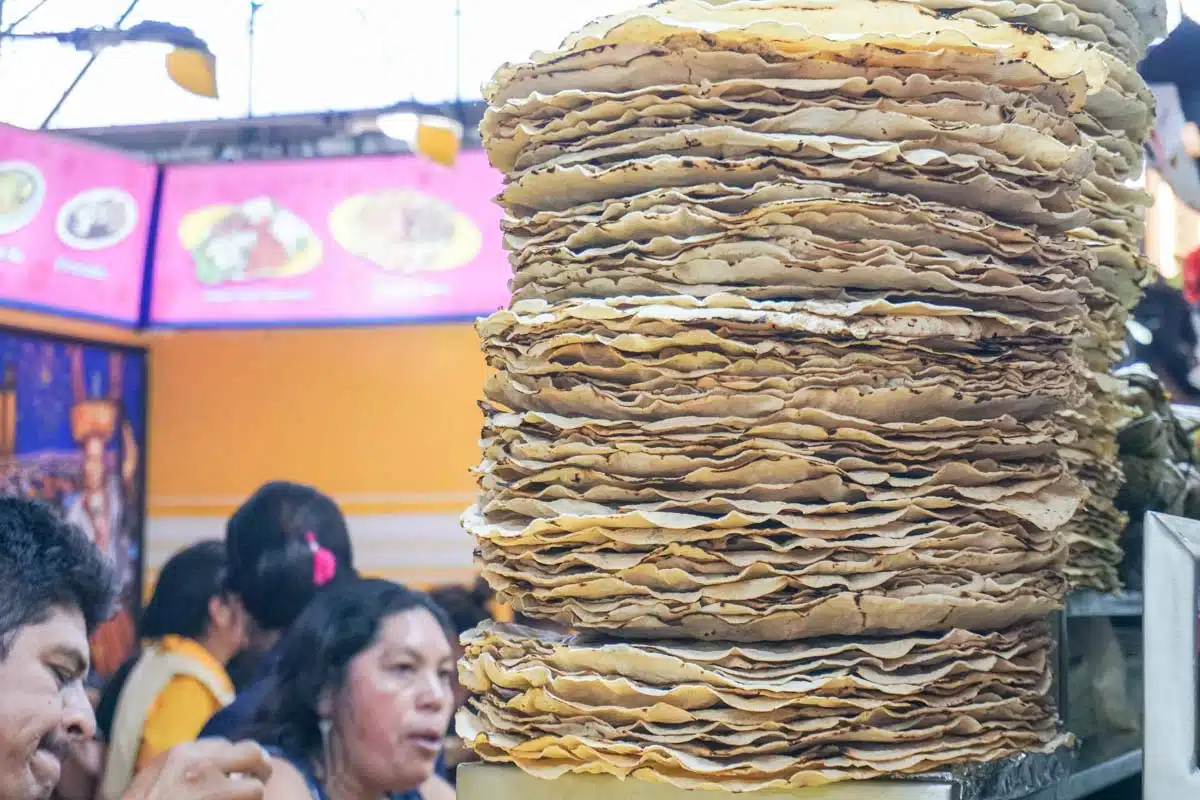 Perhaps the most famous of the street markets is the Mercado 20 de Noviembre. Translated to the 20 November Market (named after the street and not because it's only open on that date), this market is best-known for the Pasillo de Humo.
Pasillo de Humo is the nickname given to the famous smoke aisle, where you will be greeted by an array of grilled meats. This section of the market has a unique way of operating.
The process starts at the entrance, where you will receive a tray of onions and chillies. You will then proceed to the meat stall of your choice, where you will hand in your tray of veggies.
Your meat of choice will then be charcoal-grilled, along with your tray of chillies and onions. Keep a keen eye out for vendors walking around offering sides to partner with your meat.
La Casa de las Artesanías de Oaxaca
This is one of the top markets for souvenirs. At La Casa de las Artesanías de Oaxaca, you can find a wide selection of handicrafts and artisanal products made by locals.
The market consists of interconnected rooms offering different items. Some rooms are devoted to woollen rugs, one to woodcarvings, and several to ceramics.
Mercado de Artesanias de Oaxaca
This vibrant and colourful market dedicated to artisanal clothing is one for the books. You will find a great variety of women's fashion and limited items for men, but all hand-made by locals to the style of Oaxaca.
Mercado de Abastos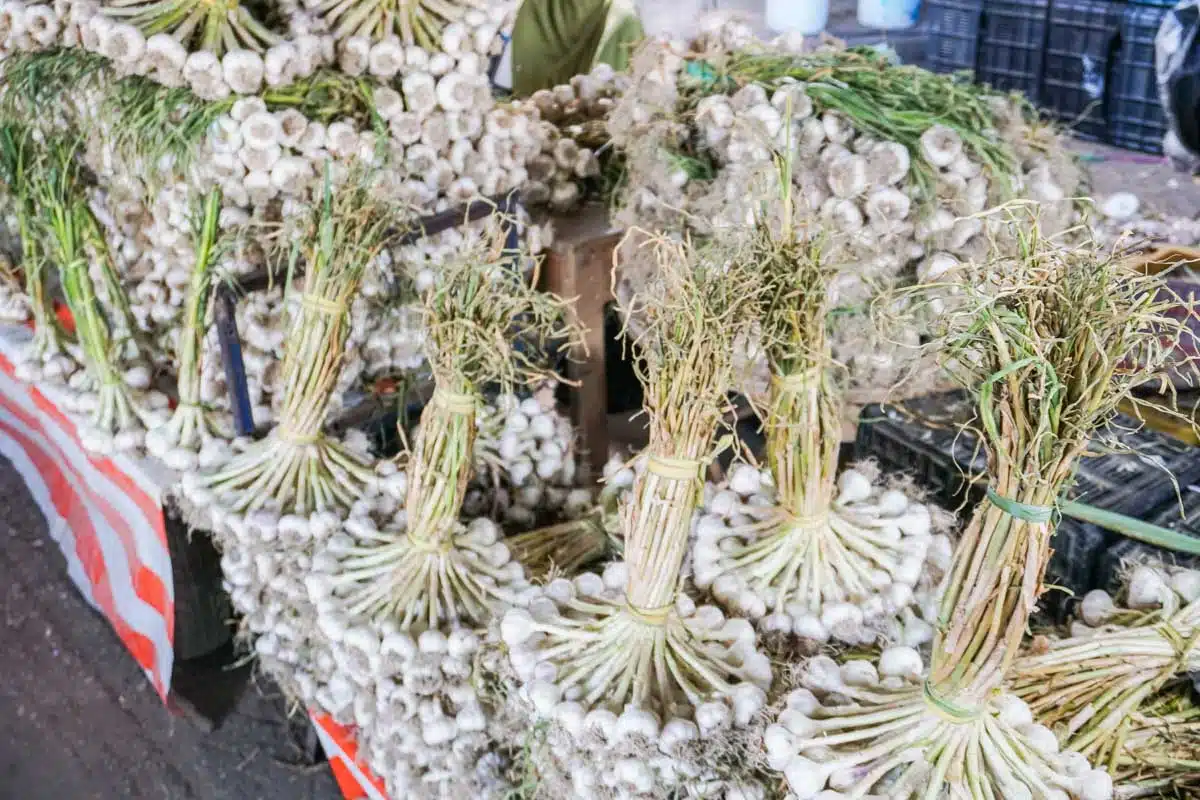 This is one of Oaxaca's largest and most lively markets. It may lack organisation and signage, but it makes up for that with unique sights, sounds and delicious smells.
This market sells everything from traditional handicrafts to delicious local food like chapuline tacos. I recommend getting there as early as possible to beat the crowds and to give yourself enough time to explore the market in its entirety.
Take an Oaxacan Cookery Class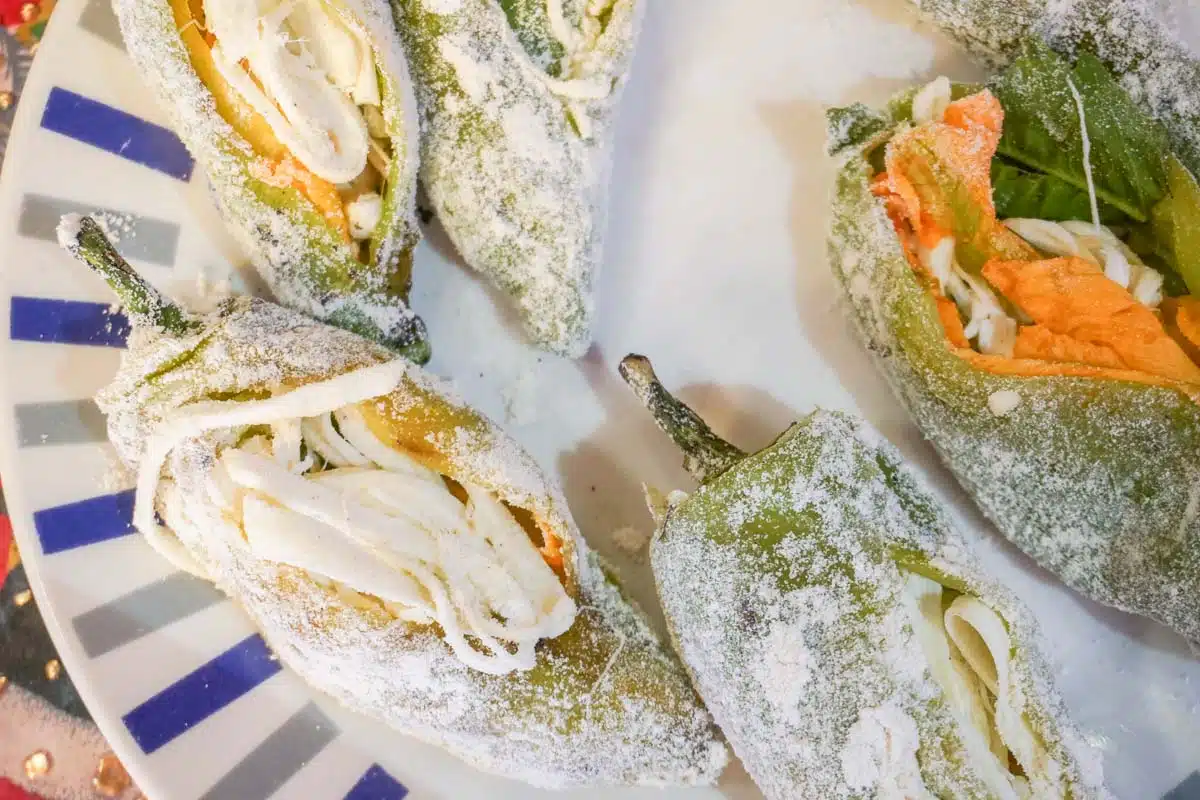 One of the most memorable Oaxaca things to do is dabbling in the city's culinary delights. Impress your friends back home by taking a traditional cooking class with a renowned local chef and finding out why this region's gastronomy is so famous.
You will start your culinary experience by strolling through the best markets of Oaxaca accompanied by a local chef. The chef will guide you to pick out the freshest ingredients on your pre-prepared list, of which you can choose between two recommended dishes.
After your trip to the markets to source local ingredients, you will begin preparing your chosen dish. The chef will explain the advantage of each ingredient that represents its prospective region and which ones the locals like to use in their dishes.
You will learn to make handmade tortillas and which drinks typically go along with your dish. I recommend asking as many questions as possible to make the most of your cooking lesson.
Basílica de Nuestra Señora de la Soledad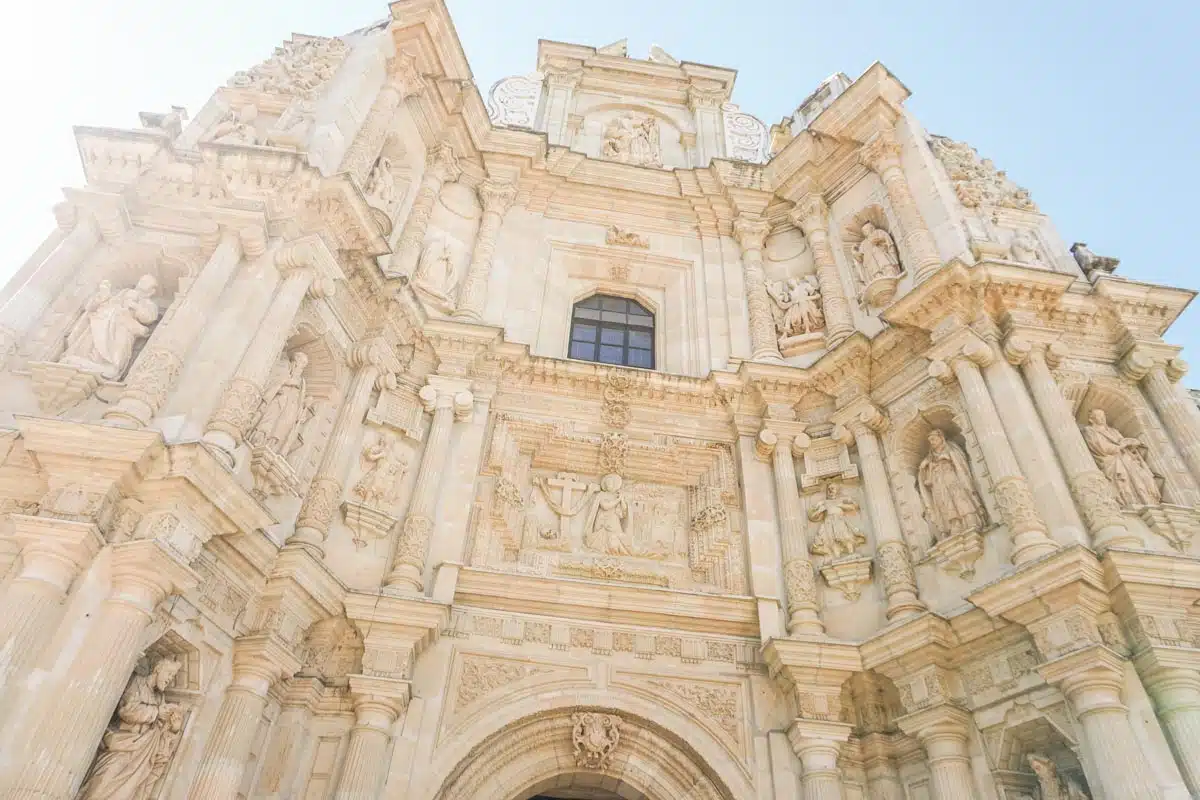 This church, built in 1690, is dedicated to the patron saint of Oaxaca. A highlight of the decorating at this church is the eight sculpted angels, each attached to a chandelier that makes it look like they are holding them in the air.
There is a small museum in the back that displays the history of this small church. If you're looking for a low-key sight with lots of history, this is it.
Oaxaca Textile Museum
The textile museum is located inside Casa Antonieto and showcases the ancient art of textiles. This is one of the most appraised handicrafts of the region and throughout the world.
The museum displays nine exclusive collections highlighting unrepeatable textiles. These include the tlámachténtli (a local fabric), girdles, rebozos (shawls) from Santa María del Río, and fragments of a huipil embroidered with feathers.
There are also temporary exhibits that you can view via free guided tours every Wednesday. This exhibit includes a restoration workshop.
It is encouraged to purchase textiles directly from the artists who display their works during these temporary exhibits.
Best Things to Do in Oaxaca During the Day
There are a lot of great things to see in Oaxaca City. Below is a list of the best things to do in Oaxaca, Mexico, during the day.
Explore the Zócalo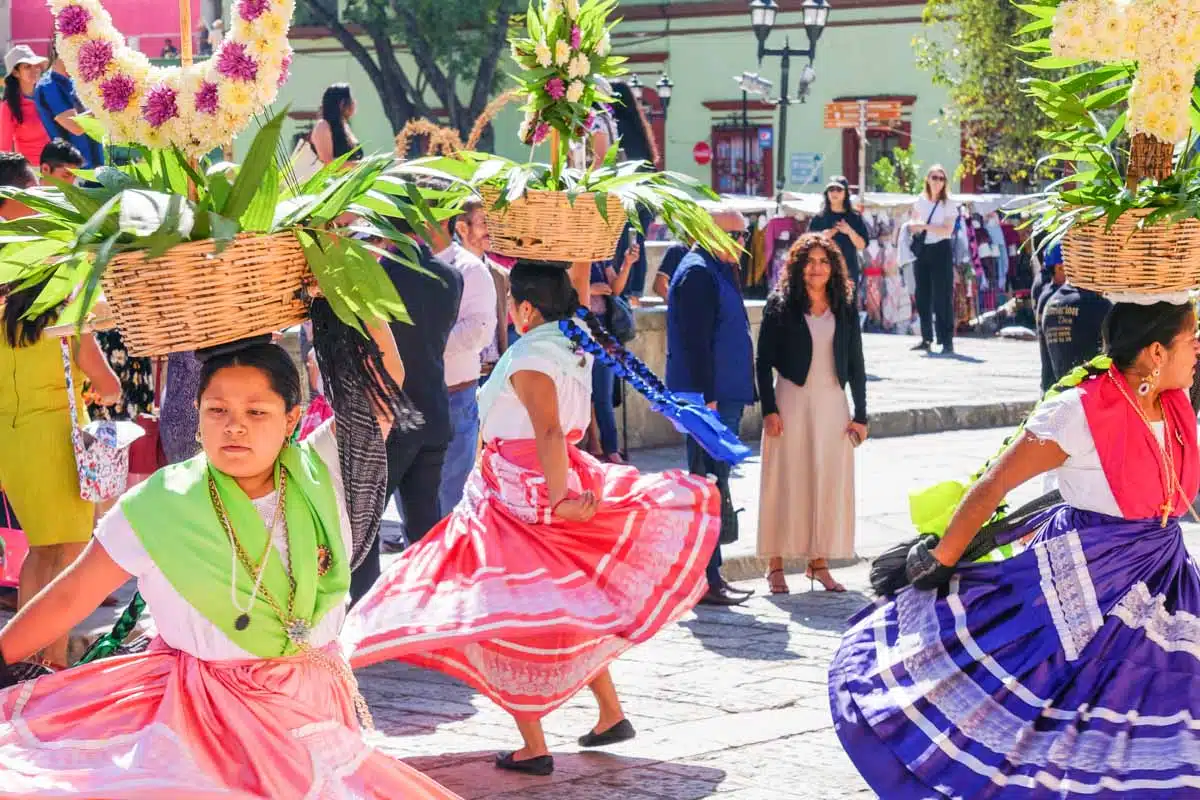 In the centre of Oaxaca city, there is a quiet plaza shaded by tall trees and surrounded by arcades. This is the best place to start your exploration of the city, you can get a great feel of the vibe from here.
If you enjoy sightseeing, this is the best place to do that without any traffic. Populated with sidewalk cafes and bustling with life during the day, the Zócalo is one of my favourite Oaxaca highlights.
Tour the Museum of Cultures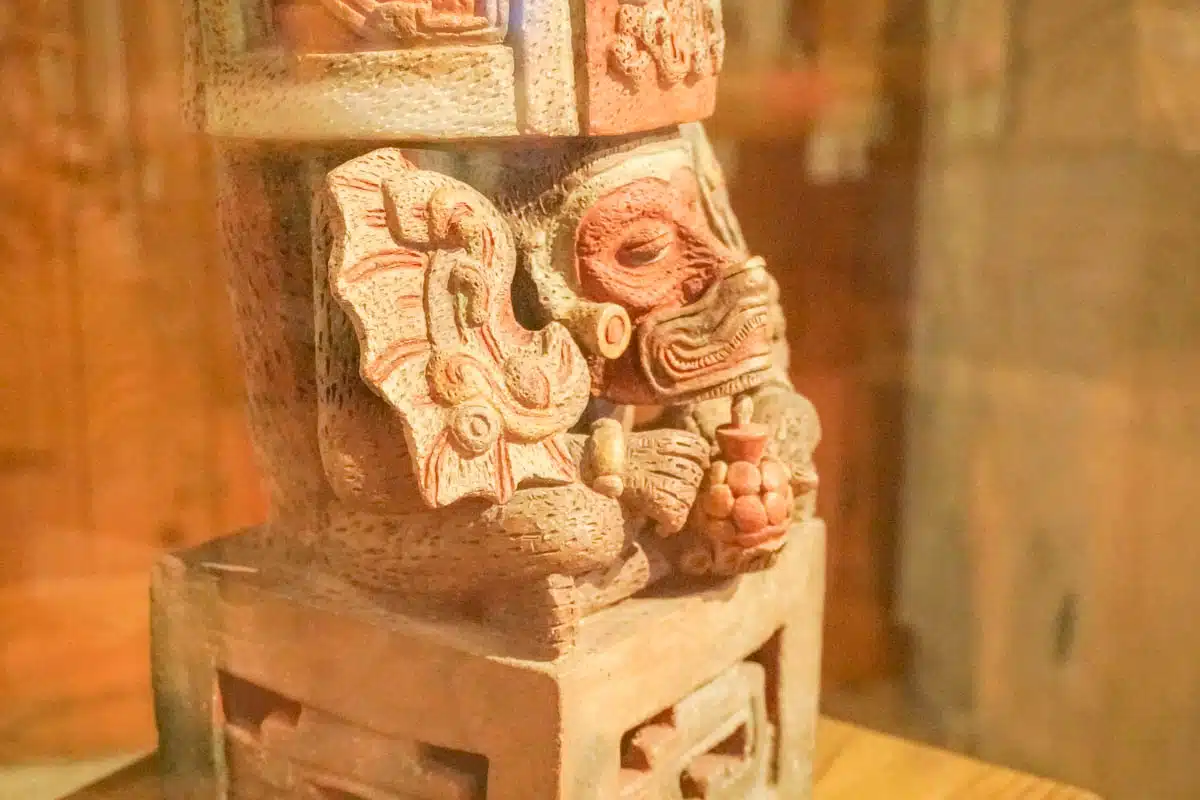 This museum sits within the complex of the monastery buildings of the Church of Saint Dominic. It is easily one of the best things in Oaxaca, especially if you are a fan of hidden treasures.
The most famous exhibit on display at this museum is the artefacts from Tomb 7 at Monte Albán. Here you can view gold pectorals and bracelets, a skull lined with turquoise, jade earmuffs, rings, and fake nails, and polished crystal goblets.
Café la Antigua
Café la Antigua is a local restaurant that is best known for its Mexican-style breakfasts. Here you can enjoy free wifi in a peaceful courtyard or indoor setting.
The owners source their coffee locally and brew it using solar panels, which is a truly sustainable way of doing business. They also host the occasional live music performance, so be on the lookout for this.
La Popular
This is one of the more popular restaurants in the city (as the name suggests) so be sure to get there early. If you're looking for a quick bite of some authentic Oaxacan food, this is the place to go.
I recommend the soft tacos, which are always great. There are many antojitos (Mexican snacks) available, so don't settle for anything too big and try a bit of everything.
Centro Fotografico Manuel Alvarez Bravo
This museum of photography is dedicated to the late Mexican photographer Manuel Alvarez Bravo. Set in a colonial building, the exhibits rotate throughout the year and workshops are also hosted regularly.
Tacos Del Carmen
This is the first street food stall entry on this list and is a local favourite. If you're looking for fast, friendly, and authentic Oaxacan food, then look no further than Tacos Del Carmen.
Their tacos are uniquely rolled tacos, which makes them easy to eat and dip into the homemade salsa that comes with it. They also serve empanadas, quesadillas and Mexican pizzas.
Criollo
This is one of the most stylish restaurants in Oaxaca. Established in 2016, you'll find it within a bohemian UNESCO heritage house. Staff welcome guests in the courtyard dining room.
Their focus is on using seasonal and local ingredients to prepare dishes. They offer a seven-course tasting menu that always comes with snacks, a salad, catch of the day, and desserts.
Aqueduct Arcos De Xochimilco
This is one of the hidden gems of Oaxaca. The arched aqueduct system was built in the mid-eighteenth century to bring fresh water from the hillsides of Cerro de San Felipe into downtown.
There is now a modern system in place to deliver fresh drinking water, but some parts of the original aqueducts remain. It makes for a serene picnic spot, so I recommend bringing some snacks and a book if you're looking to take a break from the city for a bit.
Cool Things to See in Oaxaca at Night
When dusk falls in Oaxaca, that is when the fun really starts. These are my picks for cool things to do in Oaxaca City by night.
Visit One of the Many Mezcalerias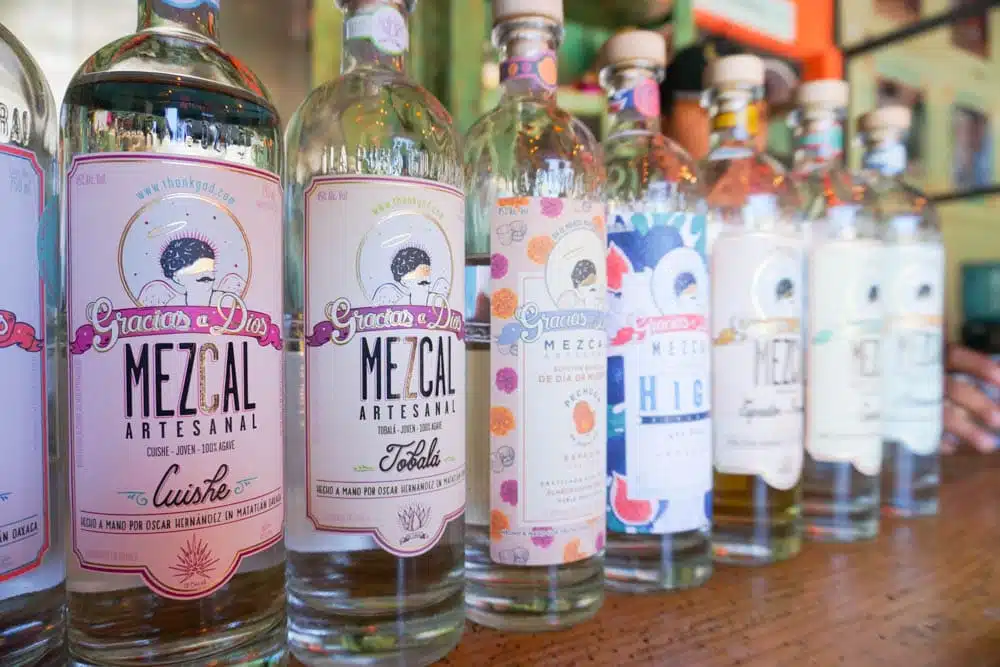 Mezcal is distilled from the agave plant and artisanal mezcal makers will use the classic method. This involves cooking it inside earthen pits that are lined with lava rocks and filled with wood and charcoal before being distilled in clay pots.
Oaxaca produces around 70% of the country's Mezcal, which is how it earned the nickname 'Capital of Mezcal'. There are Mezcalerias, artisanal mezcal bars, all over the city highlighting the state's diverse agave plants and their unique flavours.
Los Danzantes
Los Danzantes is one such mezcaleria that focuses on mezcal and food pairing. They are one of the most highly recommended restaurants in the city.
They distil their own mezcal using sustainable methods and local ingredients from the area. The vibe at this restaurant is great with its semi-open-air patios and quirky interior decorations.
Pitiona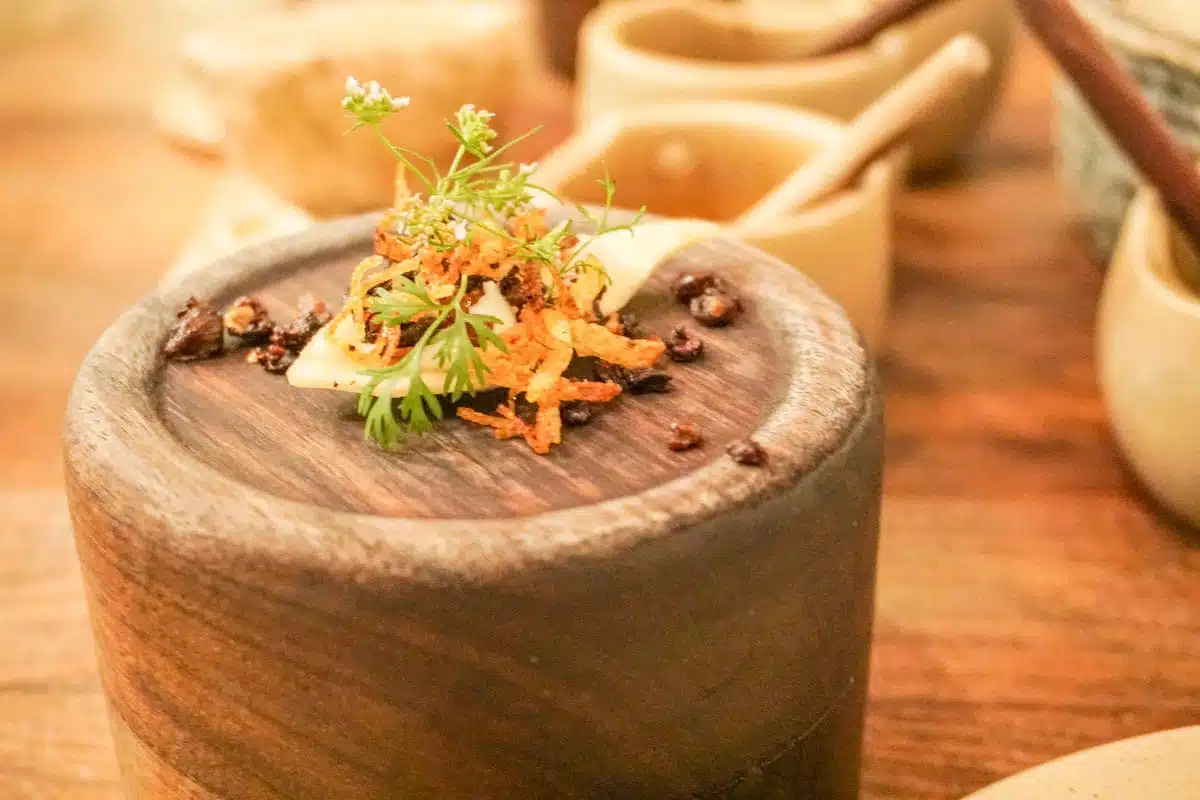 At this rooftop restaurant, you will come for the food & drinks but stay for the view. This is an excellent place for brunches as it only opens around noon.
This is a Mexican-European gastro bar so expect to pay a bit more than the average food stall, but you won't be disappointed by the quality. Plus, you get to eat while taking in an aerial view of the Templo de Santo Domingo de Guzmán bell towers.
In Situ Mezcalería
Their dedication to the craft of Mezcal is unrivalled in Oaxaca. They have a collection of what the owners claim to be the largest mezcal collection in Mexico.
The founders of this mezcaleria are writers and editors of books on mezcal, so their knowledge of the drink runs deep. They also offer a variety of craft beers and cocktails.
La Mezcalerita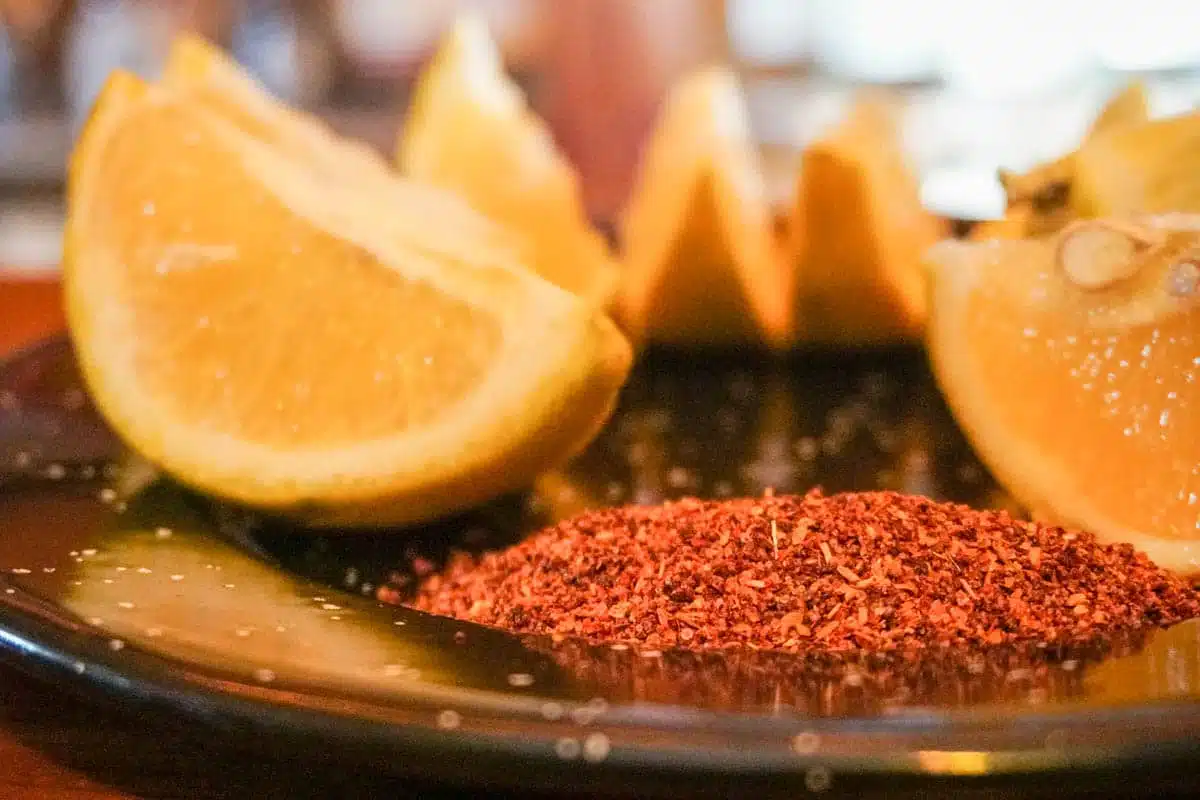 This small, rustic mezcaleria is quite typical of the style of mezcalerias in Oaxaca. There is a bar downstairs and a trendy rooftop upstairs where you can enjoy some smoky mezcal drinks and a variety of light snacks.
Sabina Sabe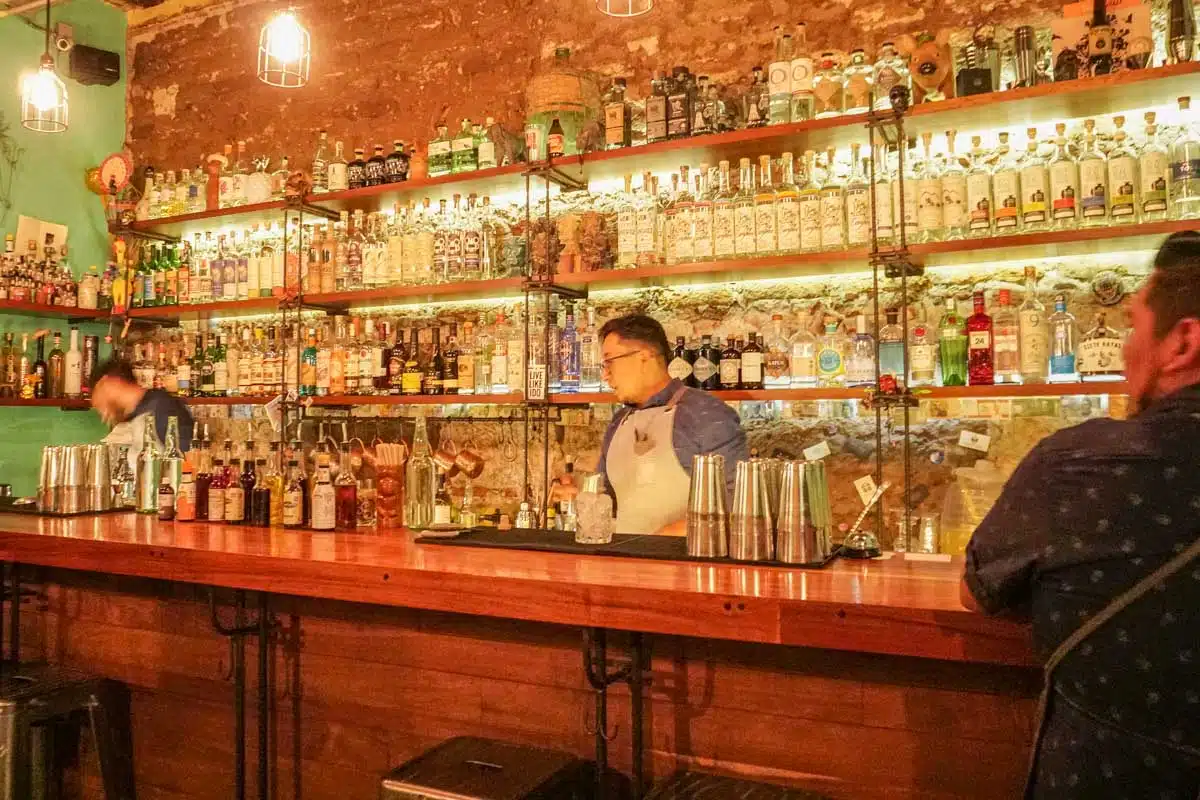 This popular mezcaleria/grill deserves to be on your list of places to go in Oaxaca, Mexico. The name is an ode to Mazatec medicine woman María Sabina and their love of mezcal is evident from the wide selection available.
Apart from the exceptional collection of mezcal, they also offer cocktails made from Oaxacan ingredients. Local ingredients are at the heart of their dishes too.
Tobaziche
This restaurant/bar is perfect if you find yourself in downtown Oaxaca looking for light bites, a cocktail, or an early dinner. They usually have a happy hour special that runs from 4 pm to 7.30 pm.
They have a great selection of high-quality mezcals and the staff here have a decent knowledge of the products. I recommend popping by on the weekends when there is sometimes live music playing.
Grab a Late-Night Bite at Lechoncito de Oro
After a night out, you will typically see people lining up at this late-night stall trying to get their post-party food fix. They are known for their tender pork tacos topped with crispy pork rinds and spicy green salsa, so this food joint is not for those on a diet.
Dance the Night Away at Txalaparta
This is a bit of a hidden gem for those who enjoy the clubbing scene as it is one of the only clubs in the city. It tends to attract a young crowd of roughly 20-30-year-olds looking to dance to whatever music the DJ has planned for the evening.
Things To Do Near Oaxaca City
While the city centre has much to offer, here are some of the best things to do around Oaxaca City.
Tlacolula Market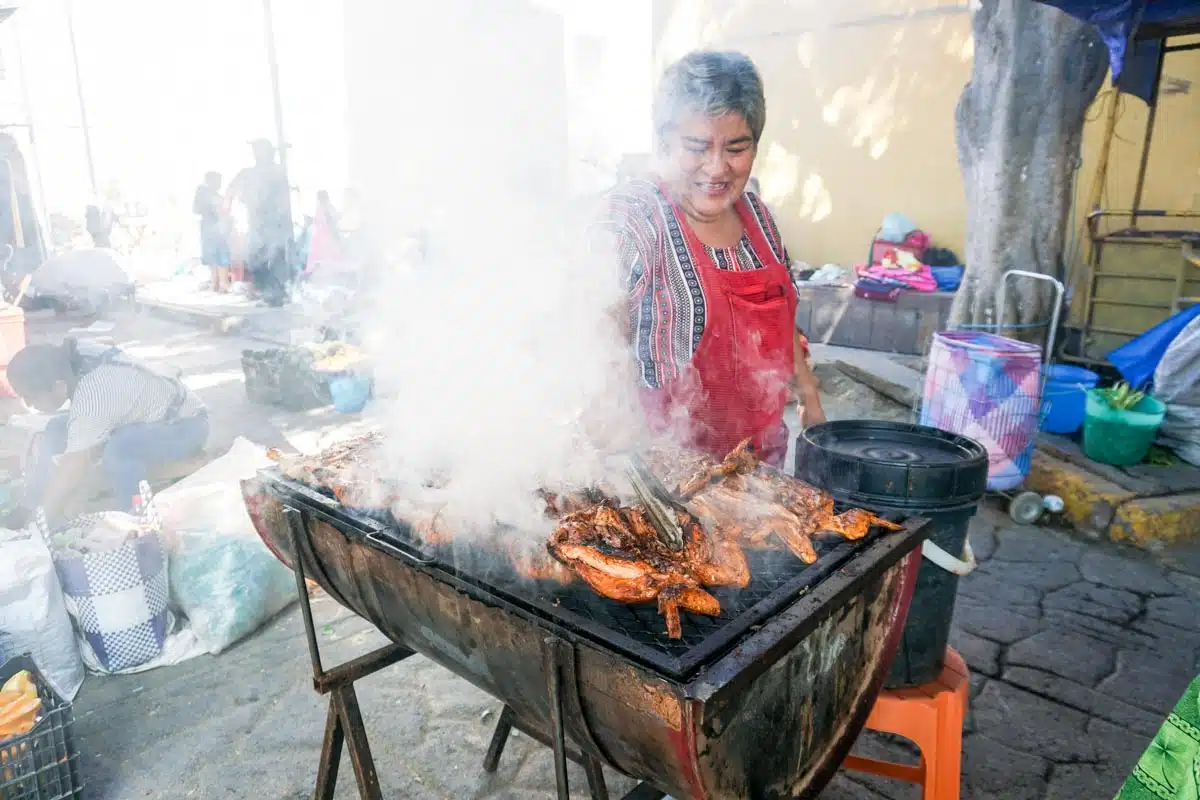 Of all the places I visited during my time in Oaxaca, I have to be honest, Tlacolula Market was up there with the best.
This sprawling weekend market takes over the small town of Tlacolula de Matamoros each Sunday when locals from across the state and tourists alike descend to wander between innumerable stalls.
Freshly-grilled chicken, homemade cheese, dried chillies – it's a sensory exploration of Oaxacan cuisine you have to visit.
Keep an eye out for stallholders making tejate, a traditional indigenous drink that's made using maize and cacao – you'll spot them kneading the mixture before adding water and serving to the inevitable long line of customers.
Don't have your own transport? Book onto a tour from Oaxaca city.
Gracias a Dios Mezcal Distillery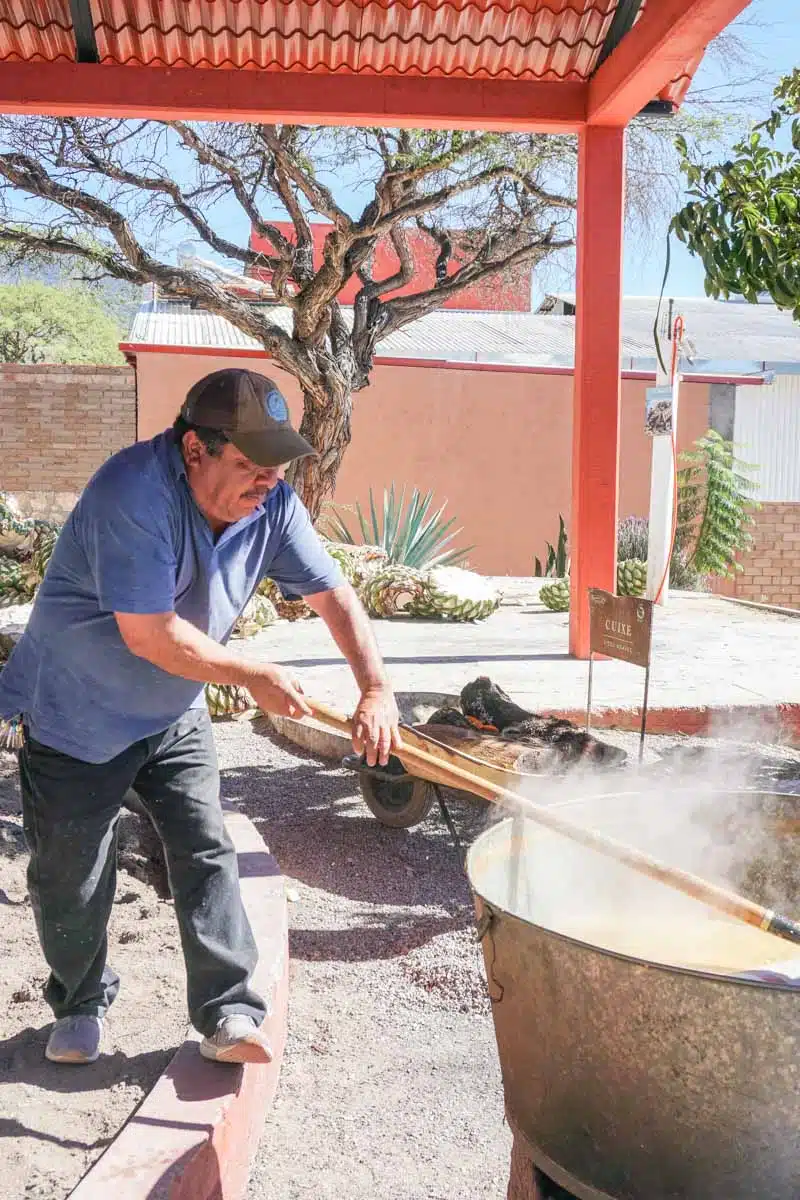 There are plenty of cool mezcal distilleries in Oaxaca state but my pick of the bunch is Palenque Gracias a Dios Mezcal. This is not only a mezcal bar where you can do a tasting, but it's also a working agave farm where they take you through the process of making mezcal.
A tour guide takes you through the mezcal distillery process, from plant to product. After your tour, you can enjoy a tasting at their rustic-looking bar, where you have the opportunity to try and buy some of the rarer mezcals, like GAD Sierra Negra.
Hierve el Agua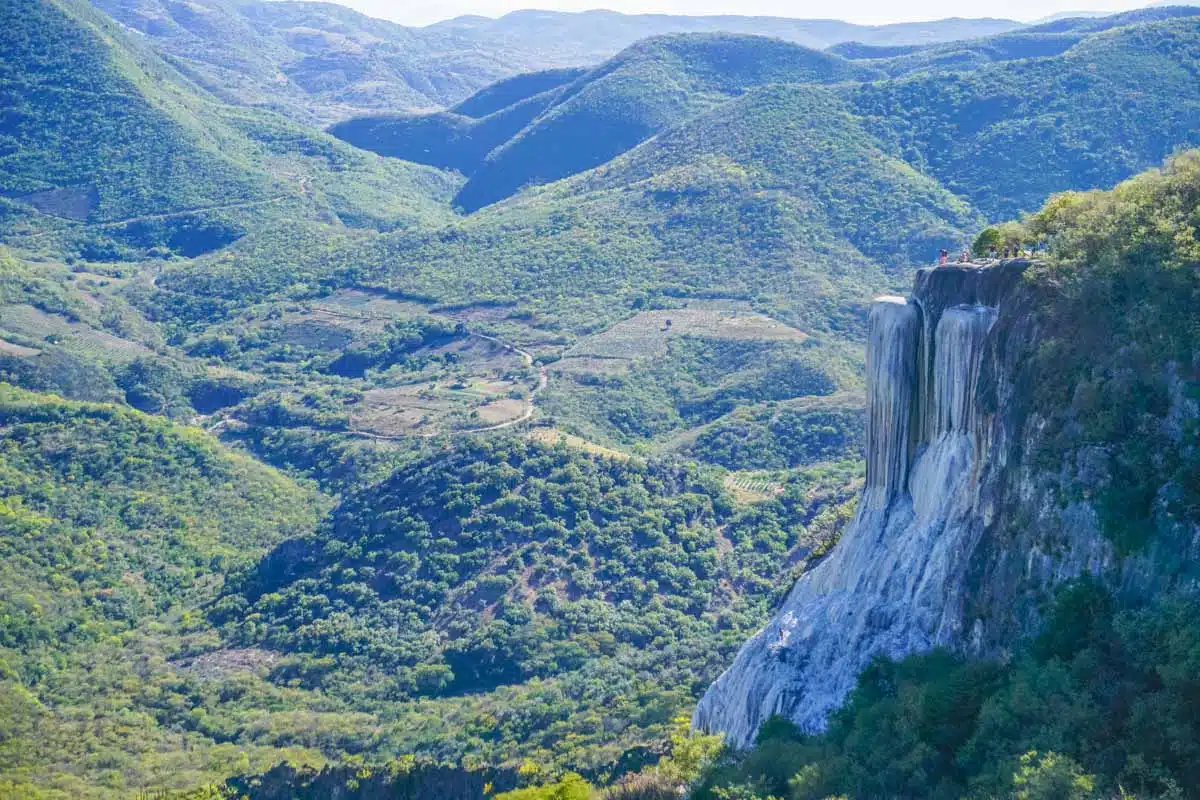 This natural wonder is easily one of the most beautiful places in Oaxaca and is located 70 kilometres outside of the city. Translated, the name means 'the water boils'.' But despite its name, there is no boiling water in the pools at the top of the falls.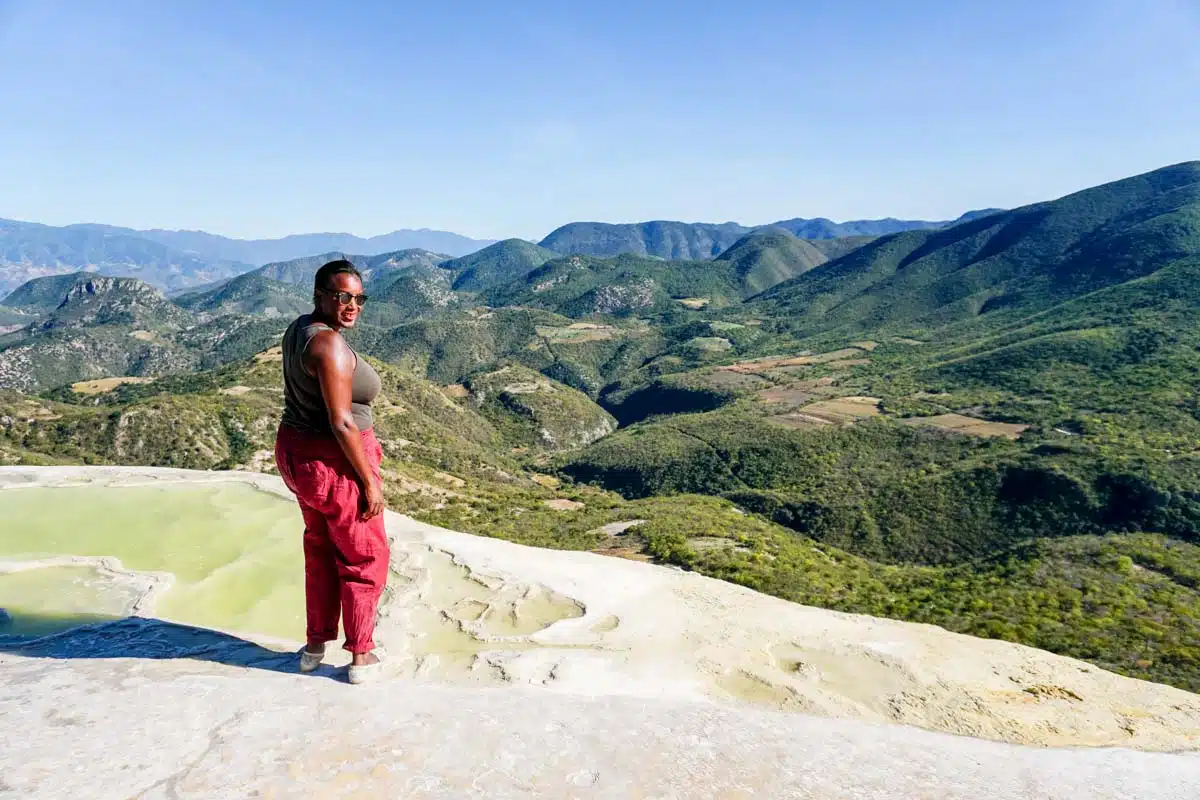 The waterfalls here are special, and many refer to them as 'petrified waterfalls'. Why are they given this name? When the high-mineral content water streams out and makes contact with the air, it calcifies.
The best time of day to visit these falls is when the park opens at 9 am (tourists typically arrive at noon). The best time of year to have a hierve el agua tour is between November and January, as the waterfalls are gushing at full force.
Monte Albán Archaeological Site
This is one of my favourite Oaxaca places to visit. It is the historical capital city of the indigenous Zapotec people.
The ancient capital was built in the central valleys of Oaxaca, and many believe that it has connections to Teotihuacán. How was this archaeological site found nearly 500 kilometres away from Teotihuacán, near DMXC, linked to it? By the style of its buildings, ceramic, and murals.
Oaxaca's famous archaeological site has ten zones. It can take a long time to explore the ruins. I, therefore, recommend that you participate in a guided tour of Monte Albán to make the most of your precious time.
This ancient site should be at the top of your list if you are looking for Oaxaca things to see. It's bound to captivate history buffs and might even turn you into one if you're not.
Things to Do Around Oaxaca: Practical Tips for Your Trip
To ensure that your trip is successful, read the following tips and essential information about things to do in Oaxaca state.
Where to Stay in Oaxaca?
I highly recommend staying in the Santo Domingo area of the city. It's near all the sightseeing spots, bars and restaurants in the area.
Los Pilares Hotel (Mid-Range)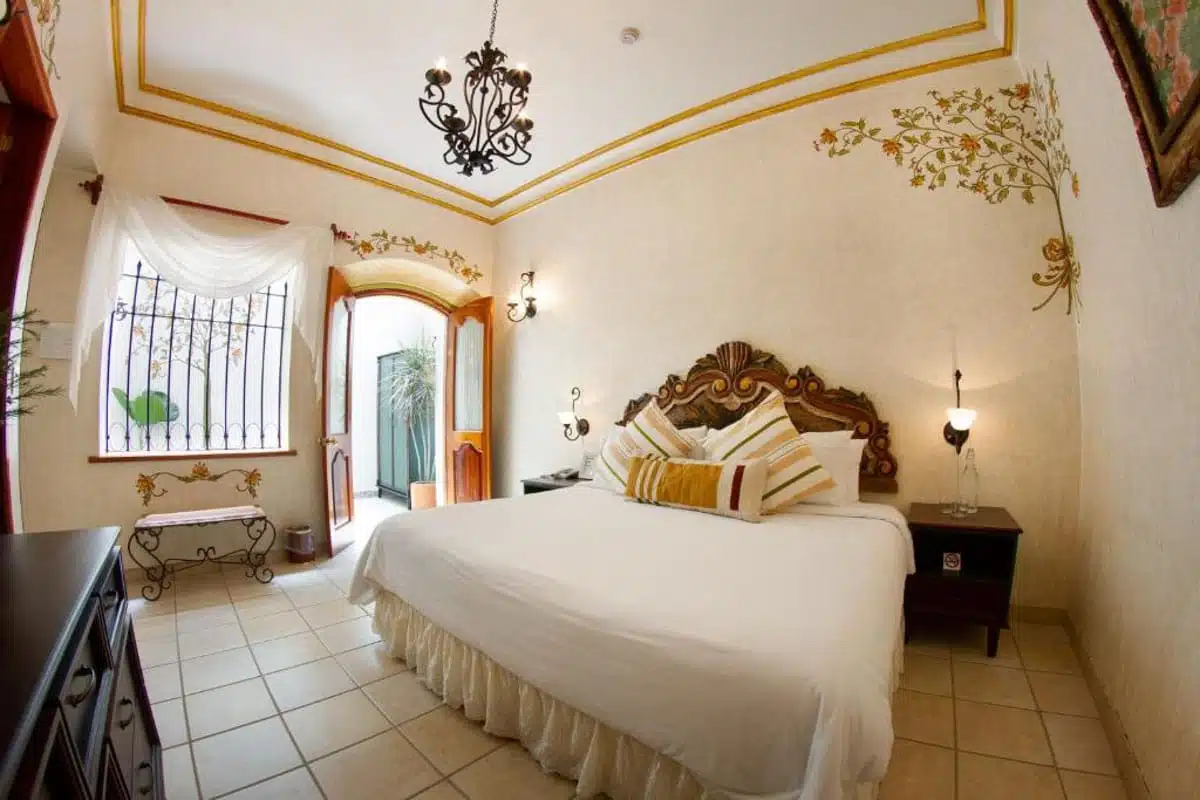 Located in the bustling Santo Domingo neighbourhood of Oaxaca city, it's a great base for sightseeing. Los Pilares Hotel features a charming colonial-style Oaxacan house with a small outdoor pool and free onsite parking.
Check Rates and Availability for Los Pilares Hotel on Booking.com | Tripadvisor
Hotel Oaxaca Real (Luxury)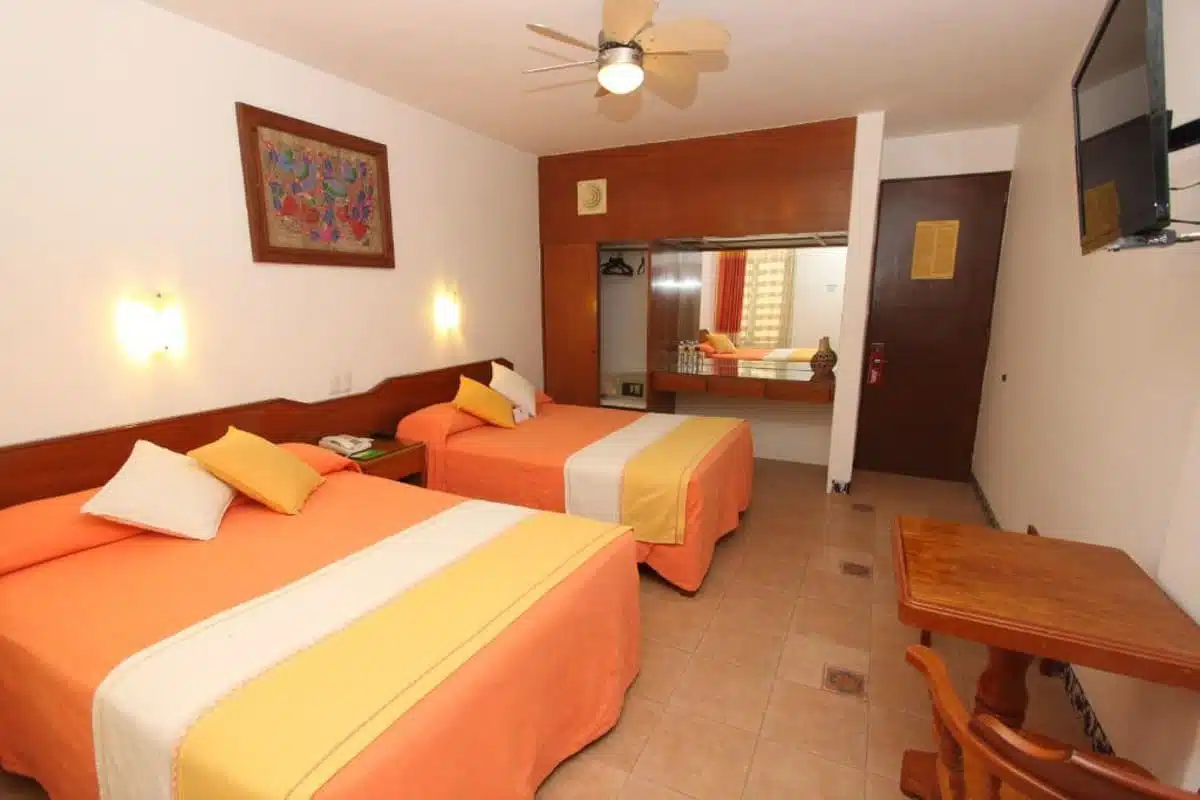 This luxury hotel, also residing in the central Santo Domingo neighbourhood, has everything you might need during your stay in Oaxaca. This restored colonial mansion boasts an outdoor pool, a poolside bar, and rooms with cable TV.
Check Rates and Availability for Hotel Oaxaca Real on Booking.com | Tripadvisor
Recommended Tours in Oaxaca
Footnote: What to Do in Oaxaca City, Mexico?
Oaxaca is a beautiful city and a must-visit place if you're planning a trip to Mexico. Discover the indigenous cultures that have survived since the pre-Columbian era. And then explore the cuisine and mezcalerias that have helped put this city on the map.
Things to do in Oaxaca City: Tourist Map
If you liked this guide on the best of Oaxaca, then check out my guide on the best time to visit Mexico.
Love this? Save and share on Pinterest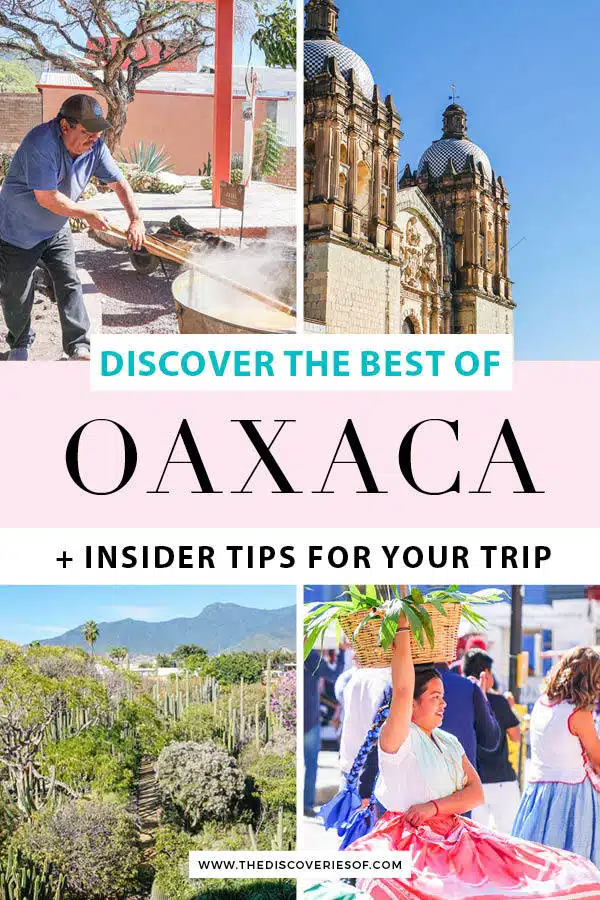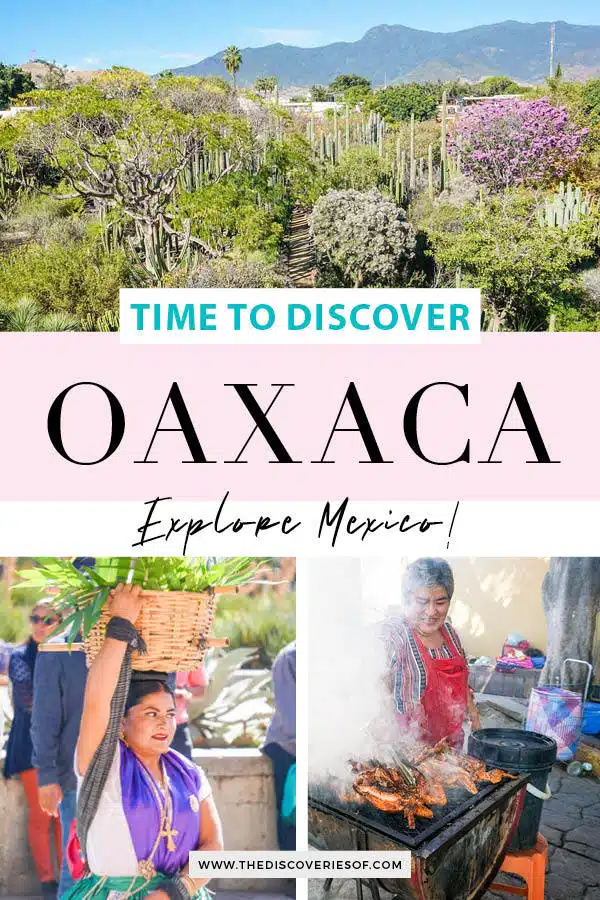 Read More Mexico Travel Guides