La Condesa is one of Mexico City's coolest neighbourhoods. Discover the best things to do, see and eat in La Condesa right now.
La Condesa is one of Mexico City's most fashionable neighbourhoods, attracting locals and travellers alike thanks to its pretty tree-lined avenues and chic hangouts.
The area boasts a cosmopolitan vibe with beautiful parks, designer boutiques, fantastic gastronomy offerings, and a vibrant nightlife among other things. It's little wonder why so many travellers consider it a quintessential inclusion on any Mexican itinerary.
Why Visit La Condesa?
The Mexico City neighbourhood was officially established in 1902 and consisted of a tight-knit community with upper-class supporters of then-President Porfirio Diaz.
Today, the area consists of three colonias as a result of multiple sales since its establishment. These are home to a "bohemian" crowd consisting of mostly young, affluent people, contributing significantly to the neighbourhood's cool reputation.
Exploring all the wonders of the La Condesa neighbourhood can justifiably take a lot of time. It also presents the daunting task of choosing what to do and what to pass on.
This handy guide walks you through the best things to do in Condesa – from activities and attractions, to where to eat and drink and the top shopping spots – I've got you covered.
Things to do in La Condesa, Mexico City
Check Out The Art Galleries
While Mexico City boasts many top-class museums, many aren't in La Condesa. Meaning visual exhibits in the neighbourhood are far and few between.
Luckily, there are incredible art galleries to fill the gap, particularly great for art enthusiasts.
House of Gaga
House of Gaga is a relatively small and bare gallery, but it makes up for the lack of space with daring contemporary art. It hosts the work of established and upcoming local and international artists.
Proyecto Paralelo
Proyecto Paralelo is the more extensive gallery of the two and hosts several artists like Javier Hinojosa and Lake Verea. These exhibits range from paintings to sculptures by local and international talent.
Visit the Parks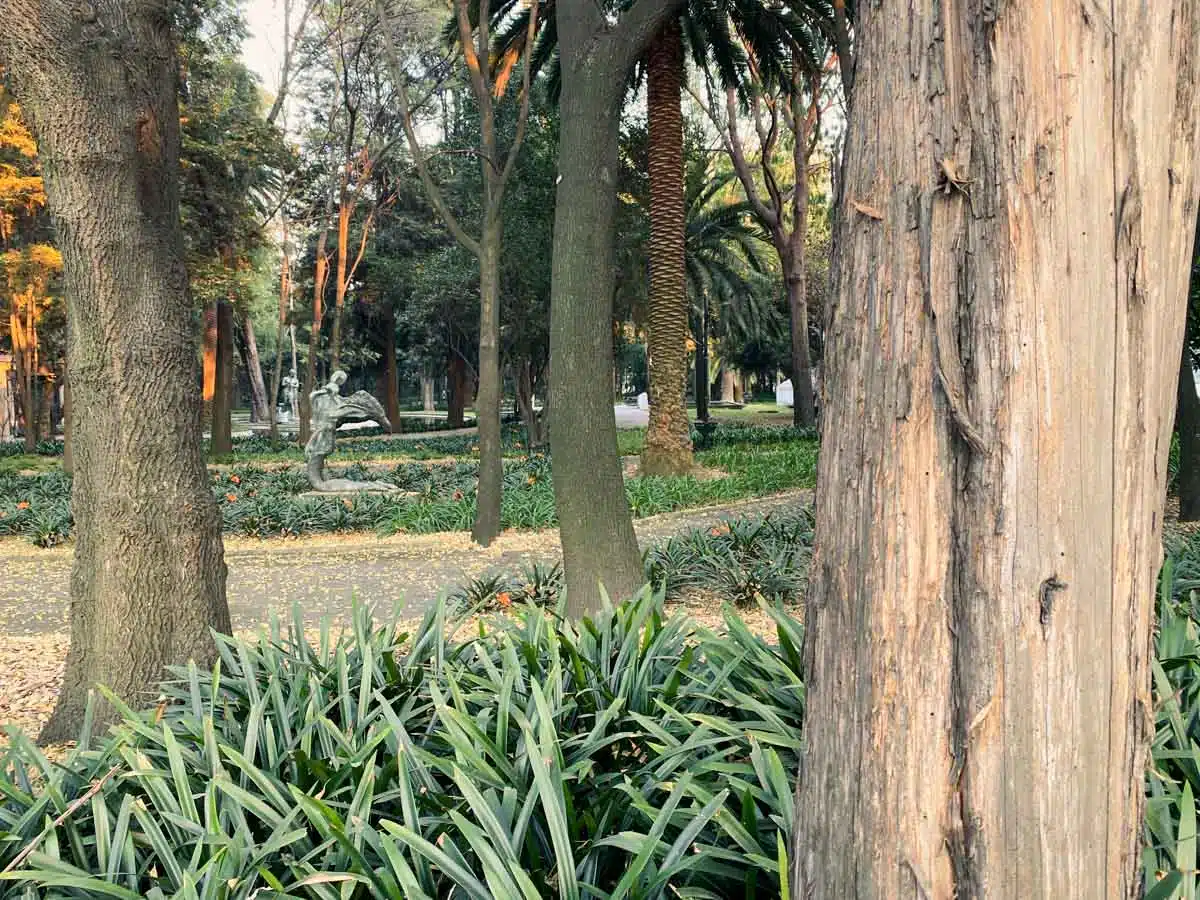 Arguably Mexico City's greenest neighbourhood, La Condesa, has several different parks boasting lush greenery.
Parque Mexico is an urban park featuring pergola-covered walkways and a lot of greenery. Apart from just relaxing here, you may be able to participate in some activities. Sometimes, the park features live music, theatre performances, yoga classes, and adorable doggies wandering around.
Parque España is smaller than Parque Mexico but features more trees and plants. It's the perfect escape from the sun. The park also features awe-inspiring street art murals, fountains, and sculptures perfect for your next Instagram post.
Avenida Amsterdam is your typical park, providing a chance to stroll along a tree-lined path that used to be a horse racetrack.
Parque Chapultepec might not be in La Condesa proper, but seeing as the neighbourhood stops right at its start, it feels churlish to leave it out. The second-largest park in Latin America, it's a sprawling, yet beautiful space it would take days to fully explore.
Foro Shakespeare
Once a bookshop, Foro Shakespeare now plays host to many high-quality productions. It boasts a multi-modal space with five theatre halls.
The shows range from classics with a talented cast to new ones showcasing up-and-coming talent. Another significant aspect of the theatre is that it features several genres. These range from teary dramas to comedy shows that will have you bursting with laughter.
After the show, stay and explore the exhibits on offer. The staff will educate you on the skill and work behind the plays.
Escape the Enigma Rooms
Put on your thinking cap and take on Enigma Rooms, nestled right between Condesa and the neighbouring Roma.
Sure, it's one of the more unusual things to do in Condesa, Mexico City. However, the escape rooms are perfect if you're travelling with your partner or a group of friends.
Enigma Rooms features cool escape rooms with varying themes influenced by pop culture. Take on the role of Sherlock Holmes or cosplay as a Saw character intent on escaping the shackles of Jigsaw.
Take on the identity of a CIA agent behind enemy lines or a thief robbing a museum of its valuable artefacts.
Visit the Luis Barragán Studio House
Casa Luis Barragán is a house-turned-museum that stands as a UNESCO World Heritage Site.
The property has been here since 1948. It earned its selection thanks to being a masterpiece that perfectly merges modern and traditional architectural elements.
Featuring colourful walls, the house stands out in the neighbourhood thanks to its massive size compared to surrounding houses.
It's a common stop for architecture enthusiasts and art connoisseurs. If you're either, you'll be glad to hear that the museum encloses both the residency and studio of the famous Luis Barragán.
Marvel at the Chapultepec Castle
Sitting just 2.8km away from centre La Condesa, this castle on Chapultepec Hill has seen its fair share of history. It went from housing royalty, a headquarters for the military, and housing foreign dignitaries.
Today, it stands as an awe-inspiring refurbished building – Chapultepec Castle – featuring well-kept flora and splendid views of the city's high-rise buildings and is one of Mexico's striking landmarks.
Take your time strolling through the colourful corridors donning mural paintings and featuring several artefacts from days past.
The castle was one of the filming locations in the successful1996 Romeo & Juliet film.
Even more curiously, there are rumours that it's haunted – go ahead and find out for yourself. Whatever you believe, it's a must see in Condesa, Mexico City.
Experience the Vibrant Nightlife
As it's home to a young population, the Condesa neighbourhood in Mexico City boasts lively and classy nightlife. There are various places to visit too, from karaoke spots to nightclubs and gastropubs, you're guaranteed fun.
Things to do in La Condesa: Eating & Drinking
As I already said, the Condesa area boasts an incredible gastronomic experience. Brimming with restaurants serving Mexican and international cuisine alongside tasty drinks, the only difficulty is choosing which to visit.
Start with these brilliant places to eat in Condesa, Mexico City:
La Clandestina
La Clandestina is the go-to spot for mezcal curated by the experts in Condesa. The dimly lit bar has a large variety of mezcal on offer, each coming served with a bowl of salty roasted pumpkin seeds.
If you're a mezcal first-timer, don't worry, you can ease your way into the drinks by getting one of their tasty cocktails.
El Ocho
El Ocho is a cafe with a twist, simply for the fact that you get to enjoy a selection of games during your visit. From Scrabble and cards to tic-tac-toe and dominoes, there's sure to be a game you like.
Their extensive menu features burgers and chips, a towering sandwich, pasta, pizza, and more.
La Xampa
Good music, delicious food, and tasty drinks are just some of the reasons La Xampa has made a name for itself. Choose from seafood delicacies, burgers, and healthy options. Down it with a selection of wines, beers, gin, and more.
Sometimes, the bar plays host to live music, serenading you as the flavours explode in your mouth.
Top Shopping Spots in Condesa
Condesa is famous for its many hipster boutique shops that help buyers re-up their style every season.
VOID
VOID is the shop to visit if you're a fan of luxury vintage clothing. They sell various clothing, from onesies and colourful bottoms to bandanas, coats, printed t-shirts, and boots. They've got it all.
ISMOS
ISMOS is the perfect shop for picking up a chic souvenir or two. They sell unique handcrafted avant-garde Mexican jewellery from over 100 designers who use materials like silver, gold, glass, crystals, and more.
Practical Tips for Exploring Condesa, Mexico City
While the small neighbourhood is easily walkable, several modes of transport are still available. You can catch a ride on public city buses or rent a bike, scooter, or car.
Residents have complained about crime in the area, so be sure to keep all your belongings close to you.
In addition to the above places to eat, several street vendors serve Mexican cuisine – be sure to check them out if you want to eat while you move.
Where to Stay in Condesa: Hotels & Airbnbs
With all the attractions and eateries available, you'll no doubt need a place to rest. Luckily, there are many places to stay, be it a hotel or an Airbnb in Mexico City's Colonia Condesa.
Leopard's Den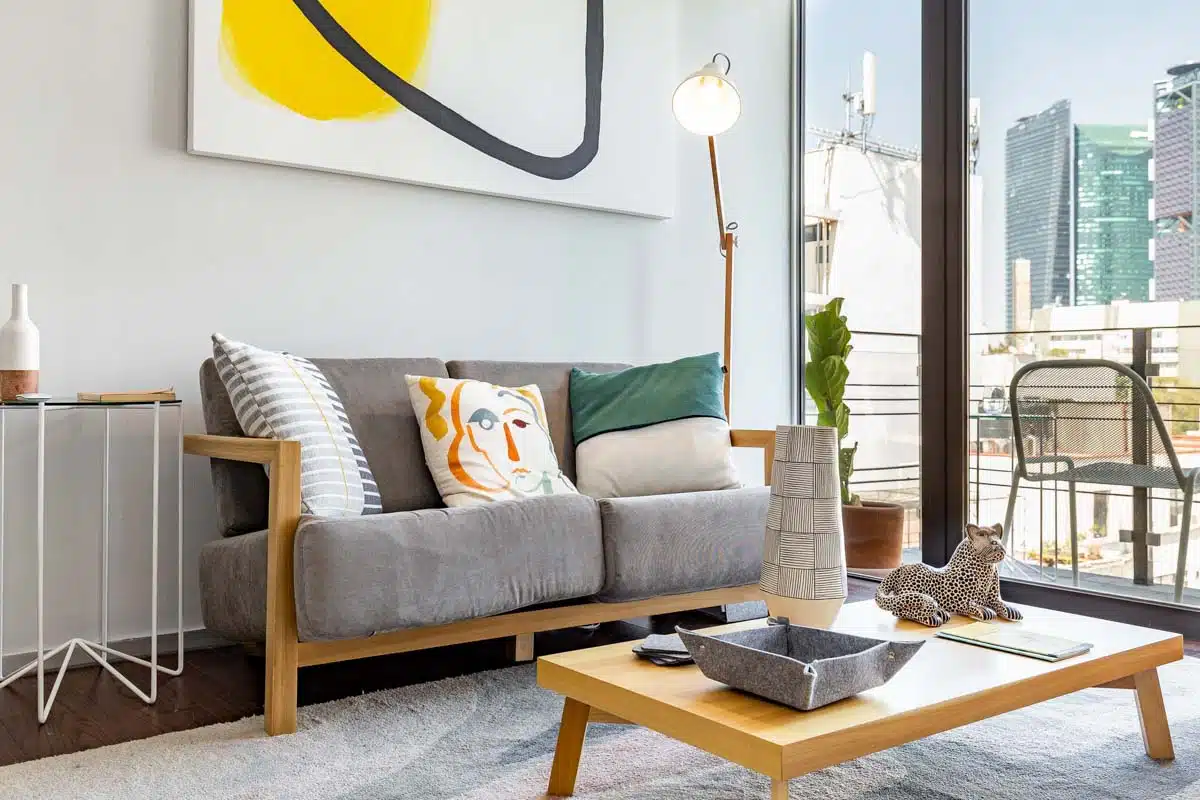 Leopard's Den is a newly-renovated apartment in Condesa that sits in the heart of the neighbourhood and features quirky furnishings. It has a fully-equipped kitchen, a lounge area with free Wi-Fi, a smart TV, and soft luxury beddings. Enjoy panoramic city views from the balcony.
Check Rates and Availability for Leopard's Den on Plum Guide 
Lightbulb Moment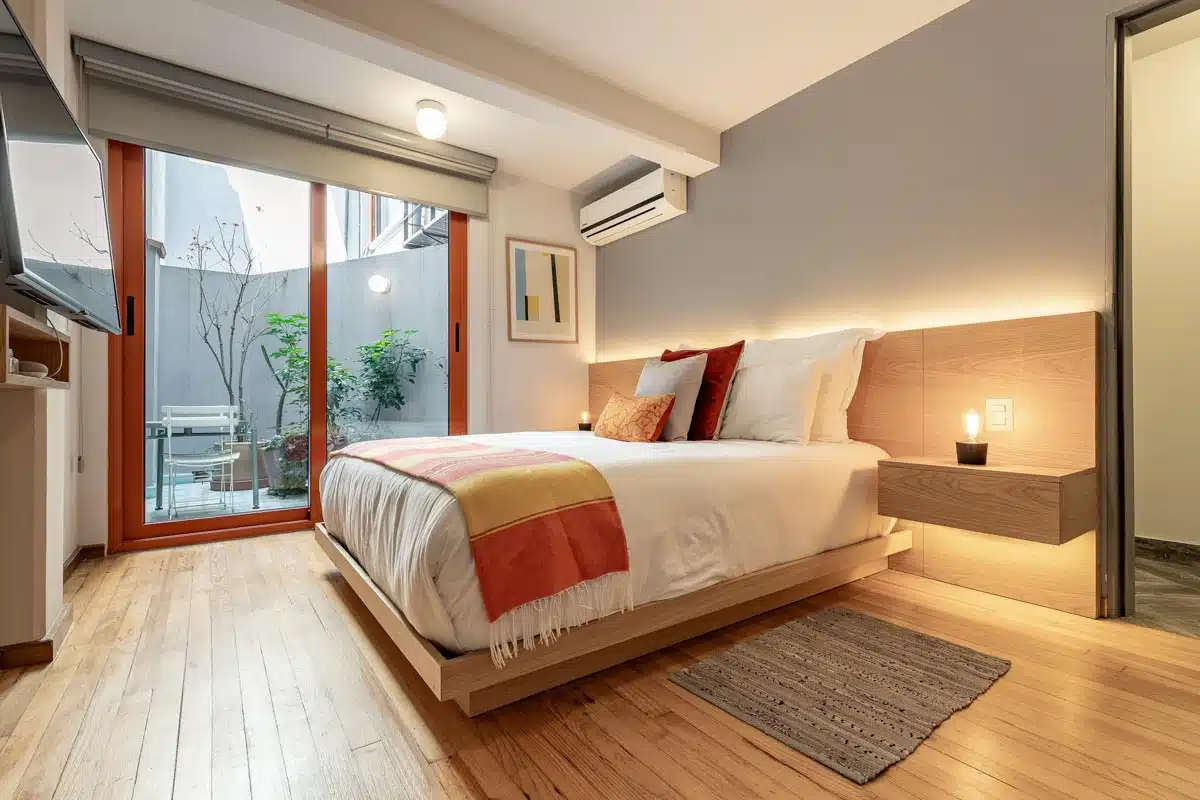 Lightbulb Moment is a chic one-bedroom apartment featuring sleek, modern interiors and voice-activated home tech. High-speed Wi-Fi and a state of the art music and TV system will keep you entertained. Here, you can also enjoy city views from the balcony while sipping coffee or a boozy cocktail.
Check Rates and Availability for Lightbulb Moment on Plum Guide
Hotel Condesa DF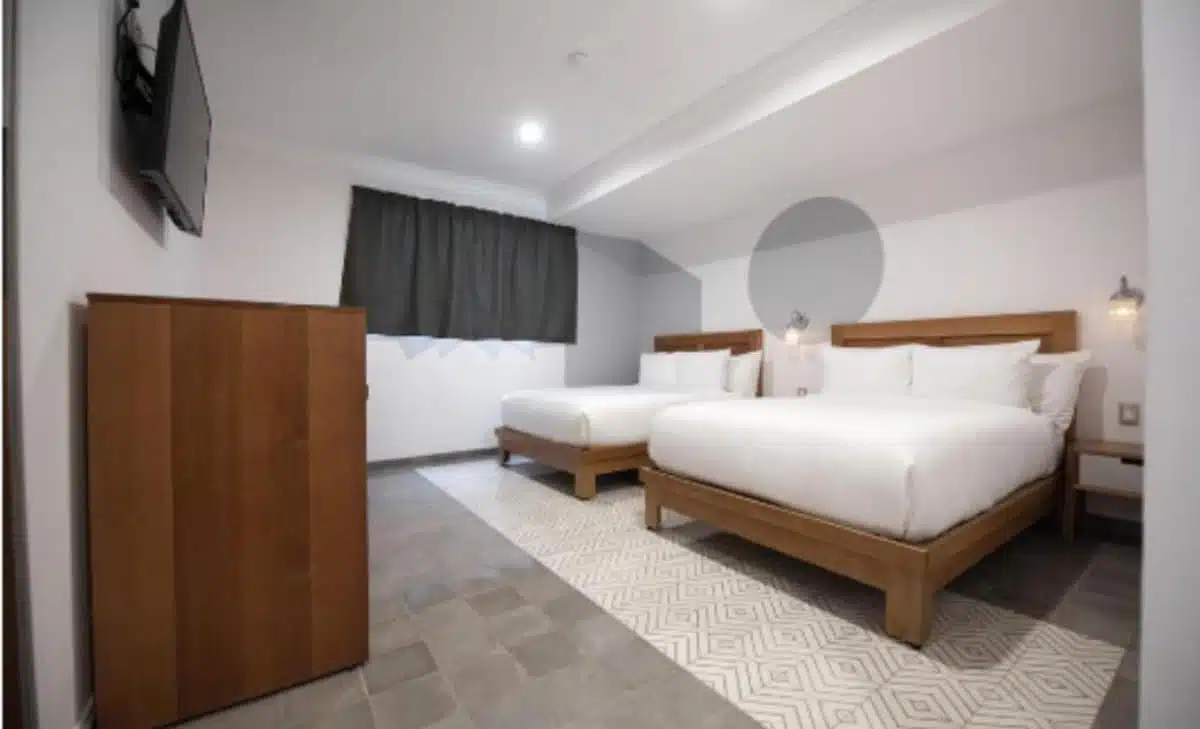 Luxurious Hotel Condesa DF conveniently sits in the heart of Mexico City and has many points of interest within walking distance. The rooms boast a flat-screen TV, a safety deposit box, and a private bathroom. The real prize here is the hotel's rooftop bar, which offers splendid views of the city.
Check Rates and Availability for Hotel Condesa DF on Booking.com | Tripadvisor
Casa Condesa Michoacan 113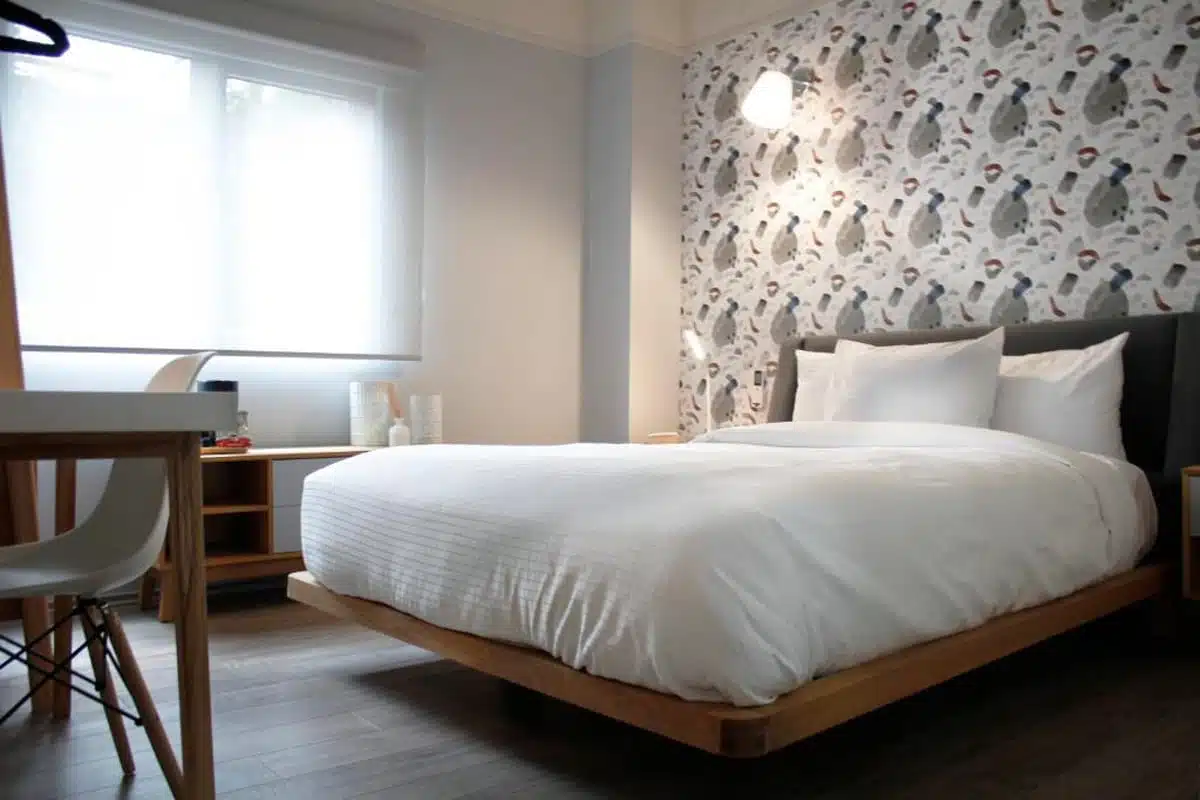 For a more affordable stay, opt for a stay at Casa Condesa Michoacan 113. The property boasts elegant rooms that include a coffee maker and free Wi-Fi. It also sits in the heart of Condesa, meaning most of the attractions aren't too far away.
Check Rates and Availability for Casa Condesa Michoacan 113 on Booking.com | Tripadvisor
Looking for More Mexico Guides?