Making travel plans for a quick trip to Mexico City? My 3-day Mexico City itinerary is perfect to help you fit in everything you can in this eclectic metropolis.
Mexico City is having a moment – OK, it's been having a moment for some time now. Gone are the days when holidaymakers passed though CDMX as an afterthought.

Frankly, it's no surprise. Mexico City has always boasted incredible dining options, hotels and hidden surprises. A place that's constantly evolving, it boasts a rich history and cultural traditions that enchant locals and visitors alike.

So for a place with so much to do, too many fantastic restaurants to name and more museums than most cities, it might seem difficult to pack everything in over 3 days in Mexico City. You know what? I'll be honest, you won't.

But I've visited plenty of times and can tell you, whatever you do, you'll have an incredible time. And having a plan can help you manage your time in this sprawling urban centre – I took care of that for you.

Ready to lock in on the perfect 3-day itinerary in Mexico City? I thought so.
Handy Tips for Planning Your Mexico City Itinerary
Top Tours for Your Mexico City Itinerary
Mexico City: Authentic Downtown Food Tour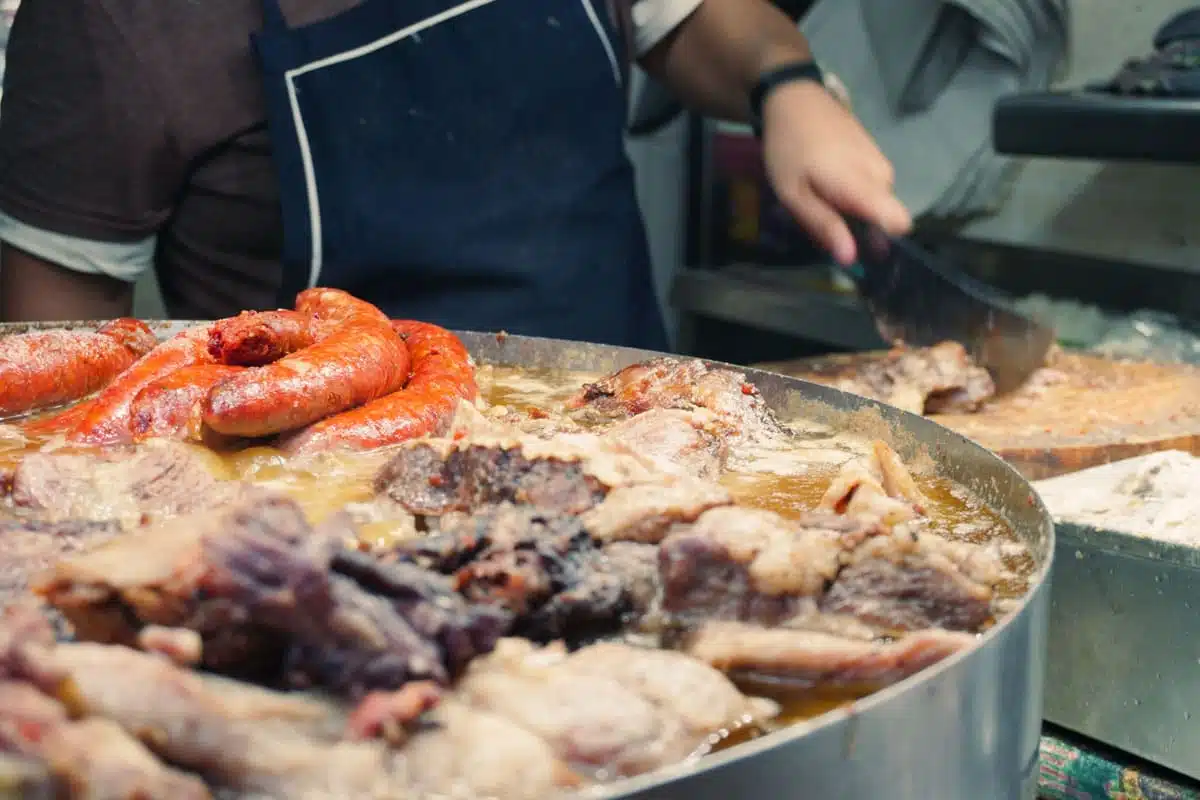 When planning a trip to Mexico City, food is one of the first things on my mind. And honestly, unlike some cities I've been to, it's pretty hard to strike out when trying to find the best restaurants and bars.

But if you really want to tap into the best food in CDMX, with a few locations that don't make it into many travel guides, stop what you're doing and reserve this tour.

You'll get to explore the San Juan Market (Mercado San Juan), where you'll peruse the aisles of a food-lover's dream before spending the afternoon checking out local cantinas and long-standing restaurants.

What I love about this tour is the combination of activities – walking, shopping, eating and drinking with a well-informed guide.
Hot Air Balloon Adventure in Teotihuacan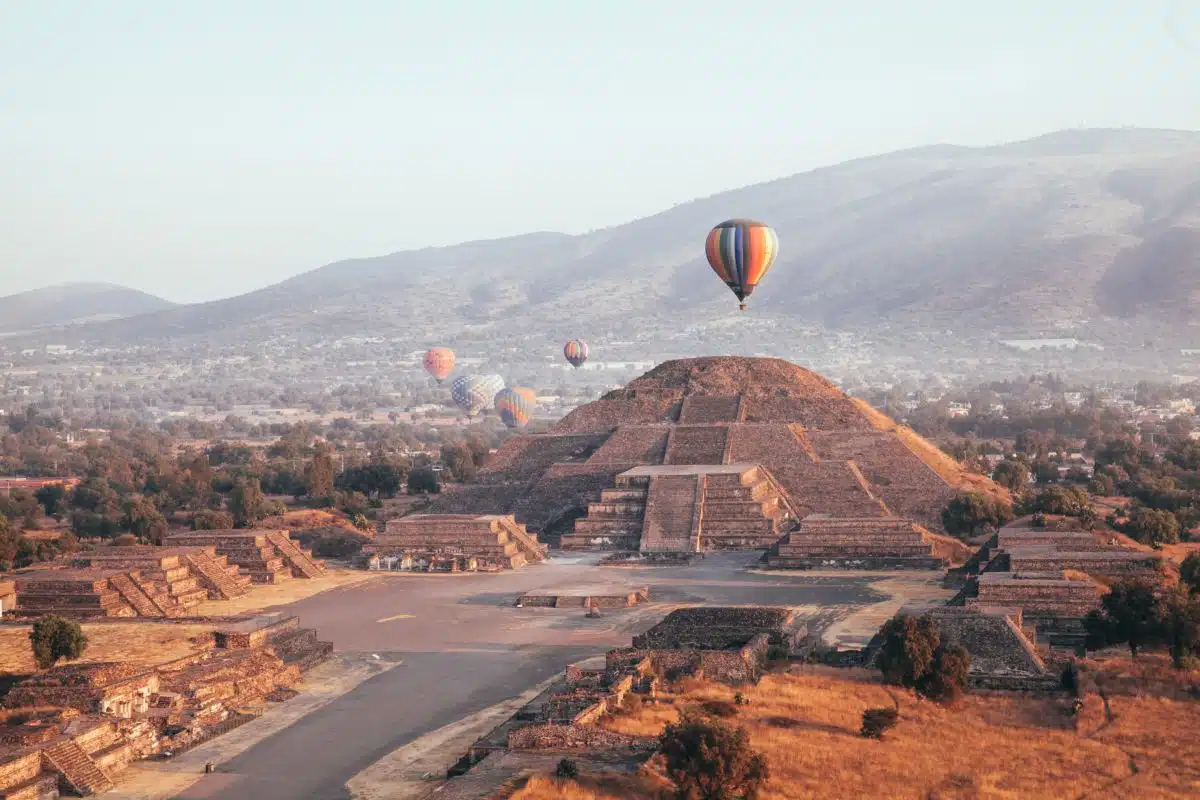 I'll admit, the first time I visited CDMX and Teotihuacan, I left this off my 3 days in Mexico City what to do list. But, looking back, I regret that.

Soaring above one of the most famous archeological sites in Mexico, you can't help but feel overwhelmed by the size of the UNESCO site with roots predating Hispanic Mesoamerica.

Once you land back on the ground, you'll enjoy breakfast at El Cielo before exploring the pathways around the pyramids below at Teotihuacan. I don't know about you, but I think it's a must-see when you visit Mexico City in 3 days.
Book Your Hot Air Balloon Tour Now
Xochimilco, Coyoacan, Frida Kahlo & UNAM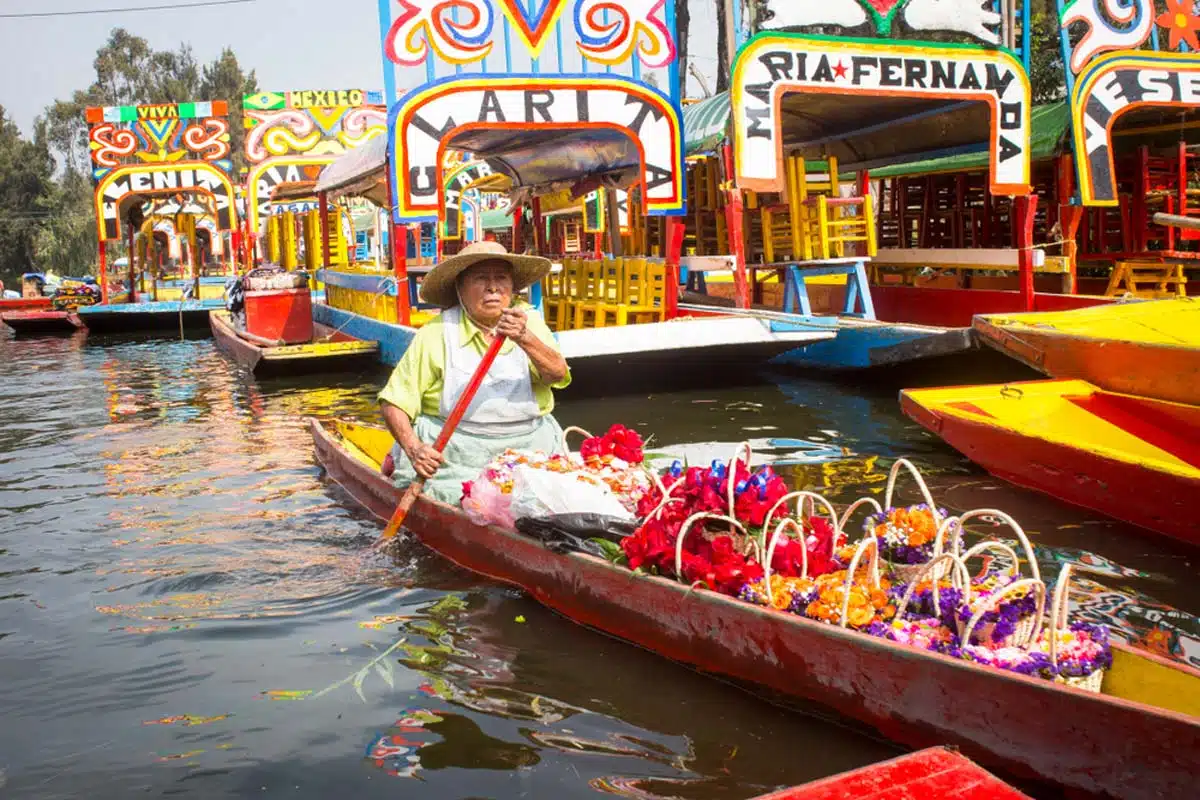 Looking to pack in a few things in one convenient package? Add this guided tour to your itinerary for Mexico City, and you'll cover a few of the most famous landmarks in CDMX all in one afternoon.
The 10-hour tour is a whirlwind, starting downtown with some shopping before heading to University City to check out the famous murals and massive Olympic Stadium. Next, you'll board the brightly coloured boats at Xochimilco, where you'll float down the UNESCO World Heritage Site in style.

Lastly, you'll see the Frida Kahlo Museum and explore Coyoacan, an underrated and charming neighbourhood in Mexico. I love this as a way to pack in some of the landmarks a bit further away when planning things to do in Mexico City in 3 days.
Book Your 10 Hour Landmark Tour Now
What to Pack for Your Mexico City Itinerary
If it's your first 3 days in Mexico City, you might have questions about what you should pack. Is the weather hot like Puerto Vallarta or Cancun? Will you get tropical storms like in Cabo or famous destinations in Mexico?

Because of the location (the city is over a mile high at 2,239 metres) the weather is warm but not hot nearly year-round. You will get rain during the summer, and the occasional grab-your-belongings-and-run-to-the-nearest-storefront thunderstorm happens. But overall, it's usually delightful.

Here's what I recommend packing for your Mexico City 3-day itinerary:
Lightweight jacket
Plenty of layers, especially if you plan to be out all day and night.
Pack a dress or shirt for dinner. You may feel underdressed in your favourite T-shirt and shorts at popular restaurants.
Where to Stay in Mexico City
Downtown Mexico
Located in the heart of the Historical Centre, you're only a few minutes on foot from Zócalo and some of the most important cultural landmarks at Downtown Mexico. The rooms are small, but the high ceilings and modern design make them a more than comfortable base for seeing Mexico City in 3 days.

A rooftop pool and bar is a fun place to rest up between sightseeing down below, and the restaurants and boutique stores at The Shops at Downtown will give you plenty of choices for a snack or meal.
Presidente InterContinental Mexico City
If you want to stay in the bustling but high-end neighbourhood of Polanco on your visit, the luxury property Presidente InterContinental Mexico City is a great place to bed down for 3 perfect days in Mexico City.
Right outside your door, you'll have convenient access to some of the best shopping and high-end restaurants and are steps away from Chapultepec Park. Inside, you'll enjoy restaurants serving local cuisine alongside dishes from China, Italy and France.
La Valise Mexico City
La Valise Mexico City might be the coolest boutique hotel in Mexico City. No longer a well-kept secret, this three-room guest house in Roma Norte feels more like you're crashing at a wealthy friend's house than at a hotel.

There's no restaurant or bar inside, but step out into the vibrant streets of Roma Norte for some of the most iconic eating and drinking destinations you'll find when you visit Mexico City in 3 days.

Top Tip: Reserve La Terraza Suite with a bed that pulls out to a private rooftop balcony and sleep under the stars.
Quick Info for Your 3 Days in Mexico City
Time Zone: Central Standard Time (CST)
Currency: Mexican Peso (MXN)
Plugs: Type A and B
Nearest Airport: Mexico City International Airport (MEX), also known as Benito Juarez International Airport.
5 Must-See Spots: Templo Mayor Museum, Palacio de Bellas Artes, Museo Nacional de Antropología, Castillo de Chapultepec, Frida Kahlo Museum.
Top Tip: Plan out some can't-miss activities and landmarks before you go. Mexico City is sprawling, and many destinations are far apart, so it helps to know which places you don't want to skip on your three days in Mexico City.
Getting Around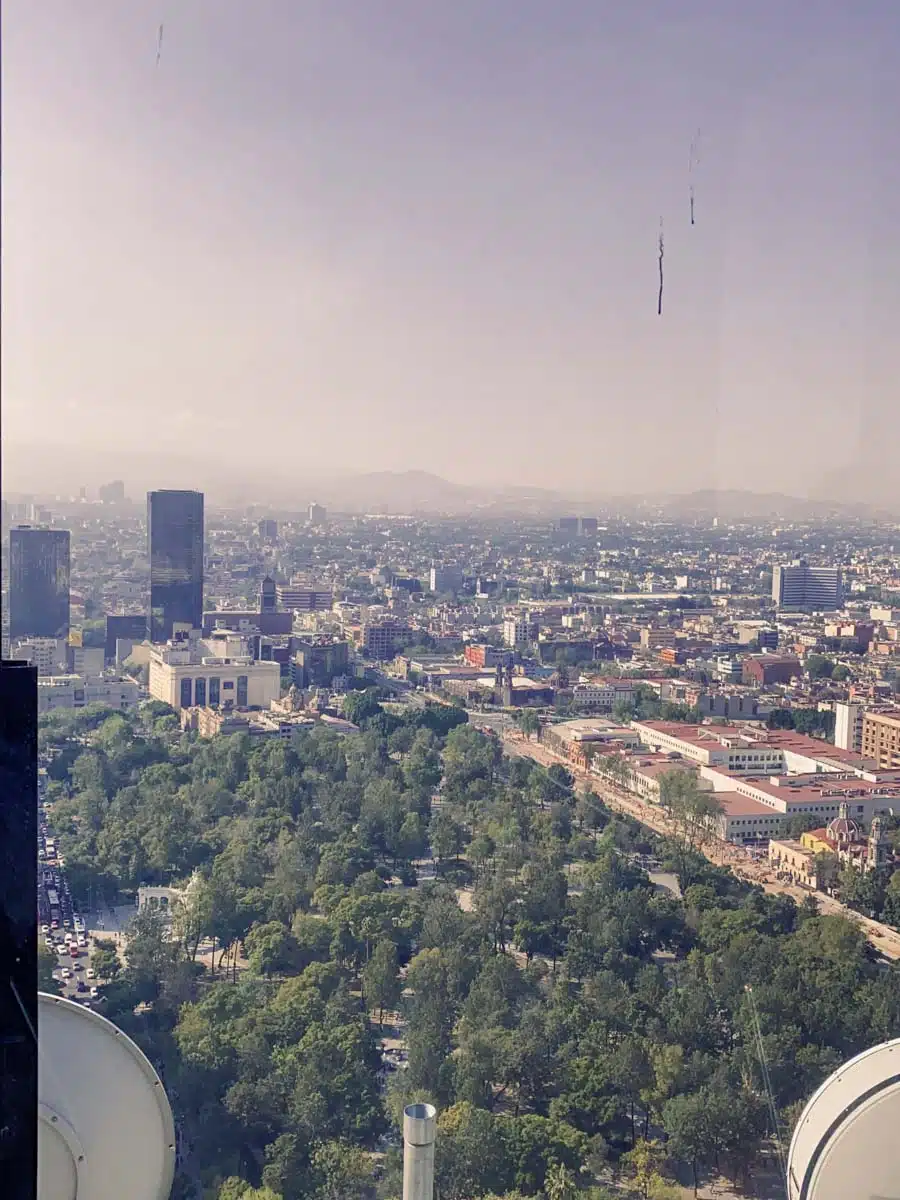 Bus or Train
Mexico City has a reliable public transportation system. It's inexpensive, and you can purchase a Metrocard at most major train or bus stations.

At night, especially if you're travelling long distances, be very careful you know where you're going and which neighbourhoods you're travelling through.
Taxi or Rideshare
Official taxis are an OK way of getting around, but you may have trouble getting them to turn on their metre – thus being at the driver's mercy when travelling from place to place during your 3 days in Mexico City itinerary.

The other problem is there are a lot of unofficial taxis, and reports of robberies and express kidnappings aren't uncommon.

With surprisingly low fares and transparent pricing, Uber is your best bet no matter how many days in Mexico City.
Walking
Mexico City itineraries often involve a lot of time on your feet. Although it's a gigantic city, many of the neighbourhoods are walkable and have plenty of excellent dining and shopping you can discover on foot.

That said, petty crime and some violent crime does happen at night. So you're best saving your longer walks between neighbourhoods for daylight hours.
Driving
Driving in Mexico City isn't recommended for a few reasons. First, the traffic is famously bad, and not knowing how to navigate will cause you unnecessary headaches on your Mexico City itinerary all 3 days.

Parking is tricky, and you'll need to familiarise yourself with the Hoy no Circula laws, which prohibit licence plates ending in certain digits from driving at specific hours on specific days.

Trust me, it may be tempting to have wheels, but I recommend planning what to see in Mexico City in 3 days on foot, in an Uber, or with a guided tour.
Mexico City Itinerary
Mexico City Itinerary Day 1:
So you're looking at what to do in Mexico City in 3 days and don't know where to start on your first full day?
Many of the most popular destinations are extremely busy on weekends, so if you arrive on a weekday, I recommend starting your trip off with the most quintessential activities in and around CDMX.
Wake Up With a Cup of Coffee in La Condesa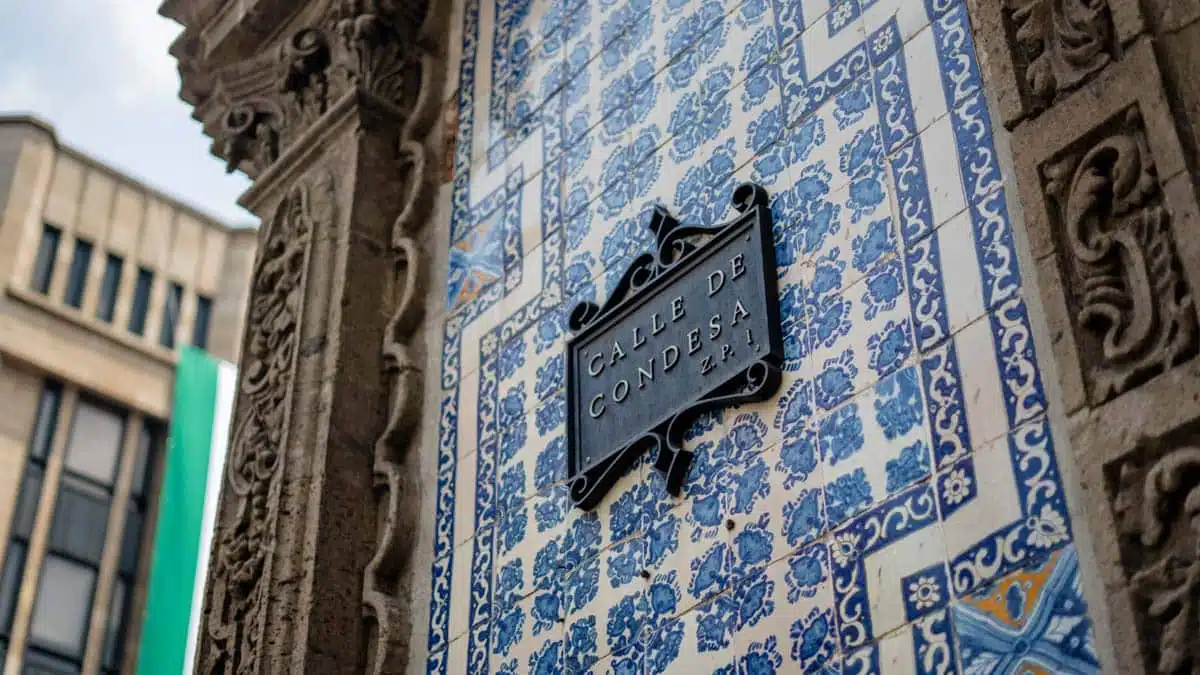 La Condesa is an impossibly charming neighbourhood in Mexico City filled with beautiful streets featuring ornately decorated mansions, boutique stores and incredible cafes.
Naming one coffee shop you need to try is like telling you I have a favourite movie; it won't happen.
Whether you want to have breakfast and a cappuccino (order the baked goods made in-house) at the small local chain Blend Station or you prefer a smaller shop closer to the park (Anvil Café de especialidad is a popular haunt), you're in good hands. The baristas at many of the best coffee shops in Mexico City show their skills around La Condesa.
Walk Around Chapultepec Park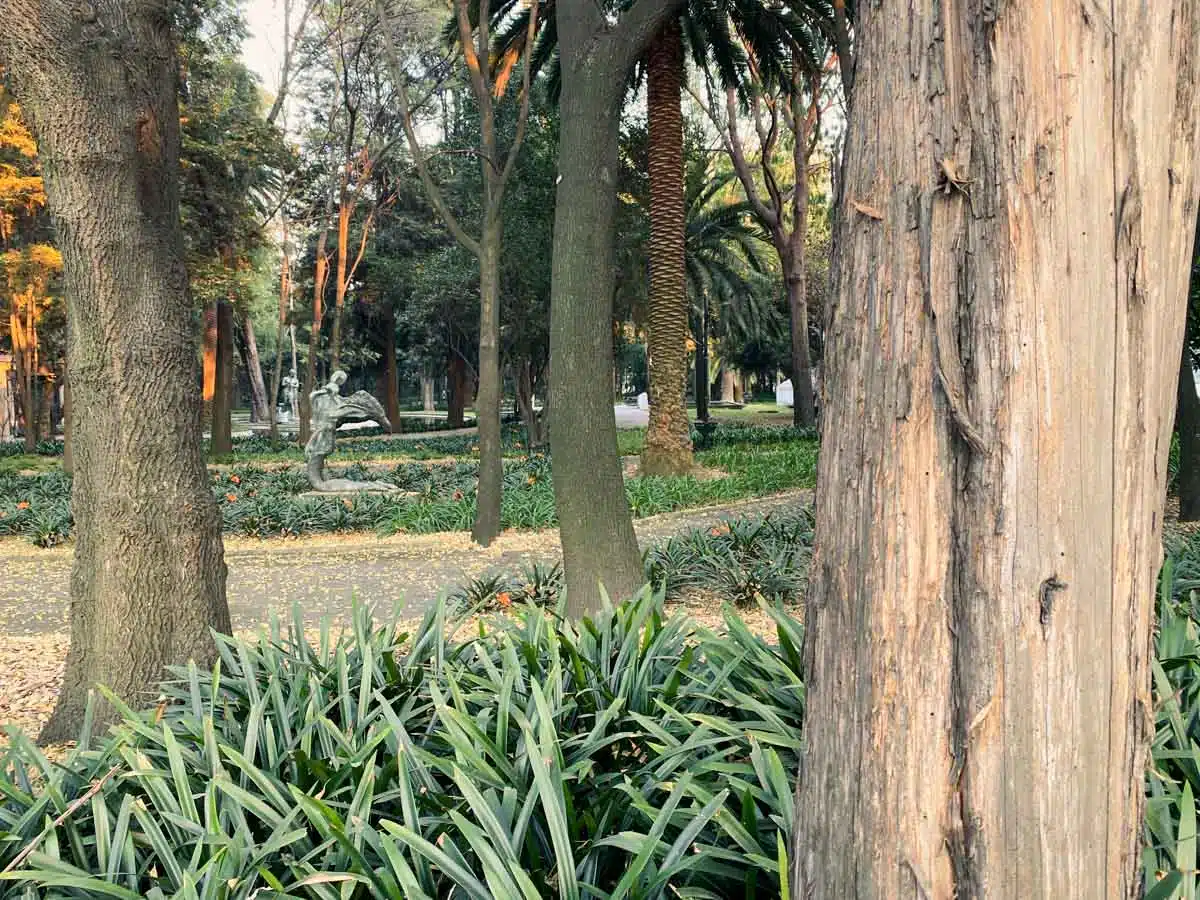 Once you have some breakfast (and too much coffee) in your system, it's time to head to the park.
Chapultepec Park, or the "lungs of the city" as locals call it, is a massive 1,700-acre park in which you can spend an entire day.
The ancient forest (some think as far back as 2,500 BC) has been a popular respite from the busy city for centuries and is the perfect place to walk around and explore while taking in the rich cultural history. You'll find museums, castles and even a zoo alongside the beautiful outdoor scenery featuring trees and cobbled pathways.
Before heading to its main attractions, wander around and get familiar with the park, and even grab lunch in the park at the famous Lago Algo restaurant.
Hike up to Chapultepec Castle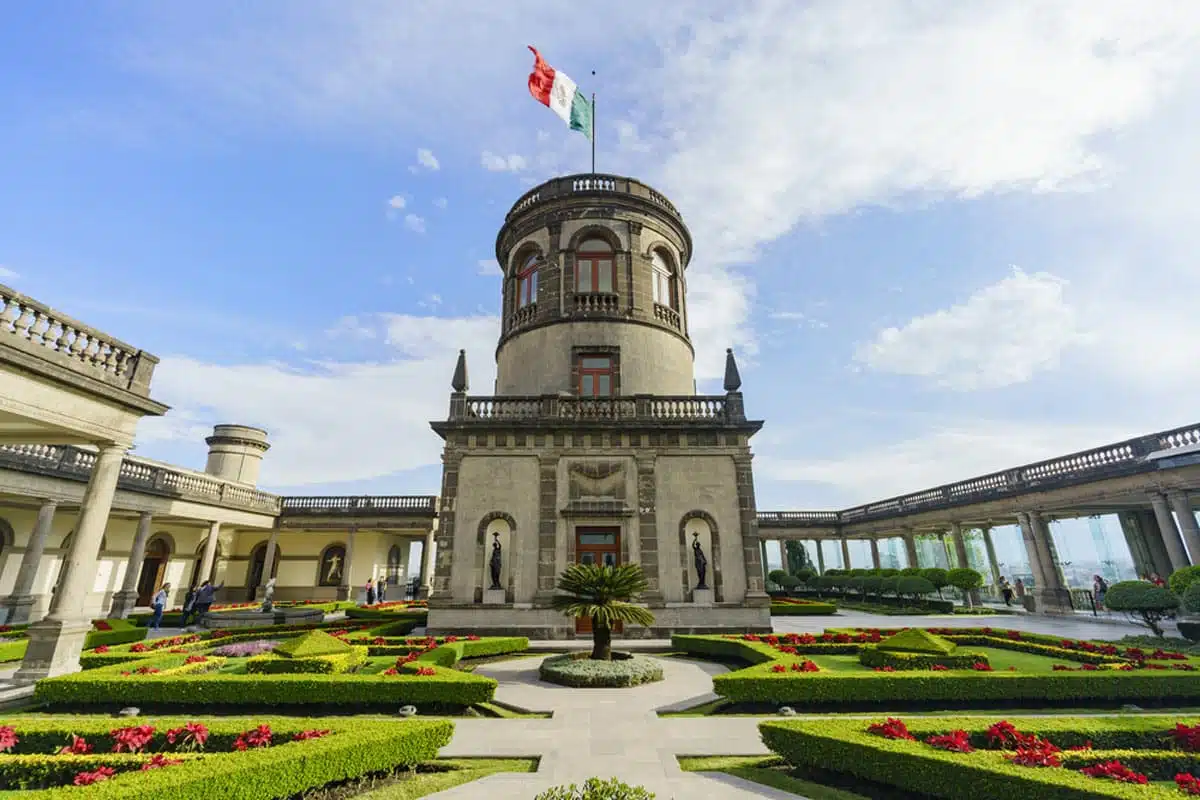 Walking the long, winding road up to Chapultepec Castle, you can't help but feel transported in time. The well-manicured forest and gardens lead up to the imposing structure built in the 18th century.
The former home of Maximilian I and Empress Carlota is a stunning building inside and out, with gorgeous artwork available on two different levels. Take an hour to walk the property, and be sure to head out to the balcony out back for gorgeous views of the park and city below.
Top Tip: Don't miss the stunning murals from David Alfaro Siqueiros, Jorge González Camarena and others inside.
Book a Tour of the Chapultepec Castle Here
Museo Jumex and Museo Soumaya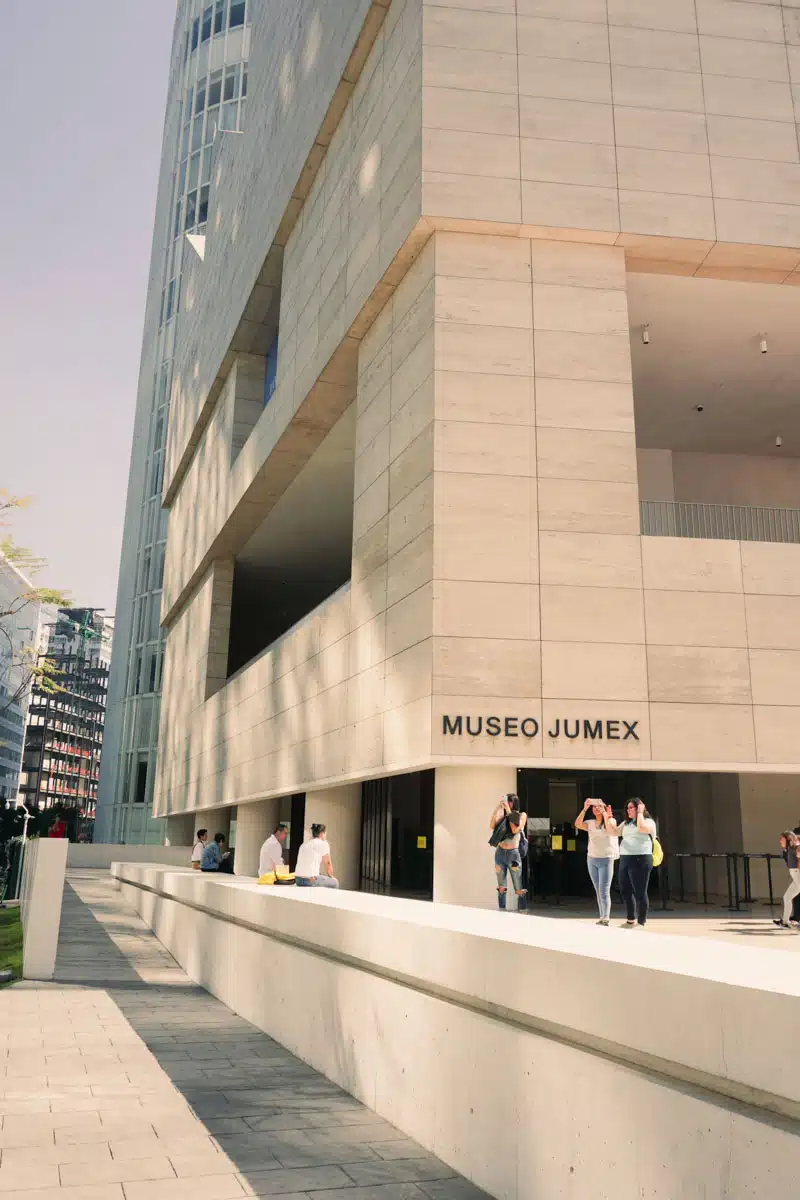 Next up is a little museum duo you do not want to miss: Museo Jumex and Soumaya.
Start by visiting Museo Jumex, one of the newest and largest contemporary art museums in the city. Designed by architect David Chipperfield, the white-concrete cube is as abstract as the art inside – by the likes of Andy Warhol, Martin Kippenberger and Damien Hirst.
Once you've finished up at Museo Jumex, head over to the garish building tiled with thousands of silver hexagons. AKA Museo Soumaya. With over 66,000 pieces of art in its walls, expect to gawp at art by the likes of Diego Rivera, Rufino Tamayo, Matisse and Degas.
Museo Nacional de Antropología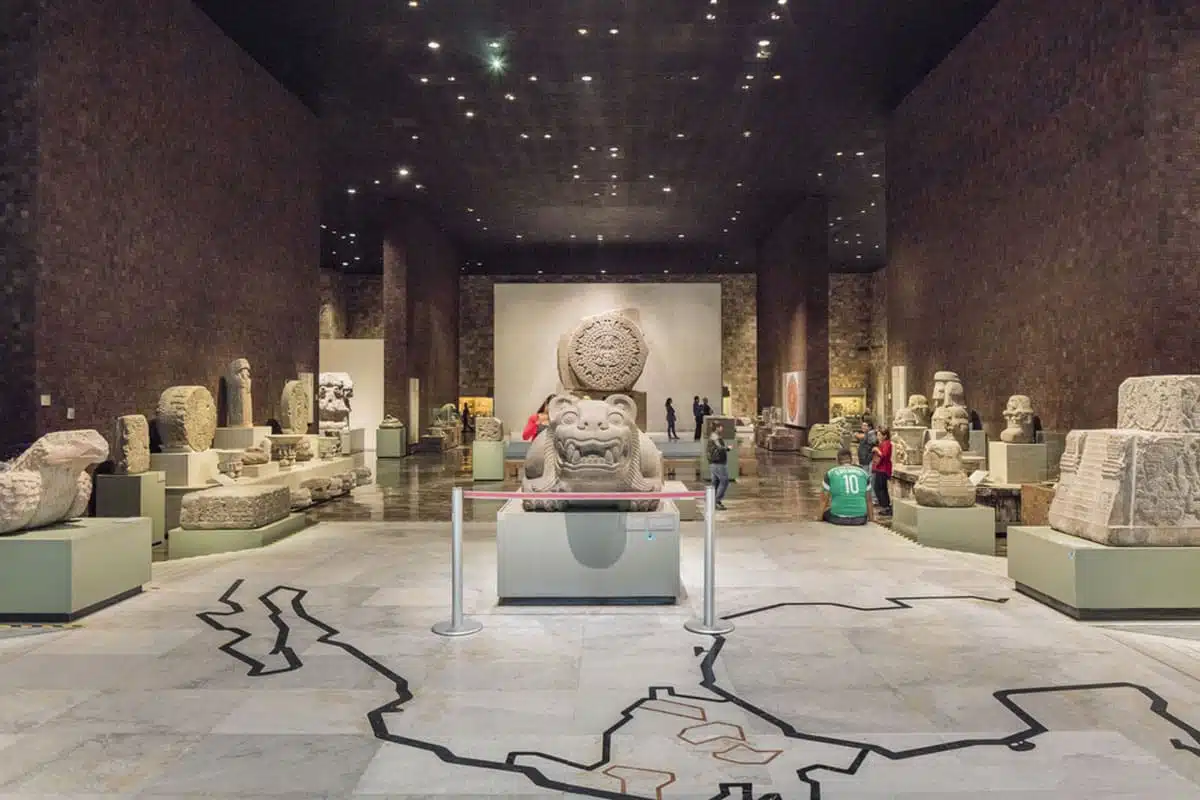 The Anthropology Museum in Mexico City is one of the best and is home to a staggering 23 exhibits with millions of archaeological and ethnological artefacts.
Prepare to explore the museum for at least a couple of hours. But take my advice and plan ahead by deciding which rooms you don't want to miss before you head out to dinner after a long day of sightseeing.
Book a Tour of the Anthropological Museum Here
Dine at Pujol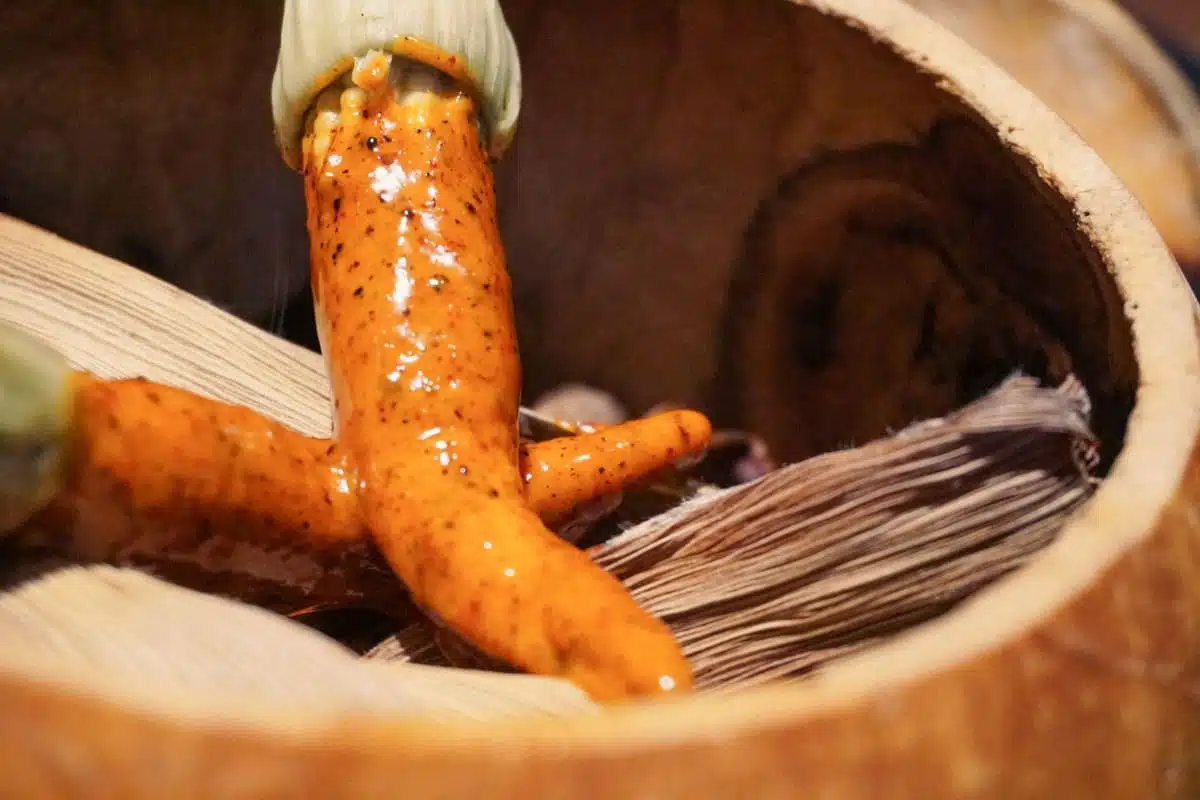 By now, I'm sure you're super hungry. And there's one place in CDMX that you cannot miss: Pujol.
Traditional Mexican food meets fine dining at this beautiful spot that was originally fronted by celebrity chef Enrique Olvera (although Jesús Durón has since taken the reigns).
The restaurant's menu changes seasonally, but their famous Mole is always available.
The dishes involve a perfect circle of fresh mole surrounded by a larger ring of mole that's aged for more than 1000 days. Pretty cool, huh?
Accompanied by a basket of warm tortillas for dipping, there's nowhere better to chow down in Mexico City.
Top Tip: Check out my video of visiting Pujol – and prepare to feel ridiculous food envy.
Mexico City Itinerary Day 2:
OK, it's day 2 of your Mexico City itinerary – what does that mean? You'll want to wake up early, shake off last night's mezcal tasting or fabulously extravagant dinner at Pujol, and get ready to see some more Mexico City landmarks along with sampling some street tacos and quesadillas.
Book an Exotic Food & Local Crafts Market Walking Tour Here
Shop With Foodies and Chefs at Mercado de San Juan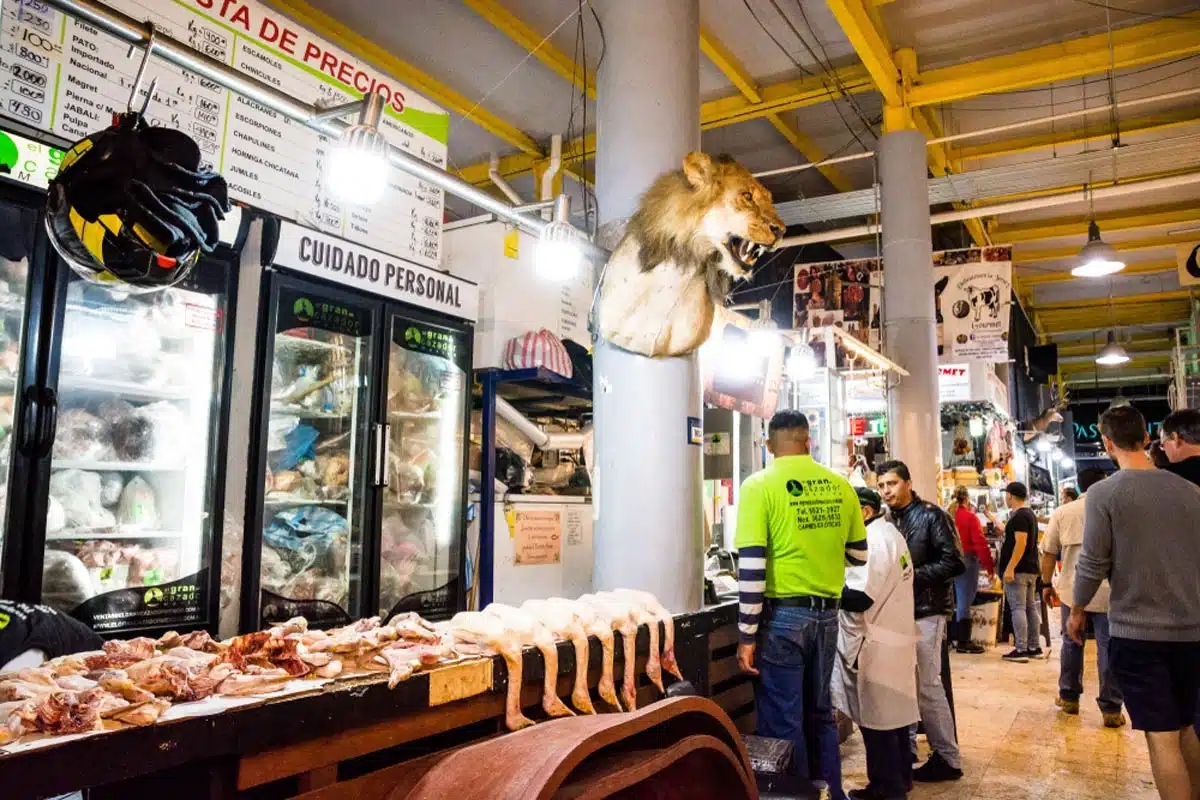 Opening at 7am, Mercado de San Juan is an absolute gem of a market for serious chefs and amateur cooks alike on a Mexico City itinerary.

Whether you want to sample some exotic proteins (stingray anyone?), bring some fruits and veggies back to your vacation rental, or just people-watch, this market is a fascinating way to begin your day.
Try a Decadent Treat at Churrería El Moro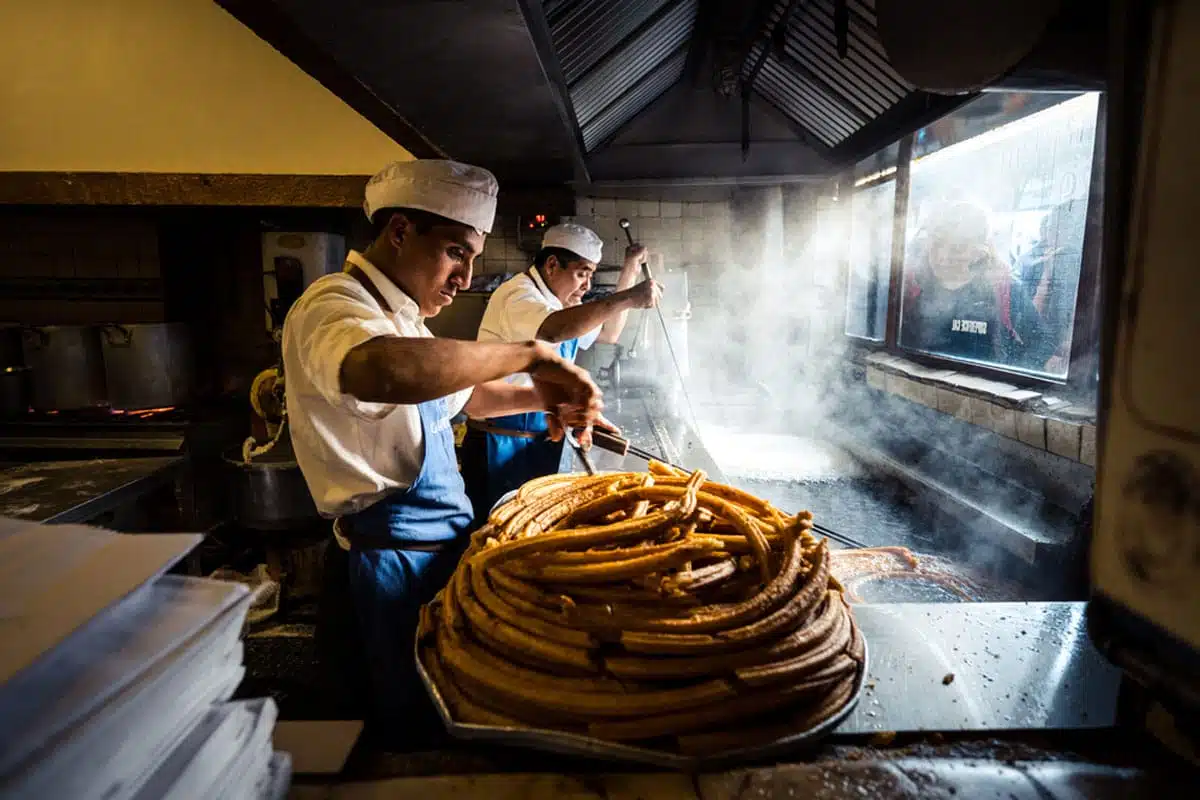 Mexico City is a place where you'll quickly consume more calories than you can count, with delicious food options on every corner.
Churrería El Moro is no exception, and they've been slinging metre-long spirals of deep-fried dough dusted in cinnamon and sugar for nearly 90 years.

Your Mexico City Airbnb in Roma Norte, Polanco, or Juarez may have one within walking distance. Still, the spot in Centro Historico is the original and the most convenient option for a day exploring some of Mexico City's famous museums and landmarks.
Order a bag of churros big enough for a small family, and try one of the half dozen or so hot chocolates on hand. Yum.
Top Tip: This is also a fantastic way to wind down your evening after dinner, and the Centro Historico store is open 24 hours a day.
See the Murals at Museo Mural Diego Rivera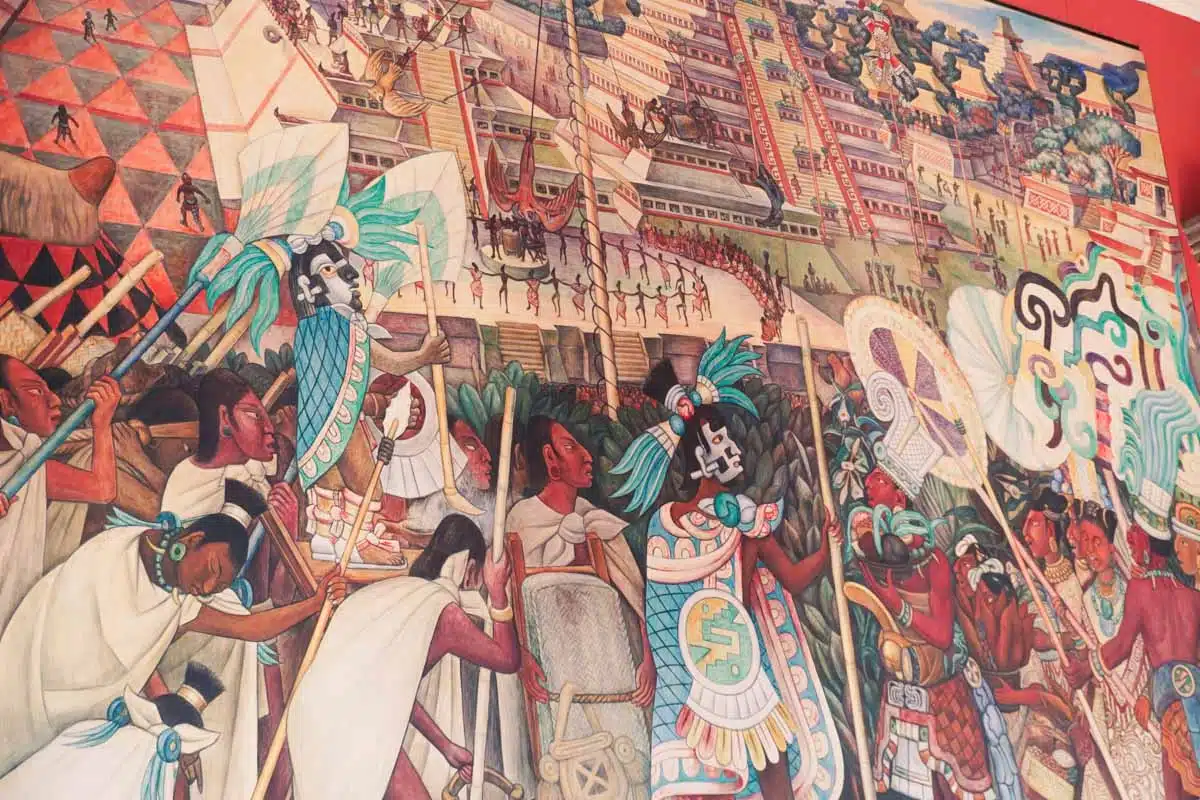 Frida Kahlo is probably the most famous artist in Mexico, but her long-time partner Diego Rivera is a very close second.
Stop by the Museo Mural Diego Rivera museum early (it opens at 10 am) and see one of his most famous works, Dream of a Sunday Afternoon, in the Alameda Central.
Palacio de Bellas Artes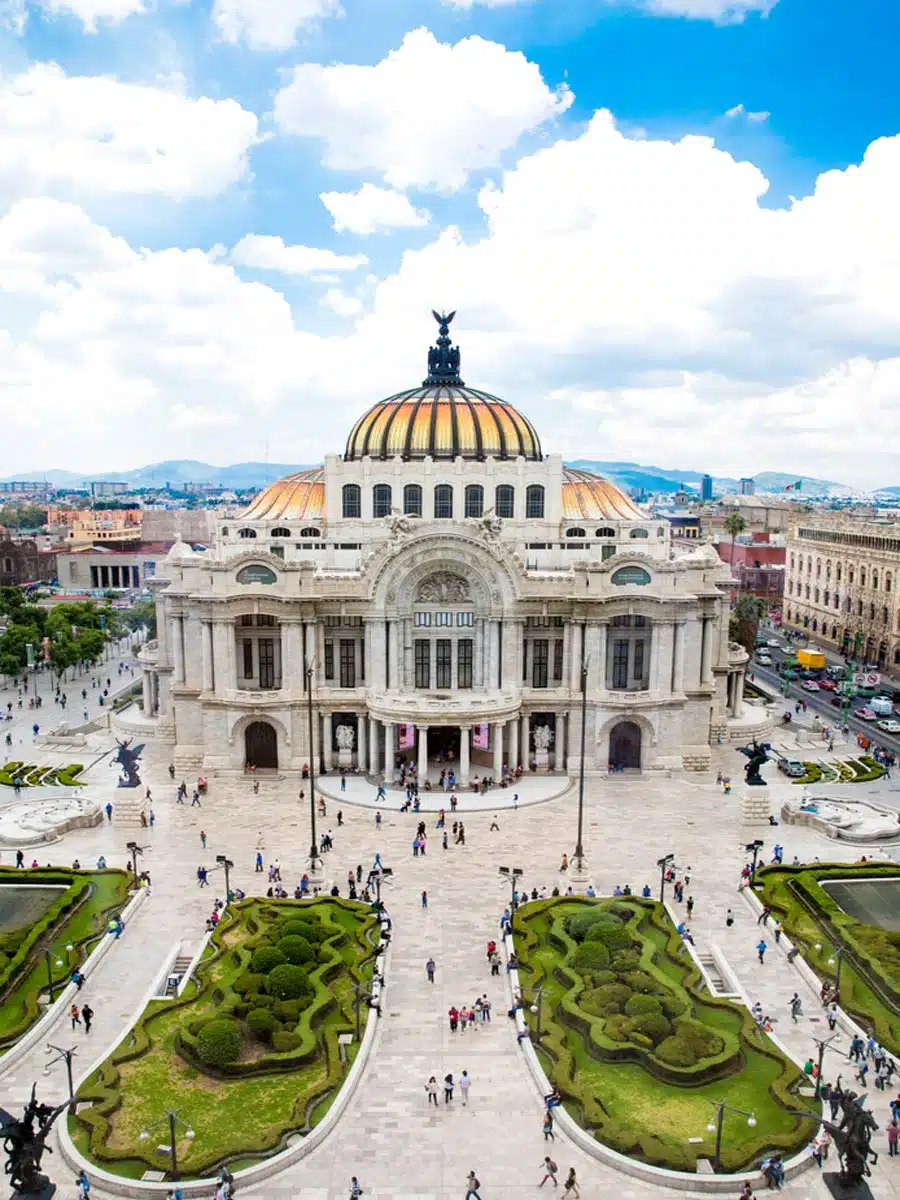 Now it's time for my favourite spot in Mexico City. Head to the entrance around 11am to discover one of the most popular attractions in Mexico – the Palacio de Bellas Artes.

This museum features various architectural influences that took several decades to design, with Art Deco and Art Nouveau being the most prominent inside and out.

Home to some of the most popular events in CDMX, you can admire anything from opera to book readings in the stunning 100+-year-old palace. You can also explore the art inside with murals by David Alfaro Siqueiros, Diego Rivera and other famous artists.
Explore Plaza del Zócalo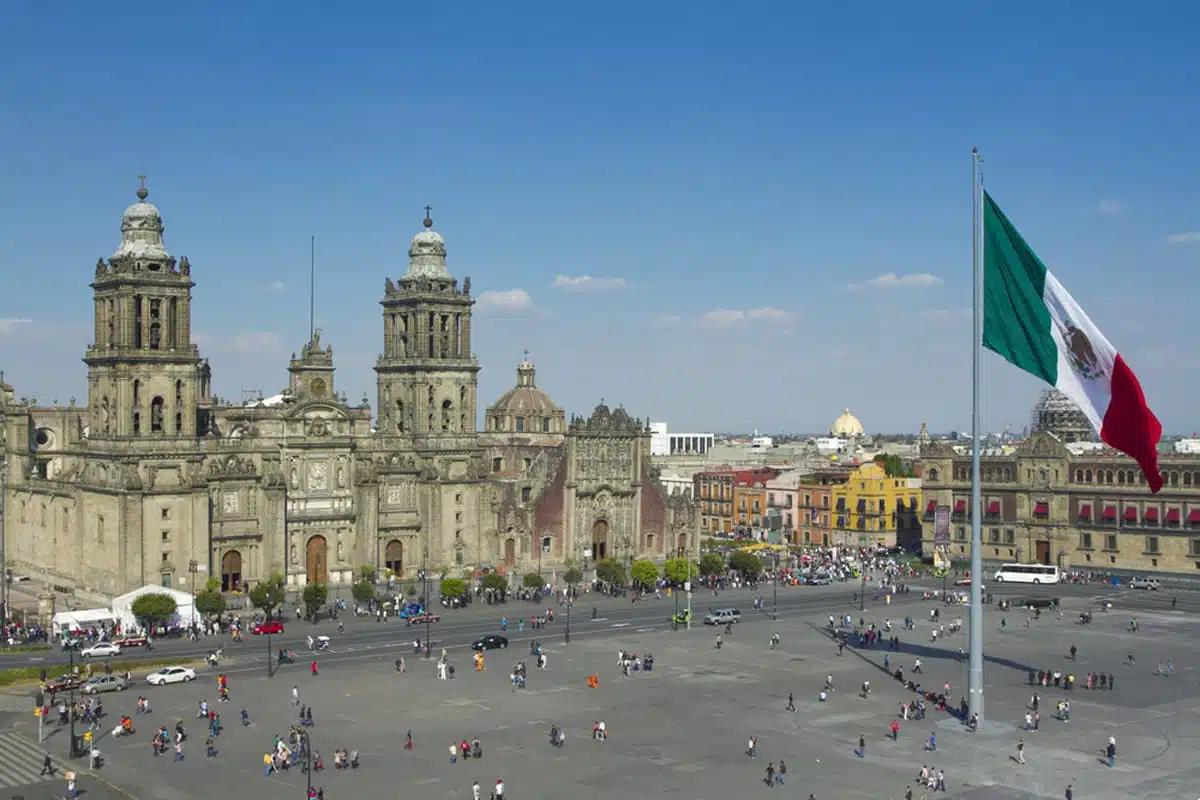 To say that Plaza del Zócalo is massive is an understatement. At 220 x 240 metres long, it's packed with some of the city's most storied architecture and history – some argue you can dedicate an entire day to just this city square (they're not wrong).

You can visit a few of the top sites in a few hours, including the Metropolitan Cathedral, Templo Mayor, and Palacio Nacional (home to another must-see Diego Rivera mural).
Templo Mayor is the most fascinating of all the landmarks, so don't miss a chance to see the temple of Tenochlitlán, which is still being excavated as you read this.

The museum on-site showcases many of the incredible artefacts that are being unearthed to this day after a 1987 excavation began uncovering the historic site destroyed in 1521 during the Spanish conquest.

You'll also find shopping, excellent dining options nearby and a few tourist traps too good to resist.
Wander Around More of the Centro Historico
The Centro Historical doesn't start and stop with the cluster of sights around the Plaza del Zocalo – you should definitely spend more time exploring the area.
My advice? Don't miss street tacos at Los Cocuyos for lunch. You might think you've had tacos before, but this small taqueria will have you revising everything you thought you ever knew. The tacos are spectacular (opt for the longaniza sausage tacos if you really want a treat). There will be a queue and yes, it's definitely worth it.
Other options in the Centro Historico Café De Tacuba for dinner and live Mariachi, or head to Torre Latinoamericana and dine at Miralto high above Centro Historico in Mexico City's tallest building.
Book a Tour of Historic Downtown Here
Mexico City Itinerary Day 3:
I like to save a day trip for the final morning of an itinerary for Mexico City. You've explored many of the famous landmarks and eaten your way through the city, so now it's time to see what's nearby.

You can head out to Teotihuacán (which I wholeheartedly recommend) or stay within Mexico City's limits – in this case, we're doing both.
Visit Teotihuacán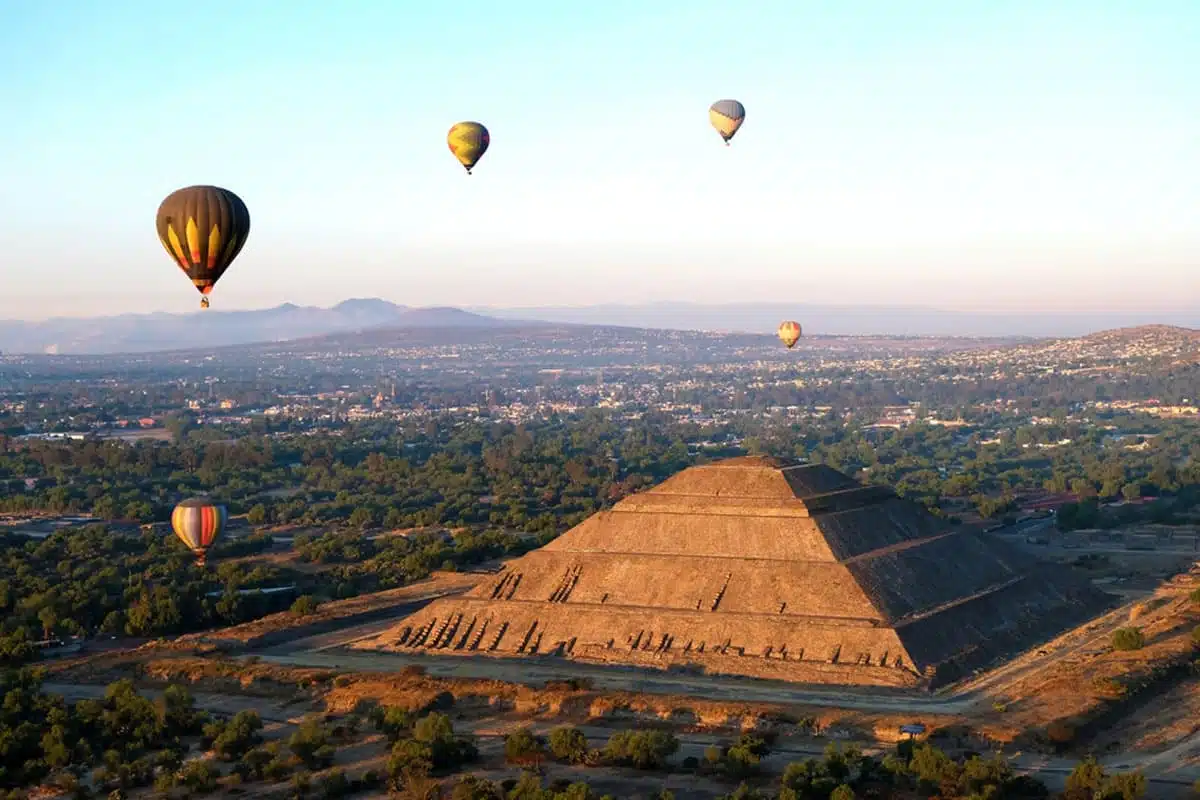 Rise early and purchase a skip-the-line ticket or guided tour to Teotihuacán. While you're here, walk around the entire complex and observe every stunning detail.

The 2,000+-year-old site features numerous artefacts from several periods, with the can't miss attractions including the Temple of Quetzalcoatl, The Avenue of the Dead and the Pyramids of the Sun and Moon.

You can also take an Uber here and explore on your own, which you'll likely need to do if you want to make it to the next destination in time.
Top Tip: Grab a tamale before you enter the gates if vendors are outside, it's one of your only chances to eat, and they're delicious.
Book a Tour of Teotihuacán Here
Take a Xochimilco Boat Tour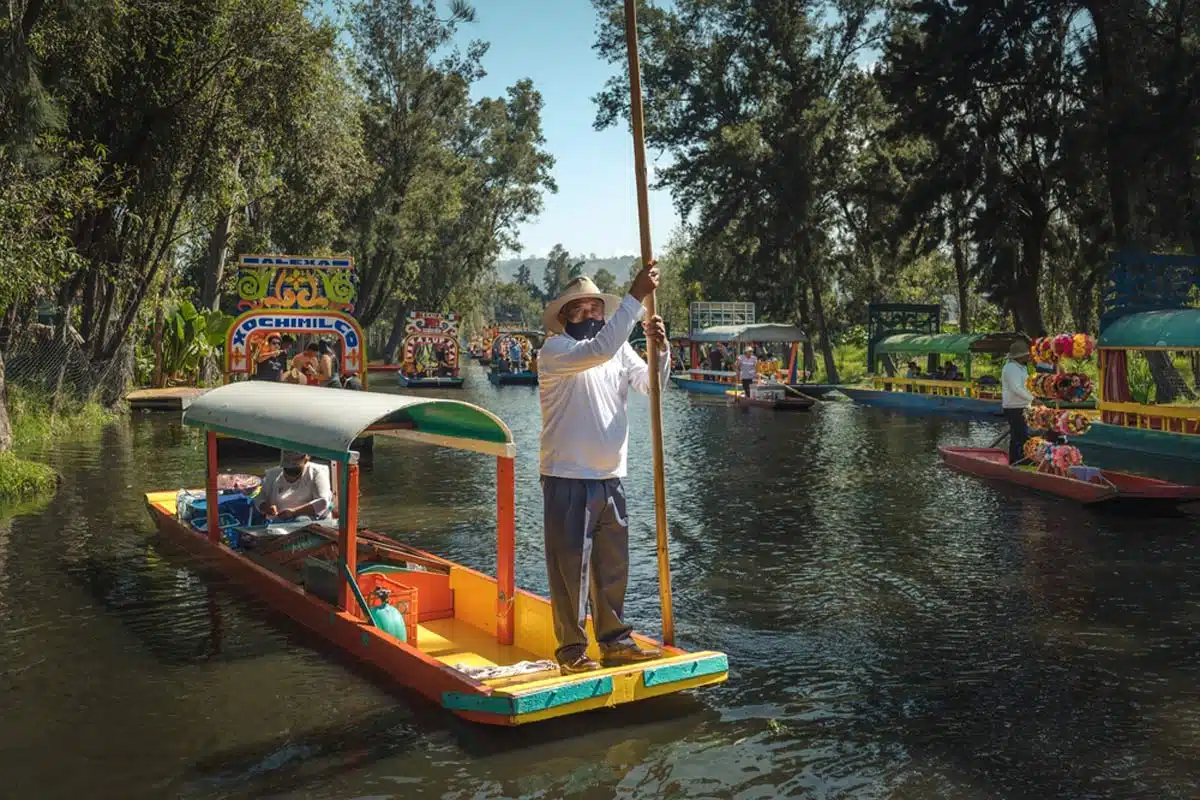 Have your Uber driver take you from Teotihuacán to Xochimilco, where you can take a ride on the elaborately decorated Trajineras (similar to a gondola) through the canals.

There are generally two tours a day, with the second starting at 3pm, so you can grab a late lunch and cocktails after exploring another UNESCO site.

Sipping tequila and having a snack on a floating island is easily one of the top things to do in Mexico City in 3 days.
Book a Tour of Xochimilco Here
Enjoy a Cocktail Before Dinner
By now, you've had a full day and are probably ready to clean up, change into your best outfit, and explore the city's nightlife, right?

Good news: there are some fabulous cocktail bars in Mexico City, and one of the best is Limantour, where you can sample creative libations from one of the most celebrated bars in the world.
Top Tip: Play dealer's choice and ask the skilled bartenders to choose your cocktail for you – trust me.
Dine at Contramar
There are too many great restaurants in Mexico City, but Contramar stands out as one of the best.
Chef Gabriela Cámara and her seafood-focused Contramar have been dishing out inventive takes on Mexican seafood dishes for 25 years and still going strong.
Top Tip: Don't miss the butterflied snapper with a bright green salsa on one half and red chile on the other. Drool.
Mexico City Itinerary – Map
Read More Mexico City Guides
Love This? Save and Share on Pinterest