A city of spectacular sunsets, adventurous activities, and authentic Mexican flair, there are so many things to do in Puerto Vallarta. Ready to explore?

Often outshined by the likes of Cancun and Tulum, I would argue that Puerto Vallarta makes for an equally wonderful trip to Mexico – and, often, without the hordes of tourists. From adventurous zip lines to rich cultural experiences, this city is buzzing with memorable vacation activities.

If you've already brushed up on my insider travel tips when visiting Mexico, you should be well prepared to experience the best things to do in Puerto Vallarta. Let's dive in.
If you're looking for an affordable yet fabulous stay, the Hotel Posada De Roger offers a brightly decorated setting in the heart of Puerto Vallarta.
Top 5 Things to Do in Puerto Vallarta
Visit the Islas Marietas National Park

Easily one of my favourite places to visit in Puerto Vallarta, the Marieta Islands are a paradise of pristine beaches and wondrous rocky cavern formations.
You'll need to take a boat to get to the Marieta Islands, and if you choose an adventure package you can also experience the marine life by snorkelling while you're there. The best months to visit are winter and spring, when the water is at its clearest.
If you get a chance, visit the enigmatic Hidden Beach inside a cavern with a gaping circular opening to the skies. It's an Instagram-worthy shot and one of the more unique things to do in Puerto Vallarta.
Book Your Marietas Islands Snorkelling Here
Marvel at the Rhythms of the Night Show
Ready for an evening of entertainment beyond the scope of imagination? Hop aboard a catamaran for drinks and a sunset cruise in the Bay of Banderas. All before enjoying the spectacular Rhythms of the Night Show.
This show takes place on a private beach with its own amphitheatre. After the show, you'll head to one of the restaurants on the beach for a candlelit buffet dinner.
With such a breathtaking itinerary, it's easy to understand why this amazing experience is one of my top things to do in Puerto Vallarta.
Book Your Rhythms of the Night Show Here
See the Vallarta Botanical Gardens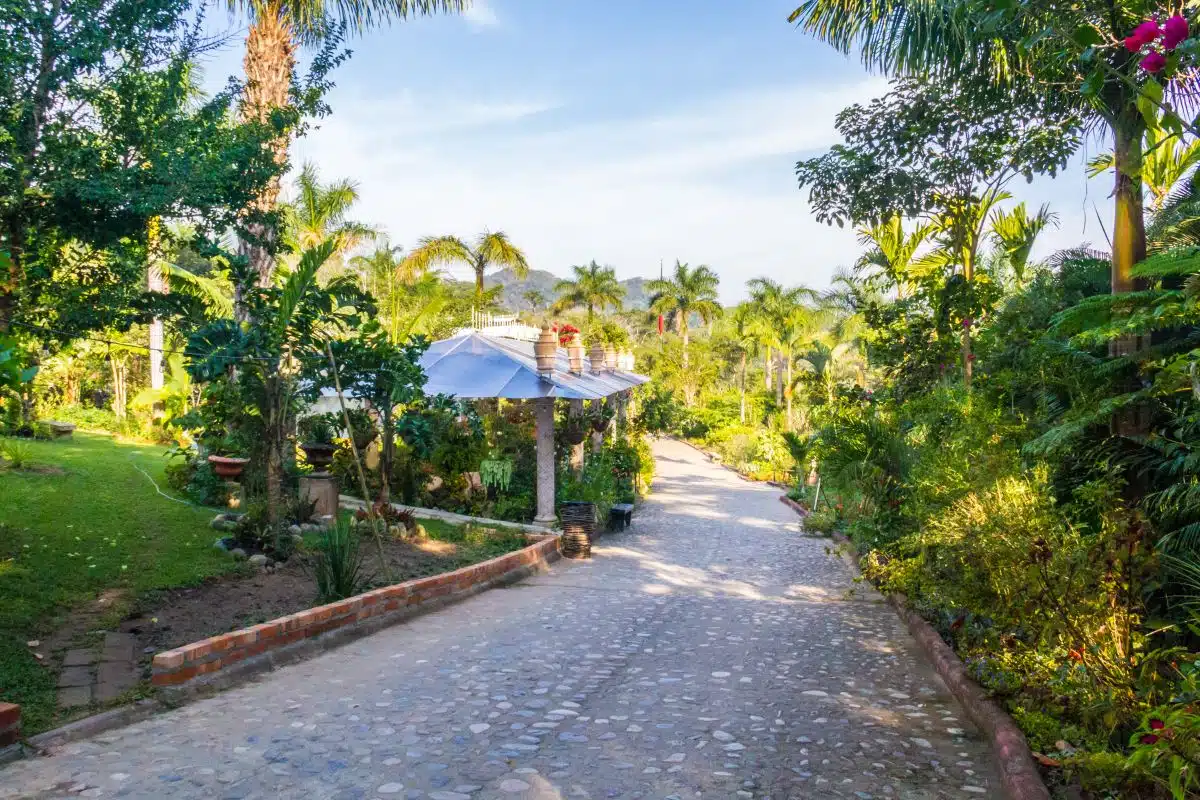 Experience the magic of this Puerto Vallarta attraction, where you can feed hummingbirds from your hand and enjoy the sights of the rainforest, all whilst nursing a hot cup of coffee.
The Botanical Gardens are filled with scent-heavy flowers in April, as well as vanilla plantations, and hiking trails galore, so prepare yourself for a nature lover's paradise. I reckon you need to spend at least a half-day here to appreciate the garden's beauty in full.
If you get peckish, there's a restaurant on-site with a tasty local menu, and the gardens can be easily reached via public transport.
Book Your Botanical Garden Ticket Here
Go Scuba Diving
If you're yet to venture into the deep blue unknown, I can't quite stress how magical scuba diving is – particularly in Mexico. It's just one of the aquatic Puerto Vallarta activities that are a favourite with holidaymakers.
Puerto Vallarta has its own underwater paradise of reefs and marine preserves where you can encounter colourful corals and wildlife. The best time for novice divers is November to May when the weather is mild.
All sorts of fish and manta rays call these waters their home, so it's a wondrous experience for all certification levels. Take your scuba diving trip with a group of PADI certified divers and you'll be able to have a safe and spectacular experience.
Walk Along the Malecon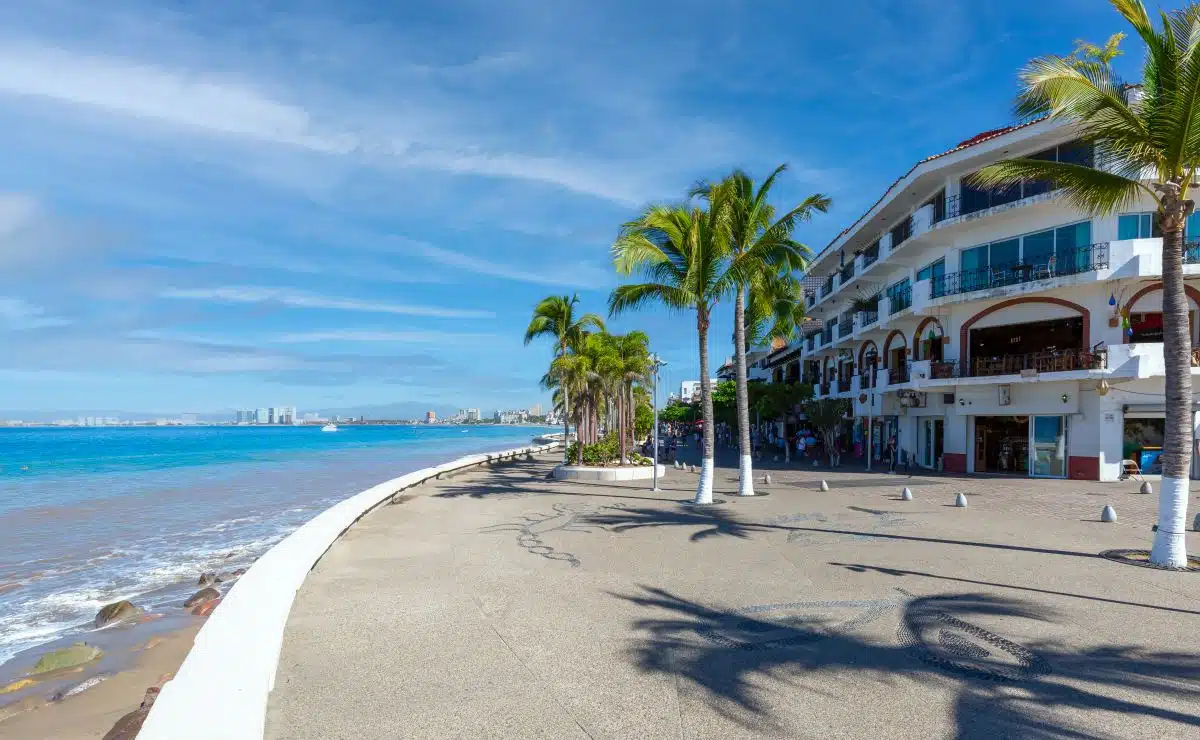 This boardwalk along the coastline really is the heart of Puerto Vallarta, boasting several large nightclubs and famous bars and always buzzing.
During the day, vendors sell street food and souvenirs from their stalls amidst a unique assortment of statues, and celebrations of every sort occur at the central square.
Sunday afternoons seem to be the best time to take a stroll if you're looking for a little bit of peace and quiet (you won't find much). Sunset from the Malecon is a Puerto Vallarta must-see – yes, it's almost always that gorgeous.
Brilliant Things to See & Do in Puerto Vallarta During the Day
Cooking Class and Market Tour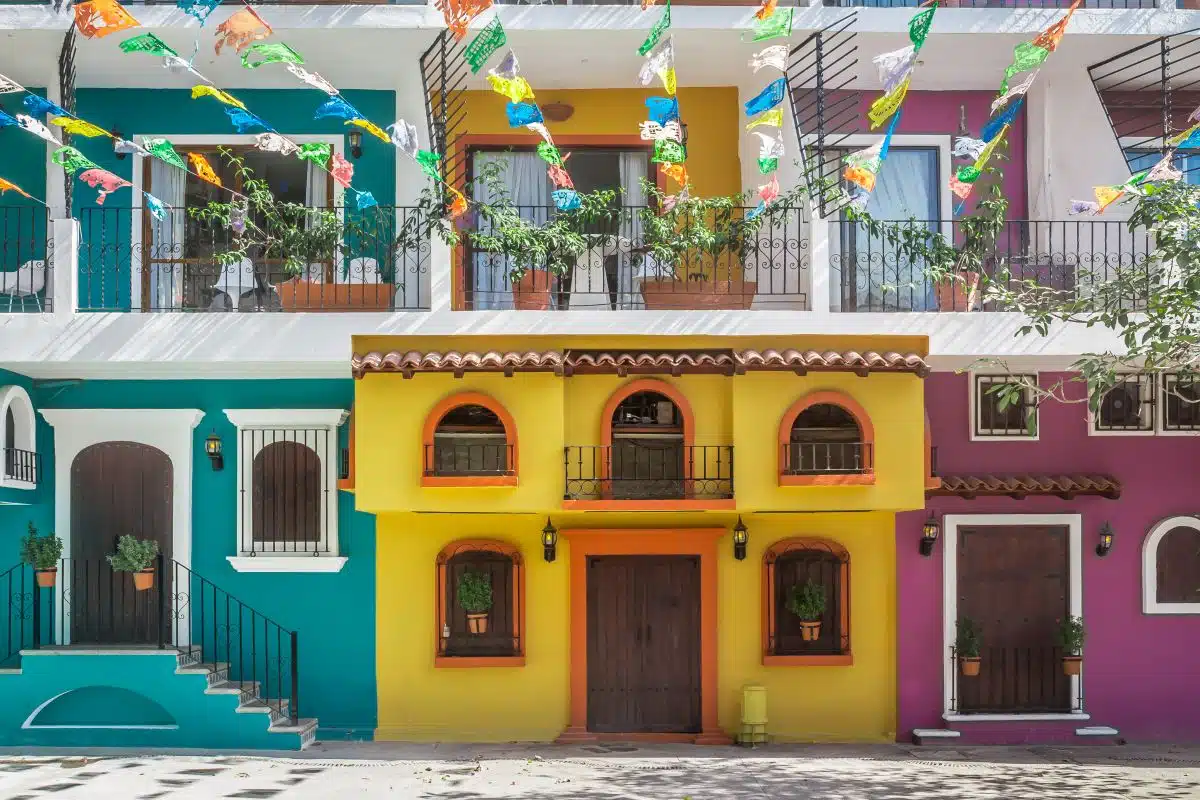 Cooking classes are popular activities in Puerto Vallarta. Whether you choose a chocolate-making course or something more savoury, there's something to suit every palate.
Some of the tours include a guided trip to the local market to buy the produce you'll use and expanding your experience of the city. Enjoy a walk through a Mexican market, learn about unique ingredients, and then learn to cook authentic meals before digging in.
You can also find a Mole Poblano workshop, which includes a market trip, making traditional Mole with an expert, and then taking your jar of Mole home. Mexican mole is a sauce BTW – not a cute little animal.
Go Parasailing
If you're looking for cool things to do in Puerto Vallarta, how about being strapped into a parachute and towed by a speedboat into the air? It's certainly not for me, but for those seeking adventure, it's a must-do.
Once the wind pulls you high into the sky, you'll have 360-degree scenic views, cool salt air on your face, and a memory to treasure.
Book Your Parasailing Tour Here
Take a Free Walking Tour
Punta Vallarta isn't particularly expensive, but it's still worth mentioning that there are plenty of free things to do. And who could say no to a free 2-hour tour of the historic downtown with a certified guide?
It's the perfect way to learn about the local architecture and community, whilst discovering the secrets of the city. The tour starts from the Municipal Tourism Office and takes place at 9:00 am and 12:00 pm every Tuesday and Wednesday, and 9:00 am on Saturday.
Visit Sayulita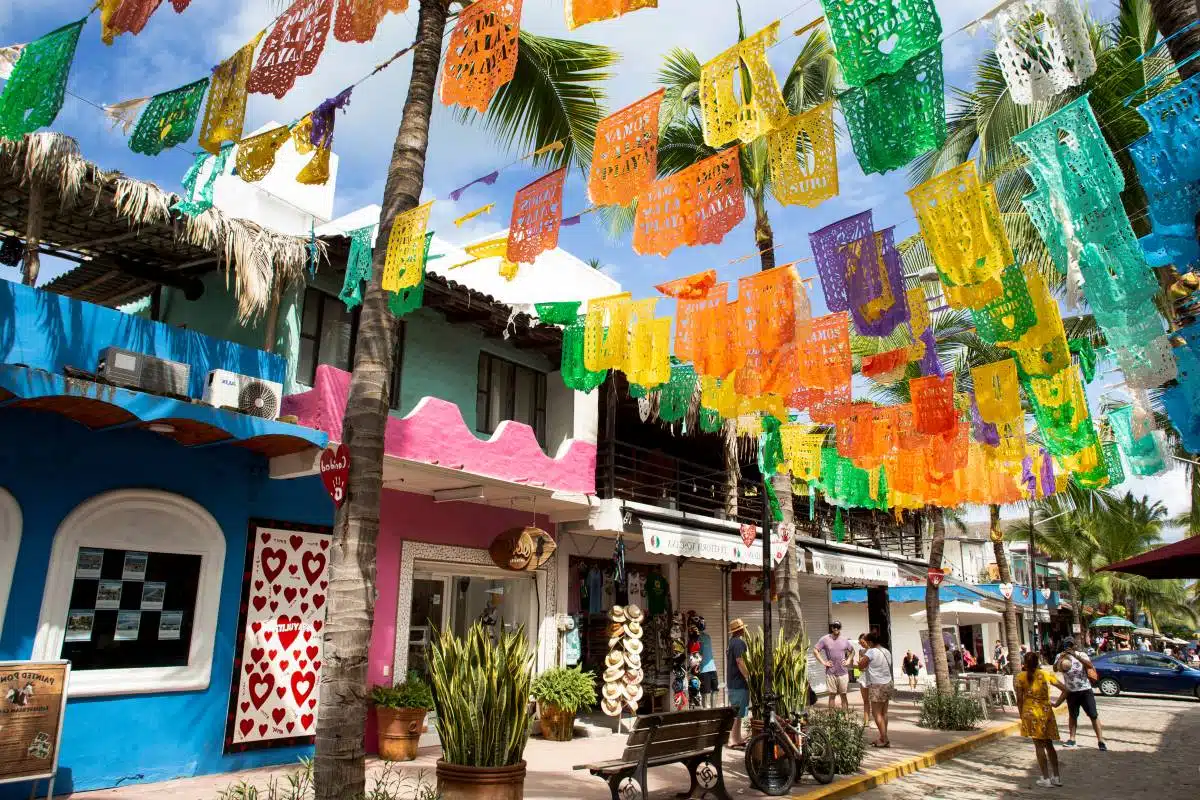 Sayulita is a vibrant little beachside town famous for colourful buildings, cobblestone streets, and beaches that white, sandy beaches. It's an hour's drive from Puerto Vallarta, but you can book a guided tour to save you from driving yourself.
Whether you fancy sitting down at one of the trendy cafés or grabbing a board to hit the surf, this town provides the ultimate day trip from Puerto Vallarta.
Swim with Wild Dolphins
I'll level with you – I'm always a little bit conflicted when it comes to activities such as this.
Swimming with dolphins is a popular bucket-list experience that many people crave, so if you are wanting to take part in this activity, it's very important to make sure you're doing it with experienced guides who work towards protecting the dolphins as well. If it's a dolphin in an enclosed environment, I implore you to skip it and choose something more ethical instead.
Being in the natural environment of these wild animals and seeing them up close in all their splendour adds a little extra thrill to the experience.
Book Your Dolphin Experience Here
Go Shopping at the Markets
Markets are the best place to find bargains and authentic souvenirs, and Puerto Vallarta is no different. One of the best markets is the Cuale Island Flea Market between the centre of town and the Romantic Zone, featuring jewellery, artisan goods, and local street food.

The Malecon market is another biggie, it operates on Thursdays from 6:00 pm to 10:00 pm and sells an abundance of items, my favourites being the handmade soaps and breads.
Zip Lining
If there's one thing you have to try in Puerto Vallarta, it's soaring through the skies above the jungle canopies on a zip line. The rush of adrenaline and the wind in your face are exhilarating, not to mention the stunning views of the scenery that you can't quite get anywhere else.
I admit, I was nervous before I did this – but it turned out to be one of the best activities from this particular trip.
Book Your Zip Line Experience Here
Hike up to Mirador de la Cruz

If glorious views are on your list of things to see in Puerto Vallarta, Mexico, then you shouldn't miss this little hike. Mirador de la Cruz is the best viewpoint in the city, whether at sunset or sunrise.
Be warned: It's only a short 15-minute hike, but there are over 200 stairs to climb, so make time for little rest stops along the way.
Visit Parroquia de Nuestra Señora de Guadalupe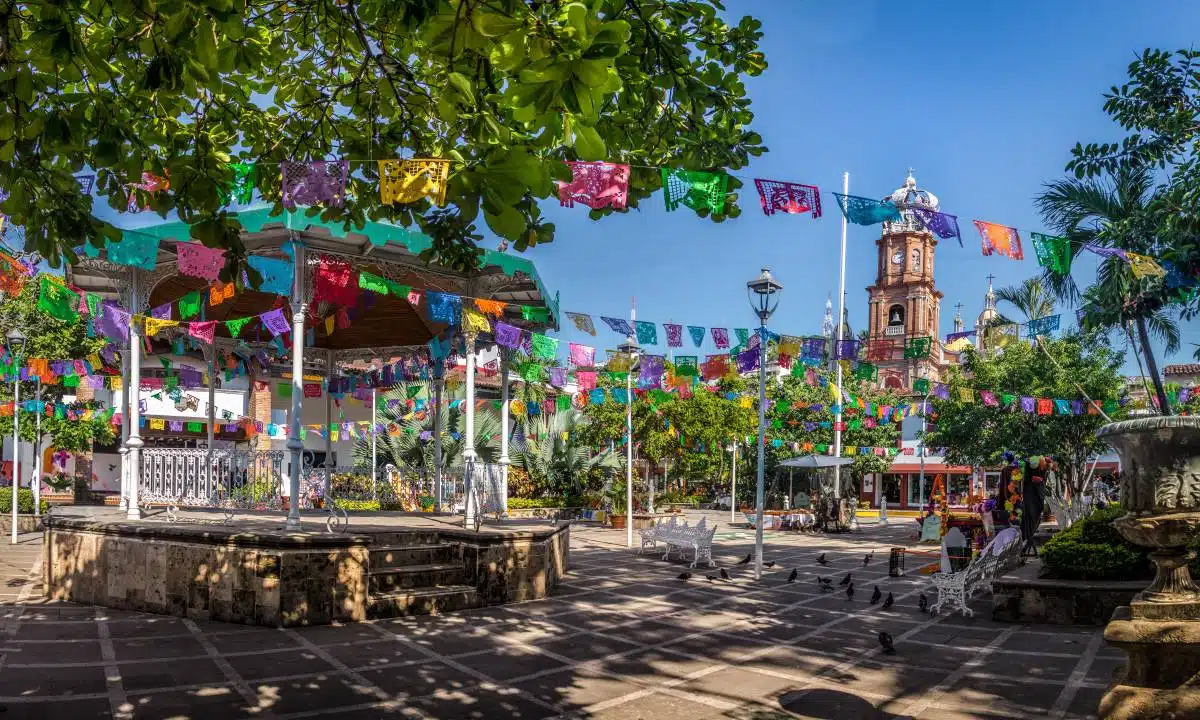 The Our Lady of Guadalupe Parish is the most prominent cathedral in Puerto Vallarta. It towers over the houses spread out beneath it in the historic downtown area, and its architecture is simply beautiful.
Originally built in 1903, it's an important part of the city's heritage. The interior is golden and gorgeous, but the exterior belltower is the showstopper piece.
Take an ATV Tour through the Jungle
Traversing the Sierra Madre Occidental on a powerful all-terrain vehicle (ATV) is a thrill ride you won't forget in a hurry. Travel the slopes and winding paths of the mountains while you explore the breathtaking Sierra de Vallejo.
Immerse yourself in the beautiful jungle flora, and try to spot wildlife as you zip past in your vehicle.
While it's not recommended for pregnant women or people who've recently had surgery, this is one sure fire way to get your blood pumping and your heart racing.
Try Whale Watching
In Puerto Vallarta, Humpback Whale watching season commences in December and runs until April, with January and February having the highest viewing probability. Catching a glimpse of one of these beauties is a magical experience not to be missed.
There are plenty of tours to choose from to see this wonder of nature, and on average they take about four hours.
Go Skydiving
This is a PSA: If you've always wanted to skydive but haven't taken the plunge yet, start at Puerto Vallarta. It's surprisingly popular with people of all ages, and it's available as a tandem jump so you won't need any training.
I found that the best place to book through was Skydive Puerto Vallarta – they have plenty of different packages and sky dive trip options,and they'll also make sure you're safe and prepared for your exciting experience.
Plummeting through the sky to the background of a Puerto Vallarta sunset is a bucket list experience adrenaline junkies won't want to pass up.
Cool Things to See & Do in Puerto Vallarta at Night
Have Dinner at La Iguana
If, like me, you consider yourself a bit of a foodie, then a visit to La Iguana is a must. The restaurant's architecture lends an air of uniqueness to the experience, and the view of the sun setting over the bay is spectacular.
The meals are a tad more expensive, but the delicious contemporary Mexican food and attention to detail outshine other local restaurants – not to mention the authentic Mariachi bands that play during winter months. The comprehensive wine list will help you find the perfect accompaniment to your meal.
How to Visit: The restaurant is located at the Casa Kimberly Hotel, and bookings are essential.
Take the Free Art Walk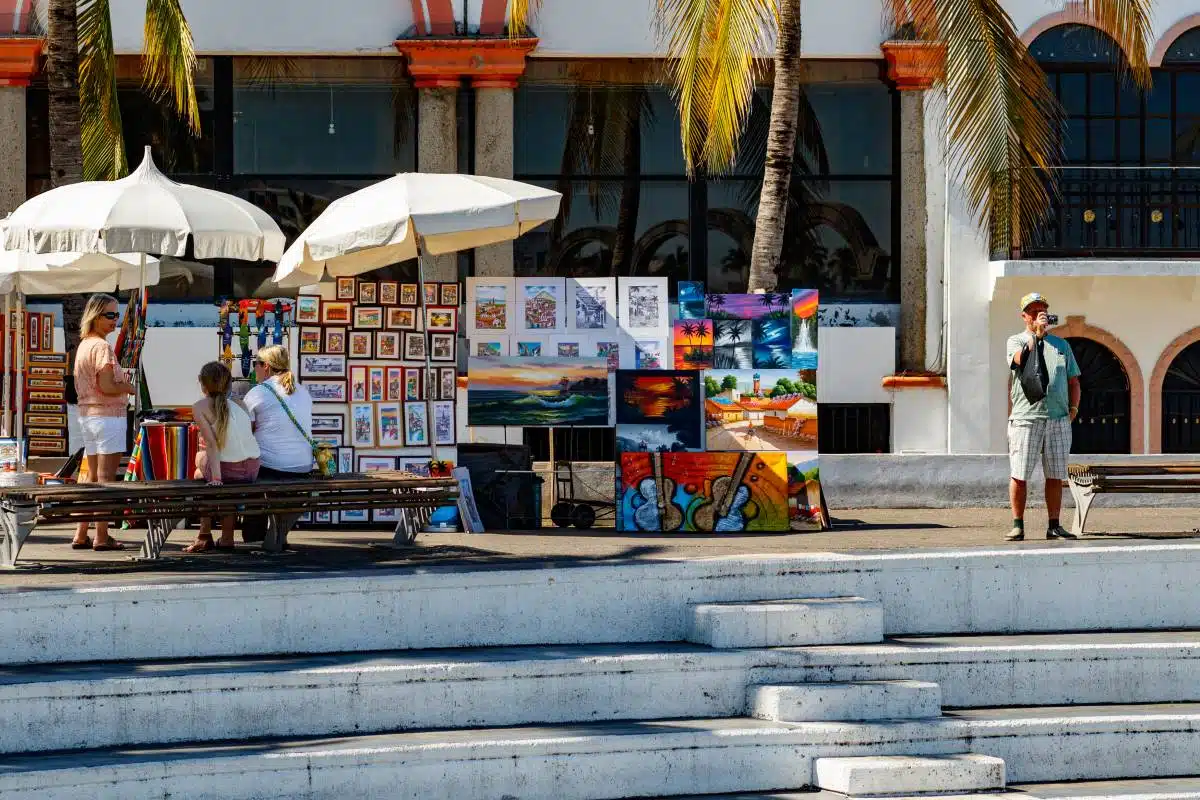 In a country so rich with custom, who wouldn't want to indulge in a bit of culture? Especially when it's free and complimentary wine and tequila are on offer.
Each Wednesday, the art shops in Puerto Vallarta open their doors and welcome passersby to explore their artistic side. Go into raptures over the paintings and sculptures or glory in the gorgeous folk art and pottery.
There are no guides for this activity, so you can stroll from gallery to gallery at your leisure.
The Free Art Walk starts at 6:00 pm and lasts until 10:00 pm on Wednesday evenings from the end of October until the end of May.
Watch a Drag Show
If you're wondering what to do in Puerto Vallarta at night, I recommend venturing to the Romantic Zone. The Romantic Zone in Old Town is very LGBTQ+ friendly, so it's no surprise you'll find some incredible drag shows here amongst the fantastic bars and restaurants.
Make a booking at Blue Chairs Resort or The Palm Cabaret Bar to experience one of these shows. It's fun and entertaining, and the performances are top-tier.
Hit the Nightclubs
One of the best things to do at night in Puerto Vallarta is hitting the clubs and dancing the night away until dawn breaks. As I've already mentioned, some of the best and biggest clubs are on the Malecon – so it's a great place to start.
Music pumps from clubs like La Vaquita and Zoo Bar nonstop – and with stages for dancing, as well as free shots for the ladies (sorry fellas), you can see why they're so popular.
Be warned that the drinks can be expensive at these large clubs – sometimes three times as much as at smaller clubs in Puerto Vallarta. I love Strana and Mandala.
Go on a Pirate Cruise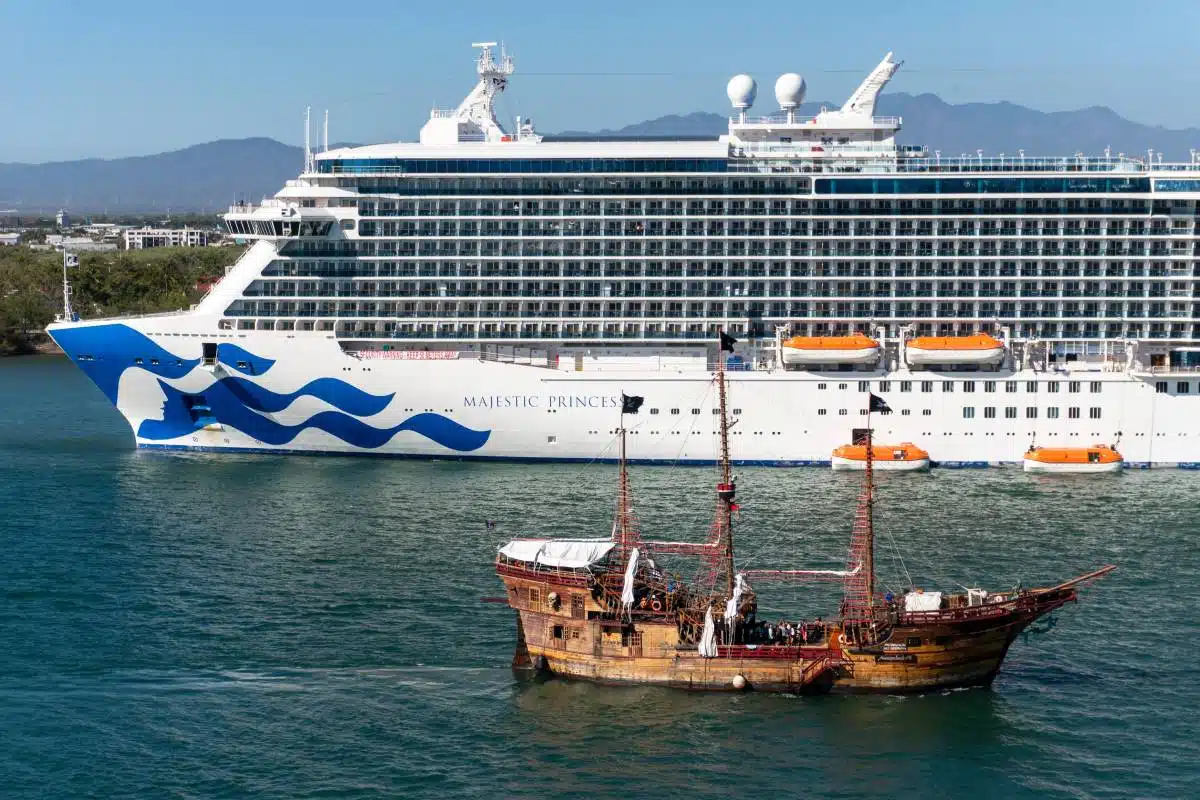 No matter how old you are, taking a cruise on a pirate ship is undoubtedly one of the cool things to do in Puerto Vallarta. Not only is it an unique experience, but you'll be treated to drinks, dinner, and a show with canons, fireworks, and people leaping overboard.
The cruise begins around sunset, so you'll have a spectacular solar display as the background to the fun-frolicking show onboard. It's a little pricey, but it's a unique experience you won't forget in a rush, and there's an open bar, which helps.
Things to do in Puerto Vallarta: Practical Tips for Your Trip
Best Time to Visit Puerto Vallarta
There are multiple factors to consider when deciding on the best time to visit Mexico. In general, though, November is a good month as the weather is still pleasant and the December crowds haven't arrived yet.
Check Rates and Availability for Hotel Luxury Patio Azul on Booking.com
Hilton Vallarta Riviera All-Inclusive Resort (Luxury)
If you're looking for an indulgent experience, this is it. This stunning hotel comes with a private beach as well as a gorgeous in-house spa for those days you feel like being pampered. The breakfast spread is incredible, as are the comfy beds and friendly staff.
Check Rates and Availability for Hilton Vallarta Riviera on Booking.com
Recommended Tours in Puerto Vallarta
Things to do in Puerto Vallarta: Map 
Puerto Vallarta, Mexico: Read More Mexico Travel Guides