Welcome to the vibrant, sun-kissed world of Mexico, where every adventure is a fiesta. Ready to discover the best things to do in Mexico? Take a jaunt around the country's iconic landmarks, hidden gems and cultural experiences with this guide.
Is it just me, or does the mere mention of Mexico make you want to pack your suitcase, scour for last-minute flights, and explore a new corner of this fascinating country?
From underrated cities to exciting archaeological sites, Mexico is full of surprises – and that's before we even start discussing the food and beaches.
So where do you go when planning a Mexico itinerary? Do you start in the cosmopolitan capital of Mexico City or a more laid-back beach destination like Sayulita or Puerto Vallarta?

Is taking a day trip to the Mayan ruins all it's cracked up to be, or should you skip it and explore the mountains or villages instead? You've got questions… I've got you covered with the answers.

Get ready to discover the best things to see and do in Mexico – here's what not to miss on your next trip.
Are you looking for an affordable stay at a chic boutique hotel in Mexico? Head to Mérida and spend a few nights at one of my favourite hotels, Sercotel Casona 61.
Top 5 Things to do in Mexico
Explore the Art Museums in Mexico City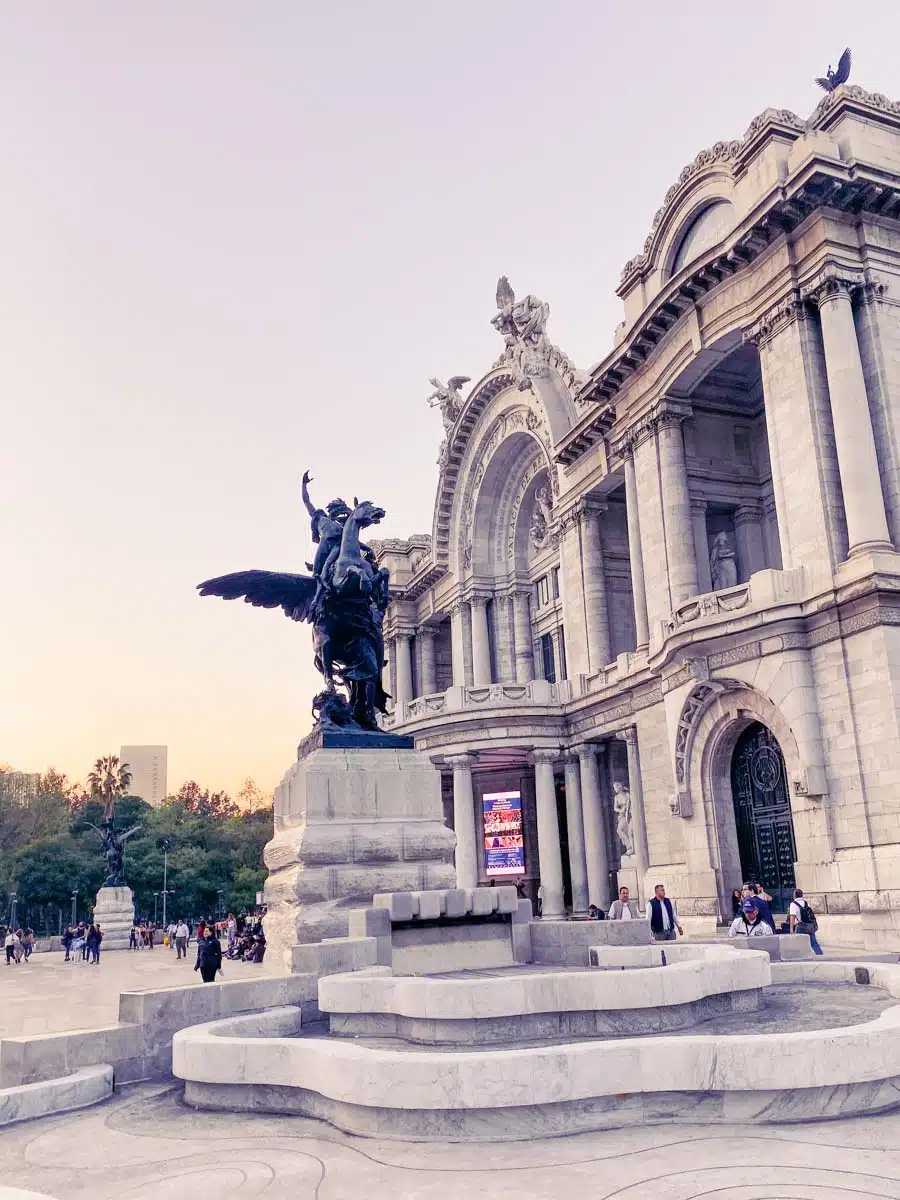 Picking the top things to do in Mexico is both easy and nearly impossible. On the one hand, there's so much to do in the 5th largest country in the Americas. On the other, that makes it tough to narrow in on what to prioritise.

Mexico City is no exception, and the first time I visited, my head was spinning trying to decide which art museums to visit.

The Museo Frida Kahlo (or Casa Azul) was one of my favourite museums in the city, dedicated to the life and works of the genius that was Frida Kahlo. While Palacio de Bellas Artes is where you'll want to head to check out some of the most impressive fine art in the city.
As well as this, the Museo Sumaya's collection of pre-Hispanic and colonial era coins is weirdly fascinating, and Museo Anahuacalli's gorgeous mosaics are well worth stopping by for.

I guarantee I left out about a dozen others you'll want to check out to see the beautiful paintings on canvas and murals throughout the city. But these are a few of the most impressive.
Hunt Out Ancient Mayan Ruins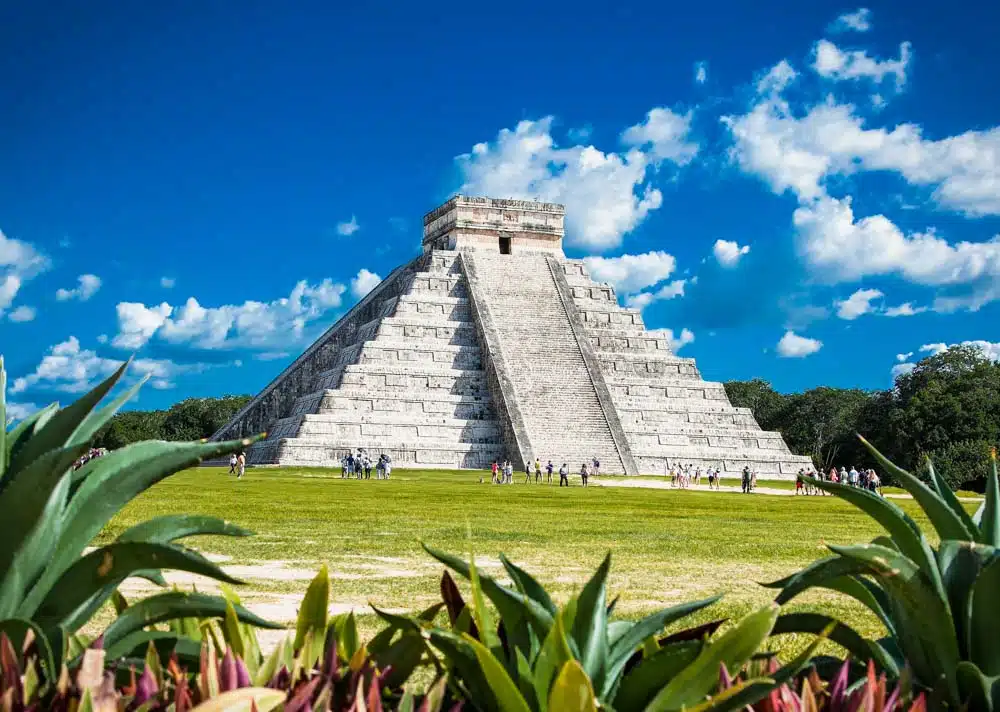 You could easily plan a trip to Mexico and spend the entire time exploring ancient Mayan ruins – and I wouldn't blame you if you did. There are so many amazing archeological sites, and we keep learning more about them every year.

My favourites? If this is your first time visiting Mexico, scheduling a guided tour of Chichén Itzá is a must. Located in the Yucatan Peninsula (as are many of the most impressive ruins) this site is home to structures such as the iconic Kukulkan Pyramid, the Temple of the Warriors and the Great Ball Court.

Visiting Coba is another popular choice when staying in Tulum, Playa del Carmen or Cancun. You can hike up the pyramid here if you're up for the challenge – but, be warned, it is a very steep climb.
But some lesser-known sites like Dzibilchaltún, Calakmul (prepare for an epic drive) and Edzná are all incredible day trips with a fraction of the crowds. Whichever Mayan Ruins you visit, you're in for an adventure.
Top Tip: Book a guided tour of Chichén Itzá – it's the easiest way to travel to the ruins.
Soak up Culture in Mérida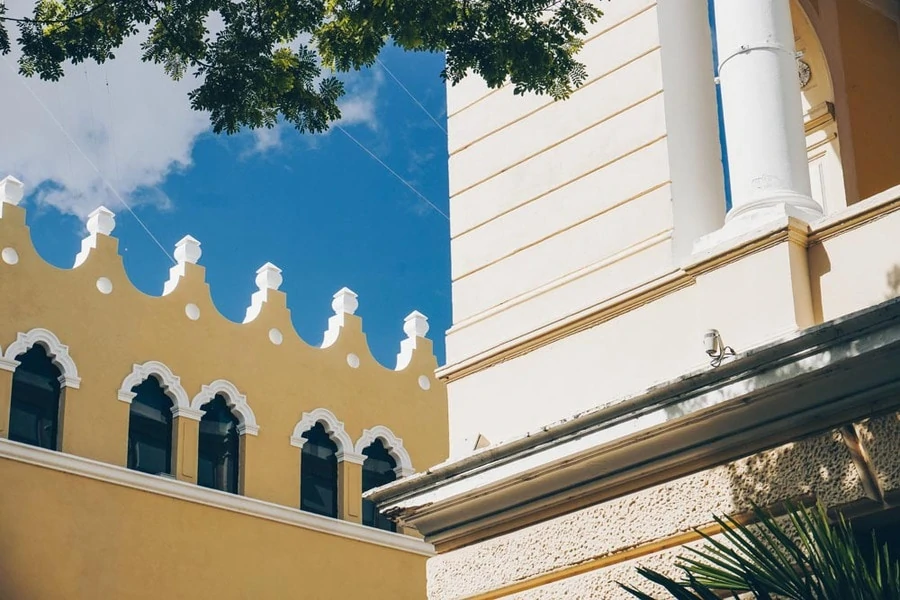 Brightly coloured buildings, delicious cuisine, underrated museums and first-rate art galleries are a few things that stand out when you visit Mérida. And this isn't a small town you can wrap your head around with a single-day trip.

In fact, I was so in love with the capital of the Yucatán that I actually scheduled a second stay during my five weeks in Mexico.

So what are some can't-miss locations in Mérida? The Catedral de Mérida is one of my top things to see in Mexico and a prime example of Spanish Renaissance design. Paseo de Montejo is another great example of the unique architecture here, and a great place to eat and drink.

Speaking of food, several restaurants stand out, with Wayan'e and Chilakillas serving excellent (and affordable) renditions of classic tacos and chilaquiles, respectively.

Reserve your hotel ASAP – the secret is out about Mérida.
Explore an Oaxaca Street Market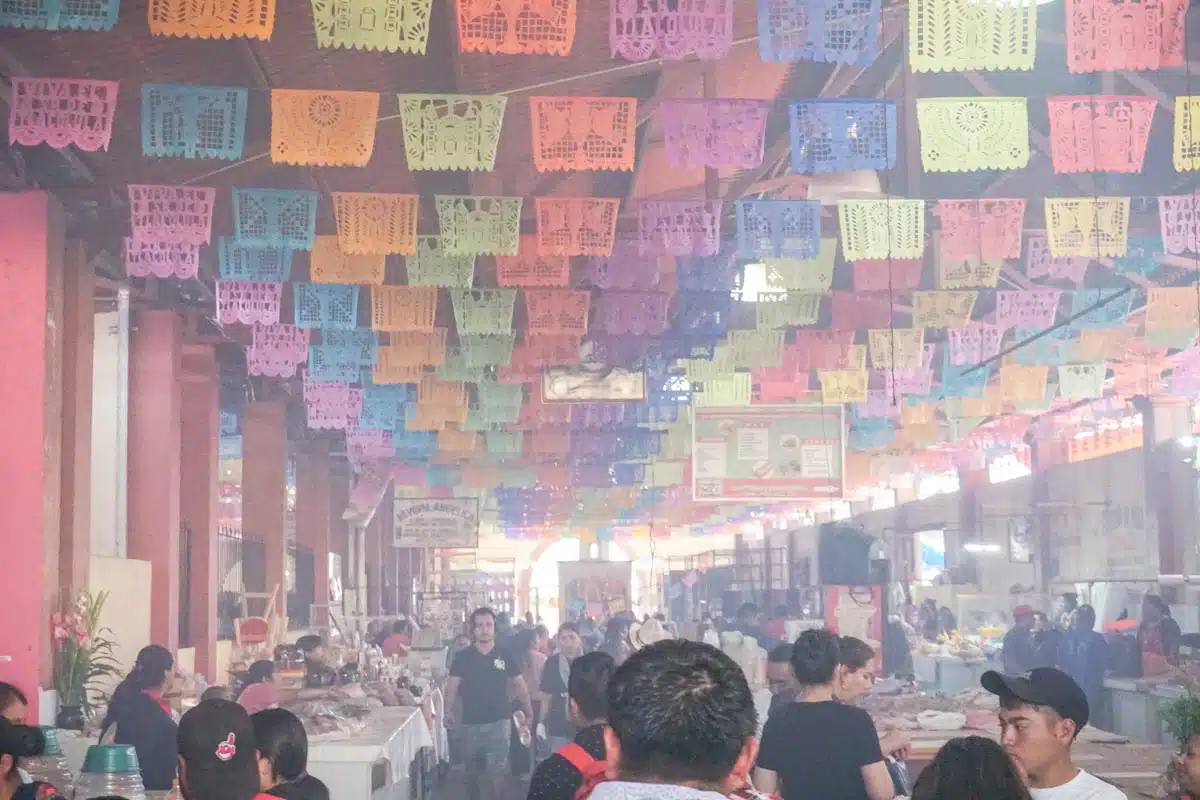 Oaxaca is renowned for its diverse representation of indigenous cultures – which also means there are some fantastic markets with food, handmade crafts and clothing you likely won't find anywhere else.
If you want to peruse the aisles to find local treasures (and nosh on some delectable street food along the way), visit an Oaxacan street market.

Now I know what you're thinking. Do you know how many amazing street markets Oaxaca has? So let's just talk about a few of my favourites.

Mercado 20 de Noviembre is well-known, so you'll likely hear about it from others, or the tantalising aromas of the delicious meats at Pasillo de Humo (aisle of smoke) will lead you there.
While we're on the topic of food, Mercado de Abastos is another bustling food market with plenty of hand-crafted souvenirs – and one of the largest street markets in the city.

Want to discover a hidden gem? Don't sleep on Mercado de Artesanias de Oaxaca – a smaller market with artisanal women's clothing that may require bringing a second tote. Happy shopping.
Party Hard in Tulum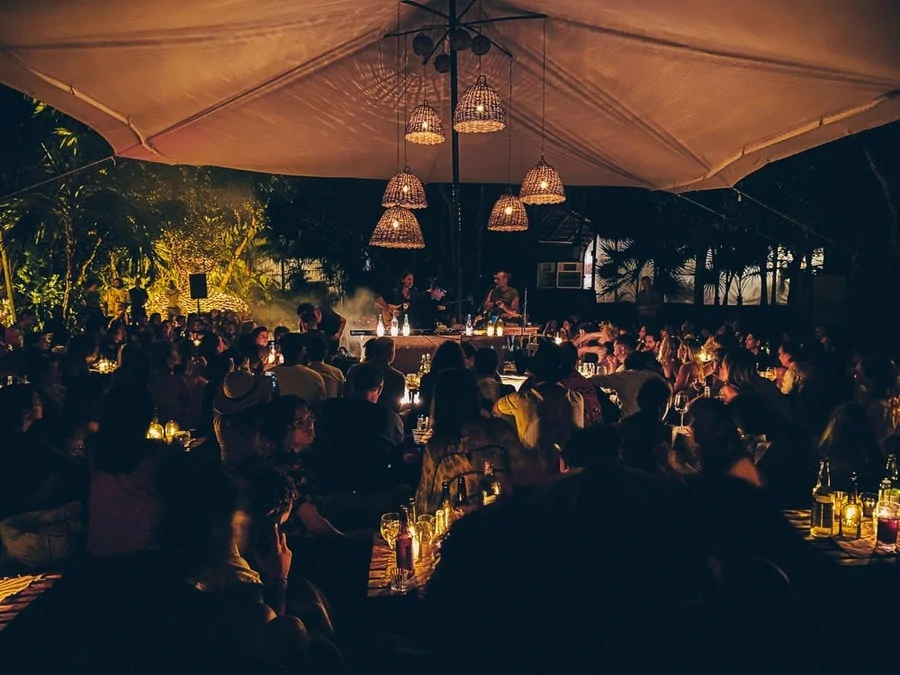 If you're visiting Mexico because you want to dance the night away under the stars, the beach clubs and nightlife in Tulum are famous for a reason.

How do you find all the action? Stroll around The Beach Zone and the party will find you.

But seriously, there are so many places to choose from. A couple of big names are the world-famous Casa Jaguar to the unassuming Batey Mojito & Guarapo Bar, where a laid-back bar and restaurant becomes a great live music venue at night. You won't want to miss the party scene in Tulum.
I'll let you in on a little secret – ​​the Ciel Rose Sunset Bar is my favourite place to booze in the entirety of Tulum. And the views from the roof are just an added bonus.
Brilliant Things to See & Do in Mexico
Hike to the Muyil Ruins in the Jungle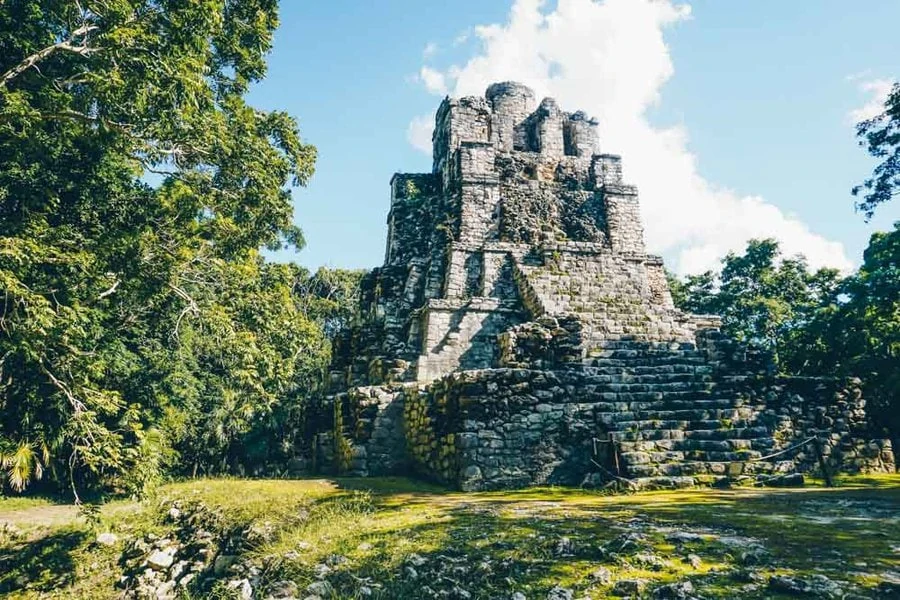 I remember my last trip to the Muyil Ruins when I felt like Lara Croft navigating the jungle trails. But the walk is well worth the effort, as the Muyil Ruins are an incredible sight to see.

Tucked away inside the Sian Ka'an nature reserve, just south of Tulum, the Muyil Ruins aren't nearly as crowded as more famous landmarks like Chichén Itzá or even Coba. Don't let that put you off though, they're equally mesmerising.
This ancient Mayan trading post dates back to the Pre-Classic period and is believed to have been a hub for trade and commerce between the Mayan people and other Mesoamerican cultures.
Top Tip: Hire a guide and take a boat tour through the lagoon and mangrove forests near the Muyil Ruins. You might just spot crocodiles, manatees and exotic birds.
Eat Street Tacos in Mexico City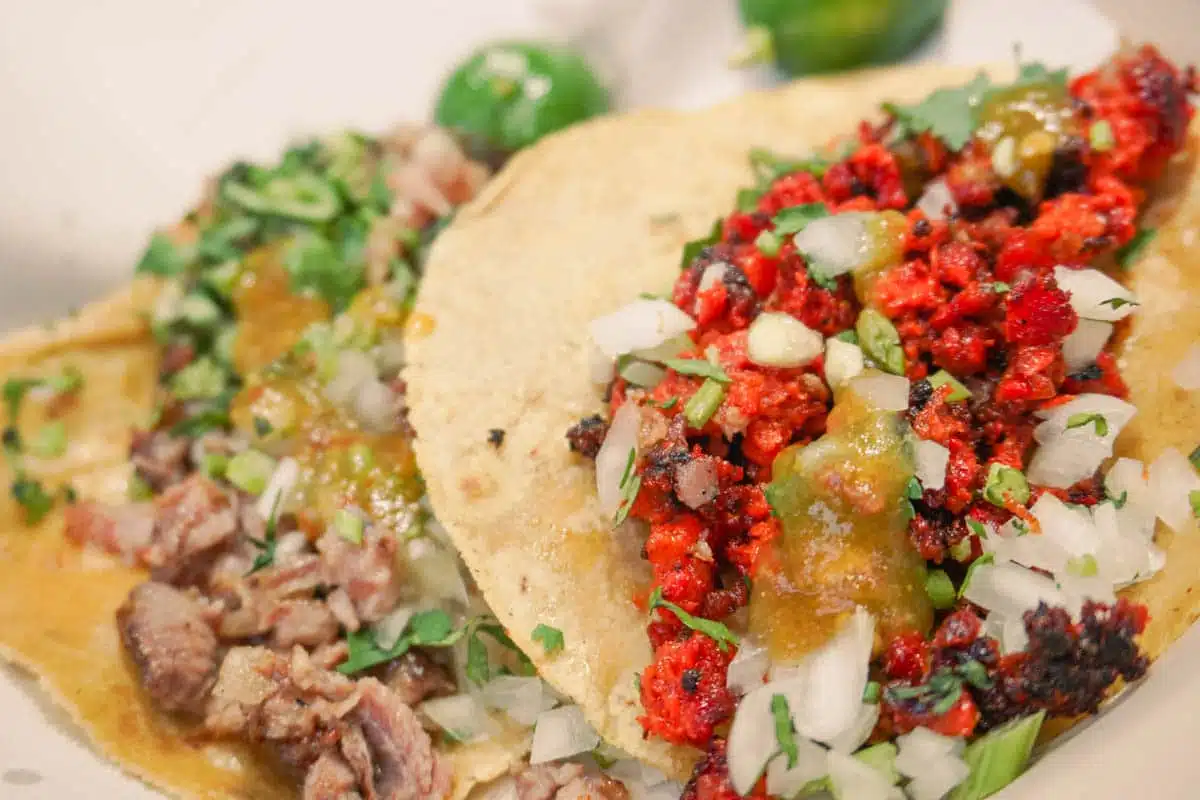 Mexico City, or CDMX for short, has enough excellent restaurant choices that it would take years to discover every great spot (I'm tempted to take the challenge, to be honest).

But if you're looking for fun things to do in Mexico that involve chowing down until you can't possibly eat anymore – while hardly putting a dent in your wallet – walk around the historical centre, Roma Norte or Juarez scoping out the taco stands and restaurants.

Order al pastor, try every salsa on hand, wash hands and repeat.
Snorkel or Dive in a Cenote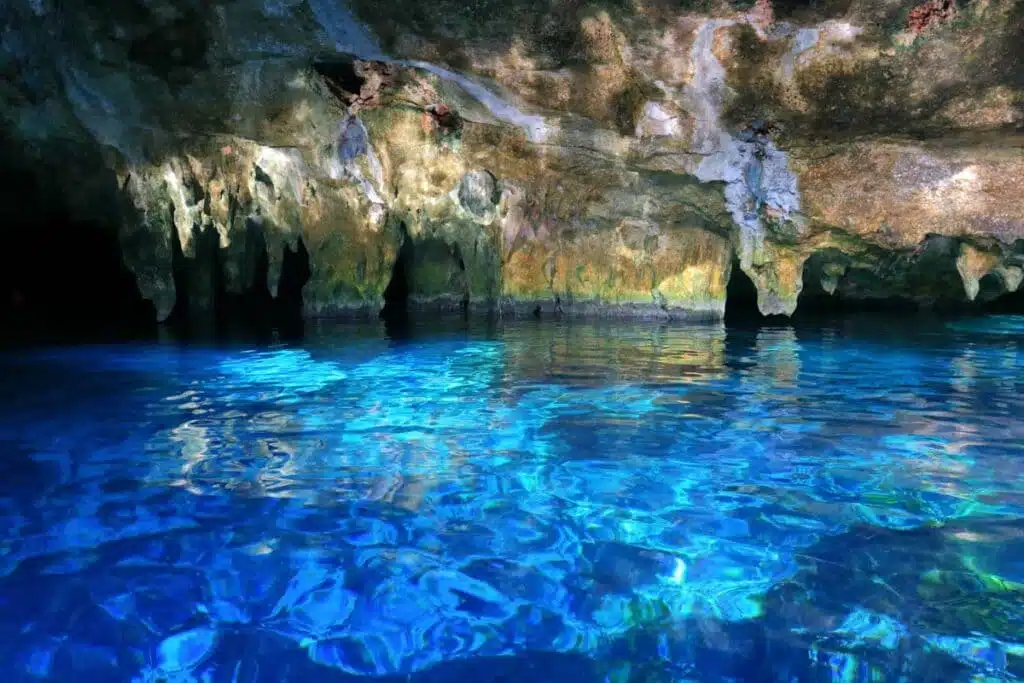 Exploring cenotes in Mexico was a bucket list item for me, so I packed several in on my last trip to the Yucatan Peninsula.

But which cenote is the best? I put several pretty high on my list, but if you only have time to visit one location, check out Cenote Cristalino.

Why? The crystal blue waters, multiple diving platforms, and pristine jungle backdrop make this a hotspot for influencers and casual travellers alike. But the shared entrance with Escondido Cenote (a scuba diving favourite) makes it a perfect choice for visitors who want two attractions side by side.

If you have time for more (trust me, you should make time), Gran Cenote, Dos Ojos and Cenote Carwash are all crowd-pleasers worth checking out.
Taste Tequila in Guadalajara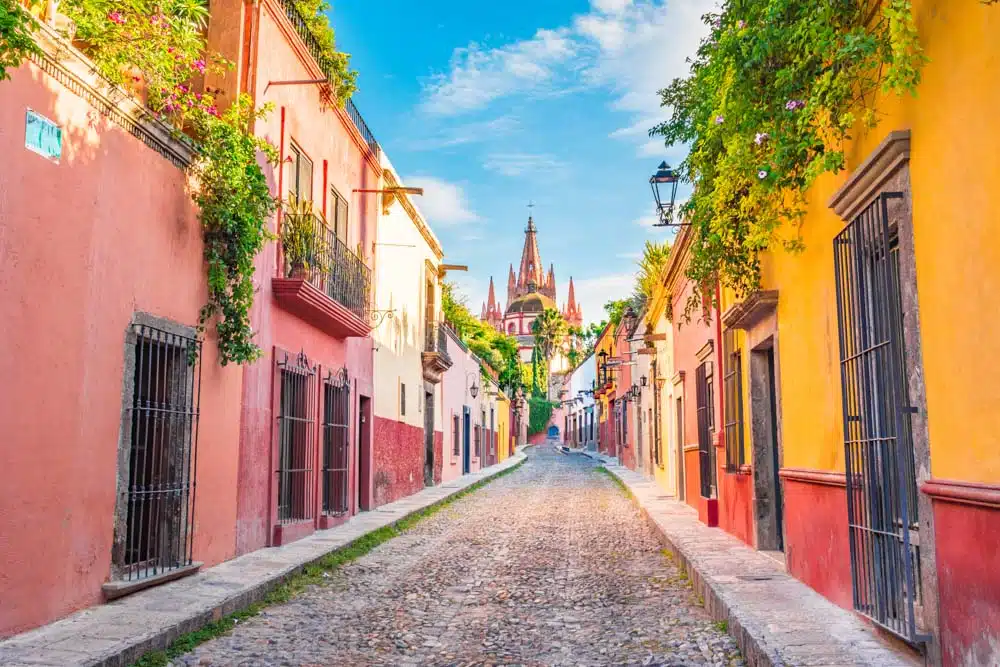 Tequila's birthplace is in Jalisco, and Guadalajara is the gorgeous capital of this Mexican state renowned for neoclassical architecture, mariachi music and (most importantly) tequila.

Guadalajara is a magical city to explore, and when you're done sightseeing (or in between stops), a cocktail or tequila neat is the perfect order. Cantina La Fuente is the most famous and a good choice, but you can also venture out and explore the vibrant cocktail scene.
Top Tip: Guadalajara does experience some crime, so I suggest staying in popular areas and heading back to your hotel earlier in the evening.
Sample Mezcal in Oaxaca
Let me put you on to another boozy thing to do in Mexico – this time, let's chat about Mezcal. It's very similar to tequila, though Mezcal can be made from any type of agave, while tequila is strictly crafted from the Blue Weber plant.
If you're a fan, you'll want to head to downtown Oaxaca City to check out the original location of the exemplary In Situ Mezcaleria. You'll find wonderful examples of small-batch, expertly made mezcal poured by knowledgeable bartenders in a casual space.
Explore Casa Azul – the Frida Kahlo Museum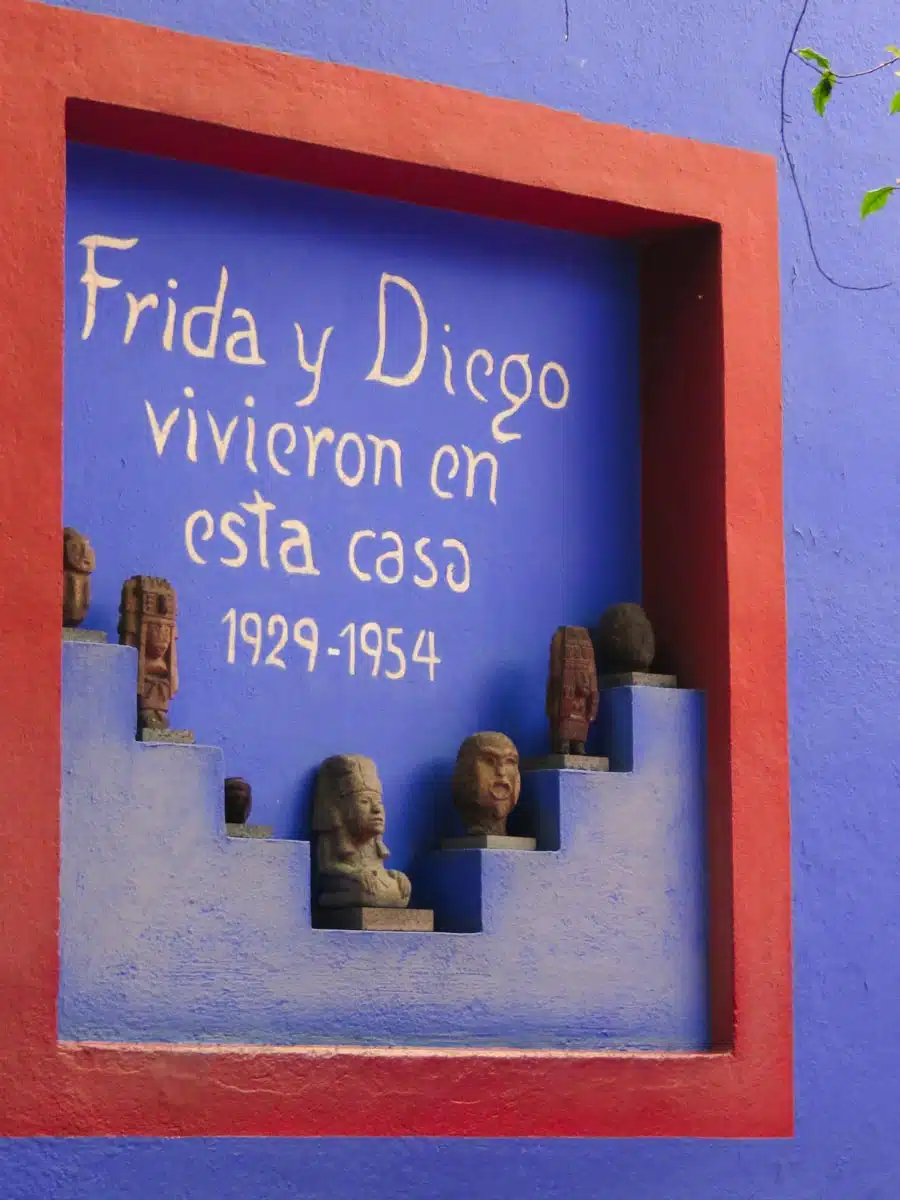 I've already given you a sneak peek of the wonderful Casa Azul, but let me tell you a little bit more about it… Mexico City has too many art museums to fit in on one trip, though the Frida Kahlo Museum is one you'll want to prioritise.
When you enter Casa Azul (book well in advance), you're likely already aware you're entering the artist's home where she was raised and later lived with another local icon, Diego Rivera.

The museum is a bit of a trek from the city, but you'll have a chance to see the private residence, artwork and gardens of one (actually two) of the most famous artists in the world. Not to mention that the building itself is a riot of colour – only fitting for the legend that previously inhabited the space.
Top Tip: This museum gets incredibly busy, so schedule a guided tour and skip the line.
Explore the National Museum of Anthropology
Spending a full day at the National Museum of Anthropology allows you to see a vast collection of artefacts from the Mayans, Aztecs and other indigenous cultures across nearly two dozen rooms.

So let's focus on what you can't afford to miss. The intricate design of the Aztec Sun Stone, the Olmec stone heads thought to be 3,000 years old and the beautiful replicas of Mayan temples and ruins in the outdoor space at the Mayan exhibit are among the many notable exhibitions.

But another highlight for me was simply sitting in the courtyard and marvelling at the far less ancient but impressive El Paraguas (an oversized fountain near the entrance).
Top Tip: Book your entrance tickets in advance to skip the queues and make the most out of your visit.
Swing by the Impressive Azulik Uh May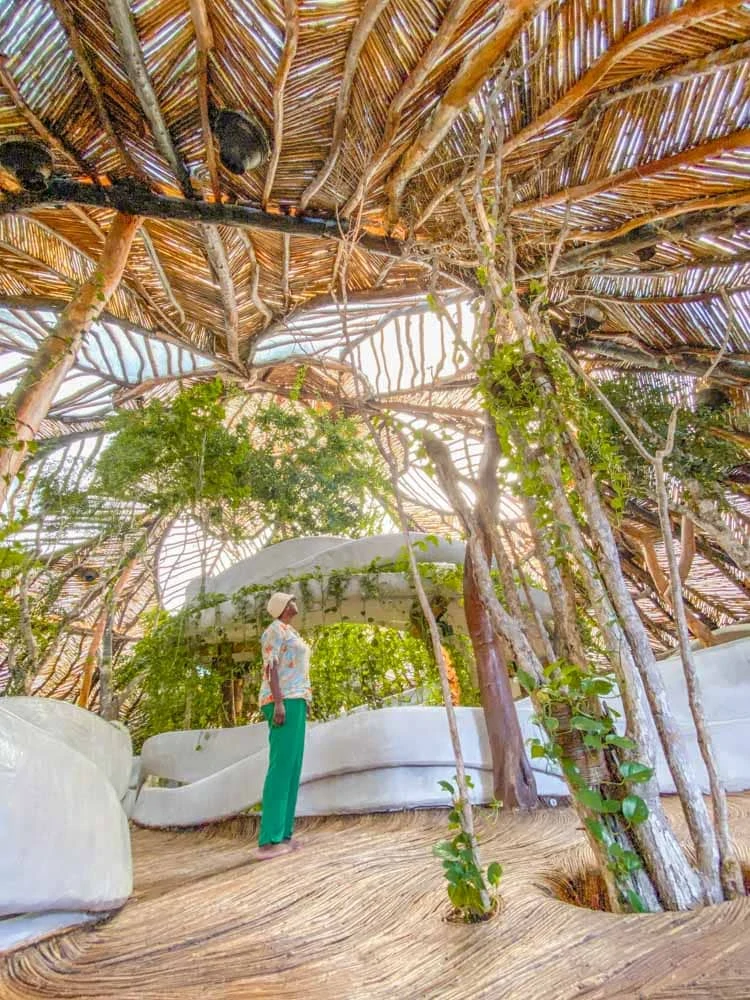 Not to sound like a broken record, but Mexican art never ceases to amaze me. And one modern example is an art installation set deep in the jungle – about 45 minutes from Tulum.
Azulik Uh May is the brainchild of Roth (Eduardo Neira), who also founded and designed the luxe resort of the same name down the road. Each of the designs is environmentally conscious and designed to have zero carbon footprint.
This is one of my favourite places in Tulum. Connect with nature through an unusual but compelling display of towering thatched roofs, gnarly vines and whimsical concrete walls that pair nature with human design.

Bring your wallet. The cost of admission is currently around £16 ($20).
Attend a Cooking Class in Oaxaca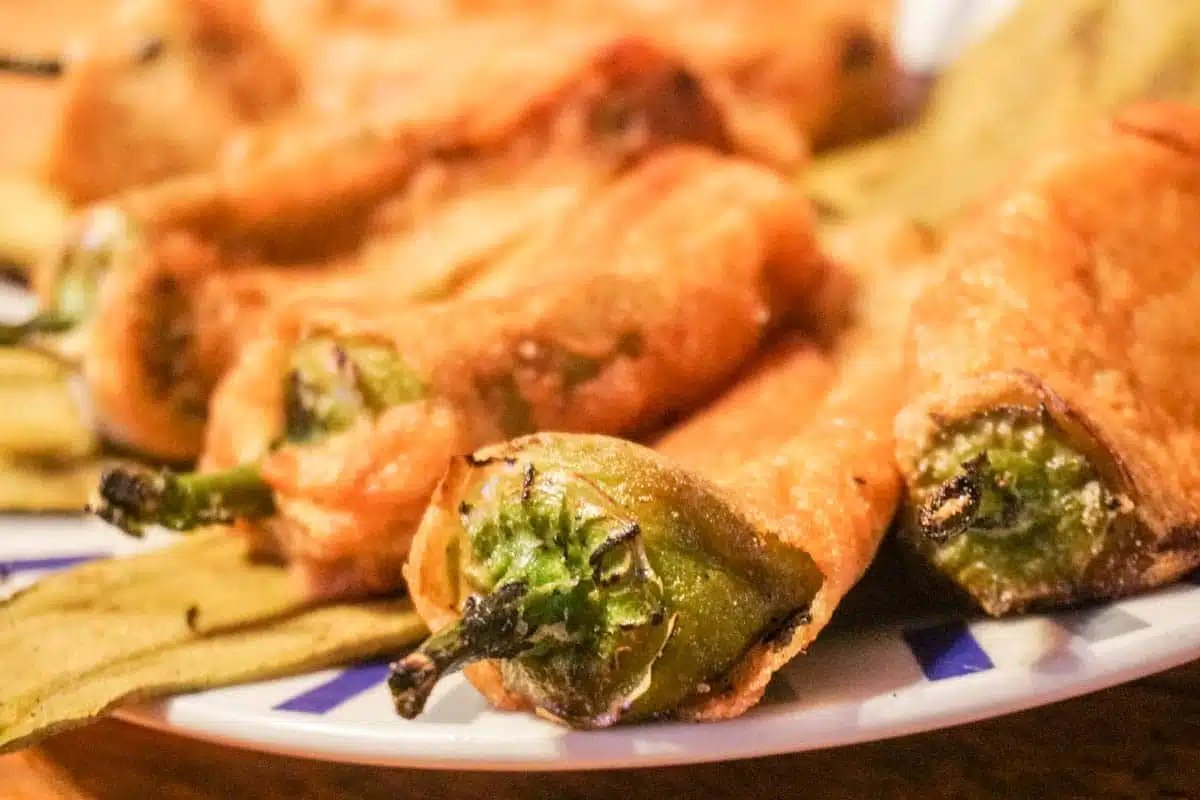 One of my favourite memories in Mexico is when I took a class with a trained chef and made carne asada tacos. Trust me – I can't recommend scheduling a traditional cooking class enough when you're in Oaxaca.
First, you'll shop at the amazing Oaxacan markets with an expert guide. This brings shopping for local produce and ingredients to a whole new level.

Once you return to the kitchen, you'll learn how to make some delicious cuisine that makes Oaxaca famous worldwide. Bring your appetite and take notes.
Explore the Lagoons and Beaches at Sian Ka'an Nature Reserve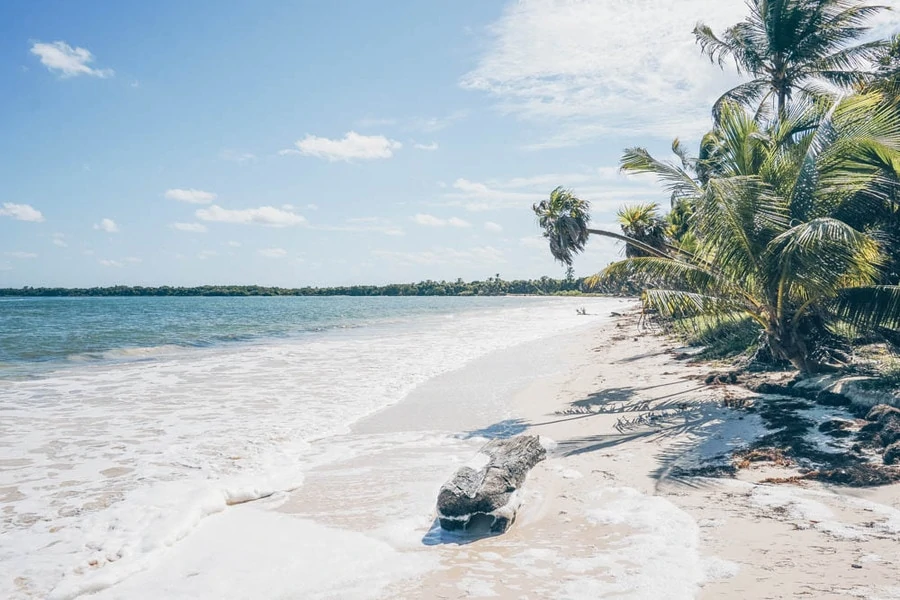 Of course, I couldn't write an article about the best things to do in Mexico without mentioning the beaches. I could go on all day about the diverse coastline across Mexico that covers parts of the Pacific Ocean, the Gulf of Mexico and the Caribbean Sea.
Want to find some of the most secluded beaches in the country? Head to Sian Ka'an, and you'll see immaculate beaches worthy of an entire afternoon.

But as hard as it is to leave the white sands, you'll be happy you did when you explore the cenotes, lagoon and mangrove forests surrounding the biosphere.

You can drive into the park from one of two entrance points (spend a day on each side), but I recommend going with a guide when swimming the lagoons for the smoothest overall experience (crocodiles are a thing here).
Top Tip: I recommend this tour from Tulum to help you make the most out of your experience.
Spend a Few Nights On Isla Holbox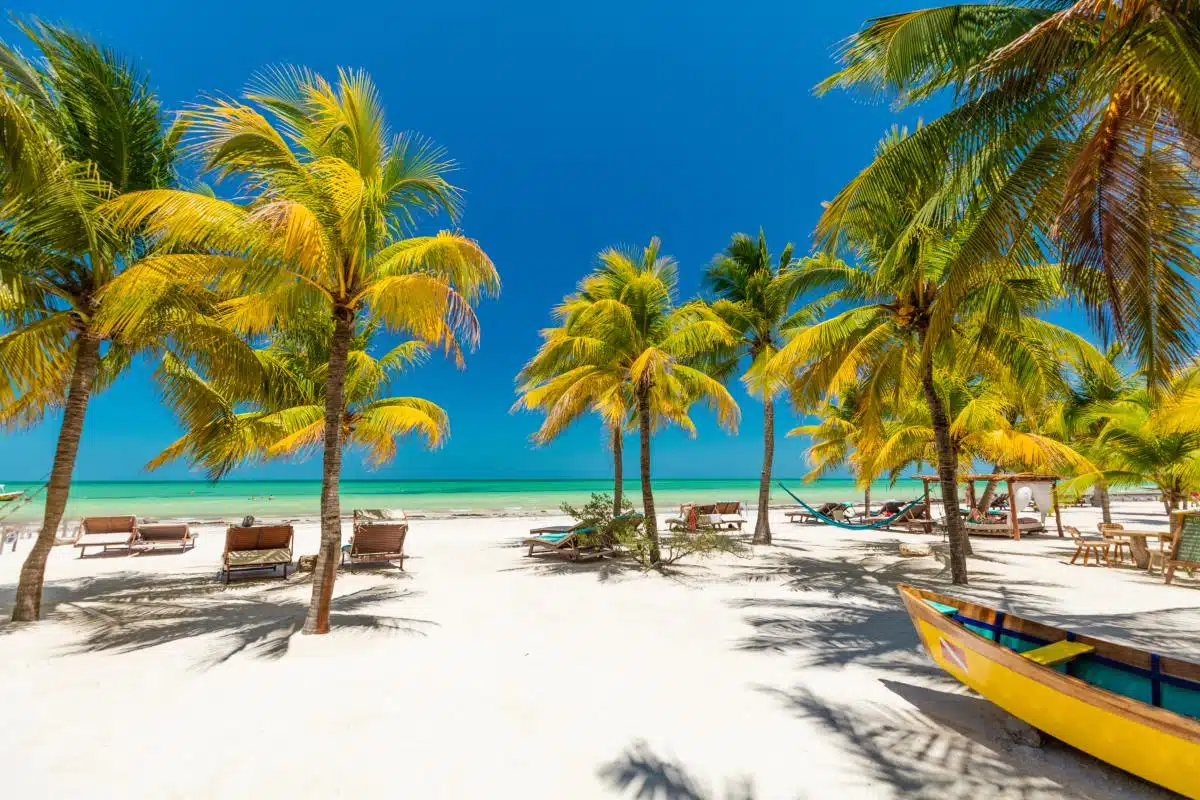 If you're in Cancun and want a relaxing getaway with white sand beaches, world-class snorkelling and birdwatching, head to Isla Holbox.

Why? Luxury accommodations, white sand beaches (check out Playa Mosquito) and all the flamingos are a few reasons this small island is getting more and more visitors.
It's also home to some of the best underwater adventures in Mexico, and if you go during whale shark season, you'll have an experience of a lifetime.
Check Out Puerto Vallarta's Vibrant Dining Scene
Puerto Vallarta is world famous for its beaches, as it should be. But the food in Puerto Vallarta is equally impressive, with dishes tapping into the wonderful ingredients found in the ocean and mountains nearby.
The seafood is some of the best in the world – order Pescado Zarandeado whenever possible (a grilled fish marinated in spices and chiles) and you won't go too far wrong.
Or, if you're not into seafood, the steak or bean tacos are equally delicious in one of the best culinary destinations in Mexico. Blue Shrimp, Cafe Des Artistes and Tuna Azul are among some of the top places to dine in the city.
Tourist Attractions in Mexico
Spend an Adventurous Afternoon at Xcaret Park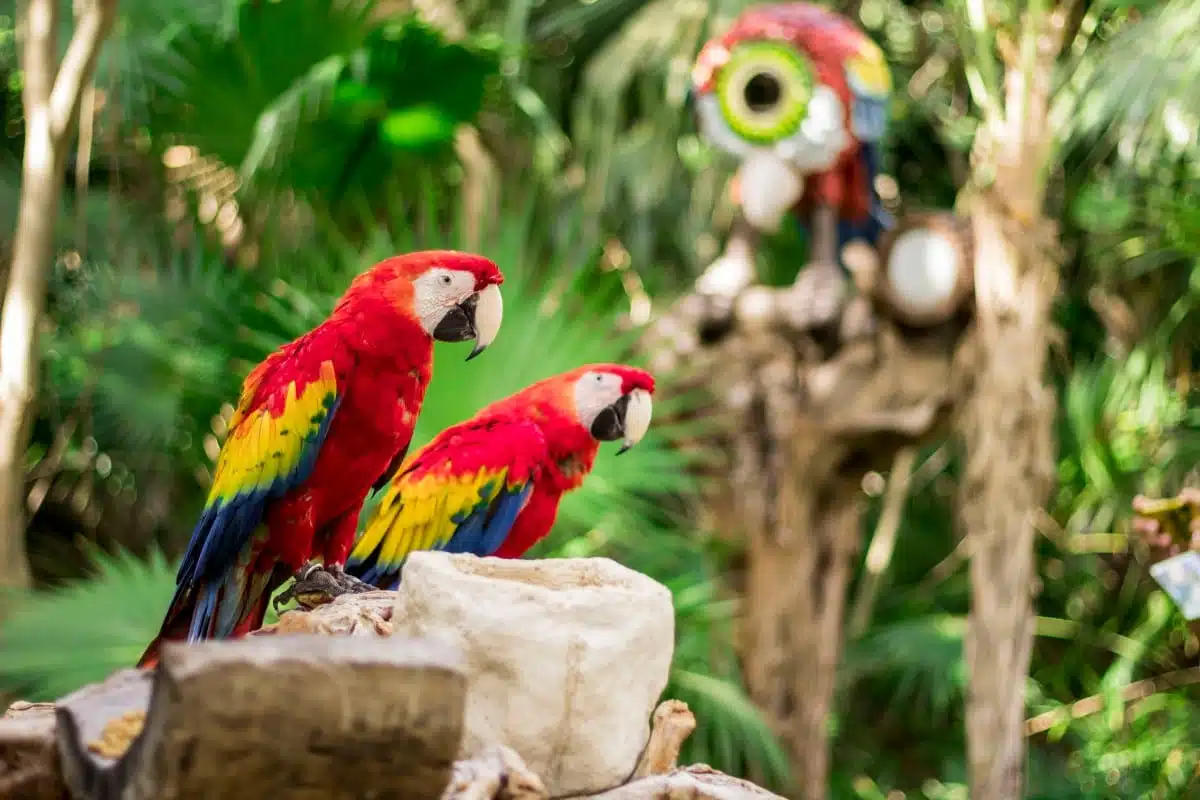 Looking for fun things to do in Mexico? Xcaret Park is an ecotourism theme park where visitors can tap into the local history, nature and cuisine in an adventure park setting.
One of the main attractions of Xcaret Park is the underground river system, where you can swim and snorkel in crystal-clear waters surrounded by stunning rock formations and lush vegetation.
Stay a bit later, and you can enjoy live entertainment and toothsome food. Sure, it's a touristy activity, but it's one that's definitely worth checking out.
Top Tip: This entry ticket comes with lunch and an evening show – it's excellent value for money.
Take a Day Trip to Uxmal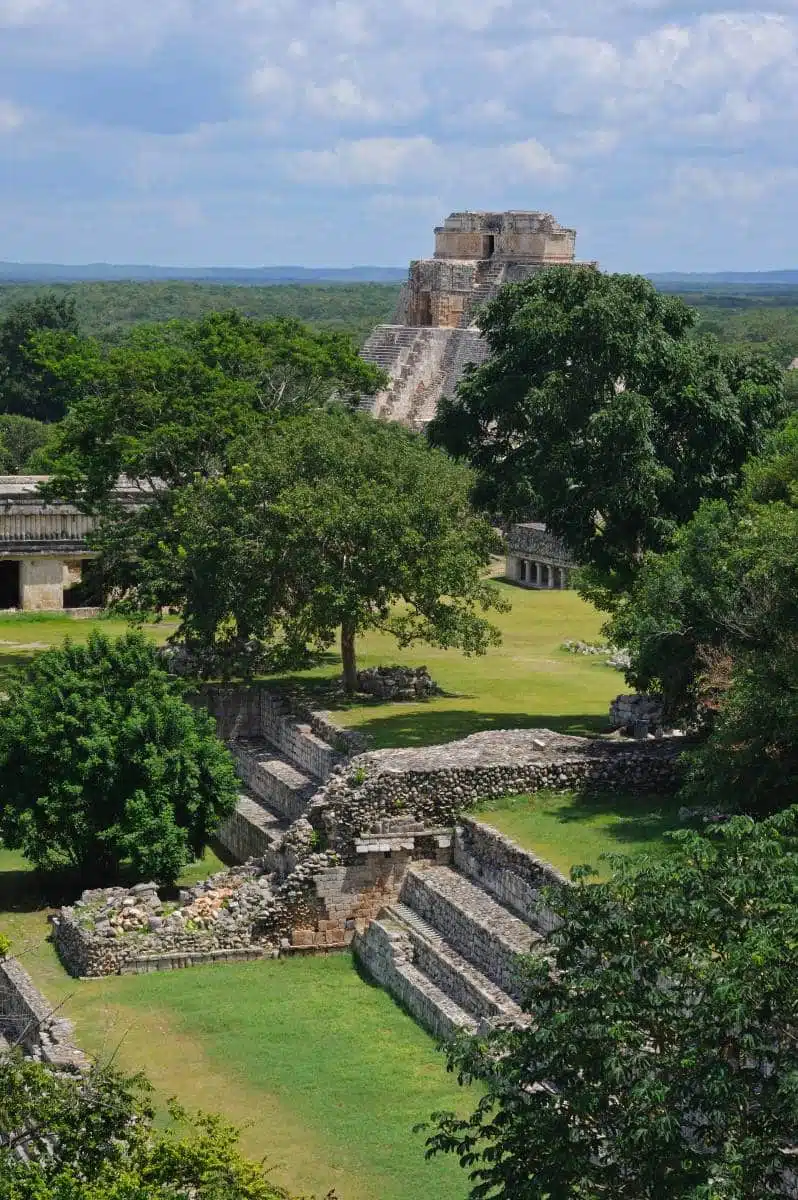 If you've never been to Mérida, run, don't walk. And I'll let you in on a little secret – one of the best day trips from the trending holiday destination is Uxmal.

Visit the Mayan pyramids of Uxmal, and you'll instantly see why it's a top tourist attraction in Mexico. Bring good walking shoes (you can climb several pyramids here), but you'll have to be content taking photos from below of the famous Magician's Pyramid.
Aside from ancient ruins, there's plenty to see in the surrounding jungle. Head out on the nature trail to spot various species of flora and fauna.
Want to learn more? Book a guided tour of Uxmal to learn more about the historic city in Yucatán.
Go Whale Watching in Cabo San Lucas
If you're looking for the best thing to do in Mexico while enjoying some winter sunshine, whale watching is an easy choice.

The season generally runs from late November to April, allowing you to see humpbacks, orcas and enormous blue whales.

Bring your binoculars, and you may catch views of them from your Mexico hotel or the beach. Or, for the best possible chance of spotting the marine mammals, book a guided tour on a catamaran.
Tour the Pyramids at Teotihuacan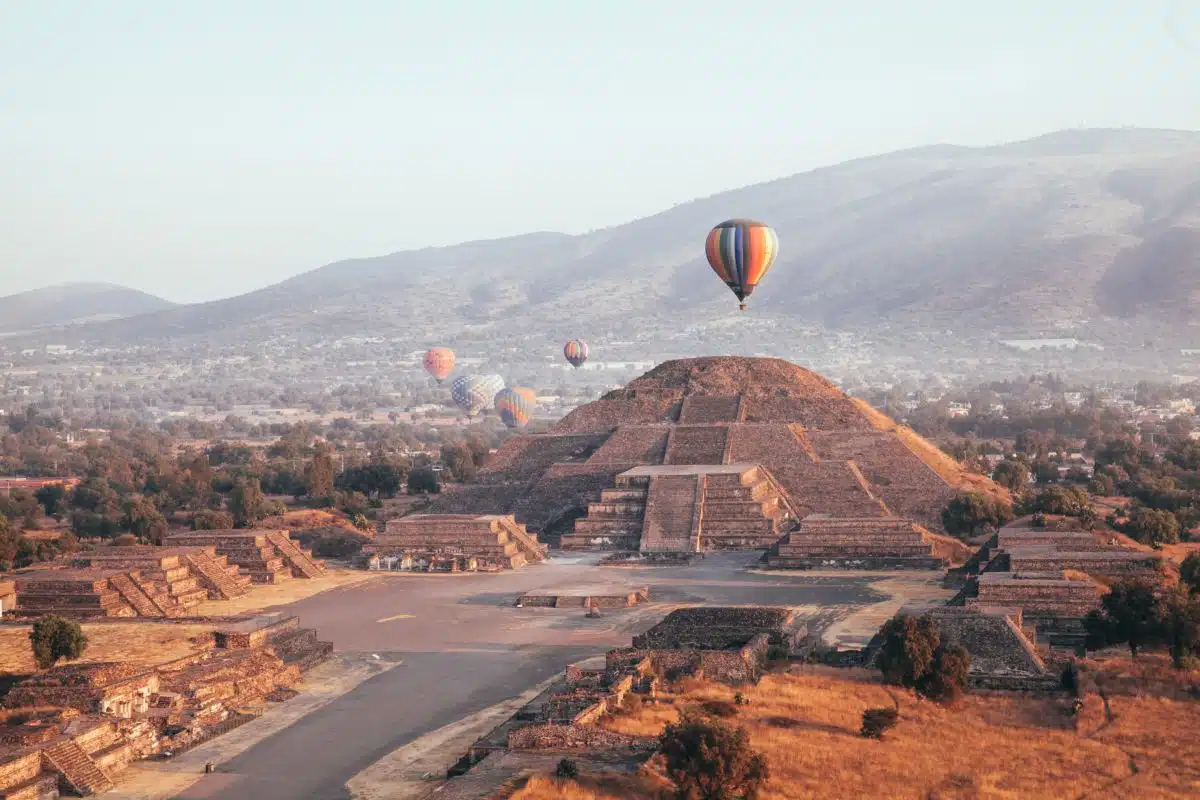 Visiting Teotichuan should be on every serious traveller's bucket list. Even if you aren't up for epic excursions, this fascinating Aztec ruin is only an hour away from Mexico City.

Take your time when exploring Templo de Quetzalcóatl, the Pyramid of the Sun, the Pyramid of the Moon and the Avenue of the Dead – they are all equally impressive.
Want to dig in a little deeper? Learning the history from a tour guide adds to the experience. And it's more than worth the extra money between skipping the line and getting dropped off and picked up.
Spend a Day or Two in Chapultepec Park
Mexico City has a reputation for being crowded, a bit hectic and, unfortunately, polluted. But walk through the expansive Chapultepec Park (Bosque de Chapultepec), and you'll nearly forget you're in one of the largest cities in the world.

The park is massive and home to museums, monuments and secluded spaces that you honestly won't see enough of on your trip to Mexico City.

If it's your first time there, be sure to tour the gorgeous Chapultepec Castle high on the hill, and swing by the ​​National Museum of Anthropology.
See the Murals at Palacio de Bellas Artes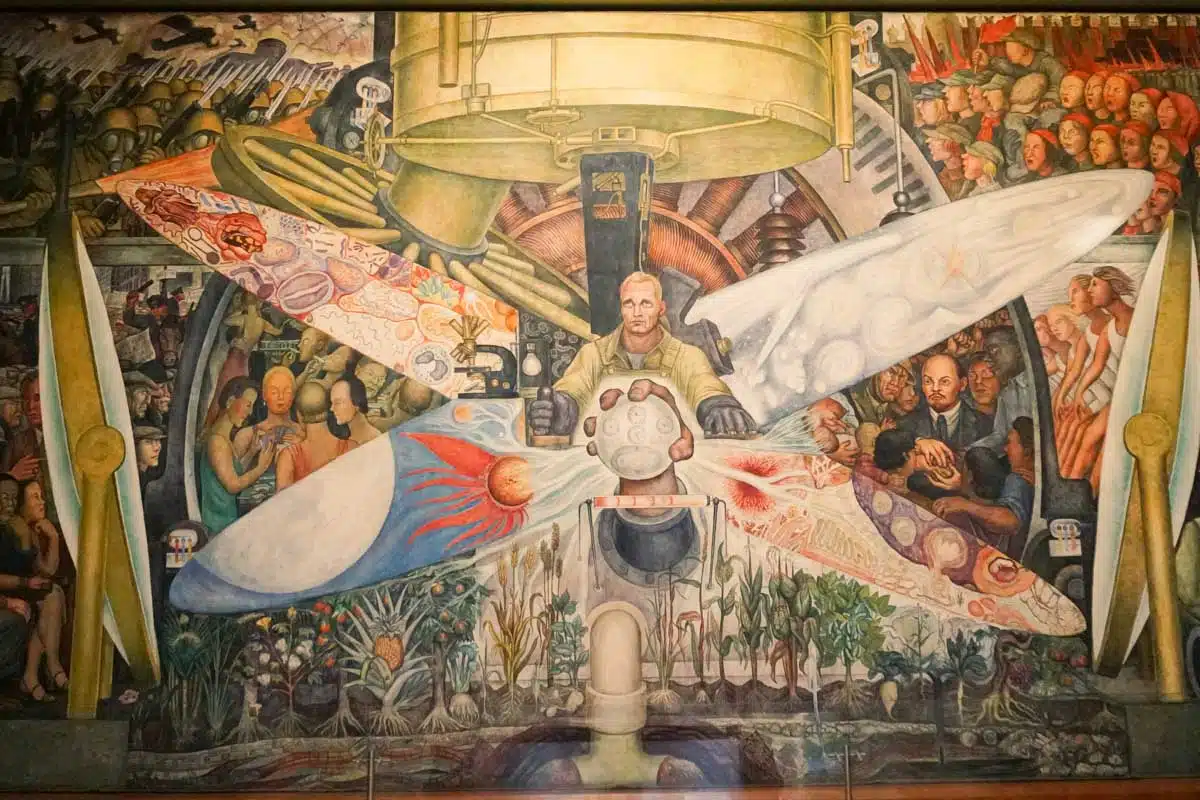 Another of the many Mexico activities you can't afford to miss is Palacio de Bellas Artes (remember I mentioned this near the start of the article?) This isn't just one of my favourite spots in CDMX – it's one of the top Mexican tourist attractions in the country.

Here's why. The architecture outside is primarily Neoclassical, giving way to an art deco interior that showcases some of the finest artwork in the world.

Gigantic (and expertly crafted) murals by Diego Rivera, David Alfaro Siqueiros and other well-known Mexican artists make this a museum you need to visit.
Watch the Mariachi Players on Plaza Garibaldi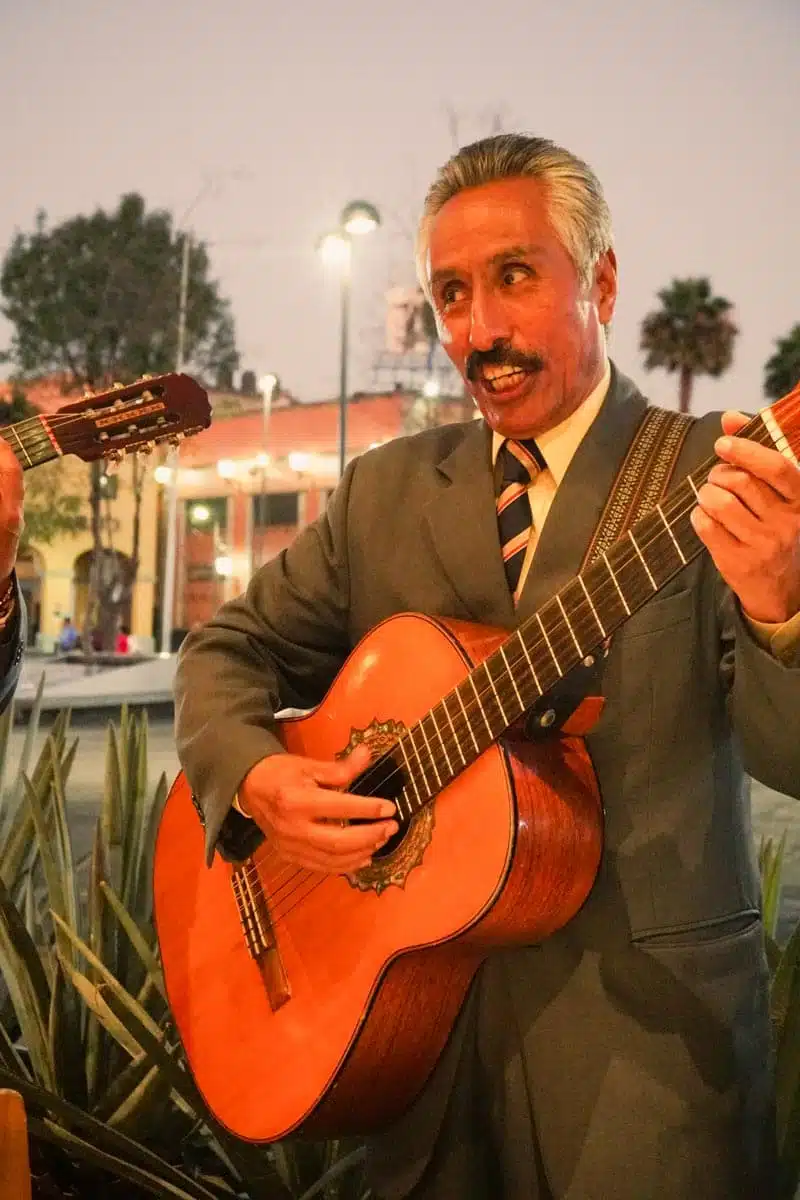 Plaza Garibaldi is perhaps the most famous city square to host Mariachi music; you could quickly lose yourself to the lively music and festive bars near this central plaza in Mexico City.

It's a well-known tourist hub and can be a bit overwhelming as it's crowded, the restaurants are a little pricey and pickpocketing is pretty rife later on in the day. Keep an eye on your things and be wary of your surroundings and you should be totally fine.
If you go, I'd suggest booking a guided tour. Or do your homework, as some restaurants, like the devilishly brilliant Guadalajara de Noche, are much better than others.
Take a Train Ride Through Copper Canyon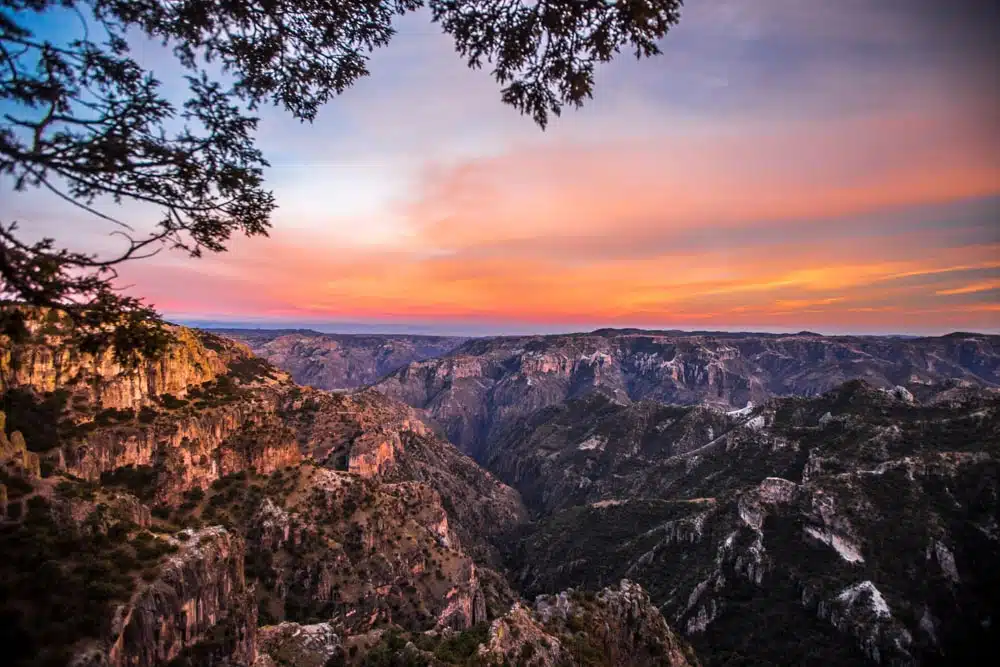 Visiting Copper Canyon in the Sierra Madre Occidental Mountains is a popular choice for hiking – as the many trails may lead you past archeological sites, forests, petroglyphs and hot springs.
Fancy a unique and jaw-droppingly beautiful way to see the canyon that's four times larger than the Grand Canyon? Take El Chepe through the 80+ tunnels, over three dozen bridges, and through several charming villages along the way.

Is there a more scenic train ride in the world? I don't know of many.
Visit Tulum Archeological Site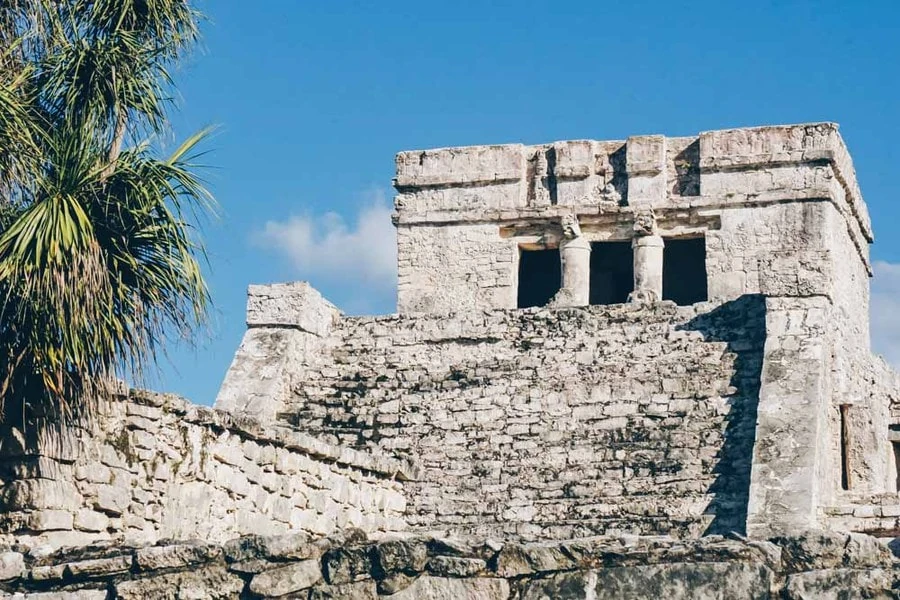 Wondering what to do in Mexico when you're in Tulum? Check out some seaside Mayan Ruins at the Tulum Archeological Site.
While not as massive as other famous historical sites in Mexico, nothing compares to the location of the Tulum Ruins. You'll explore the ancient city dating back to the 1200s and look out at the Caribbean Sea from the Castillo.
Top Tip: Bring your swimsuit because the small beach below the archeological site is spectacular.
Best Things to do in Mexico for Free
Hang Out at the Beaches in Puerto Vallarta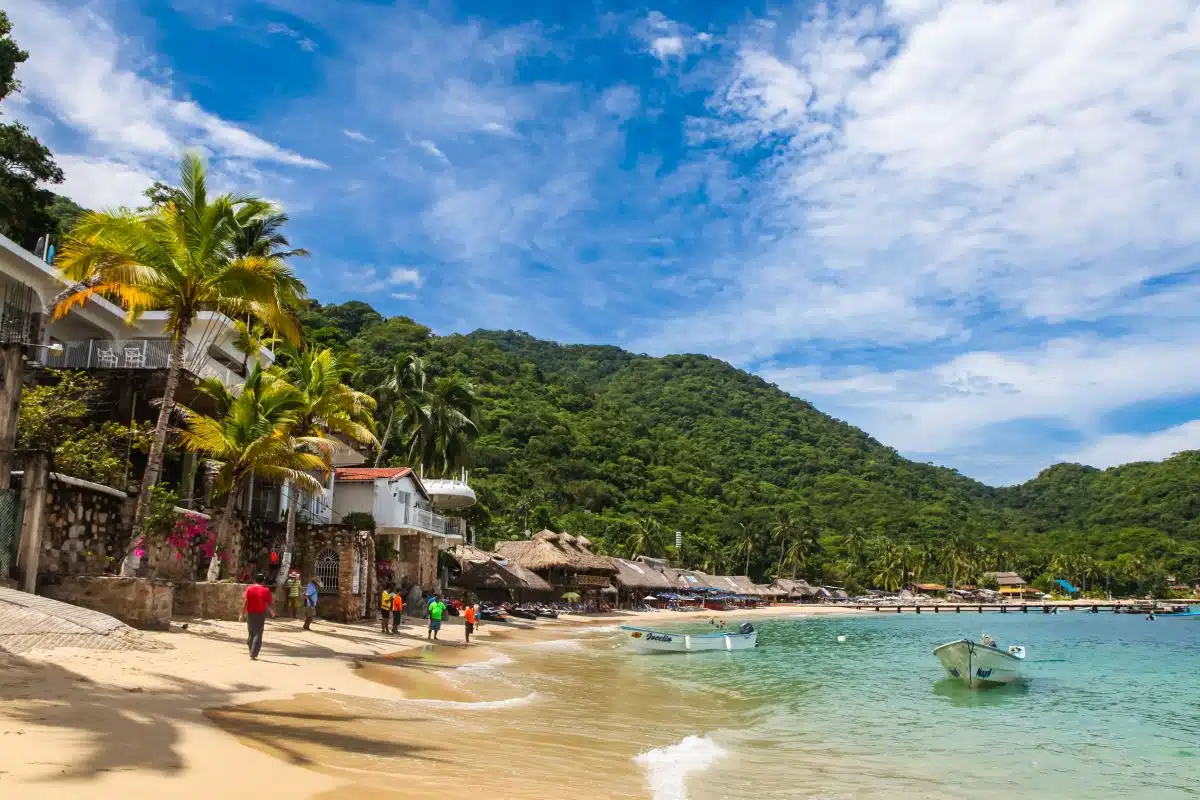 Looking for things to do in Mexico on the cheap? Puerto Vallarta is a charming coastal town on the Pacific Coast with some of Mexico's best beaches.
So which can you go to for free? Bay of Banderas and Playa de los Muertos are two of the most popular beaches in town despite their slightly unnerving names attached to the history of conquistadores and pirates in this region of Mexico.
Malecón Boardwalk is also a lively area with beautiful ocean views and lively people-watching you can explore for free.
Wander Around San Jose Del Cabo
Heading to Cabo San Lucas? Visit the smaller city near Cabo San Lucas and stop by the San Jose del Cabo Main Square.

The art walk, which happens on Thursdays, is a cool thing to do in Mexico and doesn't require spending a dime (though you should definitely tip the guide). You can also window shop and people watch in this vibrant town square.

If (more like when) you get hungry, there are plenty of affordable restaurants and bars to check out.
Spend a Few Hours in Zócalo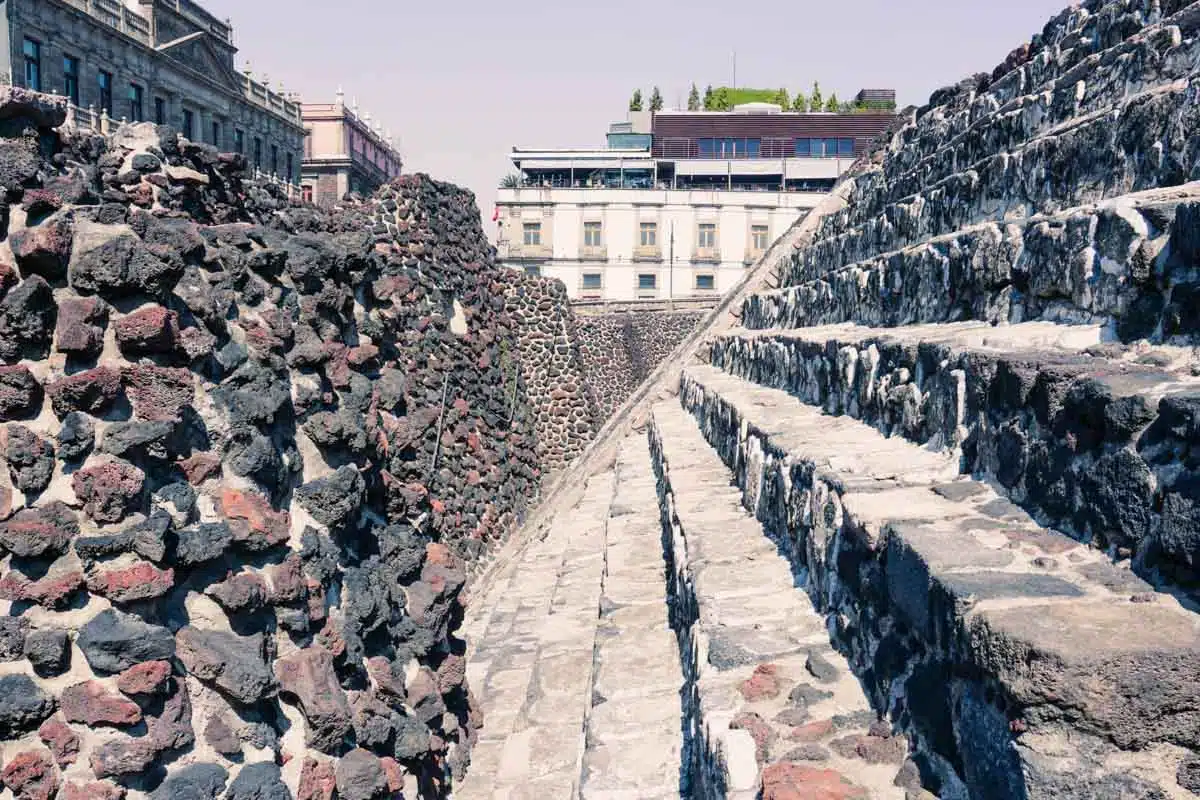 Since the Aztecs ruled Mexico City, Zócalo has been the focal point of Mexico City. Also known as Plaza de la Constitución, the massive town square is home to an enormous Mexican flag and some of the most impressive architecture in the city.

In the bustling historical centre, you'll find the National Palace, Old Portal de Mercaderes and other Spanish colonial architecture wall-to-wall.

The most famous landmark, Templo Mayor, wasn't excavated until the late 1970s and reveals the (unfortunately) forgotten evidence of the Aztec city of Tenochtitlan. You'll need to pay to get inside, but marvelling at how it contrasts with the colonial architecture around it is equally impressive.
Go Snorkelling in Cozumel
Another water-based activity, if you're in Cozumel on your holiday in Mexico, you NEED to go snorkelling in the crystal clear waters on this enchanting island.

Cozumel is famous for the coral reefs at Playa Palancar, where you may see sea turtles, nurse sharks and tropical fish of every colour imaginable.

Bring your own gear, and you can explore the waters outside the white sand beaches as another epic free activity along the Caribbean Sea. Alternatively, book a guided tour and make your way to the best snorkel spots in the area with the help of a friendly guide.
Unique Things to See & Do in Mexico: Hidden Gems That Are Off the Beaten Track
Visit a Mezcal Distillery in Oaxaca State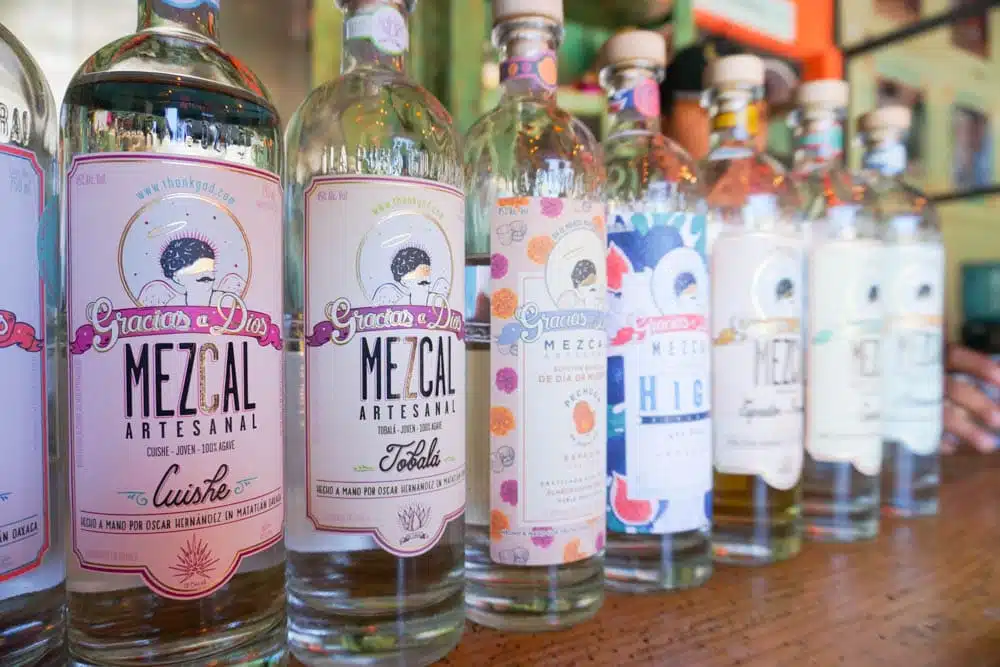 There are plenty of places you can sample mezcal when visiting Oaxaca (and you should), but there's nothing quite like getting it straight from the source.

Enter Palenque Gracias a Dios Mezcal. For around £9, you can book a tour where you learn about the process of making mezcal for expert Oscar Hernández. Then, cap it off with a mezcal tasting and try the agave-based gin.
Top Tip: Seek out some of the rare offerings at the bar – GAD Sierra Negra is a personal favourite.
Explore the Colourful Campeche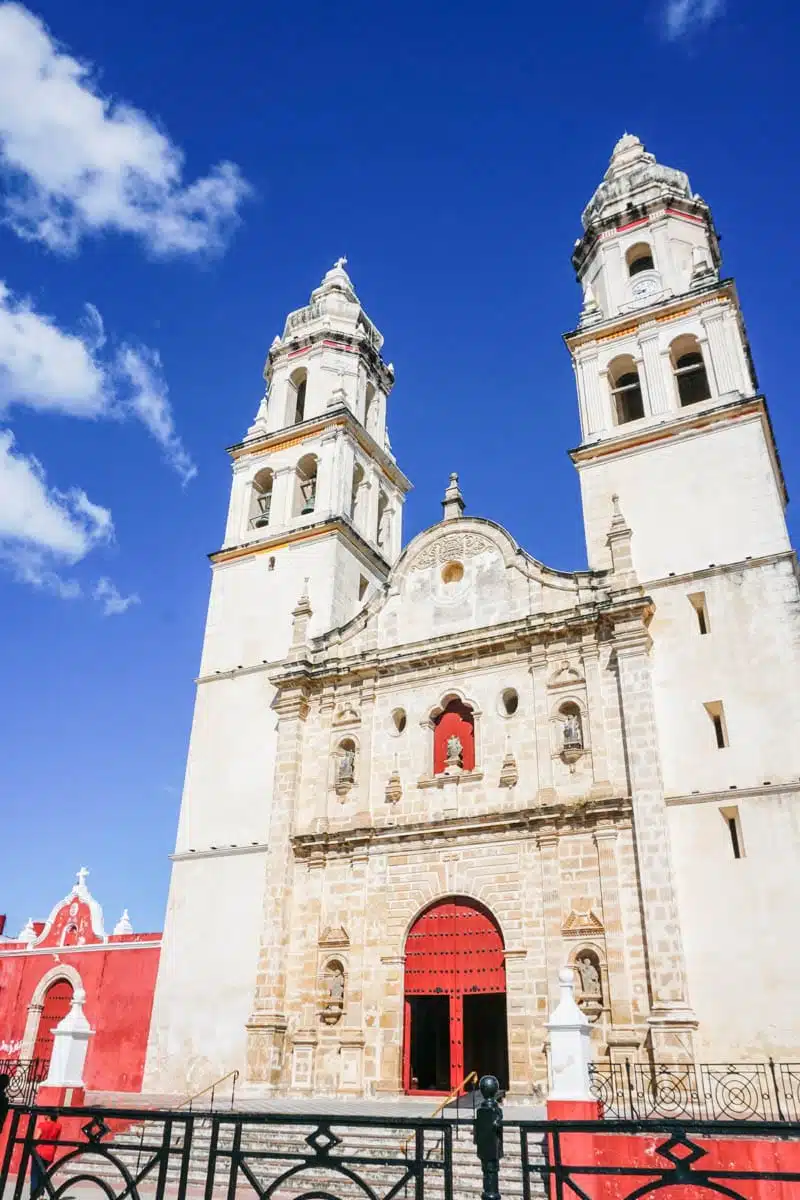 One of my top things to do in Mexico that you maybe haven't heard of is to explore the brilliant colonial town of Campeche.

The UNESCO World Heritage Site is a beautiful city home to architectural surprises (Ex Templo de San Jose made me do a double take) and a relaxed yet exciting vibe that made it stand out during a previous trip to Mexico.

Boutique hotels, delicious cuisine and plenty of great spots for sundowners make Campeche (The Rainbow City) a great place to spend a night or two.
Read Next: Where to Stay in Campeche
Stop by Mercado del Pueblo in Sayulita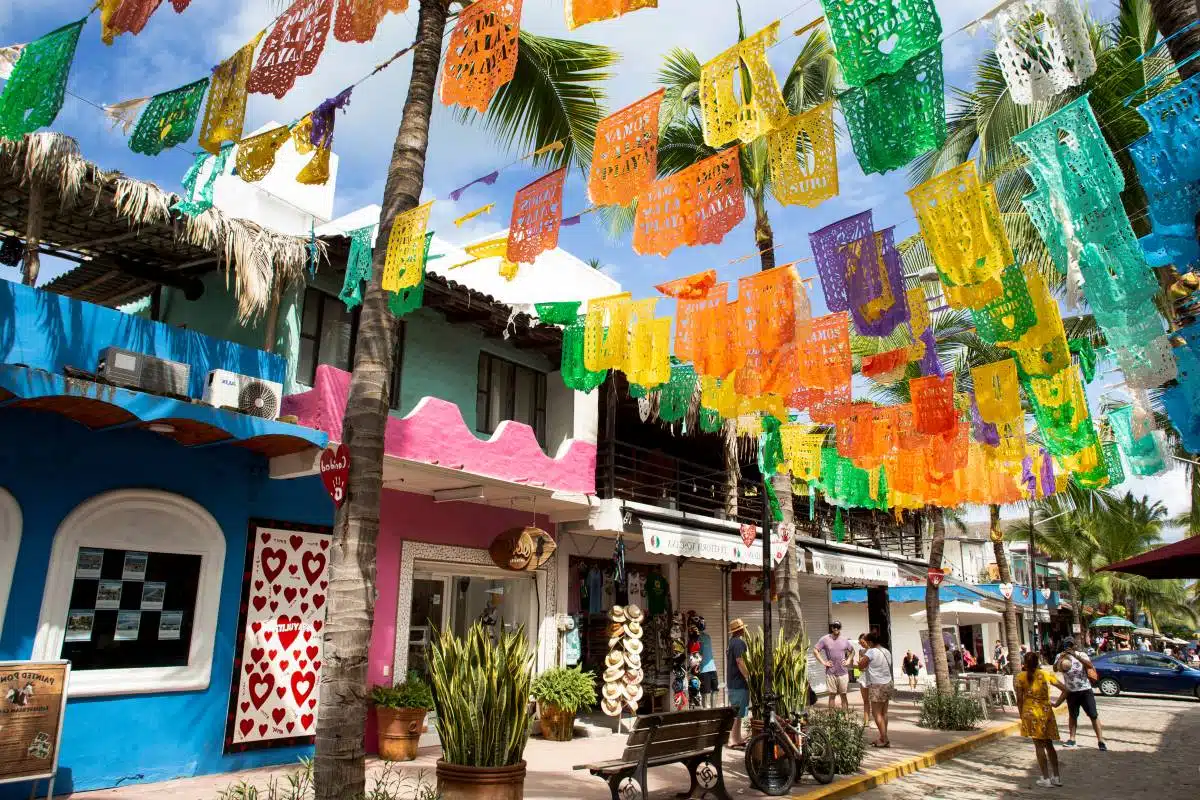 Known for excellent surfing opps, beautiful beaches and affordable boutique hotels, Sayulita is no longer a well-kept secret. Boo.
But there is something you should definitely do while in Sayulita. Visit Mercado del Pueblo, a local women-run market that emphasises sustainability and wellness-minded crafts and food. Check the schedule online, as the hours and location may vary.
With this, and plenty more in town, Sayulita is quickly making a name for itself as a coastal holiday destination in Mexico. No surprises there.
Visit the Churches Near San Cristobal de las Casas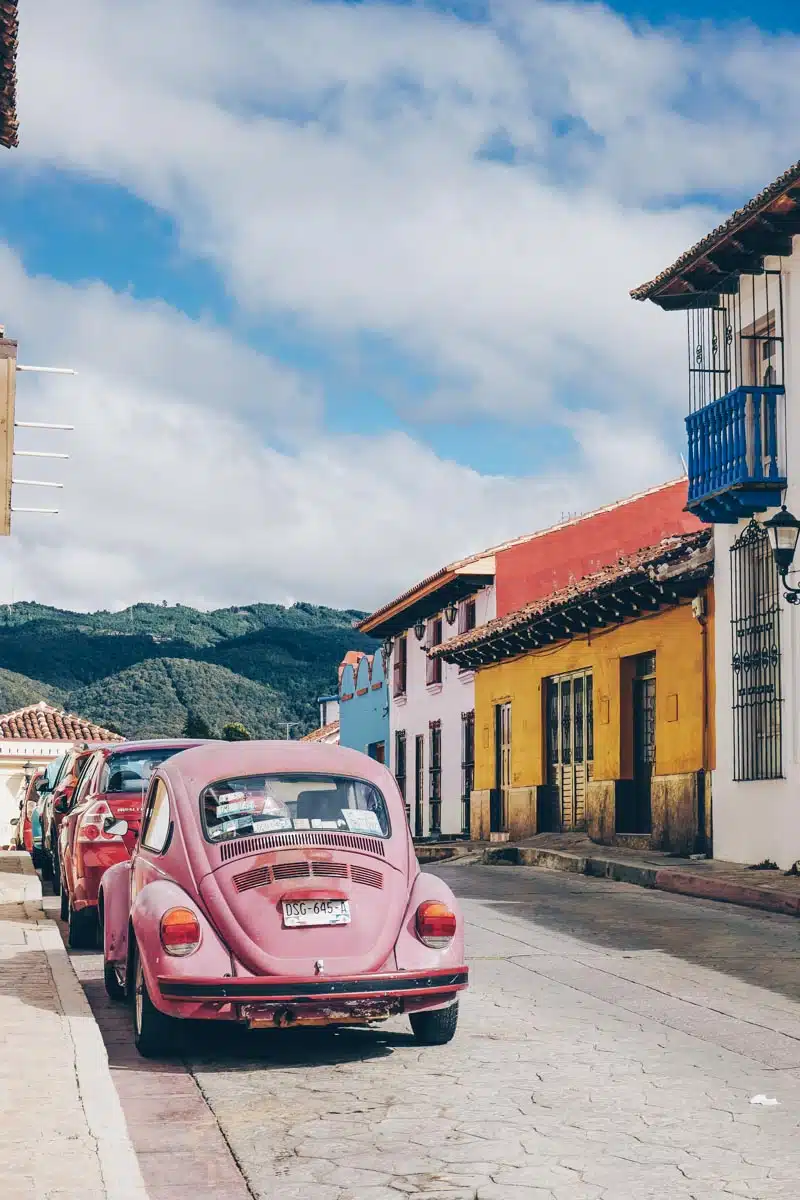 Now for a spot that I only discovered thanks to a helpful tip from a friend, San Cristóbal de las Casas.

San Cristobal isn't on most travellers' radars, but the small town with a large indigenous presence is incredibly unique.

There are two famous churches in town, well worth the hike up for the views. But one that really stood out for me was Iglesia de San Juan, Chamula.

A short drive from San Cristobal, the church practises a unique combination of Catholicism and indigenous traditions that involve warding off evil spirits using thousands of candles, small fires and – get this – drinking carbonated beverages to expel negative energy by burping.

I've seen a few unique places, and this ranks at the top.
Explore the Art Galleries at Todos Santos
I just can't get enough of Mexican art. And I'm not even mad about it.
The small coastal town of Todos Santos, on the ​​Baja California Peninsula, draws travellers from nearby Cabo San Lucas for its boutique hotels, challenging surf and great shopping.

The charming town (which began as a mission) attracts artists and creatives worldwide, which has helped establish it as one of the best places to find unique art to bring home from Mexico.
The Gabo Art Gallery and Studio is my first choice, though the likes of the Jill Logan Gallery, Galleria Indigo and Todos Santos Gallery are equally impressive.
Discover the Hierve el Agua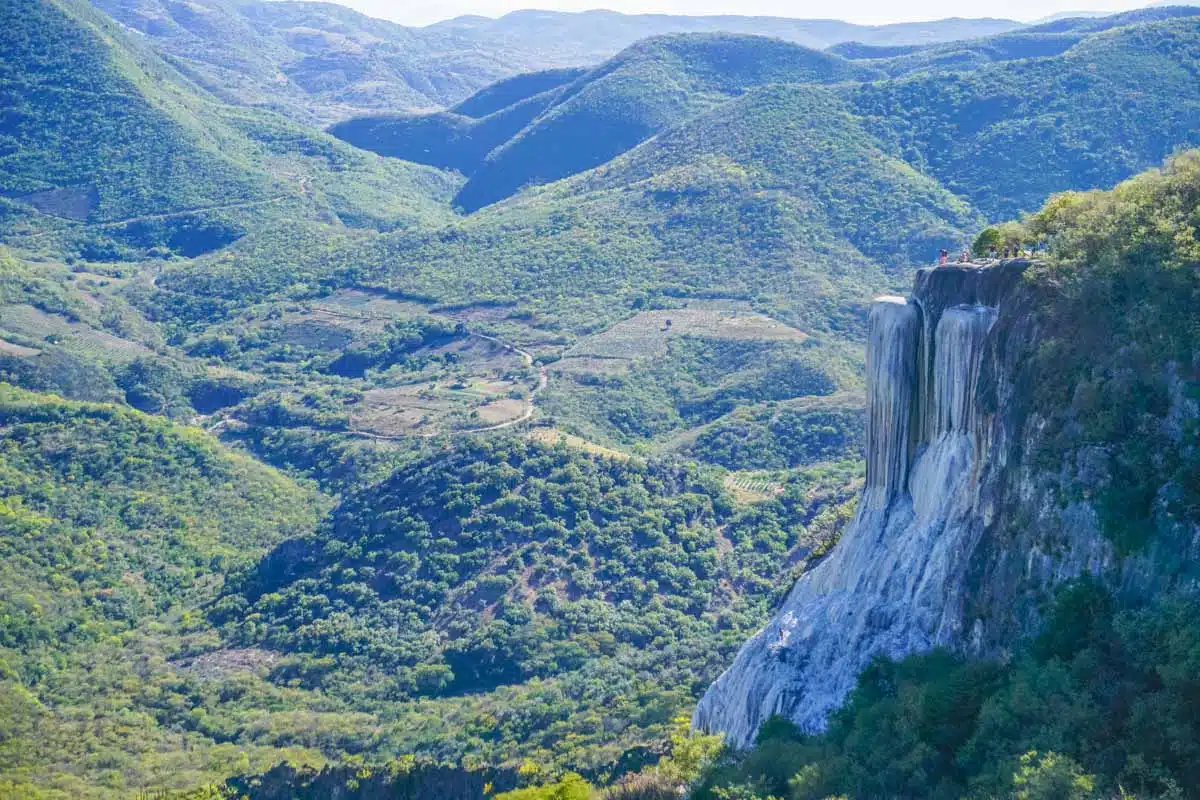 While exploring Oaxaca, it's hard to resist indulging in the region's delectable cuisine. I totally get it. However, if you're looking to add some physical activity and fresh air to your trip, Hierve el Agua is the perfect destination.

Hiking to the petrified falls is well worth the effort, and you'll be rewarded with incredible vistas of the unique rocks that resemble a waterfall. And don't forget your swimming suit; the main draw (aside from the outstanding views) is the natural hot springs which are a perfect place to enjoy the outdoors.
Wander the Streets of San Miguel de Allende
If you're looking for smaller towns big on character, San Miguel de Allende is one of the top places to see in Mexico.

The colonial town is in Guanajuato, about four hours away from Mexico City, but the baroque architecture and cobbled streets make it worth travelling the distance for history lovers and budding photographers.

Highlights include the stunning Parish of San Miguel Arcangel (beautiful inside and out) and the town square El Jardin. It's also a wonderful place to people-watch and listen to expert musicians in an idyllic setting.
Walk Around Cholula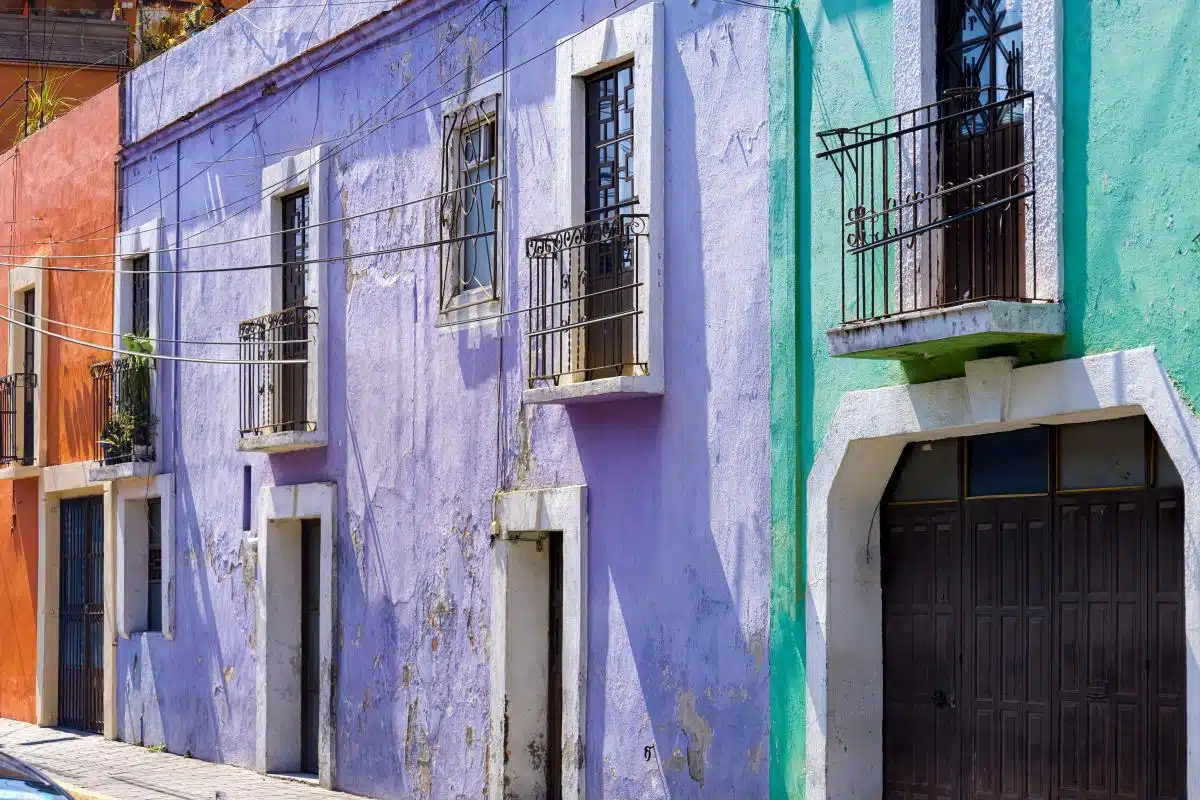 Most visitors may know Puebla for visiting the Great Pyramid of Cholula, Mexico. And the archeological site is one of the best activities in Mexico. It's thought to be the world's biggest pyramid (but much of it is underground).

But my favourite idea for a trip to Cholula is simply walking around and trying the incredible food.

When it's in season, try Chile en Nogada (a meat-stuffed poblano chile topped with a creamy walnut sauce and pomegranate seeds). But any time of year, you can sample the famed mole poblano (the world-famous sauce often made with chocolate) near where it was created.
Things to do in Mexico: Practical Tips for Your Trip
How Long to Visit Mexico?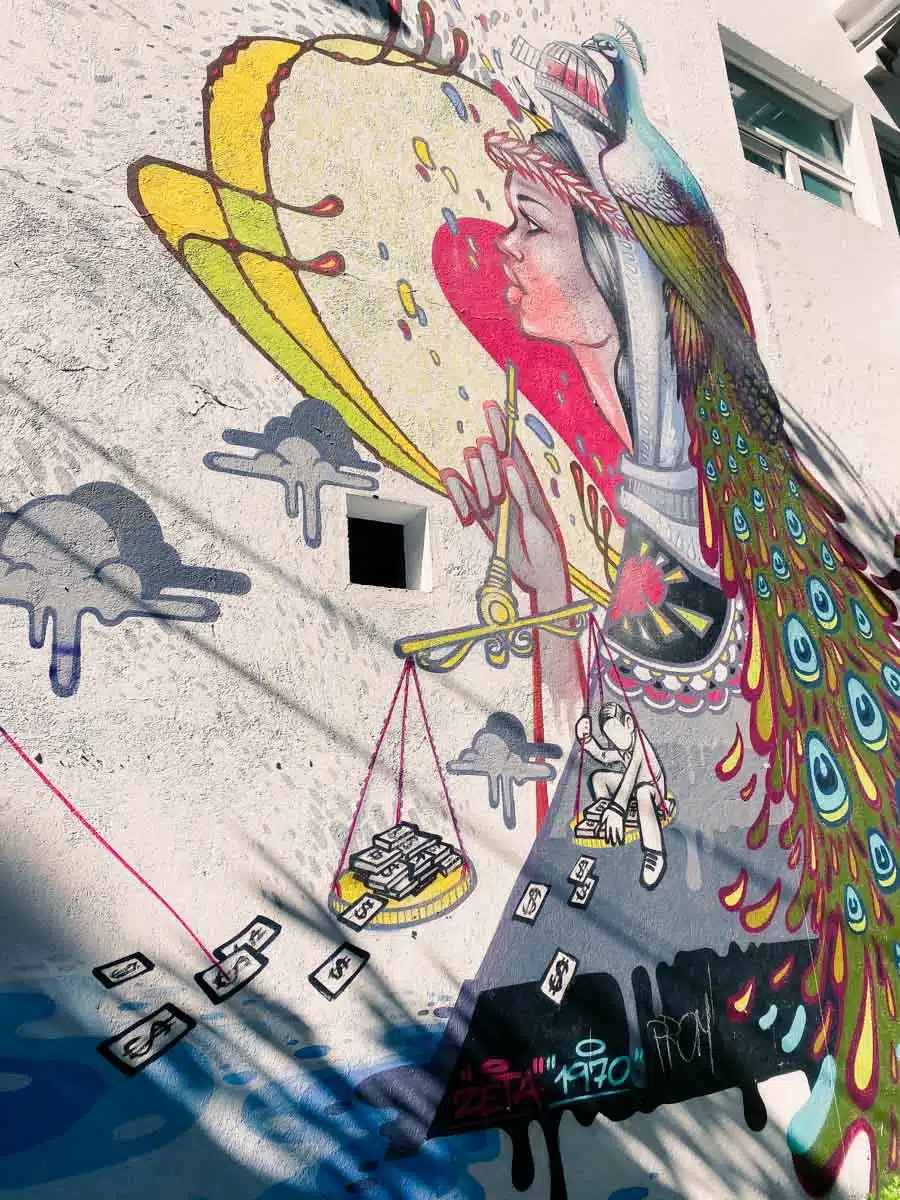 Mexico is a versatile destination, ideal for both a quick weekend getaway or long-term trip. You could easily spend weeks in the country without making a dent in the many amazing sights, sounds and surprises it offers.

If you've never been before, go for 7-10 days. This gives you enough time to see many of the top Mexico attractions along the way.
Best Time to Visit Mexico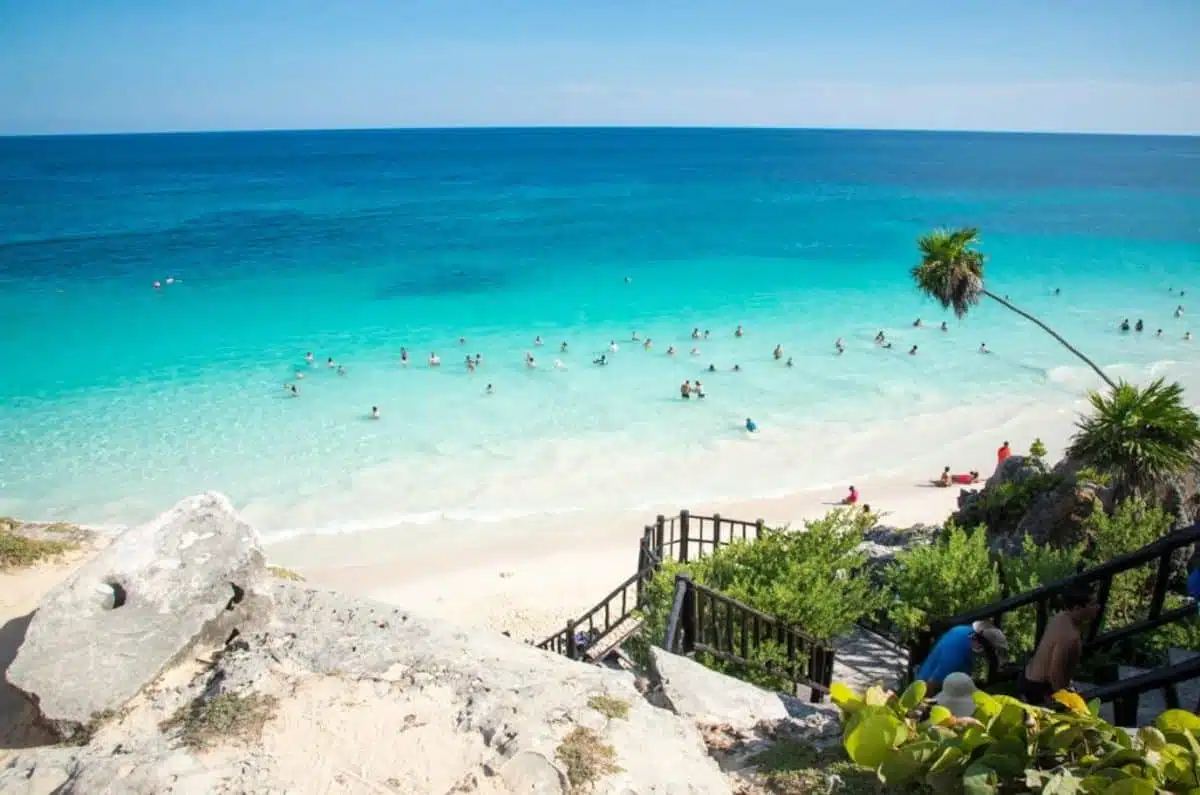 Visiting Mexico is enjoyable any time of year, but you'll want to consider the weather – especially when visiting the mountains or coasts.

You'll find freezing temperatures in areas like Copper Canyon during some winter months, and hurricane season lasts for most of the summer and fall along the coasts.

On the other hand, Mexico City is temperate year-round, as are other popular tourist areas.

I'm up for visiting Mexico during any time of year, but if I had to pick one month, I'd choose December. The weather is excellent in most locations, you can find reasonable rates, and the holiday celebrations are something special.
Where Should I Stay in Mexico?
Mexico has some of the best boutique hotels, all-inclusive resorts, and Airbnbs anywhere in the Americas. It's also massive – meaning you'll want to pinpoint the Mexico attractions you most want to see before booking a hotel.

Here are a couple of my favourites.
Sercotel Casona 61 (Mid-Range)
Visiting Merida? Stay at one of my favourite hotels in all of Mexico.
When I first laid eyes inside Sercotel Casona 61, located next to Plaza Grande, I fell in love with the interior design. It feels modern and stylish without trying too hard.

But the rooms, in particular, are well above average for the price, and my suite with a private pool was a nice treat.
Four Seasons Hotel Mexico City (Luxury)
Four Seasons Hotel Mexico City is a deceptively large 5-star hotel right off the important Paseo de la Reforma. Book a room with a view of the stunning interior courtyard, and all you'll hear is a few whispers of conversation and the fountain below.

The location is near the increasingly vibrant district of Juarez, and the hotel is home to one of the crown jewels of the trendy local bar scene – Fifty Mils.

You'll be in the heart of Mexico City at one of the most luxurious hotels. What more could you possibly want?
Recommended Tours in Mexico
Things to do in Mexico: Map
Love this? Save and share on Pinterest!