Heard of the Birthing Cave in Sedona? It's a stunning, short hiking trail in the Red Rock Country with an even more captivating backstory. Let's explore.
If you haven't heard of Sedona's Birthing Cave, you're not alone. It's sort of a hidden gem in the area – well, to tourists, anyway. But don't worry. I'm about to spill the details on this wonderful hike.
It goes without saying that rule numero uno of hiking in Arizona is to plan ahead – the heat and landscape are no joke. But you're already off to an excellent start by reading this Birthing Cave hiking guide.
Okay, I know you've got plenty of questions about the Birthing Cave in Sedona, so let me not waste anymore time. Here's how to hike the trail and what to know before you go.
Hiking the Birthing Cave Sedona: In Detail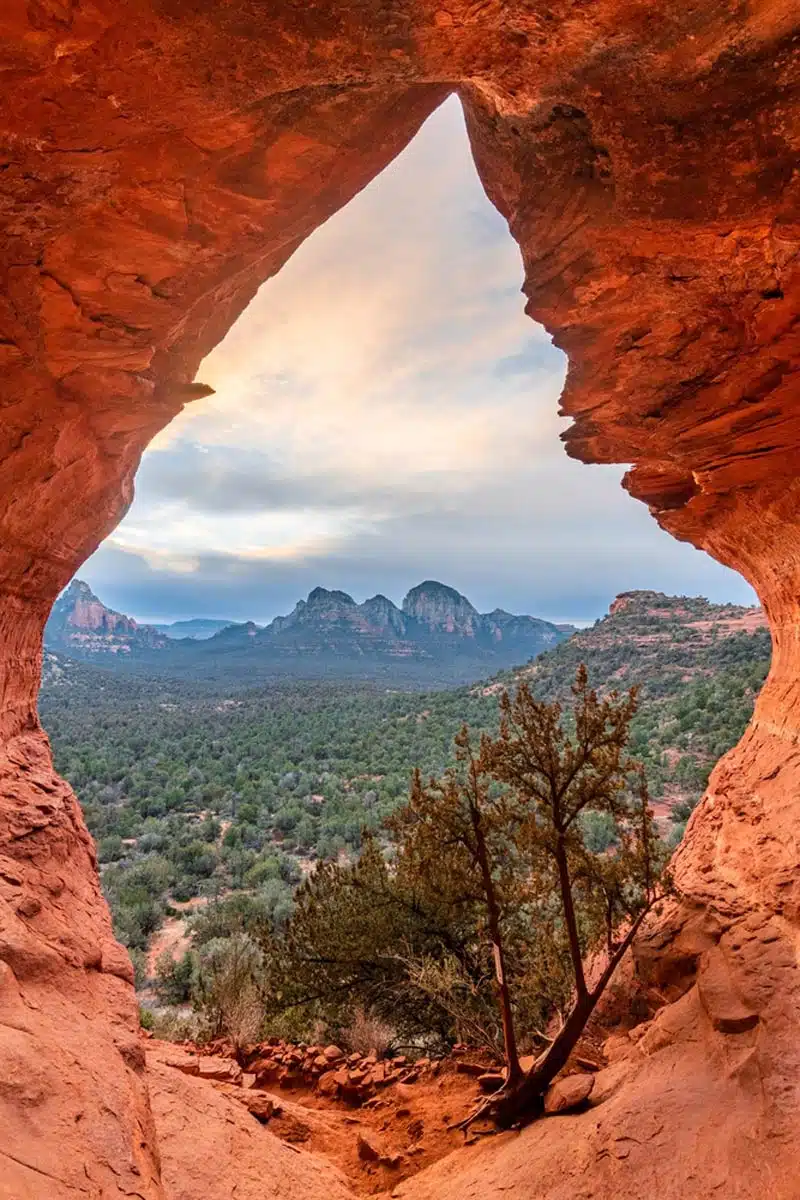 Here's everything you need to know before setting off on a hike – from how to get there and how difficult it will be to hike (hint: not very difficult) to how this place got its peculiar name.
The Birthing Cave Trailhead
Let me start with the basics. You'll need to follow the Long Canyon Trail off Long Canyon Road to reach the trailhead. The Birthing Cave Sedona trailhead starts just 11 km (7 miles) from the city centre. It should take you about 15 minutes to reach there by car.
You'll see a fork in the road a few miles into the Long Canyon Trail. The path before you will seem more worn, but you're following the path less travelled (literally). So, turn left. Bushes and branches may cover this path a bit more, but I assure you this is the correct way.
When you notice a heart-shaped depression in the red rocks above you, you'll know you've reached your destination. Another indicator might be the nearby hikers already taking on the trek (it's a popular route, I told you!)
From there on, it's pretty straightforward. Stay on the rocky path and avoid straying from it.
Parking at the Birthing Cave Hike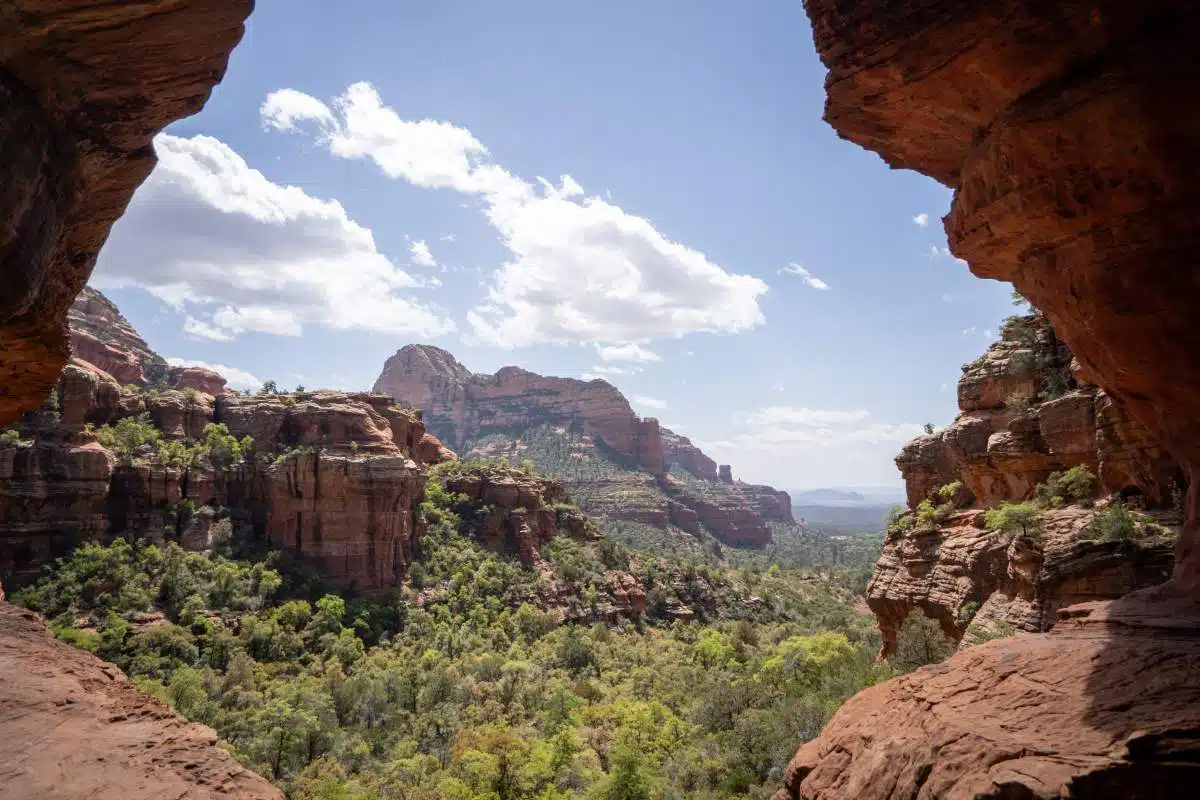 You'll have to park at the beginning of the Long Canyon Trail. It's not an official parking spot but more of a large, clear patch of dirt. You can snag a parking spot along the road if you can't find parking here – but these are also limited.
While the trail is a hidden gem for tourists, this certainly isn't the case for locals. So try to get here before 7 am to secure a parking spot — especially in peak season. In the off-season (summer and winter), you should have no problem finding a place no matter what time of the day you begin your hike.
Top Tip: Around March, you may encounter standing water in the parking lot and on the trail. If you don't want to get wet, bring some waterproof boots.
The Birthing Cave Hike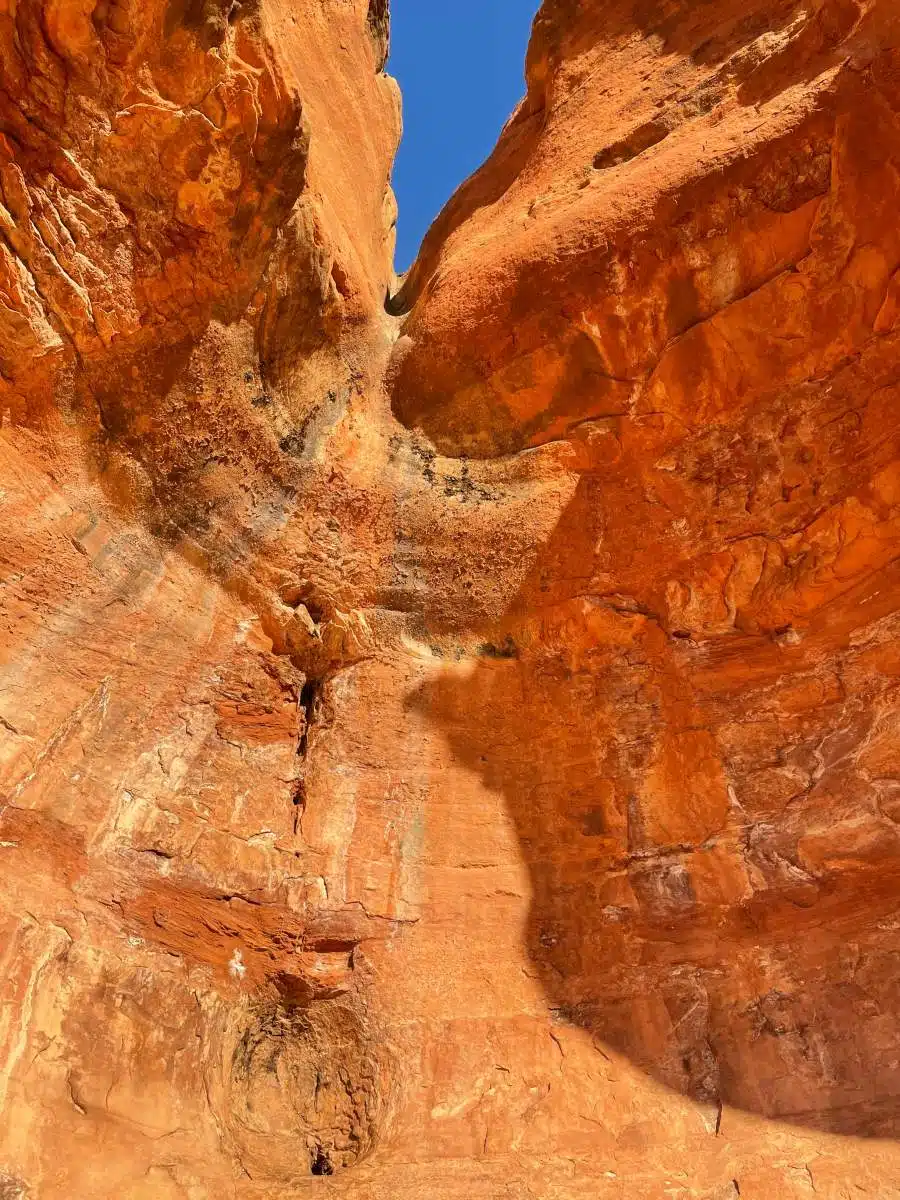 The Birthing Cave trail is a relatively easy and short 3.2 km (2 miles) out-and-back trail. It should take around two hours to complete the long, flat trail and is ideal for all skill levels. You can even bring your pet along if you keep them on a leash.
As expected in the Red Rock area, you'll see lots of rock formations, greenery and mountain tops in the distance along your hike. You might even see a few adorable javelinas or "skunk pigs", as they're more commonly known. If this is the case, just keep a safe distance from them – remember, you are the intruders in their home.
While the hike is beautiful, the best view from this site is inside the cave. It looks like a flat diamond-shaped bowl with the front cut open to show you the area's most beautiful scenery.
Its walls are smooth and slippery, so be careful, but if you can, try to climb up a bit higher to sit on the side walls for even better views. The cave faces southeast, so it's bathed in sunlight by noon. But, if you want a cooler hike (and some picturesque views), time your hike for just after sunrise or just before sunset.
No matter when you arrive on the scene, the best photo spot is the middle back area, which many refer to as the "belly button". To get the best shot, bring a wide-lens camera or take a panoramic photo with your phone camera.
Note: You don't need Red Rock Pass to hike this trail. But that also means there are no facilities like bathrooms on the trail, so plan accordingly.
Birthing Cave Sedona History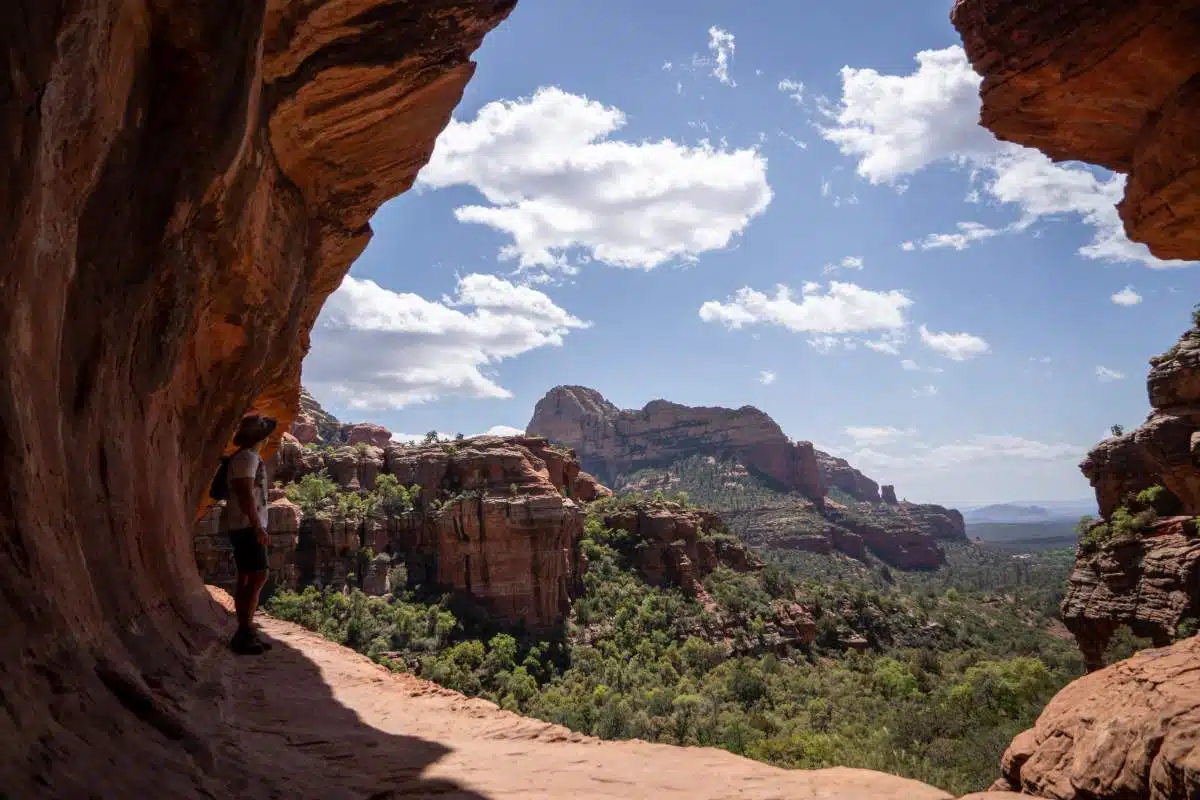 This cave's name has an interesting backstory about indigenous Hopi women native to the Arizona area. And I bet you can already guess what it might relate to.
As the name suggests, the indigenous people used this cave as a place to give birth. While it may be difficult for you and me to imagine a pregnant woman struggling up the steep Mescal Mountain, the Hopi People believe it to be a healing and spiritually uplifting place.
Besides this, it also makes practical sense why they chose this location to bring their babies into the world. Its high elevation also plays in the women's favour as it was a way to safely give birth away from predators and the beating sun.
While it isn't used for birthing purposes anymore, it's still a highly spiritual site. Many people today still believe that it is a healing vortex and one of Sedona's seven powerful vortexes.
Regardless of your thoughts, it is essential to always be respectful on your hike. This means following the No Trace Principles, staying on the trail and being kind to your fellow hikers. Some people still visit the site for its healing properties, while others visit hoping to get blessed with pregnancy or a safe pregnancy.
Alternative Hike Near Birthing Cave, Sedona
This trail can get pretty busy sometimes, so here are a few alternative hikes you can take while you wait for the crowds to disappear.
Subway Cave Trail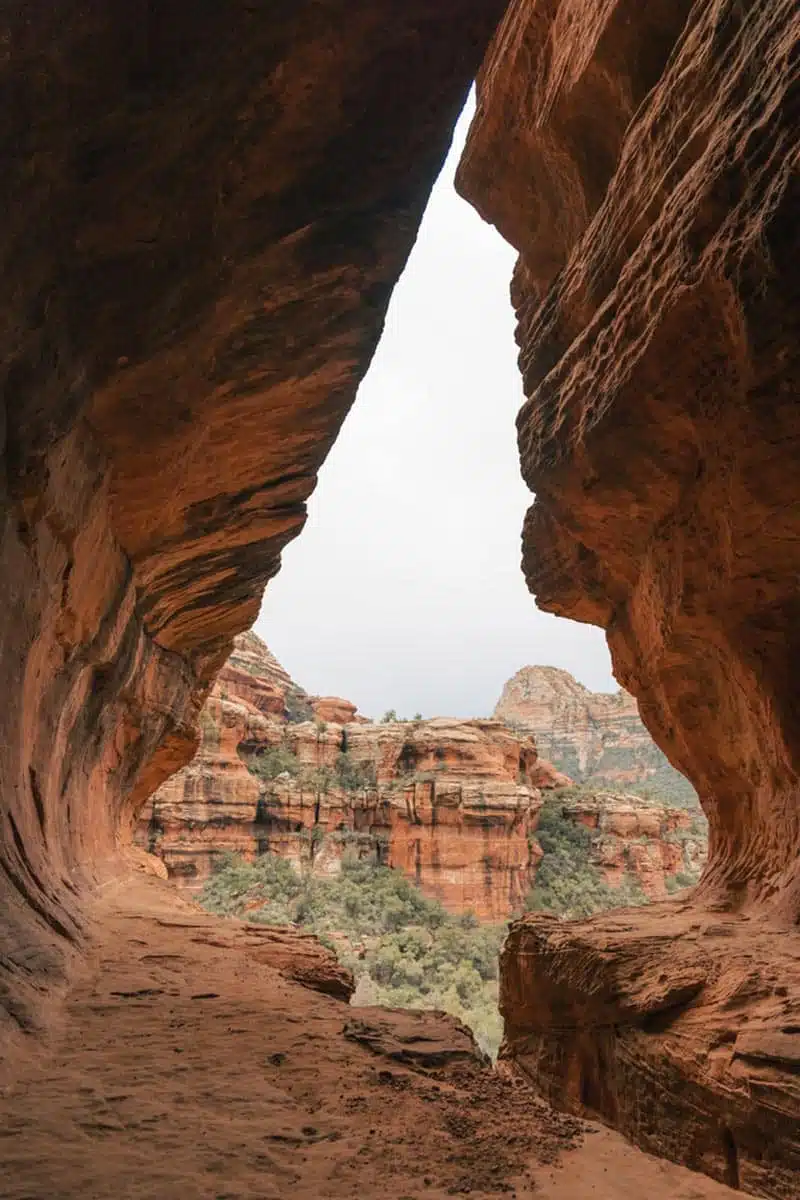 I've already written a whole post about the Subway Cave Trail Sedona, but it's another excellent hike off the Long Canyon Trailhead.
It is a much shorter hike that should take less than half an hour to complete, but it's worth it in the end. Similar to the Birthing Cave, it also has a sandstone opening in the prime spot for photos and views of the area.
Boynton Canyon Trail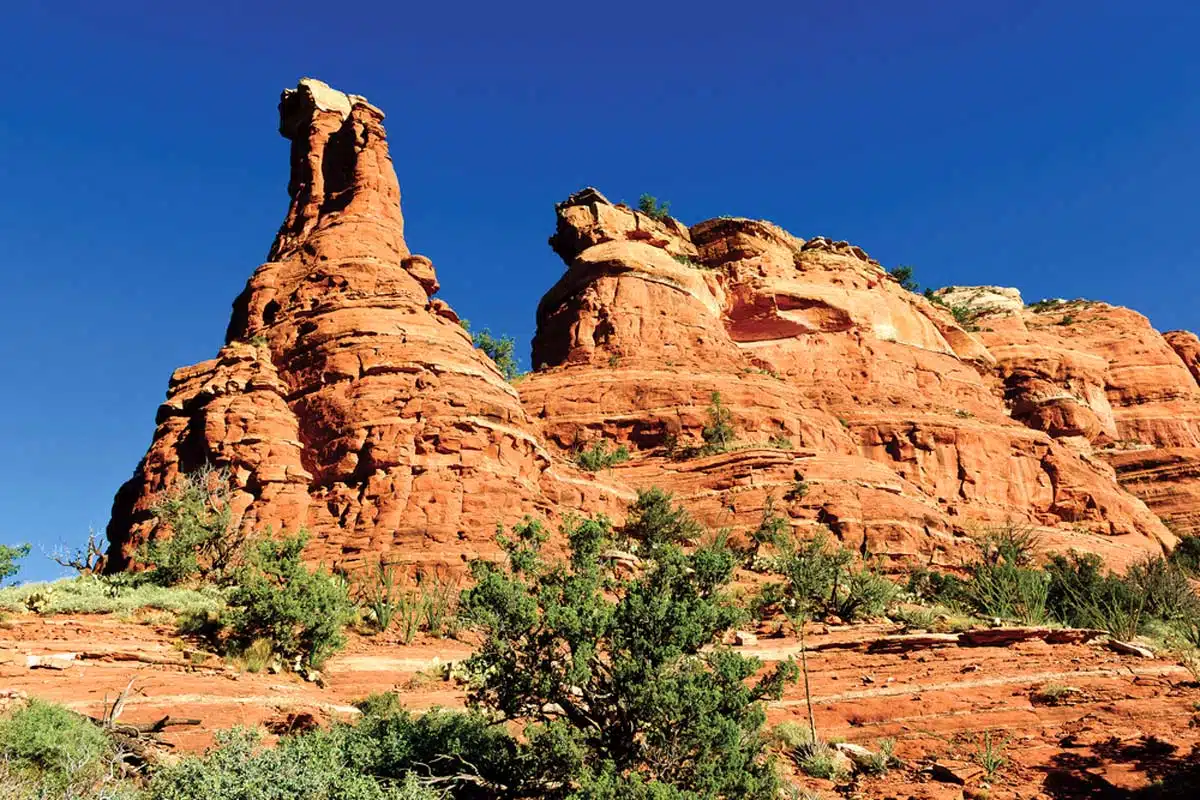 Another pathway on the Long Canyon Trail and one of the best hikes in Sedona is the Boynton Canyon. You can add this to the Subway Cave trail hike if you want, as they're so close to each other. It's another vortex in the area, so it's not uncommon to see people practising meditation or yoga here.
This out-and-back trail is a more challenging walk, but you can still bring your leashed dog along. It is 9.8 km (6.1 miles) long and takes about two and a half hours to complete.
Along the way, you'll see many beautiful rock formations, including one sacred to the Hopi People called "Kachina Woman". She is a guardian and protector and watches over them.
Top Tip: If you take on this trek, you'll want to purchase a Red Rock Pass first.
Practical Tips for Hiking the Birthing Cave in Sedona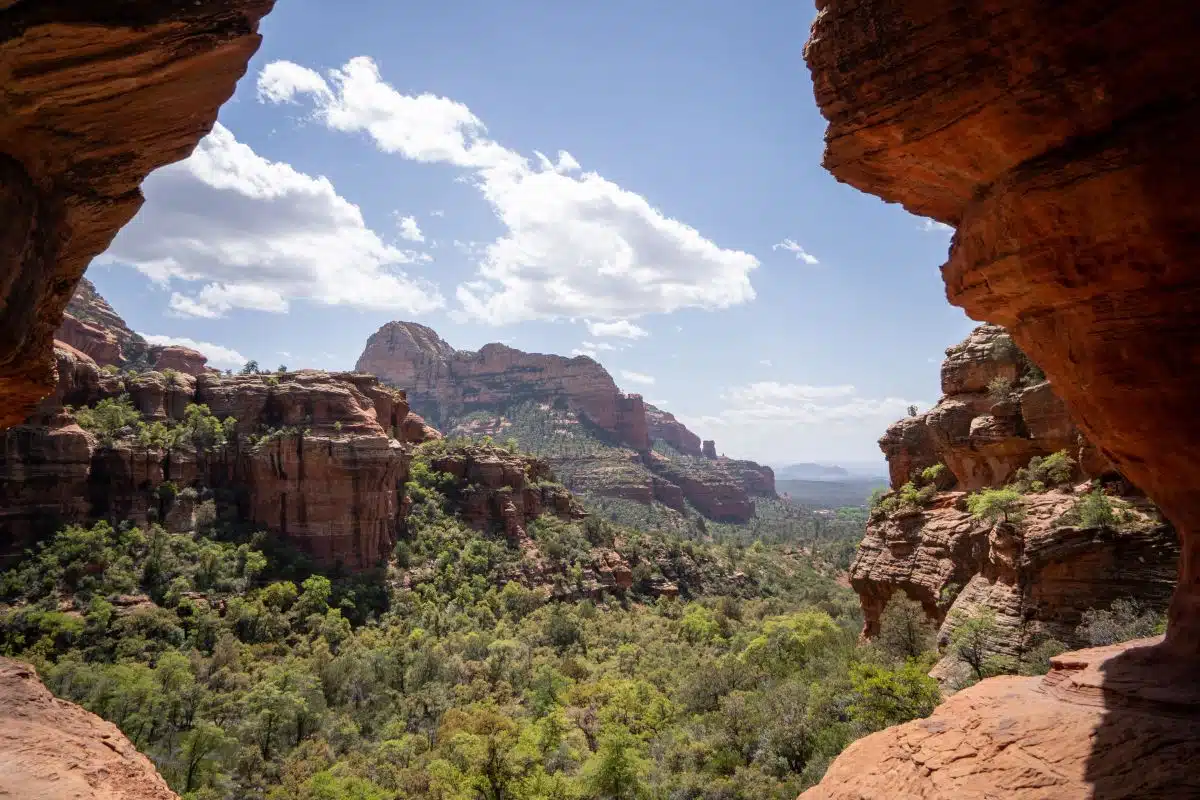 Let me be real with you – the best time to visit Sedona is anytime besides summer. The same goes if you also plan to walk the birthing cave trail in Sedona. But October to May is the absolute best time.
There isn't a lot of parking, so arrive early. As well as this, no clear trail signs indicate where to find the trail, so I advise you to plan your route and download the map ahead of time.
Hydrate. Hydrate. Hydrate. There are very few shaded areas on the trail.
If you plan an extended trip to the area, check out my post on where to stay in Sedona for some fantastic suggestions.
The Birthing Cave in Sedona: FAQs
Sedona Birthing Cave Map
Love this? Save and share on Pinterest!