The ultimate guide to camping in Sedona – read on to discover the best spots and tips for pitching up in Sedona.
Looking to camp in Sedona? You've come to the right place; I've got the lowdown on camping amongst Sedona's rugged landscape.
Sedona is a city famed for its alternative atmosphere, so it's no surprise that it's one of the best places to pitch up a tent in Arizona. You can choose to spend your days meditating, practising yoga, exploring and fully connecting with nature – all in between visiting vortexes, of course.
Excited? You should be – start packing your camping gear and get ready to experience Sedona's vast beauty.
Best Spots for Camping in Sedona
Manzanita Campground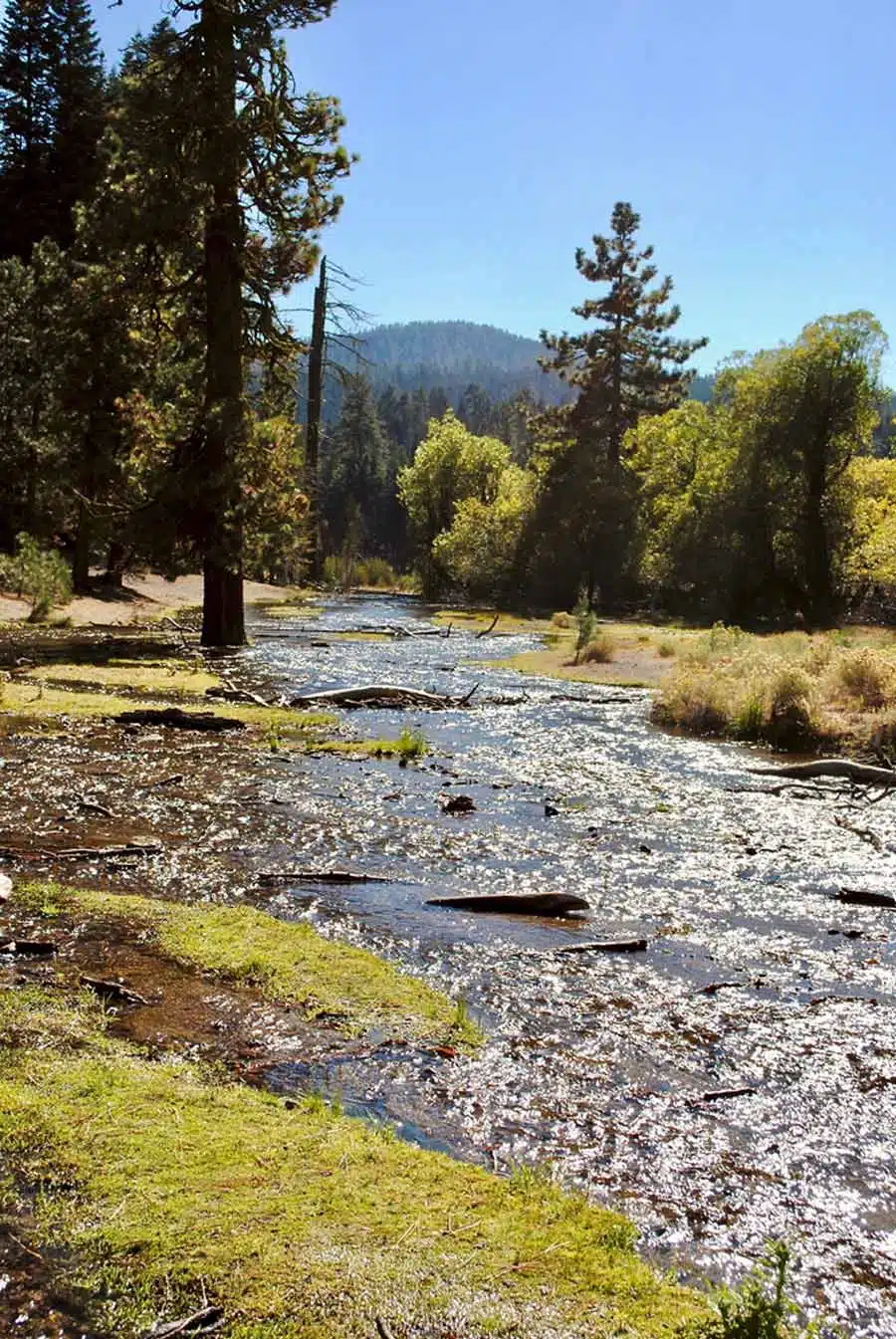 Open dates: Year-round
Number of sites: 18 (11 of these are reservable)
Types of camping available: Tents and small sleep-in vehicles only
Amenities: Parking, drinking water, picnic tables and toilets
First up, my favourite spot, Manzanita campground. It's ideal for smaller families, couples, or solo campers because of its tent-only facilities.
Located along Oak Creek, you can cool down and fish in the swimming holes (which is, quite frankly, a God-send as there aren't any showers). Lush greenery, scenic hiking trails and wildlife-spotting opportunities surround this creekside camp.
Waste no time reserving a spot for this one, though. Since it's a small campsite, it fills up pretty quickly, and you'll be lucky to book a space in the first place. Also, you can only stay up to seven days (which should be enough).
Staying here will cost about $26 per night, and if you've forgotten the firewood, you can buy some from the campground hosts for $8 per pack. There's space for only one vehicle per site, and pets are welcome if leashed.
Chavez Crossing Group Campground
Open dates: Year-round
Number of sites: Four group sites
Types of camping available: Tent and campervan/RV
Amenities: Vault toilets, drinking water, picnic tables and parking
Spend a few nights under the stars at the charming Chavez Crossing Group Campground. Offering a rustic creekside experience, this campground showcases the stunning red rock formation. It's perfect for larger groups and families, with sites hosting up to 110 people.
Despite the fact that there are golf courses and fancy homes encircling the area, it feels pretty secluded.
Better yet, trendy shops and a buzzing nightlife are just a stone's throw away. This makes the campground favourable for unseasoned campers who won't stray too far or those looking to be near all the fun things to do in Sedona.
The campground consists of four sites ranging from $95 to $235 per night, depending on your group size. Like Manzanita, you're allowed up to seven nights and should keep your pets on a leash.
Camp Avalon Spiritual Nature Retreat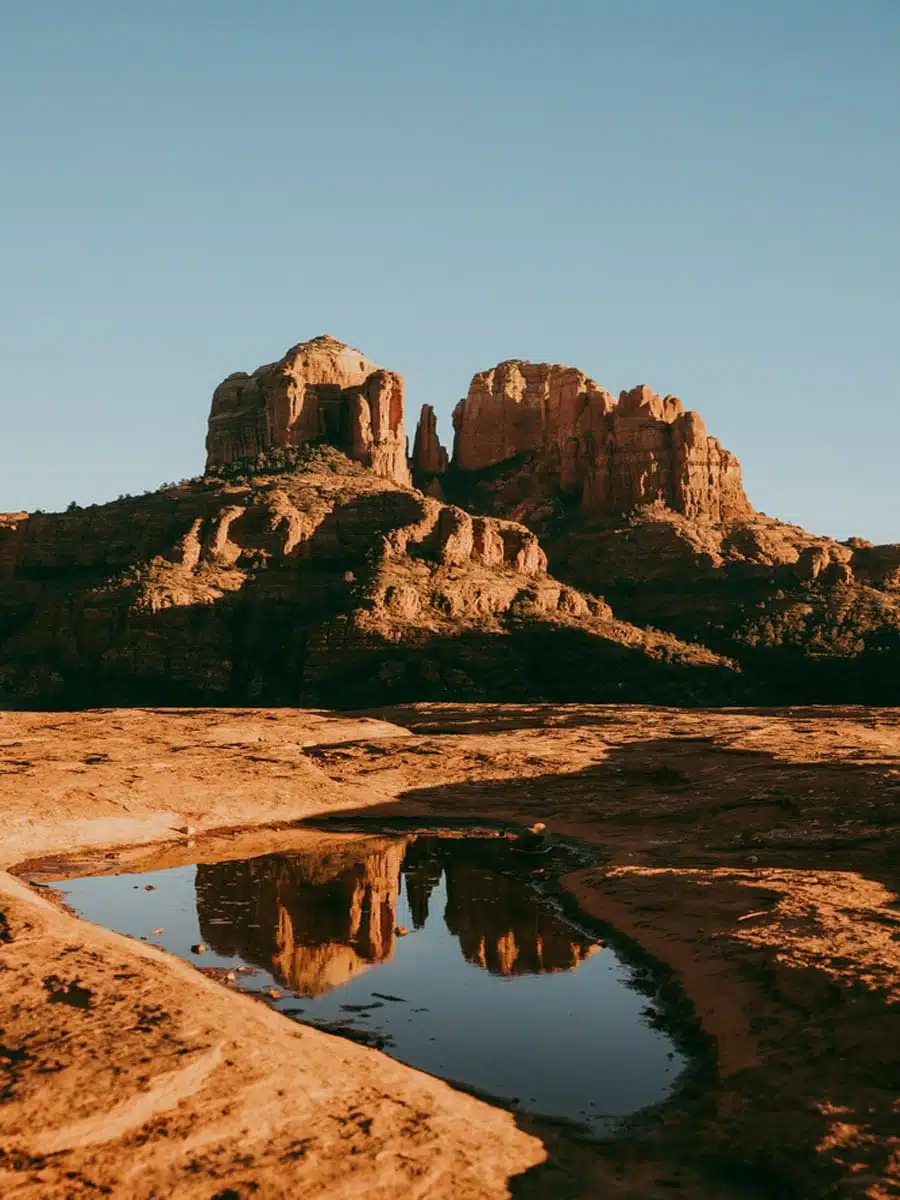 Open dates: Year-round
Types of camping available: Small to medium-sized vans and trailers (no longer than 20ft in length)
Amenities: Bathrooms with flush toilets and showers
Up next is one of the best camping spots in Sedona for its iconic spiritual and easy-going atmosphere. Yoga, tai-chi, meditation and ceremonies such as drumming circles are all part of the package at Camp Avalon.
This is a quintessential spot for solace seekers, spiritual awakenings and growth. However, larger groups and families are also welcome. Camp Avalon sits on beautiful acres of land, filled with majestic trees and creeks near one of the most photographed sights, Cathedral Rock.
While here, you can also enjoy trips to the Palatki Heritage Site to learn more about the history of Sedona's native peoples. Then, collect a few bits of memorabilia at Tlaquepaque Arts & Crafts Village.
You can bring your pup, but they should always be on a leash and never left unattended. Booking your spot typically costs $45 per night, and you can stay for up to two weeks.
Pumphouse Wash (FR 237) Dispersed Campground
Open dates: Inaccessible during winter (late December – March)
Number of sites: Four campsite loops with 11 to 26 spots each.
Types of camping available: Tent and campervan/RV
Don't look any further than Pumphouse Wash if you want free camping in Sedona. Technically, it sits between Sedona and Flagstaff — which means epic day trips from Sedona are even easier.
As an undeveloped camping area in Coconino National Forest, expect no amenities. This campground is the definition of backcountry camping, so you must prepare well. At least you'll have a parking space (yay).
Bring your own drinking water, a porta-potty, trash-can bags and any other equipment to make your stay comfortable. There is a campfire ring to light up some marshmallows under a starry sky.
Ensure to camp only in numbered and signed campsites and use designated campfire rings for your safety.
Pine Flat Campground
Open dates: Inaccessible during winter (late December – March)
Number of sites: 56 campsites (18 are reservable)
Types of camping available: Tent and campervan/RV (up to 36 ft with no hookups)
Amenities: Picnic tables, vault toilets, drinking water and parking
The best camping in Sedona, Arizona, is probably Pine Flat Campground, thanks to its unmatched scenery. The towering orange cliffs, ponderosa pines and streams make this site magical and a photographer's dream.
Apart from fishing or swimming, you can enjoy scenic hikes and take part in a little bit of bird watching. Slide Rock State Park and Sedona's lively resort town are a few minutes away if you want to explore outside the park.
Each spacious campsite can host up to eight visitors for a seven-day stay at $26 per night. You'll pay $10 for an extra vehicle and $8 for a bag of firewood. And if you bring your pets, they should be on a leash for your stay.
Top Tip: If you're desperate to refresh, head to the nearby Cave Springs grounds to use token-operated showers.
Cave Springs Campground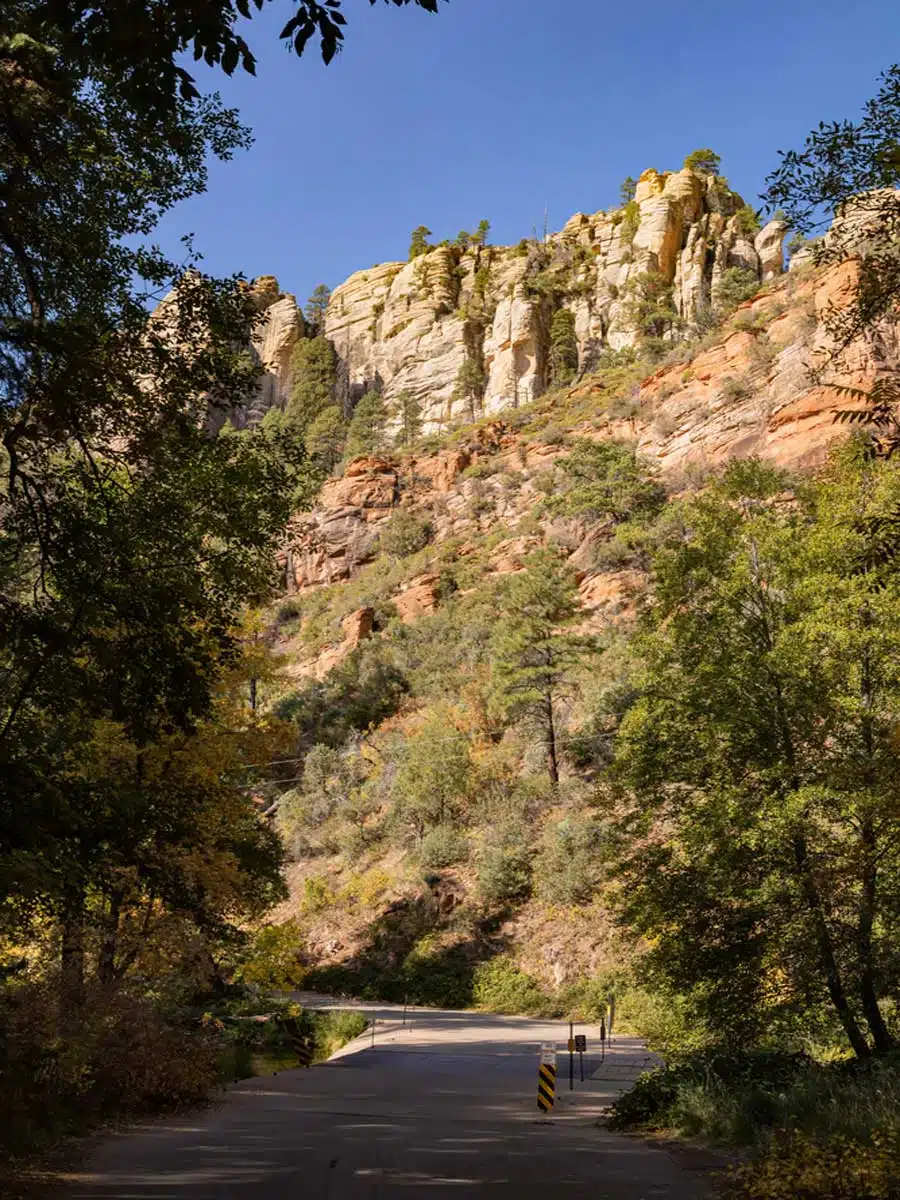 Open dates: Closed for the season from October to July
Number of sites: 82 single-unit sites and 11 reservable sites
Types of camping available: Tent, trailers and campervan/RV up to 36 ft
Amenities: Vault restrooms, coin-operated showers, drinking water, cooking grills and campfire rings
At Cave Springs, you can immerse yourself in nature as you nestle in a forested canyon. It's a campground that anyone can enjoy, whether you're a newbie or an experienced adventurer.
With breathtaking surroundings, hiking, birdwatching and fishing opportunities, it's undoubtedly one of the coolest places to camp in Sedona.
While it is currently closed, you can make your reservations on Recreation.gov up to 6 months in advance. This also guarantees a spot when it opens, as Oak Creek fills up quickly.
The coin-operated showers will cost $6 per use, and all campsites come with a $26 fee for up to seven days. You can visit Sedona for its red rock vistas or Slide Rock State Park to discover Arizona's best swimming spots nearby.
Clear Creek Campground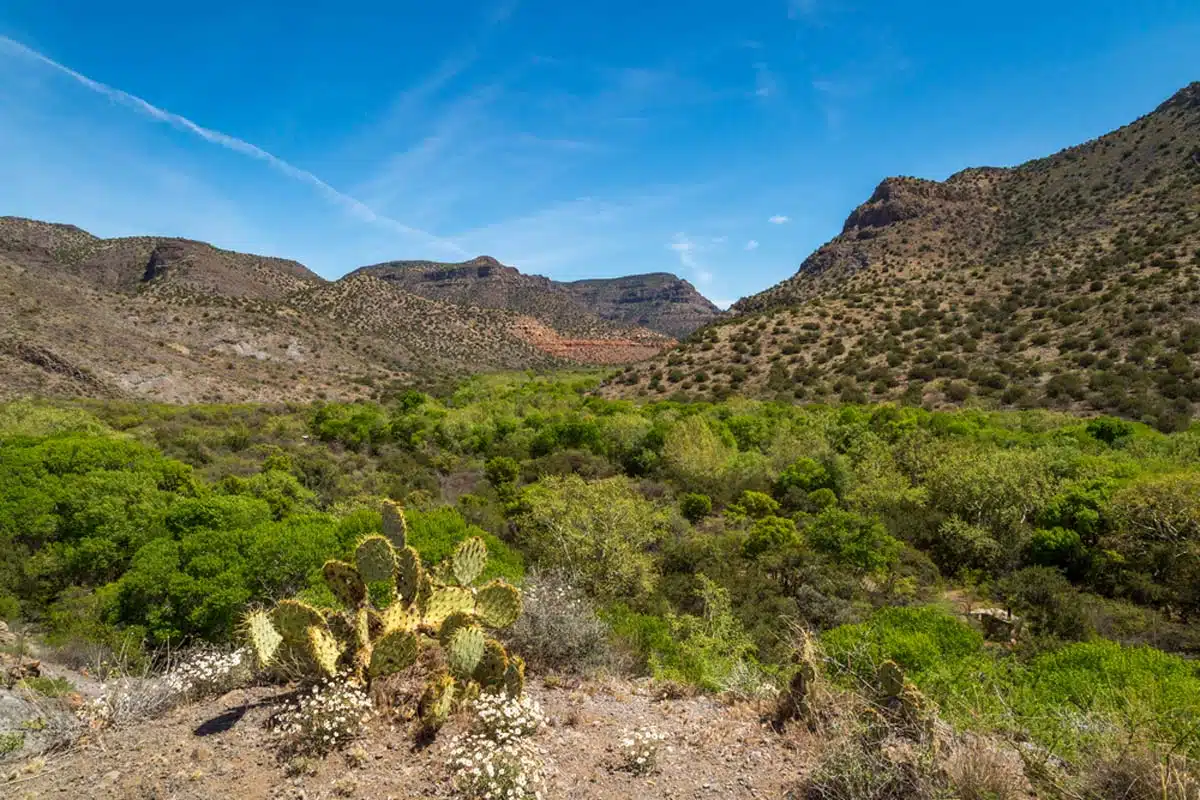 Open dates: Year-round
Number of sites: One group site & 18 single-unit sites
Types of camping available: Tent and campervan/RV (max 32ft)
Amenities: Vault and pit toilets, picnic tables, pets allowed, campfire rings and ice
Clear Creek Campground is another one of Sedona's top camping sites that will leave you in awe of its lush natural scenery.
This developed campground is tranquil and open featuring grassy meadows, shady towering cottonwoods and creeks flowing along the desert canyon. It's the perfect place to gather around a fire or enjoy a picnic as the sounds of nature fill the air.
Visiting this site during spring is best when the creeks are gushing with fresh waters and various kinds of wildlife.
Campsites will cost $24 per night for a maximum of seven days. Depending on the size, group sites cost between $95 to $160 per night. So, it's an excellent choice for couples, families or larger groups.
Practical Tips for Booking Campsites in Sedona, Arizona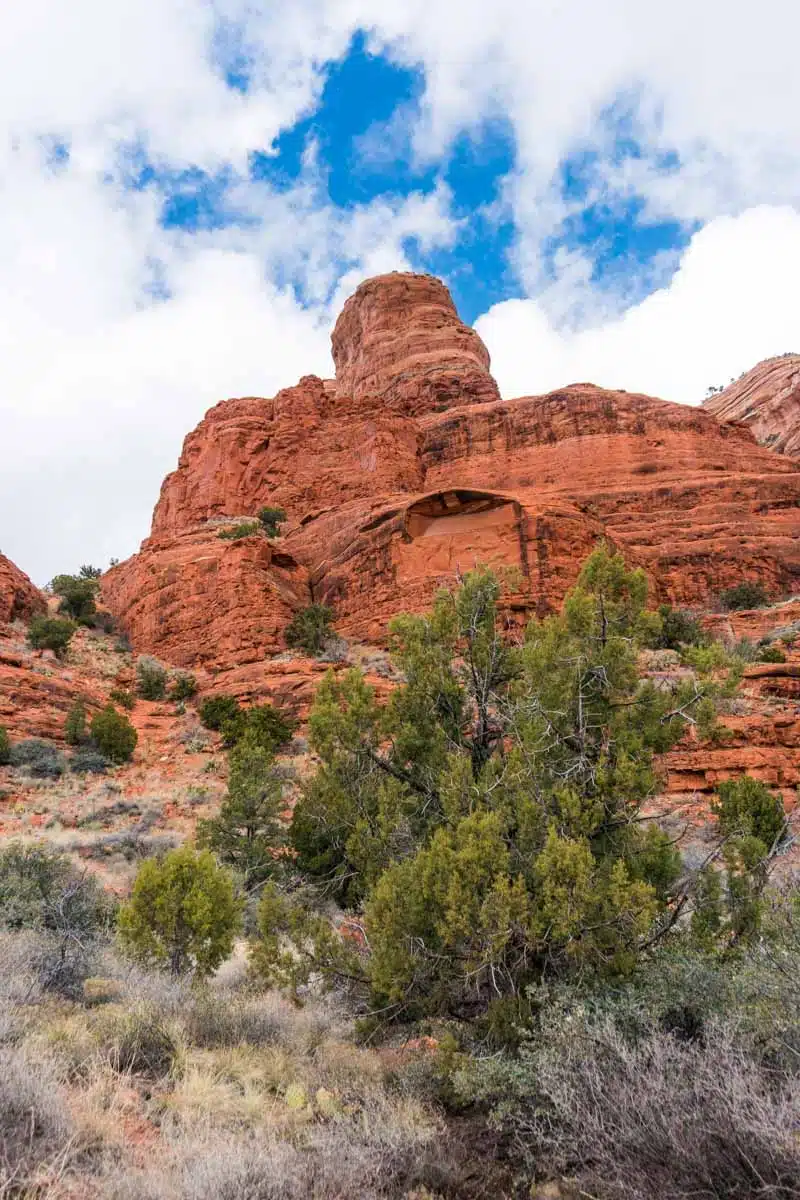 Consider the best time to visit Sedona's camping sites to avoid unfavourable conditions. I visited in February, but it would be too cold to camp then. The sweet spot for outdoor camping in Sedona, AZ, lies between early March and late May when it's cool and dry.
Another great time to camp in Sedona is October through November, when the weather is still pleasant and there's plenty of vibrant foliage.
Whether summer or not, you must protect yourself from the relentless Arizona sun. Carry a Hydroflask water bottle and pack on the high SPF sunblock.
Best Camping Near Sedona: Map
Sedona Camping Guide: Read Next