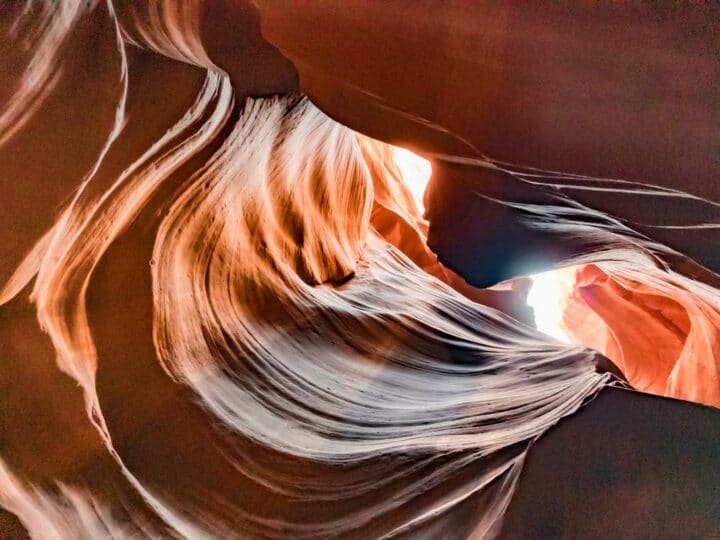 Discover the best hikes in Arizona. From the impressive Devil's Bridge to the majestic South Rim trail, these are the hikes you need to add to your Arizona itinerary.
Situated in the southwestern region of the United States is the picturesque state of Arizona – I've just returned from (yet another) trip to the state, and it's safe to say that I'm smitten.
With so many impressive natural features including the Grand Canyon, Antelope Canyon, and Camelback Mountain, it's no wonder that Arizona is a haven for outdoor enthusiasts.
And it's also not very surprising that the state is home to some of the best hiking trails in the country.
So, if you're like me and love trekking through national parks and experiencing breathtaking views, you'll love hiking in Arizona.
Sounds good? Keep reading as I unveil the best hikes in Arizona.
Best Hikes in Arizona
Hanging Garden Trail
Length: 0.6 miles
Time: 25 minutes
Difficulty: Easy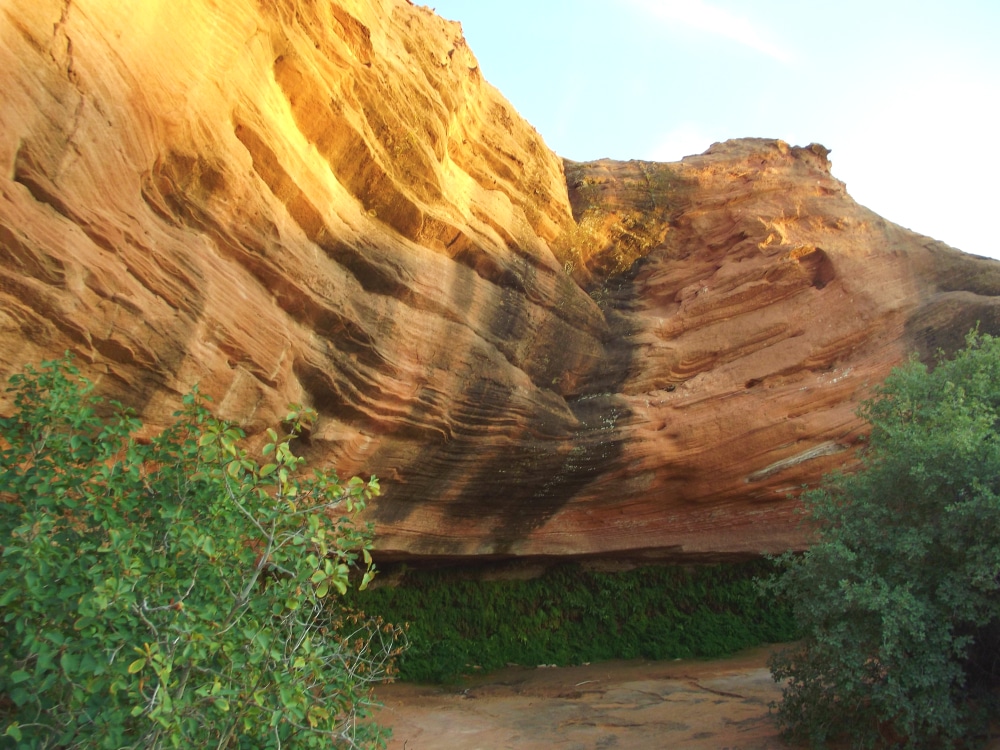 I'll start this Arizona hiking guide with a short but sweet out-and-back trail in the Glen Canyon National Recreation Area. The Hanging Garden Trail is a pretty hiking path just two miles outside of Page, Arizona.
You'll start the hike from the gravel parking lot by following the stone-lined pathway until you reach a red sandstone butte. Here, you'll see a sign pointing you toward the Hanging Garden.
You should stay on the path, but you'll need to do a bit of rock scrambling, which is probably the most challenging part of the hike (but it shouldn't be too much of a struggle).
Power on through and you'll reach the Hanging Garden – a stunning collection of ferns and wild orchids.
Camelback Mountain via Echo Canyon Trail
Length: 2.4 miles
Time: 2 hours
Difficulty: Hard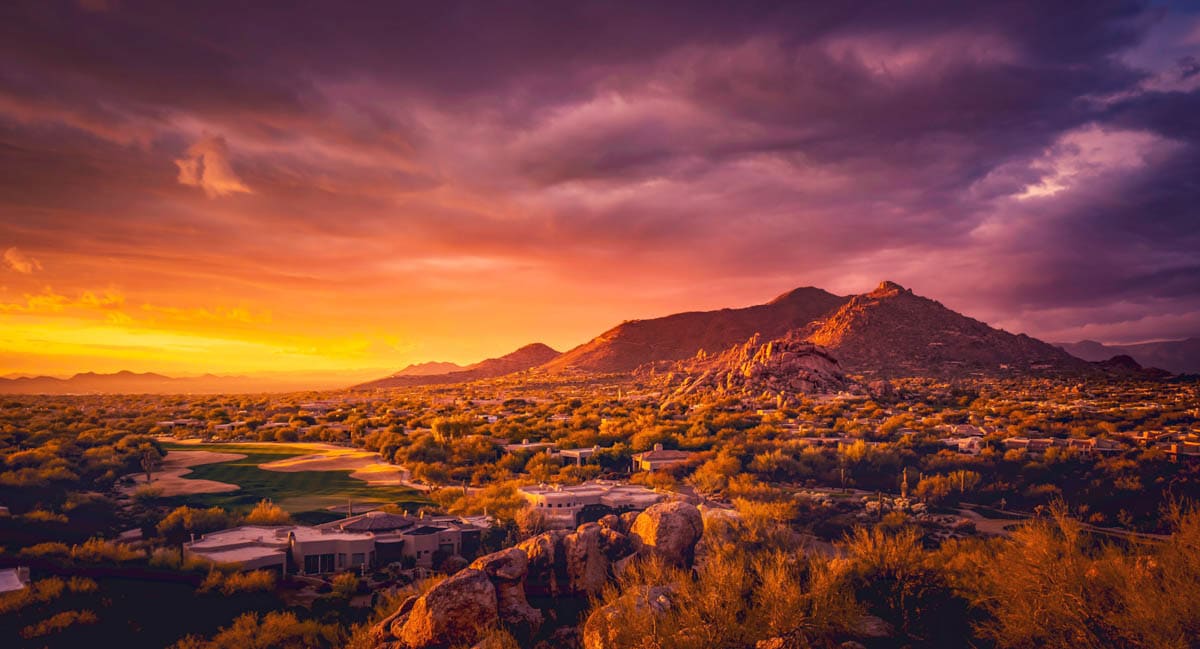 Looking for a challenge? One of the best places to hike in Arizona is the Echo Canyon Recreation Area near Phoenix. This park has over 200 miles of trails, and one fantastic option is to hike up Camelback Mountain.
You'll start at the Echo Canyon Trailhead, right off East McDonald Avenue, following the Summit Trail until 0.2 miles in. You'll continue on the Echo Canyon Trail as the route gets steeper, around half a mile in.
Keep going as you're close to your first stop. This is the Echo Canyon Viewpoint and offers a great view of Phoenix.
However, if you're already exhausted by this point, I'd recommend going back. That's because it only gets harder as the climb gets steeper and rock scrambling becomes more involved.
If you're still feeling fine, you'll walk for another half a mile until you get to the peak. Make sure to stay hydrated, as the heat can be extreme. Once you've reached the top, you'll get why so many hype it up.
Top Tip: Bring good hiking boots, as spraining your ankle is easy here.
Suggested Map
Devil's Bridge
Length: 3.9 miles
Time: 2 hours
Difficulty: Medium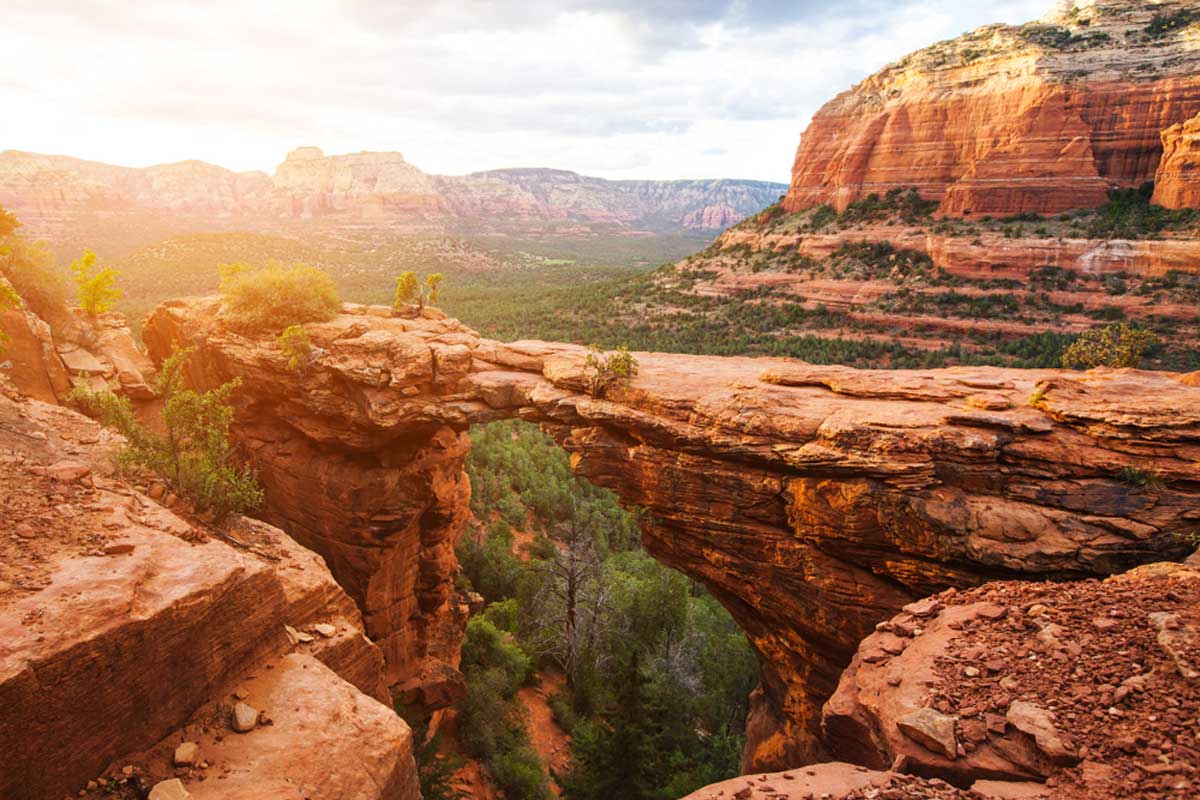 One of the best things to do in Sedona is hiking, as the Devil's Bridge trail shows. It's an easy hike with beautiful scenery. Even better, it's dog-friendly, so feel free to bring them along.
You'll start at the Dry Creek Vista parking lot, which you can drive to or catch the Sedona Shuttle (free) from Sedona. Next, you'll walk on Dry Creek Road for one mile until you reach the Devil's Bridge trailhead.
Follow the signs as you walk for two miles until reaching the bridge's base – it's not too tricky but you will need a solid level of fitness to undertake it comfortably. Next, you'll climb its rock staircase to the iconic photo opportunity.
Tip: Come early in the morning to avoid crowds, as it gets packed quickly.
Suggested Map
South Rim Trail
Length: 13 miles
Time: 5 – 7 hours
Difficulty: Easy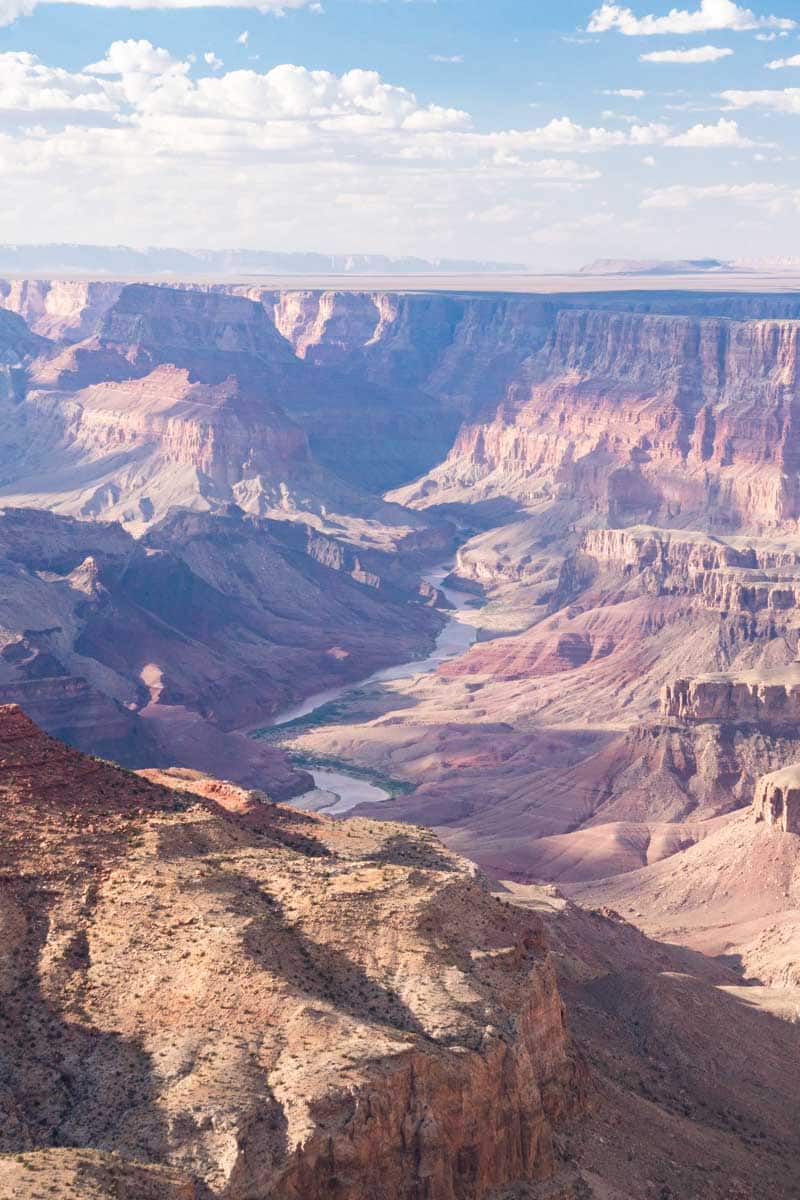 Next, we have the South Rim Trail, one of the most iconic hikes in the Grand Canyon. It's an incredibly fantastic route to get some of the best views of the Grand Canyon, as it has viewing spots, such as Mather Point and Hermit's Rest, dotted along it.
While it's quite a long route, the trail has few steep inclines and is downhill for most of the route. The path is mostly asphalt pathways, so even wearing comfortable trainers will work.
Loma Verde Loop Trail
Length: 3.7 miles
Time: 1 hour and 15 minutes
Difficulty: Easy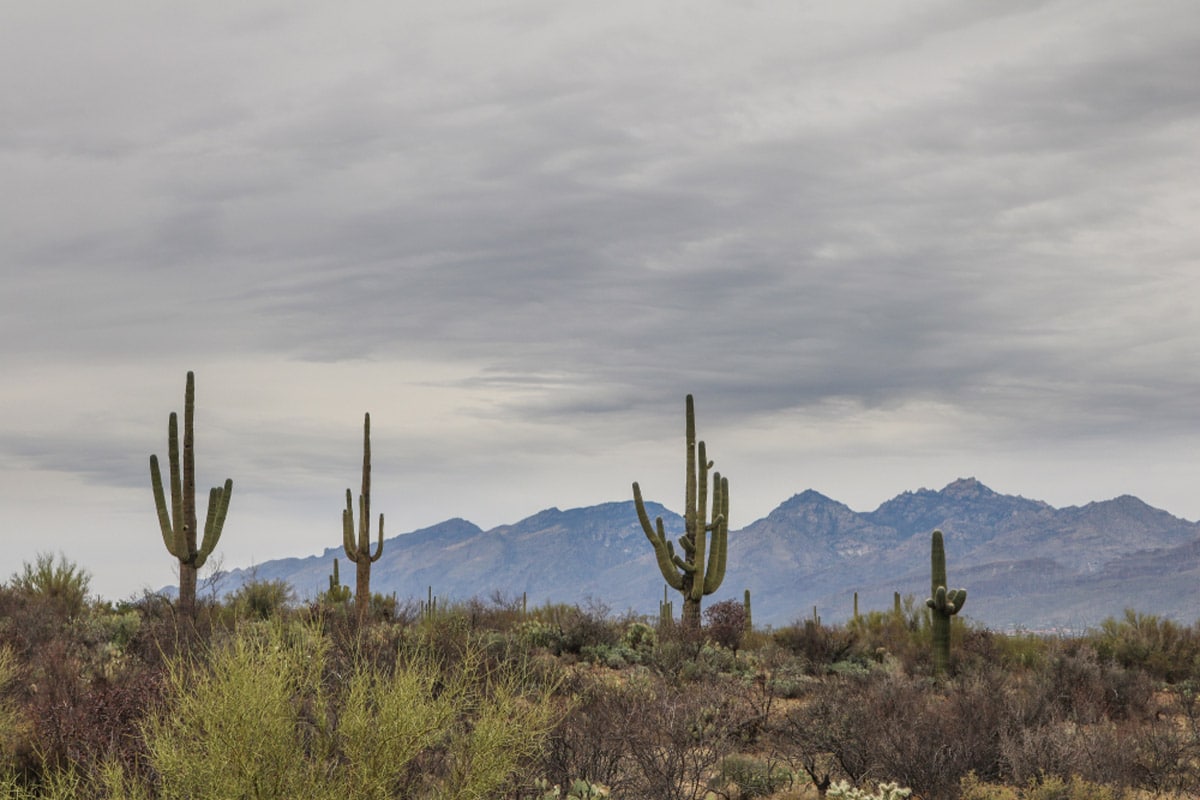 Another great option for where to hike in Arizona is near Tucson in Saguaro National Park's East region. You'll find brilliant trails here, such as the Loma Verde Loop Trail.
What's brilliant about it? It's pretty unknown – but just because it's quieter, that doesn't detract from the natural beauty here.
You'll find parking just off the Cactus Forest Drive at the trailhead's start. Follow the Loma Verde trail until a mile in, where you pass Pink Hill and turn right onto the Pink Hill Trail.
Here, you'll get a stunning view over the cactus forest, full of abstract-looking plants.
Around two miles in, you'll switch onto the Squeeze Pen Trail. It gets steeper, but keep going; you'll be near the end.
King Canyon / Gould Mine Loop
Length: 2.3 miles
Time: 1 hour
Difficulty: Medium
Another great Saguaro National Park hike is the Gould Mine Loop. You'll start on a gravel road, the King Canyon Trail, for 0.8 miles before turning onto the Sendero Esperanza Trail, where the hike gets more gradual.
At around 1.3 miles in, you'll start the decline and may even get a glimpse of the Gould Mine. This was a copper mine (I know, I thought it was a misspelling, too), but it's closed off now, so stay on the path.
Keep trekking on; you'll walk downhill for the rest of the hike. You can also appreciate the cacti, which have adorable names, such as teddy bear and hedgehog (sadly, they aren't cuddly).
Echo Canyon Trail
Length: 3.9 miles
Time: 2 hours
Difficulty: Medium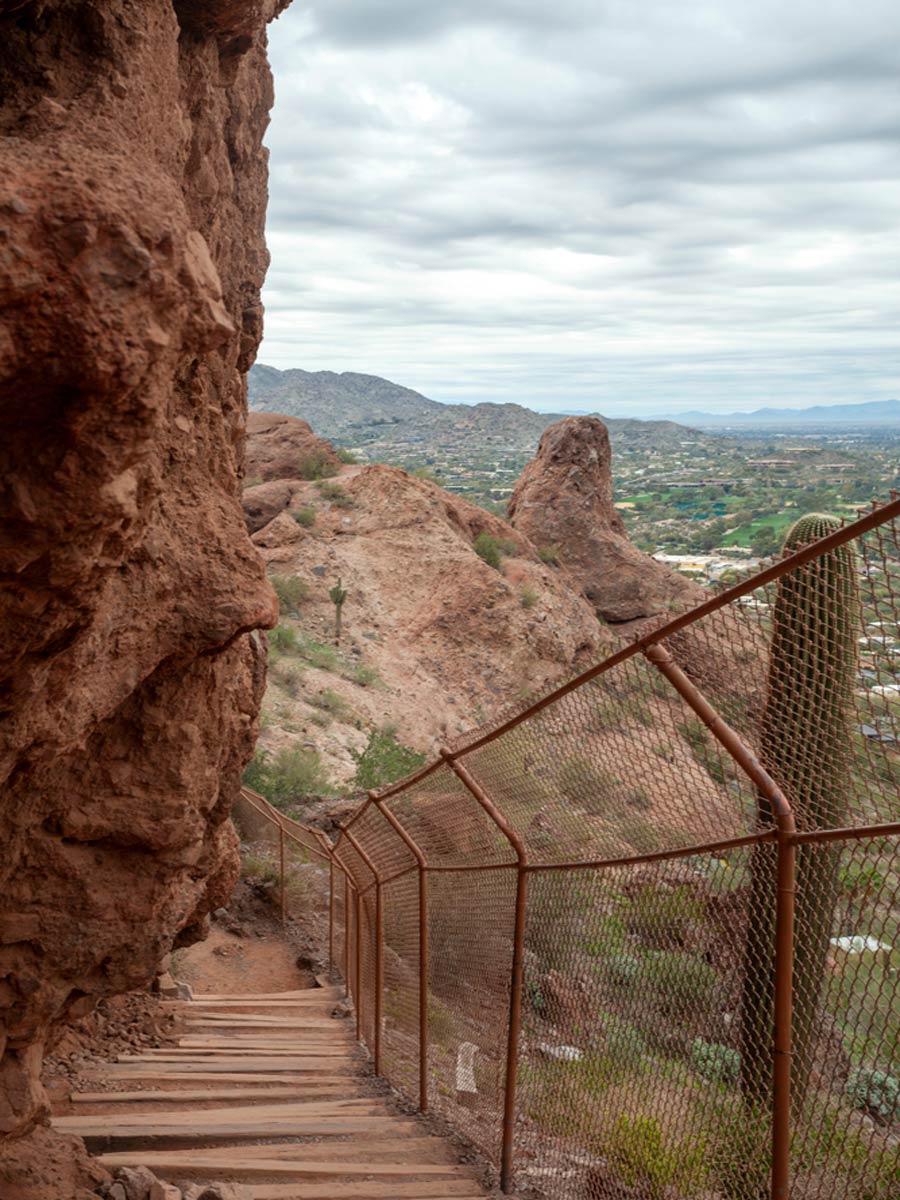 If you're looking for the best place to hike in Arizona with unique rock formations, visit Chiricahua National Monument. The Echo Canyon Trail is one of the most popular hikes here, as it runs through slot canyons and is a picturesque loop hike.
From the trailhead, you'll head out on the Echo Canyon Trail. At 0.2 miles in, you'll switch to the Ed Riggs Trail, which gradually declines as you pass abstract formations and verdant coves.
Next, you'll hit the Hailstone Trail around a mile in. This part gets a bit drier as you enter the Rhyolite Canyon, so remember to hydrate. The most challenging part is yet to come, as there's an elevation gain of over 300 feet around 2 miles in.
Upper Antelope Canyon Trail
Length: 6.5 miles
Time: 2 hours
Difficulty: Easy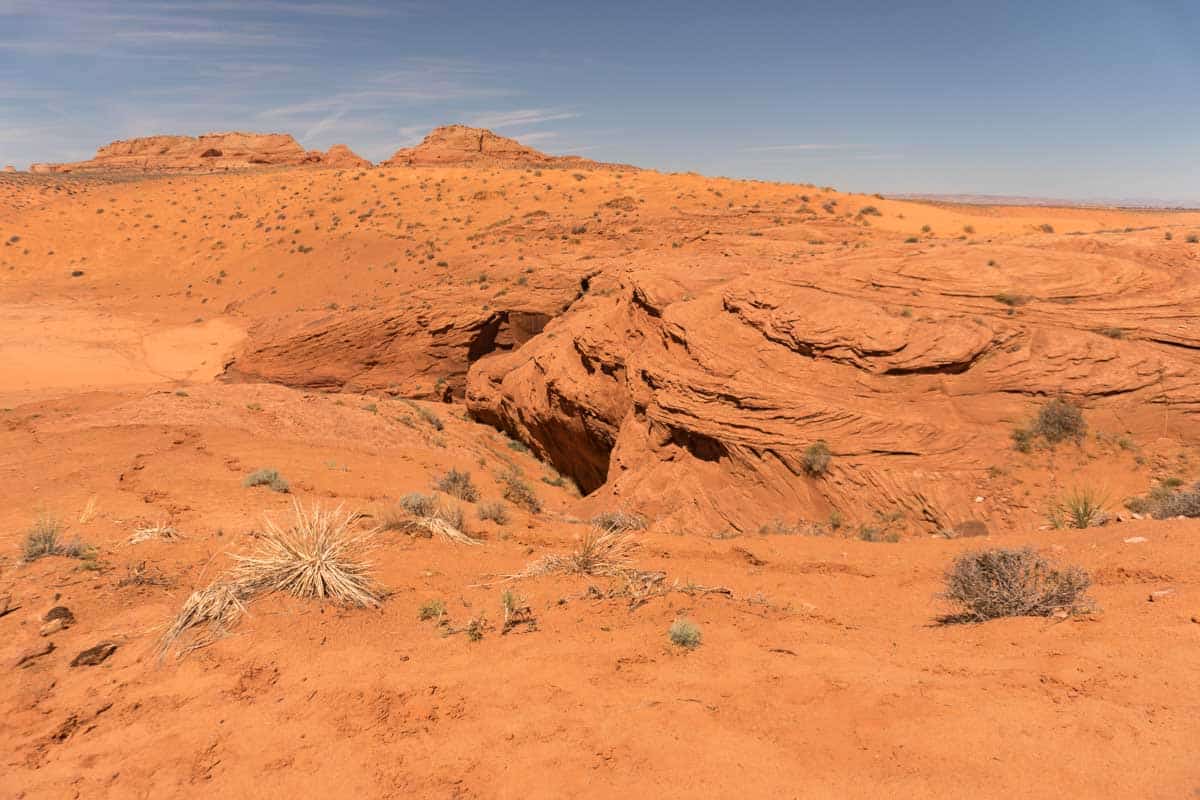 Another beautiful spot in Arizona is Antelope Canyon, not far from Page. However, with this hike, you have to book a guided tour. This is because the canyon is on protected Navajo land.
This Upper Antelope Canyon guided tour is a fantastic option, as you can experience the breathtaking canyons while learning about the area's history.
The Upper Antelope Canyon Trail is gradual, with an elevation gain of 252 feet to the hike's peak. On the way down, it follows a smooth decline as the trail ends.
Lower Antelope Canyon Trail
Length: 1 mile
Time: 45 minutes
Difficulty: Easy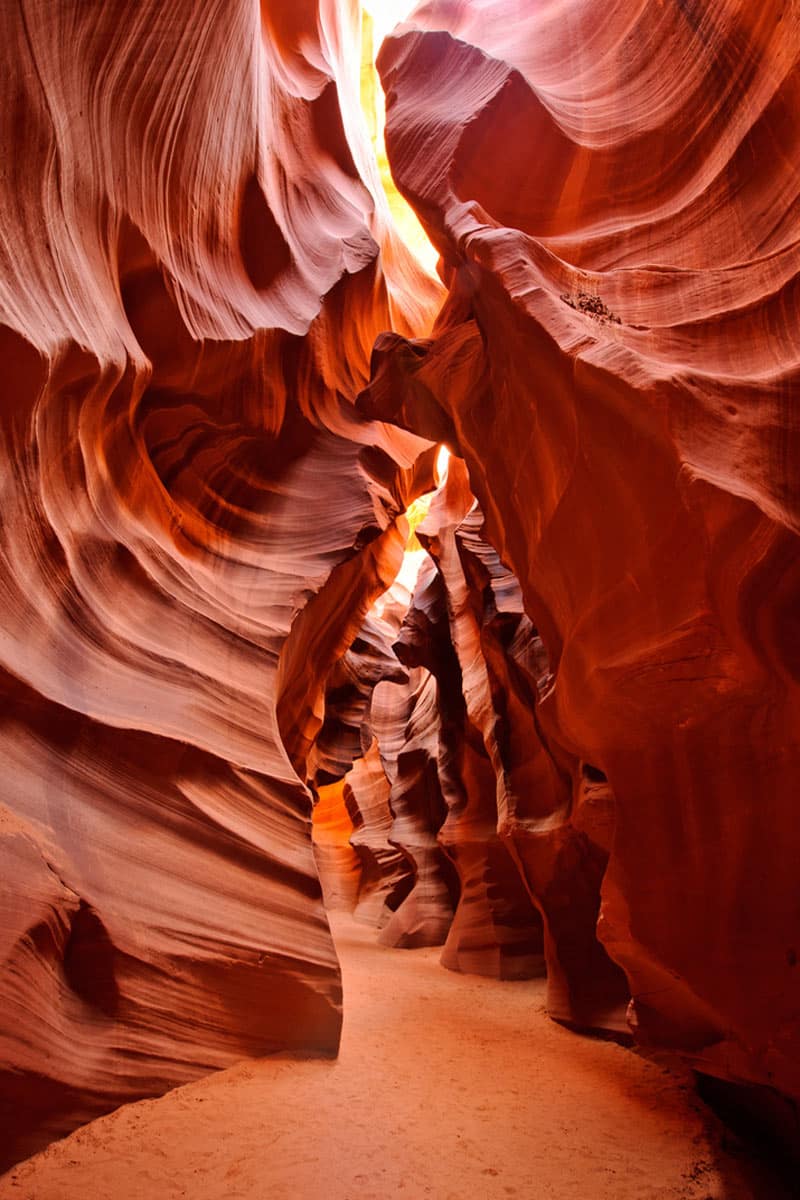 As with upper Antelope, lower Antelope is only accessible with guided tours. I'd recommend this lower Antelope Canyon walking tour as a brilliant way to access the Lower Antelope Canyon Trail.
The route will take around 45 minutes to an hour, depending on how busy it gets, as you have to climb up and down staircases. But it's a terrific opportunity to glance at these majestic yellowy-orange formations.
Tom's Thumb Trail
Length: 4.4 miles
Time: 2 hours and 45 minutes
Difficulty: Hard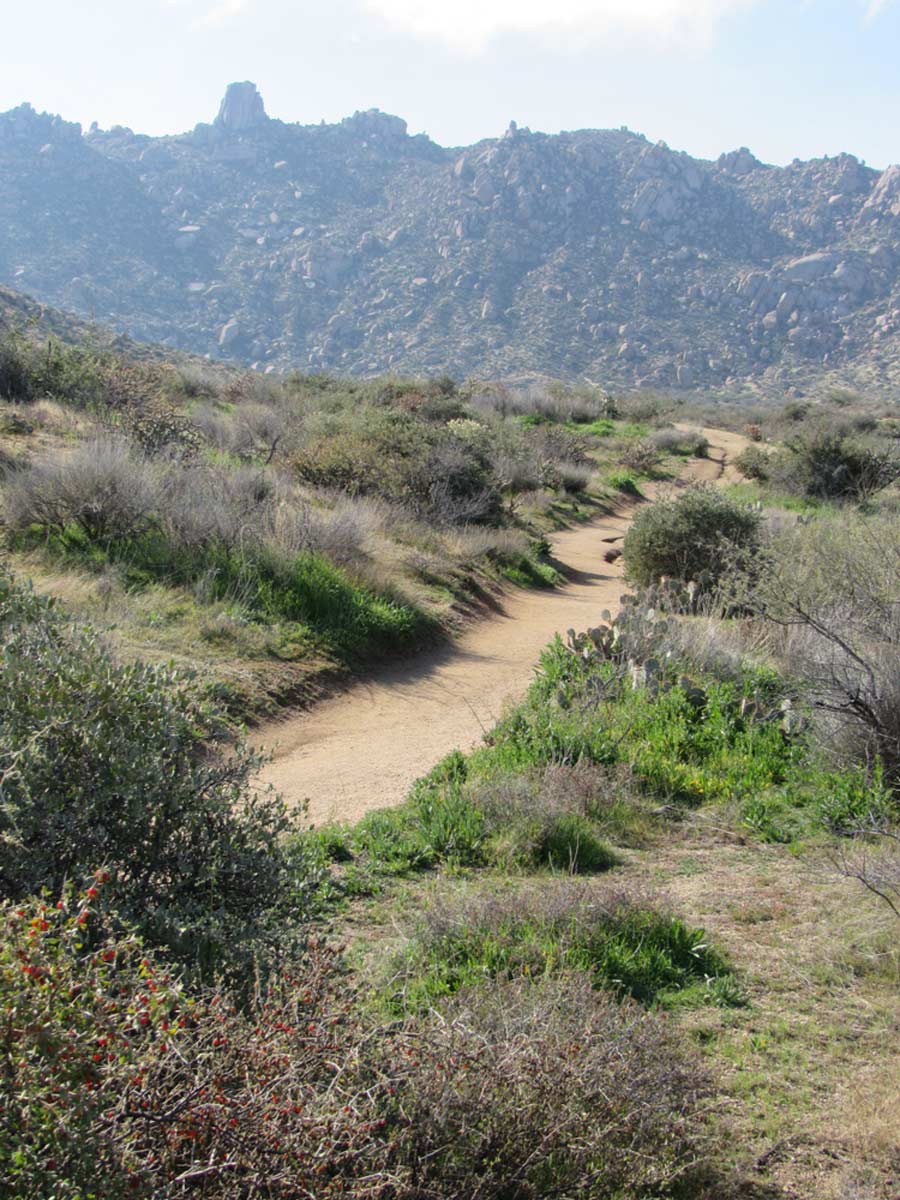 One of the hardest hikes in Arizona is Tom's Thumb Trail. However, it's also one of the most enjoyable hikes on this list.
It's an out-and-back trail, just outside of Scottsdale, in the McDowell Sonoran Preserve. It starts easy but gets quite steep, around 0.6 miles in.
This lasts for another 0.2 miles before it flattens for a while. As you pass East End Peak, you'll feel the push start again, so perhaps take a break here and enjoy the view.
Once you've caught your breath, keep pushing, as it's only half a mile to the top. Then, you'll get Tom's thumb of approval (sorry, I just had to) as you start the decline.
Courthouse Butte Loop Trail
Length: 3.9 miles
Time: 1 hour and 30 minutes
Difficulty: Medium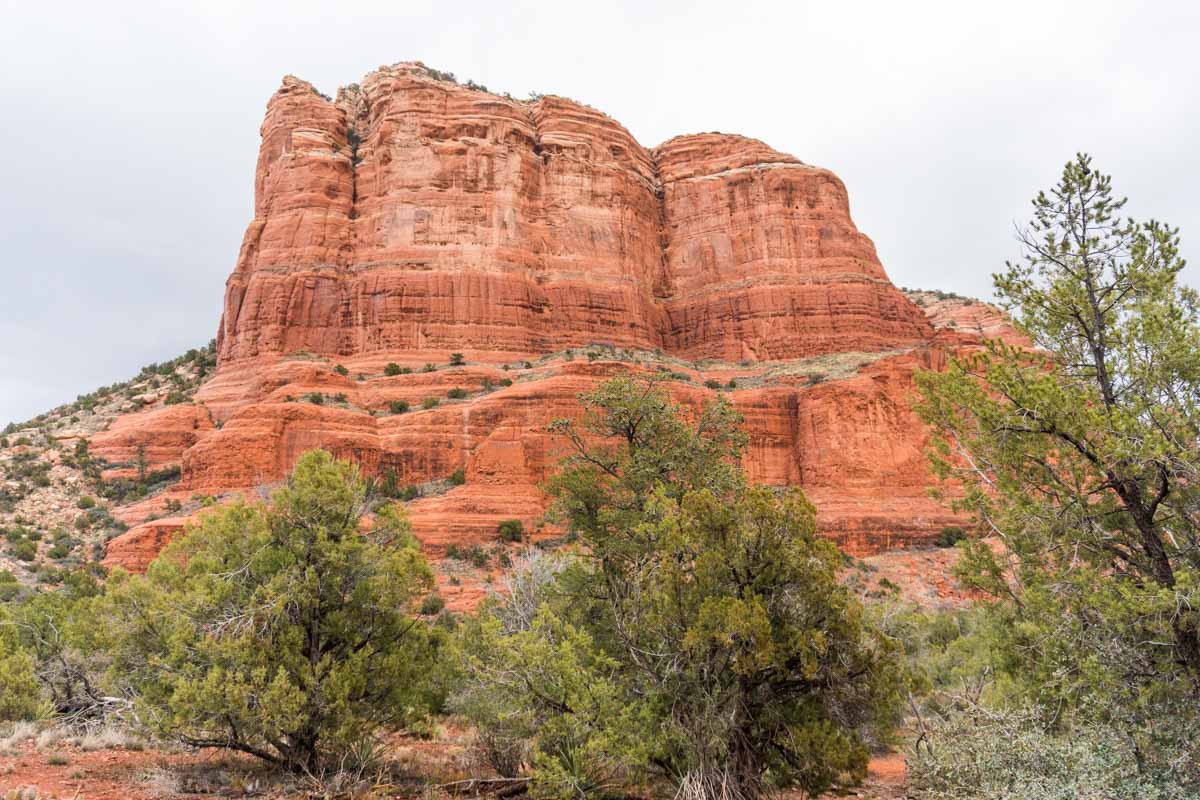 Another great hike in Arizona is the loop trail around Courthouse Butte. You'll start from the Bell Rock Trailhead North, close to the parking lot (get here early), and continue along the Bell Rock Access Trail to start the loop.
After 0.2 miles, you'll turn right onto the Bell Rock Pathway.
The views at this point are truly stunning but don't get too distracted, as 0.4 miles in, you'll need to head onto Llama Trail and shortly after Courthouse Butte Loop.
Don't worry if this all sounds a little bit intense – there is clear signage of where to go along the route.
As you pass Courthouse Butte, you'll likely find it a bit steep, but besides this, the hike's pretty manageable.
Bright Angel Trail
Length: 15.2 miles
Time: 4-6 hours
Difficulty: Hard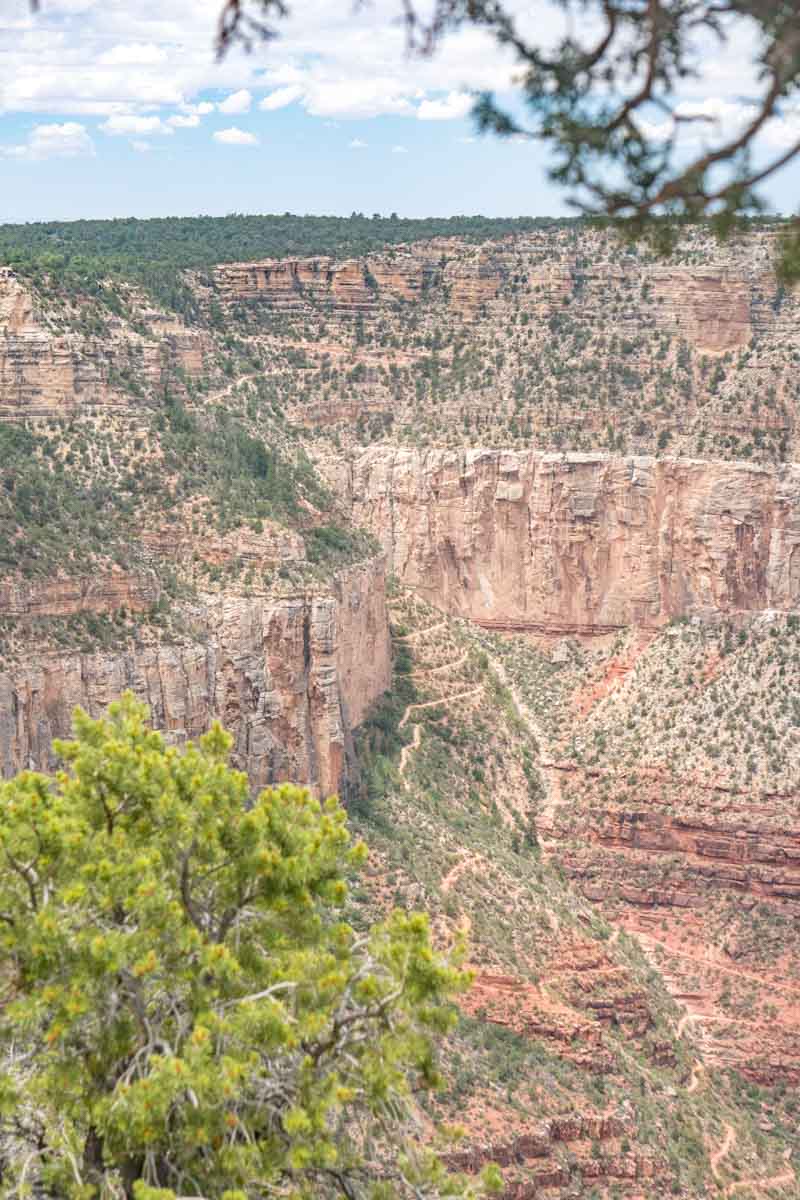 The Bright Angel Trail might be tricky but it has brilliant adaptability as you can change its length. This is an out-and-back route in the Grand Canyon, and is a clever way to explore the inner canyon and even get to the Colorado River.
You can hike the 8-mile route to the stunning Havasupai Gardens and stop along the trail at various rest houses to get some water. And for the truly adventurous, you can turn it into a multi-day hike by going around the whole Grand Canyon.
Heed my advice and do not try to complete this whole trail in one day, especially in summer (May to September). This is actually incredibly dangerous and could result in you getting heatstroke. Stay safe, folks.
Lava Flow Trail
Length: 0.8 miles
Time: 20 minutes
Difficulty: Easy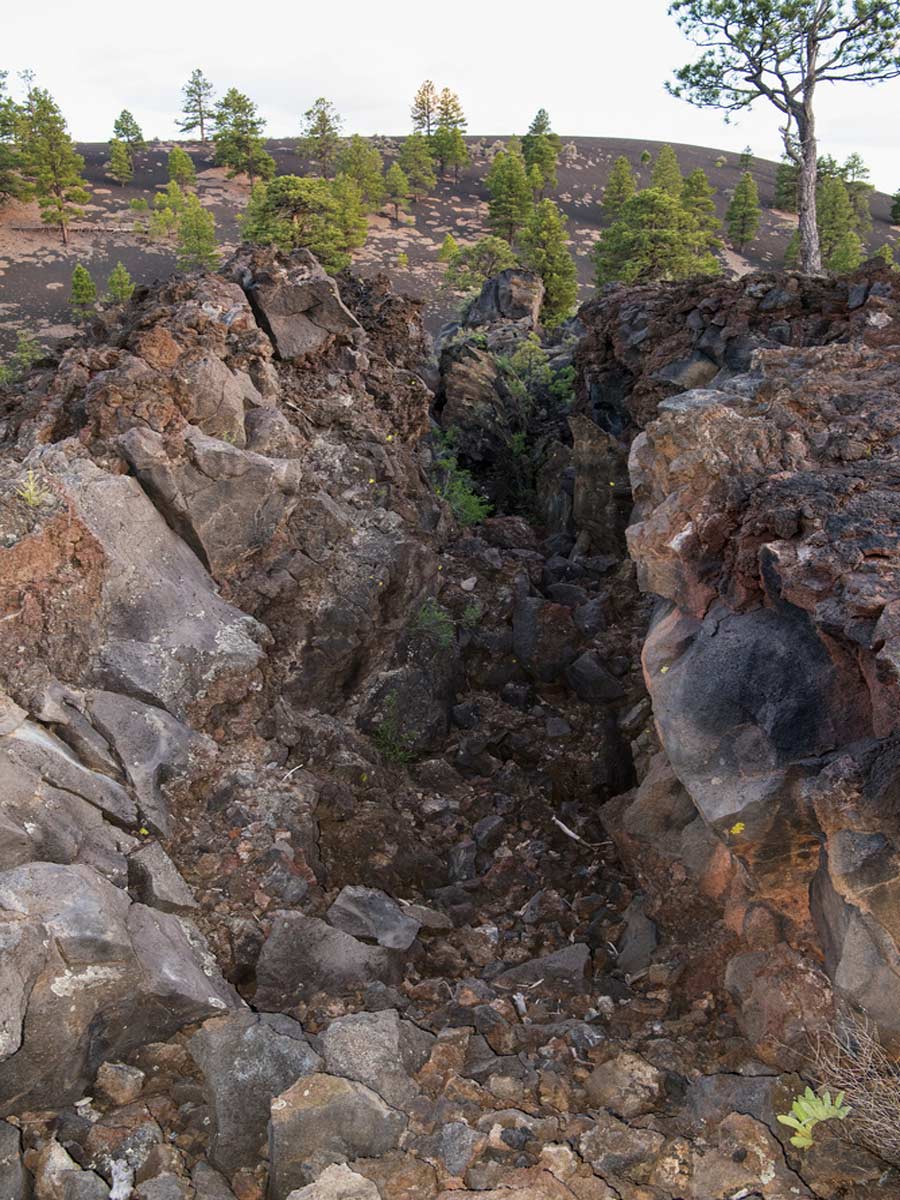 If you're looking for the easiest hike in Arizona, look no further than the Lava Flow Trail near Flagstaff. Don't worry; just because it's short doesn't mean it's not one of the coolest hikes in the state.
It's actually a loop trail on cinder paths with some of the most interesting vistas in the US. That is because the nearby Sunset Crater covered the area in debris around the year 1100.
It now looks ashy, with jagged boulders and bright lichen-covered stones. Even better, this region is full of mountains to climb, and this is perfect practice. But don't forget your safety gear.
Watson Lake Loop Trail
Length: 4.7 miles
Time: 3 hours
Difficulty: Medium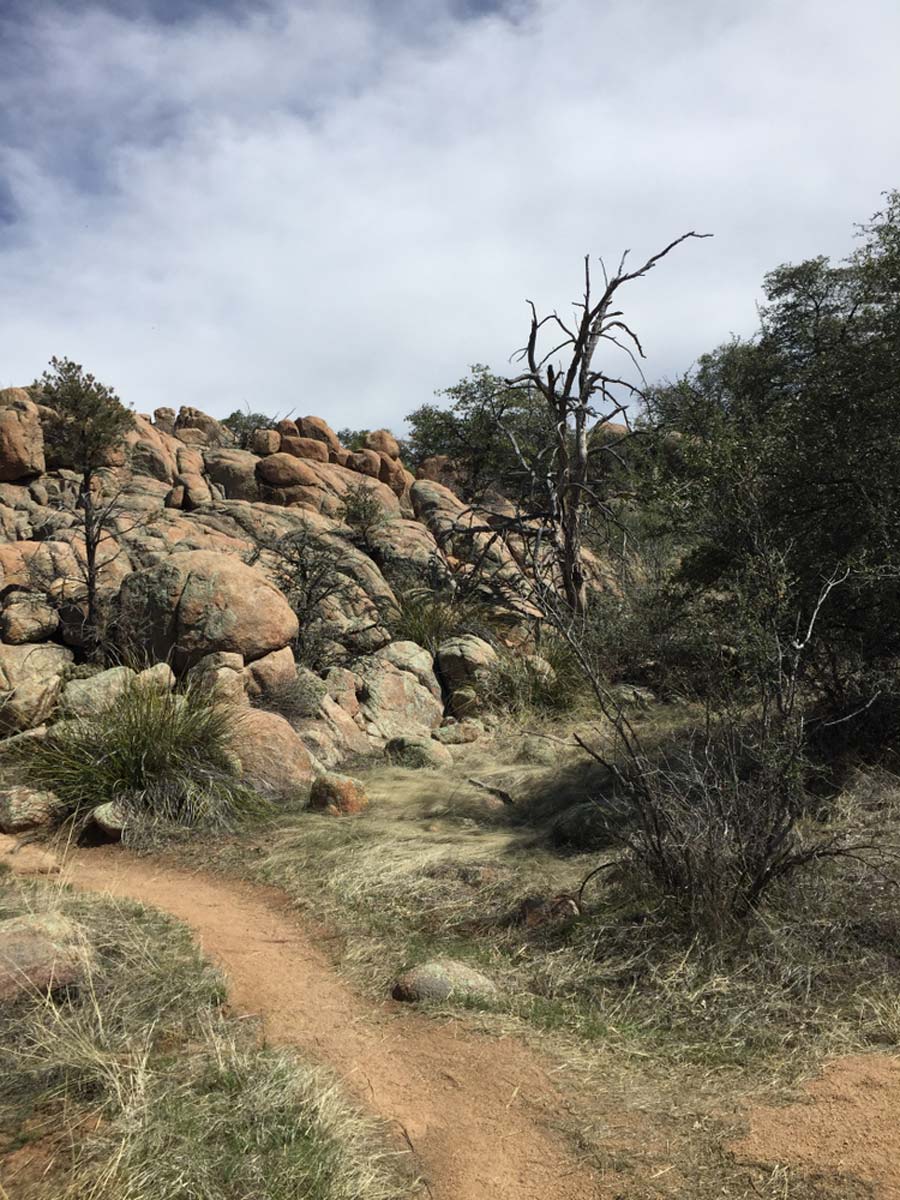 One of the most beautiful hikes in Arizona is the stunning Watson Lake Loop Trail near Prescott. I'd recommend starting at the lookout point and taking the clockwise route.
That's because this gets the hike's most difficult part out of the way first. This area around the lake is incredibly picturesque, from the wildflowers and lush greenery to the lovely lake.
It's also relatively gradual the whole hike, making it pleasant for everyone. Plus, the route is well marked out, so you don't have to worry about getting lost.
Seven Falls Trail
Length: 6.7 miles
Time: 3 – 4 hours
Difficulty: Medium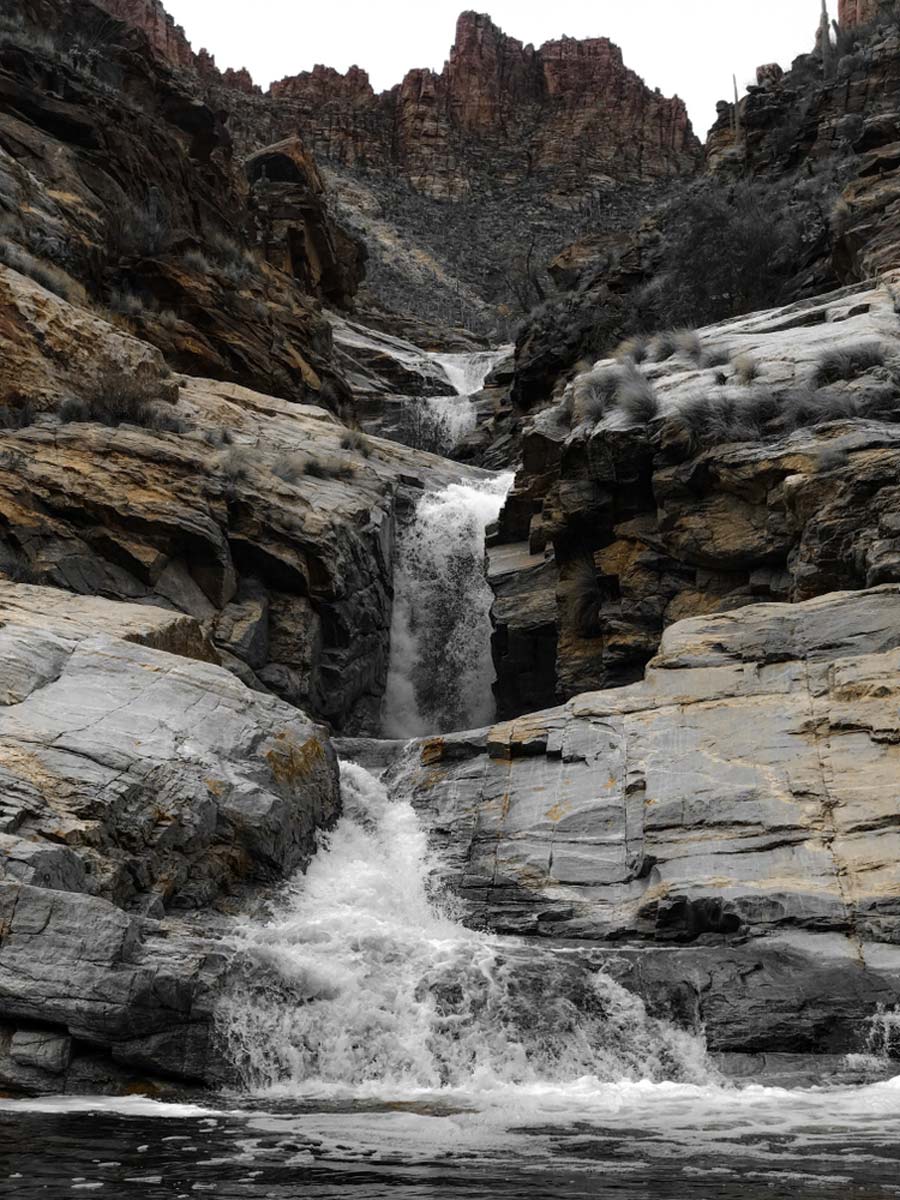 Fancy a dip? Look no further than the Seven Falls Trail up Bear Canyon for one of the best hikes in Arizona. It features all of Arizona's famous elements, from cacti to stunning rock faces.
It's also one of the only hikes that are truly brilliant in summer, as it has a waterfall with a natural pool, ideal for escaping the summer heat.
To get there, you'll need to head up a 925 feet elevation gain and cross seven river crossings. But trust me; it's worth it.
Havasu Falls Trail
Length: 10 miles
Time: 9 hours
Difficulty: Medium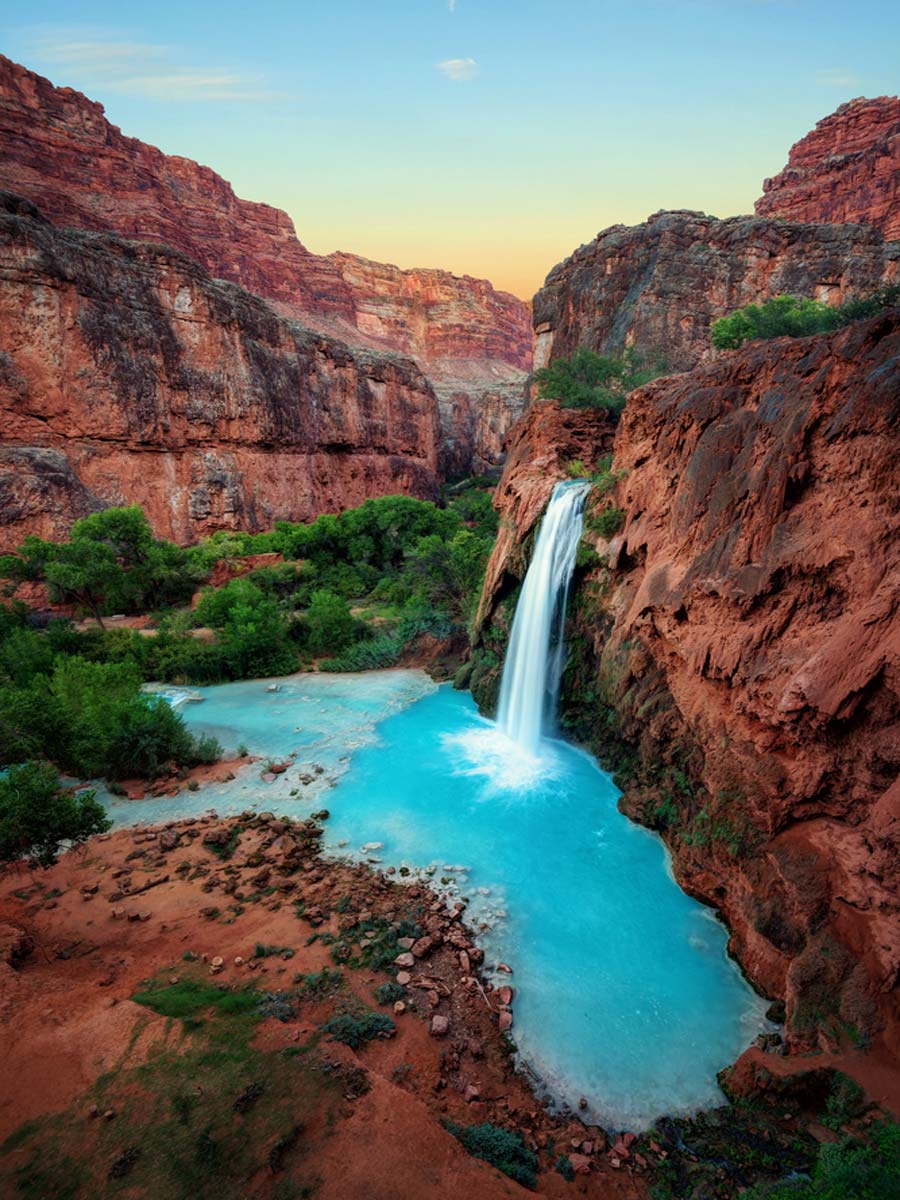 One of the best hikes in Arizona with waterfalls is the Havasu Falls Trail. However, for this hike, you'll need a permit. That's because this is another hike on Native American land.
To purchase the 3-day permit, head to the Havasupai Reservations website and book early to avoid disappointment. The hike is delightful as you head down the Hundred and Fifty Mile Canyon.
You'll then reach the town of Supai and continue for 10 miles until you get to the falls. They are truly stunning with their pale blue colour.
Suggested Map (follow the first part of this map – or continue on if you dare!)
Cathedral Rock Trail
Length: 1.1 miles
Time: 1 – 2 hours
Difficulty: Medium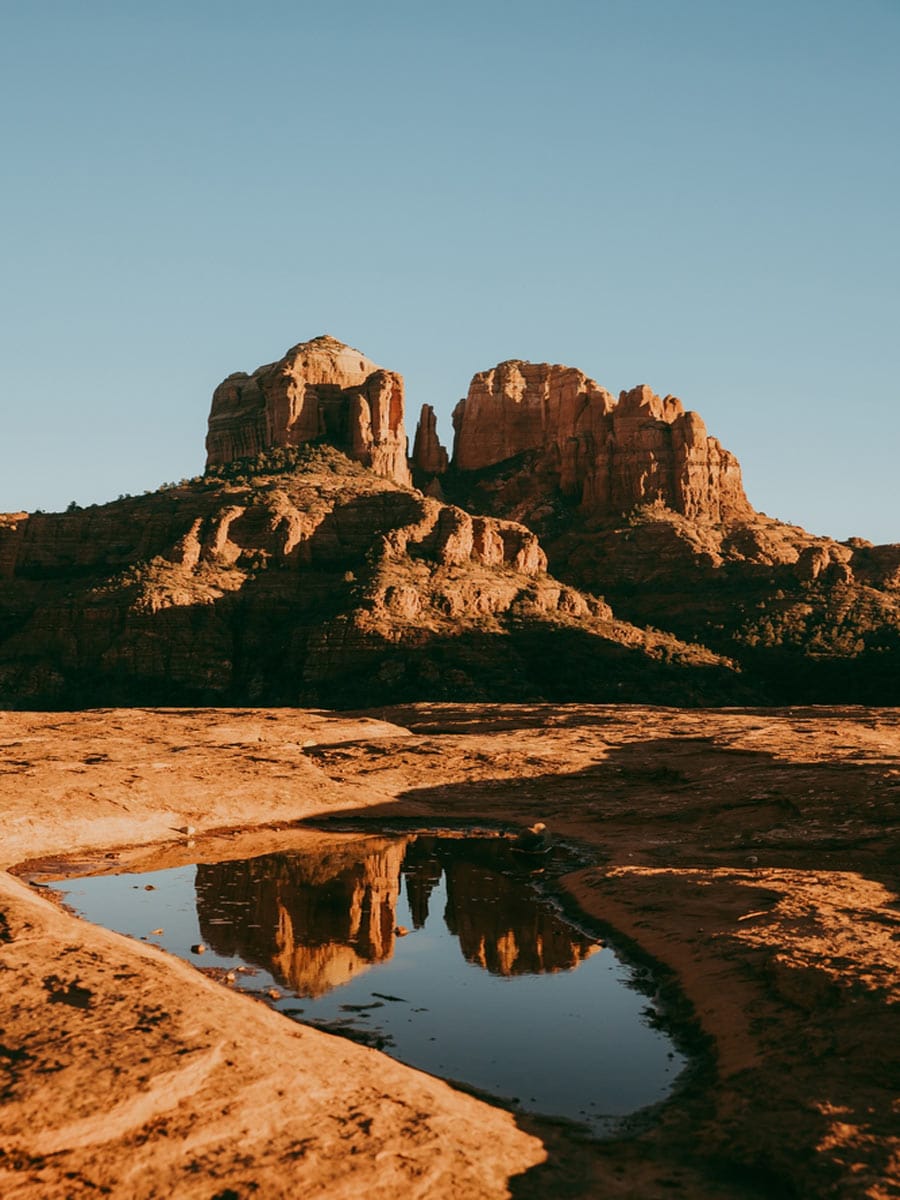 A personal favourite to round off this guide – the stunning trail up to Cathedral Rock. Why do I love it so much? Because it's in Red Rock Country near the lovely Sedona.
Tackling this hike feels like being in the Wild West with the surrounding area's rock formations and lush valleys.
What's more, it's a fantastic trail to walk. It is quite challenging, as the hike gets steeper halfway up, and you must do some rock scrambling.
It's not long until you reach the peak and get to appreciate some of the best views in Arizona – and even better, you can bring your pup along, as long as they're on a leash. To finish the hike, just walk back on the same path.
Top Tip: As with some of these hikes, you'll need a pass to access the trail. I'd recommend buying America the Beautiful Pass to save money. Psst…This hike reopens on 31st March 2023.
Suggested Map
Best Arizona Hikes: Practical Tips
There are black bears in Arizona. If you encounter these fuzzy creatures, walk away slowly. If one approaches you, clap your hands and make yourself look big to deter them.
Essential things to pack are a good water bottle, a versatile daypack, and a high-SPF sunscreen. Stay safe in the heat, pals.