So, you're planning to visit Antelope Canyon? Discover the best time to visit and top tips to help you plan your trip with this practical guide.
To say that I have a slight obsession with Antelope Canyon would be an understatement. One of the real highlights of any visit to Arizona, Antelope Canyon is one of the state's best-known landmarks (along with that little-known spot called the Grand Canyon) for good reason.
Ready for a deep dive into why and when you should visit Antelope Canyon? Of course, you are. Let's do it!
Why Visit Antelope Canyon?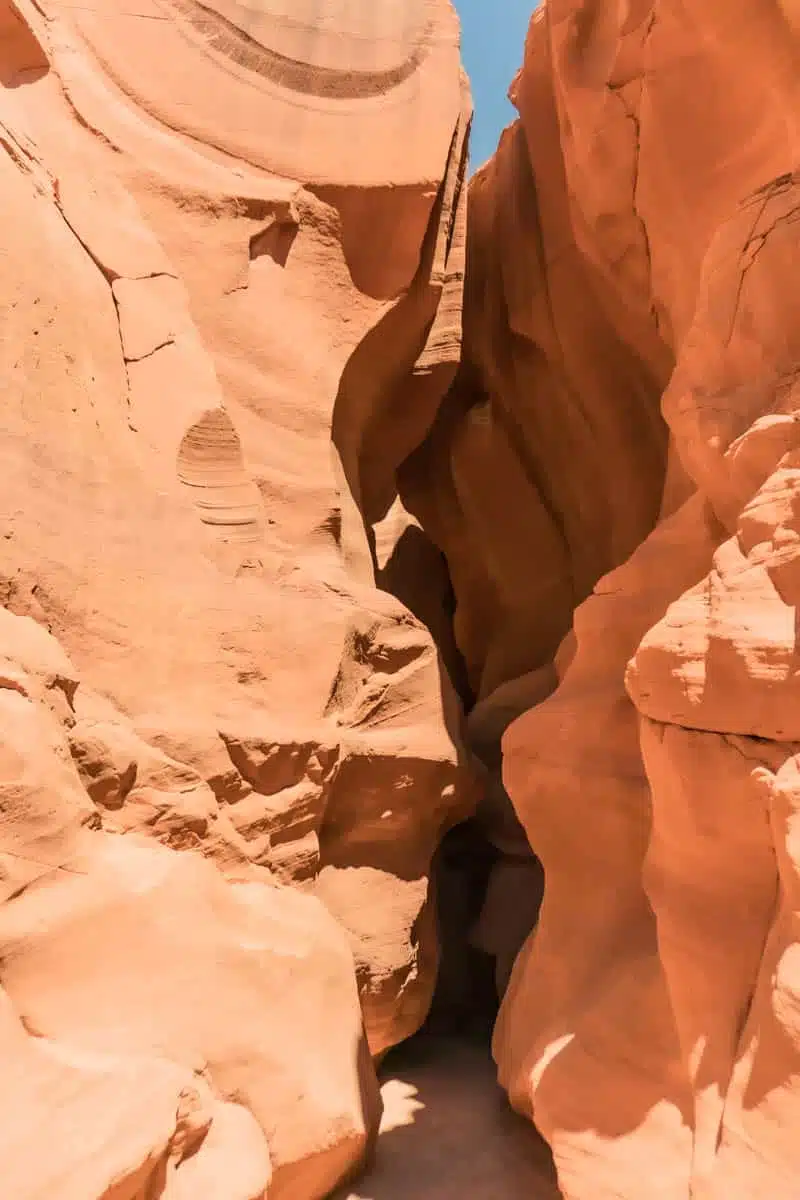 Visiting Antelope Canyon is an exhibition of just how much of a show Mother Nature can really put on. With its flowing shapes, glowing walls in cascading shades of red and epic sunbeam splices – it's little wonder that it's a revered spot.
Oh, and then there's the immersive experience of having a Navajo guide escorting you. Need I say more?
When's the Best Time to Visit Antelope Canyon?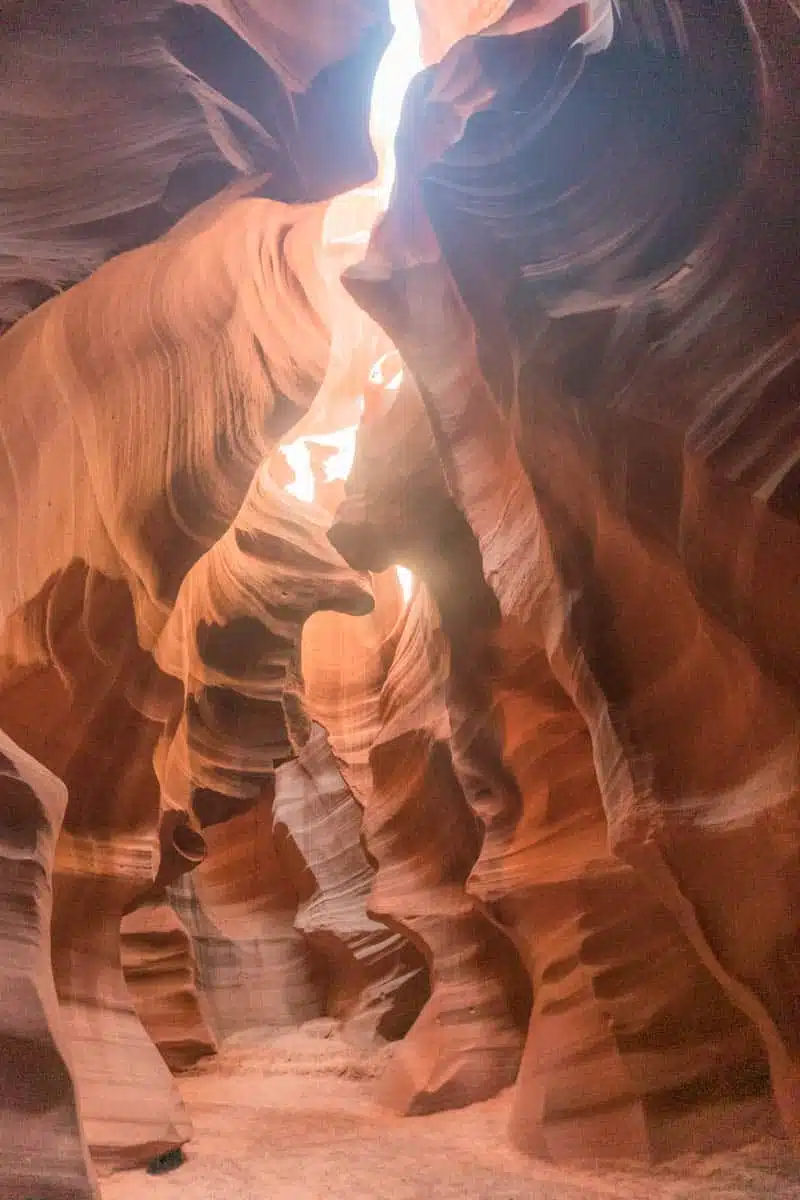 The first thing you should know is that Antelope Canyon is actually two separate canyons – Upper Antelope Canyon and Lower Antelope Canyon. You need to book onto separate tours to explore them. 
The Upper Canyon is the more popular of the two – but long gone are the days when you could count on the Lower Canyon being a quieter experience.
I'll delve into the differences between them below.
Best Time to Visit Upper Antelope Canyon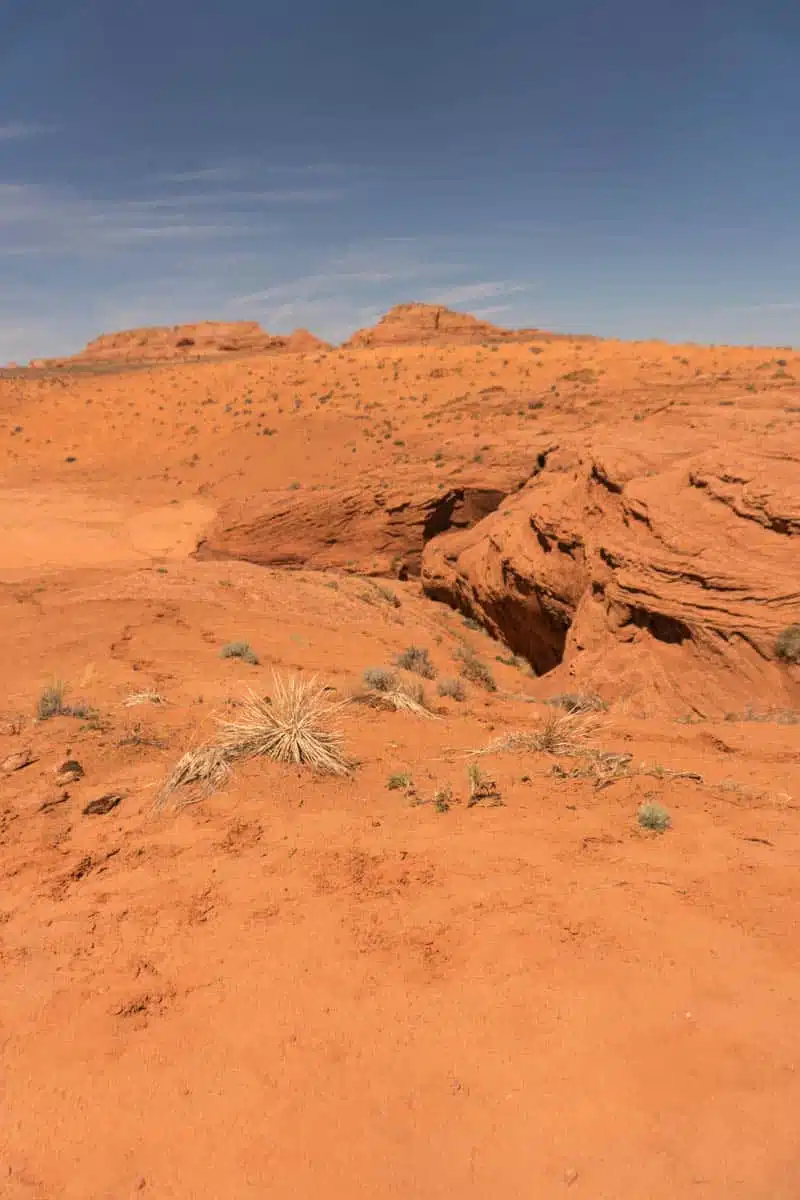 There's no way around it. The Upper Canyon of Antelope Canyon is a hugely popular attraction.
So when should you aim to head into the canyon?
Timing-wise, the Canyon is at its busiest in the peak summer months (July and August) and particularly at weekends – so avoid those if you can. If you are travelling during those months, book your tour as far ahead as possible as they sell out well in advance.
Plan your excursion around midday. Between 11 am and 1:30 pm the sun shimmers through the canyon, giving you the chance to snap those coveted images of rays beaming through to the canyon floor.
Best Time to Visit Lower Antelope Canyon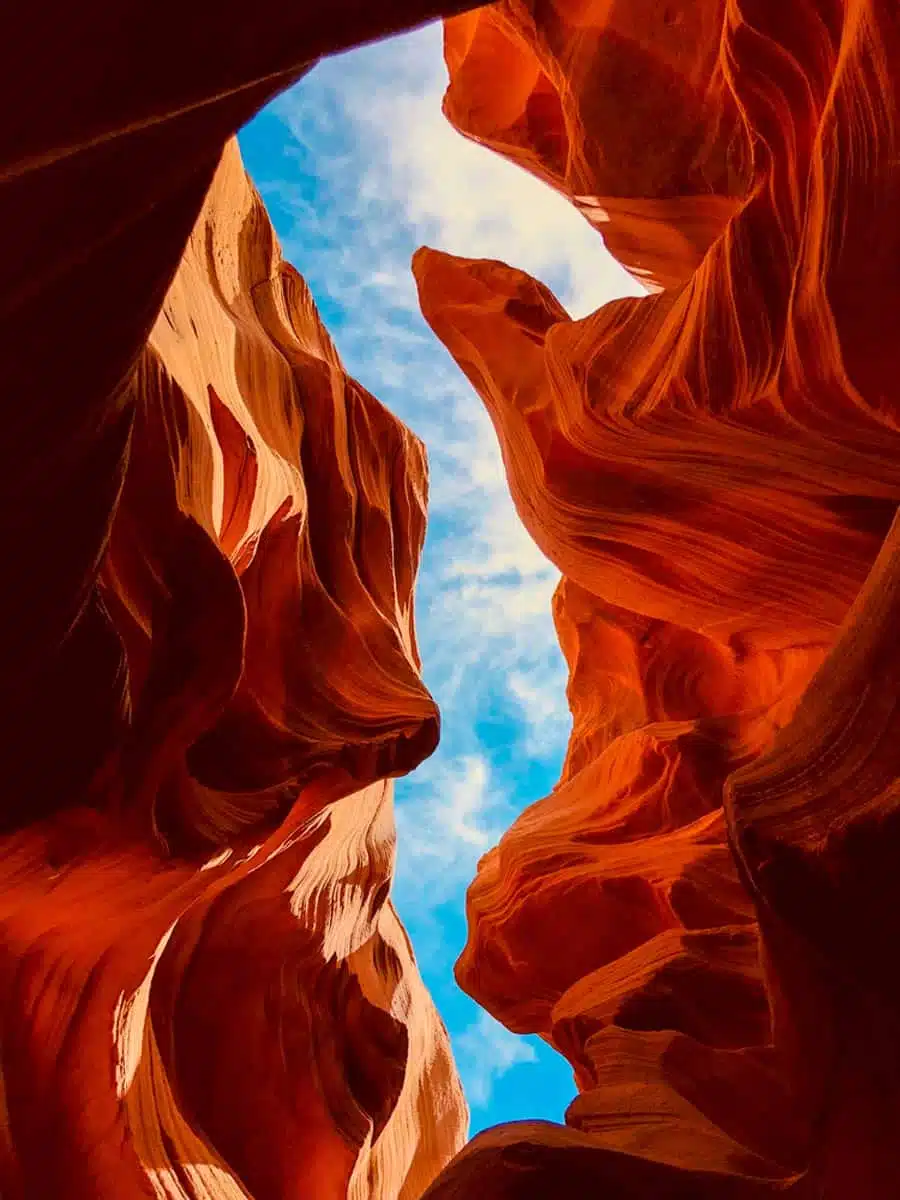 Don't think that the Lower Canyon is outshone by the Upper Canyon – it's just as cool, albeit a different experience.
The main difference is that fewer sunbeams reach this part of Antelope Canyon and there's a lot more effort involved in the tour (climbing and descending ladders etc).
This does have the upshot that it's great to visit at any time of year.
As for the best time of day to visit Lower Antelope Canyon, go for either early morning or mid-afternoon as these tours tend to be quieter. Crowds in the lower canyon fluctuate in size during the day, so keep this in mind when planning your adventure.
Top Antelope Canyon Travel Tips
Antelope Canyon Consists of Two Separate Canyons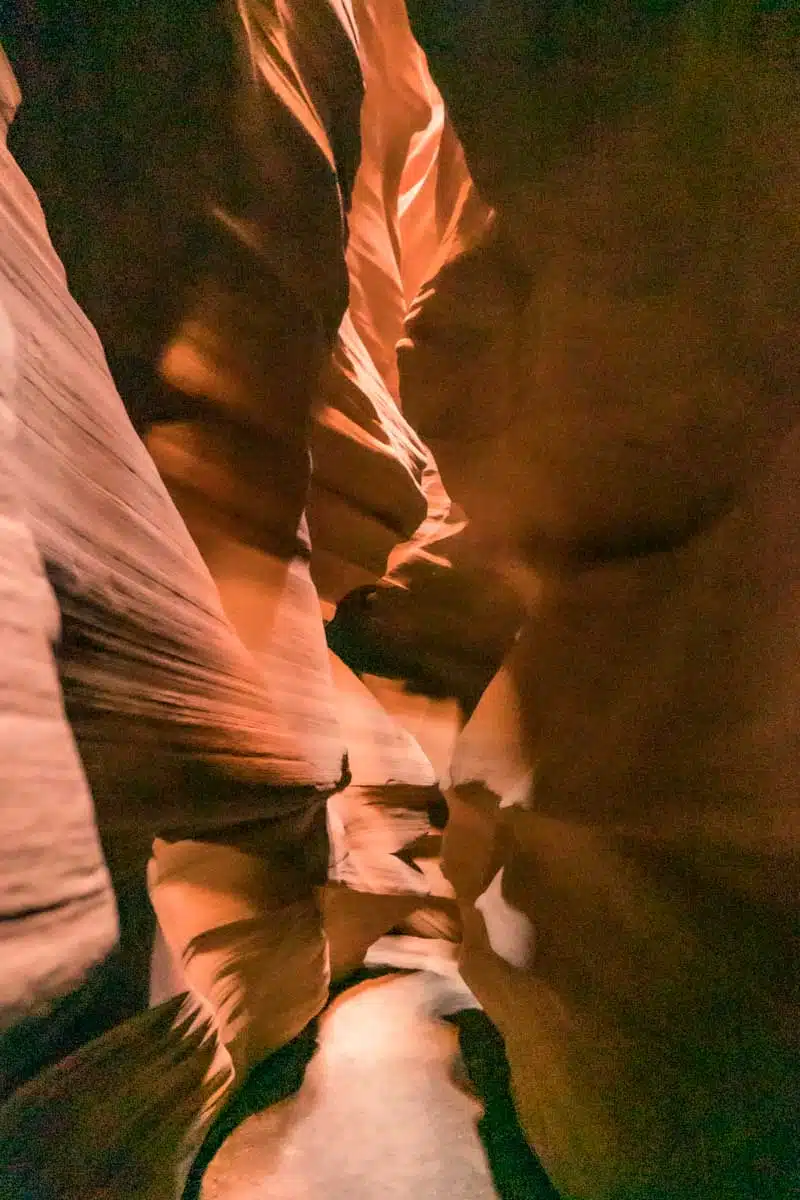 I've already talked about the fact that Antelope Canyon is a combination of two separate slot canyons – the Upper Canyon and Lower Canyon. Here are some of the main things you need to know about them.
You Need to Book Separate Antelope Canyon Tours for the Upper and Lower Canyons
You'll need to book individual tours to explore the Upper or Lower Canyons. If you do not visit both canyons in one day, you'll also need to pay two separate entrance fees. A bit annoying, yes – but worth it.
The Upper Canyon is Better for Photographers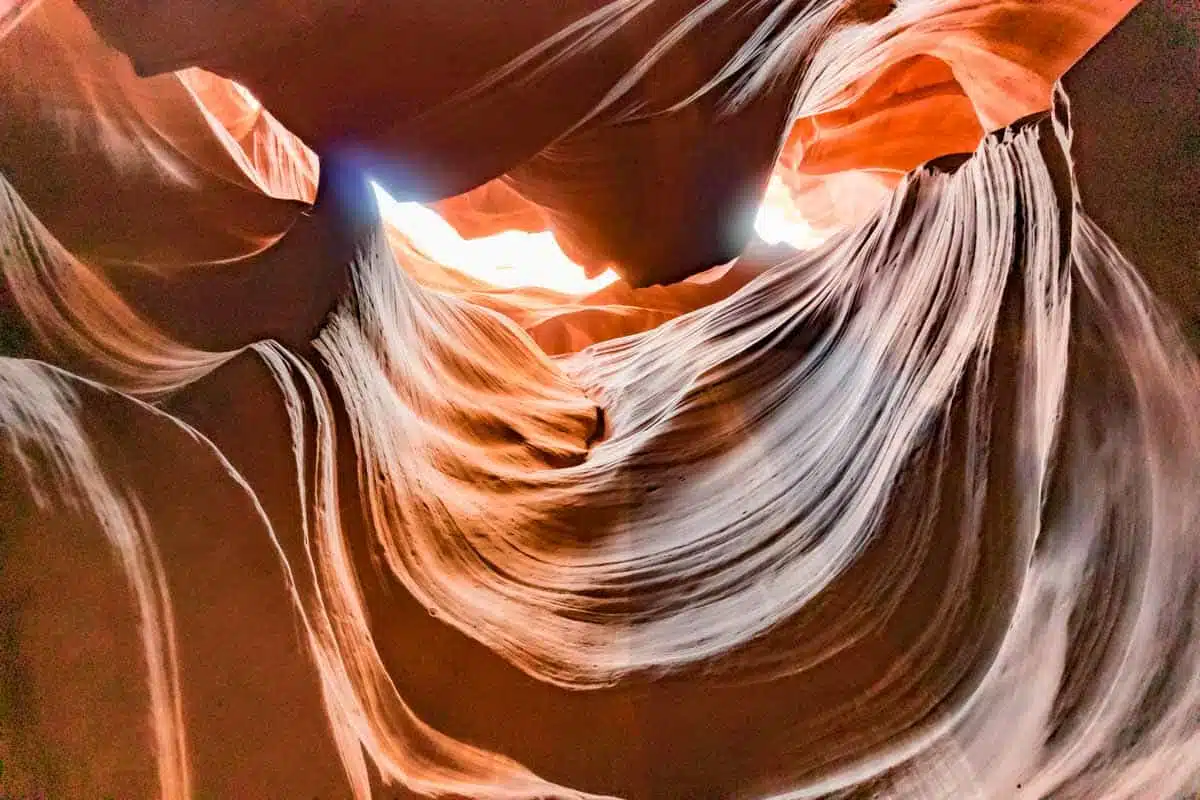 Due to the formations of the canyons, the upper canyon sees more light and is ideally suited for photographers. The lower canyon experiences less light and is darker, perfect for a more in-the-moment-focused adventure.
Tours to the Upper Antelope Canyon are More Expensive
Tours of the upper canyon are more expensive and see larger crowds. The lower canyon tours are cheaper in comparison.
And Better for Accessibility
The upper canyon is better for ease of access as you'll need to descend a very steep and narrow stairway to get to the lower canyon.
How to Visit Antelope Canyon?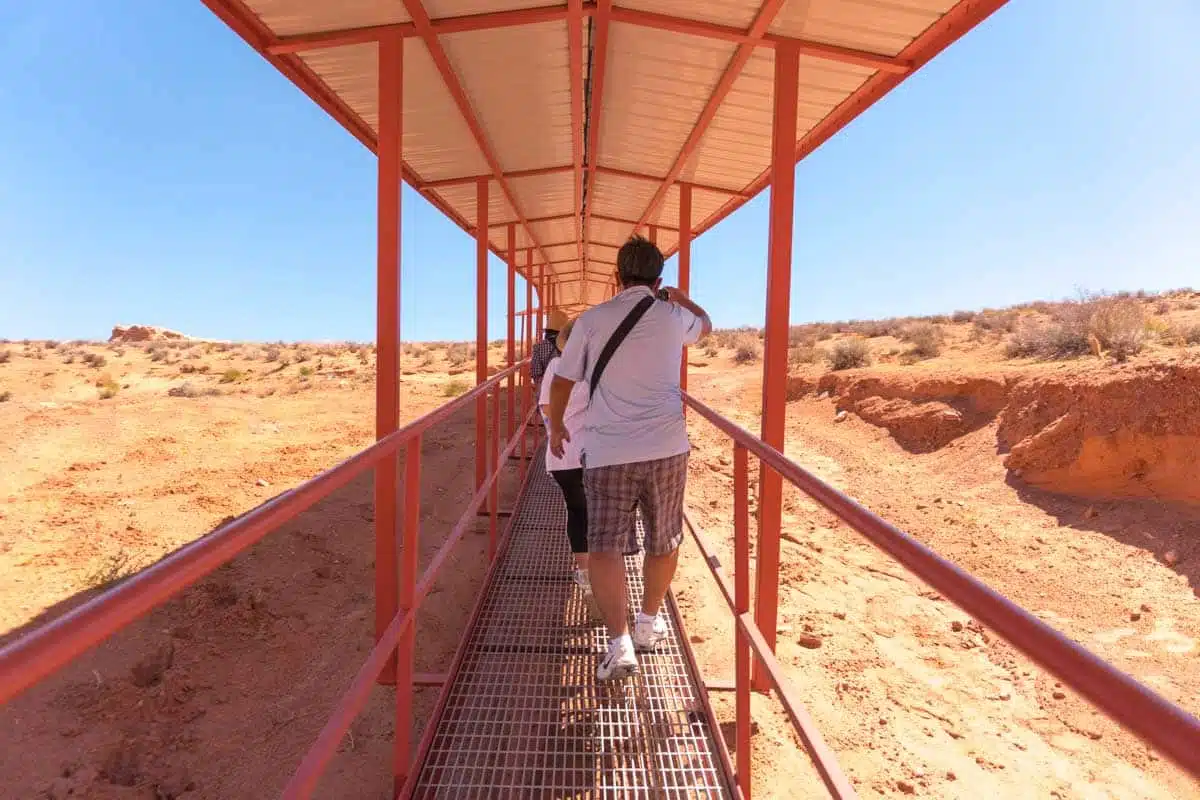 If you're wondering, "Can you visit Antelope Canyon without a tour?" The answer is no. Why? The canyon is on Navajo Nation land and subject to their protection.
Remember earlier when I mentioned the canyon's immense popularity? That affects your tours of Antelope Canyon quite a bit. I cannot stress this enough, book your tours as far in advance as possible.
Upper Canyon Tours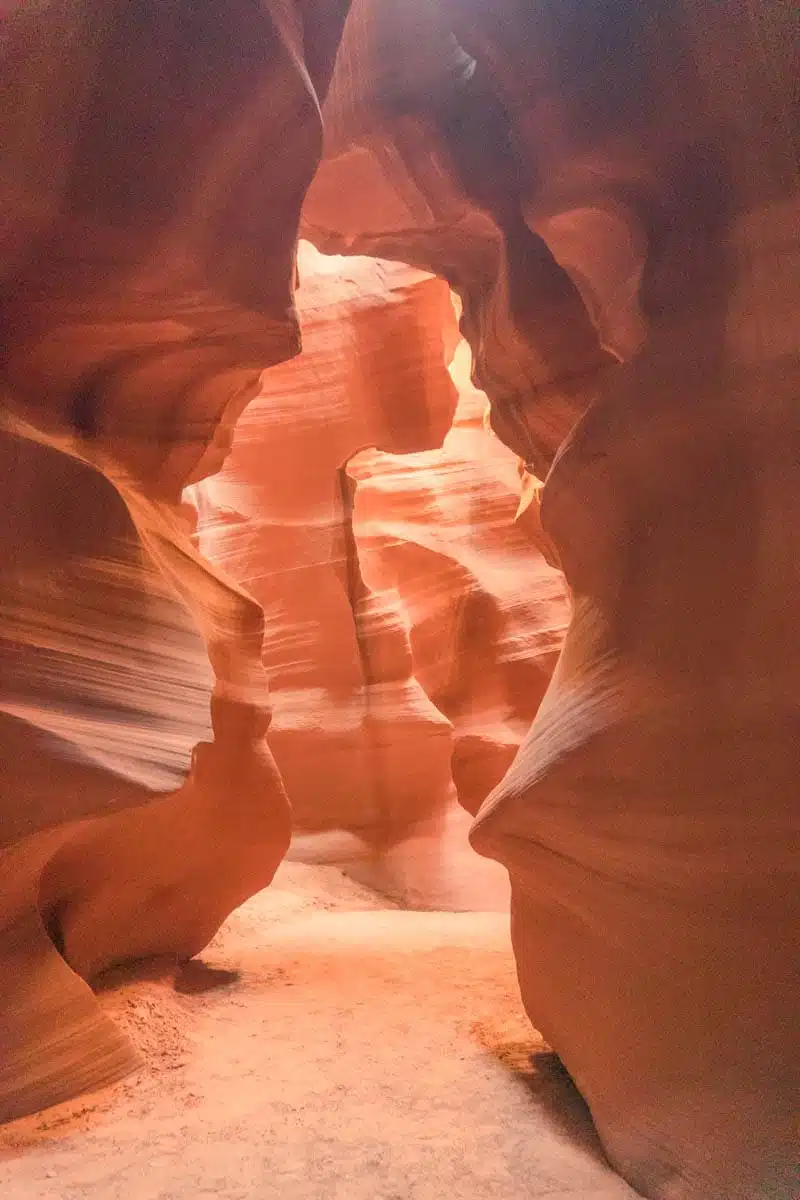 Tours of the Upper Canyon involve a short 20-minute 4×4 drive to the mouth of the canyon. The entrance to the lower canyon is at ground level, while the route you'll walk along enters and exits at the same spot.
You'll follow a narrow path through the canyon. Because of this and the many other tourists, you're not allowed to wear a backpack. Tours last 90 minutes, giving you enough time for photos and exploration.
Lower Canyon Tours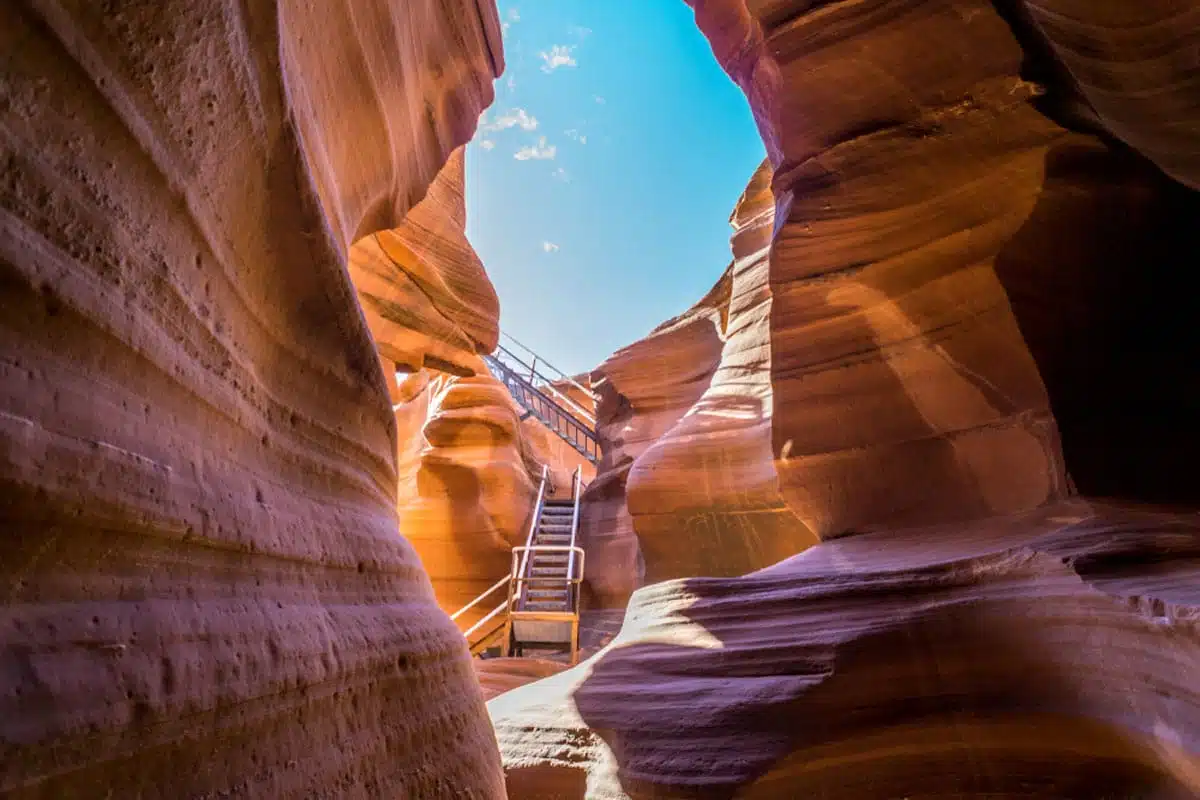 In comparison to the Upper Canyon, you'll need to descend some stairs to reach the Lower Canyon once you're at the canyon's mouth. It does require some effort, though, as the metal stairway is very narrow.
Guides do not allow more than one person to descend at a time. Luckily the floor of the lower canyon is quite wide and spacious. This means you'll have more movement room and can explore the mesmerising patterns more in-depth.
Also lasting for 90 minutes, tours of the lower canyon start at 9:30 am, 10:00 am, 10:30 am, 11:00 am, 11:30 am, 12:00 pm, or 12:30 pm. And so, tend to be less crowded.
Don't Skip Canyon X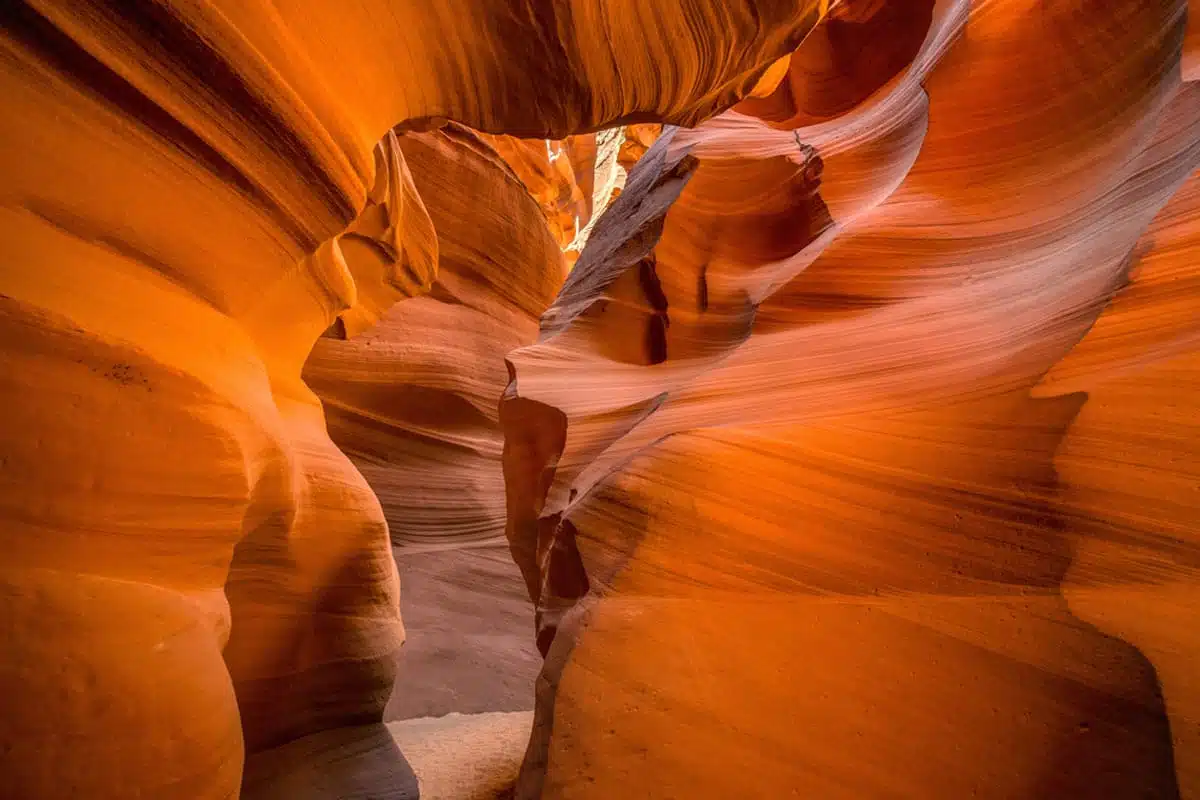 The third – and often skipped – part of Antelope Canyon, the so-called Canyon X, is something you shouldn't miss with a guided tour (of course). This canyon lies much deeper than the upper and lower parts and is far less crowded.
If, like me, you're thinking, "why is it called Canyon X?" it's because of the rather imposing "X" shape the rock ceiling emulates. Tours of the upper and lower canyon have varying pricing structures, but Canyon X has two set prices. As I'm writing this, it costs £57 ($65) for adults and £48 ($55) for children.
Keep the Weather in Mind
The weather patterns here significantly influence the best time of year to visit Antelope Canyon.
Always be mindful of changing weather conditions when planning your Antelope Canyon trip and, most importantly, the monsoon season. This occurs from July through to October.
As a result, flash flooding can happen. In fact, it doesn't even need to rain in or around Antelope Canyon. Due to its geological position, a downpour from kilometres away can cause a rush of water to sweep through the canyon.
Stick to the Upper Canyon if You're Claustrophobic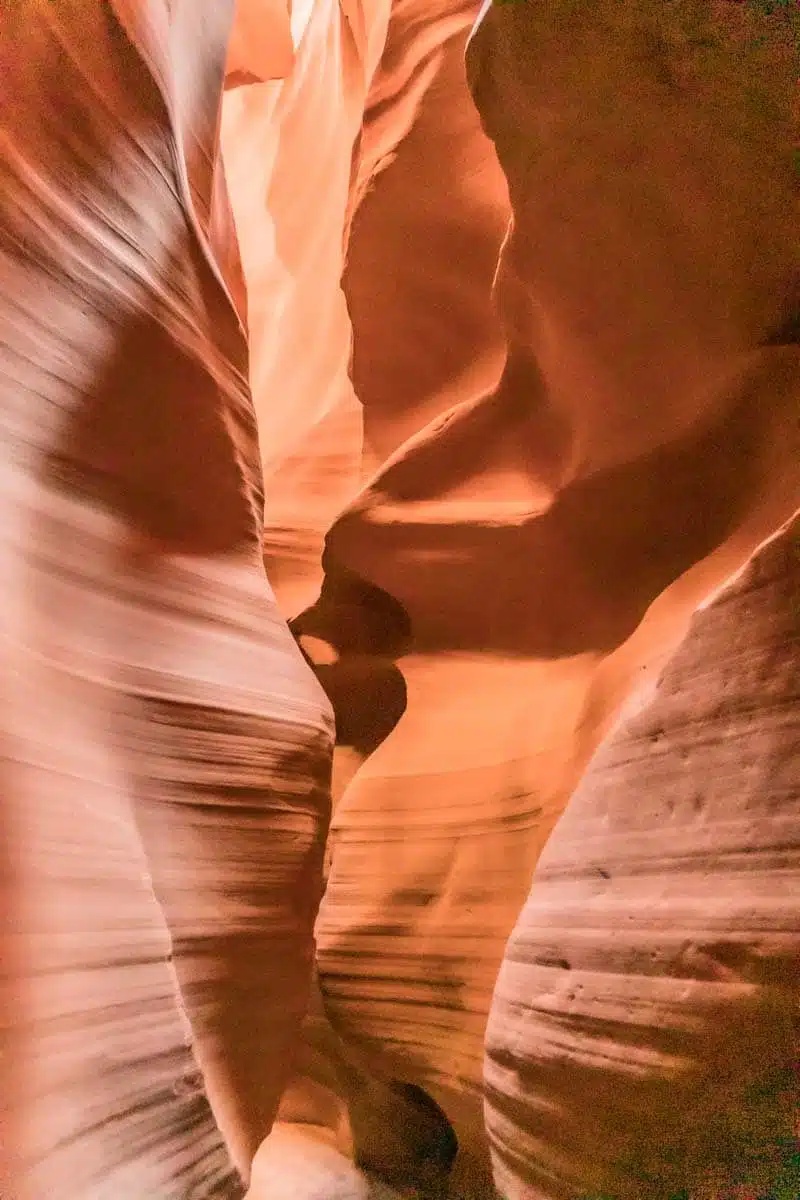 This is almost a no-brainer. If you're even the tiniest bit claustrophobic, skip the lower canyon. Although there are more eager tourists in the upper canyon, the lower canyon, with its enclosed atmosphere, can feel smothering.
Beware of Dust and Falling Sand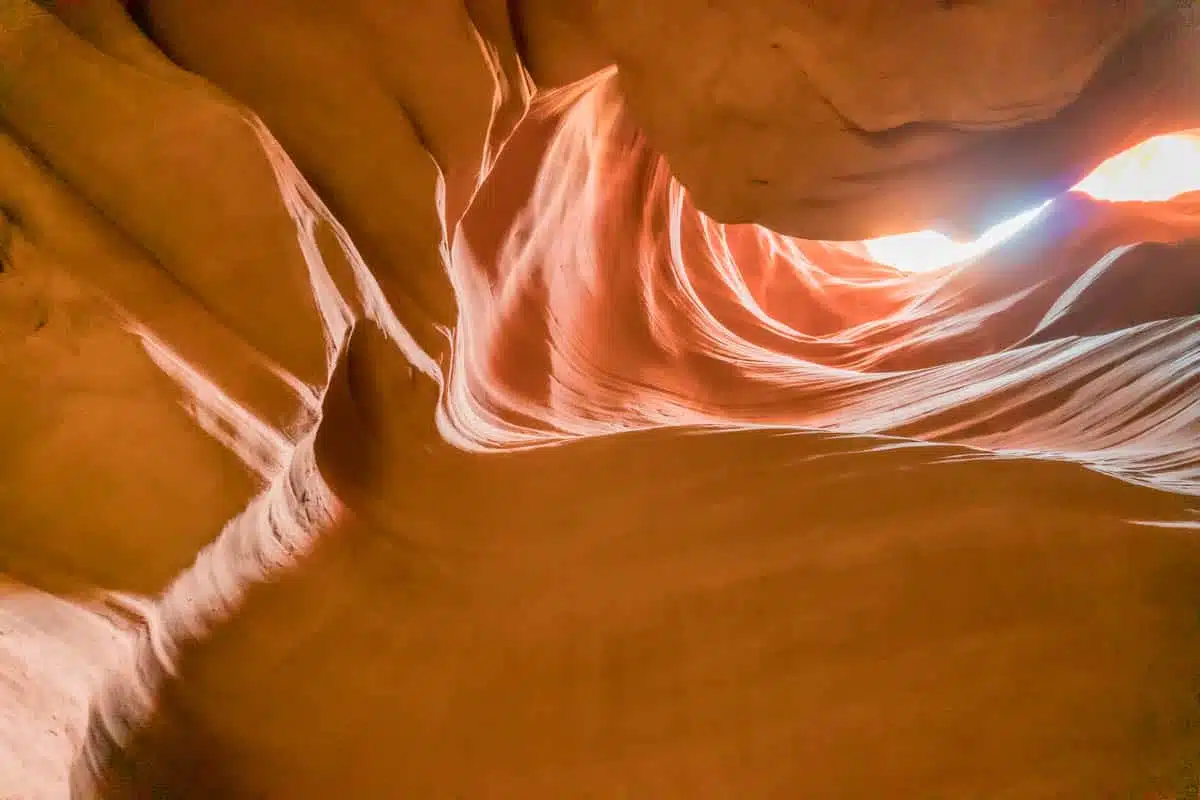 Trust me on this one. The inner pathways of both the upper and lower canyon are pretty dusty. Be prepared for it to get everywhere. And if you're asthmatic, bring an inhaler along to be safe.
And should there be even the slightest gust of wind, expect sand to fall from the roof at frequent intervals. Keep your cameras pointed down when this happens, as the sand can damage it.
Invest in a protective skin cover for your camera (you can thank me later).
Travelling to Antelope Canyon: What You Need to Know Before You Go
Consider the following when deciding how to get to Antelope Canyon:
There is no public transportation to Antelope Canyon, so you'll need to rent a car or jump in a taxi to get there. The canyon is 10 minutes from Page, Arizona, on Highway 98.
If you're flying, there are several international airports close to the Canyon. Namely Phoenix Sky Harbor International, Flagstaff Pulliam Airport, Las Vegas McCarran Airport, and Salt Lake City.
Page, Arizona, has a small municipal airport to which you can fly from Las Vegas, San Francisco, Santa Barbara, and Phoenix for a shorter travel time.
Best Travel Tips for Antelope Canyon: Frequently Asked Questions
Antelope Canyon: Map