Upper vs Lower Antelope Canyon – what's the difference and which one is better?
Ah, Antelope Canyon, you beauty. 
It's hard to believe that the swirling shades of Antelope Canyon's golden stone really is as visually dramatic as in the photos… but it is.
Still – it's time to make a decision – which canyon will you visit? The Upper or Lower Antelope Canyon? What's the scoop on the two canyons anyway?
First up, let's make it clear – you don't have to choose one over the other, you can visit both the Upper and Lower Canyons if you have the time and the money to do it.
If you're under a time constraint, though, you'll want to choose the canyon that's best for you – and that's exactly what this guide will help you do. Let's go!
Upper Antelope Canyon vs. Lower Antelope Canyon: At a Glance
| | |
| --- | --- |
| Upper Canyon | Lower Canyon |
| "A-frame" with more walking space at the bottom but lower light. | "V-frame" with less flat walking space but more light. |
| More accessible and a relatively flat path. | More challenging – not accessible with boulders and many ladders. |
| 100 yards long. | 650 yards long with about 130 steps. |
| Five tour companies operate in this canyon. | Only two tour companies operate in this canyon. |
| More expensive | Cheaper |
| Best place to see sunbeams and great for photographs. | Slightly fewer crowds. You can get good shots of the canyon walls as the light shines in easier. |
Upper or Lower Antelope Canyon – In More Detail
Size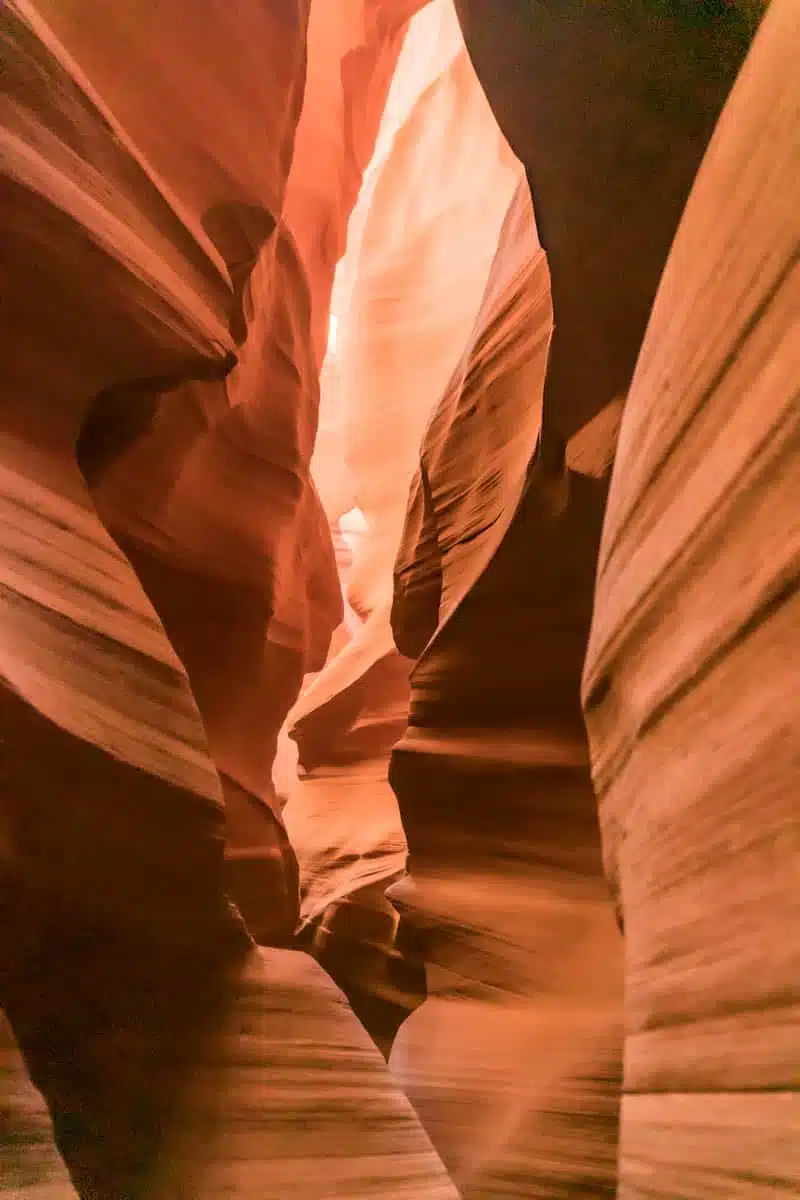 Size is the most significant difference between the Upper and Lower Antelope Canyon. The Upper Canyon spans over 100 yards and has a broader walkable space. While slightly darker, it offers the perfect background for the awesome sunbeams streaming through the narrow canyon roof.
The 650-yard Lower Antelope has a wide "roof" and tapers into narrow footpaths. This allows a lot more sunlight to light the way, which you'll need as the pathways are rocky and include some ladders.
Traffic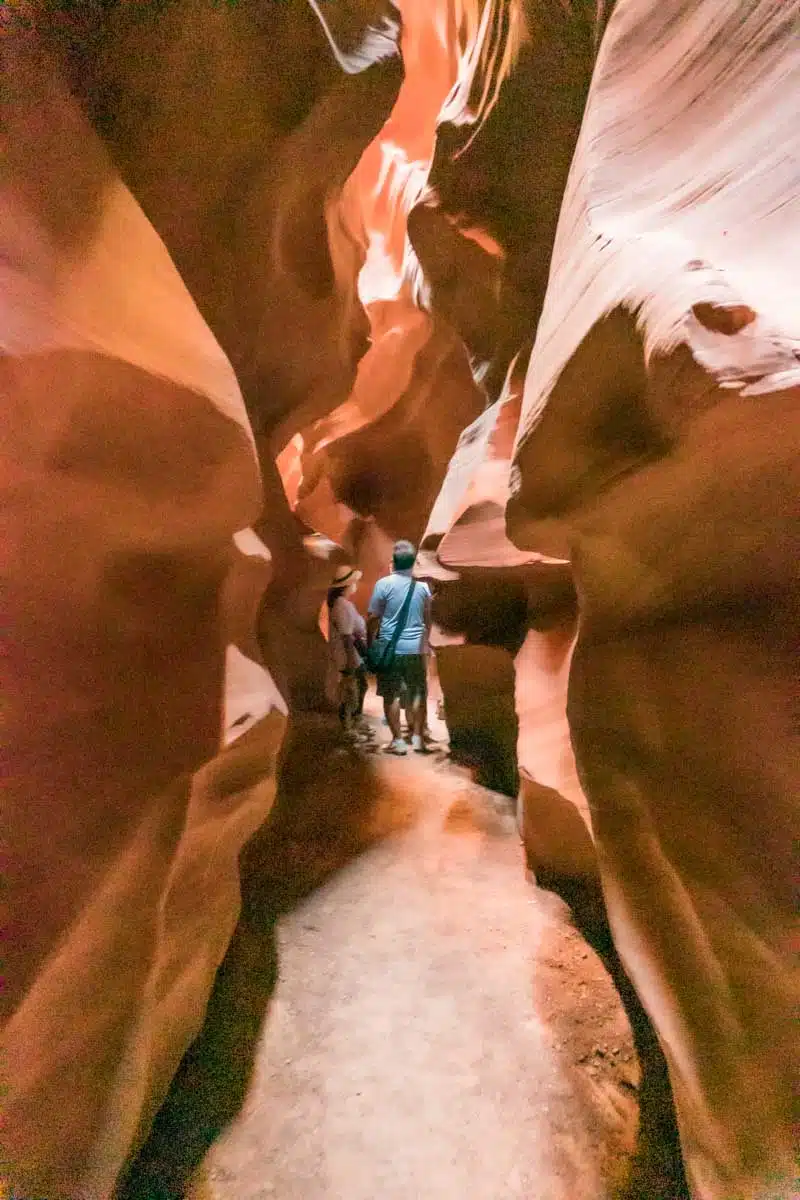 Antelope Canyon gets a lot of visitors (about 4 million a year), with the Upper Canyon filling in most of the visitor quota. This is because it's better-known and more photogenic, particularly thanks to the ability to capture sunbeam shots.
In the past, the Lower Canyon received preference from tourists trying to avoid large crowds. But, as more and more adventurers venture to the canyon, the Lower Canyon has grown in popularity too, and the days of it being quieter are long gone.
Tours
Tours are expensive, but I think they're worth it. Why? Because you can only view these Navajo Sandstone rock formations through accredited Upper Canyon and Lower Canyon tours.
Over the years, there has been an increase in trips to the Lower Canyon as it's less crowded and more cost-effective. But, the Upper Canyon still has the upper hand in having five tour companies (three more than the lower).
Upper Antelope Canyon
Upper Antelope Canyon: What You'll See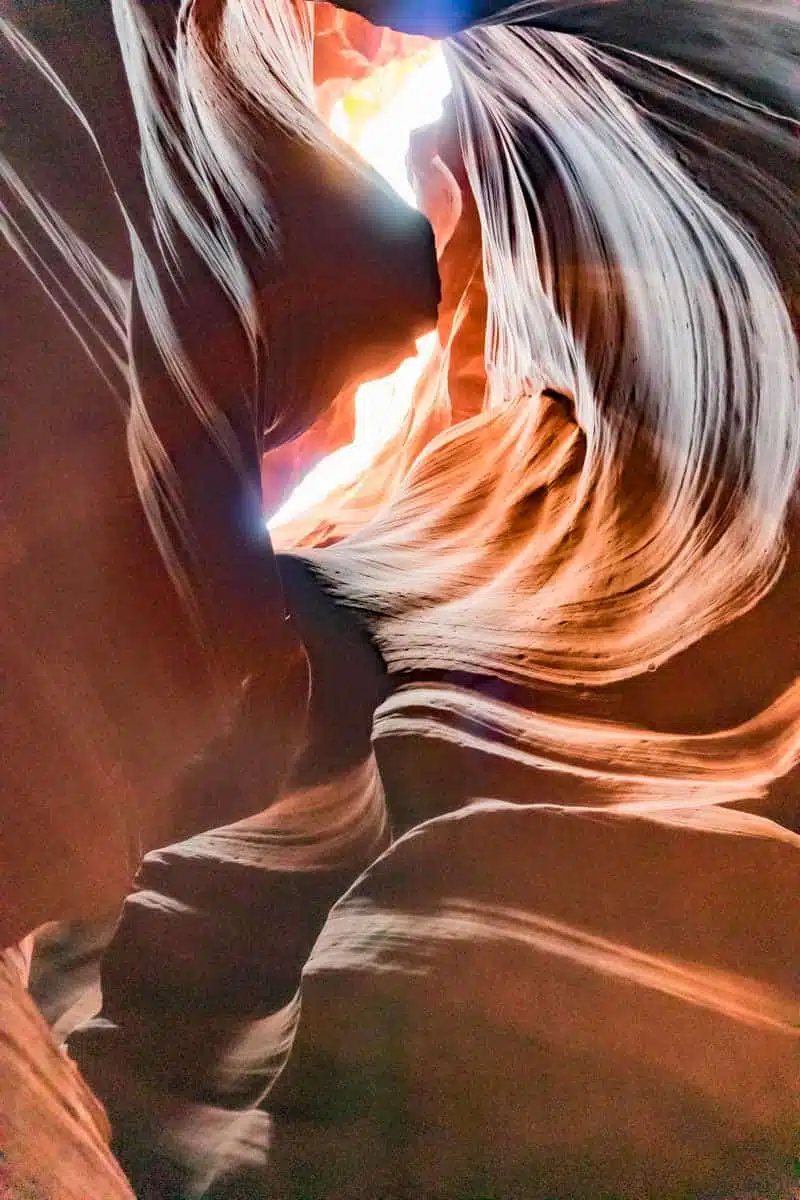 Is Upper or Lower Antelope Canyon better? That's difficult to say. While both are beautiful, there are slight differences between the Lower and Upper Antelope Canyon.
Upper Antelope Canyon's view is more renowned as it's the most photographed of the two. This is because of its shape, which allows ethereal sun beams to stream through the open top between mid-March and October.
For this reason alone, I'd say it's worth the price.
Fun Fact: The Upper Canyon is where Peter Lik snapped the world's most expensive photo in the Upper Canyon in 2014.
Upper Canyon Tours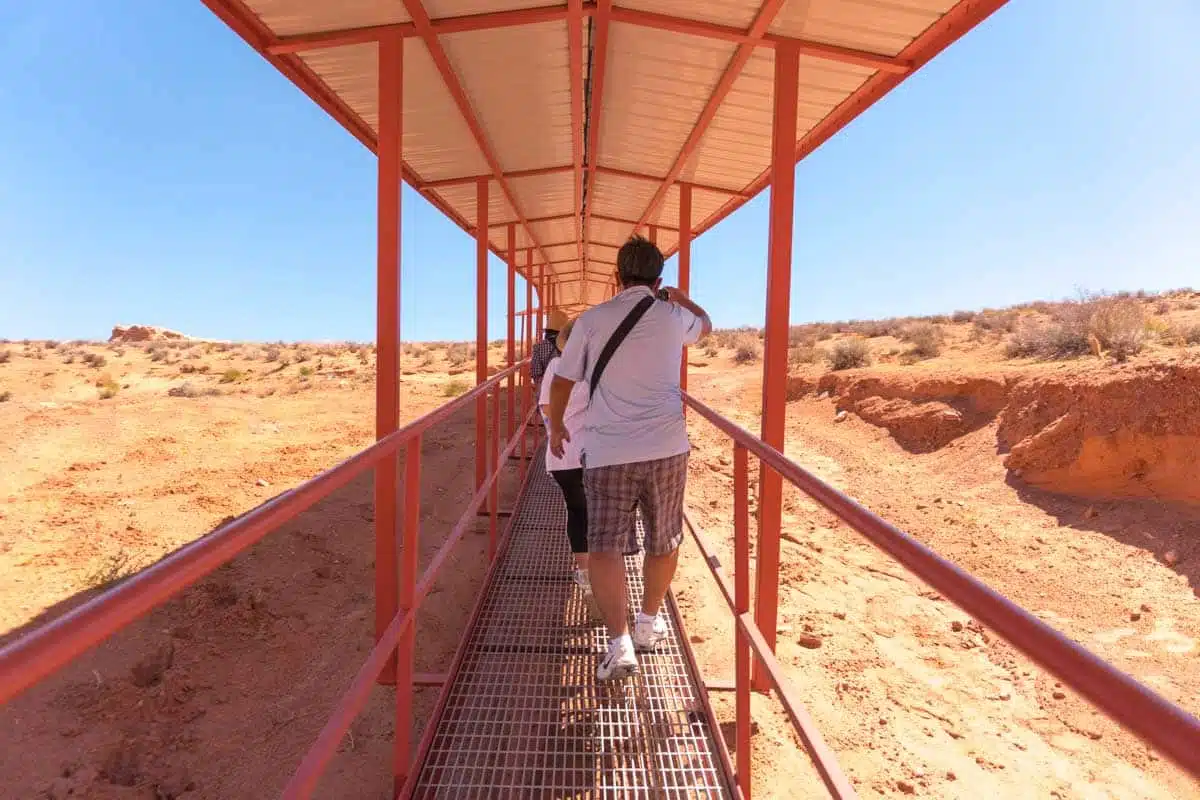 Upper Antelope Canyon tours are generally more pricey because it's the only place to see the magical sunbeams.
This Admission Ticket and Guided Tour is about $125 and takes 1.5 hours to complete. It can accommodate a small group during different time slots in the morning until mid-afternoon.
The tour begins at one of three meet-up spots around Page, which kicks off with a scenic drive to the canyon. On the way there, your Navajo guide will take you on an oral history journey through the canyon's past, geology, and cultural significance to the Navajo people.
Once at the canyon, a world of brown, orange, and red-hued swirls opens up before you. Your guide will help point out the best angles and places for pictures while still guiding you through the winding pathways.
Note: This tour includes the Navajo Parks Entry Permit of $8.
Book Your Upper Canyon Tour Now
Practical Tips for Your Upper Antelope Canyon Trip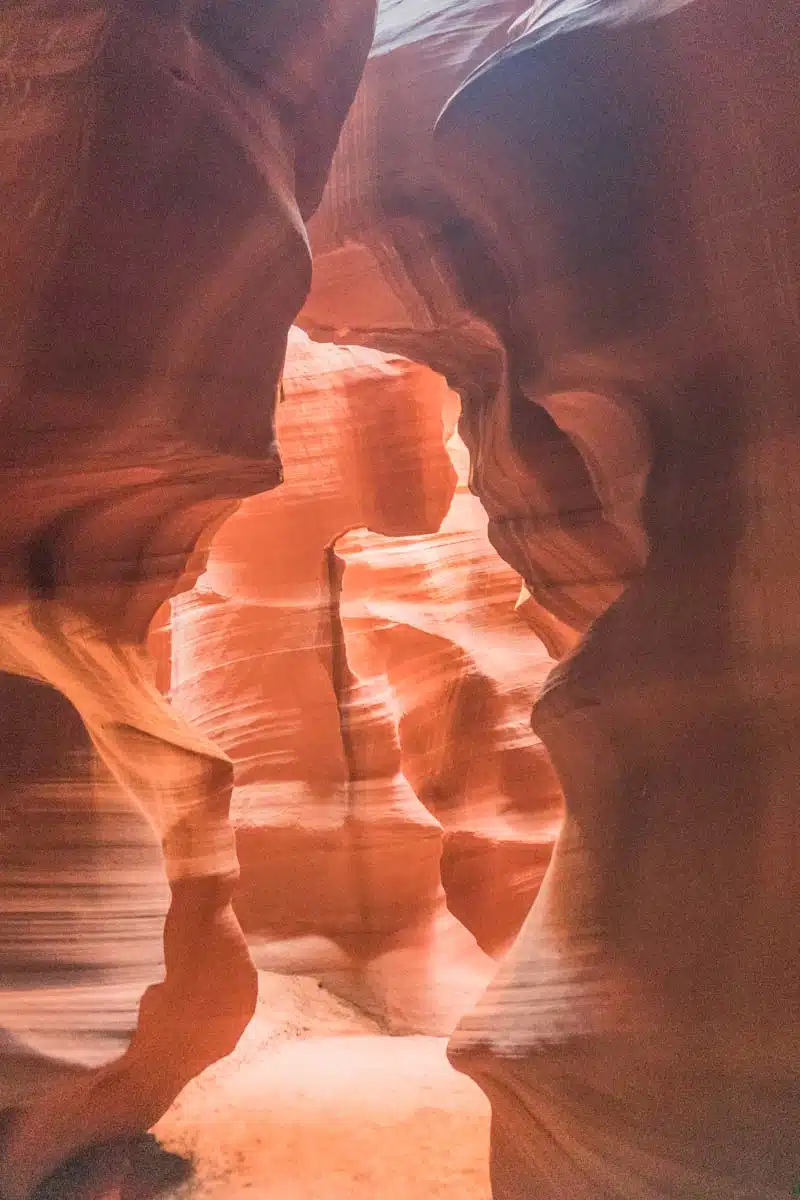 Remember to bring water, closed-toed shoes, and your ID on the tours.
You're not allowed to bring bags or large camera gear like tripods.
Depending on your selected tour option, it may not include a service fee. You can also tip your guide for a service well done. However, this shouldn't total more than $10.
Please try to be on time. Your arrival time is 30 minutes before the tour starts to prepare you for the trip. If you're even a few minutes late, the tour guides may refuse entry without a refund.
It may be hard to capture great photos if your camera can't handle low-light situations or you're using a cellphone camera.
Lower Antelope Canyon
Lower Antelope Canyon: What You'll See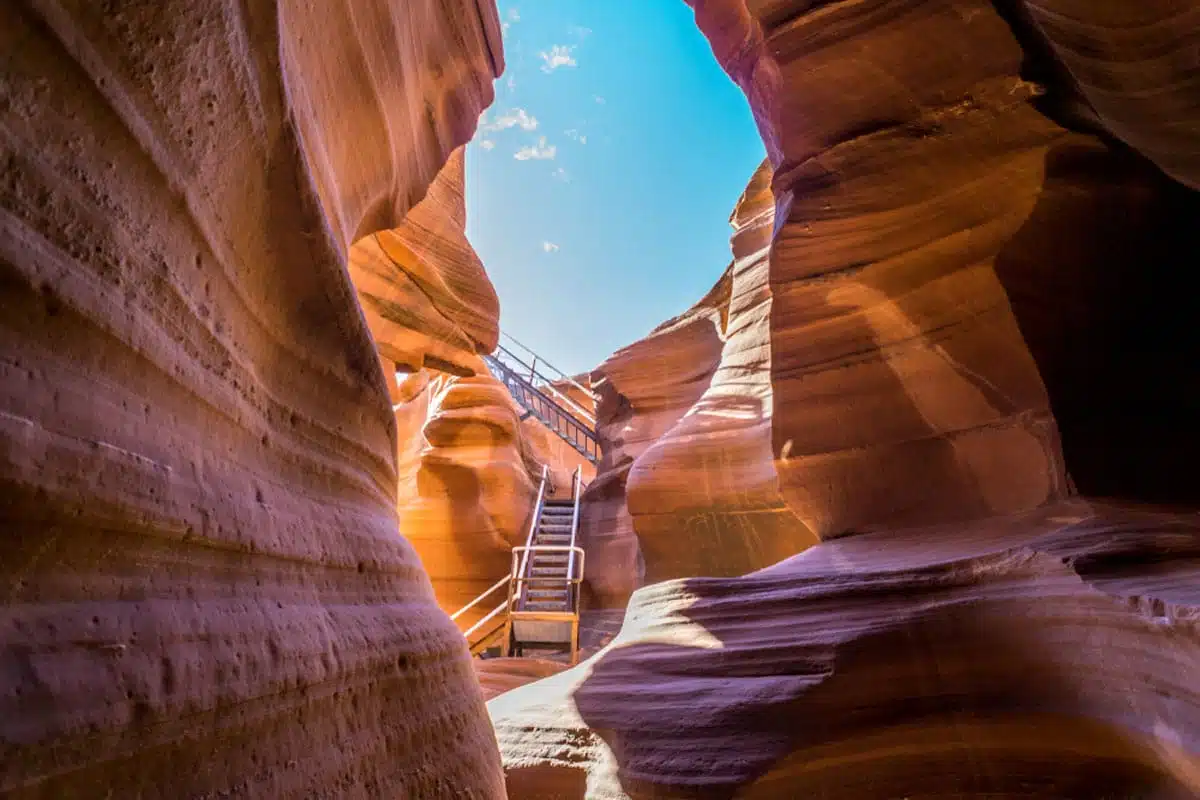 If you're wondering what's the difference between Lower vs. Upper Antelope Canyon, the answer is easy. While Upper Antelope is above the normal ground level, Lower Antelope is, as you can guess, below ground level.
It is the more adventurous option, but you may find this trail challenging if you have mobility problems. Antelope Canyon's lower is trickier to hike because it has a few flights of stairs and stray boulders. However, more sunlight streams through, lighting your path. This open-top canyon thus allows you a slightly better look at the swirly canyons and is more camera-friendly.
Lower Canyon Tours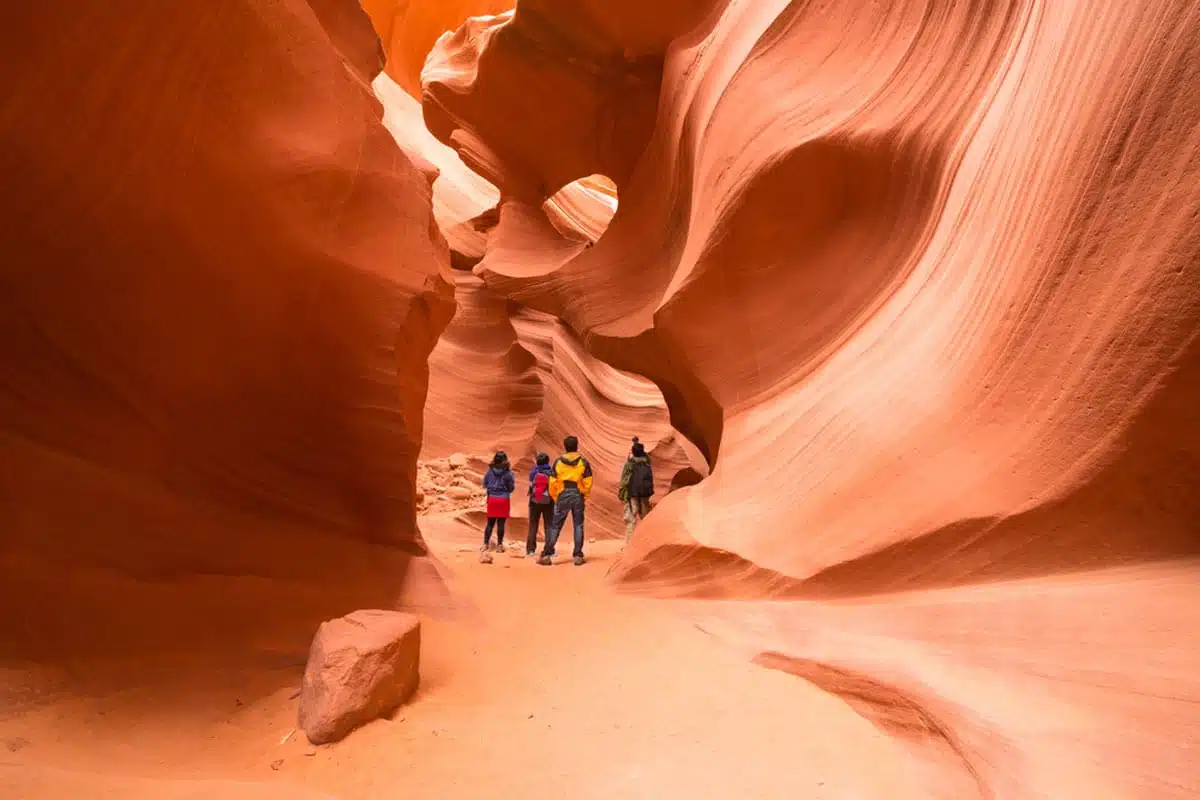 This walking tour with Navajo Guide allows you to book a 1.5-hour long tour for only $89. You can choose a tour starting at 10 am, 1.30 pm, or 2.30 pm.
From the beginning, your local guide teaches you about Navajo traditions and the area's rich historical significance. As this canyon is underground, you'll have to descend a couple of flights of stairs to reach the belly of the canyon. Once at the bottom, you're free to roam, snap, and explore the canyon for an hour.
For only $90, you can get an early start to your day with this admission ticket and guided tour. This tour starts at 9 am and has a new tour every 30 minutes up until 2.30 pm, making it an excellent option for flexible travellers.
While the previous tour has lots of facts intertwined, this tour allows more photography time. Your knowledgeable tour guide will be able to show you the best photography spots and perhaps even snap a picture of you.
Practical Tips for Your Trip
Depending on what your ticket covers, you may have to pay an $8 Navajo Parks Entry Permit fee.
You'll need to arrive with your identification documents, tour confirmation number, and voucher for these tours.
Prepare to ascend or descend a few staircases, ranging from three to 25 feet long.
Wear comfortable, close-toed shoes while you're there. You'll have to climb quite a bit in Lower Antelope as the path is more rocky and uneven. Some tours may even require you to wear a face mask.
So… Which is Better? The Upper or Lower Antelope Canyon?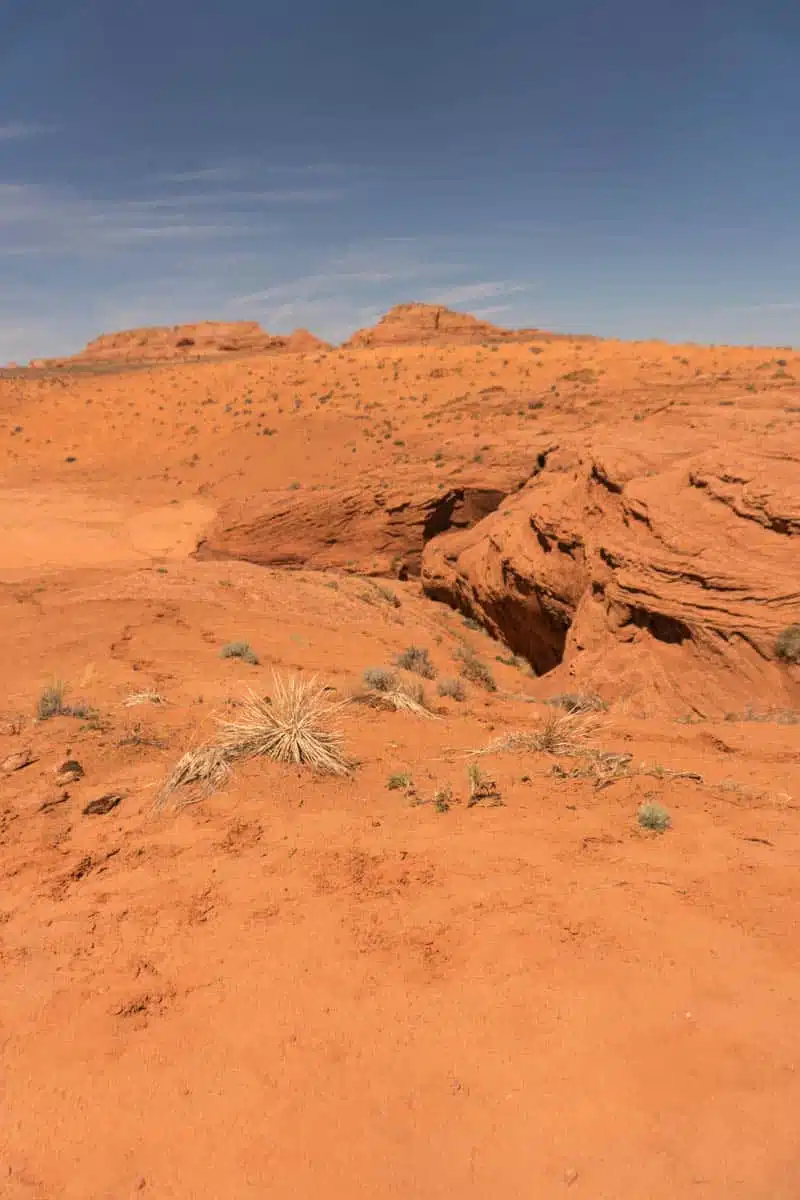 You may be wondering which is better, Upper or Lower Antelope Canyon.
There are a few similarities, like both having beautiful swirling rock formations that allow light to cascade off them. For these reasons, both canyons have great material for otherworldly photographs.
However, there are also a few differences that I've highlighted throughout this post. The biggest difference is their size and pathways.
It it's your first time and you don't mind it being more crowded, I'd suggest you visit Upper Antelope Canyon. While it can be more expensive and crowded, you get more value and an even better chance to play Peter Lik and find your perfect shot.
Upper and Lower Antelope Canyon: Map
Upper or Lower Antelope Canyon: Read Next