Get ready to discover the best places for stargazing in Death Valley with this handy guide.
Far from the cities in the broiling, barren sands of Death Valley National Park are some of the most spectacular sights you can lay your eyes on. And I'm not just talking about the earth-bound ones.
Stargazing isn't just for dreamers – I promise it's completely bucket list-worthy. You'll soon understand when you cast your eyes upwards in Death Valley and bask in the spectacle of lights before you..
Now, you may need to know a little more before you embark: the best place for stargazing in Death Valley, what to bring, and when to go… Well, that's what I'm here to tell you.
So grab a hot mug of something delicious and read on about Death Valley stargazing and what you can expect. Trust me – Death Valley is even more beautiful at night beneath the Milky Way.
Can You See Stars in Death Valley?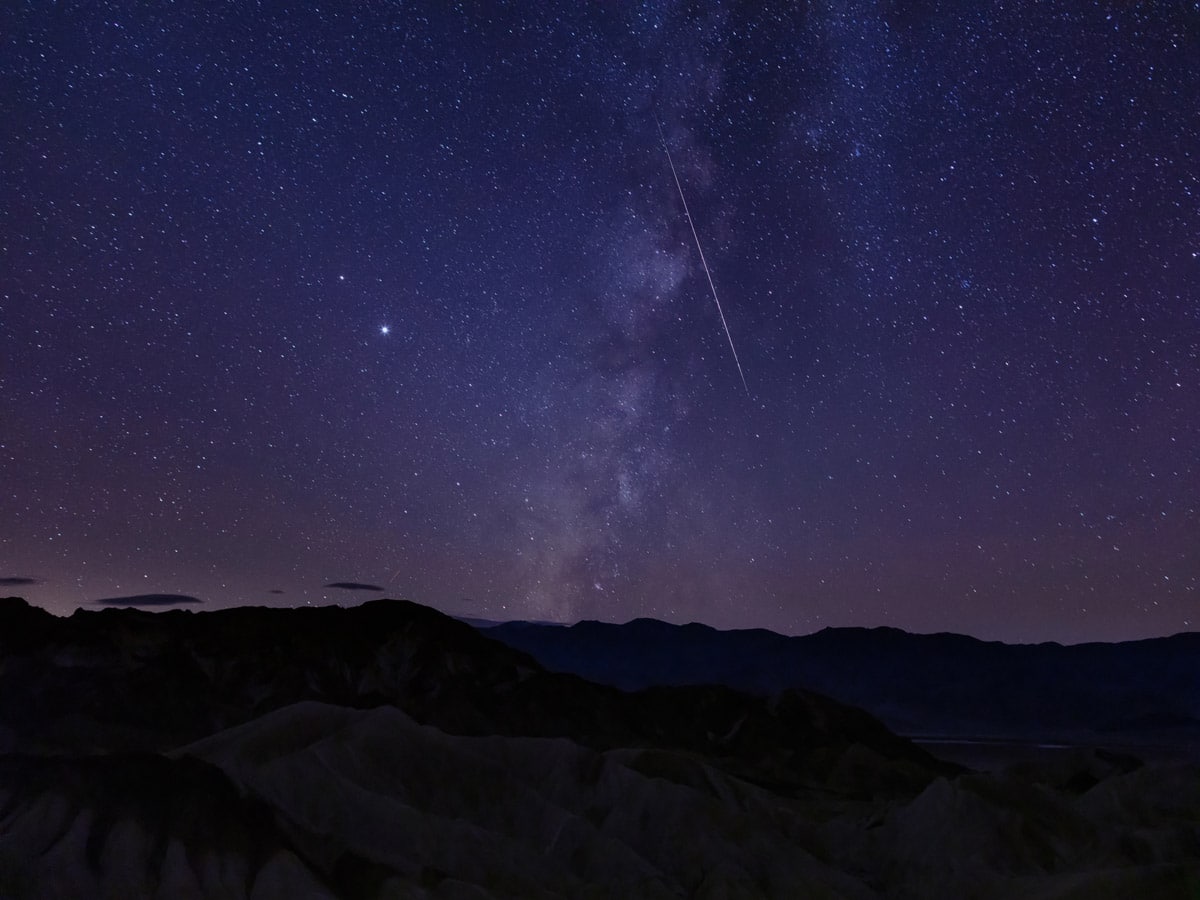 Absolutely! And I'm not talking about your standard "outer city-limits" stars — I'm talking "front seat to the Milky Way" stars.
In fact, the park is a Gold Tier Dark Sky Park, according to the International Dark-Sky Association, meaning Death Valley at night has some of the darkest skies around. That makes it a perfect playground for laying back and gazing upon faraway galaxies.
When Should I Go to Death Valley for Stargazing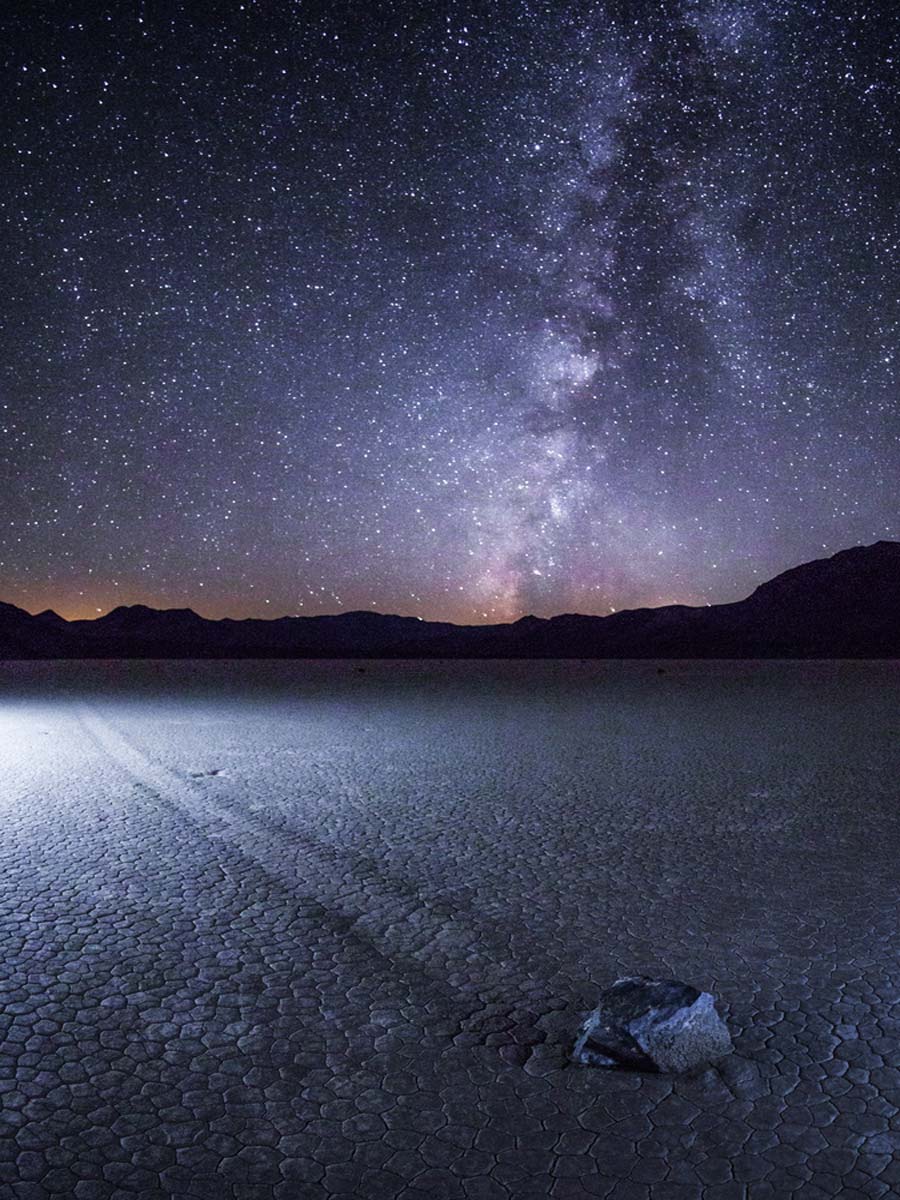 In short, the optimal time for Death Valley National Park stargazing is spring. What with the earth's tilt and its elliptical waltz around the sun, it also happens to be the best time in Death Valley for Milky Way viewings with prime cosmic positioning.
The Milky Way season lasts from March to early May. If you're debating exactly when to go, check out your lunar schedule. The Death Valley night sky is best during a new moon so that there's zero interference from the moonglow, and the stars can shimmer in all their brilliance.
You can also enjoy a more collective experience at the annual Death Valley Dark Sky Festival. There's an exploration fair, astronomy programs, astrophotography meetups, and auditorium talks for all sorts of stellar entertainment.
The Best Areas for Stargazing in Death Valley?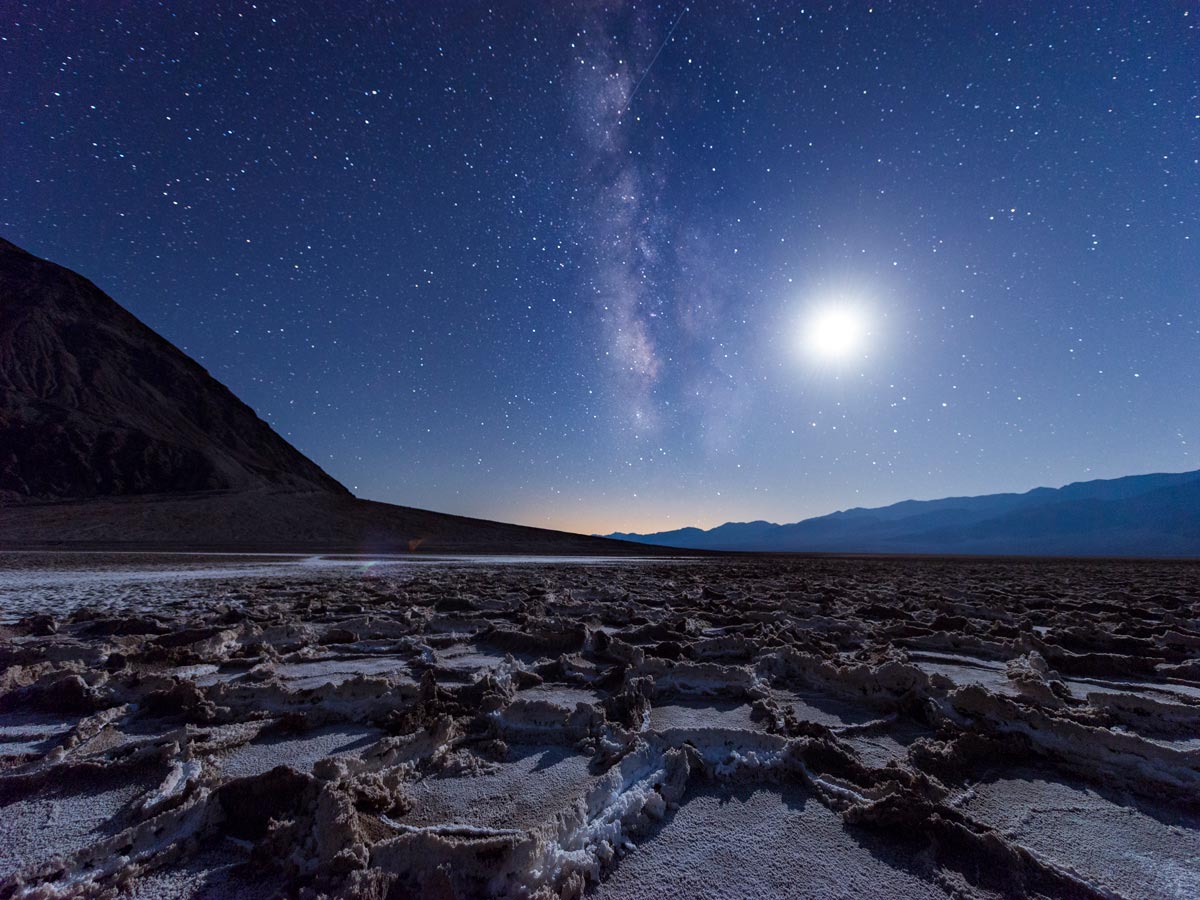 When it comes to stargazing, Death Valley offers plenty of places to choose for your nighttime rendezvous with the stars. The Mesquite Flat Sand Dunes are one of the finest areas with wide open skies and mountain vistas on the horizon.
It's a popular stargazing spot, even if it is about a 30-minute drive from Furnace Creek. But the best campground in Death Valley for stargazing is the Mesquite Spring Campground. It has 40 first-come-first-served campsites and is the darkest campsite in the park.
It's also the furthest place in Death Valley from the dim lights of Las Vegas on the far horizon, adding to the depth of the darkness. So if you want to stargaze deep into the night a stone's throw from your bed, it makes a perfect choice.
If you prefer a foray into the park, Badwater Basin, the Ubehebe Crater, and Harmony Borax Works are top-notch options for your star-viewing pleasure.
What About Tours for Stargazing in Death Valley?
Death Valley stargazing tours aren't a dime a dozen; they're not that common outside of private gatherings by astronomy clubs and organised viewings by the park.
But they do crop up here and there. So you can either settle for a park ranger's rendition of the night sky or sign up for a stargazing tour with a company like The Oasis.
What Equipment Should I Bring for the Best Stargazing Experience in Death Valley?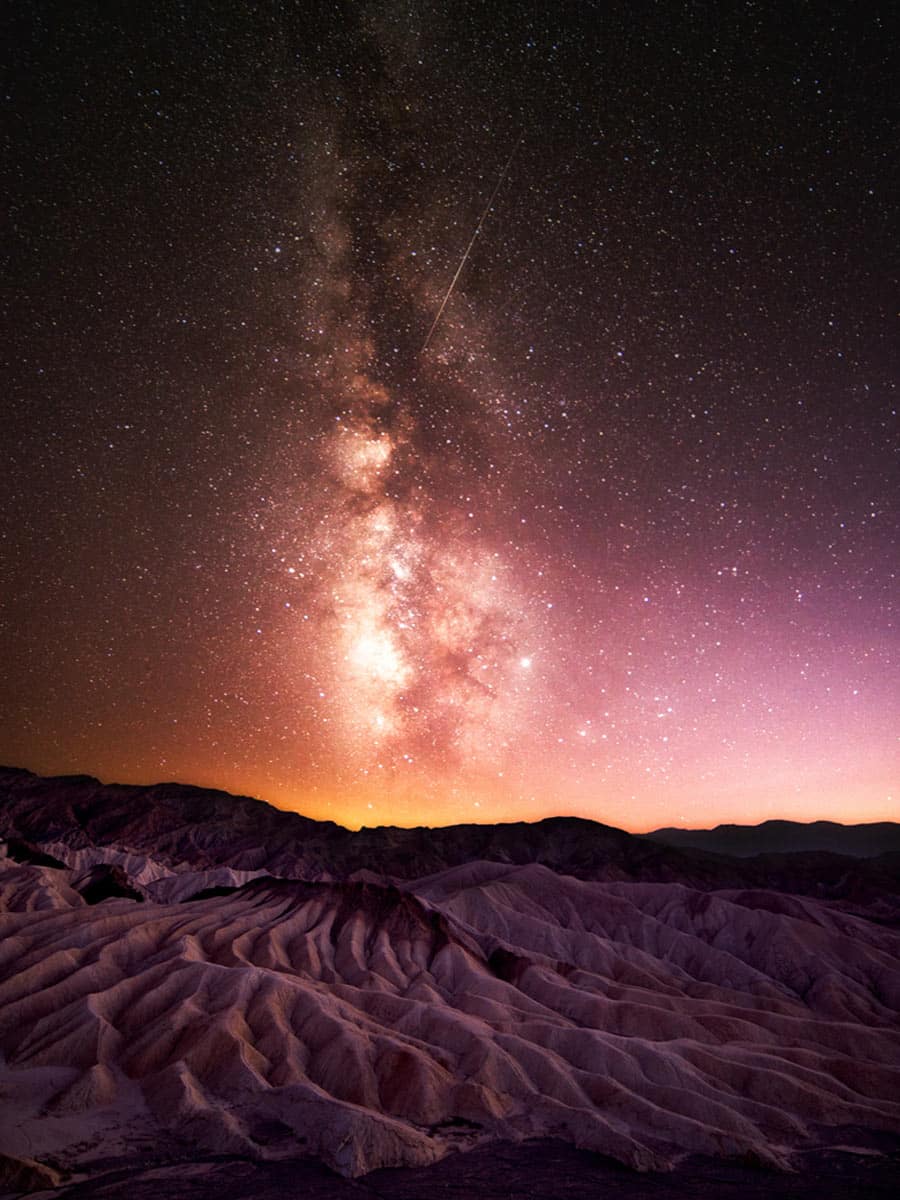 No need to fret if you're a novice stargazer, though there are a few items you might want to bring to make the most of your time scanning the skies in this national park.
For the best stargazing in Death Valley, grab a star chart or night sky almanack to help you get your bearings on the stars you're seeing. A good pair of binoculars is the next item, with excellent magnification and the right optics for long-distance viewing.
You'll also need a red torch. "Why?" I hear you ask — "it's not a disco." Maybe not, but you'll need a torch to move around, and bright white lights will hamper your vision, so you won't see the heavens as clearly.
On the other hand, red light isn't as abrasive on your eyes and won't affect your night vision as badly.
If you want to get a little more serious about having the best time stargazing in Death Valley, then bring a beginner's telescope and a comfortable fold-up camping chair. A green laser will help you point out celestial objects of interest to others.
Where Can I Stay Near Death Valley
There are some excellent options if you're looking for places to stay while watching the stars. Of course, you can camp in the park for unlimited viewing (and there are some great campgrounds in Death Valley).
There are also some fantastic vacation rentals in Death Valley that'll blow your mind without blowing your budget if camping isn't your style.
Holiday Inn Express & Suites Pahrump (Mid-Range)
The Holiday Inn Express & Suites Pahrump make for a budget-friendly, cosy stay. The swimming pool and air-conditioned rooms will keep that Death Valley heat at bay, and the beds are ridiculously comfy for a restful sleep.
The Inn at Death Valley (Luxury)
Be spoiled for choice with the luxurious rooms, outdoor pool facility, and sprawling green lawns a stone's throw from Death Valley. The decor at The Inn is regal and each room is decked out in neutral tones with spectacular mountain views.
Other FAQs About Stargazing in Death Valley
How Do I Get to Death Valley?
From Las Vegas — Travelling via Pahrump and California Highway 190 is the most direct route.
From Los Angeles — Drive along Interstate 15 to Baker, then follow Highway 127 north to Highway 178 or 190.
From the east — Travel along Highway 95 to Highway 373.
Is it Safe to Stargaze at Death Valley?
Short answer: Yes.
But, I'll be honest. The most dangerous thing about Death Valley is the heat, which melts away at night, allowing the desert creatures to come slipping out of cracks and burrows. You may see some wonderful wildlife while stargazing, but otherwise, it's safe to go stargazing at Death Valley.
Death Valley Stargazing: Read Next