Could one destination in the US tick every box an avid adventurer has? Well, Death Valley certainly can. And, when you're out exploring Death Valley's salt flats, you'll need this handy guide.
I'd wager that Death Valley does not benefit from its ominous name, which is a travesty. Now, while not much life springs from its landscapes, one thing certainly does.
What's that, you might ask? Well, if you guessed a lush green forest, I don't mean to leave you salty (get it?).
Death Valley instead breathes excitement and thrill into everyone who visits. And nowhere is this more evident than along the many Death Valley tours and its salt flats.
Remember your camera, Death Valley's impressive landscape awaits…
Why Visit Badwater Basin?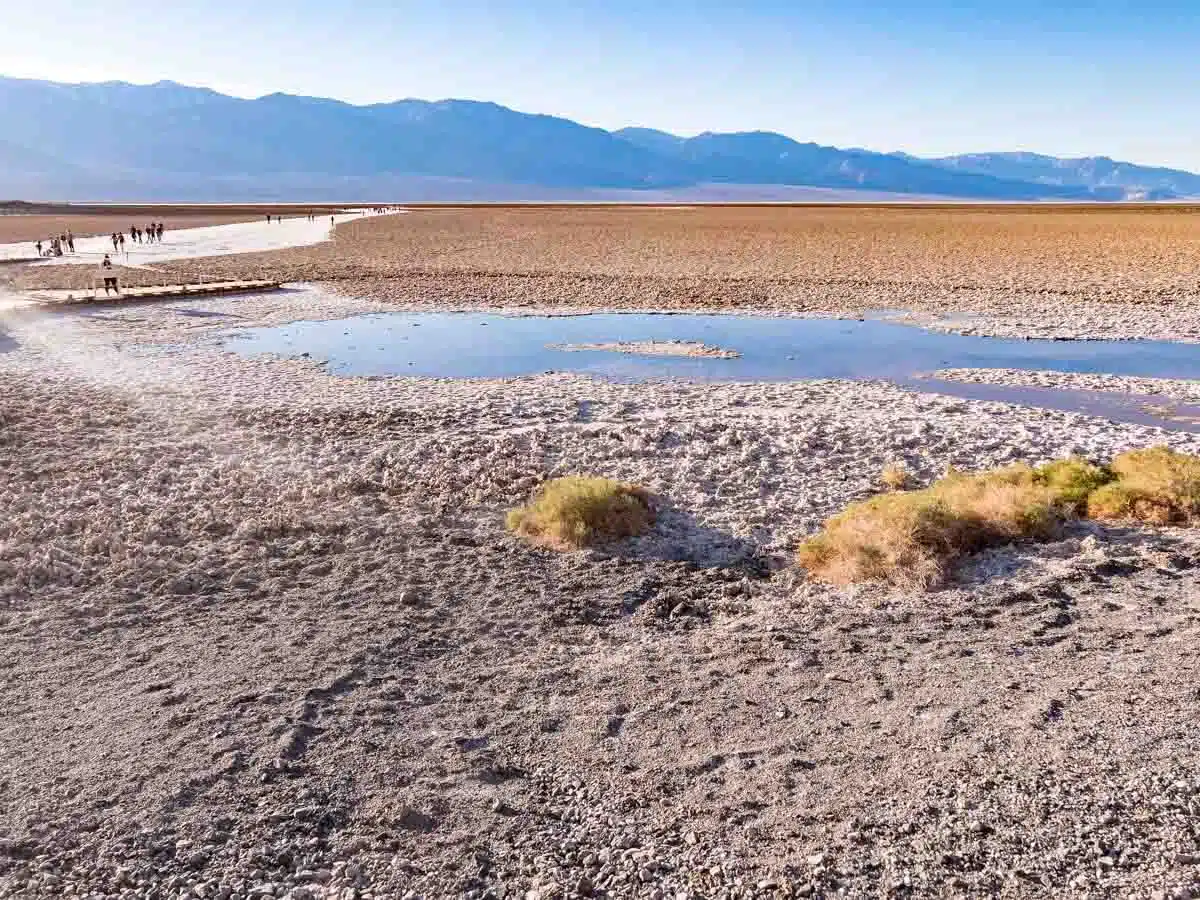 Apart from the fact that I just returned from an epic trip where I drove through Death Valley and LOVED it, few places boast of being the lowest point in the western hemisphere.
Actually, only one does, and it's Badwater Basin, Death Valley's famous salt flat.
So while you'd expect mostly arid terrain with a few sage bushes here and there, Badwater Basin appears in white salt akin to fresh snowfall. Despite the harsh conditions, it's a popular tourist destination because of its unique landscape and history.
The basin is a stark and beautiful landscape of white salt flats and mountains in the distance. It is a popular destination for hikers, runners, and photographers. Oh, and it's also home to some of the most extreme weather conditions in the country. Pretty cool, huh?
The visual allure of seeing this vast white landscape against the backdrop of the most inhospitable place in North America draws thousands. But walking across this barren terrain in the Mojave Desert adds an almost surreal flair to visiting the salt flats.
A Short History of Badwater Basin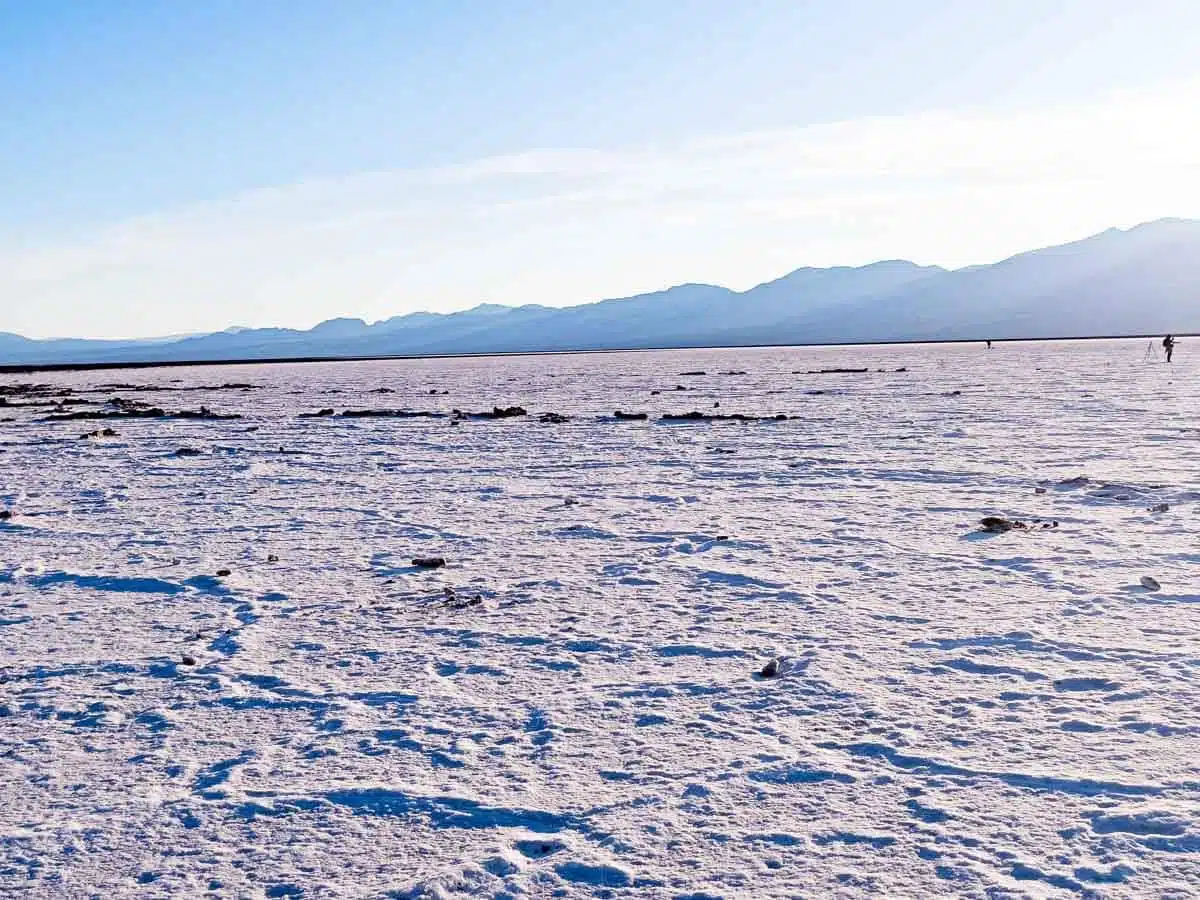 As you've probably guessed by now, Badwater Basin is a massive open salt flat within the largest national park in the United States. But what exactly does that mean? Let's get a bit of folklore out of the way first.
When you arrive at Badwater, you'll find a sign that tells a pretty cool story of where this salt flat got its name. Apparently (as far as its history goes), a young traveller, most likely on the hunt for prospecting sites, came upon a shallow lake a few decades ago.
Having endured the desert heat and heeding his pack mule's calls for water, he led his steed to the lakebed for some well-deserved refreshment. Now while mules bear the stereotype of not being intelligent, this one could tell when water was undrinkable.
That's exactly what happened when it tasted the high salt levels in the water below. The young prospector then realised that instead of a refreshing lake, this was, in fact, bad water and offered no respite.
Dubbing the lake before him "Badwater" (creativity excluded), the term stuck, and it officially became Badwater Basin when the water dried up. And just as the lakebed remains dry, except for the scarce rain now and then, the name Badwater Basin lingers.
How Were Badwater Salt Flats Formed?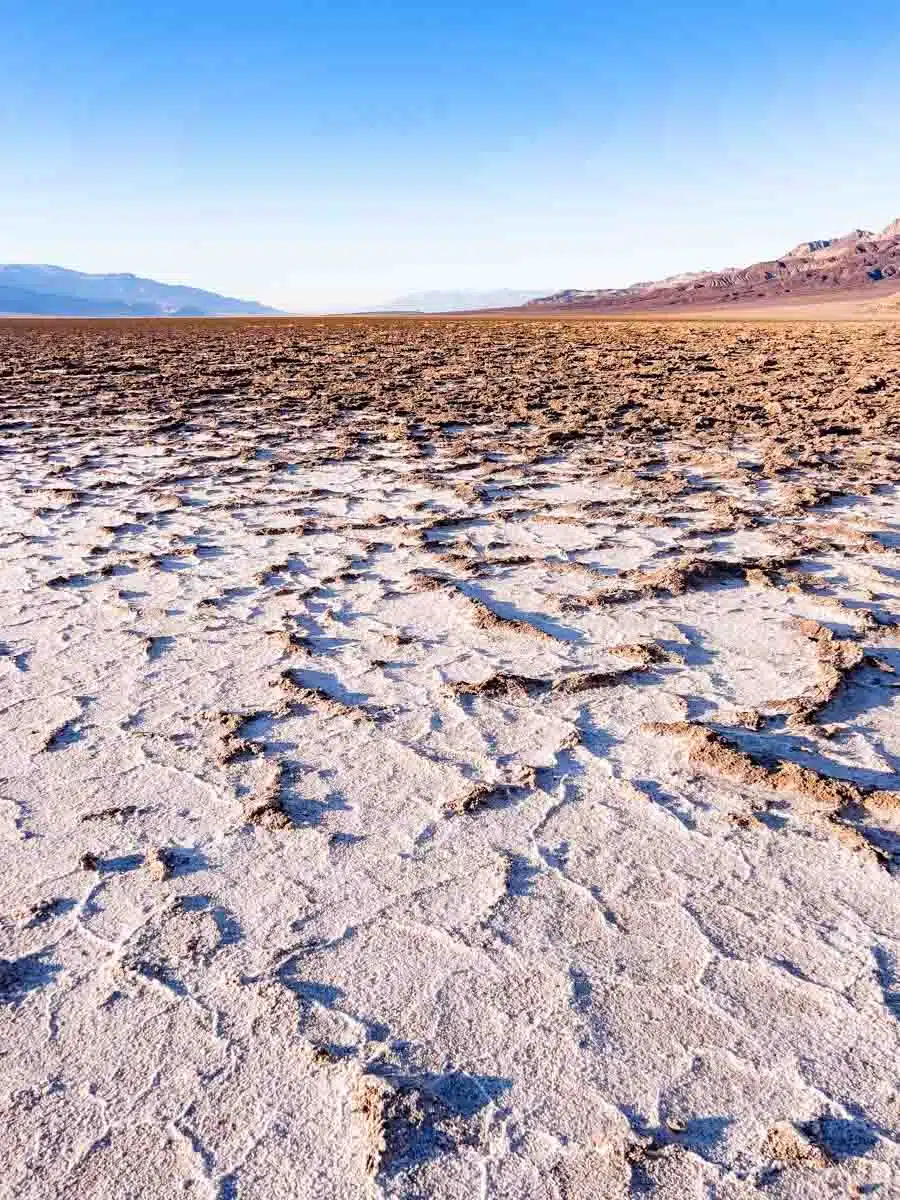 Salt flats are pretty different from run-of-the-mill dried-up lake beds. What makes them unique is the collection of minerals left once the water evaporates from their surface.
So instead of mud, you get massive amounts of chlorides, sulfates, and carbonates covering the ground.
Before Badwater became a salt flat, the ancient Lake Manly flowed through the valley. Over roughly 11,500 years, the rising temperatures in the area led to the drying up of Lake Manly. In its wake, all that remains is Badwater Basin.
Covering nearly 200 square miles, its landscape features numerous minerals carried via rainstorms from the surrounding mountains. However, thanks to an annual estimated 150-inch evaporation rate in the valley, the average 1.9 inches of rain don't last long.
When Should You Visit Badwater Basin Salt Flats?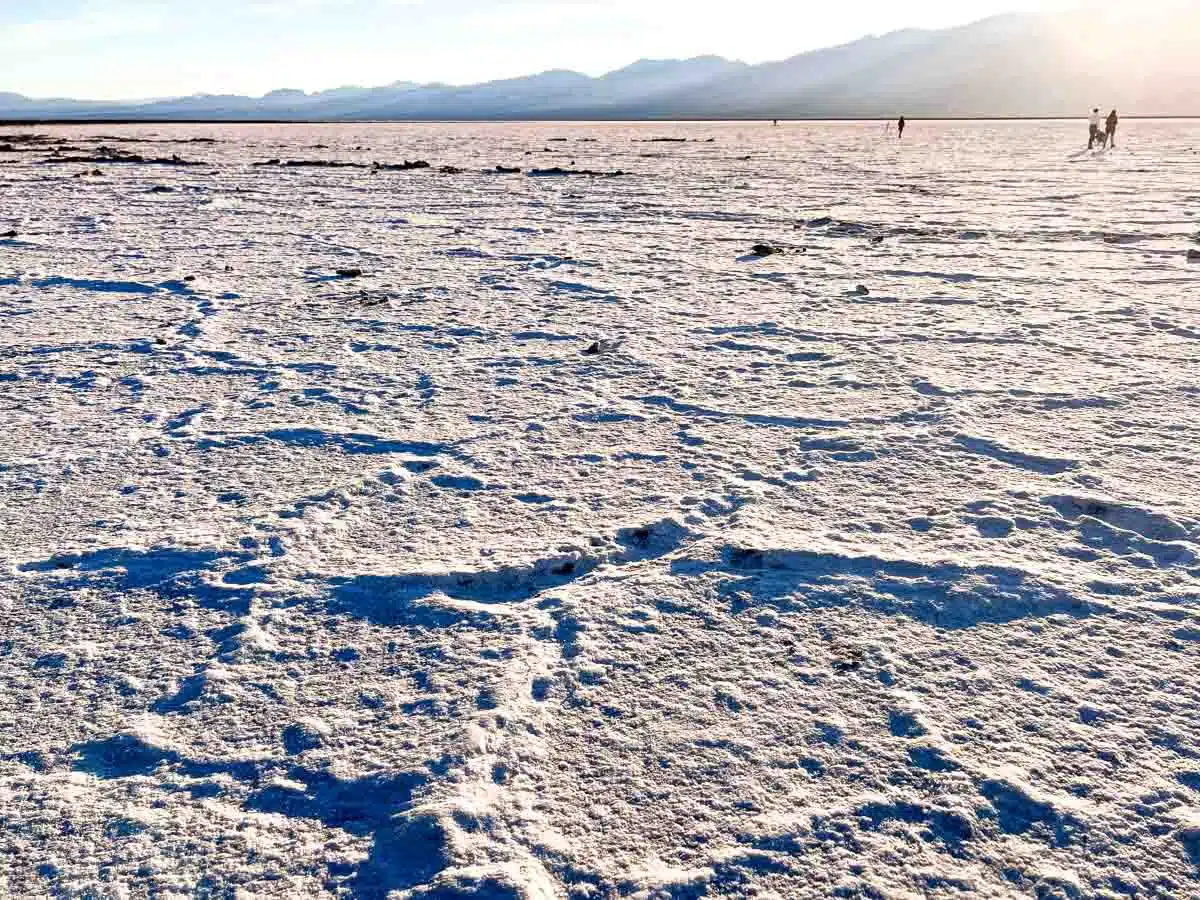 First, let's start with when you should avoid this spot. You shouldn't visit during summer, which ranges from June to September. With temperatures soaring to well above 120°F (49°C) and no shade, it's best to wait for winter or spring.
Ideally, your trip to Badwater Basin should happen during spring, from late February to April. This is the perfect time to visit as temperatures are comfortable, and you can also experience other Death Valley highlights.
Planning Your Visit to Badwater Basin
Badwater Basin Address
Death Valley, Inyo County, California
Badwater Basin Opening Times
Excellent news: Badwater Basin is open per Death Valley opening hours: 24 hours a day, 365 days a year.
Badwater Basin Independently
From Las Vegas driving along Highway 160, you can reach it via Death Valley Junction, which then turns into Highway 190 on the way to the park. Towards the eastern park entrance, after about 29 miles, you turn left onto Badwater Road for 14 miles till you get to the parking lot.
It's best to use your own vehicle or rent a car from popular sites such as RentalCars.com.
Badwater Basin On a Tour
Yeah, yeah, wilding alone is fun AF but exploring Badwater Basin as part of a guided tour is a fantastic option for those who don't want the hassle of planning every meticulous detail.
This Death Valley Day Tour is a stellar choice because not only do you get to visit the salt flat, but it also includes stops at other highlights. These include Furnace Creek, Rhyolite (an epic Ghost Town you need to see), and Zabriskie Point.
Where to Stay for Badwater Basin
I've found a little gem. Looking for the best accommodation in Death Valley with easy access to Badwater Basin? Of course you are. Then you'll want to stay at The Inn at Death Valley.
This is a luxurious 5-star property with an authentic Wild Western atmosphere and a stellar breakfast to fuel your Death Valley adventures.
What to Pack for Badwater Basin
Tip: Check out my essential packing list ideas for more packing tips.
Badwater Basin: Map
Death Valley Salt Flats: Read Next
Love This? Save and Share on Pinterest