Planning a trip to one of the best US national parks in December? From tropical hideouts to winter wonderlands, these parks are ripe for adventure.
December isn't the time most people associate with adventuring, mainly due to the bitter cold.
But that's where I come in – let me show you some of the best national parks to visit in December that are perfect for an unforgettable festive season.
So get your travel gear together, and let's discover these mesmerising parks. I promise you'll never doubt taking a US winter vacation ever again.
Best National Parks to Visit in December
Everglades National Park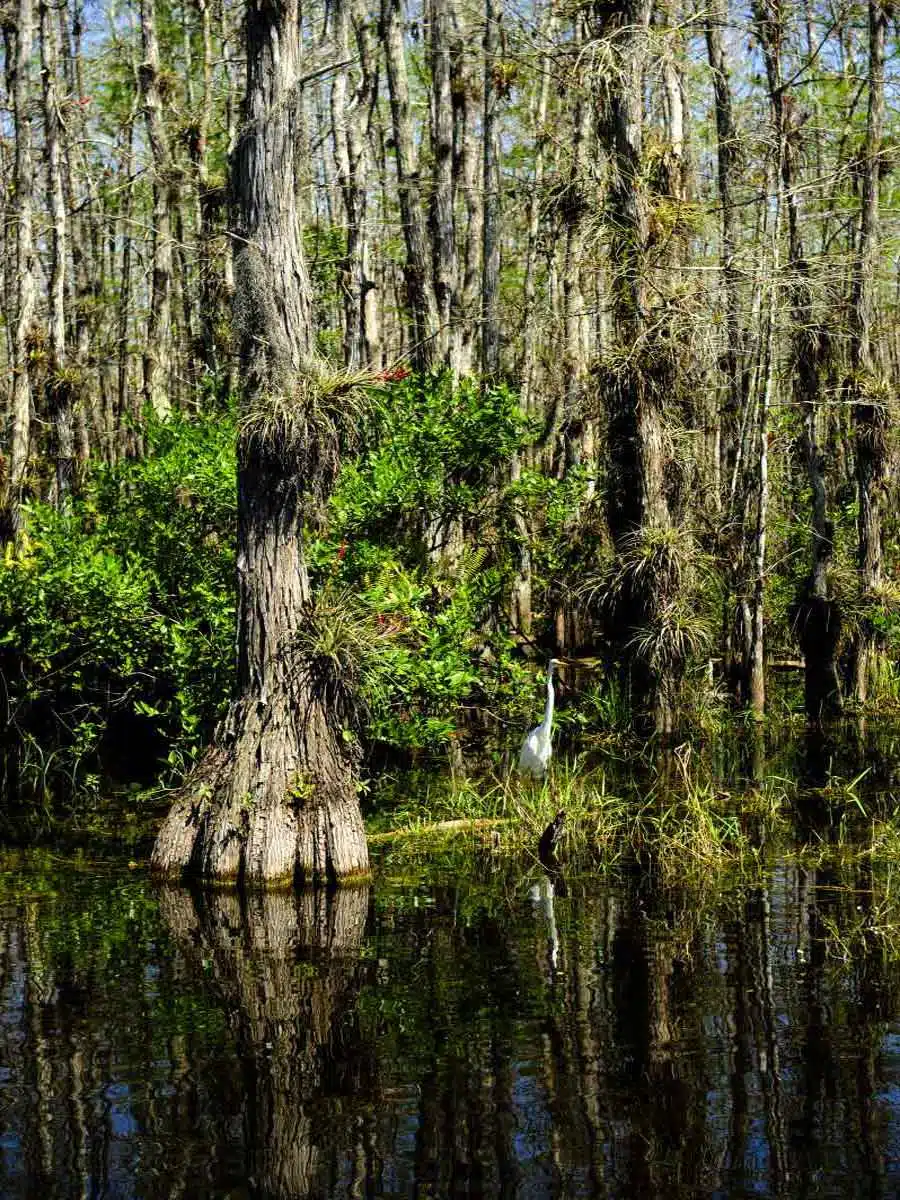 Let me kick things off with what might just be the best warm destination in December. And where better than the Everglades National Park in Florida?
The Everglades is a huge ecosystem ranging from coastal mangroves, pine flatwoods, and sawgrass marshes. It's one of the best warm winter destinations, with clear skies and temperatures between 77°F and 53°F.
December is also the Everglades' dry season, so most wildlife gathers around watering holes and sloughs. This means you're more likely to see the powerful alligators that prowl the waters and majestic birds like the colourful roseate spoonbill.
You'll also experience less humidity and fewer of those pesky mosquitoes – which makes it far more pleasant to venture through the park on the 7.5-mile walking and biking route, I think you'll agree.
Top Tip: Join an Everglades airboat tour for a unique perspective of the landscape.
How to Get There: Take a short 42-mile drive from Miami.
Where to Stay: The Betsy Hotel
Biscayne National Park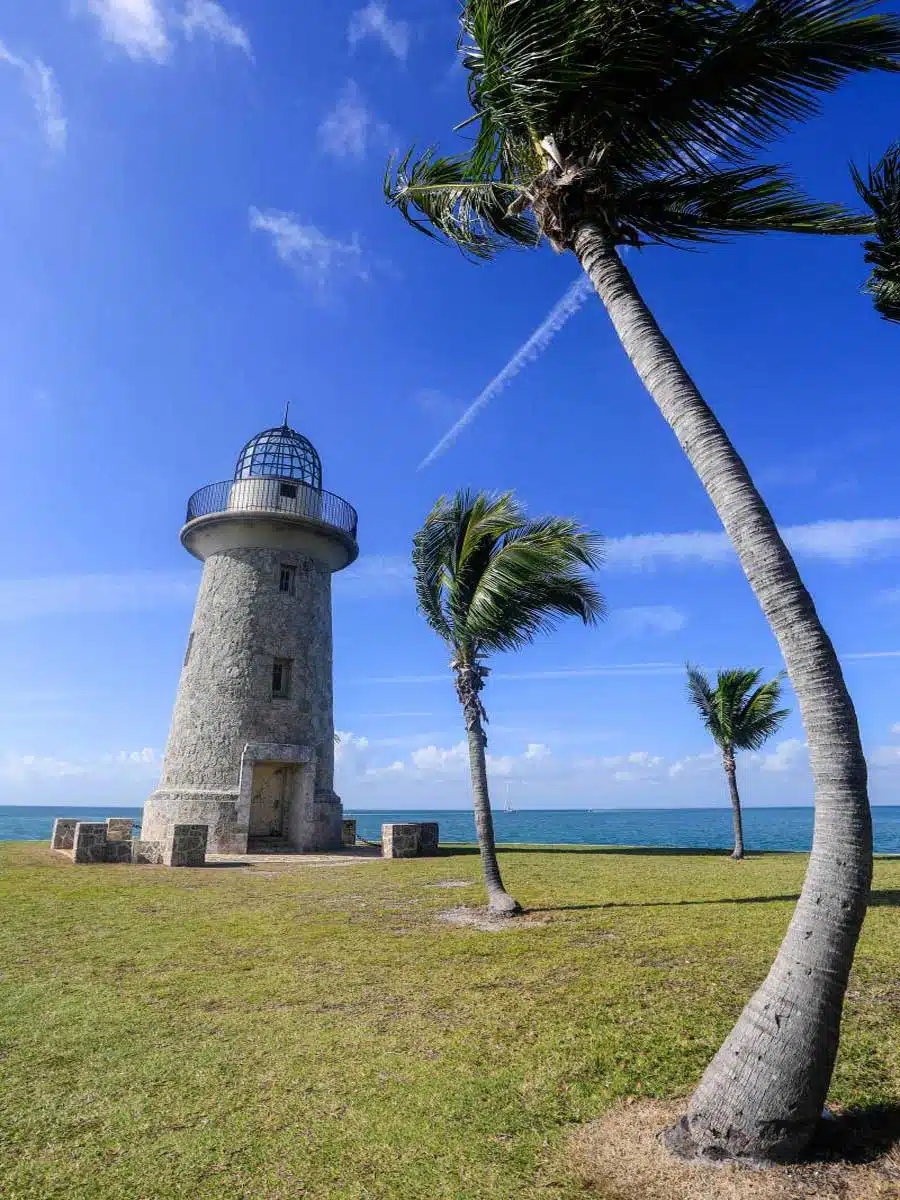 Bring out the sunscreen because Biscayne National Park in the northern Florida Keys will be HAWT.
Across a huge stretch of tropical coastline, you can explore beautiful coral reefs and diverse mangrove forests. The weather here is fantastic in December, with highs of 68°F and lows of 62°F. It's also the dry season, so there will be clear skies on most days.
One of the top December activities is snorkelling, where you can explore the coral reefs or Mandalay Wreck and see Great Barracuda. As 95% of the park is water, the best way to get around is by canoeing or on a boating tour with a park ranger.
Top Tip: Go to Boca Chita Key in the park for the best views of the Miami skyline.
How to Get There: Take a 33-mile drive from Miami to the Dante Fascell Visitor Center.
Where to Stay: Lux House
Death Valley National Park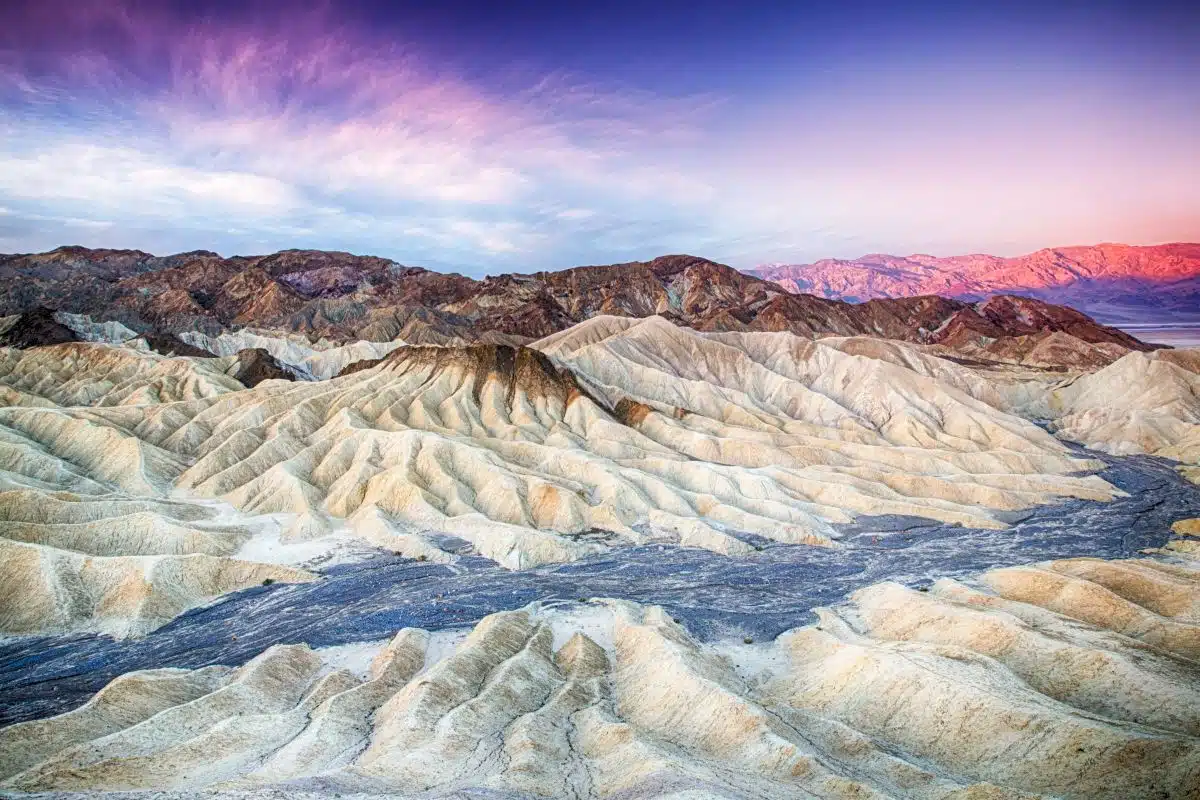 Death Valley might boast the harshest environment in America, but within this barren landscape lies a subtle beauty. It's the largest national park south of Alaska, with 1,365,000 hectares of flat salt planes and deep-cutting valleys to explore.
The temperatures here in December are moderate (read: still pretty warm), with highs of 66°F and lows of 39°F. Oh, and don't worry – the occasional spot of rain won't affect your perfect photo opportunities of the snow-topped Titus Canyon too much.
Hiking is a great pastime, with the Mosaic Canyon Trail (3.2 miles) being an attractive option. Driving through Death Valley is also a great alternative, as you'll see the top sights like Badwater Basin and Zabriskie Point.
Top Tip: Go stargazing in Death Valley, thanks to some of the darkest desert nights.
How to Get There: The most convenient way to get to Death Valley is a 111-mile drive from Las Vegas.
Where to Stay: The Berkley, Las Vegas
Joshua Tree National Park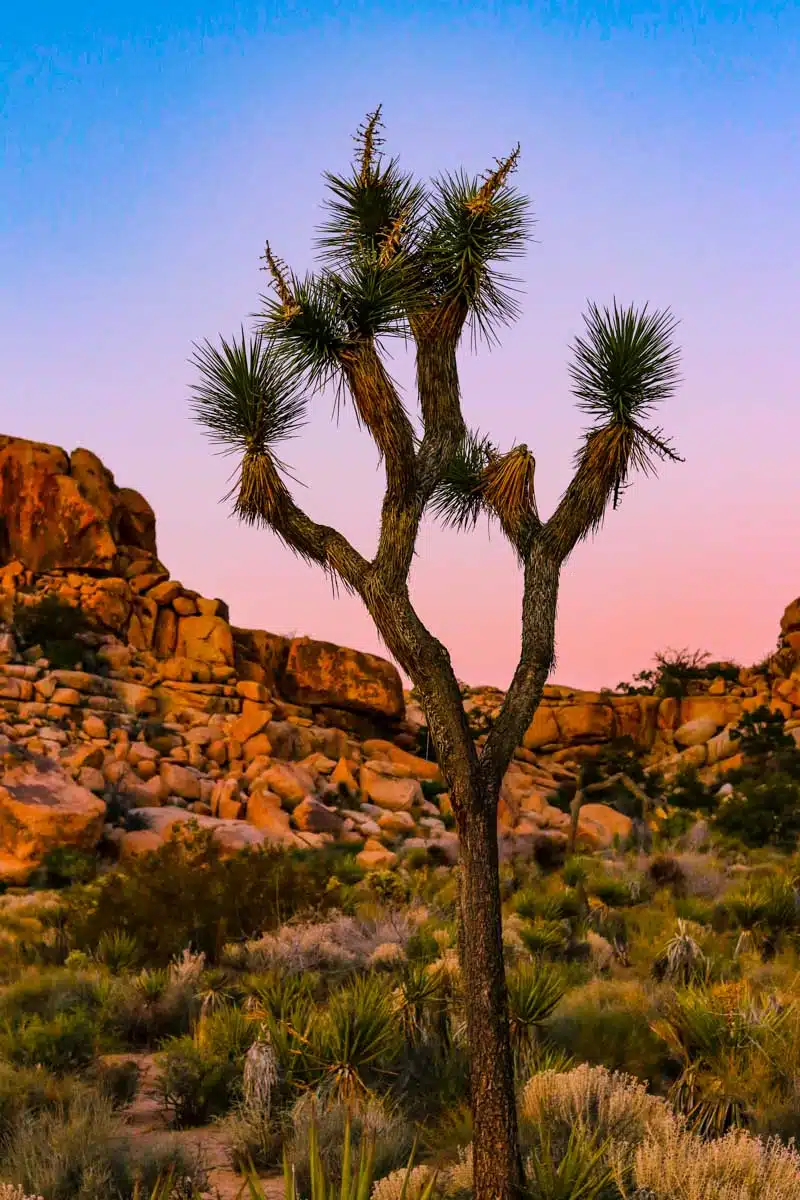 From one Californian National Park to another, Joshua Tree has plenty of rugged terrain waiting for you. And there's no better time than December.
With temperatures between 61°F and 37°F, you'll need a jersey but nothing too drastic. The comfortable weather and breathtaking Cholla Cactus Gardens mean you're never short of fantastic photo opportunities.
But it's not all desert and cacti out here – some unique rock formations like the Skull Rock and Arch Rock call this park home. As you venture through the park, stop at the Cottonwood Spring Oasis for a slice of paradise in the desert.
And when in Joshua Tree, you have to admire the Coachella Valley and the San Andreas Fault from Keys View. It will be one of the highlights of your California road trip.
How to Get There: Palm Springs is the closest city, only a 49-mile drive from the park entrance.
Where to Stay: Renaissance Palm Springs Hotel
Hawaii Volcanoes National Park
Hear me out: Hawaii Volcanoes is one of the best national parks to visit in November and December for many reasons.
Across its 139,540 hectares, you can find the active volcanoes of Kilauea and Mauna. You heard me right – they're still bubbling away, with the most recent eruption on 29th September 2021.
Temperatures are at a pleasant range of 68°F and 51°F, but you can expect rain over December. Not to worry, it dries up rather quickly.
If you drive along the 19-mile-long Chain of Craters road, you'll see lava trees, pit craters, and lava flows from past eruptions. Though, my favourite activity is the Crater Rim Drive, where you'll see super-hot steam vents.
Top Tip: If you want to see it all, I recommend joining a Hawaii Volcanoes National Park tour.
How to Get There: Take a 28.8-mile drive from Hilo city to the park entrance.
Where to Stay: SCP Hilo Hotel
National Park of American Samoa
Another breathtaking rainforest area, the National Park of American Samoa, stretches across more than a thousand hectares of pristine land. The three islands of Tutuila, Ta'ū, and Ofu make up this breathtaking park.
Although it's a fair distance from mainland America, this island paradise has delightful weather between 83°F and 73°F. When you pair this gorgeous weather with the plentitude of Samoan coral reefs, you're in for a real treat.
This is the perfect place to strap on some hiking boots and tackle as many of the 13 gorgeous trails through the rainforest as you can muster. You'll be able to gaze at sea cliffs and waterfalls, breathtaking flora, and diverse bird species like wattled honeyeaters.
And, when you're not soaking up the sun on the beach, snorkelling amongst the coral reefs is a whole other world.
How to Get There: This is a difficult park to get to as you'll need to catch a flight from mainland America to Hawaii. From there, you'll join a 5-hour and 30-minute flight to Pago Pago International Airport.
Where to Stay: Saletoga Sands Resort and Spa
Rocky Mountain National Park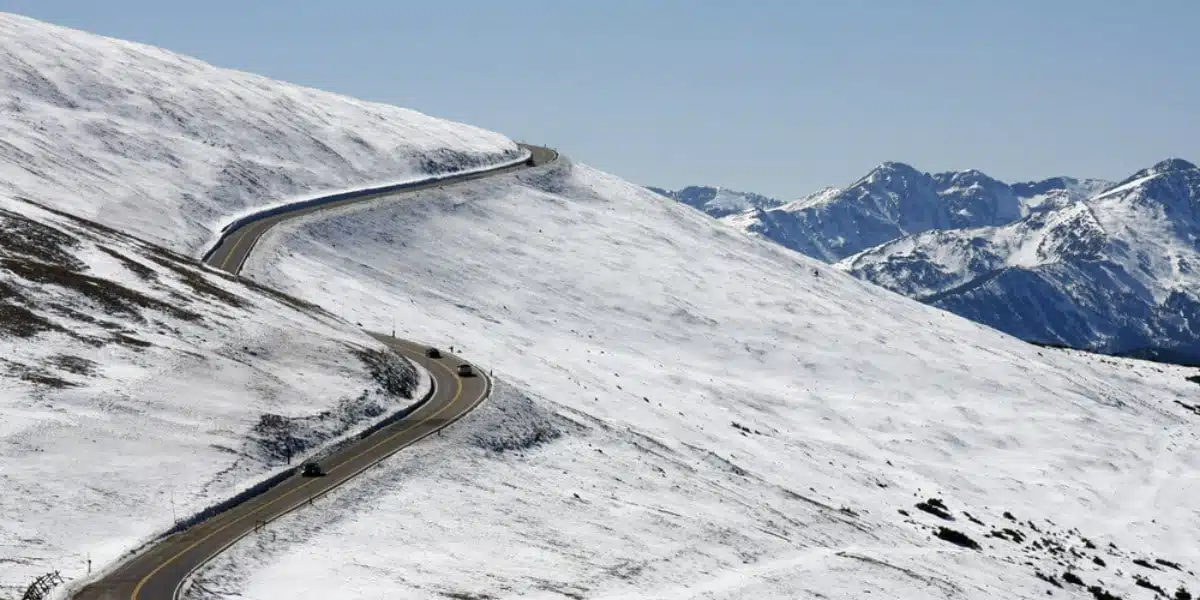 As much as a warm December is lovely, sometimes you want to enjoy the snow in Colorado, right? Right. And that's what you'll get at Rocky Mountain National Park.
Temperatures get to cool highs of 25°F and chilly lows of 12°F, so you can expect lots of snow in this alpine tundra. The snow-capped mountains set the perfect scenery for legendary Rocky Mountain hikes, like the nine-mile Sky Pond loop trail (a personal favourite)
If you want to stay warm but still see it all – trust me, warmth is a big one – driving along the Old Fall River Road is a must. Although ungroomed, these pistes present an opportunity for you to hit the slopes along Bear Lake or Hidden Valley.
How to Get There: You can enter the park from the east or west entrance. Take a 66-mile drive from Denver to the east or a 42-mile drive from Kremmling to the west.
Where to Stay: Nicky's Resort
Yosemite National Park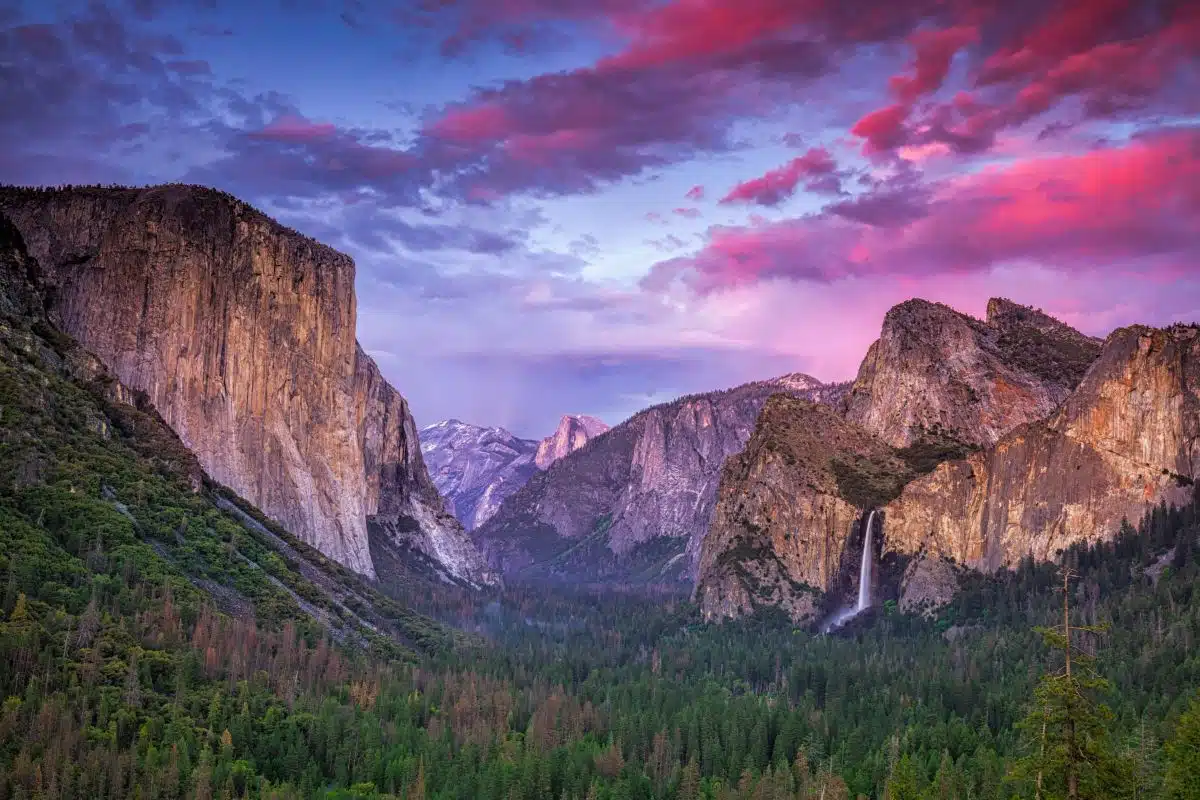 Sticking to the breathtaking mountain region – but now in California – visit the incredible Yosemite National Park.
It goes without saying that it gets nippy here, with highs of 48°F and lows of 27°F, but the views are mesmerising, so adding an extra layer is well worth it. You need to know that some parts of the park will be hard to get to, so you may need to hire chains for tires.
Despite the hard-to-reach areas, the unforgettable Tunnel View looks better than ever in the snow-white landscape. And things to do in Yosemite never die down, like the 3-mile-long Mist Loop Trail, which offers beautiful views of Mirror Lake and Glacier Point.
Top Tip: Another great thing to explore is the forests of Giant Sequoia on a snowshoe tour of Yosemite.
How to Get There: San Francisco is a 4-hour drive from Yosemite. But it's best to stay in a nearby town like El Portal, which is just 14 miles away.
Where to Stay: Yosemite View Lodge
Glacier National Park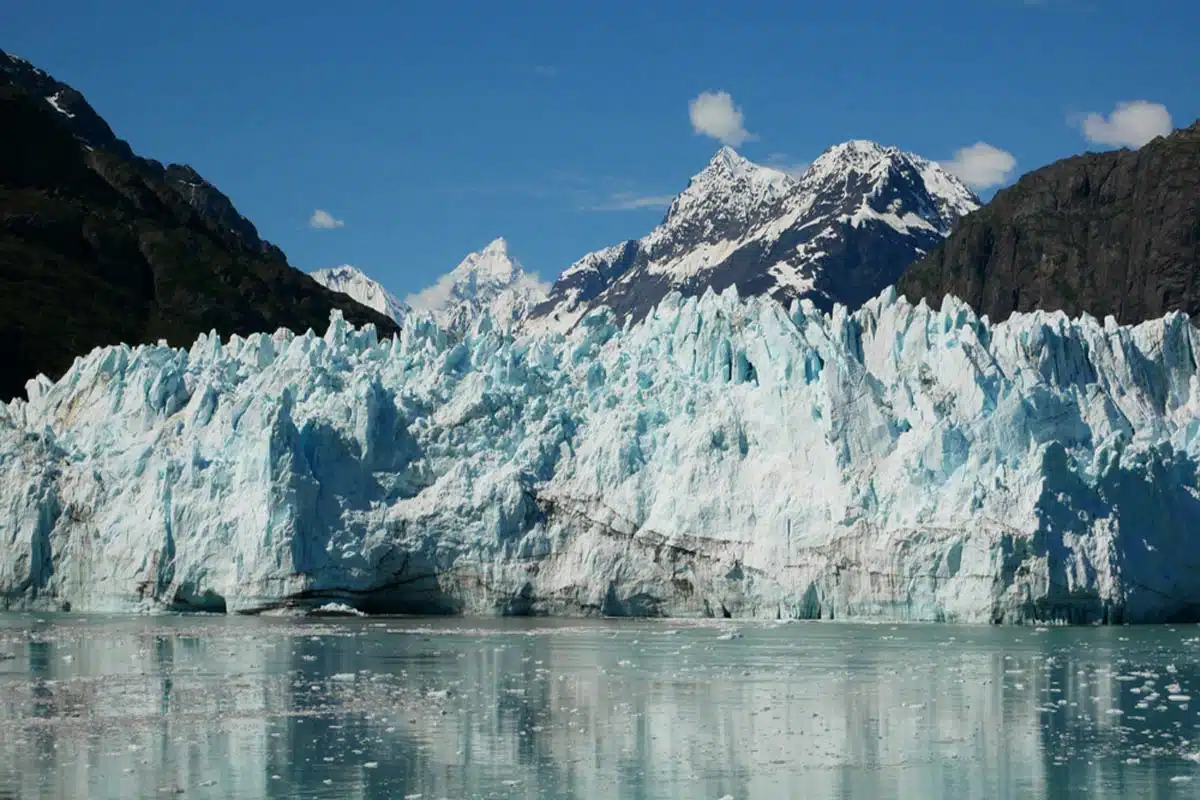 Another highly underrated December national park to visit can be found in Montana. Glacier National Park offers 410,076 hectares of untouched beauty waiting for you to explore.
As it's close to the Canadian border, it gets VERY cold here, with lows of 14°F and highs of 27°F. Some areas of the park remain closed during December, but there are still loads for you to explore across the 700 miles of hiking trails.
How about admiring the views of the snow-capped Rocky Mountains at Lake McDonald or joining a snowmobile tour of Canyon Creek? If you want something more dramatic and durational, join a cross-country ski journey to take in the views from Jackson Glacier Overlook.
Note: The upper alpine section of the Going-to-the-Sun Road is unavailable in December, but the lower portion is open all year round.
How to Get There: I recommend staying in Whitefish and taking a 26-mile drive to the park's western entrance.
Where to Stay: Grouse Mountain Lodge
Grand Canyon National Park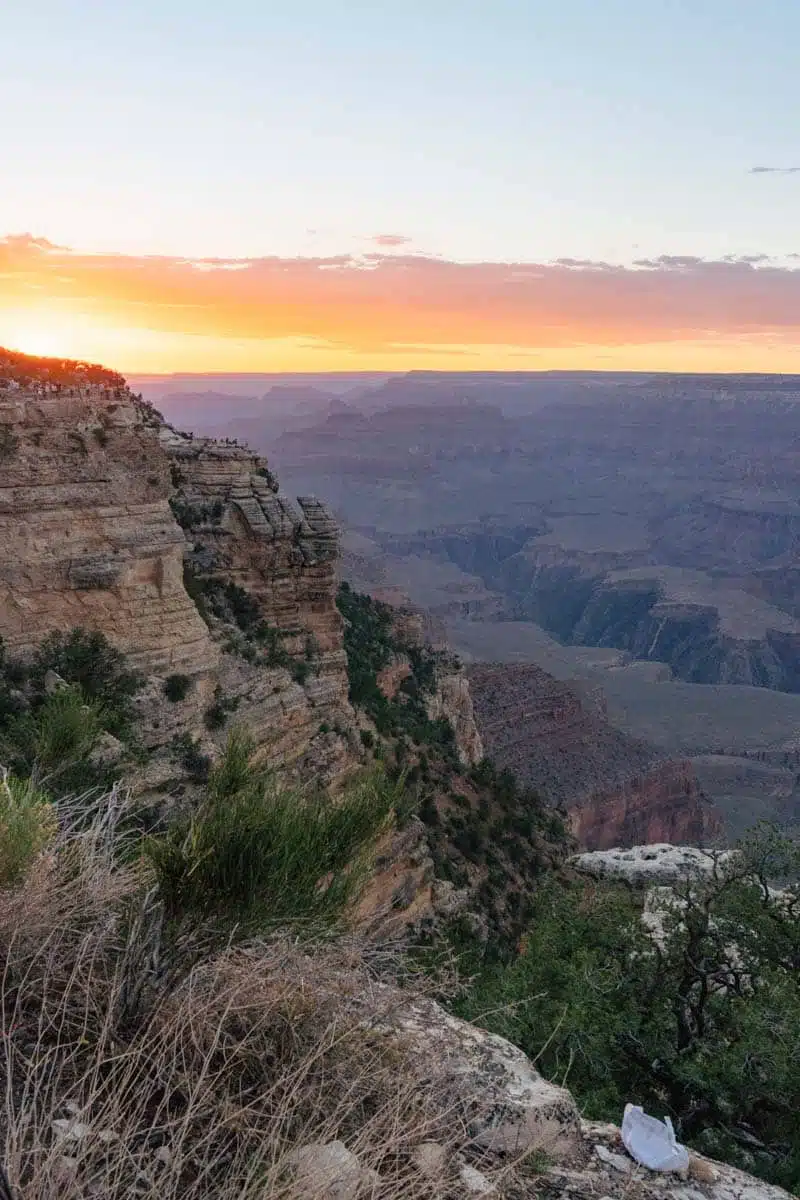 This national park needs no introduction: The Grand Canyon National Park is an iconic Arizonan summer spot, but, in December, the 492,600-hectare park is a magical site.
There's something about seeing spots of white powder delicately rest on the orange ridges and valleys. And, although it's fairly cold with temperatures between 39°F and 57°F, you'll quickly realise the cold is all worth it. I promise.
The North Rim Road may not be accessible, but that's okay since all the best views are from the South Rim anyways. There are some stunning Grand Canyon hikes, but one you must enjoy is the point-to-point, 13-mile South Rim Trail.
You'll be able to pass all the best views in the park, but if you don't want to hike, you can also take the 23-mile-long South Rim Drive.
How to Get There: Las Vegas is just over a 4-hour drive away and the nearest main city to the park. But I suggest staying in Flagstaff, which is 78 miles away from the South Rim.
Where to Stay: The Grand Hotel
Olympic National Park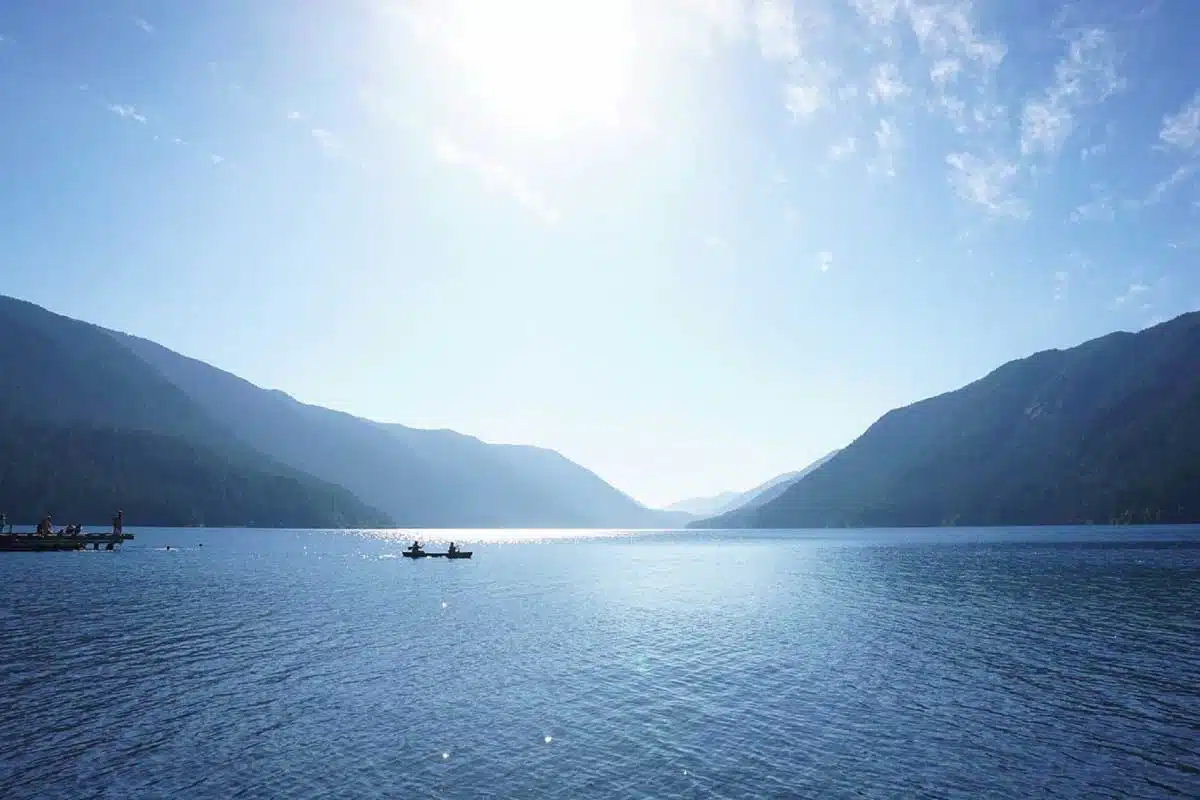 For more pine forests and breathtaking mountain views, visit the 373,400-hectare Olympic National Park in Washington.
The chilly temperatures – which range between 23°F and 32°F – are barely noticeable when exploring this diverse landscape, I promise. Still, remember to wrap up warm.
The park also gets its fair share of powerful avalanches in December, which is stunning to watch but you'll want to make sure you're at a safe distance. It's also a ski-friendly park with the best slopes at Hurricane Ridge.
The greenery here also goes into overdrive during the winter months. The December period turns the Hoh Rainforest into an unforgettable frosty paradise with plenty of magical hiking trails.
Just remember that blizzards are common during this period, so you may get snowed in some days. Possibly skip this one if you're short on time and need to pack a lot in.
How to Get There: It's a 110-mile drive (around 2 hours) from Seattle to Olympic National Park.
Where to Stay: Olympic Lodge by Ayres
Kenai Fjords National Park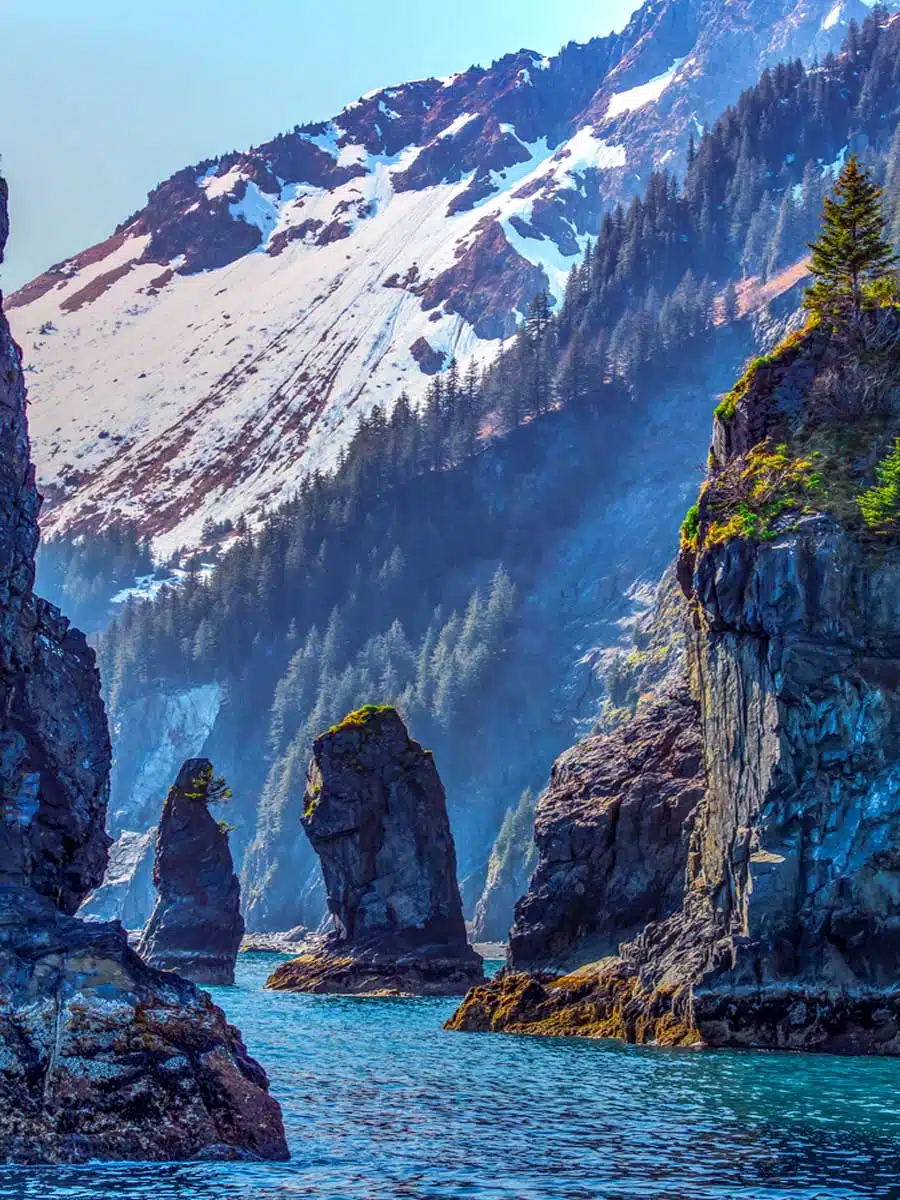 Now, I think I've saved the best until last. Possibly the best National Park to visit in December is Kenai Fjords in Alaska. The islands and coastal fjords of this 271,100-hectare park are simply unmissable when the weather turns chilly.
That said, you'll certainly feel the cold here – with a high of 21°F and lows of 10°F. In December, you'll need to ski or take a snowmobile to the top attraction in the park, Exit Glacier. Here you can take in the beauty of the Harding Icefield, which sits atop the glacier in a dramatic mountainous landscape.
You can also gaze at the towering Aialik Glacier or go ice climbing for a more adventurous activity. Remember to look out for herds of Moose and pods of Orca. And you'll want to bring your camera along to snap unforgettable photos.
Top Tip: You can see all the best bits of the park on a Kenai Fjords boat cruise.
How to Get There: It's a 124-mile drive (two and a half hours) from Anchorage to Seward near the park entrance.
Where to Stay: Harbor 360 Hotel Seward
Practical Tips for Planning a December Trip to a National Park
Keep in mind what kind of weather you want to enjoy while at the park. Are you looking for a warmer climate, or do you want to embrace winter and the snow it brings?
It goes without saying, but visit a park that offers what you want. If hiking is your thing, then visit a mountainous region. But a warm, coastal area is a good idea if you want to admire wildlife.
The warmer parks are generally in their peak tourist season in December. So if you want to save some bucks, it's best to go to the colder national parks in December.
National Parks to Visit in December: Map
Love This? Save and Share on Pinterest