Ready to discover the Rocky Mountain National Park? I've compiled a handy guide to the area which will guarantee you the adventure of a lifetime.
I can't quite think of any US national park as iconic as The Rockies.
I'll level with you: I was awestruck when I first visited. In fact, this park's hiking terrains and babbling brooks are enough to quench any explorer's thirst, so it's easy to see why it's one of the top places to visit in Colorado.
Whether you're looking for a Rocky road trip or a day filled with fauna and flora spotting, you're in for a magical time at the Rocky Mountain National Park.
Wondering what to do at Rocky Mountain National Park? Let's discover the top things to do in this region…
If you're looking for a tranquil stay on the river, book a rustic yet elegant room at The Inn on Fall River, only a five-minute drive from the park.
Top 5 Things To Do in Rocky Mountain National Park
Marvel at the Park's Many Waterfalls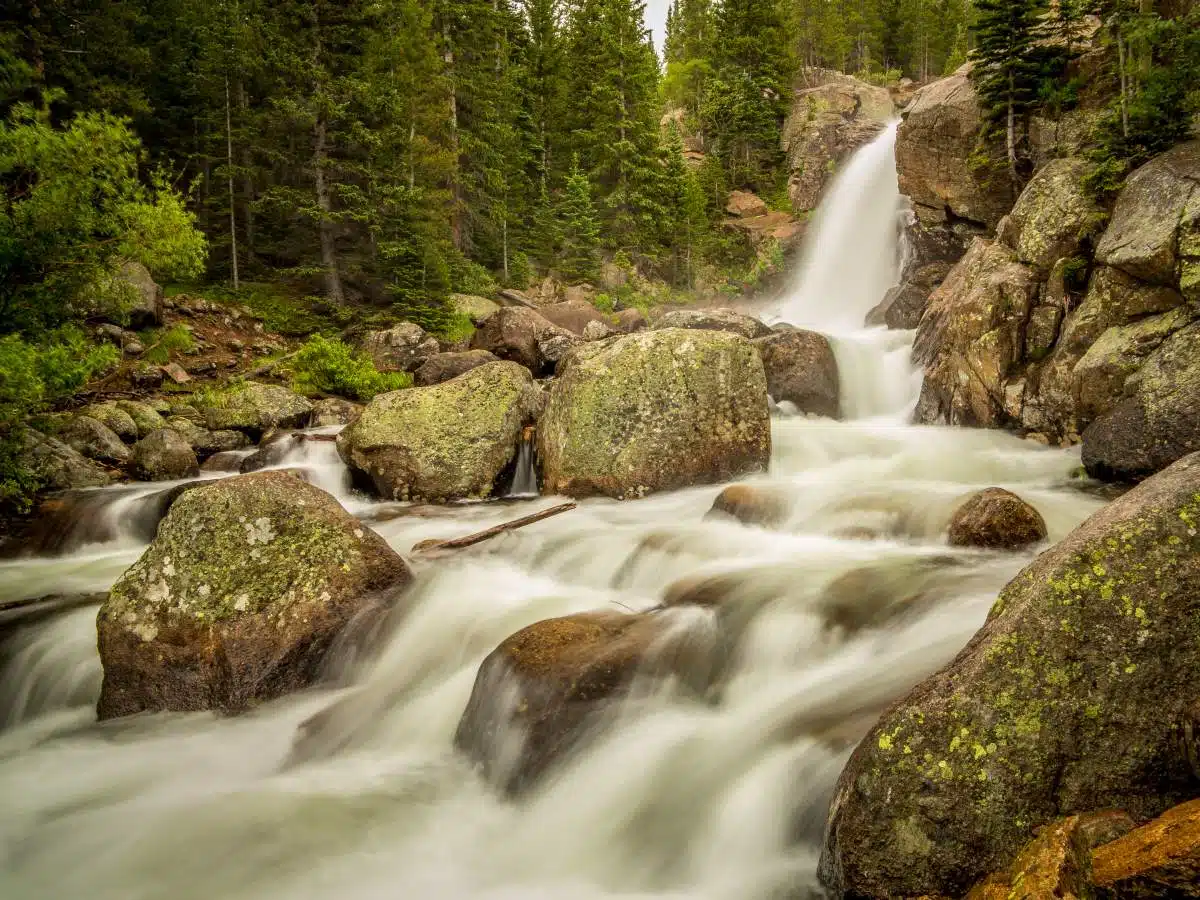 There's nothing quite like gawking at a cascading body of water to make any trip worthwhile. Hiking to some of the Rocky Mountain National Park's waterfalls is one of my favourite ways to spot them all.
One waterfall you simply cannot miss is Alberta Falls. From snowshoeing to horse riding, the hike to Alberta Falls is a majestic activity in any season. Take the Glacier Gorge Trailhead (which takes around an hour and a half to complete) to encounter this 30-foot spouting wonder.
Another beautiful natural wonder is the Bridal Veil Falls – this peaceful hike starts on the Cow Creek Trail, a moderately challenging 9.8-km walk. You'll find the ultimate time to visit this waterfall is when the springtime sun melts away the remnants of winter snow.
Plan Yourself an All-American Road Trip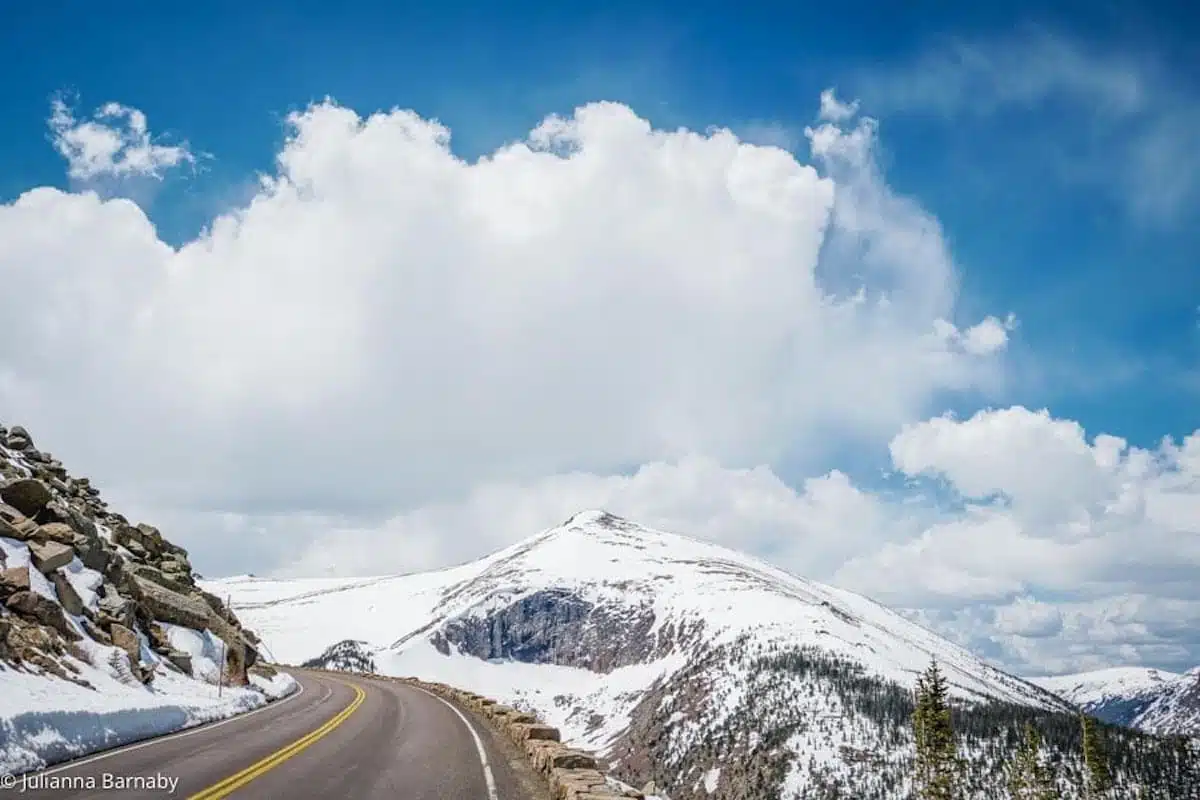 A road trip through these plains is one of Rocky Mountain National Park's best things to do. From the sublime lookout spots on Trail Ridge Road to travelling along the Great Continental Divide on Milner Pass, you're in for a treat.
Add this driving audio tour app to your repertoire, and you'll get to drive around with a guide telling you more about this region's history – alternatively, I find that listening to Life is a Highway by Rascal Flatts on repeat really gets you hyped up.
Book Your Self-Guided Rockies Tour Here
Admire the National Park's Lakes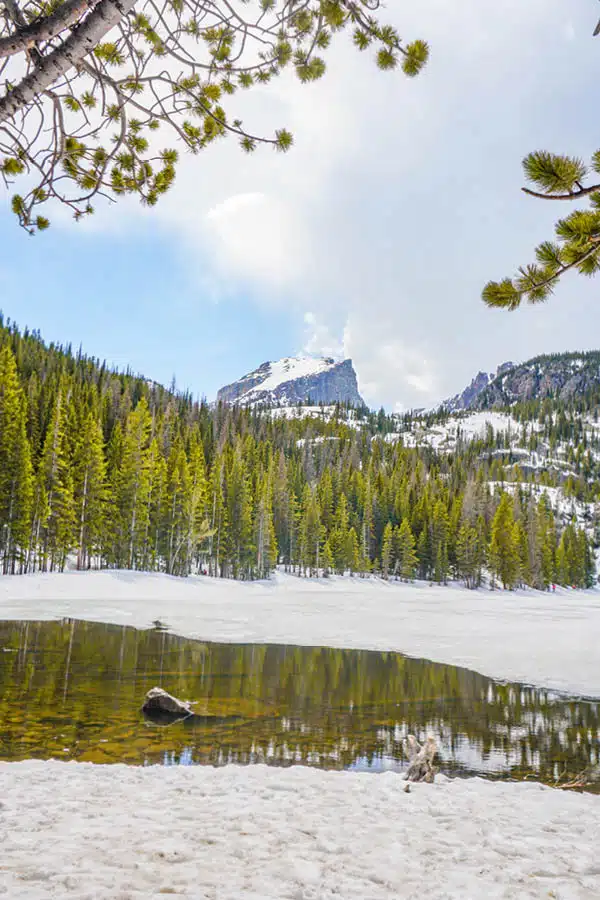 Whether you're looking for an epic fishing adventure or simply want to bask in the sunlight, the lakes of this national park are an aquatic wonderland well worth exploring.
There is a seemingly endless supply of these bodies of water to discover, but here are a few fantastic lakes to add to your itinerary:
Nymph Lake – A nature-filled scene fit for a fairytale, Nymph Lake often has lily pads drifting on its surface, making this a magical sight.
Gem Lake – While it might be a short but uphill battle (literally) to get to this lake, this tiny pool is a great place to enjoy the resounding beauty of the park in peace.
Emerald Lake – A mesmerising space that lives true to its name, these green waters are a delight to marvel at when snow covers the surrounding peaks.
Pssst… If you book yourself onto a tour like this one, you'll be able to spot the top sights in the Rocky Mountains National Park easily.
Go Camping
Looking for fun things to do in the Rocky Mountains? There's no better way to immerse yourself in nature than spending a few nights in its awe-inspiring midst.
Known as one of the best things to do in Rocky Mountain National Park, you'll be able to call nature your home for a few nights.
With various camping terrains to pitch a tent in, you'll have a blast picking a postcard-worthy space to spend under the stars.
This park has a kaleidoscope of scenic campsites to get away from the city, such as the forested landscapes of the Glacier Basin Campground. I recommend renting a campervan if you can, and combining it with a road trip.
Attend a Ranger Program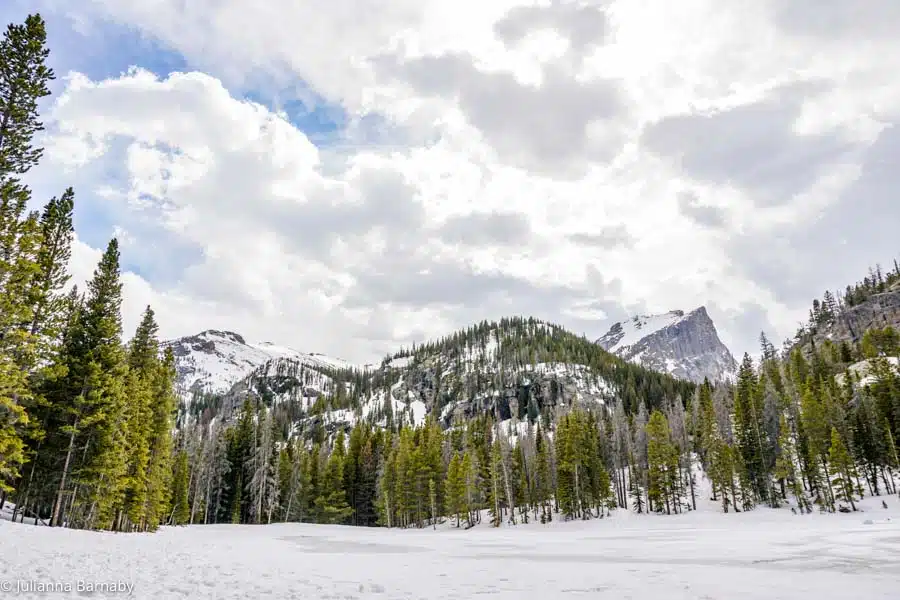 Whether you're a wildlife watcher or a flower fanatic, this park has various ranger programs to enjoy an in-depth experience of the surrounding nature. The bulk of these programs takes place on the east and west side of the park.
These interactive activities are available throughout the year and cater to a wide range of age groups. From snowshoe walks to guided excursions, you'll have every tool needed to become a pro-nature wanderer.
What to Do in Rocky Mountain National Park in Winter
Sledding in Hidden Valley
If you're researching things to do in Rocky Mountain National Park in winter, this activity will feature on every list. As the one place in the area that allows the exhilaration of sledding, Hidden Valley is a sledder's paradise in winter.
This modest hill is perfect for beginner riders to slide down in an icy splendour without the dangers of unsafe conditions.
If you're visiting and sledding in winter, a warming hut is available for you to defrost your chilly hands and frosty cheeks – head here for a well-deserved hot choc. Sleds are available for rent, or you can bring your own.
Go Ice Climbing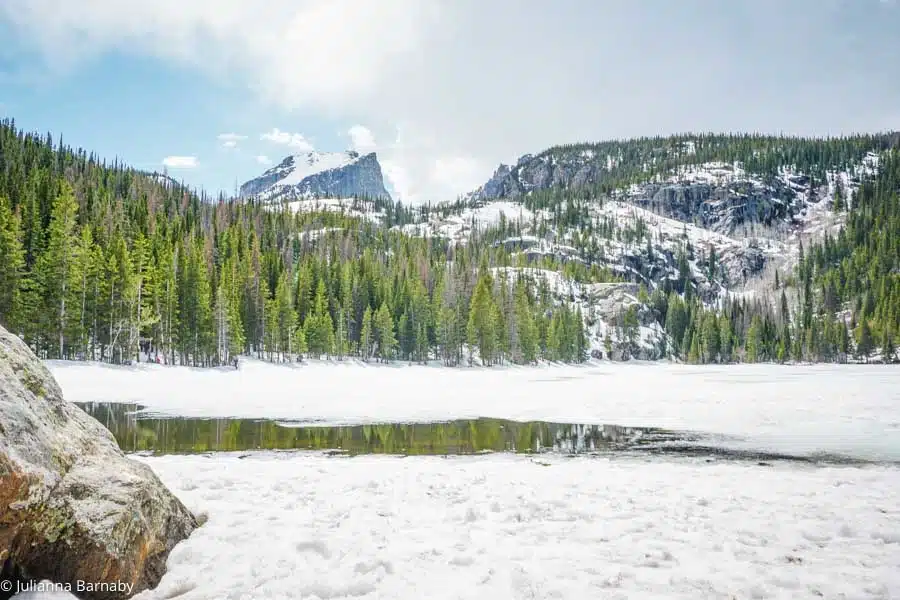 With all the fun of rock climbing and the sugar-dusted pleasures of winter's touch, ice climbing is a wintery must for adventure seekers in the Rocky Mountain National Park.
Its location is within the region of the Wild Basin area, where you'll see the usually flowing majesty of the Hidden Valley Falls suspended in time.
However, this icy activity is not for the faint-hearted. You'll need various tools to embark on this journey safely and securely, such as an ice climbing axe.
Go Snowshoeing On The Glacier Gorge Trail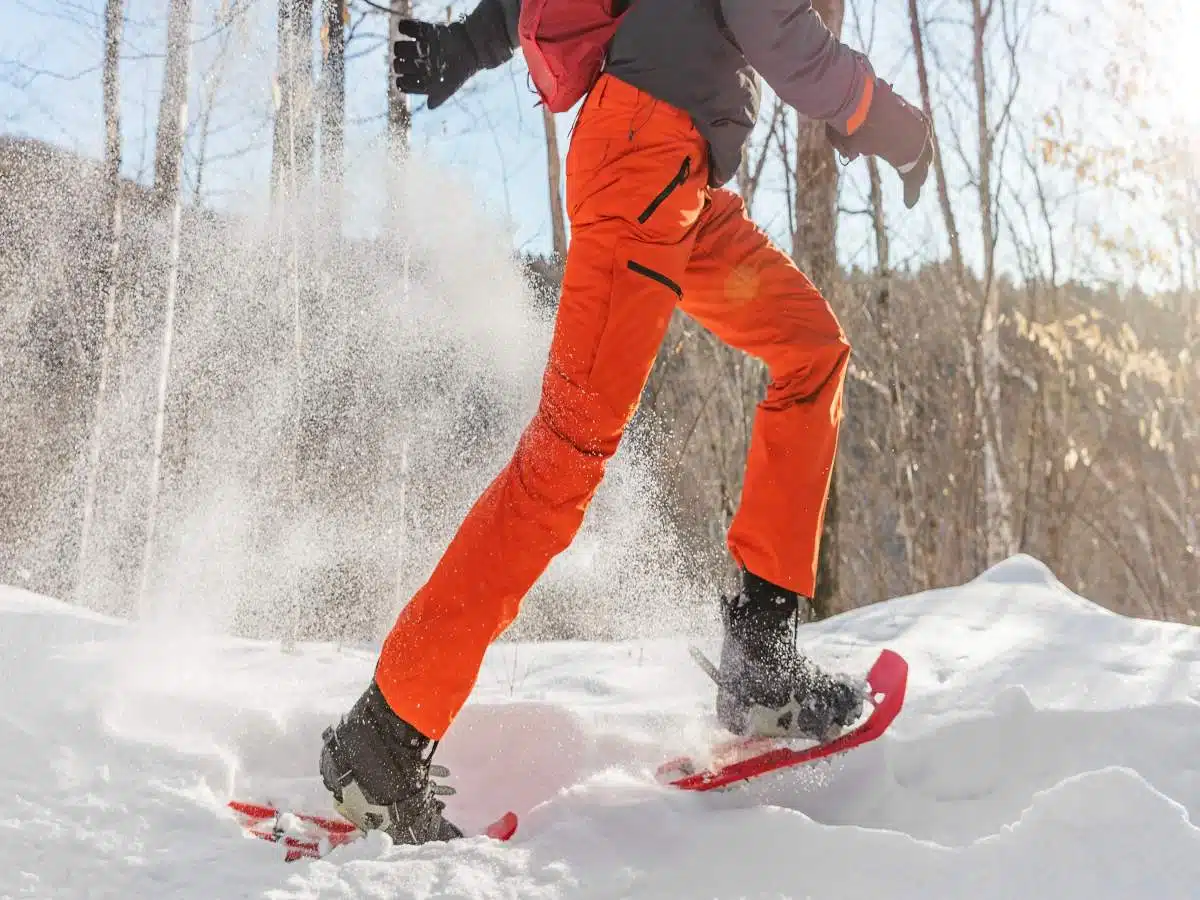 While plundering through layers of snow might seem like a drag, the Glacier Gorge Trail is a must-see in Rocky Mountain National Park.
From icy meadows to frozen waterfalls, trekking past these silent spaces will have you uniquely connecting to nature on this 5.3-km loop trail.
Tip: As conditions are generally more hazardous during winter, you'll need to check the forecast on the official National Park Service website on the day to ensure it's safe enough to walk.
Attend The Catch The Glow Parade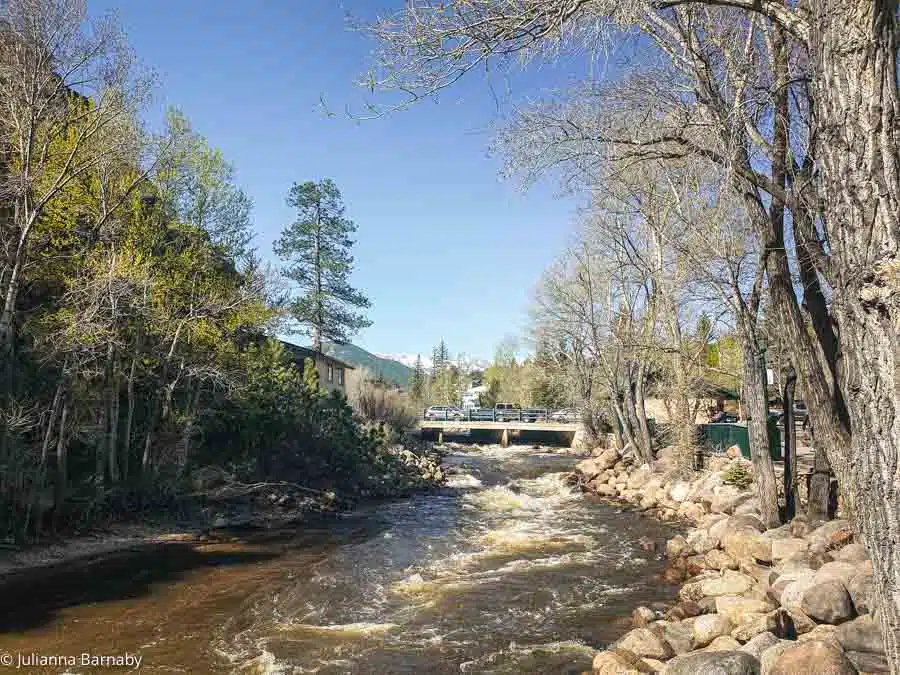 While Estes Park is not technically part of Rocky Mountain National Park, this icy event is a must-see activity and should feature in your itinerary. As it's only a mere 8-minute drive from the park, this slight detour is worth it.
In late November, the Catch the Glow Parade is a wonderful event to visit if you're looking to get into the festive spirit. With a visit from Santa and festive floats going down Elkhorn Avenue, this dazzling parade is the jewel of winter in Estes Park.
Grab your winter coats and steaming cup of hot chocolate from a nearby restaurant, as this whimsical happening is an event you won't want to miss.
Practice Winter Nature Photography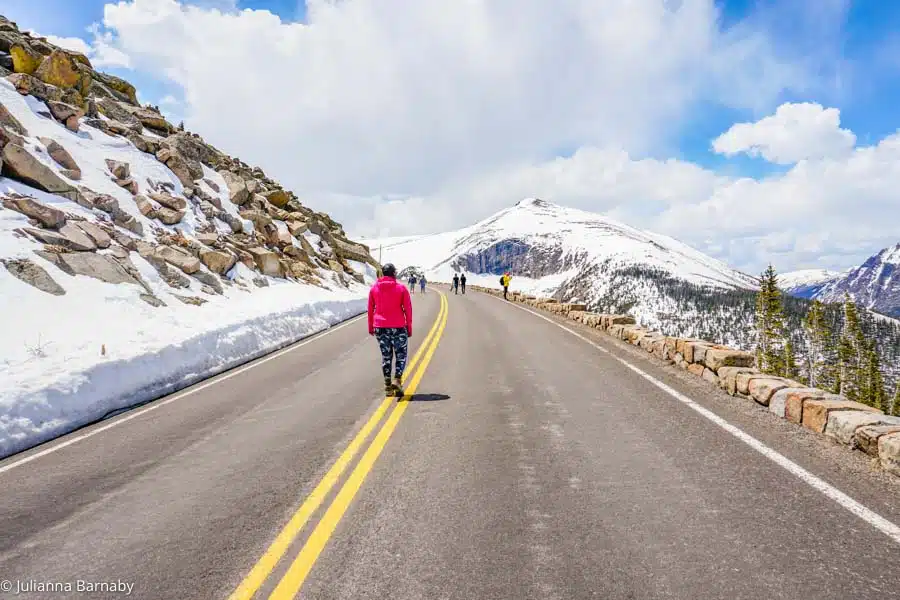 With snowflakes covering hibernating nature and footprints dotted along pathways, this park is the perfect place to capture the brilliance of winter.
By travelling to the best places to see in Rocky Mountain National Park during winter, you'll be able to build your portfolio in no time.
If you're on a frosty adventure with pals, these snowy backdrops are the perfect scenery to take a winter group shot fit for any Christmas card. One sight not to miss is trekking to Chasm Falls to see the frozen feature of the falls encapsulated in ice.
Cool Things to See & Do in Rocky Mountain National Park in the Summer
Witness the Beauty of Bear Lake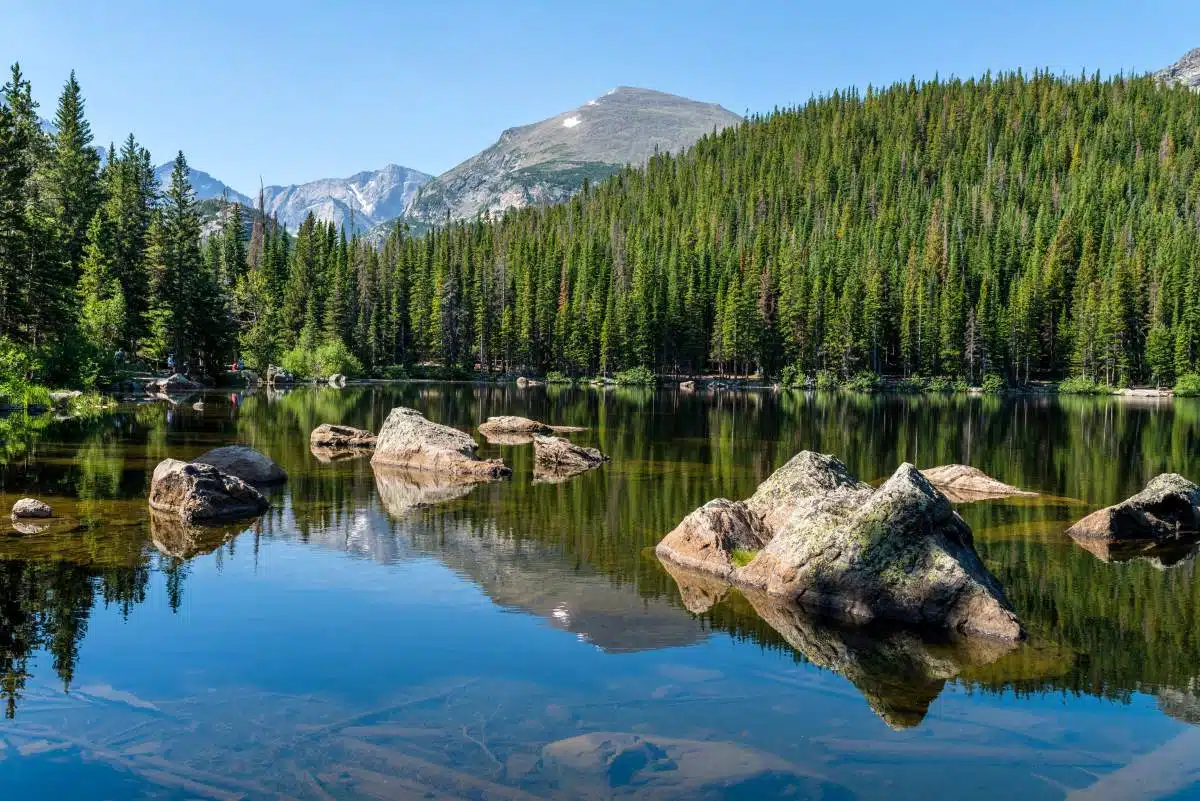 There are various Rocky Mountain National Park things to do in summer to look forward to. Although experiencing a few thunderstorms in the afternoons is likely, Bear Lake is a dreamscape to witness in the warmer months.
With easy trails and a parking lot available next to these paths, this venture is the ultimate activity if you're looking for a quick lakeside adventure. Summer brings, however, a heavy stream of tourists to this picturesque site, so kick off early to avoid congested foot traffic.
This is a relatively easy route and will take around 15-17 minutes.
Book a Horseback Riding Tour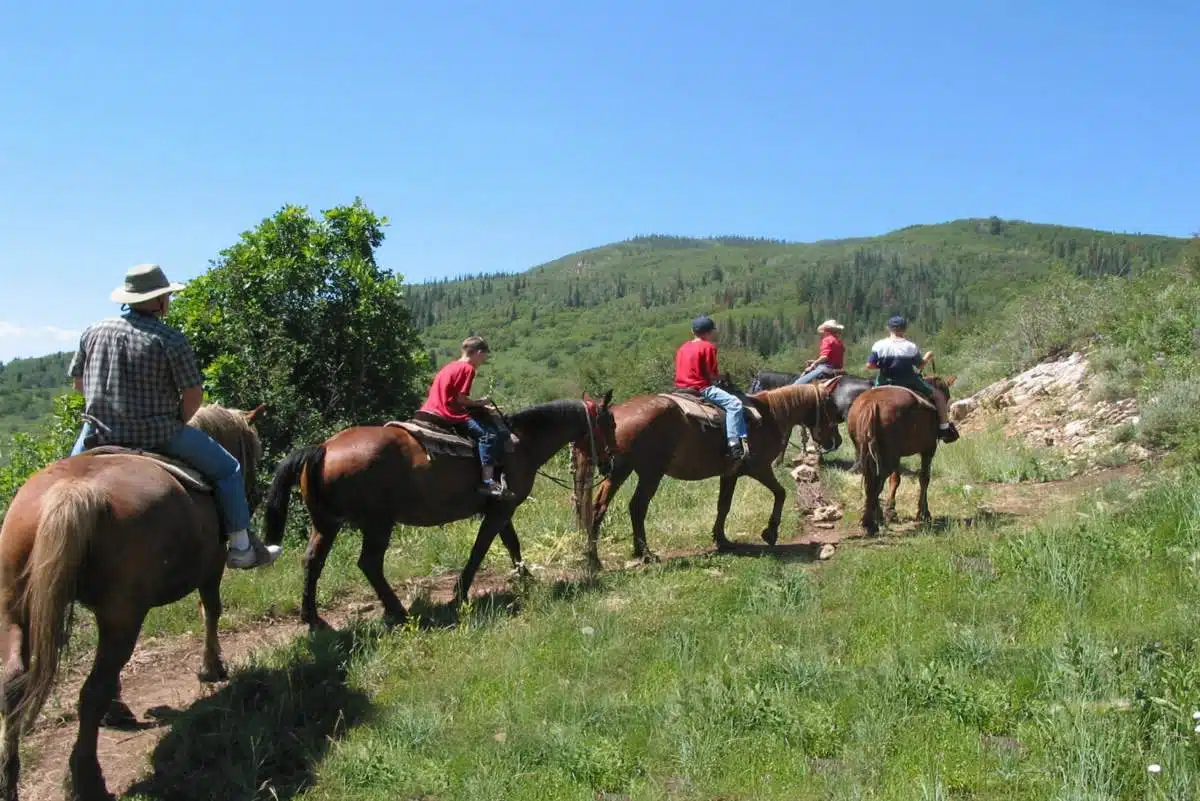 If you're not a fan of hiking, galloping through these rocky paths might be right up your alley.
With various stables and lodges offering horseback riding excursions, you'll have no problem trotting along on a terrific summer trail.
On these tours, you'll likely see diverse natural settings, such as surrounding lakes and forest areas – personally, I think this is one of the best ways to explore.
Book Your Horseback Riding Tour Here
View Wildlife at Sheep Lakes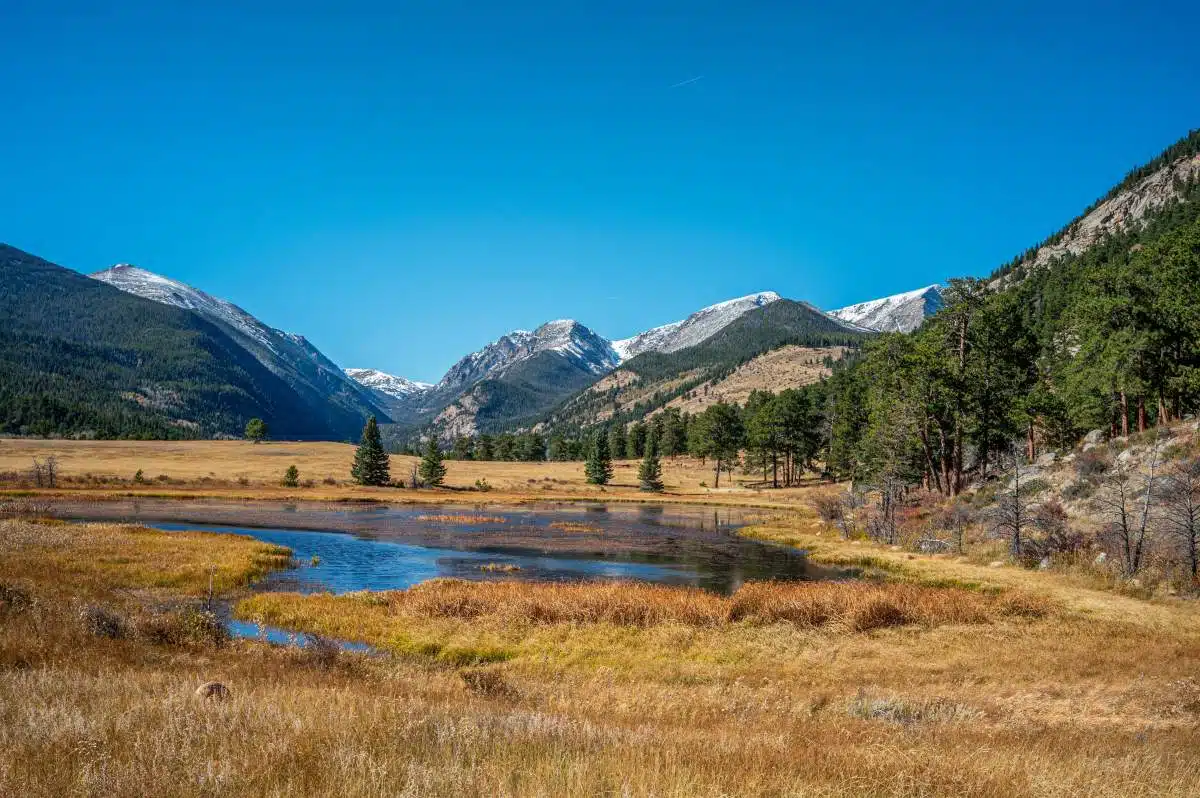 An enchanting meadow within Rocky Mountain National Park, Sheep Lakes is a must for fauna-spotting in the summer.
You'll be glad to know that this slice of emerald green heaven is true to its name – this space sees an abundance of big-horned sheep sightings during certain times of the year (primarily early summer and spring).
While there are many other animal sightings to enjoy, such as wiley foxes, if you wish to see these horned beauties, be sure to go between 9 am and 3 pm. A glimpse of this flock of unique sheep is not guaranteed, but you'll have the best shot during this time slot.
Go Mountain Biking
A different way to get your fill of wandering through the natural beauty of this park is by going on a biking adventure.
Whether you are a cycling pro or looking for a slow ride with a stunning view, this excursion is a fantastic experience. This two-wheeled activity is a great way to get a lay of the land and has various trails.
When entering the park with your bike, you can pay a one-time fee for a day pass or take the plunge in purchasing an annual pass. A great paved road option is Trail Ridge Road, which has a nice elevation (around 12,183 feet) for bikers to see the surrounding scenery in full view.
Pack a Picnic
What could be better than enjoying nature whilst nibbling on a snack or two? Making a trip to this park with a basket full of goodies will be the highlight of your summer vacation.
With various designated picnic areas to choose from, all you'll need to do for the day is pick a shady spot to spend your afternoon in a breathtaking park.
Take it from me – one of the best places to visit is the Sprague Lake picnic area, as this space has working toilets in the summer for the visitors' convenience. A luxury in this part of the park.
Flex Your Fishing Skills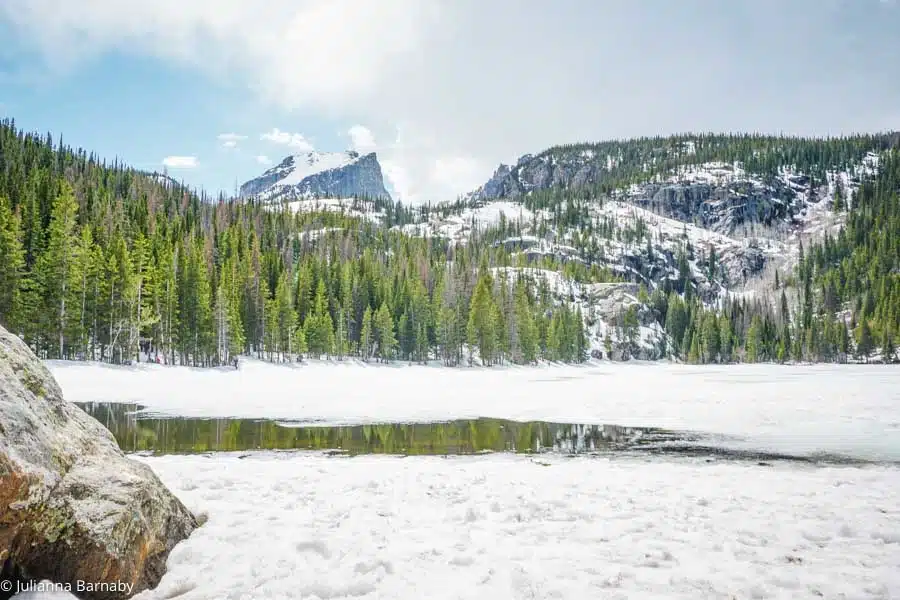 Known as an angler's paradise, this park has abundant fishing spots to enjoy during the summer. With a valid Colorado fishing licence and a day – or annual – pass, you'll be set to cast your line in the tranquil waters of this park's lakes.
Be aware that designated fishing areas are the general fishing and catch-and-release areas. If you're looking to snag some fresh brook trout, you can travel to Box Lake to see if these aquatic beauties are nibbling.

Excellent catch-and-release areas include Loom Lake (close to Estes Park) and Loomis Lake.
Things to do Rocky Mountain National Park: Practical Tips for Your Trip
How Long to Visit Rocky Mountain National Park?
To ensure you fully experience this park's zest, I suggest staying at least three days to encounter a few highlights and hidden gems. These extensive grounds need time and in-depth exploring to capture their awe-inspiring essence.
Best Time to Visit Rocky Mountain National Park
The best time to visit this national park depends on which aspect of your trip is the most important to you. The ultimate time to travel to the Rocky Mountain National Park is in summer, but this is also when tourists flock to these parts.

You'll experience a slimmer number of tourists in the Autumn/Fall, but the weather conditions can be quite frosty. However, you'll be able to see the park sprinkled with fall-coloured confetti (falling leaves, of course), which is a bonus.

Where Should I Stay in Rocky Mountain National Park?
Spirit Lake Lodge (Mid-Range)
After experiencing the coolest things to do in Rocky Mountain National Park, you'll want a tranquil spot to rest your feet. The nearby Spirit Lake Lodge offers a toasty stay with a fireplace to warm up your frosty toes.
YMCA of the Rockies (Luxury)
This rocking resort surrounded by the Rocky Mountain National Park is the perfect place to enjoy nature with a refined edge. With a heated indoor pool and a buffet-style shared dining room, you'll have the ultimate relaxation after a day filled with things to see in Rocky Mountain National Park.
Recommended Tours in Rocky Mountain National Park
Things to do in Rocky Mountain National Park: Map
Love This? Save and Share on Pinterest!