Looking for the best restaurants in Lisbon? From high-end spots to local eateries, these are the places to eat you shouldn't miss.
Lisbon has always been a city of food, a long-time purveyor of classic Portuguese cuisine. While it's true – Lisbon's restaurant scene was full of primarily old-school establishments for many years, recent years have brought a new generation of groundbreaking new chefs, who are combining traditional flavours and innovative techniques.
Pretty much every Lisbon neighbourhood will have some great food options, but it can be tough knowing where to go.
Time to discover the top restaurants in Lisbon.
The Best Restaurants in Lisbon
Sala De Corte
€€€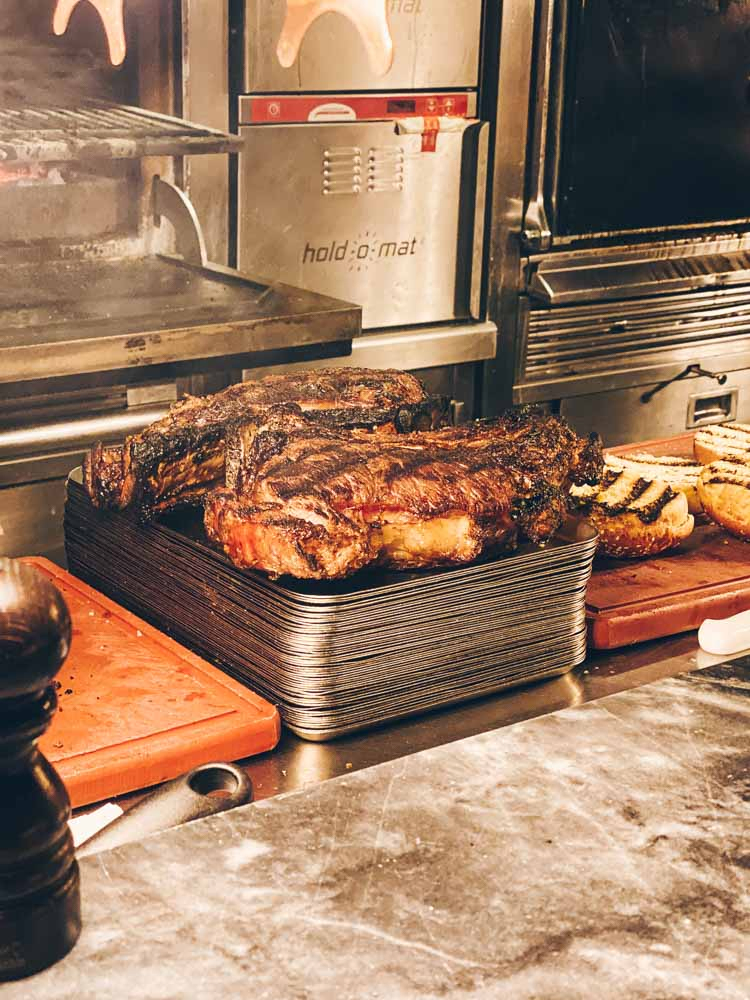 Sala de Corte is one for all the meat lovers out there. A creation by renowned chef Luís Gaspar, it simply cannot be beaten when it comes to preparing an exquisite steak in Lisbon.
Now is the perfect time to reserve your spot at this iconic steakhouse, as they recently reopened after a long hiatus.
Located in the ultra-trendy Cais do Sodré neighbourhood, Sala De Corte's refined aesthetic fits perfectly.With beautiful marble countertops and copper lamps providing classic mood lighting, the space now has over 100 tables.
The best part, though, is hands-down the food. Each gigantic steak is aged over 30 days and then cooked with charcoal to seal in moisture. I'd especially recommend the heavenly Chuletón.
Cervejaria Ramiro
€€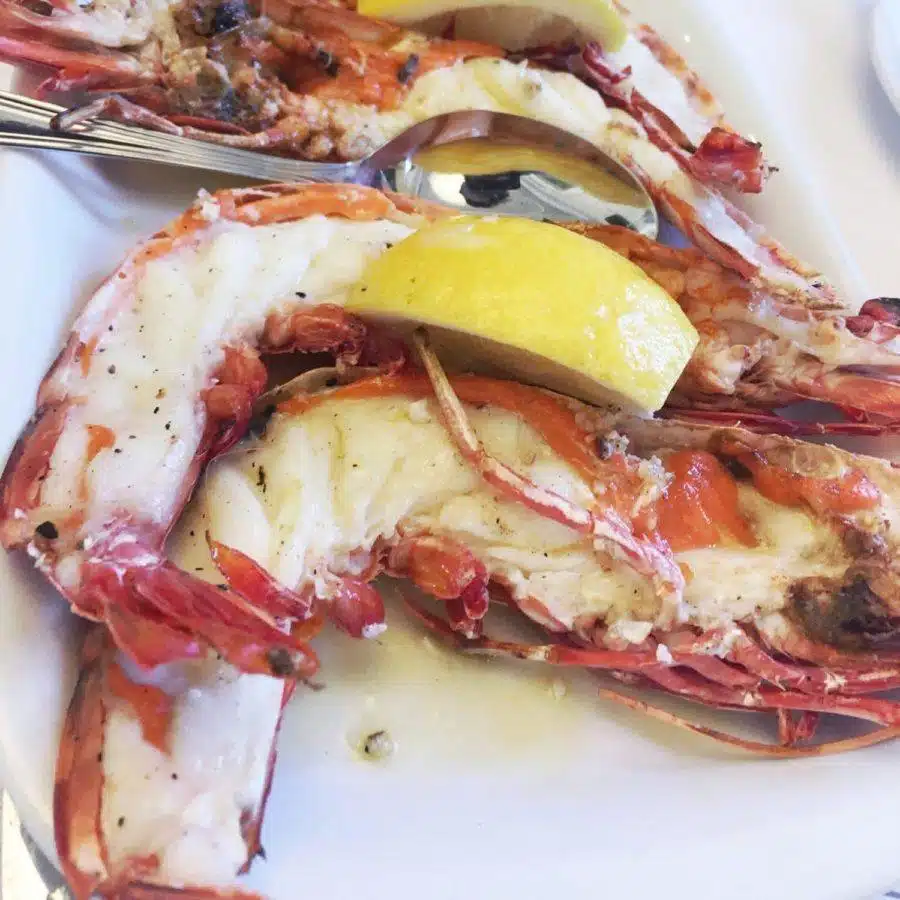 It's no secret that I love Cervajaria Ramiro – so much so that I wrote a whole review about it.
For this casual three-floor eatery and beer hall, looks can be deceiving.
The cacophony of chefs cooking and seafood shells cracking belie the succulent and decadent dishes that'll make you feel like you're at the finest dining establishment the city has to offer.
Even with the three floors and massive shared tables, you'll still likely have to wait in line, as this place is loved by tourists and locals alike.
Anthony Bourdain claimed Ramiro as one of his favourites in Lisbon – who are we to disagree?
Cervejaria Trindade
€€
Just a three-minute walk away from the historic Carmo Convent, Cervejaria Trindade is a piece of history in its own right.
This classic eatery is housed in the 13th century refractory for the convent and got turned into a beer hall in 1836. It is now one of the city's most popular seafood restaurants.
The food is classic and delicious, and the decor is even more so, with Lisbon's famous azulejo tiles covering the vaulted ceiling.
Cervejaria Trindade has been serving a classic taste of Portugal for generations, with particularly delicious monkfish, oysters, and cod, as well as delicious flan for dessert.
Taberna – Bairro do Avillez
€€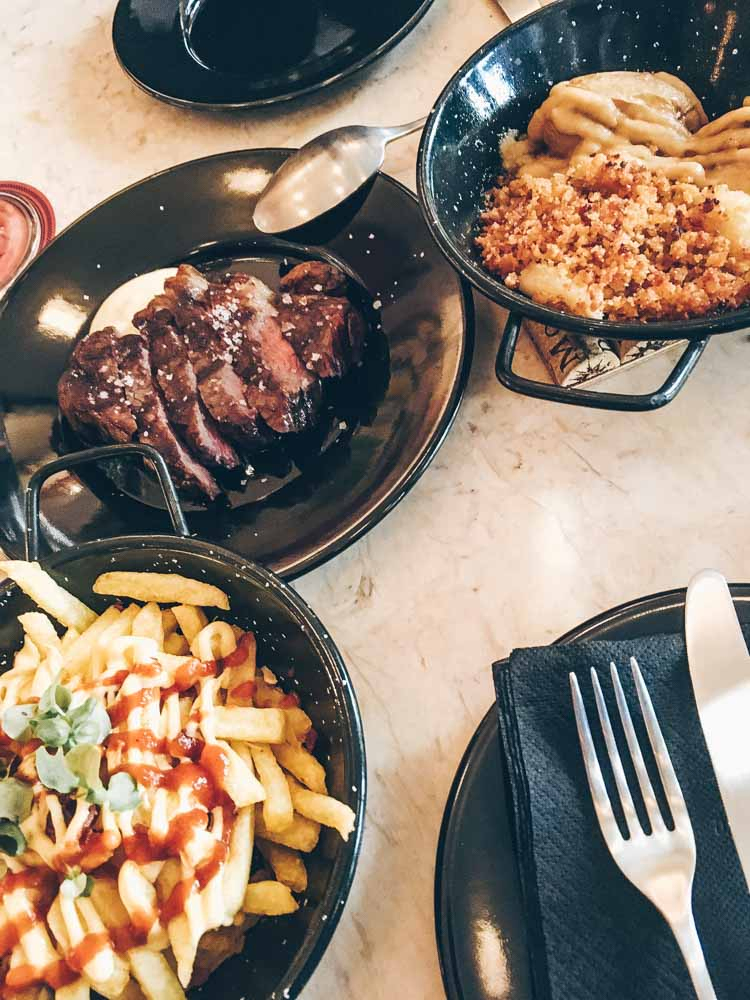 Taberna is one of four incredible establishments in the Bairro do Avillez, a Michelin Guide-recommended food hall, the vision of legendary José Avillez.
The space has seafood, pizza, and a bar, but I'd especially recommend the delicious tapas at Taberna. It's a perfect spot for any time of day, casual enough for lunch or a snack, quality good enough for a fancy dinner.
Their tapas are classic and beautifully presented, but the real star of the show is Manteigaria Silva's beautiful and indulgent charcuterie boards.
These elaborate boards showcase the variety of Portuguese cured meats and cheeses and are as Instagrammable as they are delicious.
Belcanto
€€€
Once you've enjoyed the more laid-back Taberna, try Belcanto for a special occasion.
José Avillez has taken his genius to a new level with this establishment, which now has two Michelin stars.
One of the centrepieces of the charming Chiado neighbourhood, Belcanto is one of the most acclaimed restaurants in the world.
As the most sought-after reservation in Lisbon, you might have to wait a while to get a table at Belcanto, but it will be worth any wait.
The chef does more than just cook food. He takes you on a culinary journey through Lisbon, with reinvented Portuguese classics a la carte and two innovative tasting menus.
Café Janis
€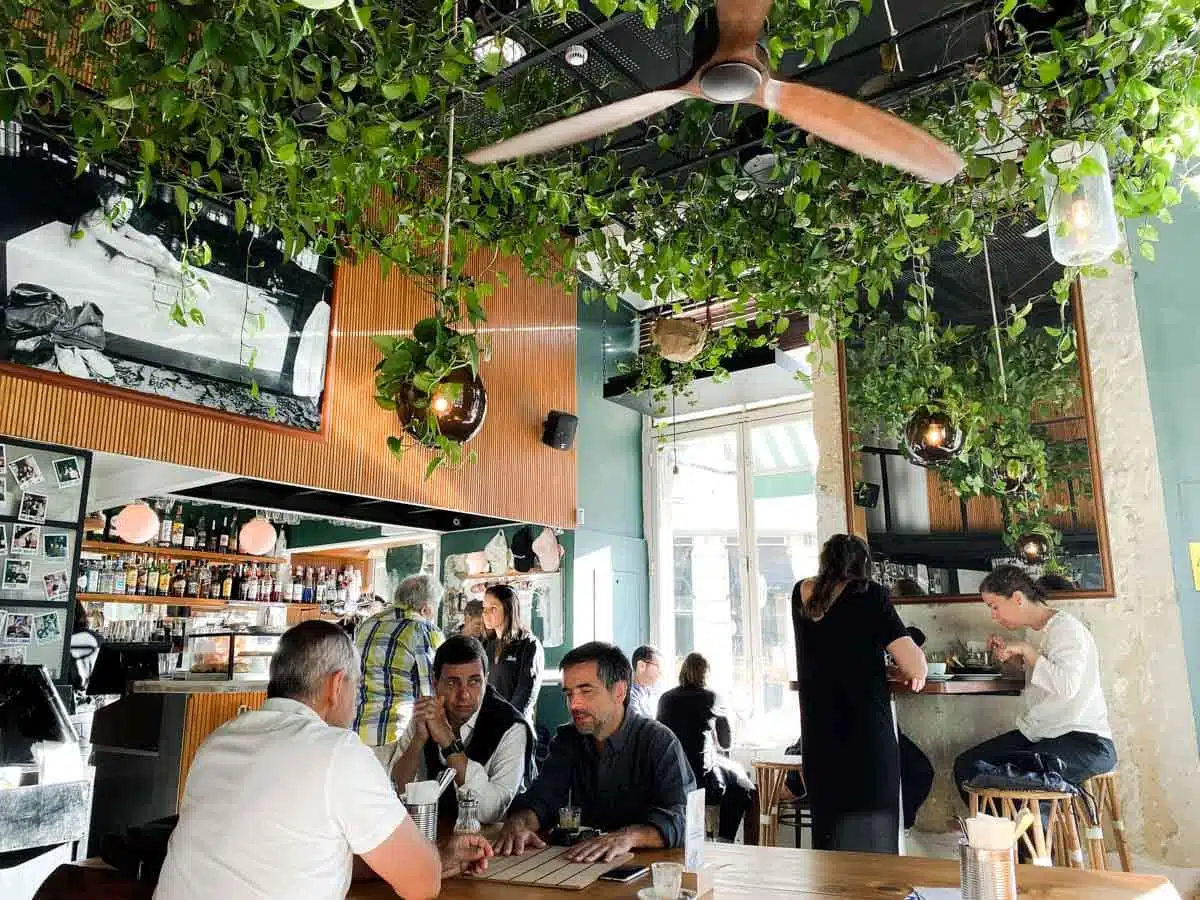 On a sunny day in Lisbon, there is no better spot than the gorgeously lush terrace at Café Janis.
Just steps from the water in the stylish Chiado neighborhood, this tropical all-day cafe is filled with the trendiest locals and tourists alike.
They offer a locally sourced Mediterranean menu with an extensive vegan and vegetarian section.
Café Janis is an ideal brunch spot, with avocado toast to die for and classic mimosas. They also have stellar coffee, chai, and freshly squeezed juice.
After a night on the town, sitting on the sunlit terrace and chowing down on some decadent chocolate waffles or crisp halloumi fries will perk you right back up.
Tabernáculo by Hernâni Miguel
€€
An old-school tapas bar and local watering hole, Tabernáculo by Hernâni Miguel is the perfect spot to unwind or start the night with friends after a long day exploring the city.
This spot is a go-to for locals on the border between the trendy Chiado and fast-paced Cais do Sodre neighbourhoods, but anyone is welcome.
With a wide selection of craft beer, natural wine, and creative cocktails at their expansive bar, pair all the alcohol with their classic tapas.
It is the perfect place to begin a night out, as the bar has live music almost every night, with a mix of classic Portuguese performers and local bands.
Boa Bao
€€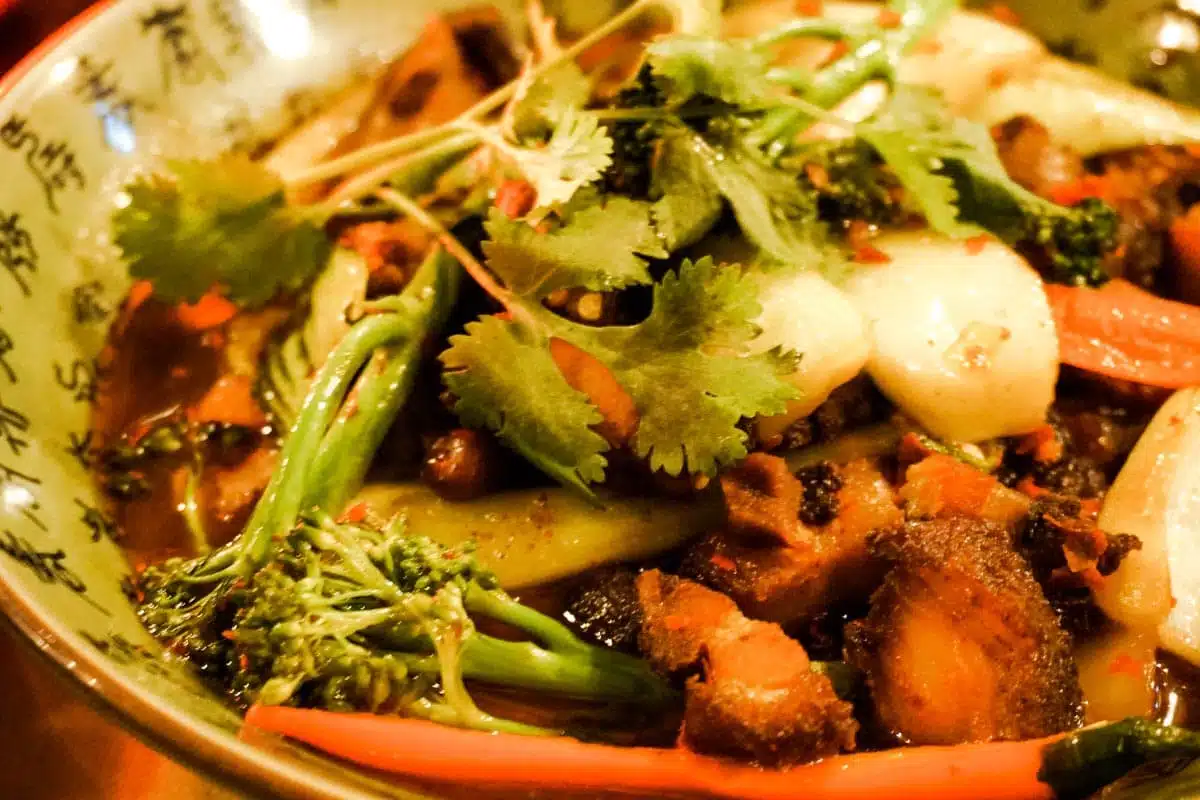 We're sometimes sceptical of Asian fusion restaurants, as they can often compromise quality for variety, but Boa Bao manages to serve delicious and authentic dishes from across the entire continent.
You'll inevitably have to wait for a table here, but once you finally step into the stylish space and tuck into the food, you'll know it was worth it.
Boa Bao has dishes that take you on a journey around Asia, from Malaysian and Thai curries to spicy soups from Laos, and of course, the iconic Taiwanese steamed bao buns.
I recommend the Peking duck bun stuffed with spring onion, cucumber, and hoisin sauce.
BouBou's
€€
Nothing beats the light and airy BouBou's as an elegant but affordable dinner spot.
The space is white-washed with light wood tables and hundreds of plants, making it comfortable and sophisticated.
The aesthetic combined with delicious food makes it the ideal stop after a long shopping day in the stylish Principe Real neighbourhood.
Chef Louise Bourrat, a protege of legendary Alain Ducasse, runs an all-woman kitchen. At the same time, her brother Alexis takes care of the front of the house with impeccable and efficient hospitality.
The menu uses the freshest ingredients to serve seafood and vegetable-focused Portuguese dishes globally.
Chapitô à Mesa
€€
Lisbon is arguably one of the most beautiful cities in Europe, and there's no better way to enjoy the colourful rooftops and aquamarine sea than from a rooftop restaurant.
Right next to the São Jorge Castle, Chapitô has a dining room, bar, and stunning terrace, all with unbeatable city views.
Serving unbeatable classic Portuguese fare, Chapitô is a hot spot for tourists and locals who all flock to the spot for delicious food with an even better view.
I'd recommend trying to get a reservation in the early evening so you can enjoy fresh seafood while watching the city experience sunset.
Cantino do Aziz
€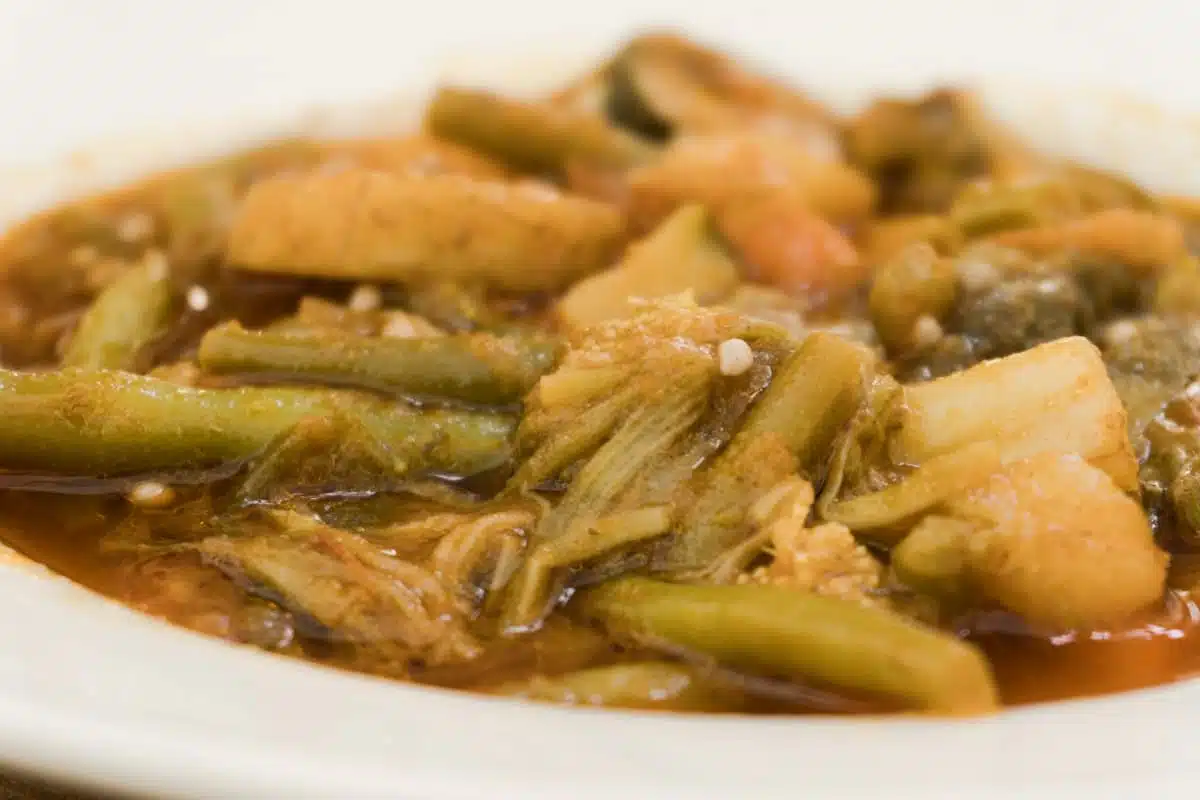 Mozambican food might not be the first thing you expect to find on your forays around Lisbon's restaurant scene, but you will be very glad when you do.
Cantino do Aziz is a secret spot that's incredibly popular with the locals and all-but-undiscovered by tourists – the perfect combination.
The menu – a heady mix of fiery Afro-Portuguese dishes – simply bursts with flavour.
Opt for rich bowls of crab in coconut broth, feast on smoked fish and rice. The more of you the better – order plenty and opt to share.
Pangzi Massa 胖子面馆
€
Pangzi Massa 胖子面馆 is the ultimate hidden gem, with food so affordable you'll be shocked at the incredible quality and taste. Just up the road from the iconic yellow Tram 28 stop, this spot can often go overlooked, surrounded by the liveliness of Alfama.
However, if you can tear your eyes away from your colourful surroundings, you'll find a low-key room with truly authentic Chinese cuisine.
If you're craving a quiet and peaceful atmosphere after an exhilarating day exploring, stop by this low-key joint for an extensive menu and extremely nice staff.
All of their dishes are stellar, but the real standouts are the perfectly-cooked monkfish, noodle soups, and dim sum.
Café de São Bento
€
This old-school classic residing near the National Parliament is ideal for a hearty dinner after a day walking Lisbon's legendary hills.
Café de São Bento is the definition of a classic steakhouse, with a tight menu full of top quality, no-frills meat.
Stepping into this establishment will take you back in time, with large red sofa booths and dark wood furniture, which feels decadent and elegant. The classic aesthetic of the space pairs perfectly with the throwback character of the food. While you'll feel like a 1950s man about town, you'll eat classic steaks with signature sauces for such a reasonable price, you'll feel like you're stealing.
Comida Independente
€
Comida Independente isn't your typical restaurant, and it's better for it.
The founder, Rita Santos, left her high-stress tech executive job to open this eatery and deli dedicated to artisanal products that fit the store's motto "great products from small producers."
The establishment features craft foods from small artisans all over the country that Rita met during her research.
As well as a delectable variety of prepared meals and specialty ingredients, they serve fresh sandwiches and cured meats along with craft beer and natural wine.
Stop by for a spot of affordable and delicious lunch, and then pick up some unique products from the market to make for dinner.
A Valenciana
€
In the diverse and exciting Campolide neighbourhood, A Valenciana has been a hidden gem known among locals for over a century.
When you step into the classic dining room, you'll feel like not much has changed since it started in 1914, and the prices are so reasonable you'll think you've stepped back in time.
A Valenciana is best known for its unreal charcoal-grilled meats, which are so moist and flavorful you'll somehow manage to eat your entire massive portion.
The barbecue Piri-Piri chicken is their most popular dish, and for good reason, and can be enjoyed in person or as take away.
Ofício Tasco Atípico
€€
After being closed for quite some time, Ofício Tasco Atípico is back and it's better than ever – much to the joy of locals. I'll be honest, snagging a table here is a military operation that requires making a reservation weeks in advance, but it's worth the effort, I promise.
This spot is known for its unique take – stuffed spider crab is just one of the stellar dishes I guarantee you'll gorge yourself on. Whatever you do, save some room for a slice or two of cheese tart. You won't regret it.
The Food Temple
€
If you're looking for a vegan or vegetarian option in Lisbon, look no further than this hidden gem.
Started by Canadian-Chinese chef Alice Ming, The Food Temple is an entirely plant-based restaurant that combines Asian and Portuguese flavours for an intimate and unforgettable dining experience.
With a constantly changing menu of locally grown produce, you'll always find something new and exciting here.
Portuguese cuisine is a haven for carnivores, and you might not associate classic Portuguese fare with veganism. Still, with plates designed for sharing and craft sodas and beers, you'll expand your idea of what Lisboeta food is.
Prado
€€
If I could give an award for the most beautiful restaurant, it would go to Prado. Luckily, it has delicious food to back things up.
Sage green walls and light wood tones set the scene for a farm-to-table experience like no other. The menu is proudly Portuguese, with local seafood and meat making up the bulk of the menu.
The wine menu is another highlight of this spot – have a little chat with the sommelier who will be more than happy to recommend you a tipple.
Lisbon Restaurants: Practical Tips
Many of the spots I've mentioned require reservations in advance. Don't get caught out.
For something a little bit more casual, I also love dining at the Time Out Market. Visit early to snag a seat though or risk wandering around for 45 minutes with a tray of cold food.
Lisbon's Best Restaurants: Map
Discover More Lisbon Guides
Love This? Save and Share on Pinterest