Planning to visit The Algarve and want to know the places you shouldn't miss? Discover the best things to do in The Algarve with this guide.
The turquoise beaches and limestone cliffs that Portugal's Algarve is famous for are definitely worth the trip.
I like to say that there are two kinds of people in this world… those that have visited the Algarve and fallen totally in love with it, and those that are missing out.
I was met with a few raised eyebrows the first time I said I was travelling to the Algarve. Some people seem to think it's all high rise apartment blocks and a bit commercialied.
Those people are wrong.
The Algarve is a lush region that's full of cool sights.
Whether you choose to keep exclusively to the best beaches or adventure inland, there's no wrong choice when it comes to the best things to do in The Algarve.
What are you waiting for? Let's go!
Close to the beach, Anantara Vilamoura's peaceful retreat is the perfect indulgent stay.
Top 5 Things to Do in The Algarve
Beach Hopping Around The Algarve's Gorgeous Beaches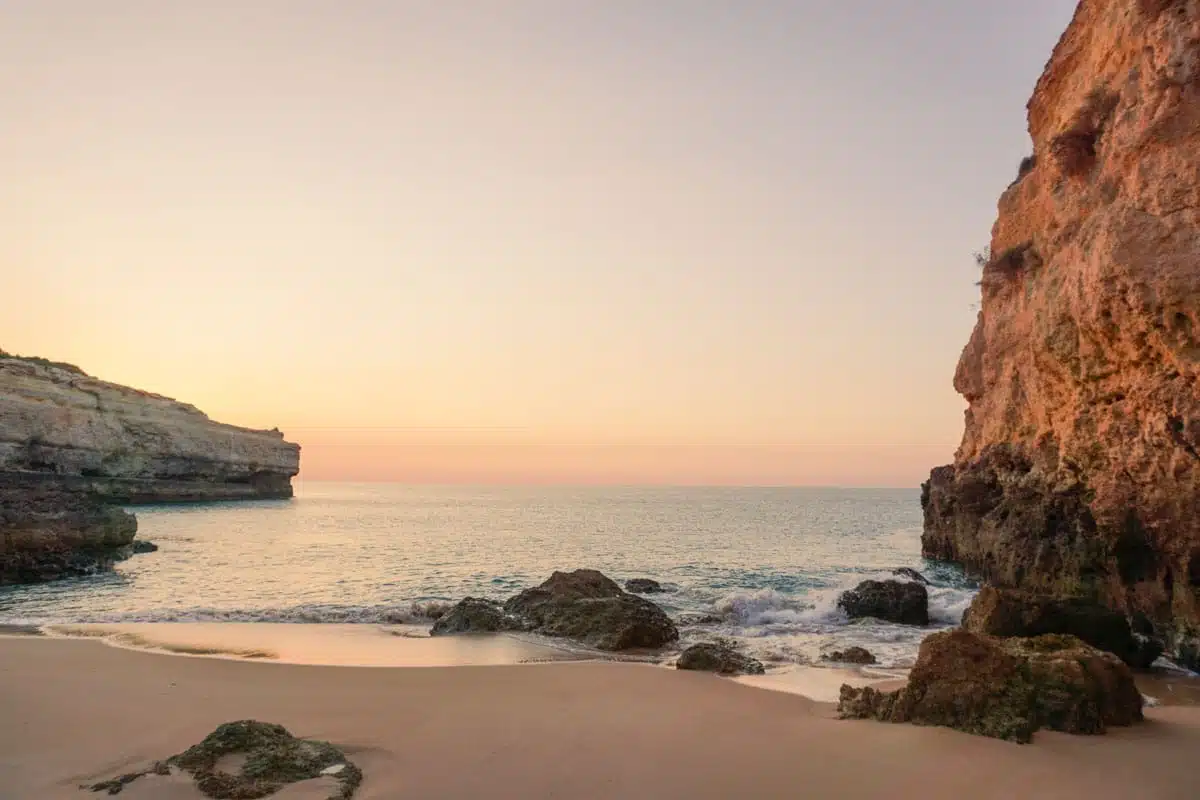 If you plan on doing nothing else on your trip other than laze away on the best beaches in Algarve, I don't blame you.
Warm-toned limestone cliffs and cosy coves make for pleasant beaches with gentle turquoise waters. Praia do Túnel in Albufeira is one of the more touristy beaches, a seemingly endless stretch of warm sand with the lapping waves beckoning to sunbathers close to the resort.
Looking for a thrill? Take to the seas on a jet ski for 30 minutes of adrenaline-fuelled fun.
Hop Over to the Benagil Sea Cave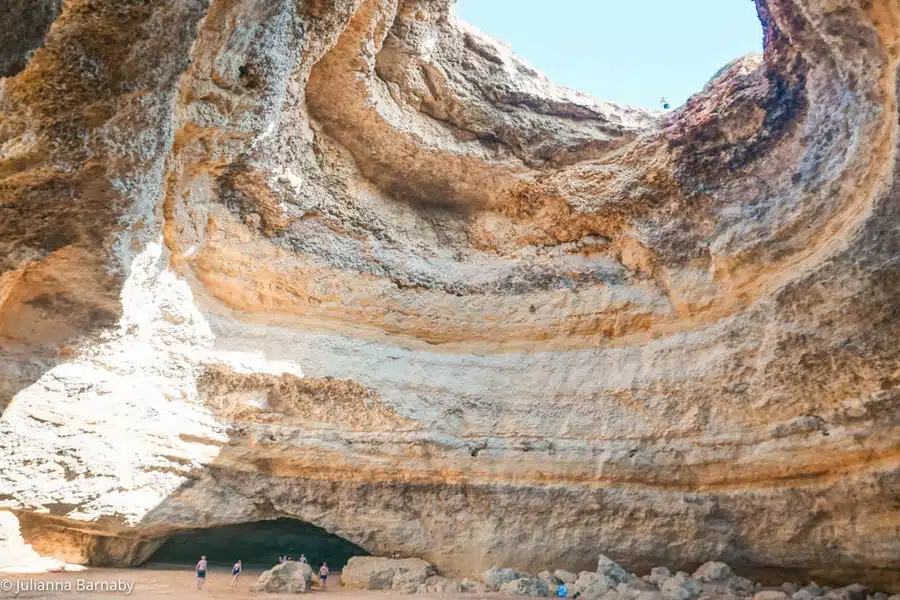 One of the most famous sea caves in the world, the Benagil Sea Cave is a wonder of nature you can't afford to miss.
There are a few different ways to experience this glorious open-topped cavern.
You can visit by boat, which is the most popular.
Taking a kayak or SUP tour is a better way to immerse yourself in the experience of this natural beauty.
FYI: What I don't suggest doing, is flying your drone into the top of the cave, having it lose GPS, go nuts and crash inside the cave with the result that you have to charter a boat to try and save it. Just me then? Oh, O.K.
Explore Faro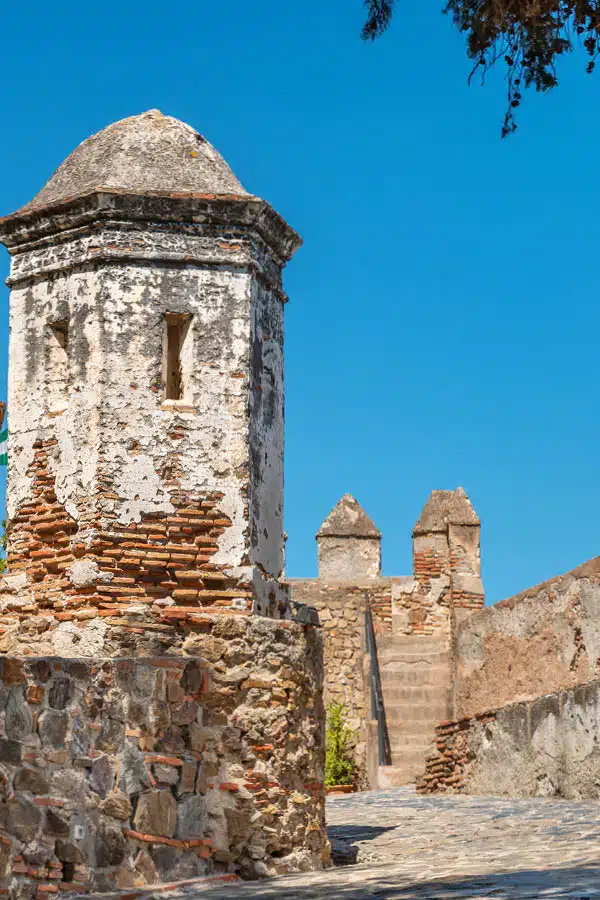 The capital of The Algarve, Faro, is a beautiful old town that longs to be explored.
Wavy palms line the labyrinthine cobblestone streets with little cafés and restaurants tucked between artisan's workshops, and a landmark cathedral stands proudly.
A large earthquake in 1755 damaged the town, so most of what remains dates from the 18th-century onward. The foundations, though, are often Moorish and Roman. Once you've seen the city, explore the Ria Formosa Natural Park on a segway tour.
Visit Historical Tavira
I strongly believe that Tavira is a wildly underrated portion of The Algarve. Mainly as it has so many historical attractions —including a castle whose surviving structures date to the 12th-century and the pedestrian-only Ponte Antiga Sobre o Rio Gilão.
The Praça da República is particularly elegant, and the Gothic-Baroque Igreja de Santa Maria do Castelo is well worth a visit.
There are so many things to see in Tavira that I reckon taking a tuk-tuk tour of the city might make it easier on your feet and ensure you catch all the best sights.
Stroll Around Lagos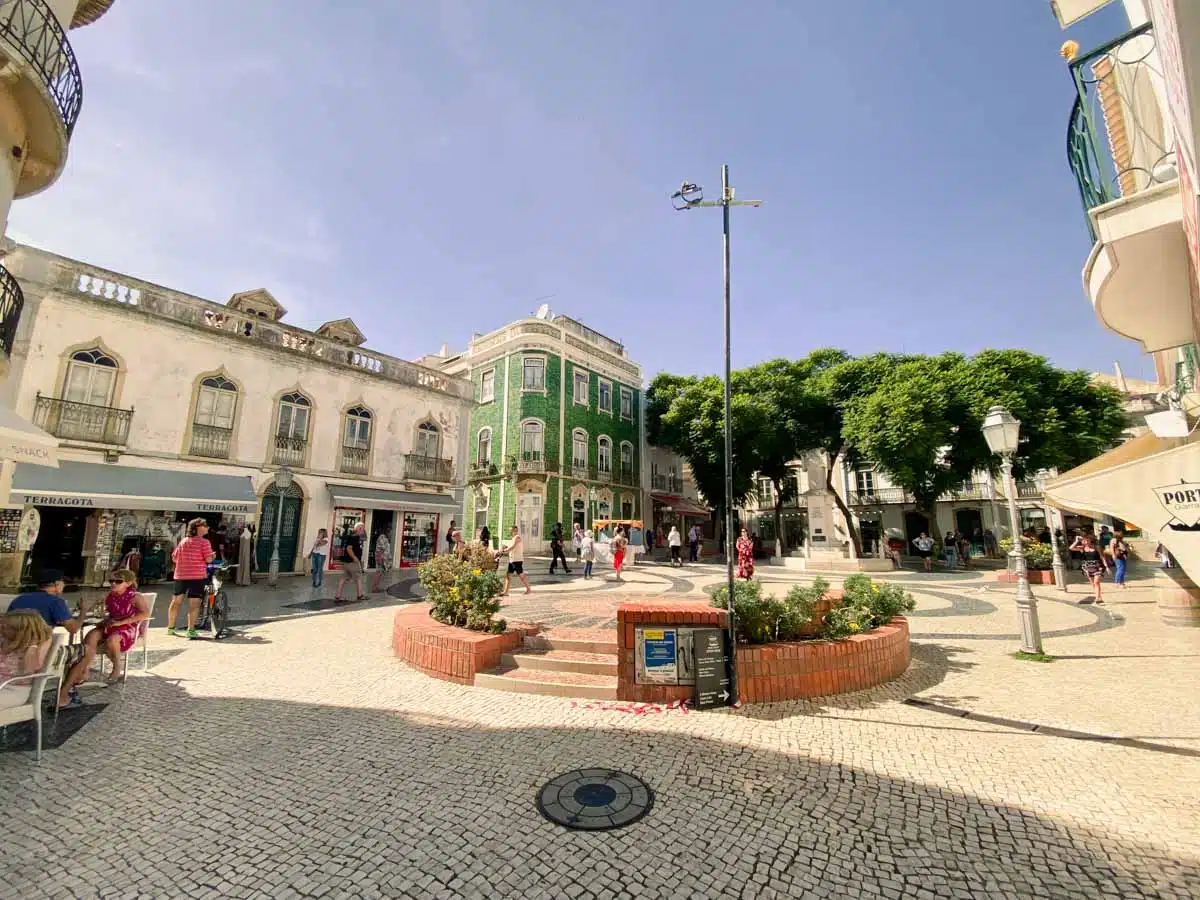 If you haven't quite had enough of historical beauty yet, take a visit to the history-seeped Lagos. Elegant churches, medieval castle walls, and sea fortresses all make Lagos an intriguing place to visit in The Algarve.
Shopping here is reasonably-priced, so it's the best place to hunt for souvenirs and then stop for lunch at a cosy café. Tropical Cafe's caffeine fixes are a particular favourite of mine.
The beaches are also attractive, so it's no surprise that plenty of holidaymakers take up water activities such as the popular dolphin safaris – give it a go and see if you can spot these pretty sea creatures in their natural habitat.
Brilliant Things to See & Do in The Algarve During the Day
Sail to The Ilha Deserta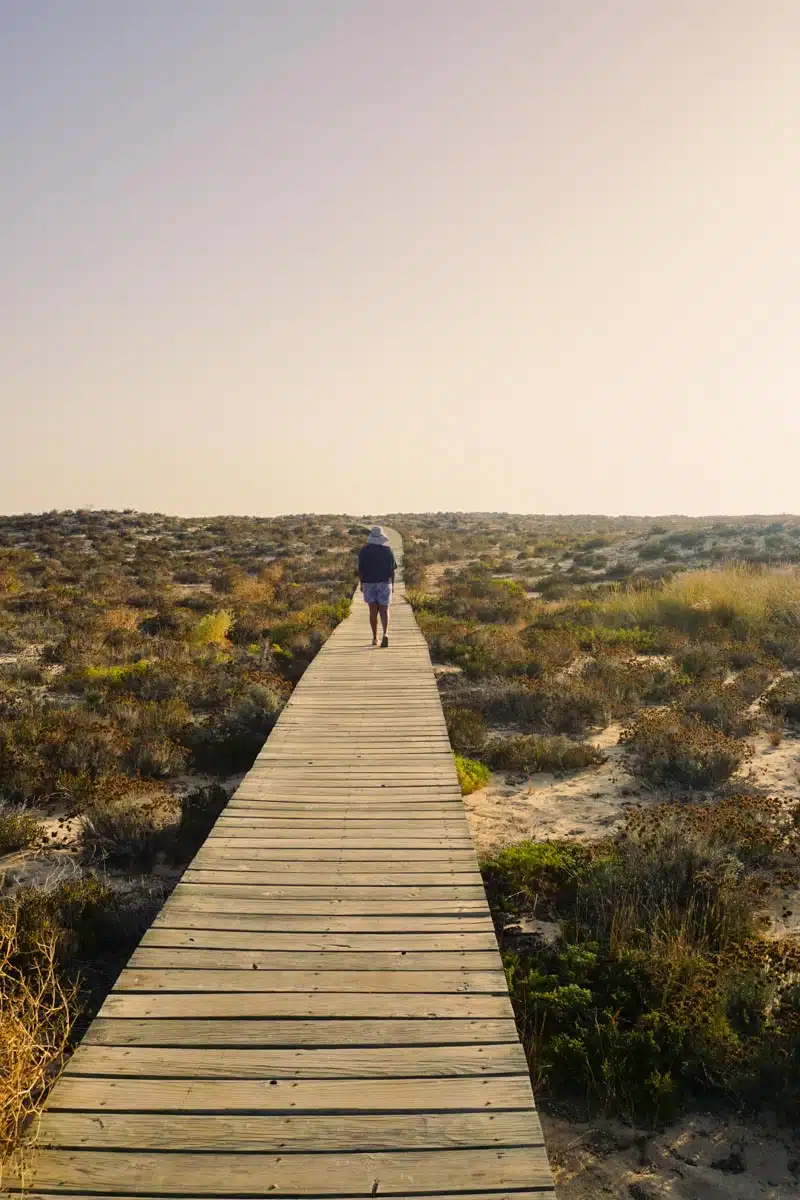 Visiting this "desert island" that forms part of the Ria Formosa is one of the best things to see and do in the Algarve if you love nature.
Birdwatching is one of the main activities available on this island, though non-twitchers will be able to appreciate long walks on the pristine beaches.
Since getting to the island by boat is necessary, and this catamaran tour does very, very nicely – it even makes a pit stop on Farol Island.
Hunt Out the Praia do Camilo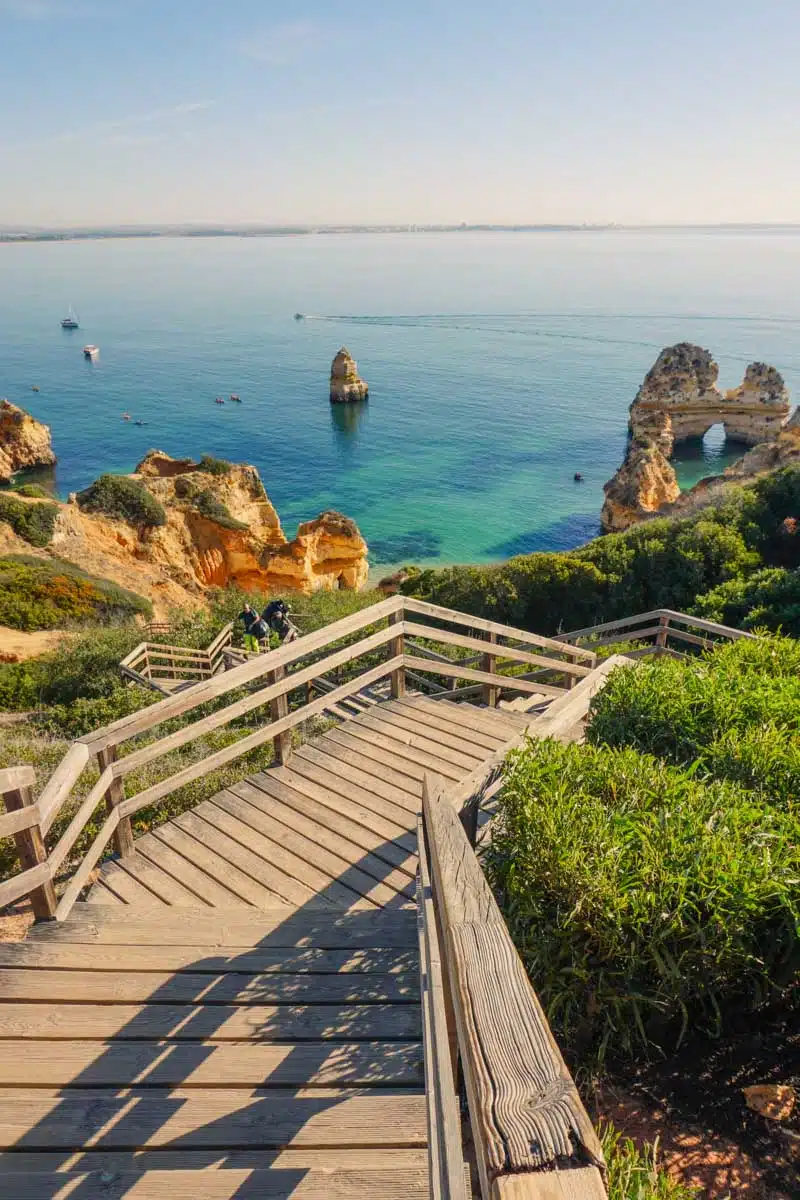 I'll let you in on a little secret – the Praia do Camilo is one of my favourite places to visit in The Algarve. Surrounded by breathtaking karstic formations and accessible only by a long wooden staircase, this secret cove is the ultimate hidden treasure for beach lovers.
The waters are clear and emerald, and though a large rock formation divides the beach, a damp hand-carved tunnel makes the other side reachable.
There's also an open-seating area at the top where you can enjoy the panoramic view as the sun goes down. Pack a picnic and prepare for a romantic evening.
Note: The area experiences landslides, so it's advised to keep a safe distance from the cliffs.
Marvel at Ponta da Piedade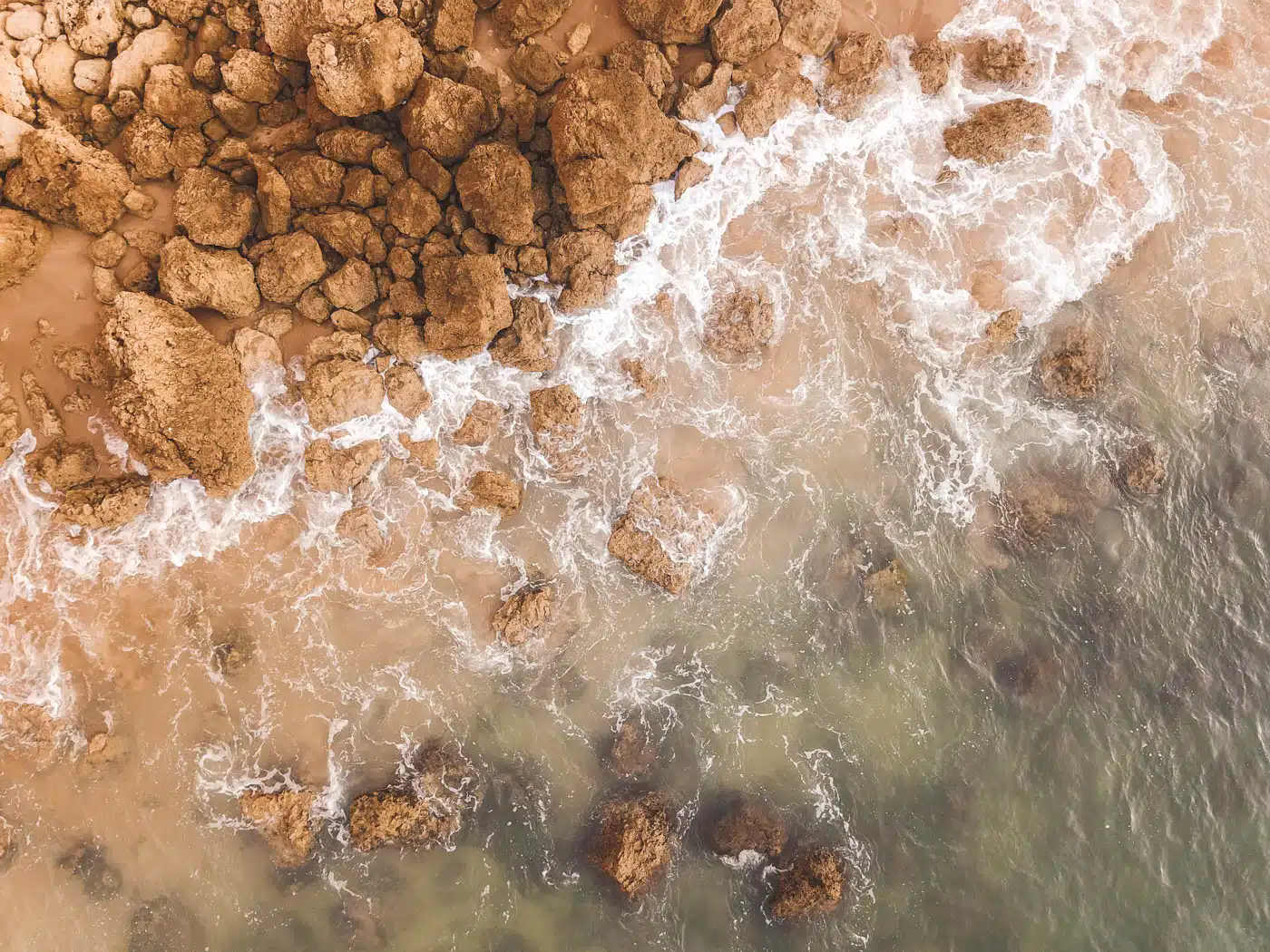 This area of the Algarve coastline features some of the most extraordinary limestone formations I've ever witnessed. Here, you'll find huge sea pillars, hidden grottos, and delicate arches in glorious abundance.
You can experience them from the sea via a boat tour or on land by walking along footpaths and a wooden boardwalk that hugs the cliff sides.
There may be 180 steps that you must navigate before reaching the Ponta Da Piedade base, but the cove's view with its craggy features is well worth it. Make sure you're wearing sensible shoes, though – that's a mistake I won't ever make again.
Be a Beach Bum at Burgau
Burgau has a slower pace of life, and relaxing on its beach is one of the best free things to do in The Algarve.
Follow cobbled streets to the relatively empty beachfront and bask in the glow of the sun, then head to the famous Beach Bar Burgau for a refreshing drink. Speaking from experience, their hearty food is pretty incredible too.
Take on the Fishermen's Trail, Rota Vicentina
Arguably one of the most scenic coastal trails in the world, the natural beauty of Rota Vicentina's surroundings (as well as a rather mild climate) make this trail one of the great things to do in The Algarve in winter.
It's 226,5 km long, and there's accommodation along the entire route as wild camping is not allowed.
You'll get to marvel at the remains of a Roman Villa, a 17th-century fort, and the Ribat of Arrifana, once occupied by warrior monks along the way. Make sure to bring plenty of water and food with you as there isn't anywhere to quell your cravings along the way.
Learn to Surf on the Atlantic Coast
The Atlantic is known for its feisty demeanour, so it should be no surprise that The Algarve is a great place to learn to surf its foam-topped waves.
Grab your wetsuit—or rent one if need be—and hit the beach. There are plenty of tours offering surf lessons at various beaches with all equipment provided. Any level of experience, from absolute beginner to savvy amateur, is welcome.
Visit Silves
This hilltop town is simply gorgeous, with white walls and terracotta roofs a startling contrast to the lush orange groves and vineyards that surround it. Not to mention its iconic brick-red castle, built in the 11th-century by the Moors on Roman foundations.
Silves is the perfect place to stroll around and simply enjoy the architecture and scenery, though I highly advise you to take a tour of one of the fragrant orange orchards while you're there. It would be rude not to sample a ripe, juicy offering.
Tour Serra de Monchique
If you're more of a country bumpkin than a beach bum (could never be me), this rolling mountain range with blossom-carpeted meadows is going to be your favourite spot. Chestnut and Eucalyptus trees line the slopes, and pathways meander through shady woodlands, providing some much-needed shade from the blazing Portugese heat.
You can take a tour to Fòia, a 900 m high peak from which you'll see right across the western landscape to the sea on a clear day. Situated in one of the valleys is Caldas de Monchique, a natural thermal spa with a restaurant and B&B in an utterly tranquil setting.
Explore the Vibrant Portimão
Looking for cool things to do in Portugal? Trust me when I say that you're going to want to head to Portimão.
It's a lively hub with plenty of theatres and museums on offer to quench your cultural thirst. It's also the stopping point for luxury cruise liners, and the nearby artificial reef is a firm favourite with divers.
Apart from the standard sunset cruises and boat tours, there's a Pirate Ship tour (yes, I did go a little bit overboard with the swashbuckkling) for anyone who wants different things to do in The Algarve.
Indulge in a Stay near Vilamoura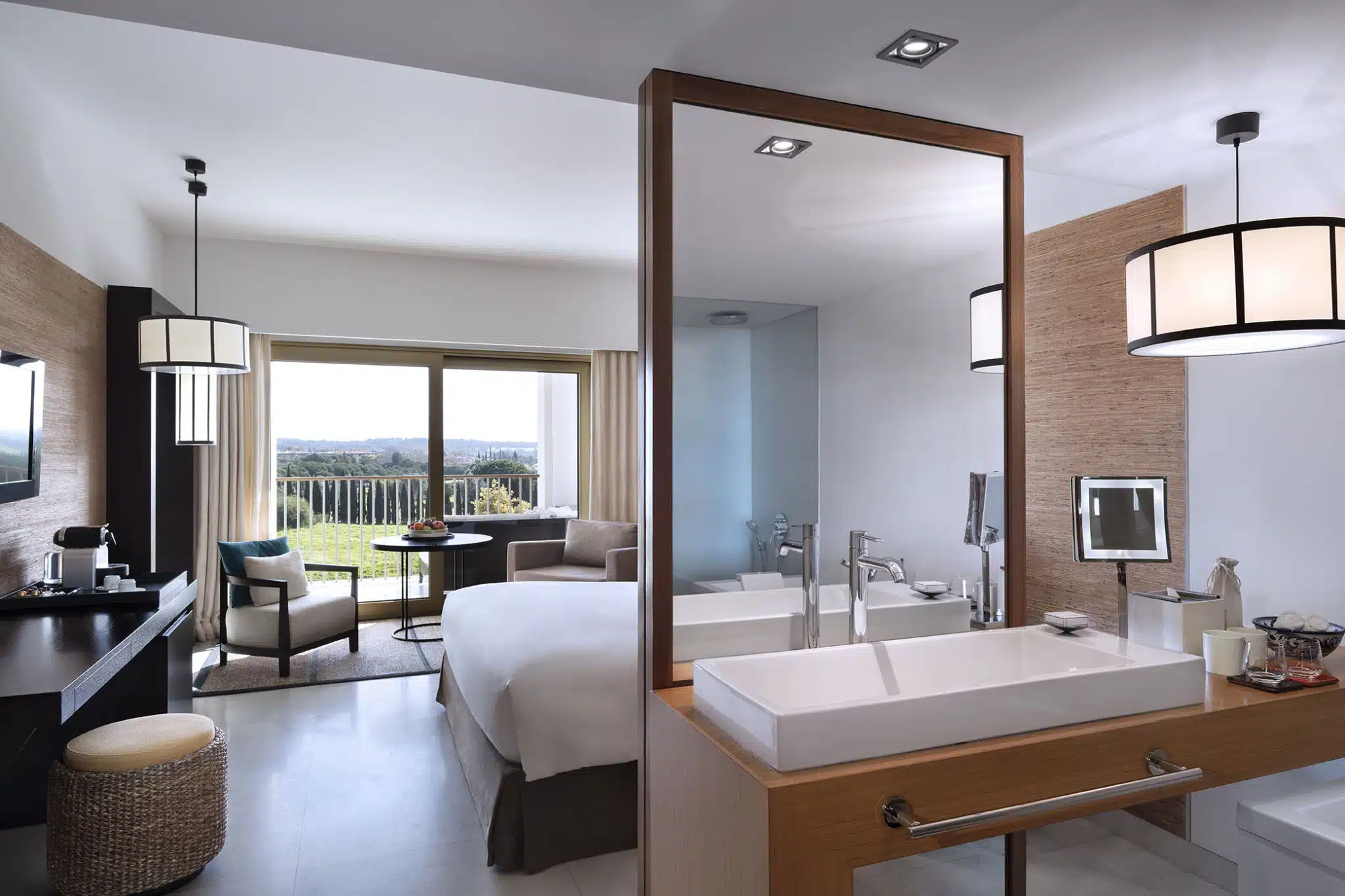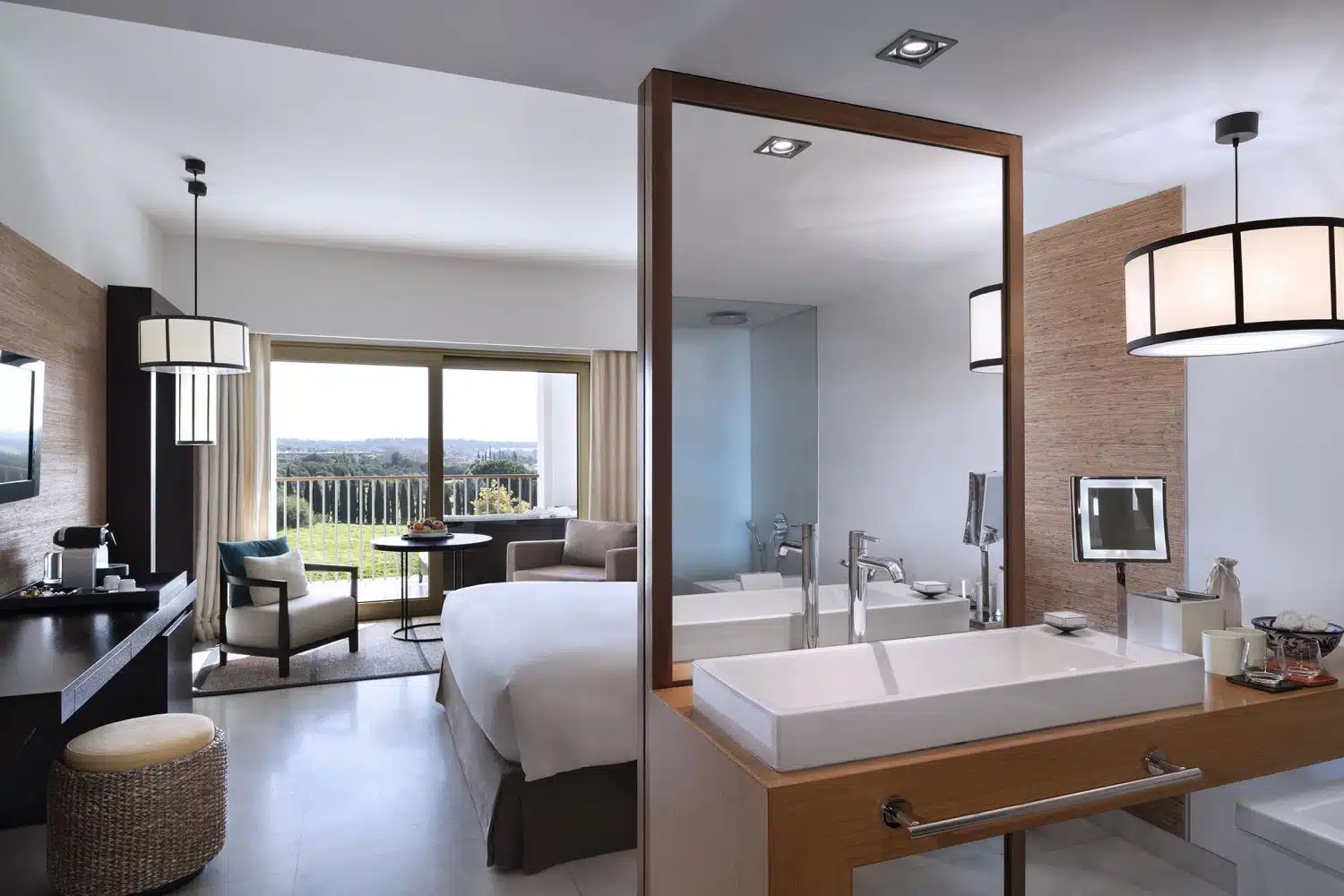 Vilamoura needs to be at the very top of your list when visiting The Algarve.
Not convinced? Five championship golf courses exist in and around this upmarket resort, so it's a firm favourite with golfing enthusiasts. While jet setters from Lisbon flock to enjoy the high-end restaurants and designer boutiques in August, and huge yachts bask in the largest marina Portugal has to offer.
Plus the luxurious Anantara is one of the Algarve's hottest stays.
There are even the ruins of a 2nd-century Roman villa to see if archaeology is high on your list of interests. Experience a luxurious sunset tour on a sailing yacht to finish your perfect day in Vilamoura.
Cool Things to See & Do in The Algarve at Night
Dinner at O Camilo
For a seafood feast unlike any other, visit O Camilo for the finest flavours the ocean offers – and the freshest seafood you'll ever eat.
Situated on the cliffs near the Ponta da Piedade, the sunset views are remarkable as you settle down for an aperitif and hearty meal. The food is modestly presented, but who needs flashy garnishes when it's this good?
Explore Farol do Cabo de São Vicente
Standing at this lighthouse atop a cliff overlooking the wild Atlantic ocean, it feels like you're staring at the world's edge. The lighthouse itself is home to the Museo dos Faròis, which is also a visitor's centre.
Both of them are open to the public on Wednesday afternoons. Many birds nest among the cliffs, making it the perfect place for a touch of birdwatching. And there's even a birdwatching festival held in October, if you're really keen.
Check Out the Nightlife in Albufeira
Hitting the clubs for a night of revelry is one of the cool things to do in The Algarve. From dinky bars to a string of clubs often hosting international acts, bright neon lights and thumping music set the ambience for this party paradise.
Don't be shy to have an espresso (or three) after dinner because the clubs only get going around 1 am and often aren't full until at least 3 am. Some of the more famous ones are Kiss Disco Club, Heaven, and Le Club. They all charge an entry fee that includes your first drink.
The weather is irrelevant when you're partying up a storm indoors, so clubbing is one of the best things to do when it rains in The Algarve. Though, I'll be heading straight to bed instead.
Things to Do in The Algarve: Practical Tips for Your Trip
How Long to Visit The Algarve?
I recommend a minimum of three full days to explore a decent portion of The Algarve, but an ideal amount of time is five days. With your holiday a little more spread out, you'll have the opportunity to see more points of interest and relax a little longer on those perfect beaches.
Best Time to Visit The Algarve
This will depend a little on your preference. In general, the climate in The Algarve is Mediterranean, so the summers are hot and dry, and the winters are mild. July and August are the hottest months, with daily maximum averages of 30ºC and an average low of 22ºC.
If you'd prefer to avoid the scorching temperatures and crowds, late April to early June or mid-September to late October are better choices.
Where Should I Stay in The Algarve?
Vila Petra (Mid-Range)
Every apartment in this hotel has a balcony to enjoy, and indoor and outdoor swimming pools. It's affordable luxury with lush gardens and a spa centre.
Check Rates and Availability for Vila Petra on Booking.com
Pine Cliffs Gardens (Luxury)
This hotel's beauty is hard to beat with such gorgeously cultivated courtyards and patios. Its comfort level is utterly luxurious, and it's only 800 m from the beach. Spa services and two pools serve the hotel as well.
Check Rates and Availability for Pine Cliffs Gardens on Booking.com
Recommended Tours in The Algarve
Things to do in The Algarve: Map
Looking for More Portugal Travel Guides