Pristine golden sands, sundowners over the Atlantic Ocean and dramatic natural amphitheatres – discover the best beaches in and around Porto.
Porto really does have it all: as if the magnificent sweep of the Ribera riverfront isn't enough, it's blessed with a number of gorgeous beaches in easy striking distance of the city for you to explore.
Top Tip: Discover all the best things to do in Portugal
The Best Beaches Near Porto
Praia dos Ingleses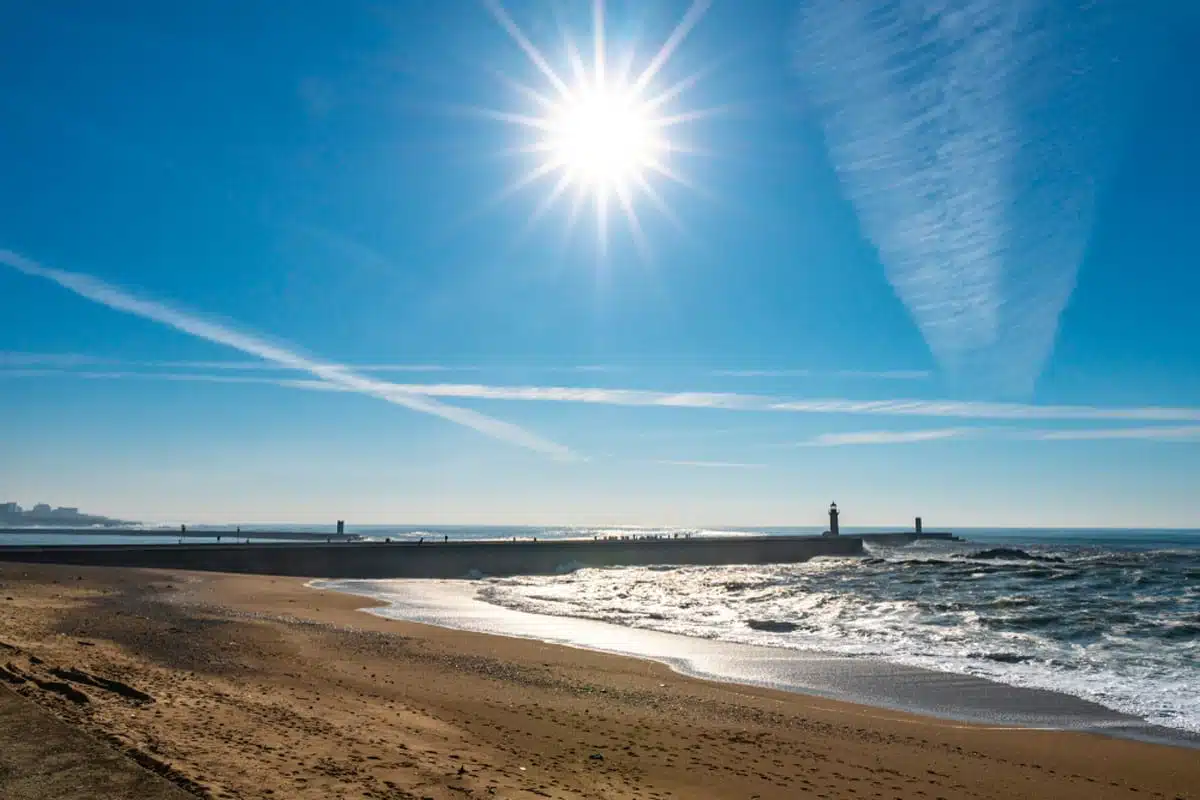 Praia dos Ingleses is one of the nearest beaches to Porto on this list. If you're looking for buzzing nightlife, then this is the beach for you.
The praia boasts beautiful soft white sand and rocks surrounding the shoreline. This isn't the best beach for swimming, as it's close to the Douro river mouth, but it's a fantastic spot to watch the sunset and have a drink.
The best spot for drinks is Praia dos Ingleses Bar Restaurante Esplanada, which is on the beachfront. However, if you feel like something more filling, Varanda do Sol offers delicious Italian cuisine and a breathtaking view.
Praia de Matosinhos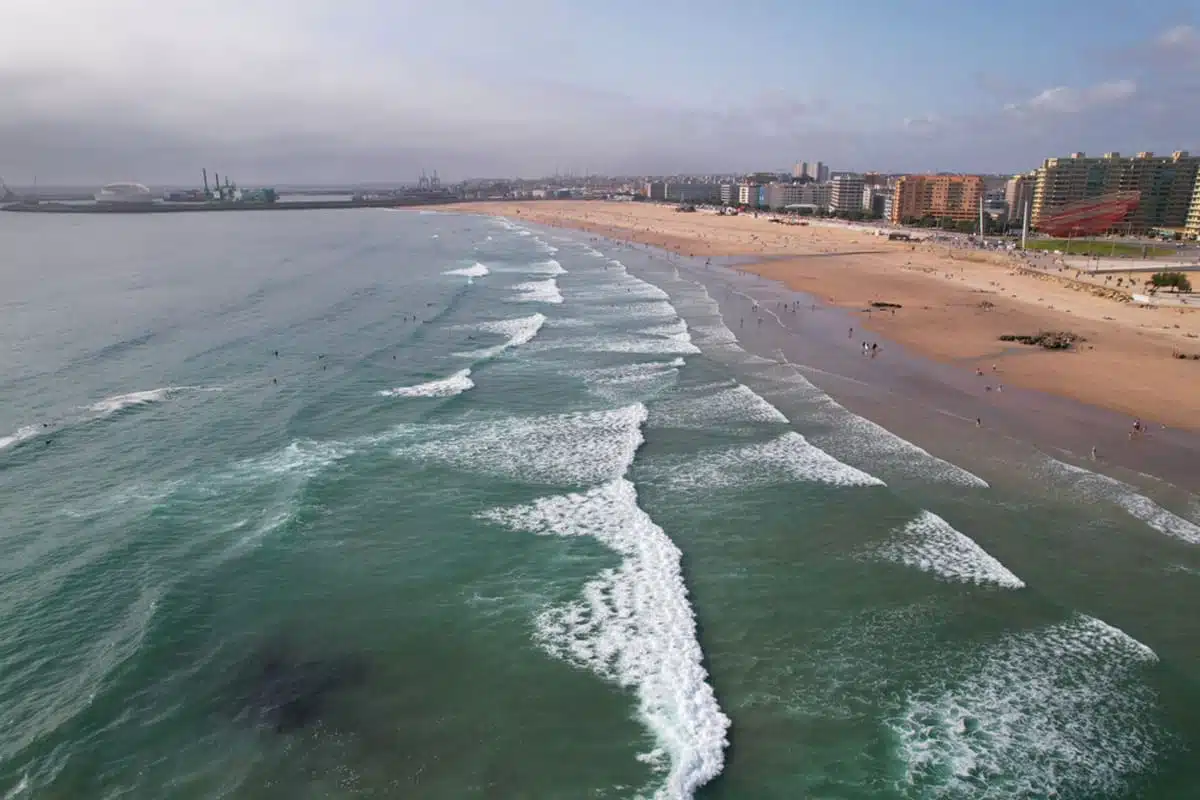 You may be wondering, is there a beach in Porto that's actually good for swimming? Well, this is where Praia de Matosinhos steps in, with its soft golden sand and inviting azure-blue waters.
Right next to Matosinhos Industrial port, it's not the prettiest beach in the world. But believe me, it's fantastic for sunbathing and swimming.
It also gets large waves from the Atlantic Ocean, making it the perfect destination for a surfer. Don't worry if you can't surf – yet – as the beach has a fantastic surfing school. You'll also find loads of space to make yourself comfortable.
Top Tip: You can get a lovely beach view from Rotunda da Anemona, a spiralling art installation.
Praia do Carneiro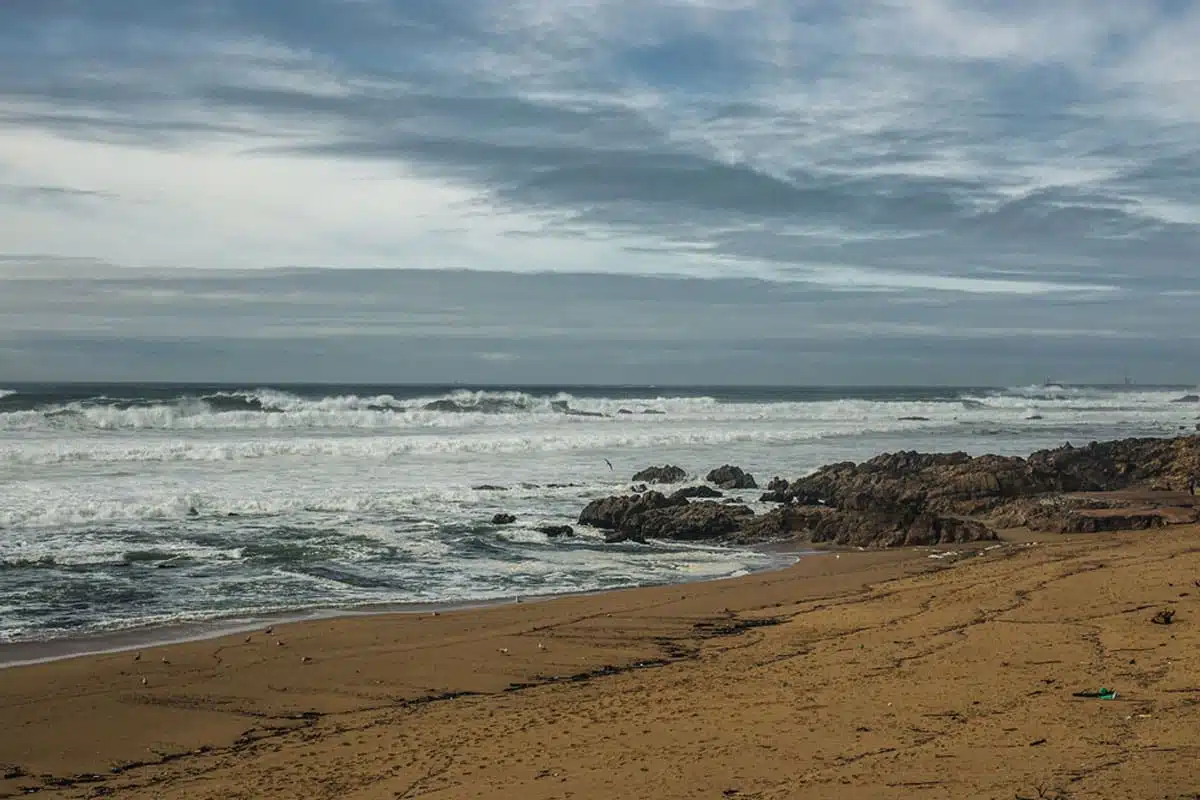 If you want a small beach full of history and intrigue, then Praia do Carneiro is perfect. This pebbly beach is next to Praia dos Ingleses but is far from similar. Although pebbly, this is a sunbather's paradise, and the same goes for history lovers.
If you had enough sunbathing for one day, there's plenty to see by the beach. Visit a 19th-century granite lighthouse that appears small from a distance but is deceptively large and juts out into the ocean.
Or you can explore the Fortaleza de São João da Foz, which dives into Porto's history and provides beautiful views of the beach from the fort walls.
Top Tip: Read my complete Portugal itinerary to learn about the other fantastic places in this country.
Praia de Molhe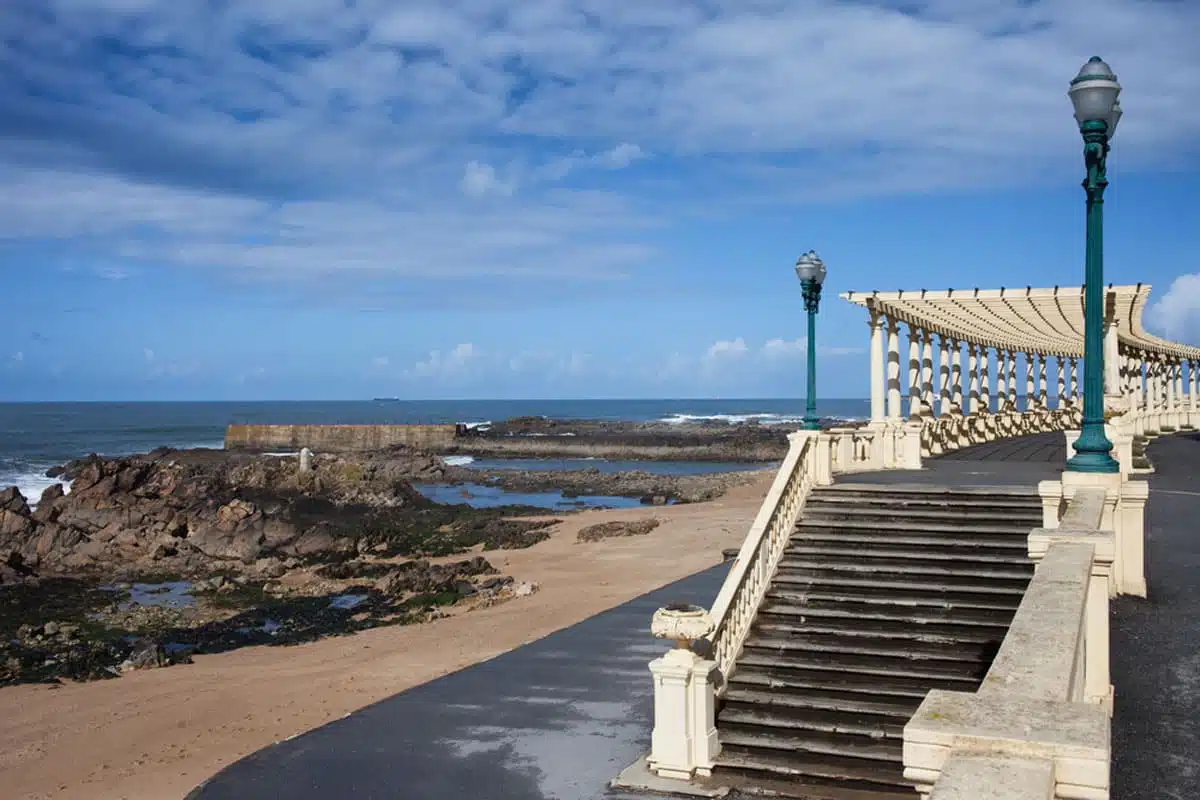 Possibly the most iconic beach in Porto, Praia de Molhe is another fantastic spot for sundowners after a busy day. Like the other beaches along the Foz district, coarse sand and rocks make up this beach.
Now, this may not sound amazing just yet, but the Pergola da Foz is what makes this such a great beach. As part of the beautification boom in the 1930s, the beach has gorgeous yellow-tinted pillars stretching across the entire coast.
After a relaxing walk down this spectacular promenade, you can enjoy a sunset-kissed afternoon at the Molhe restaurant.
Praia do Castelo do Queijo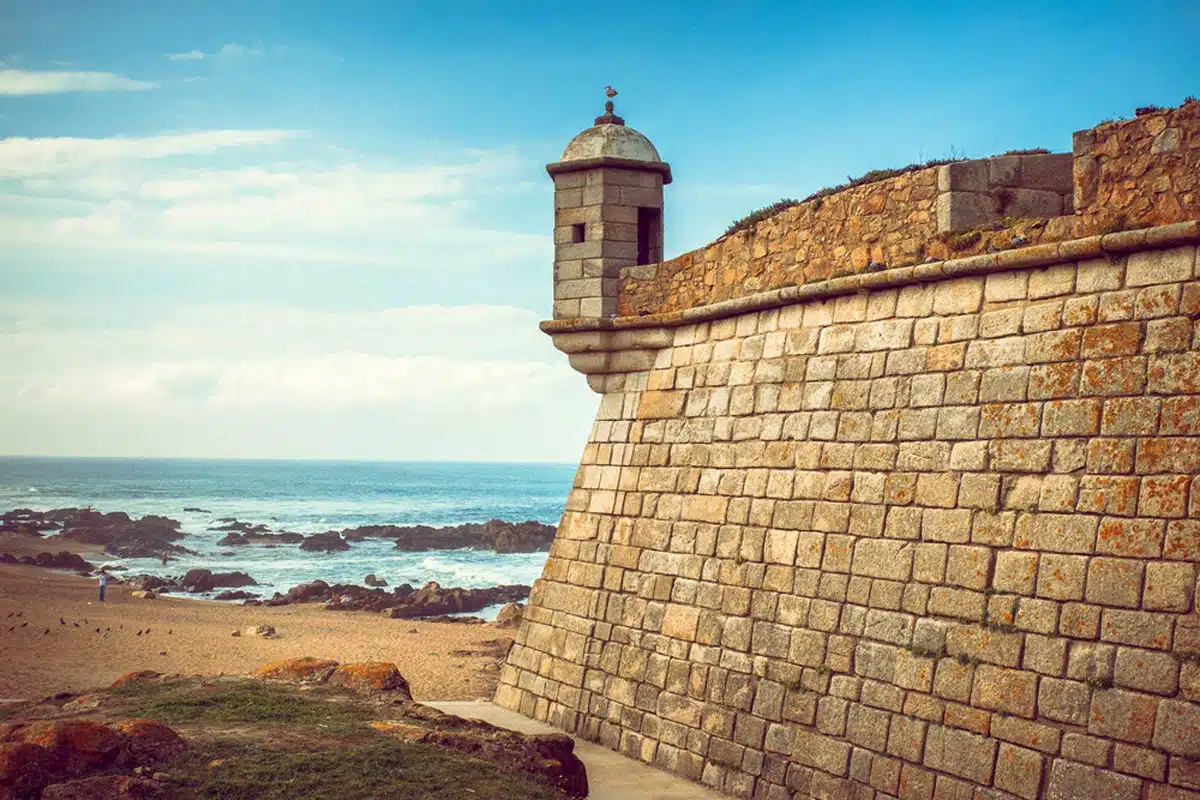 Although not as popular as its neighbour Matosinhos, Praia do Castelo do Queijo is a beautiful beach worth visiting. It has soft white sand and rocky terrain on either side of the beachfront.
Why is it called "Cheese Castle Beach"? Well, the mystical Fort of São Francisco Xavier exists on a rock that looks very similar to a giant block of cheese. Aside from the unmissable fort, the beach is a lovely reprieve from the hoards of people that visit Matosinhos.
Top Tip: You can also relax in the cosy rock pools along the beachfront at low tide.
Praia do Senhor da Pedra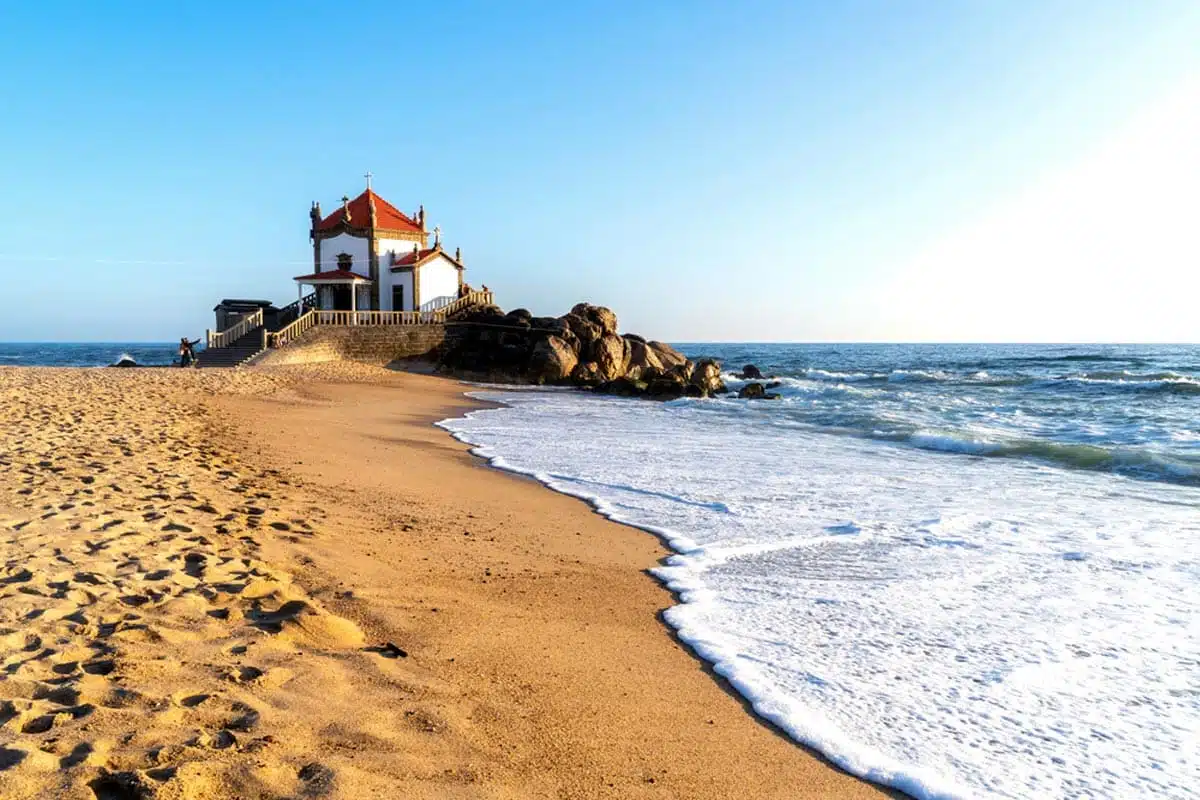 After a short 20-minute drive south of Porto, you will reach the pristine golden sand of Praia do Senhor da Pedra. A picturesque chapel settles amongst the rocks by the shoreline, which makes things even more unique.
Funnily enough, this is a surprisingly cold beach, as the water only reaches 18°C (64,4°F) in mid-summer. Aside from the chilly waters, this is one of the quieter, cleaner, and overall enjoyable beaches in and around Porto.
Praia da Granja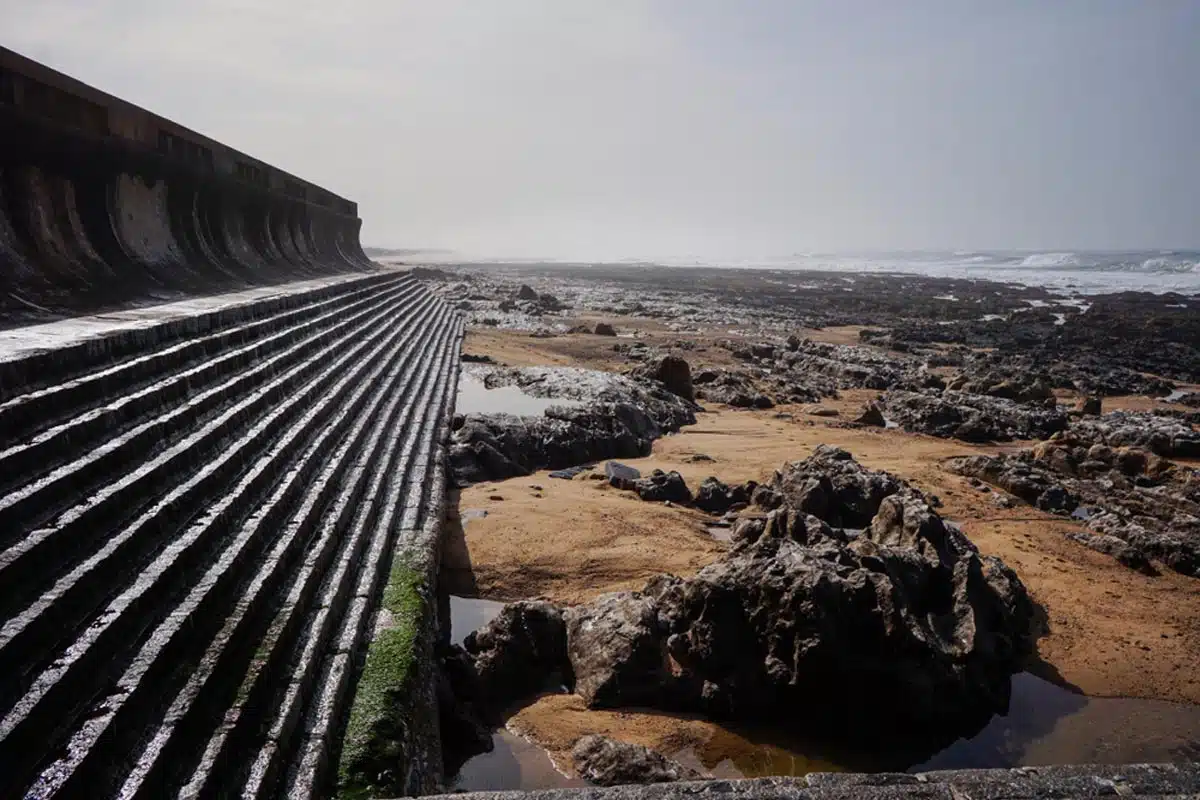 After a 25-minute drive south of Porto, you'll reach the dramatic Praia da Granja. When I say it's dramatic, I really mean it. Imagine a magnificent amphitheatre with large stairs that cascade into the ocean below.
The beach isn't big, but it isn't too busy so you can enjoy a relaxing day on soft sand and clear views of the Atlantic Ocean. Lush greenery surrounds the beach, and if you're looking for a lovely place to eat, then Barraquinha Nova is right on the beachfront.
Praia Castro de São Paio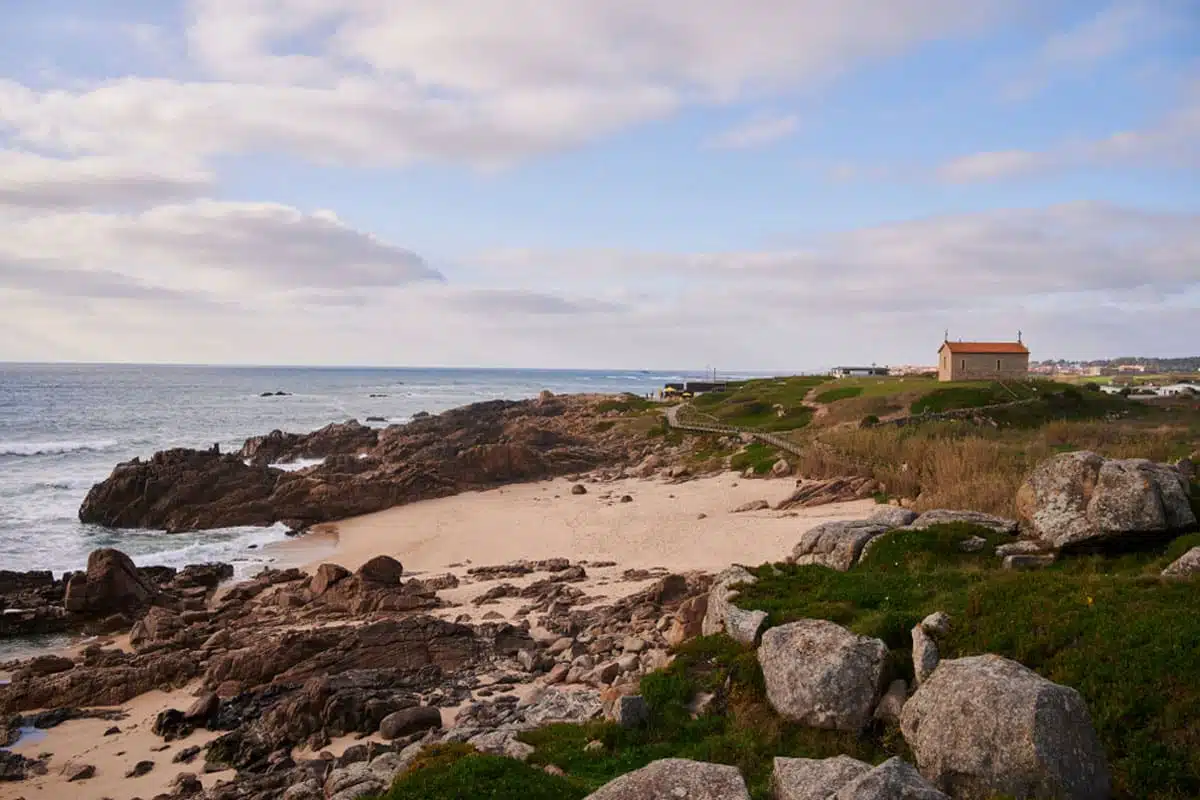 If you want something more secluded from the hustle and bustle of Porto, take a 30-minute drive north to Praia Castro de São Paio. The beach features soft sand with a few pebbles here and there. A rock face encapsulates the beach, creating a quaint alcove for swimming.
You can also find umbrellas already there for you to use and the lovely Bar Praia de Moreiro. The food here is divine, especially the seafood. It's as fresh as you can get.
Practical Tips for Visiting Porto's Beaches
How to Get to the Best Beaches in Porto, Portugal
Taking into account the fact that Porto has many hills, it's best to get around by metro or rental car. Many of the beaches on this list are outside the city, so a vehicle can make a huge difference.
Where to Stay Near Porto Beach
Here are some top hotels that you can stay in when in Porto:
Vila Foz Hotel & Spa: This is one of the few beachfront hotels in Porto, and it's a sustainable travel property. It has a classical vibe which you're sure to love.
Torel Avantgarde: This 5-star luxury hotel has everything you could possibly need – beautiful views, a spa, delicious food, and much more.
PortoBay Flores: If you want unforgettable views of the Douro river, look no further than this 5-star hotel. Oh, and if that's not enough, how about an indoor pool with massive windows overlooking Porto.
Are Porto's Beaches Clean?
In short, yes, as most of the Porto beaches have Blue Flag status.
Best Time to Visit Porto's Beaches
The best time to visit Porto is during early autumn in September or late spring between May and June. This is because the weather is still lovely during this time and the beaches are quieter.
What to Pack for Beaches in Porto
Always bring sunscreen to protect your skin.
A floppy hat will be particularly helpful.
Bring a large beach towel. The Eono microfibre towels are a good choice.
Best Beaches in & Near Porto: Map
Love This? Save and Share on Pinterest