Planning a trip to the Algarve's Benagil Cave? Discover exactly why you need to visit, how to get there and where you should stay with this brilliant guide.
I remember when Benagil Cave was a little-known destination for travellers, a hidden landmark in one of Portugal's dreamiest escapes, the Algarve.
Well, those days are long gone, and it's no surprise why.
The impressive rock formation is one of the most iconic sea caves in the world and a perfect place to take some impressive AF photos on your holiday in Portugal. But there are a few things you'll want to keep in mind when heading out to see the Benagil Cave.
So, let me guide you through all the essentials and give you some helpful tips for making the most of your visit to the seaside cavern. Ready to explore?
What is Benagil Cave?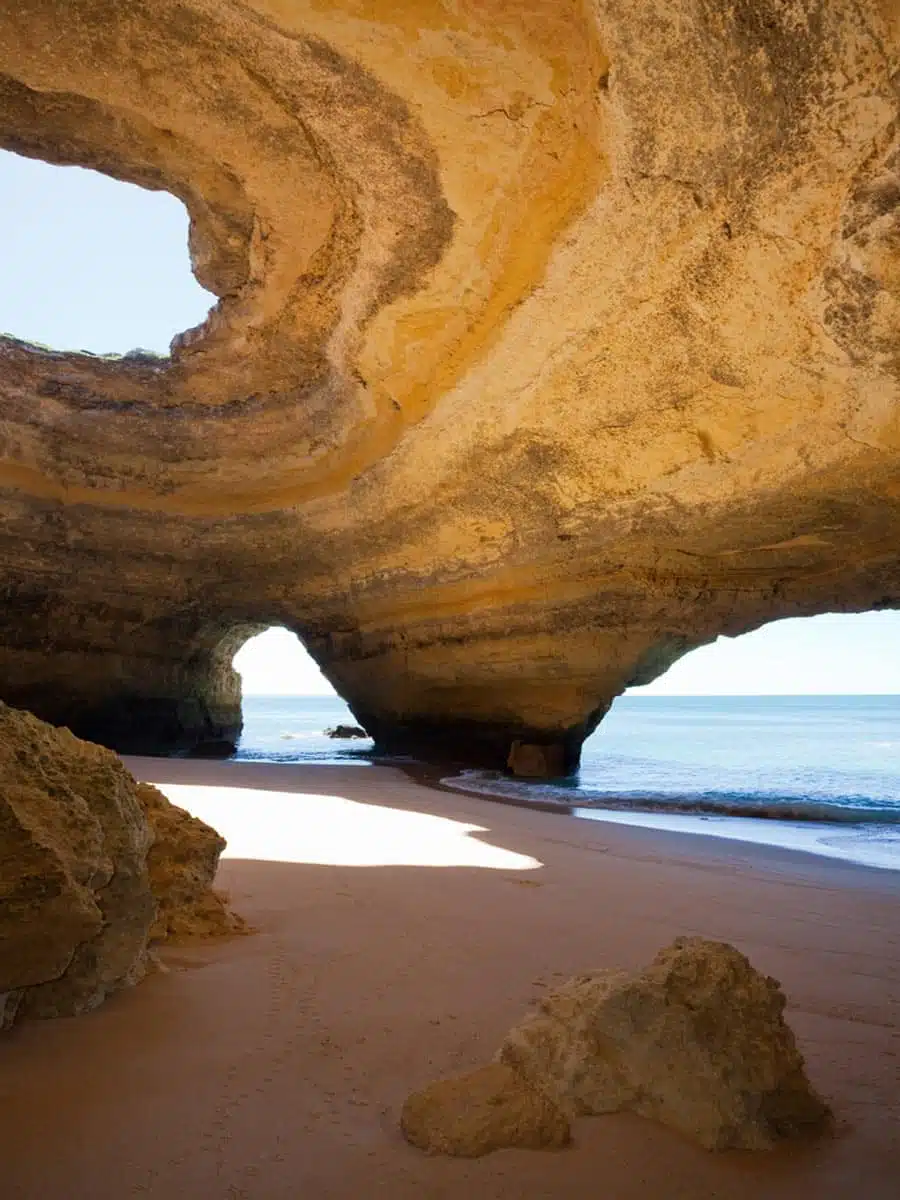 Hold up – before you wack out your kayak, put on your swimsuit and get your camera ready for a Portugal landmark you have to see to believe, you might want to know what exactly it is you're looking at.
Benagil Cave is a naturally formed sea cave resulting from centuries of water shaping the limestone walls both inside and out. It sits on the rocky coastline of the Algarve between two of my favourite places to stay in Portugal, Lagos and Faro.
The large opening on top was most likely a result of rain taking its toll on the cave's ceiling over a really long period. Inside the cave, the otherworldly-looking patterns on the rocks show this natural attraction's age.
Just how ancient is it? Most experts estimate this beautiful landmark is around 20 million years old.
Tip: If you take a kayak inside the arching entrance, park it on the sandy beach area at low tide and walk around to get the best vantage points of this cave beach in Algarve, Portugal.
Why Visit Benagil Cave?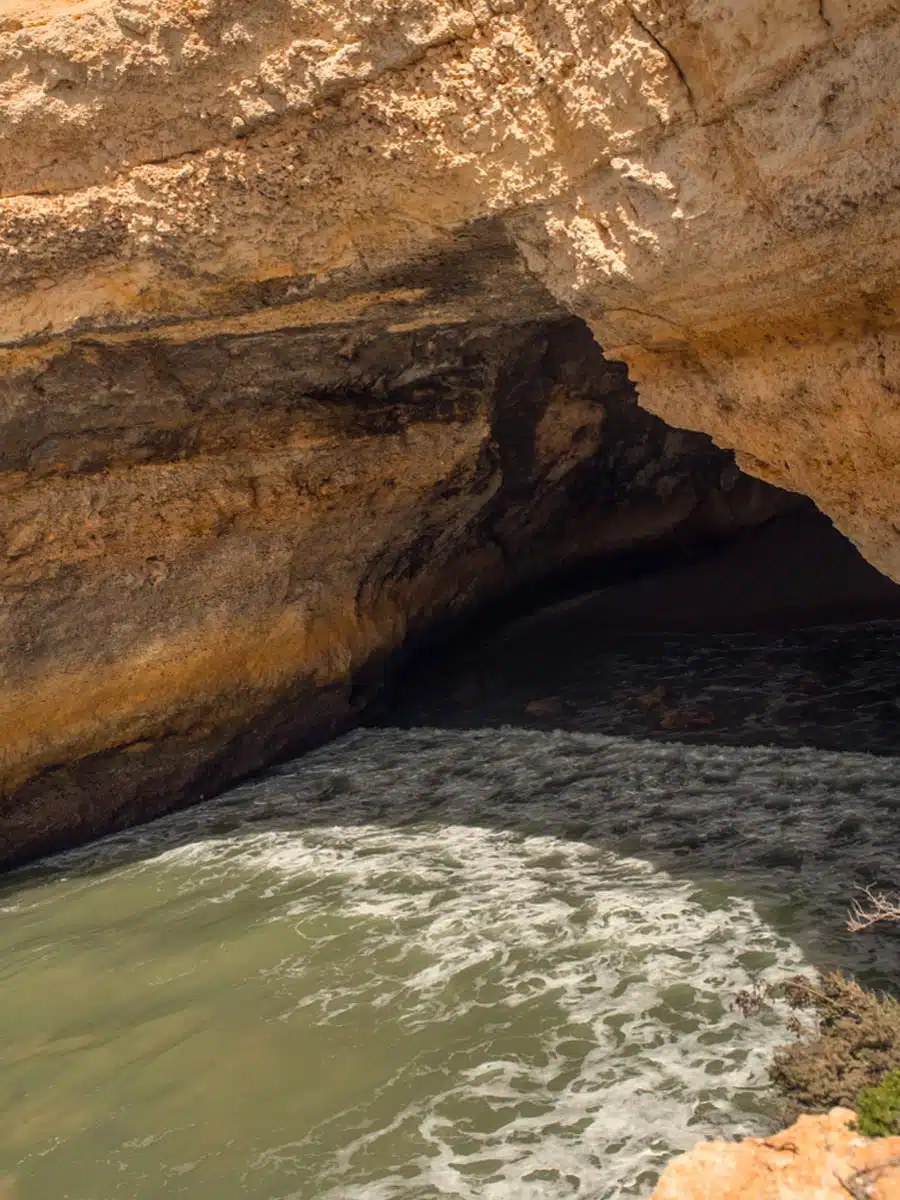 Now that you know exactly what the Benagil Cave is, you might be asking yourself if it's worth the trouble of figuring out how to get there. I'll make it easy on you and give you a one-word answer: Yes.
Ok, simply saying you should go to this isn't doing it justice. I'll go out on a limb and say that no Portugal itinerary is complete without making time to visit the Algarve coast and adding Benagil Cave to your schedule of travel adventures.
If you want to post the most epic story for the 'Gram, Benagil Cave provides the perfect backdrop.
Time this right, when the sun is hitting at just the right angle through the large opening on the ceiling, and you'll get a photo that looks like you're staring through a portal to another world.
If all this sounds like hyperbole, I assure you it's not. Benagil Cave is genuinely one of the most photo-worthy destinations in Europe, one you can't afford to miss when visiting the Algarve.
Planning Your Visit to the Benagil Cave
Benagil Cave Address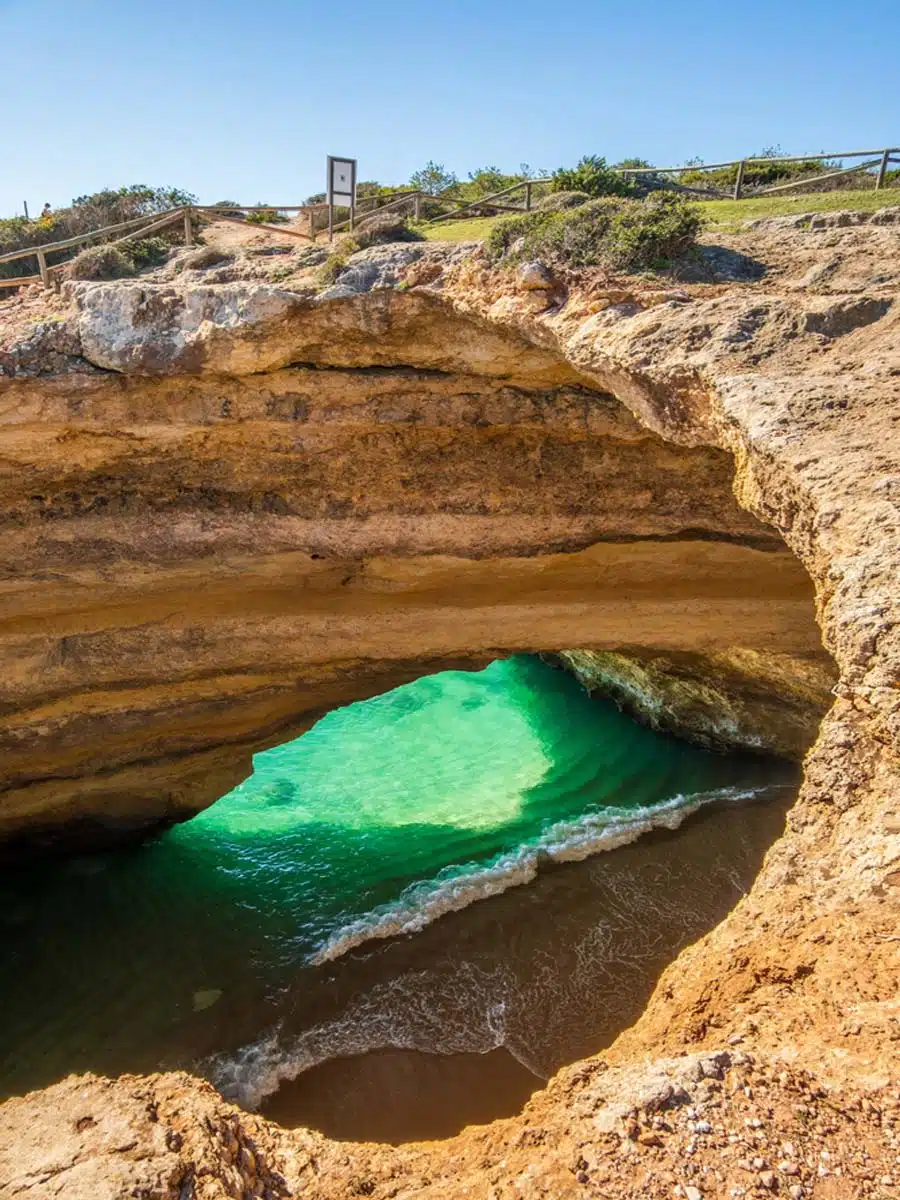 The official address for Benagil Cave is 8400-401 Lagoa, Portugal. But try giving that street number to a taxi driver, and you might have a lost cabbie that you need to tip much higher than I recommend in my handy guide to tipping in Portugal.
To make it easier, just ask your driver to take you to Benagil Beach or wherever the meetup location is for your Benagil Cave tour if you reserve one on Get Your Guide (more on those in a minute).

Or, if you're heading there solo, plug in Benagil Cave into Google Maps and let technology handle the fine details of creating a Benagil Cave map for you.
Benagil Cave Opening Times
Technically speaking, Benagil Cave is open rain or shine, all day, every day of the year.
However, you'll want to show up shortly after the sun rises to have the best light for your photos. You'll also want to get there before the crowds begin to swell quicker than the nearby waves.

Keep an eye on the tide chart because high tides can make matters a bit more complicated when navigating the terrain.
Visiting Benagil Cave Independently
If you want to forgo a Benagil Caves tour and take more of a DIY approach, you're in luck because you can access the Benagil Cave independently.
First of all, you'll need to get to one of the amazing Algarve beaches near Benagil Caves, Portugal. The good news is it's close to many of my favourite locations in the Algarve.
You can take a train from Lagos or Faro to Portimão and then take a taxi or bus from there. On average, taking a combination of train and taxi will cost you around $15 (£12.5) from Lagos or $20 – $25 (£16.5 – £21) from Faro to reach the Benagil caves.
If you're staying in Lagos, the journey to Benagil Cave, Portugal, takes around 40 minutes, but it's over 1 hour if you start in Faro.
Getting Inside the Cave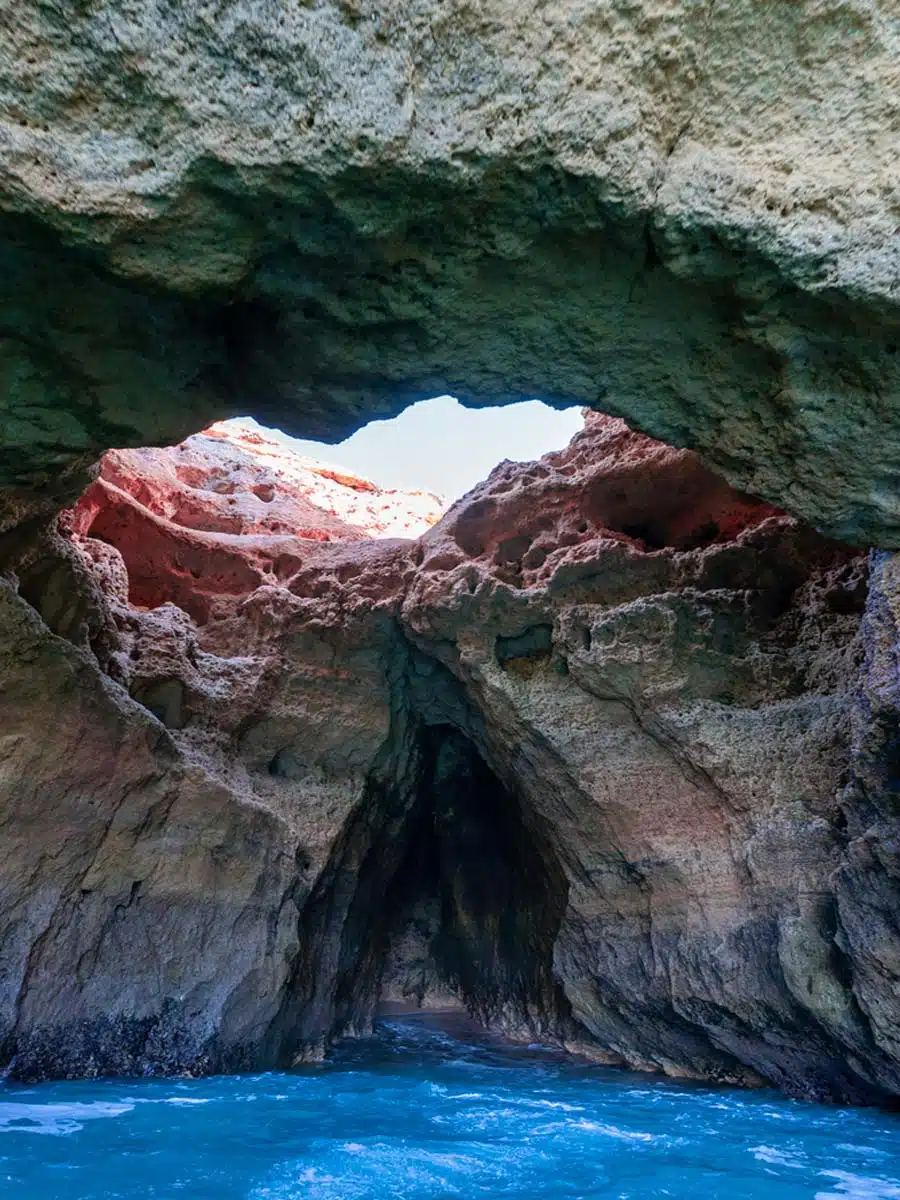 How can you reach the caves of Benagil all by yourself? You can take a rather long and somewhat challenging swim from Benagil Beach – however, you really should only do this in low tide if you're a strong swimmer. It's not far at all, but it's better to be safe than sorry.
For those who don't fancy swimming, chartering a boat is the easiest way to get to the cave.
Or, if you're not up for that. You can easily walk to the cave if you want to look down from a bird's eye view, which can make for incredible photo ops.
Now for a cautionary tale. Never, I repeat, never try to fly your drone through the top of the cave. I did this: It lost GPS, lost control and plummeted into the abyss. I had to charter a boat to get into the cave to retrieve it – and the poor thing was never quite the same again.
It did mean I got to spend time in one of the best landmarks in Portugal, which I took full advantage of, but I'd rather it was under (much) less stressful circumstances.
So do yourself a favour and be content with the photos you snap from inside the gorgeous Benagil Cave in Algarve.
Visiting Benagil Cave On a Tour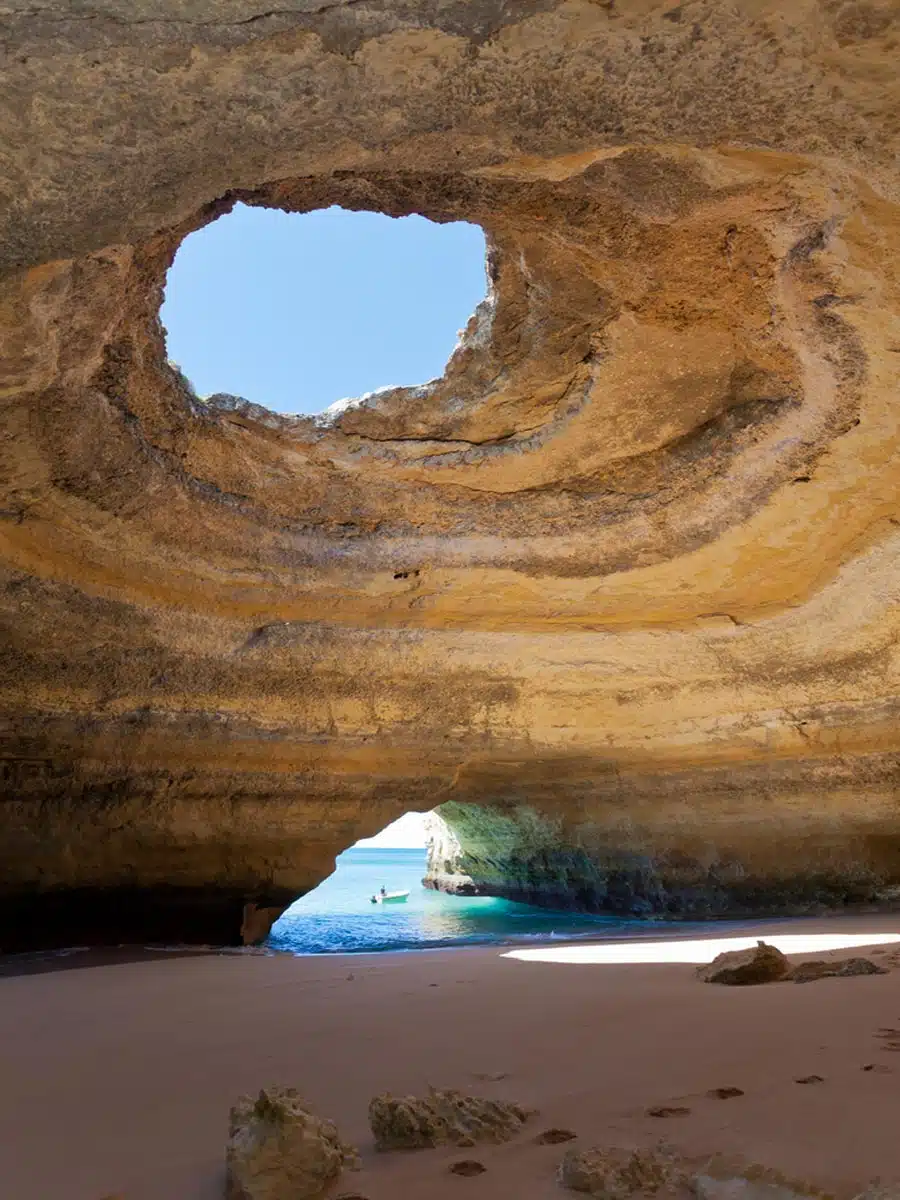 Benagil Cave tours are on my short list of cool things you must do when visiting Portugal. And to be completely honest with you, I think you'll get way more out of visiting Benagil Cave if you book a tour.
But you can't just book any random tour and expect great results. Like many of the best places to visit in Europe, you want to do your homework when booking a Benagil Cave tour.
Luckily, I did that part for you and discovered a couple of incredible options for your cave beach adventures in Portugal.
By Speedboat
For the busiest travellers who want to get in, get out, snap that photo, and tick that Benagil Cave box, book the Speedboat Adventure Tour.
You'll meet near the Port of ​​Portimão before taking a 90-minute high-speed adventure with friendly local guides along the incredible Algarve coast. It's a fun and unique way to see the Benagil Cave and surrounding shoreline, but remember that you won't be able to explore inside the cave.
By Kayak
If you want to get a little more up close and personal with the legendary Portugal sea cave, make your tour a Kayaking Experience to remember.
This aquatic excursion is popular for a reason and sells out quickly. So book in advance if you want to join an expert-guided adventure paddling through Portugal's Algarve region on your way to the magnificent Benagil Sea Cave.
Where to Stay Near Benagil Cave
Locating a hotel near Benagil Cave can be challenging. While there are Portugal Airbnbs and vacation rentals, luxury and boutique resorts in the surrounding area are few and far between.
But don't stress; I've found the perfect hotel in the Algarve if you want to be a short ride away from the Benagil Sea Cave by boat.
Casa Bela Moura Boutique Hotel
Location is one of many reasons to choose Casa Bela Moura Boutique Hotel. The down-to-earth 4-star hotel has only 15 rooms, which helps it to provide a totally intimate atmosphere.
The charming boutique hotel has an outdoor pool, jacuzzi and a wine bar on-site, giving you plenty of opportunities to discuss your adventures in style and comfort. Each room is uniquely designed and feels like a home away from home on your holiday in Portugal.
Alternatively, check all accommodations near Benagil Cave on Booking.com.
Visiting Benagil Cave: Map
Looking to explore Benagil Cave? This map will show you how to get there and where to go when visiting one of Europe's best winter sun destinations.
Love This? Save and Share on Pinterest