Tavira – the charming Algarve town with a surprising amount of brilliant beaches. Discover them with this helpful guide.
It's no secret that The Algarve is home to incredible beaches with backdrops ranging from rocky cliffs to sandy shores. But the gorgeous coastal town of Tavira is often overlooked.
Which, I think, is a real shame. Beach bars, freshly caught seafood, and sparkling white and golden shores make Tavira beaches among the best in Europe.
Ready to explore? Pack your towel and cossie, beach lovers – these are the top Tavira beaches you need to check out.
The Best Tavira Beaches
Praia do Barril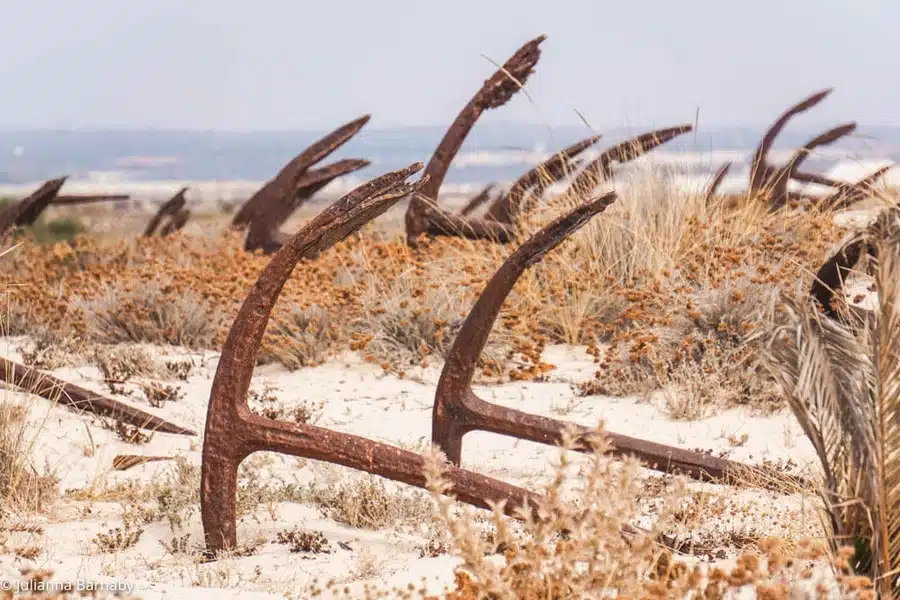 If it's a unique beach you're after, you'll want to head to Praia do Barill, or Barril Beach Tavira. It's a wonderful stretch along Tavira Island, along the famous Ria Formosa Natural Park.
But the reason many flock to this beach? It's home to one of the most famous Portugal landmarks in the Algarve, Cemitério das Âncoras.
Anchor Beach Tavira, or Anchor Cemetery, is a charming, if slightly unusual, tribute to the rich history of the fishing industry here. The rusty anchors you see belonged to tuna fishing boats years ago and are now a friendly nod to the historic fishing tradition.

But there's plenty to do besides taking obligatory photos amongst anchors while you're here. Waters tend to be calmer, so it's not an ideal location to catch a wave, but it's perfect for lazy days wading or swimming along the shores.
If you forgot to pack your cooler, don't worry. Several bars and restaurants are a short walk away and an ideal place to try locally caught seafood on your trip to Portugal.
Praia da Ilha de Tavira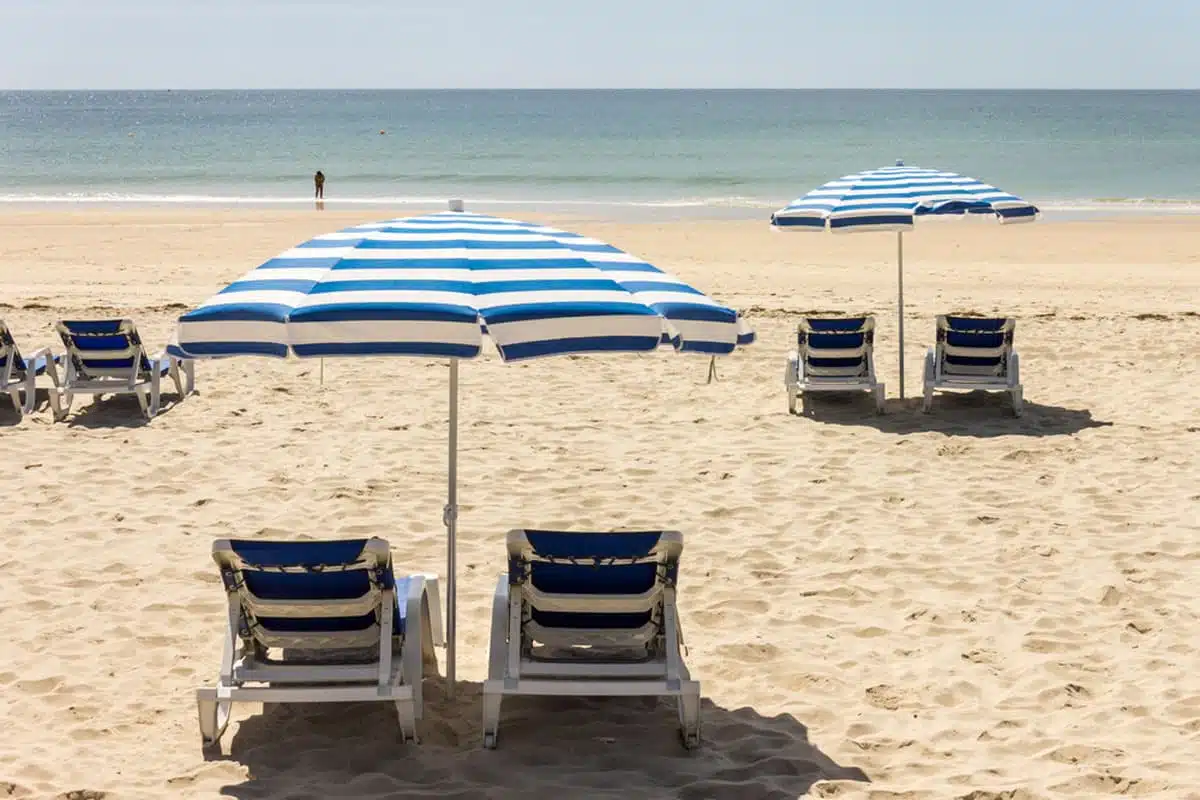 You'll need to take a ferry to find Praia da Ilha de Tavira, but it's worth it. You'll find a tropical paradise of white sands, sparkling turquoise waters and sunshine awaits.

On this island, there are several beaches, with Praia da Ilha de Tavira being the best. Despite its proximity to the city (city beaches are usually pretty rubbish), this is one of the best Tavira beaches.
The conditions and amenities are nearly flawless. You'll find a seemingly infinite amount of white sand stretching farther than you can see. There are loungers for hire and plenty of places to eat, drink and otherwise spend your hard-earned money nearby (you are on holiday, remember).
It's a great place for a relaxing afternoon or hiking in Portugal to a nearby Tavira beach or the Ria Formosa Natural Park. Long story short, this beach has any holiday needs covered.
Terra Estreita Beach
Between another two of the best beaches around Tavira sits the fabulous Terra Estreita Beach, or as locals may know it, Praia de Santa Luzia.
Again, you'll need to access this beach by ferry but trust me; the journey is worth the reward. In fact, the journey itself is quite pleasant and gives you a glimpse into the still active fishing industry in the area.
I love this as a day trip from Tavira, and it's full of fun things to do in the Algarve for you and your travel companions. Surfing, kayaking and sailing are popular choices, and you can arrange them at the bar nearby with a bit of planning and timing the tides just right.
Whether you're content to hire a lounger and soak up the powerful rays or want to add a little adventure to your day at the beach, this location has it all. In my opinion, it's the best beach in Tavira.
Praia de Cabanas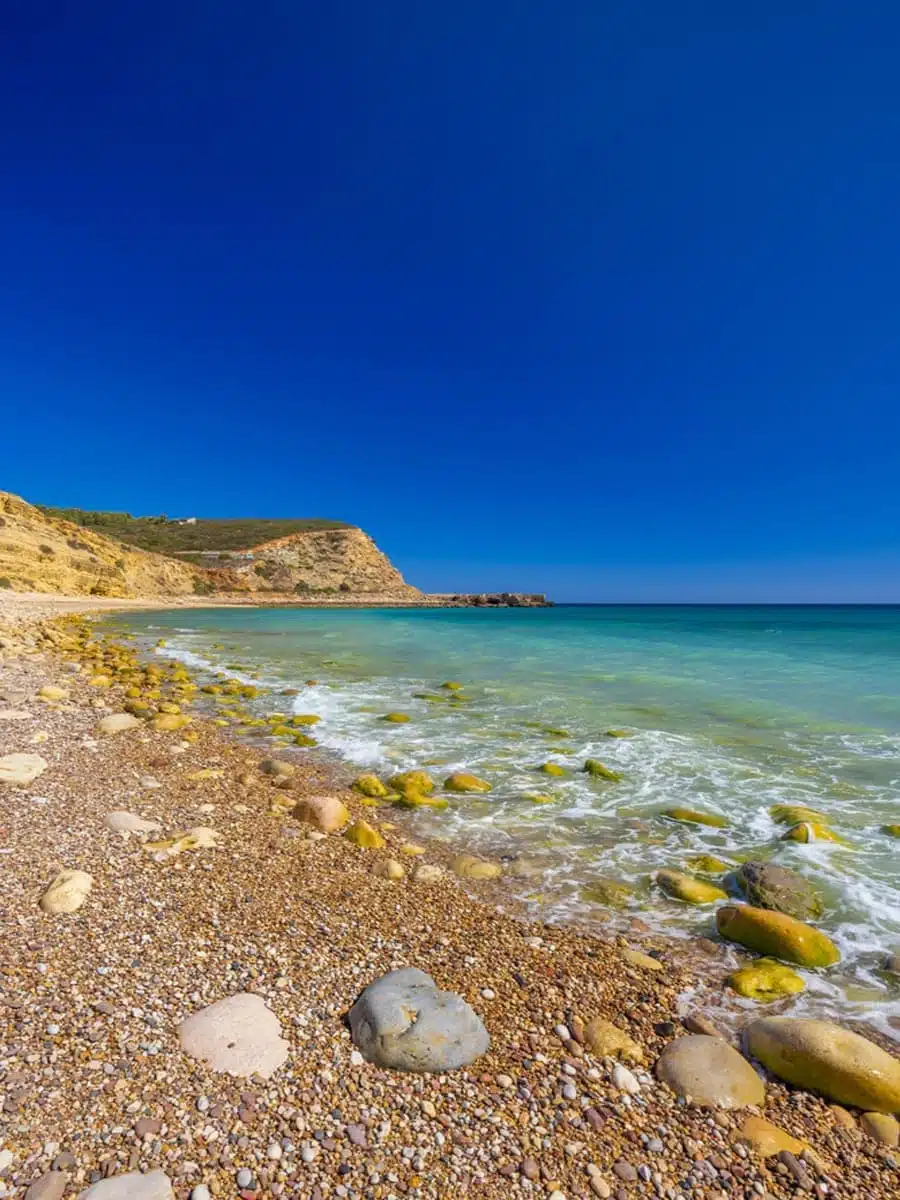 One of the five barrier islands that make up the Ria Formosa National Park is home to a stunning Tavira beach in Portugal, Praia de Cabanas. While not as famous as some beaches on Tavira Island, it is undoubtedly one of the best beaches in Tavira.
It may be technically possible to walk here in the low (extremely low) tide, but most of the time, your best bet is hiring a water taxi.
You can catch these boats from the village of Cabanas, where you can also nosh on some wonderful locally caught seafood or have a cold beer when you've finished spending some time on the sandy shores.
While narrow, the beach is long, well-maintained and a perfect place to spend a quieter afternoon on a Tavira. For a glimpse into less-developed beaches along the Algarve's golden shores, Cabanas Beach is a perfect choice.
Praia do Homem Nu
Head down the nearly infinite coastline of Tavira Island from Tavira Beach past Barril Beach, and you'll likely run into Praia do Homem Nu.
For those who embrace naturism in all its glory, this is the Tavira beach you'll want high on your list.
While I decided to skip this one (getting nudey on a beach = no thanks from me), it's not to say you should, too. If you're ok with a rather long walk in, your reward is one of the more quiet and open Algarve beaches. You'll just need to be ok with the lack of lifeguards, amenities, and, well… clothing.
If all that sounds like something you want to add to your Portugal itinerary, head a couple of kilometres west of Barril Beach Tavira, and you'll find a wonderful naturist and LGBT-friendly beach that's well worth the visit.
Cacela Velha Beach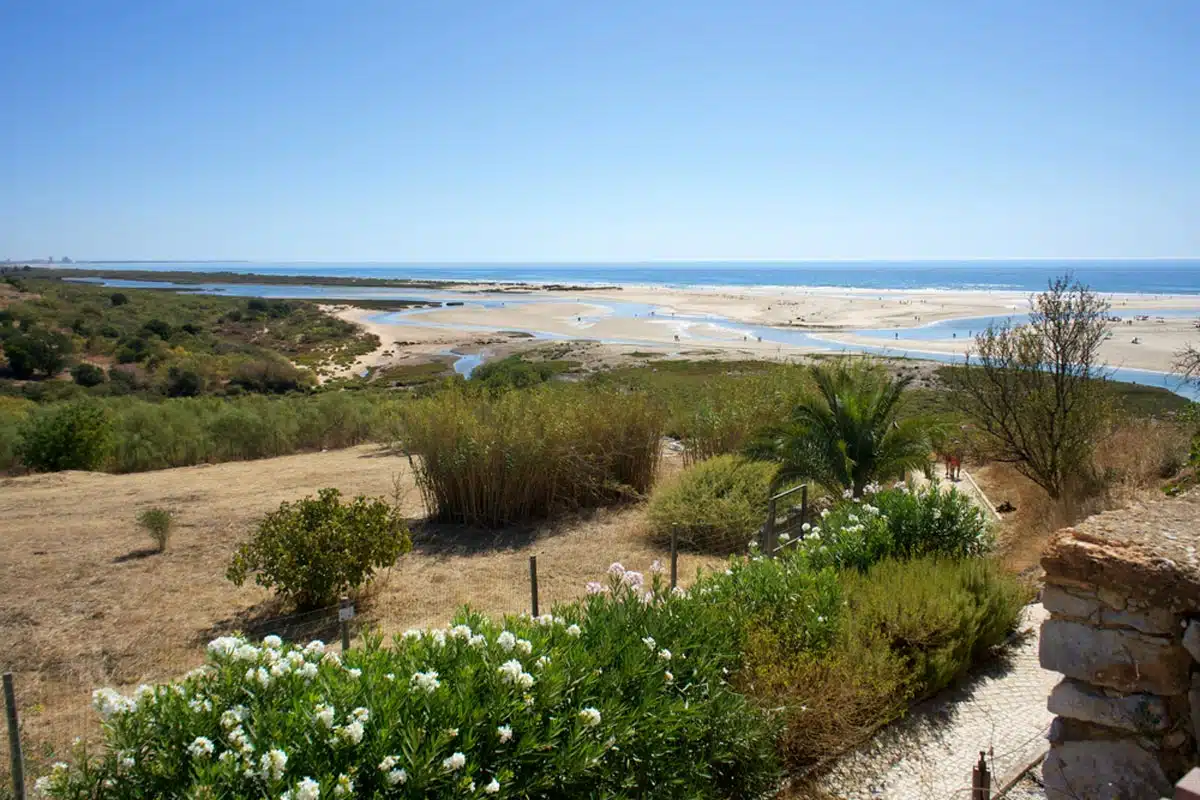 Just down the coast from the city centre, you'll find a spectacular array of beaches near Tavira. The best of these is Cacela Velha Beach. It's an amazing place to enjoy surf and sun in the Algarve and an ideal beach destination for history buffs.
While Portugal has incredible destinations, ancient ruins and fascinating architecture, finding a historical landmark near the beach makes it even more interesting. Head over from the village of Cacela Velha but not before exploring the town and its storied fortress, 16th-century church, and unrivalled ocean views below.
Once you make your way to the shores of Cacela Velha Beach, you'll enjoy a peaceful, relaxed vibe that can easily help you forget any troubles (or what time it is). Grab your favourite beach blanket, book and picnic lunch, and head to this remote beach by boat for some R&R.
Praia do Lacém Mar
I'll make a bold statement: Praia do Lacém Mar is one of the best Tavira beaches if your primary goal is to just chill out to the max.
Fair warning: You won't find many amenities here, it's not the easiest to get to and you'll need to hike in and out. That said, it's a true gem that's not on the radar of many holidaymakers, so you're likely to find more than enough space to lay out on the golden sands.
It's a perfect location for bird watching, finding a quiet place to reflect, or simply getting away from it all for a few hours.
Praia da Alagoa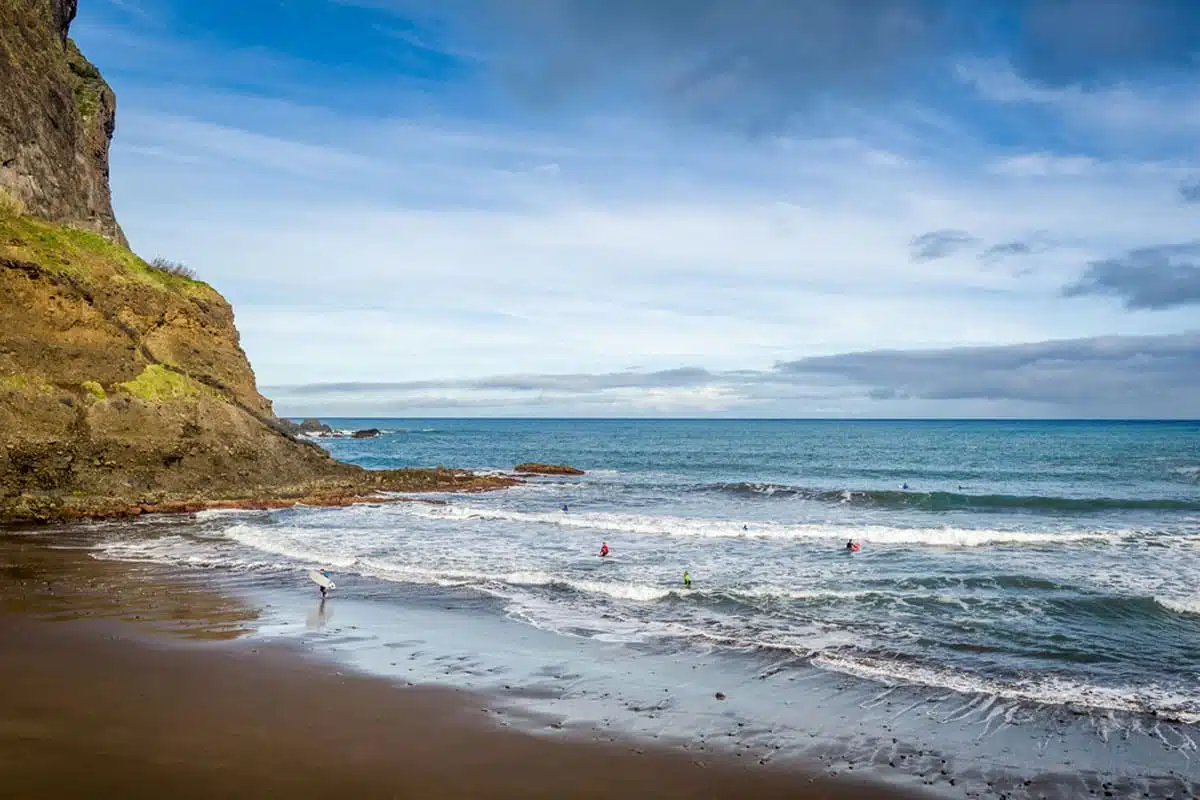 You'll likely want to hire a car if you're going up to Praia da Alagoa. Still, I'd recommend it as it's easily one of the best beaches near Tavira.
It's the perfect landing spot if you're on a Portugal holiday and want to experience the Algarve like a local.
Sandy dunes, salty air and endless blue waters make this a popular weekend hangout amongst locals, so you'll want to plan ahead, depending on when you plan to visit. But there's a reason the expansive beach fills up early; often, the white sands and open waters are perfect places to lay out in the sun.
It can be quite windy, depending on the time of year. But even on the less forgiving afternoons, it's a wonderful place to take in the beauty of the Atlantic Ocean around you.
Practical Tips for Exploring the Best Beaches in Tavira
Arriving in Tavira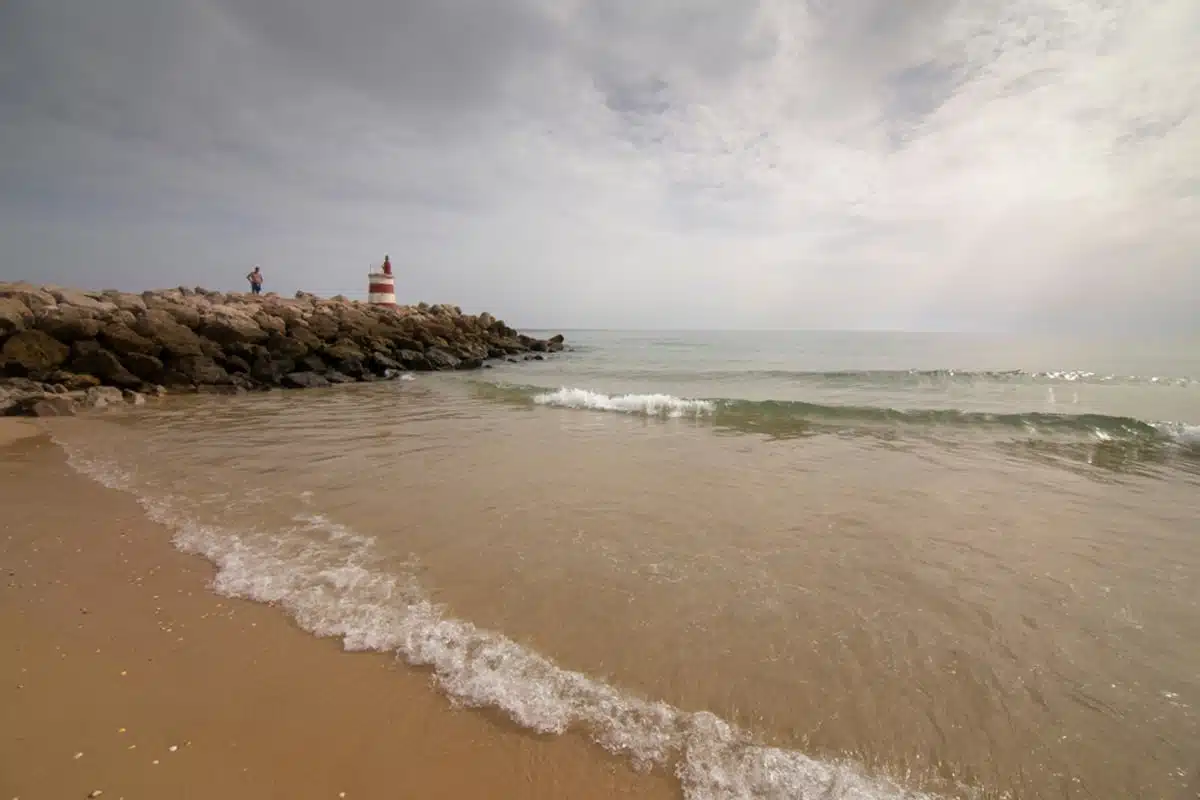 Before you head to the beach, you'll need to find your way into Tavira. Luckily, it's a short train ride from Faro, one of my other favourite locations in the Algarve.
There is an international airport nearby, Faro Airport (FAO), or you can drive from Lisbon in around three hours.
How to Get to the Tavira Beaches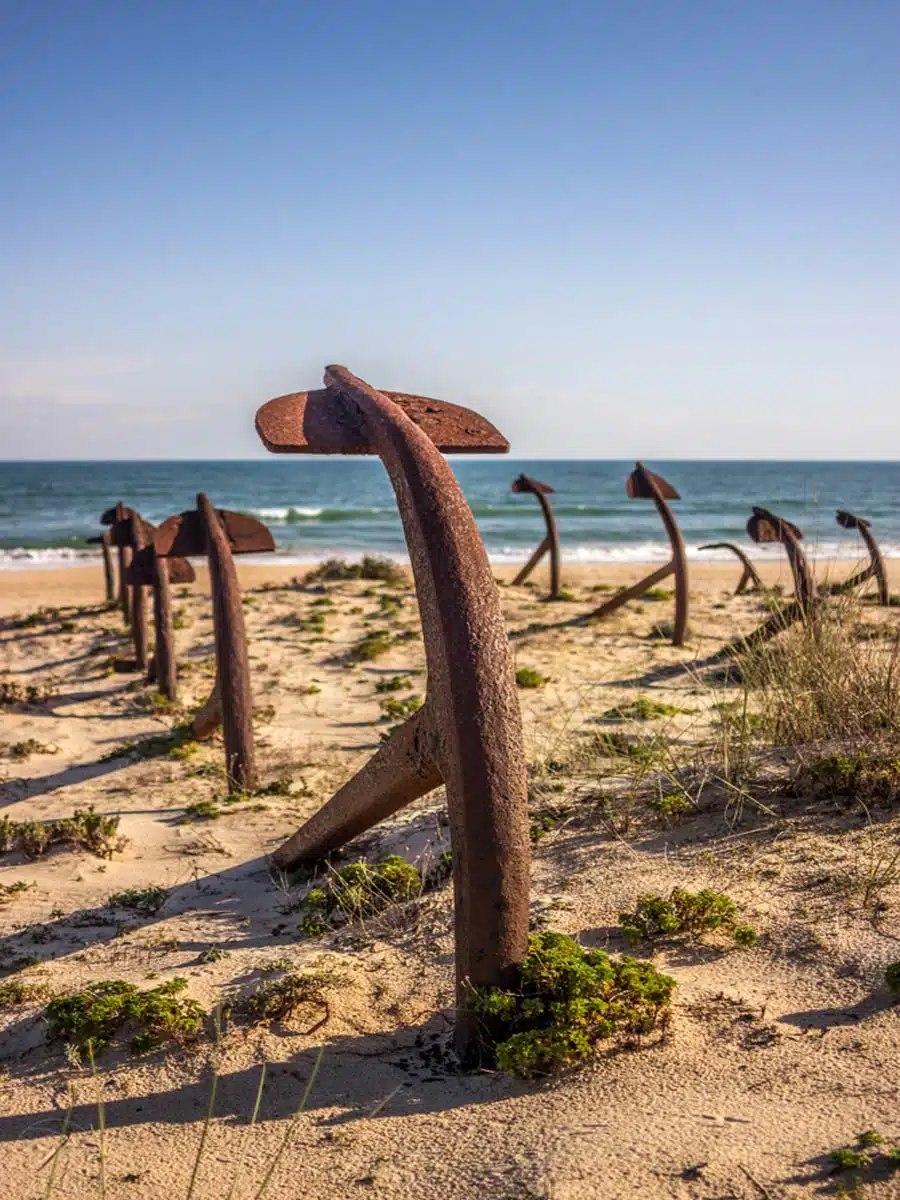 Hiring a car will bring you to many of the best beaches in Tavira. But many of them also require you to arrive by boat.
It's easy to find a ferry or water taxi to most of the popular Tavira beaches, and they'll often take you right where you need to go. I recommend using Solar Boats or catching the regular Tavira ferry.
When to Visit Tavira Beaches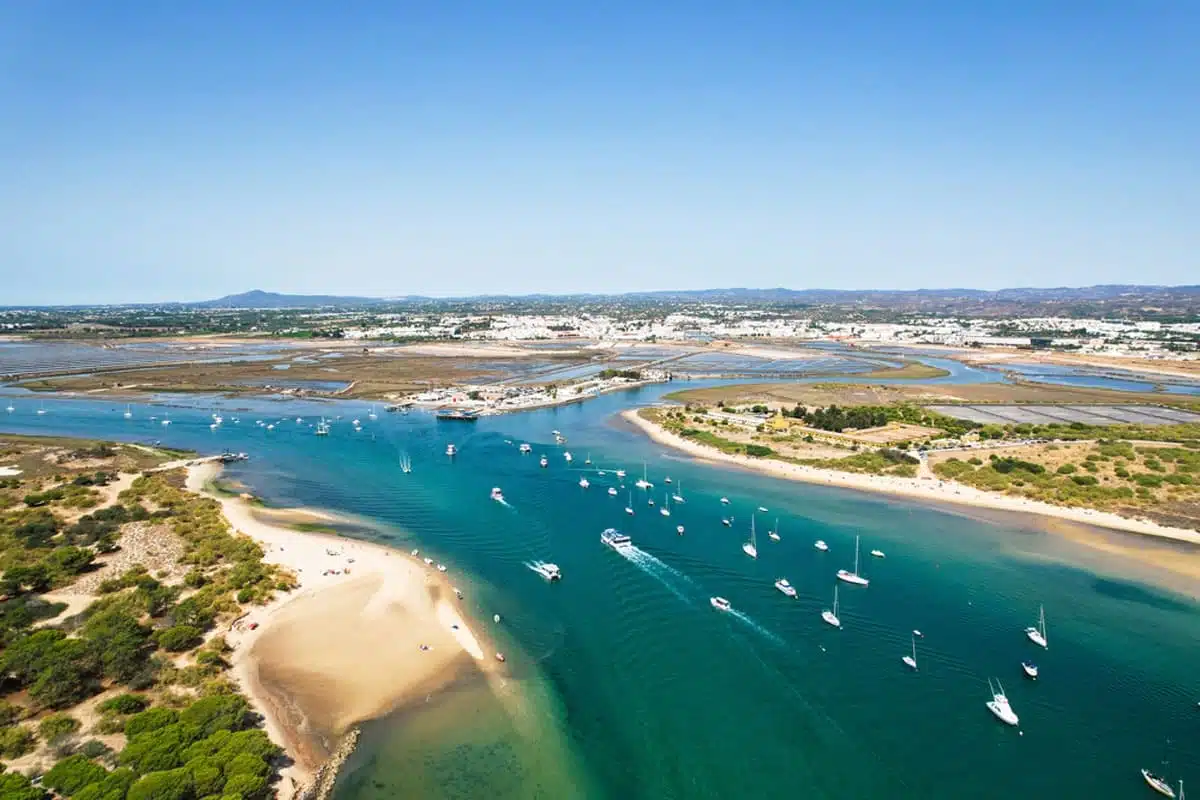 The best time to visit Tavira Beaches is in the summer. You'll have the best shot at warm weather, endless sunshine, and fully staffed lifeguard stations, restaurants, and equipment rental shops.
But Tavira is generally beautiful year-round (think winter sun), so no matter when you book your holiday in the Algarve, you'll want to make time to explore beaches in Tavira.
What to Bring to Tavira Beaches
Wondering what to bring with you to one of Tavira's incredible beaches? One of my favourite things about beaches in the Algarve is their proximity to great dining and drinking options.
Many of the beaches on this list are a short walk from excellent seafood, delicious cocktails and restrooms. That said, check ahead if you need to pack a lunch, and don't forget your sun cream, beach towel and shades.
Tavira Beaches: Map
The Best Tavira Beaches: Read Next
Love this? Save and Share on Pinterest!