Discover the best beaches in Portugal with this handy guide. Add these beautiful sandy spots to your itinerary for an epic vacay.
Let me go out on a limb here and say that Portugal's beaches are up there with the best in Europe.
Why? I'll explain. Whether you're a huge surfer, lazy beach goer, or a beach hike fanatic, there's plenty of sand in Portugal for every kind of beach lover. 
Better yet, many of them are accessible from the capital, Lisbon, and other big cities around the country. And they're usually surrounded by chalky cliffs and rugged landscape. Swoon.
From small cove beaches in Algarve to stretches of soft golden sand with no one in sight, these are the spots in Portugal you need to visit.
Best Beaches in Portugal
Praia da Nazaré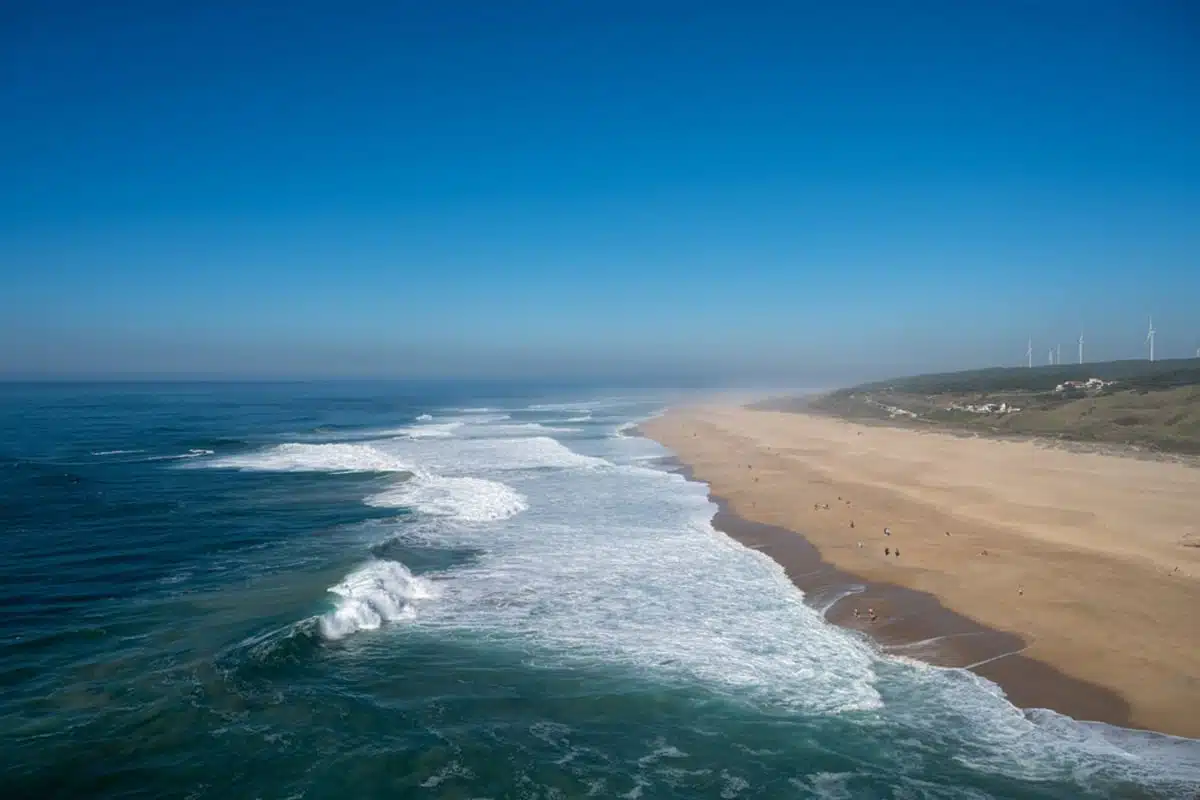 A classic fishing village that packs a punch, the undeniably beautiful Praia da Nazaré is one of the top beaches in Portugal.
And for good reason. For starters, it's the best surfing beach in Portugal, thanks to its large breaks and massive barrels. And you'll find plenty of pros here testing their mettle.
So whether you're a surfer or just enjoy watching the epic athletes in their element, Nazaré is the place to be.
The entire town also lines this unforgettable strip of Portuguese coastline, so the quaint bars and restaurants are never far away. PS. Taberna d'Adelia is a winner that's smack-dab in the beach's centre.
And if you want some of the best views of the beach and town, head to Miradouro do Suberco near Santuario de Nossa Senhora da Nazaré.
Benagil Beach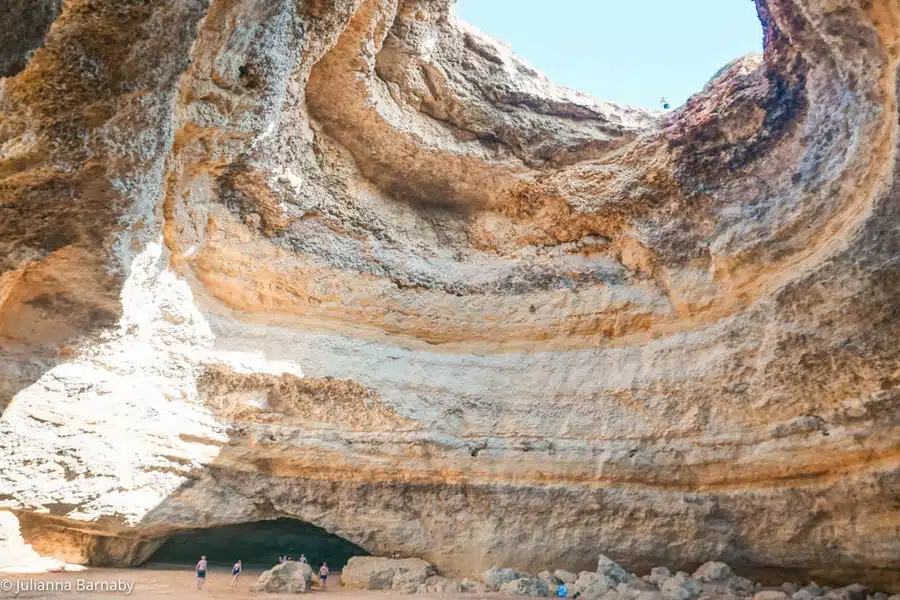 The Algarve and sea caves go hand in hand, so it would be silly to miss an opportunity to see one of the most beautiful beaches in Portugal.
Sure, it may sound like fiction, but trust me when I say the sandy beach hidden away within the walls of a sea cave is magical.
Take a 5-minute walk from Benagil's main beach, and you'll find the secret cave. But you'll only be able to gaze at the turquoise waters below from its big eye. So it's a no-brainer to join a Benagil sea cave tour to truly experience this mesmerising coastline.
You can always grab authentic Portuguese cuisine at Casa Lamy when you're not diving into turquoise water or enjoying a relaxing tan.
Ilha Deserta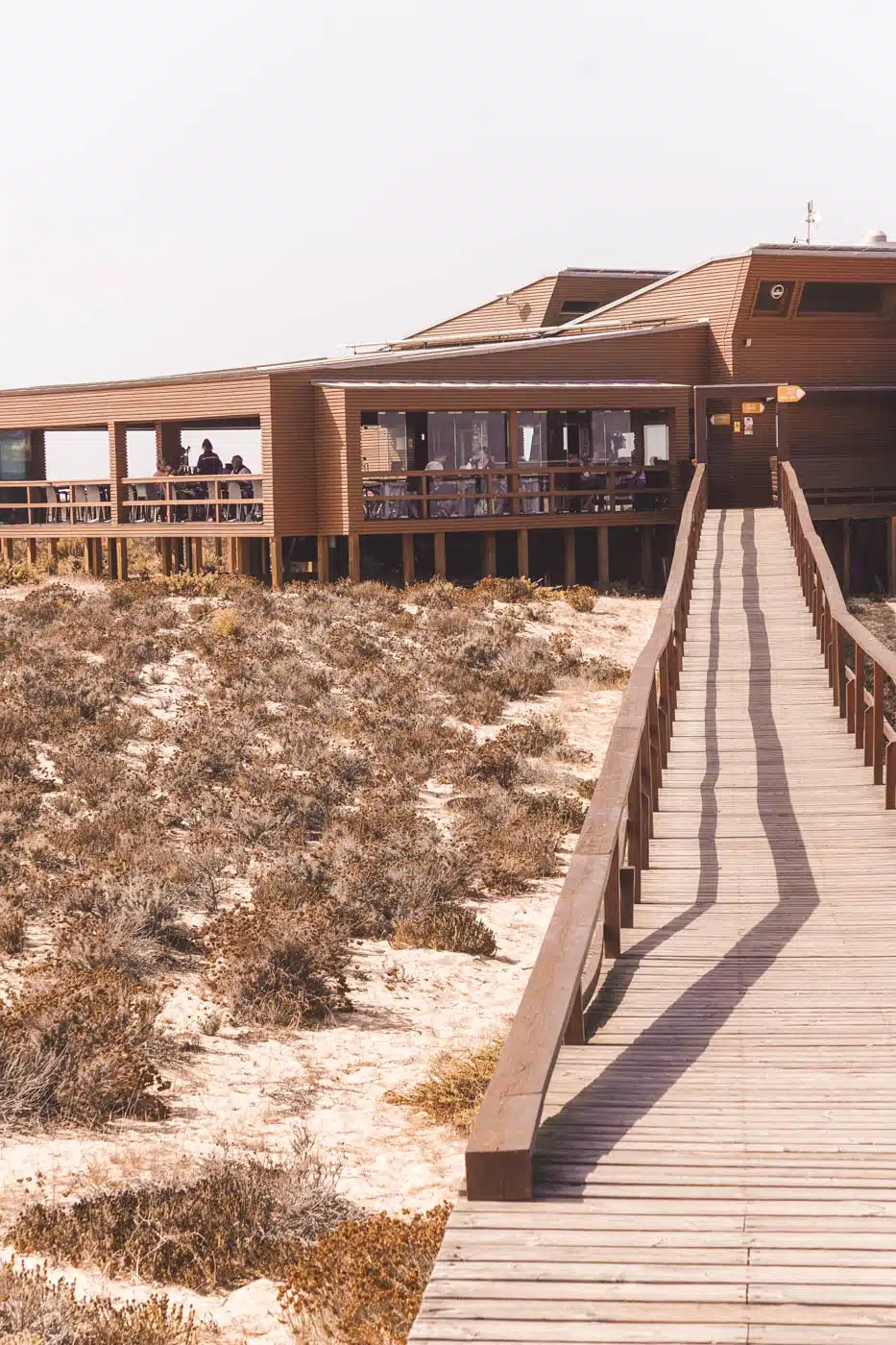 Heard of Barreta Island along Portugal's south coast? There's a high chance the answer is no, and it comes as no surprise as this is one of the many hidden gems of Portugal's best beaches.
It's a 40-minute ferry ride to this 4.3-mile-long island from Faro, but the journey is worth every moment you'll spend here. The boardwalk to the beach is a maze of wondrous scenery, while the sand is soft AF.
As this is such an exclusive beachfront, it's one of the best nudist beaches in Portugal. That's right. The occasional nakey bum adorns these sandy shores.
Keep in mind there are no restaurants on the island, so you'll need to pack a picnic before heading out.
Praia da Marinha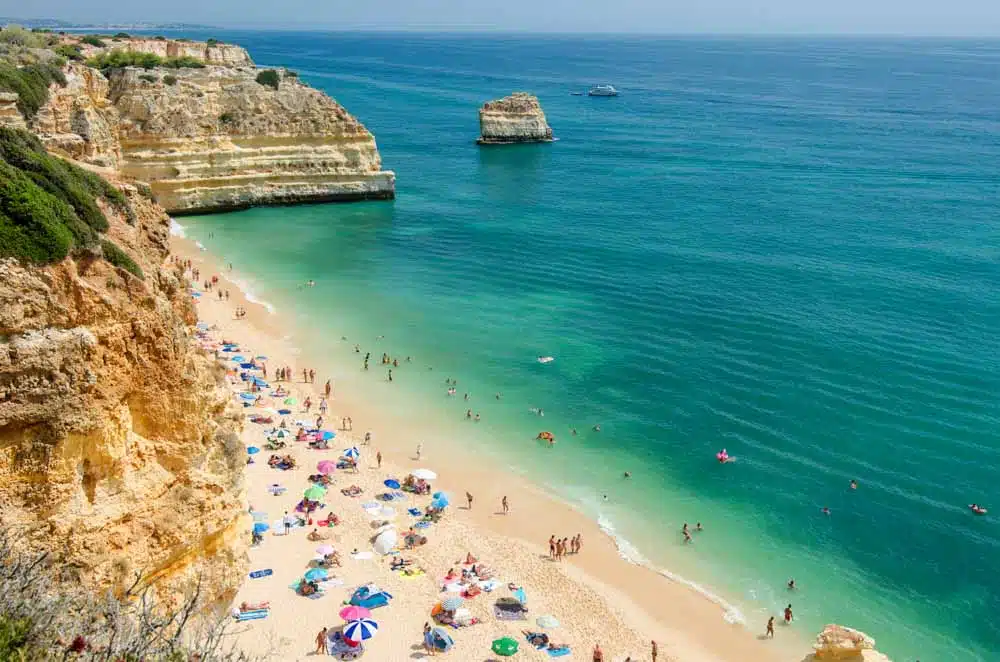 Sticking to the southern Portugal beaches, let me tell you about Praia da Marinha, only 12 minutes from Lagoa. Some say it's the best beach in Portugal. And I'm inclined to agree.
Dramatic cliffs encapsulate this beach, with fantastic reefs just off the sandy shore. You can imagine it's an excellent snorkelling spot, but that's not what makes it so popular.
You'll find the unique Rock M to the right of the beach. And, if you walk along the coast at low tide, unforgettable views will be waiting for you.
But the best way to see this iconic landmark and the picturesque beach is by enjoying the Percurso dos Sete Vales Suspensos cliff walk.
Top Tip: Be careful when walking towards the beach, as the stairs are steep and can be slippery when wet.
Praia da Albandeira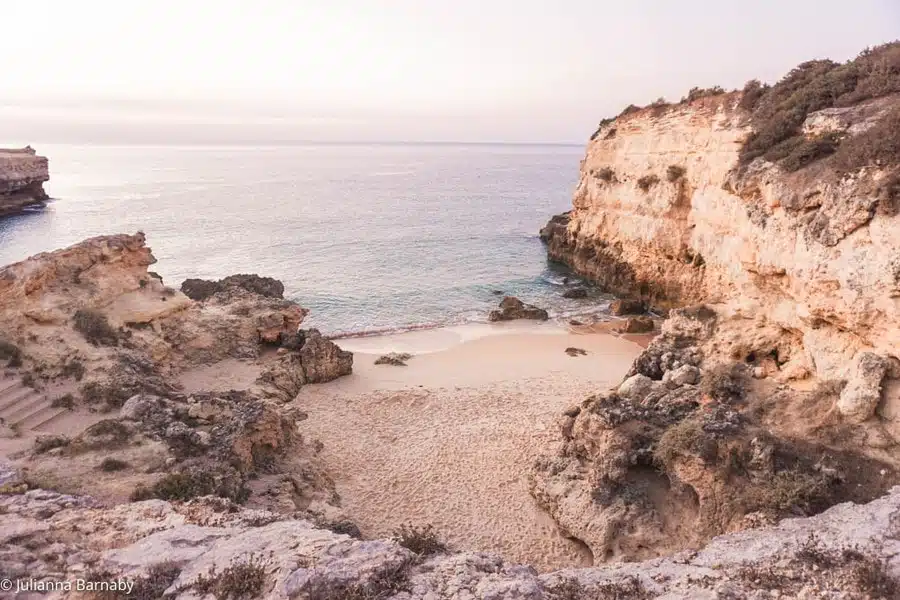 I don't know if you've noticed, but there's been quite a pattern with the best beaches of Portugal resting along the southern coastline. And that pattern continues, with Praia da Albandeira — 15 minutes from Lagoa – earning the next spot on this list.
Like Marinha, you'll find towering sea arches – looking at you, Arco de Albandeira – and cliff faces dot the nearby landscape.
And despite its small size of 262 feet long (79.8 metres), there's still plenty for you to do. Be it snorkelling or relaxing in the rock pools at high tide; you'll have an unforgettable time here.
Top Tip: It gets busy as it's popular among tourists and locals. But if you visit at low tide, there's a secret tunnel connecting Albandeira to the smaller Estaquinha beach. Thank me later.
Praia do Camilo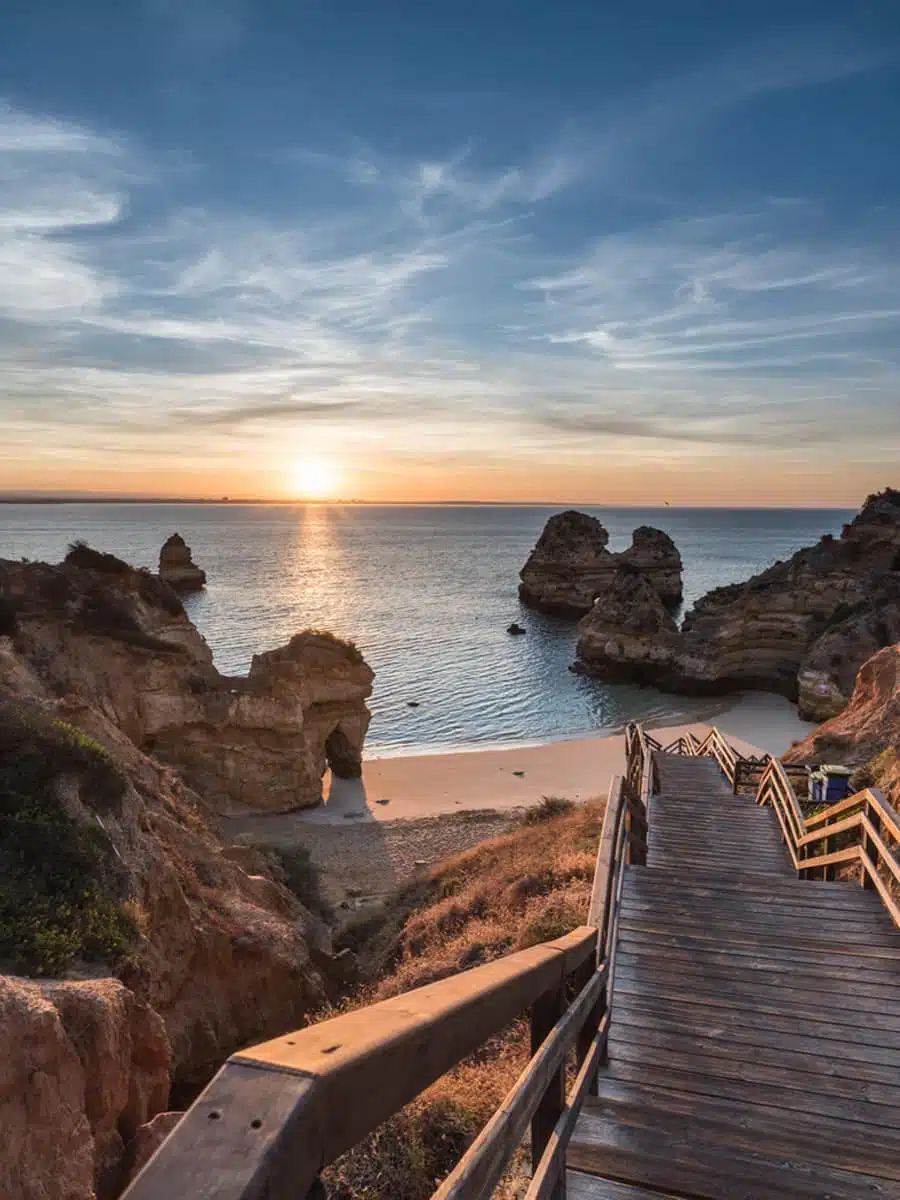 For golden sand near the scenic Ponte da Piedade, slip on a swimsuit, and head to Praia do Camilo in Lagos.
With inviting azure blue water and truncated cliffs on either side, the walk to the beach alone is stunning.
The 200-plus steps are easy to go down but prepare for burning thighs on your way back up. One might even call this boardwalk the "stairway to heaven" because the views at the end are out of this world.
It's a fantastic swimming beach with super calm waters, and if you don't like one side, just walk through the tunnel to the other shore. That's right; there are two gorgeous areas to rest your legs. It doesn't get much better than that.
Oh yes, and before I forget, Restaurant O Camilo atop the cliffs is the perfect place for sundowners.
Praia de Odeceixe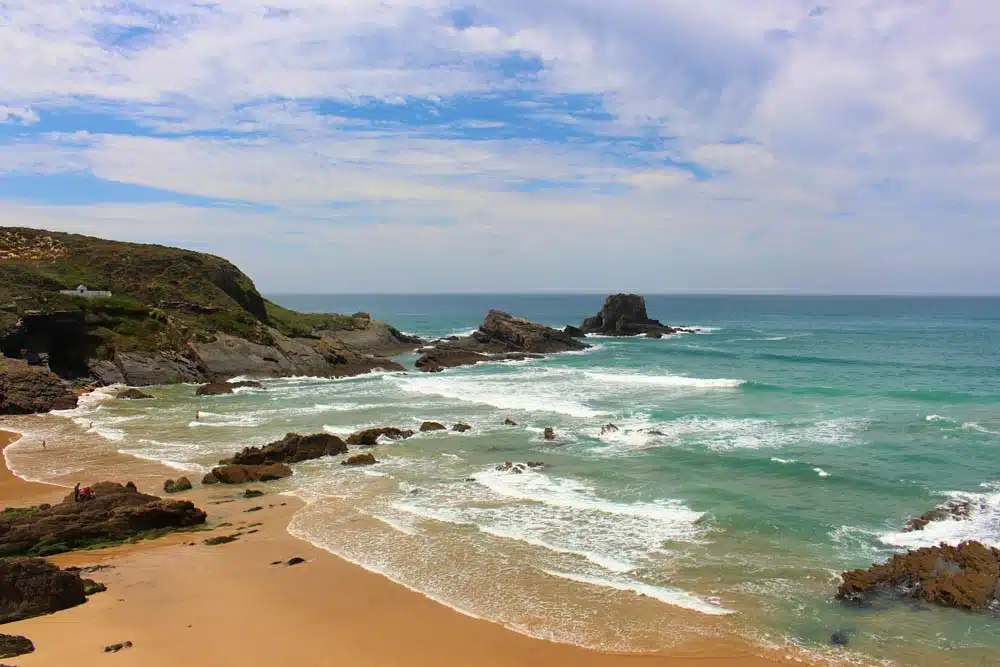 If it's a unique beach you're after, that's exactly what you'll get at Praia de Odeceixe. You'll find it at the mouth of Ribeira de Seixe in Parque Natural do Sudoeste Alentejano e Costa Vicentina.
Did somebody say unforgettable views and landmarks? This Portuguese beach has got it covered, from the meandering northern river to the amphitheatre-like cliffs to the south.
Better yet, the beach is relatively flat with soft white sand, and there are plenty of rock pools to discover at high tide.
You can also admire wildlife, such as otters or birds like cuckoos. Oh, and just because it's in a natural park doesn't mean you're short of tummy-lining spots like Casa de Hóspedes. What's not to love?
Praia do Porto do Seixal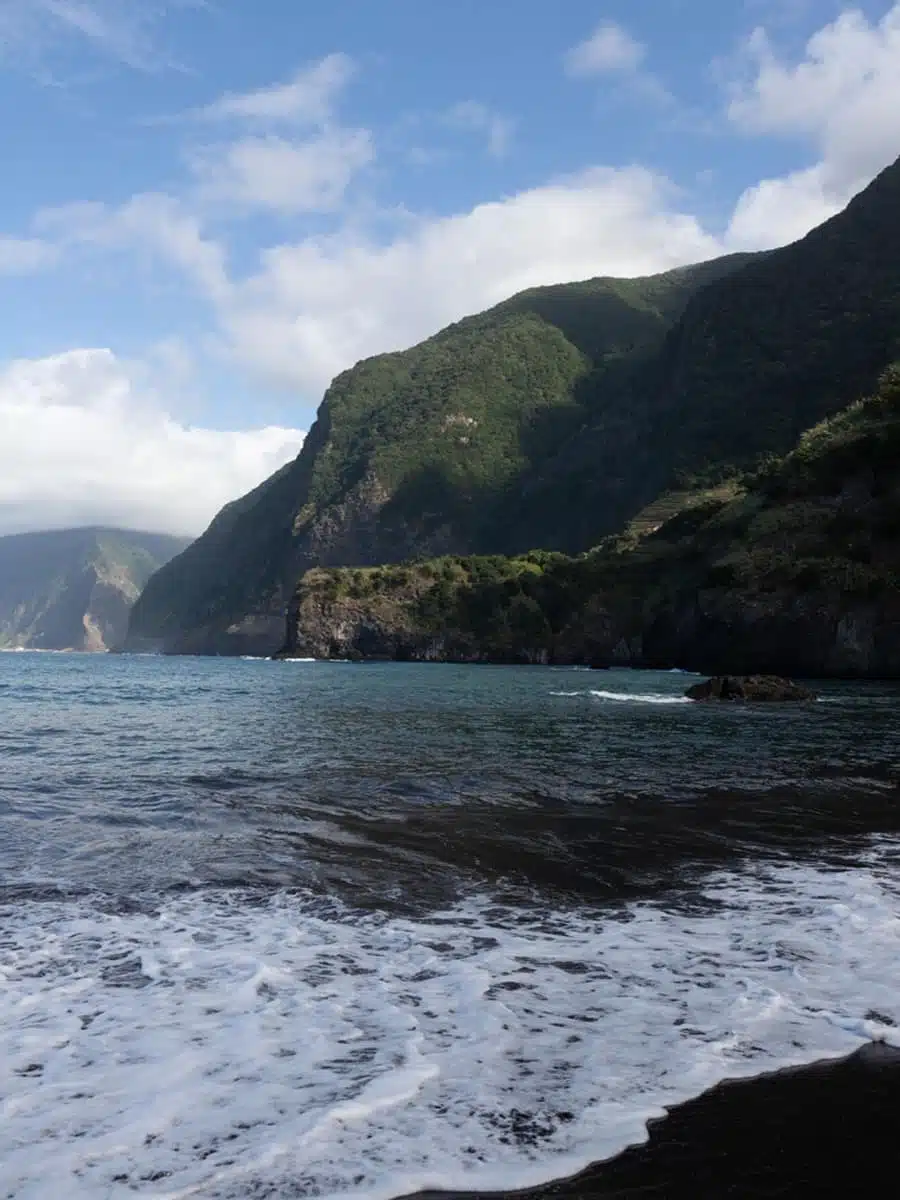 You didn't think I'd forget about Madeira, did you? Although it's an hour and 40-minute flight from Lisbon, visiting Praia do Porto do Seixal on Madeira island is a must.
It may not be as famous as Funchal Beach, but it has a few secrets you'll love.
You can enjoy the refreshing feeling of an ocean waterfall on the beach's right-hand side or float in the giant rock pools of Porto Moniz to the left. It's also an Instagrammers paradise, with rolling green cliffs and golden sand as the backdrop.
While it's not one of the biggest beaches on the island, it is one of the prettiest and definitely worth the 40-minute drive from Funchal.
Porto Santo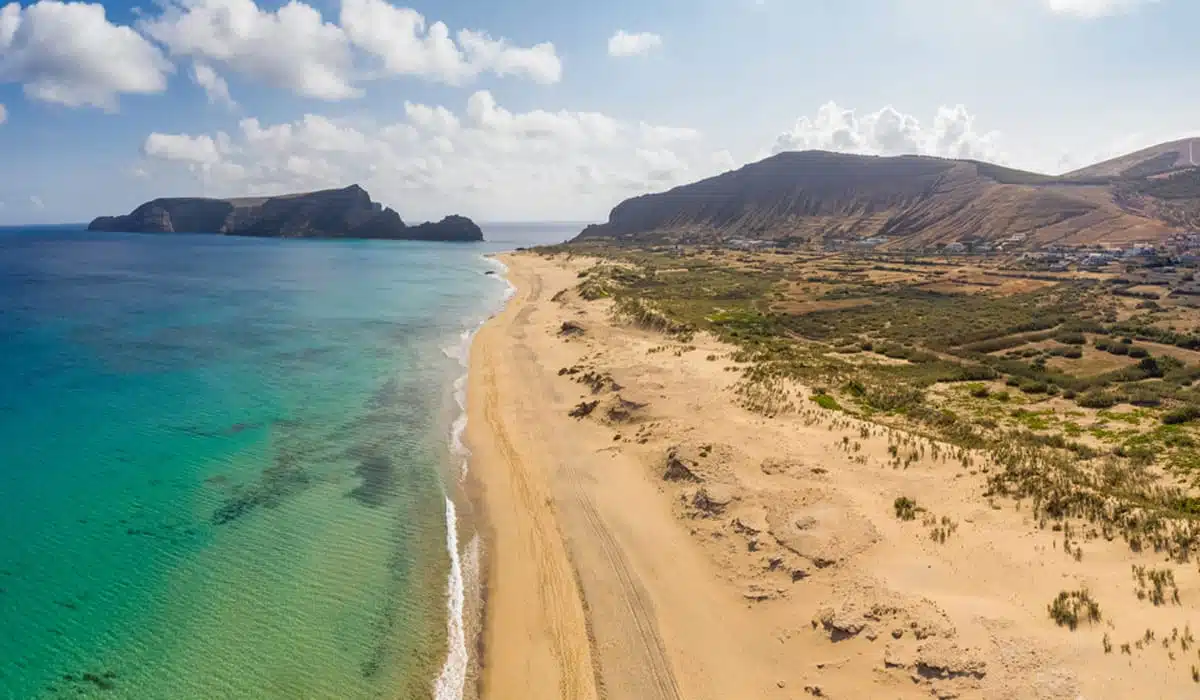 Okay, Porto Santo technically isn't on Madeira Island, but you'll understand why it's here when you see it. The island of Porto Santo is a 40-mile ferry ride northeast of Madeira, then say hello to a coastal oasis.
For over 3.2 miles, soft sand stretches as far as the eye can see while crystal-clear water awaits your presence. It's home to some of the best places to stay in Portugal, like Pestana Porto Santo Beach Resort.
Balancing luxury and a picturesque setting, there's not much more you can ask for in life.
Top Tip: Climb to Miradouro da Portela for unforgettable views of the island and Porto Santo Beach.
Praia do Senhor da Pedra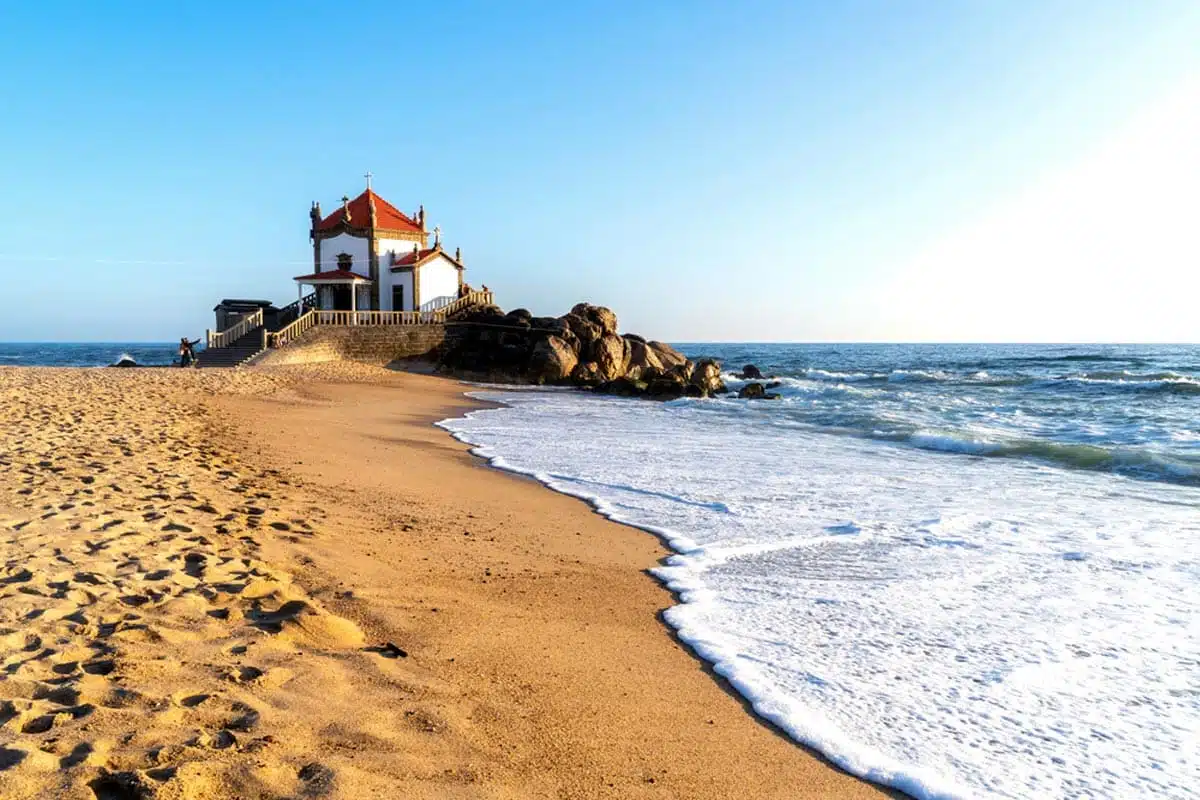 There are plenty of fantastic beaches in and around Porto. But one of the best has to be Praia do Senhor da Pedra, only 20 minutes from the bustling city centre.
It doesn't get more unique than this, with soft white sand surrounding the Capela do Senhor da Pedra. Built-in 1686, the hexagonal chapel sits atop a rocky outcrop that dominates the beachfront.
Aside from admiring the unusual architecture, you can sunbathe, swim, and enjoy ethereal boardwalks throughout Miramar. I'd return here in a heartbeat, even if it's just for the traditional Portuguese seafood and glorious views at spots like Areal Praia.
Praia de Carcavelos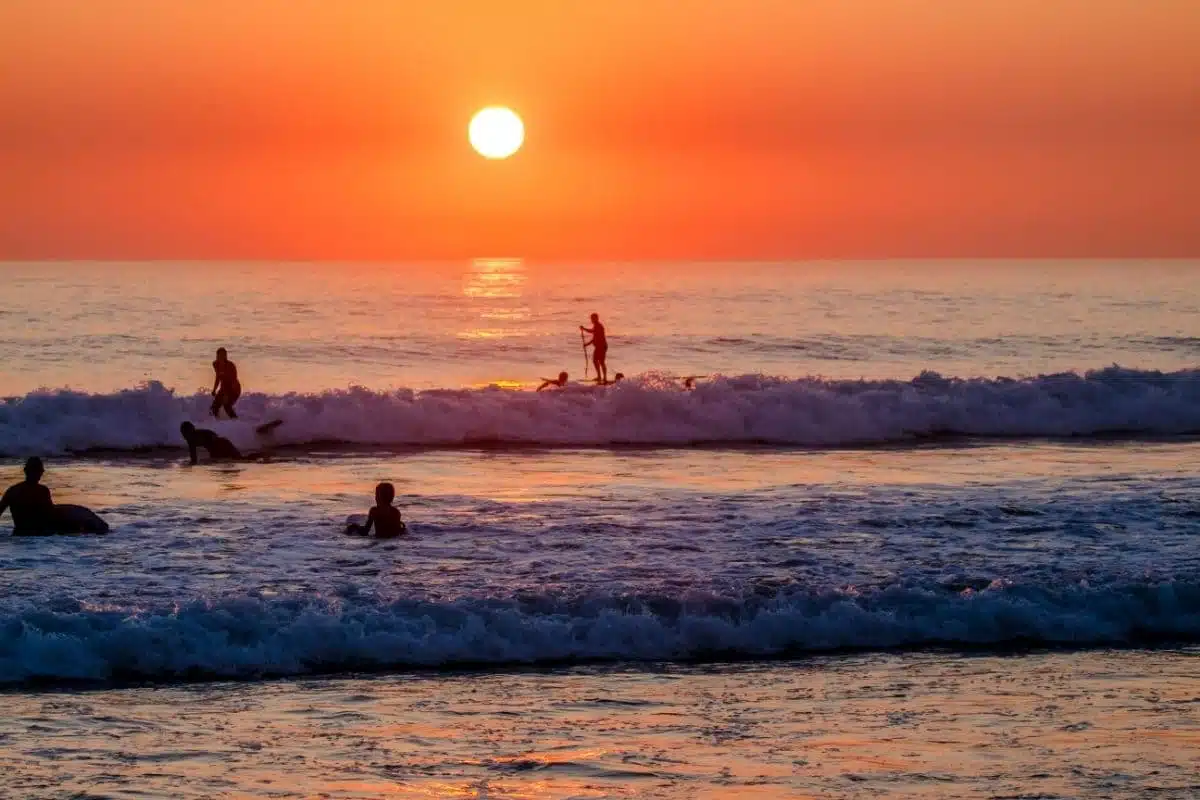 Looking for something a little bit closer to Lisbon? Say no more because Praia de Carcavelos is an absolute stunner.
It's the perfect mile-long stretch of soft sand with some of the trendiest rooftop bars and restaurants in Lisbon lining the beach.
It also has the mighty Forte de São Julião da Barra on the left-hand side of the beach. Although this fort isn't as famous as Belem Tower, it's still a fantastic place to learn about Portuguese history.
It's also a great spot to see the entire beach, with its colourful umbrellas and crowds of people dipping their toes into the warm water.
Top Tip: Want to grab a board and hit the waves? Visit Sal Surfing School for lessons or to simply rent a board.
Practical Tips for Exploring the Best Portugal Beaches
Although there are loads of beaches around the country's western half, most of Portugal's famous beaches are in the southern regions of the Algarve.
One of the best Portugal travel tips I can give is renting a car. Although it's not a massive country, many of the best beaches are in remote regions. So you'll want to be able to get to them quickly and easily.
To avoid the crowds but still enjoy fantastic weather, visiting Portugal in autumn/fall from September to October is your best bet.
Portugal Beaches: Map
Read More Portugal Beach Guides