Discover the best things to do in Lisbon with this city break guide.
Planning a trip to Lisbon and not sure what to do?
This Lisbon city break guide is packed with must-try restaurants, sightseeing spots and more. The coolest things to do in Lisbon for your trip.
Lisbon has burst onto the international consciousness with a bang.
Where once the city was the preserve of locals who cherished a fierce pride in their city and a trickle of tourists attracted by its laid-back vibe, recent years have seen an influx of international visitors to the city.
You can see why – an attractive combination of elaborate architecture, sun-drenched days, the distinctive sound of fado on the air – not to mention the food.
In other words, Lisbon is the perfect destination for a city break.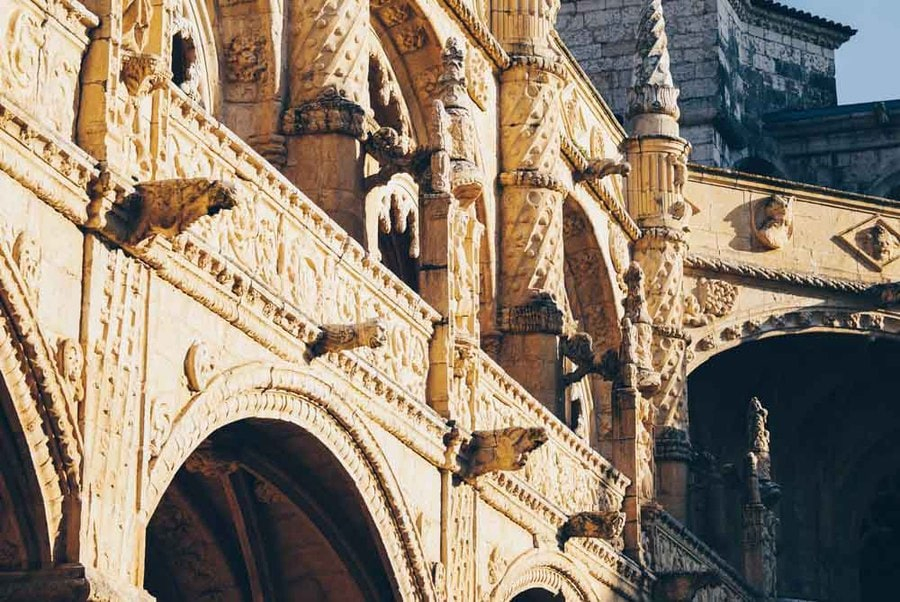 Portugal is such a travel hotspot – travelling to Lisbon should be at the top of your Portugal travel itinerary.
I've visited Lisbon several times over recent years, each trip opening my eyes just that little bit more to what a fantastic city it is.
As with any city, there are so many options that it can be difficult to know what to do in Lisbon if you're only visiting for a short period of time.
That's why I've written this handy guide to the best things to do in Lisbon – everything you need to know to plan your trip.
Unmissable Things to do in Lisbon: Top 10
Take a Brilliant Food Tour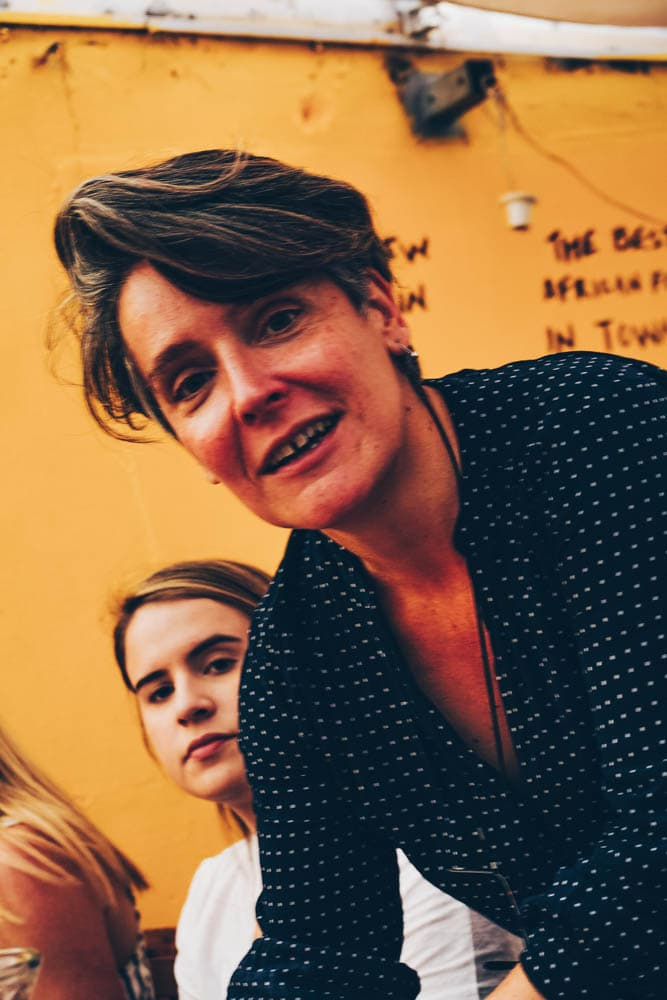 If eating your way around Lisbon in the company of a vivacious local who'll show you all of the best food spots and tastiest dishes sounds like it's up your street, it's time for you to sit up and pay attention.
I've taken more than my share of food tours over the years and the lively tour from Oh My Cod Tours is up there with the best. I booked it on a whim one morning and I'm so glad I did.
Founder Silvia Olivença takes you on a whirlwind of discovery, helping you to discover a different side of the city's culinary scene.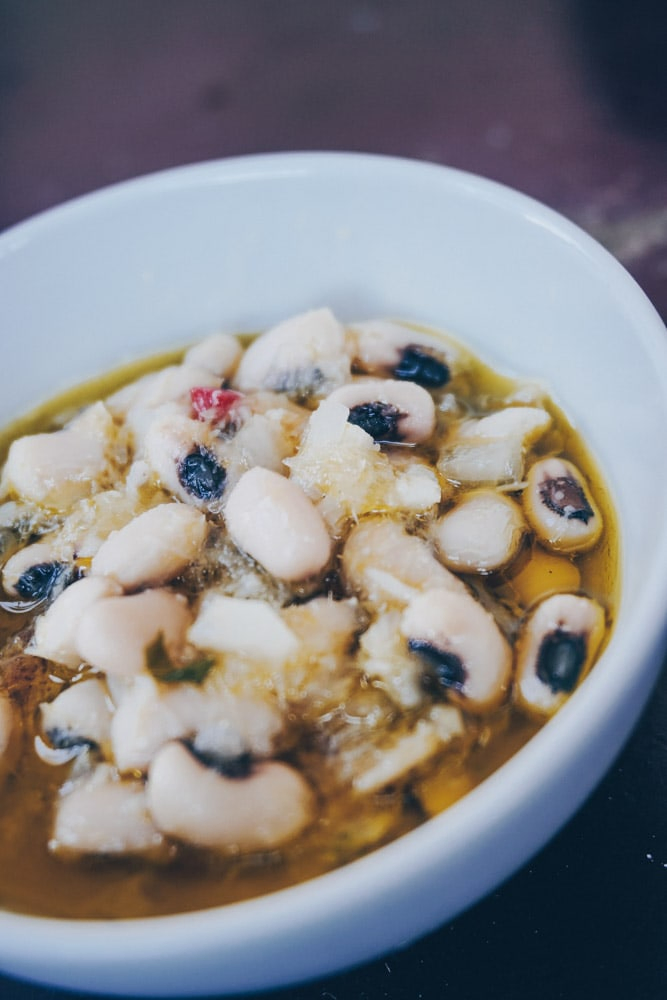 I'm not going to spoil the adventure by giving too much away but if I have two pieces of advice for you it's 1) I cannot recommend this tour enough and 2) Go HUNGRY. That's all.
Wander Around LX Factory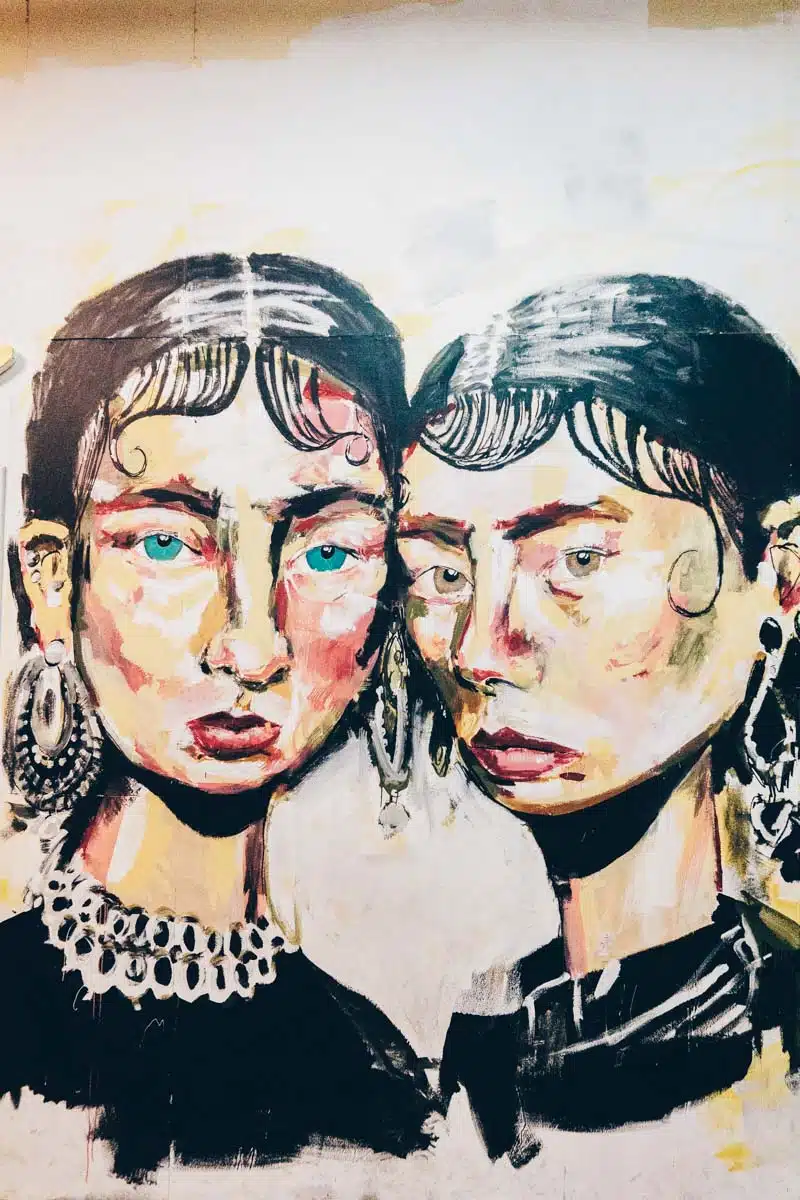 LX Factory is one of Lisbon's coolest destinations and one of my favourite places to go in Lisbon – with street art galore, a host of restaurants, bars and shops.
What was an old disused cloth and textile factory has been transformed into a buzzing combination of young businesses in an eye-catching setting.
Check out the events schedule – LX Factory often hosts some of the city's hottest gigs.
Visit in the daytime for shopping and a spot of lunch, then have sundowners on the terrace at the bizarrely opulent Rio Maravilha. Finish up with a gig to round off the night.
Alternatively, pop in on a Sunday to browse the antiques and bric-a-brac market. Who knows, you might even find something to bring home.
Read my full guide to LX Factory here.
Explore the Mouraria Quarter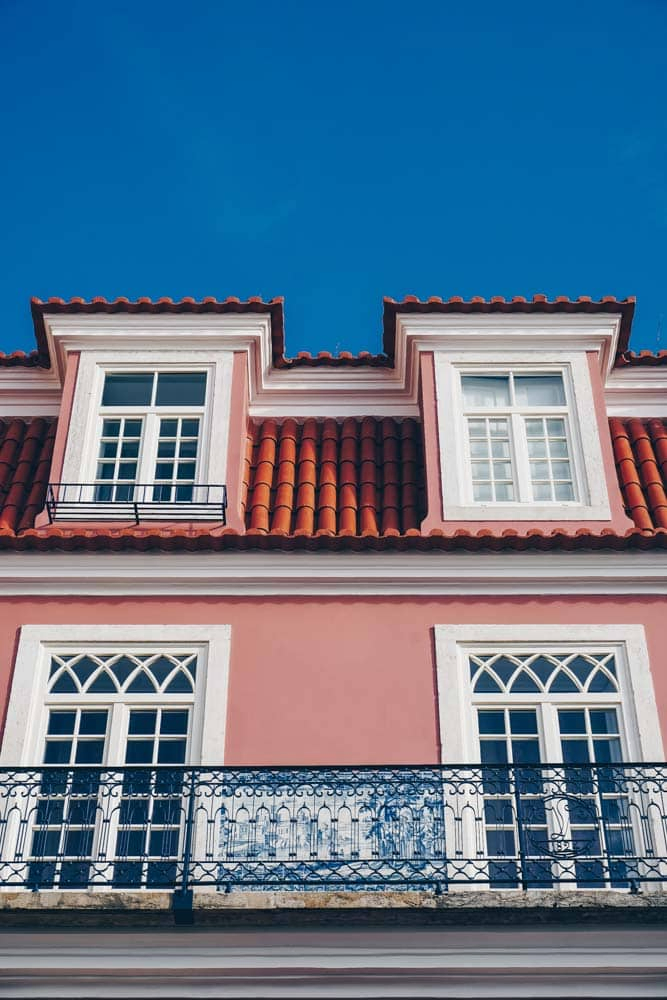 The eclectic and international neighbourhood Mouraria (Moorish Quarter) doesn't find its way onto many visitors itineraries – a shame as the winding streets and colourful buildings show a different side of the city.
Mouraria is best-known as the birthplace of fado – the soulfully tragic music style emblematic of Lisbon.
There's a proliferation of fado houses in the city, but Mouraira is home to one of the best, Maria da Mouraria, located in the former home of Maria Severa Onofriana, a pioneer of fado music.
Check Out Lisbon's Thriving Street Art Scene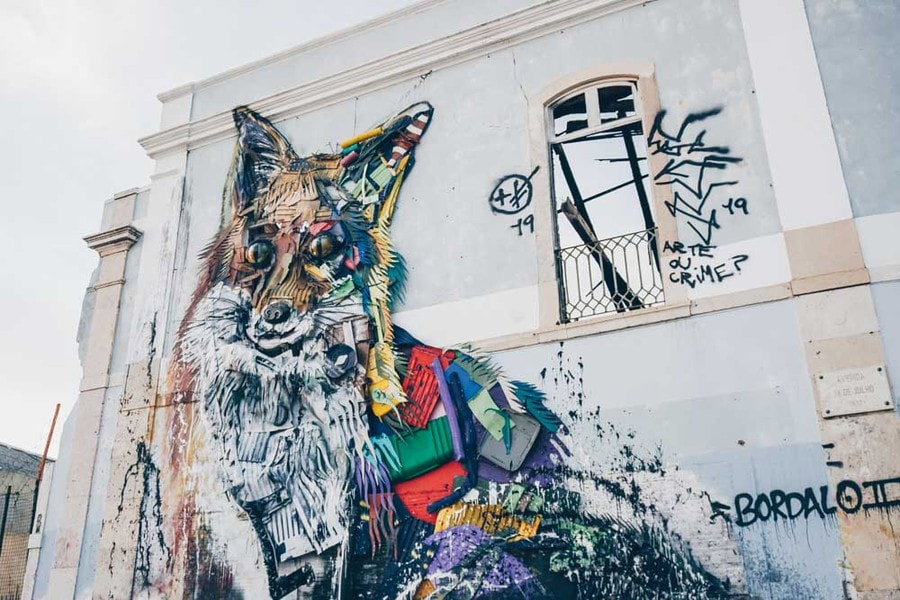 The street art scene in Lisbon is very much alive and kicking. It seems like there's an awesome (and very Instagram-worthy) piece of street art around every corner.
Hunting them out was one of my favourite things to do in Lisbon.
I've already mentioned Andre Saraiva's huge mural in São Vicente de Fora but you can also find cool street art dotted around the city.
Alfama, LX Factory and the Ascensor da Glória, or Gloria Funicular tram, from São Pedro de Alcântara to the downtown Restauradores Square are the best places to check out while you are in town.
Book a Street Art tour of the City
Visit the Jeronimos Monastery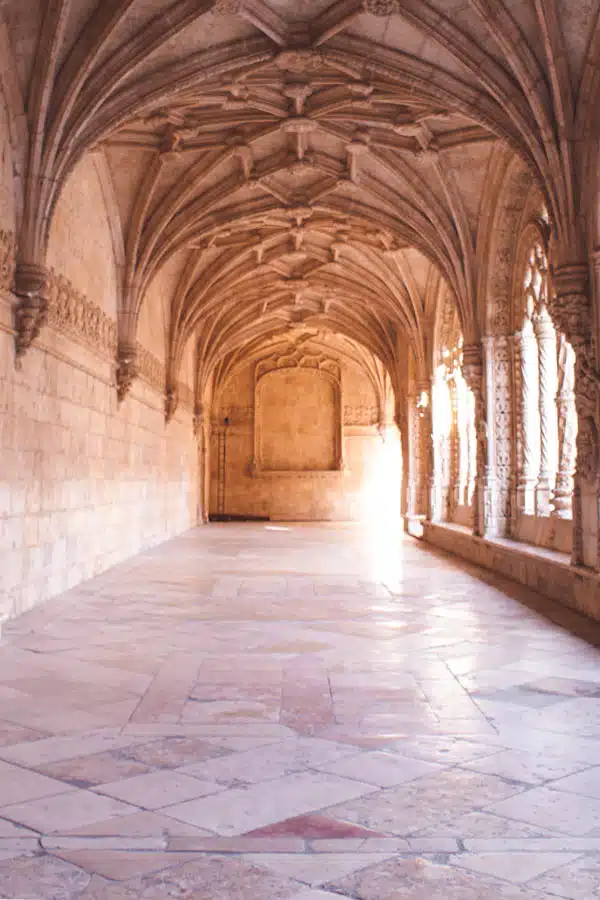 The Jeronimos Monastery lives in picture-perfect Belem and is one of the things to do in Lisbon that you shouldn't miss during your trip to the city.
Set back from the River Tagus, this monastery is a breathtaking piece of architecture and one of the few historical buildings to survive Lisbon's devastating earthquake in 1755.
The monastery was built in the 16th century during the heyday of Portugal's nautical exploration.
No expense was spared on its construction – a fact that's apparent when you look at the elaborate architecture and sheer scale of the monastery.
Wander around the ornate cloisters or the vast chapel and take in one of the city's most magnificent buildings.
Book Fast Track Entry Tickets for the Monasterio de San Jeronimos

Read my full guide to visiting the Jeronimos Monastery, Lisbon
Chow Down on Pastéis da Nata at Mantegueira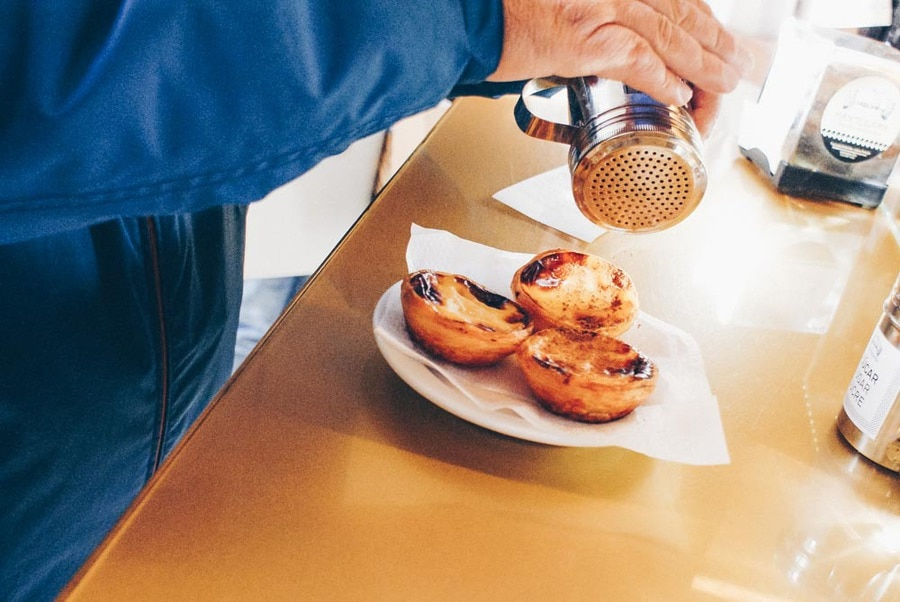 It might be sacrilege to say it but, having eaten more than my fair share of the wibbly, wobbly rich goodness that is Pastéis da Nata, I can honestly say that my favourites are those from Mantegueira.
Pop into the original shop Chiado or their outpost in the Time Out Market in Cais do Sodre.
Head to Praça do Commercio
Praça do Commercio is undoubtedly one of Lisbon's iconic spots.
The grand facades of the buildings and symmetrical architecture are a symbol of Lisbon rising from the devastation of the earthquake and tsunami that razed the city to the ground in 1755.
Not only is the square one of the top places to see in Lisbon, you can also grab some of the best views of the city at the top of the Arco Triunfal da Rua Augusta – the square's elaborate centrepiece.
Take a Sidecar Tour of Lisbon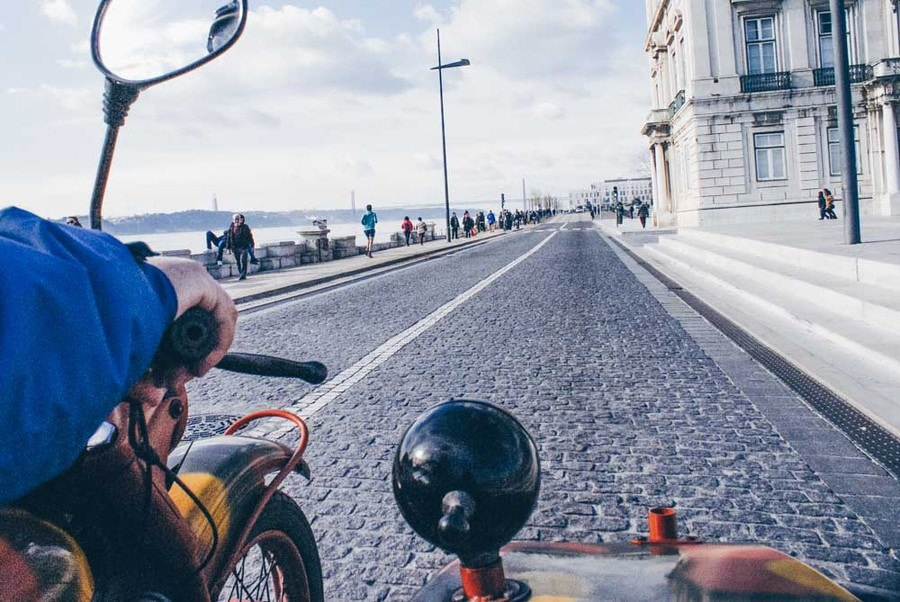 If you only take one tour of Lisbon while you are in town, make it the sidecar tour of Lisbon.
Jump into the sidecar (or ride pillion if that suits) on a post-war motorbike and embark on a whirlwind tour of the city.
The tours are completely personalised – simply tell the guide what you want to see or what you are interested in and they'll whizz you around Lisbon while explaining the city's fascinating history, culture and architecture.
Our guide Pedro was the epitome of Lisbon cool – a lifetime resident with a wealth of stories to match.
Marvel at the Monument to the Discoveries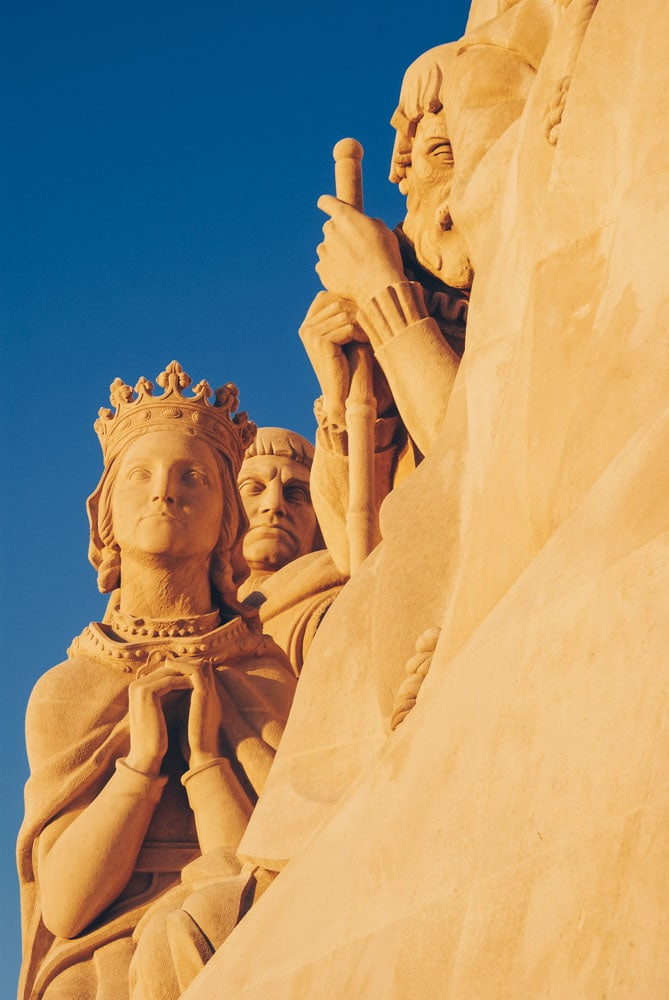 The Monument to the Discoveries is also located in Belem, near to the Jeronimos Monastery and the Belem Tower.
Sitting on the banks of the Tagus River, it's a striking reminder of Portugal's pivotal role in the Age of Discovery. It was erected in 1960 to serve as a homage to Portugal's past.
The Monument to the Discoveries features a number of important figures carved into its sides, including Vasco de Gama, Felipa of Lancaster and Camoes.
Marvel at the outside of the monument before exploring the interior – don't forget to head to the top for the amazing views out over Lisbon.
Av. Brasília, 1400-038 Lisboa, Portugal
Check out my full guide to the Padrão des Descobrimentos here.
Cool Things to do in Lisbon
Eat Your Way Around the Time Out Market Lisbon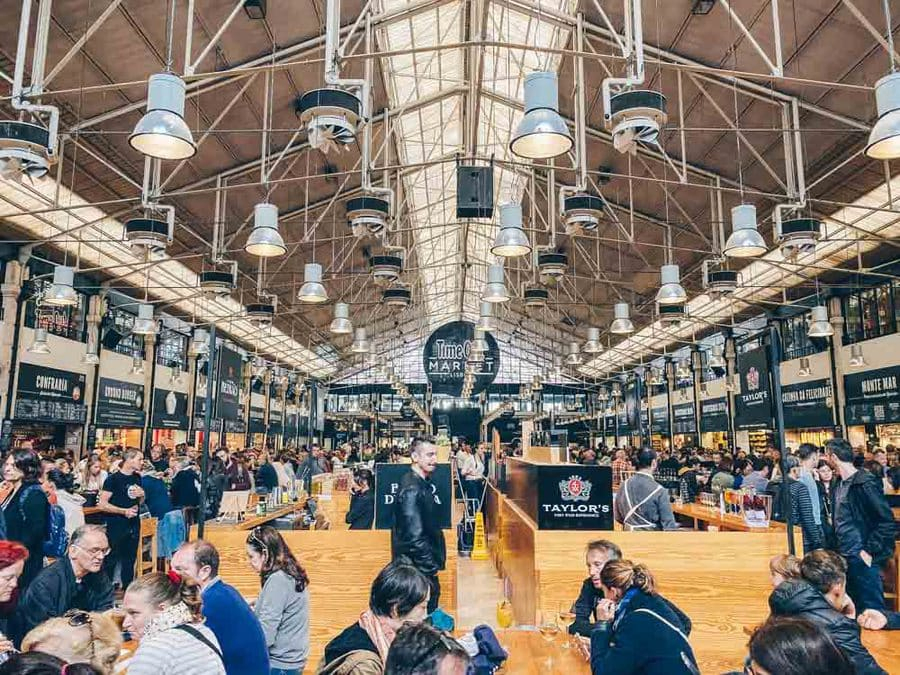 Lisbon's thriving food scene really comes to life at the Time Out Market in Cais do Sodré – one of the coolest places in Lisbon.
Run by the world-famous magazine, the market brings together a variety of Lisbon's most talented chefs under one roof.
Diners can choose from any one of the restaurants and bars. Grab a glass of wine or a cerveja (beer) to accompany your meal and feast at one of the communal tables.
The Time Out Market is the perfect destination for a Saturday or Sunday lunch when you can really appreciate the vast space and the mix of locals and tourists enjoying a leisurely meal.
This is what days in Lisbon are really about. Don't miss Balcāo de Esquina, or Henrique Sá Pessoa while you're there.
Visit Castelo de São Jorge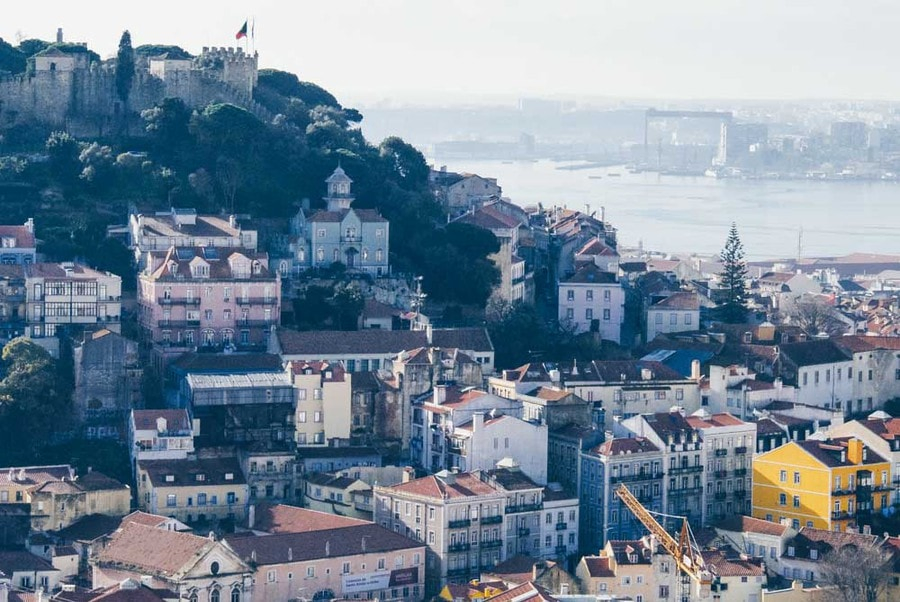 The Castelo de Sao Jorge is one of the best places to visit in Lisbon for a glimpse at the Lisbon of days gone by.
You might not expect to find a medieval Moorish fortress in the heart of Lisbon, but then again, Lisbon is a city that's full of surprises.
The hilltop fortress is a reminder of the fact that Lisbon, like much of Portugal, was under Moorish rule – the fortress served as a lookout and a base for defending the city.
The Castelo de Sao Jorge has seen the city change drastically since it was built in the 11th century, but still sits serenely, boasting fabulous views of Lisbon today.
Admire Art at Museu Calouste Gulbenkian
Love art? The Museu Calouste Gulbenkian should go straight to the top of your list of best things to do in Lisbon – particularly if you're visiting Lisbon during the winter months.
Every European capital has its standout museum – Lisbon's is the Gulbenkian.
The vast collection, which started from the private collection of Calouste Sarkis Gulbenkian – an art collector who passed away in 1955, spans both Western and Eastern art.
Lovers of the Dutch Masters shouldn't miss pieces by Rembrandt and Rubens, while fans of impressionist pieces should make a beeline for Manet's Boy Blowing Bubbles as well as works by Monet, Cassat and Latour.
Step Inside the Church of San Domingo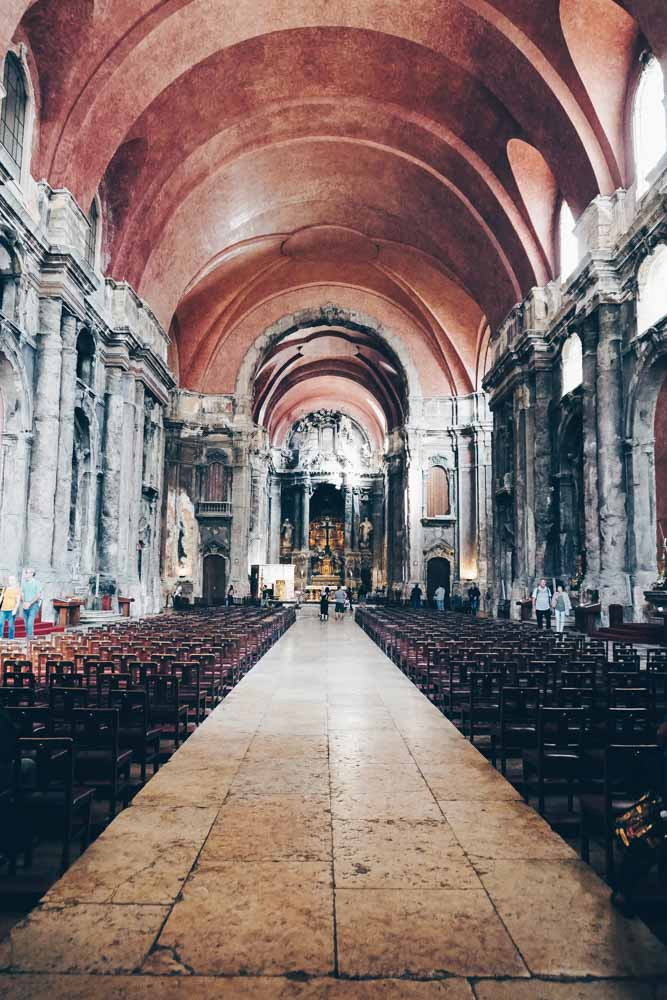 Churches come ten a penny in Lisbon – but the Church of San Domingo isn't just any church.
The church tells a tale of historical events, tragedy and folklore bound together in an unforgettable interior.
The tale starts with a violent massacre of Lisbon's Jewish population on the steps of the church in the 15th century.
It then continues to the 1755 earthquake, when the ensuing tsunami stopped mere metres away from the church and continues to the 1960s when a huge fire gutted the interior of the church.
Locals believed that the fire was a punishment for the massacre of the Jews centuries before and left the interior of the church in its burnt-out state as a reminder of the tragedy.
Shop at Cortiço & Netos
Shop the vast (and beautiful) collection of azulejos on offer at Cortico & Netos.
They have a fantastic selection of original and hard-to-find tiles, many of which were purchased by the owner's great-grandfather in bulk from the 1960s through the 1990s.
You may also acquire broken tiles by the kilo and create your own azulejo mosaic designs.
Check out Andre Saraiva's Street Art in São Vicente de Fora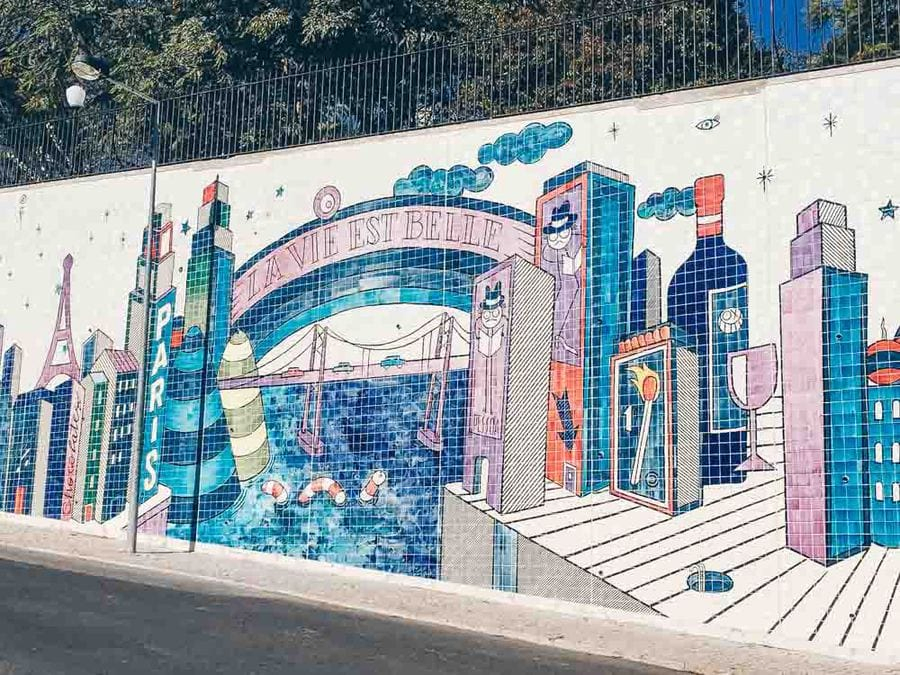 Street art reigns supreme in Lisbon – it's clearly a city that embraces its creative side.
Nowhere is this more apparent than with Andre Saraiva's impressive urban mural in São Vicente de Fora.
Saraiva spent over two years hand-painting this gigantic tiled mural. It's made up of over 50,000 tiles and covers an impressive 864 square metres.
Bright, colourful and playful, the mural is still pretty under the radar…. for now.
Find out why you really should see Andre Saraiva's street art in Lisbon.
Climb Belem Tower (Torre de Belem)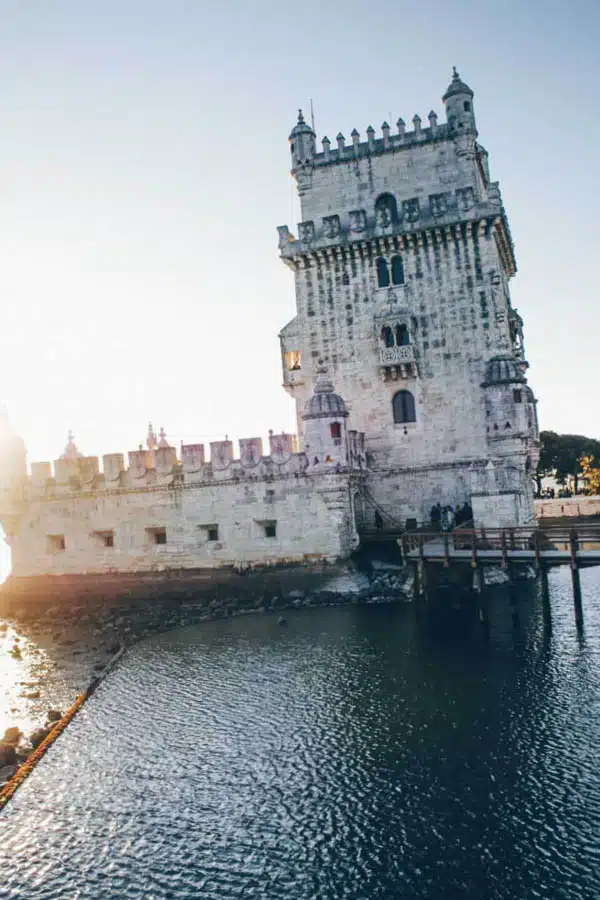 Another must-do in Lisbon, Belem Tower (or Torre de Belem) is a historical fortress that was built to guard Lisbon against attack by sea.
The tower was built in 1515 and is one of the three must-see historical sights in Belem (the other two being the Monument of Discovery and the Jeronimos Monastery).
Learn about Portugal's important seafaring history while taking in the Belem Tower's imposing architecture.
Don't forget to climb the narrow winding stairs for some great views over to the Tagus.
Book Your Skip The Line Tickets to the Torre de Belem
Explore Alfama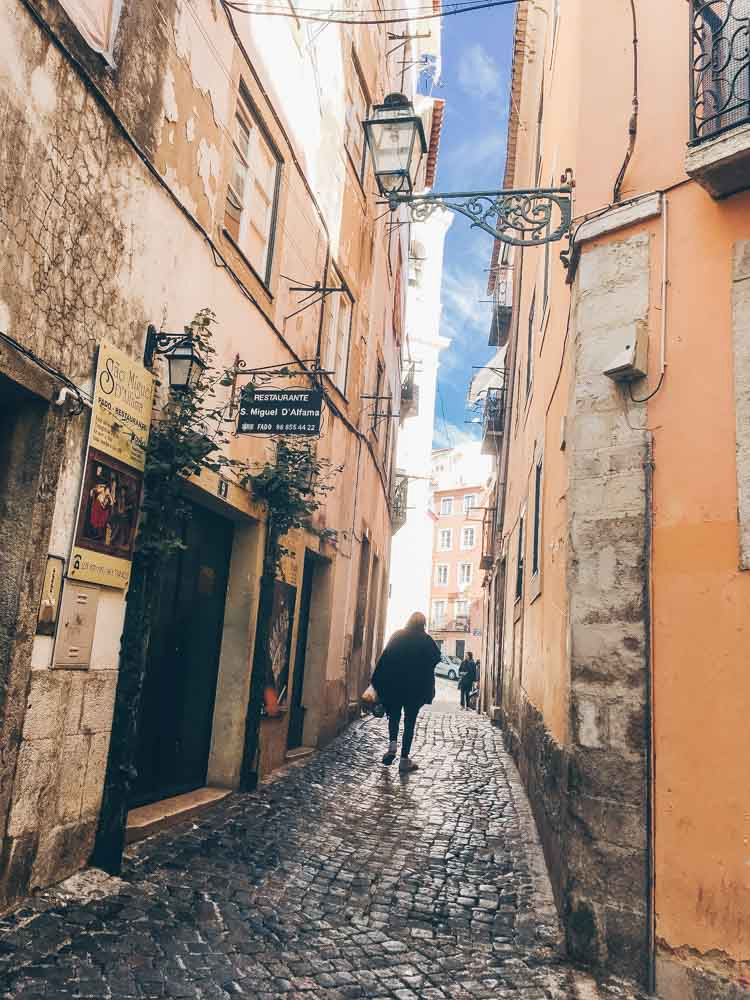 Walking around the narrow, cobbled streets of Alfama is one of the city's not so hidden secret pleasures.
Discover the beautiful traditional Portuguese architecture (Alfama also largely survived Lisbon's earthquake) and pop into a small bar or two for a taste of home-brewed Ginjinha.
At sunset, make your way to Portas do Sol for snap-worthy views of the sun setting over your new favourite city.
Don't forget to pop in for a sundowner too, their terrace is the perfect place to sip on a cocktail and watch as the last light fades from the day.
Explore the Jardim Botanico
The Jardim Botânico (Botanical Garden) is a beautiful botanical garden located in Lisbon. It's a great place to spend an afternoon, and there's a lot to see and do there.
The gardens are home to a wide variety of plants, trees, and flowers – including , and there's also a greenhouse that houses a number of different tropical plants
There's also a small lake in the gardens, which is a great place to relax and take in the beauty of the garden.
Take in the Historical Architecture in Lisbon – Ruins of Carmo Church and the Elevador de Santa Justa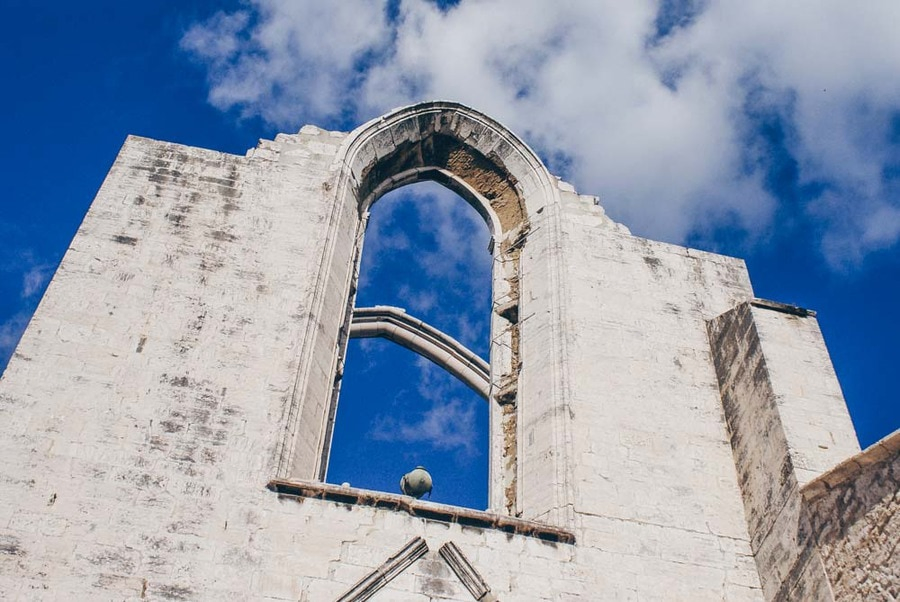 Though technically two separate sights, the Carmo ruins and the elevator are right next to each other so it makes sense to see them at the same time.
Step into the Elevador de Santa Justa and watch as the centre of Lisbon unfurls before your eyes as it climbs up to its final destination
Disembark and you'll immediately see the Carmo Church and Convent ruins.
The church was originally built in the 14th century but was irreparably damaged in Lisbon's earthquake. It was left standing as a reminder of the damage that was caused and the lives that were lost that day.
It's eerily beautiful and it's not difficult to imagine its grandeur before it was damaged.
Visit Lisbon Cathedral (or Cathedral Sé)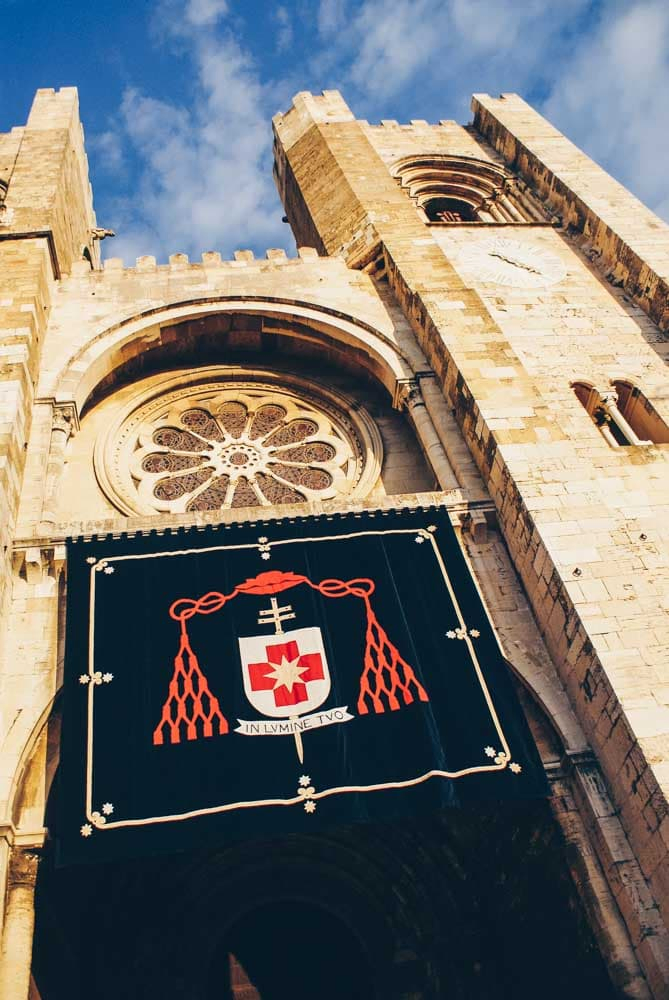 Lisbon's Cathedral (otherwise known as Catedral Sé de Santa Catarina) is the oldest church and one of the top things to do in Lisbon.
Tucked away in between Baixa and Alfama, the Cathedral has been a central part of Lisbon's religious life since the 13th century.
The fort-like exterior is dramatic and imposing, a pale stonework structure that catches the late evening glow of the sun and reflects its tawny hues as the day ends.
Sé Cathedral is one of the oldest buildings in Lisbon and one of the city's must-see landmarks.
Largo da Sé, 1100-585 Lisboa, Portugal
Snoop at Largo Das Olarias 15/17
The artists' workshop Largo Das Olarias is a great place to check out if you're interested in art. The workshop is home to a number of different artists, who work in a range of different mediums.
You can watch the artists at work, and there's also a shop where you can buy some of their work.
The workshop is open from Monday to Friday, from 9am to 7pm, and on Saturday, from 10am to 2pm.
Take a Day Trip to Sintra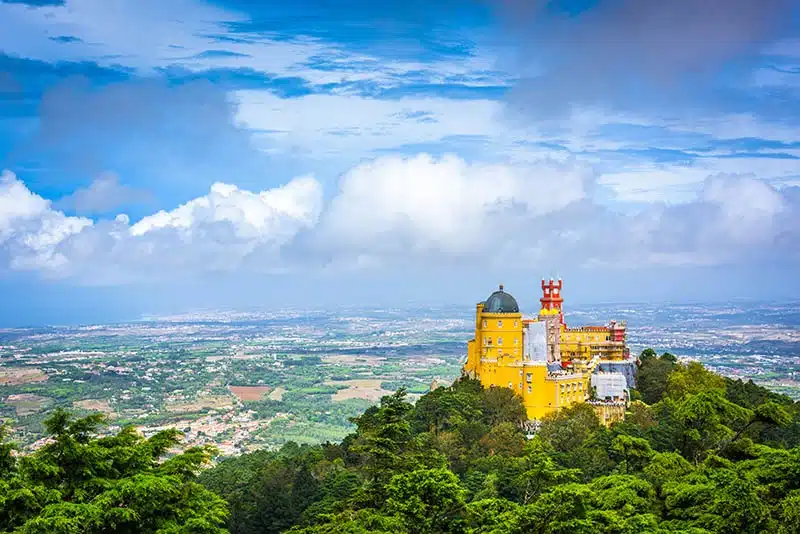 Sintra is one of the most beautiful towns I've ever visited. If you have a day to spare while you're in Lisbon, I highly recommend taking a trip out to this fairytale town.
The best way to get to Sintra is by train – it's really easy to get to from Lisbon and it only takes about 30 minutes.
Once you're there, make sure you wander around the old town – it's full of winding streets, pretty squares and gorgeous buildings.
A definite highlight is the Palácio Nacional de Sintra, one of the most beautiful buildings in the town. It was once used as a royal residence and is now open to the public.
Inside, you can explore a range of different rooms, each with its own unique style and decor. The palace is also home to a number of interesting artefacts, including paintings, furniture and tapestries.
Make sure you climb up to the top of the palace for some amazing views over Sintra.
Book This Sintra and Cascais Day Trip from Lisbon
Ride the Santa Justa Elevator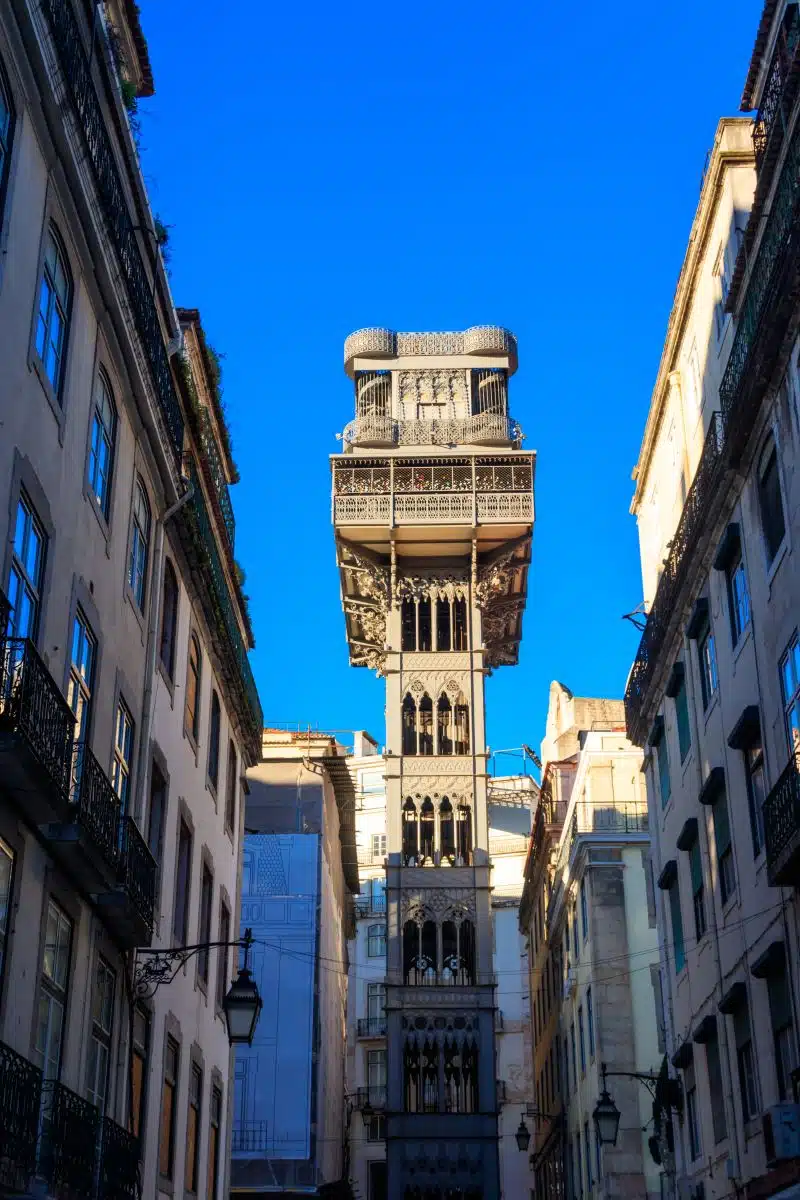 One of the must-see attractions in Lisbon is the iconic Santa Justa Elevator. This beautiful wrought-iron structure was designed by Raoul Mesnier du Ponsard as both a functional elevator and an architectural marvel.
Ride to the very top and appreciate Lisbon from a stunning vantage point.
Top Tip: If you want to climb to the very top of Santa Justa (I personally don't think it's necessary), make sure you arrive early or you'll be queuing for hours.
Stroll Through the Tropical Botanical Garden in Belem
If you couldn't tell, Belem is one of my favourite places near Lisbon. And the Tropical Botanical Garden is a must-visit spot.
This particular botanical garden was initially established in the late 19th century and was an experimental garden for acclimatizing plants from Portugal's former colonies.
It makes for a beautiful afternoon walk – post-pasteis de Nata, of course.
Must Do in Lisbon: Food & Drink
Explore Lisbon's Thriving Culinary Scene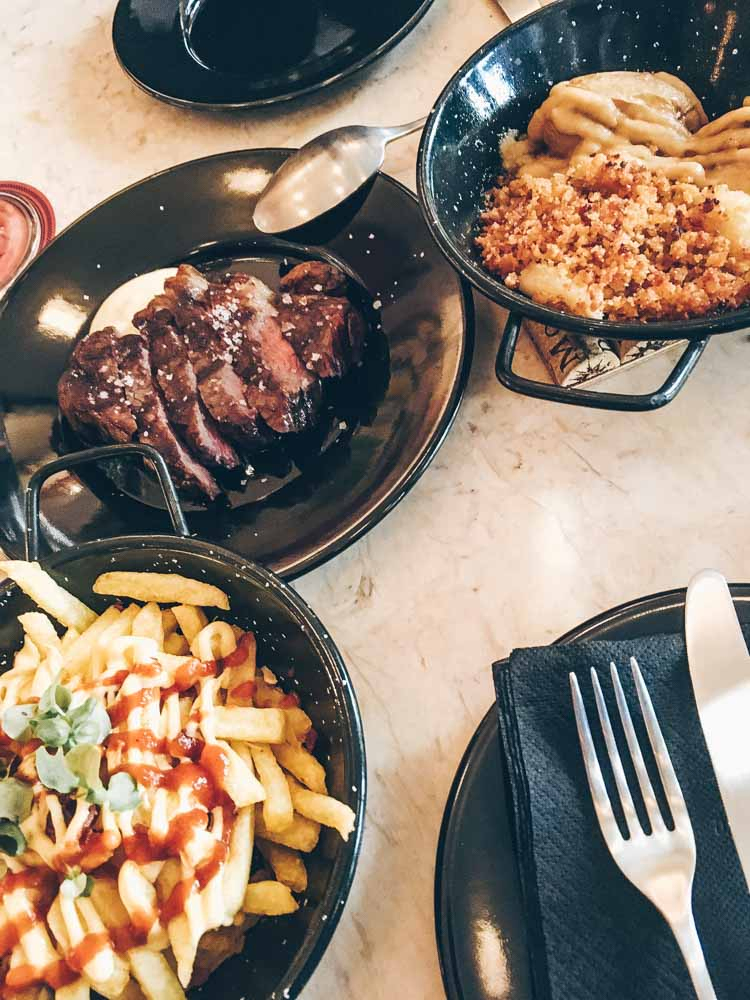 Take it from me when I say that Lisbon is a gastronome's delight – there's so much amazing food to be found across the city that eating your way around the city is an absolute must-do in Lisbon.
The only real question is how you're going to fit in as much of that amazing food as possible during your stay.
I'll be doing a separate piece on my favourite foodie finds in Lisbon, but here are a few spots that you shouldn't miss
Sip Wine at Flor do Cais
Tucked away in Cais do Sodre, a few blocks away from the Time Out Market, Flor do Cais is a local neighbourhood eatery that packs a big punch.
The menu focuses on traditional Portuguese fish and meat dishes – simply prepared but bursting with flavour. Wash it down with a glass of Portuguese wine from the select list.
Indulge at Sala do Corte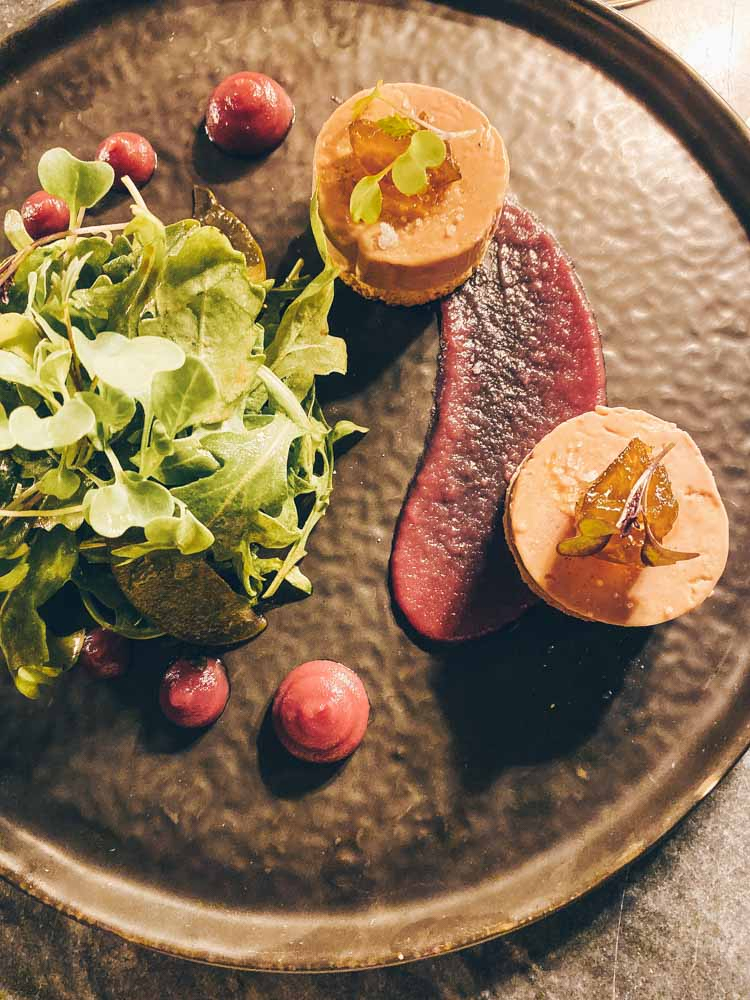 Sala do Corte = five words: the best steak in town. Service is slick, the interior snazzy and the steaks really are something else.
Dine at Taberna Bairro do Avillez
You can barely move an inch in Lisbon without coming across one of local chef Jose Avillez's much-talked about restaurants.
Taberna Bairo do Avillez strikes the right balance between high-end and casual – with many of the chef's signature dishes in a relaxed setting.
Scoff Seafood at Cervejaria Ramiro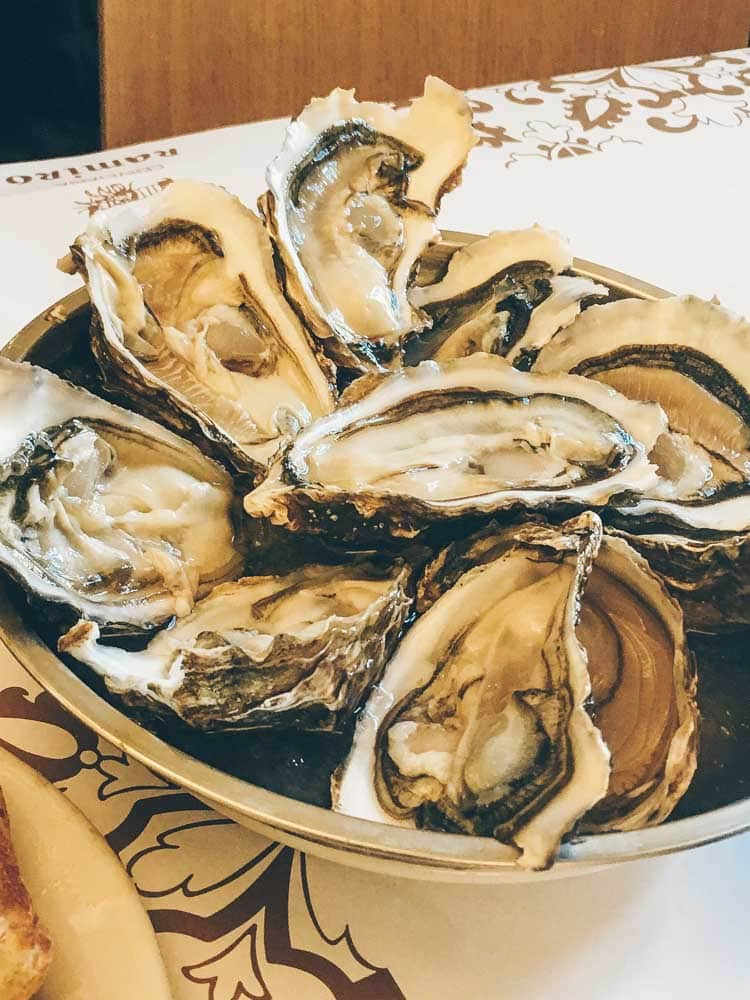 Cervajaria Ramiro is a serious contender for the title of the best seafood restaurant in Lisbon, or perhaps one of Lisbon's best restaurants full stop.
Despite the name, Ramiro serves a lot more than cervejas – it's been happily feeding the city's happy residents since it opened in the fifties.
Bourdain named it as one of the must do in Lisbon spots – if it was good enough for the late culinary maestro, it's certainly good enough for me.
Seafood is really where Ramiro shines – try the oysters (because there's always time for oysters), a grilled crayfish or lobster.
Finish off with the steak sandwich for dessert (yes you read that right).
Cervejaria Ramiro Lisbon – Read the Full Review
Enjoy the View From Topo
This tiny nook really is very small, but it makes up for it with spectacular views over the city.
Don't be deterred by the abandoned building vibes given off by the entrance – venture up to the top floor, where you'll find an open-air bar with theatrical bartenders ready to serve you a picture-perfect Aperol spritz to complement the views.
Drink All Night on Lisbon's Pink Street
Lisbon's Pink Street is the place to go if you're looking for a good time. This lively area is home to a range of bars and clubs, and is always full of people looking to let loose.
The best way to experience Pink Street is to simply wander up and down the street, checking out the different venues.
If you're looking for a place to start your night, I recommend checking out The Lighthouse. This cool bar has a great atmosphere and is always busy. They serve a range of cocktails, beers and spirits, and there's usually something for everyone.
So there we are – the best things to do in Lisbon. I hope you have a brilliant trip.
Things to do in Lisbon: Practical Tips
Where to Stay for your Lisbon Trip
Luxury: The Four Seasons Hotel Ritz
If you're looking for a luxury bolthole in Lisbon, look no further than the Four Seasons Hotel Ritz.
This grande-dame of a hotel has been hosting Lisbon's finest since the 1950s and is something of a dab hand at it. It's my favourite bolthole when I want to treat myself during my Lisbon stay.
Relax in one of the individually-designed rooms, then have a sundowner on your private terrace.
Book in for dinner at Varanda Restaurant for a fine dining experience unlike any other in the city.
Check Prices and Availability at the Four Seasons Hotel Ritz Lisbon
Mid-Range: Lisboa Pessoa Hotel, Chiado
Chiado is one of my favourite areas in Lisbon and a great base for your stay. Looking for a cool mid-range hotel that's within easy striking distance of the city's main sights?
Lisboa Pessoa Hotel is a great option.
Dedicated and inspired by Portuguese poet Fernando Pessoa, its sleek decor and comfy rooms make the perfect place to lay your head at the end of a long day. Try and book one of the rooms with a terrace if you can.
Check Prices and Availability at the Lisboa Pessoa Hotel
Alternatively, check out my guide to the best Airbnbs in Lisbon.
How to Get to Lisbon
British Airways fly direct from London Heathrow to Lisbon, or Easyjet and TAP Portugal fly from London Gatwick.
Best Things to do in Lisbon: Map
PS, if you're Looking for more Lisbon travel inspiration, you should also read…
Love This? Save and Share on Pinterest