Discover the best beaches in Lisbon. From stunning sandy spots to watersports havens, these are the Lisbon beaches you shouldn't miss.
Lisbon is a lively, multifaceted city with an intriguing history. But what people might not realise is that there are many gorgeous beaches near Lisbon, all of which are accessible via a short trip from the city. 
Some beaches are more than close enough for a day trip, while for others you might want to plan an overnight stay.
Either way, a trip to Lisbon does not have to be an entirely urban exploration — you can relax on one of the best Lisbon beaches and get the best of both worlds!
Here are eight stunning beaches in and near Lisbon you have to visit.
The Best Beaches in and Around Lisbon
Praia do Tamariz, Estoril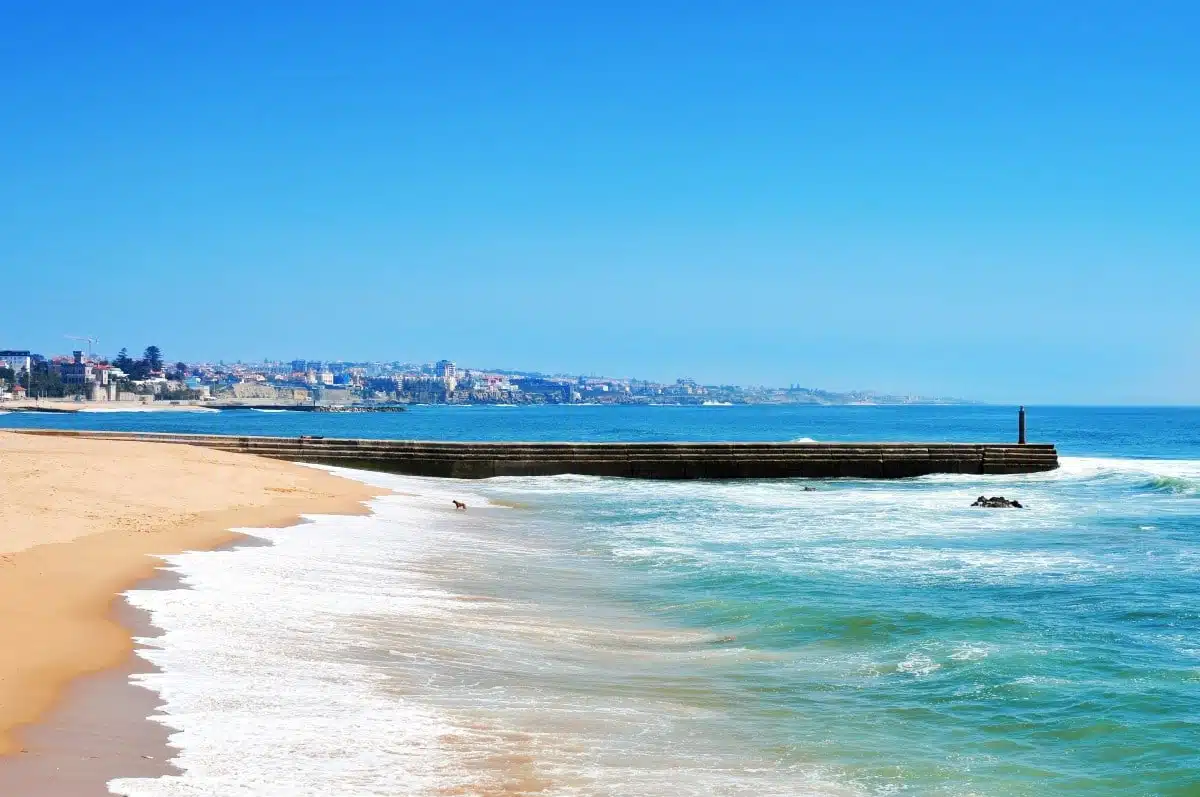 Praia do Tamariz is one of the easiest beaches near Lisbon to get to. It's only a 25-minute drive to the west of the city — making it one of the most popular options in this guide.
Given its popularity, there is a lot of development around this beach. You can find a casino, a boardwalk, a nightclub, and a pedestrian street filled with many eateries and bars.
The beach itself is crowded but gorgeous, with lovely, clean waters. And the busyness comes with benefits like toilet and shower facilities that you wouldn't find at more secluded beaches.
Check out this Get Your Guide Tour for the Lisbon Coast. 
Praia da Adraga, Sintra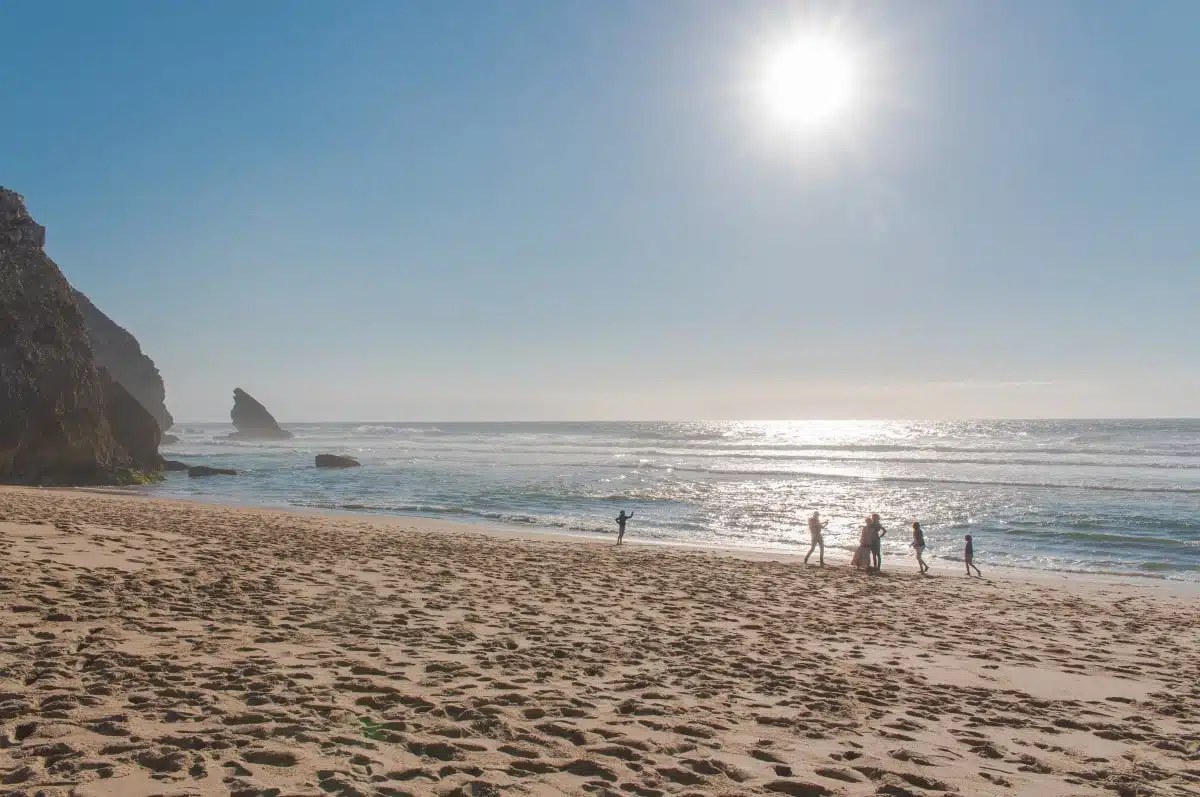 Sintra is one of the top destinations to visit on a trip to Lisbon, with its unique, culturally-blended history and stunning castles.
But Sintra is not just about castles and gardens, as there are several unique beaches there, one of them being Praia da Adraga.
Praia das Maçãs is another beach in Sintra that is more well known, thus more crowded. Praia da Adraga is underdeveloped, on the other hand, which allows more of its natural beauty to shine.
However, it's not so underdeveloped that you can't grab a bite to eat. The beach has one restaurant called Restaurante de Adraga, and you can order fish soup while enjoying the beautiful cliffside sunset views.
To get to Sintra from Lisbon, you have the choice of a 30-minute bus ride, which is the cheapest; a 40-minute train ride, which is the smoothest; a 40-minute car ride; or a 30-minute taxi ride, which is the most expensive.
Check out this Get Your Guide Tour for Sintra Beaches.
Praia da Ursa, Sintra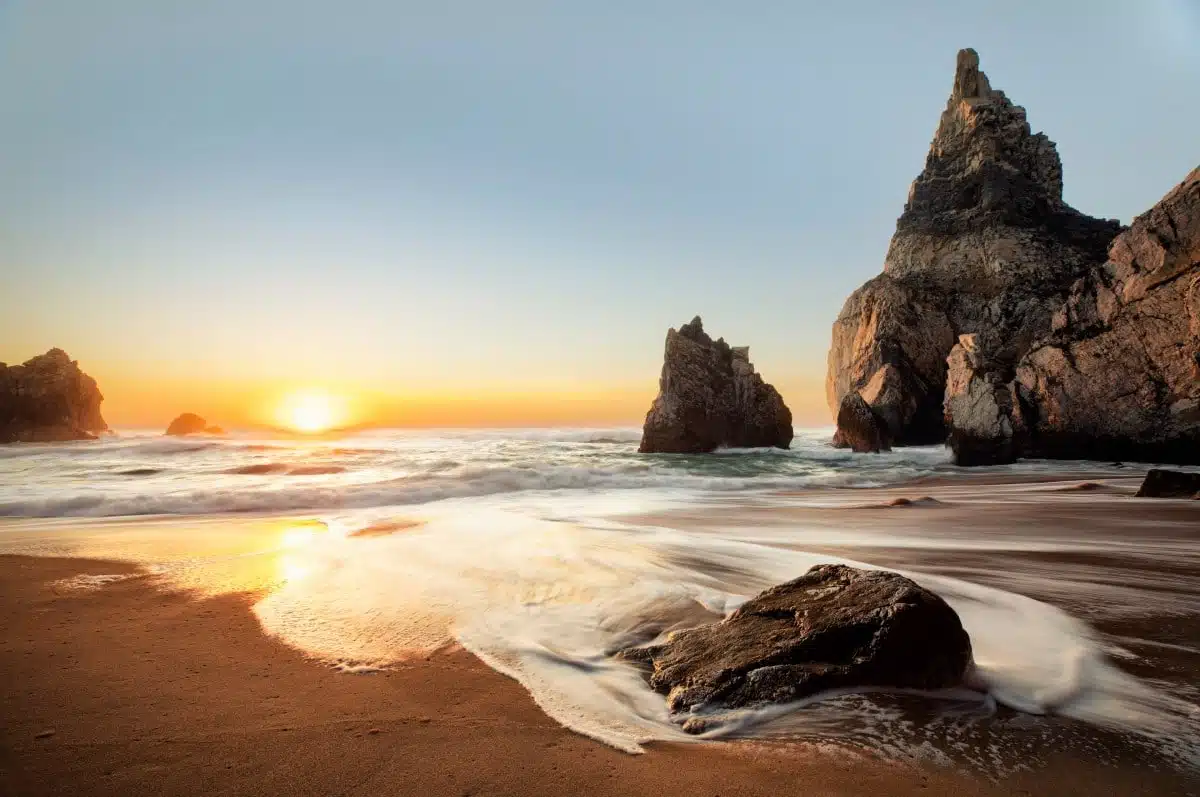 Praia da Ursa is one of the best beaches in Lisbon for seclusion and relaxation.
To get to Praia da Ursa, the same options mentioned above are available for going from Lisbon to Sintra. Praia da Ursa is a bit more South of Praia da Adraga, thus seemingly quicker to get to transportation-wise.
However, you'll have to go down a steep cliff to actually reach the sand, so it's not for the faint of heart.
Once you get down, you'll immediately feel rewarded by the calm and peaceful seclusion of this beach.
It's not too ideal for swimming due to the strong waves, but the sounds of the ocean and the secluded feeling are perfect for relaxing and getting away from it all.
There aren't any restaurants down there, so pack a lunch and a drink prior to the descent.
Check out this Get Your Guide Tour for Sintra Beaches.
Praia do Guincho, Cascais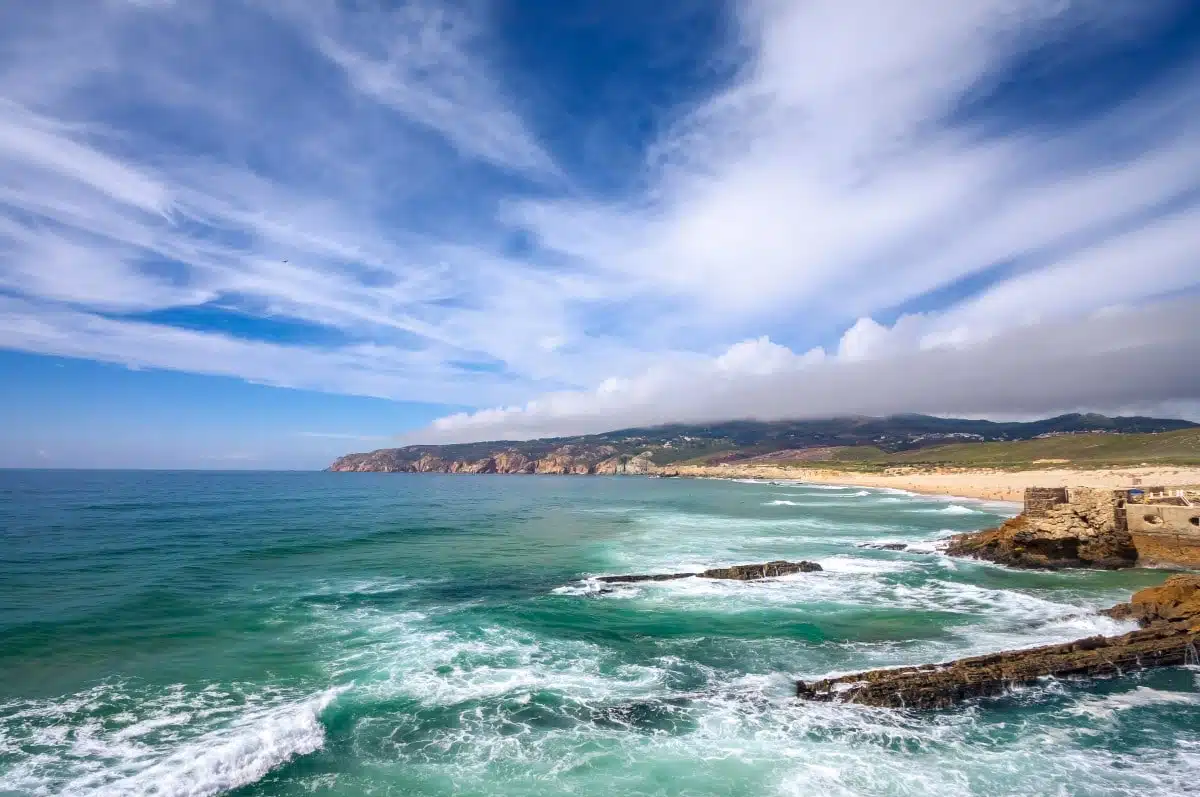 Praia do Guincho is a lovely, golden sand beach located slightly north of Cascais.
People like to go there to partake in numerous watersports such as surfing, windsurfing, and kitesurfing, and the beach hosts many water sports competitions throughout the year.
Because of this emphasis on watersports, you can rent sports equipment right on the beach. And if you'd rather just chill on the beach with a refreshing drink, head to Bar do Guincho for an ice-cold sangria.
To get there from Lisbon, you can take a 30 min car drive, a 40-minute train ride, or an hour-long bus ride. Alternatively, Cascais is one of the best beach towns close to Lisbon, so there are several places to stay there as well.
Check out this Get Your Guide Tour for Cascais.
Praia de Carcavelos, Cascais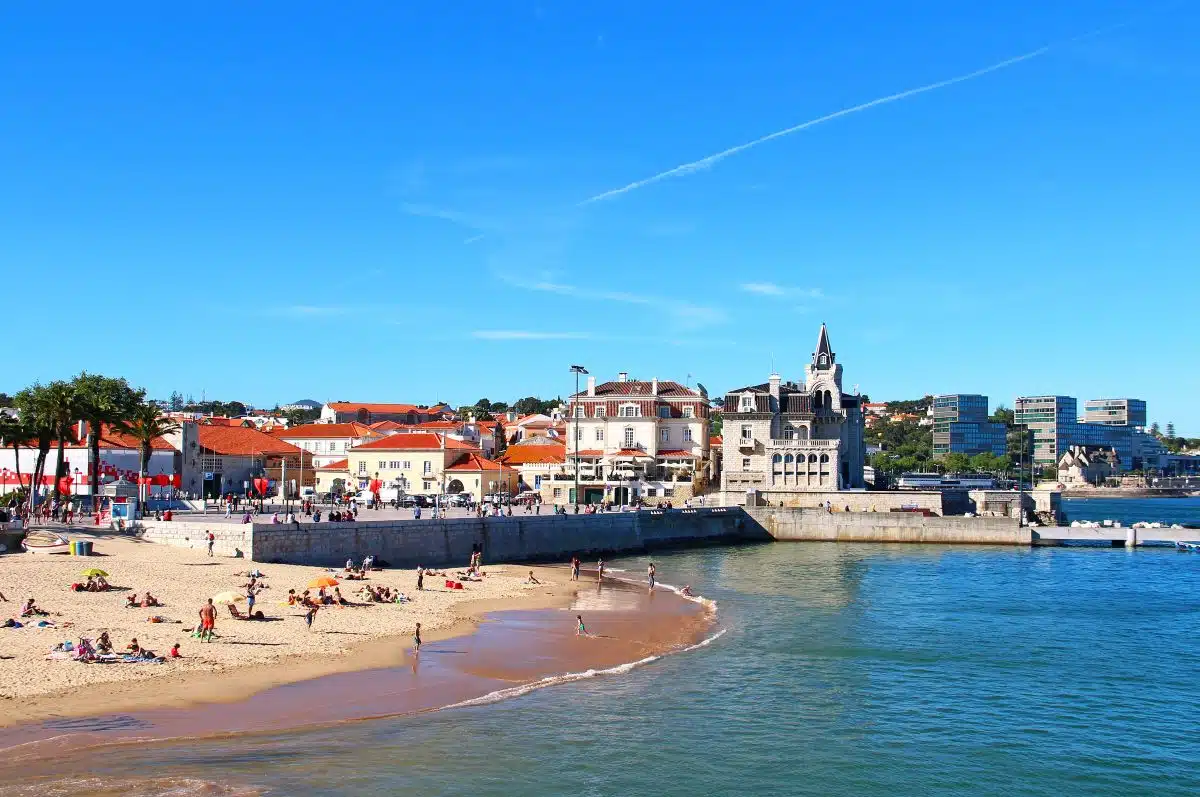 Another beach in Cascais that's worth visiting is Praia de Carcavelos. It has an extremely long stretch of sand, perfect for running, walking, jogging, and playing a variety of sand sports like football and volleyball.
Water sports are popular here as well, especially during the winter when people often go surfing and bodyboarding.
If you're not into a crowded beach, this one might not be your favourite. But if you're up for meeting new friends and getting active, Praia de Carcavelos is a top choice.
The easiest way to get to Cascais is a 40-minute train ride, but you have the same options mentioned above for Praia do Guincho.
Check out this Get Your Guide Tour for Cascais.
Praia do Baleal, Peniche
If you're looking for a more secluded beach or a beach where you can adventure to find more secluded little spots, then you might appreciate Praia do Baleal.
There's attractive honey-colored sand throughout this beach, but it is also lined with multi-sized rocks, allowing the adventurous side of visitors to come out to play!
These rocks create more private areas so you can feel like you have a cosy nook and lagoon access all to yourself. And beyond the beach, there are several spots for rock climbing and rock bouldering so the adventure can continue.
If all of this adventure makes you hungry, there are plenty of seafood restaurants you can visit as well.
The easiest way to get to Peniche from Lisbon is an hour-long drive by car or taxi, but the cheapest way is a 1.5-hour bus ride from the city.
Check out this Viator Tour that includes Peniche. 
Praia dos Galapos, Parque Natural da Arrábida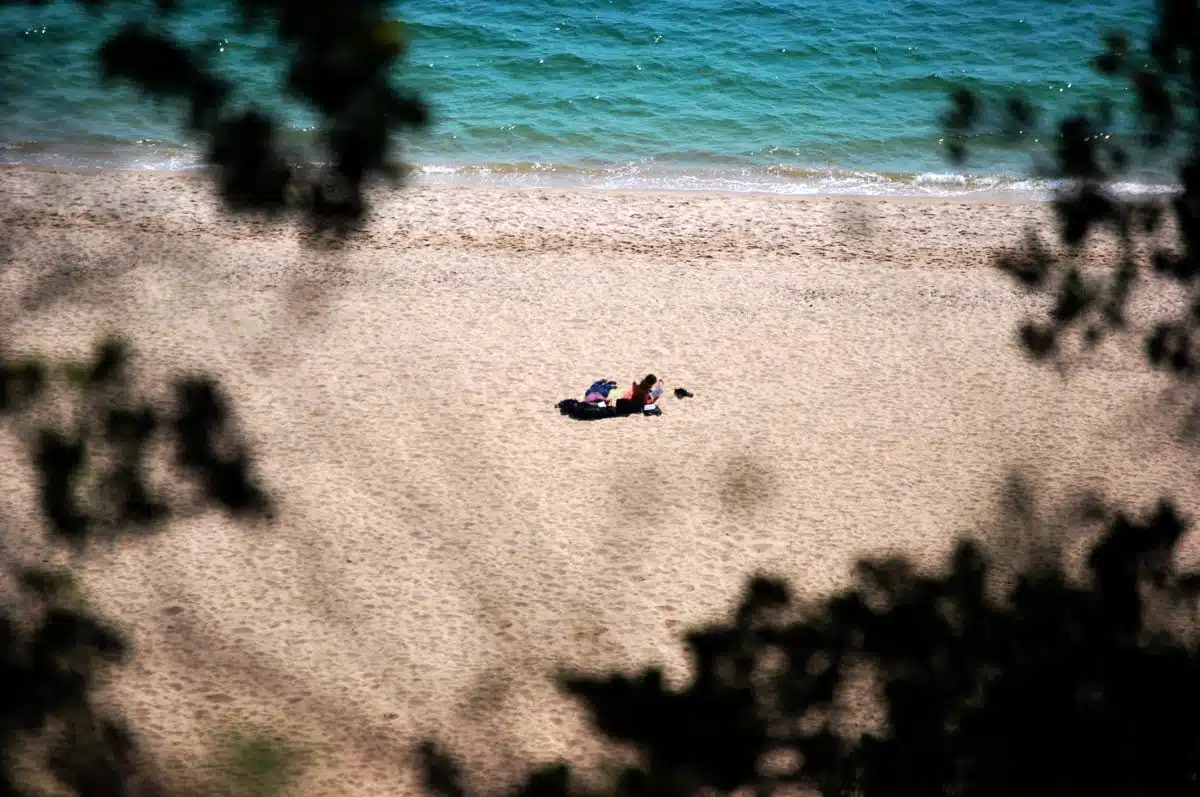 Praia dos Galapos is in a jaw-dropping park called Parque Natural da Arrábida. Visiting this park for hiking is most common, but there are white sand cove beaches that you can explore there as well.
One of them is Praia dos Galapos, a lesser-known beach compared to the more famous Praia dos Galapinhos which is just as nice and way less crowded.
There, you'll find the white sand and turquoise waters that dreams are made of, and this crystal clear bay is excellent for snorkelling.
You can drive to this area by car in a little less than an hour, but taking a 1-hour train ride is ideal so that you don't have to worry about parking.
Check out this full-day Get Your Guide Tour for Arrábida. 
Praia da Figueirinha, Setúbal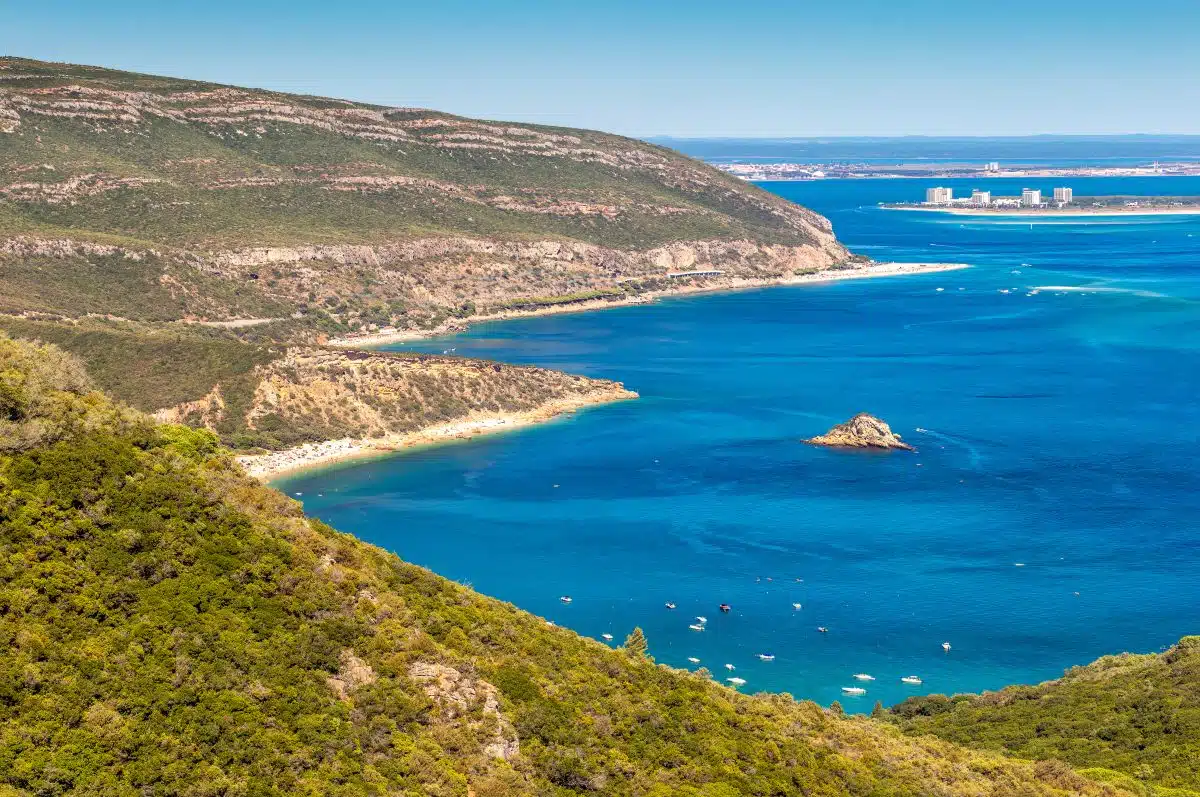 Praia da Figueirinha, located in Setúbal, is one of the best beaches in Portugal near Lisbon for families.
It's a long stretch of sand, allowing ample room for both relaxation and play, and offers calm, soothing waters that are enjoyable for parents and safer for kids.
Plus, there is a more sheltered lagoon for even easier swimming for young kids and a lifeguard on duty for the utmost reassurance of safety.
A beach cafe is available for light food and drinks if you forget to pack a lunch, and sun loungers are available so visitors can have the most easy-going beach day.
Setúbal is a 50-minute train or bus ride down from Lisbon. You can also take a 20-minute ferry ride down first, then a 30-minute bus ride.
FAQ and Practical Tips for Visiting Lisbon Beaches
Below are three frequently asked questions and some practical tips for visiting the best beaches near Lisbon.
Does Lisbon have a beach?
Many of the best Lisbon beaches are not actually in the city center but are still convenient enough to get to during a day trip or overnight excursion. 

There are more than 10 beaches right outside of the city, so you'll have a lot of options even if you don't want to travel too far.
What is the closest beach to Lisbon?
The closest beach to Lisbon is Praia de Caxias, but it's not the prettiest beach in the area. 

That said, if you don't have a lot of time or want to stay close to Lisbon for another reason, we recommend taking just a few more minutes to visit Praia da Torre or Praia do Tamariz instead.
What can I do at a beach near Lisbon?
Depending on the specific beach you decide to visit, there are various activities you can participate in, restaurants you can eat at, and watersports you can play. 

You can also visit a Lisbon beach club or beach bar, especially in the Caparica area just South of Lisbon. 

Finally, if you are taking a family trip and want to ensure that there are plenty of activities the whole family will enjoy, we recommend staying in one of the many beach resorts near Lisbon, such as Hotel Vila Galé in Cascais.
Lisbon Beach Map