Ready to discover the best things to do in Malaysia? Explore one of South East Asia's most alluring countries with this guide.
Beautiful, exotic Malaysia. Malaysia offers a unique travelling experience incomparable to its neighbours.
From visiting its prehistoric rainforests to spending a day relaxing on the pristine beaches of the Perhentian Islands, you'll never be stuck with a dull moment in this stunning country.
My first visit to Malaysia was something of an afterthought – an addendum to a long trip through Thailand, Vietnam and Laos.
Don't make the same mistake – Malaysia is a vibrant destination that deserves as much of your time as you can afford.
Not sure where to start? These unmissable things to do in Malaysia will blow you away.
Brilliant Things to do in Malaysia: Top 5
Observe the Orangutans in Malaysian Borneo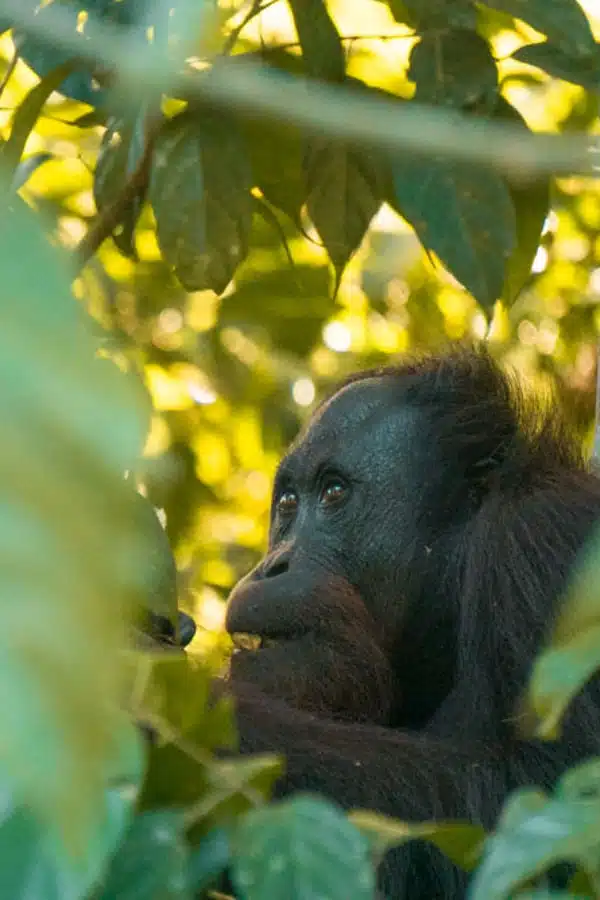 It's not everyday you can get up and close with an orangutan or see these creatures in their natural habitat, so when the opportunity does come along, you should take full advantage of it.
Yet in Sabah's Sepilok Orangutan Rehabilitation Centre in Malaysian Borneo, you can do just that.
Head there to see rescued and orphaned orangutans who are now protected from poachers. The rehabilitation centre provides a safe and healthy environment for this endangered species.
Visit the Historic City of Georgetown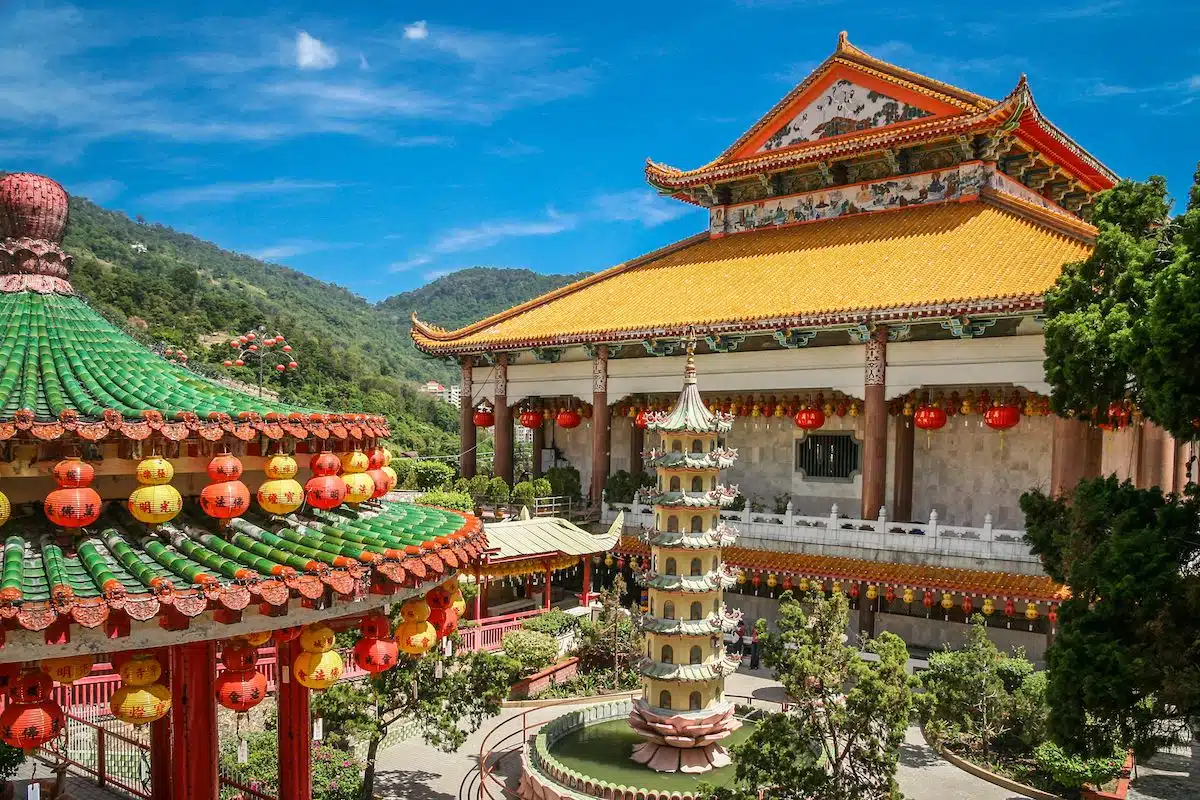 Home to some of the country's best street food, historic buildings, and a thriving art scene – Georgetown, located in the heart of Penang, has plenty to offer visitors looking for things to do in Malaysia.
In fact, it's no understatement to say that Georgetown is the place to be if you're looking to understand how the various cultures and religions of citizens come together in Malaysia.
Even the local cuisine boasts a diverse range of influences that range from Chinese, Indian, Malay and Nyonya. It's completely unique and freaking delicious.
Most people who know anything about Georgetown know that it's a street art haven!
Walking the city's streets it won't take long to understand why. It's colourful, vibrant and bursting with works by talented artists from around the world.
Book a Tour of Georgetown Here
Explore Langkawi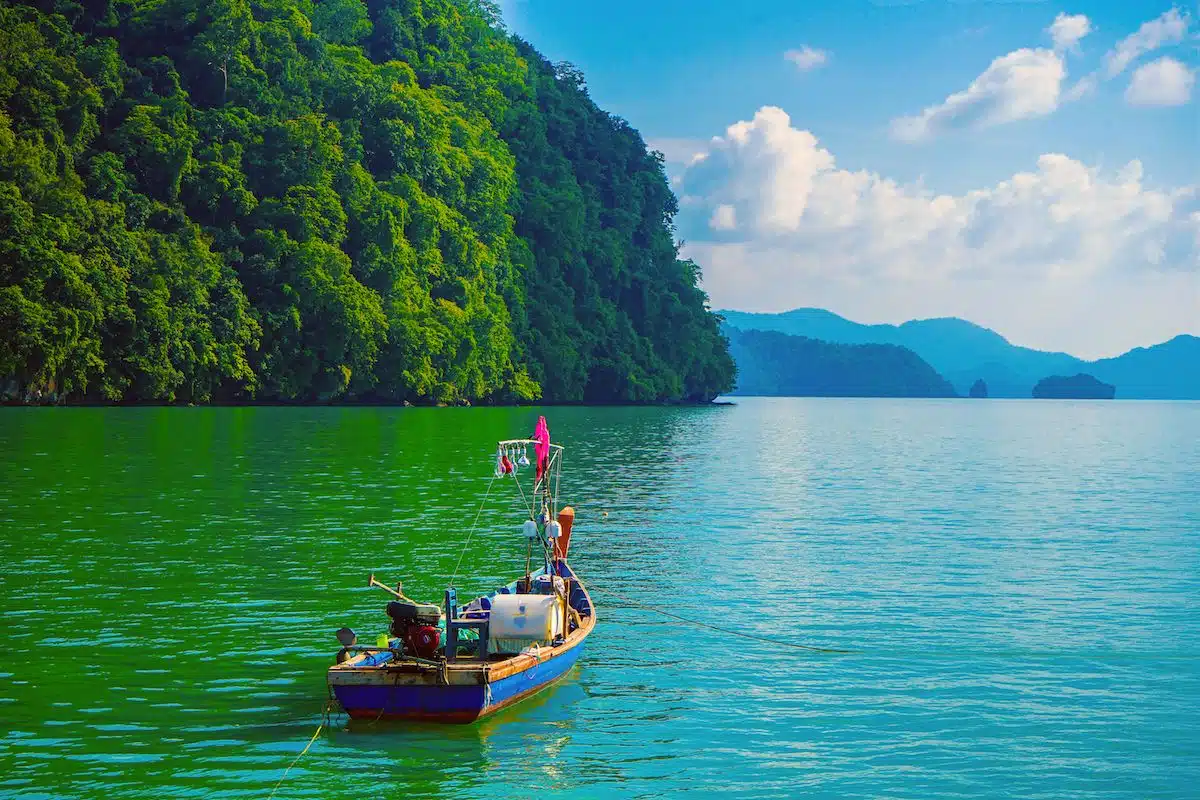 Langkawi is one of the most magical places to visit when in Malaysia.
This area, made up of 99 islets in the Andaman Sea, received the title of Southeast Asia's first UNESCO World Geopark in 2007.
Embark on an adventure to explore Langkawi's limestone caves, wetlands, and secluded coves by boat.
If you're itching to see the Mat Cincang mountain range, one of the oldest rock formations in the area, take a 1.4 mile ride on the cable cars that soar over the forest canopy. Island hopping is a popular activity for visitors of Langkawi as well.
When the day is coming to an end, jump on a boat and sail the seas during sunset to get the ultimate picture for your instagram.
Book A Guided Tour of Langkawi Here
Climb Mount Kinabalu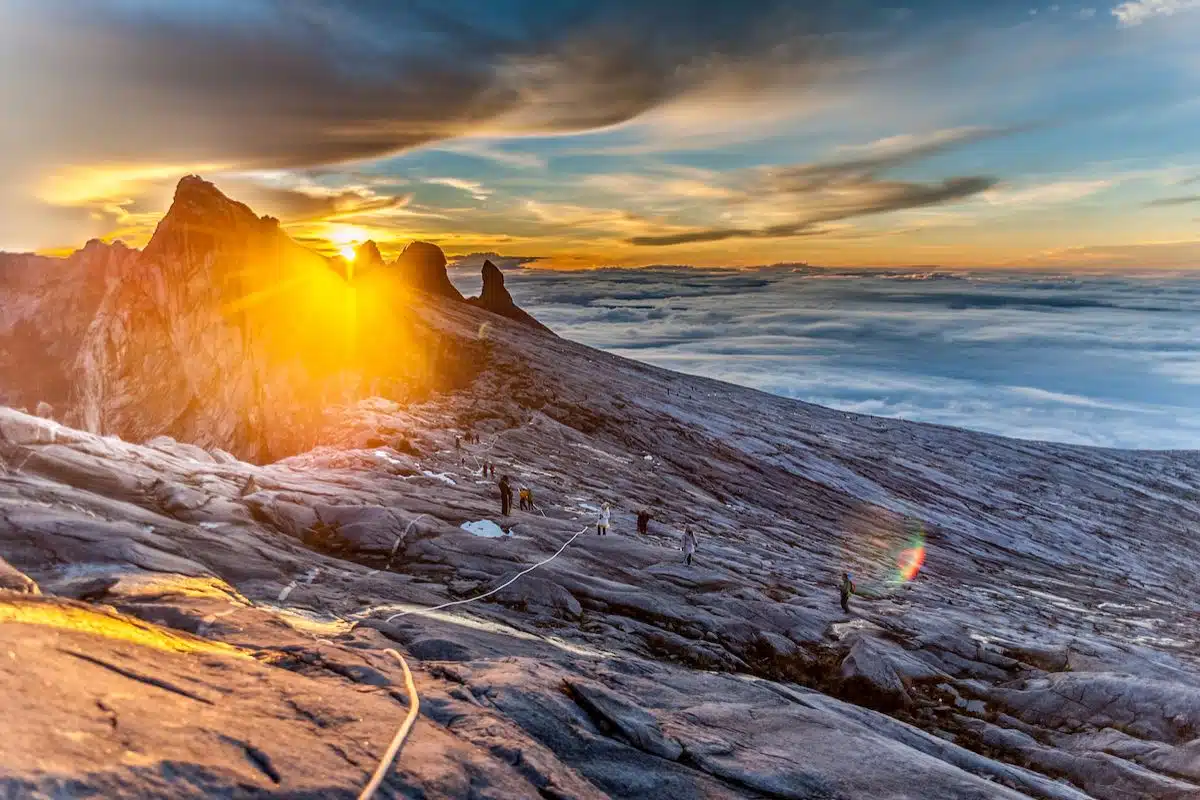 Bet that climbing mountains wasn't the first thing you thought of when you thought about a trip to Malaysia right?
Mount Kinabalu is the highest mountain in Malaysia and can be found in the Kinabalu National Park.
The mountain's summit reaches 4,095 metres and from the summit you'll have the best view you can get in all of Malaysia of the rising sun.
This UNESCO World Heritage Site is a popular site to see when visiting Malaysia.
The trek of Mount Kinabalu can be strenuous and not recommended for inexperienced hikers.
Hike One of the Cameron Highlands Trails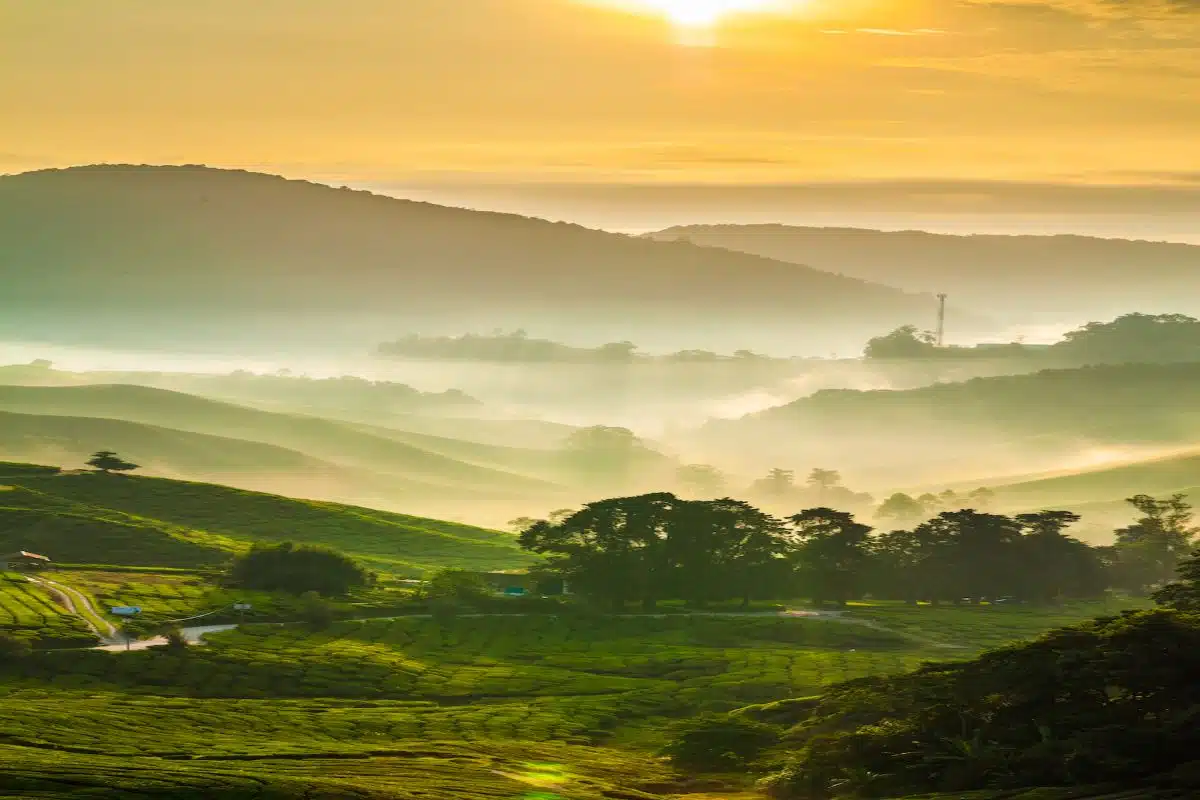 A lush patchwork of rolling hills, the Cameron Highlands is one of the better-known places to visit in Malaysia. Dotted with tea plantations and with jaw-dropping scenery, the hill station area offers a pleasant respite from the hot and humid lowlands.
Little wonder then that the Cameron Highlands have become one of Malaysia's prime hiking spots. The highlands are home to 13 hiking trails, ranging from a beginners level to trails for expert hikers.
One of the best trails to trek is the half-day Trail 10, which leads to the top of Gunung Jasar mountain for stunning views of Tanah Rata and more of the Cameron Highlands.
More Amazing Things to do in Malaysia
Look in Awe at the Petronas Twin Towers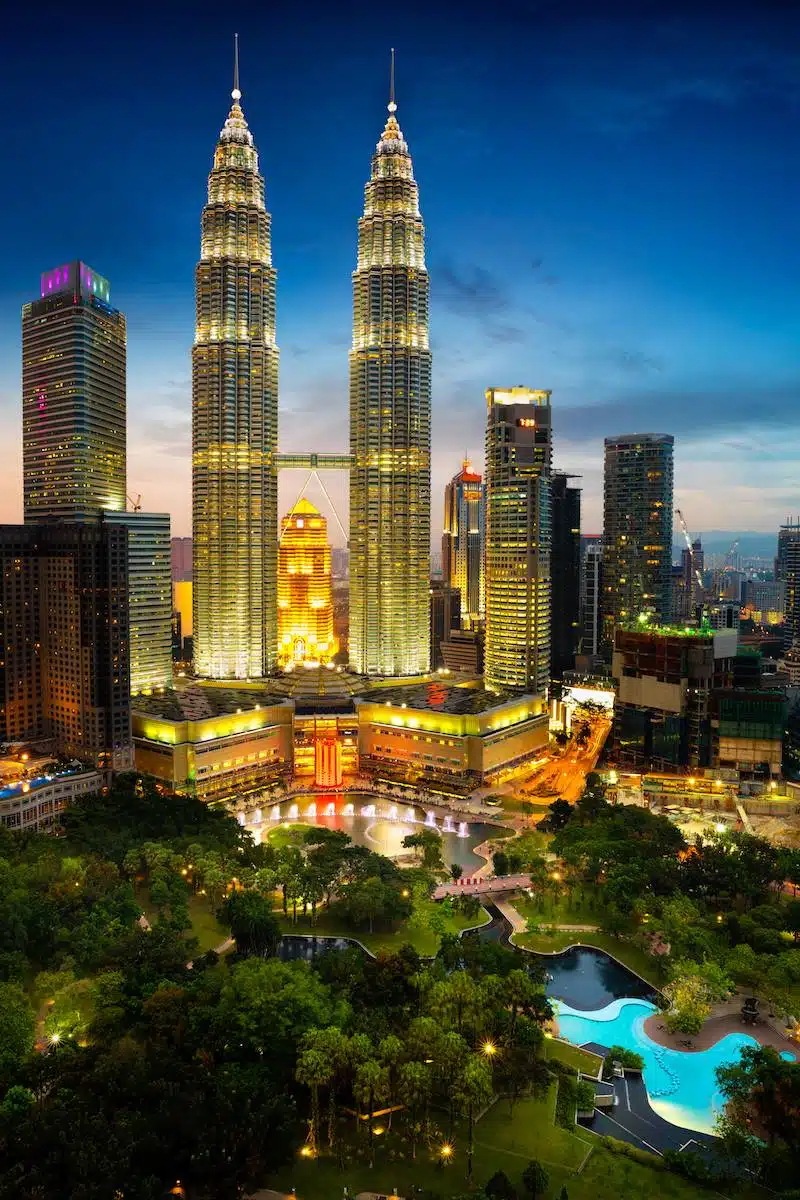 Kuala Lumpur's Petronas Twin Towers stand out, or really above, the rest of Malaysia. From 1999 to 2004, until Taipei 101 in Taiwan was built, the Petronas Twin Towers were the tallest buildings in the world standing at about 450 metres.
The iconic towers were designed by the American architect, César Pelli, whose creations bring a more urban touch to the city.
Kuala Lumpur is a cool city – much more than people give it credit for – and there's no better way to see it in its full sprawling glory than to whizz to the sky bridge and soak up the views.
Trek Through Taman Negara National Park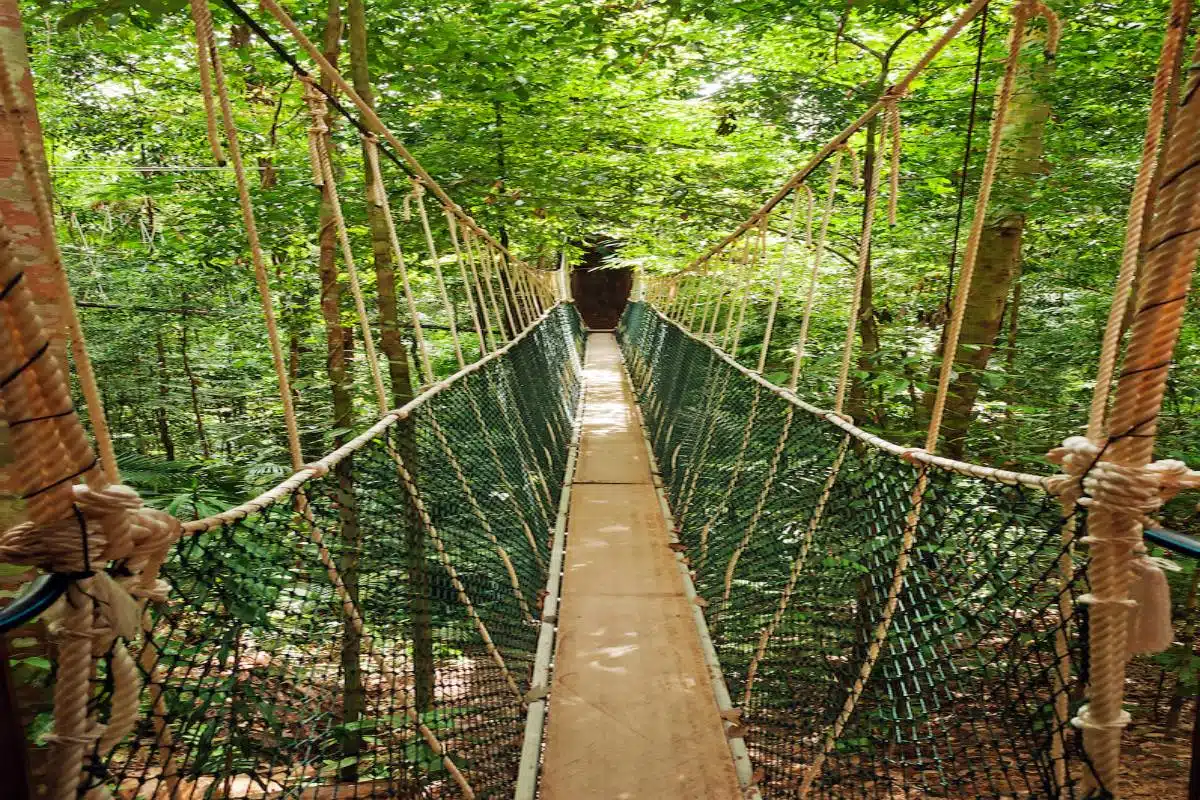 Malaysia has plenty of rainforests for you to explore and Taman Negara, the world's oldest rainforest, which is located in Panang, is at the top of the list.
Simply meaning "national park" in Malay, Taman Negara is a must see.
Over 4,000 square kilometres of dense jungle and thriving rainforest that's perfect for river cruises and jungle trekking. Keep an eye out for some of the park's endangered species (including the Sumatran rhinos and tigers) that call Taman Negara their home.
Even if you don't see these rare creatures (and most don't), wildlife-spotting opportunities abound.
During your visit be sure to take time to experience the world's longest canopy walkway that crosses the jungle.
Relax at Tunku Abdul Rahman National Park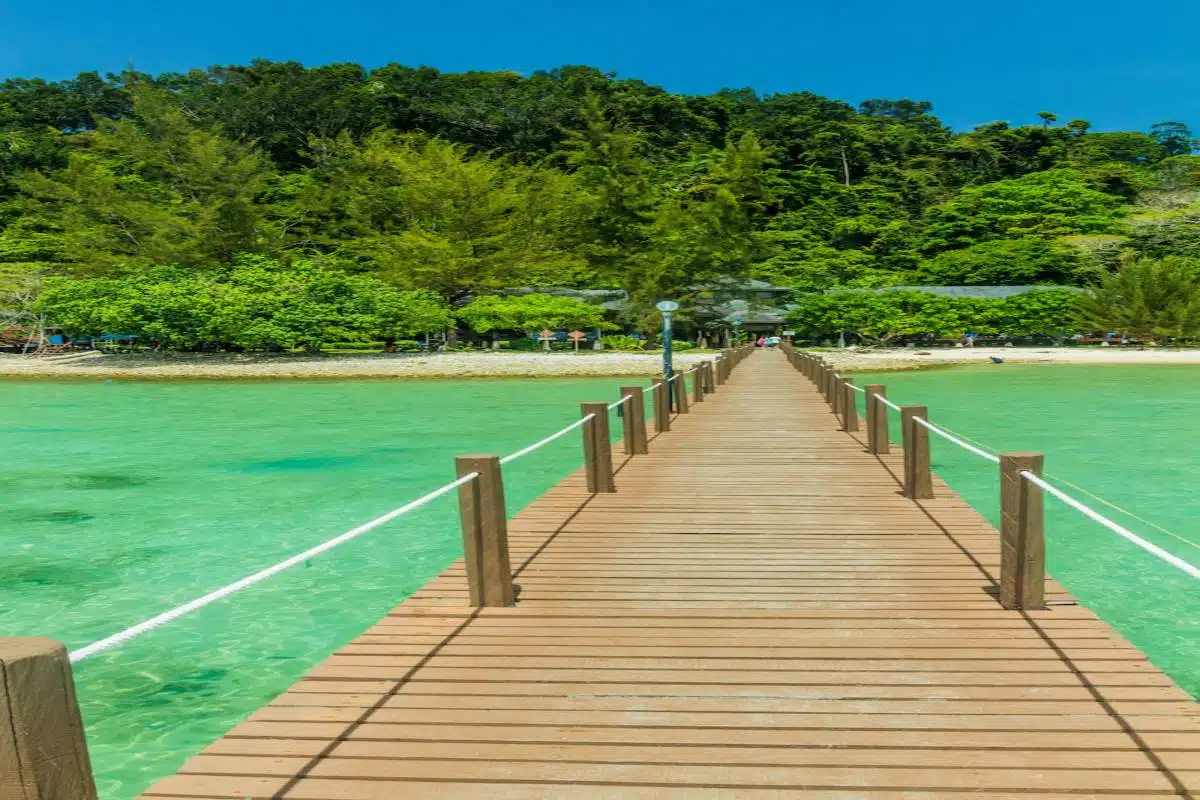 If you're looking for a peaceful getaway, one of the best things to do in Malaysia (well, Malaysian Borneo to be precise) is to take a journey to Tunku Abdul Rahman National Park.
This marine park is made up of five islands: Gaya, Manukan, Sapi, Sulug and Mamutik and each island is located just a short boat ride from each other.
Out of the five islands, Manukan and Sapi are the more developed islands while the remaining three islands have little to no facilities on the island.
Each island has trails you can follow into the jungle or pick up some snorkelling supplies by the beach and explore the views of the glistening turquoise water.
Visit Porta De Santiago (A Famosa)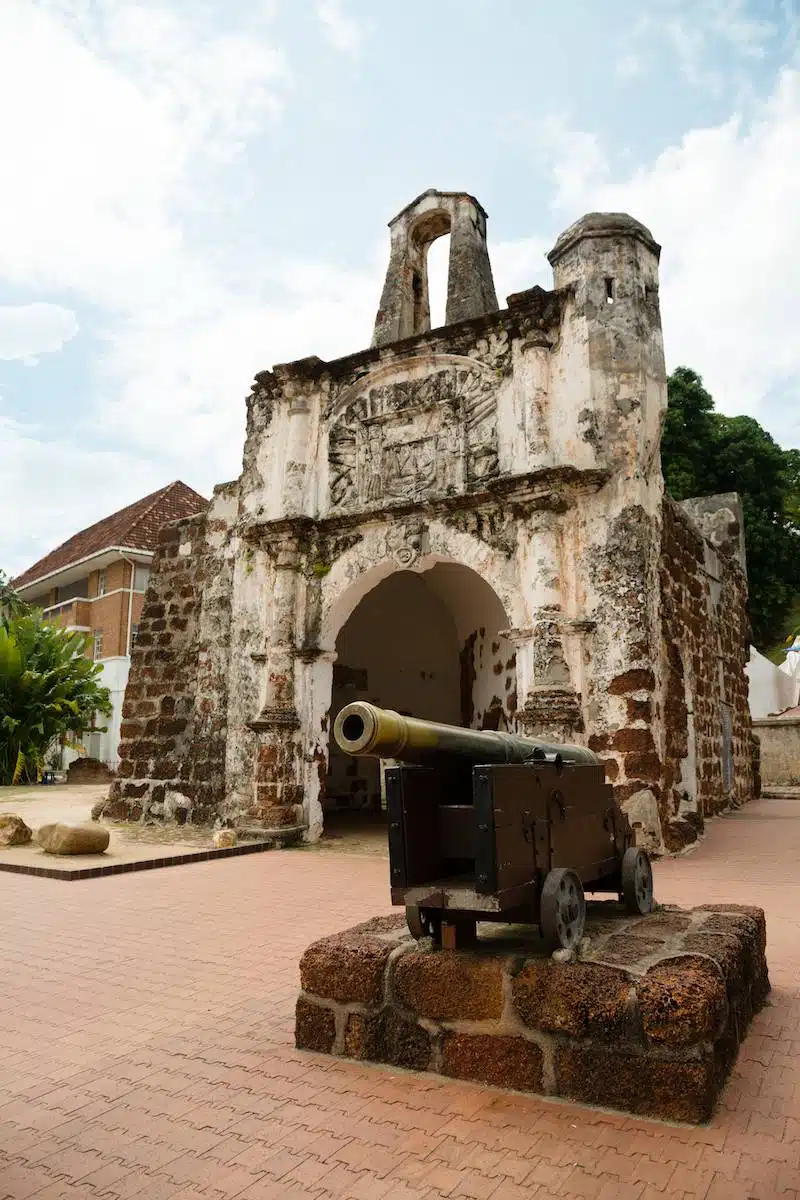 A popular attraction to visit in Malaysia is Porta De Santiago, also known as A Famosa.
This historical fortress is located in Malacca, the capital city of the Malaysian Malacca state. Built in the early 1500's this monument is one of the few remaining European historic pieces of architecture left in all of Asia.
What attracts so many visitors is the gate of the fortress, which is the last of the remains of the ancient artefact.
Roam Kota Bharu's Pasar Siti Khadijah Market
If you're looking for the perfect place to explore the culture of Malaysia and interact with locals – head to Pasar Siti Khadijah in the town of Kota Bharu.
This market is located in the Kota Bharu and offers a variety of local cuisines, fruit and other products.
The friendly traders will shout over each other to promote their product and get you to come to their stall.
Of course, it isn't a market visit without a bit of bartering – never bartered before? My advice is to have fun, don't get aggressive and try and come to a fair price.
Visit Kampung Kraftangan – Kota Bharu's Handicraft Village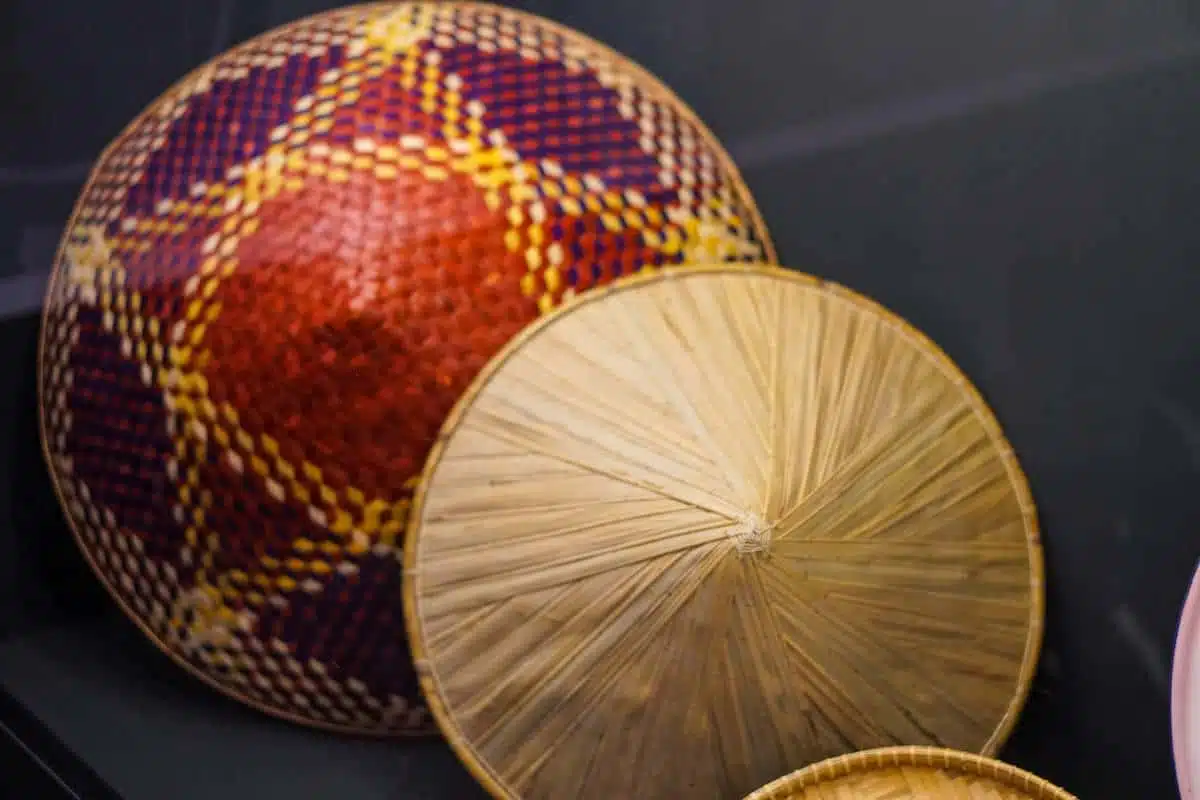 While in Kota Bharu you also have the opportunity of visiting another one of Malaysia's attractions – Kampung Kraftangan, also known as the Handicraft Village.
Hard to miss is the brown coloured wooden village, also home to the Craft Museum, is the hub of local arts and crafts.
You'll find beautifully wooden handcrafted objects such as wind chimes and small statues in the courtyard of the village.
Take time to venture into the one room museum to see more traditional carvings and the fabrics of Malaysia's traditional fashion.
Dharmikarama Burmese Temple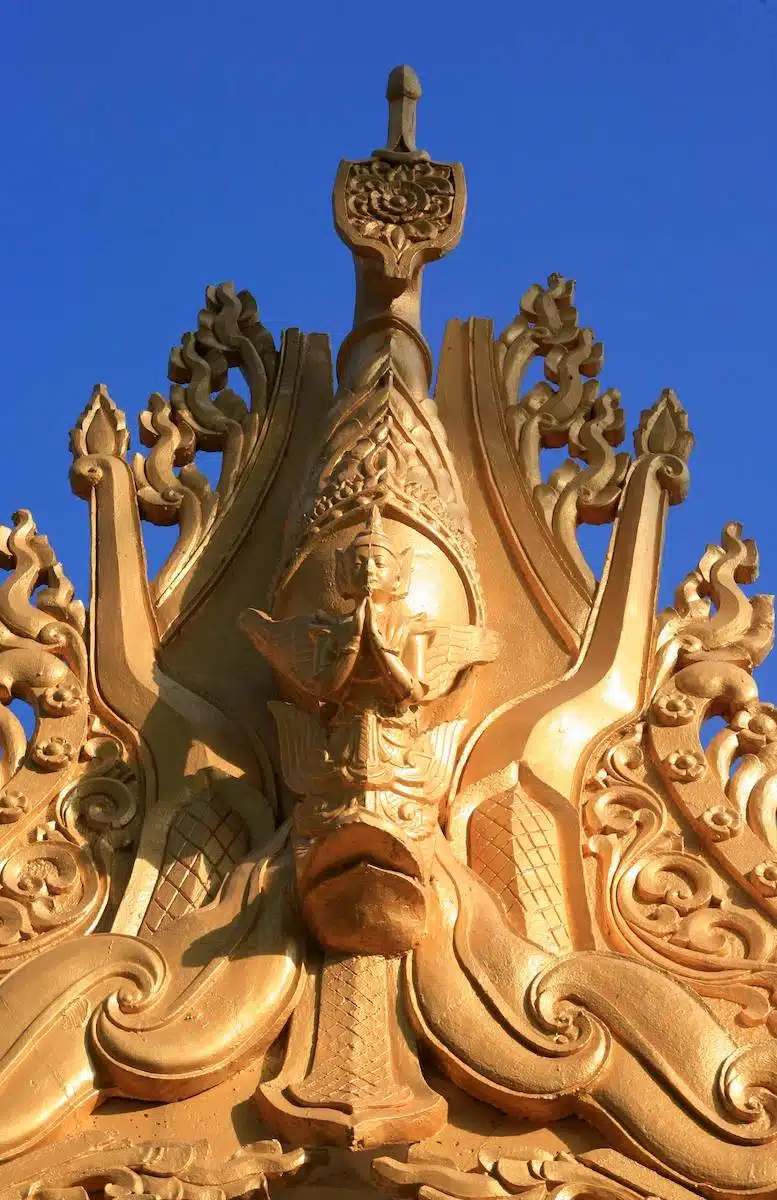 A breathtaking temple, Dharmikarama Burmese Temple, is the only one of its kind in Penang.
The Dhammikarama Burmese Buddhist Temple is one of two major Buddhist temples located within the Theravada Buddhist co-op on Burma Lane.
One of the most famous features found in the temple are two Panca Rupa (guardian protectors of the world) images that stand over a globe.
The temple was designated in 1988 as one of Malaysia's historical sites to be preserved as a tourist attraction.
Visitors from around the world come to this temple to take in its history and the beautiful artwork that is found throughout the buildings.
Nab the Views of Georgetown from Penang Hill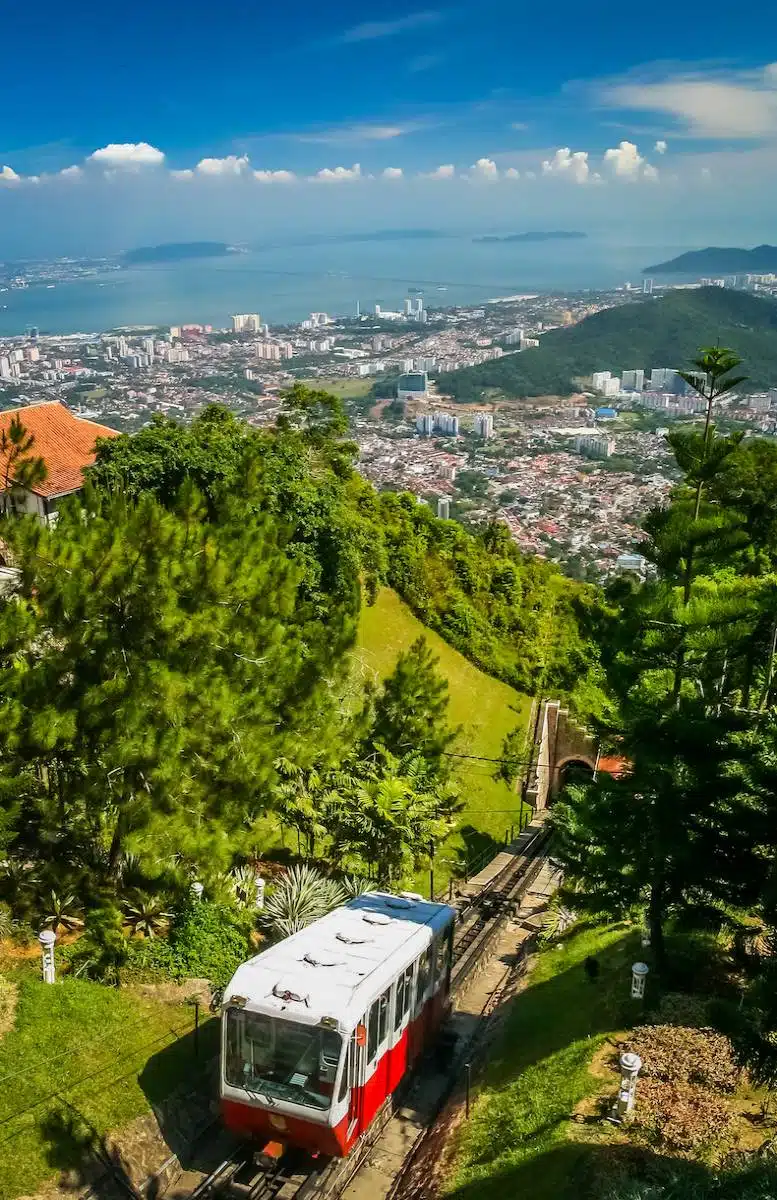 Towering 735m above sea level, it's no surprise that Penang Hill offers visitor's one heck of a view. In fact, a visit to Georgetown isn't complete without at least one trip to Penang Hill to see the breathtaking views of the city below.
Don't just schlepp up and down though. Take a guided tour through the nature trail to learn about the rainforest before reaching the top of the hill. If your feet need a rest, no worries, you can also take the cable car to the highest point of the location looking out over the landscape.
At the top of the hill you'll find several restaurants along with a carnivorous garden, a mosque, a Hindu temple and a museum.
Head To Genting Highlands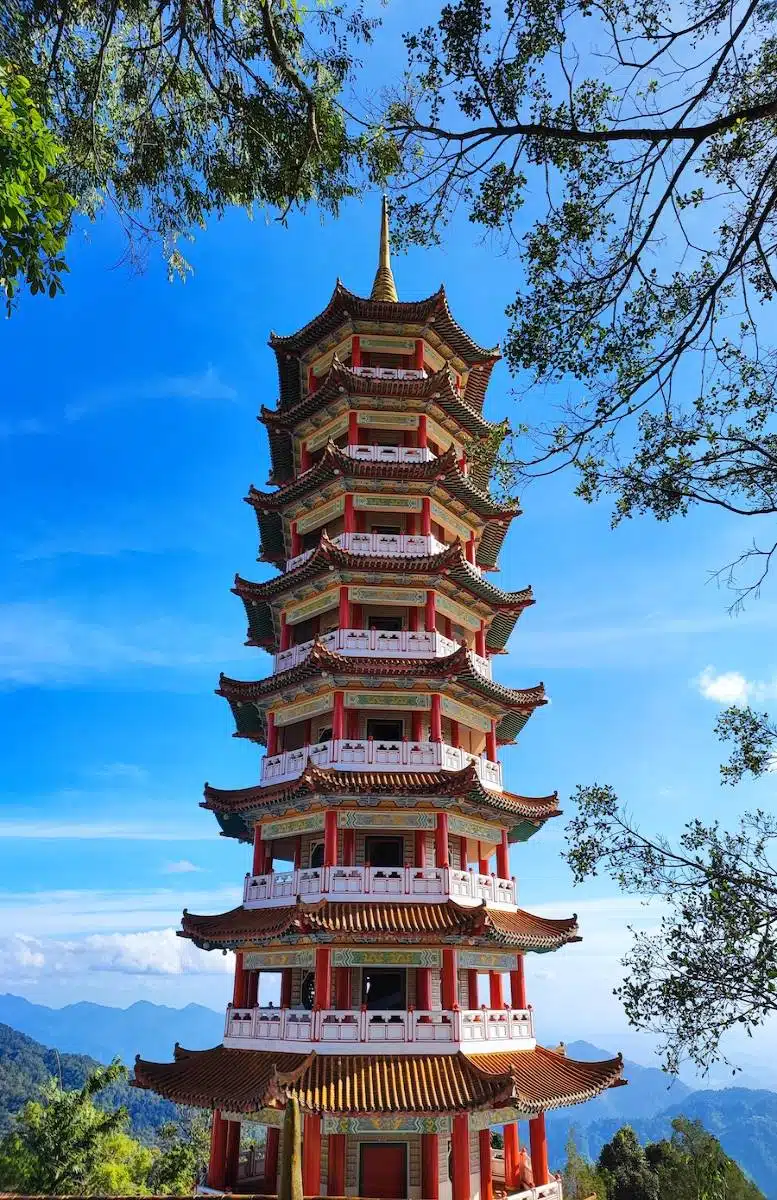 The fun never stops at Genting Highlands, Malaysia's biggest holiday destination. Some love it, some hate it – but most people agree that if you get beyond the casino-packed city, the acres of untouched rainforests make it worth the trip.
In the city itself, Genting Highlands also offers a wide range of Malaysian attractions from bars, theme parks, nightclubs, and of course, the Genting Skyway cable cars.
This Tour Combines the Genting Highlands and Batu Caves
Ignite Your Senses at The Kuching Spice Market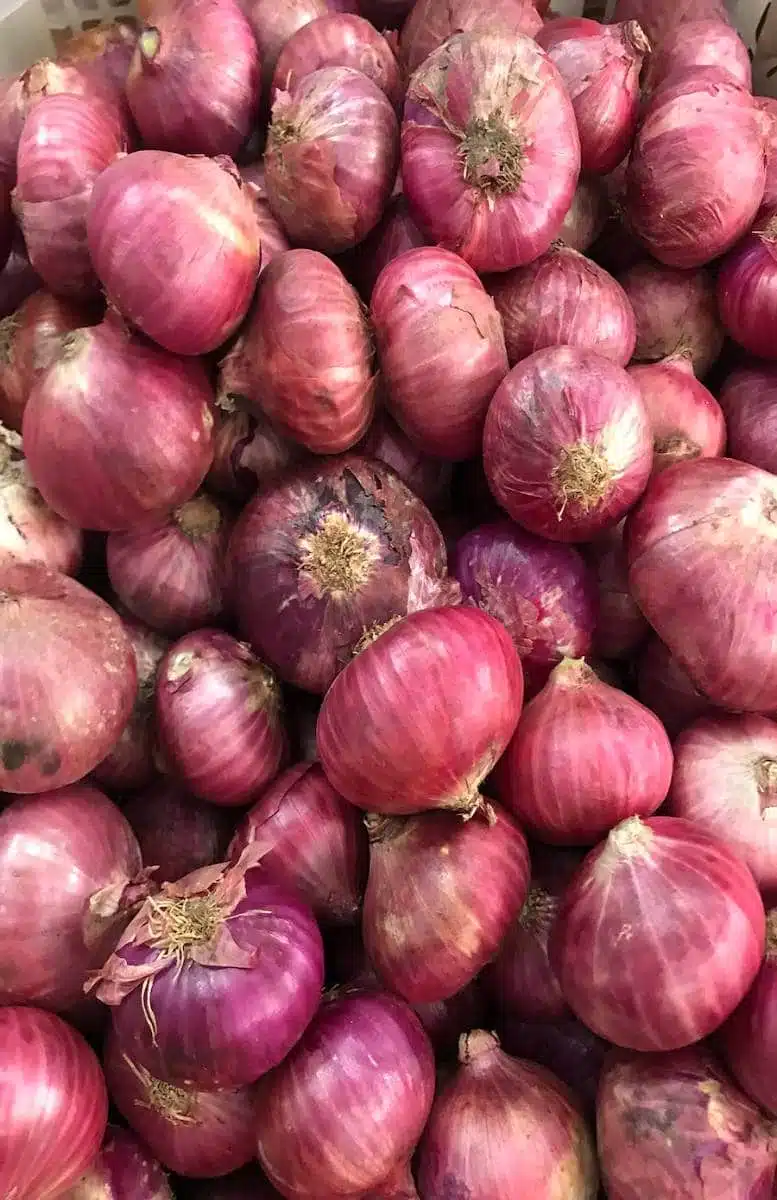 If you find yourself in Kuching, the capital of Sarawak in Malaysian Borneo, searching for things to do. I'm here to tell you that the spice market in Kuching is a must see in Malaysia.
The local cuisine in Malaysia is a highlight on its own, but visiting the spice market is an experience any foodie should take advantage of.
Here you'll be surrounded by all the spices used in local cuisines and might just be inspired to use some of these in your own cooking along your travels or when you return home.
Take a Peek at the Perhentian Islands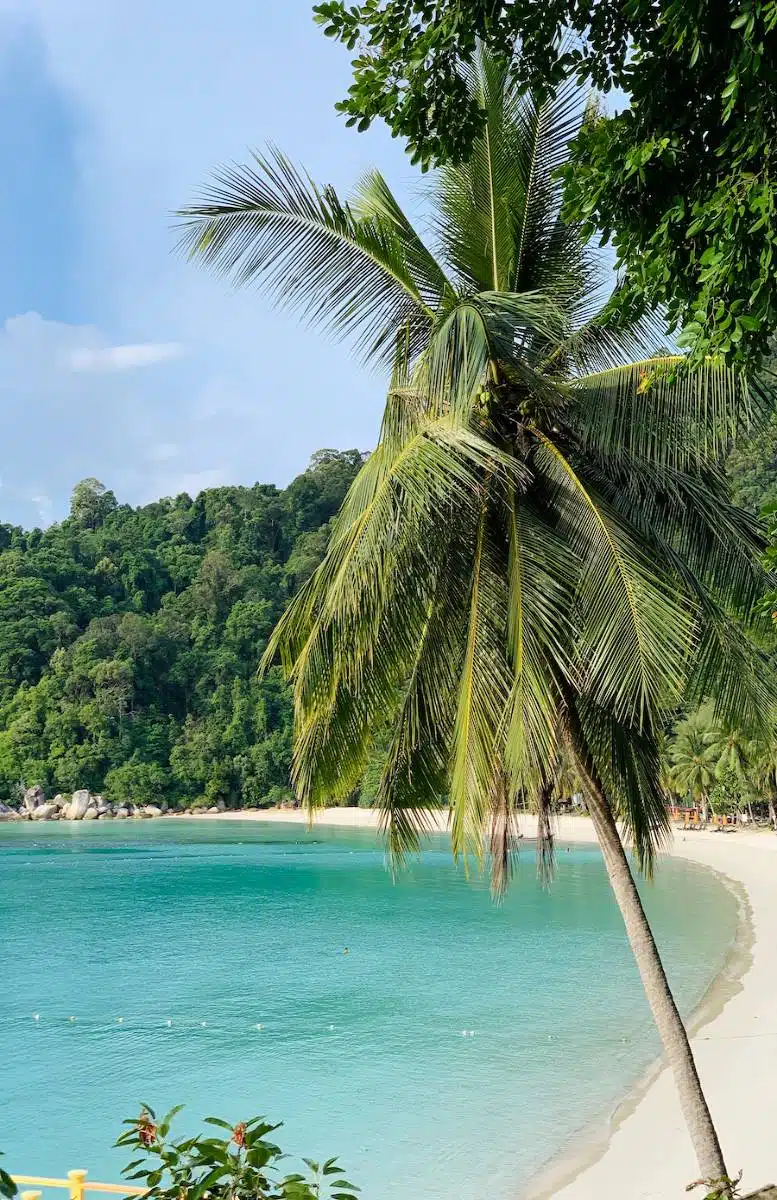 You're probably thinking, 'How many islands do you expect me to visit?'.
My answer? Visit them all or just one, whatever your heart desires!
One group of islands that I really do recommend exploring while in Malaysia are the Perhentian Islands.
These islands provide the best of both worlds: a hidden tropical paradise which is still relatively close to the mainland and transportation links. Go for some of Malaysia's best scuba diving or snorkelling or spend all night partying around a beachside fire.
Visit A Tea Plantation in the Cameron Highlands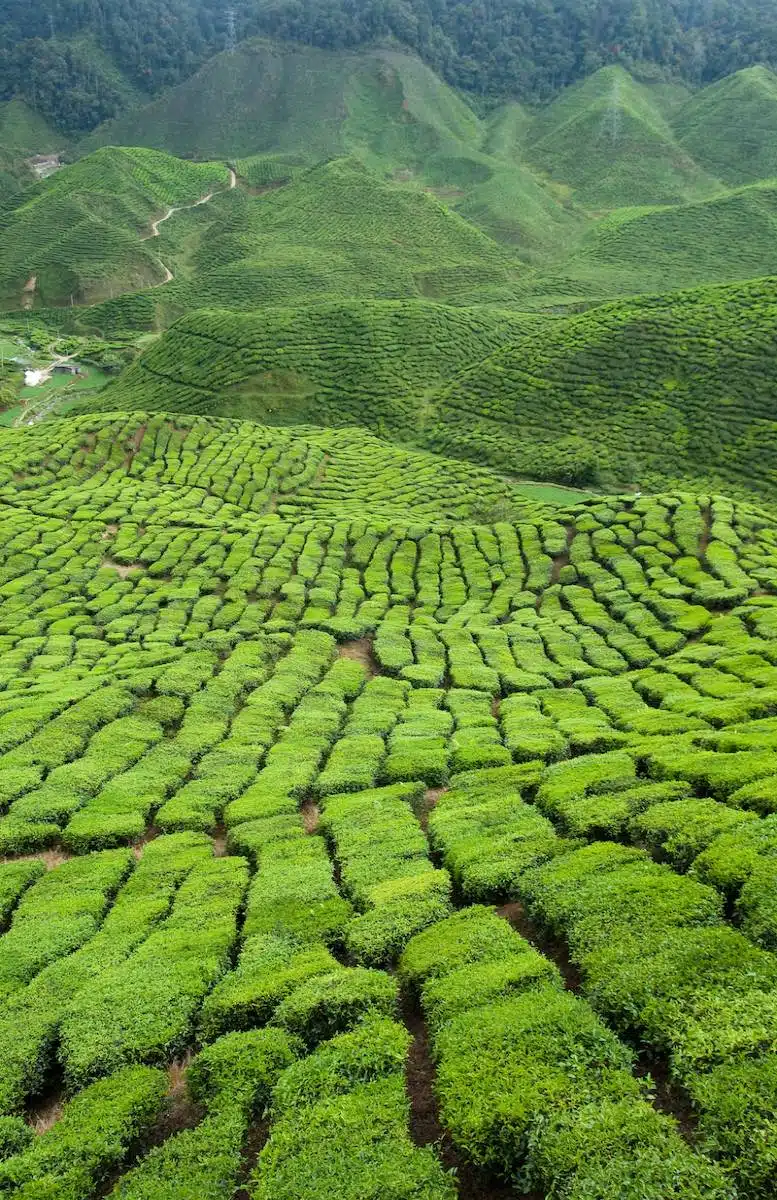 I know that I referenced the Cameron Highlands more broadly earlier in this guide, but visiting a tea plantation is special enough to warrant its own entry.
These tea plantations at first glance look like just rolling emerald green land, but if you journey closer you'll come to find out that this is one of Malaysia's many tea plantations.
The Cameron Valley Tea House sits over a luscious plantation with several dirt paths leading from the cafe down to the tea plantations.
Relax and enjoy a cup of locally grown tea while looking out over the plantations and taking in the beauty of the highlands.
Take A Cooking Class in Tanah Rata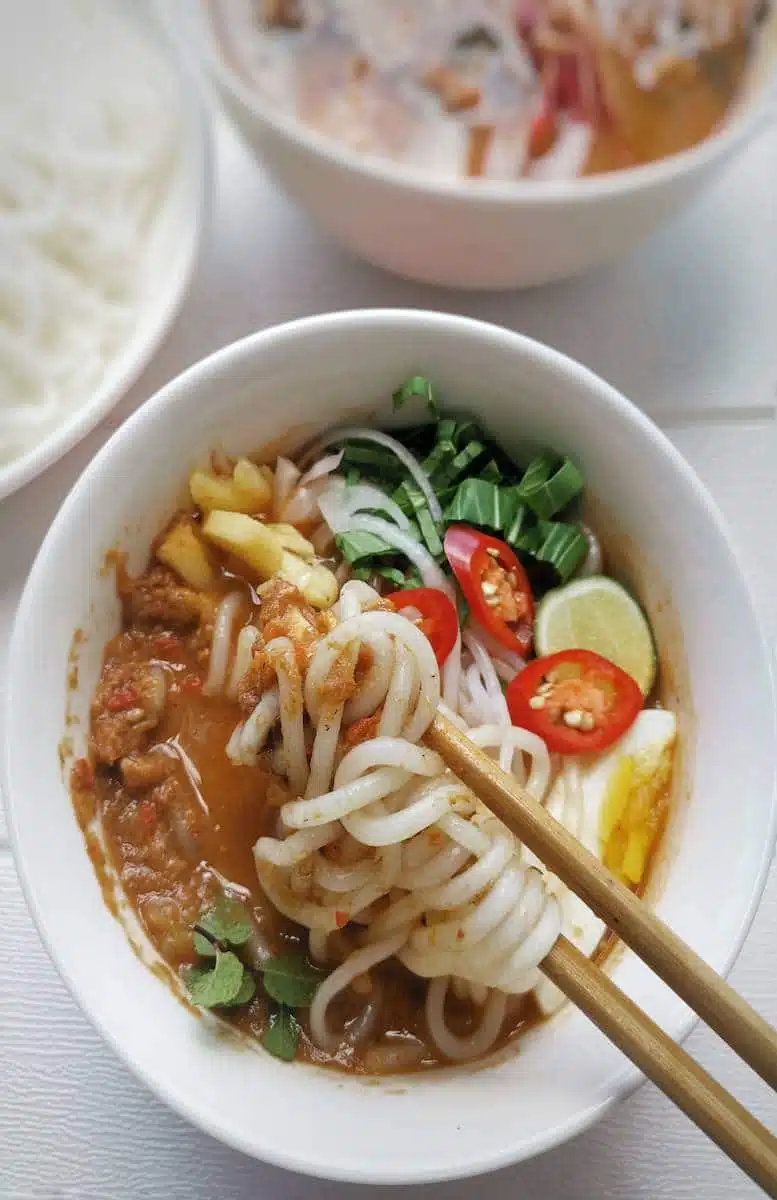 Journey into the town of Tanah Rata to learn all there is to know about Malaysian cuisine and just how to make it.
As one of the best things to do in Malaysia, there are plenty of cooking classes offered throughout the town, both vegetarian and non-vegetarian.
Orchid Lodge offers a cooking class where participants will be given various ingredients and told what to do with them as the classes can be less structured than most you'll find in other Asian countries.
You'll find yourself cooking traditional delicious Malaysian and Indian dishes- recipes that you'll just be dying to show off to your friends back home.
Head Into The Mossy Forest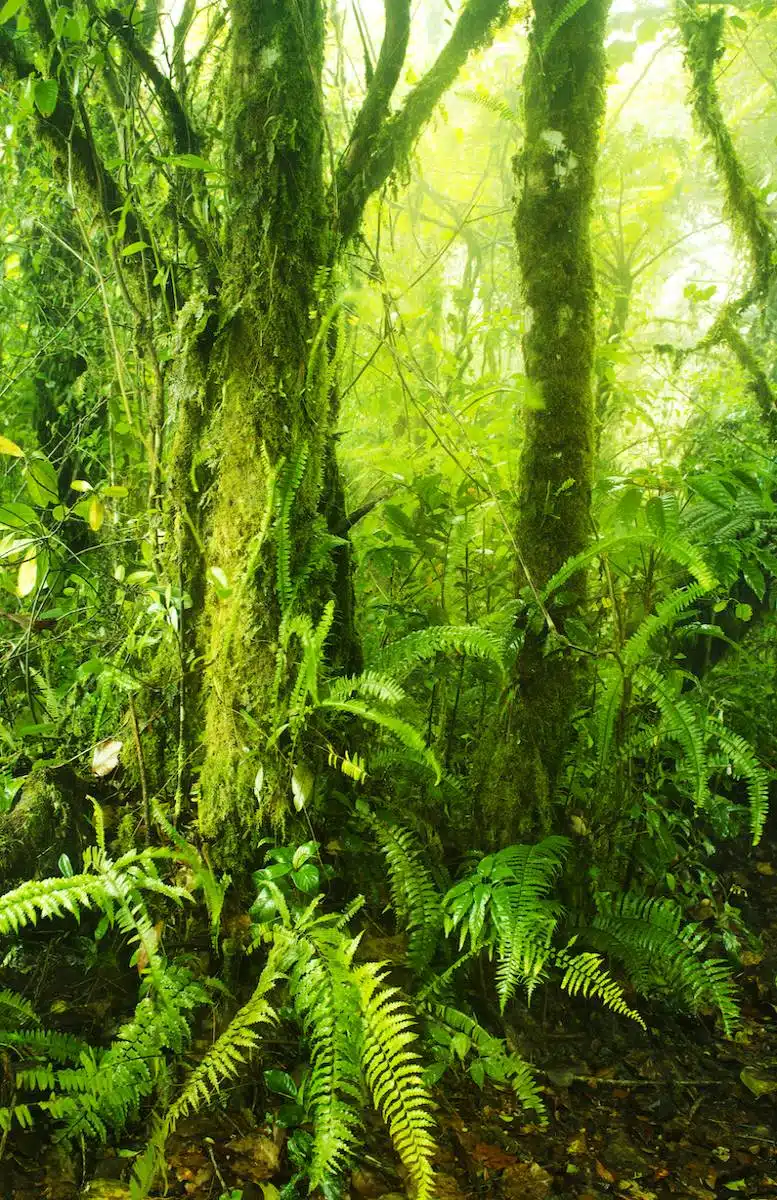 The Mossy Forest, which is located in the highest elevations of Cameron Highlands is another thing to do while visiting Malaysia.
The trails of the mossy forest tend to be engulfed in a thick fog and the cold temperatures will have travellers feeling as if they were transported somewhere other than warm Malaysia.
This forest is home to a wide array of interesting flora, including the pitcher plant, a brightly colored carnivorous plant.
Explore Kuala Lumpur's Chinatown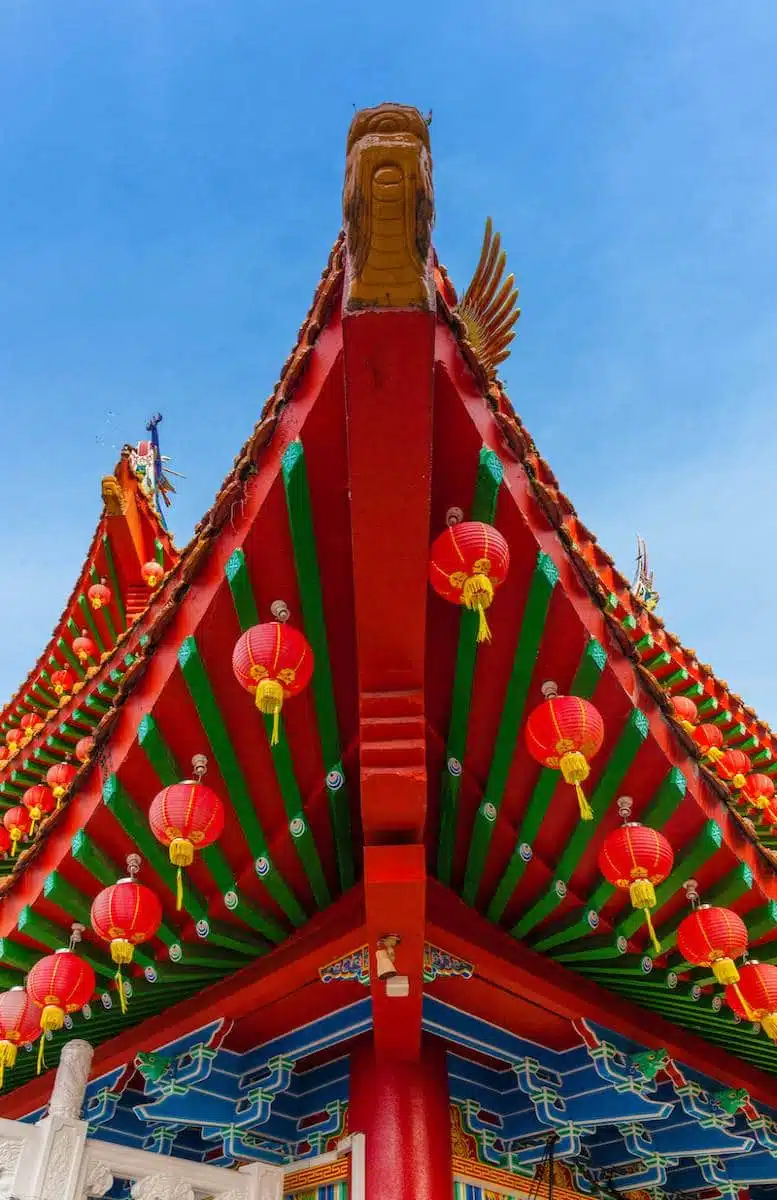 Believe it or not, one of the most visited places in Malaysia happens to be Chinatown, located in Kuala Lumpur.
The Chinese population in Malaysia is very large which is why their Chinatown area, also known as Petaling Street, is popular with tourists and locals alike.
One thing to see when in KL's Chinatown is the Sri Mahamariamman Temple – one of the oldest Hindu temples in Kuala Lumpur.
The temple is open to the public, just be sure to remove your shoes before entering.
Best Things to do in Malaysia: Map
Discover More Southeast Asia Travel Guides
Love This? Save and Share on Pinterest