Discover the best things to do in Borneo with this handy guide. 14 brilliant activities to add to your itinerary.
The third largest island on the planet shouldn't need an introduction. Yet, unless you've got a guide to the best things to do in Borneo, it might remain shrouded in mystery. Wait a minute…
Lucky for you, you've got a travel companion to lead you through its towering treetops, abundant wildlife, and (sometimes) foreboding rainforests.
From marvelling at the rugged landscape to spotting some of the island's endangered creatures, there are so many reasons to visit Borneo. Here's just a few.
Wondering where to stay for your Borneo trip? Sukau Rainforest Lodge is situated along the banks of the Kinabatangan River and offers a tranquil stay in the heart of the Bornean jungle.
Top 5 Things to Do in Borneo
Spend a Day in Kota Kinabalu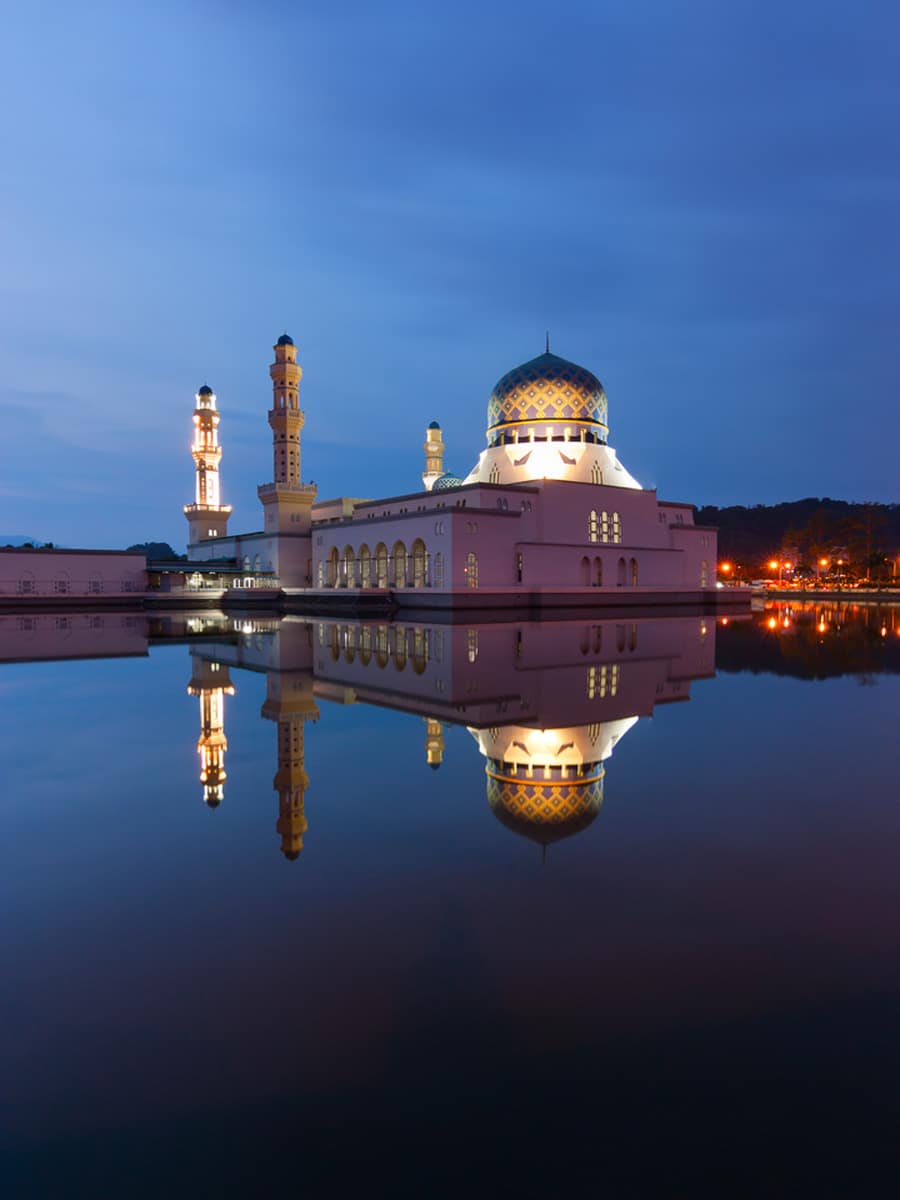 Also known as KK, Kota Kinabalu is the state capital of Sabah and one of my favourite places in the entirety of Borneo. 
There's plenty to do here, but the Floating Mosque and array of cosy cafes are what stole my heart when I visited.
KK is also a brilliant place to go snorkelling and diving as many tour companies operate here – you'll need to make your way to the Jesselton Point Jetty, where your guide will meet you and give you the lowdown of the day.
Fair warning: Remember sun cream, the Malaysian sun is no joke and it will crisp you up if you're in the water for an extended period of time.
Book Your Borneo Snorkelling Tour Here
Visit The Caves of Sarawak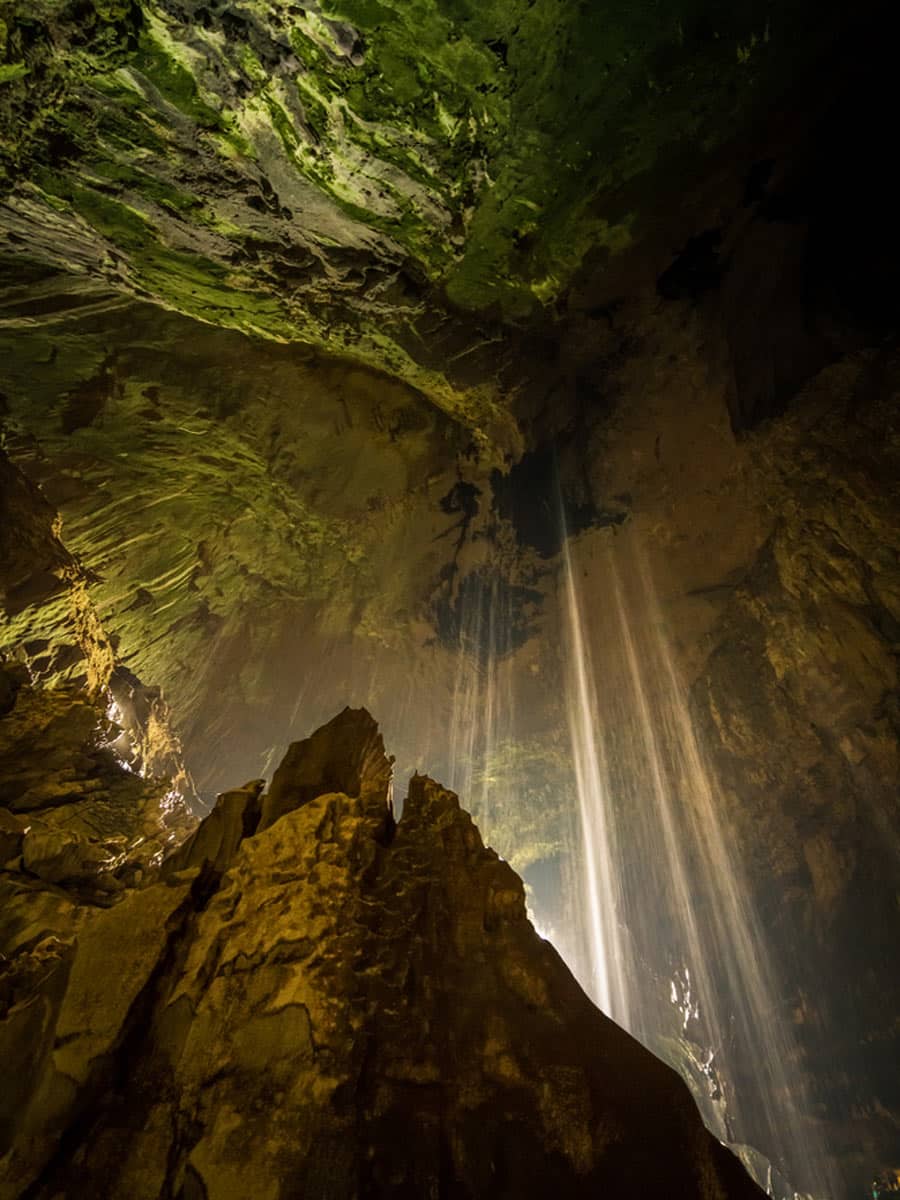 While adventures through stunning nature trails and deep-diving into pristine waters have their merits, in Sarawak, heading underground comes out on top.
Twisting through limestone cliffs, the network of passageways stretches for thousands (yes, thousands) of kilometres.
The most accessible is the Niah Caves, close to Miri. But other standouts include the Moon Cave, Great Cave, and the aptly named Painted Cave. Within the latter, you'll see some of the oldest cave paintings ever discovered in Malaysia.
Visit Mount Kinabalu National Park (And Maybe Brave Mt Kinabalu!)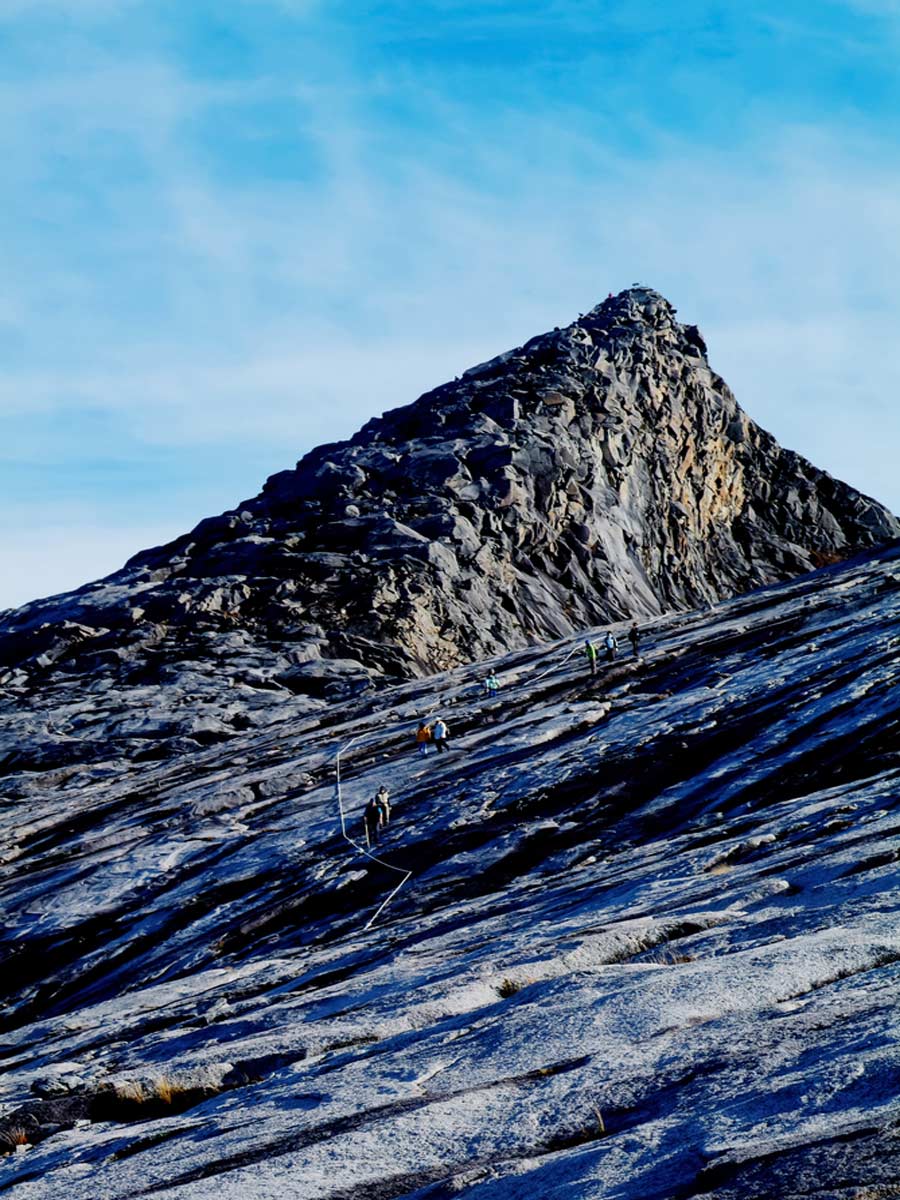 It would be rude to visit Sabah and skip out on visiting Mount Kinabalu National Park.
Sure, you might not fancy climbing Mount Kinabalu (it takes around 2 days to summit), but visiting the lush park below is a no-brainer.
The park is a UNESCO Heritage Site and boasts a rich collection of biodiversity and wildlife. It's also home to two mountains, the aforementioned Kinabalu and the significantly smaller Mount Tambuyukon.
Wander Through Kuching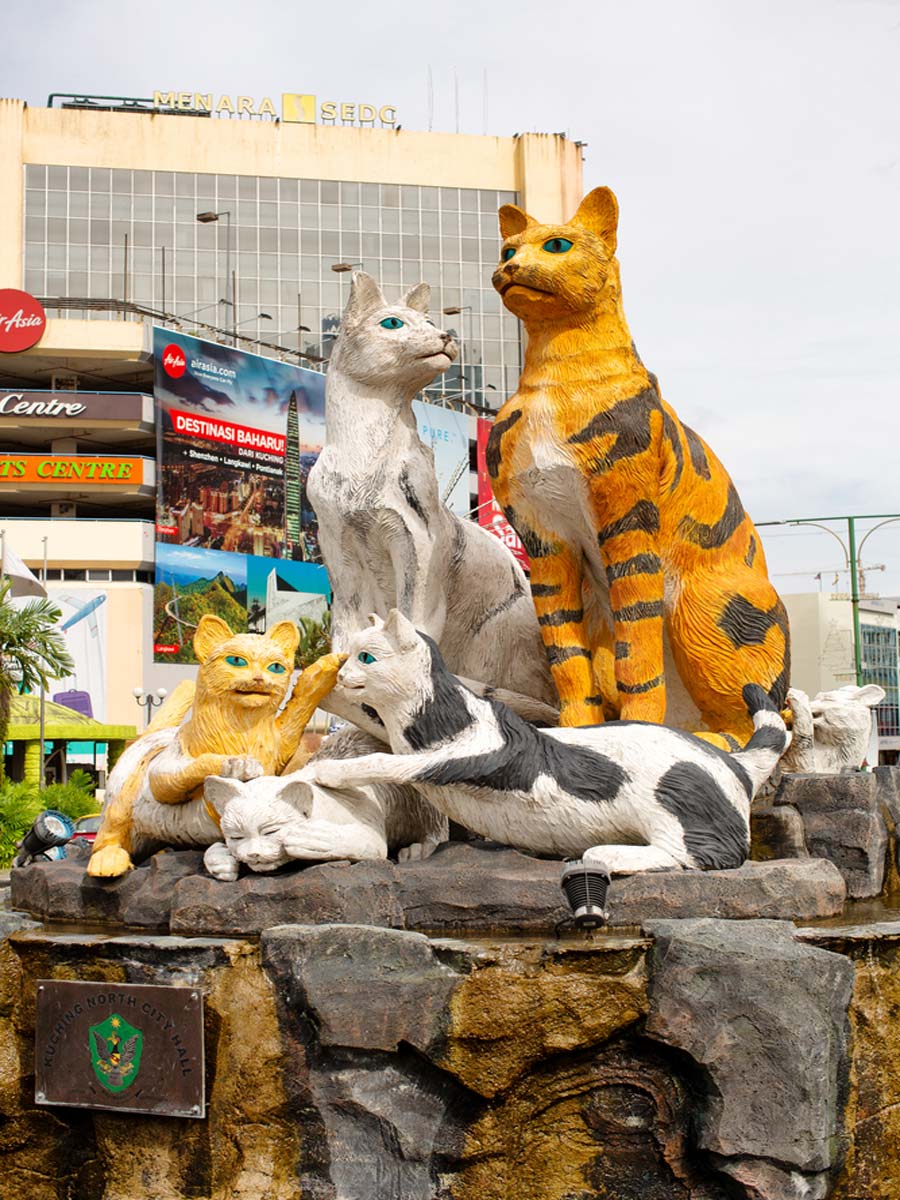 As the capital city of the Sarawak region of Borneo Island, Kuching brims with a vibrant and rich culture and atmosphere that is as unique as they come. Derived from the Malay word for cat (Kucing), the city also boasts a very distinct love for felines.
You won't have to go far to notice this, as dozens of cat statues of varying sizes dominate the streets and parks of the city. Not to even mention the many charming tabby-friendly cafés throughout.
Come for the cats and stay for other gems such as the Sarawak River, numerous Buddhist Temples, and some stunning floating villages.
See Orangutans and Sunbears in the Sepilok Sanctuaries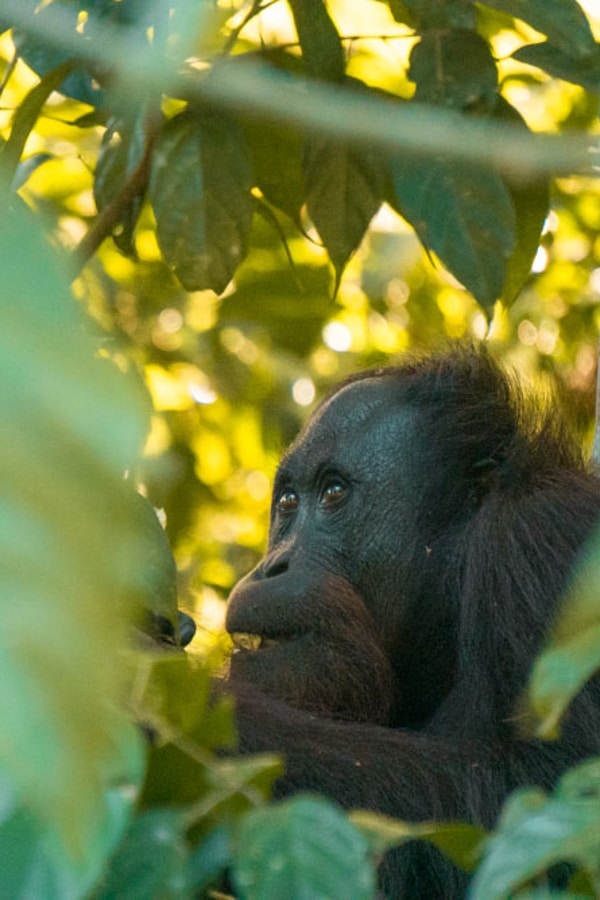 One of the main reasons tourists flock to Borneo is to visit the sanctuaries in Sepilok.
The Sepilok Orangutan Rehabilitation Centre and the Bornean Sun Bear Conservation Centre (these are ADORABLE) are right next to each other on the map, so you can easily see both in one morning. Trust me – you'll want to get there early for the highest chance of spotting the animals.
There's also the Rainforest Discovery Centre nearby but, to be honest, unless you're visiting on a guided night tour, I say skip it.
Brilliant Things to See & Do in Borneo
Get Lost in Nature in Brunei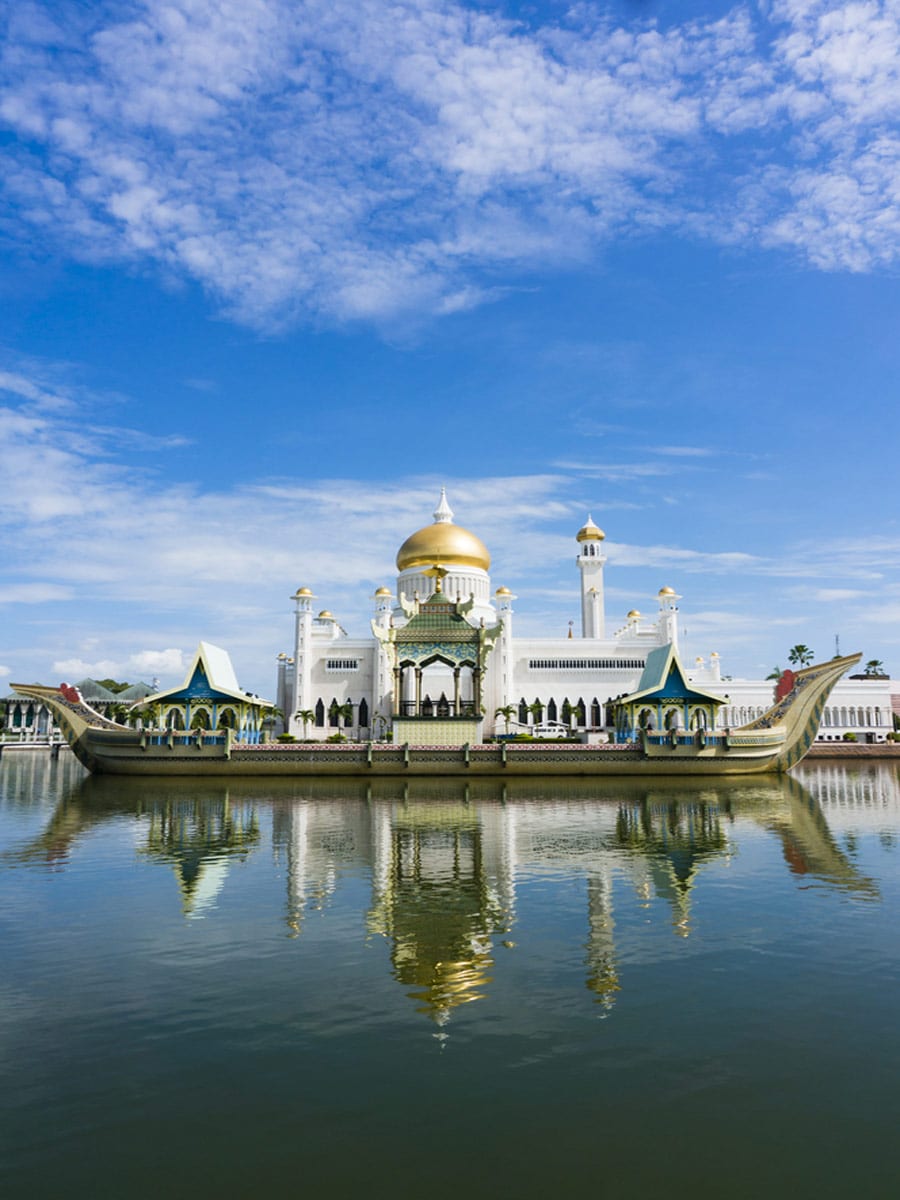 Another of the three regions of Borneo, Brunei is any nature lover's nirvana, myself included. In an area so blessed with rare ecological systems and habitats, it's easy to find a spot to add to any best of Borneo list.
However, the Ulu Temburong National Park is the shimmering jewel in the green crown of Brunei. Not only is it a premier example of state-sponsored conservation, it boasts biodiversity unlike any you've seen before.
Partially thanks to its remote location, but the trek to reach it is the stuff you could only dream of.
Discover Bako National Park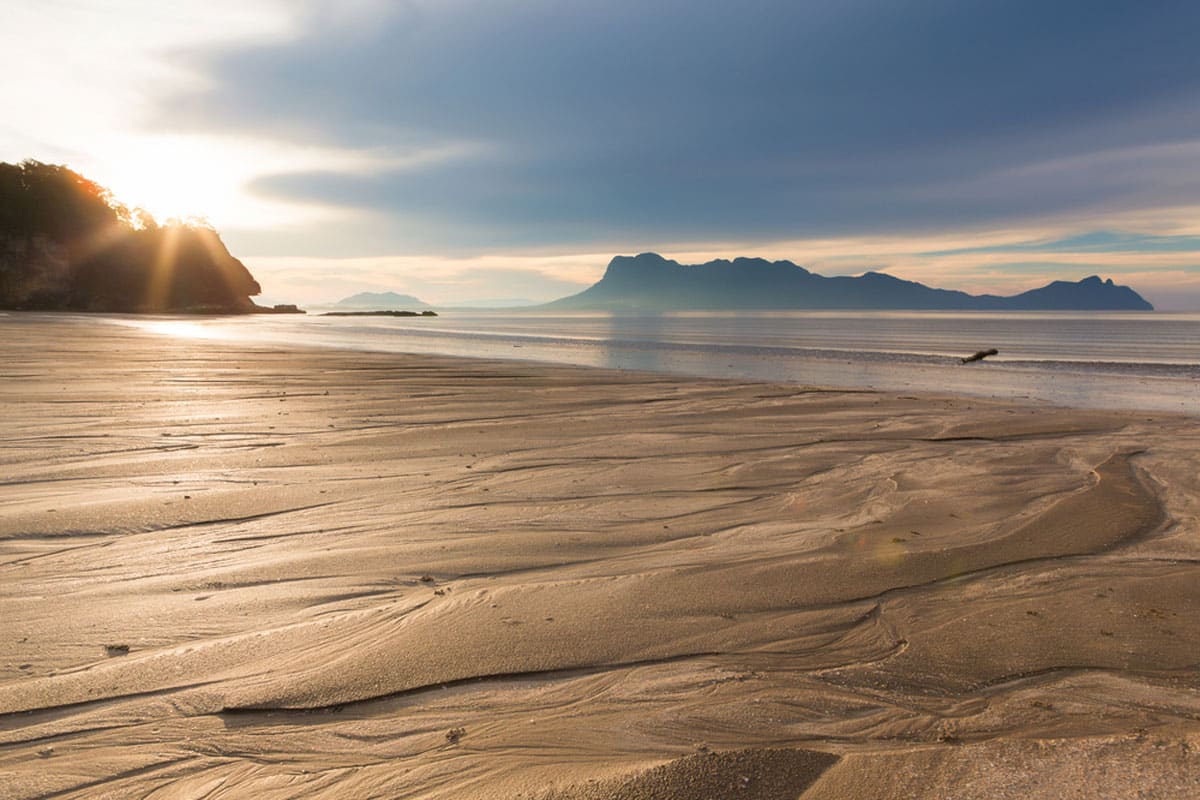 A defining part of the Sarawak region of Borneo, Bako National Park is undoubtedly a showcase of how genuinely awe-inspiring the country's jungles are. Although it's a relatively tiny and protected area, it's proof that big things come in small packages.
Numerous hiking trails, gorgeous beaches, imposing cliffs, and mesmerising waterfalls await.
But, the show-stealers here include heading out on a river cruise through almost eerie mangrove labyrinths and spotting the tiny population of Proboscis monkeys near Park HQ.
Explore Borneo's Mysterious Gunung Mulu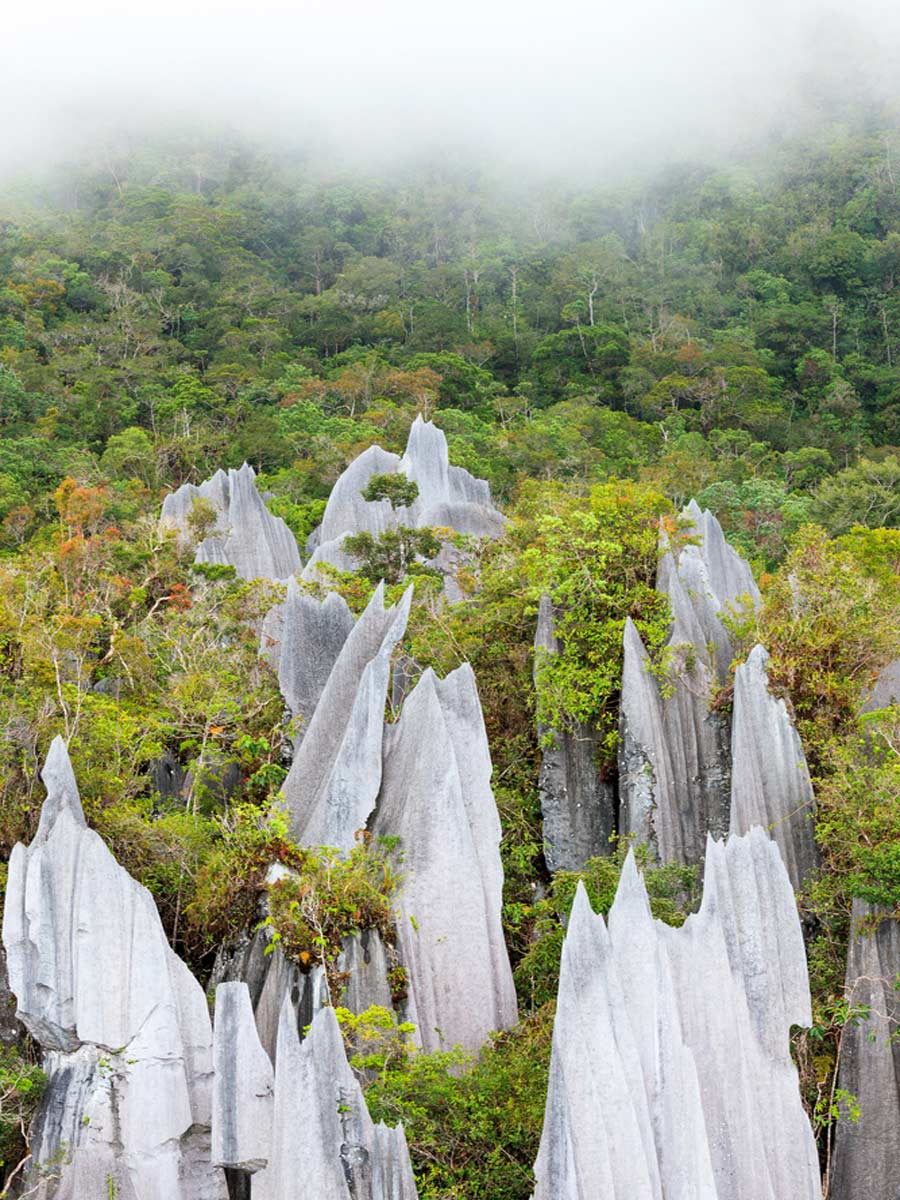 It turns out that in a spectacular second showing of glory, standing in awe of the landscapes of Sarawak outrank most other things to do in Borneo, Malaysia. For evidence, look no further than the captivating and often spooky terrain of Gunung Mulu (Mount Mulu).
If you're an eco-tourist looking for the ultimate adventure, the jagged limestone pinnacles, summit-reaching hiking trails, and seemingly endless Gunung Mulu National Park caverns are your new paradise.
Don't believe me? The largest cavity on Earth lies inside Mount Mulu's caves.
Visit the Orangutans of Semmengoh Nature Reserve
You can't get a better entry into most top things to do in Borneo lists than meeting the orangutans that call the island home. As far as memorable bucket list moments go, trust me on this one; this wildlife encounter will stick with you forever.
Sadly, due to poaching, palm oil production, and other less-than-humane activities, the native Bornean Orangutan (Pongo pygmaeus) is critically endangered.
So head to the Semmengoh Nature Reserve, where a troop of roughly 30 of these semi-wild giants reside.
Venture to Satang Island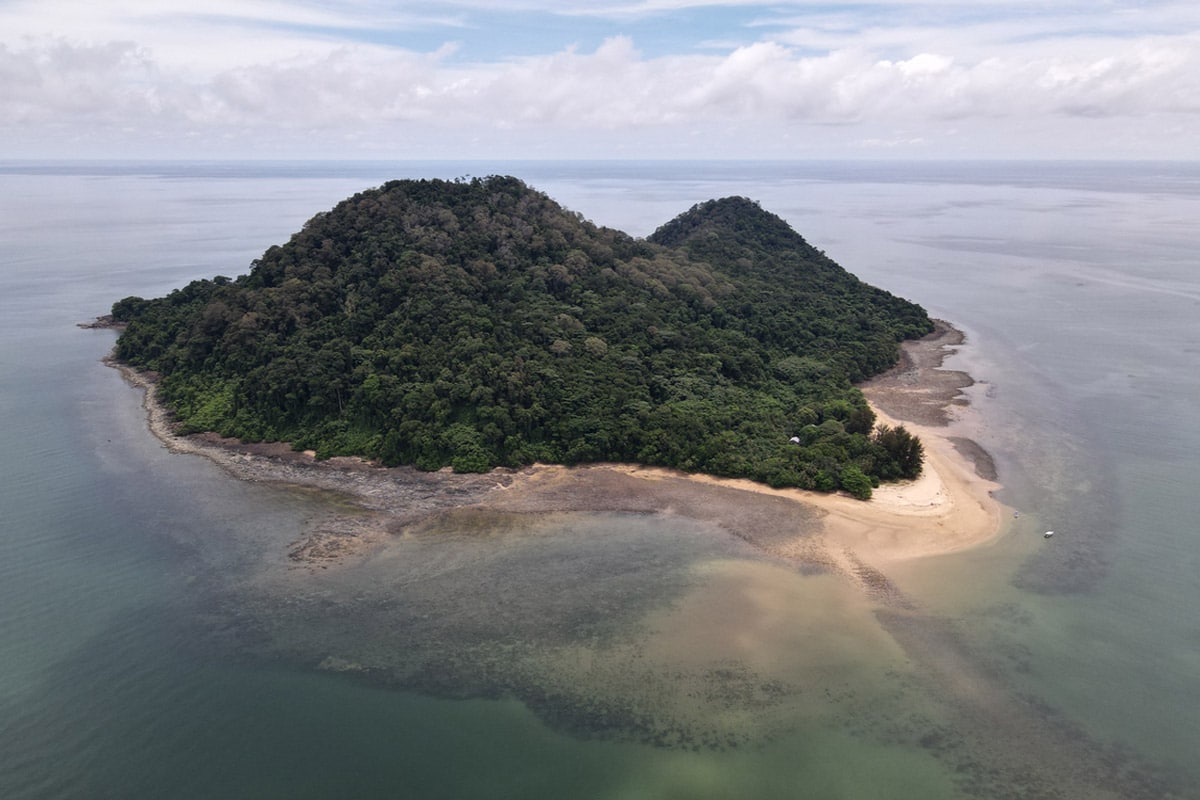 Just when you thought Sarawak couldn't get more magical, venturing to Satang Island breathes an almost ethereal life into your adventure.
Why? More commonly, Satang also goes by "Turtle Island."
An odd name, you might think, but seeing indigenous sea turtles lay eggs in their natural habitat easily ranks as a top 10 thing to do in Borneo.
This usually takes place at night, so spending a night (at least) on the island under forest ranger supervision is your one-way ticket to seeing Mother Nature in action.
Unique Things to See & Do in Borneo: Hidden Gems That are Off the Beaten Track
Dive into The Waters of Labuan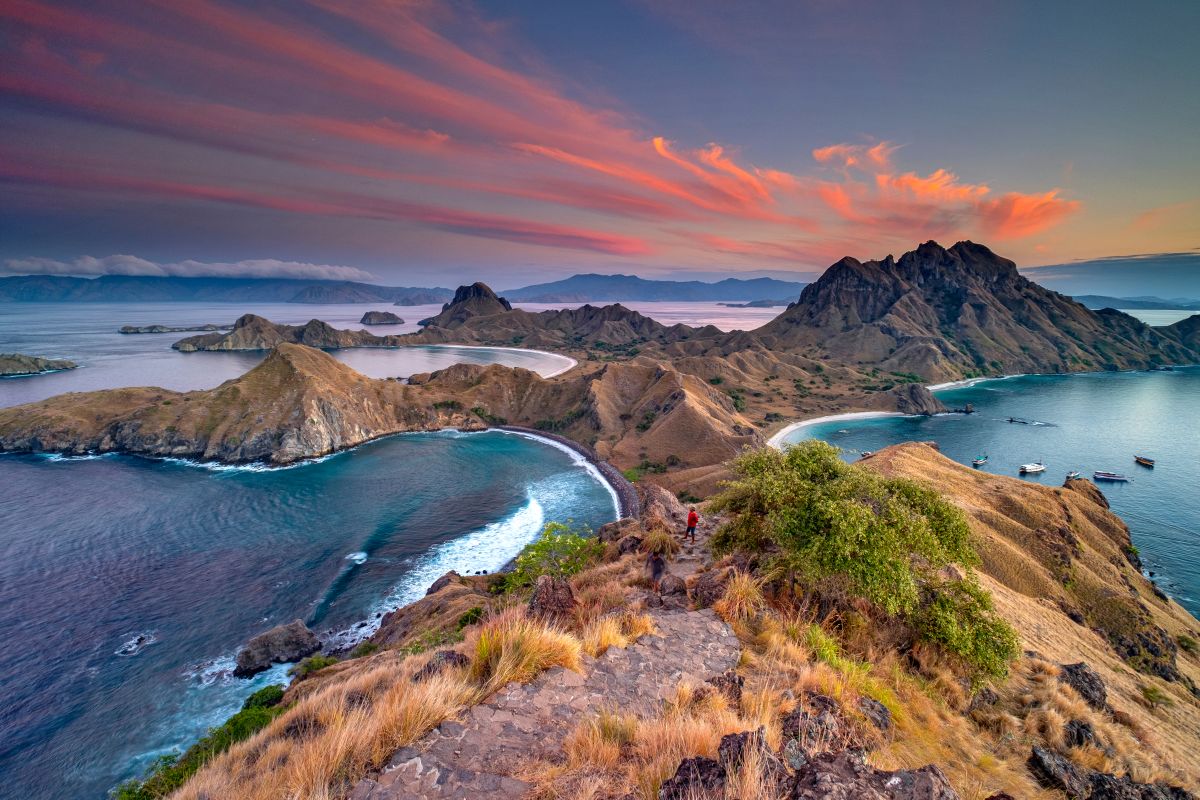 Located between Brunei and Sabah lies the tiny island of Labuan, a formation of seven separate islands, some more developed than others. After Malaysia's government transformed it into an economic hub, today, it has duty-free status.
Besides the business reputation, Labuan has the moniker of "diving heaven." Marine life is second to none thanks to multiple little-explored offshore sites a few miles from its coast.
And you can even spot a shipwreck or four that found their ends along the island coastline.
Discover Mount Santubong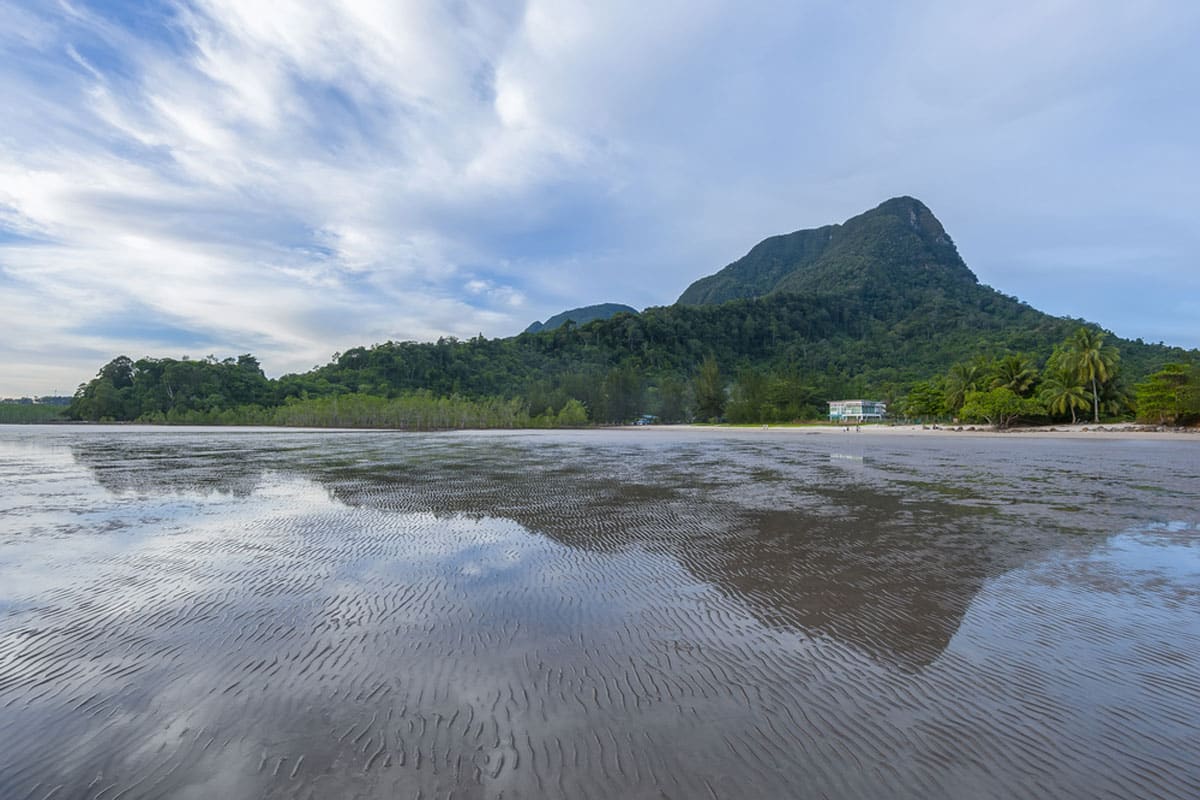 Sabah has Mount Kinabalu, Sarawak has Mount Santubong. While both have sacred reverence amongst locals, each is as unique and beautiful as they come.
Near Kuching, this monolithic mountain reaches 2,657 feet above sea level and dominates the surrounding coastline.
While this is impressive, the mountain also boasts several habitats and ecological areas covering it, from mangroves to rainforests. And, if you're here during July, indulge your senses at the Rainforest Music Festival held in its foothills.
Head to Mari Mari Cultural Village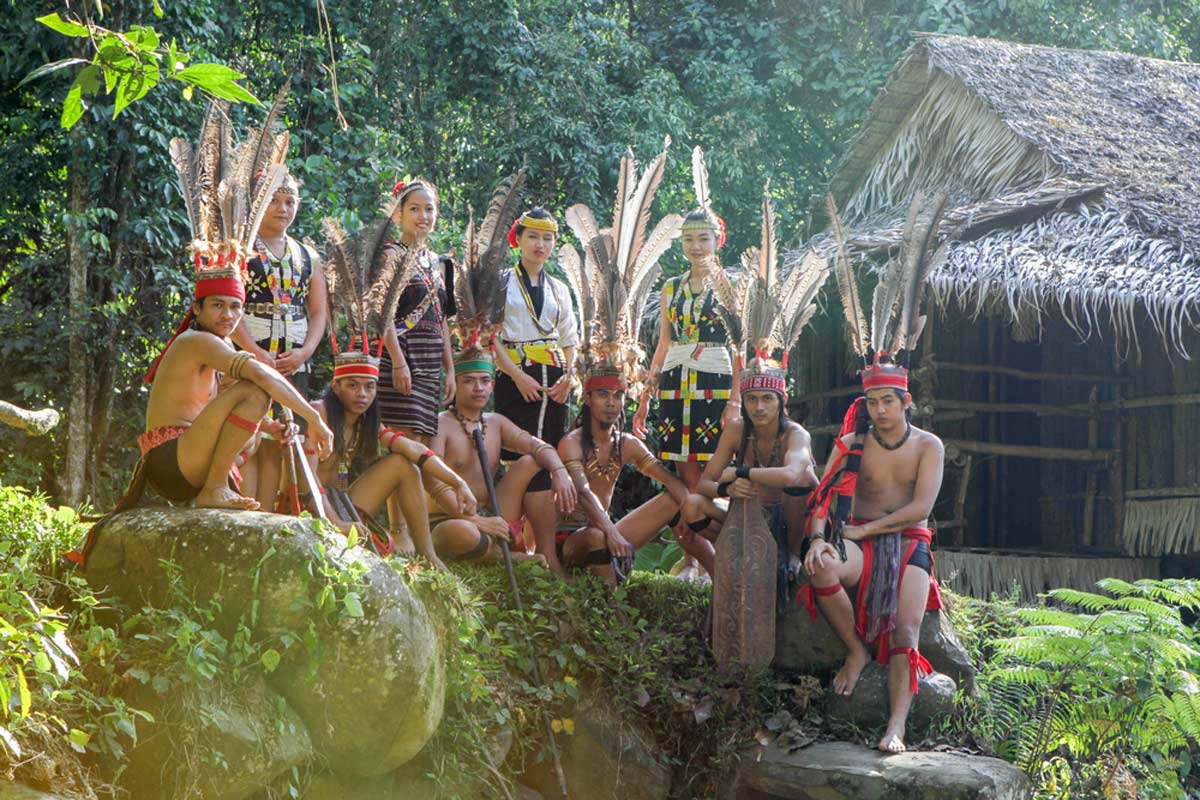 When visiting KK, the Mari Mari Cultural Village is an unmissable attraction you need to make time for.
Part museum, part cultural experience, the village is located outside the developed Kota Kinabalu and preserves traditional Bornean culture. You'll get to witness just how the indigenous ethnic groups of Borneo lived before electricity was introduced to the island.
The village boasts 5 different tribes: Rice farmer Kadazan-Dusun, the longhouse resident Rungus, the hunters and fisherman Lundayeh, the cowboy and sea gypsey Bajau, and the infamous headhunting tribe of Murut.
View the Rock Formations of Tusan Cliff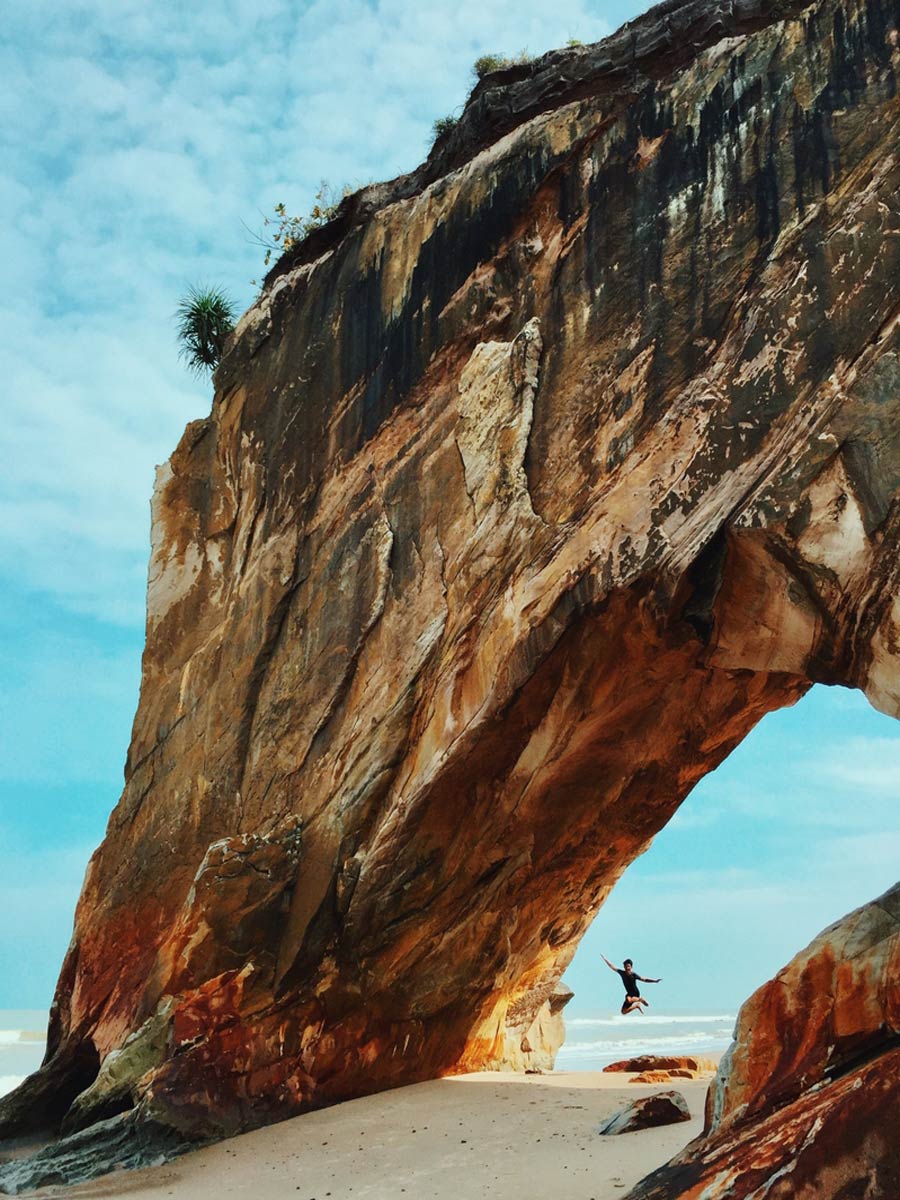 Sitting along the South China Sea, Tusan Cliff Beach boasts roughly 25 miles of sugar-like golden sand that stretches out almost perfectly vertically to towering limestone cliffs. The coastline is surprisingly almost always nearly empty, so you get that unique secluded feel.
But beyond the gentle waves of azure-blue waters that roll onto the beach, the oddly shaped cliff and rock formations steal the show.
The iconic "Horse's Head" is most notable, which — you guessed it — strikingly resembles a horse drinking from the sea.
Things to Do in Borneo: Practical Tips for Your Trip
Where Should I Stay in Borneo?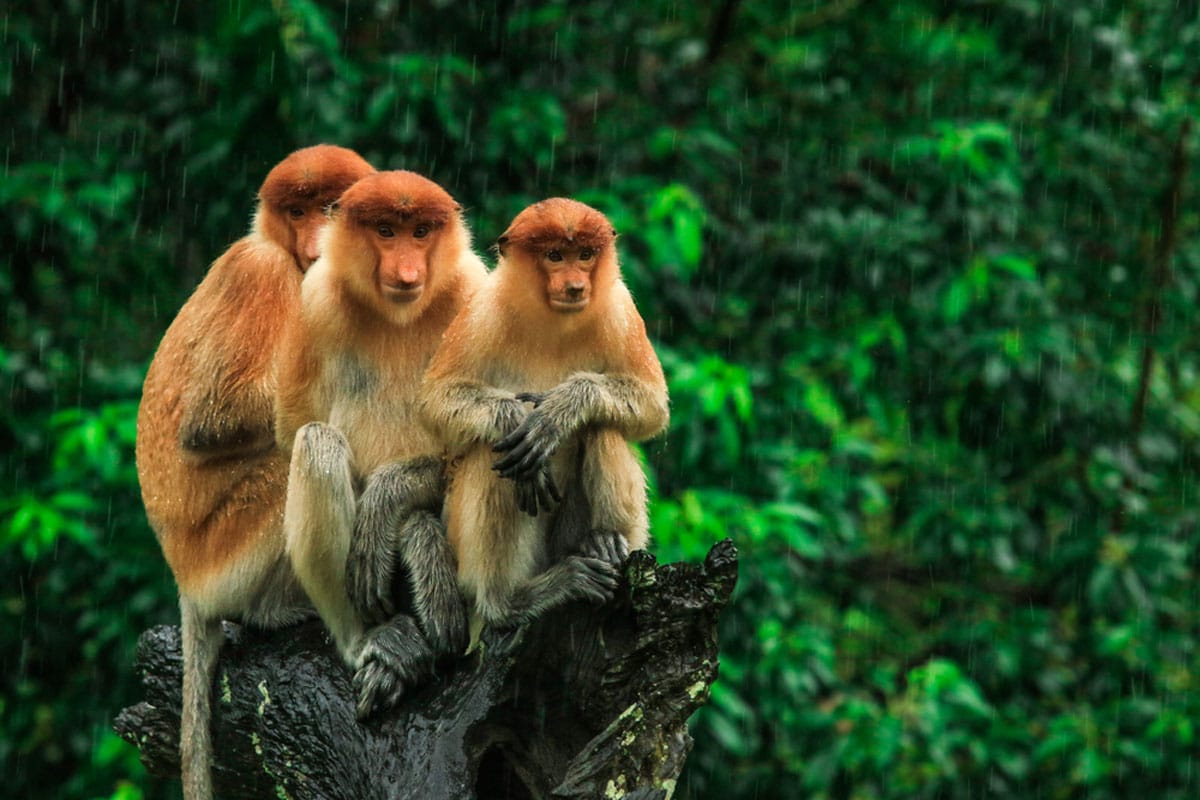 Raia Hotel (Mid-Range)
If you're looking for the best mid-range yet pleasantly luxurious accommodation options in Kuching, the Raia Hotel is a surefire hit. With a seasonal outdoor swimming pool, concierge service, and distinctly modern design, it ticks every box.
Nexus Resort and Spa (Luxury)
When it comes to indulgent stays, Nexus Resort has got you more than covered. This sprawling complex boasts a spa, pool, golf club, and plenty of restaurants for you to enjoy.
Not to mention that the breakfast is one of the best hotel buffets I've ever had.
The Waterfront Hotel Kuching (Luxury)
Now for ultra-luxe at its finest (and spectacular views), the Waterfront Hotel Kuching takes the cake. The five-star property sits atop the Plaza Merdeka Shopping Centre and offers a wide range of room types, including opulent suites.
Recommended Tours in Borneo
Things to Do in Borneo: Map
Things to do in Borneo: Read Next