Explore the best hikes in Santa Barbara with this handy guide. Epic trails and views you need to add to your itinerary.
Though it's not blessed with as many hikes as some of the other California destinations, Santa Barbara is a haven for hikers.
Why? Well the trails boast a variety of lush woodland, cascading waterfalls (in the right seasons), and the thrill of epic vistas. What's not to love?
Add to that the chance to spot some pretty cool wildlife up close, as well as plenty of opportunities to take a dip mid-hike, and hiking in Santa Barbara is a no brainer.
Granted, there are some other amazing things to do in Santa Barbara, but adding a few of these hikes to your list is a must.
Best Hikes in Santa Barbara
Inspiration Point Hike
Length: 3.4 Miles
Time: 2 – 2.5 Hours
Difficulty: Medium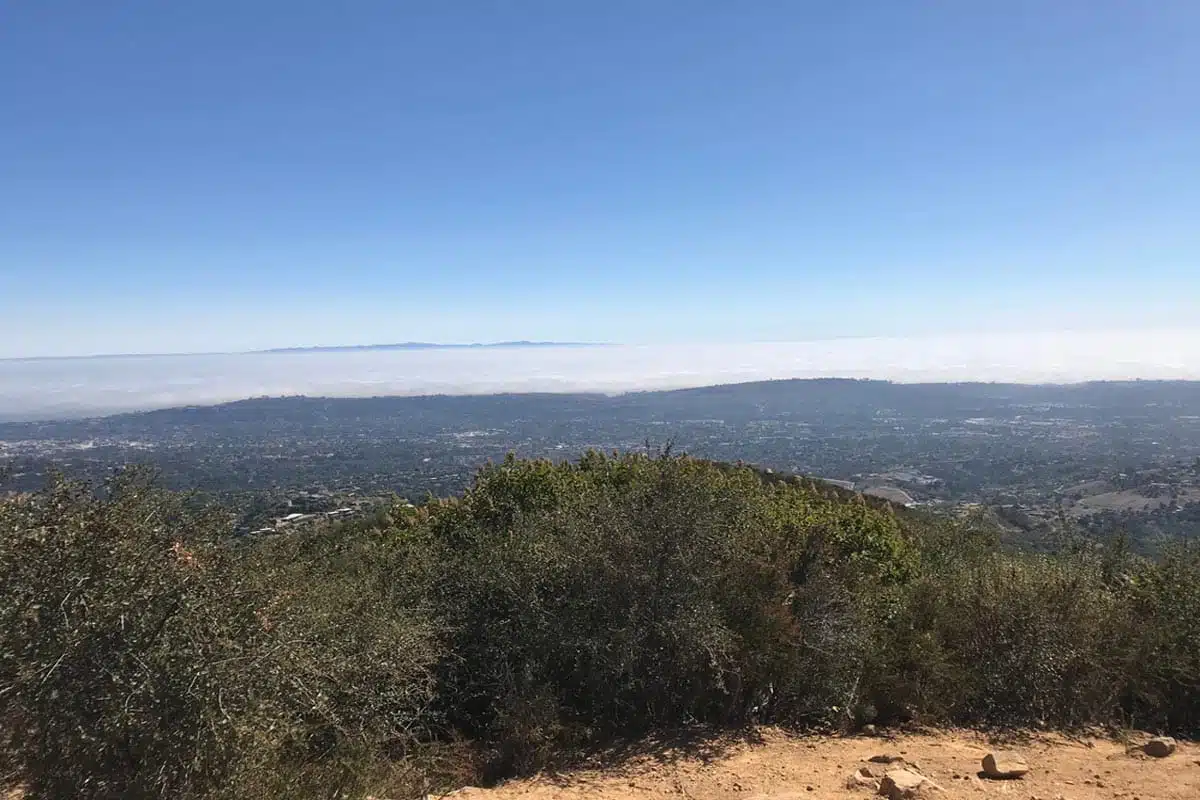 I had to start this guide off with my personal fave (and the most popular SB trail), the Inspiration Point hike. It starts at Tunnel Trail with a steep incline and elevation gain of 800 feet, so prepare your calves for a gentle workout.
You'll climb through shady chaparral before reaching a small summit. Here, you'll find wide-open canyons, creeks, and rocky sandstone crags ascending from the landscape as you go.
The summit itself isn't anything too special, but it's all about the view. I'm talking 180-degree scenic landscapes laid out before you with the city, the ocean, islands, and even the Saint Ynez Mountains in all their glory.
The best time of day to take this route is in the late afternoon when the whole vista lies in the golden-honey light of early evening.
Have I gushed enough? It's one of the most popular Santa Barbara hiking trails, so expect to see mountain bikers, hikers, and even dogs cross your path.
Top Tip: If you fancy a longer trek, you can start at the Jesusita Trail instead for a nice eight-mile out-and-back hike.
Suggested Map
San Ysidro Hike
Length: 9 Miles
Time: 5.5 – 6 Hours
Difficulty: Hard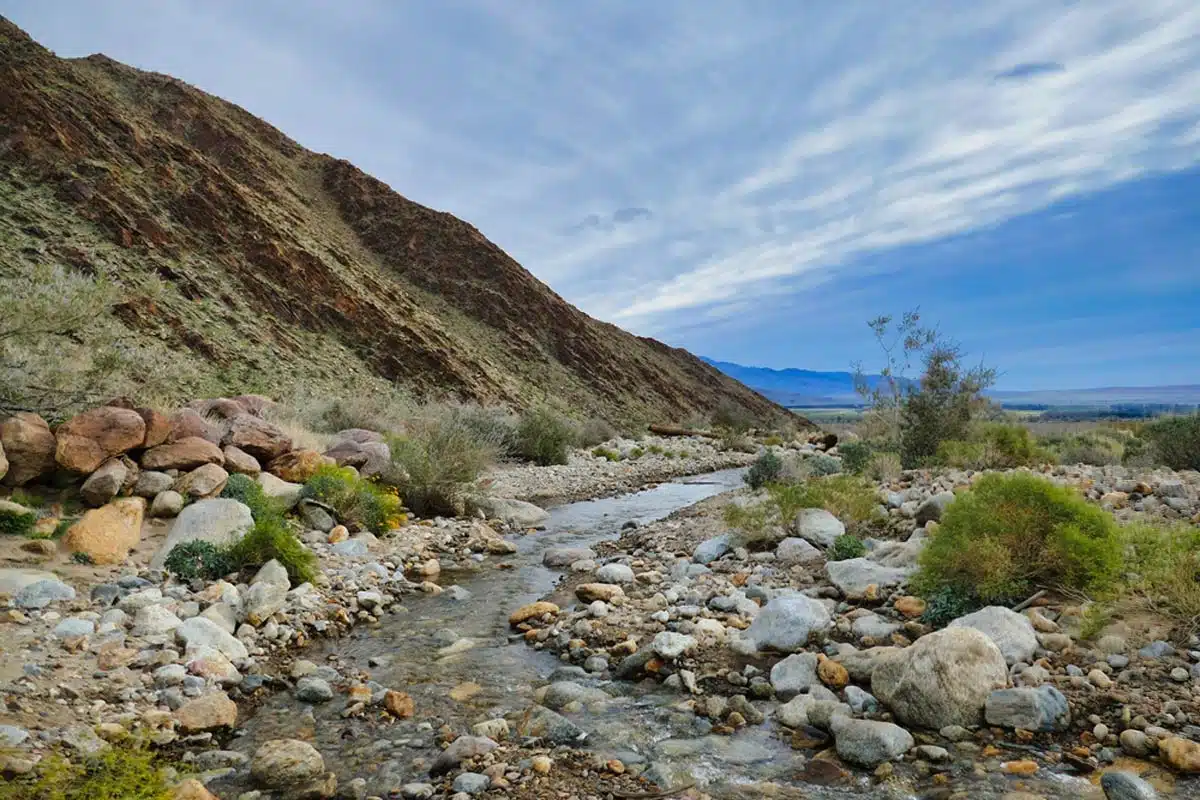 The San Ysidro trail is one of the more interesting Santa Barbara hikes. Despite the 2018 debris flow, the trail is still highly trekkable, with a soothing creek and delightful yellow and purple wildflowers in spring.
It's easy-going for 2.2 miles until you hit the 80-foot waterfall, where you can take a dip if the weather is good.
Many people turn back here, but if you continue up the perilous zigzagging gravel-littered mountain path with 2,674 feet in elevation gain, your reward will be gorgeous views. The snow-capped San Jacinta, the Salton Sea far below, Borrego Springs, and even distant Mexican peaks.
If you're planning on hiking in Santa Barbara, this one is easily top three if you're fit enough.
But bring plenty of water and very good shoes, because the latter part of the trail doesn't play fair and you can slip easily.
Cold Spring East Fork Hike
Length: 9 Miles
Time: 5.5 – 6 Hours
Difficulty: Hard
One of the most beloved out-and-back Santa Barbara trails, Cold Spring East Fork, was also affected by the 2018 debris flow. But the strewn boulders only add to the creek's beauty. Picturesque pools with frogs, salamanders, and several waterfalls dot the trail that initially follows the bubbling creek.
Get your thighs ready for some elevation gain as you ascend steeply up the canyon through chaparral trees to Montecito Overlook, about 1.5 miles into the trek. Wildflowers blossom amongst burnt tree stubs while you gaze over the city below.
Continue up to Montecito Peak, 3.5 miles from the trailhead, and finally, East Camino Cielo, another mile on. You'll have magnificent views of the sea — the perfect place to stop and rest your screaming calves after a gruelling 2,675-foot elevation gain.
Rattlesnake Canyon Hike
Length: 5 Miles
Time: 3 Hours
Difficulty: Easy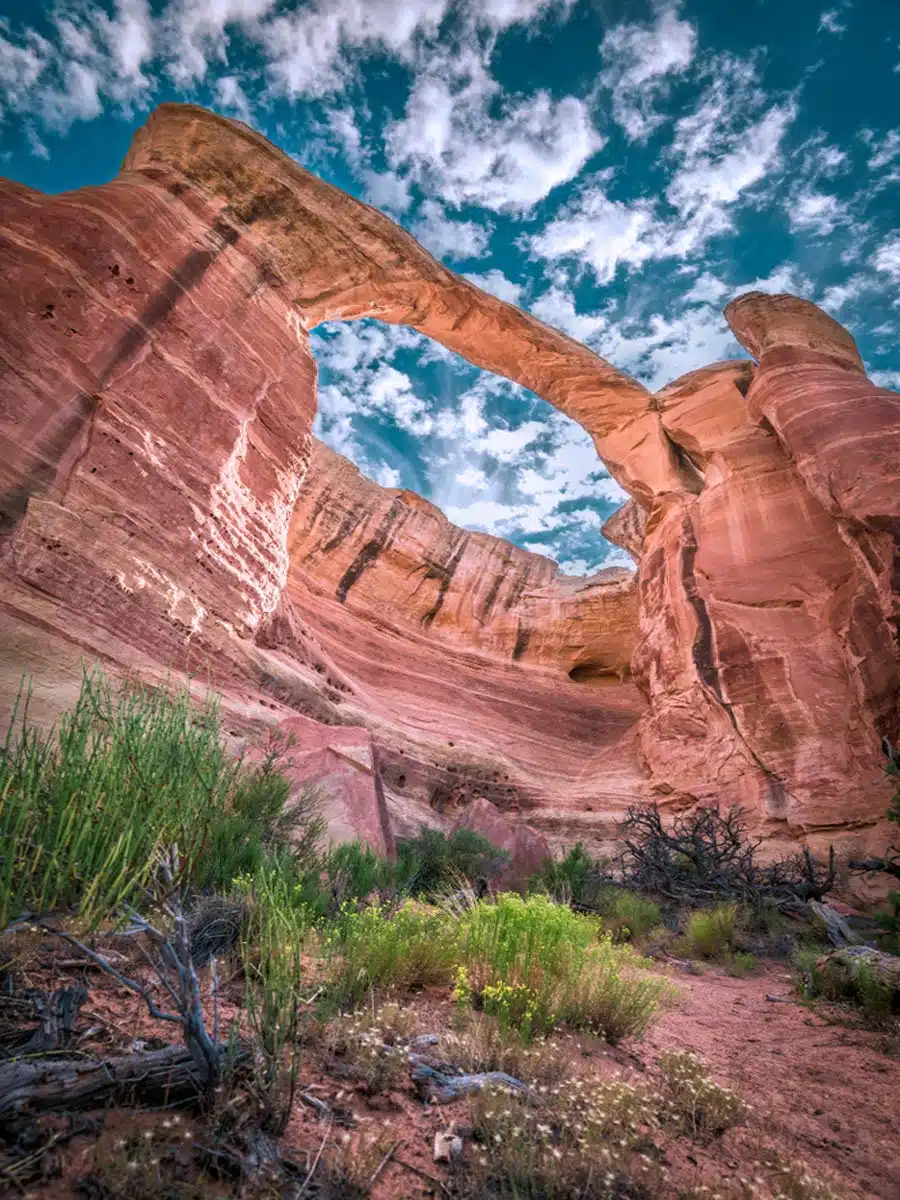 Let's get one thing out of the way when it comes to the Rattlesnake Canyon Hikes in Santa Barbara – surprisingly, not as many rattlesnakes as you'd think populate the pathways, though March to November is rattlesnake season.
But it is a lush Santa Barbara hiking trail that's a less-crowded option near Inspiration Point, and there's plenty of greenery for you to gush over.
The trail starts beside a creek and follows through a forest of chaparral, sycamores, and oaks before reaching a meadow with colourful wildflowers.
The trek gets a little more intense from here as you take a fork in the road and climb up a zigzag trail full of switchbacks. The elevation gain is 1,600 feet, but the views across the mountains to the sea are worth it.
Seven Falls Hike
Length: 3.2 Miles
Time: 2 – 3 Hours
Difficulty: Easy / Medium
If you're looking for picturesque Santa Barbara hikes, look no further than Seven Falls. It's easily one of the best Santa Barbara hikes on a hot summer's day, but equally beautiful after some rainfall.
You'll also need to be pretty adventurous to tackle this hike; you'll need to scramble and hop over boulders as you make your way along the trail.
The falls plummet into seven stone basins, and the water is usually deep enough in the spring for a refreshing dip. It's only an 800-foot elevation gain, so you won't feel tired by the time you reach the falls.
Oh, and as long as you keep your pupper on a leash, this is one of the dog-friendly hikes in Santa Barbara.
Top Tip: Parking at this trailhead is in short supply, and violations will be ticketed, so arrive early.
Suggested Map
Franklin Hike
Length: 7.9 Miles
Time: 9.5 Hours
Difficulty: Medium / Hard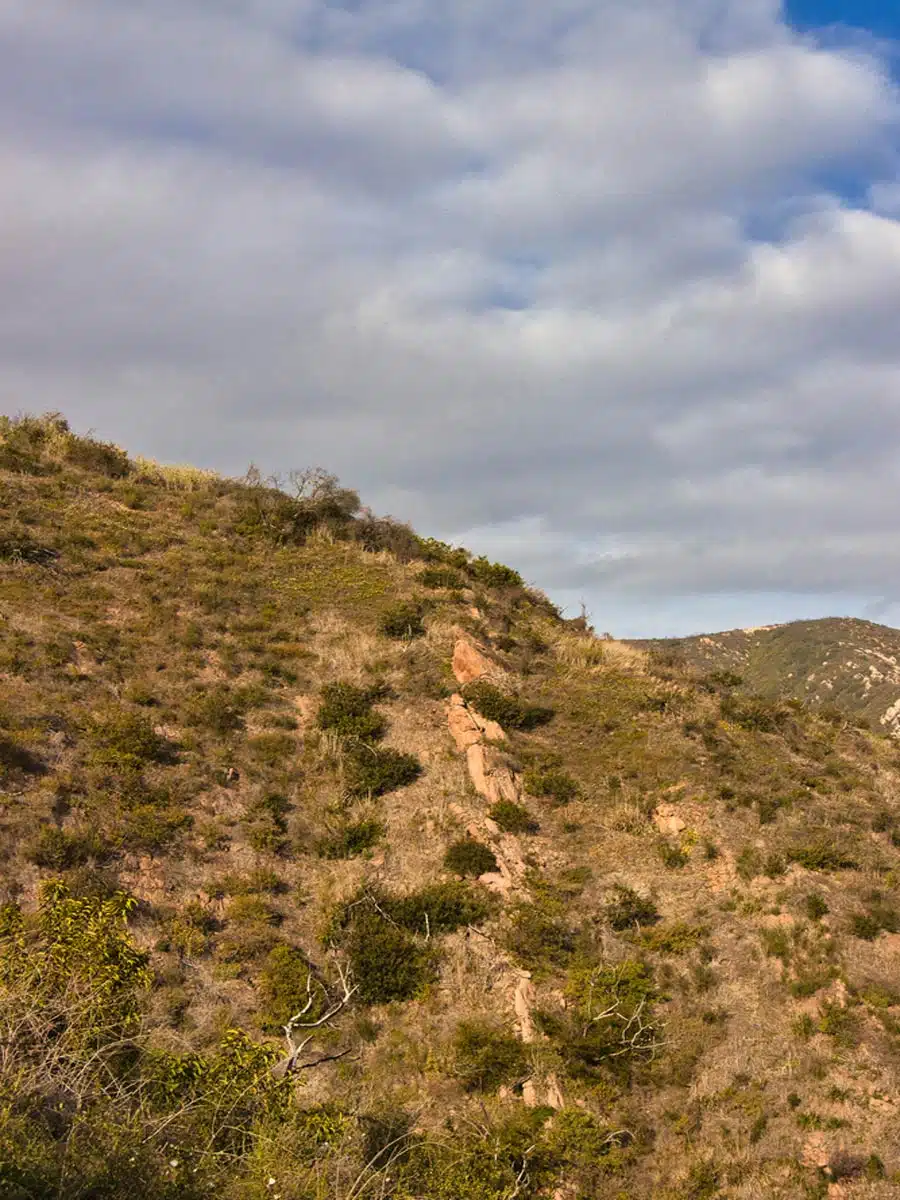 The views on this Santa Barbara hike are almost unparalleled, but you'll certainly need to work for it. Sorry!
It's a long out-and-back trek, but every step of the way is a visual delight. Oh, did I mention this is mountain lion, bobcat, and bear territory?
But don't worry — sightings of these sorts are rare in Carpinteria's backcountry. And the views from the top of Santa Ynez Ridge, 3,700 feet in the sky? 100% worth the minimal risk.
The first phase of this hike is the easiest, with only 822 feet of elevation gain over 2.25 miles. Phases two and three are more intense and would be better off suited to a day-long or overnight hike.

But the sweeping vistas of the chaparral-coated mountain peaks dipping to the Santa Ynez River and Jameson Lake are perfection. Look towards the south for avocado groves all the way to the coast and, beyond that, the Channel Islands on a clear day.
Best Santa Barbara Hikes: Practical Tips
Be prepared! A trekking pole is a good idea for some of these steeper slopes, as they can be a little gravelly. A very good pair of hiking boots is a must as well to keep your feet sure and steady. Also, bring a towel if you plan on swimming and a full water bottle no matter the weather. If your route is going to take you through the creek a few times, rather wear a waterproof pair of hiking boots. Sunscreen and a hat are worthwhile investments, too.
Santa Barbara is home to black bears, but it's highly unlikely you'll encounter one as they prefer to stay away from humans. Still, it's better to be safe than sorry. So don't wear perfumed cosmetics, and if you see one, definitely don't try to feed or approach it.
Although your chances of encountering a rattlesnake in Rattlesnake Canyon are also pretty low, that doesn't mean you won't see the odd one sunbathing on the trail ahead of you. If you do, give them a wide berth.
Due to the area's extreme winter weather or storm damage, many of the hiking trails mentioned here are closed until 14 March 2023.
If you're from out of town, look at these Airbnb's in Santa Barbara for some brilliant accommodations.
Santa Barbara Hikes: Map