Looking for the best Big Sur campgrounds? Camping in Big Sur is a magical experience you won't want to miss.
Camping in California may be less luxurious than using an Airbnb, but it's certainly more adventurous. This guide is perfect for those looking for where to camp in Big Sur.
The rugged and mountainous section of California's Central Coast has numerous state parks where you can go camping, hiking, and beachcombing.
This 145 km (90-mile) stretch of coast strikes the perfect balance between the wilderness and the beach. This, plus its breathtaking scenery, makes camping at Big Sur, a top choice for many travellers – myself included.
Ready to discover the best camping sites in Big Sur?
Big Sur Camping: What You Need to Know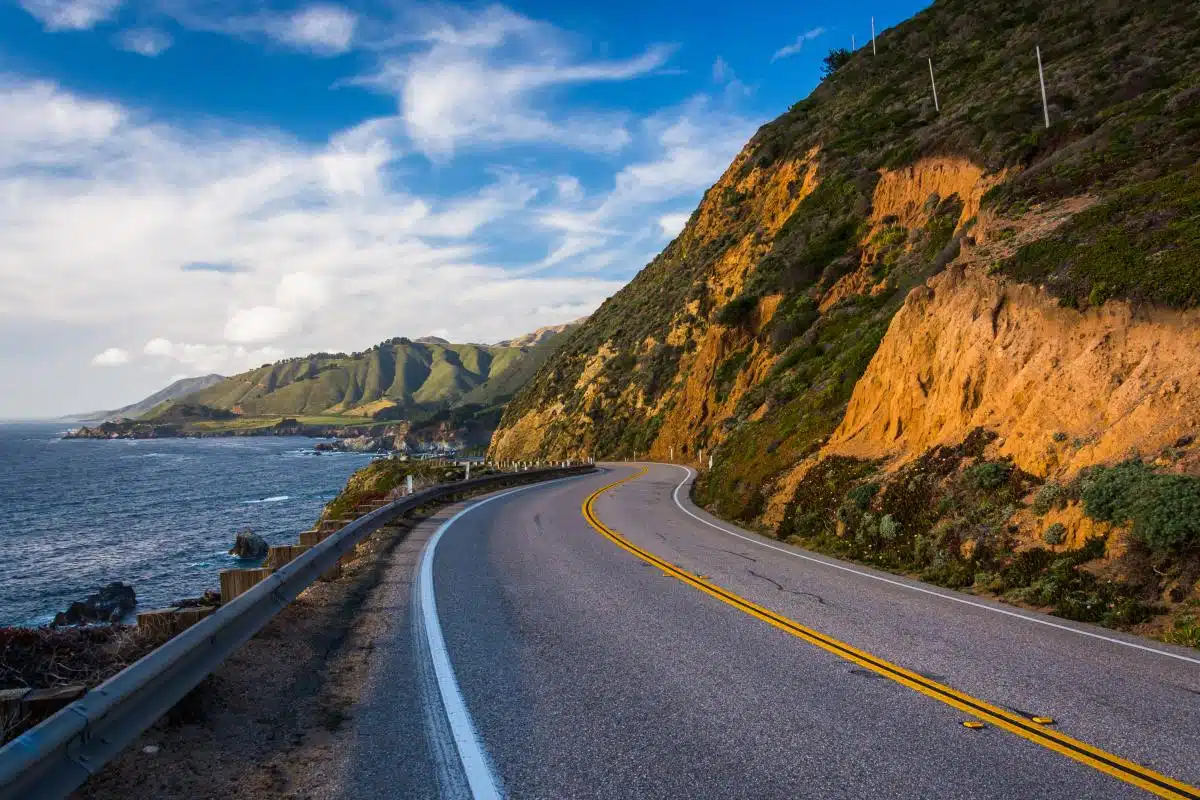 When's the Best Time to Go Camping in Big Sur?
If you're looking to avoid the crowds of people that flock to Big Sur in the summer, plan your visit between March and June or September and December.
I would suggest visiting Big Sur during the week. This way, you'll encounter fewer crowds and enjoy peaceful hikes.
Are There Free Big Sur Campsites?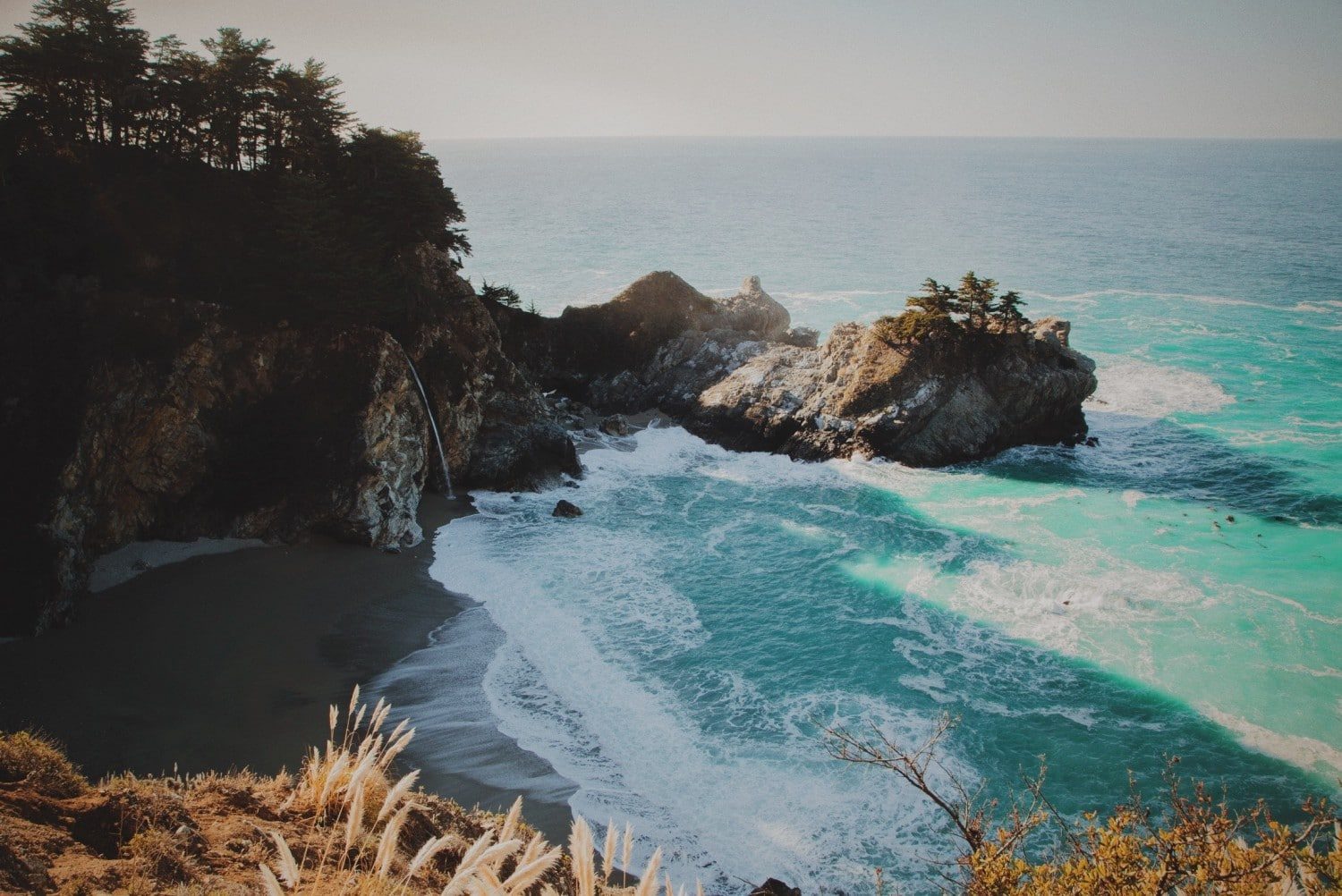 Yes, there are free campsites in Big Sur. There are numerous free Big Sur campgrounds available for you to enjoy.
You can camp for free at several national parks along the forest service roads. Just make sure you observe specific rules, and you'll be all set.
Is There Water and Electricity at the Big Sur Campgrounds in this Guide?
Yes, most of the campgrounds listed here have water and electricity.
How do I Make a Reservation?
Make your Big Sur camping reservations at http://www.reservecalifornia.com/. Alternatively, you can visit the campsite's website.
Best Campgrounds in Big Sur
Pfeiffer Big Sur Campground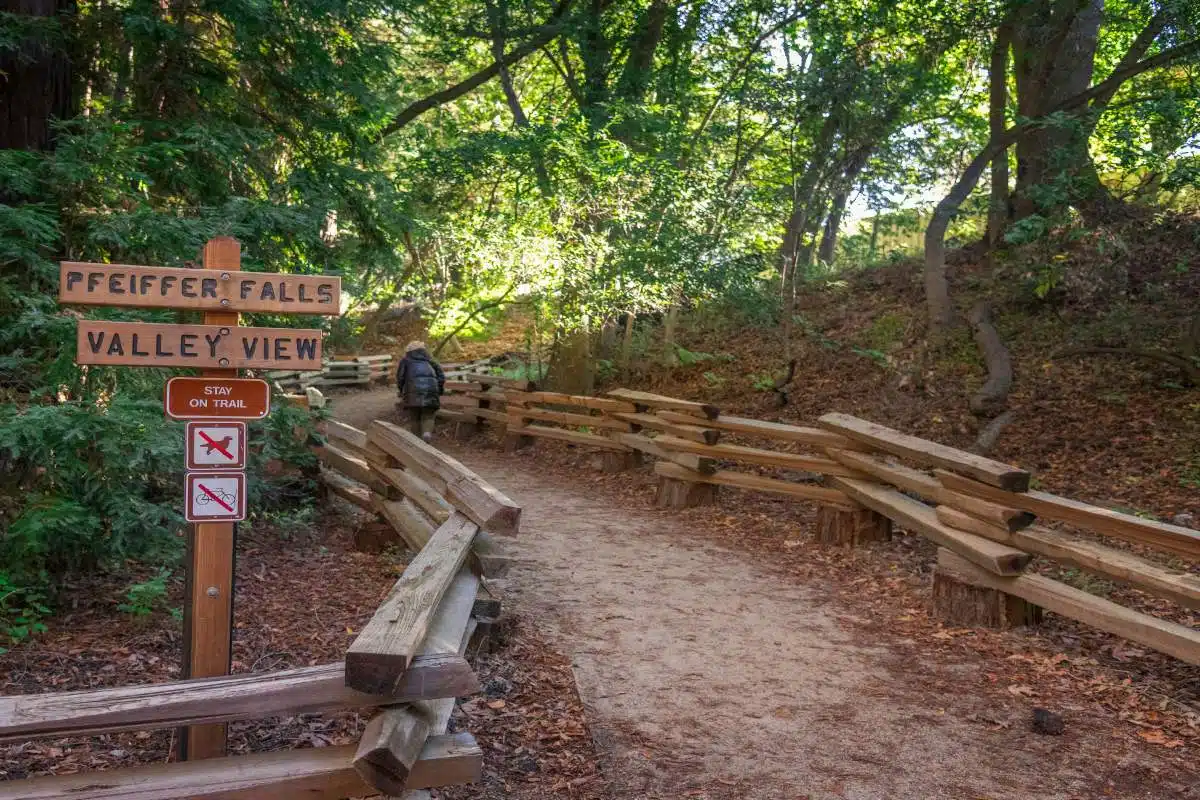 Colossal redwood trees surround this crowd favourite, and it certainly has a lush, earthy feel about it.
Pfeiffer Big Sur campground is a popular campsite, with reservations being booked six months in advance – that's how you know this is one of the best camping spots in Big Sur.
There's a variety of RV accommodation and tent camping options at this Big Sur RV camping ground. There's also a cabin for nightly rentals if that's your thing.
Pfeifer Big Sur accepts online bookings 24 hours a day, seven days a week. Unfortunately, you cannot make a reservation at Pfeiffer Big Sur campsites within a 48-hour arrival window. So be sure to inquire and make the necessary bookings well in advance. You'll avoid disappointment this way.
You'll find your campsite equipped with parking for your vehicle, a grill, a fire pit, and a picnic table. You'll enjoy cooking and socialising in the great outdoors with other camp goers.
In addition, there are showers and toilets nearby, and if you have an RV, you'll be able to dispose of your raw sewage in the nearby dump station – these are all a short walk away from the site.
If you're interested in hiking, a few hiking trails are nearby – but be sure to hike during the day so you don't get lost.
Date: The state park is open all year round.
Price: $35+ per night
Location: Pfeiffer Big Sur Road, California 93920
Fernwood Campground and Resort
The idyllic Fernwood Campground and Resort sits along the beautiful banks of the Big Sur River and near the popular Pfeiffer Big Sur Campground.
If you decide to camp here, you'll have access to Pfeiffer Big Sur Campground and all of the resort's amenities.
They provide two bath facilities with hot showers at the campground, providing comfort in the woods. Other amenities include a dishwashing space and laundry facility to clean up your dishes and have clean clothes.
A huge plus is that many of the campsites here provide campers with water and electricity. Who says camping has to be inconvenient? You'll be able to roast delicious marshmallows with your group at the warm fire ring at night and enjoy daily picnics at the picnic table provided at every campground.
Campers will enjoy being able to go hiking and sightseeing, as well as horse riding, thanks to Fernwood Resort being in a prime location.
Date: Fernwood Resort is open all year round.
Price: $50+ per night
Location: 47200 CA-1, Big Sur, California 93920, United States
Riverside Campgrounds and Cabins
Looking for the best camping in Big Sur? Riverside Campground and Cabins is a 6 km (16-acre) campground surrounded by spectacular Redwoods.
You'll have the option of 24 tent and RV sites and 12 cabins along the banks of the Big Sur River. If camping in tents isn't your thing, try one of Riverside's cosy Big Sur camping cabins.
Each campground has picnic tables and fire pits. Bask in hot showers and enjoy clean bathrooms and convenient laundry facilities to clean your clothes. Guests can swim in and go inner-tubing down the river, which is ridiculously fun.
If you enjoy fishing, you'll be happy to learn that you can enjoy this fun activity. Note that fishing is seasonal, with catch-and-release in November through February. This is one of the best Big Sur camping spots for anglers.
RV camp-goers will have access to a 20-amp electrical outlet and a water connection at the RV camping site. Kindly note that RV campsites cost more than standard campsites, so be sure to visit their website to get the correct pricing and campsite option.
Thanks to Riverside providing dog-friendly camping in Big Sur, Pet lovers will feel at ease bringing their fur babies along.
Date: Riverside Campgrounds and Cabins is open all year round, from 8 am to 10 pm.
Price: $45+ per night
Location: 47020 Highway 1, Big Sur, California 93920, United States
Ventana Campground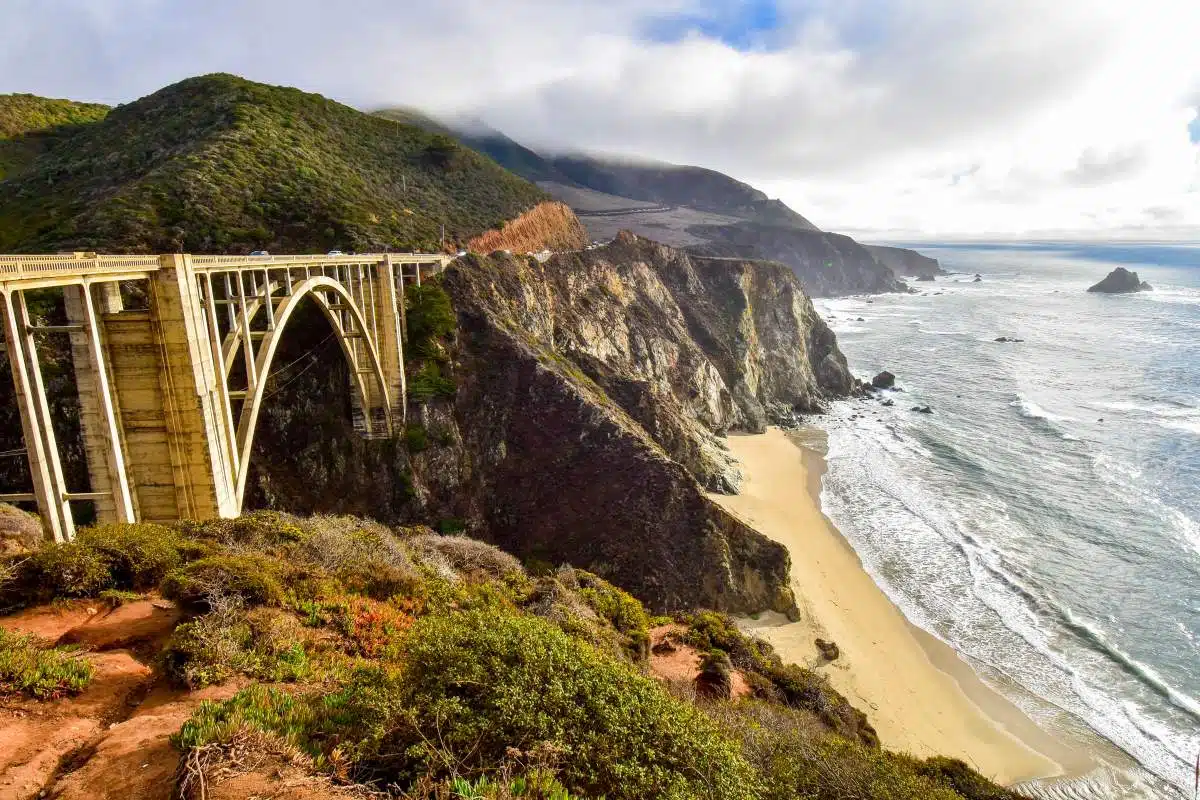 Ventana Campground is another campsite located in the wondrous Big Sur area. It's a beautiful 16 km (40-acre) redwood canyon between San Simeon and Carmel.
San Simeon is 105 km (65 miles) below Ventana, whereas Carmel is 38 km (30 miles) above the campground.
Ventana's sites follow the canyon's and Post Creek's existing contours, preserving the canyon's natural beauty. In fact, Ventana is one of the more luxurious Big Sur campgrounds.
As with many Big Sur campsites, each campground includes the standard picnic table and fire ring, as well as water taps a short walking distance nearby.
If you prefer having access to modern comforts while camping, you'll enjoy how strategically positioned Ventana Campground is.
You'll have access to a general store for shopping needs, restaurants to wine and dine at, and cafés to enjoy a hot cup of cappuccino. There are also a few bars in the area for you to have a few drinks and meet new people.
In addition, you can make a quick stop at any of the nearby gift shops to get a small gift or souvenir for someone before you leave and purchase cheese and ham at any of the delis for some tasty camping snacks.
Based on its prime location and amenities, camping in Ventana Campgrounds is one of the best things to do in California.
Date: Ventana Campgrounds is open all year round, from 8 am to 10 pm.
Price: $80+ per night
Location: 48123 CA-1, Big Sur, California 93920, United States
Camping in Big Sur: Packing List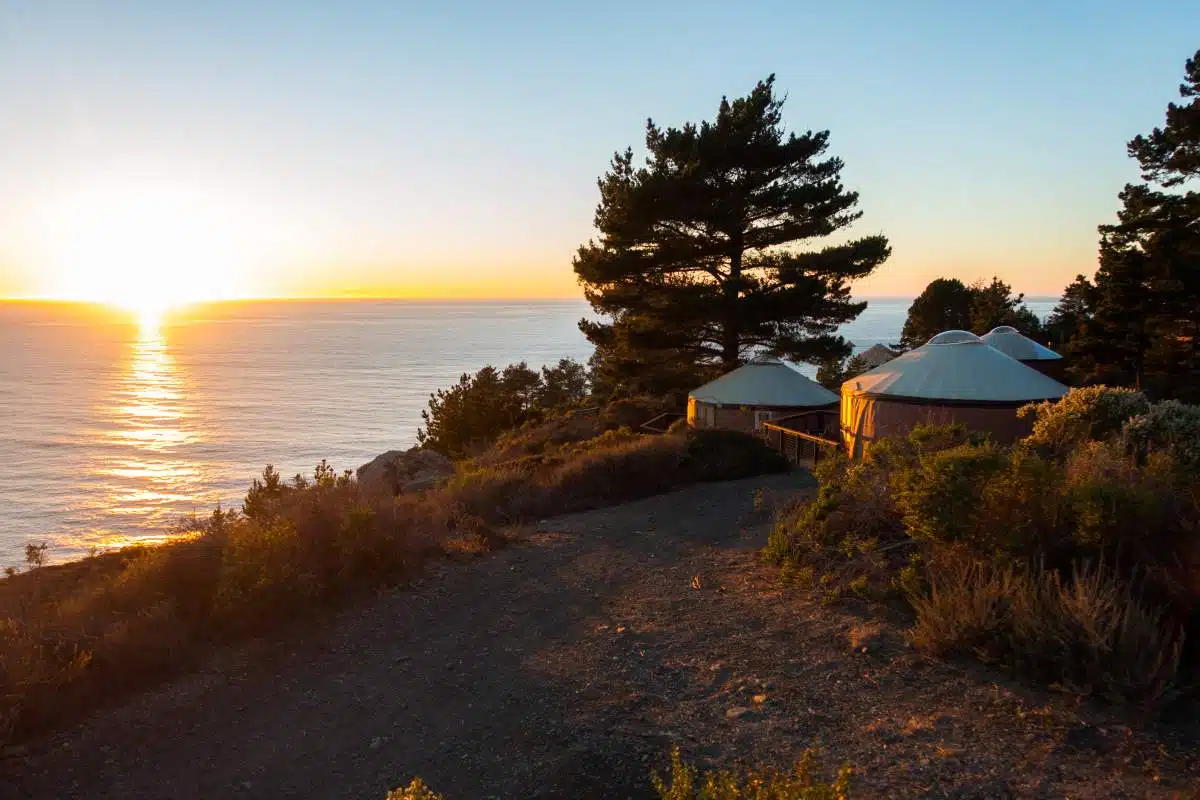 A camping tent: One of the most important things you'll ever need when camping is suitable shelter. This Coleman Sundome Camping Tent can be set up easily in just 10 minutes – it's perfect for newbie campers. Plus, it's waterproof. Keep yourself and your supplies dry by getting this waterproof camping tent.
A tent repair kit: You'll want to prepare for all eventualities because mishaps happen. It would be remiss to omit this, and I think this is something that's often left out of camping guides.
A comfortable sleeping bag: Camping is a fun experience that tests your survival skills, but that doesn't mean you shouldn't sleep comfortably. This sleeping bag is roomy yet keeps you snug and warm.
A camping pillow: Speaking of comfort, Wise Owl Outfitters makes this camping pillow from compressible memory foam that will mould to the shape of your head and shoulders and provide you with restful sleep.
Clean, safe drinking water is always essential, so you need a good water bottle: It's good to keep an extra water bottle on hand if you run out of water. I think this is a great water bottle because it keeps liquids cold and comes in various sizes. The 946 ml (32 oz) bottle is the perfect mix of portability and size.
An LED headlamp: Headlamps keep your hands free and allow you to do other things while hiking. Plus, they're lightweight.
An LED flashlight: A flashlight is the absolute camping necessity. This one is Amazon's Choice for a "camping flashlight" bright enough to light your path ahead for over 305 meters (1000 feet) per user review.
A camping lantern: This is perfect for lighting up your camping tent at night, so you can read a book or change into pyjamas.
Eating utensils: Bring lightweight eating utensils that are easy to pack and carry and an insulated mug to enjoy hot drinks in the evenings.
Campsites in Big Sur: Map
Discover More Big Sur + California Guides