Discover the best things to do in California with this essential guide – delve into the magic of the Golden State.
Looking for the best things to do in California? I've got you covered.
The Golden State isn't afraid to show its charm. Whether you're standing slack-jawed at the ethereal beauty of Yosemite or cutting your way along the rugged bluffs of the Big Sur, there's a lot to love about it.
Explore California's world-famous landmarks and attractions, dip into a few offbeat and unusual places and soak up that scenery. We're going to discover the things to do in California that you shouldn't miss.
Let's go!
Things To Do in California: Top 5
Explore Yosemite National Park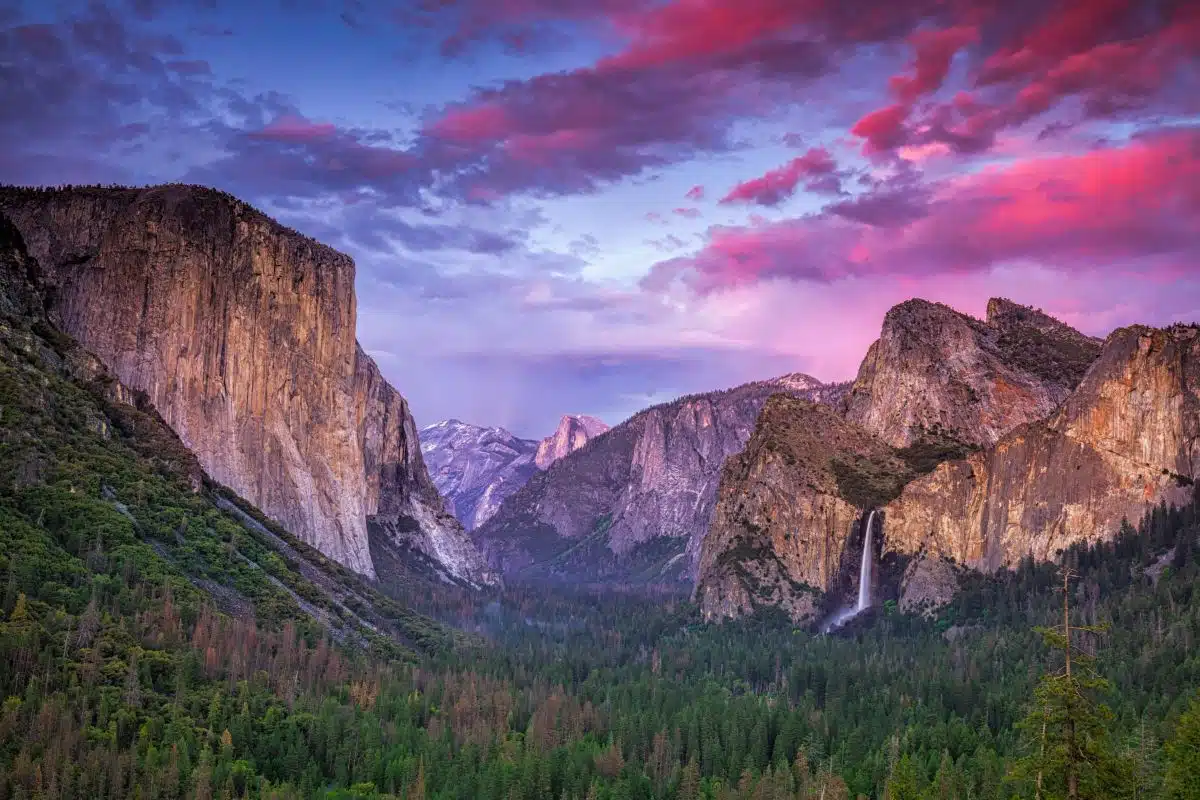 I don't think it's an overstatement to say that Yosemite National Park is one of the most beautiful places on earth.
Sure, it's no hidden gem, but there's a reason it's enchanted so many people from John Muir to Ansel Adams – now it's your turn.
Camp (or stay in a cosy hotel), hike or settle for a few short strolls – the more adventurous among you might also want to tackle some of the park's climbing trails. However you do it, it's sure to wow.
Don't miss the striking Mariposa Grove – packed with over 500 giant sequoias (some of the largest trees in the world) and Tunnel View for an amazing view of Yosemite Valley from above – both should be at the top of your Yosemite itinerary.
More highlights include peeking up at the stark granite faces of El Capitan and Half Dome, taking in the views at the aptly-named Mirror Lake, and watching the sun catch the water at Yosemite Falls – time it right and it looks like fire raining from above.
Take a California Road Trip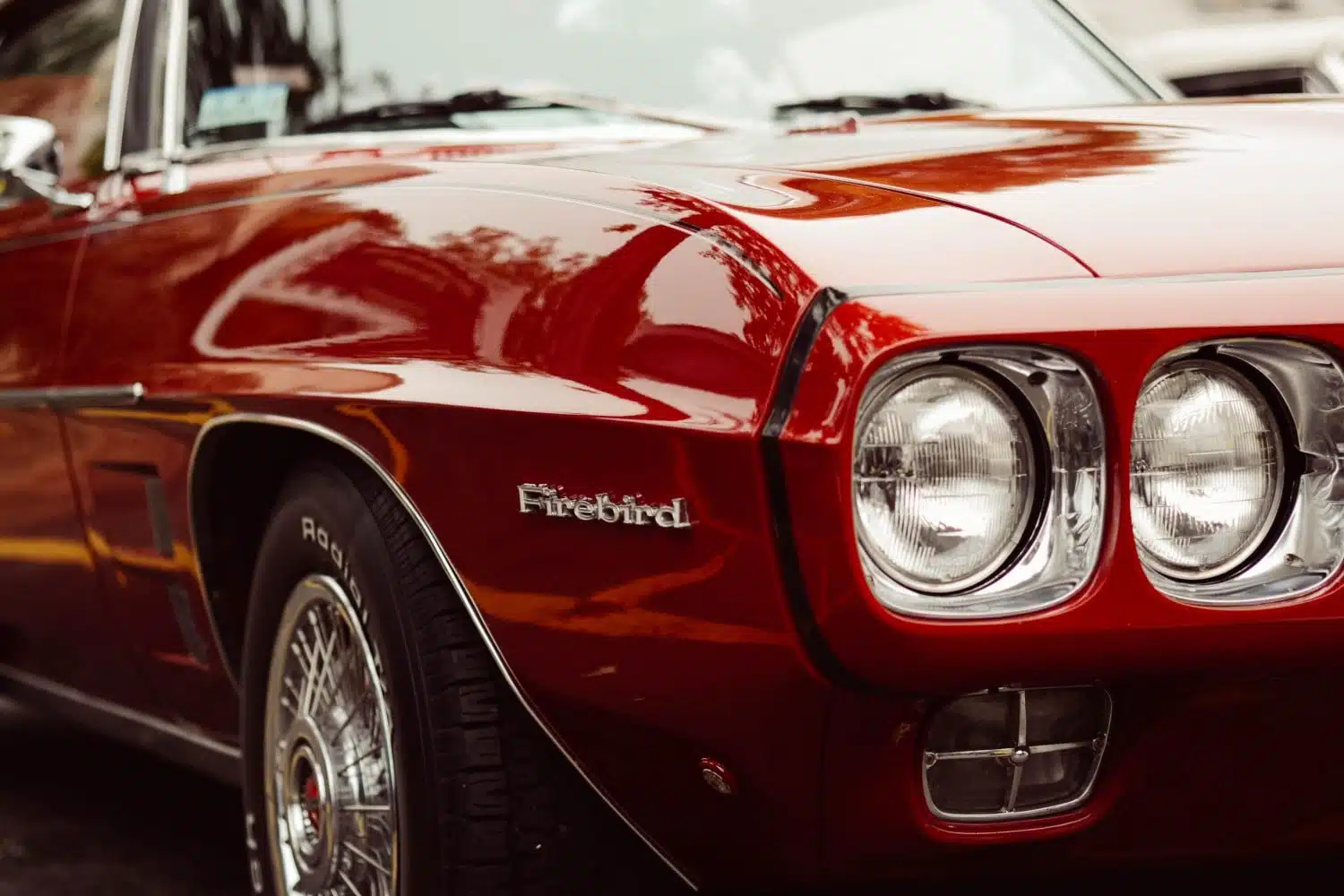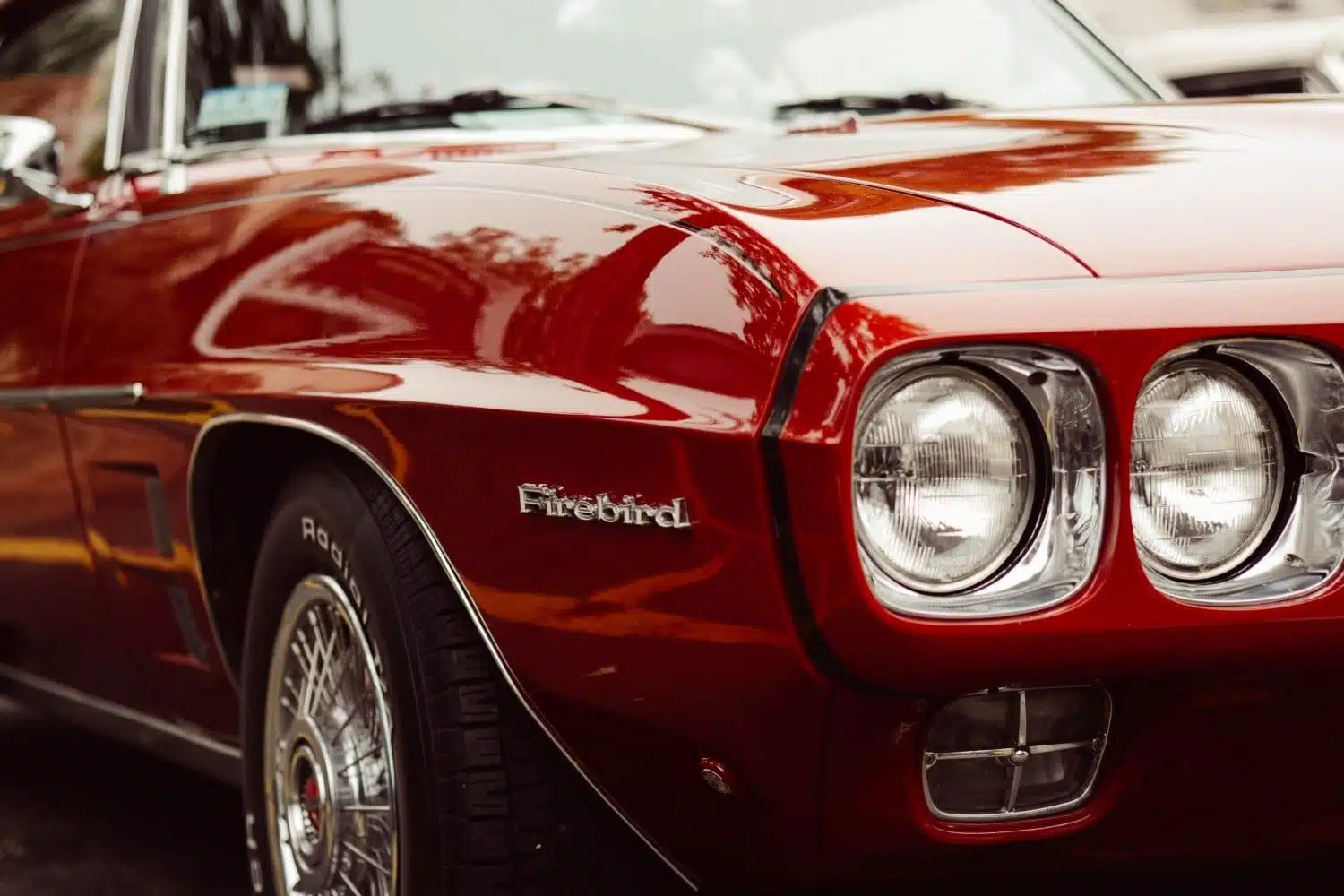 If you want to explore as much of California as possible, then I recommend taking a road trip along the West Coast.
If ever a state was made for road tripping, it's California. With its stunning coastline, dramatic mountain ranges, and endless deserts, there's something to see around every corner. It's a great way to experience the diversity of destinations that California has to offer.
I did a trip from Los Angeles all the way up to Vancouver a couple of years ago and it's still one of the best trips I've ever taken.
There are plenty of great routes to choose from. Some that you should consider include:
Driving from north to south along Route 101 and stopping at places like San Francisco, Santa Barbara, Los Angeles and San Diego. You can do this in a day or two if you're short on time – or you can go full tilt and extend the trip out of California to Oregon and Washington to the North.
Another option is the 395 through the High Sierra – start at Lake Tahoe then wind your way to Mammoth Lakes, finishing in Lone Pine. You can also make a short diversion to Yosemite if you have the time.
Explore the Magic of Big Sur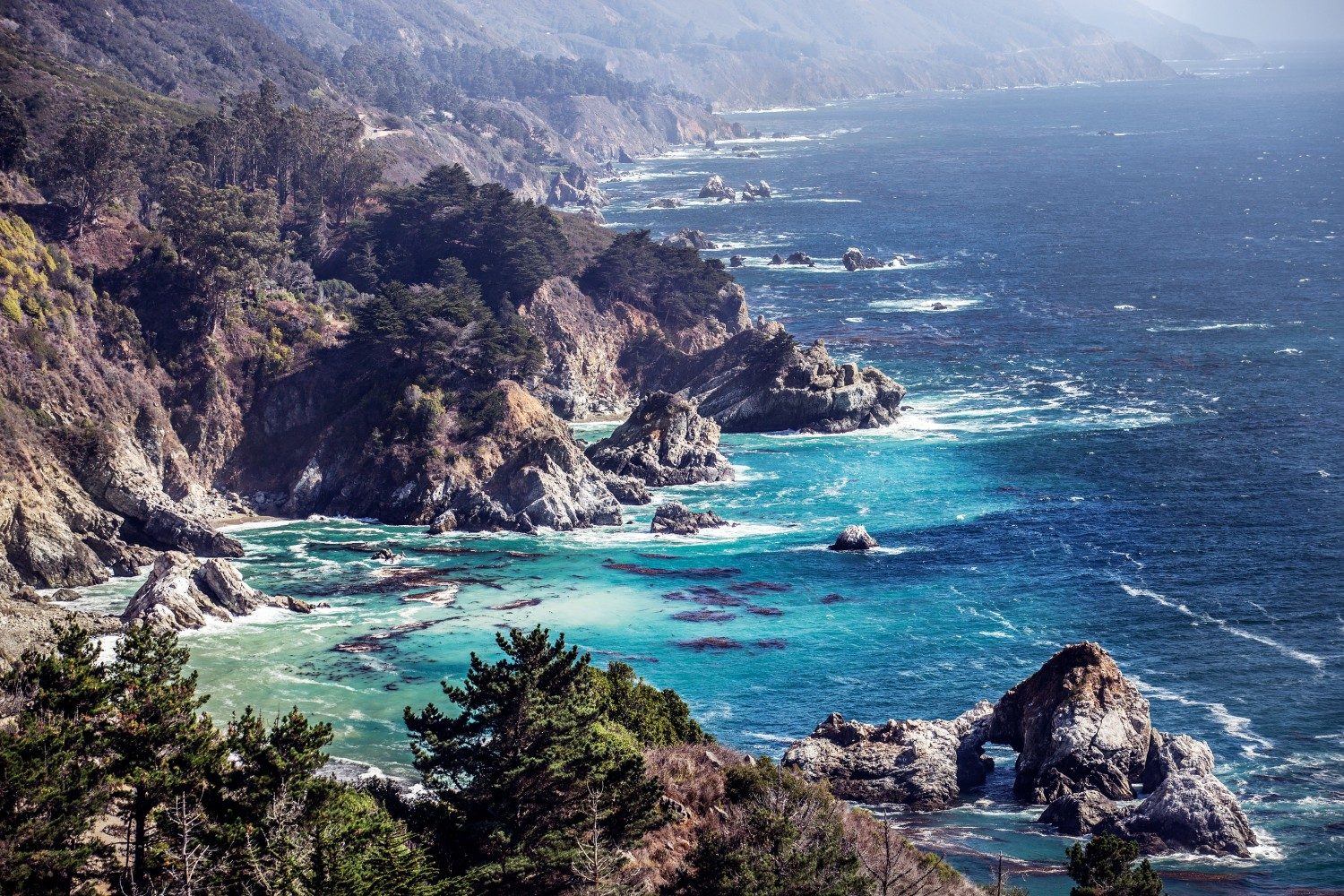 Writers and artists aplenty have long rhapsodized about the natural beauty of Big Sur – Henry Miller, Jack Kerouac, and Ansel Adams all made their homes here at one time or another. It didn't take long before the rest of the world caught up.
Located on California's Central Coast, this area is famous for its rugged coastline, dramatic cliffs, and pristine forests. Ocean waves come crashing against steep cliffs, creating an otherworldly landscape.
Set off on hiking trails that lead through redwood forests or coast along scenic vistas overlooking the ocean. There are also many state parks – Julia Pfeiffer Burns and Big Sur among them – where you can strike off into the wild and camp out under the stars.
Swing By The Golden Gate Bridge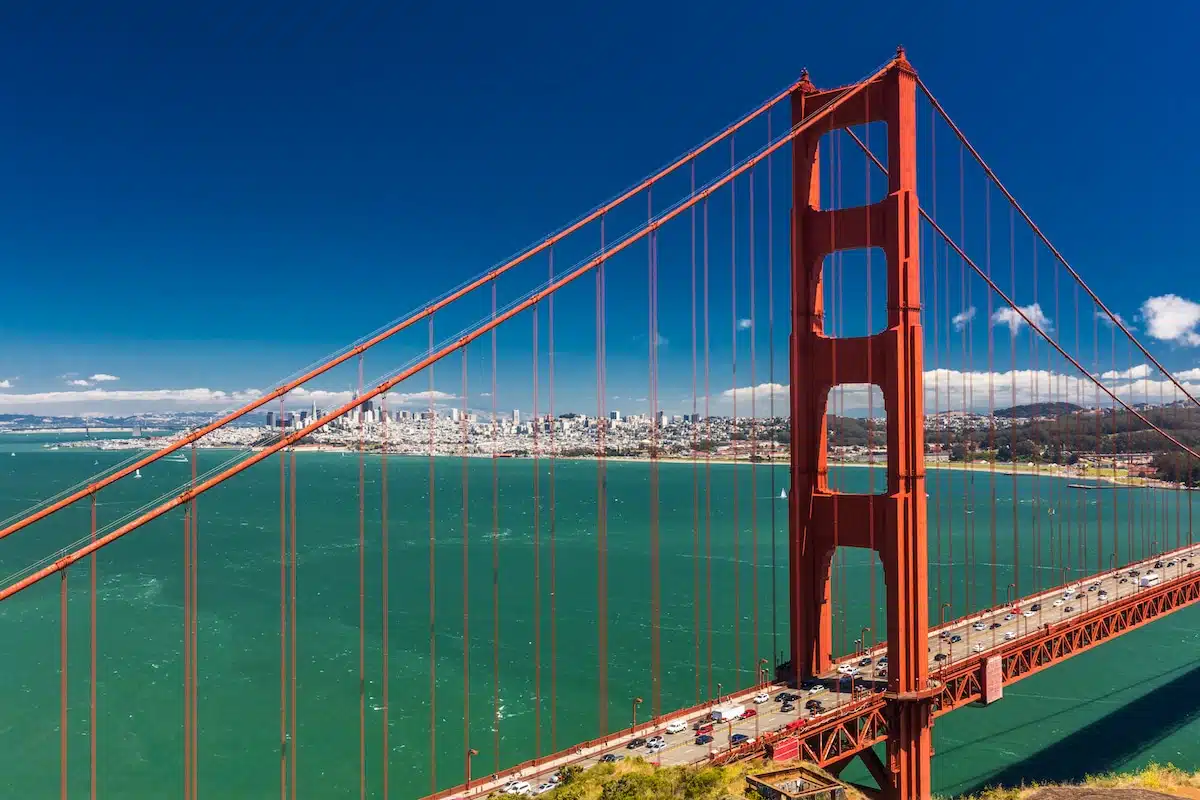 One of the most iconic places to visit in California, the distinctive russet orange of the Golden Gate Bridge is San Francisco's best-known landmark.
It won't exactly come as a surprise that to nab the best views of the bridge, you'll have to strike out away from it.
Head to Baker Beach or Hawk Hill on the Marin Headlands. The bridge is especially pretty at sunset or when it's foggy – which happens often in San Francisco!
Delve into Death Valley National Park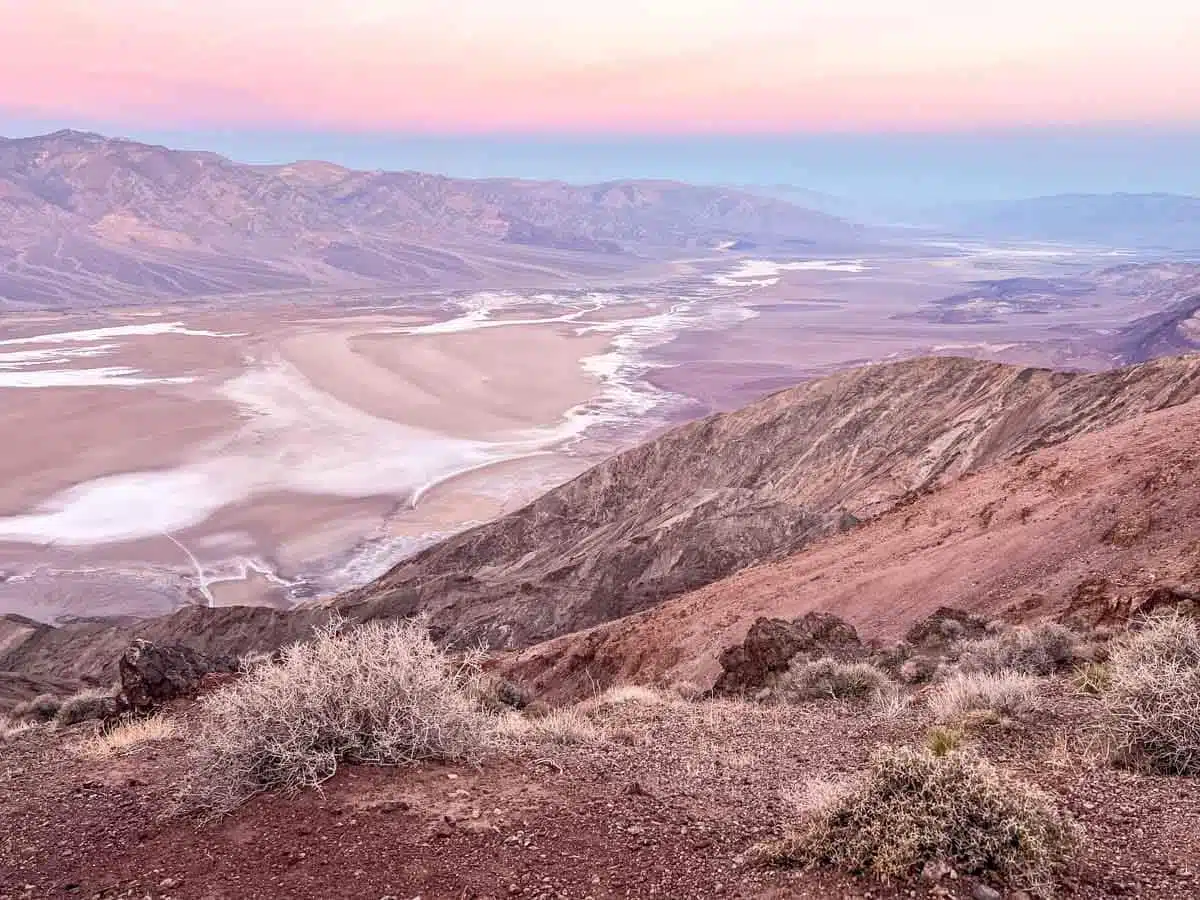 Death Valley National Park is located in southeastern California and it's the lowest, hottest and driest place in North America. It's also a great place to visit if you're looking for some adventure!
While the landscapes might look barren at first, spend any time in Death Valley and you'll discover a wealth of stunning scenery.
Highlights include Ubehebe Crater, Titus Canyon, and Badwater Basin. Ubehebe Crater is a volcanic crater about 300 meters wide and 91 meters deep that was formed when an eruption occurred about 6,000 years ago.
Take a trip through Titus Canyon – a winding canyon filled with rugged mountains and colorful rock formations –  there's even a ghost town – Rhyolite – along the way. The two-hour drive is one of the highlights of the park. 
The park is also home to the lowest point in North America: Badwater Basin, sitting at 85 meters below sea level!
Things to do in California
Go Skiing in Mammoth Lakes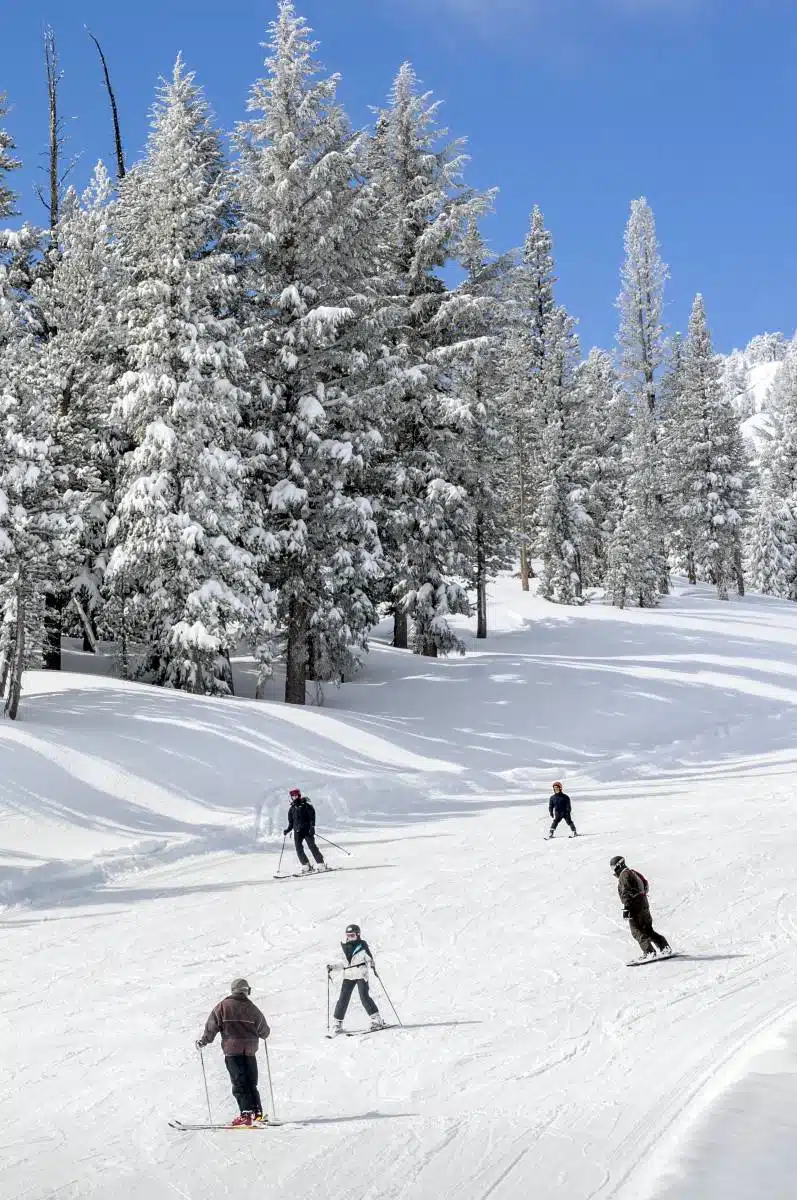 Say California and I'm pretty sure that it won't be skiing that pops into most of your heads. Yet California isn't short on cool spots for you to work on your skiing (or snowboarding) skills.
Mammoth Lakes is one of the state's most popular ski destinations. With over 100 runs to choose from, there's something for every ability.
Not visiting in season? There are also plenty of things to do when it isn't snowing – Mammoth is one of California's coolest mountain-biking hubs – and also offers hikes aplenty.
Stargazing in Joshua Tree National Park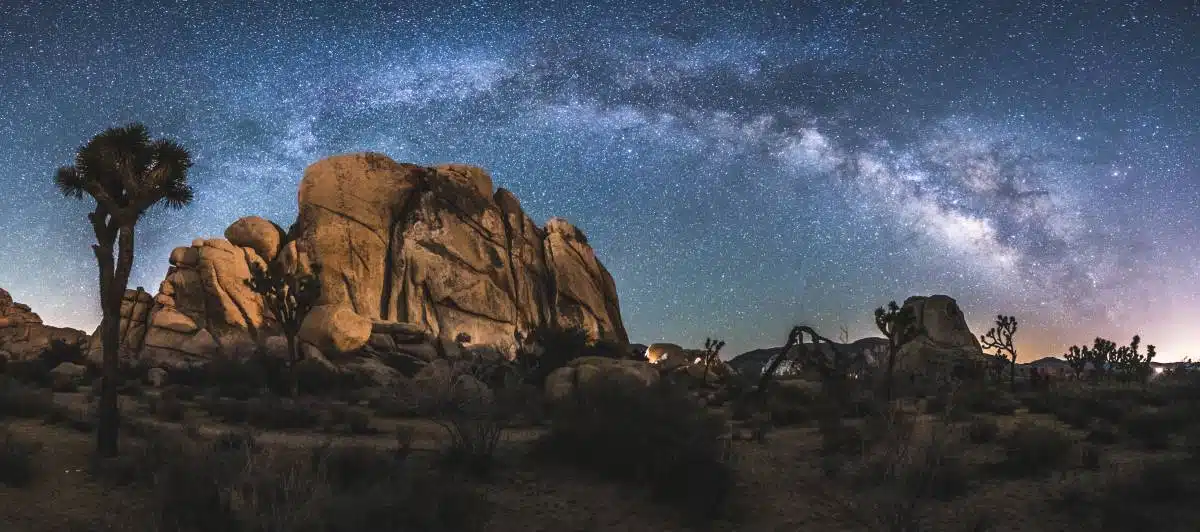 The queer shapes of its namesake Joshua trees may be the thing most associated with Joshua Tree National Park, but that's not all this beautiful spot has to offer. 
The park contains not one but two desert ecosystems: The Mojave and Colorado. The higher Mojave is distinguished by its Joshua trees and cholla cactus – while the lower Colorado is home to Ocotillo, barrel cacti, and palo verde.
The lack of light pollution also means the national park is one of the best places in the state to go stargazing (and is a cool astrophotography hotspot). That's why Joshua Tree is the perfect place to glamp, kick back, and watch the stars put on an amazing show. 
Book a Joshua Tree Driving Tour
Have Fun at Disneyland
Disneyland has been one of the most popular things to do in California ever since its opening day on July 17th, 1955 – it's still going strong in 2022!
The park covers an area of 85 acres (34 ha).The park is divided into two parts: Disneyland Park and Disney California Adventure. They are both located in the same area, but offer different attractions.
Go to Disneyland for classics such as the Sleeping Beauty Castle and Space Mountain, or opt for the new California Adventure with Mickey's Fun Wheel and World of Color.
Universal Studios Hollywood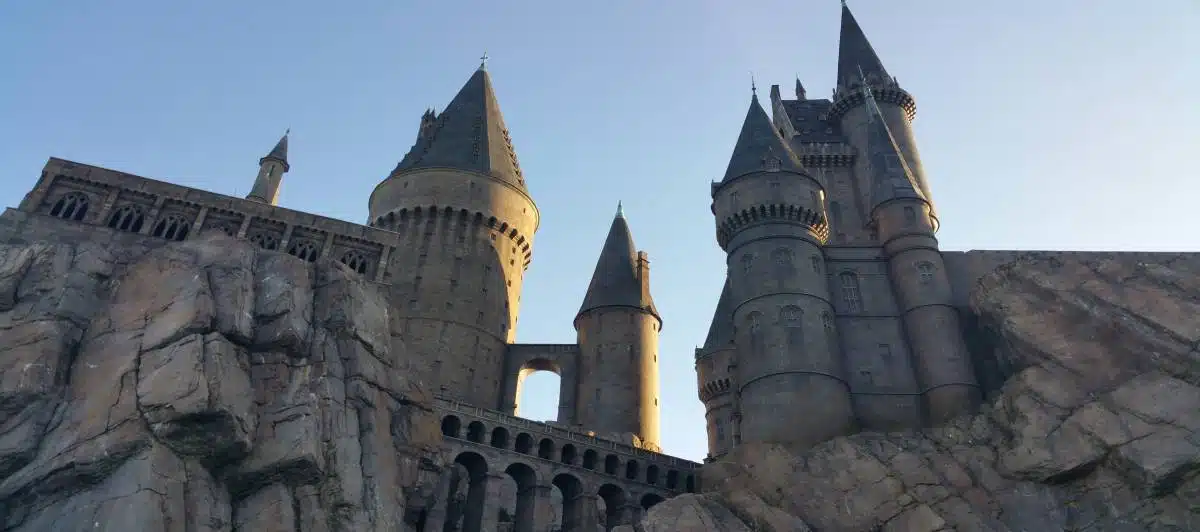 If Disneyland is all about magical adventures, Universal Studios turns things up a notch – plunging you into the worlds of some of your favorite films and TV shows.
Hop on mind-blowing rides such as Transformers: The Ride-3D and Harry Potter and the Forbidden Journey before heading to the iconic Waterworld Show – a live-action piece centered on a tale of people fleeing a post-apocalyptic world in search of a better life, battling pirates, mutants, and more along the way.
Book Your Universal Studios Hollywood Ticket
Lake Tahoe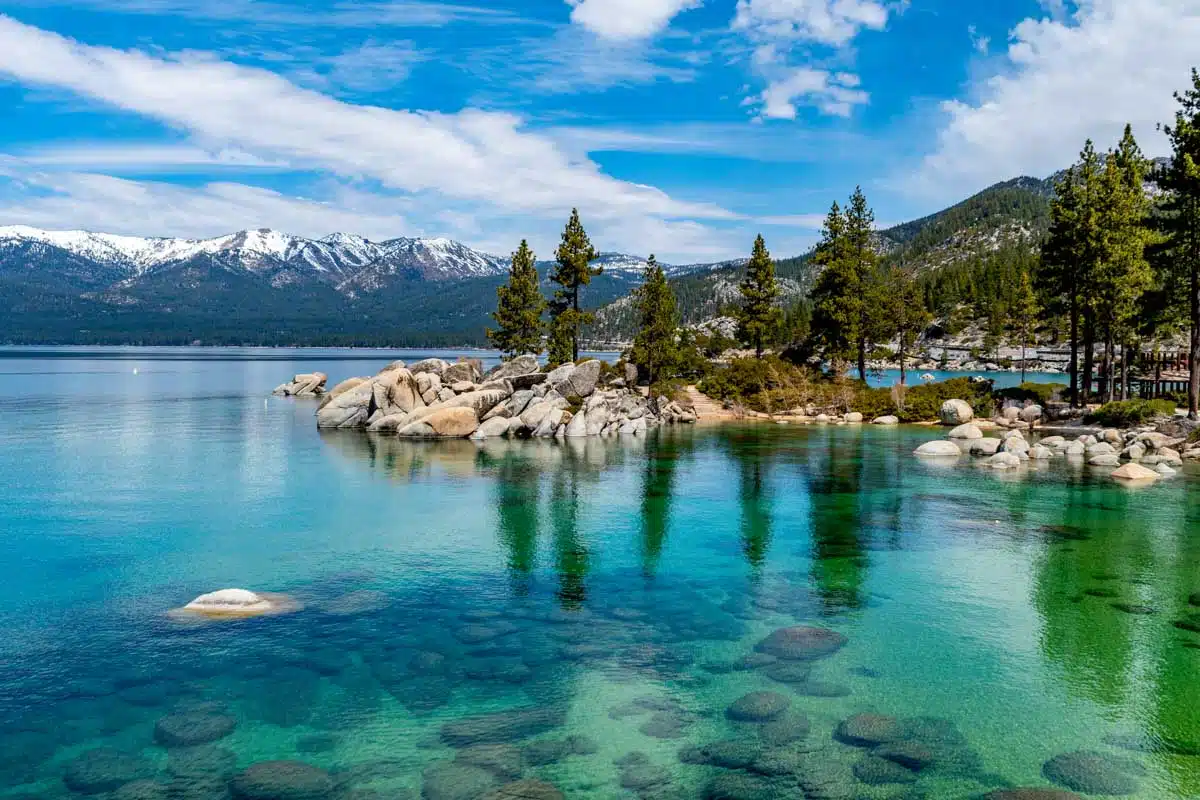 Tucked away in the Sierra Nevada Mountains sits Lake Tahoe. In fact, it's actually located right on the border of California and Nevada, so it's easy to get to from either state.
Ideally, you'll want to board a boat to take a peek at the best views. There are plenty of places to rent them – though, you can also swim if you don't mind getting wet!
Hiking around Emerald Bay State Park is one of the top things to do in California – it's a breathtaking spot and you'll be treated to some amazing views from above (so don't forget your camera). You might even see a bear or two while hiking through trails at Emerald Bay State Park – just make sure they don't get too close!
You'll be surprised to know that skiing and snowboarding are also possible if you visit Lake Tahoe in Winter. Wrap up warm and prepare to flex your snow sport skills. Book an Airbnb for the perfect stay.
Hearst Castle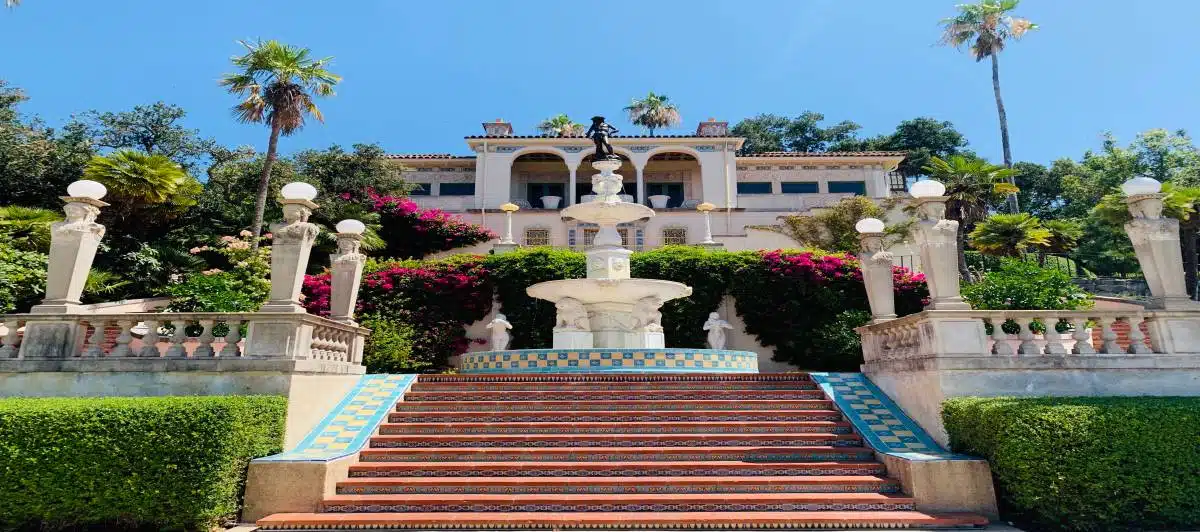 Located on the Pacific coast of central California, Hearst Castle is a historic landmark in San Simeon well worth a visit.
It's been one of the best things to do in Southern California since 1954, when William Randolph Hearst donated his estate as part of an agreement with the state government. The castle was built between 1919-1947 by architect Julia Morgan (who also designed San Francisco's Fairmont Hotel).
Architecturally, it's quite bonkers – it was designed with no central plan but rather as an exercise in assembling things together; one room leads into another, which connects to yet another chamber or courtyard through doors and windows.
The result is a sprawling complex of rooms that are not only unique from each other but also all interconnected somehow (even if you can't always tell how). This was intentional on Hearst's part, as he wanted to be able to host large groups of people at the same time and have them all feel like they were in their own private world.
The exterior of Hearst Castle is equally impressive, with its grandiose gardens and terraces that overlook the Pacific Ocean. It's definitely one of the most unique things to see in California.
California Wine Country (Napa & Sonoma)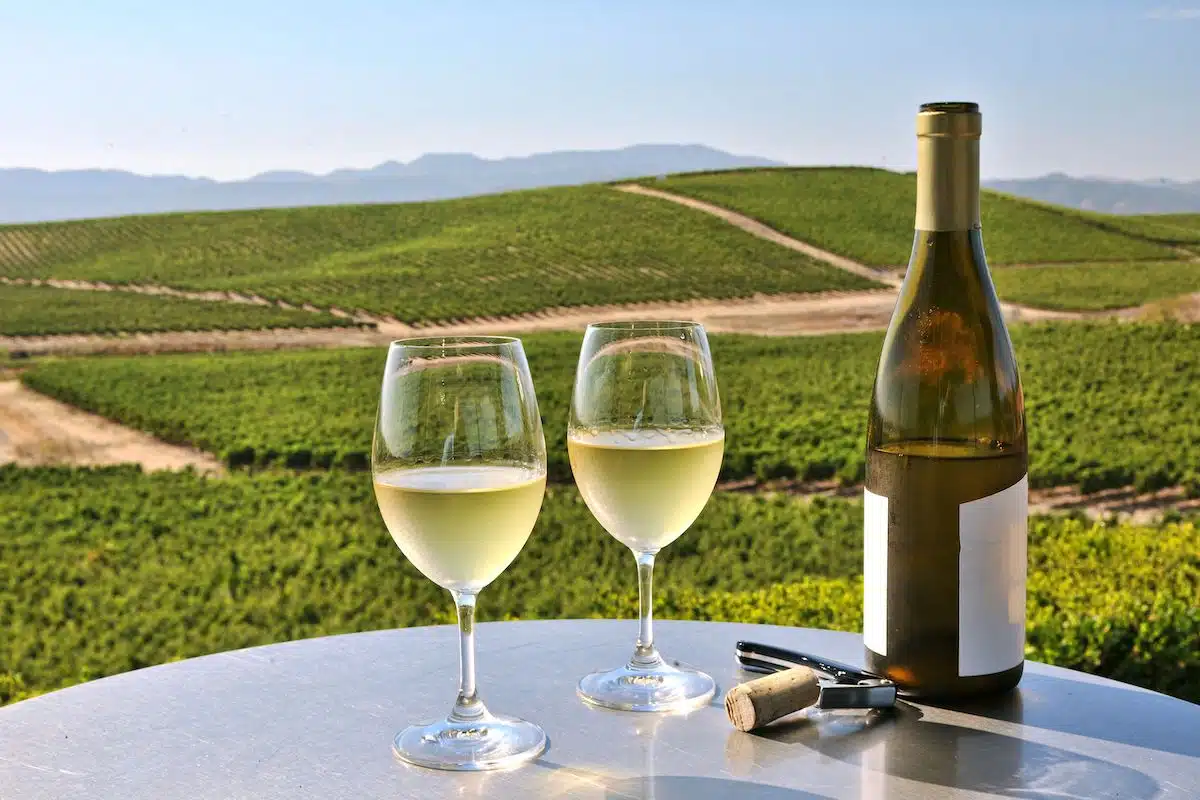 Wine drinker? California's wine country is a must-see. The two main wine regions are Napa Valley and Sonoma County, which are about an hour's drive apart from each other.
Napa Valley is world-famous for its Cabernet Sauvignon wines, while Sonoma County produces more Pinot Noir and Chardonnay wines. There are also a number of smaller wine regions in California that are emerging as California races to the forefront of the wine scene.
Napa's home to some great restaurants and bars, as well as art galleries and museums. You can also go on wine tours, visit vineyards, or take a hot air balloon ride over the valley.
Sonoma is also worth visiting. It has a historic downtown area with lots of cute shops and restaurants, as well as a number of wineries. Be sure not to miss the Sebastiani Winery, which has been producing wine since 1904.
Must-visit vineyards include Stag's Leap Wine Cellars and Robert Mondavi Winery, both of which are located in Napa Valley. In Sonoma, head to the Francis Ford Coppola Winery or the Sterling Vineyards, both of which offer great wine tastings and beautiful views.
Book This Tour of California's Wine Valley
Los Angeles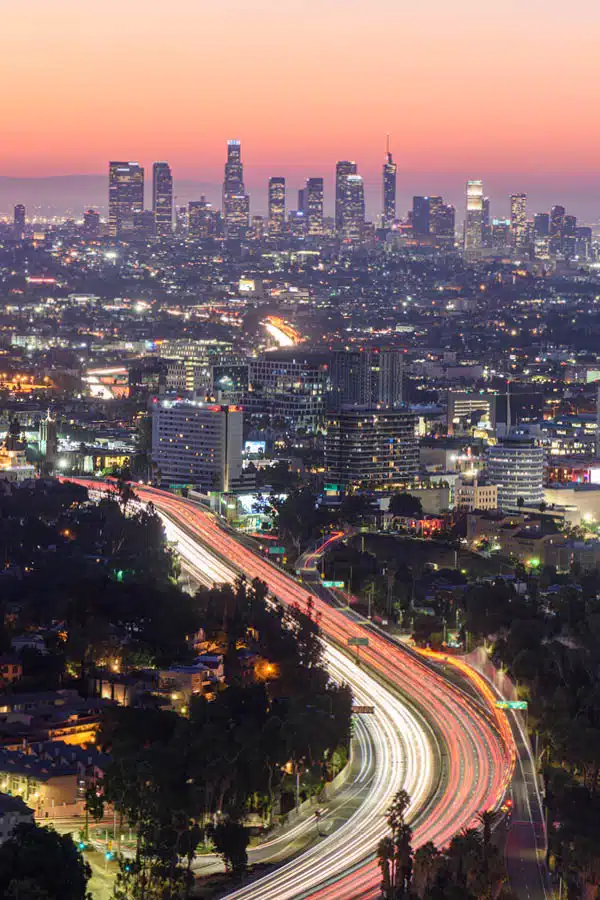 Los Angeles is one of the most populous cities in the United States and it's definitely a must-see if you're visiting California. There's always something going on in LA, from movie premieres to music festivals to street fairs.
The city is also home to some great tourist attractions, like Universal Studios Hollywood, Disneyland Resort, and Griffith Observatory. If you're looking for things to do in Los Angeles at night, then check out the Hollywood Walk of Fame or visit one of many poppin' bars and clubs in West Hollywood (known as WeHo).
Los Angeles is also home to some great museums, like the Getty Museum and LACMA (the Los Angeles County Museum of Art). For things to do in LA on a budget, check out these free museums: The Broad and the Museum of Jurassic Technology (which is only $.50 admission!).
Other popular things to do in LA include embarking on hiking trails like Runyon Canyon Park or Griffith Park's Hollywood Sign hike; surfing at Venice Beach; bike riding through the canyons of Malibu; and kayaking on the Santa Monica Pier.
Book This LA Hop On and Off Sightseeing Bus
San Francisco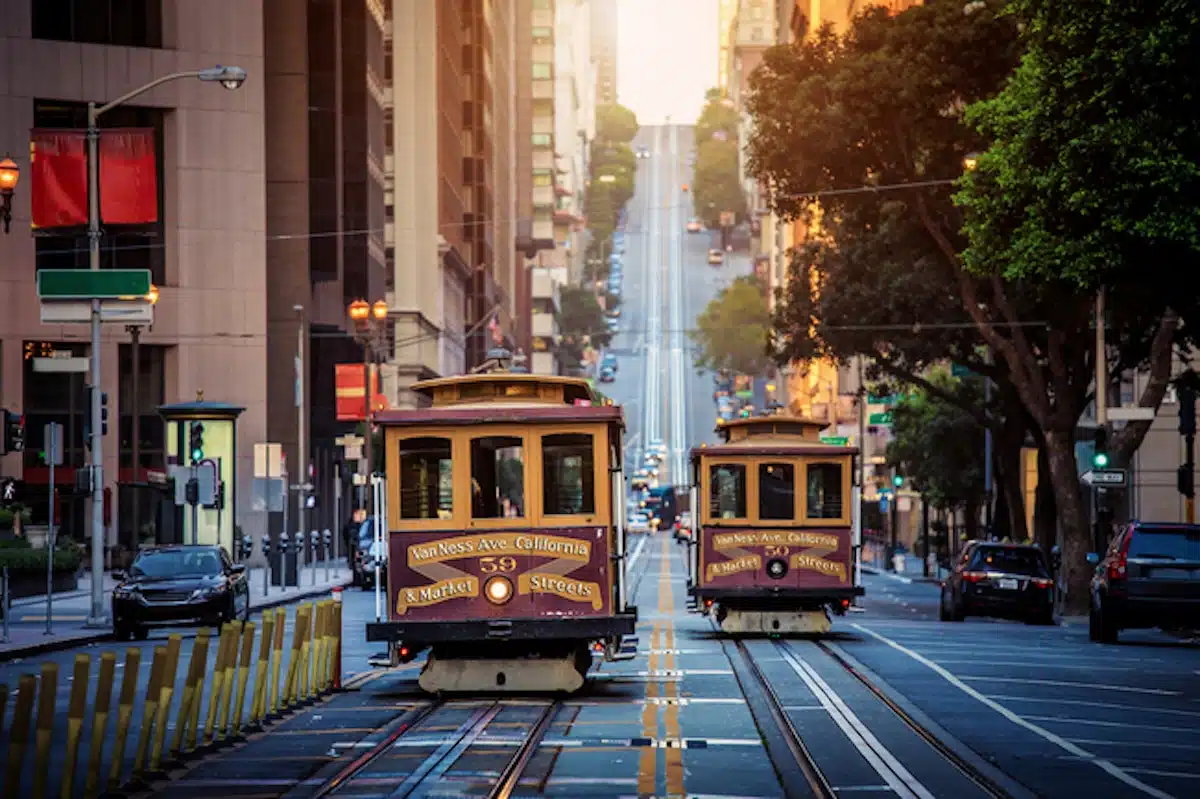 It's absolutely criminal to visit California and not pay a visit to San Francisco. The Golden Gate Bridge, Alcatraz Island, and Fisherman's Wharf are all iconic landmarks that you won't want to miss.
The city is also home to some great museums, like the San Francisco Museum of Modern Art (SFMOMA) and California Academy Sciences. If you're looking for things to do in San Francisco with kids, then check out the Exploratorium or Aquarium by The Bay.
If you're the outdoorsy type, you can go hiking at Muir Woods National Monument or take a ferry ride to Alcatraz Island (more on those later).
You can also go for a walk or bike ride across the Golden Gate Bridge, visit Fisherman's Wharf, or explore Lombard Street (the most crooked street in the world!).
Book This San Francisco Hop On Hop Off Bus Tour
San Diego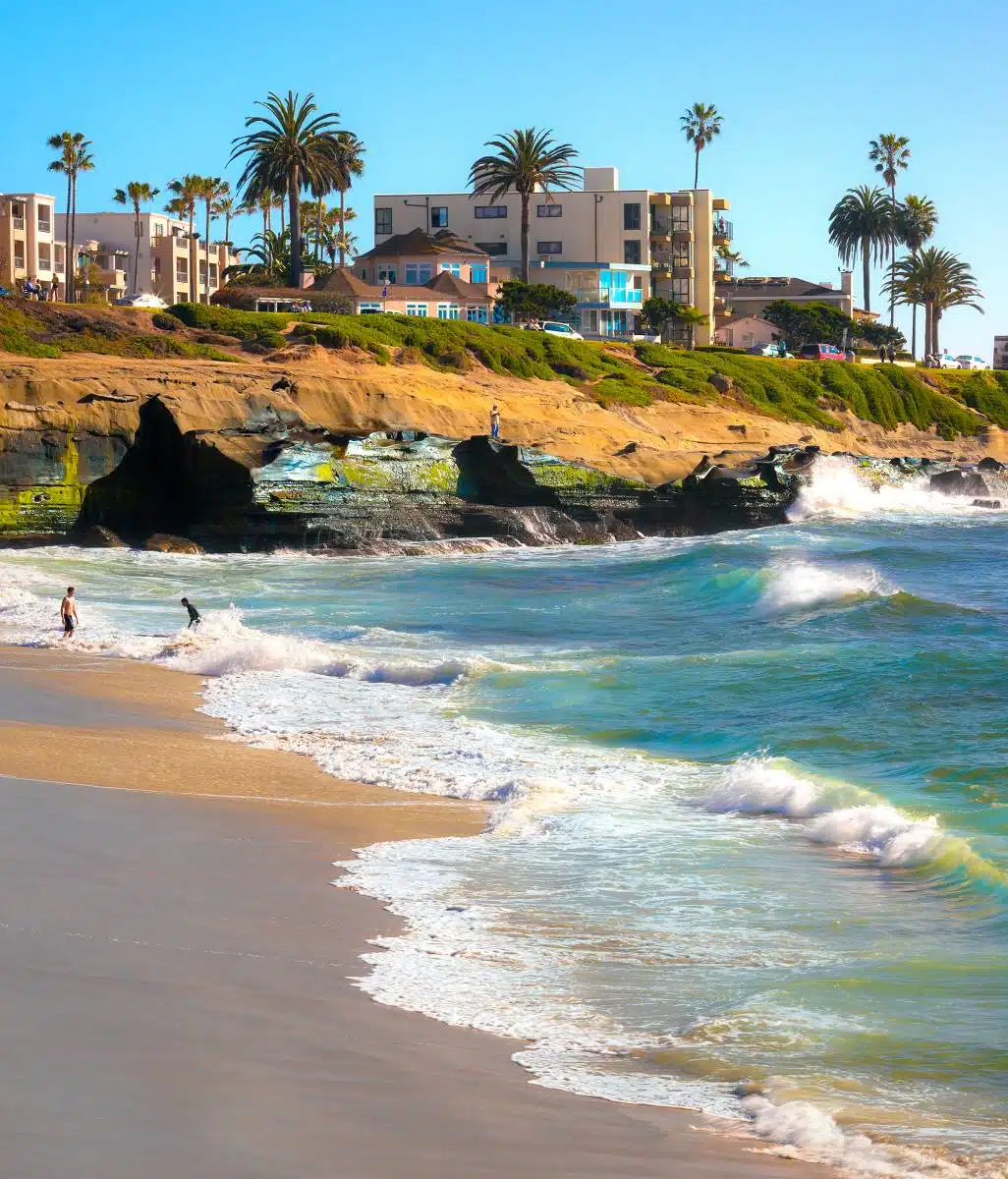 San Diego is one of my favorite cities in California – there's always something to do there. The city is home to some great beaches, like La Jolla Shores and Pacific Beach, where you can go surf the waves or go kayaking, boating, and swimming.
In addition to the beach scene, San Diego also has a great downtown area with lots of restaurants, bars, and shops.
Other must-visits in San Diego include the famous San Diego Zoo, Balboa Park (with its beautiful gardens and museums), and the USS Midway Museum – especially if you're with kids.
Book Your USS Midway Tour Here
Redwood National Park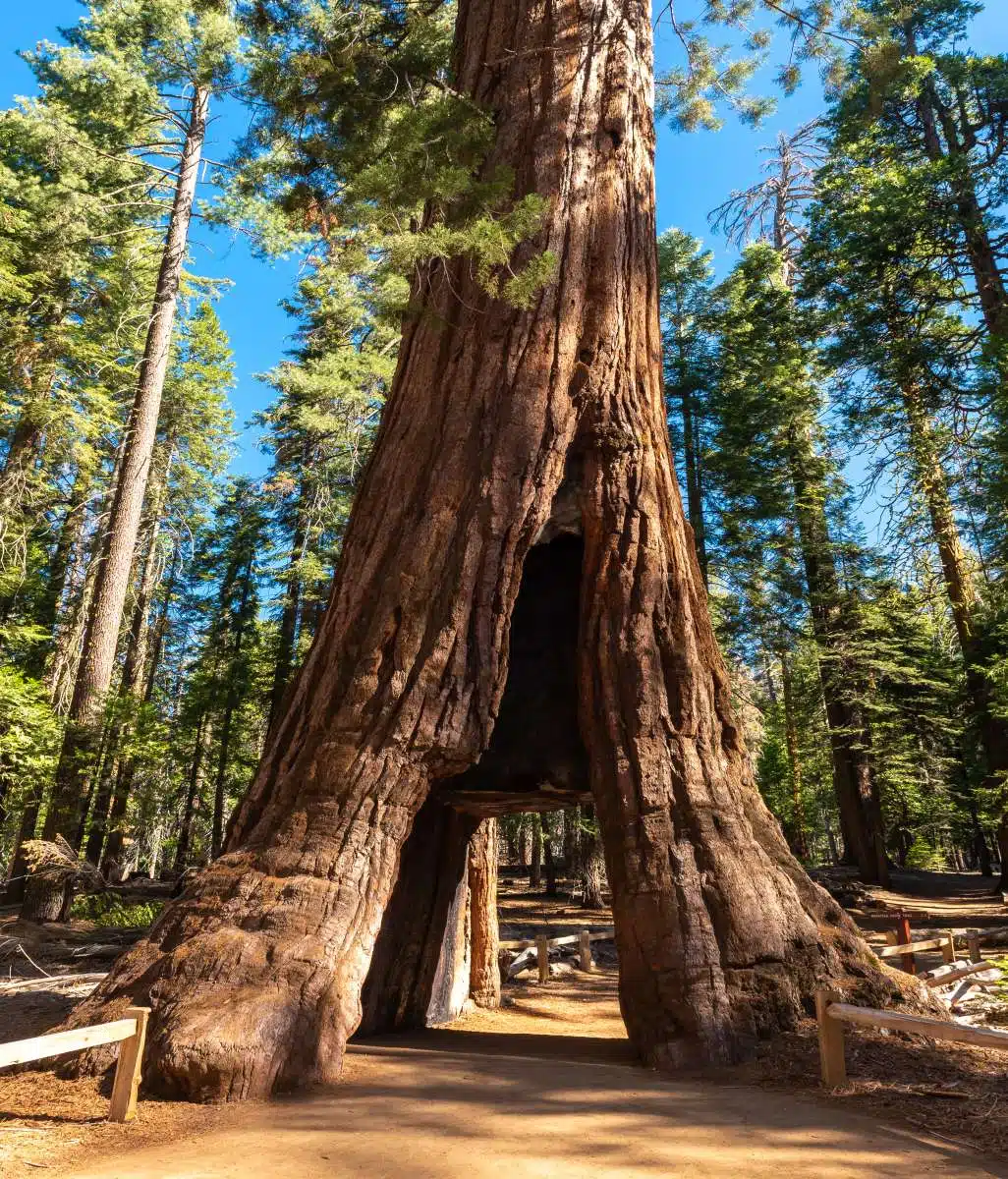 Looking for a nature escape? Three words: Redwood National Park. This park is home to the tallest trees in the world, and it's a beautiful place to visit year-round.
The park has many miles of hiking trails that will take you through some of the most beautiful forests I guarantee you've ever seen. You can also go camping, fishing, and birdwatching in the park.
Hiking-wise, opt for the coastal trail, the Lady Bird Johnson Grove loop, or the Boy Scout Tree Trail.
Whale Spotting at Point Reyes National Seashore
If you're looking for a chance to see some whales, California is one of the best places in the world.
Head to Point Reyes National Seashore, known for its large population of gray whales. The best time to go whale spotting is from December through April, when the whales migrate past the seashore.
There's more to Point Reyes than animal spotting, however. You can go for a hike on any one of their many trails, which range from easy strolls along sandy beaches to strenuous climbs up steep hillsides and through dense forests.
There are also opportunities for camping, fishing, and birding if you fancy the outdoorsy life.
Check out the Monterey Bay Aquarium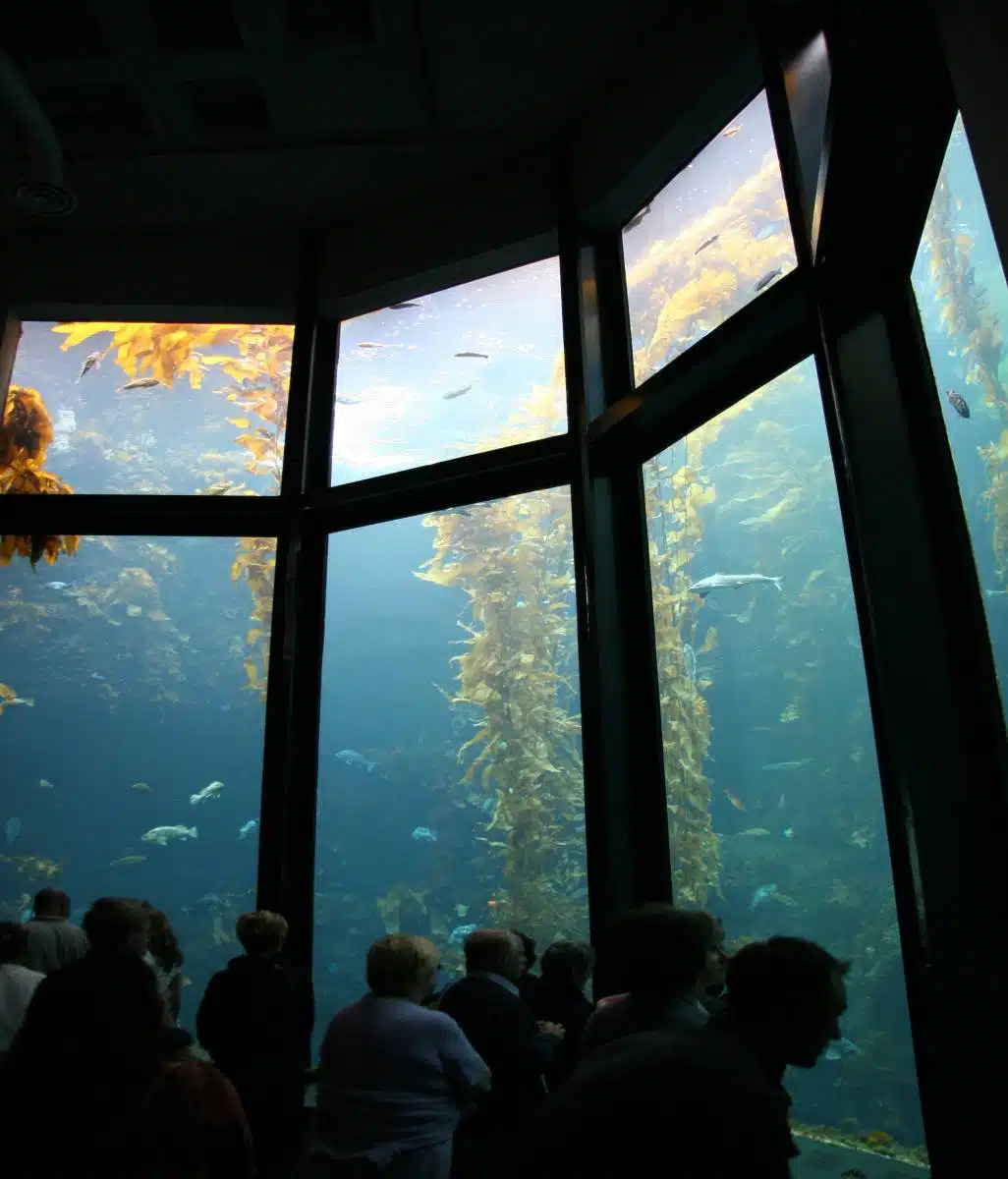 If you're looking for an aquarium to visit in California, then check out the one in Monterey Bay. Home to more than 35,000 animals, it's a great place to learn about the marine life of California.
The aquarium has plenty of fascinating exhibits, including one on kelp forests and another on rays. In addition to the exhibits, the aquarium also has a gift shop and cafe so you can get something to snack on after your visit.
Soak Up the Sun in Laguna Beach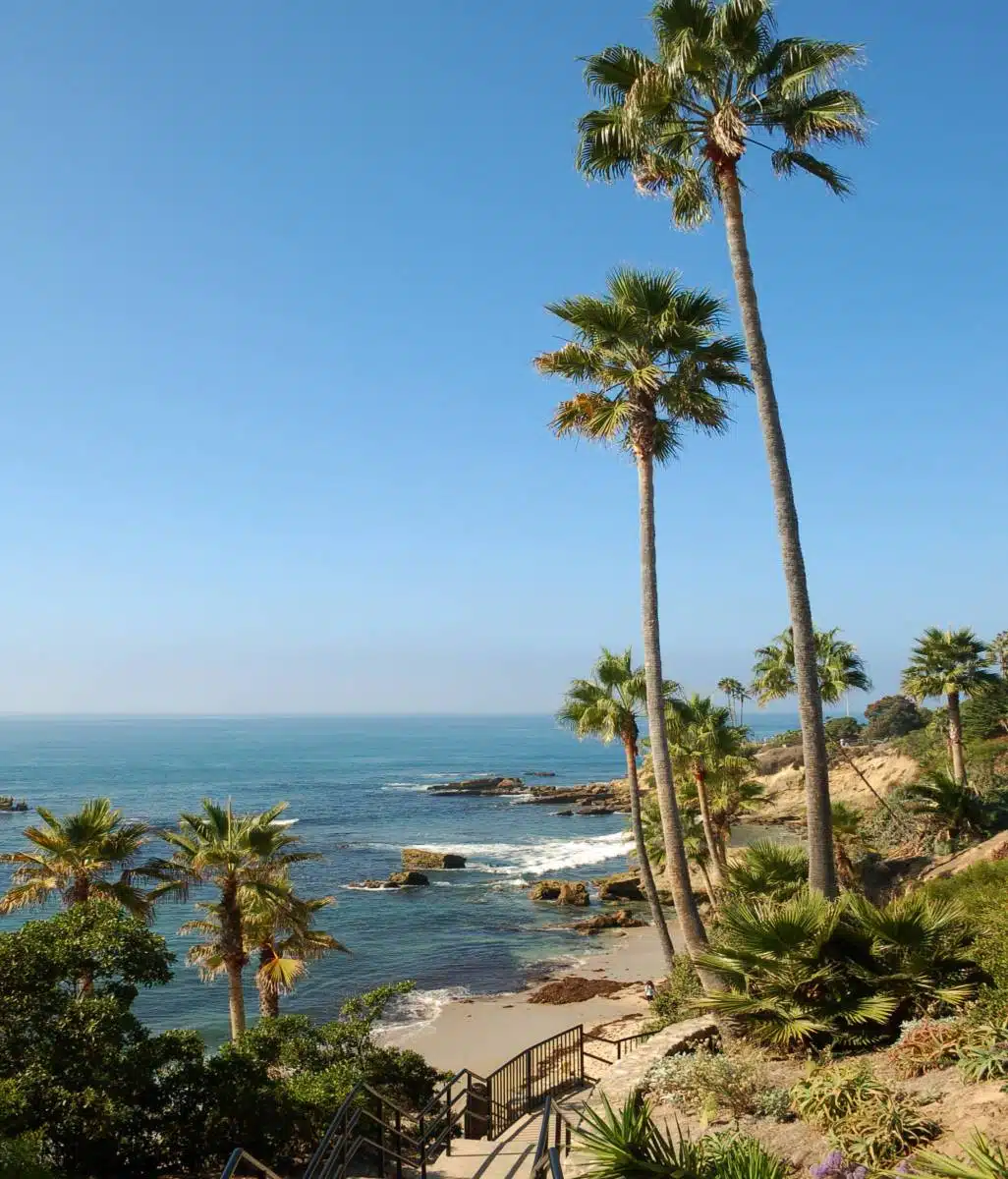 If you're looking for a place to soak up some sun, head to Laguna Beach and hang with friends. This beach town is located in Orange County and is known for its beautiful coastline and crystal-clear water.
Laguna Beach is a great place to go swimming, surfing, boating, and fishing. You can also visit the art galleries and shops in town, or go hiking along one of the many rocky trails.
The annual Sawdust Art Festival takes place every summer and features artists from all over California, drawing in huge crowds of tourists.
Hang Out in Palm Springs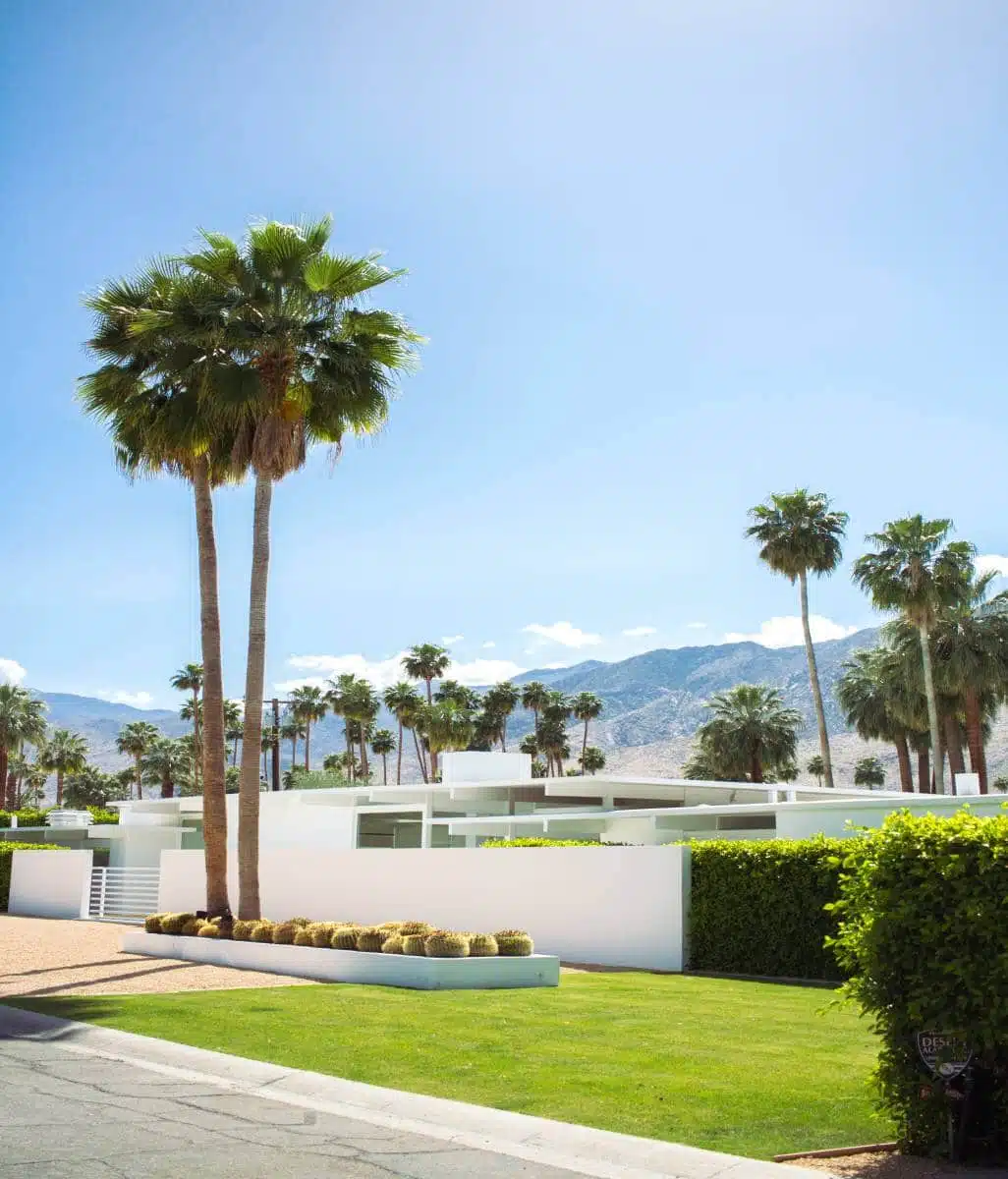 If you're looking for a place to hang out and relax, then head to Palm Springs. This desert town is located in Riverside County and is known for its sunny weather and bougie golf courses.
Architecturally, Palm Springs is quite interesting, as it's home to many buildings from the mid-century modern era. You can take a walking tour of the town and see some of these iconic buildings, or visit one of the museums that are located here.
Some of the best things to do here include visiting the Palm Springs Aerial Tramway, checking out the El Paseo shopping district, and catching a show at the Palm Springs Desert Museum. You can also go golfing or take a hot air balloon ride.
Palm Springs is also one of the top places in Cali to go shopping, dining, and clubbing – get ready to let loose!
Explore the Channel Islands National Park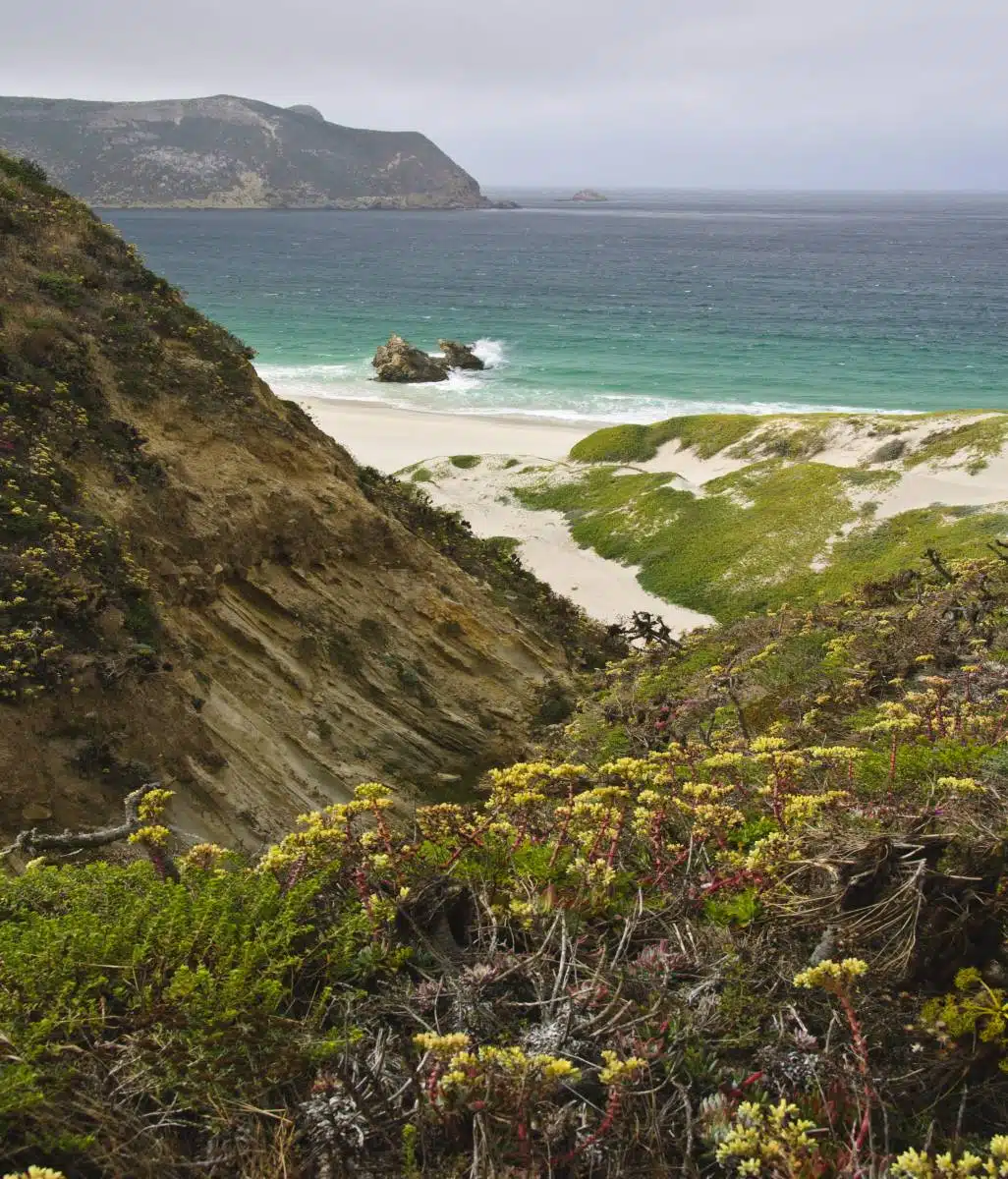 Just off the Santa Barbara and Ventura Counties, the Channel Islands National Park is known for its beautiful beaches and wildlife.
The park is home to several rare species of plants and animals that can only found here (keep your eyes peeled). Taking an eco-tour of the island will give you a chance to learn about the wildlife and plants that are native to this area.
You can also hike along one of their many trails.
See The Butterflies at Pismo Beach's Butterfly Grove
If you didn't know, Pismo Beach Butterfly Grove is a haven of eucalyptus trees that are home to hundreds of thousands of monarch butterflies every winter.
Monarch Butterflies migrate from as far away as Canada to spend their winters here – the dense flocks of their distinctive orange and black wings are quite the sight. The grove is open from November through February and attracts visitors who want to see these beautiful creatures up close and personal.
You can visit Pismo Beach Butterfly Grove during those months things see the butterflies in all their glory, but there are other things to do here throughout the year as well like hiking on trails or horseback riding.
Hop on a Boat Trip to Catalina Island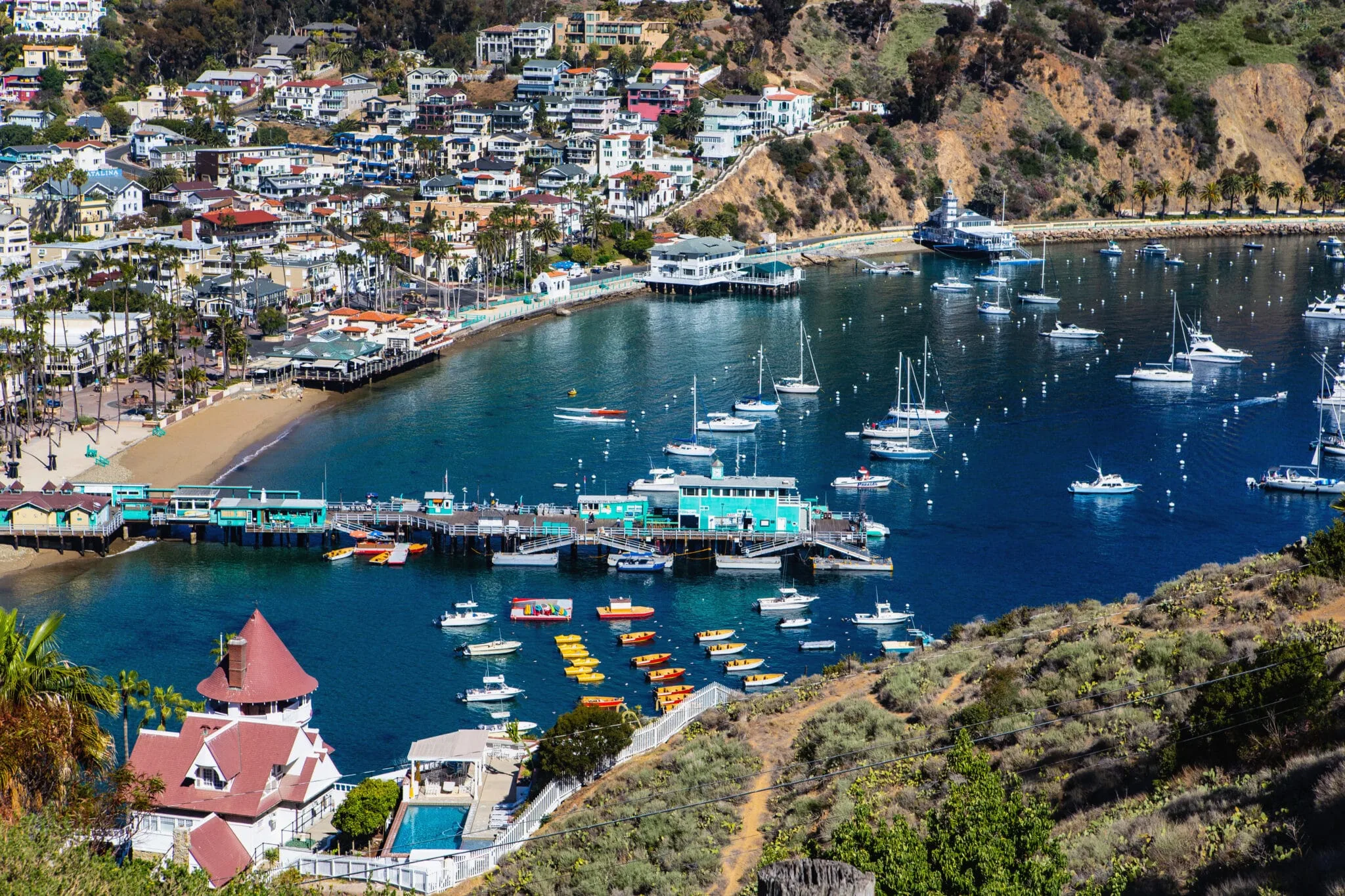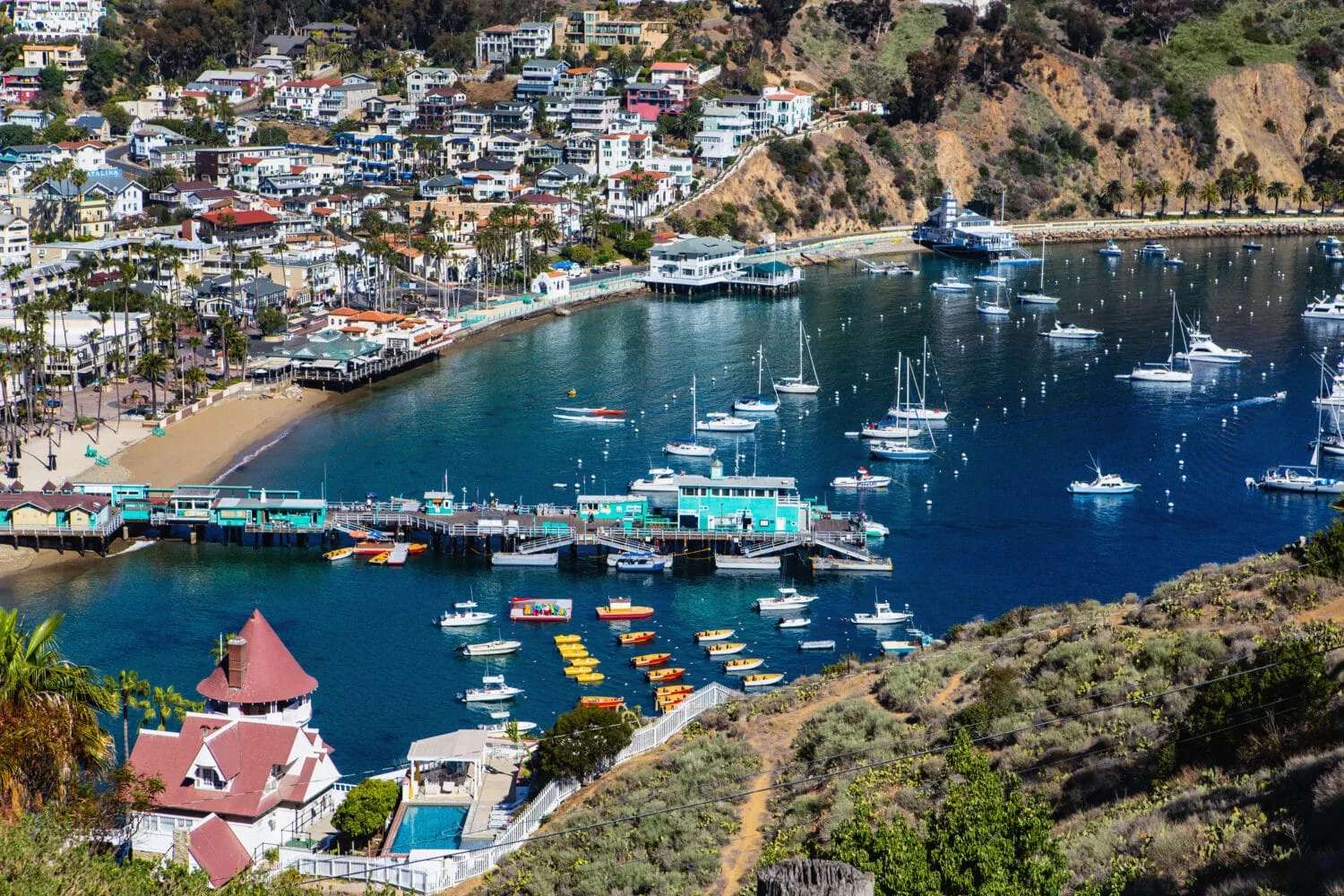 Catalina Island is located about 22 miles off the coast of Southern California and it's a popular spot for tourists to explore. Historically, it's something of a celebrity hotspot, with the likes of Marilyn Monroe, Clark Gable, and Charlie Chaplin all spending time here.
The island is home to several small towns including Avalon, where most of the tourists hang out. You can go swimming, snorkeling, kayaking, or boating around in waters that surround Catalina Island if you're looking for things to do during the warmer months.
There are also plenty of things to see and do on land, such as the multiple hiking trails through lush forests filled with native flora and cacti. You can also go shopping at one of the many boutique shops dotted along Avalon's main street.
Avenue of the Giants in Humboldt Redwoods State Park
Walk with giants in Humboldt Redwoods State Park. Avenue of the Giants is home to some of the tallest trees in the world, and it's a beautiful drive (or bike ride) through the forest.
These majestic trees are thousands of years old, growing up to 300 feet tall and some are over 2,000 years old. It's an amazing sight to see.
The park also has miles of hiking trails, as well as camping and fishing opportunities. Once you've explored, cool off with a dip (or on a floating donut) in the Eel River.
Kitschy Delight at Santa Cruz Beach Boardwalk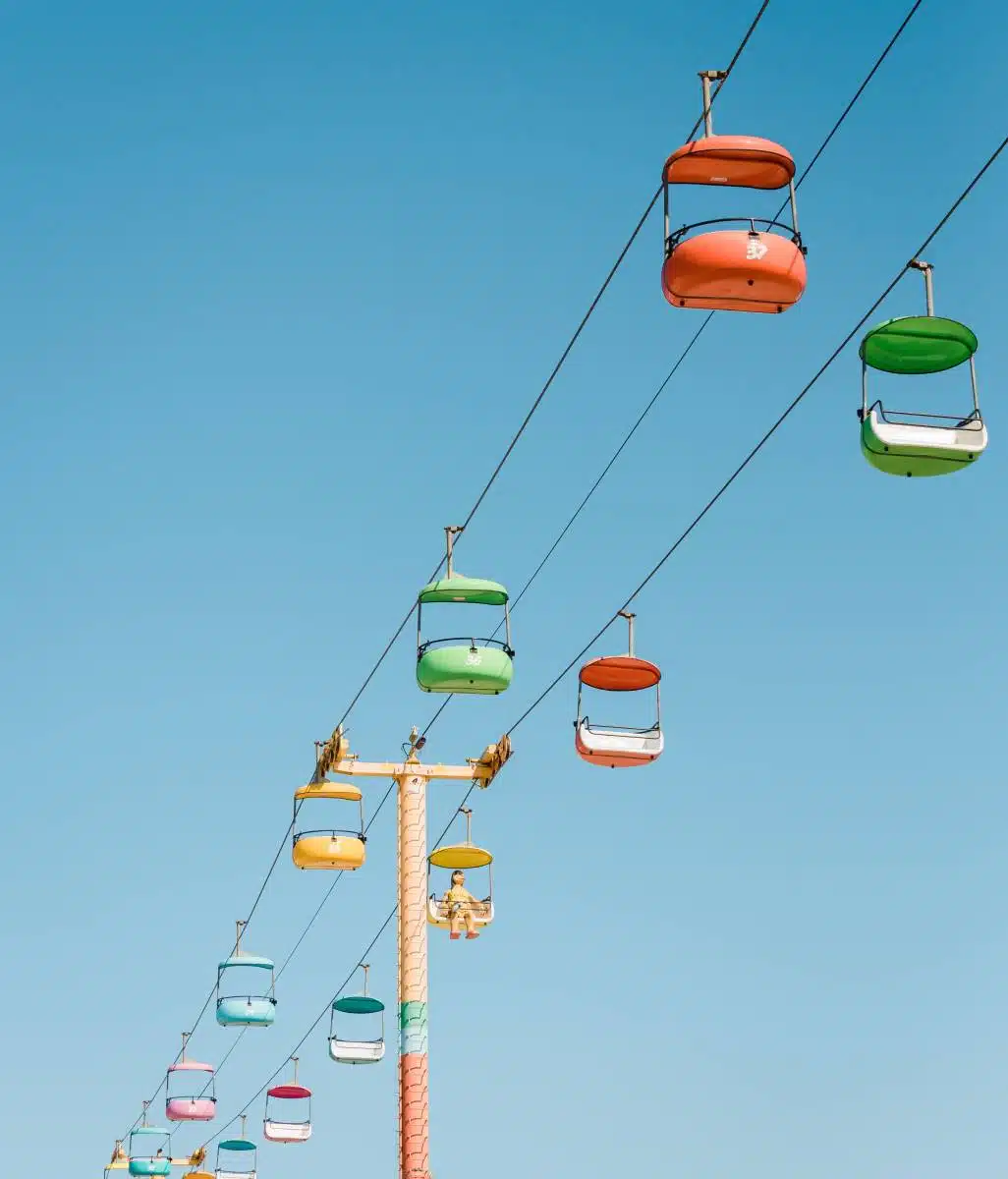 If you're looking for an afternoon of kitschy fun in California, then head to the Santa Cruz Beach Boardwalk. This amusement park is located on the beach in Santa Cruz and is one of the oldest amusement parks in the state.
The boardwalk boasts more than 35 rides, including roller coasters, thrill rides, carnival games, and plenty more things to make you feel young at heart.
You can also spend a few hours shopping or dining at one of the many restaurants – there's plenty of hotels nearby too so you can stay overnight and explore across two days.
Visit The Stunning Glass Beach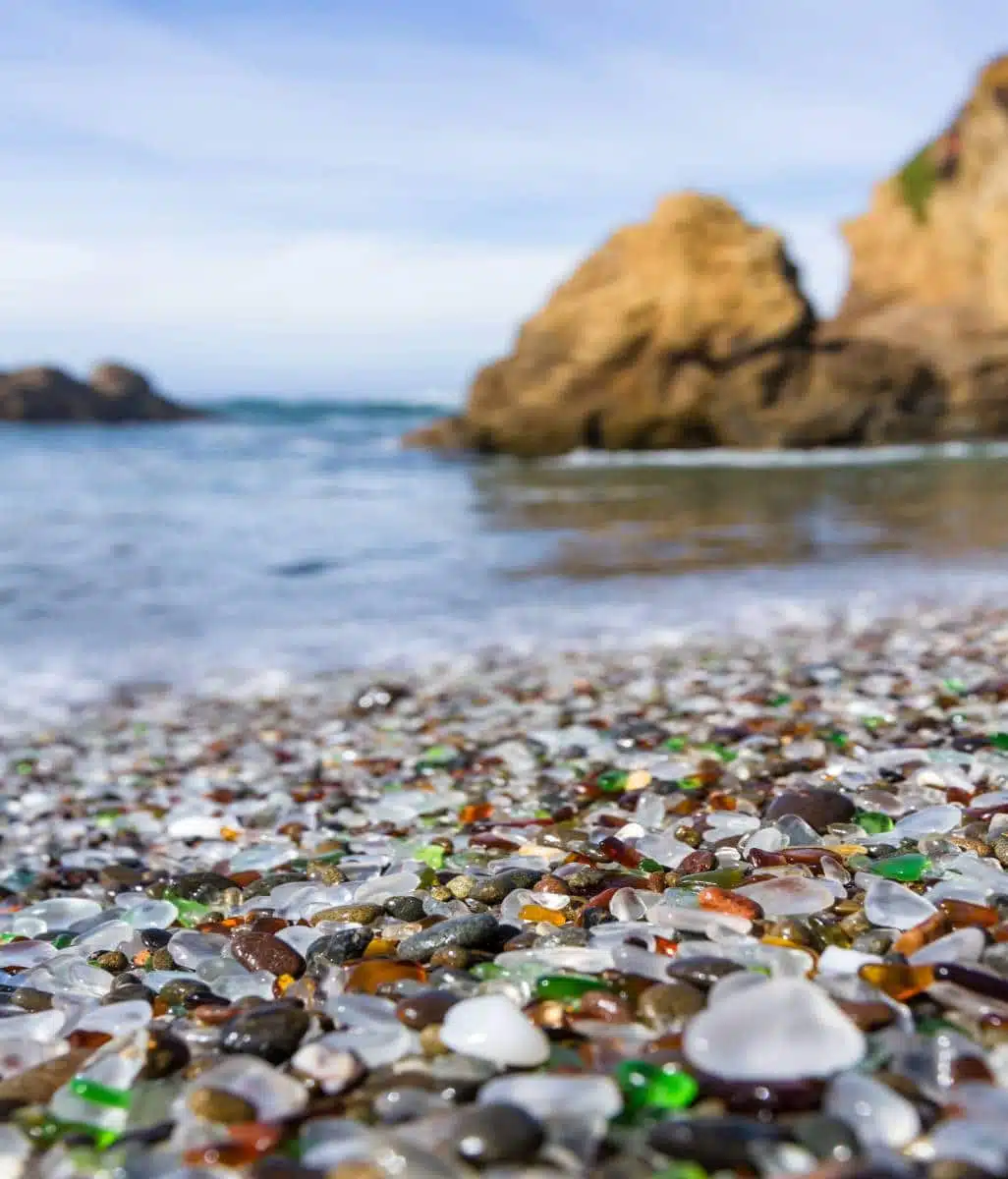 Glass Beach is one of the top places to visit in California. Located in Fort Bragg, the beach is beautiful despite having a rather sad history. In fact, it gets its name from the years of debris that has been dumped at this location by residents who wanted to avoid paying a removal fee – and so tipped their rubbish into the water.
The best time to visit is during low tide when you can see all the different colors of glass that make up this unique attraction.
You can also check out other beaches in the area like Pudding Creek Beach, which is known for its interesting rock formations.
Visit The Largest Outdoor Market in the United States
Get a taste of local life at the largest outdoor market in the United States: the flea market at Rose Bowl Stadium.
The flea market has been around since the 1930s when it was first held as an annual event on Thanksgiving Day; now it annually hosts over twenty thousand vendors selling things to millions of visitors every year.
This cool market is open every Sunday from 9am – 4pm and offers a wide variety of things from antiques to furniture. You can also try delicious street food at one of the many vendors, who rustle up anything from tacos to pizza slices.
Hang Out in Danish-Influenced Solvang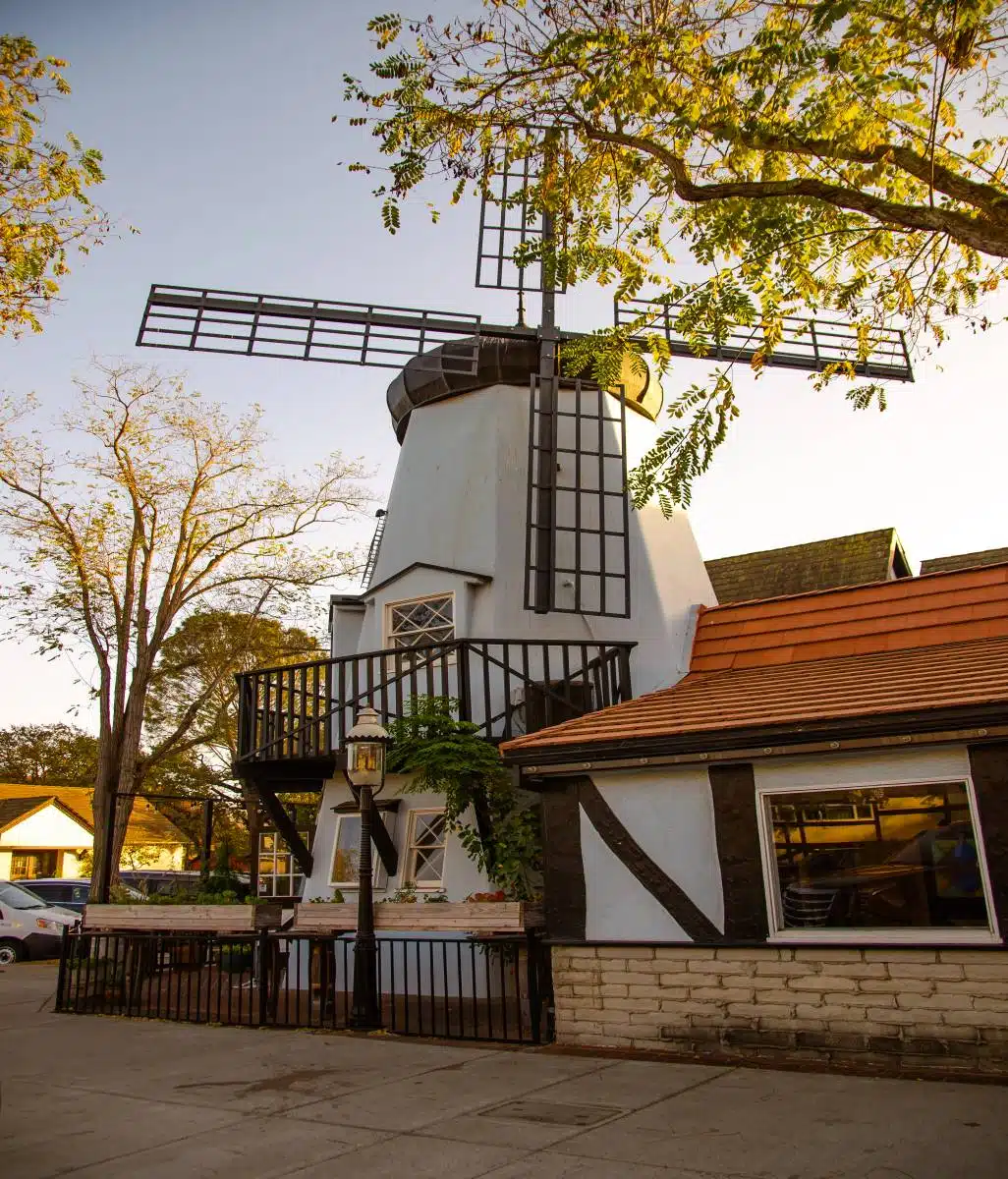 If you're looking for things to do in California that are a little different than the norm, then check out Solvang. This town is located in Santa Barbara County and was founded by Danish immigrants back in 1911.
Today, the town retains much of its Danish heritage including in its architecture, food, and traditions. Exploring the town is best on foot – you can walk around and get a feel for life here, or you can visit one of the many museums to learn more about its history.
Solvang is also known for being a great place for wine lovers, as there are over 20 wineries located in the area.
Alcatraz Island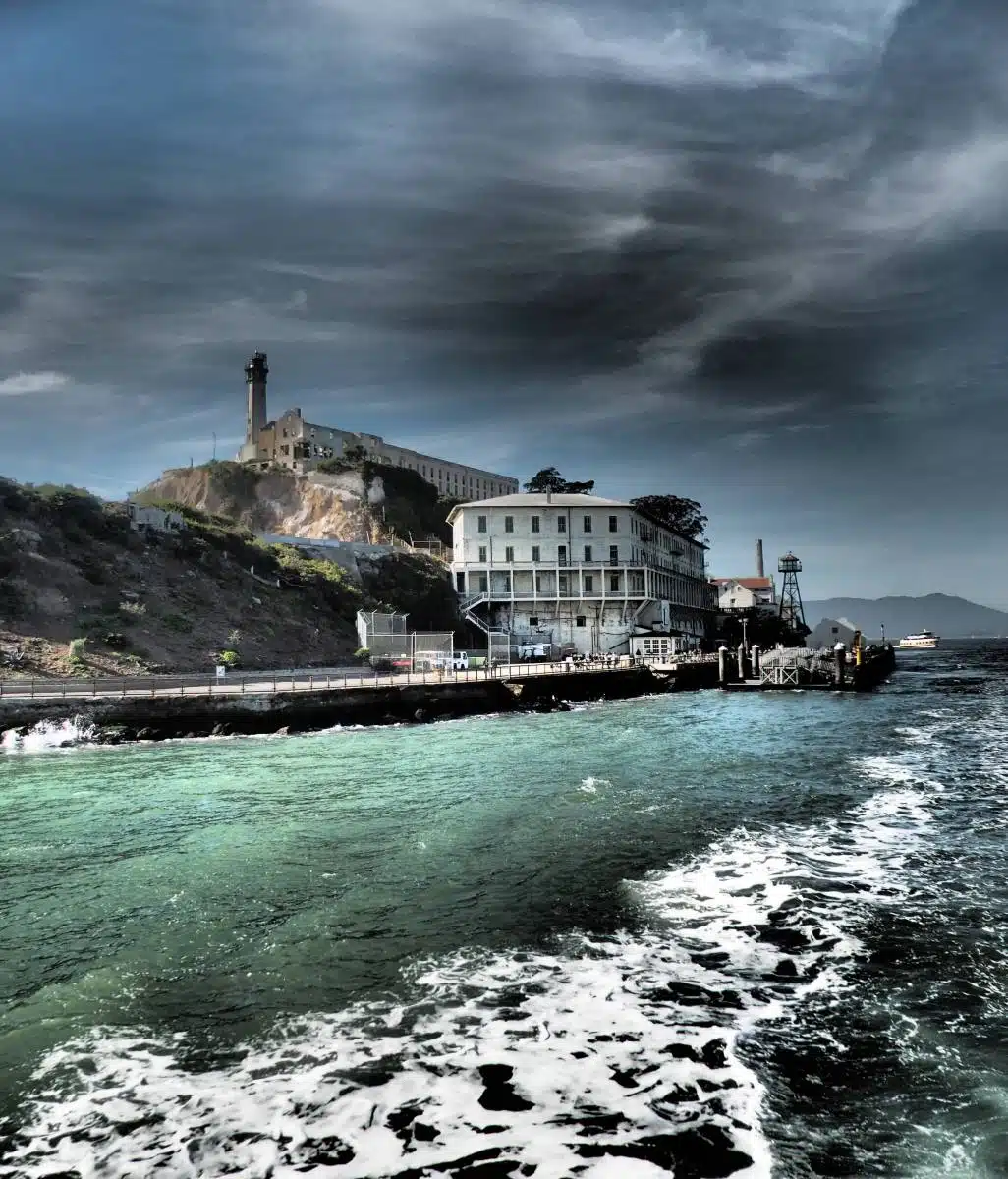 There's no prison (or island) as iconic as Alcatraz. This island is located in San Francisco Bay and was once used as a federal prison for some of the country's most notorious criminals. Though, it's now home to a museum that tells curious visitors all about its dark history.
Visitors can take tours of the island, which include former prison cells and possible escapee routes – the island is open from early morning until late night, making it a great place to visit any time of day.
Book an Alcatraz Entry Ticket Here
See (And Hear) The Elephant Seals at Point Reyes National Seashore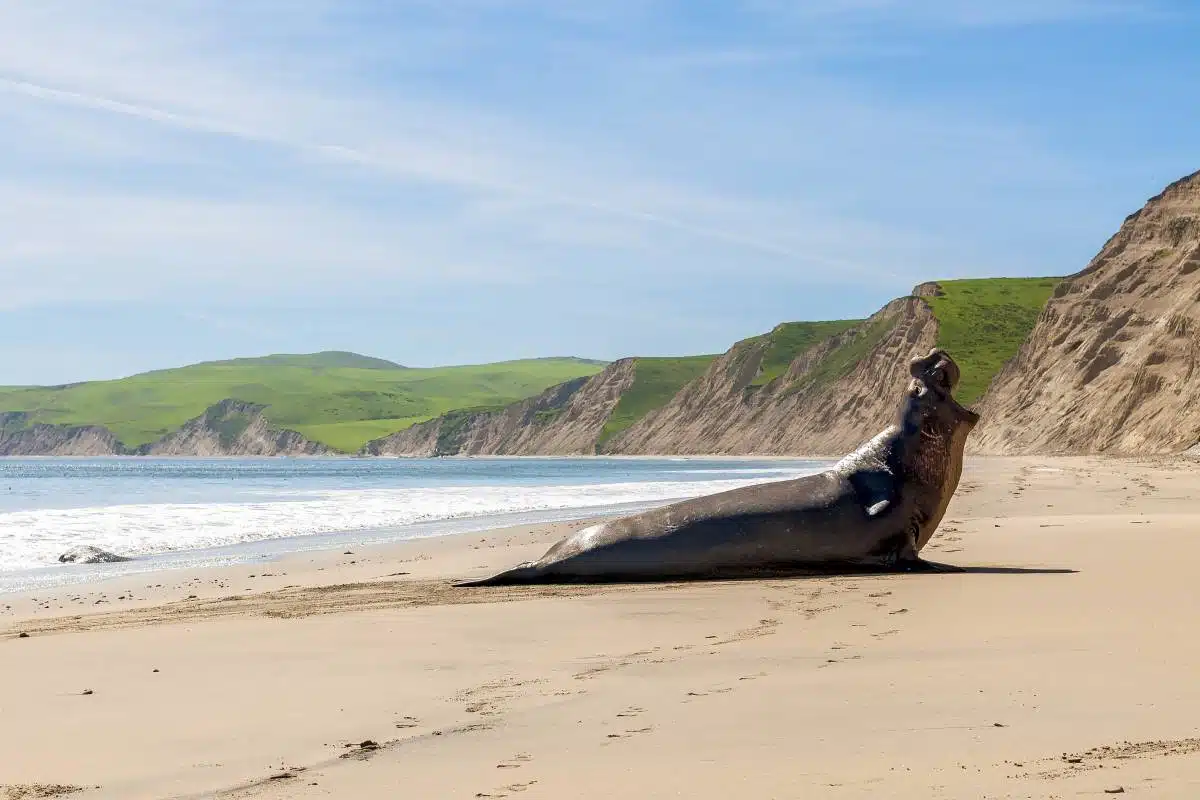 If you're visiting during the seal season (October to March), you should go to see the elephant seals at Point Reyes National Seashore. Particularly if you're there in February – this is when the baby seals tend to be born and they make for an adorable photo opportunity.
Elephant seals are huge animals and it's really interesting things see them up close – listen out as you will also hear them making funny noises.
You can visit the seashore at any time of day, but the best time for the seals is definitely early morning or late afternoon when they're more active.
Hike The Muir Woods National Monument
If you're looking for things to do in California, then head to the Muir Woods National Monument, part of the Golden Gate State Park next to San Francisco's famous red bridge.
Cathedral Grove is one of the most popular areas in the park – and it's easy to see why. This grove is home to a few of the tallest trees in the park, and walking through it is like stepping back in time.
The park has miles of trails that wind through the forest, making it the perfect place to go on a hike.
Book a Guided Tour of Muir Woods
Check Out The Art in the Anza Borrego Desert State Park
While in California, make sure to check out the art in the Anza Borrego Desert State Park. Situated on the eastern fringes of San Diego County, the park boasts breathtaking desert landscapes.
Taking its name from the 18th-century Spanish explorer Juan Bautista de Anza and borrego, the Spanish word for sheep, the park stretches over six hundred miles long and boasts plenty for visitors to explore.

One of the most popular attractions is the art installation that's located in the park – this art was created by a group of artists who call themselves The Light Project, and it features multiple fractures of light. Make sure to time your visit with sundown, when the art begins to glow.
Visit The Winchester Mystery House
If you're looking for unique things to do in California, then a visit to the Winchester Mystery House is a must. Located in San Jose, the building is known to host many oddities.
The house was built by Sarah Winchester, the widow of gun magnate William Winchester. Sarah believed that her husband's spirit guided her to build the house, so she made sure it was full of strange features.
Some of these features include doors that open onto walls and staircases that lead up to nowhere – visitors can take tours of the house and learn more about its history, so make sure you add it to your bucket list.
Revisit the Gold Rush in Sacramento
The capital of California and famed for being a major hub for the Gold Rush: Sacramento is a city steeped in history.
The Old Sacramento Historic District needs to be at the top of your list of places to explore. This district is home to the California State Railroad Museum and a range of restaurants, shops, and even hotels that are housed in historic buildings from those times.
See The Inspiring Salvation Mountain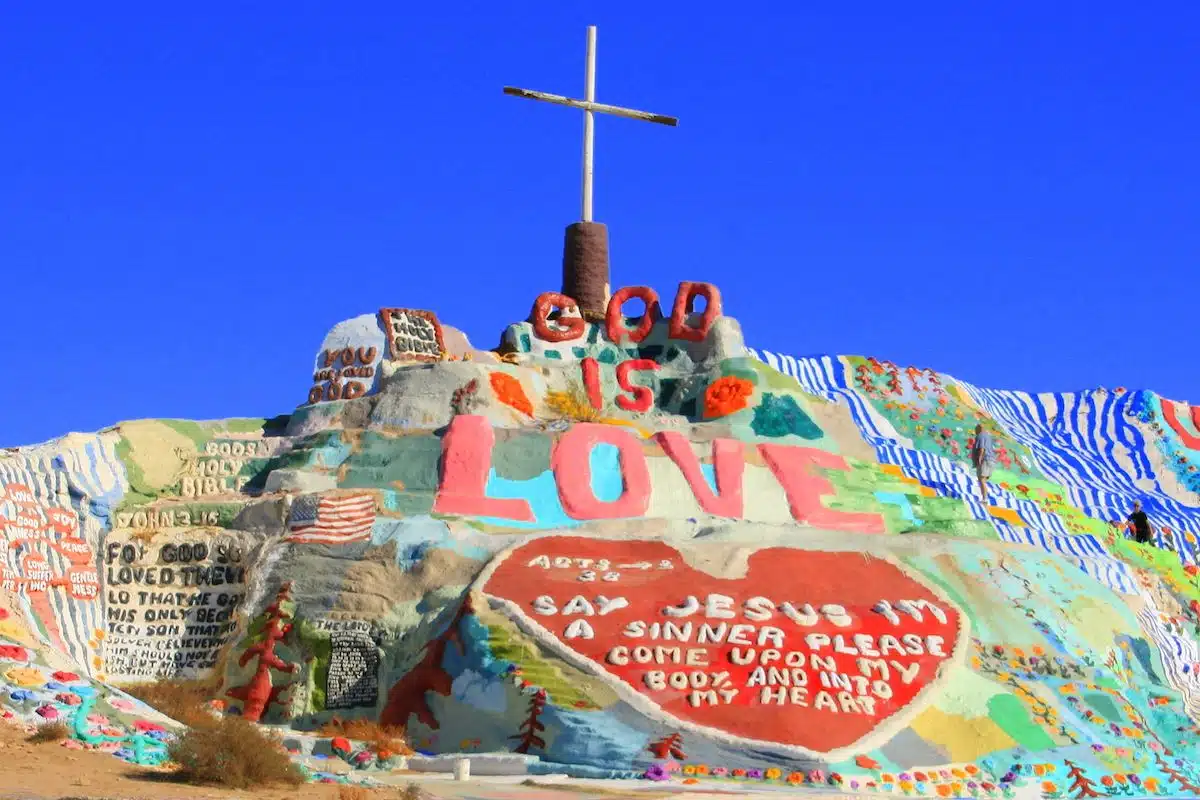 If you're looking to venture off-the-beaten-path in California, then visit Salvation Mountain. This is an art installation that's located near Slab City and was created by artist Leonard Knight (who sadly passed away in 2014).
The message – God is love – is portrayed through paintings, scriptures, and other works of art on the mountain. The mountain is open all year round from sunrise until sunset, and incredibly inspiring sight to see.
---
There we have it – 35 brilliant things to do in California. Which ones are you adding to your bucket list?
Things to do in California: Map