Ready to discover the best things to do in Lake Tahoe? This idyllic destination holds a limitless number of vacation spots, relaxing getaways, exciting attractions, and so much more.
Ask me to name my favourite place in the USA and I'll struggle. However, one thing I can wholeheartedly say is that very few places in the continental United States come close to the spectacular beauty and breathtaking aesthetics of Lake Tahoe.
The lake itself is a sight to behold. Its crystal clear shimmering waters are the inspiration for a multitude of artists, writers, explorers, and philosophers. Adding Lake Tahoe and things to do at the lake to your USA bucket list is a must-do.
Although the options of things to do and places to see are endless, there are a few I've picked as the best suggestions of what to do at Lake Tahoe.
Ready to plan the best trip of your life? Let's get to it then.
Deciding where to stay during your Lake Tahoe trip? Check out Beach Retreat & Lodge at Tahoe.
Top 5 Things to do in Lake Tahoe
Get Lost in the Beauty of Emerald Bay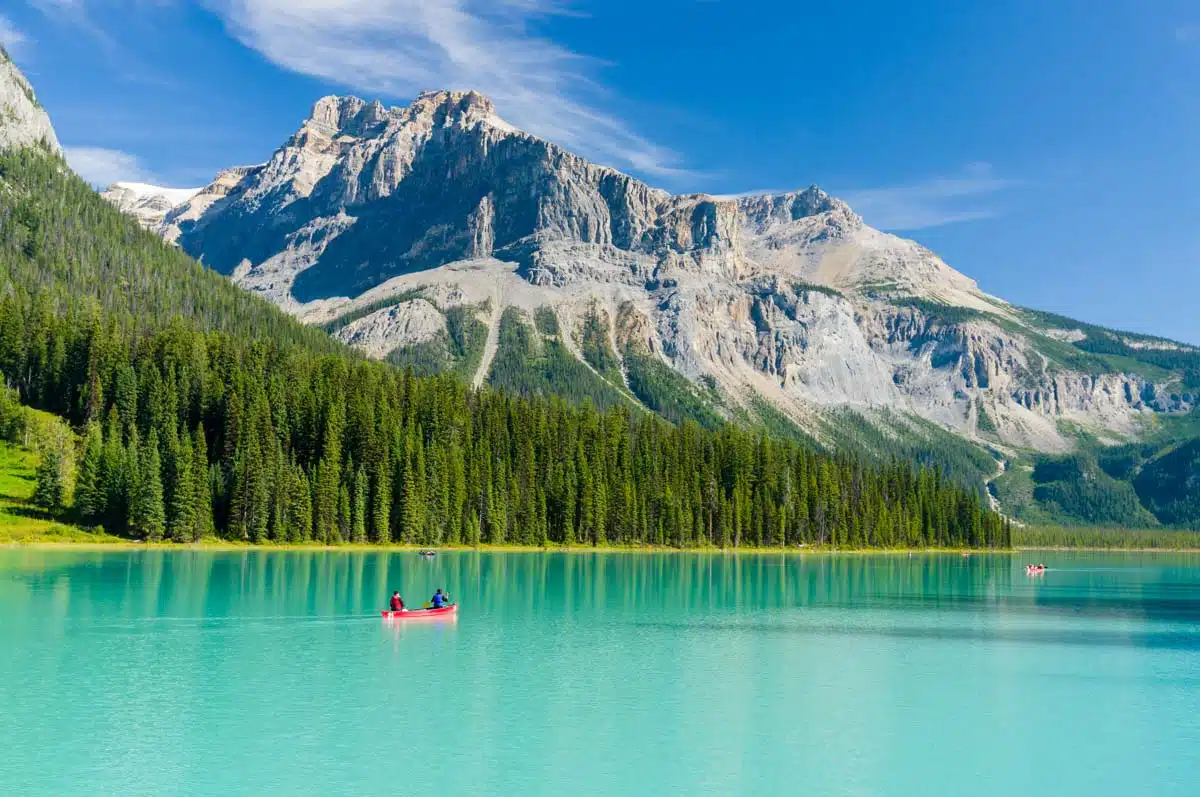 Tucked away in the Emerald Bay State Park, the bay area is one of Lake Tahoe's best places to visit. Like a scene stolen from a Scandinavian landscape, Emerald Bay is a picturesque beauty, which is further accentuated by the imposing Vikingsholm Mansion.
Criss-crossed by kayaks, private speedboats, and tourist cruises, the shores of Emerald Bay are where you'll find the best spots to soak up the California sun. Or better yet, take a 2-hour private boat cruise onto the lake – with your very own captain.
Beyond the bay are many treats for eager adventurers as well. Emerald Bay State Park trails lead to hidden (and not so secret) gems. With highlights including a jump-off point in sight of Vikingsholm.
Book Your Emerald Bay Cruise Here
Test your Bravery on the Tahoe Treetop Adventures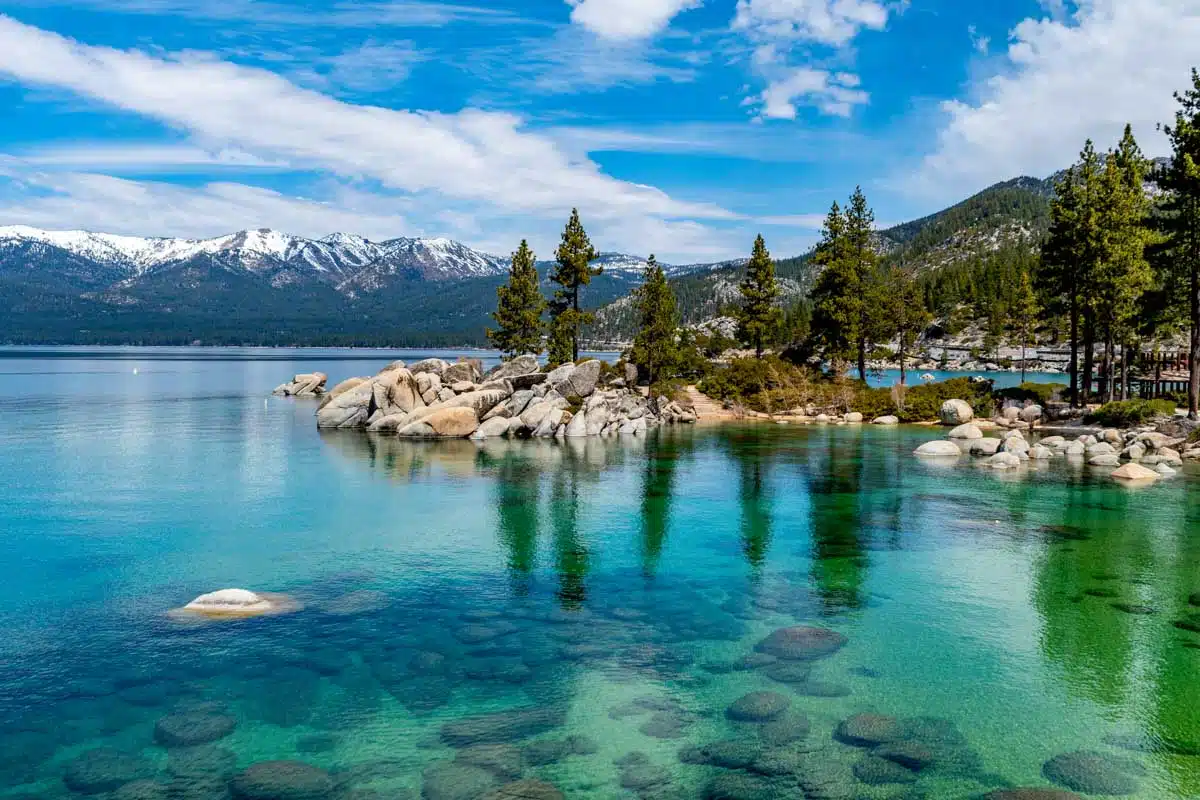 Lake Tahoe is not just famous for its lake; The Tahoe Treetop Adventure Park should be on your to-do list. Dashing through the treetops is one of the most exciting things to do around Lake Tahoe.
This multi-course treetop adventure trail, set as high as 15 metres (50 feet) above the ground, will get your adrenaline pumping.
You're in for a lot of fun as it features 97 tree-top platforms across ten courses, 27 ziplines, and suspension bridges, all set at different heights. And, might I mention, some quality exercise as well.
Ski Down the Slopes of the Alpine Mountains

The best Lake Tahoe activities aren't all exclusive to summer – there are equally as many fun things to do in Lake Tahoe during the winter months.
The Alpine slopes of these mountains include Heavenly, which features a whopping 20 square kilometres of ski terrain.
The cherry on this very delicious cake? You can treat yourself to a fun time skiing the slopes or heading up the Heavenly Gondola to an Observation Deck perched at just about 2,700 during winter. Dreamy views abound.
Enjoy the Lake on The Lake Tahoe Boat Cruise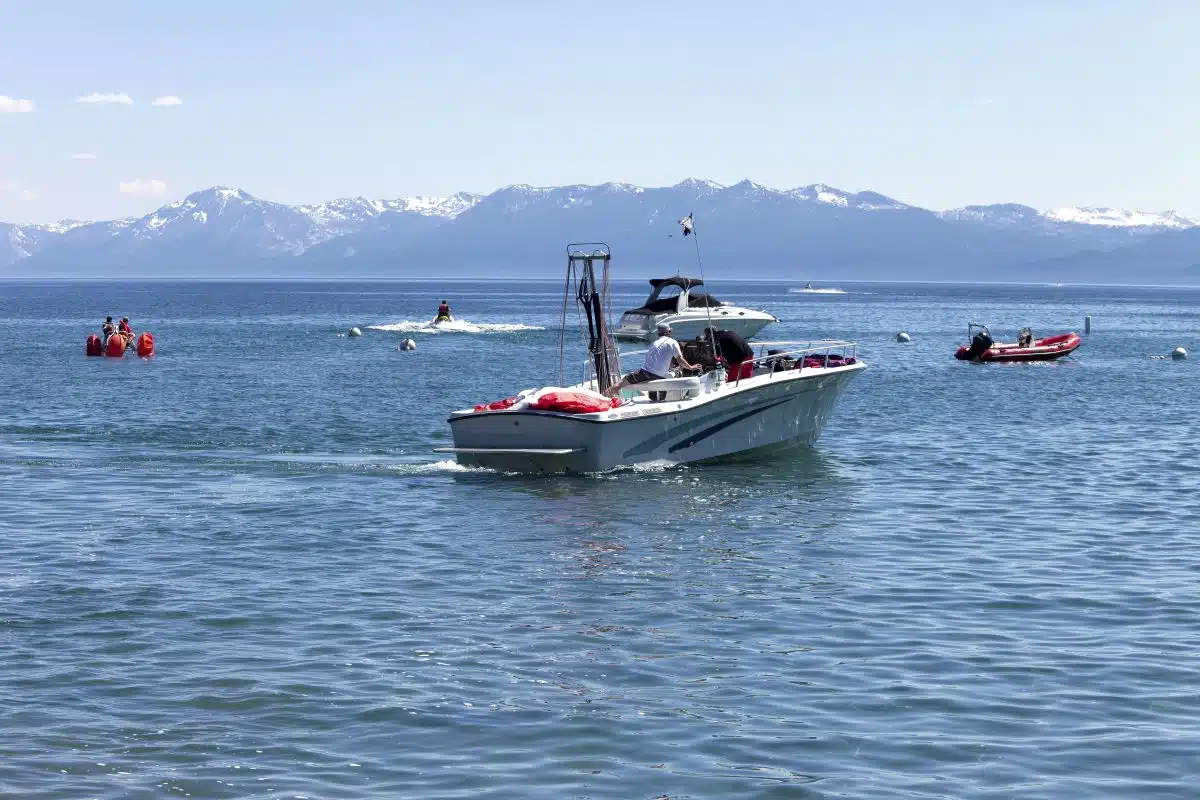 I highly recommend getting up close and personal with Lake Tahoe, and there's no better way than cruising the lake on the various boat cruises offered there.
Several companies offer scenic and relaxing cruises on the north, south, and western shores. Some offer cruises focused primarily on Emerald Bay.
I highly recommend heading out onto the lake with the M.S. Dixie II Cruise around Emerald Bay or bringing your friends on a happy-hour cruise on the lake in the afternoon.
Hike through the Tahoe National Forest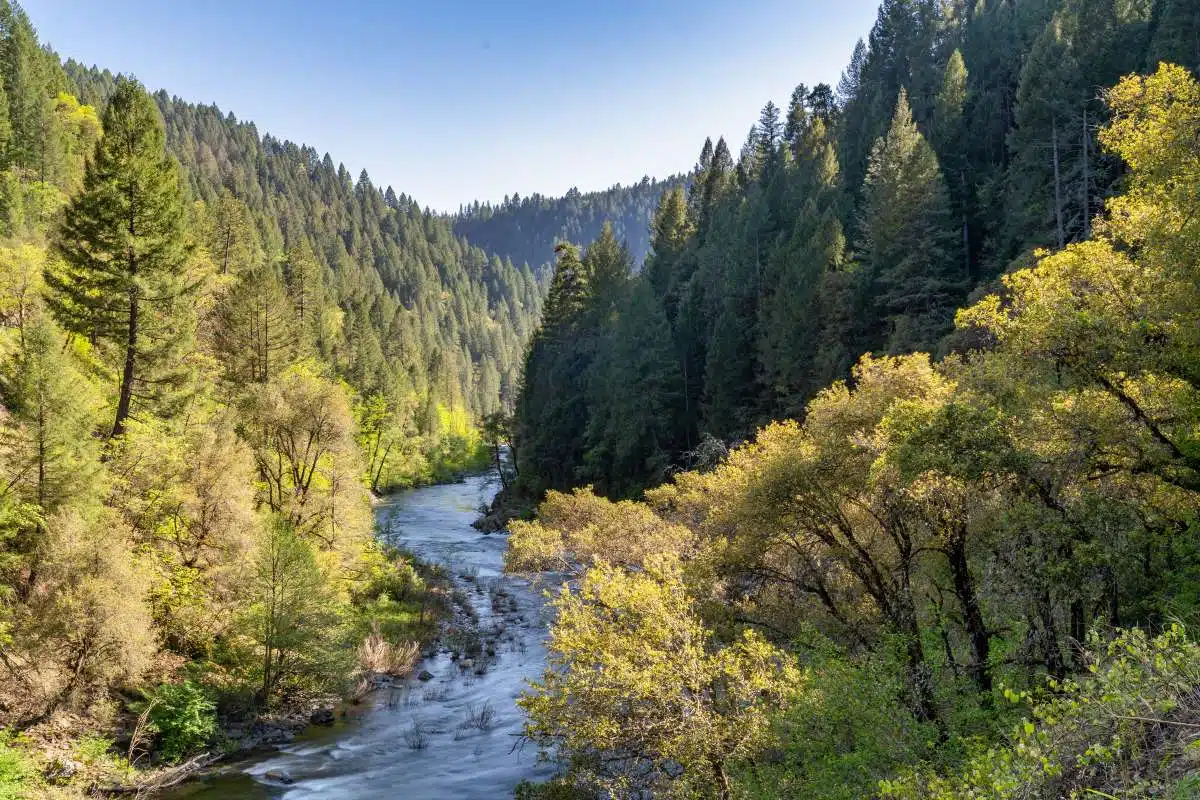 Strap on your hiking boots because the Tahoe National Forest consists of hundreds of kilometres of trails for you and your friends to explore. The National Forest is overflowing with amazingly thought-out trails to ensure you get to engage and immerse yourself in this natural wonder.
With so many different trails to choose from, you might miss out on some of the natural beauty they hold, so why not go hiking more than one? Consider the Mount Judah Loop, the Five Lakes Trail, or the Stevens Trail – my favourite being the Mount Judah.
Brilliant Things to See & Do in Lake Tahoe
Indulge in the History of Lake Tahoe at the Tallac Historic Site
Lake Tahoe has a fascinating history, and anyone who has taken a trip to the lake will testify to this. The Tallac Historic Site consists of various estates and areas that visitors to the area can enjoy.
Reminiscent of the '20s and '30s—the estate's heydays—you can attend numerous music festivals at the site. The Gatsby Festival and the Summer Concert Series are both excellent.
Visit Kings Beach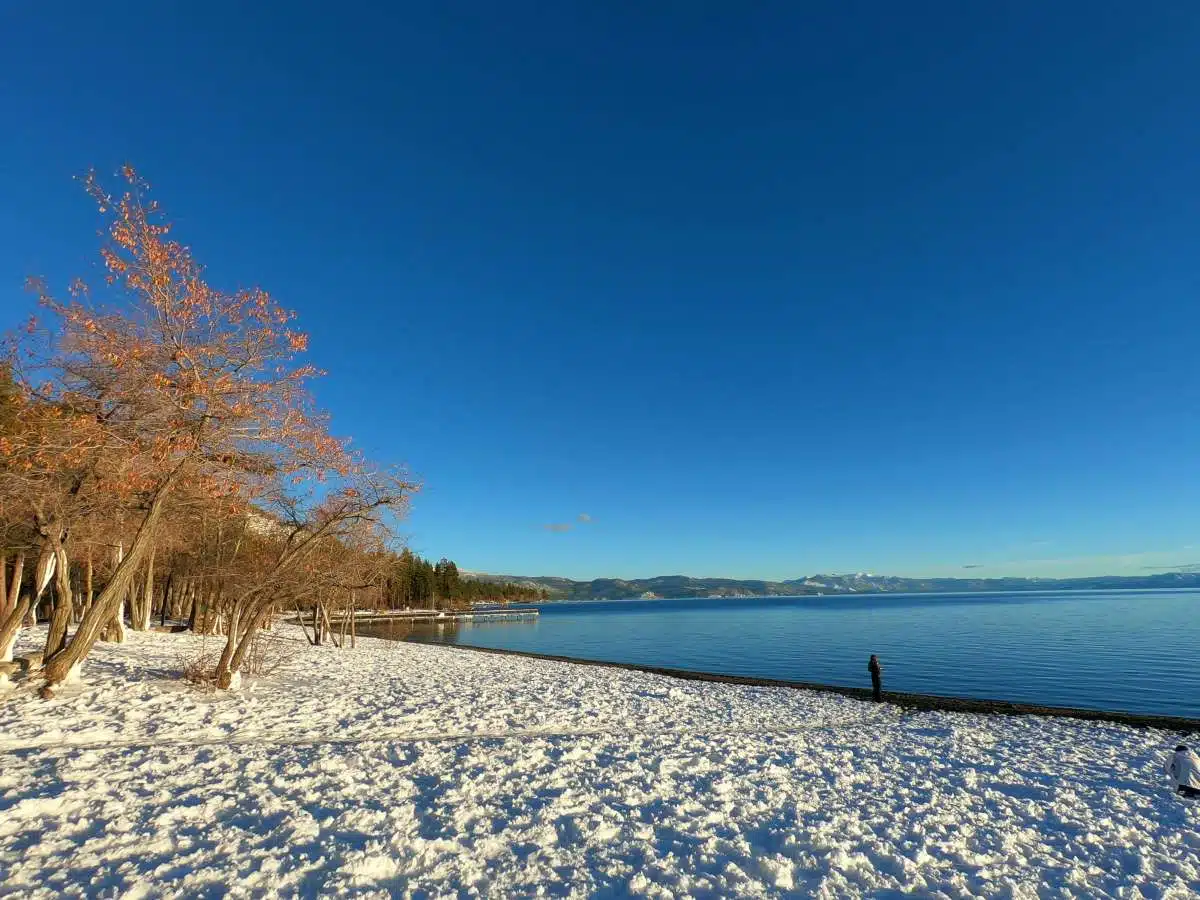 Situated on the northern shore of Lake Tahoe is Kings Beach. It's an ideal spot for summer days spent on the beach, either lounging on its sandy bays or kayaking on the lake.
If you're in the mood for a BBQ, the beach has an entire recreational area with several barbecue pits, a picnic area, and more of the best things to do in North Lake Tahoe.
Just a few minutes from the beach is the town of Kings Beach. And undoubtedly, the best way to explore is the self-guided electric bike tour along the east shore.
Book Your Self Guided Bike Tour Here
Escape to D.L. Bliss State Park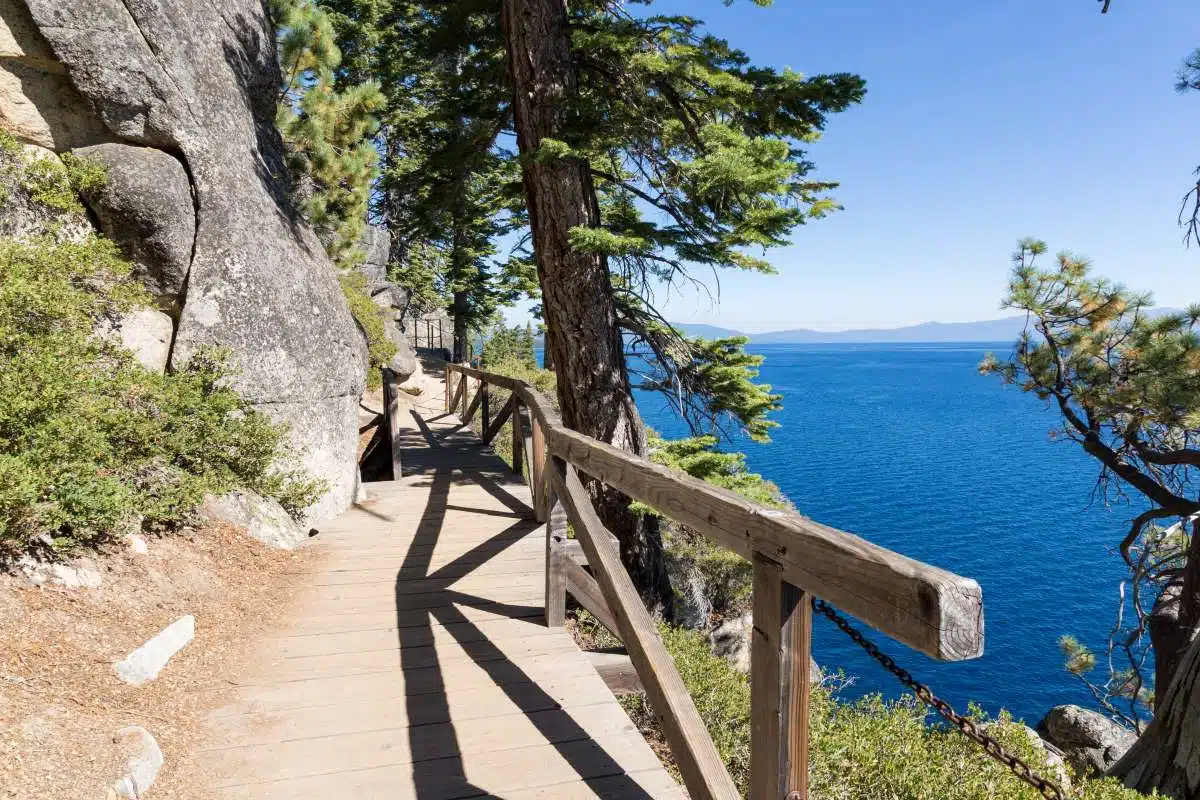 Tucked away in very dense stretches of pinewood groves, D.L. Bliss State Park hides peaceful and serene picnic spots, lakeside lookout points, and picture-perfect sandy beaches.
Set to the background of blissfully quiet woods and crystal clear waters, you'll find some of the best hiking trails. In fact, this is one of my favourite spots to go hiking near Lake Tahoe.
You've got plenty of options, too. The Rubicon Trail is a fairly easy 16km trail that leads through to Emerald Bay, while The Lighthouse Trail leads to one of the oldest and highest lighthouses in the country. Finally, the Balancing Rock Nature Trail gets you face-to-face with the natural wonder of its namesake, the balancing rock.
Take a Hot Air Balloon Tour of Lake Tahoe
There is nothing better than heading out over the lake in a hot air balloon for truly unique things to do in Lake Tahoe. Experience the peace and tranquillity of the lake at its best while you glide over its waters with panoramic views of the entire lake.
With different flight plans depending on the season, you can bet that this is a must-do in Lake Tahoe, both in summer and winter. And it's top of my bucket list for when I (inevitably) return.
Book Your Lake Tahoe Balloon Ride Here
Get an Adrenaline Rush with Heavenly Ridge's Mountain Coaster
If you're an adrenaline junkie who gets a kick out of nature, then the Heavenly Ridge's Mountain Coaster is right up your alley and one of the best things to do in South Lake Tahoe.
This is popular with almost all who come to Lake Tahoe, and for a good reason – what could possibly be better than being treated to beautiful views and a heart-pumping experience. Oh yes, perhaps the fact that it's a gravity-powered self-controlled coaster, meaning you're in total control of your coaster experience. That's what.
Cool Things to See & Do in Lake Tahoe in Summer
Venture onto Lake Tahoe on a Double-Decker Pontoon
Summertime on Lake Tahoe offers the ideal conditions for heading out onto the lake and enjoying a number of activities. At the top of the list are the double-decker pontoon rentals.
Ditch the kayaks and paddleboards with this luxurious option that brings relaxation and the lake together. Featuring a waterslide and an adjustable shade sail, it's perfect paired with a few drinks and great friends.
Helicopter Flight Over Sand Harbour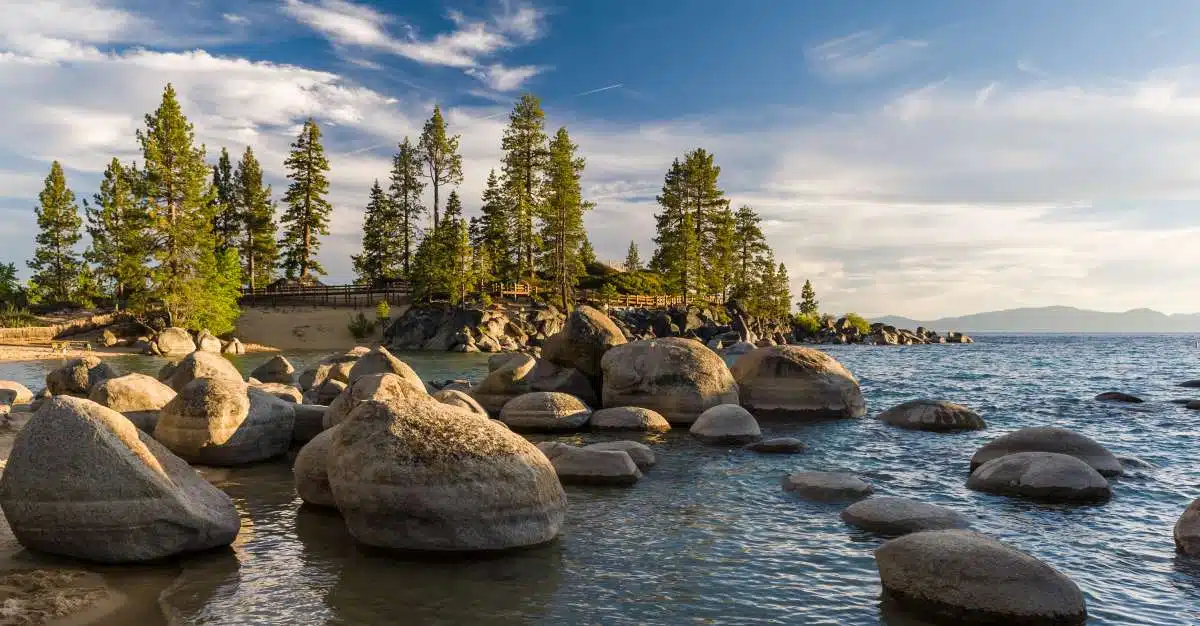 Sand Harbour is probably one of the most gorgeous areas in Lake Tahoe – it's got everything you can expect from the region all in one place and oodles of natural beauty.
Rent a kayak and head onto the lake or hike Sand Point Nature Trail or Memorial Point Trail. Either way, you'll fall in love with Sand Harbour.
But, if you want to experience Sand Harbour, take a helicopter flight around the harbour and Lake Tahoe. The views from the sky are something else entirely.
Book Your Helicopter Flight Here
Try your hand at Parasailing
Parasailing is another brilliant option for adrenaline chasers at Lake Tahoe. With these trips departing from the southern shores of Lake Tahoe, you can expect quite a thrill.
You'll find yourself soaring across the lake at full speed at 120, 240, or 365 metres above the surface. No matter your chosen height you will get amazing views of the largest alpine lake in North America.
Relax with a Wine Tour through the El Dorado Wine Region
What can be better than spending a chilled day on the shores of Lake Tahoe? I think that a wine tour through the El Dorado Wine Region might just top it.
Personally, I recommend booking yourself onto a tour of El Dorado Wines – they have a huge selection of vino, from deep reds to sweet rosé.
In the Sierra Mountains foothills lies this immaculate wine country that's home to several exceptional vineyards, apple farms, and fruit orchards. For all the wine lovers out there, this is one attraction not to miss.
Go Kayaking on Lake Tahoe
Renting your own kayak and heading out onto the steady, shimmering waters of Lake Tahoe is a must.
With views of the mountains surrounding you and the relaxing effect of the lake, a few moments of this will make you love Lake Tahoe. You can rent by the hour, and there are also tandem kayaks if you and your significant other want a romantic moment on the lake, Disney movie-style.
You can rent kayaks from the north side here.
What to Do in Lake Tahoe in Winter
Snowboard at Squaw Valley Resort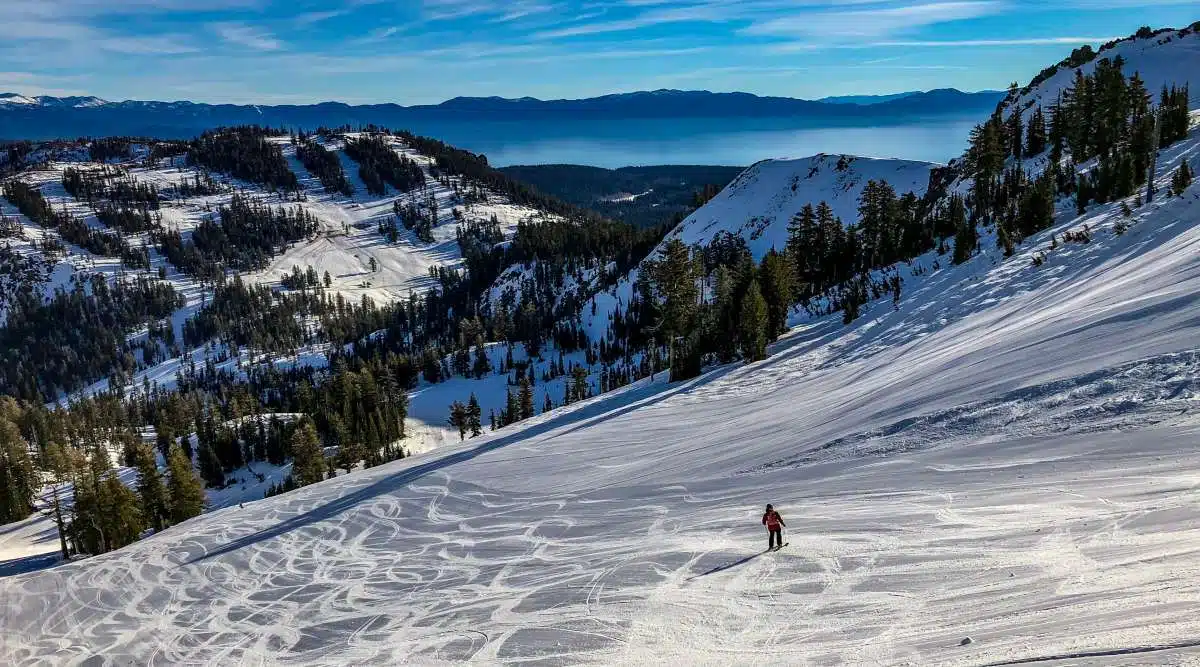 Home to the 1960 Winter Olympics, Squaw Valley Resort is perfect for testing your hand at skiing and snowboarding.
Combining the thrill of the alpine slopes with breathtaking views of Lake Tahoe on a full-day narrated bus tour is a match made in heaven. It's easily the best thing to do in Lake Tahoe in winter.
Book Your Bus Tour of Lake Tahoe Here
Become an Art Lover at the Marcus Ashley Gallery
Appreciating some of the best North-American art and artists is the Marcus Ashley Gallery near Lake Tahoe. For art lovers especially, the collection of oil paintings, glass art, prints, and sculptures is a must-see attraction.
The gallery hosts rotational art shows, and each show comes with a selection of wines and refreshments, making this perfect for a night away from the lake (and the perfect civilised retreat from a day of skiing).
Visit Kirkwood Ski Resort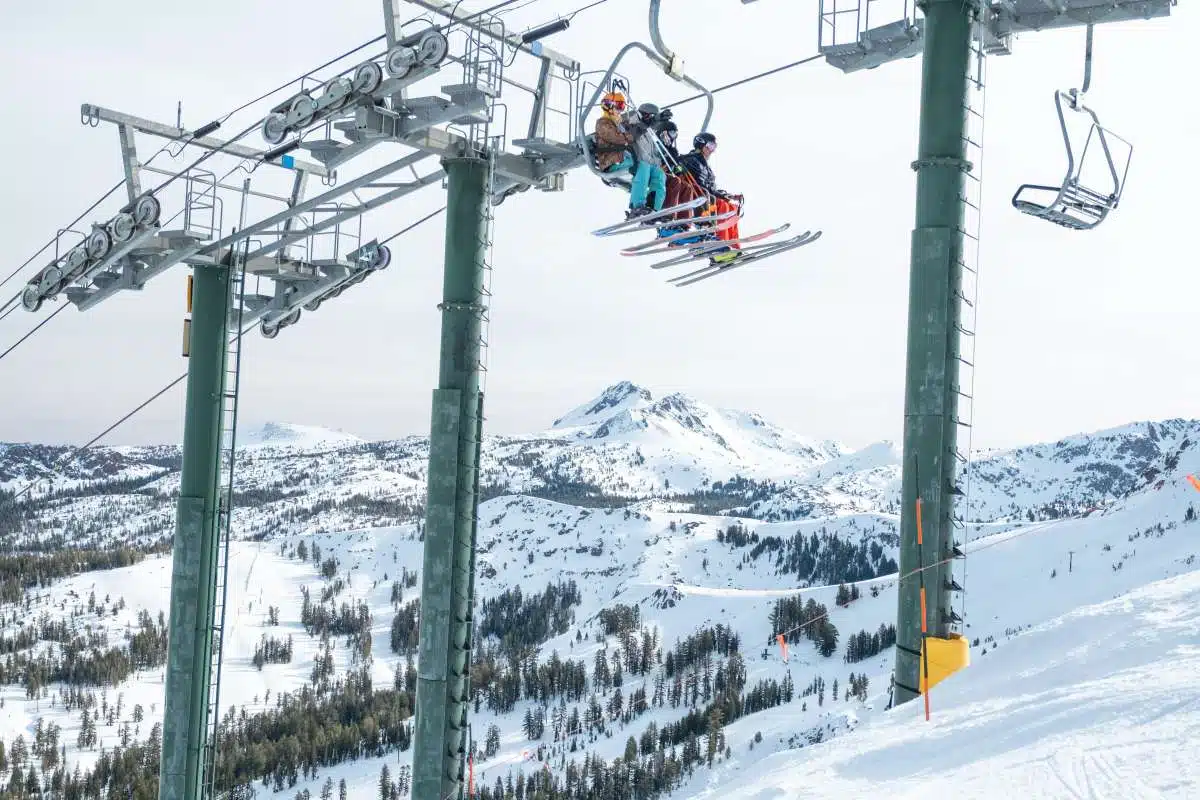 During winter, Kirkwood Ski Resort is one of the best places to see in Lake Tahoe. The resort offers over 80 ski trails and 12 lifts – which might exactly not be the largest of the resorts in the area, but they are some of the best.
What makes Kirkwood unique is that it has, on average, the deepest and driest snow found anywhere in Tahoe. This makes skiing a delight. Don't fret if you're a newbie, book yourself in for some skiing lessons and you'll be shredding it in no time.
Go Ice-Skating
Not to be outdone by the slopes of the Sierra Mountains, Lake Tahoe has a variety of ice-skating rinks perfect for winter trips.
Whether you're a newbie or an experienced skater, these rinks will steal your heart. These include the Winter Sports Park in Tahoe City, Northstar Village, and the rink at Squaw Valley.
Treat yourself to a Spa day
Not only is Lake Tahoe an excellent adventure escape, but the area in and around the lake also boasrs some of the best spas and wellness centres in the country.
Treat yourself to a relaxing and unwinding day at any of the hotel and resort spas—or the equally luxurious independent spas—to recharge and rest before venturing to the lake.
At the very least, book yourself in at The Landing Resort Spa for a muscle-relaxing massage to counteract the hiking and skiing you're bound to get up to,
Things to Do in Lake Tahoe: Practical Tips for Your Trip
Each season has its share of highlights, making the best time to visit this fantastic place dependent on your personal preference.
Where Should I Stay in Lake Tahoe?
Hotel Azure
Located conveniently close to El Dorado Beach and a few minutes away from Heavenly Mountain, Hotel Azure provides easy access to everything that makes Lake Tahoe unique.
Check Rates and Availability for Hotel Azure on Booking.com
The Landing Lake Tahoe Resort & Spa
For premium accommodation during your trip to Lake Tahoe, The Landing Lake Tahoe Resort & Spa is a picturesque boutique hotel on the southern waterfront of Lake Tahoe.
Check Rates and Availability for The Landing Lake Tahoe Resort & Spa on Booking.com
Recommended Tours in Lake Tahoe
Things to do in Lake Tahoe: Map