So, you're heading to Monument Valley and wondering what to do? You're in luck – discover the best things to do in Monument Valley with this handy guide.
Monument Valley might just take the title for strangest place in America. And, If you know me, you'll know I love strange places.
With towering sandstone buttes, immense mesas, and panoramic vistas of some of the most intriguing landscapes, it's no surprise that this 92,000-acre park is so popular.
Not only is this valley a photographer's heaven, but it has also starred in a few iconic Hollywood Westerns. Some of which I'll definitely nerd out over later.
So buckle up and grab your cameras; I've got all the info on what to do in Monument Valley for an unforgettable time.
Looking for a place to stay around Monument Valley? Look no further than Goulding's Lodge, situated just outside the park.
Top 5 Best Things to Do in Monument Valley
Hit the Road on the Monument Valley Scenic Drive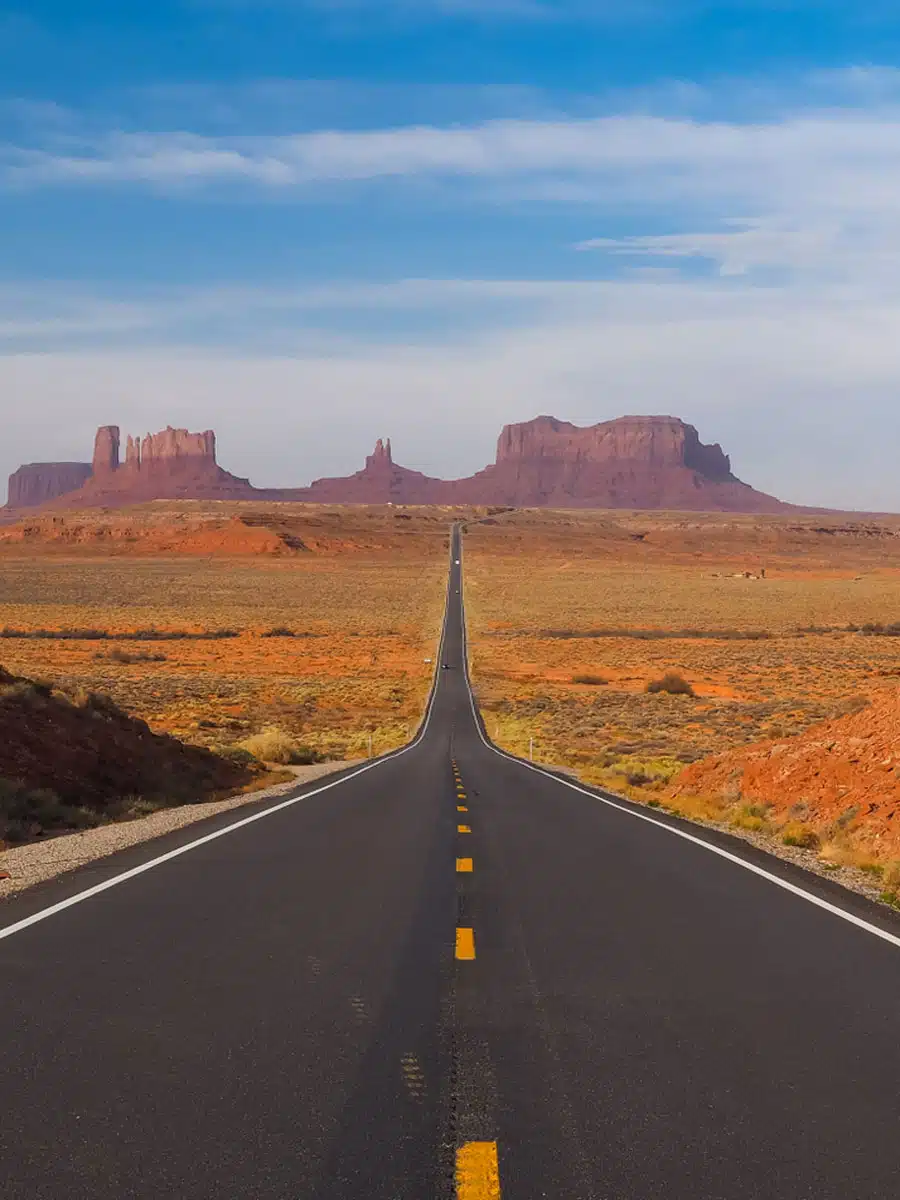 Alright, so this is arguably THE best thing to do in Monument Valley.
This 17-mile Monument Valley Scenic Drive starts and ends at the visitor's centre and takes about two hours to complete. It's the perfect way to see some of the top Monument Valley attractions if you're short on time.
I'd suggest driving a high-clearance vehicle, as the unpaved dirt road can be tricky to navigate.
It's well worth the dodgy terrain, though. You'll get to pass by some of the best things to see in Monument Valley. These include the Three Sisters, the Mitten Buttes, Elephant Butte, and North Window — an excellent spot for photos.
Note that this is the only part of the park you can access with a private vehicle, and you're not allowed to deviate from the road. If you'd like to get closer to any attractions, you'll have to book a tour with a Navajo guide.
Visit (And Stay at) The View Hotel
The View Hotel is the only hotel in Monument Valley. Designed to blend into the natural landscape, the hotel has a pinkish facade overlooking the valley.
Each room has a spacious balcony for excellent views. There are also cabins, the Monument Valley campground, and a trading post where you can purchase Native American art items like stunning pots, rugs, and jewellery.
Whether you're looking for accommodation, souvenirs, or some traditional Navajo cuisine, a visit to this hotel should be on your itinerary.
Snap Photos at John Ford Point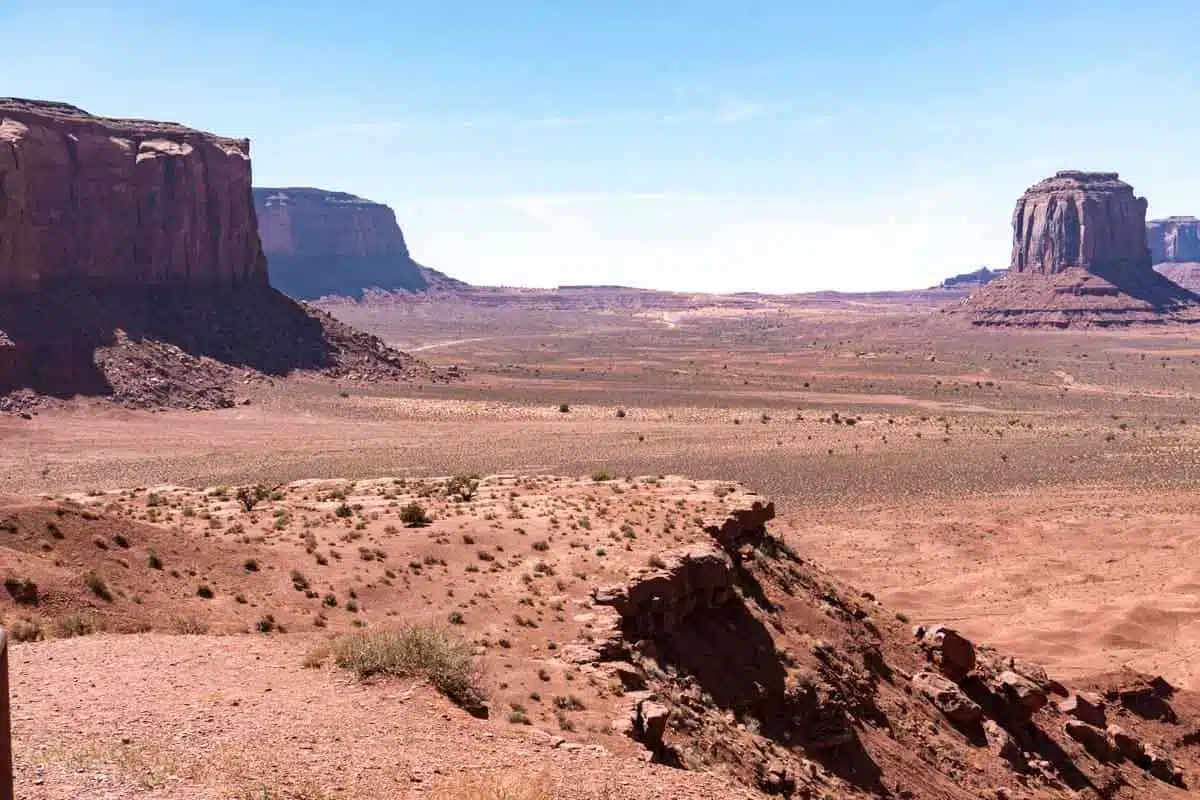 John Ford is a panoramic viewpoint that offers one of the most iconic frames of Monument Valley and is a popular photo spot.
It got its name from a film director known for films like Stagecoach and The Grapes of Wrath. Many of his films featured the stunning Monument Valley, which was unknown until the 1930s.
This significantly contributed to its growing popularity – as well as another famous film I'm going to tell you about later.
To reach this viewpoint, follow Valley Drive until you meet a fork in the road near Camel Butte. There are usually a few vendors selling souvenirs. You can also take an iconic image on a horse overlooking the valley like a cowboy in a Hollywood Western (tips are welcome).
Take a Guided Tour
Monument Valley is a sacred area that falls under the Navajo Nation Parks, meaning you can't visit many attractions without a Navajo guide.
A tour with a Navajo guide will get you up close to lesser-known attractions like Ear of the Wind, Big Hogan Arch, Totem Pole, and Moccasin Arch. You'll also get to learn more about Navajo culture and the spiritual significance of Monument Valley.
There are plenty of tour options available, including guided backcountry Jeep tours and shorter scenic tours.
Hike the Wildcat Nature Trail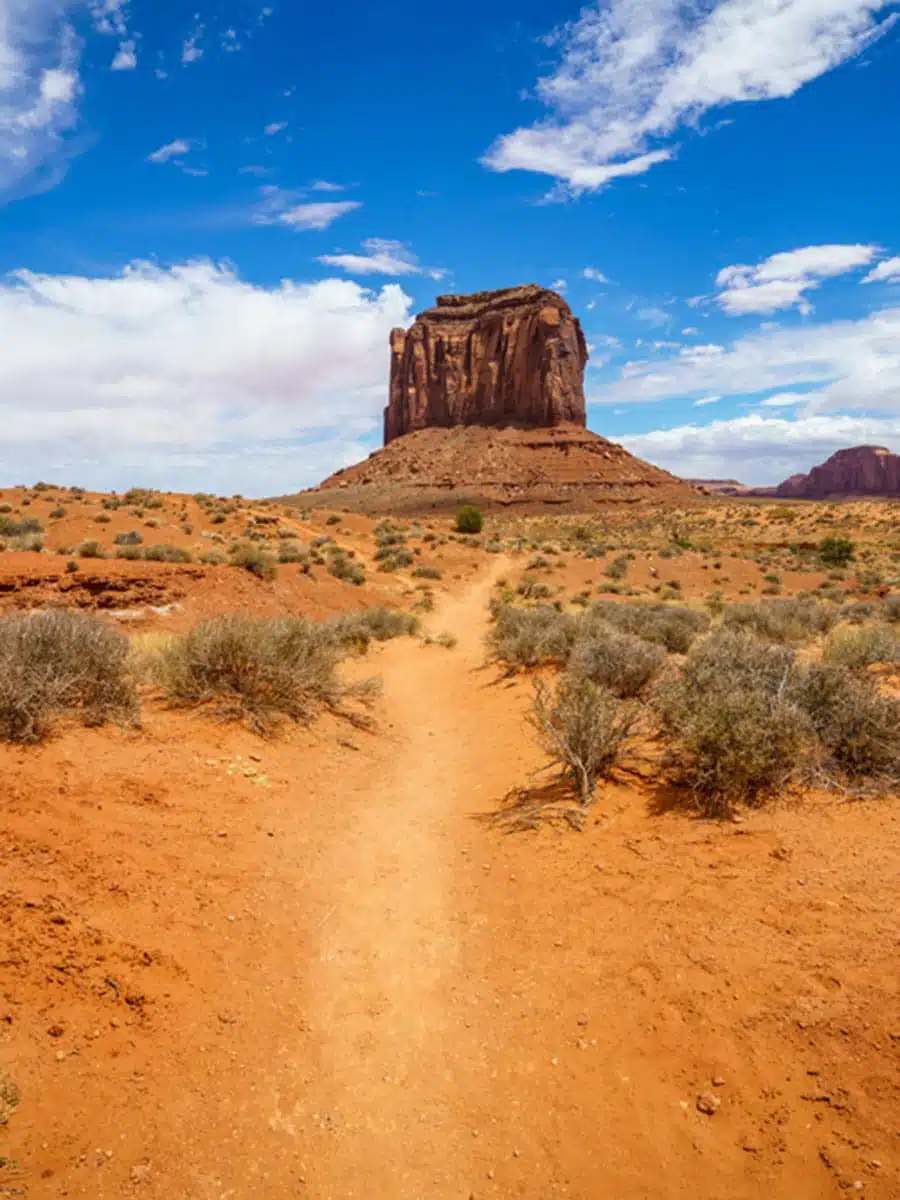 If you're looking for epic Monument Valley hikes, this 3.9-mile moderate loop trail is the only self-guided hiking trail in the park.
Wildcat Nature Trail kicks off at the northwest end of the visitor centre parking lot and takes you near the towering West and East Mittens (these two buttes look like mittens coming out of the earth, hence the adorable names).
The hike takes about two hours to complete, so it's manageable for even the most unseasoned trekkers. That said, the trail is sandy and has no shade, so bring a comfy pair of shoes, a good sunhat and sunscreen, and plenty of water.
Brilliant Things to See & Do in and Around Monument Valley
Watch the Sunset or Sunrise in Monument Valley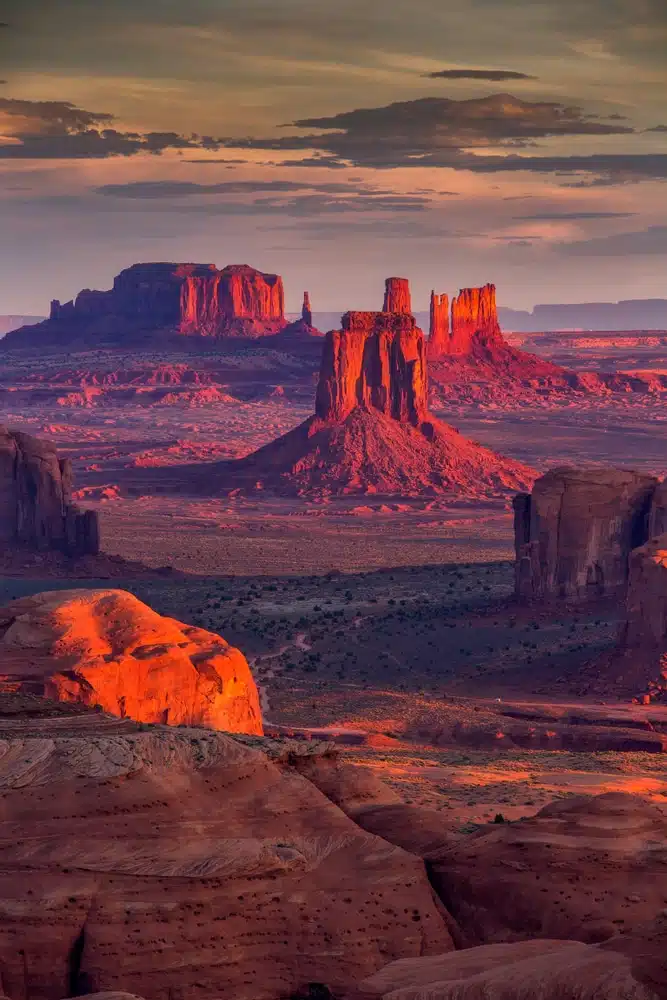 Sure, I'm a sunrise lover, so this next activity is a little biased. But nothing quite beats seeing the sun wash over the reds and oranges of the valley.
Luckily, there are plenty of ways to catch the sun rise or set in Monument Valley.
The free option is to stop at the View Hotel. Alternatively, you can take a guided sunrise or sunset tour. This tour lets you get close to some stunning sights with a Navajo guide after park hours, so you can snap a few memorable shots.
Run in the Footsteps of Forrest Gump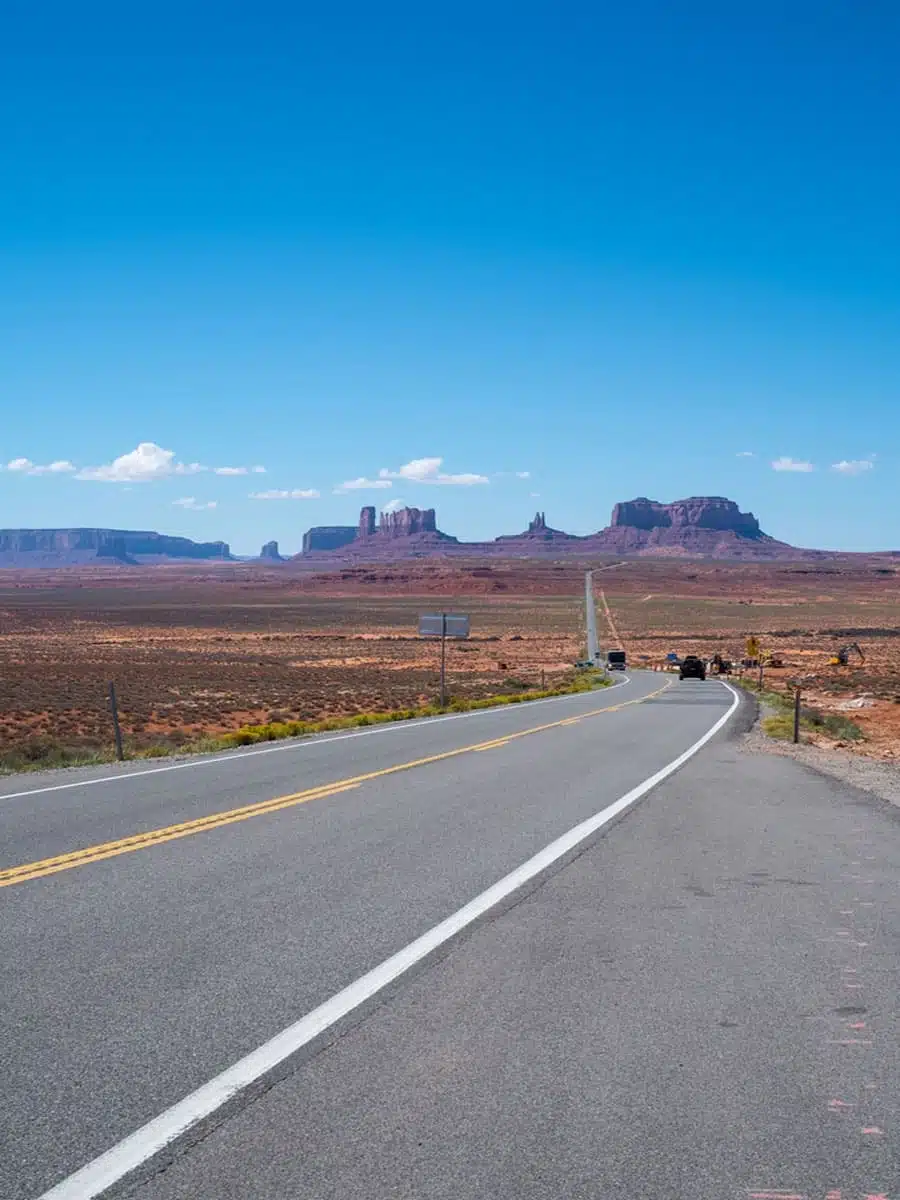 Calling all Forrest Gump fans, it's time to snap photos at one of the film's iconic scenes where Forrest halts his cross-country run and decides to turn back. You'll find this point on the US-163, with the GPS coordinates 37.101393, -109.990973.
The Forrest Gump Monument Valley viewpoint is about a 20-minute drive from the Visitor Center and can get quite crowded. But getting that famous shot will be worth the wait.
Gaze at the Stars
Monument Valley is an excellent place to go stargazing. Understatement of the century, I know. And the great news is that if you're staying in the park, you can try to spot some of the stars from your balcony.
You can also take a guided tour to get after-hours access to the park. On the tour, you'll get to gaze through a telescope, put your photography skills to the test, and enjoy a ceremonial music performance. All while the twinkling stars dance above. Sighhhh.
Walk Through the Valley of the Gods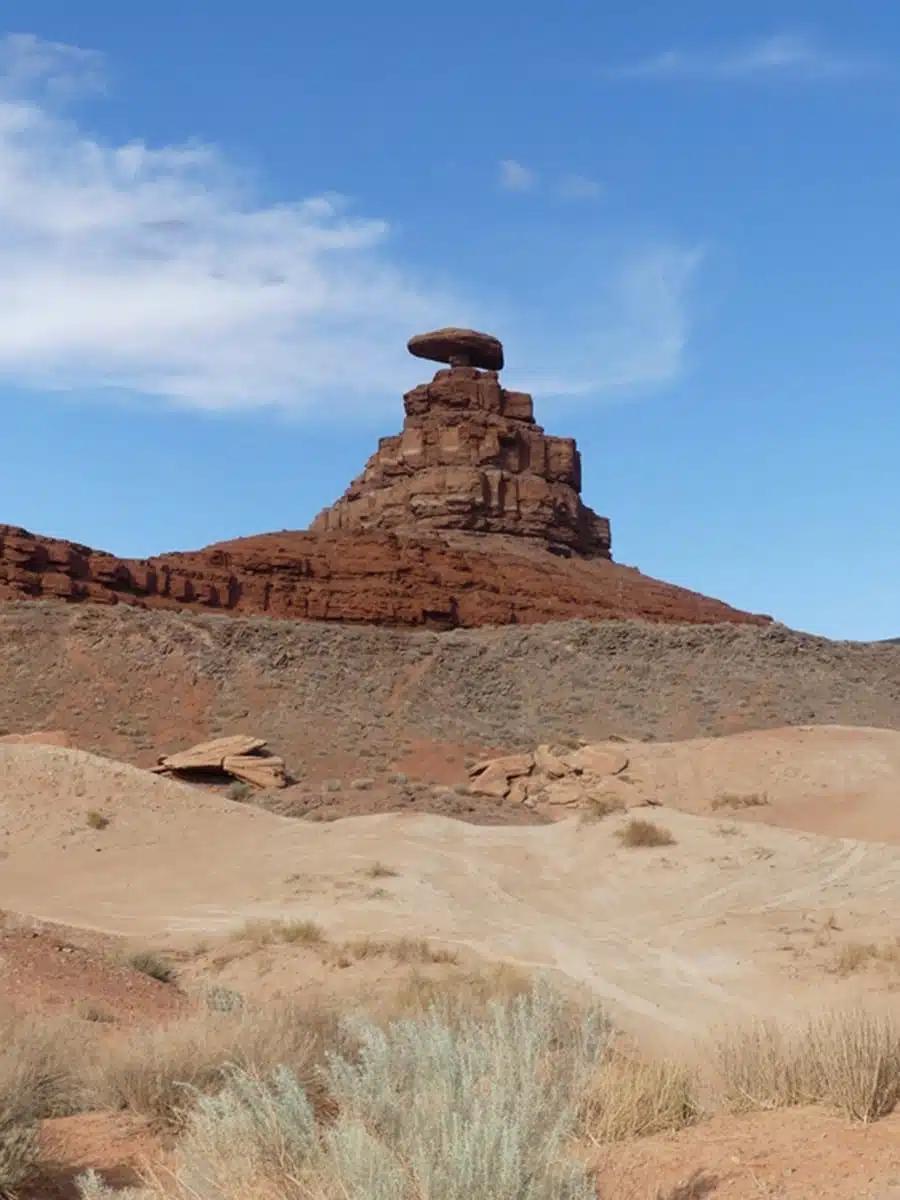 No, no – this isn't Egypt. The Valley of the Gods is like a miniature version of Monument Valley, and it's the perfect detour if you'd like to avoid crowds.
For that reason alone, visiting this area is one of the best things to do near Monument Valley, less than an hour's drive away.
As you follow the 17-mile Valley of the Gods Scenic Drive, you'll see plenty of fascinating buttes and mesas. Entrance to the park is free, and you can camp, picnic, or simply explore the area on foot.
Highlights here include the Lady in the Bathtub Butte (this one's funny) and Castle Butte (this one's more of a squint and see situation).
Must-Try Bars & Restaurants in Monument Valley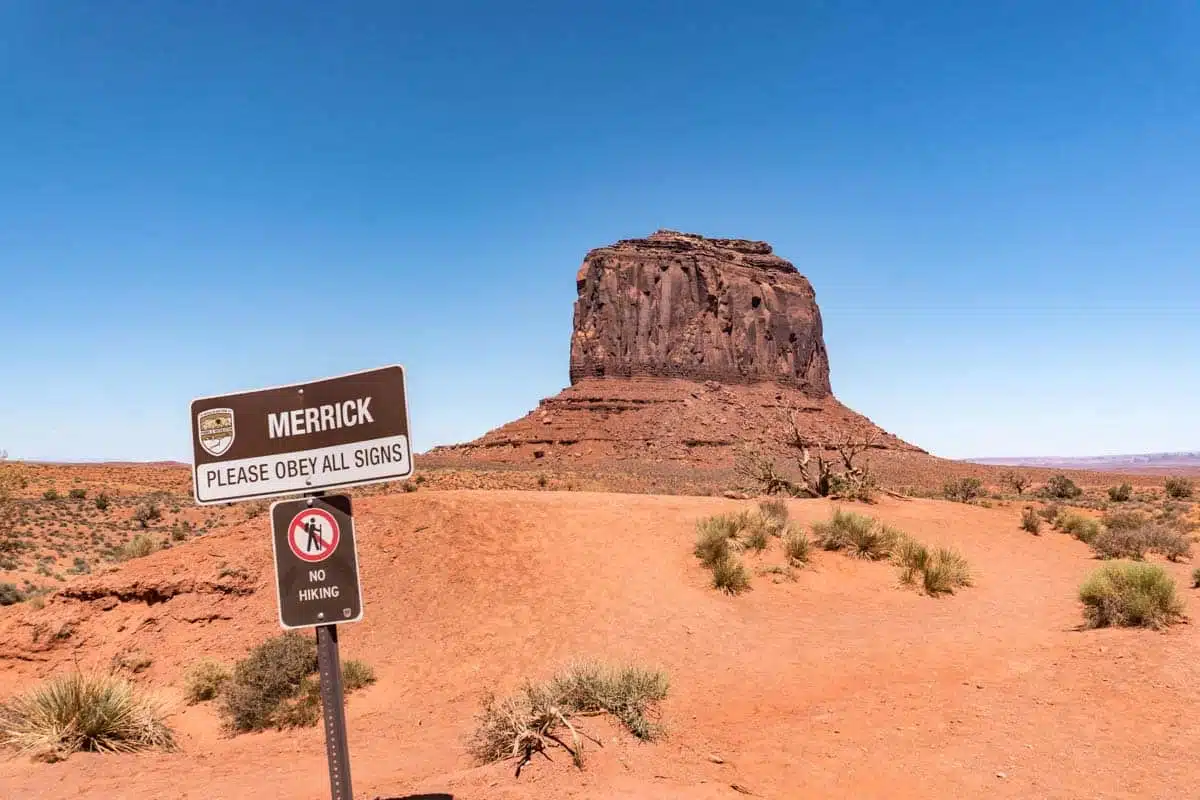 The View Restaurant
As the name suggests, you'll have excellent views of Monument Valley while enjoying dishes like Navajo tacos and frybread at The View.
I'll level with you – the food is fine. It's certainly not mind-blowing cuisine but the highlight here is the view (it's well worth it) and the convenience of not having to leave the park.
Goulding's Stagecoach Dining Room
Situated just outside the park, Goulding's Lodge is a good alternative if you want to explore beyond the park. Expect large portions of classics like burgers and chips and traditional dishes like Navajo tacos.
Linda's Frybread Stand
This little food stand is a buzzing spot near John Ford Point. Here you can indulge in tasty frybread (a Navajo flatbread) at one of the most scenic places in the park.
Amigo Cafe
While I wouldn't recommend driving out of your way to visit the Amigo Cafe in the nearby town of Kayenta (it's about half an hour's drive from the visitor centre), if you're passing by this is a great place to stop for lunch.
What's on the menu? A whole lot, actually – Amigo Cafe offers generous Mexican and Navajo dishes. Everything is finger-lickin' delicious.
Best Hotels in Monument Valley Navajo Tribal Park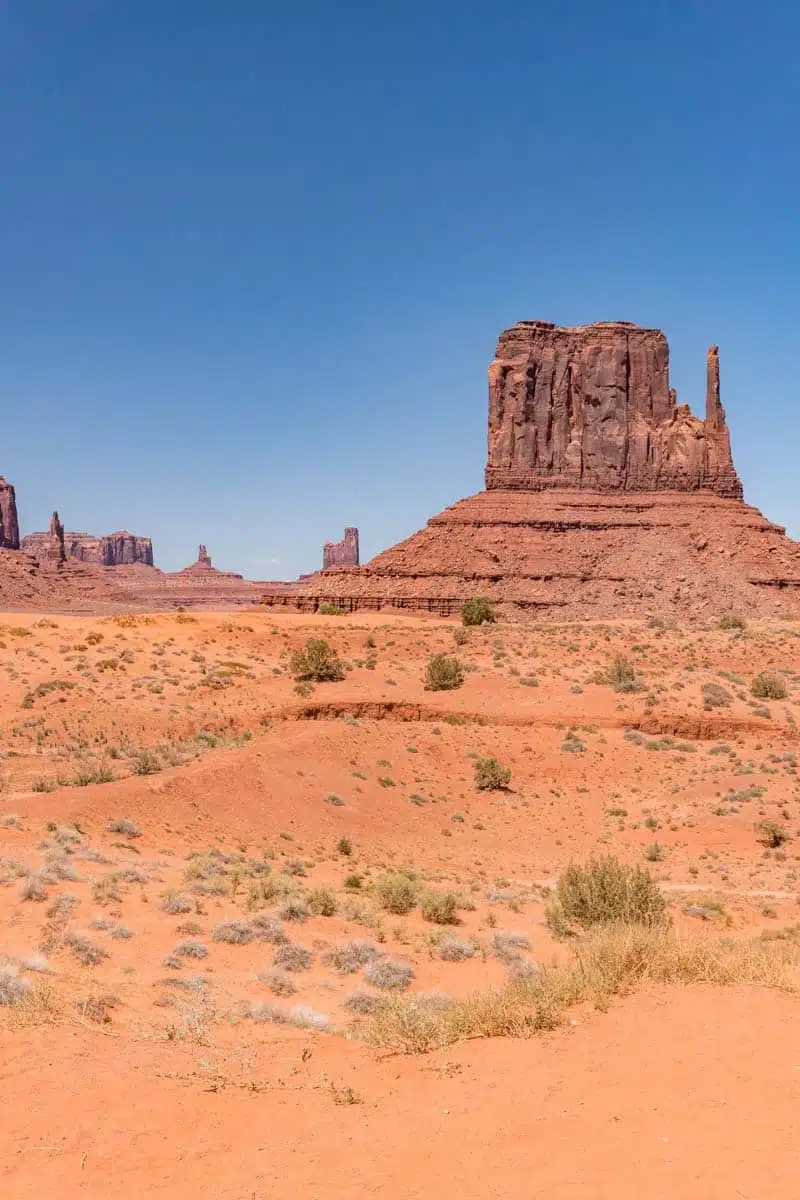 The View Hotel
The only hotel in Monument Valley, this spot offers hotel rooms with valley views, cosy cabins, a tent, and RV campground. Besides the stellar views, you'll find a restaurant and trading post where you can try Navajo dishes and purchase a few souvenirs.
Goulding's Lodge
Goulding's Lodge offers spacious rooms and apartments with stellar vistas of Monument Valley in the distance.
Wake up among towering rock formations, enjoy coffee at the on-site restaurant, and take a cooling dip in the pool before taking a complimentary shuttle to the park.
Hampton Inn Kayenta Monument Valley
Situated along US Highway 160, Hampton Inn Kayenta is just under an hour's drive from Monument Valley.
Hampton Inn offers a pool for hot days, a gym and a complimentary breakfast. Be sure to stop by the nearby Blue Coffee Pot restaurant to sample more excellent food.
Visiting Monument Valley: Practical Tips for Your Trip
How Long to Visit Monument Valley?
I suggest spending an entire day in and around Monument Valley to experience its beauty fully and savour the sunrise or sunset (or both!).
Best Time to Visit Monument Valley
The best time to visit Monument Valley is during spring and fall when temperatures are milder, and the park is less busy.
Where Should I Stay in Monument Valley?
The best place to stay in Monument Valley is at The View hotel, which offers rooms, camping facilities, and unbeatable views.
How to get to Monument Valley?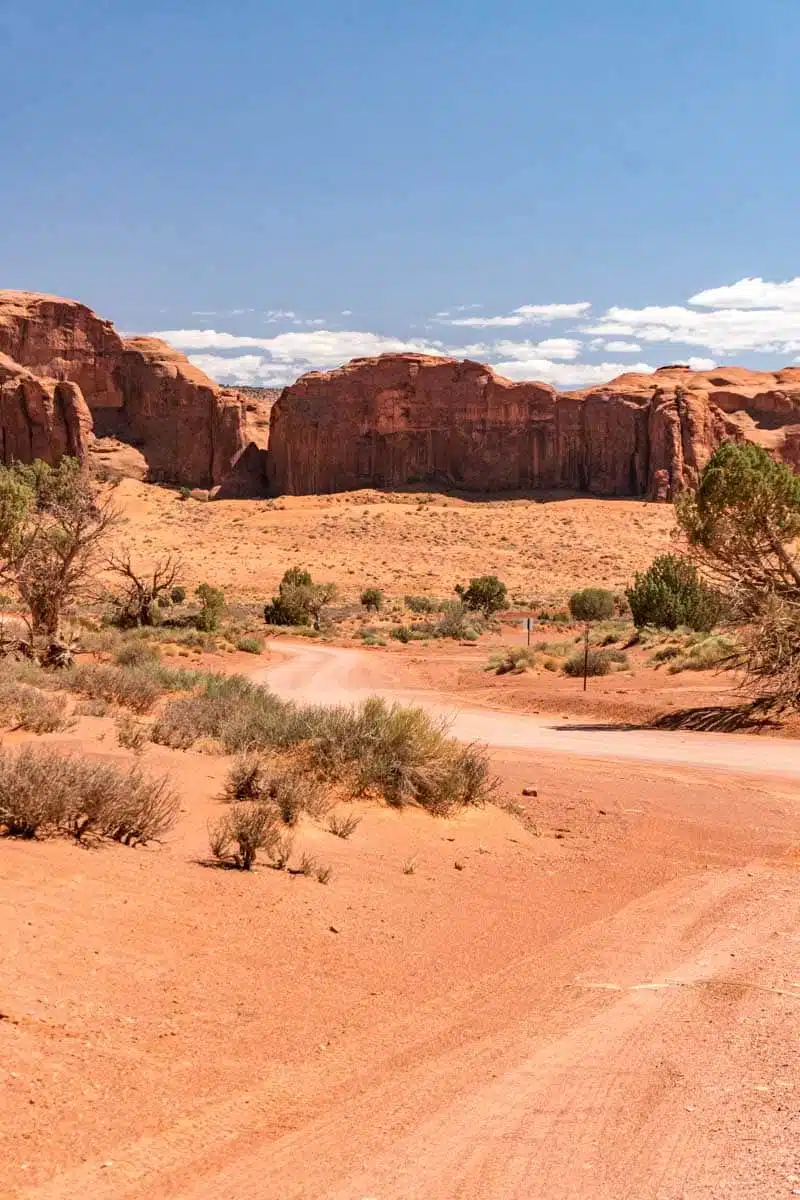 If you're wondering how to visit Monument Valley, you'll have to drive from one of the following airports:
Phoenix Airport – 5 hours/ 320 miles
Las Vegas Airport – 6.5 hours/ 400 miles
Salt Lake City Airport – 6.5 hours/ 380 miles
Albuquerque Airport – 5 hours/ 324 miles
Recommended Tours in Monument Valley
Top Things to Do in Monument Valley: Map
Read More Monument Valley Guides
Love This? Save and Share on Pinterest