Discover the best things to do in Ubud with this handy guide. From lush rice fields to a rather cheeky monkey forest, add these epic attractions to your itinerary.
Understatement of the century: Bali is a ridiculously fantastic place to visit.
And, situated in the island's uplands, Ubud is not only my favourite spot in the region, but one of the best places to visit in Asia.
Whether your ideal trip involves an enlightening yoga class, hordes of naughty monkeys, or even a moment of reflection (or two) at the region's most impressive temples, there's so much to do in this part of Bali.
Not to mention that there are so many gorgeous places to stay. Planning a trip here is truly a no brainer.
Excited? You should be. Get ready for an epic guide to the best things to do in Ubud, Bali.
P.S. If you're wondering where to stay when indulging in the best things to do in Ubud, Bali, look no further than the Alaya Resort. It's in the heart of Ubud, and the rooms are comfy and plush.
Top 5 Things to Do in Ubud, Bali
Explore Ubud's Monkey Forest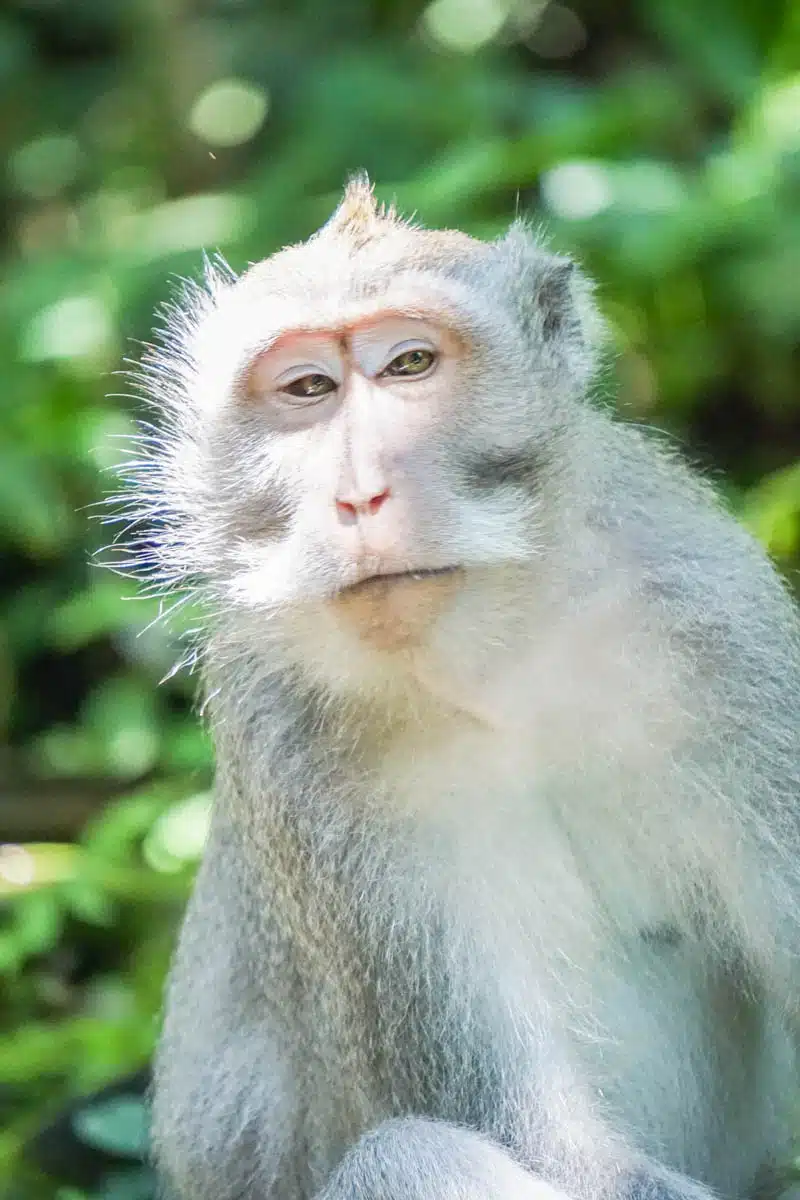 If you're wondering what to see in Ubud, how does a monkey-filled forest sound? One of the signature attractions in the town (or technically just outside) is the Sacred Monkey Forest Sanctuary.
A collection of three temples that date back to the 14th century, today it's a nature reserve and conservation area. If you're planning a visit, prepare yourself for the sheer number of playful primates that inhabit the site these days.
Locals believe that the monkeys are spiritual animals that guard the temple, so it's best to be respectful.
That said, when here, keep a sharp eye on your belongings, as these tiny rascals will gladly help themselves.
Grab a spot on this Ubud Monkey Forest tour to help you navigate the forest and its residents.
Visit the Temples of Ubud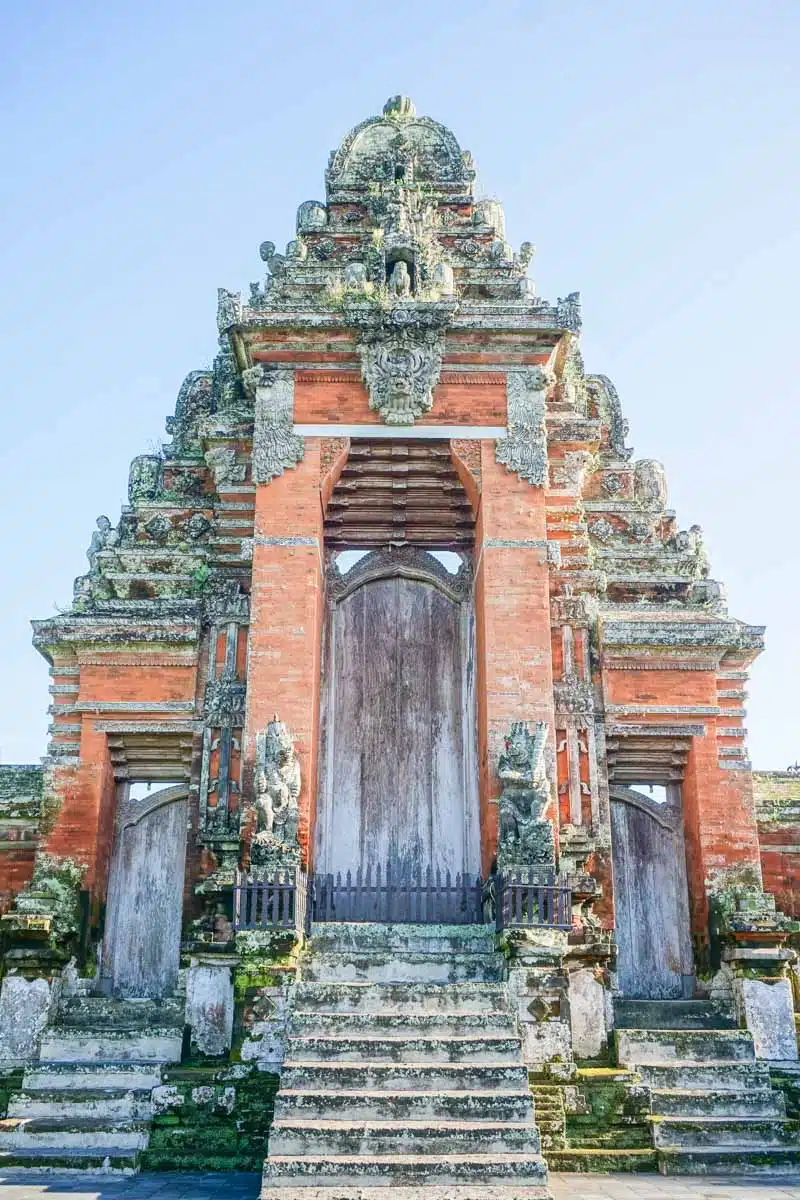 Some of the best places to visit in Ubud are the amazingly tranquil temples that sit within and around the city. Transporting you to a world filled with religious and spiritual culture, exploring these stunning buildings is an absolute must.
Head to Pura Taman Saraswati, where you'll find a quaint little temple dedicated to the Hindu goddess of wisdom and art, Dewi Saraswati. Its most striking feature is the massive limpid pond area outside, brimming with lush lotus blossoms.
Other great options include Pura Ulun Danu Bratan and Pura Taman Ayun.
Another stellar choice (and one of my faves) is Tirta Empul, the Water Temple, where Balinese Hindus come to bathe and immerse themselves in its holy water.
This one is exceptionally busy and always crowded, so remember a ticket for a Bali sacred temple tour to skip the queues.
Walk Through the Tegalalang Rice Terraces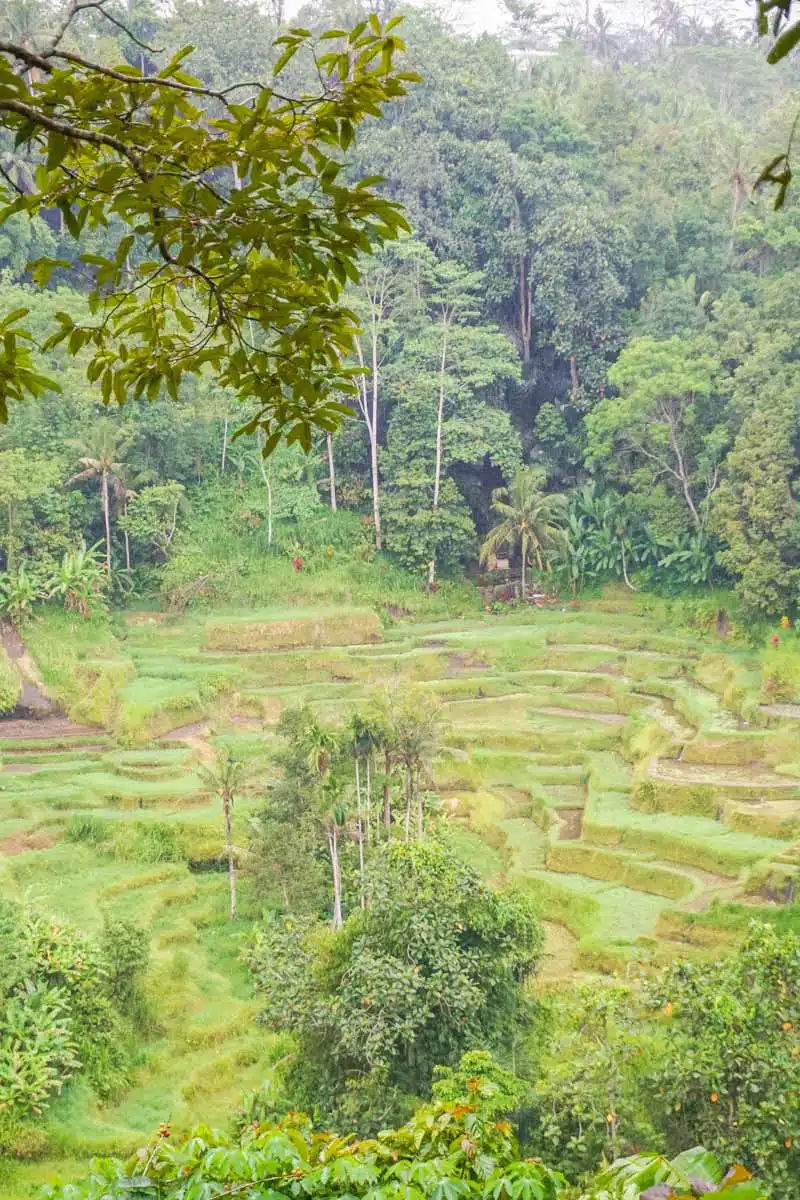 If ever there was an ideal place to visit in Ubud, it's the Tegalalang Rice Terraces. Located within the island's centre, you can reach them via a short 20-minute drive inland.
If you're not an early bird, it's time to change that – the early morning sun shimmering across the terraces is a magical experience. Even more spectacular is spending the day walking around, interacting with the local farmers, and zip-lining your way throughout.
If you arrive before sunrise, the designated sunrise spot is quite popular amongst photographers, so get your cameras ready.
It's pretty easy to get to alone, but you can always join a guided tour from Ubud to take the hassle out of early morning travel.
Take a Yoga Class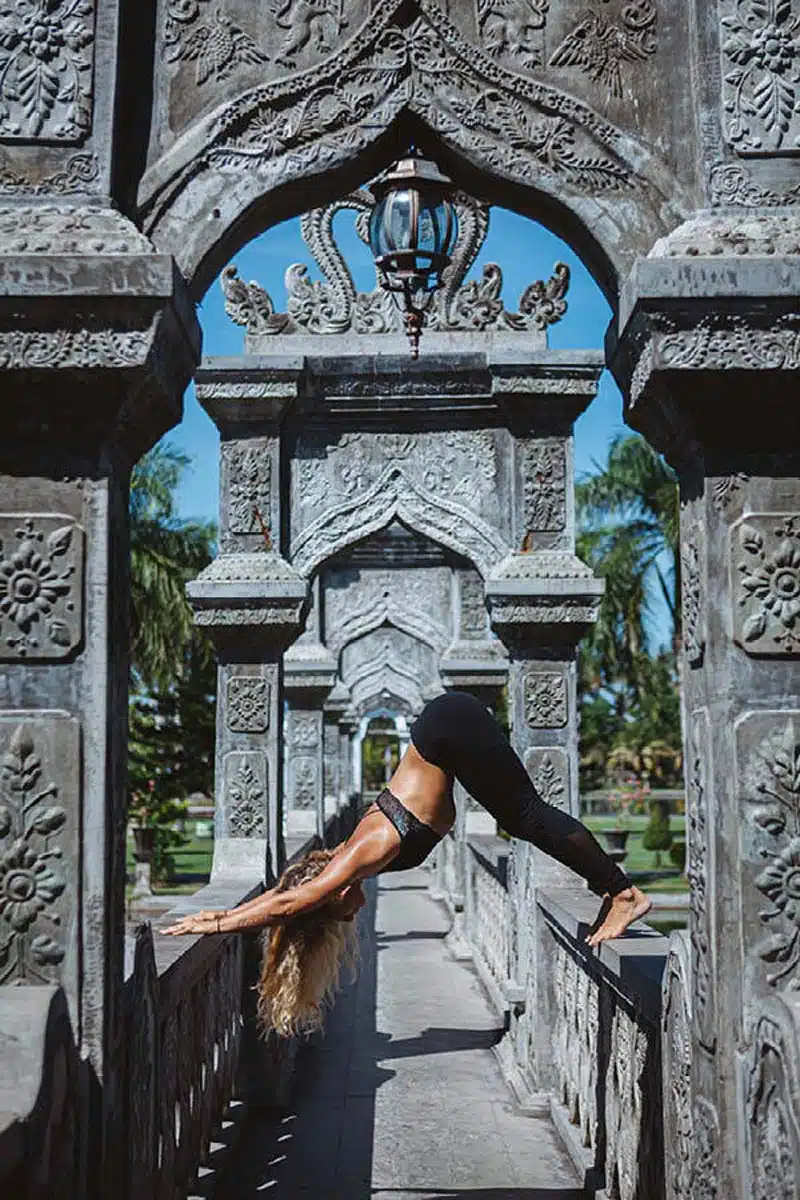 It might seem a little cliche (or a lotta' cliche) but taking a yoga class in Bali is an unmissable experience for yogis and newbies alike. Known for its world-class yoga retreats, Ubud offers visitors the ultimate ways and means to unwind and find some serenity.
One of the (if not the) most famous yoga schools in the city is the Yoga Barn. Here you can sign up for any of a range of different classes available for different ability levels.
The five studios follow an open plan, so the stunning scenery around you is available for viewing while you get your yoga on.
At the Yoga Barn, you can either sign up for a few classes or a cleansing program that spans three days. Which is next on my bucket list, FYI.
Unleash Your Artistic Side at the Ubud Art Market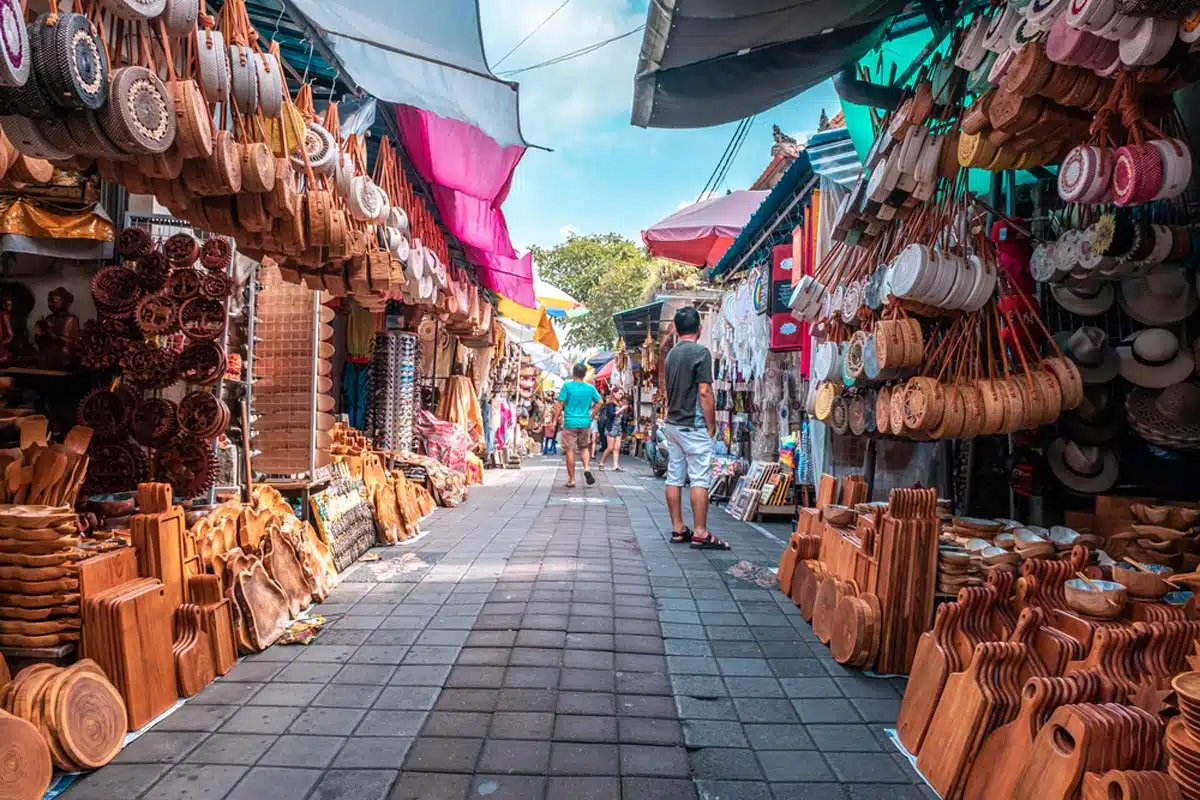 One of the best free things to do in Ubud is to visit the Ubud Art Market. Located right in the middle of the city, this is the prime spot for perusing and buying the best hand-crafted goods.
Trust me. There are a lot of charming and well-crafted items to spend some money on. Everything is traditional Balinese, from gorgeous silk scarves to handmade woven handbags, making each item unique.
That's not all – the Ubud Art Market is also a fantastic place for street photography. The market is a beautiful backdrop for your snapshots, and the locals enjoy posing for anyone with a camera.
The market opens daily from 8 am to 5 pm.
Brilliant Things to See & Do in Ubud
Try Your Hand at Jewellery Making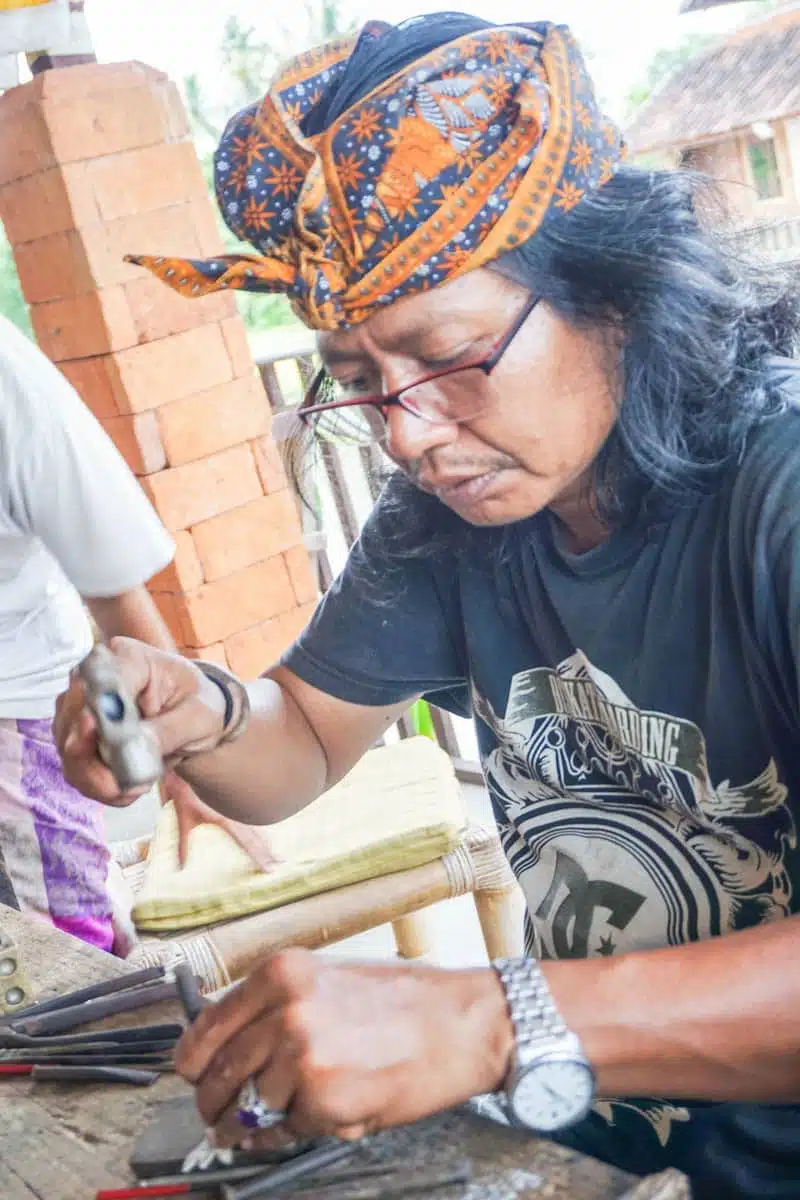 Amongst the many fun things to do in Ubud, who would've thought that making (or trying, in some cases) jewellery would be so enjoyable? It's not uncommon to walk down any of the city streets and find locals crafting all sorts of gorgeous pieces.
As fun as it is to splurge on a pair of earrings or even a bangle or two, you can also try to craft your own jewellery.
While locals are more than happy to guide your way, opting to book a silver jewellery-making class is a stellar way to start what could be your new favourite hobby.
Take a Cooking Class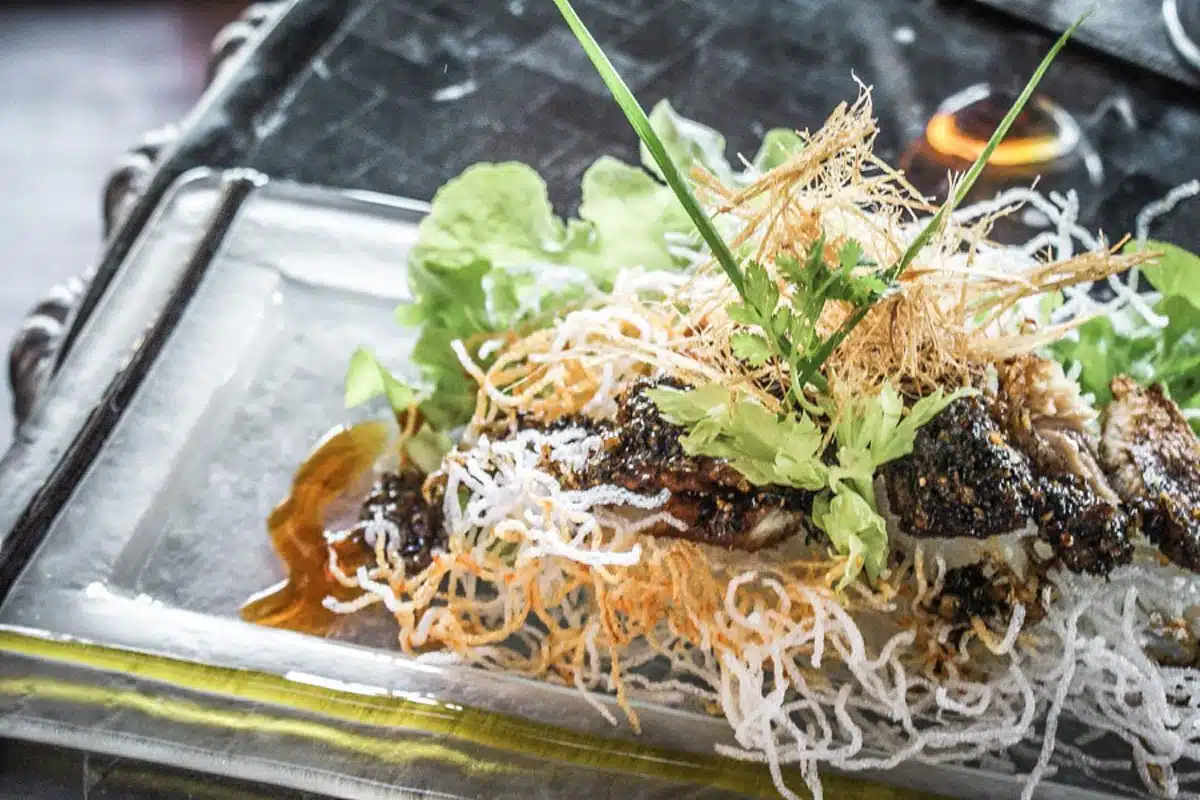 Okay, making jewellery might not be up everyone's alley, but cooking certainly should be (at the very least, eating as well). And what better souvenir to take back home after your time in Ubud than a few recipes?
Even if you're an entry-level foodie, head over to Pemulan Organic Farm School and get your chef's jacket out.
Taking a cooking class is definitely one of the coolest things to do in Ubud. You get the chance to learn how to create tasty dishes, but that's not all. Beyond the bragging rights when you get home, your tastebuds will thank you for many years to come.
Read Next: Bali Food Guide
Tackle the Campuhan Ridge Walk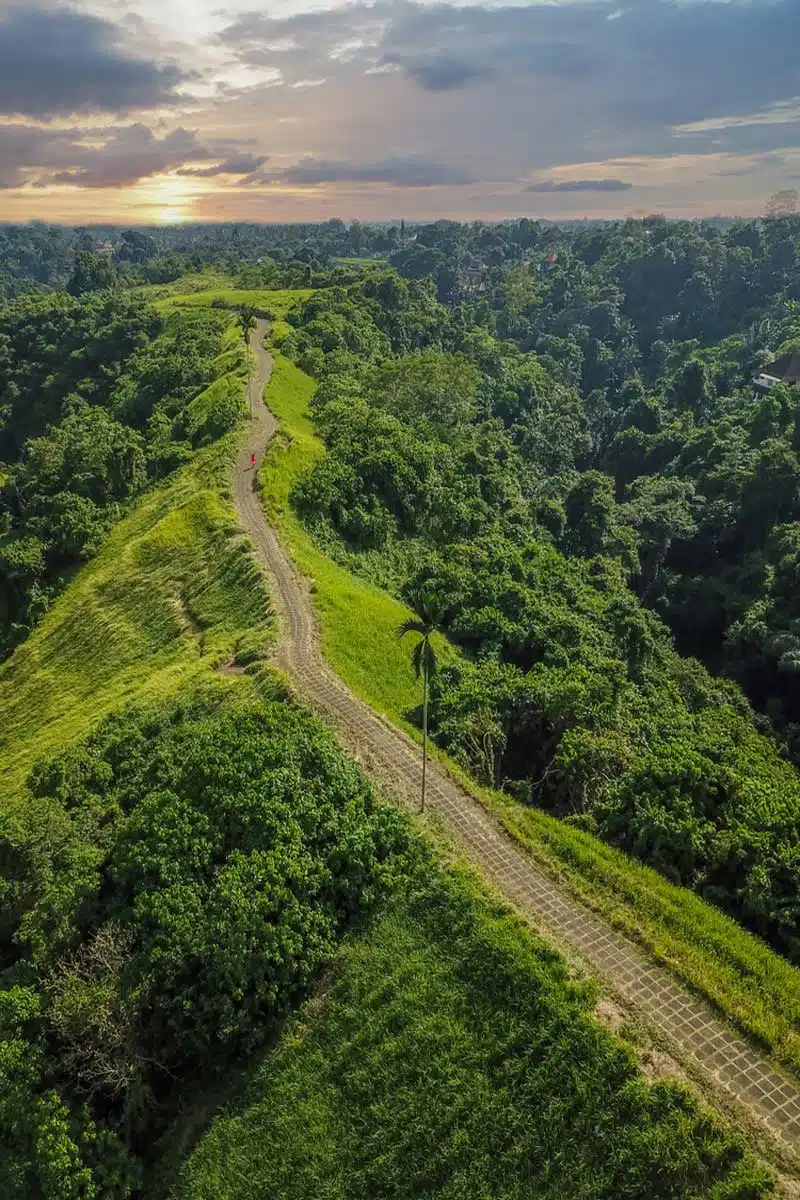 Sometimes the question "what to do in Ubud?" can cause a whole lot of confusion. With all the sights and sounds of the city, some of its best attractions take you away from its buzzing streets. Well, sort of.
The Campuhan Ridge Walk is a popular 1.2-mile walk that takes you from one end of Ubud through the city to the other. A well-paved track leads you through some of the city's most snap-worthy spots, and you won't even need to get your hiking gear out.
The ridge walk is suitable for everyone and takes about an hour and 30 minutes to complete.
Go Chase Waterfalls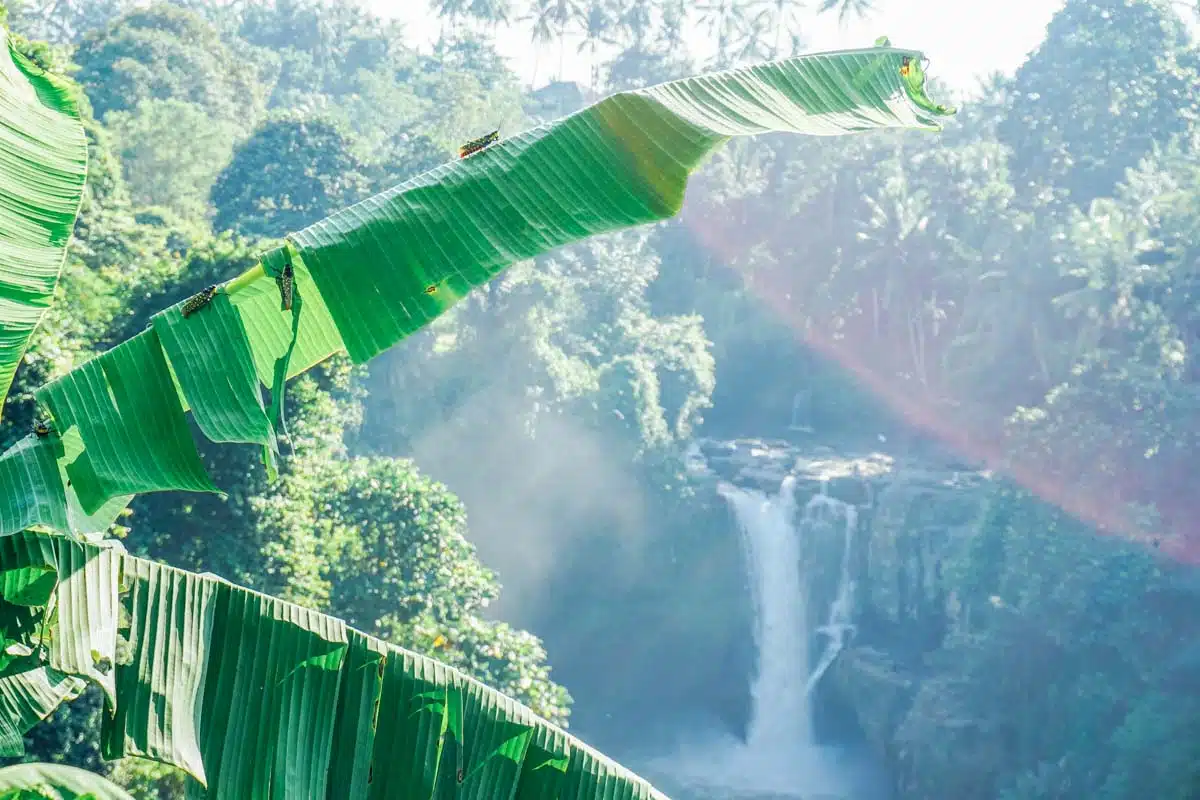 Ubud and the region surrounding it are home to some of the best waterfalls in Bali. And if you've ever pictured tranquillity underneath a raging stream, then you're about to find heaven on earth.
On hot days in Bali, there is no better escape than a dip into the waters of a picturesque waterfall.
Some of the most popular falls include Tegenungan Waterfall – here you can take the perfect Instagram snap using the waterfall as a stunning backdrop – while other popular offerings include Leke Leke and Tibumana.
Day Trip to the Jatiluwih Rice Terraces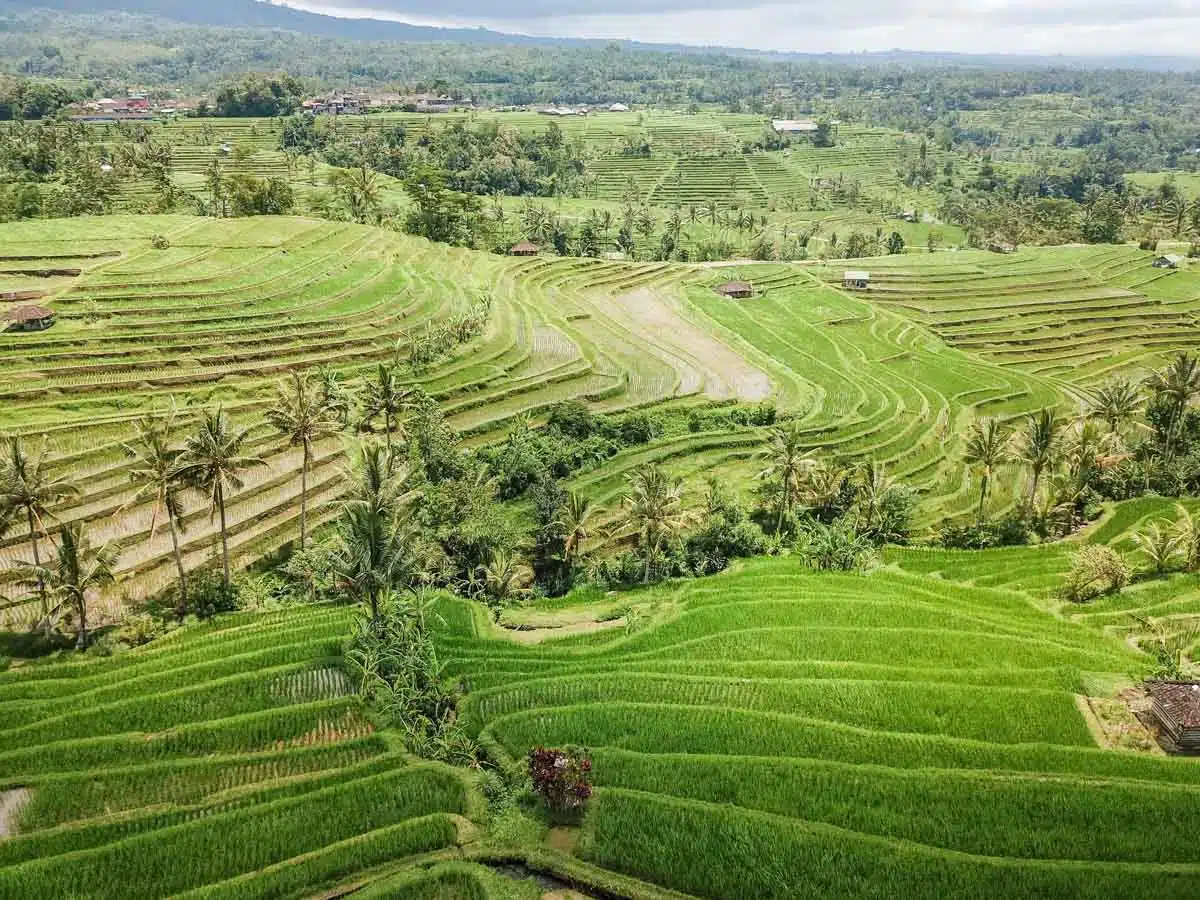 Before you roll your eyes, this is much more than just another rice terrace. The Jatiluwih Rice Terraces sit on over 300 acres and carry a UNESCO World Heritage Site badge. Pretty fancy.
If that's not enough reason to visit this attraction, it's also a lot quieter than Tegalalang, so if you're not a fan of crowds, this is a no-brainer. Add some flair to your excursion by tackling the 3-hour escapade on an electric bike tour of the terraces.
Hike up Mount Batur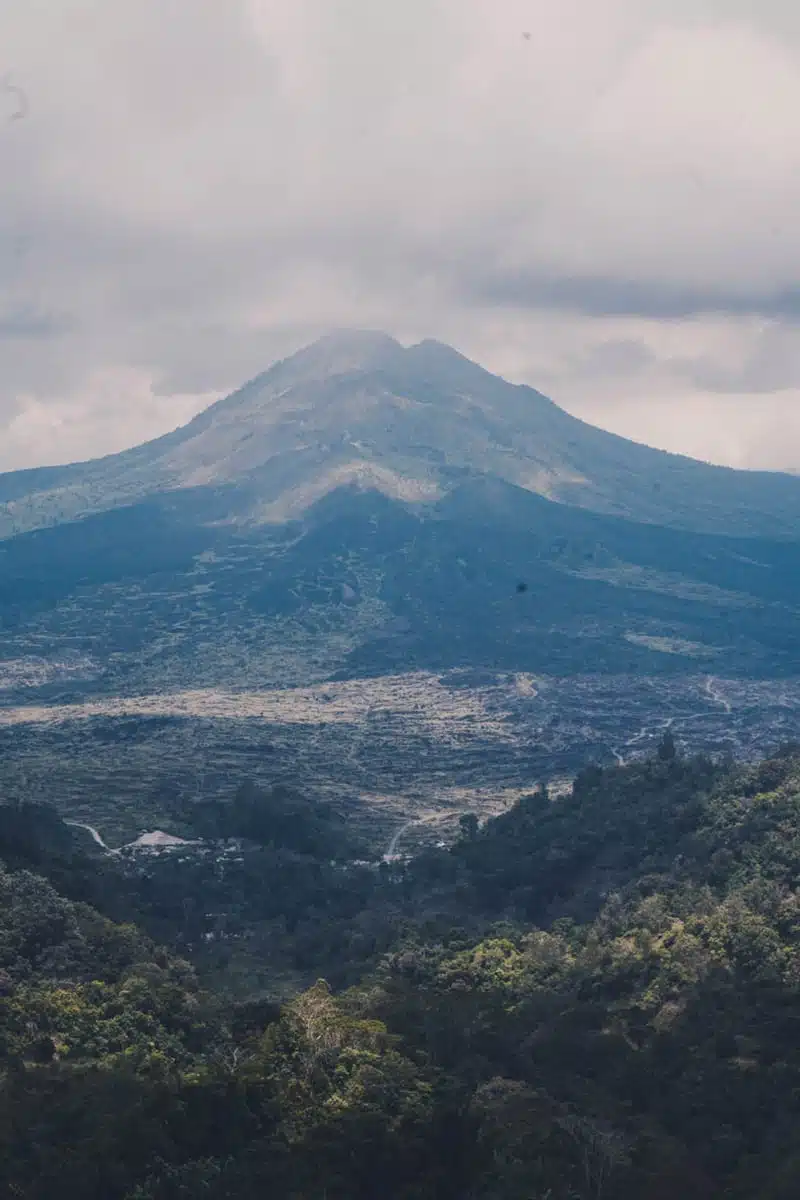 Even though I didn't get the chance to tackle the Mount Batur hike, it's definitely on my bucket list, and it should be on yours as well.
This is easily one of the best places to visit in Ubud, which isn't even in the city. It sits about 24 miles north of the city, and most choose to head out to the summit as part of a sunrise trek.
It's by no means an impossible trek, nor does it require you to be an expert hiker; however, at some points, you'll face a few steep climbs.
On average, it should take you an hour and 30 minutes to complete, and as a reward, you can say that you've climbed an active volcano.
Read Next: Cool Things to Do in Bali
Catch a Dance Performance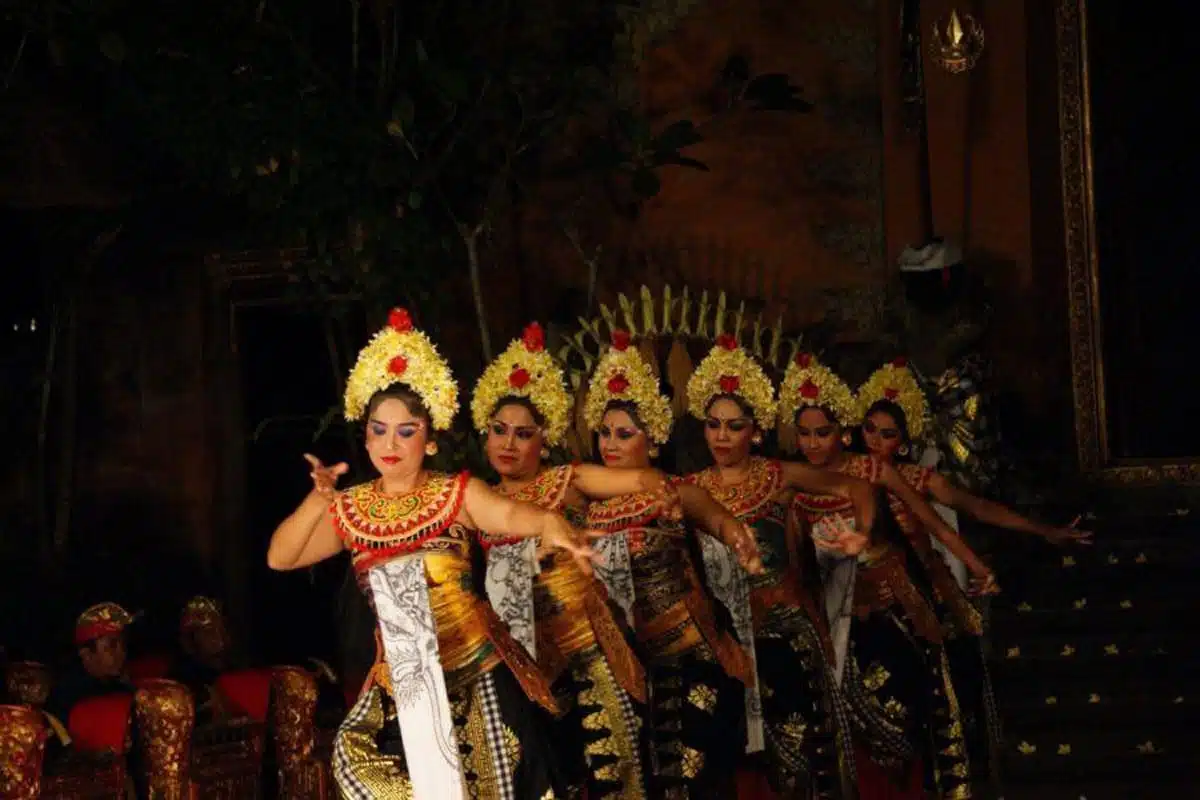 By now, you should have a pretty good idea of what Ubud offers – retail therapy, nature excursions, and rice terraces (I had to). But, one of the best things to do in Ubud, Bali, is a cultural experience unlike any other.
I'm talking about the rich heritage on show at a traditional dance performance.
A real showcase of storytelling through dance, you have to grab a seat for the famous Legong dance, which dates back to the 12th century. Settle in for spectacular dance moves and hypnotic music when you book a ticket at Ubud Palace.
Unique Things to See & Do in Ubud: Hidden Gems That are Off the Beaten Track
Immerse Yourself in Culinary Heaven at Locavore
Locavore is where you'll go if you're hunting for the best cuisine in the country. With a staggering collection of awards, the talented chefs at the helm of this restaurant serve up the best fusion food you'll find throughout Bali.
Meals at Locavore usually last up to 3 hours, and for each course, you can pair some of the best wines in the world with your dish.
Using local ingredients, you can treat yourself to stunners such as smoked catfish or pork shoulder.
Sample the Delights of Pod Chocolate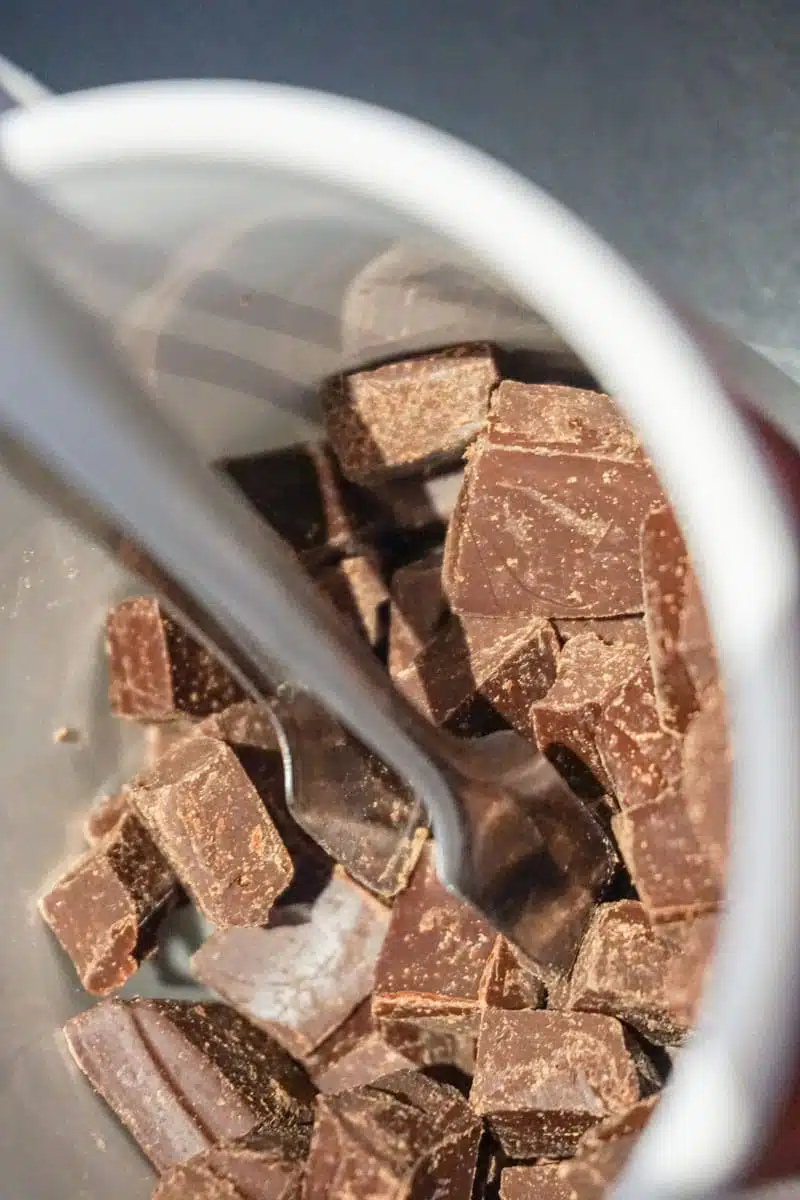 Did someone say chocolate? Yes, yes, I did.
I'm not talking about any chocolate, though. Pod Chocolate is a small-batch producer of some of the most addictive and delicious chocolate you've ever tasted.
Beyond indulging in the delicacies, you can also educate yourself in the chocolate-making process when you head to the visitor's hub. Not only that, but here you can buy as much as you want at the lowest prices in the country.
Visit the Museum Puri Lukisan
Fancy yourself an art connoisseur? Well, head to the Museum Puri Lukisan, where the thriving Ubud modern art scene takes centre stage.
Here you can admire a range of artwork on show and better understand what you're seeing with a complimentary English audio guide. The brainchild of Rudolf Bonnet, Walter Spies, and local art phenomenon Cokorde Geda Agung Sukawati, it's a grand showcase of the best in art.
Things to do in Ubud: Practical Tips for Your Trip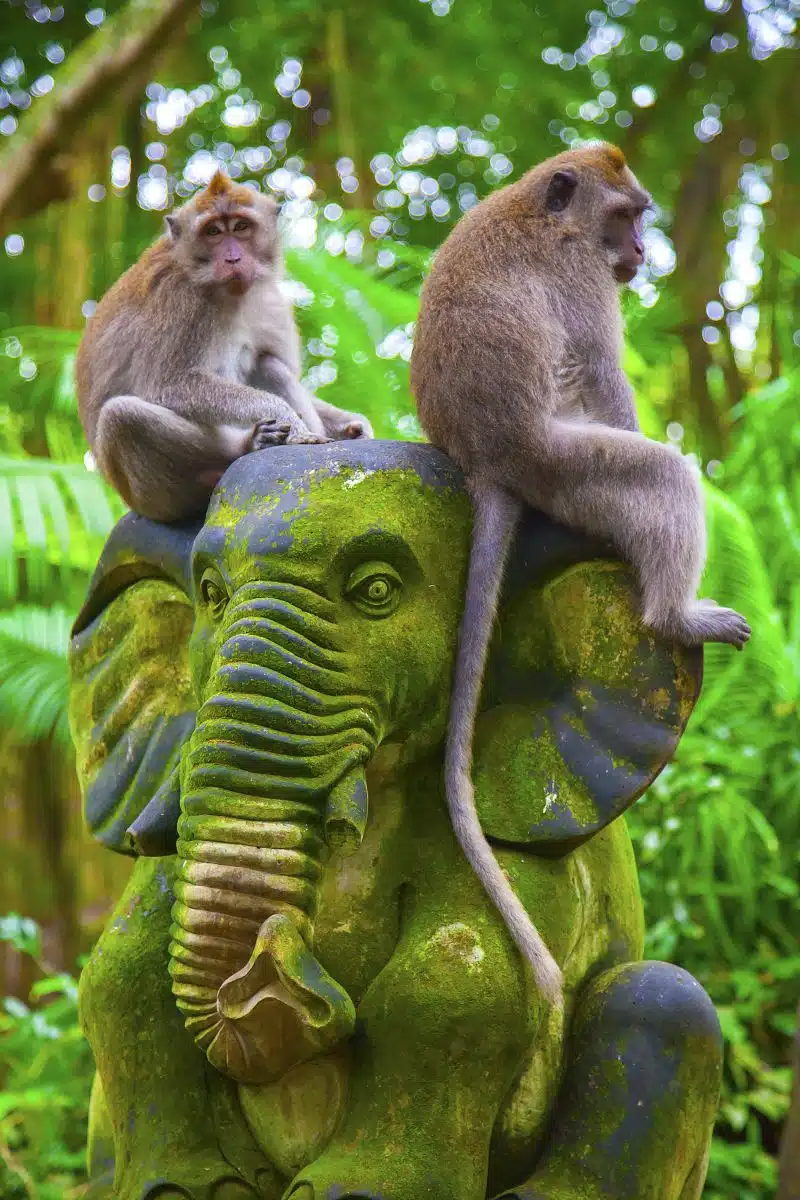 How Long to Visit Ubud?
Considering the almost limitless attractions and activities Ubud holds, the ideal trip length is about three days. This gives you enough time to see the best sights and immerse yourself in the best of what Ubud offers.
Of course, any extra time in Ubud is a huge bonus.
Best Time to Visit Ubud
The best time to head out to Ubud is from June to September. Weather-wise this is the time of year when days are sunny and warm, with cooler and clear nights.
Where Should I Stay in Ubud?
Pertiwi Bisma 2 (Mid-Range)
Showcasing two landscaped pools and a superb on-site restaurant, you'll have a truly memorable time at Pertiwi Bisma 2. Each spacious room has a private terrace nestled inside a tropical garden.
Hotel Amandari (Luxury)
If you're after the best in luxury accommodation, look no further than Hotel Amandari. Offering 5-star luxury, the hotel showcases lofty rooms with elegant decor and a wide range of amenities, including a spa and wellness centre.
Recommended Tours in Ubud
Things to do in Ubud: Map